For the more than 10 years since I started my blog, I've been strategically implementing my own blog business plans with great results. This guide pulls from that exact plan—and you can download my (free) template to follow along as you grow your blog too.
---
Want My Free Blog Business Plan Template?
Grab my free blog business plan template in both Google Doc and PDF format (that's helped me build a six-figure blog) and reach 500,000+ monthly readers today.
"*" indicates required fields
---
Last year alone, my blog generated $449,107 in revenue (see more in my blog income reports) and it's been earning in the six-figures for several years now.
Though despite the numbers, it hasn't always been easy—like all entrepreneurs will tell you as any small business owner, there are ups and downs with business blogging, too.

A blog business plan is what helps you navigate the storm and can keep you on track, working toward your most impactful goals despite short-term fluctuations. And at the end of the day, I'm living proof that you can turn your passions into a profitable small business as an entrepreneur through blogging.
In order to turn your blog into a viable business in the first place though, you need to create a strategic blog business plan.
How to Create a Blog Business Plan in 7 Easy Steps (Free Template)
Disclosure: Please note that some of the links below are affiliate links and at no additional cost to you, I'll earn a commission. When you purchase a product or service using my affiliate link, I'm compensated, which helps make content like my ultimate guide about how to start a blog free of charge to you. Know that I only recommend products and services I've personally used and stand behind.
What Makes a Blog a Business?
Any blog can easily make you a small business owner with the right level of strategy, care and time investment. The basic foundation of a blog business, is that you've:
Developed a repeatable process for publishing content
Learned how to consistently bring in traffic
Figured out how to monetize that traffic through a variety of channels
The monetization aspect is where much of your efforts will (soon) be going as your blog evolves into a real business. You'll experiment with tactics like running ads, taking sponsorships, joining affiliate programs, selling your own physical or digital products and many other blog monetization strategies.
And in order to execute on these three core components, it helps immensely to have a solid blog business plan telling you what to do next.
What is a Blog Business Plan (and Why Should You Create One)?
A business plan, in its simplest form, is a roadmap for your business. It outlines your business and blogging goals and maps out how you're going to achieve them. And in order to be effective, your business plan must be written down (so you can reference it often) and must include timelines wherever possible.
So why do you need a blog business plan?
These are the four main ways you stand to benefit from creating a blog business plan, particularly for beginners:
A blog business plan gives you a clear picture of what you want to achieve
It helps you create a greater sense of accountability
It forces you to set clear priorities (that ladder up to your overall goals)
It shows you some of the challenges to expect along the way
A smart blog business plan is like a road map. If you follow it closely—and expect to spend some time experimenting, navigating detours and bumpy roads along the way—both the journey and the end destination will be very rewarding.
How do you write a business plan for a blog?

The first step to writing a business plan for your blog, is to define what your blog business is going to be (the main ways you expect to generate revenue)—and set meaningful, realistic goals that can help you make daily, weekly, monthly progress toward achieving those goals that ladder up to success with your blog business.

From there, you'll want to research your competitors, start your blog (if you haven't already), make sure it's set up the right way with the correct themes & plugins, put in place winning habits that'll help you achieve your goals, figure out the best ways to drive in traffic and promote your blog content—then begin to work on monetizing.

For a step-by-step walkthrough on the process of writing your blog business plan, grab my free template right here in this guide (through the form just a little bit above here).
Now, let's talk about how to create a blog business plan that can guide you to where you want to be in the coming weeks, months and years.
We'll start by diving into to developing your own blog business plans that'll set you down the path to generating revenue as quickly as possible.
---
1. Define Your Blog Business Plans and Set Meaningful Goals
The very first step in creating a blog business plan, is to define what your business is really going to be. That's where we'll be talking about things like your mission statement (why you're blogging in the first place)—and while I don't love the corporate term, executive summary, defining your blog business will be the closest thing we cover to that.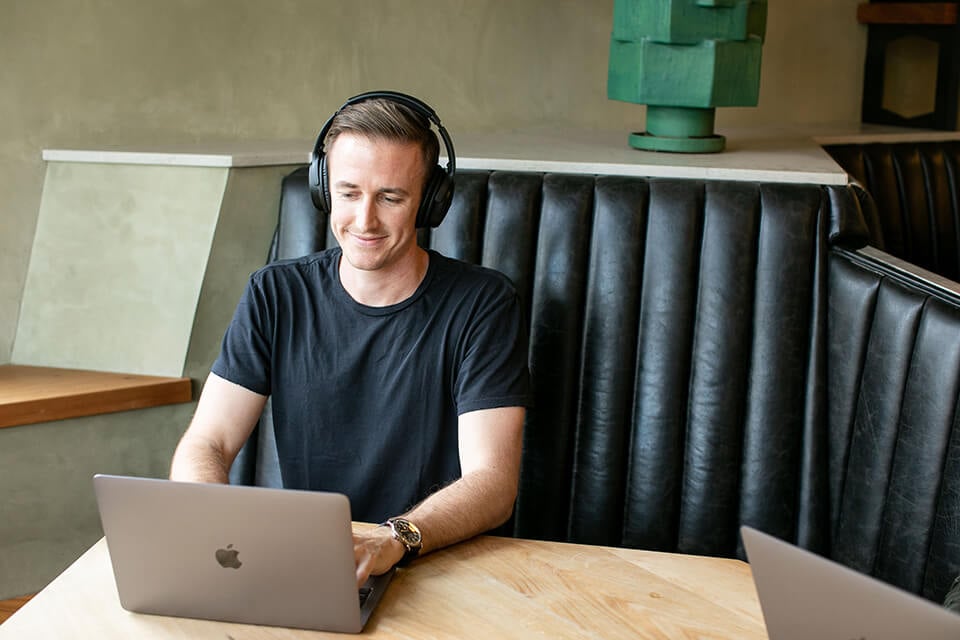 That means laying the foundation for everything from which niche you'll be blogging in, who your target audience is going to be, which (tangible) blogging goals are most important for you to aim for and at least a loose sense of how you'll plan to make money from your blog in the near future.
Picking a niche
Picking a niche to blog about is one of the most important steps you can take on your path to eventually generating an income from your blog.
A niche is simply a specific range of related topics (segment of a target market or target audience) that you want to specialize your blog around being a trusted resource on. Examples of some highly lucrative niche topics you can blog about include things like:
Photography
Crafting
Design
Parenting
Marketing
Personal Finance
Career Development
When it comes to choosing a niche, the sky truly is the limit. If there's a topic area that has enough demand—and you're genuinely interested in building a blog business around it—then you've got the makings of a potentially profitable niche. Check out my guide for much more: How to Pick a Niche to Blog About (+ Examples).
The reason why picking a niche comes first when laying out your blog business plans—is that the way in which your blog functions as a business, will be heavily influenced by the niche you're operating in. It's only after you've landed on a clear niche that you can move into defining and learning more about your audience you'll be serving.
Learning about your target audience
After your niche, the next most important business decision you need to make, is deciding who your target audience will be—and committing to learning more about them.
In a world with billions of people using the Internet, the reality is that not everyone will discover or even resonate with your blog, let alone be willing to buy whatever you're selling when you eventually start monetizing your content.
You have to research your target audience and understand their pain points and how you can help them through your blog.
Think about your readers in terms of the demographics and psychographics that define them:
Demographics: The quantitative traits of your readers. Like age, gender, location, job title.
Psychographics: More unmeasurable traits like values, interests, attitude and belief systems.
In short, who are your target readers and which problems will you be solving for them?
The answer to that pivotal question will also help you determine the kind of content you'll create, as well as the best channels to monetize that content.
Determine how you'll monetize your blog
There are many ways to make money blogging, but it's extremely important to remember that you can only generate revenue from your blog—once you've started attracting an audience.
Still, it helps to plan today for which ways you'd like to monetize your blog (ideally in a manner that engages your own unique strengths & experience).
A few of the most time-tested blog monetization channels include:
I'd caution you not to pursue a particular monetization path simply because it's a money-making opportunity. Your most important task at this stage, is to decide which monetization channels will be best for your niche, the type of audience you plan to attract and how you can best engage your own interests.
Again, keep in mind that your audience will be the lifeblood of your blog—so learning from them in the early days will be key in collecting valuable feedback about how you can best help them. For an in-depth look at my best blog monetization strategies, check out my guide: How to Make Money Blogging This Year.
Setting blog business goals
Lastly, when defining your blog as a business, you have to set clear blog business goals to begin working toward.
This will help you to break the biggest picture objectives down into bite-sized tasks that won't overwhelm you on a daily & weekly basis.
Setting smart goals will also help you to stay ultra-focused on doing only the activities that move you measurably closer to those goals.
A few examples of goals you could consider setting for your blog during the first year include:
Getting to 10,000 monthly visitors (within 12 months)
Working 15 hours per week on creating and promoting blog content
Attracting 1,000 email subscribers (within 6 months)
Earning $1,000 in revenue from your blog (in the first 6 months)
Whichever goals you decide to set for yourself, make sure they're as realistic as possible, clearly actionable and measurable—so that you can regularly look back and reassess how you're doing.
Once you've laid this solid foundation for your blog business plan, we can move on to analyzing competitors and learning more about how they make it work in your niche.
2. Do a Competitive Analysis of Other Blogs
Before you even launch your own blog (or transform an existing blog into a proper business), you need to learn from your competition.
Yes, that's allowed. And no, you don't need to do anything shady—or involve Russian spies.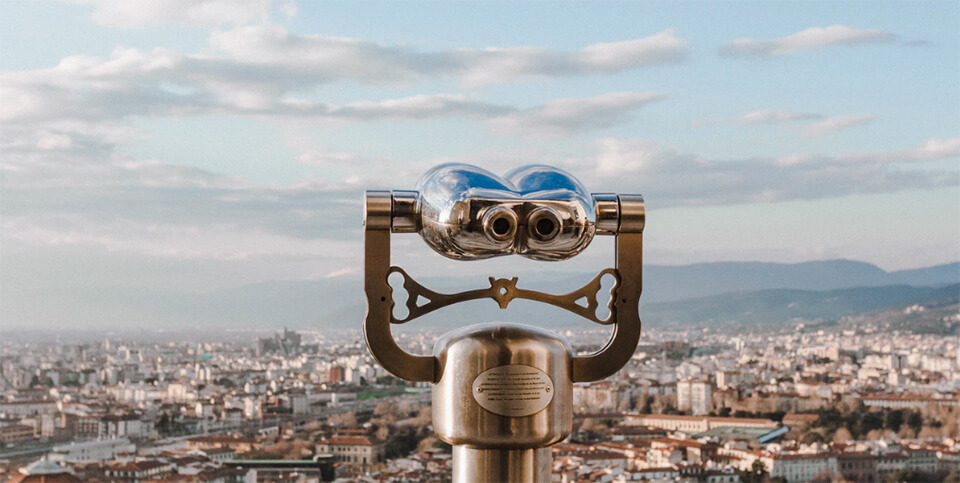 Spying on your competitors and gathering insights is a great way to validate your own ideas for how to best bring a blog business plan to life. Take a peek at my top small business ideas to see if that inspires any new angles for your full-time (or part-time) business blogging efforts, too.
It's also a fantastic way to learn what it takes to become successful within your niche. These are the three main things you'll want to do when it comes to competitor analysis.
Identify your main competitors
Identifying your competitors helps you see the potential your blog business has within the niche you're operating in.
Even more importantly, it also helps you clearly see the kinds of products your audience love and are already paying (someone else) for.
So, how do you identify who your competitors are?
Do some keyword research to determine which top words & phrases you want your blog to rank for in Google results (considering setting up Google Alerts to monitor them too)
Take a careful look at the articles & sites already ranking on the first few pages of those search results
Examine their content, looking for ads, links to affiliate programs, products they're selling and other monetization efforts
For just about every keyword phrase related to your niche, there will already be competitive blogs, websites and companies who are intentionally trying to rank their content at the top of those search results (in order to bring in readers and generate revenue somehow). And for that reason, learning from the competition can provide meaningful insights to incorporate into your own blog business plans.
Use My Free Keyword Research Tool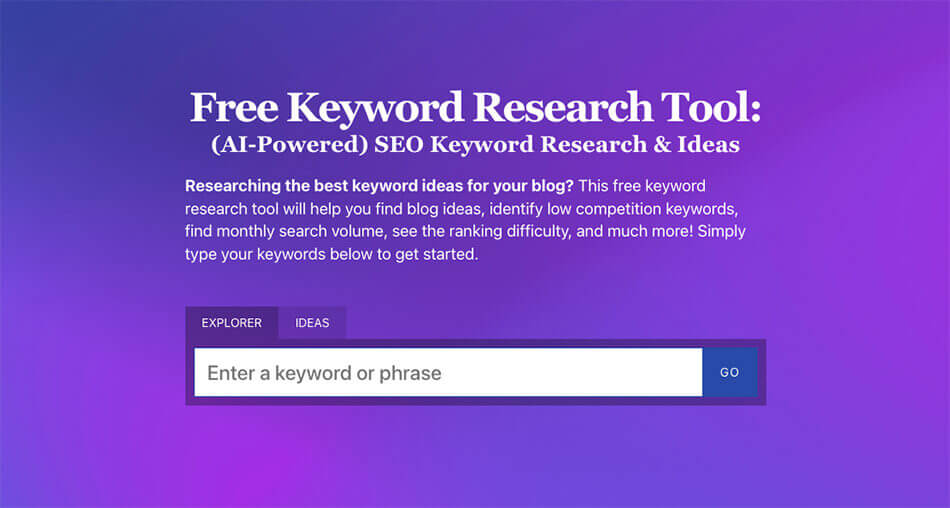 Try my free AI-Powered Keyword Tool to get dozens of research-backed ideas for keywords & topics to write about on your blog today.
---
Research their strengths, weaknesses and top ranking keywords
Another smart reason to do competitor analysis, is that it helps you identify your competitors unique strengths and weaknesses.
Doing this will help you identify some gaps in the market research that you can (profitably) fill by thoughtfully positioning yourself toward a segment of the audience, learning how to write a blog post that's more impactful to readers, crafting catchier blog headlines and other ways to grow your blog.
As I've alluded to already, one of the best ways to gather this intel is by conducting keyword research.
Keywords are simple words or phrases that are commonly used by people to search for something on the Internet.
You can use that information to thoughtfully position your own content to rank at the top of those search results.
Thanks to the awesomeness of technology, there are many free tools (and free blogging resources) you can use for conducting keyword research today—including my very own free keyword tool. Type in your keyword phrase and get monthly search volume, difficulty & suggestions for other keyword phrases to target for your blog content: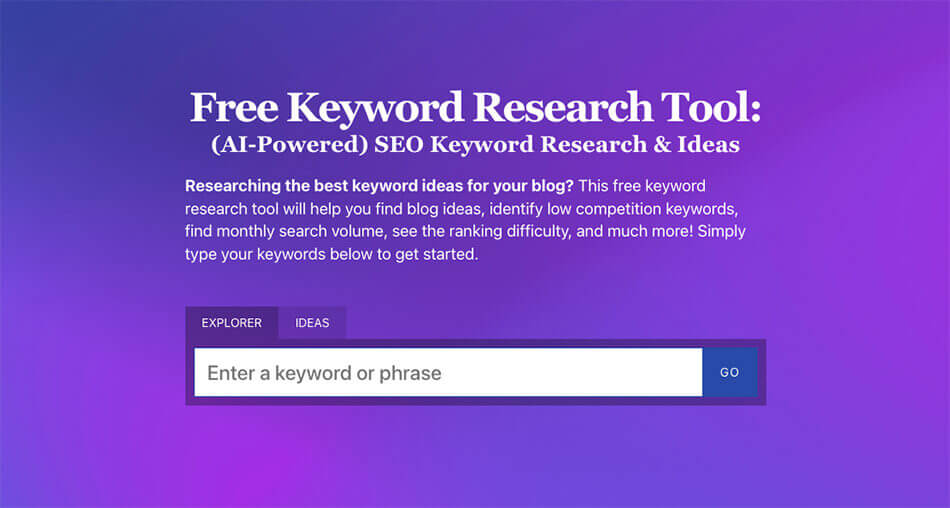 I built this free AI-Powered Keyword Tool to solve a problem I've had in the blogging industry for nearly a decade. Anytime a new (free) keyword research tool comes out and gains popularity, a switch flips and it's suddenly only a paid tool—or has dramatic limitations on usage. This keyword research tool was build to be forever free.
When you type in a keyword you're considering blogging about, you'll get dozens of research-backed ideas for keywords & topics to write about on your blog today. You'll get insights like:
Monthly Search Volume: A snapshot of how many people search for a particular keyword phrase each month on major search engines like Google.
Difficulty Level: How hard it'll be to rank for a particular keyword phrase, based on the amount of existing (and anticipated future) competition from established websites.
Country Targeting: The default country view is for the US (United States), but you can select other countries from a dropdown menu to see what regional search volume & difficulty looks like for your target keyword phrases.
Ideas: Use the ideas tab (or click the lightbulb) to get dozens of AI-powered blog topic ideas related to the keyword you've chosen. It may even inspire some real business ideas to pursue with your business blogging efforts.
---
When it comes to competitor analysis, identifying the (most valuable) keywords your competitors are ranking for is a great leg up.
Sure, you can plug in your own keywords you think could be valuable (and attract the right audience), but you also run the risk of choosing keywords that may miss the mark when it comes to driving traffic and ranking well in the search engine results.
Competitor analysis is a great way of finding high ROI keywords that others have already done the research on—fast. It's also a good way to find lower-competition keyword opportunities that you can capitalize on yourself.
Which strategies do competitors appear to be using?
Competitor analysis isn't complete until you have a clear picture of the strategies they're using, too.
How do they appear to be monetizing their blog?
What do they do in order to promote their content?
How are they driving traffic to their blog?
Which keywords are they going after?
Is there a clear opportunity for creating better (more helpful) content than theirs?
This is particularly effective if your competitors are doing well.
You can learn a lot by studying the ways in which they operate—without spending a dime.
Decide how to set your blog apart
At the end of the day, the most important insight to come away with from doing competitor analysis, is how you can set yourself apart from the crowd.
With thousands of blogs being launched every day, one of the only ways you can succeed in the long-term, is by carving out a unique position for yourself within your niche.
To do that well, observe out what others aren't doing—and make a call as to whether or not there's a need you can fill in the market.
After you've spent some time analyzing the competition, let's build another layer into your blog business plan.
3. Start and Grow Your Blog (the Profitable Way)
Now we come to the fun part—actually starting your blog.
If you already have a blog that's live, you can skip down to the next section on mapping out your traffic generation strategy by clicking right here.
Starting a blog is very easy, but getting everything set up for being able to (soon) maximize your profit potential—well that's a bit more nuanced.
The main difference is that you need to pay careful attention to the decisions you're making and the settings you're putting into place, as your blog is your primary business asset.
All of this is broken down in clear, step-by-step detail in this guide: How to Start a Blog (and Make Money), but here's the overview. These are the two most important aspects of setting up your blog.
Get your domain name and blog hosting
In its simplest form, a domain name is the (.com, .co, .net or otherwise) name you give to your blog.
And just like any business name, your domain name has to be registered. Try as much as possible to get a domain name that fits in with your brand, mission statement or niche you'll be blogging about. Use my free domain name generator to get tons of clever domain ideas.

Your web hosting plan on the other hand, is the service that actually gets your blog online (and discoverable on the Internet). That hosting service you choose will host your blog on their servers and keep your pages loading fast for the readers that discover your content.
It goes without saying, that you need to invest in a reliable hosting service to make sure you're maximizing your opportunity to succeed.
I personally recommend Bluehost as they're one of the most reliable, affordable and capable hosting companies that has a great team to help with technical support as you go.
Plus, they offer free domain registration when you sign up for your hosting plan.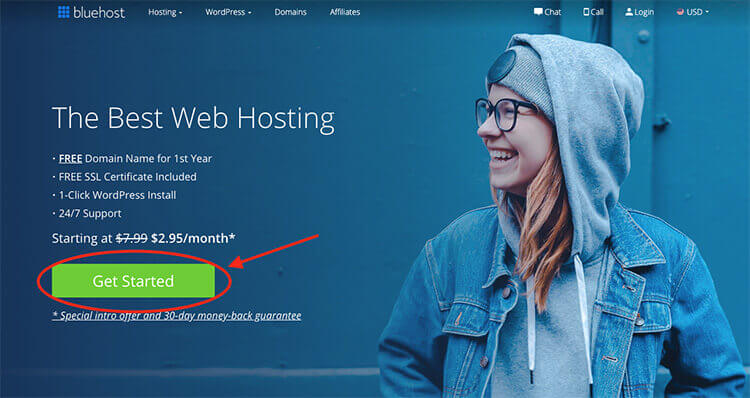 If you're not quite sure how to best name your blog, then dive a little deeper in this guide: How to Name a Blog (+ Examples). And if you wan to shop around with your hosting options, check out these comparison guides I keep regularly updated here on my blog:
Design your blog with branding in mind
Another advantage of using Bluehost to power your blog, is that they offer a one-click easy WordPress installation immediately after you've signed up.
What is WordPress? WordPress is a simple blogging platform started in 2003 to help publishers, bloggers and businesses quickly build, publish and maintain websites without having to hire a technical team to do it, but WordPress has since become the most popular publishing platform in the world. Here's what WordPress looks like behind the scenes: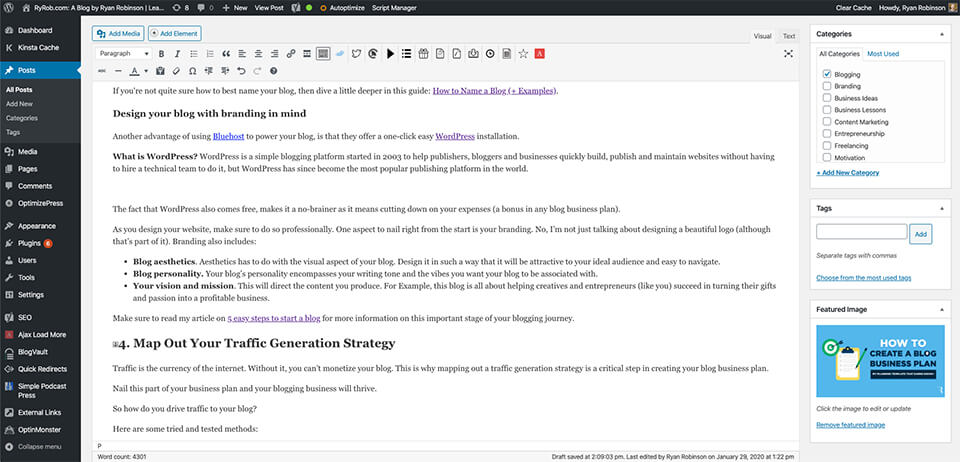 The fact that WordPress also comes free, makes it a no-brainer, as it means cutting down on your expenses (a bonus in any blog business plan).
As you design your website, make sure it feels professional enough to establish trust with the types of readers you want to attract and retain.
One aspect to nail right from the beginning, is how you brand your blog. I'm not just talking about a beautiful logo (although that doesn't hurt). Branding also includes:
Blog aesthetics: Aesthetics have to do with the visual appeal of your blog. Craft your blog layout in such a way that it'll be attractive to your ideal audience and easy to navigate.
Blog personality: Your blog's personality encompasses your writing tone, style, color palettes and the vibe you want your readers to pick up on.
Your vision and mission: This will help dictate the type of the content you produce. For example, my blog is all about helping fellow bloggers (like you) become more successful in turning their interests into a profitable online business.
For more, be sure to read my detailed guide: How to Start a Blog (and Make Money) to get all of the basic foundations squared away on your blog—before switching over to the traffic driving and revenue generating aspects of your blog business plan. And be sure to peek at these blog examples to see how successful blogs operate today.
4. Map Out Your Traffic Generation Strategy
Traffic is the currency of the Internet and one of the primary goals to work toward in your blog business plans. Without traffic, you won't be able to monetize your blog.
Last year alone, my blog brought in over 4.4 Million readers—and it's the helpful content I've provided for those readers that has helped me to generate in excess of $50,000/mo during some months of the year (through a combination of the many different ways I make money blogging).

The math is pretty simple here: more visitors = more revenue (potential).
That's why mapping out a clear plan for how you'll bring more traffic to your blog over the long run, is a critical step in creating your blog business plan.
Figure out how to nail your traffic sources for the types of readers you want to attract—and your blog business is almost guaranteed to thrive.
So how do you drive traffic to your blog?
Pulled from my (larger) guide: How to Drive Traffic to Your Blog, we're going to break down a few of the highest-impact strategies for attracting readers to your blog.
Create niche-specific SEO optimized content
The largest single factor that'll get more people to your blog, is creating extremely value content within your niche.
If you can create content that's worthy of being shared by your readers, then more people who stumble upon your article—whether it be from social media sites, search engines, online communities or otherwise—are going to want to spread the word to others they know.
The foundation for making that happen, is providing real value within your niche.
However, no matter how great your content is, it still has to be discoverable on the search engines of the Internet (mainly Google, today).
That's why you need to learn how to follow SEO best practices that can get your content discovered by more people. That includes things like:
Nailing your keyword research
Focusing on user intent and understanding the needs of searchers (not just search engines)
Taking your time writing SEO-friendly headlines
Using the right heading tags
Optimizing your page URL
Being strategic with your links
Crafting an enticing meta description
Optimizing your images
Ensuring mobile friendliness and reducing page loading times
Promoting your content (where your audience is spending their time online)
For a deep dive in how to quickly optimize your blog content, read my guide: 10 Blog SEO Strategies to Get More Readers today.
Use guest blogging to increase your reach
Guest blogging is hands down the #1 way to drive the best quality, highly targeted traffic to your blog (from the websites where your ideal readers are already spending their time).
Check out the spike in traffic I got from my very first guest post back in 2014 on the Buffer blog:

So, what's guest blogging? It's very simple, really.
Guest blogging is the act of writing a blog post that you publish on another website which is not your own—presumably one that has the right kind of audience you're trying to tap into. It's a win-win for the blog or publication that accepts your (high quality) guest post, because they're getting free content that they want for their readers, and you're getting the opportunity to tastefully link back to your own blog within the guest article.
Four of the biggest advantages you'll get from guest blogging are:
Relevant traffic. This is extremely important, so make sure you're guest blogging on sites frequented by your targeted audience (this comes down to smart blogger outreach).
Build quality backlinks. Guest blogging is a great way to build your portfolio of reputable sites that link back to your blog (which is a positive signal search engines look at when evaluating the trust and credibility of a website). This in turn, will help improve your organic search rankings for your content over time.
Build brand awareness. Another great benefit of guest blogging as a new blogger, is that it helps get your brand in front of more people, giving your new blog an opportunity to connect with new readers.
Establish your authority. One way you can set yourself apart from your competitors, is by establishing yourself as an authority in your niche. Guest posting helps you do just that.
Now, it goes without saying that your guest posts have to be of the highest standards if you hope for your campaign to actually pay off on that objective of attracting readers that want more of your content. This far into your blog business plan though, I have no doubt you're committed.
Build and grow an email list
Another dependable way of driving traffic (back) to your blog, is by building an email list of readers who've already consumed your content—and want to return for more.

Growing your email list (over time) is one of the best ways to consistently bring more people to your blog. And blog email marketing isn't as daunting a task as it may sound—it can even help you monetize faster with affiliate marketing & create a more successful business for you.
One of the most important ways of ensuring that you build an active and engaged email list, is to create a truly beneficial lead magnet that your target audience will find worthy of signing up to your email list, in order to get access to your gated content.
You'll also need a reliable email service provider to help you with delivering your subscriber emails, eventually setting up automations and more.
If you want a deeper dive on how to be a better email marketer with your blog, read my guide: Email Marketing for Bloggers This Year.
Craft a creative social media marketing strategy
Social media—whether it be Instagram, Facebook, Twitter, LinkedIn, Pinterest (or otherwise)—is a great channel you can use to promote your blog content and drive traffic back to it.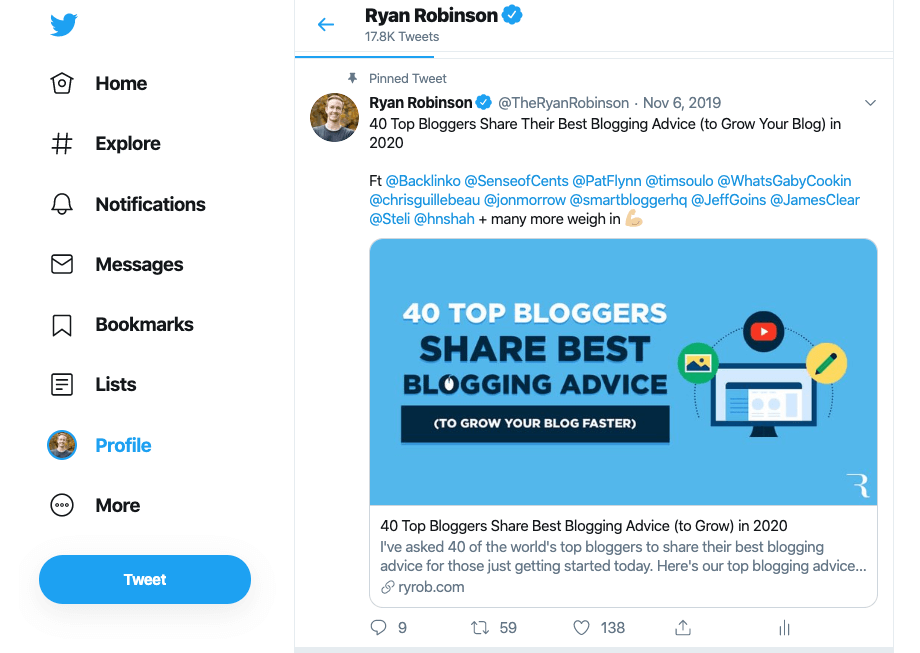 Make sure to genuinely connect with members of your community on the social platform(s) you choose to invest your time on—and be sure you grow a following on the main social media channel that your ideal audience actually spends time on.
If you use Instagram to promote your blog, use an Instagram follower tracker tool. If you see no increase in the number of followers, it means you should improve your content and create more engaging posts.
When you're just getting started and still on a tight blog budget, organically sharing your content is the best way to go (as it's completely free) and you can focus on connecting individually with people who seem to fit the profile of a potential reader.
However, as you grow (and start generating revenue on your blog), you can also increase your reach by promoting your posts and targeting a specific audience.
If you can drive traffic to your website (the right traffic, that is), then turning your blog into a money-making machine becomes a matter of giving your audience what they need… and finding win-win ways to provide more value in exchange for a a payment.
5. Formulate Your Blog's Work Process
Formulating a true process by which you'll bring your blog business plan off the paper and into the real world, is a critical step.
Your work process will be the roadmap that'll direct the activities you spend your time on (creating content, promoting it, monetizing it) in order to push yourself forward and up to hitting your blog business goals. Some of the processes you'll need to develop a clear game plan for include:
Deciding how often you'll create and post content
Content, be it written, audio or video, is the backbone of every successful blog.
The better your content, the more attractive (and profitable) your blog will be. For this reason, you need to develop both a smart blog strategy and a logical content marketing strategy, then stick to it.
Here's a quick preview of what my content editorial calendar looks like. You can grab a free copy of it right here—and I recommend picking up my free blog post templates too.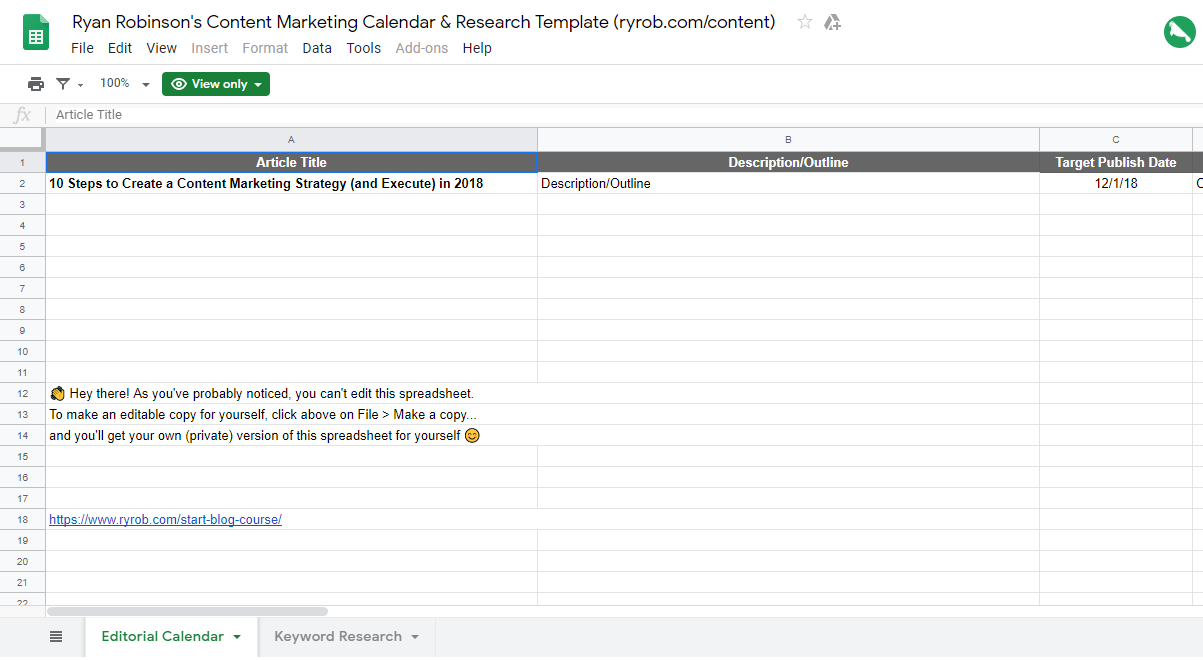 Aside from just the editorial calendar that dictates when you should publish new articles (and what those topics/titles should be), other aspects of content creation you'll need to decide on include answering questions like:
How are you thinking about your blog titles? Use my free blog title generator tool to help.
Will you be doing all of the writing yourself? If not, can you afford to hire writing help?
What's a realistic goal for how often you can expect to publish a new article?
How will you promote your content?
Are you going to get any custom designs or images for your content? Who will be in charge of your designs?
The bottom line as far as content creation goes, is that you have to create high quality content that positively impacts outcomes for your readers (consistently).
When and why you should outsource
As with every business, growth eventually leads to one thing—work overload.
While it may not be today, you do need to anticipate and prepare for this stage in your blog business by determining when you should start outsourcing certain components of your process. The simple reality is that you can't always do everything, and you'll stand to get much quicker results on your blog if you can afford to bring on some help every now and then. Plus on the positive side, hiring contractors to help with tasks on your blog can make for a nice deduction when it comes to doing your taxes for bloggers at the end of the year.
It's also important that you know which tasks you'll outsource first, and strive to outline that early on in your blog business plans so that you have a set of rules to fall back upon when processes start to break down.
Trying to do everything on your own can lead to quality issues or worse—result in burnout that can lead to abandoning your blog altogether.
How much time you'll spend on your blog business
One of the biggest advantages of running a blog, is that you can do it as a side business for as long as you'd like.
However, just because it's a side business, doesn't mean you can neglect your blog and expect it to continue growing in spite of your lack of attention.
You have to decide from the beginning:
How many hours each day (and week) you can safely commit to your blog business
Find the exact blocks of time you'll be using during the day—and put placeholders on your calendar
Respect the commitment you've made to the growth of your blog
Know that however much time you're able to invest determines how much bloggers make
Set realistic expectations for how long it'll take to make money from your blog
All the planning in the world isn't worth a thing if you don't stick to the times you've allocated for working on your blog. As a quick aside, if you're having trouble with your content planning efforts, you can grab my free blog planner bundle and turn things up a notch today.
Carve out as much time as you can realistically spend—and naturally, the more the better. It'll not only help you grow your blog (and income) faster, but it'll also help you view and value your blog as a serious business.
Make sure to detail your work process within your blog business plan (and follow it as strictly as possible).
It'll require the formation of new habits and a level of discipline on your part—but so does everything in life that's worth working hard to achieve.
6. Launch (and Optimize) Your Blog
Starting a blog is certainly not the lazy person's ticket to riches (as many claim it to be). I'll be the first to tell you it's a ton of work.
Building a profitable blog takes a lot of blood, sweat and tears… as you can see from my personal journey executing my own blog business plan. But the rewards are well worth the effort.
If you make it this far in your blog business plan—to launching your blog and shifting over to working hard on growing it— then congratulations! You need to reward yourself.
By this point, you'll have:
Set your blog business goals
Carved out a clear niche for yourself
Researched your audience
Designed and built your blog (optimizing it for SEO)
And you've probably figured out an article or two you're ready to start writing by now as well. Be sure to try my free AI article writer tool if you want to experiment with how AI writing tools can amplify your blogging efforts.
So… once you officially launch your blog, it's time boost the awareness and begin attracting readers.
Tap into the right online communities
There's an art and science to figuring out exactly where your ideal readers spend their time online. Start by asking them!
My best blogging advice is to experiment with these platforms as well:
Start answering questions on Quora (and tastefully link back to your blog when appropriate)
Engage in thoughtful discussion on sites like Reddit and carefully test the waters promoting your blog after building your credibility in a space
Find niche communities on Slack, groups on Facebook, forums on LinkedIn and track down independently owned community sites that focus on your vertical
This is one of the most important times to start building your good will in relevant online communities within your niche.
It's these relationships you begin forming today that can lead to years-long collaborations, an influx of targeted readers and more.
Promote your content on social media
If you already have some followers or friends on a particular social media platform, then start there.
Ask for support, build some buzz to lead up to your launch day and see how involved you can get your social network into your content creation process.
Now, if you don't have much of a social presence today—that's ok. It's time to start planting the seeds of how you're going to build one.
Check out my in-depth guide about how to promote your blog for several more proven strategies that've helped thousands of my readers build more profitable blogs.
Ask your network for help in getting the word out
One of the biggest benefits of blogging, is that it helps you build a network of like-minded people… and the chances are high that you already have at least a small network of people you relate well with—ranging from friends to family, co-workers, former classmates, industry associates or otherwise.
And guess what? The person behind every meaningful relationship in your life wants to see you succeed.
Don't be afraid to ask your friends to help you launch your blog. A few ways you can do this is by asking them to:
Announce your launch by re-sharing your social media posts
Take a guest post from you for their blog (if it's a relevant destination)
Be a featured guest on their podcast—or ask for an introduction to a more relevant show host
There are many other ways you can leverage your network, but this gives you a pretty good idea of where you can start.
7. Download My Free Blog Business Plan Template (Google Doc and PDF)
Your blog business plan only works if you do (first). A blog can become a very meaningful, profitable business venture.
But in order to grow your site to that stage, it requires a strategic blog business plan. I'd highly recommend downloading my free blog business plan template today.
Want My Free Blog Business Plan Template?
Grab my free blog business planning template in both Google Doc and PDF format (that's helped me build a six-figure blog) and reach 500,000+ monthly readers today.
"*" indicates required fields
---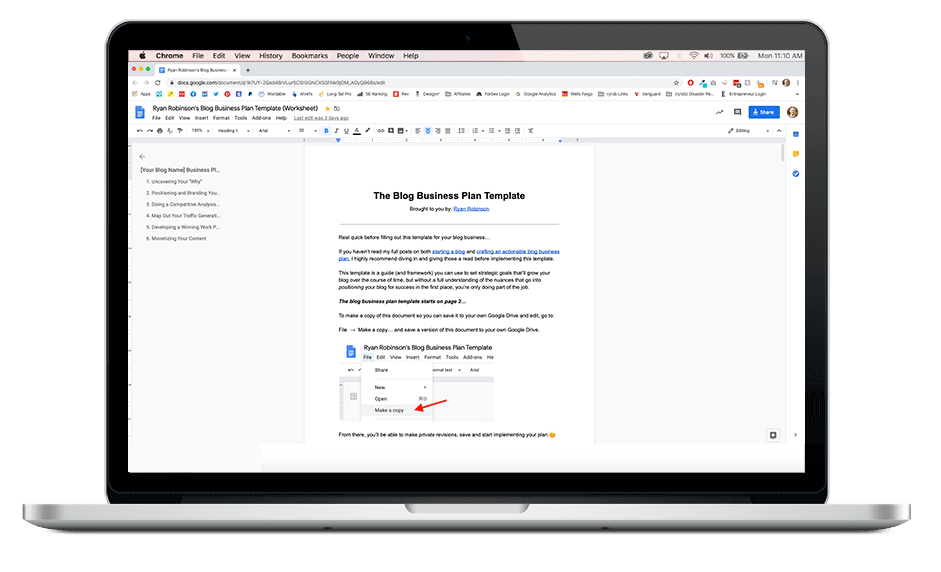 More than just a blog business plan, running a profitable blog requires a lot of commitment, discipline and consistent hard work.
If you can pull it off though, you stand to increase your chances of escaping the 9-to-5 employment world—and give yourself the freedom to live life on your own terms as a full-time blogger with a real business model powering your long-term growth.
So if you haven't already, start drafting your own blog business plan using the structure I've broken down in this guide.
And if you need more actionable steps on how to turn your blog into a viable business, read my ultimate guide: How to Make Money Blogging This Year.