If you've ever looked into starting a blog for profit, or for ways to monetize your existing blog, you've likely heard a lot about affiliate marketing. So, what is affiliate marketing?
Well, even if you haven't come across that term before, you'll have seen affiliate marketing in action. When bloggers and influencers recommend products or services that aren't their own, they often do so using a special affiliate link that compensates them for new customers or sales they refer.
Affiliate marketing can be a great way to make money, even if your blog doesn't have many readers yet. It's free and easy to get started with, as you don't need to invest time in creating products of your own.
So what exactly is affiliate marketing? Let's take a look at some key definitions before jumping into some tips on how to become a successful affiliate marketer & blogger this year.
What is Affiliate Marketing? A Beginner's Guide to Making Money as an Affiliate Marketer in 2023
Disclosure: Please note that some of the links below are affiliate links and at no additional cost to you, I'll earn a commission. Know that I only recommend products and services I've personally used and stand behind. When you use one of my affiliate links, the company compensates me, which helps me run this blog and keep my in-depth content free of charge for readers (like you).
What is Affiliate Marketing?
We're going to take a look at what affiliate marketing is, and how it differs from a couple of seemingly similar monetization methods: advertising and selling your own products.
Defining Affiliate Marketing (and What is an Affiliate Link?)
Affiliate marketing is the process of promoting someone else's product or service in return for a commission on any sales that you make.
Affiliate marketing works through special links. For instance, if I'm linking to Bluehost—my blog hosting plan of choice for new bloggers—instead of using a regular homepage link like bluehost.com, I use my personal affiliate link, which looks like this: bluehost.sjv.io/Xxq6ky
The customer doesn't pay anything extra when they buy by going through an affiliate link. In fact, in some cases (like with Bluehost), they actually pay less because the company offers a special discount.
The affiliate marketer normally gets a percentage of all eligible sales that result from a referral. That means that even if someone clicks on a link to a digital camera book on Amazon, if they also buy a camera there, you'll get a commission on both.
Depending on the product/service being promoted, that percentage might be anywhere from about 5% to 75%. With digital products, 50% is common.
Your payout from affiliate marketing is fully performance-based. The more sales you make, the more you'll get paid.
Affiliate Marketing vs Advertising: What's the Difference?
In some ways, affiliate marketing might seem very similar to advertising. Both involve promoting someone else's product or service—and both involve getting paid as a result.
Here's how they differ:
Ad programs usually pay per click (PPC ads, or Pay Per Click) or per view (CPM, cost per mille, where companies pay a set rate for every 1,000 impressions an ad receives—this type of advertising is mainly about brand awareness). Conversion rates can be low, so ad programs don't usually pay much per click. Affiliate programs pay based on sales, not clicks or views/impressions.
Advertising tends not to be effective unless you have a lot of traffic to your blog. That's because you'll likely only get a few cents per click or per thousand impressions. By contrast, affiliate marketing can be effective even if you only have a small number of readers, so long as you choose products/services that are highly relevant to them.
Affiliate Marketing vs Selling Your Own Products: What's the Difference?
Affiliate marketing may also seem quite similar to selling your own products (or services). After all, with both, you're promoting something through online marketing.
Here's how they differ:
When you sell your own products or services, you're not expected to give an unbiased opinion. It would be unusual—and probably counterproductive—to list the downside or drawbacks of your solution on your sales page. With affiliate marketing, you should only promote products that you think are genuinely good, but you can give a more rounded look at them and talk about any limitations.
Selling your own products takes a lot of upfront investment of time and quite possibly money. Even selling services may require a lot of work to develop the service. With affiliate marketing, all that upfront work has already been done by the product creator. All you need to do is promote it.
Affiliate marketing means that you're revenue sharing with another company. When you sell your own product, more of the profits are yours to keep.
Because affiliate marketing is so quick and easy to get started with, and because it's effective even for bloggers and influencers with a small audience, it's the monetization method I recommend most.
How to Get Started With Affiliate Marketing (and Making Money)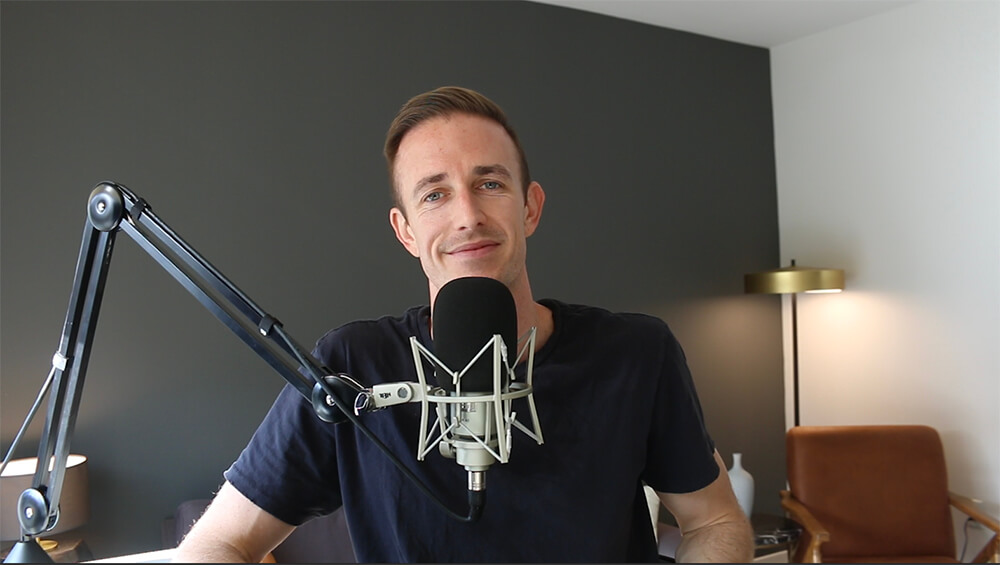 In five straightforward steps, I'll take you through everything you need to know in order to get started as an affiliate marketer—based on my own personal experience growing a $30,000/mo affiliate blogging business.
Step 1. Creating Your Online Platform
If you've already got a blog or affiliate website, you can skip this step.
If not, you'll need some kind of online platform to start making affiliate sales. In fact, most affiliate programs will require you to enter your website URL when you sign up. I'd recommend starting with a blog and having an email newsletter alongside it.
Launching a Blog
A blog is a type of website that has regular new content (posts). There are lots of different blogging platforms you can use to get your blog or affiliate site up and running.
My top recommendation is WordPress.org (self-hosted WordPress). The WordPress software is extremely flexible and it's also completely free.
You will need to pay for web hosting, however. A web hosting company provides space for your website to be built, a 24/7/365 connection between your site and the internet, and all the technical things needed to run WordPress's software.
I recommend using Bluehost or Dreamhost for your web hosting. Both are officially recommended by WordPress, and both are great value. They also both offer a free domain name (the address of your site, e.g. mine is ryrob.com).
You can read my comparative review of both those hosting providers here.
Once you've signed up with Bluehost, Dreamhost, or any other suitable low-cost web host, creating a WordPress blog is as simple as clicking a button.
You can then customize how your blog looks by changing the WordPress theme. You can also add new features and functionality with WordPress plugins. (Some themes and plugins are free; others are more advanced and cost money.)
Extra Help: Don't worry if this all sounds a little technical or complicated. I've got a full guide on how to start a blog that takes you through this process step-by-step.
Creating an Email Newsletter
As well as starting a blog, it's a great idea to also create an email newsletter. This means that new visitors to your blog can pop in their email address to hear from you on a regular basis—a great way to build a loyal and engaged audience through digital marketing.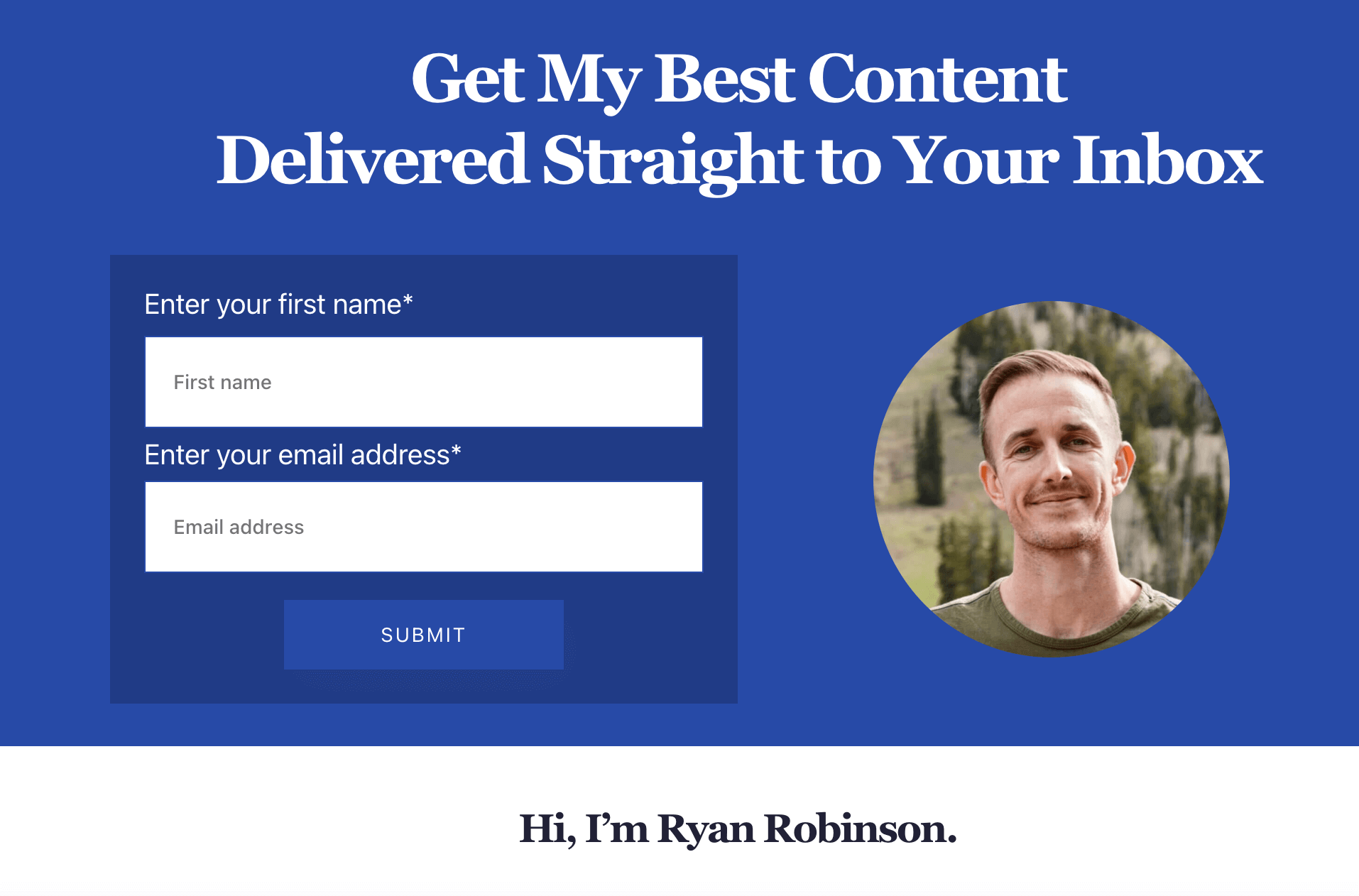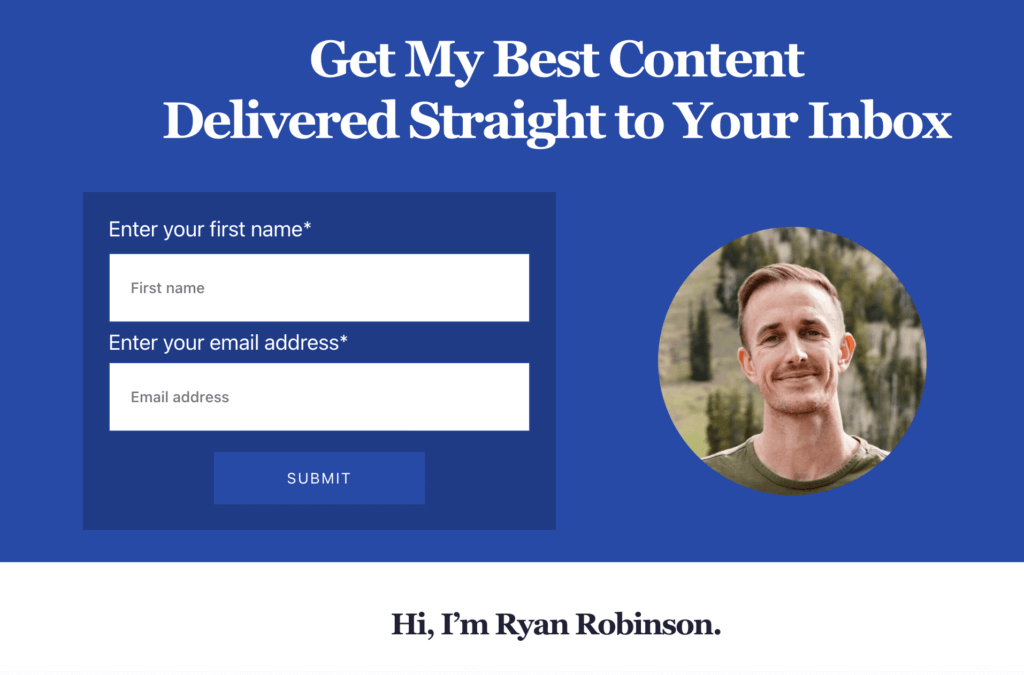 To run an email newsletter, you'll need to sign up for a special email marketing service. I strongly recommend ConvertKit, which is my own email marketing tool. You can sign up for free and run an email list for up to 300 subscribers.
A couple of other great ones to try are AWeber and Mailchimp. Both of these currently let you run a free email list for up to 500 subscribers. You can check out my comparative review of ConvertKit, AWeber, and Mailchimp here.
You could potentially use your email newsletter for affiliate marketing campaigns, promoting a product several times across a week or two. This is particularly helpful if your affiliate partners are running a big sale or promotion.
Extra Help: There's a lot to learn about email marketing, including some key legal requirements that you need to be aware of (as you'll be collecting people's personal data—their email address, at least, and possibly other details too). I've got a full guide to email marketing that explains everything you should know.
Step 2. Choosing Products to Promote as an Affiliate
Once you've got your blog (or other platform) up and running, ideally along with an email list, it's time to find some products or services to promote. So what should you look for when deciding on this?
Products That Fit Your Niche and Brand
First, you need to make sure the products you choose are a good fit for your niche and brand.
Your niche is the topic area you cover on your blog. Here on RyRob, for instance, my niche is "blogging and side businesses." It wouldn't make much sense for me to start promoting credit cards, iPhones or digital cameras—even if I thought those might bring in a lot of affiliate revenue. Instead, I promote my own course, Built to Blog (which I have affiliates who also promote).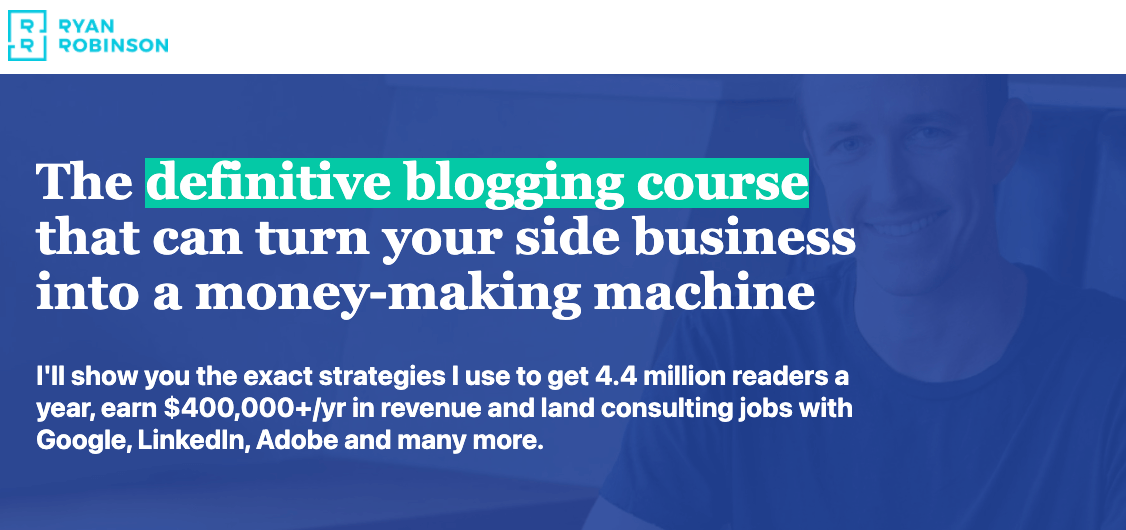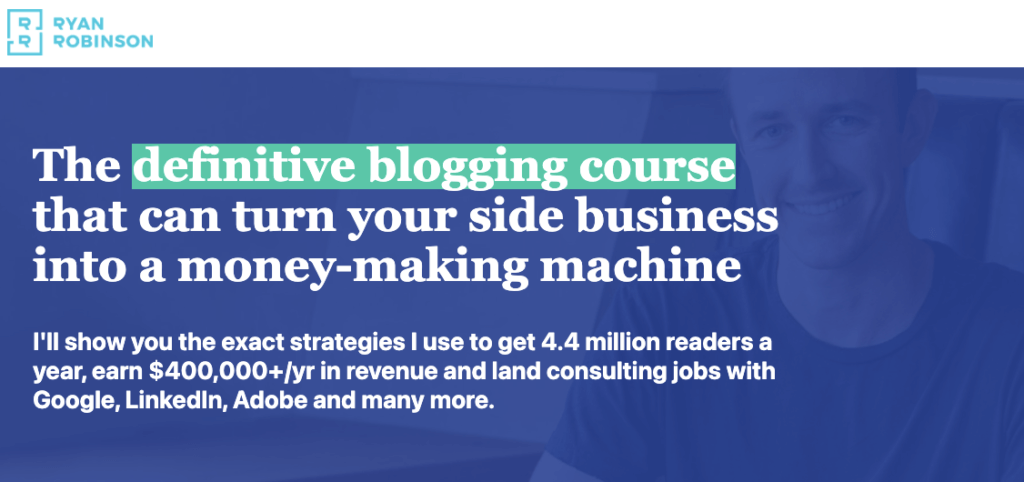 Your brand can be a little tricky to pin down, but it's all about how your blog (or online presence in general) is perceived. If your brand is fun and low-key, promoting an online course that has a very high-pressure sales page probably won't be a good fit.
Products That Will Suit Your Audience
You also need to choose products that will suit your target audience. Maybe your blog's readers are mostly young people fresh out of college. Luxury products might not be in their budget—making your marketing efforts a bit pointless if you're focusing on high-end watches and beauty products.
Or perhaps your readers are mostly beginners in your topic area. If they're only just starting out, then you may want to avoid promoting more advanced courses or products that are aimed at people with years of experience.
Products You Can Wholeheartedly Promote
You might think that if you link to a company's product as an affiliate from your blog, and someone buys it and has a bad experience, they're only going to be annoyed with the seller. But if it was your recommendation that led them to buy it, that bad experience will sour their view of you, too.
It's really important that you only pick affiliate products that you can wholeheartedly promote. Don't become an affiliate for a product that you have doubts about—however good the commission is, it's just not worth it for your reputation or the reputation of your online business.
Ideally, you should own all the products you promote as an affiliate. In practice, that's not always practical. You should at least review the product in as much detail as you can, and check out what other people have said about it online, as well as carefully looking through the landing page.
Be careful with brand new products, unless you're able to fully assess them: there may not be enough information online for you to make an informed decision about whether to recommend these to potential customers.
Step 3. Signing Up for Affiliate Programs
So you've chosen some potential products or services to promote, perhaps ones you've been using for years yourself.
To become an affiliate, you'll need to sign up for some kind of affiliate program. Let's take a look at how that process works.
4 Major Affiliate Programs to Know About
Many online creators sell their products through some kind of affiliate marketplace. There are lots of different ones, offering access to a huge range of products from different creators.
Here, I'll run through six of the most popular—but you can find out about lots of others in my guide to the best affiliate programs for bloggers.
1. Amazon Associates
Whatever niche you're in, you're bound to find some products on Amazon that you can promote. Amazon Associates is Amazon's affiliate program, which offers a (small) commission on any sales you make. In most cases, your commission will be between 1% and 5% of the product's price. There are also special events where you can earn an extra "bounty" payment for certain customer actions.
Here are Amazon Associate's current commission rates, taken from their website: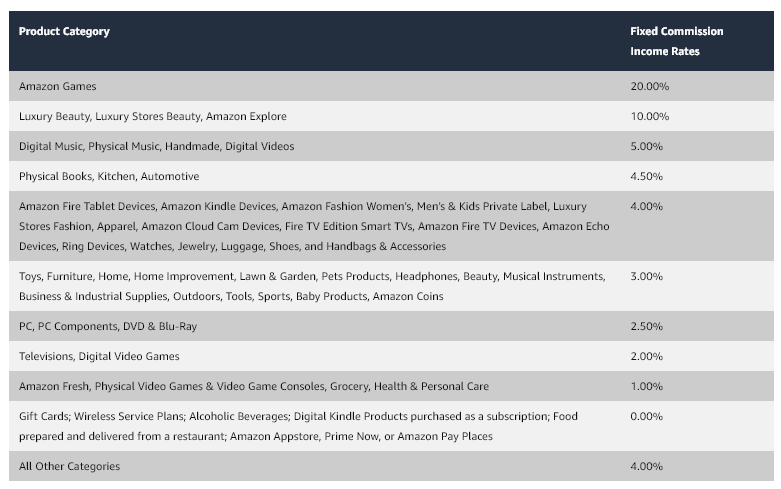 You can sign up for Amazon Associates here. You'll need to have a website that meets Amazon's requirements (no porn, violence, illegal material, etc).
Learn More: Check out this great guide to earning money with Amazon Affiliates (a guest post on RyRob from my friend Andy Feliciotti).
2. eBay Partner Network
Just like Amazon, eBay has a staggering variety of products, listed by many different companies. You can sign up for their affiliate program to promote these—eBay offers lots of guidance to help you make sales, such as their guide to the top pages for higher earnings.
Commission rates vary depending on the product category, and are typically between 1.5% and 4%. Here are the current rates offered.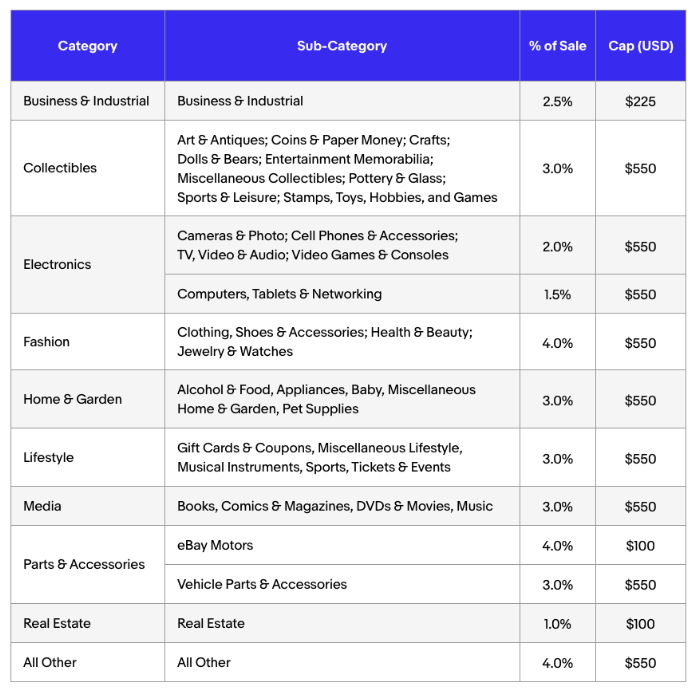 You'll need an eBay account to sign up for the eBay Partner Network. You'll likely be approved automatically, and you can start creating affiliate links straight away.
3. ShareASale Affiliate Network
ShareASale is a huge affiliate marketing platform, bringing together lots of different affiliate programs from online companies—big and small. Signing up for ShareASale saves you from having to find and sign up for lots of individual affiliate programs.
You can sign up for the ShareASale affiliate network here. As with most affiliate programs, you'll need to have a website URL. Your application should be reviewed within 3 business days.
4. Etsy
If your brand fits with crafty, handmade, artisan items, then the Etsy affiliate program could be a great fit for you. You'll have loads of different products to choose from from a whole range of crafters and artists.
Like Amazon, Etsy is likely a familiar online store for your readers. Etsy pays a standard commission of 5%.
You can sign up for Etsy's affiliate program here. Prospective affiliates are evaluated before being approved, as detailed here.
How to Find Smaller Affiliate Programs
Of course, there might well be products or services you'd like to promote that aren't part of any big affiliate programs. Many companies, including small eCommerce stores, startups, and online entrepreneurs, have their own affiliate program that you can sign up for, either directly through them, or provided by their online sales platform.
Let's say there's an AI writing tool that you've been using and you'd love to promote it as an affiliate.
You'll need to find out if the company selling the product has an affiliate marketing program. Good places to look are:
In the website's navigation menu (look for "Affiliate" or "Partner" or similar wording).
In the website's footer (again, look for "Affiliates", "Partner Program" or similar).
On Google: run a search for the name of the product plus the words "affiliate program".
You can also email the company and simply ask if they have an affiliate program. Once you've found the program, just follow the instructions to sign up.
Step 4. Getting and Using Your Affiliate Links
Once you've signed up for an affiliate program and been approved, you'll be able to get your special affiliate link. Most affiliate programs will have step by step instructions on how to do this, so do check their website for help and support.
For instance, on Amazon, the easiest way to get an affiliate link is to log in to Amazon and search for the product you want to promote.
You should see a "SiteStripe" right at the top of the page: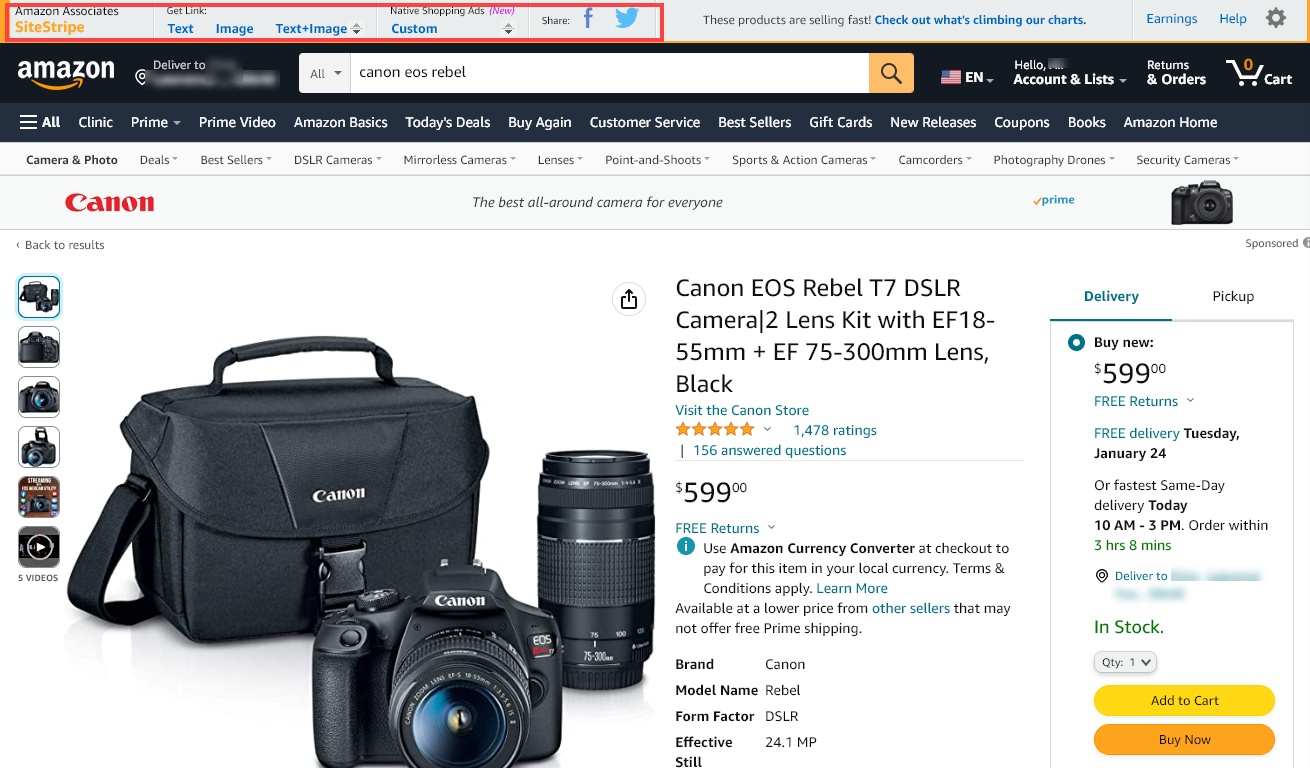 You can then click to get a text link, an image link, or a link with both text and an image. For most bloggers, the text link will make most sense. The link is simply a URL that leads to the product page. Encoded in the link is a special tracker that lets Amazon credit you with the sale, when someone buys after visiting Amazon via your link.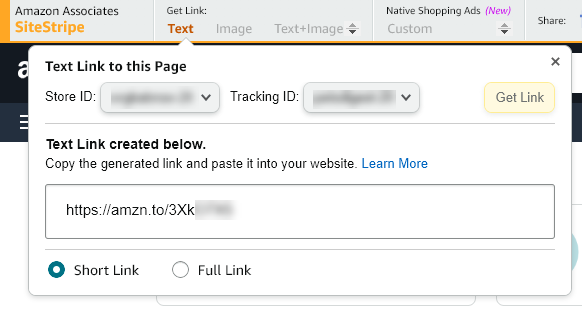 You can copy and paste that link anywhere you'd normally use an Amazon link on your website. For instance, if you were writing a camera review, you could use that link when mentioning the name of the camera.
With smaller affiliate programs, you may find that you have a range of affiliate links listed on your affiliate dashboard. Here's an example from Dreamhost's affiliate program: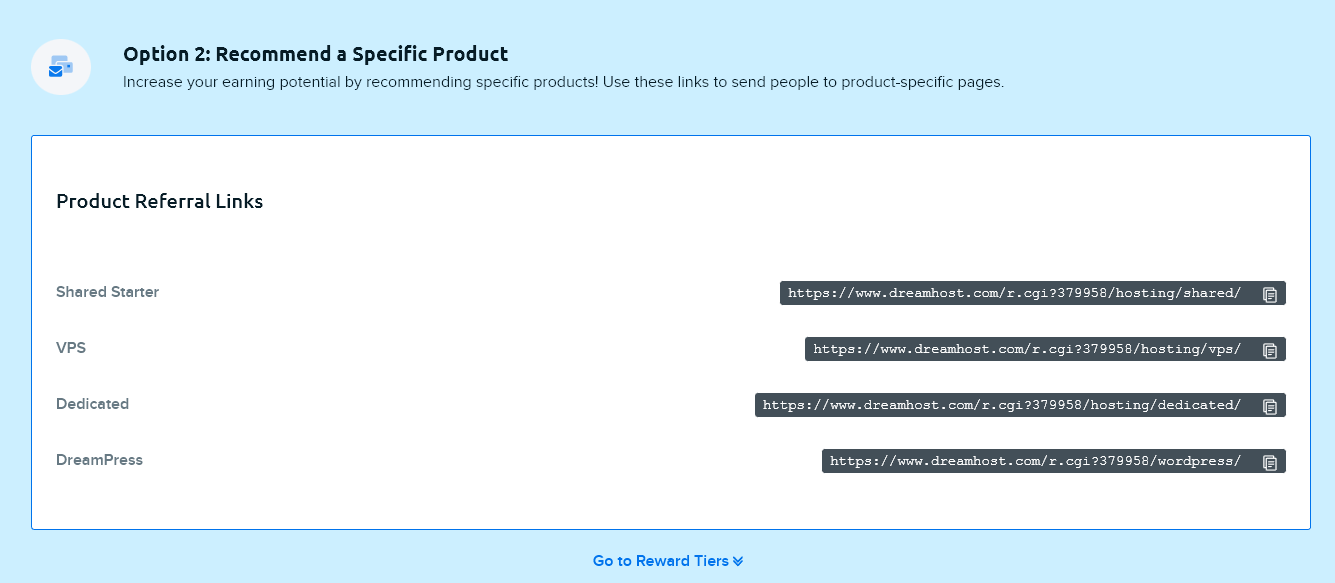 Important: You won't receive your affiliate commissions if you don't use your affiliate link, as there'll be no way for the affiliate partner to track which sales are from you.
Using an Affiliate Plugin to Help You Manage Your Links in WordPress
Sometimes, companies will switch to using a different affiliate program—meaning that your affiliate links will change. Or, you might find that you want to promote a newer version of a product on Amazon.
Going through your website to find and update dozens of affiliate links can take a lot of time. That's why most affiliate marketers use a plugin to help them manage their affiliate links.
There are a few different affiliate link management plugins available for WordPress. One of the most popular is ThirstyAffiliates.
With this plugin, you simply enter your affiliate links in the ThirstyAffiliates manager. Instead of using the affiliate link itself, you can then use the "Cloaked URL" on your website. If the affiliate link changes, you simply update the "Link Destination" (shown below). Then, the cloaked URL automatically redirects to the new location.

Disclosing Your Affiliate Links
Although one helpful feature of an affiliate plugin is that it lets you make affiliate links look tidier (using your site URL rather than lots of different companies' URLs and linking styles), you shouldn't hide the fact that you're an affiliate.
In the USA, it's an FTC legal requirement to disclose that you're using affiliate links. The disclosure should be clear and obvious, not hidden away in tiny text at the bottom of the page. There's some good guidance here on the Pretty Links blog.
Here's one of my own affiliate disclosures, from my popular How to Start a Blog Post:
Disclosure: Please note that some of the links below are affiliate links and at no additional cost to you, I'll earn a commission. When you purchase hosting using my Bluehost affiliate link, they compensate me, which helps make this step-by-step guide to start a blog and make money blogging free of charge to you. Know that I only recommend products and services I've personally used and stand behind.
Even if you don't live in the USA, it's a good idea to be open and transparent with your readers about your affiliate links. You can say that you're a proud affiliate for the product and that you'll receive some commission if readers buy it based on your recommendation (at no cost to them).
Using Affiliate Links on Social Media
Plenty of social media influencers use affiliate links on sites like Instagram and TikTok. Adding an affiliate link to a social media post is as simple as copying and pasting the link.
You should disclose affiliate links on social media (just like you would on your website). Because of the limited space in most social media posts, many people will use an #ad or #sponsored hashtag. You could also use #affiliate or even #aff if you're short on space.
Step 5. Creating Blog Content to Bring in Affiliate Sales (Content Marketing)
One important part of your affiliate marketing strategy is to create the types of content that typically drives sales. You want quality content that people will be searching for and that your regular readers will be likely to find useful.
Here are 4 great options to get you started. If you want to go beyond your blog itself, you could also use these types of content for YouTube videos on your YouTube channel.
1. Review Posts
One of the simplest types of affiliate marketing content to create is a review of a product or service. This lets you talk about your experience, share what's best about the product, and also potentially mention any drawbacks or downsides. You can give lots of useful factual information—like what exactly is included, and what the price is.
For an example, take a look at my in-depth Bluehost review. (You don't necessarily need to quote a bunch of other reviews, like I did—though that can certainly add a lot of value to your post.)
People who are considering whether or not to buy something will often search on Google for the product/service name plus "review", e.g. bluehost review.
Work on your blog SEO (search engine optimization) until your product review post ranks well on Google for that keyword. That way, there's a good chance that people will read it and make a decision to buy—bringing in affiliate revenue for you.
Use My Free Keyword Research Tool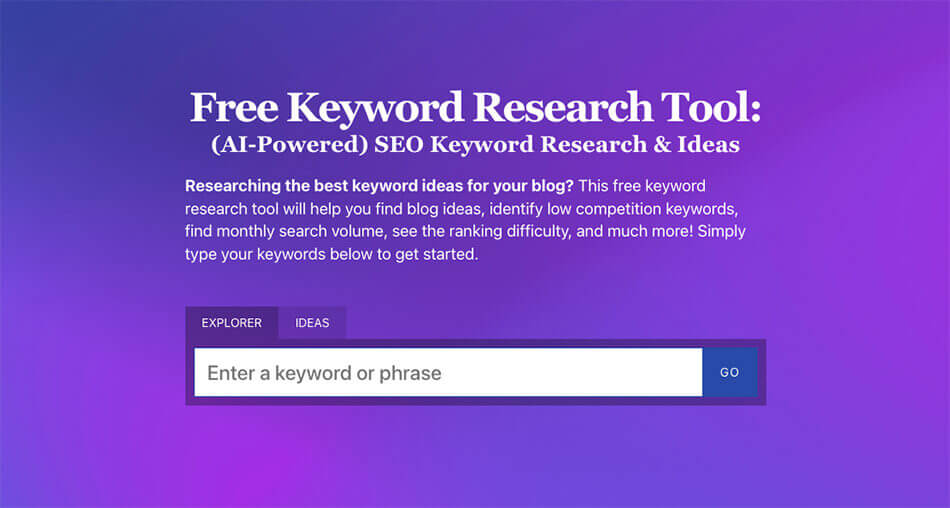 Try my free AI-Powered Keyword Tool to get dozens of research-backed ideas for keywords & topics to write about on your blog today.
---
You can also compete with big review sites by sharing useful additional information or support. That could be something like a discount coupon (some companies provide custom coupons for affiliates) or a getting started tutorial.
2. Comparison Posts
One of my favorite types of affiliate content is the comparison post. This is when you take two services or products that do a similar thing and compare them side by side.
You can find lots of examples of this type of content on my blog, including:
The great thing about this type of post is that it doesn't matter to you, the affiliate marketer, which option your reader chooses. You'll get commission either way. That means you can be totally honest about the pros and cons of each option, creating a really valuable and helpful piece of content that helps readers figure out the right solution for them.
Like regular reviews, comparison posts are great for search engine traffic. People who are trying to decide between two options will often head to Google and type in something like bluehost vs dreamhost.
3. Gift Guides
Another type of affiliate content that you'll see on many popular websites—especially around the holidays—is the gift guide. This blog post brings together lots of products, often on Amazon, with an affiliate link for each.
Your gift guide can relate to your niche directly (e.g. "59 Gifts for Writers That Are Way Better Than a Boring Old Notebook" on The Write Life's blog). Alternatively, it can be indirectly related: for instance, a blog about productivity for busy parents might publish a guide along the lines of "Get Your Gift Shopping Done in a Quarter of the Time: X Perfect Gift Ideas for Everyone in Your Life".
4. Resource Lists
Sometimes, readers don't know the names of the products or services that might be helpful solutions to their problems. That's when resource guides come in. This type of blog post rounds up a number of useful resources in a particular category.
Resource guides can focus on just one thing, like my post 11 Best Website Builders for Bloggers and Business Owners (Easy to Use). Or, they can offer a range of different types of product or service under a broader category, like my post 50+ Best Blogging Tools for Better Marketing, SEO, Writing, Research and Growth or my frequently updated compilation of the best blogging resources.
Need Catchy Blog Title Ideas?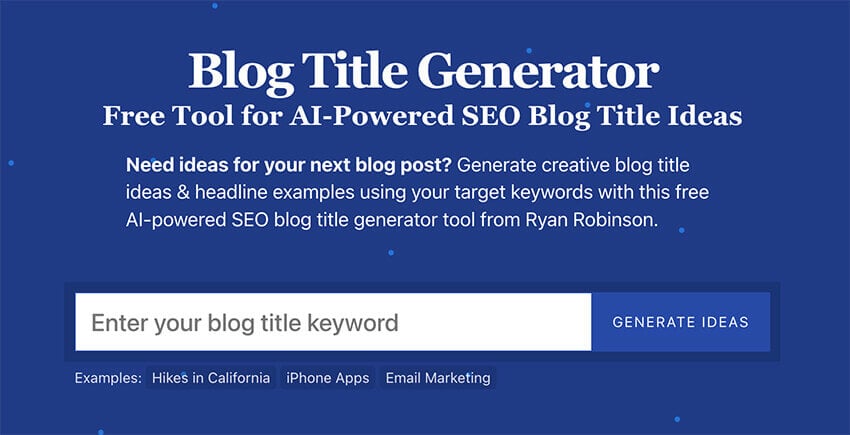 Try my free AI-Powered Blog Title Generator Tool to get dozens of SEO-friendly headline ideas to make your blog posts stand out today.
---
4 Common Questions About Affiliate Marketing (FAQs) Answered
Affiliate marketing is easy to get started with, but it could take you a while to master. Perhaps you've read through my guide but you've still got a few questions or there's something you're not clear about.
Here are four of the most common questions about affiliate marketing that beginners ask:
What Does an Affiliate Marketer Do?
As you might expect, affiliate marketers sell affiliate products (or services). They do that through creating content that promotes those products in some way, on a blog or website, through social media, or in a video or podcast (with a link in the video/show notes). Sometimes, affiliate marketers form custom partnerships with specific retailers or businesses.
Is Affiliate Marketing Legal?
Yes, affiliate marketing is legal. It's important that you disclose affiliate links, however: this is a legal requirement in the USA, whatever marketing channel you're using. You should always be honest about the fact that you get commission if someone buys after clicking on your link. Ethically, you should also be honest about affiliate products and services you promote.
Can Beginners Do Affiliate Marketing?
Absolutely! Affiliate marketing is a great, low risk way for beginners to make money online. It costs nothing to get started with and it doesn't require much time: in fact, once you've got your content in place with your affiliate links in there, you're all ready to receive passive income for months or years to come. Keep in mind that you'll make more affiliate income if you have an established audience (that could be solid website traffic, email subscribers, or social media followers).
What Platform is Best for Affiliate Marketing?
When you're just starting out with affiliate marketing, Amazon Affiliates is a great platform to use. There's lots of help and guidance, plus there's an incredible range of products that you can promote. Beyond that, there are lots of different affiliate platforms: it's best to pick those that fit most closely with your niche. As you grow your affiliate marketing business, you can keep trying out new platforms.
Start Making Money Online With Affiliate Marketing
Ready to become an affiliate marketer? All you need to do is to choose an affiliate program, sign up, and get your product links.
Affiliate marketing is easy and free to get started with. You can make sales even if you only have a small amount of traffic to your blog or a tiny email list. It doesn't take long to sign up for affiliate programs, so why not give it a try today?
Almost all affiliate programs will ask you to enter your website URL when you apply. You can get your blog up and running (complete with your own domain name) in just 10–15 minutes when you follow my step by step instructions to get your blog online.
Ready to Start Your Blog Today?
Check out my ultimate guide How to Start a Blog (on the Side) that's been featured on Forbes, Inc and Entrepreneur.
---
---