Free AI Article Writer
AI Writer Tool (SEO Copywriting, Blog Posts & More)
Ready to start your AI writing adventure? This free AI article writer tool will supercharge your copywriting & transform your ideas into beautiful blog posts in seconds. This AI writer will inspire your content creation for blog posts, social media, ad copy and more. Simply type your keywords below to get started with my AI content generator.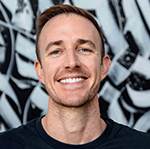 Get More Free Blogging Tools
Delivered Straight to Your Inbox
"*" indicates required fields
AI Writing is Here: Use My Free AI Article Writer to Generate SEO-Optimized, Long-Form Blog Articles
I've been waiting for AI writing tools like this to emerge. In my 10+ years of blogging and content marketing consulting, I've spent thousands of hours writing high quality blog content. Now, AI content generators like this 100% free tool we've built (no sign up required), are here to help speed up your writing process.
We decided to build this free AI article writer to show you the power of including AI writing tools in your content creation workflow. And if you like what you see, come join us in RightBlogger where you'll get unlimited access to our full toolbox of 40+ AI tools for bloggers.
✨ Want more AI-powered tools?
Use over 50+ AI-Powered blogging tools including a full blog post writer on RightBlogger.
AI article writers will save you time, not do all the work for you. I want to be clear that AI writing will not replace humans anytime in the near future—instead, these AI article writers are designed to quickly create high quality first drafts & reduce time in your blogging workflow. On average, using RightBlogger's Article Tool in my own AI writing process has reduced my time investment in long-form content from about ~8 hours to ~2.25 hours per article. This means I now publish blog posts more than 3x faster than I used to.
Here's a comparison of my old content creation process compared to my new AI-assisted blogging process: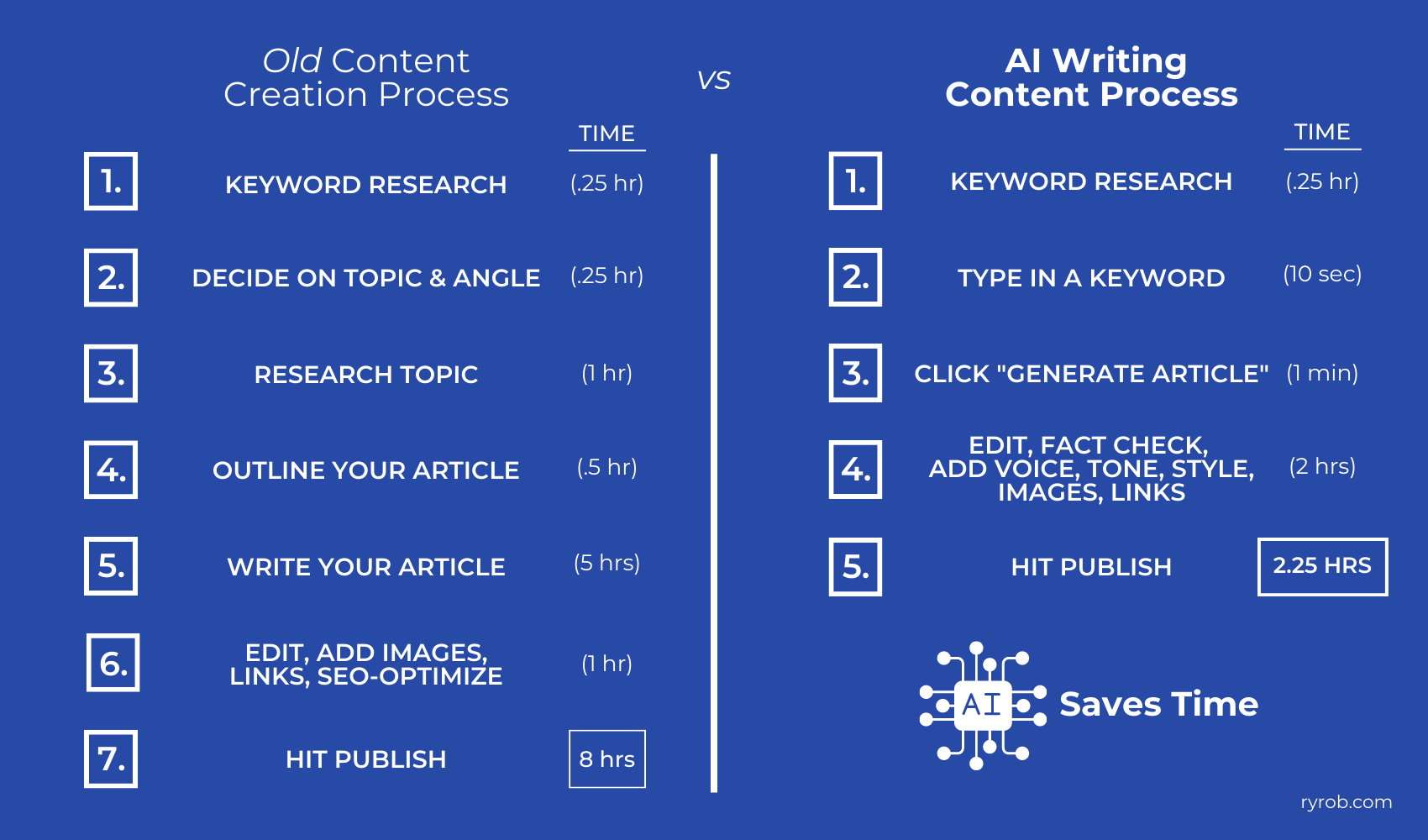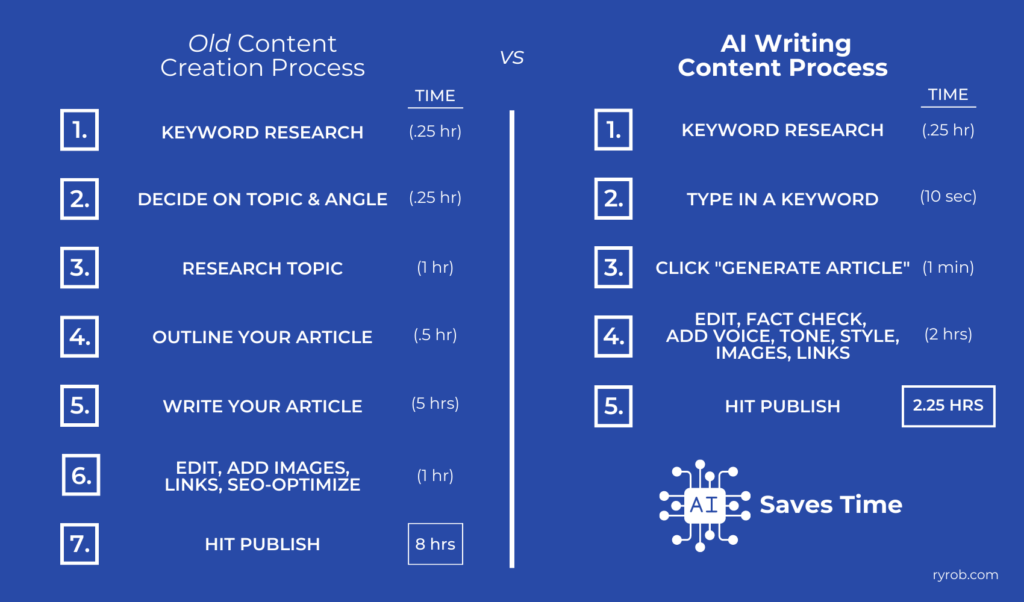 Aside from waving goodbye to writer's block while staring at a blank page forever, here are some of the highlights of what's changed in my own content creation process with the addition of AI writing tools:
Less time spent researching topics ahead of time (now more on the editing end though)
No time spent on outlining (RightBlogger's Article Tool generates fantastic outlines)
Very little time spent writing full sections of an article myself
About twice as much time spent editing, adding voice, tone, and style as before
Important: Fact checking is incredibly important with AI content generators
It's important to remember that AI article writers aren't going to reliably do all the work for us. Make sure you're always fact checking your AI generated content during your editing process (because AI can and often does make factual errors & mistakes). You'll also want to invest more time into adding your voice, tone and style into your content—otherwise, it'll read as pretty bland in most cases.
How to Use this Free AI Writer (Article Generator Tool)
In case you're not as experienced (yet) with getting the most out of AI writing tools, here's a step-by-step guide to using this free AI article writer to make sure you're generating content that'll meet your quality needs and satisfy search engines at the same time.
1. Type Your Desired Keyword (or Phrase) into the Topic & Keyword Text Field
Naturally, you'll need to know what you want to write about before using this article generator. If you're not yet sure which blog post idea you want the content writer to work with, that's ok. Take a quick pitstop over on my free keyword research tool to explore smart topics, gather inspiration & uncover clever content ideas that'll be relevant to your blog's niche. Try my free blog idea generator tool (no signup required for that tool either) and it'll come up with tons of smart blog topic ideas.
Once you're ready to write articles with this free AI copywriting tool, start by typing your desired keyword (or keyword phrase) into the text editor field above, like so:


The beauty of AI generator tools, is that you don't need to give it much guidance in order to get back SEO-friendly, high-quality content. You could hit generate right now and get back a pretty awesome article, but if you're comfortable tinkering with a few settings, it'll make your AI-generated content that much more more unique to you.
2. Edit the Outline for the AI Content Generator to Use (RightBlogger Feature)
If you already have a clear vision for how you want your blog post to be structured with various different headings & sections throughout the article, then feeding the fully featured version of my AI article writer (inside RightBlogger) a few bullet points to work with during the outline process, will guarantee your AI-generated article ticks all your boxes.
When you enter a few items into the Outline text editor field inside RightBlogger, each of those will become separate headings that'll be expanded upon by the article writer. Entering one suggested heading per line, here's how that outline should look inside RightBlogger: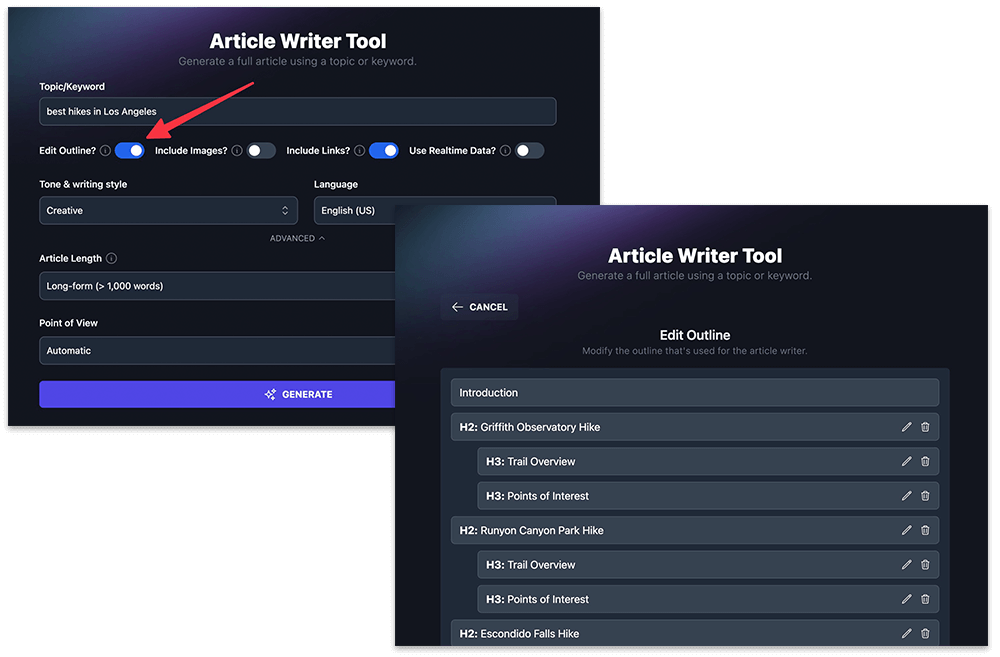 Alright, now you have an outline in place that'll all but guarantee this AI content writer delivers high-quality content that meets your expectations. Now, let's look at a few more settings to ensure an even better article from this AI writing assistant.
3. Adjust Settings for Tone & Writing Style, Output Language, Images, Links & Real-Time Data
Now this is where AI writing gets really fun. This is your opportunity to inject your own creative direction into the AI content generator with very clear suggestions around how it should write the article. With my free AI article tool here, I've made a few output language options available for everyone to use, but inside RightBlogger, you'll unlock options for tone & writing style, including images, links and using real-time data from around the Internet: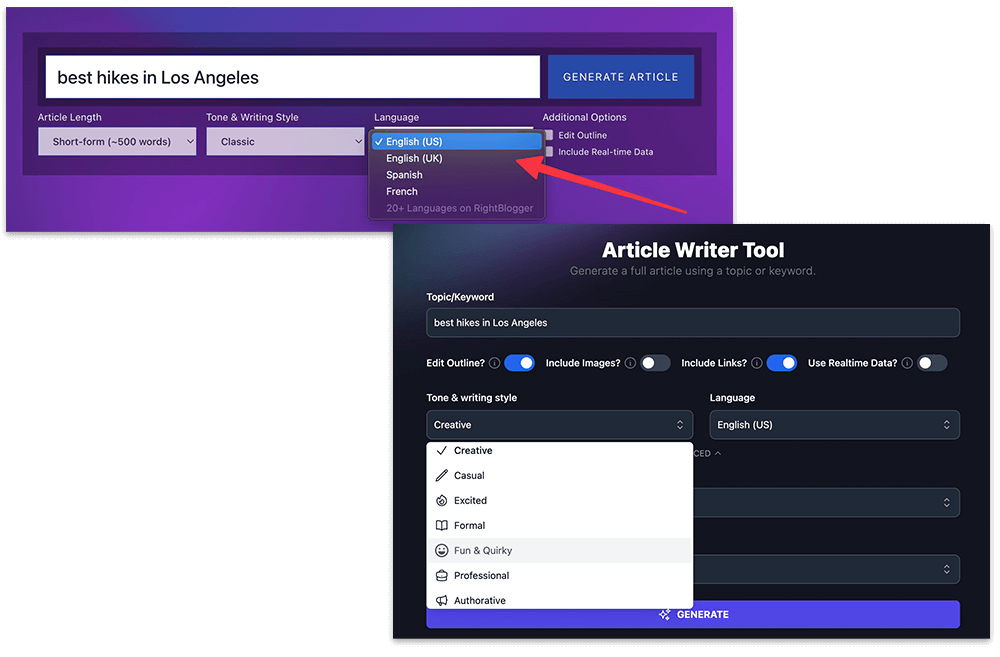 You'll see about a dozen options for the Tone & Writing Style dropdown menu inside RightBlogger, which I highly suggest using to get a more unique, curated article, including:
Default (the standard voice & tone prompt we've trained the AI model with)
Creative (my personal favorite)
Casual
Formal
Fun & Quirky
Professional
Authoritative
Irreverent
Direct
Persuasive
Sales-oriented
If you're creating long-form content in languages other than English, we've got you covered. You'll have the option to set the output language in 20+ different language formats inside RightBlogger, including:
English (US)
English (UK)
Spanish
French
German
Portuguese
Italian
Dutch
Swedish
Polish
Japanese
Chinese (Simplified)
Chinese (Traditional)
Finally, we have a few more quick settings to play around with inside RightBlogger, to really get the most out of our AI article generator:
Images: You can toggle on the option include images in your article, and the AI text generator will do it's best sourcing relevant stock images from the royalty-free image website, Pexels, to be incorporated throughout your content.
Include Links: If you want to make extra sure you're citing relevant, authoritative sources in your AI-generated content, toggle this option on and the AI writer will try and find relevant sources to cite and link to within your generated content.
Real-Time Data: Writing about a timely subject you want to get the most up-to-date information on? Toggle this setting on to use real-time data from across the Internet in your article (this feature is currently in beta).
Whew, I told you AI writing tools won't do all the work for you, right? Trust me, it's worth investing the time up front tinkering with the prompt you're instructing the AI article writer to use—you're much more likely to get back high quality content that meets your expectations. And while today, we don't have all the features built into this free AI article generator, I'll be continuing to improve this free version alongside the already epic AI article writer inside RightBlogger.
4. Select the Length of Your AI Article (Long-Form vs Short-Form) and Point of View
With the free version of my AI article writer here, you'll be limited to generating (high-quality and SEO-optimized) short-form articles from this tool that range from 500 to 1,000 words in length.
Inside RightBlogger, however, you'll have the option to generate long-form articles that can range from 1,000 to 3,000+ words depending upon how extensive your article's outline is: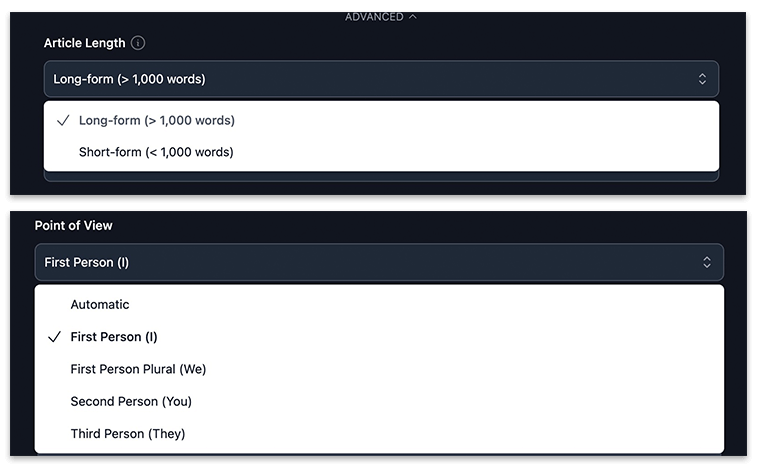 You'll also have the option to select which point of view for the article to be written from, choosing from these options:
Automatic
First Person (I)
First Person Plural (We)
Second Person (You)
Third Person (They)
Once you've set all your options, you're ready to generate your AI article.
5. Click "Generate" to Get an SEO-Optimized AI Blog Article in Seconds
The moment of truth! Once you've dialed in all your settings, click "Generate" to begin the AI writing process.
You'll see the article writer activate & get to work right in front of your eyes as it creates your content in real-time. Depending upon the complexity of the topic you're writing about, the AI writing process can take anywhere from 30 to 90 seconds (a little over a minute is average for long-form articles inside RightBlogger). Here's how that should look on your screen: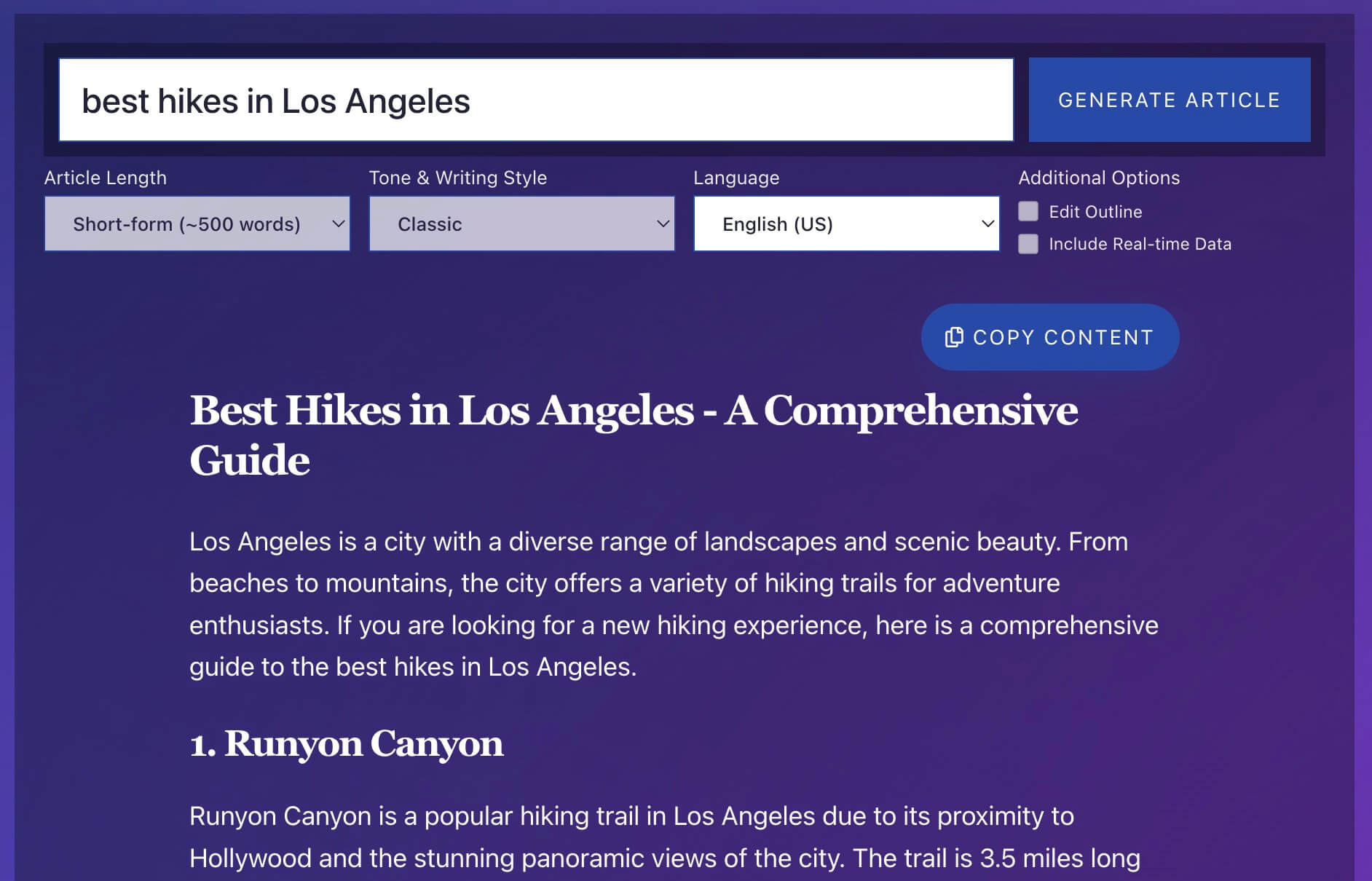 Now, you have your hands on a beautiful piece of SEO-friendly, long-form content to work with.
Remember though, it's important to make sure you take a meaningful amount of time to edit this AI-generated content, add in more of your own unique voice & perspective, and fact check the content. AI writing is not perfect on its own, it still needs your touch.
6. Copy (or Download) Your AI Article & Get to Editing
Lastly, you'll need to hit the "Copy" or ".docx" button to grab your AI-generated content.
This is important, because this is a free AI article writer tool—you won't be able save this article in an account, so if you navigate away from the page before saving your content locally, it'll disappear. Inside RightBlogger, we save all of your AI-generated content to refer back to, edit, repurpose & share with others. Here's what the Copy & Download options will look like above:


Copy: Clicking "Copy" will copy the entire article to your clipboard in a format that's perfect for pasting directly into either a shareable Google Document you plan to use for editing, or directly into WordPress (or whichever CMS you use for your blog) to finish up your editing and fact-checking process.
.docx (available in RightBlogger): Clicking ".docx" will download a Microsoft Word Document containing your article, directly to your computer (this option won't work well on mobile devices). Once you've downloaded your article in a Word Doc, you can take to editing right there—or move this properly formatted content into a CMS and get to work.
Now, you're free to jump into editing & fact checking mode. You'll most likely want to take a heavy hand to re-crafting an intro & conclusion that better suits your voice, tone & style, as AI writing tools won't be able to capture your true essence very well. Much of the body content in your article will be sturdy as-is, just keep an eye out for double checking any facts and figures.
If you're digging this AI writer and want to take your content creation to the next level, come check out the 40+ AI tools we have inside RightBlogger—where you'll also be able to save all your AI-generated content in a single private library.
✨ Want more AI-powered tools?
Use over 50+ AI-Powered blogging tools including a full blog post writer on RightBlogger.
The Fundamentals of AI Writing (Using AI Content Generators for Copywriting, Blogging, Content Marketing & More)
"With great power, comes great responsibility." — Uncle Ben advising the young Peter Parker (Spider-Man). This adage holds true when it comes to AI writing too.
These tools are truly revolutionary. They're very quickly upending the way bloggers, content marketers, copywriters have functioned for years. While that amount of change can sound scary to some, this is actually an incredible opportunity to redefine how you function in your business. AI isn't taking your job, it's creating new opportunities for you to grow and evolve.
How often do we experience entire industries changing at light speed (like the way AI tools are shifting the world of digital content)? Now's the time to embrace using these AI tools to grow your business in new ways. Now, let's talk about how to successfully use AI content generators in your writing workflow.
1. AI Article Writers are Tools (Not a Replacement for You)
Your new superpower is that you're a Certified Human™️ with a deep well of emotional intelligence, heart, soul, feelings, real life experiences, examples, and use cases you can use to make the first draft content you'll generate from AI writers, uniquely special & truly yours.
While AI article writers can undoubtedly help generate content quickly, it's important to remember that they shouldn't replace your own human expertise—the reason you decided to start a blog, pick up writing or launch your business, in the first place. These are tools to help you write more content, faster… not completely remove you from your writing workflow (that would be a bad idea).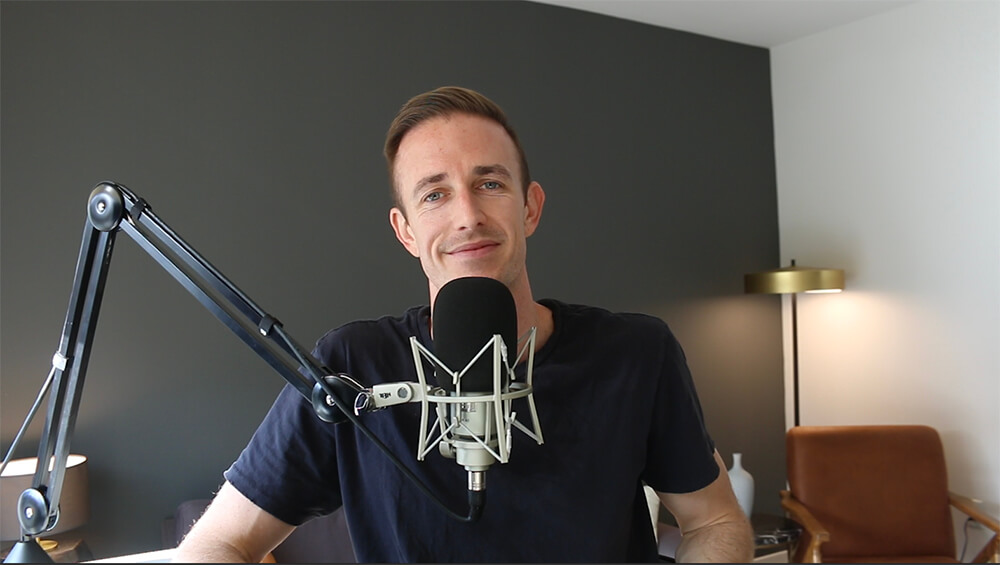 What's more, the combination of AI-powered tools and your unique-to-you human knowledge can create some of the absolute best, high-quality content that'll resonate with your audience and save you tons of time.
2. Generate High-Quality Article First Drafts
Think about using AI writing tools to gather ideas, inspiration and to generate first drafts of your content. I'll say it again, an AI article writer is not a replacement for doing the actual work of bringing forth your unique take on a subject. You're just changing the order of things in your content creation process a bit—so you'll now need to inject your humanity into your article after the first draft is generated.
By now, you've probably noticed that AI-generated content can often sound pretty bland or devoid of any discernible tone. This is particularly clear when seeing how AI writes intros and conclusions. That's because these AI algorithms are learning from damn near everything on the Internet, of course it's not going to get your tone just right.
It's always going to be your responsibility to take AI-generated content and make it your version of human, by adding your own expertise, voice, tone, style and examples to make your articles truly unique & engaging for readers. Your ability to do this well at scale with the help of AI writing tools, is the new superpower when it comes to blogging & content marketing.
3. You'll Become More of an Editor-First When Using an AI Writer
Let me alleviate your existential concerns… you're still a writer, even if you use AI writing tools to help with your content creation process. There's no world in which generating an article with AI and instantly pressing publish will pay off in the long run. Your AI-generated content still needs you in order to be useful, relatable and actionable for your audience.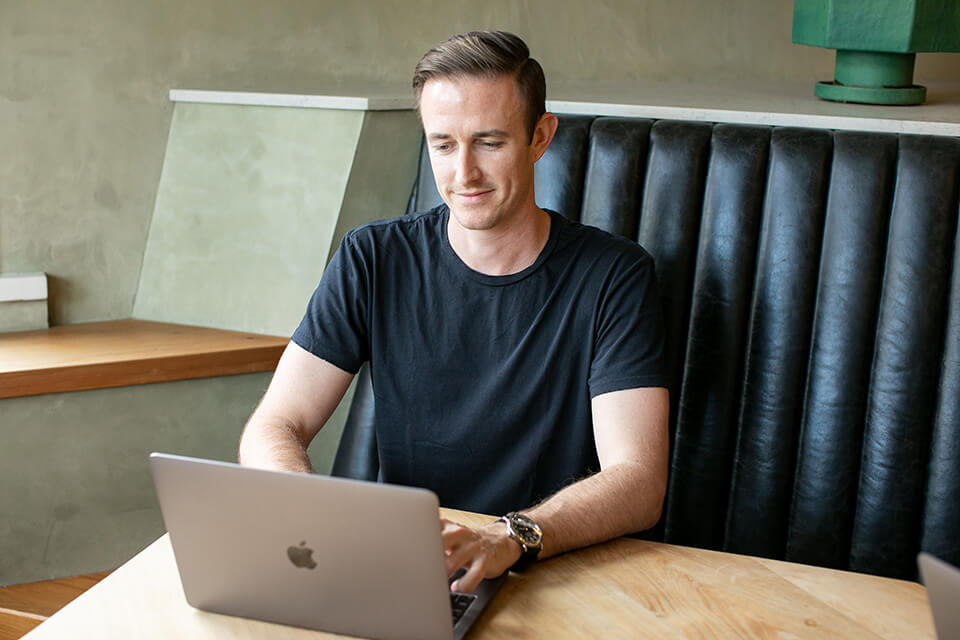 Every article you write with the assistance of AI, is still uniquely yours. You'll be adding to the content, removing bits, editing sentences, restructuring the flow, and injecting your humanity into the content with voice, tone, style, examples and expertise.
Those are all very much still the set of actions a writer (or blogger) takes. The biggest change in your writing workflow now, will be getting a solid first draft created by AI—now you have a strong piece of long-form content to work with, edit and massage into being a truly great article (in less time than it would've taken you to write that same article from scratch, yourself).
Naturally, AI article writers are best-suited for certain types of jobs. If you want to share a deeply personal story, a hot take on something going on in your industry, or an insight that's so uniquely your own… AI writers won't be able to capture the pure essence of that, for you. With content like this, I recommend still writing at least most of it yourself and seeing if there are any opportunities where AI tools can supplement creating smaller pieces of that content.
4. Take Extra Care with SEO-Optimizing & Fact-Checking Your AI Content
While we've built this AI article writer to generate SEO-friendly long-form content, it's not perfect. It never will be. You'll instantly get content that includes relevant keywords and phrases, but it's important not to rely solely on AI-generated content for SEO success. Use AI-generated content as a starting point, then use the best SEO tools out there to optimize your content further with human knowledge and expertise. Always keep an eye on fact-checking for errors or mistakes AI tools may inadvertently make during the writing workflow.
By finding a balance of combining these powerful AI tools with your human expertise, you'll make the most out of AI article writing tools when it comes to boosting your article output without sacrificing quality. Remember to always review AI-generated content before publishing—and use AI writing assistants as a tool in your chest, rather than a replacement for your human knowledge & creativity.
What are the Best Use Cases for Incorporating this AI Writer Tool into Your Workflow?
As I said at the start, this will forever remain a free AI article writing tool (with some usage limits, since it costs us to keep this free). In effect, this is the free plan for our paid AI tool suite, RightBlogger, so you'll need no credit card to use this free tool above.
I strongly believe that once you experience AI writing for yourself, you'll instantly see just how much these tools can improve your content workflows in terms of (1) speed and (2) consistency. Now, let's talk about some specific use cases for this AI article generator.
This free AI article writer is best used for generating SEO (search engine optimization) friendly blog posts that are designed to rank high in organic Google search results. That said, here are a few of my favorite related use cases you can also use this AI writing tool for:
Writing full, SEO-optimized blog articles (long-form content)
Brainstorming for bloggers of all types to get full first drafts of content inspiration
Generating content to fuel posts for your social media calendar (LinkedIn, Twitter, Facebook & more)
Coming up with creative ad copy to use in product descriptions & landing pages
Crafting wide range of content marketing efforts that can be fueled with a high quality article
Putting together blog post templates and first drafts to share with your content team
Marketing copy to use across your website and even email copy to use in email campaigns
Write articles to pitch as guest posts on other sites to grow your blog's influence
Transition to AI copywriting for faster creation of product pages
Creating tedious listicles with the click of a button (vs hours of writing & rephrasing)
Content writing of all formats that you wan to outsource to AI writers
Generating multiple versions of articles for A/B testing and increasing conversions
While these use cases & ideas may spark some more inspiration for you, there's no real limit on how you can use this AI-generated content—so please go crazy and let me know how you're using this free tool! 😊
Ditch Your Writer's Block for Good: How to Think About AI Text Generators Today
Gone are the days of spending countless hours painstakingly stuck in content writing & copywriting mode. With the rise of artificial intelligence tools like this article writer, you can now generate high-quality content almost instantly.
More importantly, AI writing tools will not replace humans anytime soon. While anything is possible in the distant future, even the best AI writing assistants are simply reformulating information they've found across the Internet—and repackaging it into a uniquely written blog article for you. AI article writers function just like my paragraph rewriter tool, just less obviously behind-the-scenes. We'll talk more about how this tool works, later on.
AI article writers are a low-cost form of outsourcing parts of your content creation process. Treat this free tool like an AI writing assistant that takes your guidance and works on your behalf. In essence, you're outsourcing the time-consuming tasks of researching, outlining and writing your articles when using a content writer tool like this.
However, AI writing isn't a totally done-for-you solution. Where you'll save a ton of time skipping the content writing yourself, you'll now need to compensate by investing more time into editing, fact-checking and weaving your voice, style & tone into the content to ensure it's accurate and uniquely yours.
Do AI Content Writers Plagiarize? How Do I Know My AI Article Will be Plagiarism-Free?
Time to put on your debate cap. Is AI content plagiarism? The short answer is no, because no original work is being directly copied.
That said, there's still an ongoing public debate over whether AI-generated content should be considered plagiarism. Some argue that because the content is not created directly by a human, it can't be considered original content—and therefore must be plagiarized. On the other side of the aisle, many argue that since AI algorithms are designed to create unique content, it's not technically plagiarism.
Here's where I stand: I don't feel AI-generated content constitutes plagiarism, because no original work itself is being copied. The language processing models that power these tools are gathering incomprehensible amounts of information from across the Internet, to write the content you get when you generate an article above. AI writers don't copy any specific sources, they're always learning and uniquely explaining a topic each and every time you use one. For that reason, we don't have a built-in plagiarism checker in this article writer.
Despite this ongoing debate, it's important for bloggers and content creators to use these AI writing tools responsibly when it comes to content marketing efforts. Always fact-check your AI-generated content, be transparent, and ethical in your use of AI writing tools.
How Does this AI Article Writer Work Behind-the-Scenes? Advanced Paraphrasing & Rewording
This free AI article writer tool is AI-powered and designed to give you SEO-friendly, uniquely written blog content. Put simply, this is a content generator tool that'll take your input instructions & quickly write long-form content. While this AI-generated content won't technically be in your own words, you'll get high-quality content that's uniquely written—free of grammatical errors.
We built this online tool using GPT-3 & GPT-4 artificial intelligence technology from OpenAI's API (they also run ChatGPT), with a focus on prompts we've perfected to generate clever, SEO-friendly, long-form content to use on your blog. GPT-3 is a natural language processing model. In short, this means the underlying technology has what's called a neural network machine learning model, that takes input text (like your keyword and outline) then generates plagiarism-free content you can use to fuel your blog articles.
This content generator tool functions similarly to our paragraph rewriter that paraphrases content, as well as our blog title generator and free keyword research tool—they're all trained to learn from the vast body of information on the Internet, to spot patterns. We've trained our AI article writer with the goal of giving bloggers a faster content writing experience & helping your blog posts to rank higher in organic search engine results.
AI Writer FAQs (Frequently Asked Questions about AI Article Writing)
I get a lot of questions about this AI article writer, so here are answers to those most frequently asked questions.
Does this free AI article writer work with a companion WordPress plugin or have a Chrome extension?

No, it does not. To (soon) unlock access to our WordPress plugin and Chrome extension that are in development, you'll need to be a paying customer of RightBlogger. For our simple pricing of just $29.99/mo, you'll get unlimited use of all our 40+ AI tools for bloggers—including the unlimited AI Article Writer Tool inside the platform, which has even more customizable options and functionality.
How long does this AI writer take to write an article?

Depending upon the complexity of the topic you're tasking the AI article tool to write about & the length of the outline you've instructed it with, the AI writing process can take anywhere from 30 to 90 seconds (a little over 1 minute is average).
What kind of articles will AI write best?

AI article writers are definitely best-suited for certain types of content creation tasks. They're best at writing about well-established topics without the need for including personal stories or examples (you'll have to add those in during your editing process).

On the other hand, if you want to share a personal story, a hot take, or a deep insight that's unique to you… AI writing tools won't be able to capture the true essence of that on your behalf. With this kind of content, I recommend still writing at least most of it yourself and seeing if there are any smaller opportunities where AI tools can swing in to support.

While this free AI writer isn't specifically designed to generate things like copy for Facebook ads or social media posts in general (though there is a tool for that inside RightBlogger), it can still generate a useful block of AI-generated text that'll help human writers hit the ground running with ad copy generation. Whether you're using this AI writer for product descriptions on your eCommerce shop (Amazon store), or to simply find the right words to streamline your blog content—I know you'll love this tool.
What are the benefits of AI-generated articles?

The benefits of AI-generated articles are actually huge in number. For one, they'll save content creators (like you) a significant amount of time and effort. With AI article writers, you can can generate high-quality articles in a matter of minutes, rather than hours or days. I've been able to produce excellent long-form articles in more like 2.5 hours, compared to my previous average closer to 8 hours. This means higher productivity and increased output.

Believe it or not, AI-generated articles can also improve the overall quality of content. With NLP (natural language processing) algorithms, machines can analyze and understand human language, ensuring that the articles they produce are coherent, relevant, and engaging. This can lead to higher engagement and better reader retention on your blog too, ultimately resulting in increased traffic and revenue for content creators.

In addition to the more time and quality-focused benefits, AI-generated articles can also be customized to fit specific needs and preferences. For example, machines can produce articles on hyper-niche topics you may not have the time to get to yourself, and quickly generate SEO-optimized content, creating new opportunities to show up in more search engine results pages (SERPs). You can also tailor your AI articles to a specific audience, making them more appealing and engaging to readers.
What are the pros and cons of using AI article writers?

Let's start with the pros of using an AI article writer in your content creation process:

Saving Time: AI article writers are great tools for content creators who want to generate articles quickly and efficiently. One of the biggest advantages of using an AI article writer, is that it saves time. You can create high-quality articles based on just a few quick instructions for the tools to work with.
Idea Generation: Another advantage of using AI article writers, is that they can help you come up with new ideas for your content. Use my free blog idea generator tool for that. The AI algorithms at play behind-the-scenes will suggest topics and even generate titles for your articles. This can be especially helpful if you're struggling with writer's block, or coming up with new ideas for your content.
Improve Your Writing: Believe it or not, AI article writers can also help you improve your writing skills. By analyzing your content, an AI writing assistant can identify areas where you can improve and suggest changes to make your writing more engaging and effective.

Now, it's not all sunshine and roses. Let's talk about some of the cons of using AI writing tools:

Limitations: Although AI article writers have many advantages, there are also some limitations—most clearly, they may not be able to produce content that's unique enough or high-quality enough for your standards. While they're vastly improving in this department, they're also not great at capturing the tone and style of your unique voice, which can make your content feel generic and impersonal if you don't take time to weave your own voice into the content. AI writers can also struggle with more complex topics that require a deeper understanding of the subject matter, making it better to write yourself if you can provide more in-depth and nuanced content.
Concerns About Inaccuracies: One of my biggest concerns about AI article writers, is that they can be (intentionally or inadvertently) used to create fake news or misleading content. It's important to ensure the content produced by any AI text generators you use, is accurate and as unbiased as possible.
Ethical Implications: As this technology is so new to the world, there are also ethical implications to using AI in your content process. It's important to ensure that the use of AI writing tools is transparent, and that readers are aware the content has been generated (at least in part) by an AI algorithm.
Does this free AI writer use a plagiarism checker?

No, this free tool does not use a built-in plagiarism checker. However we do have a plagiarism checker (coming soon) inside the full RightBlogger AI content creation platform, which serves the purpose of illustrating that AI content doesn't constitute plagiarism—as it doesn't "copy" from any specific sources. Rather, AI algorithms are learning from a vast database of almost everything on the Internet and synthesizing, paraphrasing, rewording and reformulating totally unique answers to your queries every time you generate an article. Inside RightBlogger, we have dedicated tools for everything from a text summarizer to an expander & everything in between that'll help you create more content, faster.
Tool built by my insanely talented friend, @sup.