Whether you're starting a blog on an extremely tight budget—or taking your business online with a website, saving every single penny becomes a priority. That's where free web hosting plans come into play.
While many hosting options are quite affordable, nothing beats free if that's your main focus right now.
The biggest problem though, is that (in most cases) free comes with a price tag… usually in terms of sacrifices you'll make to the quality of your hosting service and ultimately the growth potential of your blog. And while most free web hosting plans out there today are pretty heavily restricted, there are still quite a few gems that are great to start with.
For that reason, I wanted to take the hassle out of this process and bring you a curated list of the best free web hosting plans you can rely on to give you a great service, strong experience and reliable platform to grow your website over the coming months and years.
7 Best Free Web Hosting Plans (to Blog for Free) in 2023
Disclosure: Please note that some of the links below are affiliate links and at no additional cost to you, I'll earn a commission. When you purchase web hosting using my one of my affiliate links, the company compensates me, which helps me run this blog and keep all of my content free of charge to you. Know that I also only recommend hosting companies I personally stand behind.
Are free web hosting plans really worth it?

Over the past few years, free web hosting has become more popular. But is a free hosting plan really worth it?

Well, the answer to that depends on your ultimate blog goal. If you're looking to set up a resource-heavy blog or use a robust eCommerce website builder, a free web hosting plan won't be right for you. You'll end up getting quickly frustrated with a lack of functionality. In order to immediately build a website with the potential to relatively quickly grow into a profitable business, you'll need to move beyond free hosting and into one of the top cheap hosting plans (which start at $1.39/mo) in order to unlock the right features for your needs.

However, if you're looking to set up a simple blog with a focus on written content, a basic website showcasing your retail store… or even if you're just looking to test out a hosting company before making a commitment to them and exploring many types of content, then a free web hosting plan could certainly be worth your while.
---
7 Best Free Web Hosting Plans (to Blog for Free) in 2023
While free web hosting plans can be pretty restrictive on what you'll actually be able to do with your blog, there are still a few that stand out from the crowd in terms of quality, options and viability to actually build a blog that can turn into a real business over the course of time.
And while it's true these free hosting plans aren't as robust and fully featured as the top plans on the market (that range from $1.39/mo to $3.95/mo)—these free web hosting plans do offer a very worthwhile service if you're in a position where you're currently unable to invest financial resources into your blog. This is the best place to start.
Here are my picks for the best free hosting plans to get started with this year.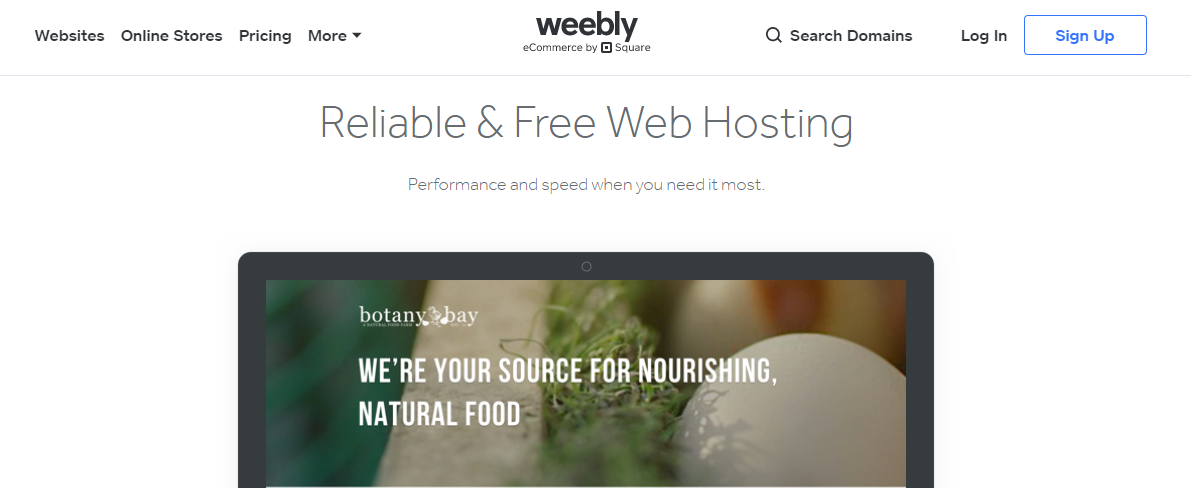 The Weebly brand is best known for their highly-rated website builder that's gained traction with many beginning bloggers in recent years. However, Weebly now offers their customers free web hosting plans to get started with—and it's a pretty good combination of features (for a free plan), too.
One of the biggest advantages you get with Weebly's free hosting plan, is that you get full access to their easy-to-use website builder, which gives you a clear picture of what it'd be like to scale your blog using the Weebly platform. Other features on their free hosting plan include:
Features of the Weebly Free Web Hosting Plan
Weebly-branded domain name (like yourblog.weebly.com)
Bandwidth: Unlimited
Storage: 500Mb
No built-in email address
Free SSL certificate
Shopping cart features
SEO tools and lead capture
Chat, email, phone support and community forum
Despite the lack of an email account, Weebly's feature set is by far the most robust offering you'll find for the trustworthy, reputable free web hosting plans you'll find on the market today. You can host a decently sized website with them—and focus on the important aspects of blogging, like writing great content and driving in traffic—as long as you remain within the server limitations of the free plan. If not, you can quickly upgrade to Weebly's affordable paid hosting plans.
Pros of the Weebly Free Hosting Plan
Weebly's free web hosting plan actually has a lot going for it—and to be honest, I was surprised how generous it is, compared to the other free plans here. Other benefits you can expect from hosting your blog with a free Weebly plan include:
No Weebly advertisements to be placed on your blog
Intuitive drag and drop website builder
Cons of the Weebly Free Hosting Plan
As great as Weebly is when it comes to their free web hosting, it does still have clear shortcomings. Some of which are:
Weebly branding (your domain will look like yourblog.weebly.com)
Less storage space than some of the other competitors here
Verdict
As a well-known brand already, Weebly has a strong reputation to maintain. Because of that, their customer satisfaction is very important. As a result, you can expect their free web hosting plans to be the absolute best on the market today. If you're thinking of launching your own blog on a very tight budget, Weebly's free plan will certainly do the trick—and give you a lot of room to grow over the coming months as you make progress.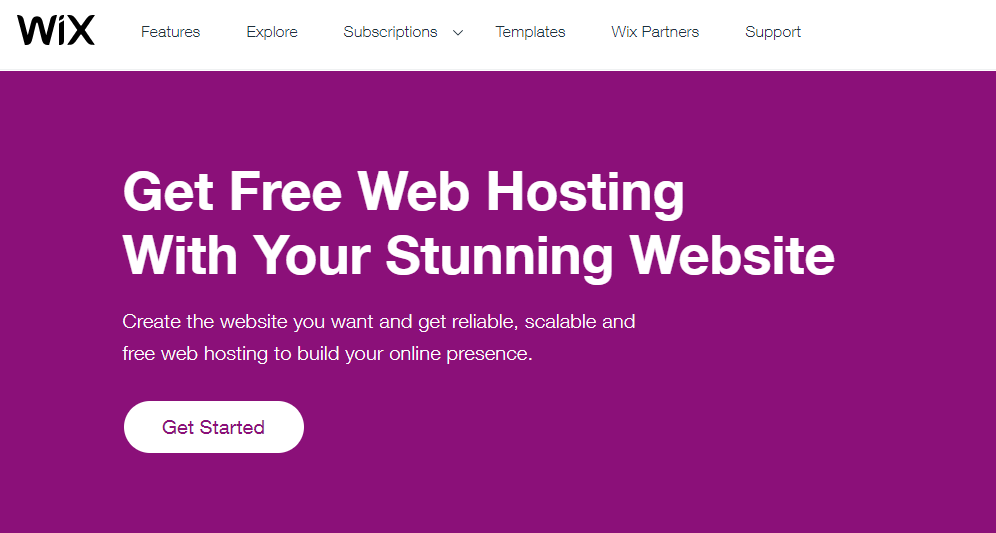 Wix has rapidly become a household name in the website building industry, thanks in part to their easy-to-use website builder (and a hefty advertising budget doesn't hurt, either). Now expanding their service portfolio to include hosting, the company also offers a free web hosting plan that's pretty solid if you're in the market for one. So, what does their free hosting plan come with?
Features of the Wix Free Web Hosting Plan
Wix-branded domain name (like yourblog.wixsite.com)
Bandwidth: 500Mb
Storage: 500Mb
Email: Yes
Includes their own free website builder
One of Wix's biggest selling points is how user-friendly their platform is for brand new bloggers—both as a free hosting provider and as a website builder, to actually manage the content of your blog. To be fair though, their customization options will pale in comparison to what you'll get with a self-hosted WordPress blog instead.
Pros of the Wix Free Hosting Plan
So what advantages does Wix bring to the table?
SEO tools
Robust security
User-friendly
Easy to scale
Cons of the Wix Free Hosting Plan
Aside from the Wix branding to your URL (for example, your blog will live at a URL like yourblog.wixsite.com), there are a couple of other key considerations to keep in mind:
Limited resources
No customer support (on their free plan)
Verdict
With Wix having a long-standing reputation as one of the top-rated mainstream blogging sites, you can expect a great experience with them—even on their free web hosting plans. But just be sure to remember that as with all free hosting plans, the more limited resources will restrict you to a pretty basic blog for the time being (while you build some momentum).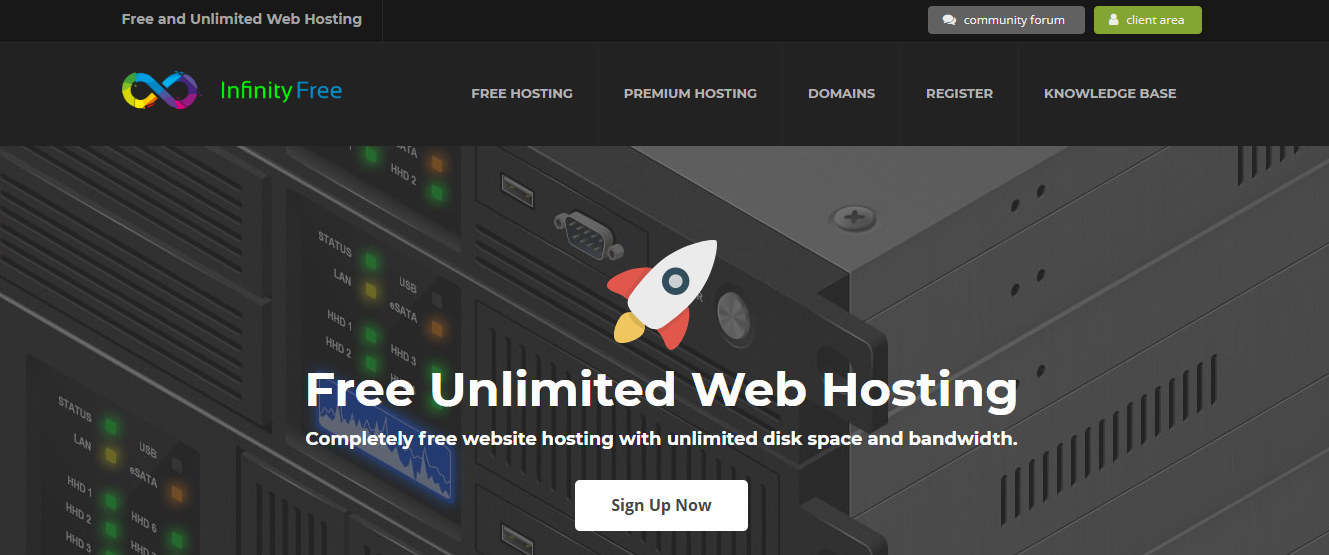 Infinity Free offers one of the best free web hosting plans on the market today, though they're not as big of a brand as our first two picks (and have fewer online reviews). One of their biggest upsides, is that they offer free web hosting—forever.
Not only that, but this hosting company offers a pretty competitive number of features compared to most other web hosts that have free plans. Speaking of features, let's quickly take a look at what you'll get with their free web hosting plan.
Features of the Infinity Free Hosting Plans
Your blog will live on their subdomain (i.e. yourblog.infinityfree.com)
400 MySQL databases
Free SSL certificate
Unlimited storage
10 POP3 email accounts
cPanel website management
Infinity Free's solid feature set makes it one of the most attractive options of the lesser-known companies in this space. However, one thing to note is that while you do get the promise of unlimited storage on their free plan, relatively fast speeds and 99.9% uptime—what you actually get in the real world, is dependent on how many server resources are available at the time (which can vary quite a bit).
Pros of the Infinity Free Hosting Plans
One good thing about Infinity Free is that it comes with more pros than cons. And more pros than most other free web hosting options on the market. Here are some of the most prominent ones:
One-click WordPress installation
Softaculous (a script library that enables you to automatically install apps)
Unlimited bandwidth
Cloudflare integration for faster page load speeds
Ad-free (ads only show in your private control panel)
Very active community support forum
Cons of the Infinity Free Hosting Plans
Like most free services, Infinity Free does have its drawbacks too. Of note are:
Limit of 50,000 readers per day (that's a lot though)
Doesn't support other free SSL certificate services
Your blog will still live on a subdomain of the Infinity Free site
Verdict
While Infinity Free offers one of the top free web hosting plans, their limitations still make it a subpar option for hosting a true business website. However, if you're a hobbyist (or practicing your blogging) and don't intend on using too many images that'll slow down your site, you can actually run your website pretty well on Infinity Free's servers. Moreover, if you find yourself quickly outgrowing the free plan, you can upgrade to their paid plans (ranging from $3.99/mo to $6.90/mo).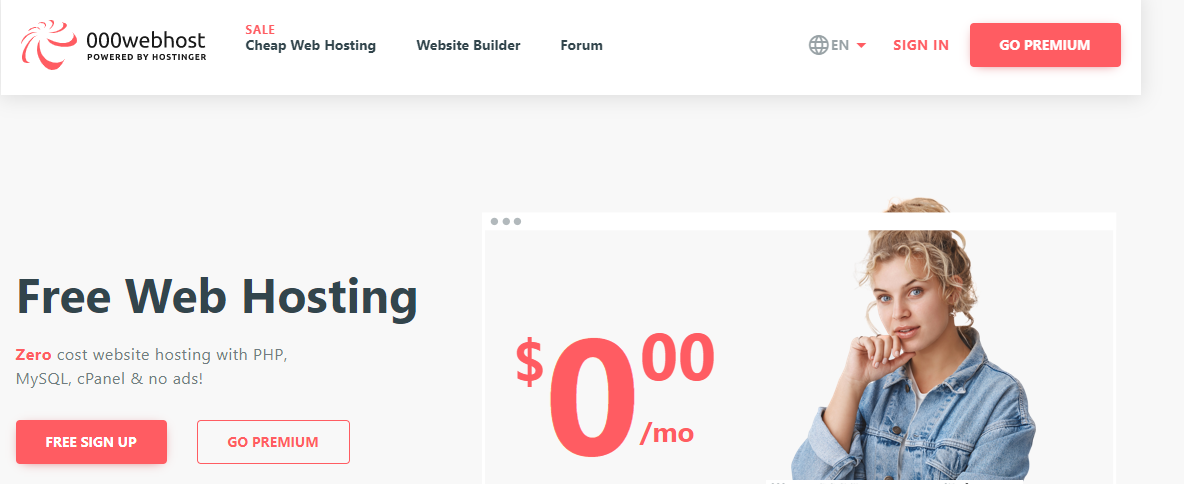 As the name suggests, 000WebHosting provides absolutely free web hosting to their customers. And you can expect to be pleased by the level of service, as this free offering is powered by Hostinger, one of the top brands in web hosting circles around the world. To be fully transparent though, know that since 000WebHost is owned by the larger hosting company, Hostinger—understand that you'll be offered a lot of upgrades to their paid hosting plan options along the way to completing sign up.
While many free hosting plans force advertisements onto your website, 000WebHost has a no-ads policy. That and the impressive load speeds result in a pretty standout user experience for both you and your website's visitors. It also comes with a pretty impressive set of features for a fully free service.
Features of the oooWebHost Free Hosting Plan
Branded sub-domain (i.e. yourblog.000webhost.com)
Bandwidth: 10GB
Storage: 1GB
Reliable load time speeds
cPanel control panel
Ability to run your own advertisements on your site
All things considered, 000WebHost has pretty impressive features, making it a formidable contender amongst best free web hosting plans. Especially since you can run your own advertisements on your blog (and start to generate some revenue off of your incoming traffic).
Pros of the oooWebHost Free Hosting Plan
Apart from great features like generous bandwidth and storage, a few other benefits you'll get with 000WebHost include:
Full PHP and MySQL database support
Their free website builder
One-click WordPress installation
Cons of the oooWebHost Free Hosting Plan
As they say, when something sounds too good to be true, it probably is. When it comes to 000WebHost's free hosting plan, a few factors make it a little too good to be true:
Poor uptimes (websites on their free plan can expect as much as 2 hours of downtime a month)
No email accounts available
Verdict
While 000WebHost's free web hosting plan really ticks a lot of boxes when it comes to the features you want in a hosting company, their biggest drawback is their shaky uptime and how many up-sells (to paid Hostinger plans) you'll continue getting while you're on their free plan. While 2 hours of downtime each month may seem insignificant, it can definitely cause concern for a true online business.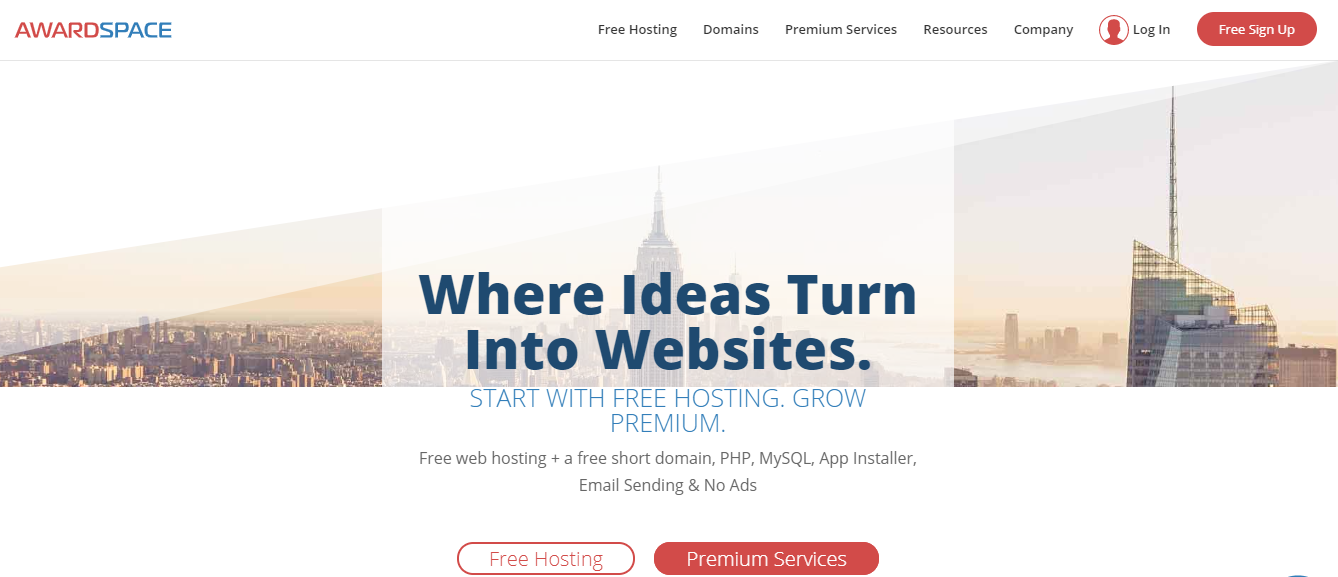 AwardSpace is another veteran in the free web hosting plans industry. Having been around for more than 10 years, they've gathered enough experience to tailor one of the top overall free plans currently available. While they may not have as strong a feature set as many of their competition though, the company still provides a reliable service.
Features of the AwardSpace Free Hosting Plans
1 free domain (dx.am extension) and up to 3 subdomains
Bandwidth: 5GB
Storage: 1GB
Web-based file manager
1 email account (with spam filter)
One-click WordPress and Joomla installer
If you need to throw together a basic website, then AwardSpace will give you all the tools you need to successfully accomplish that goal. And with 99.9% uptime, you won't have to worry about it going offline anytime soon.
Pros of the AwardSpace Free Hosting Plans
Aside from being 100% ad-free, what other advantages does AwardSpace bring to the table?
24/7 customer support
Full MySQL database support
Cons of the AwardSpace Free Hosting Plans
While AwardSpace promises an impressive 99.9% uptime, there are still a couple of caveats:
Limited bandwidth and storage
Limited data centers
Verdict
Of all the free web hosting plans on the market today, AwardSpace will be one of the strongest when it comes to reliability—especially considering they don't pack the brand name power of companies like Weebly and Wix. Whether you're a hobbyist or seeking to test a hosting service for an upcoming project, you should consider AwardSpace's free plans.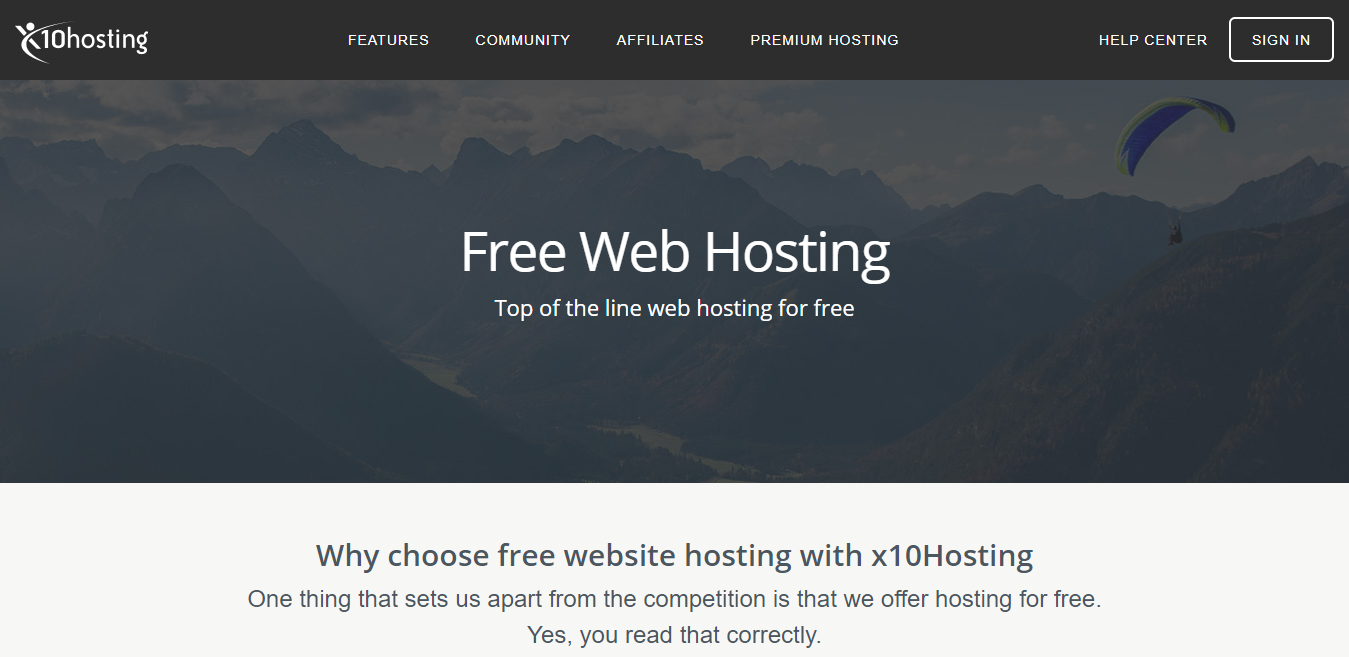 Boasting of a community that's 750,000 members strong, x10Hosting has been doing something right for quite a while. Powered by the veteran hosting company, SingleHop (now iNAP), which was founded in Chicago back in 2006, you can expect a robust feature set and reliable service from this brand. What else does x10Hosting have to offer?
Features of the x10Hosting Free Plan
x10Hosting-branded subdomain (i.e. yourblog.x10hosting.com)
Bandwidth: Unlimited
Storage: Unlimited
3 email accounts
200 auto-install scripts
Free website builder
With lots of tools and a helpful community, x10Hosting is worth considering in your search to land on the right free plan for your needs—especially if your website project is relatively simple in scope.
Pros of the x10Hosting Free Plan
Two of the most attractive benefits of x10Hosting's free plan include:
Offering unlimited bandwidth & storage (more than most competitors)
Very fast load times
Cons of the x10Hosting Free Plan
As far as cons go, x10Hosting also has its fair share worth considering:
No cPanel available to manage your website's files
You'll need to log in at least once every 30 days to keep your account active
Verdict
If you're looking for a free web hosting plan to test the waters with, x10Hosting might be your choice. Remember though, that these free hosting plans don't offer much by way of features compared to their more robust (and affordable month-to-month plan counterparts), so as your website grows, you'll either have to upgrade or migrate to another web hosting service.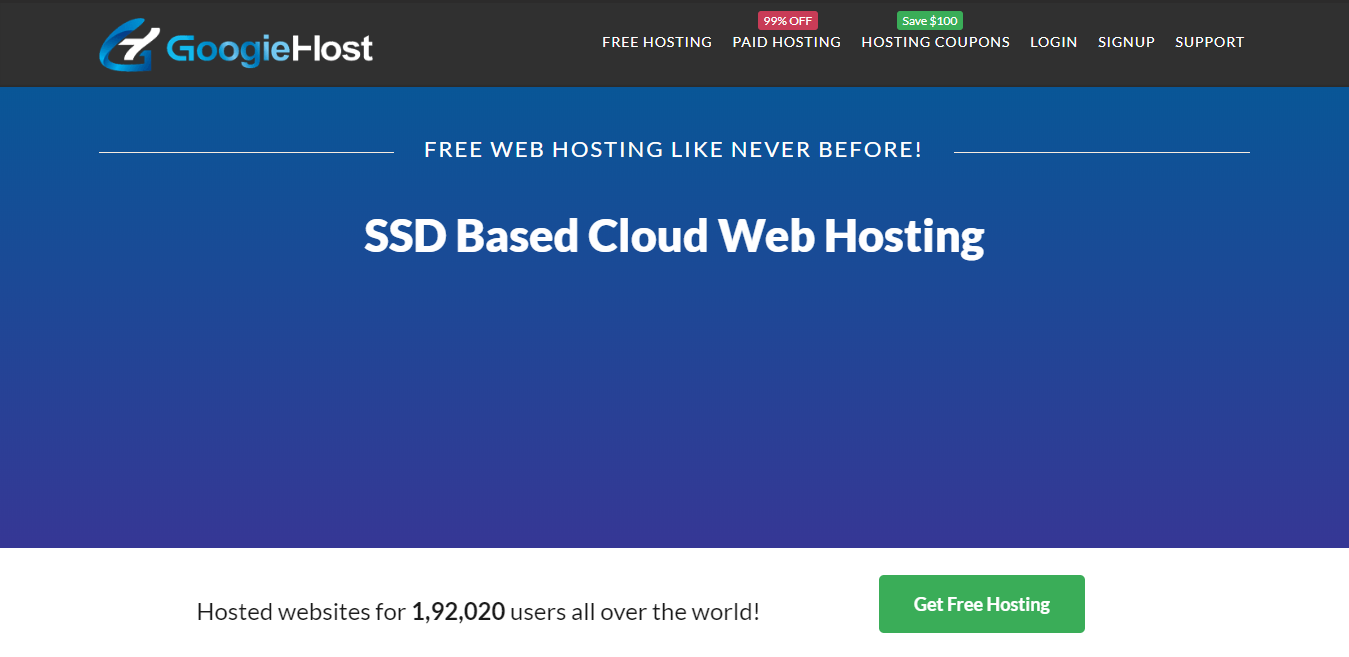 Based out of India, GoogieHost is a relatively new hosting company that's slowly carving a name for itself in the international hosting arena. While they do also offer paid shared hosting plans, they include a free plan amongst their lineup as well. So what can you expect from GoogieHost's free web hosting plans?
Features of the GoogieHost Free Hosting Plan
Branded subdomain (i.e. yourblog.cu.ma)
Number of sites: 1
Storage: 1 GB
Bandwidth: Unlimited
2 free email accounts
Softaculous library
Free website builder
cPanel included
GoogieHost isn't the fastest hosting company on the market, but it does make up for it in other features you won't find from some of the other free hosting services. A good example, is that you get to enjoy unlimited bandwidth with even their free plan—a rare feature in this category.
Pros of the GoogieHost Free Hosting Plan
What GoogieHost lacks in other areas (like speed), it makes up for in other areas. Examples include:
Customer support via email
SSL certificate for your website
Free MySQL databases
Cons of the GoogieHost Free Hosting Plan
Each one of the free web hosting plans cited in this article has a drawback or two. Some of the biggest drawbacks users have cited in their experience using GoogieHost are:
Very slow load times
It takes a good amount of time to activate a new domain (between 4-20 hours)
Verdict
For a relatively new free web hosting service, GoogieHost offers a pretty impressive set of features—though their long-term performance still remains to be seen. If you're based outside of the US and plan on running a 1-page website, you might just find GoogieHost to be a good fit, with light usage of resource-heavy assets like images and videos, of course.
---
Bonus: 3 Almost Free Web Hosting Plans You Should Consider
Let's face it, even the best free web hosting plans are pretty restrictive—especially if you want to flex a bit of creative muscle when starting your blog.
If you do want to build a more flexible, capable and profit-positioned blog, without having to burn a hole in your pocket in order to do it… you should consider these almost free hosting plans. These are my top picks from the best cheap web hosting plans on the market today—with their monthly hosting plans all remaining below $3.00/mo. In my experience, even springing for a budget hosting plan can help significantly when it comes to long-term performance (and outcomes) with implementing a blog strategy.
Sound interesting? Here are my top three picks to consider.

At an extremely affordable $1.39/mo, Hostinger is the cheapest (reliable) web hosting service that succeeds at delicately balancing "cheap" and "great value." With over 29 million users and 16 years in the industry, Hostinger has also mastered the art of customer satisfaction. But what features can you expect from a $1.39/mo hosting plan?
Features of Hostinger's Almost Free Web Hosting Plan
Free domain only, but only available with a .xyz extension (i.e. yourblog.xyz)
Bandwidth: 100GB
Storage: 10GB
Email: 1
GitHub integration
WordPress Acceleration
DNS management
For hosting that's priced pretty close to free, Hostinger provides more value in the form of features and tools than you're paying for. And considering that their 99.9% uptime is guaranteed, it's a deal you can't afford to pass up.
Pros of Hostinger's Almost Free Web Hosting Plan
Very good uptime and speed
30-day no questions asked money back guarantee
1 MySQL database
One of the most affordable hosting plans on the planet
Excellent customer support
Cons of Hostinger's Almost Free Web Hosting Plan
Domain not included (you do get either a free subdomain or free .xyz domain extension)
In order to lock in their $1.39/mo price point, you'll have to pay for 2 full years of hosting up front
After your initial contract, the pricing on your plan will go up to $2.15/mo when you renew
No cPanel (you get an in-house designed cPanel to manage the technical aspects of your hosting configuration)
Verdict
If you're looking for a solid hosting plan that'll cost you very little and still give you (almost) everything you need to build an online presence, then Hostinger's $1.39/mo plan is it. Not only do you get tons of useful features and a user-friendly hosting company, but when you outgrow their starter plan, upgrading to the next tier is still affordable at $2.89/mo.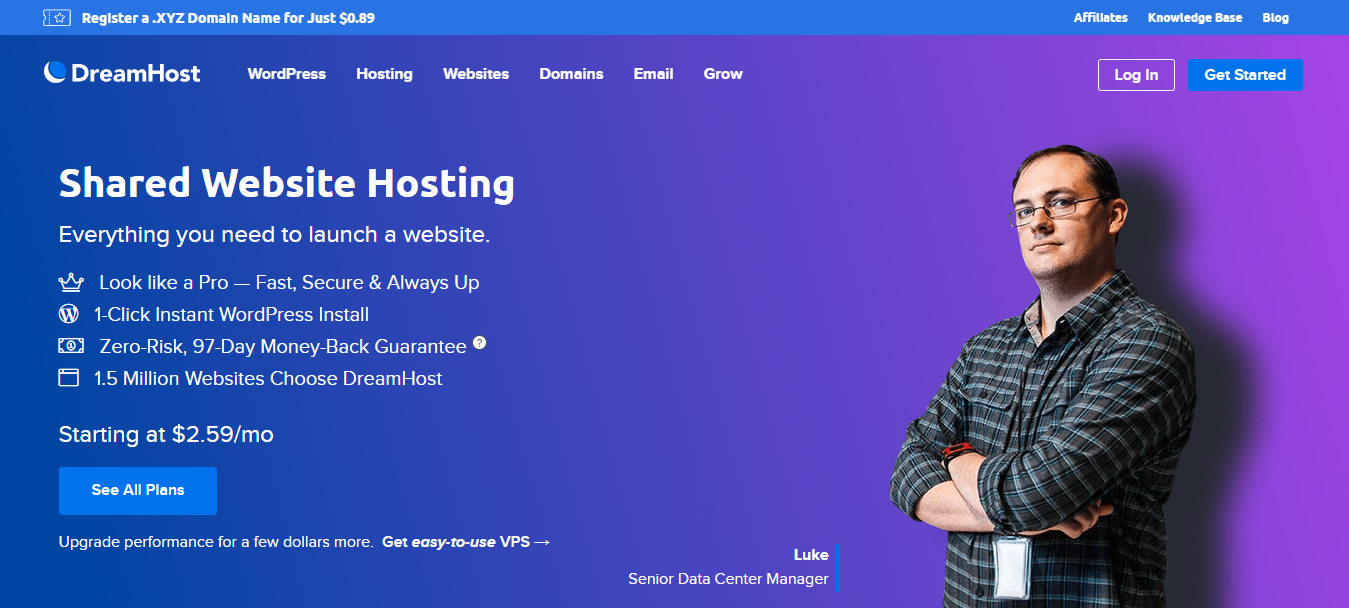 Founded in 1996, DreamHost is one of the most established (and most trusted) web hosting companies in the world. While it may not be as budget-conscious as Hostinger, their starter shared hosting plan is still extremely affordable at $2.59/mo. Pay for 3 years and it comes down to $2.59/month.
Besides being one of the most transparent hosting companies as far as pricing goes (there are no surprise increases in renewal fees) here's what you get with a DreamHost's almost free hosting plan.
Features of DreamHost's Almost Free Web Hosting Plans
Free domain name (yep, even like yourblog.com)
Unlimited bandwidth
Unlimited storage (SSD)
Free SSL certificate
Pre-installed WordPress
One-click install for most other CMS options
Automatic website backups
For the super affordable price of $2.59/mo, you get a lot of impactful features on DreamHost's starter plan, making it one of the most attractive, budget-friendly hosting plans around. Add to it the fact that DreamHost also offers a 90-day no risk money back guarantee and there's no reason not to take their plan for a spin if you have the blog budget to support it.
Pros of DreamHost's Almost Free Web Hosting Plans
Works out of the box with zero to minimal setup required
90-day money back guarantee
Recommended by WordPress
"Green" servers (DreamHost has invested in a lot of technology to improve the efficiency of their servers)
Good customer support and extensive knowledge base
The option to later upgrade to managed WordPress hosting plans
Easy integration that plays nicely with the best podcast hosting platforms (if you start a podcast eventually)
Cons of DreamHost's Almost Free Web Hosting Plans
No cPanel, but a proprietary control panel is available (not an important feature, regardless)
No free website migrations, so if you're moving your site from another hosting provider, it'll cost $99 per site
Verdict
While most of the almost free web hosting plans on the market will skimp you on features a bit, DreamHost breaks the status quo in a big way by giving you a fully features hosting array with tons of tools to ensure you're in a solid position to succeed with your new website. With great performance across the board, DreamHost comes highly recommended in web hosting circles. Investing in their $2.59/mo starter plan is a decision you won't regret—and hey, my girlfriend even hosts her blog, Vegan Anj with DreamHost.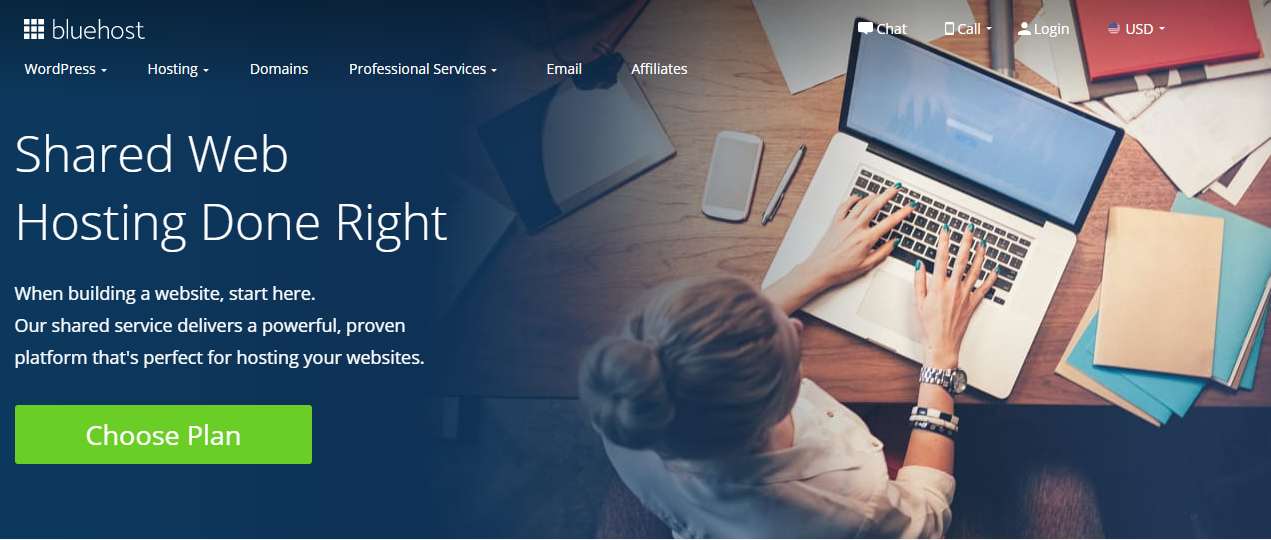 Anytime you Google search around for the best hosting plans, you can be sure that Bluehost will rank amongst the top-rated offerings. Even their basic web hosting plan that starts at $2.95/mo (the cost of one cup of regular coffee), gets you set up with everything you'll need to grow a scalable website. So what kind of features will get you with Bluehost?
Features of Bluehost's Almost Free Web Hosting Plans
Free domain name (even like yourblog.com)
Unlimited bandwidth
50GB storage
Free SSL certificate
5 email accounts
25 subdomains
With over 20 years in the hosting industry, Bluehost can be trusted to give you an exceptional hosting experience. Not only will you be happy with their great feature set, but their overall customer service is also excellent—especially if you find yourself in need of technical assistance at any point during your blogging journey (trust me, you will).
Pros of Bluehost's Almost Free Web Hosting Plans
Recommended by WordPress
Comes with $200 worth of marketing credits
Free domain name
Supports numerous databases (including MySQL, PostgreSQL, Ruby on Rails, and a whole lot more)
Fast server speeds
30-day money back guarantee
Very helpful customer (and technical) support
Cons of Bluehost's Almost Free Web Hosting Plans
Renewal prices go up after your first contract period ends
No free migrations if you're coming from another hosting company
Verdict
If you're looking for reliable, trustworthy and affordable hosting, then Bluehost will definitely be a good choice for you to go with. While they don't offer free web hosting plans, their 30-day full money-back guarantee ensures that you won't waste anything on a paid plan you're not happy with. One great thing about Bluehost, is that they offer packages that suit many different hosting needs too. Check out Bluehost's $2.95/mo plans and see if they're a good fit for your budget hosting needs today.
---
5 Common Limitations to Expect with Free Hosting Plans
As I've said many times throughout this comparison review, free web hosting always comes at a definite cost—limitations.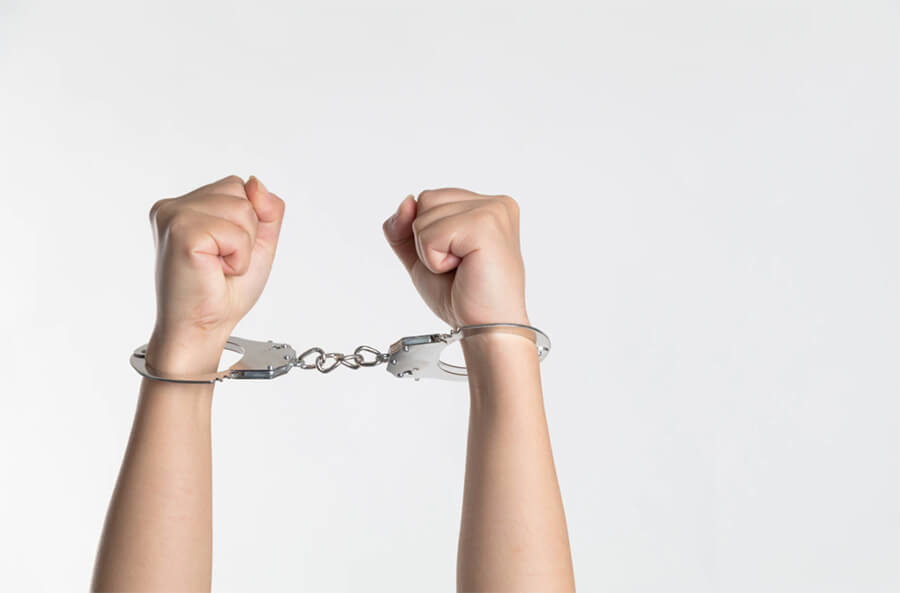 While you can get by on a free web hosting plan for a while if you need to, you'll face quite a number of restrictions with any truly free service. Here are the 5 most common ones:
1. Server Limitations
This is probably the biggest drawback of free web hosting. Your web host dictates how much of their server resources you're allowed to use. For example, you can't use certain scripts to make your website more user-friendly (because they add too much of a load to your host's servers on your free plan). Other limitations often include:
Bandwidth
Storage
Email accounts
Number of visitors
Uptime is also another area free hosting plans also get compromised on. When resource usage spikes, paying customers are given a priority, thereby leaving you in the lurch. This means you can expect to see lower uptime and load speeds than what you'll get from a paid hosting plan.
2. You Get a Subdomain (Not Your Own Domain Name)
When registering for free web hosting, you'll need to be aware that your website will be a subdomain of the host. A subdomain means your website is on someone else's (your host) real estate. And visitors will know because it'll show in your domain name (which doesn't make your website feel as trustworthy in the long run). It'll look something like this:  yourblogname.freewebhost.com.
3. No Customer Support
When it comes to customer support, it's one of the features you'll rarely find in a free web hosting plan (with the exception of Weebly). This is because customer support is an expense that the web hosting service can't often afford to give for free. So if anything goes wrong, you're on your own.
4. Poor SEO and Ranking Opportunities
Because your website will be on a subdomain of the company you're getting free hosting from, ranking in search engines won't be a realistic prospect. Search engines (like Google) give preference to websites that are built on their own domains, not those that live on subdomains of other (larger) sites.
5. Security is Usually Not so Good
One of the biggest disadvantages of free web hosting plans, is that they often come with poor security protocols compared to those with paid hosting offerings. Even if the web hosting service has extremely good security in general, their free plans are usually hosted on lower-tier servers with less robust security (because it's cheaper for the hosting company).
---
Picking the Right Free Web Hosting Plan for You: 3 Quick Tips
With all of these reliable free plans to choose from, how do you narrow down your choice?
My advice is to choose Weebly as your free hosting provider and get started today. They're extremely trustworthy, offer the best feature set and will give you the level of support you'll need in order to grow your site over the coming weeks, months and years. However, if you're still evaluating other plans, then consider these tips to help settle on the right plan for you:
1. Determine Your Hosting Needs
Web hosting is dependent on what you're hoping to use your website for. For example, if you'll need to host a lot of heavy visual assets, you'll need to consider storage limitations in making your decision. If you anticipate lots of traffic, you'll need to opt for a free plan with enough bandwidth to factor that in as well.
2. Choose Safety First
Security plays a very important role in running a website. Always ensure your hosting company of choice has adequate security to protect you and your customers.
3. Don't Forget Scalability
If your website is a long-term project, you'll have to consider the scalability of the hosting provider's plans. As your website grows, it should be easy to upgrade to a higher tier hosting plan that'll get you to where you need to be. If you play your cards well, you should be able to grow your website to a level where it'll become profitable and you'll be able to afford much more robust hosting features.
---
Free Web Hosting: The Answer to Blogging on a Tight Budget
When it comes to free web hosting plans, picking one that's truly great… is like searching for a needle in a haystack.
Not only can it be time consuming going through the spec sheet of each plan, but some of the technical jargon can be confusing as well.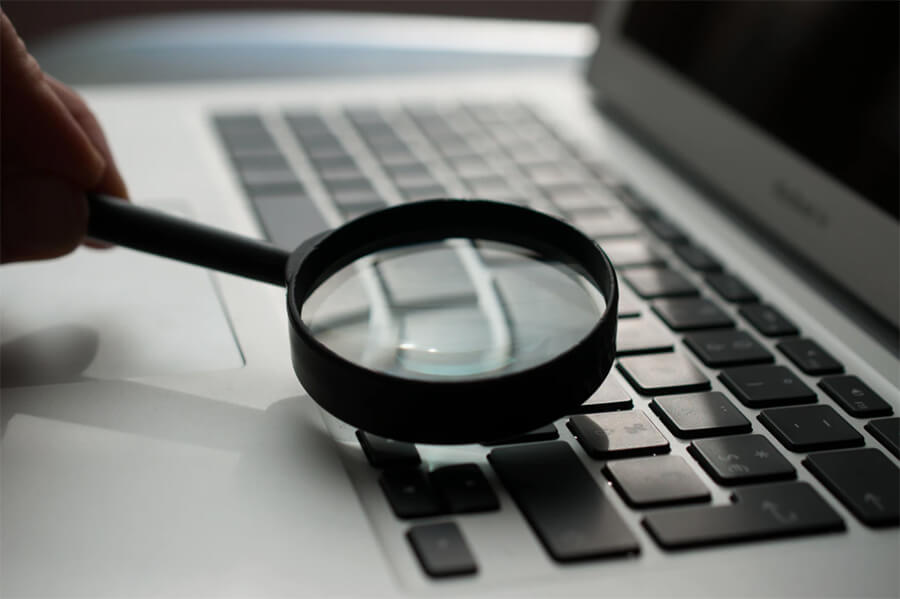 That's why I've worked hard to distill all the most important information you need in order to make an informed decision—into this easy-to-digest review.
So, when it comes to sifting through the top free web hosting plans, here's what you need to look for:
Reliability: Make sure the hosting company has been around for some time and can be trusted.
Features: Granted, you won't get much from a free hosting plan, still look for the features you really need.
Ease of use: Particularly if you're new to websites, you'll need to pick a web host that's easy to use, preferably with cPanel.
You'll also need to realize that free web hosting plans are not a permanent hosting solution for your blogging needs.
Ideally, you'll start growing your blog as quickly as possible and get you a place where you're starting to monetize your content, so that you can afford to upgrade into a better hosting plan (that'll help you grow your site even more).
These free hosting plans though, can be the perfect stop-gap to help get your site online without making a big financial commitment today.
So, with all of this considered… my advice is to choose Weebly as your free hosting provider and get started today.
Eventually as you can afford to upgrade, you'll be best suited to migrate your website to a self-hosted WordPress installation—powered by either Dreamhost or Bluehost.
Either way, be sure to follow along with my guide on driving traffic to your blog during your first 30 days of blogging.