It's become something of a challenge to find true monthly billed web hosting plans that actually allow you to pay for your blog's hosting services on a month-to-month basis.
Many of the leading blog hosting services (that bloggers tend to promote) offer only the option to pay your full plan duration up front… racking up a bill that's often well over $100 and locking you in to a hosting plan for the next year or two.
If you want to find and evaluate the best monthly billed web hosting services, then you've come to the right place.
Disclosure: Please note that some of the links below are affiliate links and at no additional cost to you, I'll earn a commission. When you purchase web hosting using my one of my affiliate links, the company compensates me, which helps me run this blog and keep things like my 25,000 word ultimate guide to starting a blog free of charge. Know that I also only recommend products and services I personally stand behind.
Without further delay—let's break down each of the best monthly billed hosting services and compare which one will work best for your needs.
6 Best Monthly Billed Web Hosting Plans (to Pay Month-to-Month) in 2019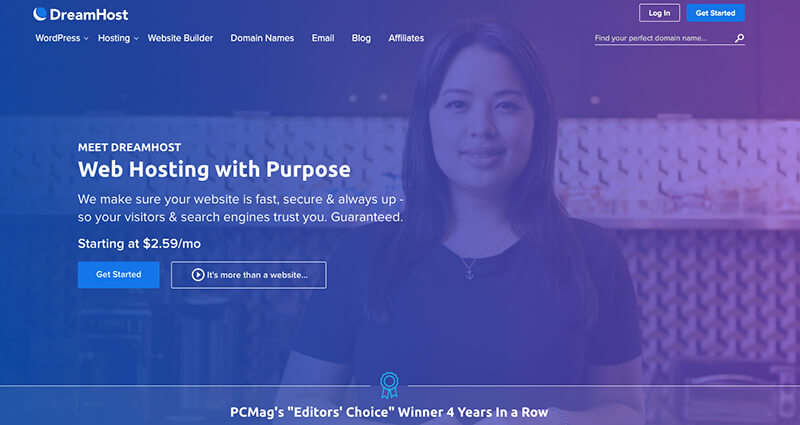 My pick for the best monthly billed web hosting service is Dreamhost's Shared Starter Plan, from one of the most established, longest-running web hosting providers around.
I've actually hosted dozens of websites on Dreamhost over the years (and I still use their monthly billed web hosting plans for a few projects today).
All of the classic web hosting features like WordPress pre-installed, fast loading speeds, free SSL certificate and site security aside, one of the biggest reasons I often recommend Dreamhost to new bloggers, is the fact that they offer a true month-to-month payment plan that allows you to pay for your blog hosting each month with no long-term contracts or strings attached.
Here's everything you'll get with Dreamhost's monthly billed web hosting on their Shared Starter Plan:
1 Website hosted (with WordPress pre-installed)
Discounted .com domain name (one time purchase at $9.99)
Unlimited traffic to your website
Free SSL certificate
Unlimited live chat and email support
Free SSD storage of your website files (for faster loading times)
97-day money back guarantee
100% uptime guarantee
If after a month, two or even three while blogging from your Dreamhost-powered website, if things aren't working out, then you can cancel your hosting plan without being on the hook to fulfill a multi-month (or multi-year) agreement. Plus, their 97-day money back guarantee is by far the longest in the industry.
Combined with their breadth of features and quality of service, this makes Dreamhost the best monthly billed web hosting provider for experimenting with starting a blog on the side of your day job—when you're unsure of how much time you'll have to put into your side project. This flexibility is why I first chose Dreamhost to power my blog when I was just getting started, long before I learn how to grow a blog.
Before starting the checkout process on this page, just be sure to toggle the slider at the top over to the "Monthly Plans" option and you'll see the prices update accordingly.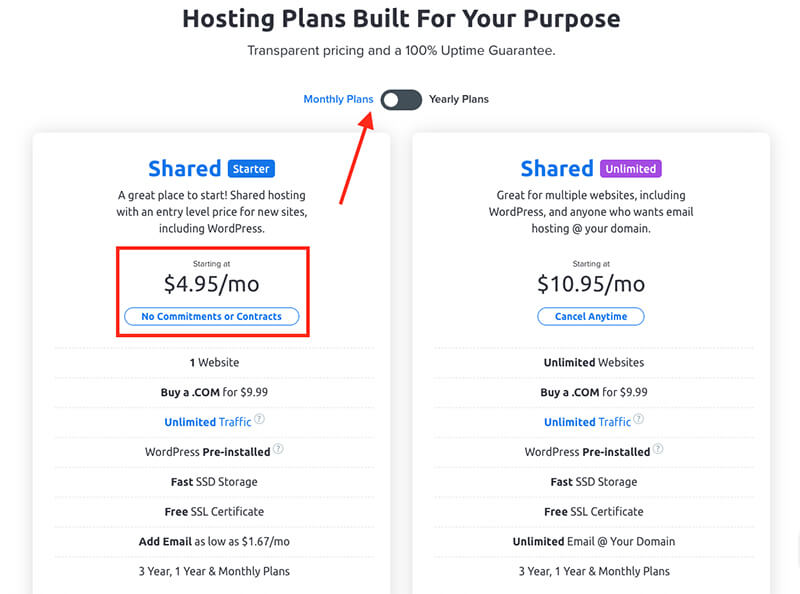 If you do choose instead to opt for an annually-billed plan with Dreamhost, you can cut your overall cost in half—making them one of the most affordable web hosting services overall.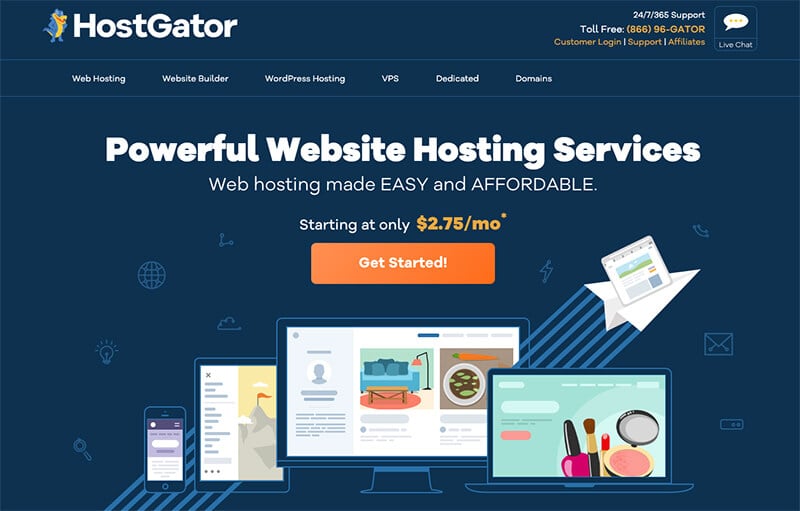 With a major focus on high quality technical support, HostGator's positioning in the monthly billed web hosting market is designed around helping beginning bloggers (and small businesses) get their websites launched with as few technical headaches as possible.
Hence their impressive 24/7/365 phone, live chat and email support available to all customers running into tech hurdles.
Originally founded in a Florida dorm room back in 2002, HostGator has become a well-known brand in the affordable shared hosting space, having now helped several hundreds of thousands of bloggers, small businesses and enterprise companies get their sites off the ground and well-optimized. They've seen it all, and have a support team equipped to be extremely helpful as you drive traffic to your blog and continue to grow.
Here's what comes with HostGator's monthly billed web hosting on their Hatchling (lowest-priced) Plan:
Month-to-month web hosting (with a 1-click WordPress install)
24/7/365 phone, live chat and email support for technical questions
Free SSL certificate
$100 Google AdWords credit
45 days money-back guarantee
Unlimited disk space and bandwidth (no file quantity or data transfer limits)
Before progressing through checkout on this page, don't forget to select the "1 month @" option for billing and you'll then be on their true monthly billed hosting plan that charges your card with month-to-month payments until you cancel.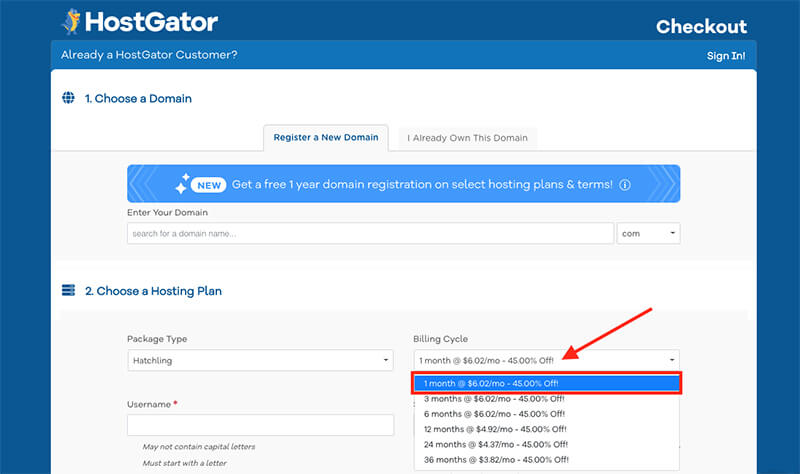 Further down the checkout page, be sure to evaluate each additional add-on for your order—as some will automatically be checked.
I personally recommend unchecking all of the add-ons, as you'll soon be able to install free WordPress plugins that'll help with each of the activities HostGator's paid add-ons do.
As with Dreamhost, the price for HostGator's plans also go down in overall cost as the duration of your plan lengthens, so keep that in mind if you can afford to opt for longer-term plans and know you'll still be working on your blog in the near future.


Of the three lowest-cost monthly billed web hosting plans on the market today, A2 Hosting comes in at the highest price point for the same (sometimes less) features you'll get on Dreamhost or HostGator. But, in the world of month-to-month WordPress hosting plans, they're nevertheless a good option to choose from.
Launched originally as a side project back in 2001 by a former systems administrator, Bryan Muthig, A2 Hosting has been independently owned and operated for approaching twenty years now—making them an early player in the history of blogging—and less prone to major surprise adjustments in pricing or plan features over time.
With their lowest priced monthly billed web hosting plan (called Shared Hosting or Lite Web Hosting), here's what you'll get:
1 Website hosted (with unlimited file storage)
Free SSL certificate
Free website migration service
24/7/365 email technical support
Perpetual site security and monitoring
Anytime money back guarantee
During the A2 Hosting checkout process for their Lite Web Hosting monthly billed plan, things can get a bit confusing so be sure to double check the details of your selections.
By default, their longest-term (3 year) plan will be the selected option for billing cycle, so be sure you take the time to carefully click on that not-so-obvious dropdown menu and select the "Monthly – $9.99/mo" option before moving forward.

At this point, you'll also be presented with additional paid options to add to your order like speeding up your site using what they call Turbo Boost, adding a paid SSL certificate and getting regular website backups (all of which you can get for free with WordPress plugins and elsewhere—or when going with a hosting company like Dreamhost).
These add-ons can quickly hike your total cost today, so if you're unsure whether you actually need them—I recommend unchecking them all for now. You can always come back and upgrade your hosting plan later if necessary.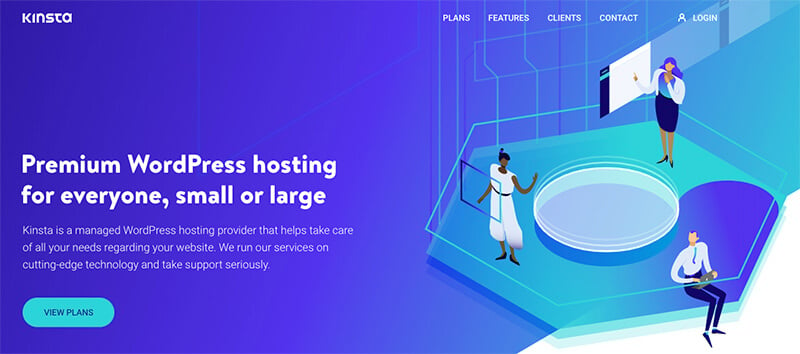 Kinsta is the web hosting service that powers this blog here today—and thanks to them, my site is lightning fast ⚡️
While Kinsta is indeed more premium-priced than our first three monthly billed web hosting plans above, I seriously couldn't recommend their service more highly. Once you've gotten to the point where you've dialed in a writing approach, figured out driving traffic and you can afford to invest in the performance & quality of your web hosting, Kinsta should be your first stop.
All of Kinsta's plans are what's called managed WordPress hosting, which is a level of service where all technical aspects of things like site security, speed improvements, updates, backups and scalability are managed by the hosting company. It's generally best suited for small to medium-sized businesses, medium to high traffic blogs and companies looking for extremely fast WordPress hosting—all without hiring their own technical teams.
Here's what comes with Kinsta's monthly billed web hosting plan (the Starter Plan @ $30.00/mo):
1 WordPress install
Up to 20,000 website visits/mo
5 GB of disk space (more than enough for almost any blog)
Free SSL certificate
Free managed CDN (content delivery network) for increased speed
1 premium website migration
Staging and demo environments
30-day money back guarantee
Automatic daily backups
24/7 support (live chat and email)
Choose which of the 20 Google Cloud Data Centers where your website will be hosted
If this sounds like a lot more features than the others so far, that's because it is! Kinsta has been intentionally bootstrapped and built solely for the benefit of their customers (not investor-funded) because of how dedicated they are to building a BS-free hosting company that works only for customers—another reason why I love them so much. They've also got one of the best blogs around in the hosting space, to keep you topped up with everything from speed tips, to performance advice and content ideas to run with.
Here's a glimpse of their very straightforward, easy-to-navigate checkout page.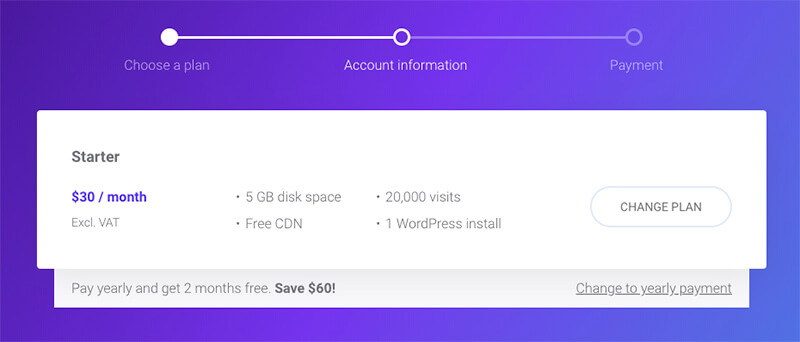 And if you decide to spring for the yearly payment plan upgrade, Kinsta offers one of the best deals on the market—giving you two full months of your web hosting for free.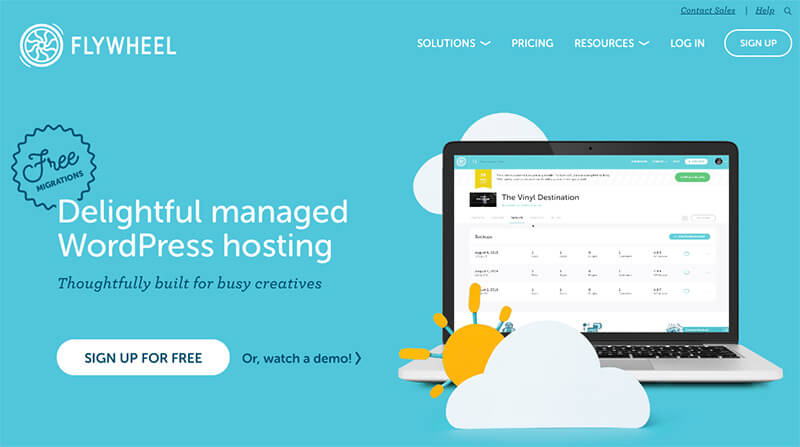 Flywheel has done a phenomenal job of establishing their brand as managed WordPress hosting specifically for creatives.
As recent blogging statistics highlight, more people are blogging than ever before. Flywheel has geared themselves primarily toward freelancers, agencies and more recently moving into medium to high-traffic bloggers & marketing teams.
One unique feature about getting started with Flywheel, is that you can build your own demo site (free of charge) and take their web hosting platform for a 14-day spin without committing to any paid arrangement yet. This makes it a lot easier to test drive their monthly billed web hosting plans without the worry of getting locked into a hosting company you won't be happy with.
As of June 24, 2019 however, Flywheel has been acquired by the managed WordPress hosting giant, WP Engine (who's monthly billed web hosting plans we'll examine next). Backed with over $290 Million in funding, WP Engine is now on track for an upcoming IPO, which will undoubtedly lead to more fundamental changes at both brands. Something to consider as you make your decision on a month-to-month hosting plan that'll be right for you.
Included in Flywheel's Starter hosting plan is:
1 WordPress website install
25,000 monthly visitor limit
5 GB of disk space and storage
50 GB of bandwidth
Fastly built-in CDN
Free SSL certificate
Staging environment
24/7 live chat support
Free website migration
During the checkout process, just be sure to toggle the button over to the "Monthly" side first and you'll see the monthly billed hosting plan prices update accordingly: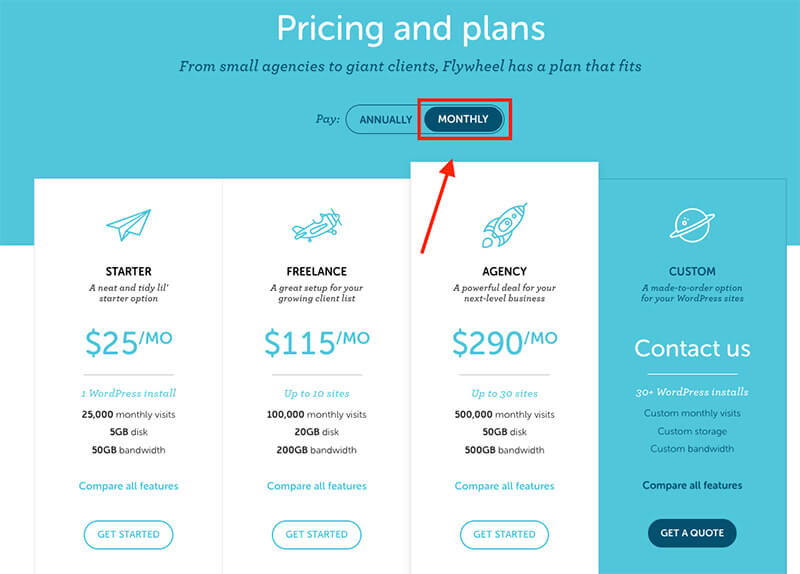 Expect to see a similar offer for upgrading your payment schedule to annual billing in exchange for 1 month of free service, so if you're committed to Flywheel and can spring for the one-time payment, you'll get a better overall deal.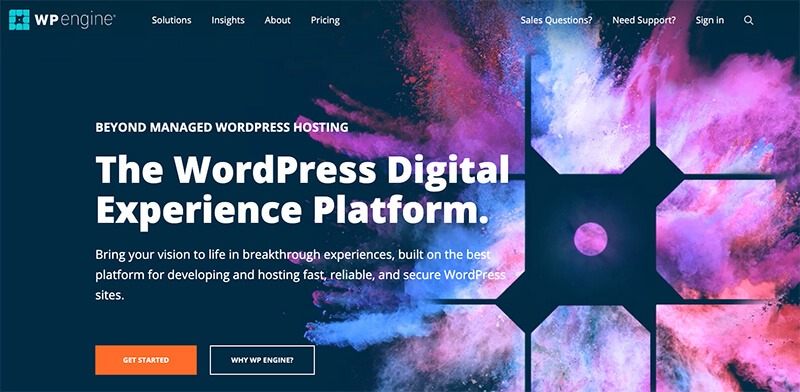 Before I switched to hosting this blog on Kinsta last year, I was a happy WP Engine customer for several years.
Though as my blog continued to grow (now reaching 400,000+ monthly readers), that pushed me into a WP Engine pricing tier and feature combination that didn't fully make the most sense for me to stay on WP Engine—compared to the very similar level of website speed, technical support and attention I get from Kinsta at a lower price point.
That being said, WP Engine has a staggering 120,000 customers for their managed WordPress hosting services, including companies like Jobvite, Under Armour, Thomson Reuters and many more.
Here's what comes with WP Engine's Startup monthly billed hosting plan:
1 managed WordPress website hosting install
25,000 visits/mo limit
Up to 10 GB/mo of file storage
50 GB of bandwidth/mo
24/7 live chat and email support
Access to a global CDN (for faster page loading)
Free SSL certificate
35+ premium WordPress themes available to install
60 day money back guarantee
During the checkout process on this page, the "monthly" payment option should be checked by default after clicking the "Get Started" on the homepage: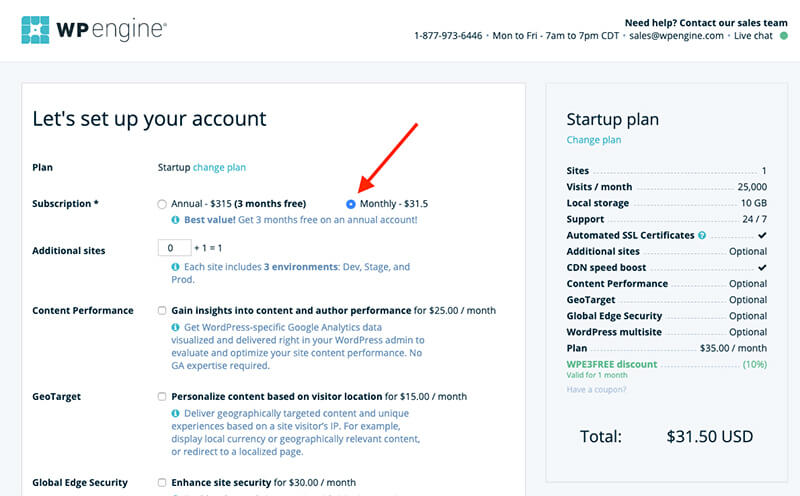 Like with all of our monthly billed hosting plans here today, WP Engine also offers a sizable discount if you consider switching to their annual pre-paid plan, giving you a whopping 3 months worth of hosting free during your first year.
Which monthly billed web hosting platform will you choose?
Still unsure of where to host your blog on a true monthly payment plan?
My #1 recommendation is to go with Dreamhost.
Not only is their monthly cost the lowest true month-to-month payment plan option for hosting your blog today, they're actually a great company too.
I've gotten the opportunity to personally meet several members of the Dreamhost team, and I can say with confidence they're genuinely in the hosting business to help people like you get more out of your website (and online goals).
Their signup process is transparent, straightforward and free of slimy upsells (unlike some of the other monthly billed web hosting companies).
For that reason, they're my top pick. And where I still host multiple websites today.
But they're not the only monthly billed blog hosting company out there, so do your research and see which one best fits your own unique needs 🙂