You're here because you want to answer the question… how much do bloggers make? On average, bloggers make around $45,000—with most bloggers earning somewhere between $38,440 to $51,906. However, there are a lot of variables that'll influence how much money you make blogging, so keep reading and I'll explain how to set the right expectations for your blog income.
"There's no money in blogging anymore." Have you ever heard this, or made the assumption, yourself? Many top bloggers don't openly share their income, so you may have no idea what's realistic to expect from blogging.
How much money can a blogger make in 2023?
Maybe you're not even sure if it's possible to make money. The good news is, you definitely can start a blog and expect to make money blogging… not just a little bit of money, but (eventually) a lucrative income with time & effort. Check out my guide: how long does it take to make money blogging? for more on setting realistic expectations on this front.
So, how much do bloggers make? A lot! There are plenty of bloggers who make six or even seven figures annually (including me), often with no employees.
I'm going to take you through everything you need to know about the money side of blogging, covering how much money you can potentially make, the average blogger income by niche, what to expect for your own blogger salary during your first year, plus tips on making (more) money from your blog.
How Much Do Bloggers Make? Blogging Income & Salary 2023
Disclosure: Please note that some of the links below are affiliate links and at no additional cost to you, I'll earn a commission. Know that I only recommend products and services I've personally used and stand behind. When you use one of my affiliate links, the company compensates me, which helps me run this blog and keep my in-depth content free of charge for readers (like you).
Ready to Start Your Blog?
Check out my ultimate guide: How to Start a Blog (on the Side) Today.
---
How Much Money Can You Make Blogging?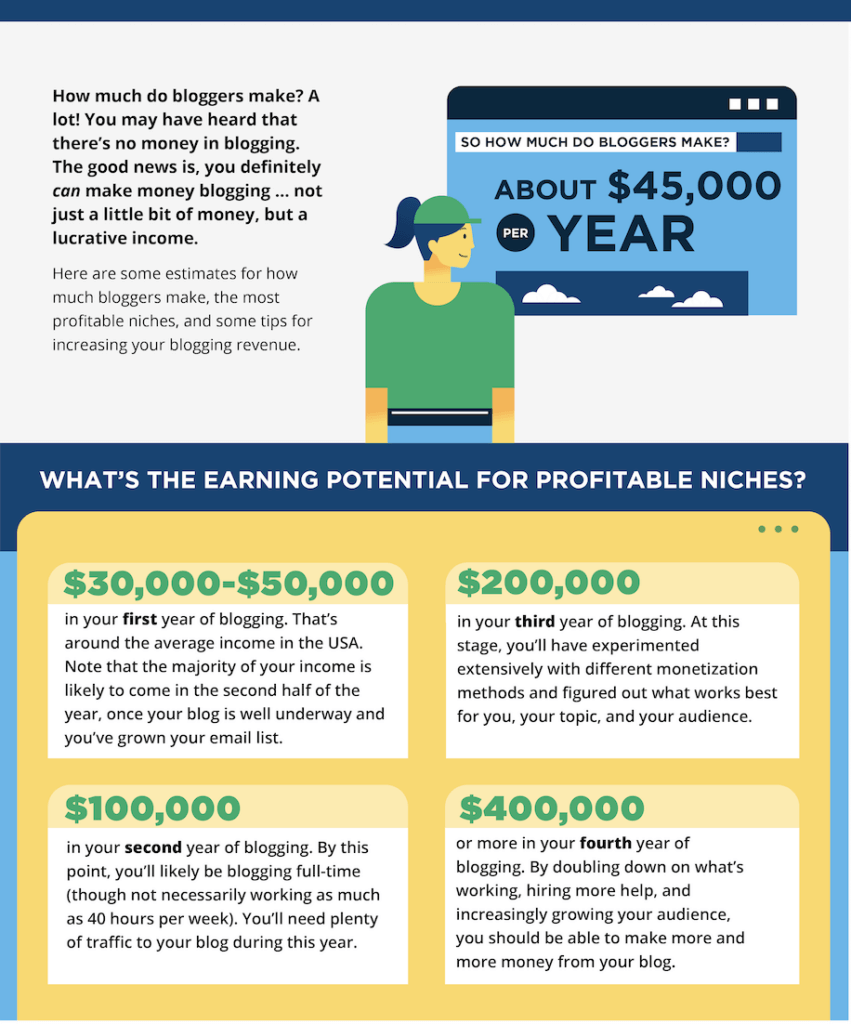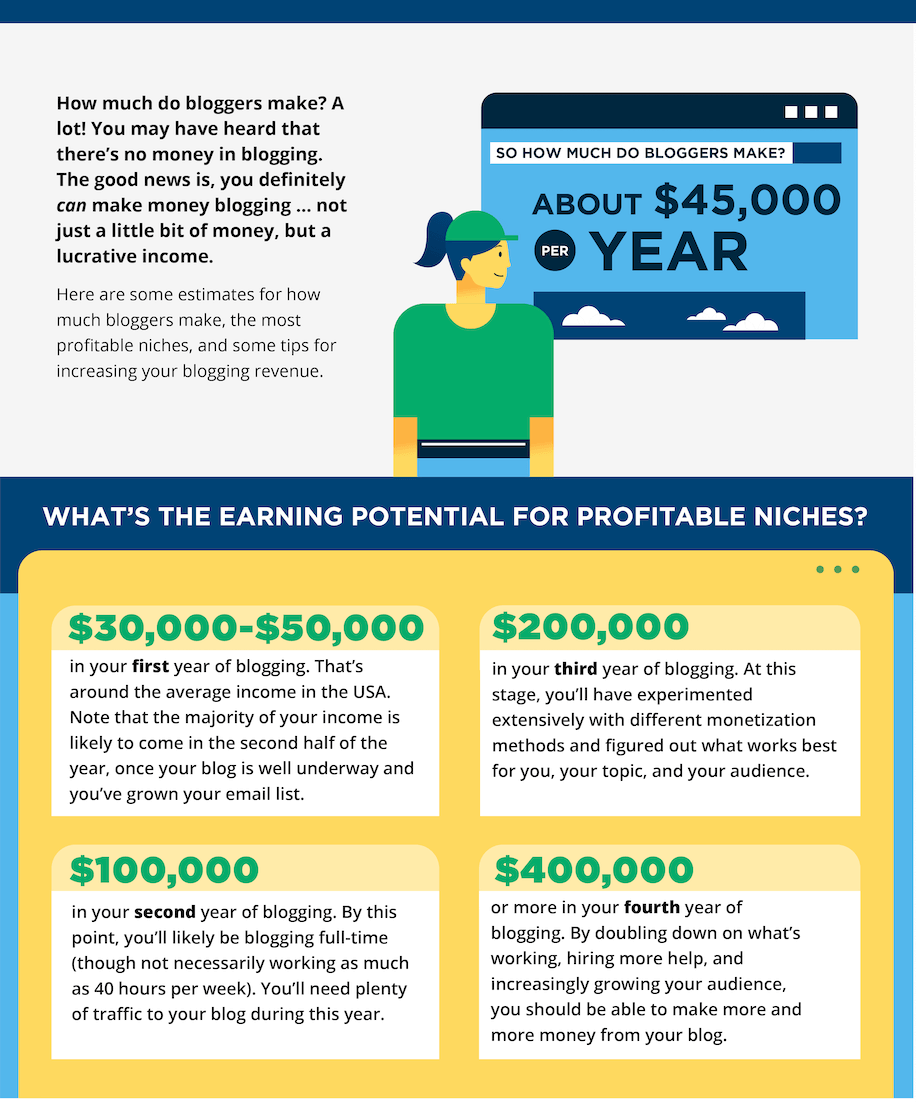 Following current blogging statistics, some bloggers make nothing at all. Others make $500,000 or more every year.
And some start with a blog and end up building an entire business empire. (We're going to look at some examples of very successful bloggers, in various niches, later on.)
So how much could you make from your blog? That's going to vary based on your skills and the niche you've chosen. Check out my comprehensive list of profitable niches to blog about for more inspiration.
But it's certainly realistic to expect to make a good, full-time salary from blogging: think $100,000/year or more, once your blog is well-established.
Of course, with blogging, there's really no ceiling. You can keep growing your blog — or you can start additional blogs like I've done with SmartWP, RightBlogger and Hike with Ryan.
That doesn't mean working 80-hour weeks, either. You could take on a virtual assistant or even a team of freelance writers and work just 10 – 20 hours per week.
So how much do beginner bloggers make? Well, most experienced bloggers agree you're unlikely to make much during your first year of blogging.
In your first few months, you might make nothing at all. But you'll quickly find your income grows, year by year, after your first year of blogging.
How much money can you make blogging in the longer term? If you're blogging in a popular and profitable niche, you could be looking at:
$30,000 – $50,000 in your first year of blogging. That's around the average income in the USA. Note that the majority of your income is likely to come in the second half of the year, once your blog is well underway and you've grown your email list.
$100,000 in your second year of blogging. By this point, you'll likely be blogging full-time (though not necessarily working as much as 40 hours per week). You'll need plenty of traffic to your blog during this year.
$200,000 in your third year of blogging. At this stage, you'll have experimented extensively with different monetization methods and figured out what works best for you, your topic, and your audience.
$400,000 or more in your fourth year of blogging. By doubling down on what's working, hiring more help, and increasingly growing your audience, you should be able to make more and more money from your blog.
Now, it might not happen as quickly as that for you, depending on your life circumstances. See my picks for the best blog examples to get some more inspiration within your blog's niche.
Obviously, if you have a lot of personal commitments, then you may not be able to devote much time to your blog. But you should see a steady increase in your income as the months and years go by.
How Long Does it Take to Start Making Money from a Blog?
I break this question down in detail in my guide, how long does it take to make money blogging? In short though, you can make money from blogging in as little as a few months, but don't expect much right away unless you already have an online audience you're monetizing with. 6 to 12 months is a more realistic time frame to start earning something from your blog, if you're able to allocate a good amount of time to your content creation & promotion efforts. Here's a quick infographic showing my journey of blog income: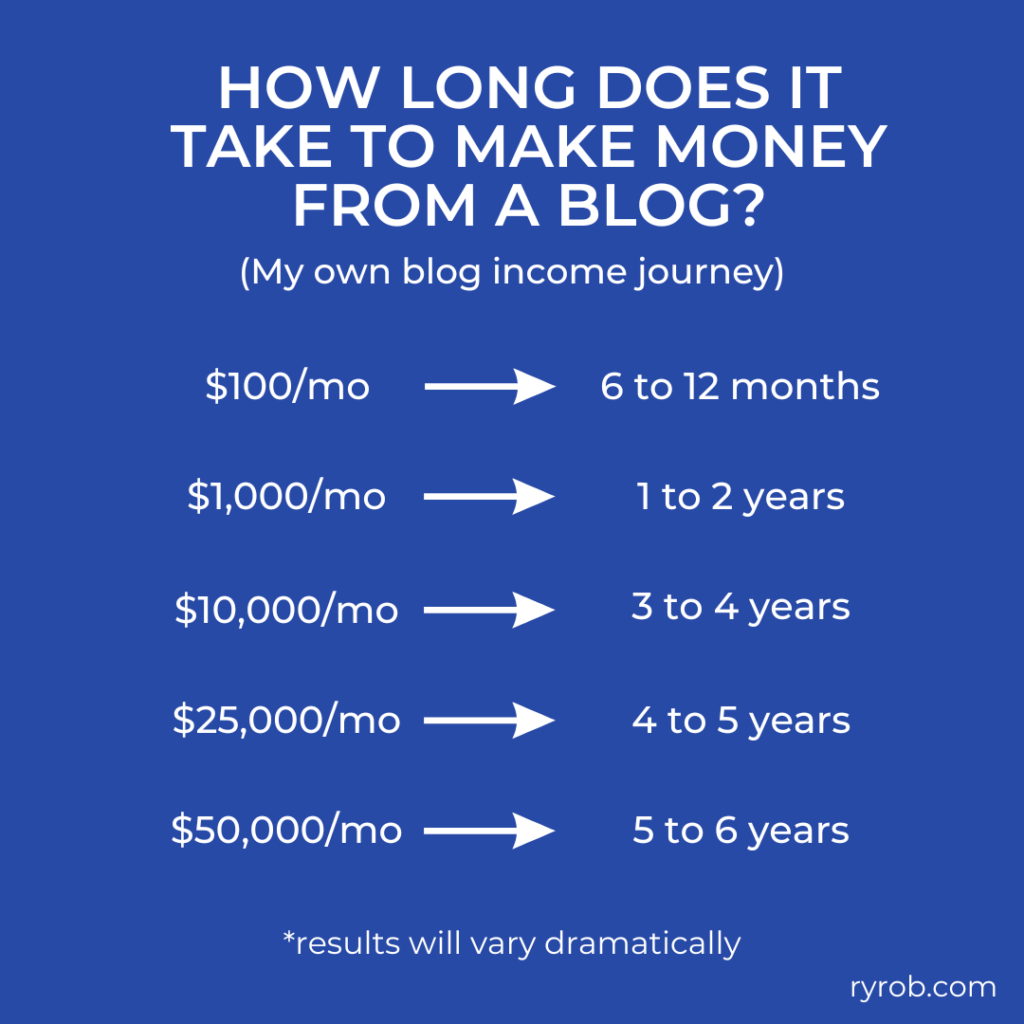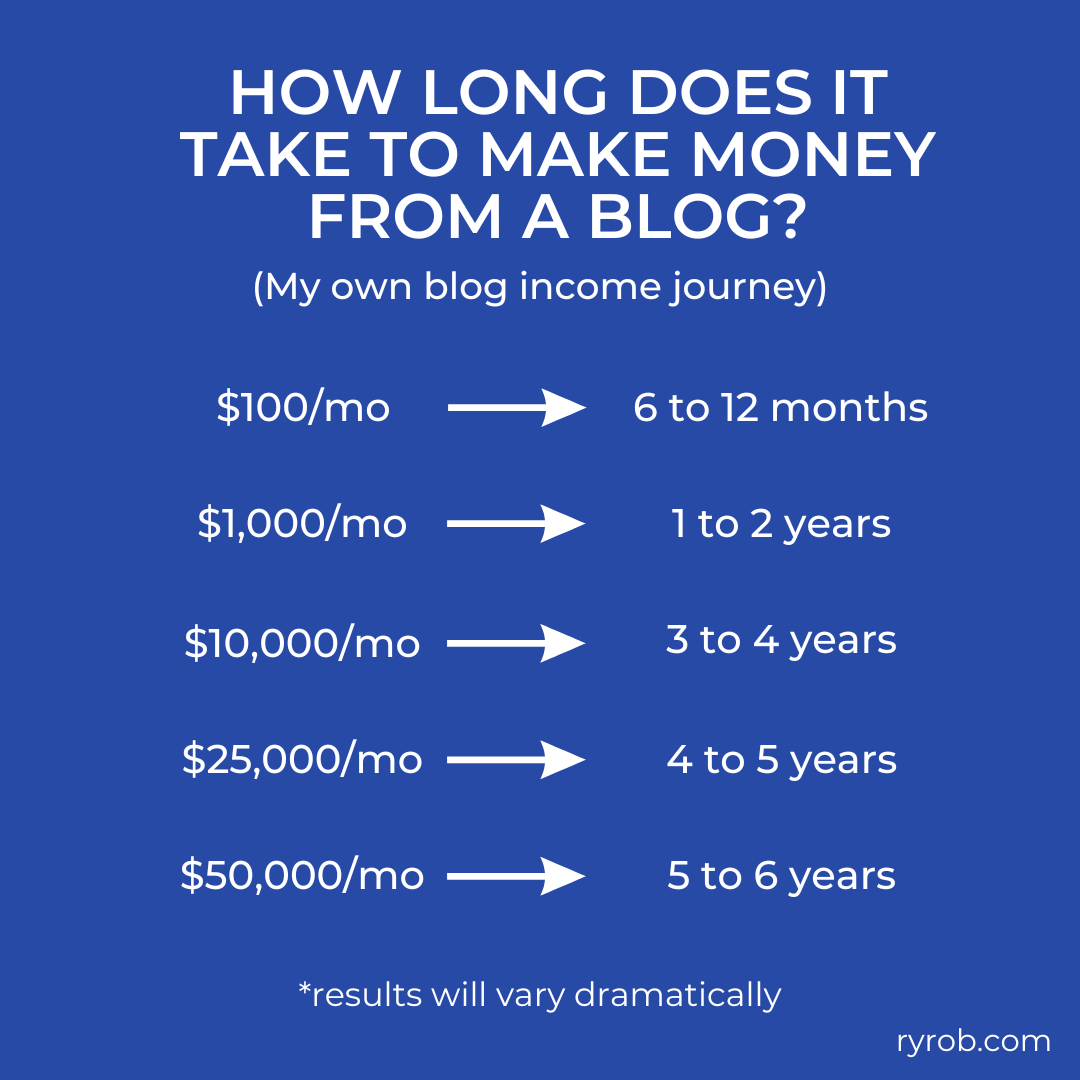 Most bloggers won't make six-figures from their blogs each year, but I know plenty earning well into the millions. That said, I know far more people still struggling to make a consistent $100/mo from their blogs, 2 to 3 years into their blogging journey.
All of this is to say that building a profitable blog takes time. Not just the time you invest day by day—but also the time needed for your blog to rank well in Google search results, to build up steady traffic, and to gain a reputation in your niche.
Ready to Start Your Blog?
Check out my ultimate guide: How to Start a Blog (on the Side) Today.
---
The Average Blogger Income (Based on Niche)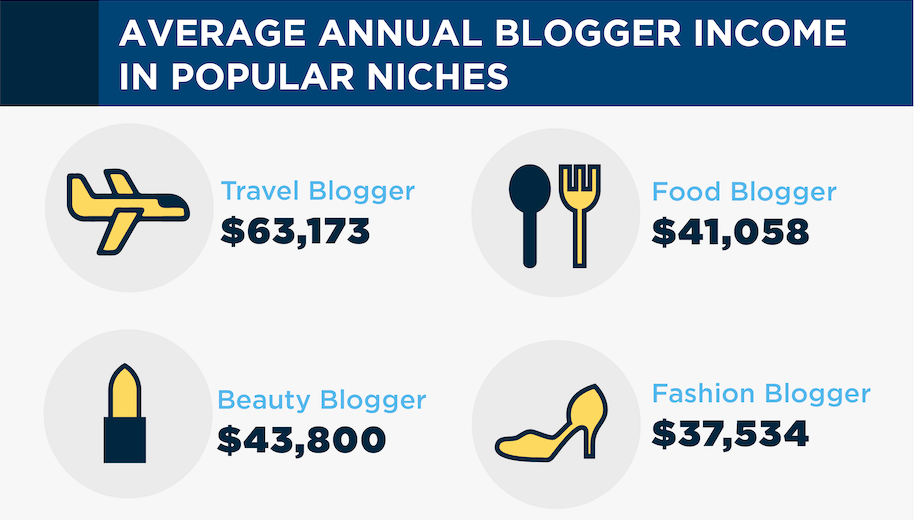 You might be wondering about the average blogger income: what do regular bloggers make?
It's hard to pin down an "average" when it comes to blogging.
Some bloggers are happy just to treat their blog as a hobby, and don't make much money at all from it — perhaps just enough to cover the costs of web hosting.
Other bloggers might launch their blog while living with their parents, rent-free, and build it incredibly fast.
You can expect the average blogger to earn around $45,000. (ZipRecruiter suggests that the average annual blogger's salary is $38,440. Glassdoor reports that the average blogger salary is $51,906.)
So how much do bloggers make, on average, when it comes to different types of blogs? Here's what you can expect in terms of the average blogger income in some popular niches.
Average Blogger Salary by Niche (2023)—How Much Bloggers Really Make:
Now, just to be clear, there's no guarantee you'll make this salary in these niches. And there's no need to pick the highest salary here if that niche doesn't interest you.
Instead, it's much more important to find a niche that you'd love to write about for months and years — even in the early months when you have little or no money to show for your efforts.
Hallmarks of a Professional Blogger
If you want to make money from anything, you need to approach it professionally.
Let's say you wanted to make money selling cakes. Which of these two approaches would work best?
Bake cakes and put them on a table outside your home, with a donation box and a small sign asking for money. Do nothing else.
Call up local businesses, asking if they'd like to order cakes; run a cake stall at a local event; set up a Facebook page for your cakes and ask friends to share it; put up signs advertising your cakes; take on board feedback and keep making the most popular cakes.
Clearly, the second approach is going to be far more effective. It's the same when it comes to blogging.
If you simply set up your blog and write a few posts, you're not going to make much (or any) money. If you proactively seek out opportunities, you will start making money.
So to be a professional blogger, you need to adopt these habits. I can't think of a single successful blogger who didn't do these three things:
1. Treat Your Blogging as a Business
Firstly, treat your blogging as a business (with a real blog business plan) — not as merely a hobby or passing interest. You don't necessarily need to formally set up a company, but you should be business-like in terms of:
Spending time working on your blog. Some bloggers like to have set hours each week for their blogging — just like they would for any job.
Recording your income and expenditures. (This is crucial when it comes to filing your taxes. Even if you're making very little money, you should still get in the habit of recording all your incomings and outgoings.)
Sticking to a budget. It can be very tempting to spend a lot of money on blogging courses, premium WordPress themes, and even things like Facebook advertising. While you likely will need to spend some money before you start bringing in money from your blog, you don't want to spend thousands of dollars before you see any return on your investment.
2. Try Different Techniques (and Stick With What Works)
There are lots of different ways to make money online. Most bloggers monetize through a combination of different methods, like running online ads, promoting affiliate products, and selling their own products or services.
Don't focus solely on one technique for making an income from your blog. Some methods suit different niches or types of blogs better than others.
For instance, running ads could be lucrative if you have lots of traffic and blog about something like credit cards or gadgets — but it's not likely to be so effective on a small travel blog.
Experiment with different monetization techniques. Once you find something that seems to work for you, stick with it, and keep trying to increase how much money you're making.
3. Continually Learn From Fellow Bloggers
No one succeeds in blogging completely on their own. All successful bloggers have learned a lot from others — either from more experienced bloggers, from their peers, or both.
You don't even need to buy a blogging course or mentorship program to learn from other bloggers (though that can certainly speed up your progress). There are plenty of ways to learn all the basics for free. For instance, you could:
Pick a bunch of my best articles to read. These are all completely free, and cover everything you need to know about blogging. Set aside 15 minutes each day to read about a specific topic you want to learn more about.
Join a Facebook group, such as the ProBlogger Community (for general blogging-related advice) and/or the WPBeginner Engage group (for WordPress-specific help). These groups let you ask questions for free and get help and support. Simply seeing the questions that other people ask — and the answers they receive — can help you develop a lot as a blogger.
Listen to blogging-related podcasts, like Pat Flynn's Smart Passive Income podcast or Amy Porterfield's Online Marketing Made Easy. Subscribe to these using your podcast app of choice and listen to them while you're commuting, in the gym, or even doing the dishes.
It's easy to get caught up in learning without taking action, though. Each week, try to pick at least three things to do based on what you've learned.
Where Does a Blogger's Income Come From in 2023?
Bloggers make their money through a variety of different methods. These include:
Affiliate commissions. One of the best ways to start making a good blog income is to promote affiliate products. This doesn't cost you anything and it's very quick to get started with. You simply choose products (or services) you already use and enjoy, then sign up for an affiliate program. This is usually simply a matter of filling in a form. You then get a special link that includes your affiliate tracking code, so when one of your readers buys something after clicking on your link, you get paid some commission. In almost all cases, this commission is a percentage of the purchase price. It might be as low as 5% on Amazon products to 50% or more on information products.
Advertising revenue. Many new bloggers put adverts on their blog, hoping to bring in lots of money. This might seem like an obvious way for bloggers to make money — you've definitely seen plenty of websites that use ads, after all. But advertising will generally only bring in a lot of money once you also have a lot of blog traffic. When you're first monetizing your blog, you're probably better off choosing from the other methods on this list. If you do want to find out more about advertising, check out my article on the best blog advertising networks.
Sponsorships. Plenty of blogs, especially in specific niches like lifestyle, beauty, parenting, and travel, run sponsored posts on their blog or even on social media. These posts are written by brands that pay to have them placed on your blog. How much you can charge depends on how many readers (or followers) you have. You might also agree on a sponsorship package, which could include blog posts, newsletter mentions, and social media posts too.
Donations from readers. Since the early days of blogging, bloggers have invited donations. You can do this with a simple PayPal button on your blog — or you can sign up with a service like Patreon to promise donors something special, like extra blog posts or podcast episodes. It's difficult to make a lot of money from donations, but you might find that you bring in enough to cover your blogging or podcasting costs.
Digital product sales. Plenty of bloggers sell digital products, such as ebooks, printables, templates, pre-recorded video courses, and so on. These are one-off downloadables readers pay for and receive instantly. They can range in price from a dollar or two up to thousands of dollars, depending on what's being provided. Digital products tend to be cheap to produce and distribute, meaning almost all the money you get is profit.
Physical product sales. Some bloggers sell physical products, especially if they started their blog in order to market an existing business such as an online store. Compared with digital products, physical products involve a lot of overheads — like production, storage, and shipping. You're unlikely to be able to undercut regular retailers on everyday products, but you might have success with niche products, such as funny t-shirts. Just make sure it's a product people actually want to buy, or you could end up losing a lot of money.
Online courses. Lots of bloggers run online courses — often using platforms like Teachable and Udemy. Usually, courses will be delivered as pre-recorded videos, but you can design and run your course however you like. Students will often expect some degree of interactivity (e.g. a Facebook group where they can ask questions, Q&A calls, or even one-to-one calls with you). This means you can charge a premium price for a course vs a digital product.
Services (e.g. freelancing). Many bloggers sell their services as a freelancer, such as freelance design, freelance writing, life coaching, business consulting, speaking, and much more. If you have expertise in a particular area, consider whether it's something you could offer as a service. Even if you don't want to do this long-term, it can be a fantastic way to bring in significant money even with a very small audience.
Software as a Service (SaaS). This requires upfront skills and investment, so it's not a route taken by many bloggers. However, selling Software as a Service (software on a subscription basis) can be very lucrative. Many bloggers sell WordPress plugins and even WordPress themes in this way, or develop other software tools like I've done with RightBlogger: the AI content creation platform for bloggers.
Employment. Some bloggers choose to make money by working as a full-time or part-time employee for a company, writing for their blog as a remote job. This offers the security of a salary, but does limit how much the blogger can make unless they get a pay raise. Many employed bloggers work remotely, and may well have flexible hours.
As you can see, there are a lot of different ways in which bloggers make money. In practice, most high-income bloggers will have several different income streams — and these may well shift as their blog grows.
For instance, here on my own blog last year, I made money mainly from affiliate commissions and online course sales, but in my earlier days of blogging, I also brought in money from freelance clients.
8 Methods to Increase Your Blogging Salary
Whether you're currently making a lot of money or nothing at all from your blog, you can use these tips to increase your blog salary.
Important: It takes time to build momentum on a blog. As your blog grows, money will come in faster and faster. Don't feel discouraged if you're not yet making much money. Keep setting aside time for your blog. Equally, do be sensible about your blogging: don't quit your job expecting to make a fortune overnight. You should see your blog as a side hustle until it's bringing in enough money to comfortably support you.
Method 1. Bring in More Search Engine Traffic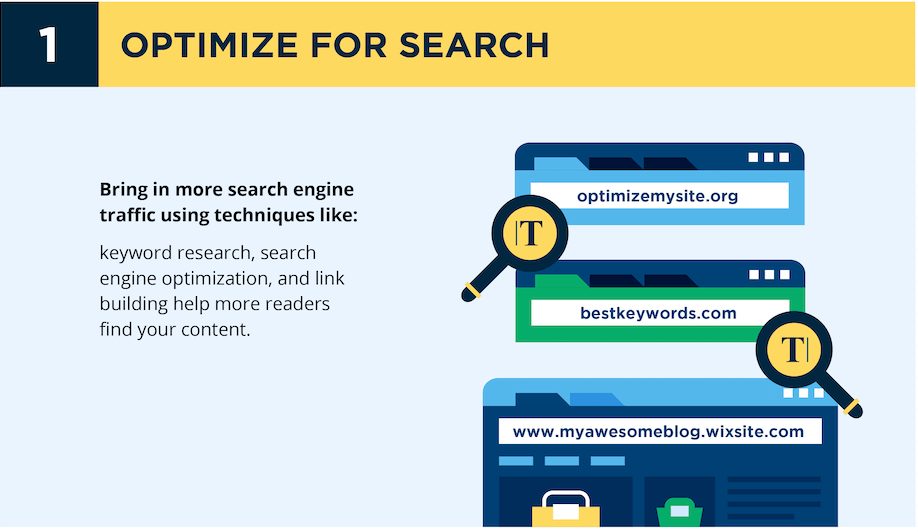 To a large extent, the amount you make from your blog correlates with the number of page views your blog gets.
It's obvious, really: the more people you have coming to your blog, the more opportunities you have to sell someone something.
Even if you don't manage to improve your conversion rate at all, you'll still make more sales simply by bringing in more traffic.
(Your conversion rate measures how many visitors to your site go ahead and buy something — they "convert" from a prospect into a customer.)
Growing your search engine traffic is a huge topic, but these are some basics to get you started:
Do some keyword research when you're planning out your content calendar. Each post you write should be based on a specific keyword in your niche. You need to target keywords that are popular enough to get traffic — but aren't so popular they're impossible for you to rank well for.
Optimize your blog posts for search engines. This means using keywords (in a natural way), crafting a great title and meta description, having subheadings, including links to other posts on your blog, and even things like having alt text for images. Don't worry if some of that sounds confusing or complicated: it's easier than you think. You can find out how to do all these things and more in my article about on-page SEO strategies. Be sure to use my free blog title generator tool and come up with catchy headlines for your blog content.
Get links to your blog from other (high-quality) blogs and websites. These links are like votes for your website, in Google's eyes. The more you have, the more reputable and important your site looks to Google. One great way to get a link back to your blog is to write a guest post — and this also ties in really well with our next method.
Use My Free Keyword Research Tool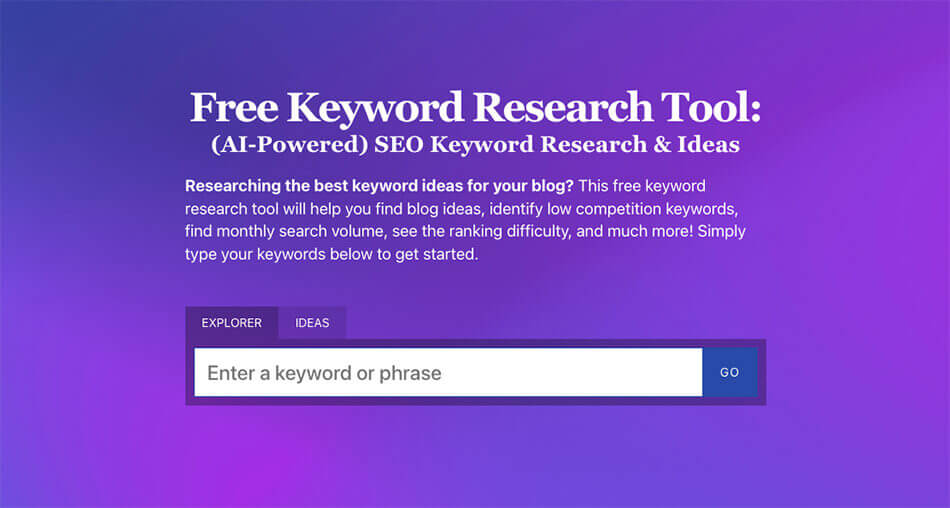 Try my free AI-Powered Keyword Tool to get dozens of research-backed ideas for keywords & topics to write about on your blog today.
---
Method 2. Find Your Ideal Audience and Invite Them In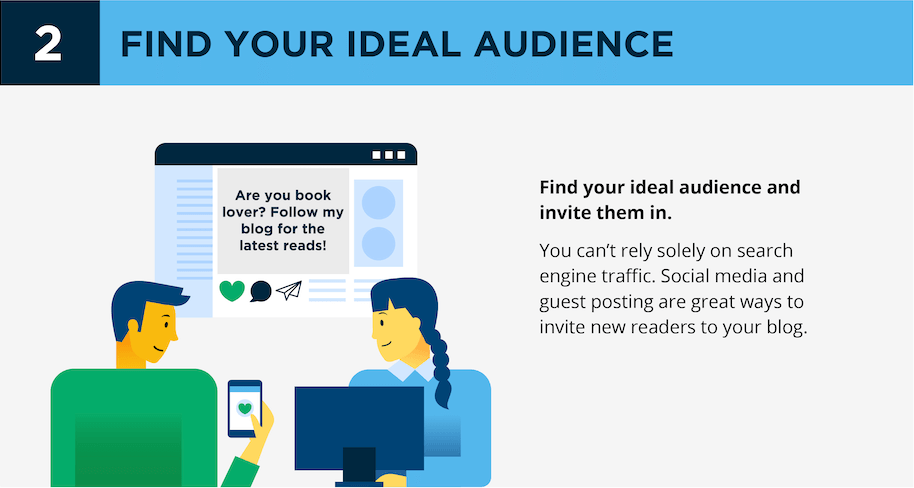 The more search engine traffic you get, the better. But you may find that, despite having lots of page views, not many people are buying from you — or even from your affiliate partners.
Plus, it can take a while to build up strong search engine traffic, especially if your blog is still relatively new.
This is why most bloggers don't solely rely on search engine traffic. They also bring in readers from social media and from other blogs in their niche.
This has the huge advantage that these people will already know a little bit about you (even if they've only read a single post — or a single tweet — you've written).
Guest blogging, where you write for other people's blogs, is a fantastic way to invite someone else's audience over to your blog.
While you might not get a huge spike in traffic, you'll likely pick up some new email subscribers and potentially even some new customers as a direct result of your guest post.
You can do the same on social media, by building up a following there, getting to know major figures in your niche (perhaps by sharing their content), and by replying to people and striking up a conversation.
All this helps you to find people who are interested in the things you write about on your blog. Pick just one or two social networks to focus on, though: don't spread yourself too thin.
Method 3. Review Affiliate Products (and Link To Them Regularly)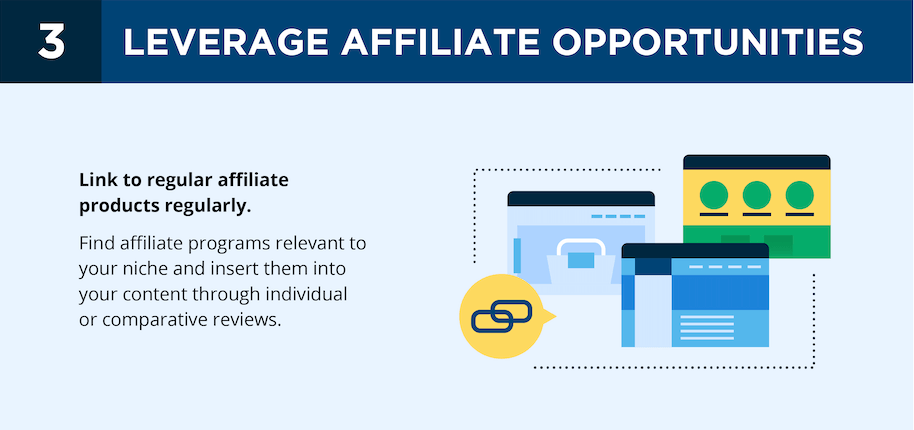 Affiliate marketing is a brilliant way to monetize a blog, because it works for virtually every niche and every size of blog. Whatever you write about, there are sure to be products and services that are related to it.
Many online stores — including Amazon — have an affiliate program so you can earn commission from recommending their products.
It's best to recommend products and services that you've used yourself and that you can genuinely vouch for. (If you recommend something sub-standard, that's going to ding your credibility with your readers.)
Start by making a list of products, tools, services, and so on that relate to your niche. Think about the things you use on a regular basis that would be relevant to your readers too.
For instance, if you blog about freelance photography, you could promote cameras and accessories, as well as freelancer tools like accounting software or even WordPress themes.
Then, sign up for the affiliate programs offered by those different companies.
You might also want to take a look through my list of popular affiliate programs for bloggers if you're short of ideas on what to promote: see if any products or services you're using are already featured there.
Once you've got your affiliate links, you can use a WordPress plugin like ThirstyAffiliates to manage those on your site and to insert them into your content.
You might want to:
Write reviews of individual products or services. This can be a great way to showcase or recommend something that brings in great affiliate income for you.
Write comparative reviews listing the top tools or products in a specific area — take a look at my article on the best cheap web hosting plans for an example of that.
Include your affiliate links in articles that touch on specific products, tools, services, or topic areas. For instance, you'll find my Bluehost affiliate link on my articles on starting a blog and making money and blogging for dummies.
Method 4. Create a Digital Product to Sell to Your Readers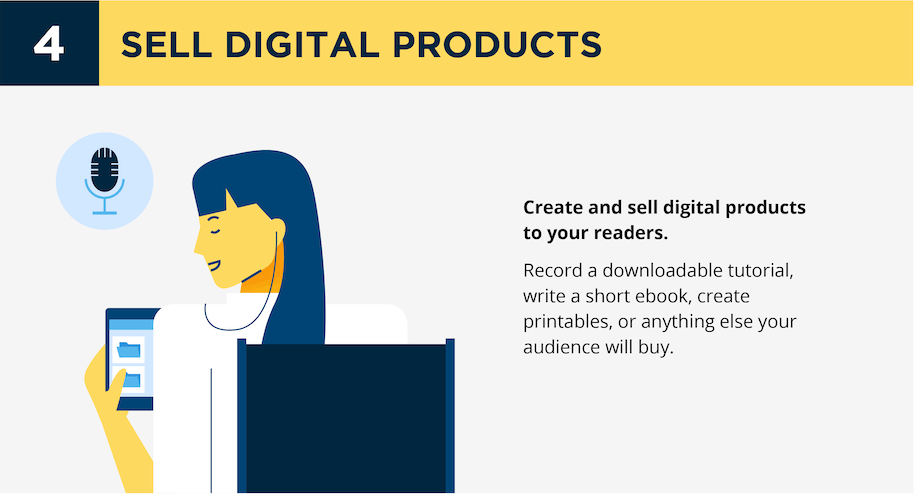 Another great way to raise your blogging income is to create a digital product you can sell to readers.
This doesn't need to take a lot of time: you could record a downloadable video tutorial, write a short ebook, produce printables using a tool like Canva, or create pretty much anything that your target audience wants and will pay for.
It's a good idea to look at what other bloggers in your niche are selling to their readers. Don't copy them, obviously, but do try to get a sense of what types of products people might buy.
Also, look to see if there are any gaps in the market you could fill.
Method 5. Offer a Service to Your Readers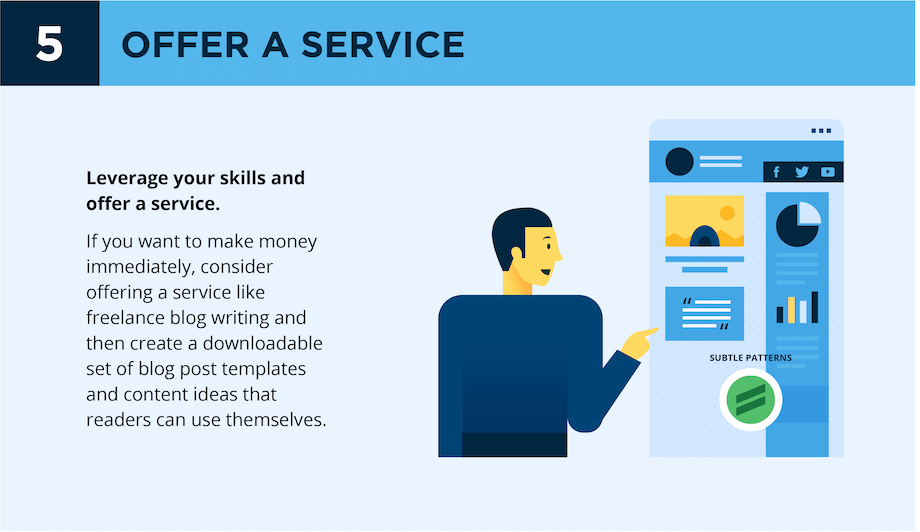 Creating and selling a product takes time — so if you want to make money immediately, you might also want to consider offering some sort of service to your readers.
This can be great research for creating a product, too. (For instance, you might offer freelance blog writing services and then create a downloadable set of blog post templates and content ideas that readers can use themselves.)
Most bloggers will put up a "Services" or "Hire Me" page to detail what they do.
To get some initial testimonials for your page, you might want to offer to work with a small number of readers at half-price or even for free.
You could potentially approach readers who you've already got a relationship with (e.g. ones who've commented a few times or who've emailed you) to see whether they'd be interested.
Method 6. Grow Your Email List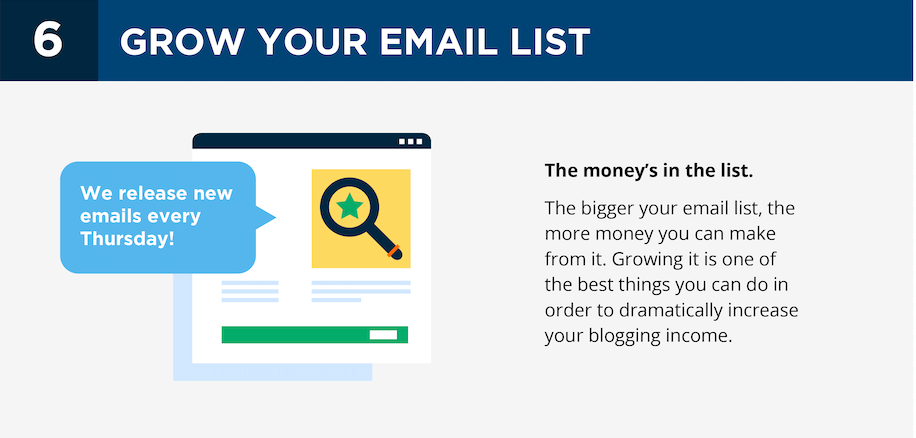 Many email marketers will tell you "the money's in the list" — and it's true, generally, the bigger your email list is, the more money you'll make from it.
If you've only recently started building an email list, or if you haven't done much to promote your list, growing it is one of the best things you can do in order to dramatically increase your blogging income.
Some quick ways to grow your list are to:
Use an "exit-intent" popup to advertise your email list to people who are about to leave your website. This works best if you're offering some kind of free download (lead magnet) to encourage people to sign up for your list.
Make sure you promote your email list in your blog posts. You might have it at the end of posts — or you could even include a sign-up form or link in the middle of a post.
Check that it's really easy to join your list. If people have to enter their first name, surname, and phone number — as well as their email address — a lot of them won't bother. Only ask for the information you really need. In most cases, "Name" and "Email address" or even just "Email address" will suffice.
Include your email list signup on key pages of your site, like the About page and the Contact page. New readers will often visit these — and you want to capture their email address while they're engaged and interested.
Method 7. Keep Promoting Your Existing Products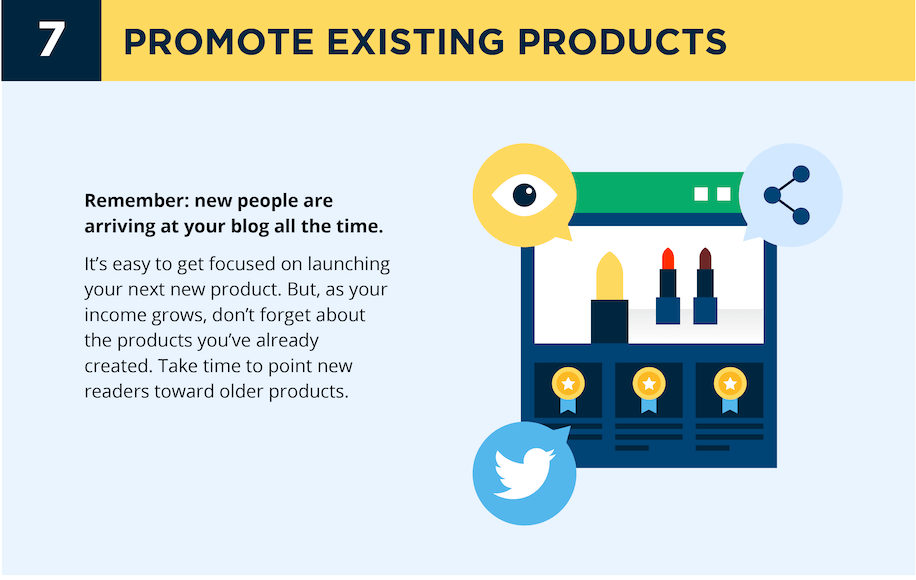 It's easy to get focused on launching your next new product — but, as your income grows, don't forget about the products you've already created.
Remember, new people are arriving at your blog all the time: they may not even realize that you have products for sale unless you take the time to point them toward those.
Some great ways to continually promote your existing products are to:
Build product promotion into the welcome series of emails you send out when someone joins your email list. This is a good opportunity to promote your most beginner-friendly or introductory products.
Make a point of always mentioning at least one of your products in each blog post. Often, this will fit in context where you point the reader to further information or support with a particular issue. But you can also include more "ad" style content — either in the middle or at the end of a post.
Run regular sales. You might put all your products on sale at once (e.g. for Black Friday). But you can also run special sales on just one or two products. This is a great way to nudge people into taking action, as a sale gives them a deadline.
Consider updating or refreshing your older products. While this may not be appropriate for all products, updating something you created a couple of years ago can give it fresh life. You could also add new bonuses or extras to the product.
If you don't yet have many/any products, you can use these techniques for affiliate promotions, too.
Method 8. Sell More to Your Existing Customers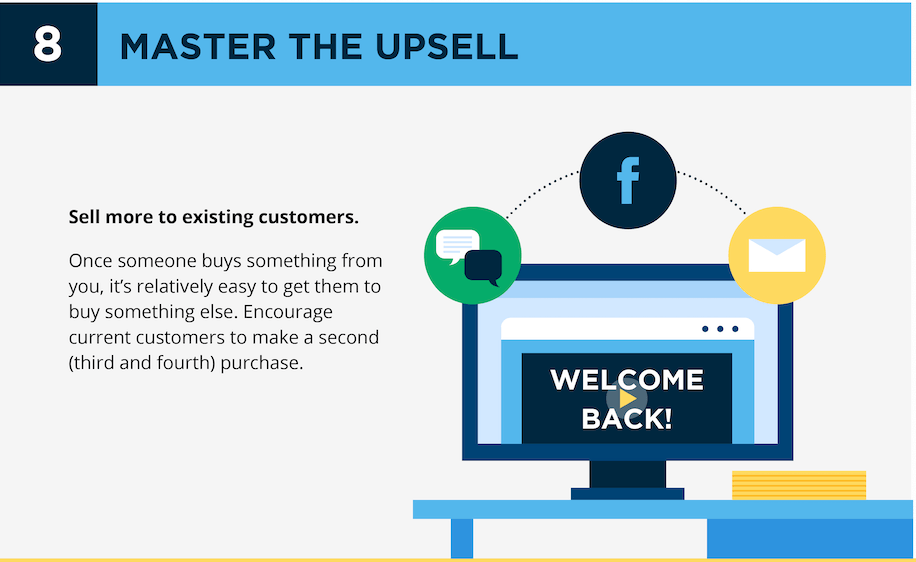 Just like other business owners, bloggers often get very focused on bringing in lots of new customers without thinking about making more money from the customers they already have.
Once someone's already bought something from you, it's relatively easy to get them to buy something else — assuming they had a good experience with the first thing they bought.
To encourage customers to make a second (or third, fourth, etc, purchase) you could:
Run a special sale or offer just for your existing customers. You could frame this as a loyalty bonus.
Create an "upsell", where you promote a product (usually at a time-limited discount) to customers who've just made a purchase.
Create a membership or subscription program where people pay a monthly fee in order to get regular content, software access, etc. They only need to make the decision to buy once, at the start of their membership — and you continue getting their money until they cancel.
How Much Money Can You Make Blogging? That's Up to You (Infographic): Average Blogger Salary by Niche
It takes time to make money blogging. You can't launch a blog and start making a professional income the next day.
However, blogging is a fantastic online business model for many people. It doesn't cost much to get started, you can set your own hours, and you can experiment with different ideas — and stick with what works for you. Today, you can even use AI content writing tools like RightBlogger to scale up your content production process and publish faster than ever before.
If you want to build a sustainable blogging income, behave like a professional blogger from day one. Treat your blog as a business and work consistently on it.
Then, try using the methods above to increase your blog income. You could be making six figures or perhaps even more in a couple of years' time.
To get started right, check out my free blog business plan template. It's based on the business plan I used to build a six-figure blog with 500,000+ monthly readers.
And for those visual learners out there, check out this full infographic that answers the question, how much do bloggers make? (You can click on the infographic to expand it) 👇

Want to share this infographic on your blog?
Email me (ryan@ryrob.com) and I'll hook you up with the hi-res image 😊
Ready to Start Your Blog Today?
Check out my ultimate guide How to Start a Blog (on the Side) that's been featured on Forbes, Inc and Entrepreneur.
---