Blog Post Idea Generator
Free Tool to Generate (AI-Powered) SEO Blog Topic Ideas
Trying to come up with ideas for your blog? This free blog idea generator instantly creates dozens of high-quality blog topic ideas based on any keywords. Whether you're brainstorming your whole content calendar or just feeling writer's block & want a quick blog idea to write about today, give it a try.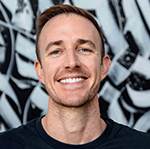 Get More Free Blogging Tools
Delivered Straight to Your Inbox
"*" indicates required fields
Brainstorm SEO-Friendly Content Ideas in a Fraction of the Time With This Free Blog Post Idea Generator Tool
Perhaps you're about to start a blog and you don't know what topics to write about—or maybe you've been blogging for years and your well of inspiration is running a little dry today. You need SEO-friendly blog post that'll rank well in organic search results—and that you'll also enjoy writing about. That's exactly what my free blog post idea generator helps you with. It'll take any topic or keyword you like and come up with lots of spot-on ideas for your blog.
Great ideas matter: With the right blog ideas at hand, it's so easy to structure and craft an impactful blog post. No more staring at the screen, torturing yourself with writer's block, wondering what you should write about today.
Plus, the right ideas will resonate with your audience—bringing back loyal readers again and again, and drawing in new ones from search engines and social media.
A great idea starts with the right keyword (and you can use my free keyword research tool to help you out with that). By itself, though, a keyword isn't really a blog post topic. It needs to be developed into an engaging, interesting idea. An idea that gets people interested right away—and an idea that makes you want to sit down and write. That's when the magic really starts to happen.
What is a Blog Post Idea Generator Tool?
A blog post idea generator tool is a piece of software that helps you come up with great ideas for your blog, by integrating your primary keyword and crafting an idea that's going to be interesting and engaging for your readers. The blog writing process all starts with a solid idea.
This free blog topic generator tool makes it so easy for you to come up with an idea for your next blog post or to fill your blog content calendar for the months ahead. Just put in your main keyword and hit "Generate". You'll get a whole list of ideas in seconds, all phrased in a natural, engaging way (using the power of AI writing).
The best blog post idea tools will give you creative ideas that:
Match Well With Your Topic or Keyword: The tool may not incorporate your full keyword (that step comes when you craft a blog post title). But all the ideas it generates should be a good fit for your topic—not something off-the-wall for a totally different niche.
Give You a Clear Sense of Structure: An idea like "5 Simple Steps…" or "4 Ways To…" has a structure built in. This means you can instantly start to think about your post's structure and how to format your content.
Comes Up With Lots of Ideas at Once: You want a tool that can create 5, 10, or even more ideas in a single shot. Not a tool where you have to keep mashing a button to get another idea. With a whole list of blog ideas to add into your content workflow, you can easily grab the ones you want… or fill out your entire content plan for the next month, quarter, or beyond.
Avoid "Mad Libs" Content: Some non-AI blog post idea generators simply take your keyword and throw it into random blog title templates… regardless of whether it makes any sense. This type of tool is a waste of your time—you'll end up having to weed through and reject 9 out of 10 ideas with these kinds of blog topic generators. It's because of these tools I decided to build a great free blog idea generator tool.
This free blog post idea tool we've built works just like Chat GPT. It's designed to come up with on-topic, structured, engaging ideas that read well. It takes seconds to run and will give you 10+ blog post ideas to work with each time.
Run it as many times as you like, either for a single keyword or for lots of different keywords. Then, simply copy the ideas you like best into a document or straight into your editorial calendar.
And if you dig the free version of this blog topic generator, you'll love the full-featured tool with more options including creativity settings & 20 different language options inside RightBlogger, my suite of 40+ AI tools designed to help bloggers (like you) to create great content faster.
✨ Get 60+ Powerful Blogging Tools
Try RightBlogger today and unlock unlimited access to AI blogging tools that'll help you create great content, faster.
How to Come Up With All the Blog Post Ideas You'll Ever Need With This Content Idea Generator
Now that I've introduced you to the blog post idea tool and what it can do for you, let's dig into exactly how to use this blog topic generator to fill your content calendar for the next 3 months (or beyond).
1. Choose Your Main Topic or Keyword
Before using this free tool, you need a topic or keyword. If you're not sure what you want to blog about at all, spend a bit of time thinking about what blogging niche might suit you—here's a list of popular and profitable blogging niches to get you started.
You can use the blog post idea generator with a broad topic (like "parenting" or "business") but you'll get the best results if you come up with specific keywords using my free keyword research tool.
What is a Keyword? (Brief Introduction)
A keyword is a short phrase (usually more than one word) that someone would type into Google when looking for content like yours. Some of the most popular keywords people use to find my blog posts are things like start a blog and make money blogging.
If you want to get lots of traffic from Google and other search engines, all your content should be optimized for a specific keyword, ideally one with a medium search volume. That way, Google will know what your blog post is all about … plus you will know that there are plenty of people out there interested in finding that kind of content.
What Blog Topic Ideas Will Suit Your Target Audience?
You can't master topics and keywords without thinking about your target audience. You need to know who you're writing for and what type of content they're keen to read.
If you're writing a blog about small businesses aimed at stay-at-home moms, the type of content you produce will be quite different from a blog about small businesses aimed at college students.
Think about keywords and topics that will resonate with the audience you want to attract to your blog.
2. Generate 10 (or More!) Blog Post Ideas and Choose Your Favorites
Once you've got a keyword or even just a topic idea, type it into the blog post idea generator and hit "Generate".
You'll get a list of 10 blog topic ideas in just seconds, as the AI-powered tool gets to work right away.
If you enter a very general topic, your ideas will be quite wide-ranging. If you're more specific, you'll get ideas that are a better fit for exactly what you want.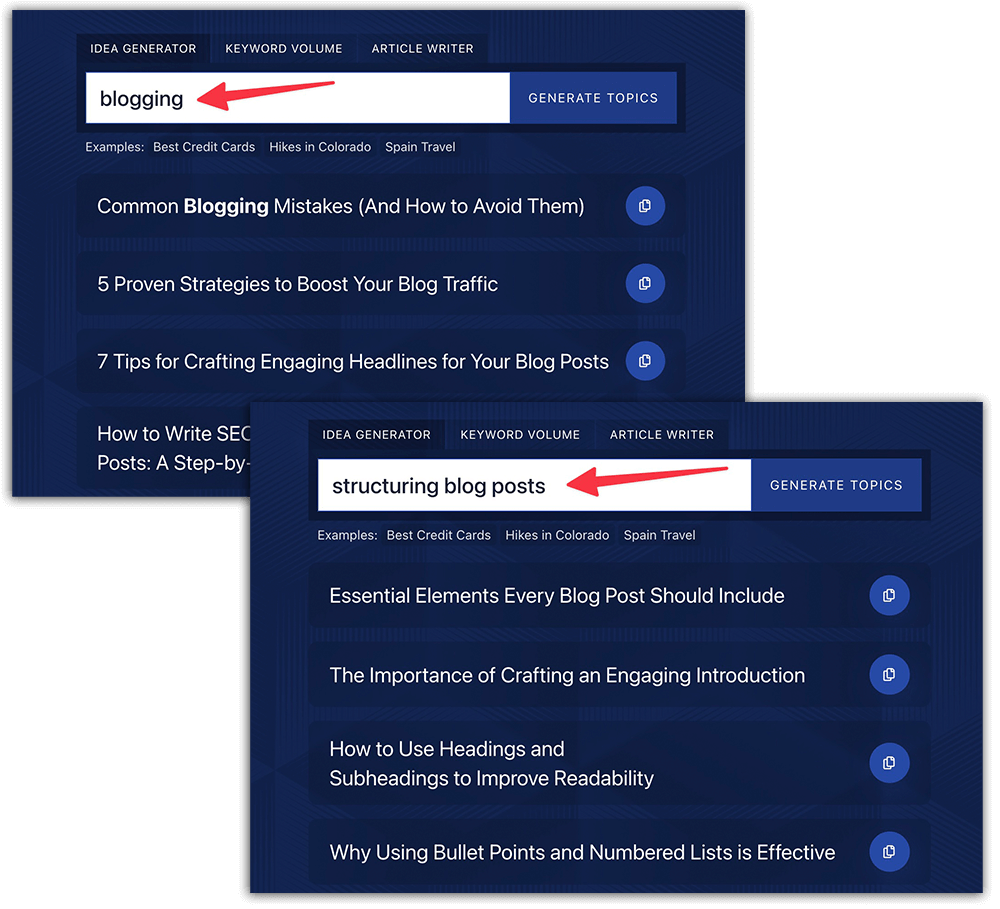 Here's an example. If you put in the keyword "blogging", the blog post idea tool will give you big-picture ideas like these:
Common Blogging Mistakes (And How to Avoid Them)
5 Proven Strategies to Boost Your Blog Traffic
7 Tips for Crafting Engaging Headlines for Your Blog Posts
How to Write SEO-Friendly Blog Posts: A Step-by-Step Guide
But if you choose a more specific keyword, like "structuring blog posts", you'll get more specific, detailed ideas like these:
Essential Elements Every Blog Post Should Include
The Importance of Crafting an Engaging Introduction
How to Use Headings and Subheadings to Improve Readability
Why Using Bullet Points and Numbered Lists is Effective
If these blog topics & ideas aren't quite what you wanted, try tweaking your topic or keyword.
You can run this free blog topic generator as many times as you want, either for the same topic/keyword over and over again, or for different keywords. You'll see a different set of results each time you run it. That's the beauty of using AI tools like this (and ChatGPT, of course).
Choose your favorite blog ideas and copy & paste them into a separate document (or even into an email to yourself). You can use these ideas to fuel landing page copy, SEO-friendly product descriptions, LinkedIn posts and more—truly, there are no limits.
You might want to prioritize ideas that:
You already have the skills and knowledge to write about in an authoritative manner.
Are similar to ideas that have already been popular with your audience.
Get your attention and sound fun to write about.
3. Turn Your Ideas into Blog Titles That Are Perfect for Your Audience
In many cases, the ideas that the blog post idea generator comes up with could make perfect titles. But for the best content marketing & digital marketing focused results, you may want to tweak them a little to make them just right for your blog.
Engaging blog post titles need to (a) incorporate keywords (b) get attention and (c) match your voice. You can also use my other free AI blogging tools like my AI article writer, blog title generator, meta title tool and my headline analyzer to help you craft the perfect title (and beyond) for your blog post. They follow the same process & workflow as the tips below.
Including Your Primary Keyword
Hopefully, you have a specific keyword in mind for your post. (If not, you can come up with ideas first, then use the keyword research tool to figure out what keyword would be the best to choose.)
Your keyword must go in your blog post's title, as this is a huge ranking factor. Where necessary, tweak your list of title ideas to include keywords.
Here's an example idea, created by the free blog post idea generator in our screen shot above:
Essential Elements Every Blog Post Should Include
If you want to optimize this article for "blog post elements," then you could easily edit this title to become:
5 Key Blog Post Elements to Include in Every Article You Write
To get a little extra help, head on over to my free blog title generator and let it whip up SEO-friendly titles for you in seconds.
Getting the Reader's Attention
Your blog post title needs to get attention—without any of the rest of your post. It might well be the only thing a reader sees before deciding whether or not to click through and give your post a chance. (For instance, if someone shares your post with their followers on social media, they may well only give the title and link.)
The ideas from the free blog post topic generator will usually do a great job of catching attention. But you may want to go even further by including more powerful words.
For example, a blog idea like 5 Key Elements to Include in Your Blog Post Introduction could become:
5 Surprising Elements to Include in Your Blog Post Introduction
5 Key Elements You Must Include in Your Blog Post Introduction
Blog Post Introductions: 5 Key Elements That Make or Break Your Post
This is where your own creative spark can really shine, which is the real power of AI tools like this blog topic generator—they come up with great starter material to free us for more creative efforts.
Using Your Unique Blog Voice and Brand in Your Blog Titles
You want your titles to be a perfect fit for your blog. That might mean adjusting a word or two to make sure that your titles sound like you.
Here's another topic generated by the free blog idea tool: Crafting Compelling Call to Actions: Best Practices for Encouraging Engagement
That might work just fine on some blogs. But if your blog has a chatty, punchy style, it probably sounds a bit formal.
You might want to turn it into a more catchy title, like:
Crafting Compelling Call to Actions: Get Readers Clicking Like Crazy
Or perhaps something like:
Crafting Compelling Call to Actions: Skyrocket Your Conversions
Again, the choice is yours. Remember though, you can't go wrong if you're weaving in your own voice, tone, style, personal story, history, emotion, heart and love into your content.
4. Add Your Tweaked Blog Post Ideas to Your Content Calendar
Once you're happy with your list of titles, it's time to fit them into your content calendar. If you've not come across that idea before, a content calendar (also called an editorial calendar) is a plan of what you're going to publish on your blog over the upcoming weeks and months.
If you've already got a content calendar set up, just go ahead and slot in all your new ideas. If not, here are a few pointers to help you.
How Often Should You Post On Your Blog?
There's no rule about how often you need to post on your blog—and obviously, the less frequently you post, the fewer new blog post ideas you'll need.
Most bloggers find that posting somewhere between 2 times a month and 2 times a week works well. If you post monthly or less, it'll take a long time to gather momentum and build up your blog. If you post more than 2 times a week, you may find it hard to stick to your marketing strategy.
Creating a Simple Content Calendar (Editorial Calendar)
Your content calendar can be as simple as a list of dates and blog post titles, letting you know what you're aiming to publish when.
Most bloggers find it easiest to use a spreadsheet for their content strategy, where they can record notes, keyword details, and other useful information. I've got a ready-made, free editorial calendar spreadsheet that you can download and use.
The Features of This Free Blog Topic Generator Tool
Now that we've dug into how to use this free blog topic generator, let's take a deeper look at its key features.
Topic/Keyword (Starting Point for Your Ideas)
You can put any topic or keyword into the tool, relating to any blogging niche out there, and you'll get a bunch of relevant ideas in just seconds.
Completely Stuck? Put in your niche's topic (e.g. "travel") and see what the tool comes up with! Pick a few of the ideas you like—or run the same word through the blog topic idea generator again and get more ideas.
Exploring a Generated Idea? Let's say you typed in "travel" and the tool came up with "7 Must-Visit National Parks in the United States". That sounds like a fun idea to you, so your next topic/keyword could be "national parks" to generate blog ideas that are deeper and more specific.
Creating Hub-and-Spoke Content? Hub-and-spoke content can be a great way to explore a topic in-depth, plus it's great for search engines. Put in your "hub" keyword and the idea generator will give you lots of ideas that could branch off from this as part of your content ecosystem.
There's no "wrong" way to choose your topic/keyword! This is a free tool and you can run the generator as many times as you like, so just pick anything related to your niche and have fun with it.
Language (Choose Your Preferred Language)
One thing that makes the full-featured blog post idea generator inside RightBlogger special, is that it can come up with ideas in over 20 different languages. Just use the dropdown language picker to select your preferred language—and get ideas that you can use right away, with no translation needed.
Let's say you're in the UK or writing guest posts for UK blogs. You can set the tool to English (UK) and get ideas that use UK spellings and that are relevant to a UK audience. For example, if you type in "national parks" with the language set to UK English, it comes up with ideas that relevant to the UK vs the same search done using US English… pretty cool, right?
Give it a try inside RightBlogger today, I can promise you'll love this full-featured tool.
✨ Get 60+ Powerful Blogging Tools
Try RightBlogger today and unlock unlimited access to AI blogging tools that'll help you create great content, faster.
Blog Post Idea Tool FAQs (Frequently Asked Questions)
I'm really excited about all the possibilities that AI is opening up for bloggers, including in my own content creation process (now 3x faster). I get a lot of questions from my readers in comments and on social media, and I wanted to address some of those here.
Is it plagiarism to use these blog post ideas?

No. this free blog post idea generator doesn't plagiarize. It's not copying an existing blog post idea from anywhere: it's coming up with unique ideas just for you. (Run the same topic/keyword twice and you'll get 2 different sets of results.)

There'll always be some overlap with blog post ideas, of course. Let's face it, I'm hardly the first blogger to cover how to start a blog or how to make money blogging! What makes your blog post special and unique is how you cover the topic.

If you're worried about whether a specific idea has been used before, type it into Google in quotation marks (e.g. "5 Key Elements to Include in Your Blog Post Introduction"). If no results appear with that exact title, you're good to go! If someone else has come up with the same title before, no worries, just tweak yours a little to make it unique.
Why do some blog post idea tools give such crazy ideas?

There are a few popular topic generators out there that can give some really wonky results—like the HubSpot blog ideas generator. Basically, these work by taking a noun that you type in and plugging it into a whole bunch of title templates.

Let's say you have a food blog. You want a bunch of ideas related to "tomatoes" so you enter that. The tool gives you some plausible ideas, like "Tomatoes: Expectation vs Reality" … but it also gives you some crazy ones like "Will Tomatoes Ever Rule the World?"

Why? Because these tools aren't exactly smart. They're not using Artificial Intelligence, like my blog post idea generator. They're just shoving your word into some pre-written titles, like a game of Mad Libs.
What other AI tools should I use to grow my blog?

As you might have guessed by now, I'm a big fan of AI and of its potential for bloggers. As well as the free blog post idea generator, my team has put together a whole bunch of useful AI tools. These include my AI keyword research tool, an AI article writer, an AI paragraph rewriter, blog title generator, domain name generator… and lots more AI writing tools & broader AI blogging tools I have in the works.

All these tools are based on their full, unlimited versions in RightBlogger, which is packed with 40+ blogging, social media, and SEO (search engine optimization) tools—powered by AI.
Why did you make this free blog ideas generator… completely free?

As a blogger that started out 12+ years ago on a tight budget, I know what it's like not to be able to afford all the cool blogging tools that I knew would help me to grow my blog faster. I worked hard to seek out free alternative tools and split tool subscriptions with friends for many years before my blog made real income.

That's why this blog post idea generator tool is free… because I am you, and I want to give you the gift I wish I'd received when I was starting my blogging journey. For that reason, this tool will remain forever free. It's a resource I want every blogger to be able to benefit from regardless of how much money is in your bank account. This tool is free because I care. That means no gimmicks and no credit card required, ever.

If you love this blog idea generator and want to explore more of the tools I'm building for bloggers, I'd love to invite you to try RightBlogger, where we're developing a curated suite of AI-powered blogging tools to help you create great content (and grow your blog) faster than ever before.
If I have a brand new blog can I still use this blog topic idea generator tool?

Absolutely! The blog topic generator is ideal for new bloggers, as you can quickly and easily come up with a whole list of ideas before you even start your blog. You can put in a broad topic/keyword or a much more specific one, so it's fine if you're at the very early stages of blogging and you haven't yet narrowed down exactly what you want to blog about.
Who is this blog content idea generator tool designed for?

When we designed this blog idea generator, we kept in mind all sorts of people who might want to use it. In particular, we focused on bloggers, content marketers, content creators, and SEO professionals (who might be using the tool to come up with ideas for clients). Basically, if you're looking to produce high-quality content to take your blog to the next level, then this tool is for you!
Is this a good alternative to the HubSpot blog post idea generator?

The HubSpot blog post idea generator is a fun tool that can throw up some creative ideas—but you'll find that a lot of the blog topics it produces are quite generic. Sometimes, they're even a bit nonsensical—plus you have to enter your email address to get more than 5 ideas. Similar to my rub with the Portent idea generator tool, it's just not a whole lot of free value, if you ask me.

With my blog post idea generator, you get unlimited ideas (no email address required) and those ideas are custom-made for your topic. They're not generic, template blog post titles. Instead, they're unique ideas that are generated just for you.
Tool built by my insanely talented friend, @sup. Powered by RightBlogger.