SEO (search engine optimization) can seem baffling, even daunting when you're new to the world of blogging and online business. Enter: AI SEO tools and how they're changing the industry for good.
If you're not quite so new, you might have grasped some key SEO best practices… but you've probably also discovered that optimizing your website's content for search engines can take a lot of time.
That's where AI SEO tools come in. They'll not only save you time, but they'll also cut out the guesswork—making sure you don't miss any opportunities when creating content that you want to rank well in Google.
14 Best AI SEO Tools in 2023 (to Boost SERP Rankings)
Disclosure: Please note that some of the links below are affiliate links and at no additional cost to you, I'll earn a commission. Know that I only recommend products and services I've personally used and stand behind. When you use one of my affiliate links, the company compensates me, which helps me run this blog and keep my in-depth content free of charge for readers (like you).
Try RightBlogger: My 50+ Hand-Crafted Tools for Bloggers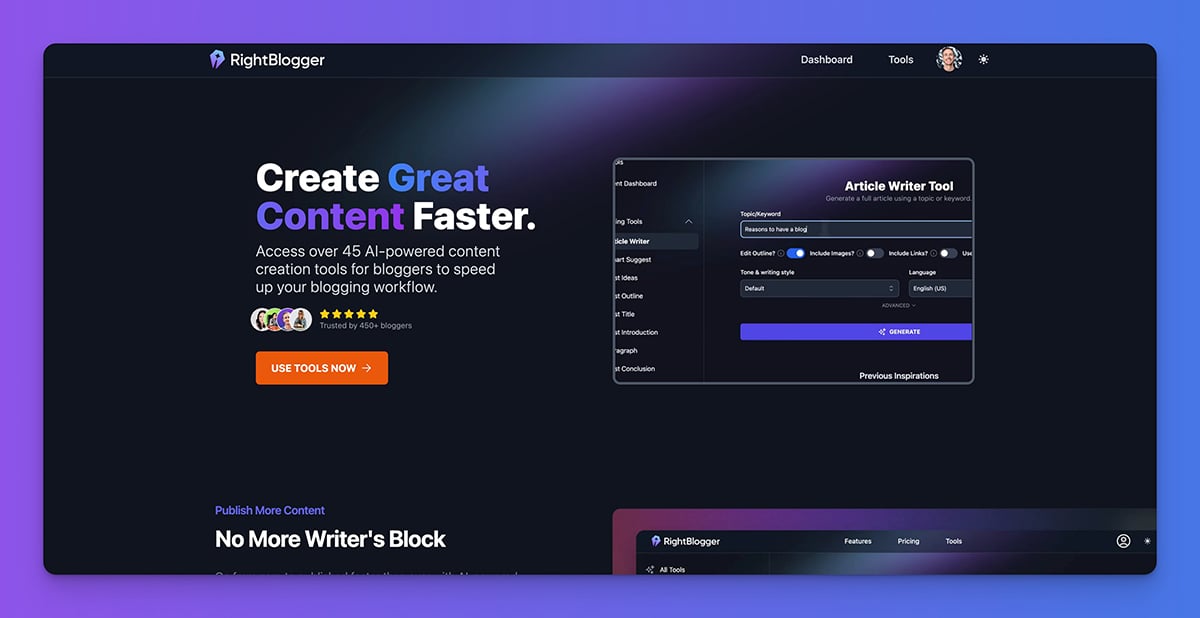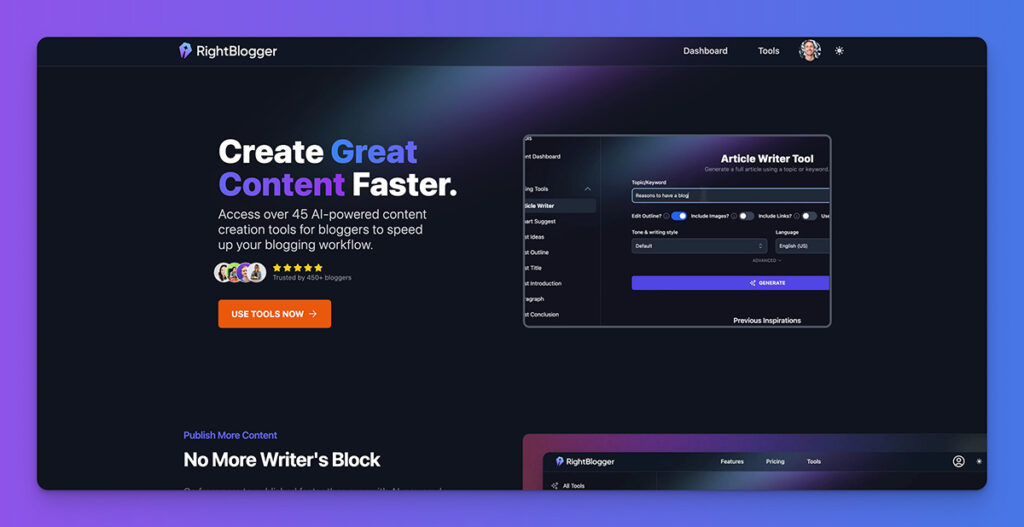 Try my very own Content Creation Toolbox for Bloggers: RightBlogger, to get access to 50+ blogging, SEO, marketing, sales and productivity-focused tools to blog faster & more effectively today.
---
What are AI SEO Tools (Artificial Intelligence SEO Tools)?
AI SEO tools are handy apps and software that let you create website content that's optimized for search engines. Some of them write the content for you, with just a prompt plus a few clicks. Others won't create content, but instead help you rewrite your existing draft to make it better optimized.
You'll also find plenty of AI SEO tools that carry out specific SEO tasks, like helping you with keyword research or handling the more technical aspects of SEO.
3 Important Basics of SEO to Understand
If you're new to SEO, there's plenty to learn—and I know how daunting that can feel. I'd recommend taking a look at my full guide to blog SEO strategies, but if you're in a hurry, here are the absolute basics to know.
1. SEO Always Starts With Keyword Research
Firstly, SEO begins with keyword research. You're always optimizing for a specific keyword—you can't just optimize a piece of content in general.
Keyword research means finding a keyword that your target audience is likely to type into Google.
For instance, if you sell phone cases, then you might be targeting keywords like phone case with card holder or phone case with stand.
When someone types phone case with card holder into Google, you want your article to rank as high as possible in the SERP (search engine results page).
When choosing your target keywords, you should pick ones that have a reasonable amount of traffic, but not ones that you'll never have a chance of ranking for. Usually, that means choosing keywords that are 3–4 words long.
Use My Free Keyword Research Tool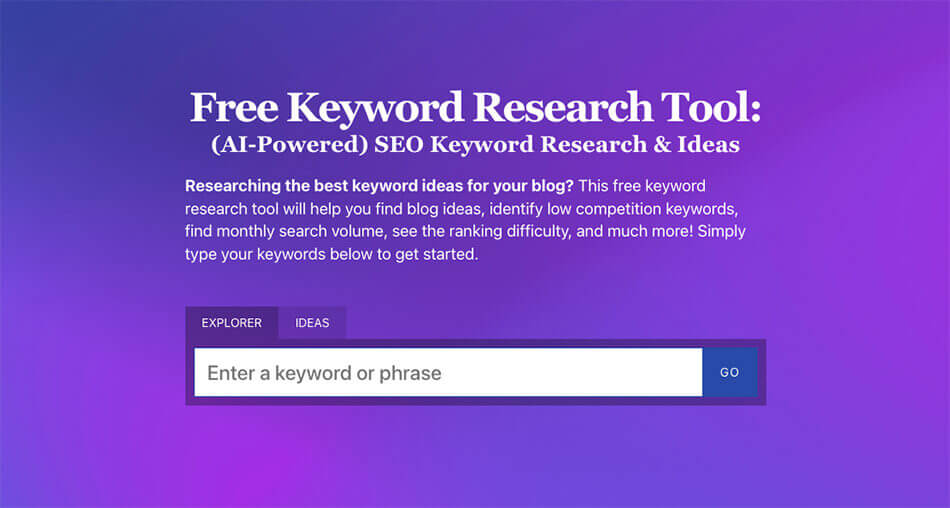 Try my free AI-Powered Keyword Tool to get dozens of research-backed ideas for keywords & topics to write about on your blog today.
---
2. You Need to Write for People First (Not Search Engines)
Sometimes, bloggers and online business owners get the mistaken idea that SEO is about writing in some special, strange way for search engines. They choose a keyword and use it in practically every sentence—making for stilted writing that no one wants to read.
Write for people first: your website should offer a great user experience. Craft an article that's easy and engaging to read (my free AI article writer will set you down the right path). When you edit, make sure you've used your keyword where it makes sense—but don't feel that you need to repeat it again and again. Search engines will get the idea!
3. Your Primary Keyword Should Be Present in Key Places
Of course, there are some places where it's particularly important to use your primary keyword if you want to show up high in organic search rankings. The most important are:
The title of your post (especially the SEO/meta title, which can be different from the heading that appears on the page itself).
The meta description for your post.
It's also a good idea to use your keyword in one or more subheadings within your post, in the main content a handful of times (as appropriate, don't go overboard), and in the URL of your post. Use smart AI SEO tools like my blog title generator to come up with SEO-friendly headlines for your blog posts.
My Picks: 14 Best AI SEO Tools
Let's take a look at the best AI-powered SEO tools out there.
1. RightBlogger: Suite of Writing and SEO Tools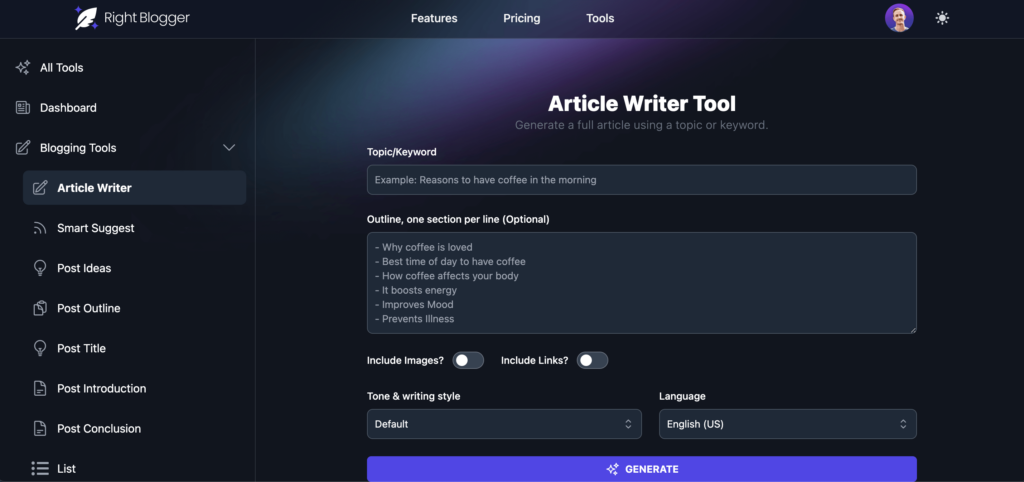 RightBlogger is my favorite SEO-driven content writing tool out there, because well—a piece of my own heart has gone into building it with my friend Andy and we're really proud of the AI SEO tools we've been perfecting inside.
We built RightBlogger to solve some of my own frustrations with writing content, and so I've packed it with useful tools to help busy bloggers and business owners optimize their content for search engines.
You can use RightBlogger in all sorts of ways, but when it comes to SEO, some of the features you'll love most are:
The article writer. This tool can create blog posts for you, following the best and latest SEO practices. To make it even faster, you can generate your topics/keywords and an outline using other tools within RightBlogger.
The keyword research tool. This is a beefed-up version of my free keyword research tool. Just pop in a word or phrase and RightBlogger will give you all the data you need (including volume, CPC, and competition).
The meta title and meta description tools. Need to write a whole bunch of SEO titles and meta descriptions for your blog posts? Cut out all the legwork with this handy automation tool: you just need to pop in your topic or keyword.
The keyword cluster tool. This nifty feature is ideal for creating "hub and spoke" style SEO content, where you have a core "hub" with a big authority piece on a subject, then a bunch of "spokes" going into detail on smaller aspects of that subject.
Price: $29.99/month or $299/year (giving you 2 months free). This gives you full access to all features and you can generate as many words as you like, with no limits.
2. Keyword Tool (RyRob): Free Keyword Research Tool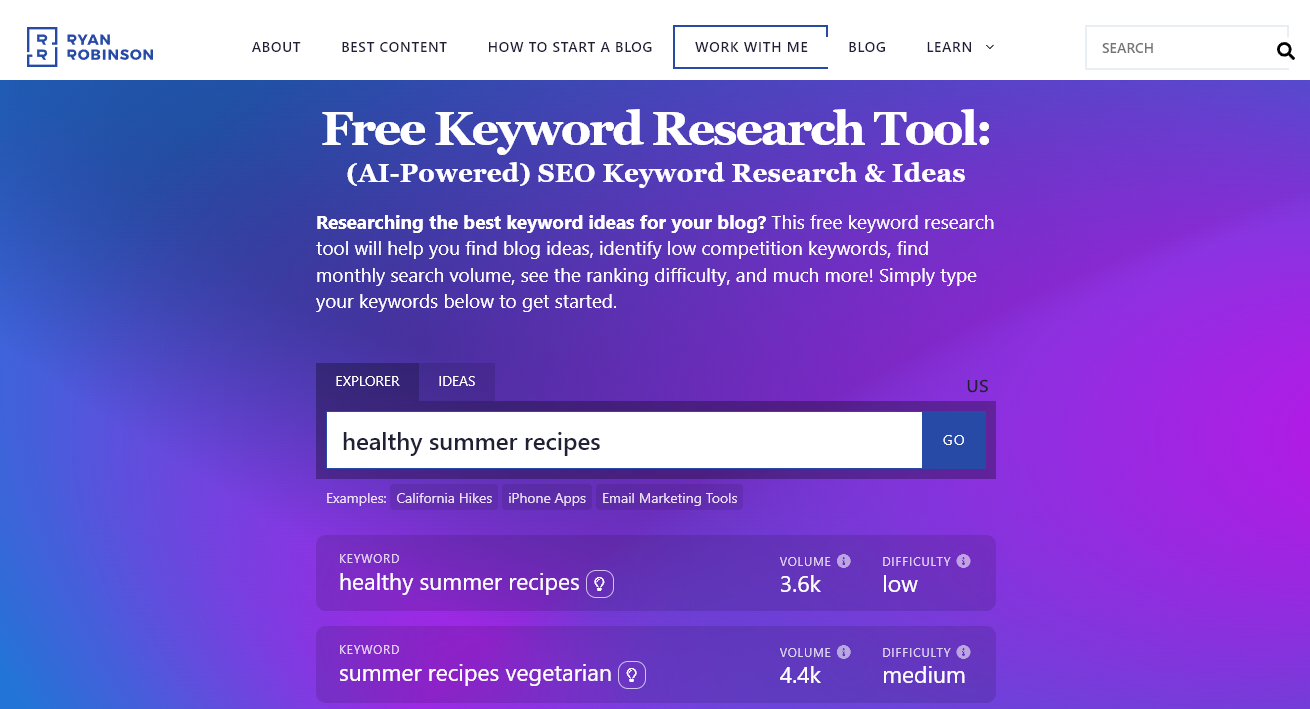 My AI-powered keyword research tool is completely free and uses the same data as the more advanced version of the keyword tool inside RightBlogger.
You get unlimited searches and access to all the features of the Keyword Tool without paying a cent. You don't need to enter your email address or any personal information, either.
The Keyword Tool has two options:
Explorer: pop in your starting keyword and you'll get a bunch of data on similar keywords, including their search volume and competition rating (keyword difficulty).
Ideas: generate keywords based on a topic (this is powered by OpenAI's ChatGPT AI). If you struggle to come up with content ideas, this is the tool for you.
However great you are at SEO, there's not much point in perfectly optimizing an article for a keyword that gets next to no traffic—or one that has lots of traffic but also an incredible amount of competition. With the keyword tool, you can figure out which keywords are worth your time and resources.
Price: Free
3. Jasper: AI Content Creation, Integrates With Surfer SEO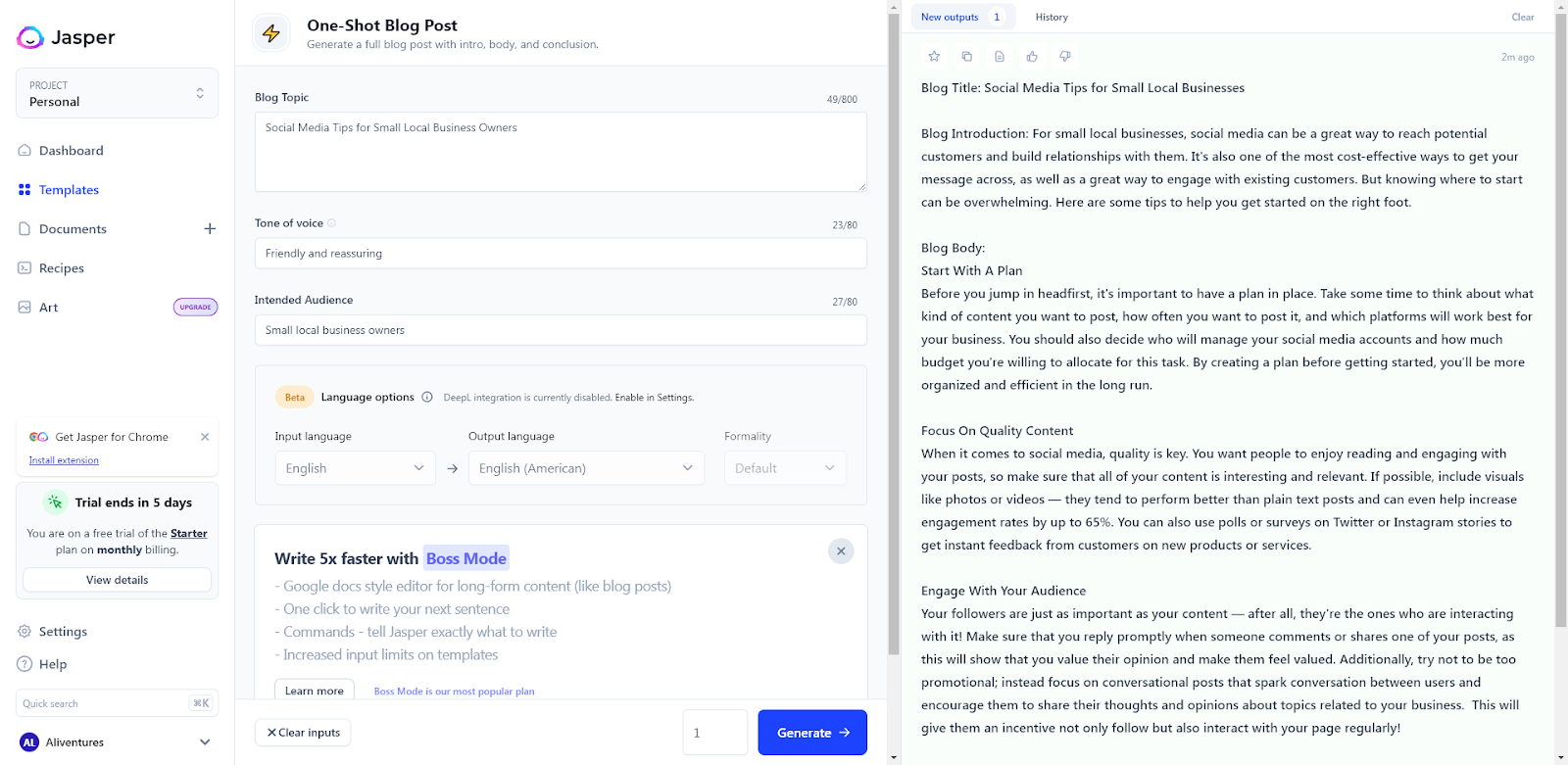 Jasper is a powerful and popular AI writing tool that you can use to create long-form content fast. When you create an article in Jasper, you can set keywords, and Jasper will automatically incorporate these—helping you to craft a well-optimized post.
If you want to go further, you can integrate Jasper with Surfer to enable "SEO-mode". This then shows you Surfer's SEO tools within Jasper, letting you see exactly what terms you need to add to your post in order to improve your content score.
You can also use Jasper for a range of other AI content, like social media posts, emails, copywriting, and more. It can even handle data entry and customer service inquiries—and it can schedule appointments for you—making it a fantastic way to streamline your workflow in multiple areas of your business.
Price: From $24/month (billed annually), which gives you up to 20,000 generated words/month. Some features cost more.
4. Surfer SEO: Comprehensive On-Page Optimization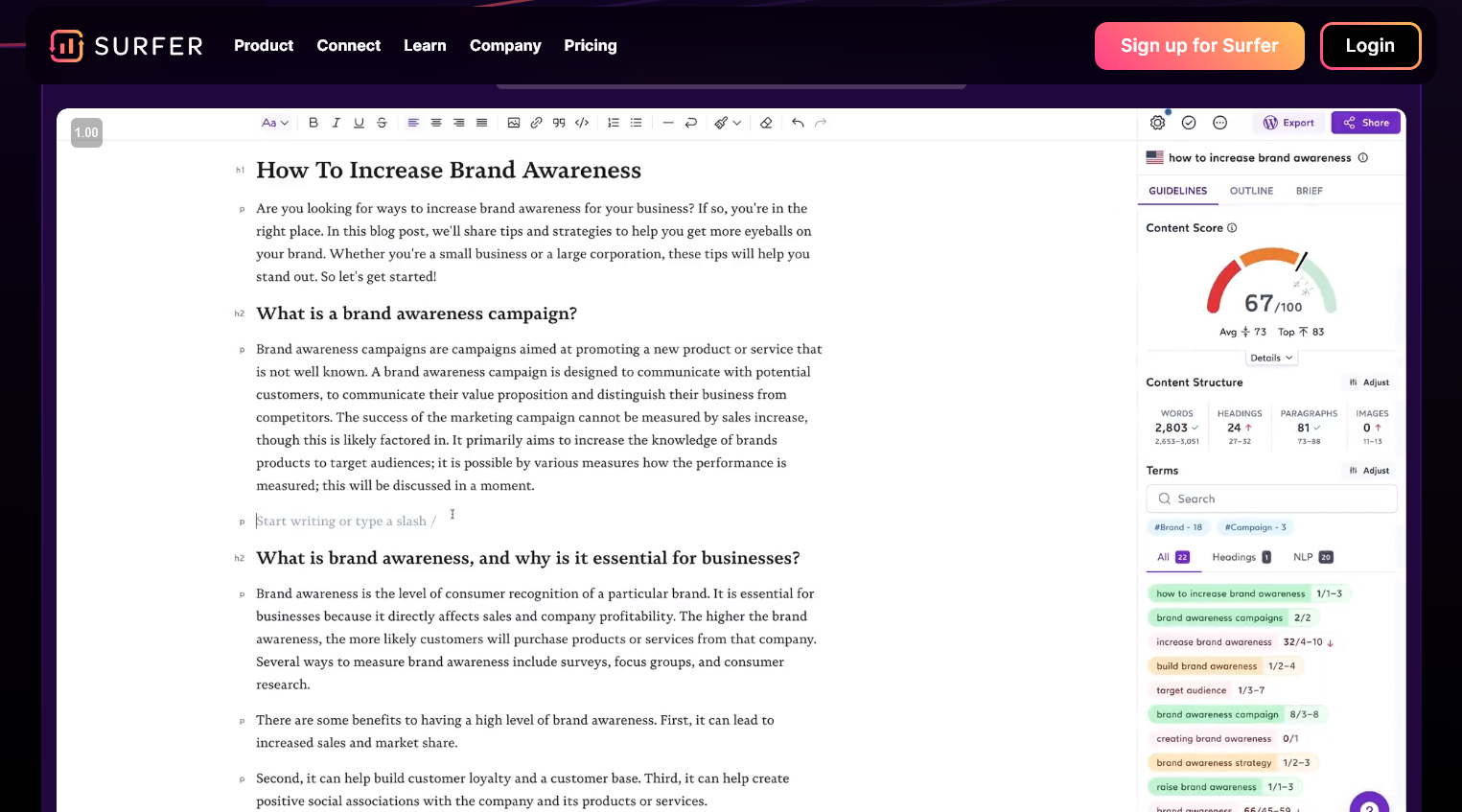 Surfer SEO doesn't create content: instead, it helps you optimize the content you already have and improve your organic traffic. It gives you a score out of 100 to show you how good your content currently is, in SEO terms, and makes specific recommendations about content length, images, headers, and words/phrases to use (using NLP, natural language processing).
You can use the Outline Builder if you're working on a piece from scratch: this creates unique subheadings for you and lets you structure your article easily.
Surfer SEO integrates with Jasper, if you want to use the power of AI to both create and optimize your content.
Price: From $49/month (paid annually). This covers you for up to 120 optimized articles and 240 audited pages each year.
5. Clearscope: On-Page Optimization With Easy Integrations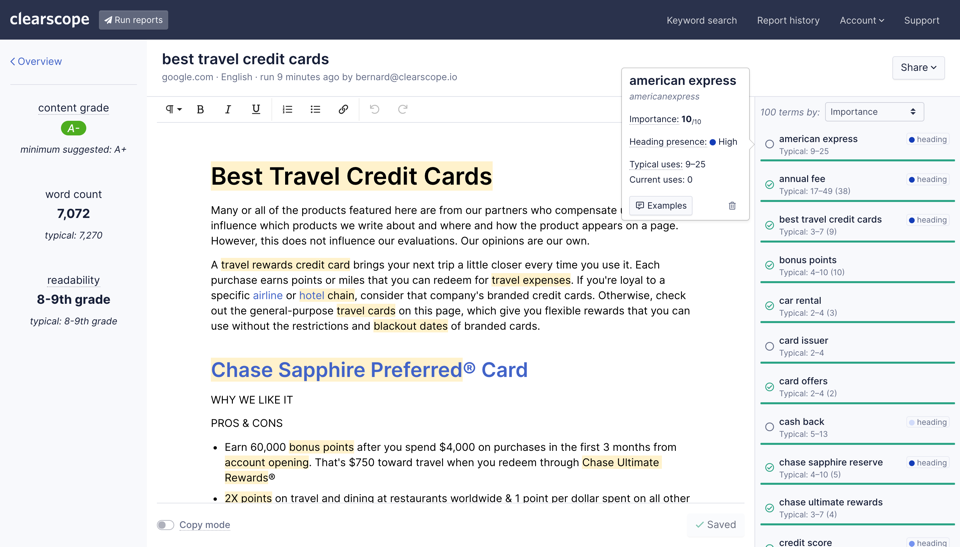 Like SurferSEO, Clearscope helps your blog posts show up higher in search engines, by giving you specific AI-powered recommendations for changes.
Clearscope gives you a graded score—here on RyRob, I always aim to get my posts to the highest grade, A++. If you don't have much time to optimize content, shooting for an A- or an A could be enough to nudge your post right to the top of the Google search results.
You can integrate Clearscope with both Google Docs and WordPress, making it super-easy to use wherever you want to draft content.
Clearscope also offers other tools, like letting you audit existing content. You can also use Clearscope for keyword research, for creating content outlines, and more, making it a really useful digital marketing tool.
Price: Clearscope costs from $170/month, which gives you 10 content reports and 20 content inventory pages.
6. MarketMuse: SEO Content Strategy and Creation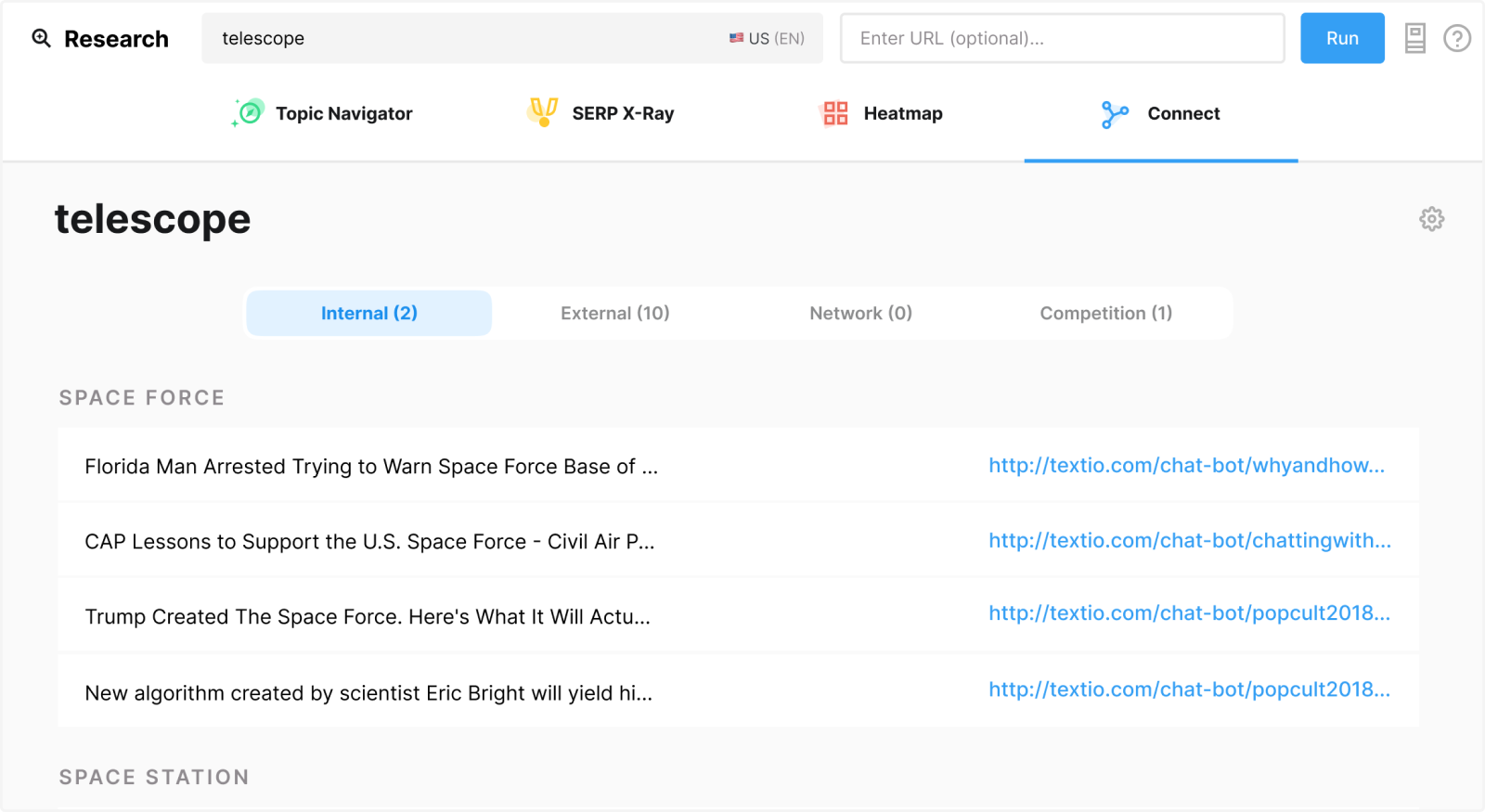 MarketMuse helps you carry out B2C content research, powered by AI. It's a great AI SEO tool if you want to keep everything in one place, with keywords/topic research and content auditing all inside the app.
The content audits help you figure out what existing content to focus on—so you can make informed decisions about what to prioritize in your content marketing plan as a whole.
When it comes to new content, MarketMuse helps you build content clusters (lots of related pages connected with internal links). You can also use it to carry out content analysis of what your competitors aren't doing, so you can figure out how to fill those gaps.
Price: MarketMuse has a basic free plan, giving you limited page-level insights. Paid plans start from $149/month.
7. Semrush: Range of SEO Tools and More (PPC, Social Media)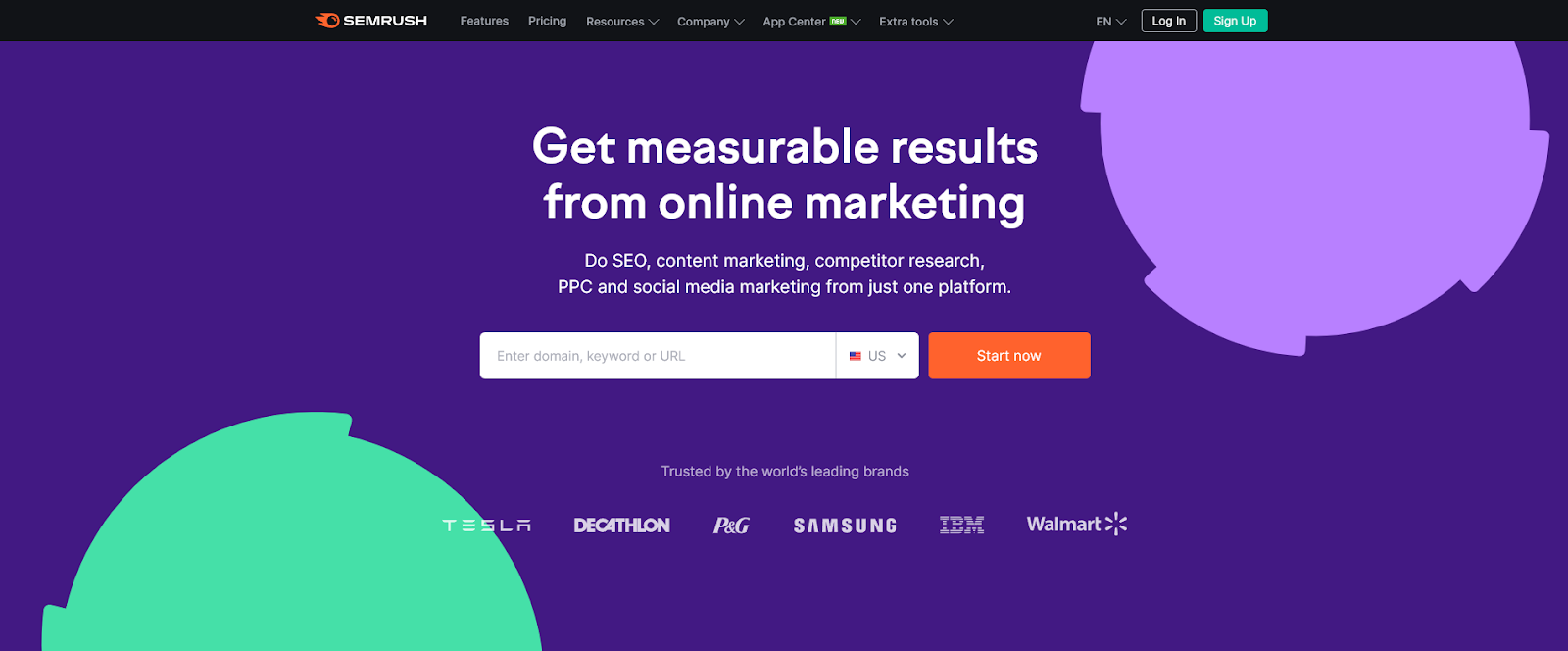 Semrush is designed to help you with a whole range of marketing tasks, not just SEO: it also covers PPC and social media marketing.
Its SEO tools are focused on helping you find keywords (both national and local), understanding search intent, tracking your search rankings in SERPs, and analyzing your competitors' backlinks to find opportunities for carrying out your own link building.
Rather than taking a purely page-by-page approach, Semrush has tools to help you run full website audits. You can also use it to create and schedule social media content, monitor your competitors' online and social media mentions, and more, as well as using it to aid your SEO efforts.
Price: Semrush costs from $99.95/month, paid annually. This lets you create up to 5 projects, track 500 keywords, and see 10,000 results per report.
8. Scalenut: Covers Entire SEO Content Lifecycle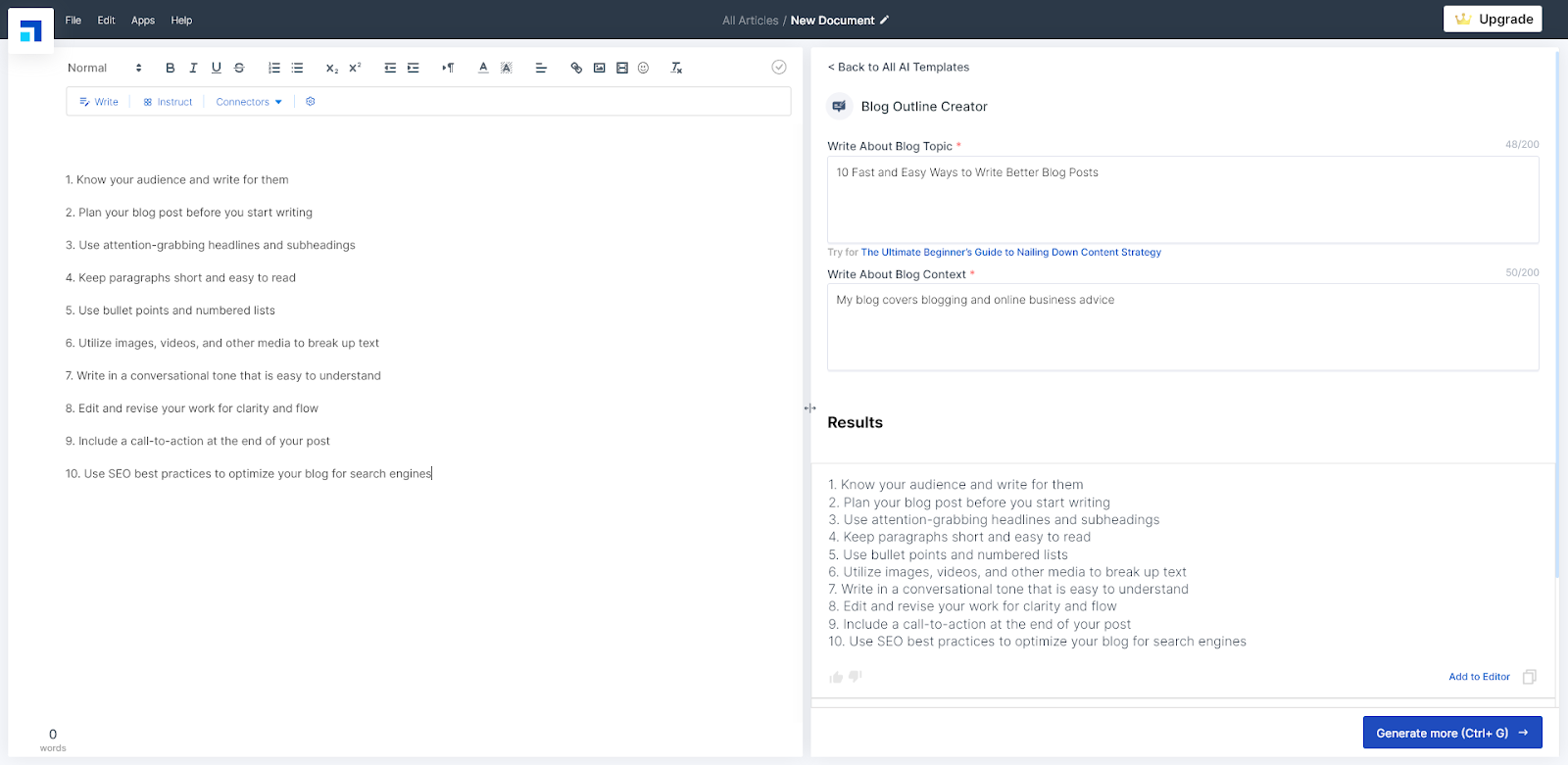 Scalenut describes itself as "your AI co-pilot". It's designed to handle the whole SEO content lifecycle.
You can use Scalenut to get a keyword plan for your niche (creating a content plan in just 1-click), with AI-powered topic clusters. Scalenut also lets you carry out competitor analysis, craft high-quality SEO-optimized content, audit your content, and much more.
Beyond SEO, Scalenut also has tools to generate marketing copy like product descriptions (for ecommerce sites), check for plagiarism, and more.
Price: Scalenut costs from $23/month, billed annually. This includes up to 100,000 AI words per month and creating 5 SEO articles/month.
9. Frase: SEO Research and Writing Software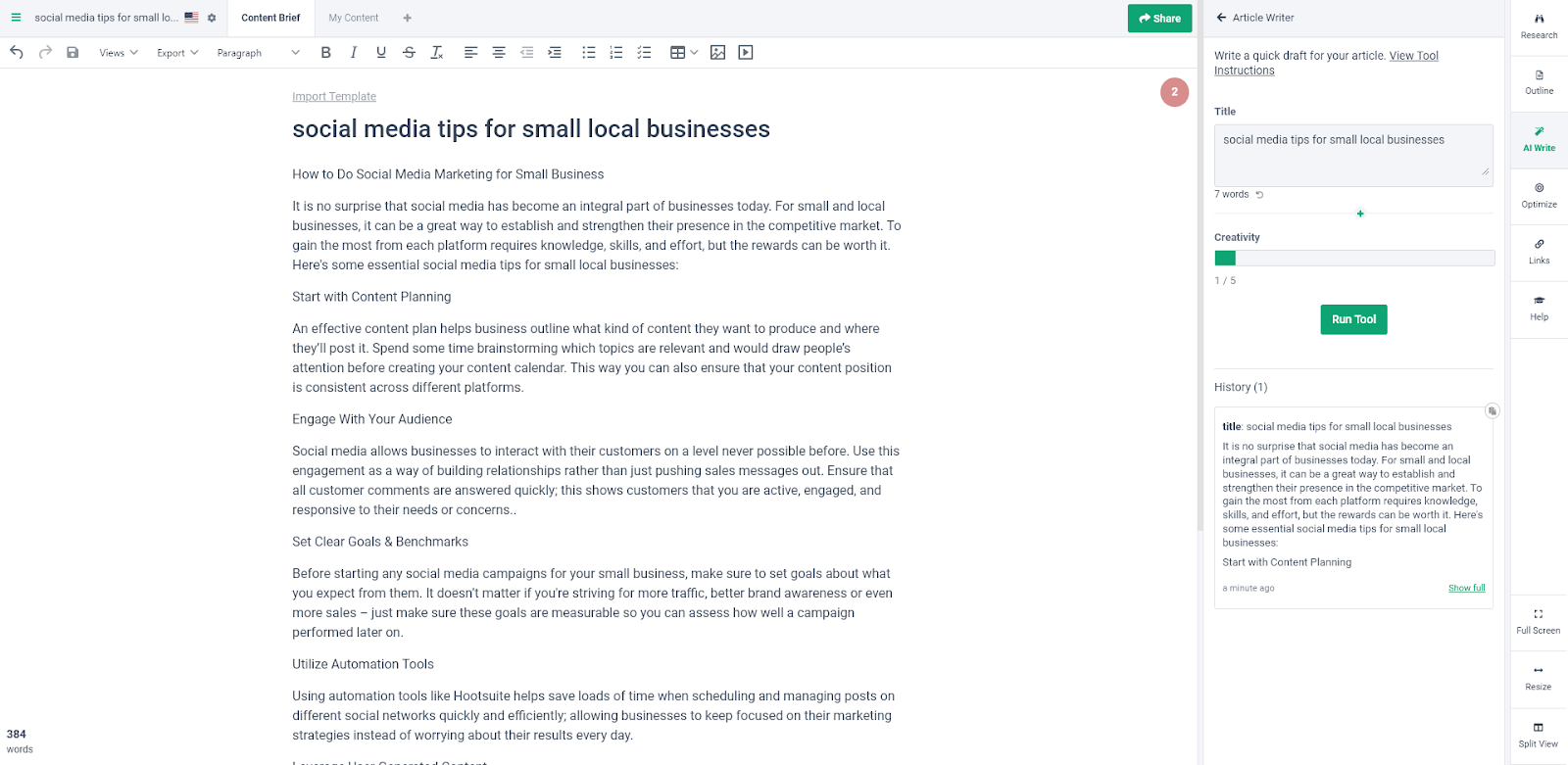 Frase is a great AI SEO tool for both creating new content (using the built-in AI content writer) or for content optimization on posts that you've already written.
You can use Frase to outline your article, then once you're happy with the outline, you can ask Frase to "write about this" for each section. If you prefer, of course, you can write some or all of the sections yourself.
Frase also has tools to analyze new content opportunities and help you keep your content up-to-date and optimized over time.
Price: Frase costs from $12.66/month, paid annually. This lets you write and optimize up to 4 articles per month and generate up to 4,000 AI words per month.
10.  AISEO: SEO and AI Writing Assistant Suite of Tools (Site Over Here)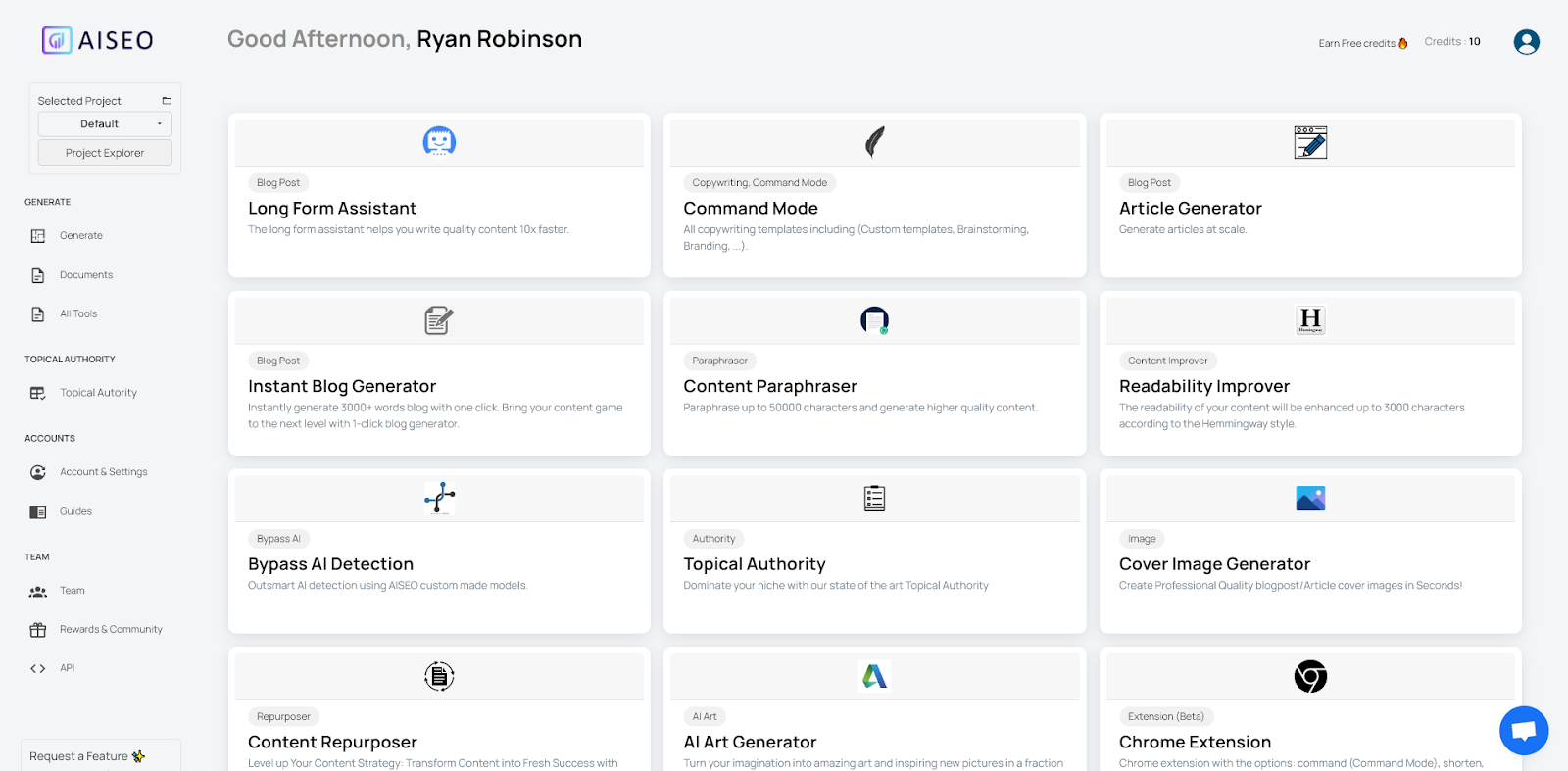 AISEO offers a whole suite of useful tools and templates for creating SEO-optimized content. You can generate blog posts using the long-form writing assistant, or use the handy readability improver to make your existing content more readable.
You can generate questions and answers content (which has the potential to rank in Google's "More to ask" section of the SERP) and plenty more.
There's also a paraphrasing tool that's very handy if you want to avoid having duplicate content but need to write about similar topics on several different pages of your site. (Duplicate content can impact your search engine rankings.)
AISEO isn't as well established as the other SEO tools above, but it's great value and you can try it out for free.
Price: AISEO is free to get started with, then costs from $15/month. This gives you up to 50,000 AI words.
11. CanIRank: AI-Powered Action Recommendations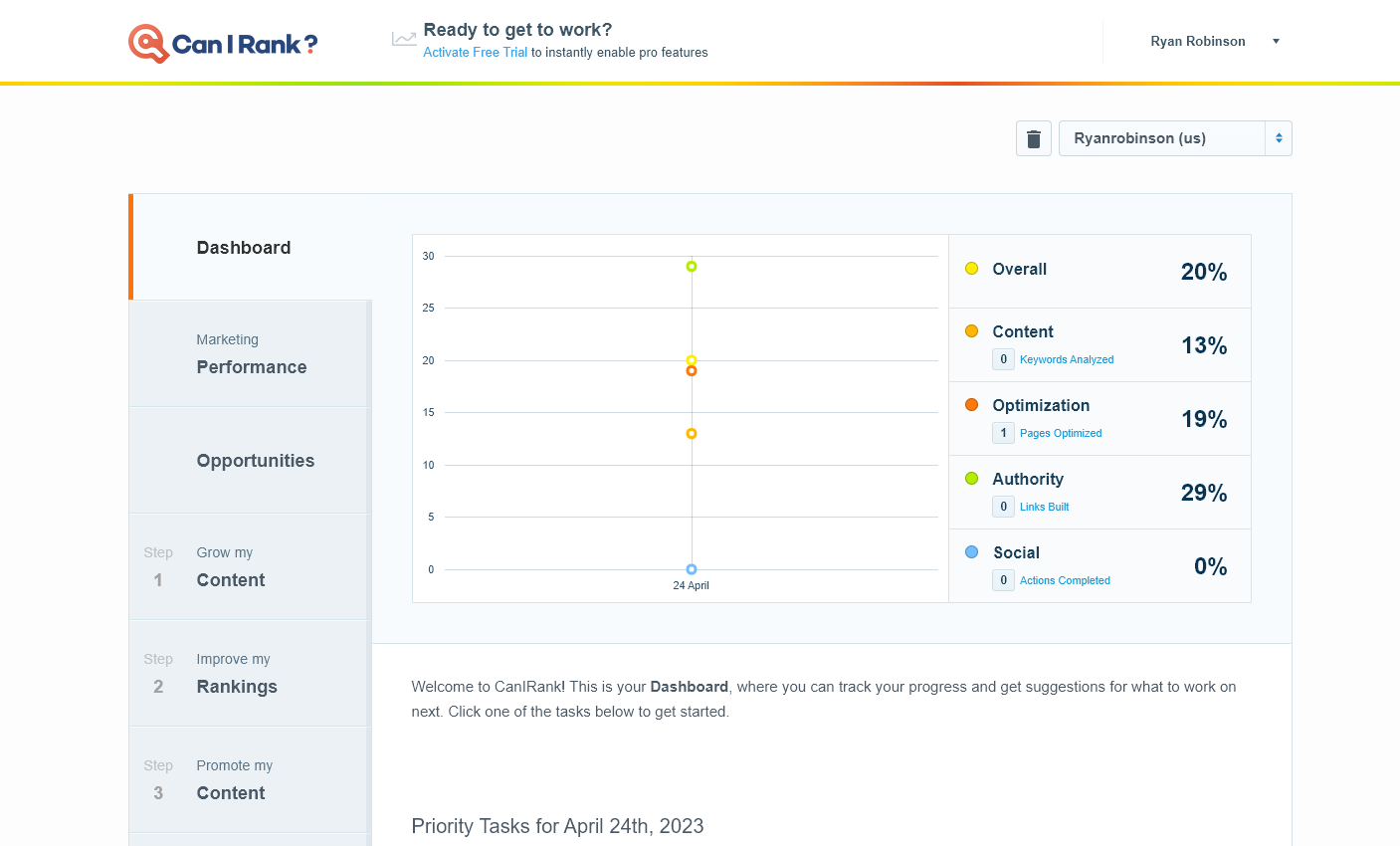 CanIRank uses the power of AI to give you specific action recommendations: you can then tackle these yourself or use their one-click process to delegate actions to an SEO consultant.
The focus of CanIRank is on getting results: figuring out which changes will make a difference, fast. You can also dig deeper with CanIRank, finding out why other pages rank higher than yours … and figuring out what it'll take to beat them.
CanIRank collects data and metrics from other SEO tools, using machine learning (AI) to deliver insights and personal recommendations. You can give it a try for free and see how it might impact your marketing strategy.
Price: From $49/month (gives you 5 keyword reports/day, 3 SEO reports/day, and 25 content ideas per report).
12. Wordlift: Custom Knowledge Graph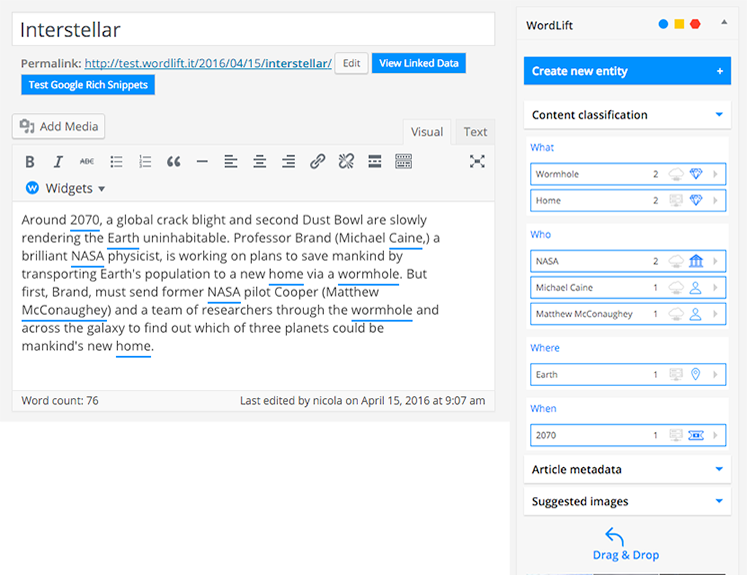 Wordlift is designed to help you make the most of Google's Knowledge Graph and Schema features, with tools that help you add structured data to your website. It uses an AI tool to build a knowledge graph for your business, marking up entities by topics, categories, and regions.
You can connect Wordlift to a range of other apps, including WooCommerce, Google Analytics, Google Sheets, and more.
Price: From €49/month (approx $54/month), paid annually. This gives you 10 schema types and 1 website.
13. Alli AI: Automated Optimization of Website Content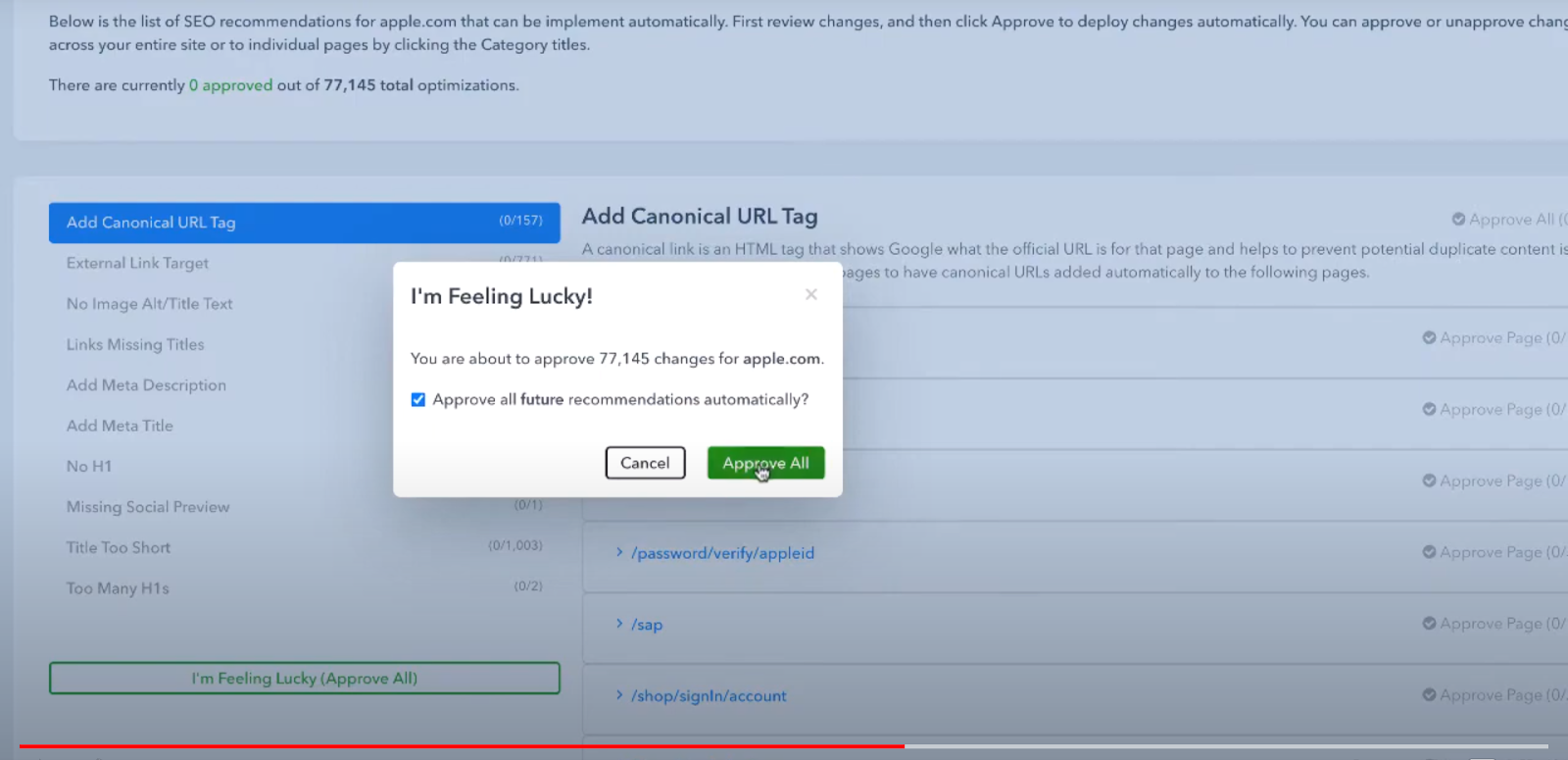 Alli AI is a handy tool that you can use to automatically improve your website's SEO (you get to approve/edit its recommendations from the dashboard, you don't have to accept everything it suggests).
If you're looking to make large, site-wide SEO improvements, Alli AI speeds up the process massively. With just a few clicks, you can deploy thousands or even millions of OnPage code optimizations.
Alli AI works with almost any website builder out there. Its algorithms are automatically updated as SEO best practices change over time.
Price: From $249/month, which covers up to 10 sites, 1,000 keywords, and 2,500 pages.
14. Outranking: Content Writing and Optimization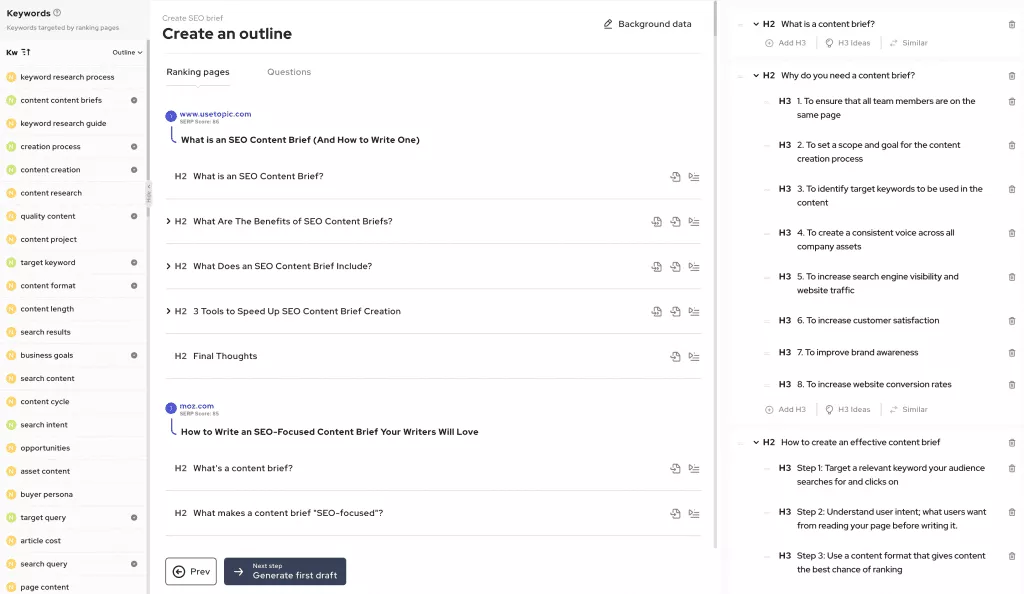 Outranking is a great all-round toolkit to come up with keywords, create briefs, and carry out AI writing. It has on-page SEO optimization and can also keep track of your website's rankings (and individual page rankings).
The AI tool automatically generates SEO-optimized outlines and then creates detailed, high-quality content briefs for writers. It can write the content for you as well as helping you optimize it to rank for as many keywords as possible.
Price: From $40.83/month (paid annually), which lets you write and optimize up to 4 articles per month.
Try These AI SEO Tools to Dramatically Improve Your Search Engine Rankings
AI SEO software makes it fast and easy to create content that's sure to rank well in Google (and other search engines).
The tools above can help with the whole SEO process: from keyword research and strategy to creating briefs and outlines to full-on SEO content generation.
You can use them to optimize existing content on your site, making the most of all your hard work to help grow your visibility in Google.
If you haven't yet created your blog, or if you're launching a new project, check out my guide to starting a blog. It takes you step by step through setting up a WordPress blog. WordPress itself is designed with key SEO principles in mind, so it's a great platform to use if you're keen to get as much search engine traffic as possible.
Try RightBlogger: My 50+ Hand-Crafted Tools for Bloggers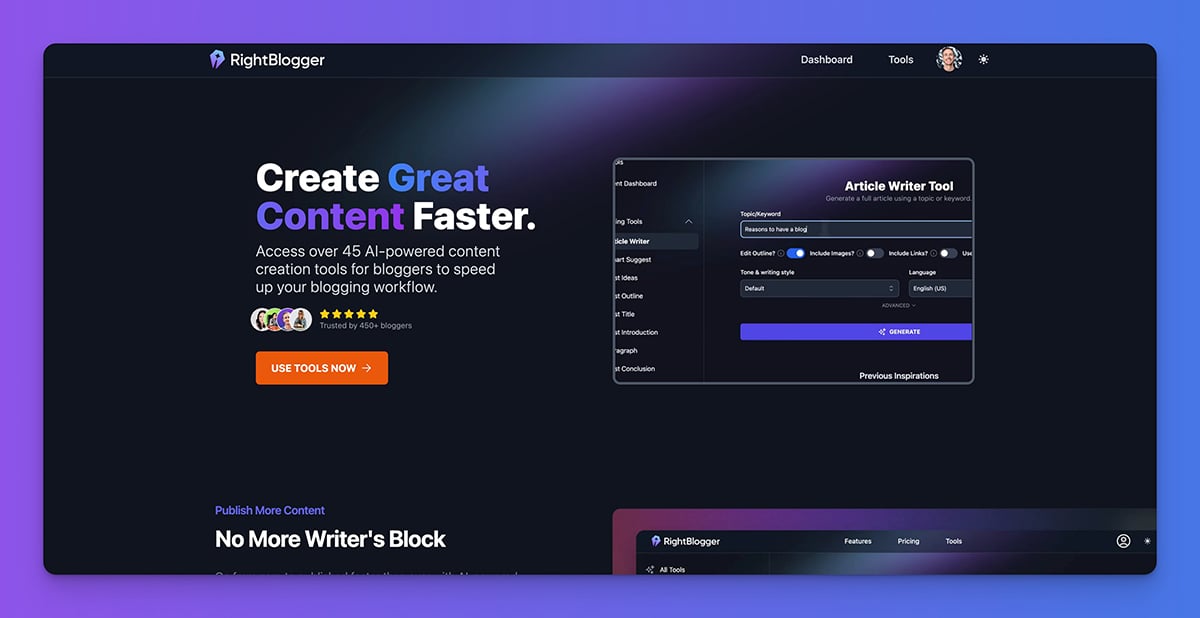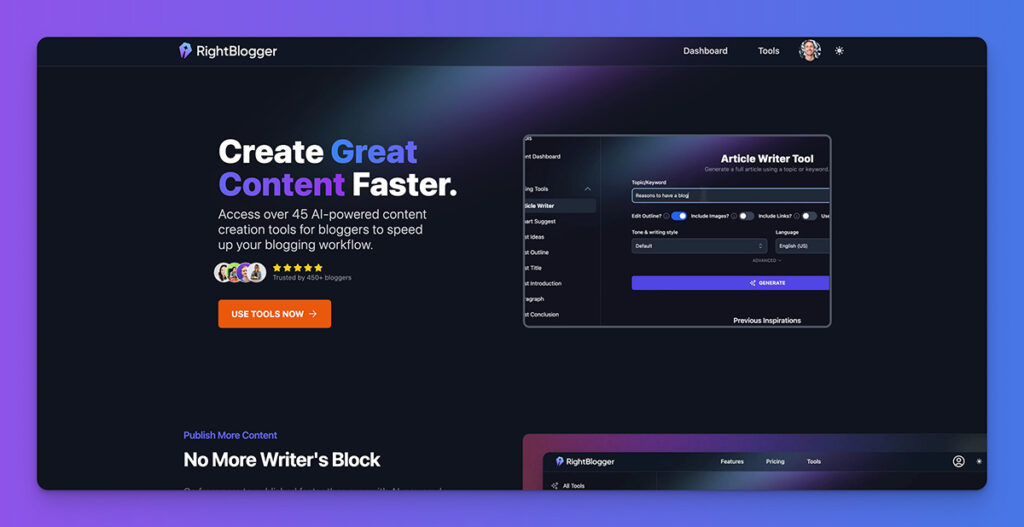 Try my very own Content Creation Toolbox for Bloggers: RightBlogger, to get access to 50+ blogging, SEO, marketing, sales and productivity-focused tools to blog faster & more effectively today.
---