Finding your target audience and learning exactly how you can best help them, is the key to writing blog posts that actually solve the challenges of real people—and will show you how to rise above the competition in the long run.
Learning how to find your target audience (first) will keep you from wasting time writing blog posts that nobody wants to read, and it'll show you which topics are going to become more popular over time.
Many new bloggers struggle to learn who their target audience is during the blog business planning process, let alone how to actually find them. Who should you be writing for? How do you know which content topics they'll be interested in? How do you go out and attract readers in your target audience?
This guide will show you exactly how to find your target audience, and how to learn more about their most pressing needs—based on my experience growing this blog to 500,000+ monthly readers.
How to Find Your Target Audience (Define Your Blog Readers): 11 Easy Ways
Disclosure: Please note that some of the links below are affiliate links and at no additional cost to you, I'll earn a commission. Know that I only recommend products and services I've personally used and stand behind. When you use one of my affiliate links, the company compensates me, which helps me run this blog and keep all of my in-depth content free of charge for readers (like you).
How to Find Your Target Audience (Define Your Blog Readers): 11 Easy Ways
Ok, so we've talked about why it's important to write content that's valuable for your audience. Now we're going to dive into how to find your target audience in the first place—and how you can translate your learnings about them, into content that stands tall above the competition.
There are many different ways to find your target audience, but these are the ones proven to be most effective so that you can grow your blog efficiently and begin making money from your blog.
1. Social Media as a Powerful Resource to Find Your Target Audience
On average, worldwide internet users spend 144 minutes a day on social media. This statistic is from 2020, but new data suggests that the amount of time people are spending on social media has spiked even higher during the COVID-19 pandemic.
With people spending so much of their time on social media, it's not only a good tool to find your target audience, but to also learn more about the way people think & the things they're interested in.
Bloggers should leverage social media platforms to find and learn more about their target audience. Let's look at several major social media platforms and how you can find your target audience on them.
Facebook: Groups, Pages and Your Own Facebook Feed
As you've probably noticed by now, Facebook is a place where people like to air their opinions. Your Facebook feed is a destination where you can learn about people's likes, dislikes, interests and opinions. Some of this information may be beneficial to crafting better blog content, or it may not be particularly insightful. It depends on what your blog niche is.
Another way to find your target audience on Facebook, is to join groups within your niche. There are plenty of very specific niche groups on Facebook that you can join and learn more about the audience you're hoping to bring back to your blog. If you study the posts members are sharing in these groups, you can learn things like:
What products they like to use
What questions or concerns come up frequently
Which problems they're facing
What's trending within your niche
Which common demographics are interested in your niche
Facebook also allows you to follow other pages within your niche, so you may be able to find other influencers who create content in your space—which opens up the door to possible collaboration opportunities that should hopefully align with your overall blog strategy.
Pinterest: Boards, Group Boards and Specific Keyword Searches
Pinterest doesn't function in quite the same way as Facebook, but there are still some valuable insights that can be gathered about your target audience here as well—if you know where to look.
One way to learn more about the interests your target audience has, is to do a Pinterest keyword search. This is similar to SEO keyword research, but it works a little differently here.
To do keyword searches on Pinterest, start with one word that's closely related to your niche. I typed in "blog" since that's at the core of my own niche and here were the results: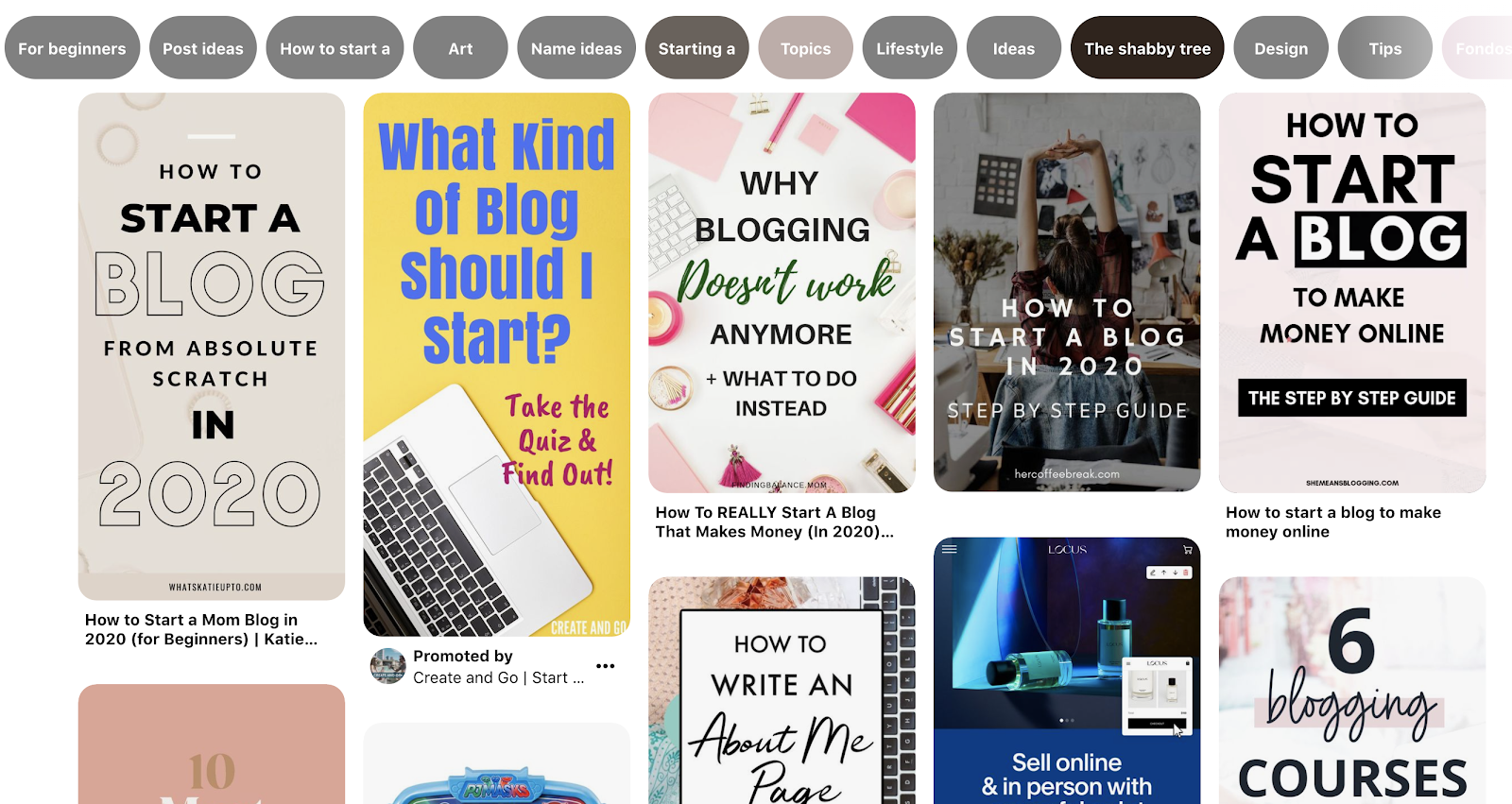 Now, here's where things get really interesting… do you see the list of clickable suggestion words at the top of the page, to help narrow your search results down a bit?

Pinterest displays these keywords because these are the things that users are commonly searching for when they look up the word "blog." This is a very helpful insight for you to better understand which topics people (in your target audience) are interested in—as pertaining to your niche, especially for those who use Pinterest the most.
You can click on any of the listed words or phrases in these keyword bubbles, and you'll be able to narrow your search results a bit more.
For example, I clicked on the "for beginners" keyword and the search narrowed down even further to these more specific topics:

This can give me a good idea of what my target audience is interested in learning more about… but how do I use this to find who my target audience is?
Now, let's try out another example in a different blog niche. We'll start over again with a new Pinterest search, and this time I'll use the phrase "healthy recipes" as the search phrase.
Here's a list of pins that came back with this search query: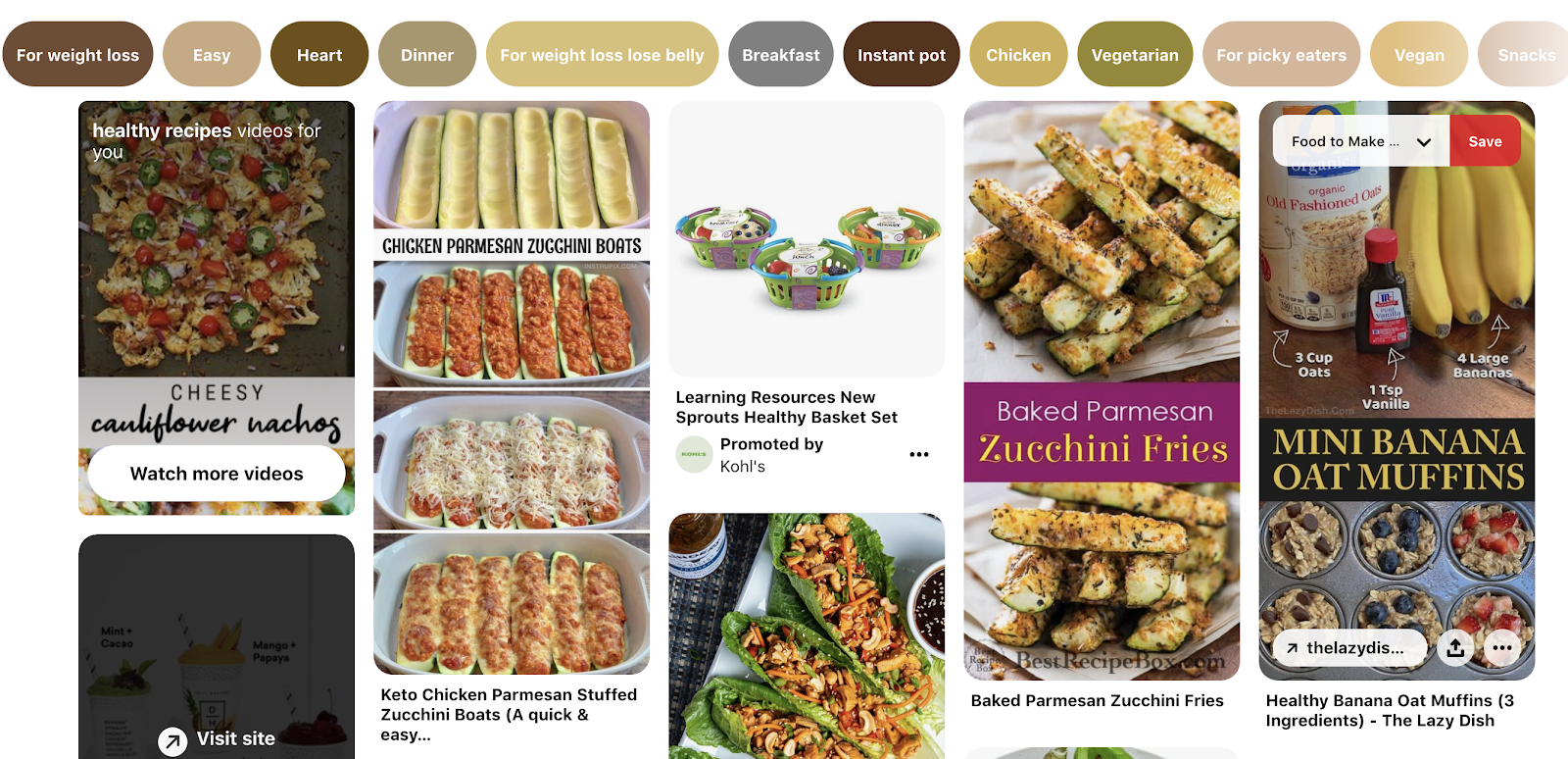 Before 2017, Pinterest allowed you to see how popular a pin is by sharing how many times a pin had been re-pinned. They no longer offer this information to all users (only the owner of the pin can see this data now), so the popularity of a particular pin isn't as easy to identify as it once was.
What you can see however, is how many followers the original pinner has. If they post a lot of content within your niche (and have a large number of followers), their followers may be the same kind of people you're looking to bring to your blog as well.
After checking out a few of the top pins for "healthy recipes," I found one from an account with a substantial number of followers:

Here's a pin from a pretty popular recipe blogger, The Whole Cook.
She has 28.6k followers on Pinterest and a blog that's packed full of high quality content—so she'd be a good prospect for trying to forge a promotional partnership.
A few ideas for win-win partnerships you can strike up with active bloggers on Pinterest include:
Asking to start a group Pinterest board where you can both contribute pins that your combined audiences will see
Seeing if she'd be open to posting a few of your pins to her most popular boards (in exchange for you doing the same)
Pitching her on a guest post that could surface your content to her readers and Pinterest followers
As a bonus, if you go to her Pinterest account page, you can also see both the people who are following her (by selecting "community") and who she's following too, which gives you that many more possible partnership prospects to investigate: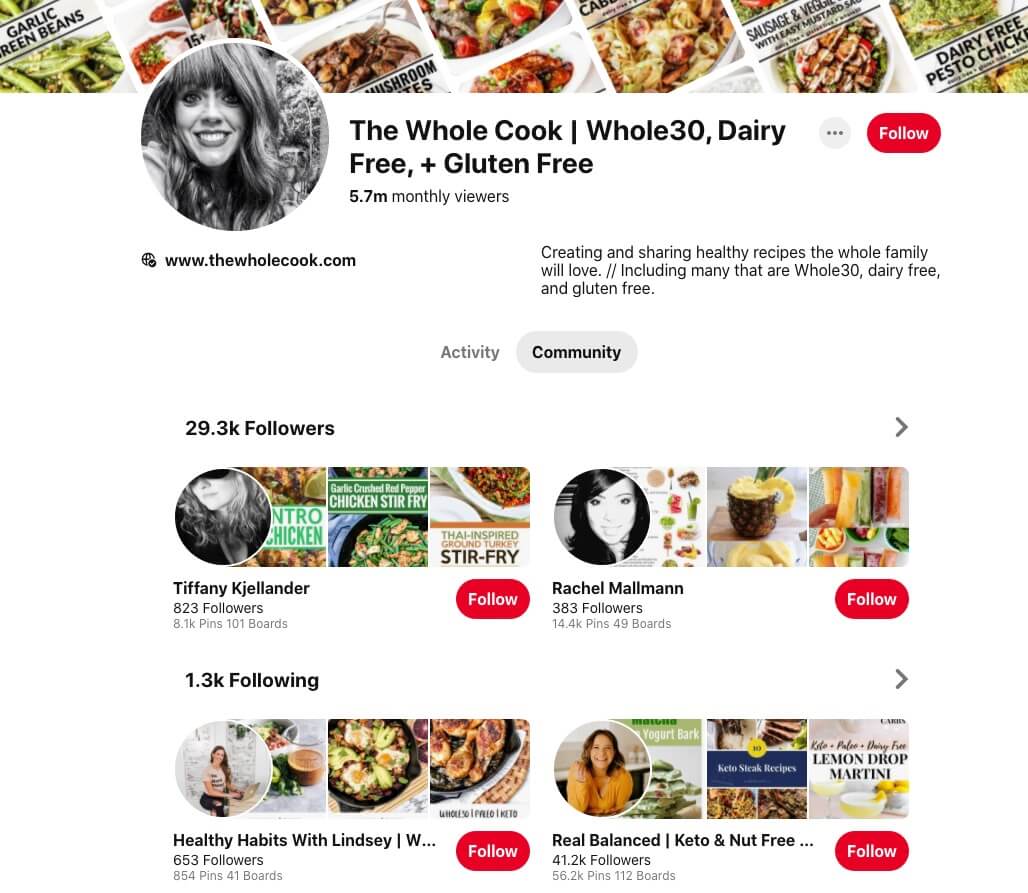 Plus, when you scroll through the followers of a Pinterest account that's clearly successful within your niche, you can learn more about the people that are interested in the kind of content you want to create.
It can help you spot trends in demographics (particularly when it comes to age and gender) for your target audience.
Instagram: Influencers, Popular Accounts and Hashtags
Instagram doesn't have groups like Facebook, but hashtags can be a very effective way of finding your target audience and reaching them with your own content, too.
Let's say I wanted to find an audience that's interested in traveling, for my upcoming plans to start a travel blog. I can use the hashtag #travelblogger to start my search. Here were the results from the day I searched: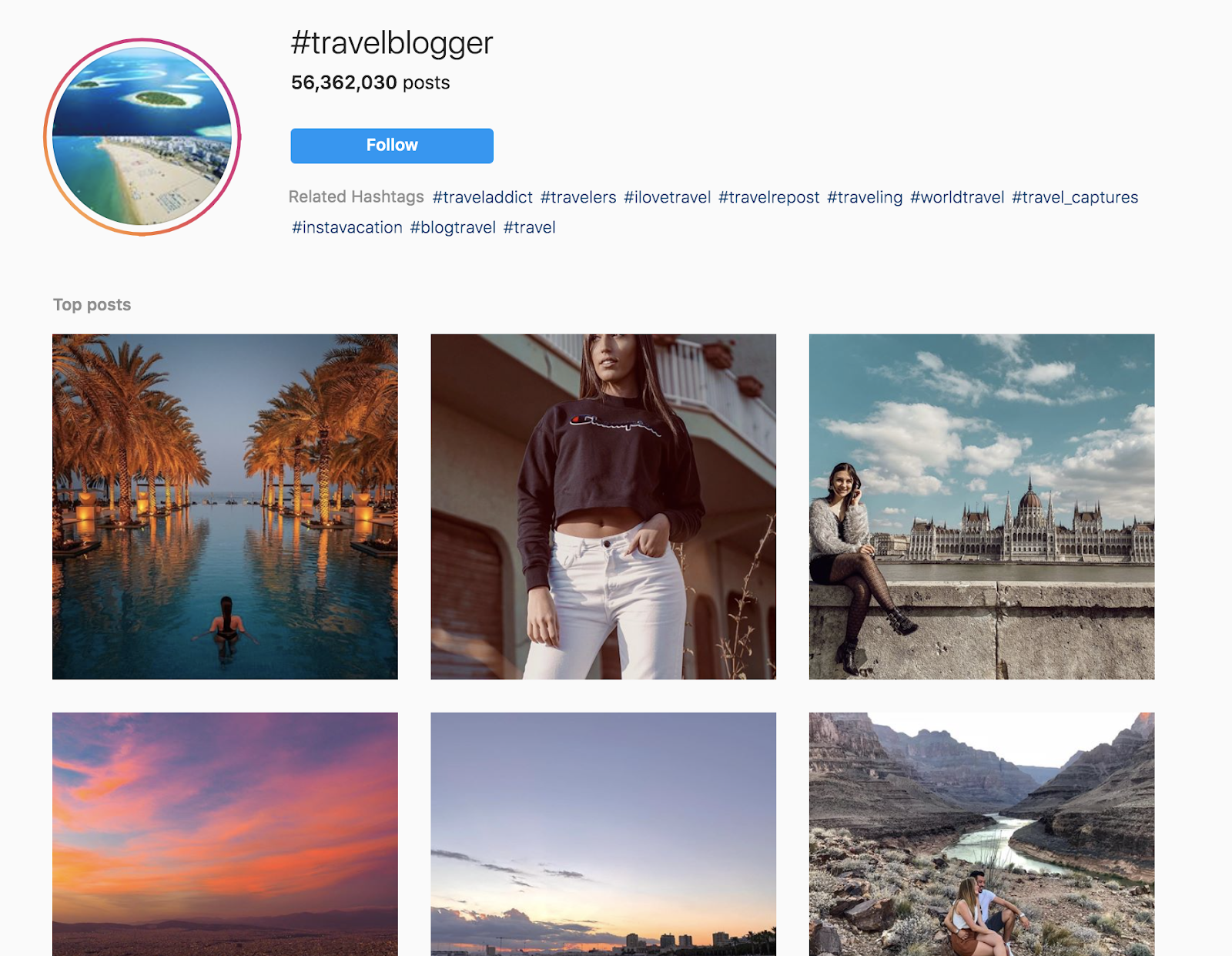 So what can I learn from this Instagram search results page?
I found several trending posts (from popular influencers to try building relationships with)
I also found a treasure trove of related keywords I can explore further (related hashtags)
These additional related words can give me an idea of what people are interested in within the travel blogging niche
If you click on the top trending pictures, you'll be able to identify some of the top influencers within your niche, which opens up a lot of possibilities.
You can see what types of content they post (and how well they're received by their audience). You can also browse through their followers to get an idea of the types of people that are interested in travel blogging content—and you can even engage with some of these followers to learn more about the content they're looking for.
Twitter: Individual Accounts, Lists and Hashtags
Twitter is one of my personal favorite social media platforms for connecting with like-minded people and learning more about my target audience.
There are three ways to find your target audience on Twitter (and learn more about them), which are:
Twitter Lists
Twitter hashtags
Find Twitter influencers in your niche
Twitter Lists
Twitter lists are curated groups of Twitter accounts. You can create your own Lists and you can also follow Lists created by other people.
Lists will show you only content from the accounts that were added to it. There are some easy ways you can find Lists that are already created in your niche.
The first way is to find an influencer in your niche and see what Lists they've already created.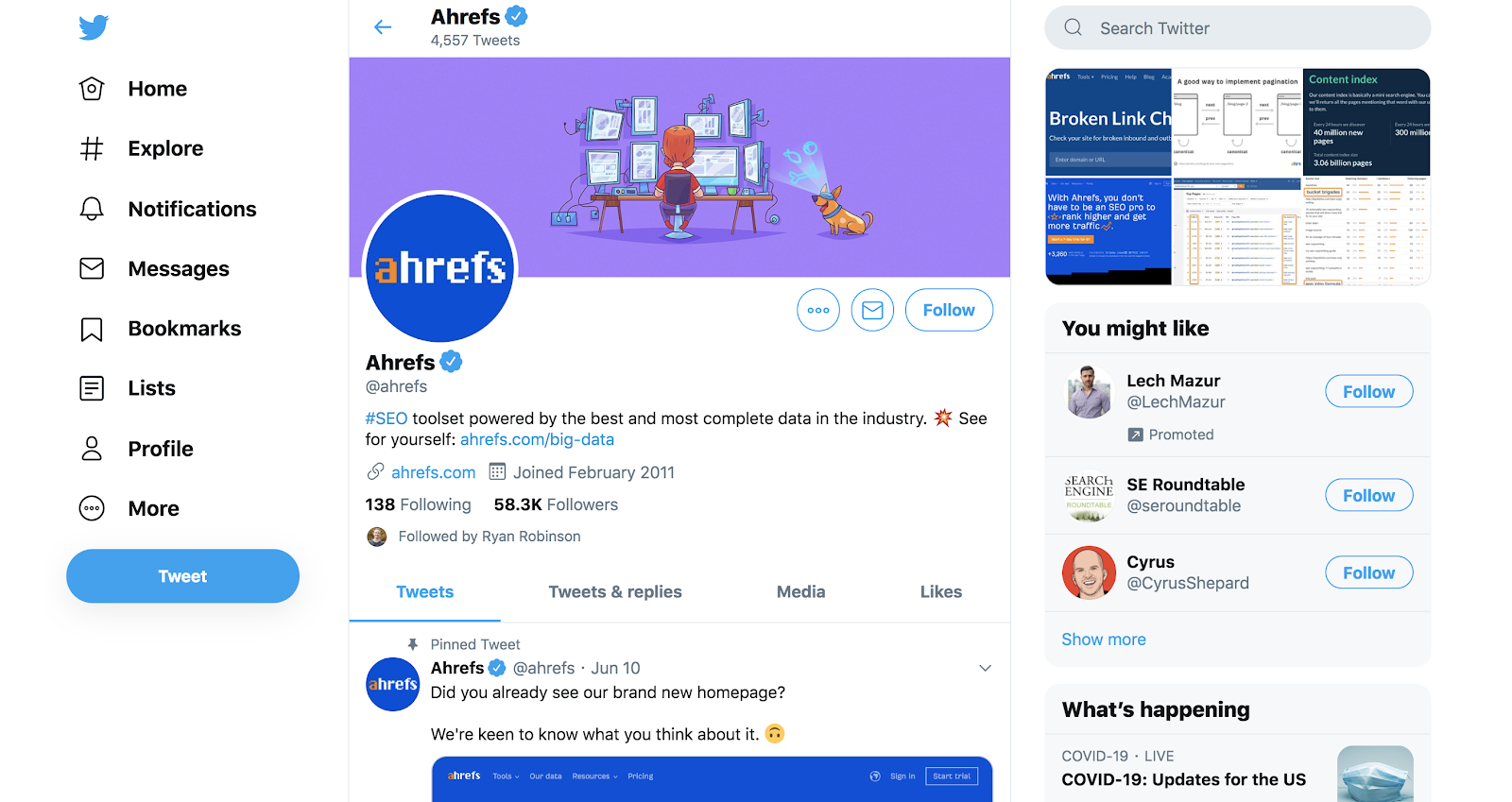 I chose Ahrefs as an example because I use their blogging tools here on my own blog, and they share a lot of content that's highly relevant to bloggers.
To find the Lists a particular account has, just navigate to their Twitter account and select the more (…) dropdown icon:

When you select the more icon, a dropdown menu will appear. Choose "View Lists" and you'll see every public list they have available: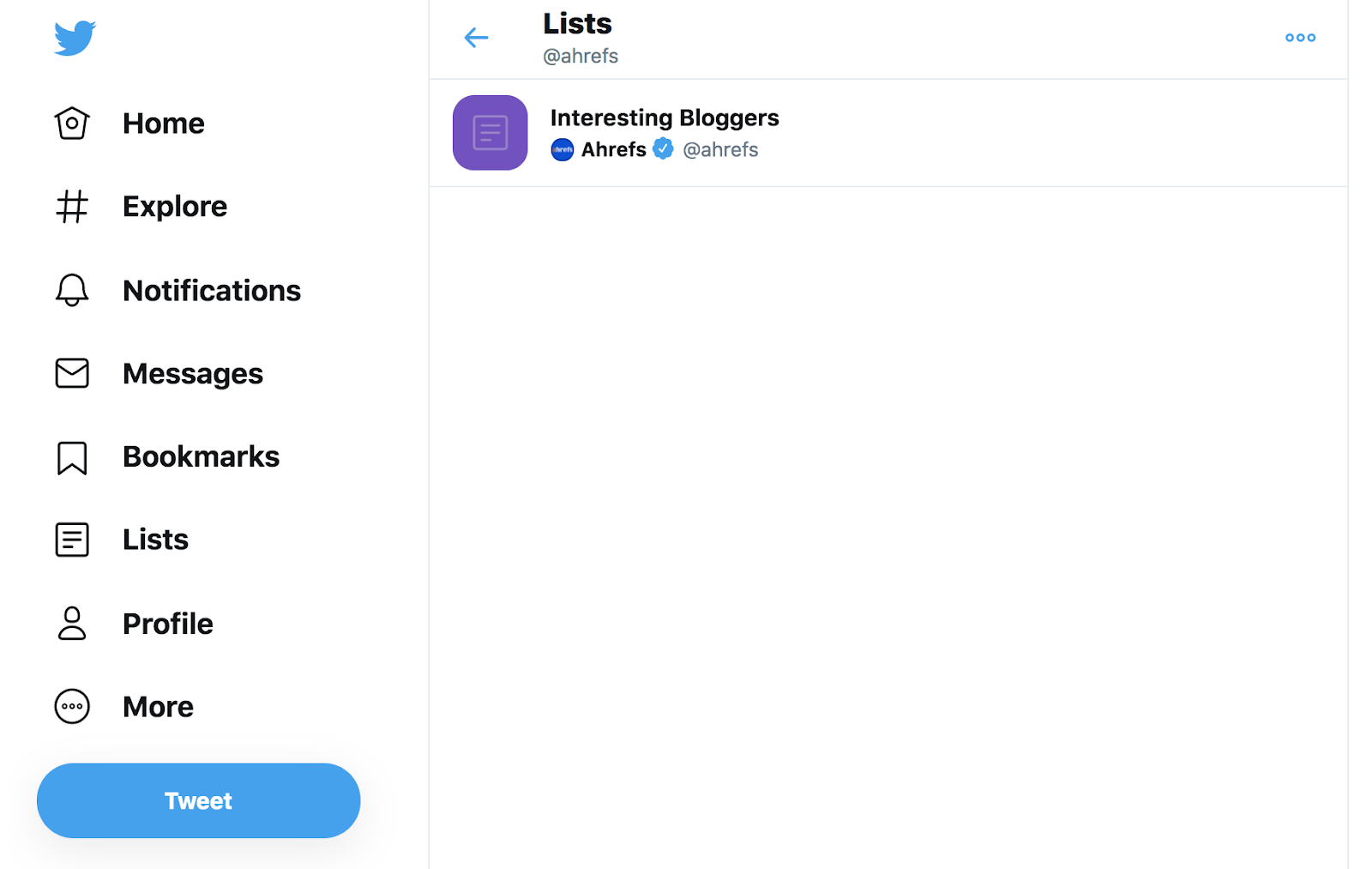 Ahrefs has one public List, titled "Interesting Bloggers" that you can click on, and once it opens—you have the opportunity to follow it, see who's on the list and see other followers of the list as well: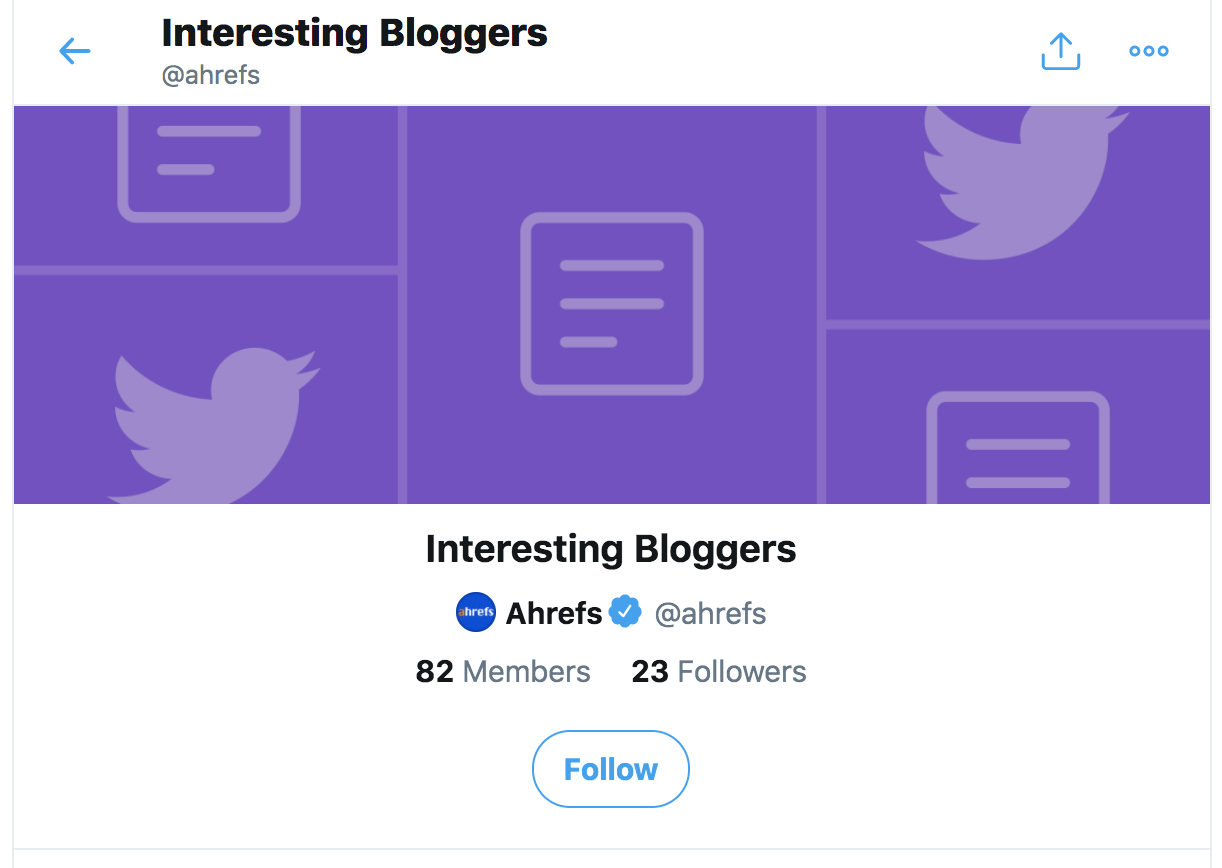 Using Twitter Hashtags to Find Your Target Audience
Hashtags are another highly effective way to discover people that are actively interested in your niche on Twitter.
Do some research on both Twitter and Google Trends to see which hashtags are trending within your niche, and search for them on Twitter to see which types of content people are sharing, hop into the conversations that are going on and take note of the demographics of your target audience that's using these hashtags.
Take special care to observe any influential Twitter users who are actively participating in these hashtags, watch what they're posting and flag them as potential partners to reach out to soon.
Find Twitter Influencers in Your Niche
Finding influencers in your niche is a good way to also find your target audience—because these people are likely already reaching the audience you also want to tap into.
One way to find them is through a normal hashtag search like what we covered avobe. While you're searching hashtags, you're likely to come across your niche's top influencers.
Twitter also has an advanced search option which helps you find specific date ranges, people and more: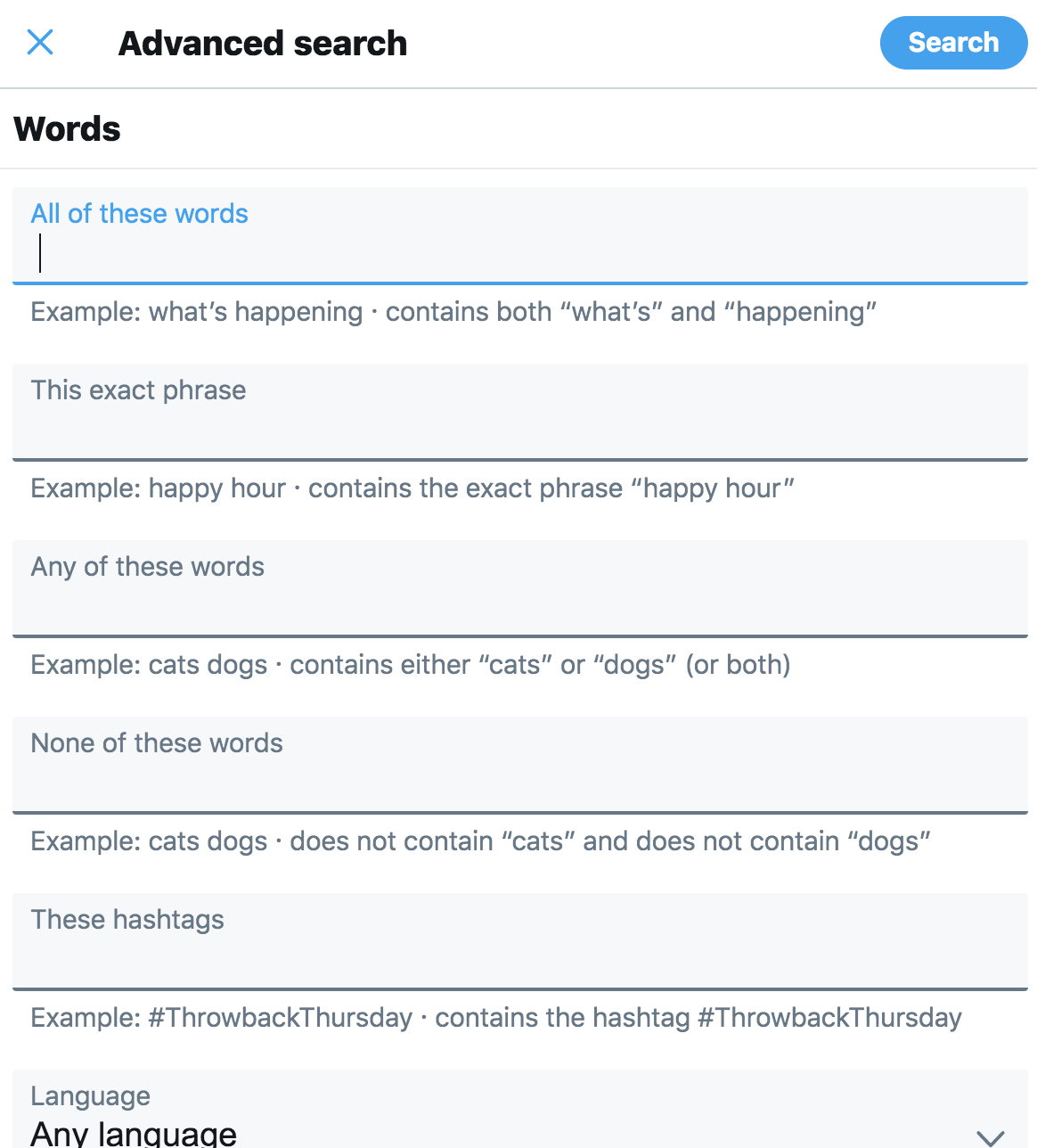 If you're having trouble finding influencers in your niche on Twitter, you can also use Google to search for top influencers in your niche—or turn to tools like Buzzsumo that can give you curated and ranked lists of the most relevant influencers on particular subjects: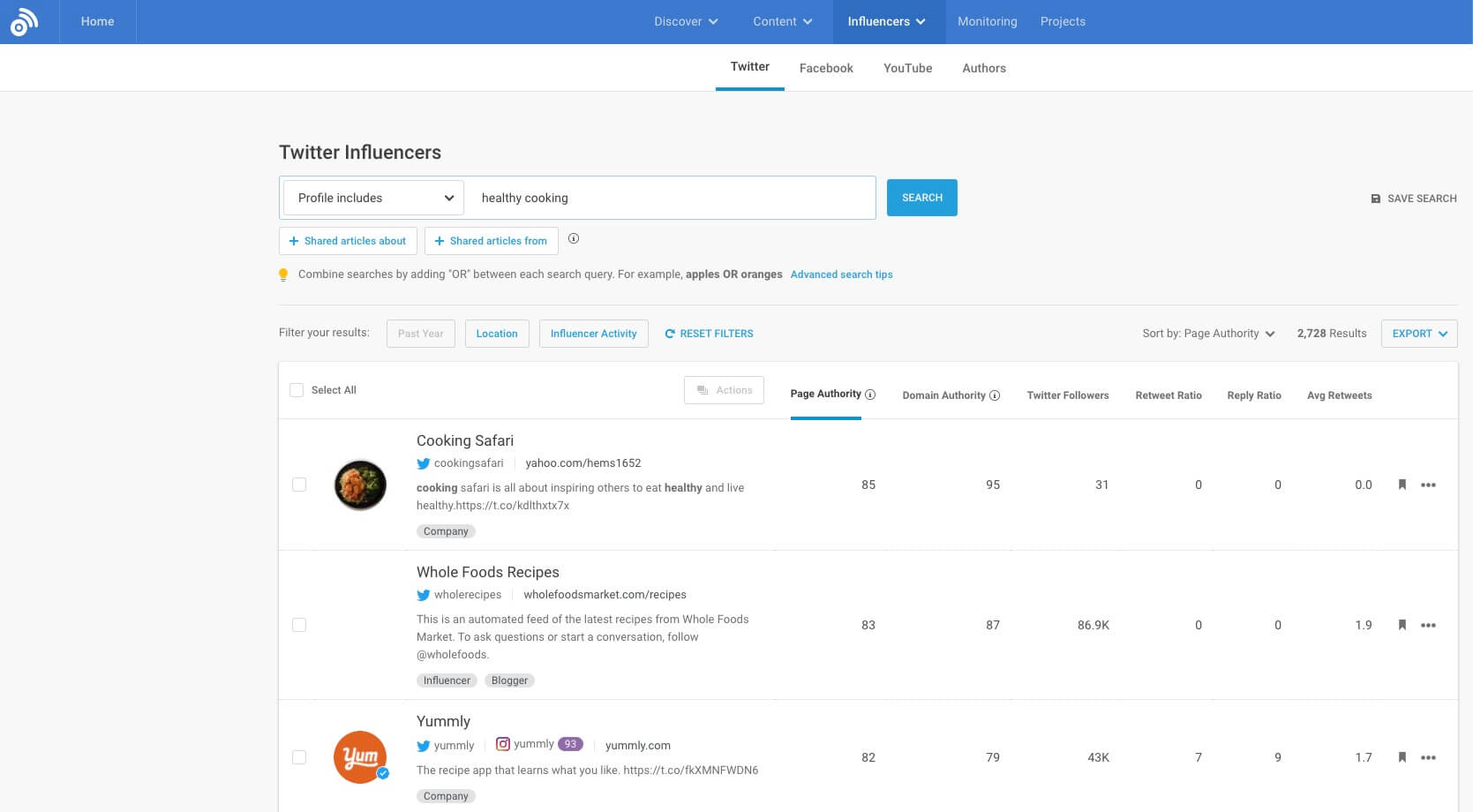 Using a tool like Buzzsumo gives you the added benefit of being able to create custom lists of influencers (on platforms like Twitter) that you can begin reaching out to and starting the process of building win-win blog promotion relationships with. As an added bonus, you can also set up a Google Alert to get email notifications on your favorite content topics.
Using Social Media Insights to Find Your Target Audience
If you've already been active on a particular social media channel (and have a little bit of a following), you can use the insights provided by just about every social media platform, to learn a lot more more about your target audience—and understand some trends about the people who are already choosing to engage with you.
Instagram Insights About Your Target Audience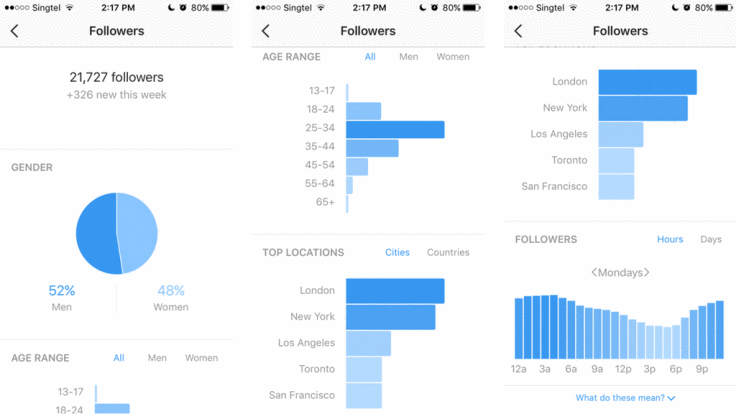 If you're using an Instagram business (or creator) account, then you'll have access to insights about your followers, including important data like:
Age range
Gender
Location
Average times/days when your followers are most active
When you're learning how to find your target audience for your blog, these qualitative insights can be incredibly powerful to make an informed decision about where to dedicate more of your time online.
Pinterest Insights About Your Target Audience
A (free) Pinterest business account gives you a host of valuable insights about your target audience. If you select "audience insights" you can learn information like: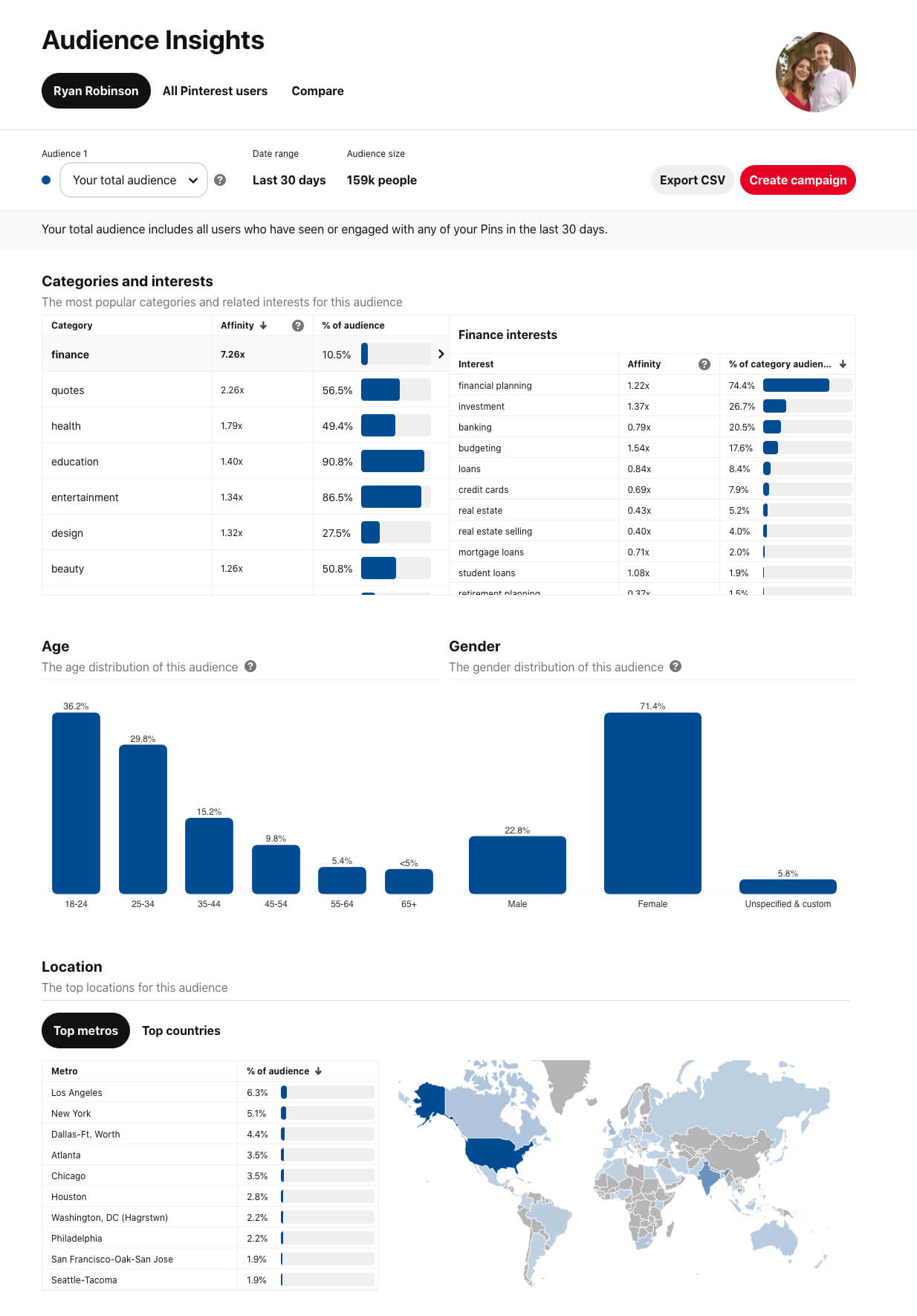 You can even drill down deeper into learning a lot more about your target audience in regard to both demographics and psychographics like:
Popular categories and related interests your audience has
Age
Gender
Location
What device they're using
A cool function that Pinterest allows you to do is choose stats about your total audience—or your most engaged audience, which is pretty close to learning more about just your core target readers.
Your total audience is everyone who has seen or engaged with any of your pins over the last 30 days
Your engaged audience includes only the users that have engaged with any of your pins in the last 30 days
Facebook Insights About Your Target Audience
Facebook's business page analytics offer a host of insights, but the ones specifically related to what kind of target audience you're attracting to your page come in three main categories:
Your fans
Your followers
People reached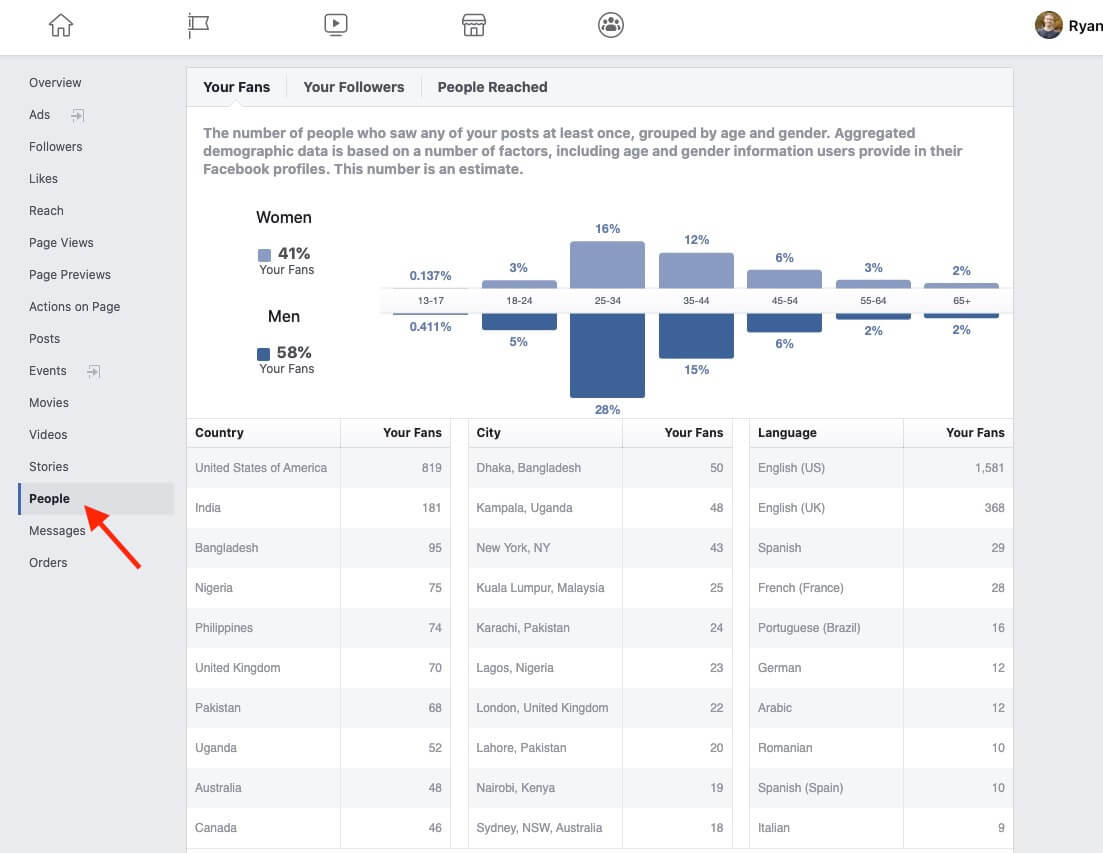 Within each one of these sub-categories, you can gather key demographics to learn more about who your target audience is:
Gender
Country
City
Language
Twitter Insights About Your Target Audience
While Twitter removed their audience insights feature in early 2020, the analytics available to all account users still do reveal some interesting information in regard to how your account is growing and which tweets of yours get the most engagement each month: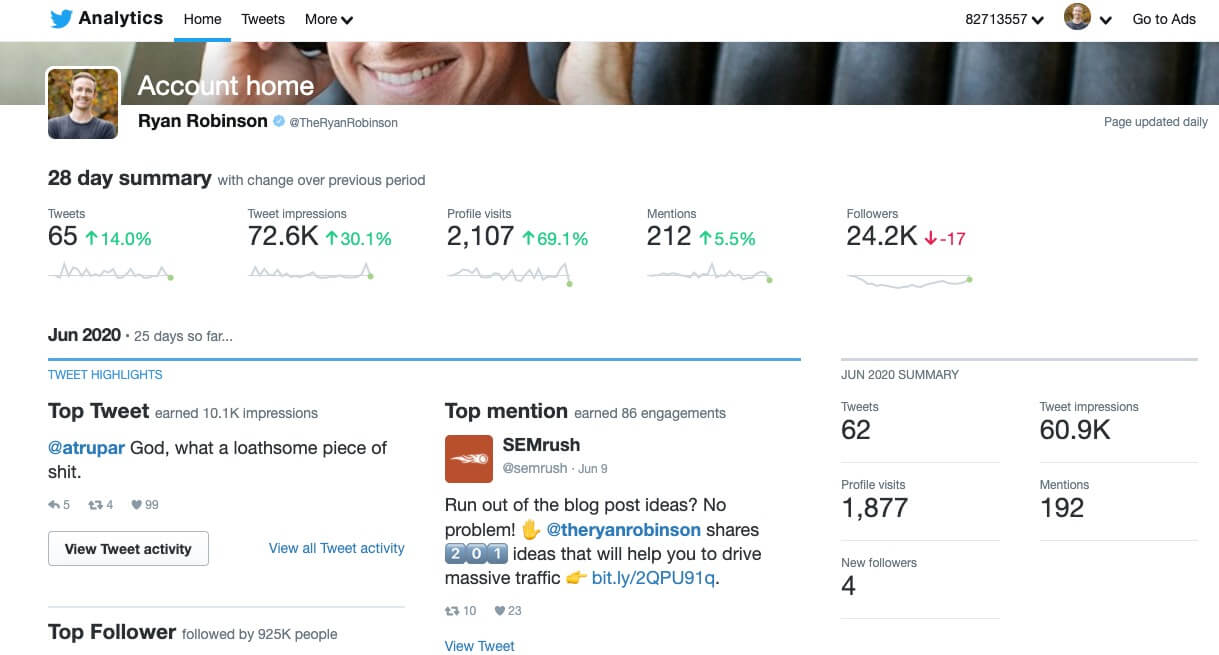 Unfortunately, you'll no longer be able to gather much information (from a macro perspective) when it comes to demographics like:
Gender
Age
Location
Household income categories
That being said, there's still a lot you can glean from an individual level if you click into the profiles of your followers and take note of the key demographics (and psychographics) that are obvious enough to notice.
2. Locate Online Discussion Forums (to Find Your Target Audience on)
In our current era of social media, it can be easy to forget that online discussion forums still exist on the Internet, for pretty much every possible niche. While many people use Twitter or Facebook for their online discussion, dedicated forums also offer a place for like-minded people to collect and discuss topics that are important to them.
You can look up forums for many different topics very easily, by simply Google searching "your niche forum" and seeing what comes up. As an example, I chose to look up "woodworking forums" to see which forums rise to the surface in this niche… and there are over 28 Million results: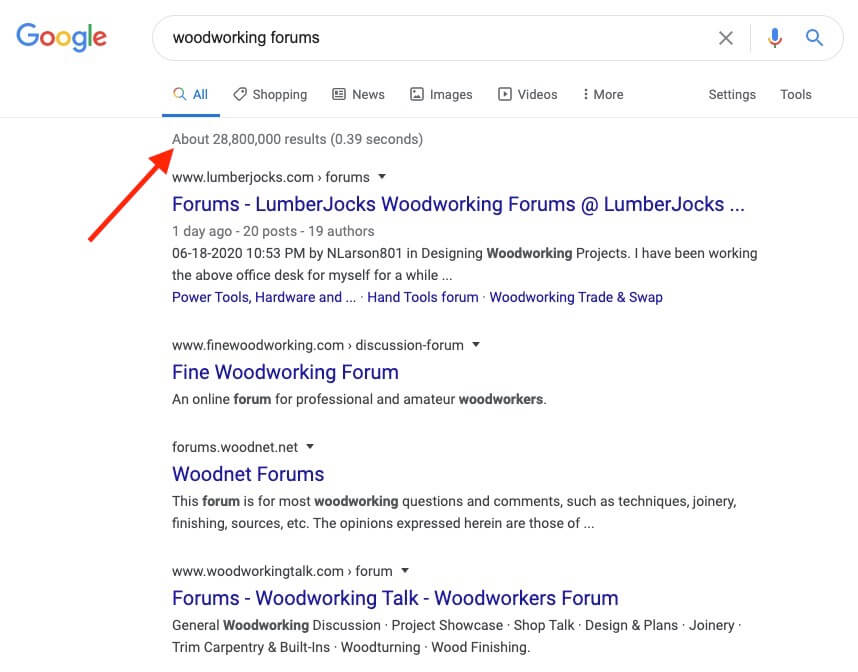 One of the top results I liked most was WoodworkingTalk, which has a very community-driven, active discussion forum with tens of thousands of people chatting, sharing, asking & answering relevant questions in this niche: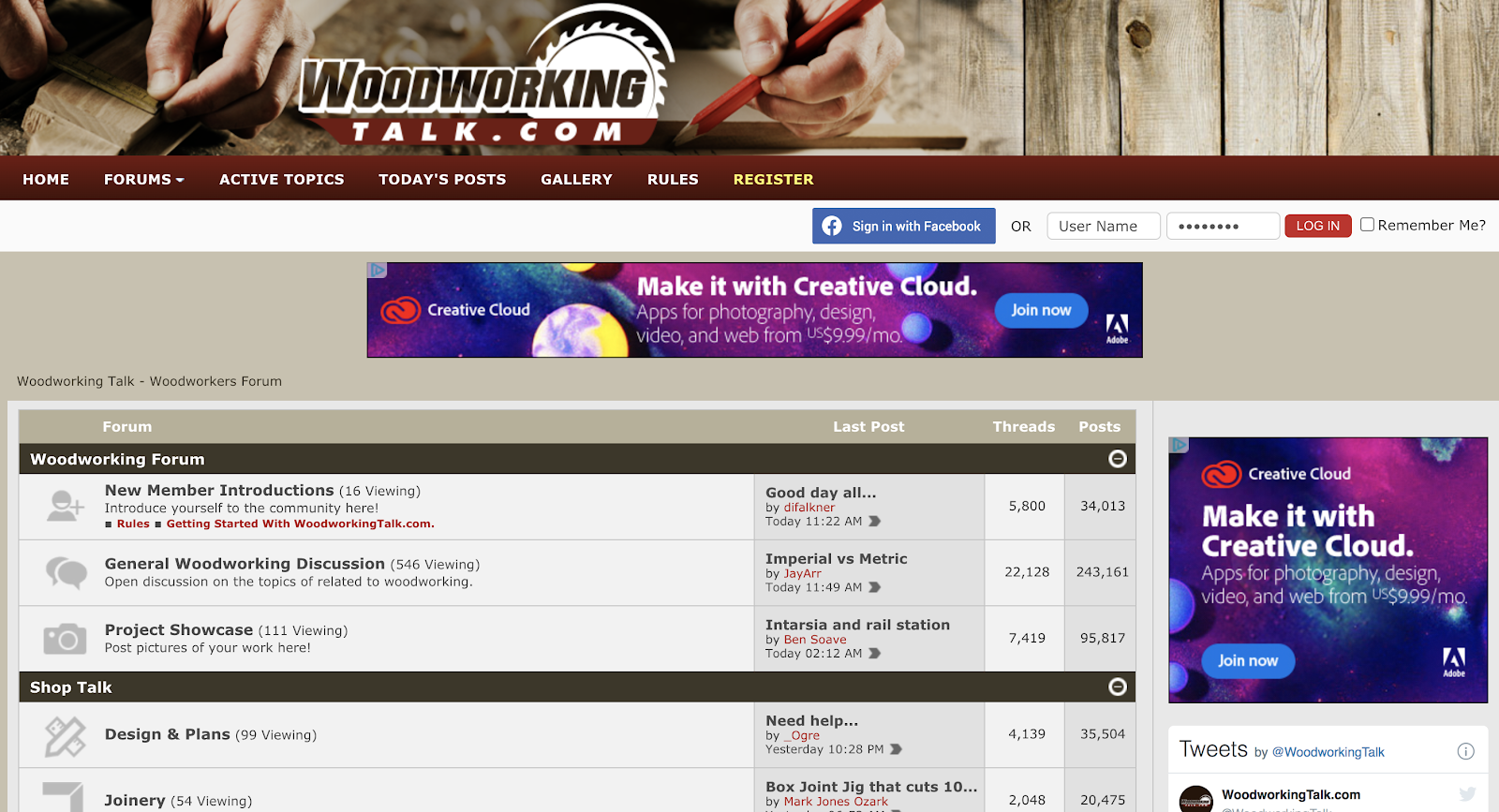 One thing to immediately look for when evaluating a discussion site, is whether or not the forum content is current and still being actively used/updated. I can see that this forum is still active, therefore it will be more relevant to me as I gather information about my target audience on this site.
So what can I learn when it comes to the topic of how to find a target audience for my blog?
First I can see which exact topics these real (potential readers) are talking about directly on the forum. Some of the main woodworking topics are:
General woodworking discussion (when you click into this, you can see a lot more sub-topics being discussed on threads)
Project showcase (where people can share their projects)
Designs and plans
Joinery
Woodturning
These are broad topics people interested in the woodworking niche might want to know more about—and are clear category opportunities to prioritize my blog post topics under.
I wanted to see what people were talking about within the general woodworking section and identify what kinds of questions they were asking. Here's a screenshot of just some of the many discussion questions that have been asked in the past couple of days alone: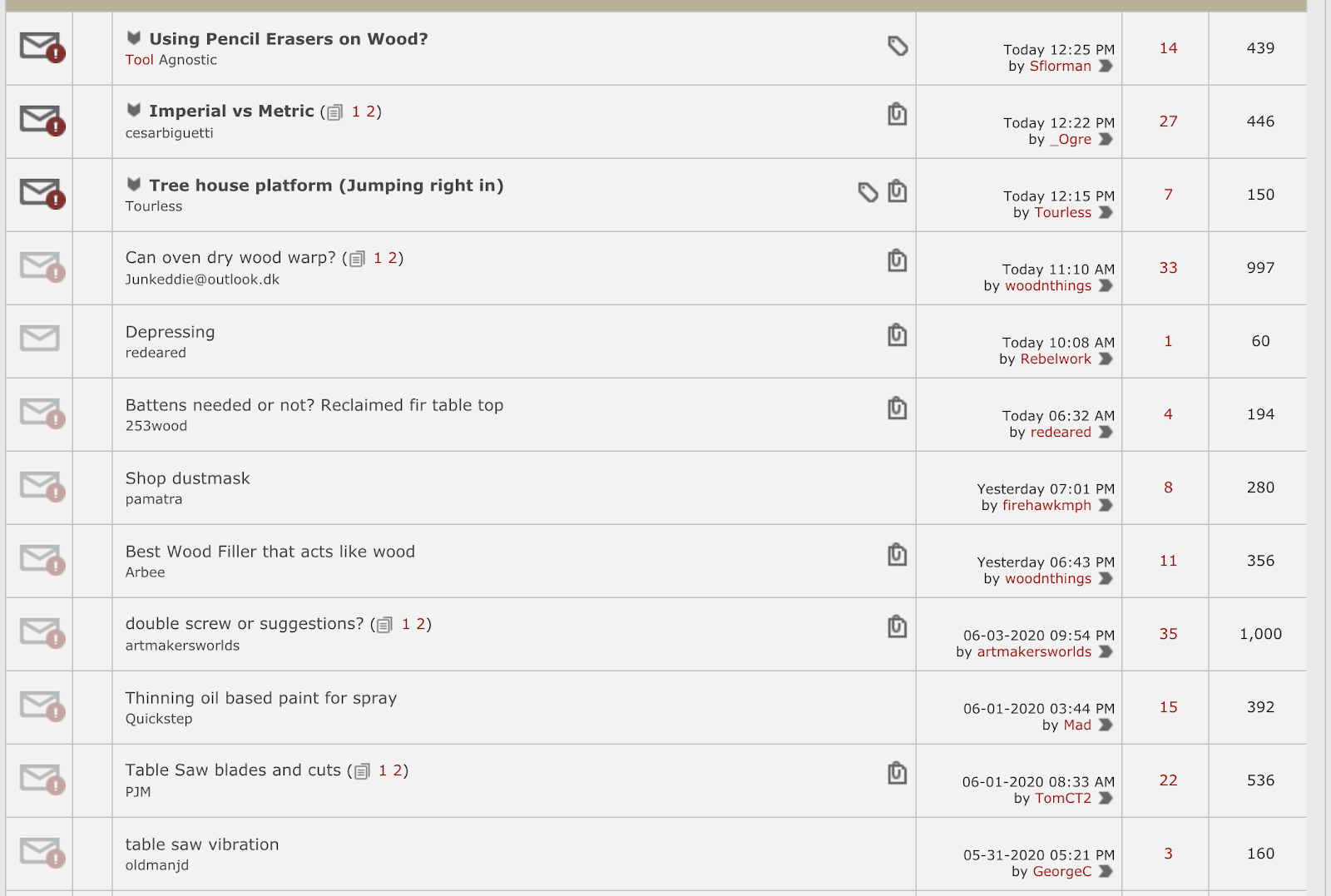 Notice that of the discussions is around… "Can oven dry wood warp?" That one received almost 1000 views and had 33 comments (in about an hour of being posted).
💡 This shows me that "oven drying wood" might be a general topic area that woodworking readers would be interested in learning more about. That could even translate into blog headlines along the lines of:
How to Oven Dry Wood (Without it Warping)
10 Common Mistakes to Avoid When Oven Drying Wood
Can Oven Dry Wood Warp? 3 Ways to Make Sure it Doesn't
This little exercise can give you a pretty great idea of what a woodworking blogger's target audience may be interested in knowing more about.
Need Catchy Blog Title Ideas?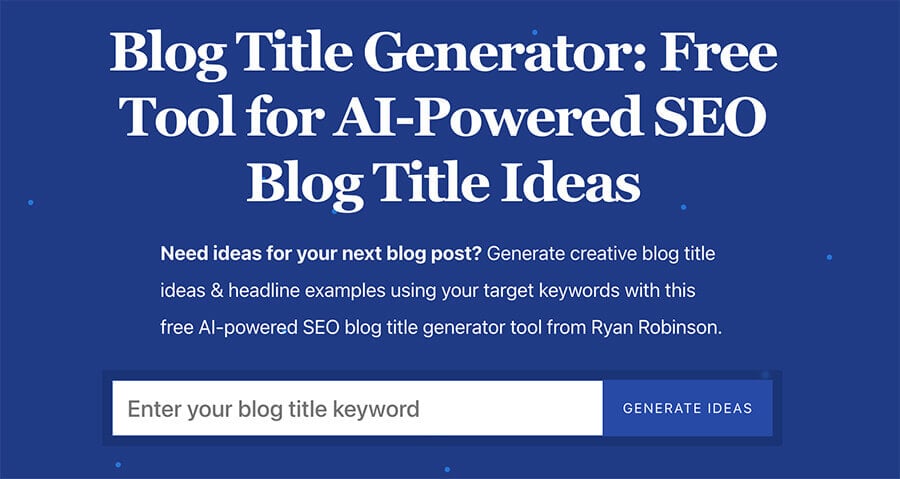 Try my free AI-Powered Blog Title Generator Tool to get dozens of SEO-friendly headline ideas to make your blog posts stand out today.
---
Take this framework and apply it to your own blog niche—it can help immensely in not only learning how to find your target audience for your blog, but in identifying their most common pain points and the types of solutions you can provide with your blog content.
3. Use Google to Search for Your Target Audience
Google search for a handful of the most obvious keywords in your niche. It may not exactly find your target audience for you, but this will definitely help point you in the right direction towards more actionable ways to get in close contact with people who are likely to be your ideal readers.
Let's take another example. If you're starting a food blog and want to focus on sharing your best lasagna recipes, then it makes sense to Google search "lasagna recipes" and see what comes up: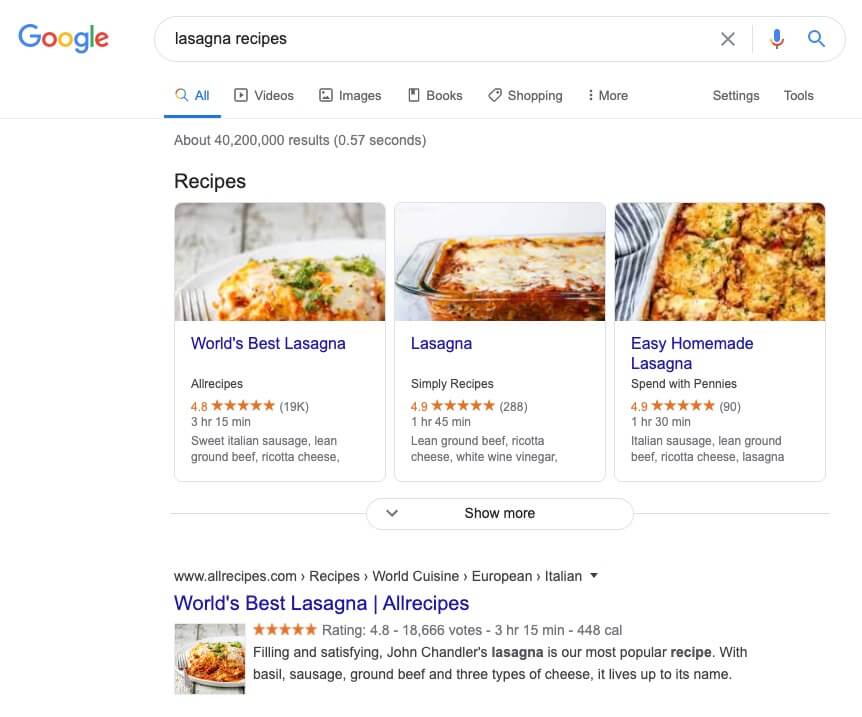 The top result is the "World's Best Lasagna" over on the Allrecipes website. If you click on that result, you'll be taken to the recipe page… and one of the first things I noticed is that this recipe has over 13,000+ reviews written about it: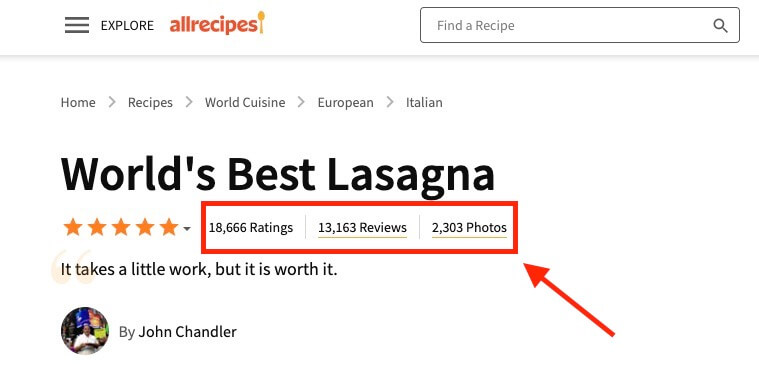 When you scroll down the page (below the actual recipe) to the section where all of the reviews are displayed, you can actually see profiles for the real people who've left reviews after cooking with this recipe: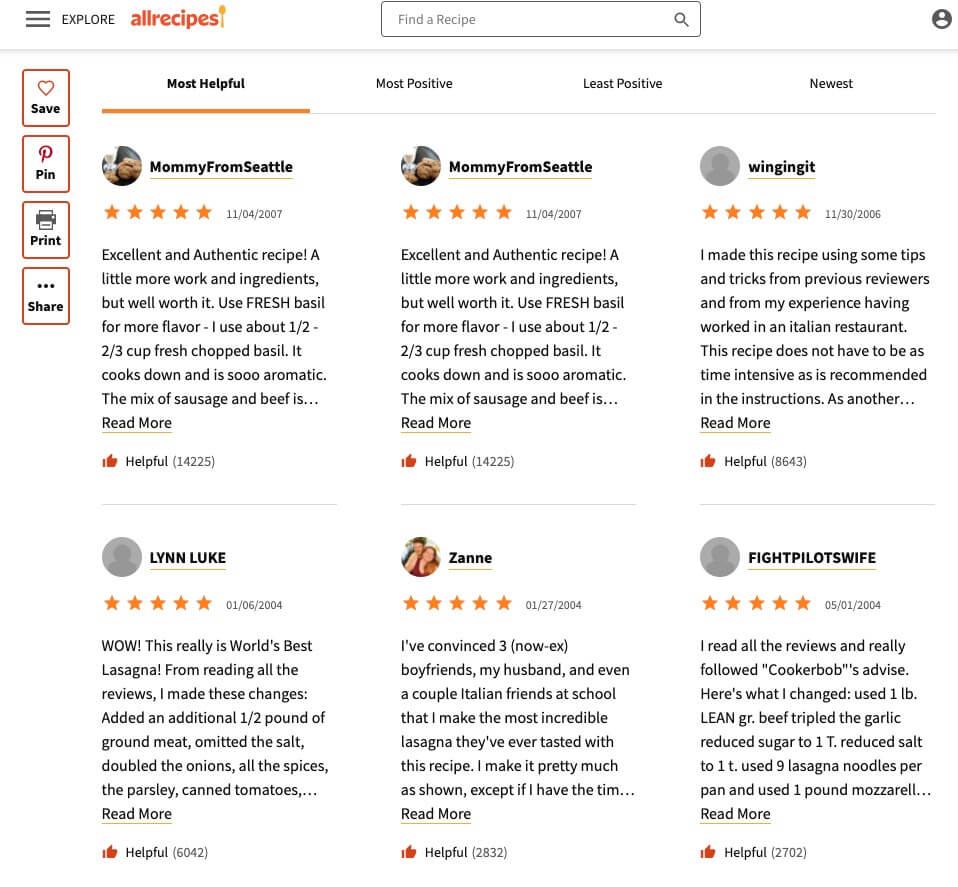 Even from just this standpoint, you can already identify some common trends about who the most engaged target audience is for this lasagna recipe… at least 5 of the 6 top reviewers appear to be women (based on their username and profile photo) and half also appear to be moms. You can scroll down and see even more reviews that tend to largely reinforce these two data points. While anecdotal and simply based on just one example here, it's an important insight to take note of, nonetheless.
Here's where things get even more interesting in your target audience research… you can click on the profiles of anyone who's left a review of this lasagna recipe (a function that requires a user account on Allrecipes), and you'll see a full profile like this: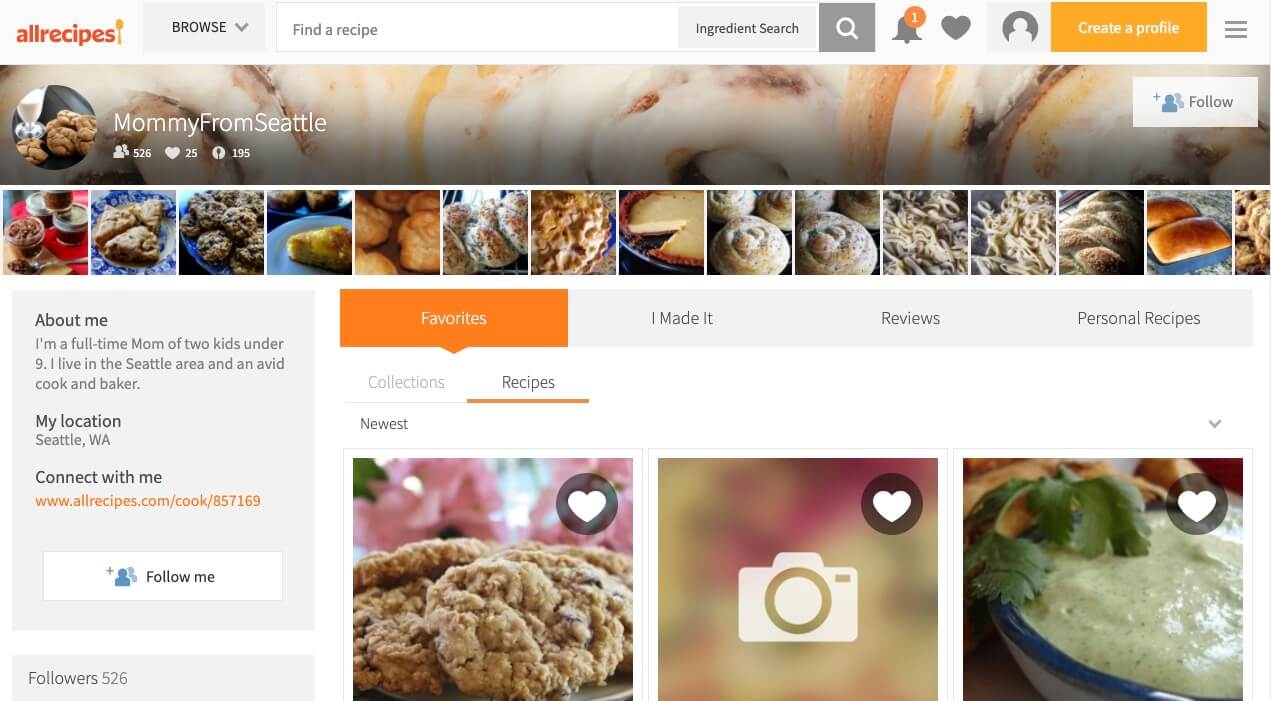 From the profile level, you can gather a lot more information about the interests of your blog's target audience—and you can even follow & connect with these people.
By Google searching the most popular keyword phrases in your niche, you can:
Get a clear idea idea of the topics that are trending
Find well-established websites that your target audience is already spending time on
Observe how the winning articles are positioning themselves
See which headlines perform best and what people are saying on those sites
This process will also give you a much more clear idea of what types of content are going to be most relevant to your target audience.
4. Look at the Competition (Other Influencers or Brands in Your Niche)
To learn more about your target audience, look at other competing influencers, bloggers, brands in your niche. Start by seeing who currently ranks for some of your top keyword phrases in Google search.
Let's say you're a travel blogger and you want to create the absolute best guide to exploring Amsterdam… where to stay, what to eat, sights to see. Searching for "travel guide amsterdam" (a keyword phrase that'd be ideal to eventually rank #1 for) will instantly show you who your closest competitors are going to be on this topic: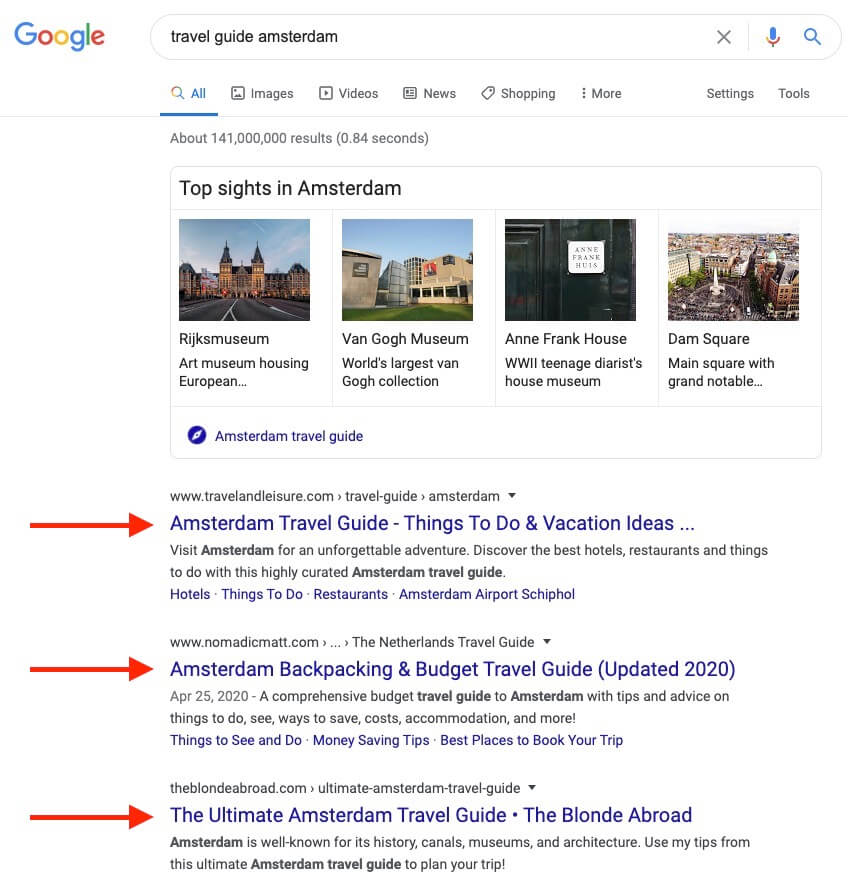 Travel and Leisure is going to be stiff competition, because they're a very well-established, global publication—though it's not impossible to outrank them. Nomadic Matt and The Blonde Abroad are both individual travel bloggers though, which suggests they should be much easier to compete with on this topic.
Regardless, you can safely assume that each of these top 3 articles (and websites in general) are likely already doing an effective job of serving your target audience.
That means you can gather a lot of insights about your target audience, like:
Taking note of these article headlines that appear to be performing best on Google
Clicking around on each of these sites and spotting the other content topics they're covering (to see what's clearly trending)
Seeing what kinds of discussions are happening in the comments section (and who those people are)
Noticing how individual articles are organized and what key sections they tend to cover
Knowing what other people in your niche are blogging about, will give you a very good idea of what's trending in your niche—especially when you're looking at successful bloggers.
Which blog posts are getting the most attention? Which ones are most appealing to you (and consequently people like you, who may share similar interests)?
These are the types of questions you can ask yourself as you're looking through content produced by other bloggers in your niche—to walk away with helpful insights on your path of learning how to find your target audience.
5. Read the Comments Section on Competitive Blogs
Once you're on your competitor's blogs, another extremely helpful way to find your target audience (and learn more about them)—is to dedicate some time to reading through the comment sections on their most popular articles (and of course on any of their active social media accounts too).
If you're working on a travel guide to Thailand, you'll come across millions of search results that are all targeting keyword phrases related to topics like "things to do in Thailand" and "places to visit in Thailand" when you start researching competitors. One of the top travel guides for Thailand is on the IndieTraveler blog:
And while this guide alone is packed with rich insights you can gather about which sections a great Thailand guide should cover… scrolling down to the blog comments really reveals a gold mine of extra insights about who your target audience (for this post) is and what some of their biggest questions are on the subject—which are all topics you could answer in your own guide.
With 88+ comments and counting on this Thailand travel guide, check out just a couple of the (great) questions readers have asked in the comments already: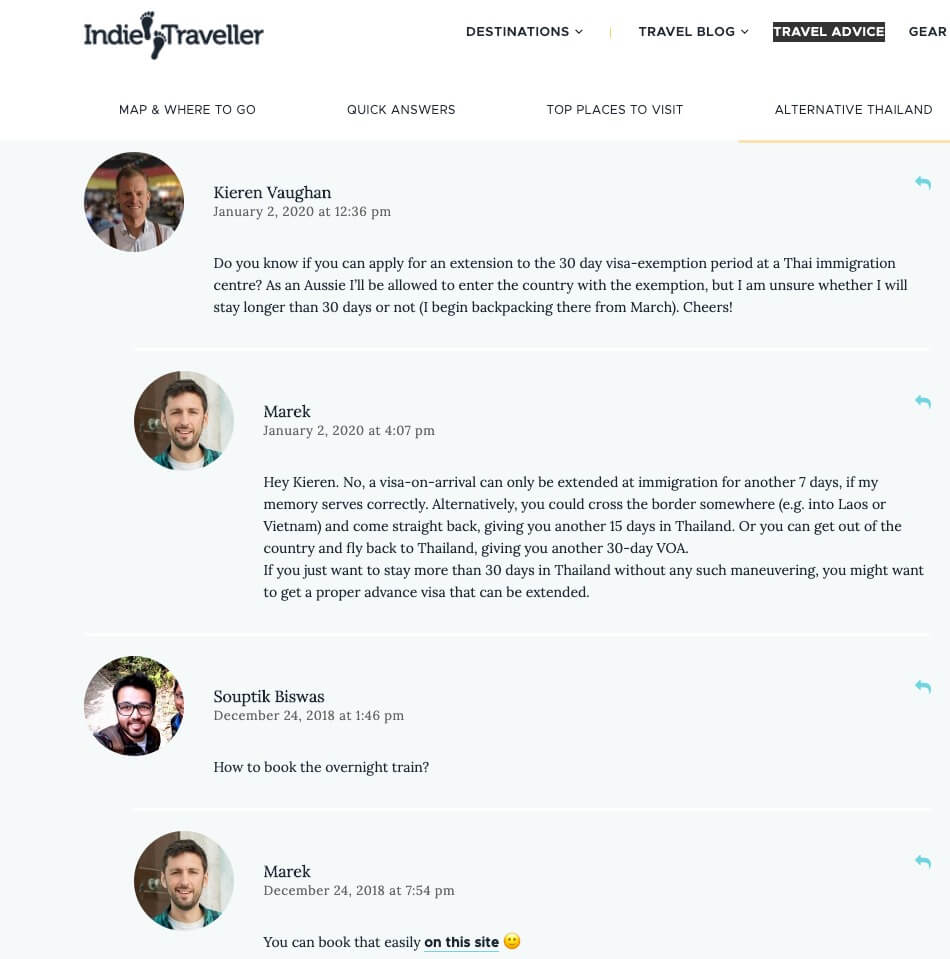 Marek, the owner of IndieTraveler tends to go above and beyond in answering his reader's most pressing questions in the comments—but not every blogger or brand will do that. And content in the blog comments section doesn't tend to get indexed & attributed to helping your article rank higher in Google search in the same way as if these questions & answers appeared within the body of your content, so this still presents an opportunity for you to provide a guide that's more comprehensive on your own travel blog.
From blog comments, you can learn not only about who is posting, but you can also gather priceless qualitative insights about the questions they have and what they're interested in knowing more about.
The comments they leave on your competitor's blogs will give you answers to valuable questions like:
What information did your competitor not provide?
What additional content are commenters looking for?
What demographic tends to comment in this niche?
What are their major pain points?
You can even pull out new ideas for individual blog posts to write on your own site after being inspired from the comments section on a competitor blog.
6. Learn From Your Own Comments Section
If you already have a blog that's driving some traffic and bringing in a steady stream of engaged readers, then your own comments section will be one of the most valuable destinations to learn more about your target audience. I often turn to the comment section of my own blog for more inspiration—and to find out what my audience actively wants to know more about.
Here's a highly relevant question that someone recently asked in the comments of my ultimate guide about how to start a blog (which has over 1,000+ comments):
This is such a great question. This comment shows me that at least some of my target audience is looking for additional information and guidance when it comes to SEO best practices they can implement and the hands-on strategies they can implement to better grow their blog.
Here's another blog comment that's asking about hosting plans and their relationship to WordPress: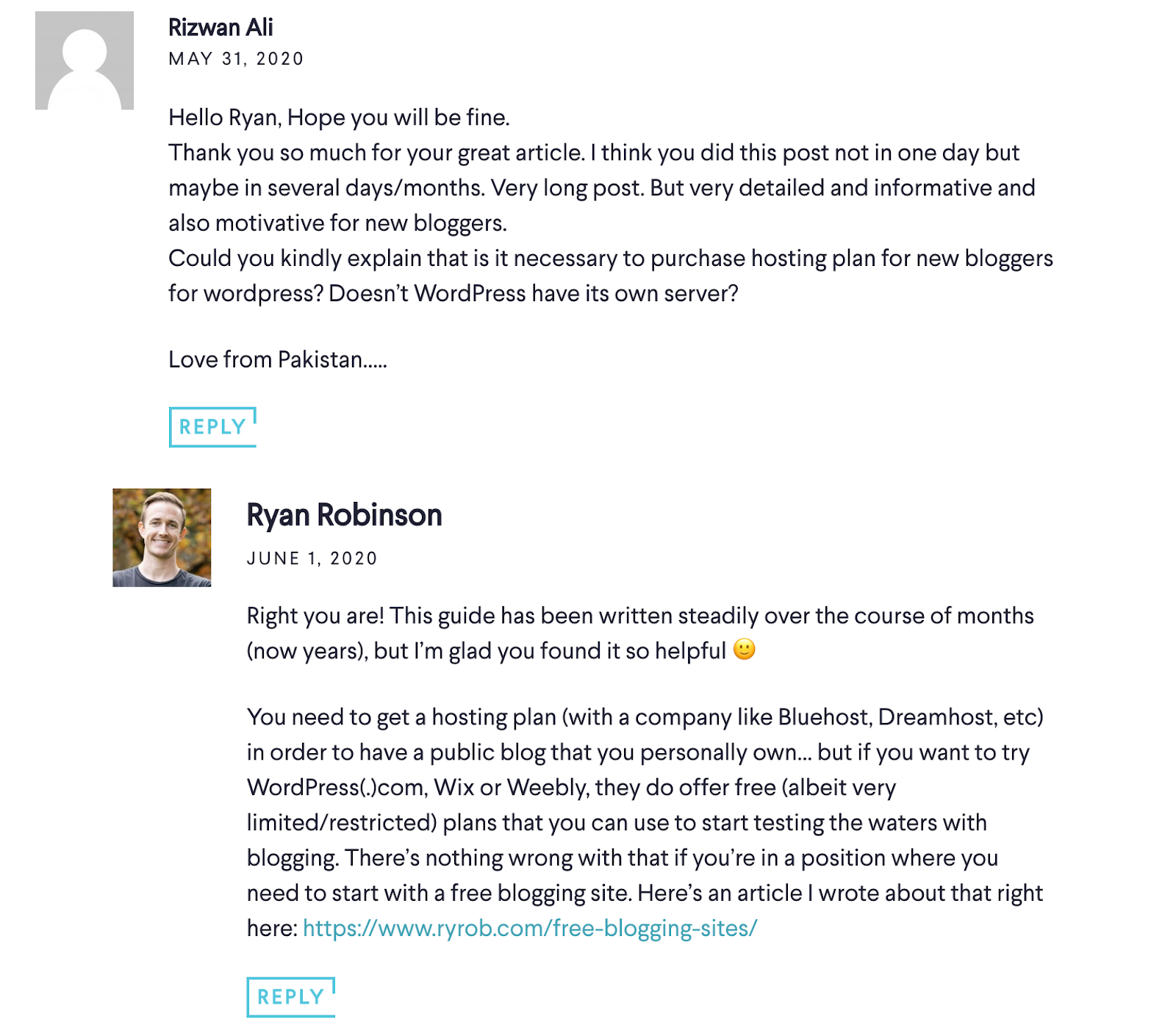 This could show me that my audience is interested in learning about the difference between WordPress.com and WordPress.org, that they want to know more about affordable monthly hosting plans, or that they may want a list of the top free blogging sites available to truly get their blogs off the ground for free.
It's through these kinds of blog comments that I'm able to build out a more useful portfolio of impactful, helpful content for my audience.
All the while I'm constantly learning more about who my readers are and how to find my target audience in exciting, new ways.
7. Use Known Statistics (Like Pew Research Center)
Believe it or not, there are plenty of research and data-collection companies that provide free information and statistics that you can use to learn more about groups of people.
Pew Research Center is one of the most well-known, unbiased sources that you can use to better understand key demographics & psychographics about your blog's target audience.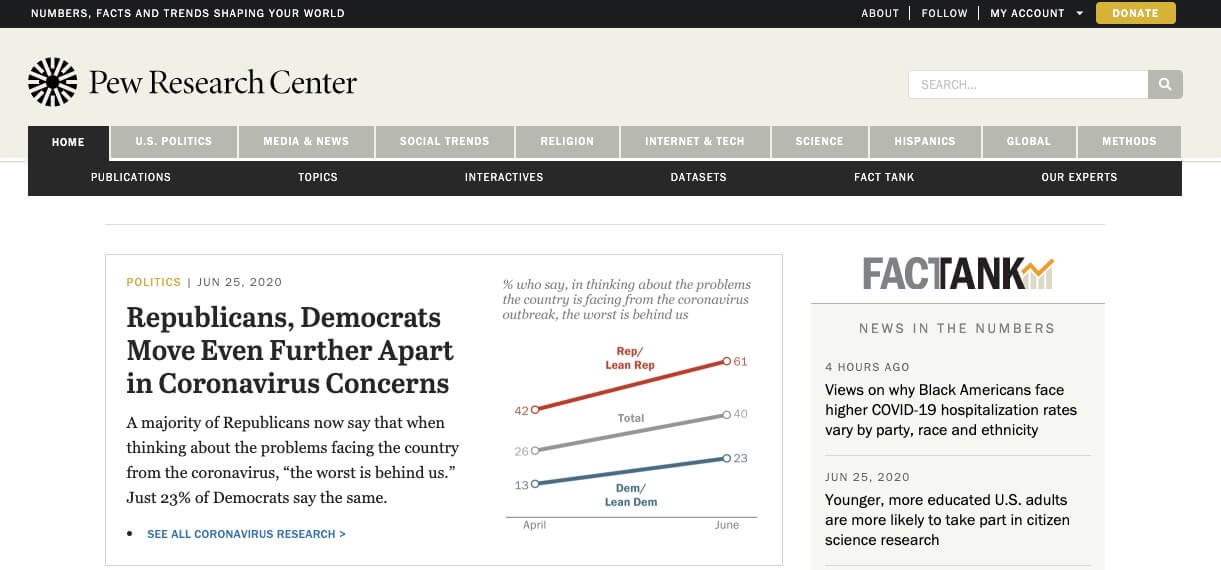 According to their about page, "Pew Research Center is a nonpartisan fact tank that informs the public about the issues, attitudes and trends shaping the world. We conduct public opinion polling, demographic research, content analysis and other data-driven social science research. We do not take policy positions."
Their site covers a wide range of topics that are relevant to a variety of different blog niches, including subjects like:
U.S. Politics
Media & News
Social Trends
Internet & Tech
Science
Their research center is a valuable resource to help provide insights into both your target audience's key demographics and even provides helpful data points about their psychographic groups.
For example, the Pew Research Center recently published a post called "What We Know About Gen Z So Far" that breaks down a lot of very useful information.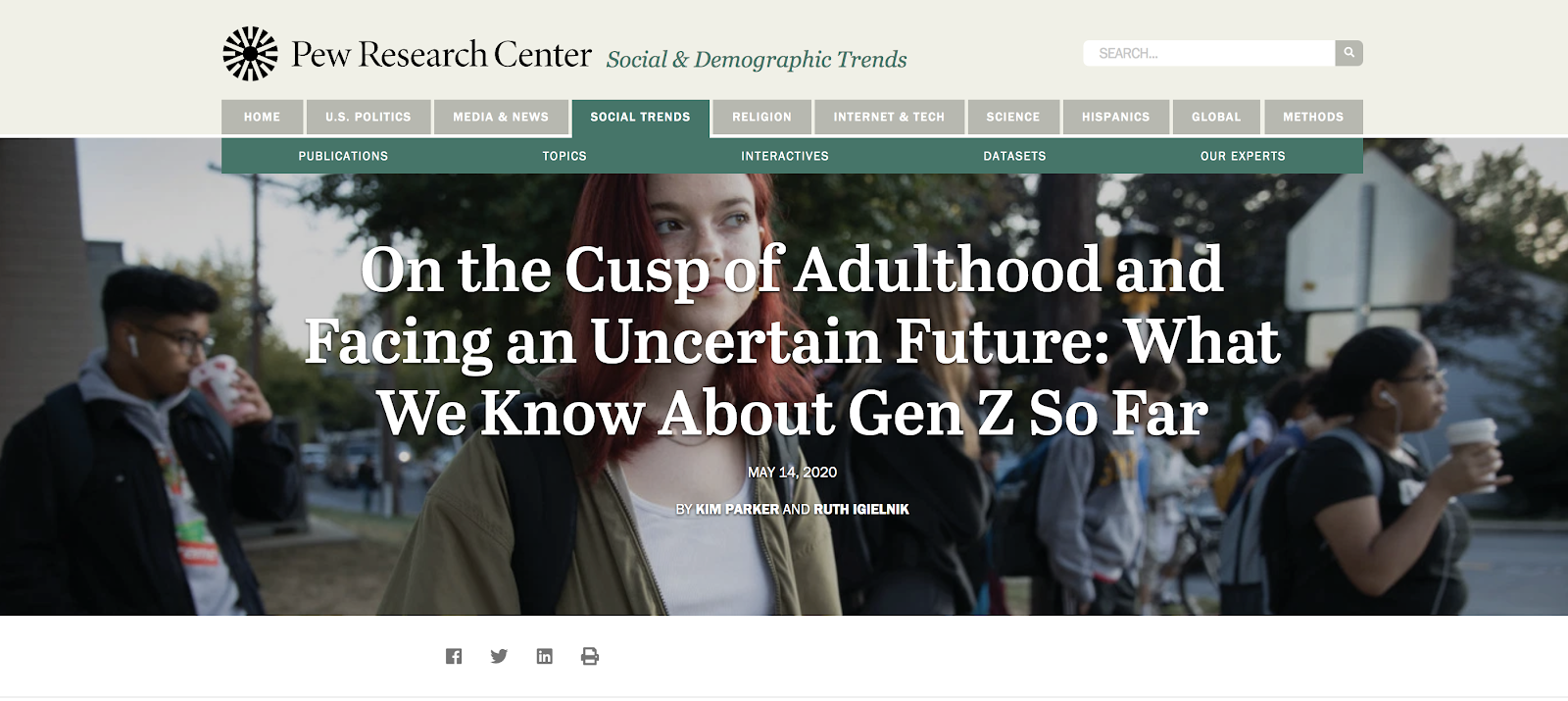 In this research article, the authors of this study cover statistics like:
Racial and ethnic diversity of Gen Z
Education level of Gen Z
Political views of Gen Z
Gen Z's access to technology
How does this apply to you? Well, if your blog is primarily focused on content that's for this generation—or if you're hoping to write content that's somehow relevant for Gen Z, then knowing where they spend their time online, how they'll perceive your content and what they care most about will be deeply valuable information.
Here are a few more resources for finding statistical data about your target audience:
It's easy to get lost in the weeds when reviewing research, reports and studies. Always keep your focus on teasing out insights that'll help in your journey of learning how to find your target audience and the ways in which you can best serve them from your blog.
8. Browse Questions (and Write Answers) on Quora
Quora is one of my favorite places to go about finding your target audience—and interact directly with them, by answering their most important questions.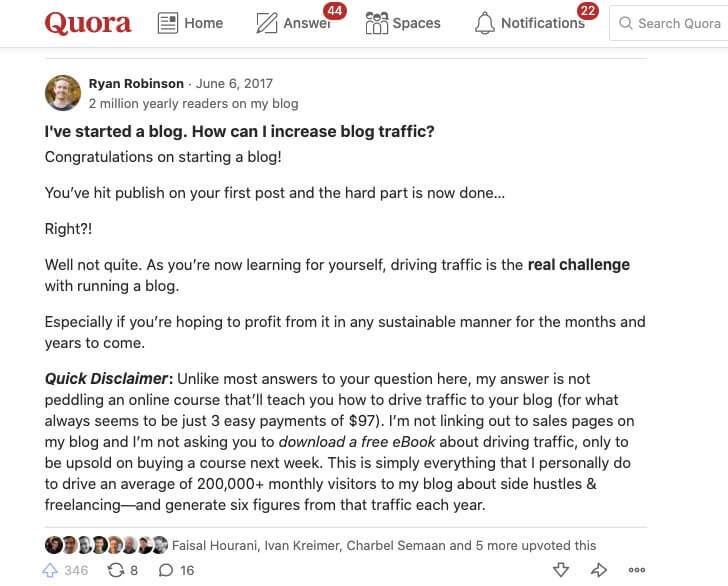 In case you're not familiar with Quora, it's an online forum where people can ask questions about pretty much any topic. It's a great way to find your target audience and develop a deeper understanding of them, because they're asking the exact questions that are most relevant to them.
I've talked about Quora on my blog several times, because it's such a valuable source of important data that bloggers can collect about their target audience. To best show you how useful Quora can be, we'll pretend I'm planning on starting a gaming blog. Let's begin at a very basic point and type the word "gamer" into a Quora search.
Here are the results for this one word: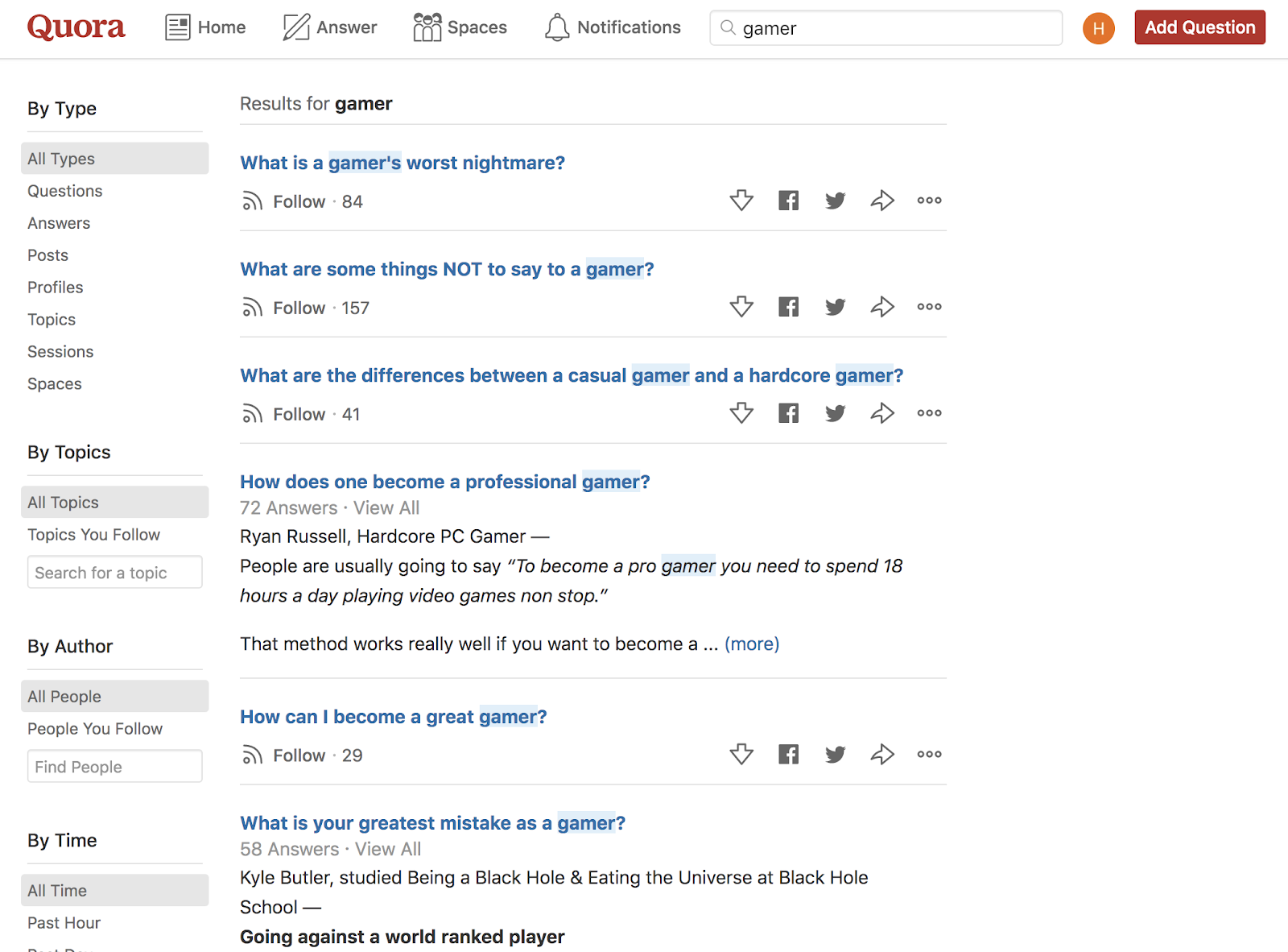 Just within the first few results, there are some great insights about the gamer community. If I wanted to write relatable content, these discussion threads would be a perfect place to start. And not only do I have the opportunity to answer these questions directly on the Quora platform (where my target audience will get a notification about my answer), but I can expand on the answer in a more in-depth article over on my blog.
Some of the questions being asked (and topics being discussed) in this screenshot above include:
What are some things NOT to say to a gamer?
What are the differences between a casual gamer and a hardcore gamer?
How does one become a professional gamer?
So why did these three topics stand out to me in particular?
The first two would help me understand how to be more authentic to my audience—and the last one gives me a very smart tip on a piece of content that a good number of aspiring professional gamers would definitely want.
In the first thread (about things not to say to gamers), I can learn what typically annoys or frustrates gamers. I can speak to these frustrations in a blog post. For example, one of the themes that came up several times were that female gamers feel disrespected in the gaming community. That would be something that as a gaming blogger, I could be sensitive to and keep in mind when writing content. It also inspires plenty of content ideas.
In the second thread (about the differences between casual and hardcore gamers), I can see what people think is the difference between someone who enjoys playing games occasionally for fun—and someone who spends a lot of their time gaming. For my blog I may need to decide right away, am I writing for casual or hardcore gamers? This thread can help me choose what feels most authentic.
The last question (how to become a professional gamer) is a great topic for an ultimate-guide style blog post. Many gamers would love the chance to make money from something they love doing. That would be a perfect blog post (or series of blog posts) for a gaming blog.
These insights merely scratch the surface of what's possible to learn on Quora if you spend enough time poking around, listening and doing your best to answer questions your target audience is asking.
As a quick aside, if you're having trouble with your content planning efforts, you can grab my free blog planner bundle and turn things up a notch today.
9. Listen to Podcasts and Watch YouTube Videos in Your Niche
Podcasts and YouTube videos are another great way to find your target audience and learn more about them.
YouTube alone is the 2nd largest search engine in the world (behind parent company Google), and more than 1 billion hours of videos are watched on the platform every single day. That's more than Netflix and Facebook videos, combined. So to say that YouTube is a valuable discovery platform to find your target audience and engage with them, is an understatement.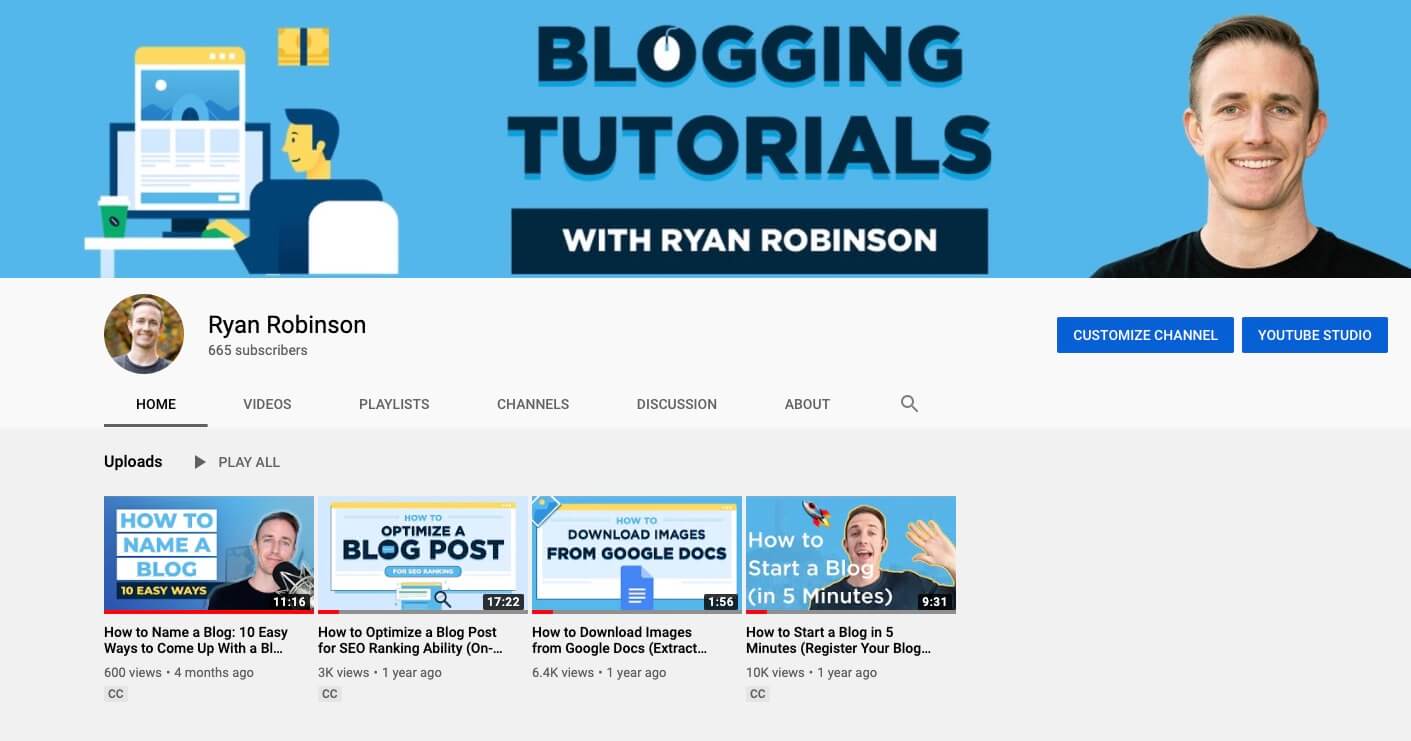 I've admittedly not invested enough time and effort into growing my YouTube channel for bloggers yet, but for having less than 20 public videos, attracting 650+ subscribers is pretty impressive in my opinion. There's so much potential for growth and more meaningful, direct connection with your target audience on YouTube.
That being said, both podcasts and video content can give you a clear indication of what's trending topic-wise within your niche, what your target audience wants to know more about and what's already being covered successfully in your niche. Just be sure you get your hands on the best podcast hosting that fits within your budget if you decide to start a podcast of your own.
Unlike Pinterest, which no longer allows you to see how popular a particular pin is (unless it's your own), you can easily see the popularity of a YouTube video. Top videos from YouTube influencers can have millions of views and have very likely been watched by many of the people in your target audience.
Finding out the popularity of a podcast isn't quite as easy, but you can find out how much interest a podcast has. For example, if you want to know how successful a podcast is on Apple Podcasts (iTunes), there are three major indicators:
Reviews are written by real people that listen to the podcast and feel compelled enough to weigh in with their thoughts. They can give you helpful insights into the way people feel about a particular podcast (or set of topics), which is very valuable if you're evaluating which topics you should cover on your own blog or podcast.
Ratings are how well people have rated a podcast from 1-5 stars. The most listened to podcasts will also have a lot of ratings. Here's a snapshot of the reviews and ratings for my own podcast:
Rankings are another way to find the most listened to podcasts (and individual episodes) in your niche, and iTunes ranks podcasts in each category. There's no definitive way to know how iTunes ranks all of the podcasts on their platform, but they do have top podcasts broken down in each category. You can easily check out the top-ranked podcasts in your niche and even see which episodes get the most traction for the show.
Once you've found these popular podcasters and YouTube channels, you have a lot of options:
Follow them and learn more about your shared target audience by seeing the content they publish
Reach out and see if you can be a guest on their podcast (or co-produce a YouTube video) to get in front of their audience
Gather tangible ideas for blog post topics, podcast episode ideas and video topics you should be covering
Strive to learn exactly which content pieces are performing well with their audience—because those people are in your target audience too. Since these podcasts and YouTube channels are in the same niche as you, their audience is very likely to be comprised of the same people you're hoping to attract, so consider what a successful partnership could look like with them.
10. Talk to People In-Person Who Are Interested in Your Niche
Another way to get to know your blog's target audience better, is to reach out to them in-person:
Join clubs that encourage direct interaction with each other
Attend conventions and conferences (even virtual ones can do the trick)
Sign up for local events in your area
While there's a lot you can do when it comes to learning how to find your target audience online, nothing quite compares to the lessons you can learn by talking directly with the people who share a passion for your niche—or are good candidates to learn from your experience within your field.
People who are enthusiastic about your niche will tell you the exact type of content that'd be most useful to them. Bloggers spend a lot of their time online in the digital world, but you can't deny the benefit of networking with people face-to-face. No matter what your niche is, there's almost surely some kind of event, convention, or club that you can attend and learn more about your target audience in-person.
Starting a blog for tattoo enthusiasts? Consider going to a tattoo convention.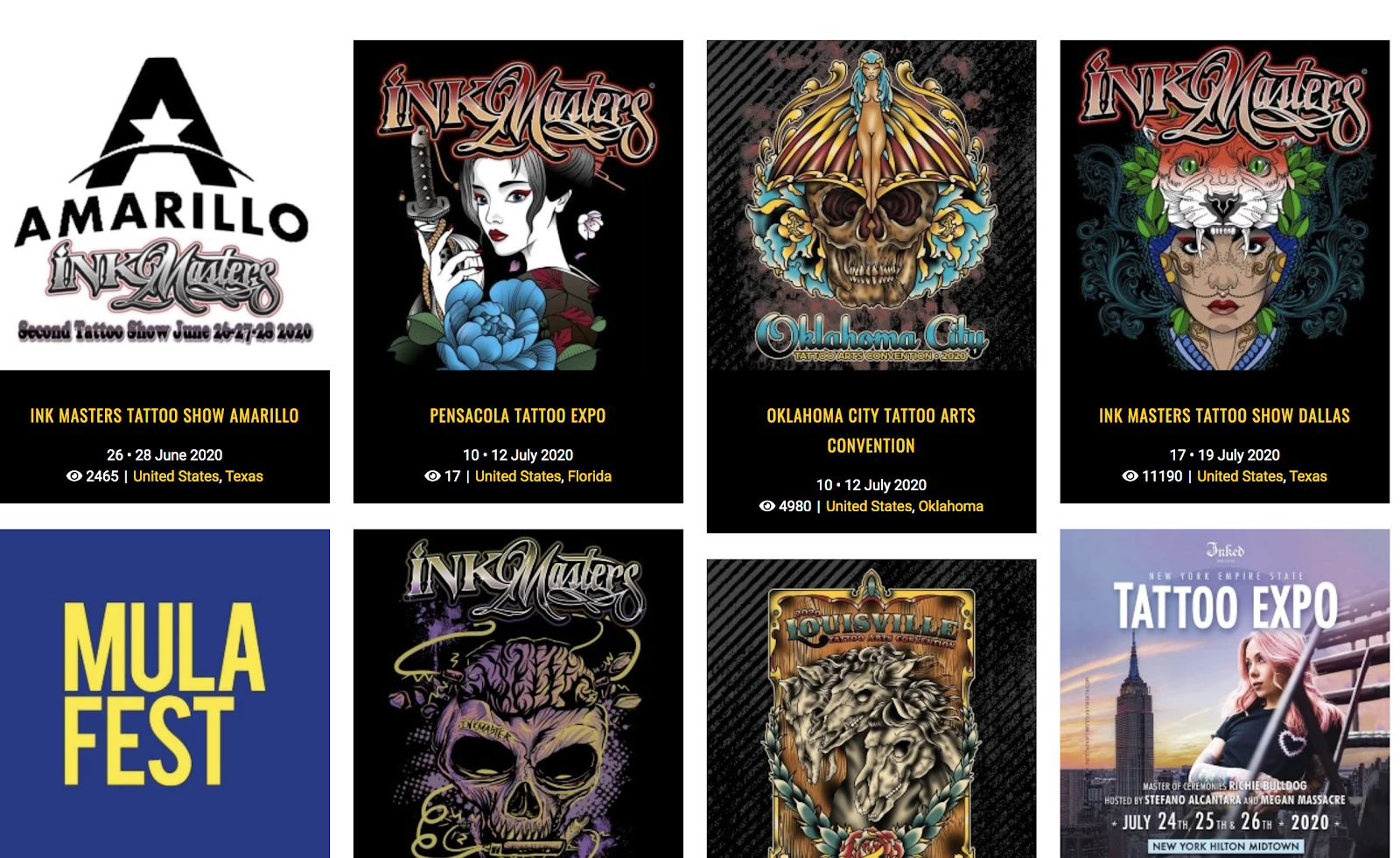 Love blogging about comic books?
Maybe it's time to splurge on a trip to Comic-Con in San Diego (or find a smaller comic convention near you).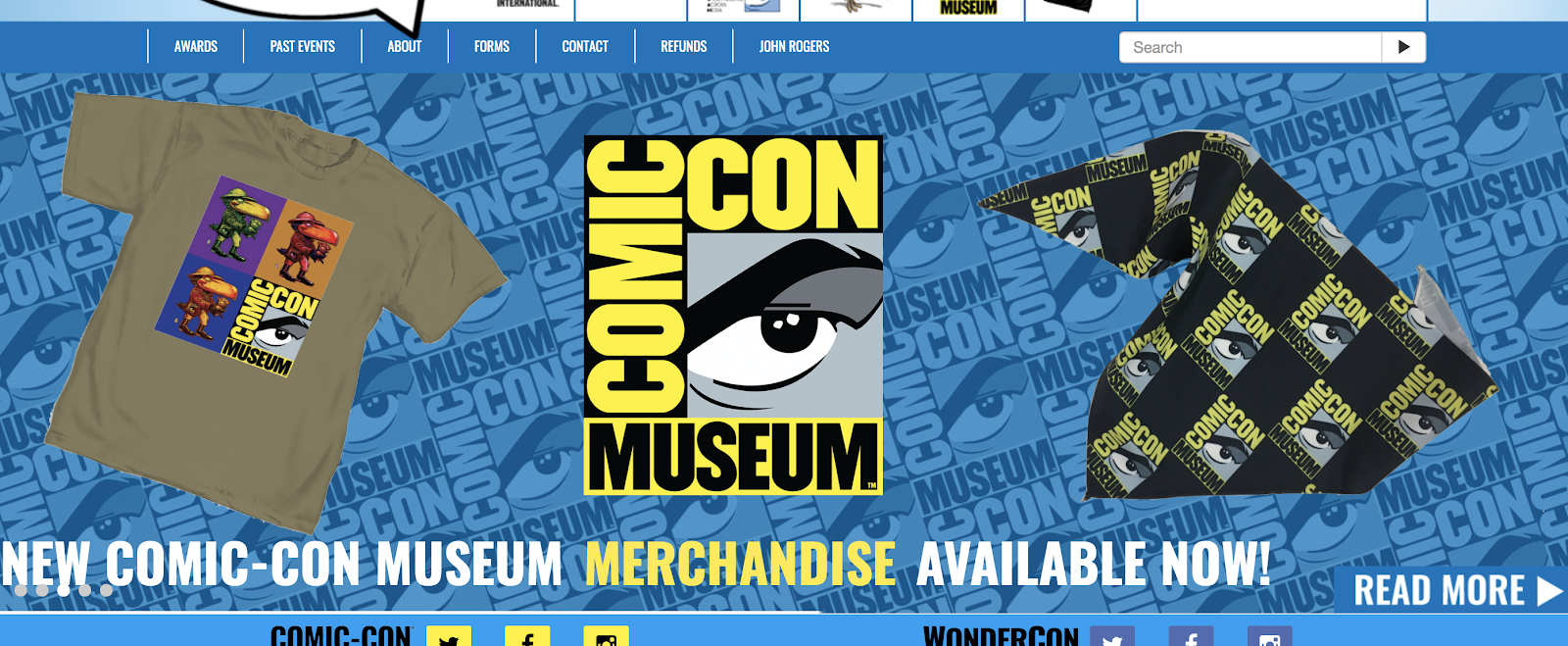 Have a blog in the maker or DIY space? Try to find a Maker Faire event that you can attend and meet with some potential readers in-person.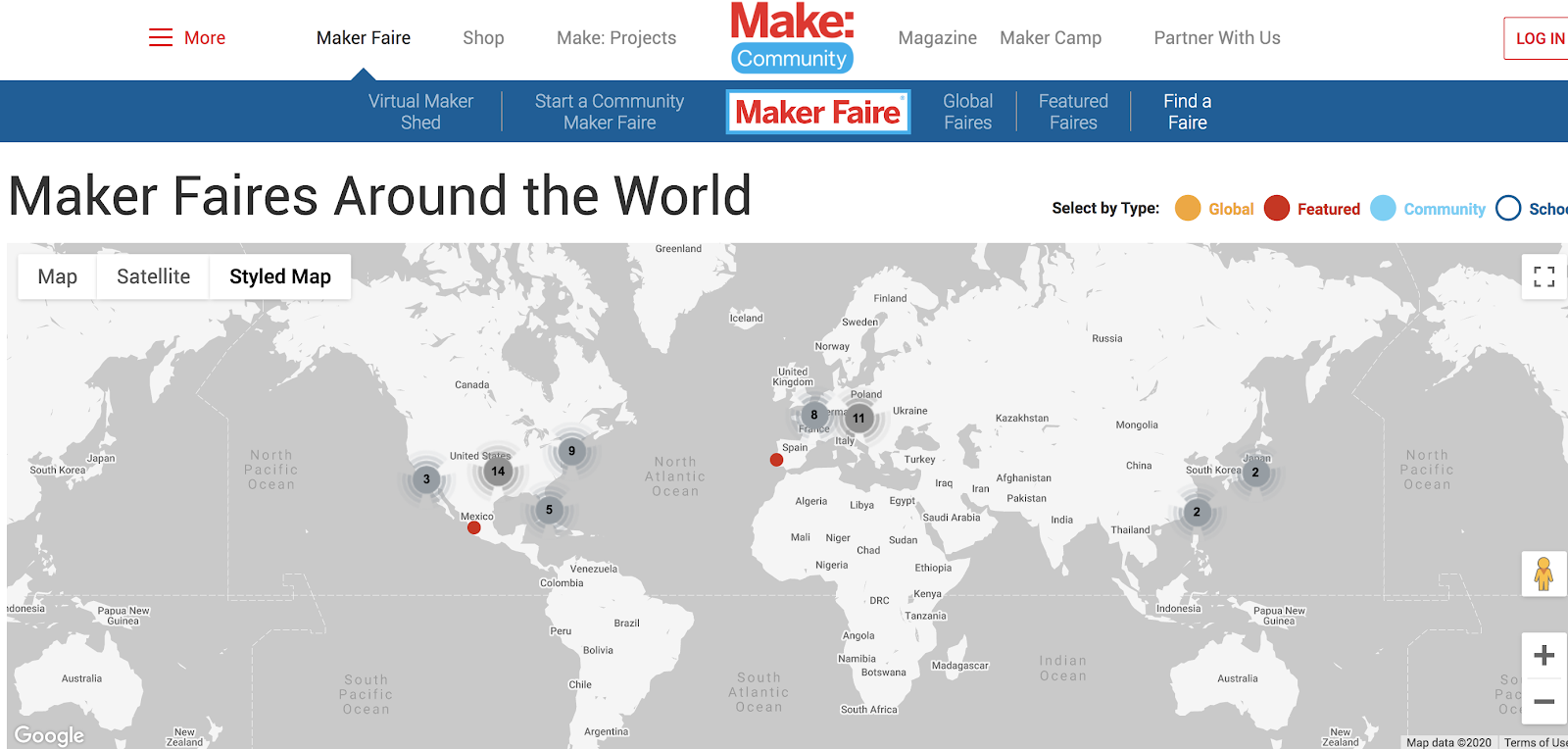 Of course, you don't only have to go to the world's largest events to learn more about your blog's target audience.
You can also join smaller circles of like-minded people right in your town or city… and if those groups don't already exist, take the initiative to start organizing one yourself!
Talk to these real people and open a dialogue about the most pressing needs that they have. Find out what things really get them to geek out—and don't forget to tell them about your blog during these conversations.
11. Read Books (and Connect with Authors) in Your Niche
Reading the top books in your niche, is another way to learn more about your target audience (like my roundups of the best business books and best blogging books).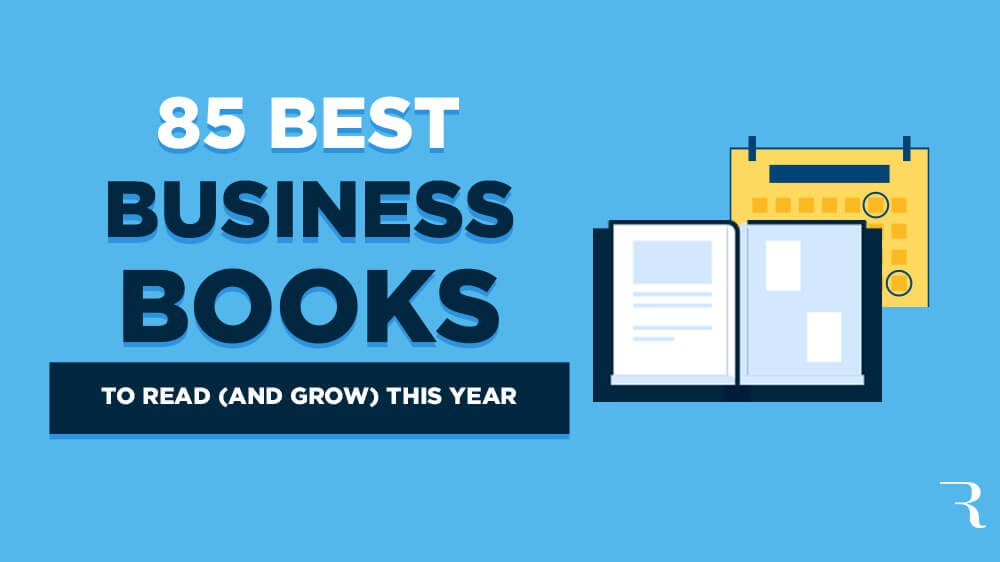 While you may not have a direct line to your audience simply by reading a book that's written for them, you'll have a good understanding of the ideas that are most relevant to your target audience—and you should be able to walk away with a pretty extensive set of topics to write about in hopes of attracting those readers
A simple example of how you can reach your target audience in this way, could be similar to how I compiled a list of books that are relevant to bloggers. On top of my reviews that cover some of the most popular blogging books, I've also included a few of my own books that I give away for free in that post—which attracts new email subscribers every day. You can do the same for your chosen niche.
If there's online feedback about the books you're reading, you can also learn more about your target audience that way—especially on platforms like GoodReads. The Amazon review section is another good place to read reviews & comments left by real people.
---
Bonus: How to Write More Useful Content (for Your Target Audience)
Once you've gone through the process of learning how to find your target audience, the next (incredibly important) step is to create content that they'll want to read—and are likely to benefit from. So what are the main things you should think about when writing impactful content for your target audience?
1. Understand Their Deepest Pain Points
The first, and probably most important thing you can do as a blogger, is to understand your target audience's most pressing pain points.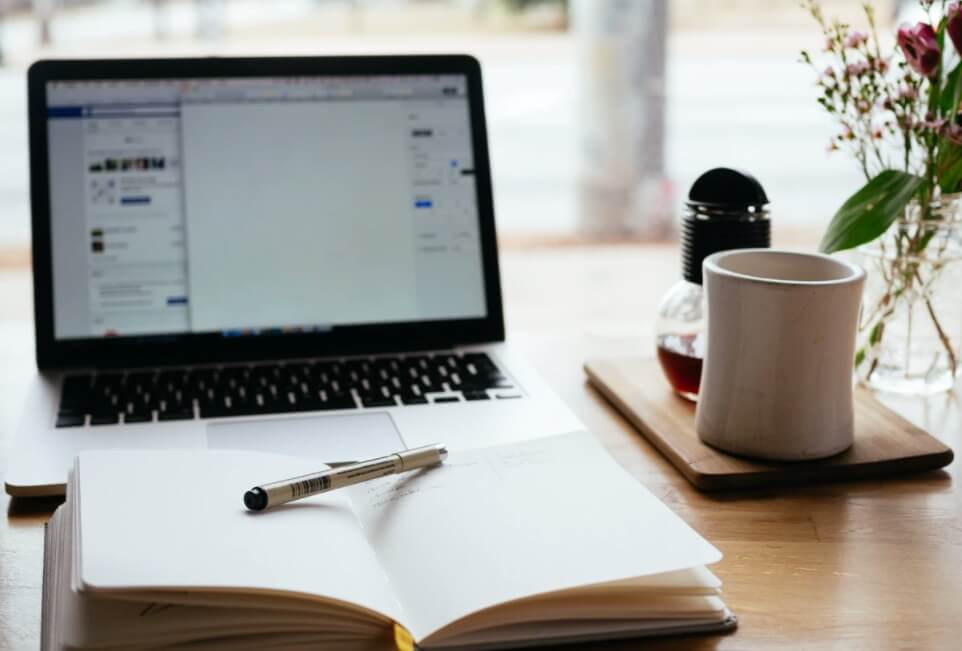 A pain point is something that may cause your readers hardship, trouble or at least a challenge they're wanting to overcome. It may also be a simple problem with a simple solution that you can provide (through your blog content).
In my niche of "blogging," some of the most fundamental pain points that many of my readers have are on topics like:
These are common questions that I started getting more and more from my audience of readers, so I've done my best to address those challenges with highly tactical, in-depth guides. I know these questions need helpful answers, because they're problems that every blogger will encounter on the journey to growing a successful blog.
In your own niche, you'll need to identify the main pillars of pain points you can start solving, through useful content.
2. Write in a Way Your Target Audience Can Relate to
Once you have a good understanding of what to cover on your blog, the next step is writing valuable content that your target audience can they relate to.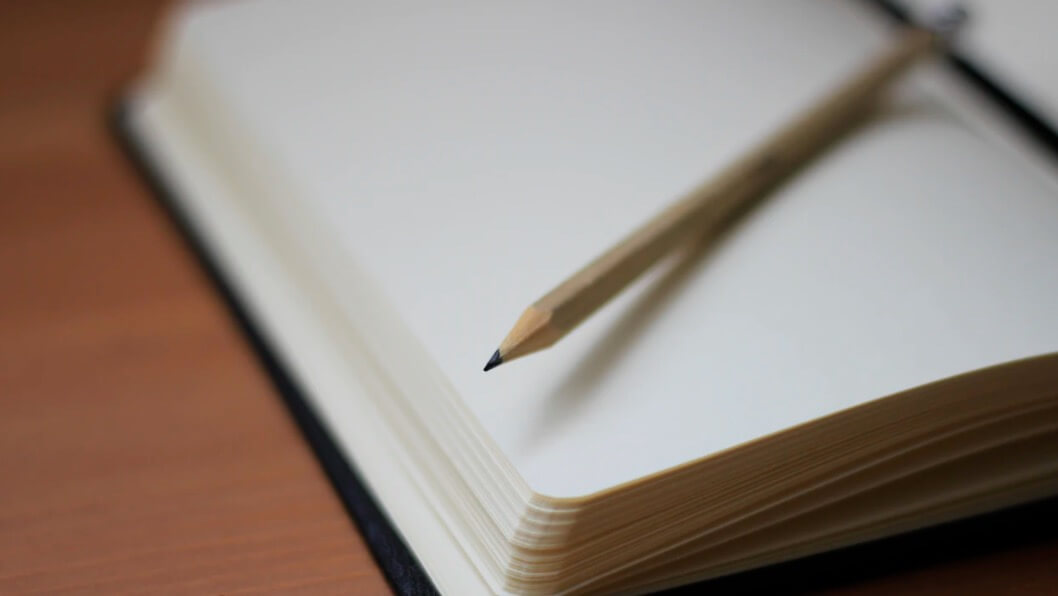 Remember the example above about starting a gaming blog? Well, spending time with other gamers and reading their discussion threads lets you into their world (if you're not already a member of that community yourself) and you'll see the way they talk about gaming. This gives you insights into the language of this niche.
Most niche topic areas will have words or phrases that are unique to the space. Some niches even have their own lingo or sub-culture. If you're not familiar with this language, you may seem like an outsider or an imposter. That's why it's important to truly understand the people who are interested in your niche—and not just the statistics about them.
In my niche, there are a lot of blogging terms that experienced bloggers are familiar with. Some examples of these are:
Affiliate marketing
Hosting plans
Blogosphere
A/B Testing
Audioblog
Avatar
Analytics
Alexa Rank
SEO
Blacklink
Keyword
Link building
Your readers are either already going to be familiar with these words, or they're going to come to you with the goal of learning more about them.
Either way, it's your job to be familiar with the most important concepts and verbiage within your niche, as well as formatting your blog content into the best delivery vehicle (written posts, videos, audio recordings or otherwise).
3. Write About Subjects Your Target Audience is Interested in
Another benefit to really investing time into learning deeply about your target audience, is so you can create content that they'll find genuinely interesting.
One major component of that is ensuring you're doing keyword research in order to back up your assumptions about the topics your target audience is actively looking for solutions on. If you're not writing about the subjects that they're interested in reading more about, then you're not giving them a compelling reason to come to your blog.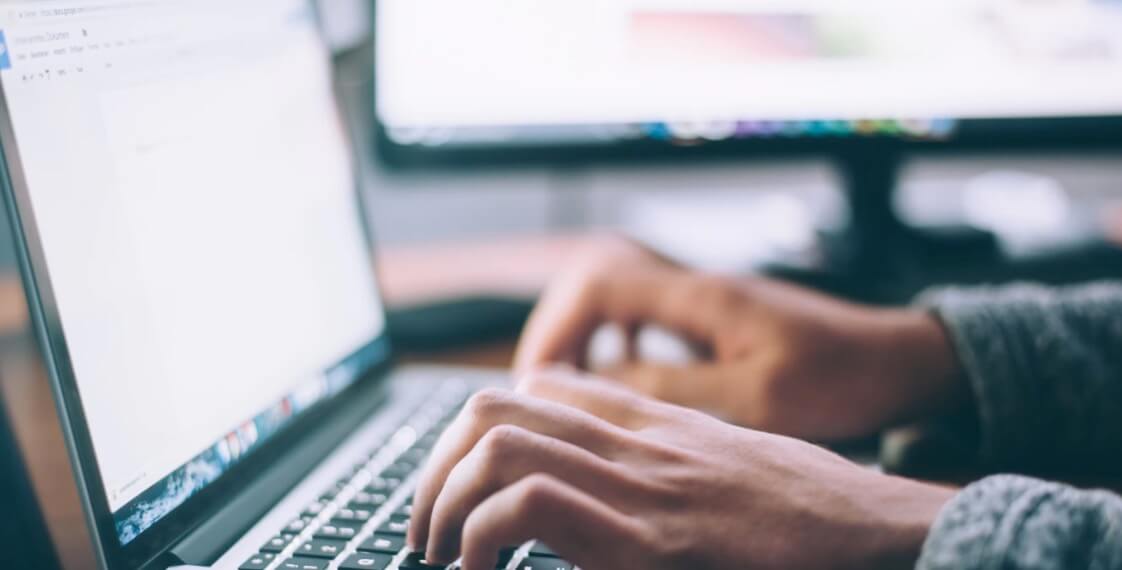 It's not always just about providing solutions to problems either though—sometimes it's about entertaining and capturing your audience's imagination.
You should be able to share content with your readers, so that they can be entertained while also learning more about a subject they're passionate about.
4. Find Useful Topics that Nobody Else in Your Niche is Covering
One of the most meaningful services you can do for your target audience, is to cover content that they want—and that someone hasn't already written (well) about.
Examples of blue ocean content topics, where you have the opportunity to really reach readers on topics that are underserved might include:
Something new or recently trending in your niche
A topic or emerging sub-niche that's up-and-coming and others haven't written about much yet
An element of your niche that has fallen through the cracks or tends to be neglected
Sometimes you can discover these opportunities when you've personally searched for something with very little results. If that's the case, it may very well be something that your audience wants to read about, but simply can't find the answers they're craving.
Another way to find these more niche content topics that likely aren't as competitive, is by looking at the suggested searches (at the bottom of a Google search results page), like this at the bottom of a search for the term "gaming chairs" that yielded 210 Million results: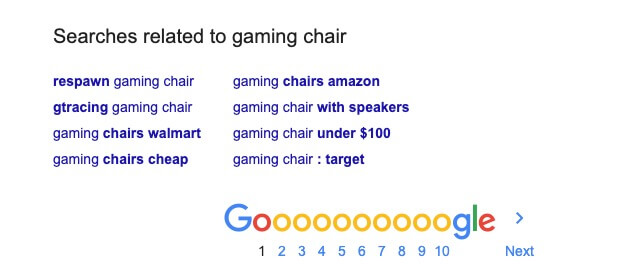 If you click on the related search term "gaming chair under $100" then you'll be taken to a search page that has only ~5 Million matching results… suggesting that this more niche topic would be a lot less competitive to try and rank for with an article on your up-and-coming gaming blog: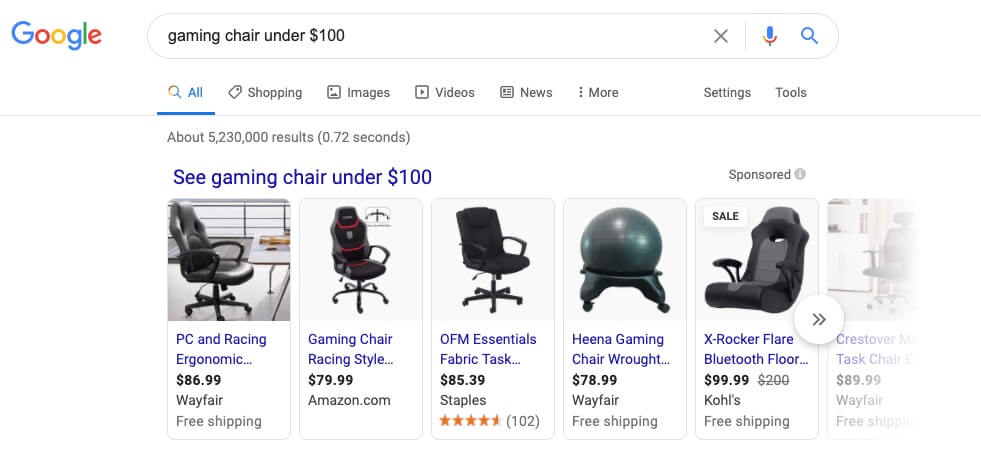 Plus, there's still clearly enough demand out there for gamers looking to get a good chair for less than $100.
Find these topics that aren't getting enough coverage, write in-depth (useful) blog posts that answer their most pressing questions and you'll be rewarded with traffic over time.
5. Write Something Significantly Better than What's Out There
In the same vein, you can take content that already exists out on the Internet, and work hard to write something even better.
I can almost guarantee you there are dozens of topics within your niche that a thousand other bloggers have written 800-word articles about. In other words, the existing stable of content on the subject is a mile wide, but only an inch deep. You can take that same topic (that has proven demand already), then double, triple, or even quadruple the word count with a guide that's more comprehensive and impactful than anything else out there today.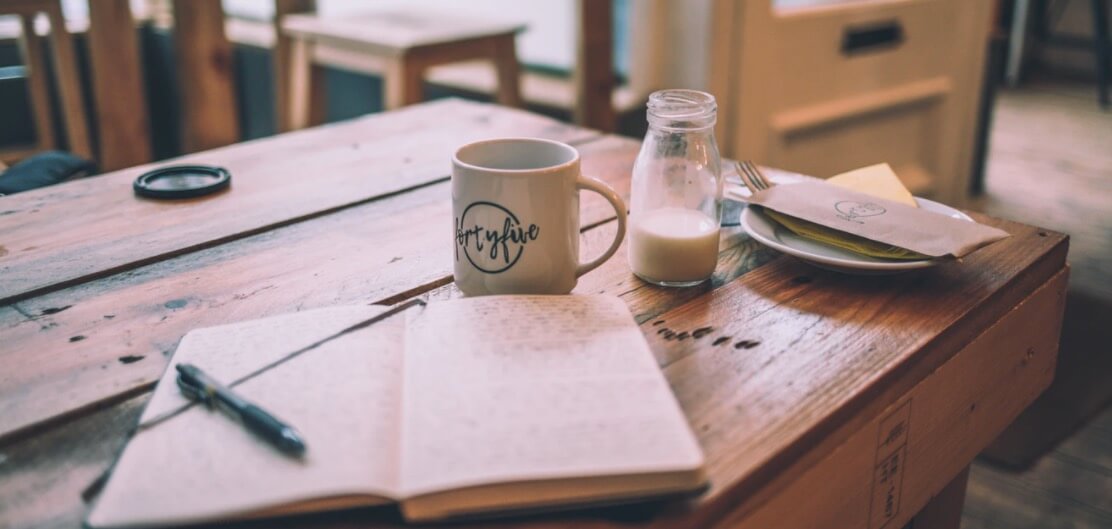 It's important to note that it's not all just about writing longer content though. You'll need to create content that actually answers the questions your target audience is asking—in the absolute best way possible. It's about having the expertise to provide valuable content that has real substance, and can rise above the rest in your industry.
What are some key components of great blog writing?
Use a blog post outline to organize your thoughts
Write all original content
Provide well-documented research
Be accurate in your writing
Use your first-hand knowledge and expertise
Offer actionable advice
Give the answers people are looking for
Write content that's relatable, engaging, and interesting
Break up long blocks of text for easier reading
Add pictures, videos, and graphs that make your content more appealing or better explain an important concept
Be thorough and comprehensive in your writing
Write content for your intended audience
Finish your blog posts with a clear call to action and a summation of the main points
There are many crucial elements to nailing the blogging process (and I've written about many of those blogging tips), but writing great content that genuinely helps your target audience should always the foundation of your blog.
---
Final Thoughts: Finding Your Target Audience Will Be Unique to You
As you do your target audience research, remember that your target audience will be somewhat unique to you.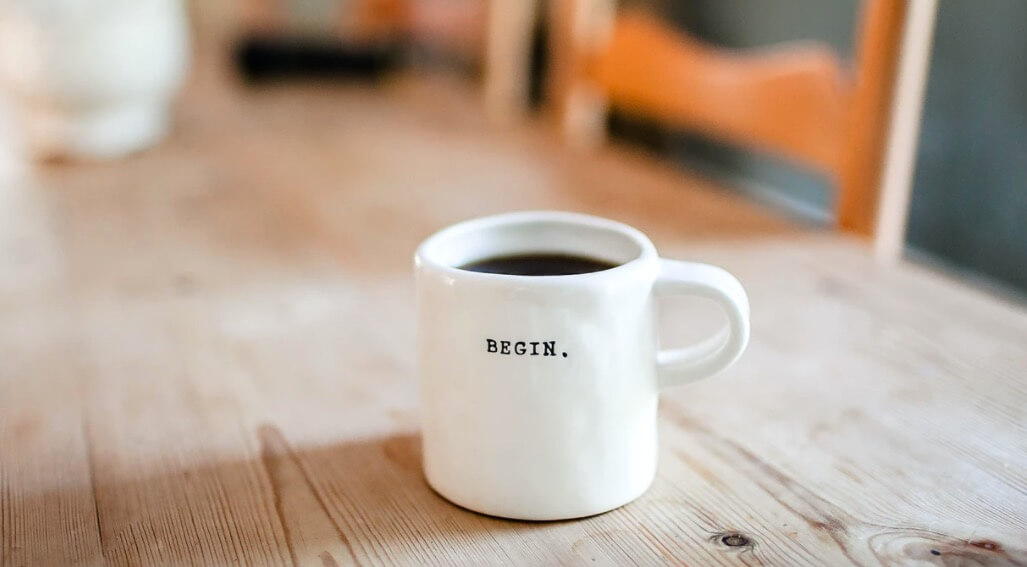 Your blog may be in an extremely narrow niche that attracts a very specific audience, or you may have a broad niche that attracts a wide range of different kinds of people. Either way, your audience will always be at least slightly different than that of another competitive blog in your niche… because you're unique too.
Your journey of learning how to you find your target audience is one piece of the puzzle, sure. But how you meet their needs is paramount.
Once you've learned more about who your target audience is and what they're passionate about, spend time coming up with impactful blog posts that they'll find deeply valuable. Spend even more time during the writing process (and in listening to their feedback) to make sure you're actually delivering on your blogging goal of being the most helpful blogger in your niche.
What'd I Miss?
Have you found any (more) creative ways of finding your target audience?
What questions do you have that I didn't cover in this guide?
Even though I've been blogging here for many years, I'm always working to improve—and one of the best ways to do that is feedback from my audience 🙂