Because building a blog has gotten so much easier in recent years, here are my picks for the ten best free blogging sites you should use to create your first site and lay the foundation for what's to come in your blogging journey.
Blogging has a long and rich history. Since 1993, people have been creating blogs that interest them, generate income or help promote their main businesses.
Since you're here on my blog, I'm guessing you're interested in starting a blog of your own.
You may have a calling deep to blog about a personal passion. Or, you may want to start a niche blog as a side hustle to make money blogging outside of your day job. Whether you want to create a blog for family pictures, for monetization, or to let the world know about your passions—chances are, you don't want to spend a lot of money to get things started.
While there are a lot of blogging platforms available today, not all of them are free. A free blogging site, however, allows you to experiment without creating a financial strain. It's an excellent way to get creative and find your voice without spending much of anything aside from your own time up front.
If you want to use a free blog site to power your blog, I've compiled my list of the 11 best free blogging sites you can get started with right away.
11 Best Free Blogging Sites to Build Your Blog for Free in 2023
Disclosure: Please note that some of the links below are affiliate links and at no additional cost to you, I'll earn a commission. When you purchase one of the products I recommend using my one of my affiliate links, the company compensates me, which helps me run this blog and keep my content free of charge to you. Know that I also only recommend products I personally stand behind.
Once you've used my free keyword research tool to pick the right niche blog topics, and are ready to build a profitable blog—head over to my ultimate guide to starting a blog. And when you're ready to take your blog to the next level with AI content writing tools, check out my very own platform, RightBlogger.
Want to Start Your Blog (the Right Way)?
Check out my ultimate guide: How to Start a Blog (on the Side).
---

My #1 recommendation amongst the best free blogging sites is: Self-Hosted WordPress. WordPress currently powers 34% of websites on the internet.
Self-Hosted WordPress, also known as WordPress.org, is an open-source platform to build a blog on—and it's 100% free to use, because the creators of WordPress believe in democratizing publishing and the freedoms that come with open source.
In other words, the people who created and manage WordPress believe that people should have access to a platform where they can publish the things that matter to them—in the way they choose to do it. That's the power of purpose behind this free blogging site.
Who is a Self-Hosted WordPress Blog for?
One of the top reasons I recommend self-hosted WordPress as the absolute best free blogging site to use, is that it's an all around great choice for a wide range of bloggers (and different blog budgets too).
Whether you're an absolute beginner learning what a blog is today—or running a six-figure website, WordPress gives you the best tools to make an incredible site capable of structuring a profitable blog business plan around it. Most importantly, a WordPress-powered blog can grow with you as you develop your style, branding and content over time.
As WordPress.org explains, "Many end users of WordPress are non-technically minded. They don't know what AJAX is, nor do they care about which version of PHP they are using. The average WordPress user simply wants to be able to write without problems or interruption."
On the other hand, they go on to say that with the many themes, plugins and access to coding (if you want), those bloggers who are more technically minded also have the freedom to make their own websites however they want.
Whether you're brand new or a seasoned blogger, WordPress is more than likely your best choice of free blogging sites—hands down.
General Information About Self-Hosted WordPress
WordPress.org (also known as self-hosted WordPress) is an open-source content management system (CMS) created in 2003 with the goal of giving the world a truly free blogging platform. Open-source means software that's offered freely and can be modified by others. CMS is a software or program that lets you create and manage your digital content.
WordPress is completely free to use, but you will need to sign up for a paid monthly web hosting plan and purchase a domain name in order to use it (i.e. self-hosting).
We'll go into more detail about web hosting below, but it's important to note that it's extremely affordable to run a self-hosted WordPress blog—think $2 to $10/mo.
What is WordPress Hosting?
Hosting refers to a company that stores your website so it can be viewed on the internet. Without it, your blog isn't actually live and readable to others.
In order for your content to be stored and distributed properly, you need what's called a server. A web server is connected to the Internet and it receives requests (people wanting to read your blog content) and responds by displaying the pages of your website.
A home computer is not set up for properly hosting your own website (without some serious modifications and expenses). That's why you need the best web hosting plan from a reliable company to make sure your blog is connected to the Internet.
My personal recommendation for affordable & reliable web hosting is Bluehost. I've used them for years and am very happy with their services.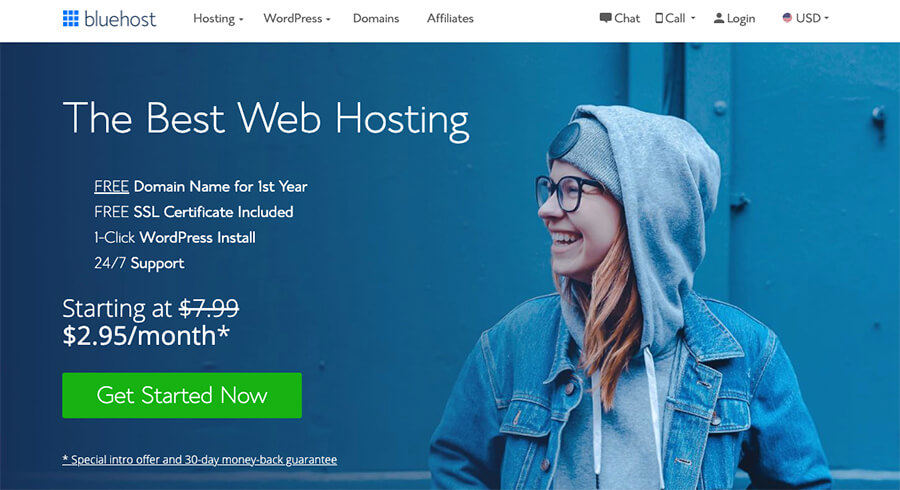 Even if you choose their least expensive plan (around $2.95/mo), you'll have a lot of great features like a free SSL certificate that makes your website ultra secure, unmetered bandwidth and a free domain name—along with their great 24/7 technical support to answer any questions you've got.
They're also one of three hosting companies specifically recommended by WordPress themselves (like these managed WordPress hosting plans), and they offer an easy 1-click installation for installing WordPress as the free blogging site to power your blog behind the scenes.
Examples of Websites Created on Self-Hosted WordPress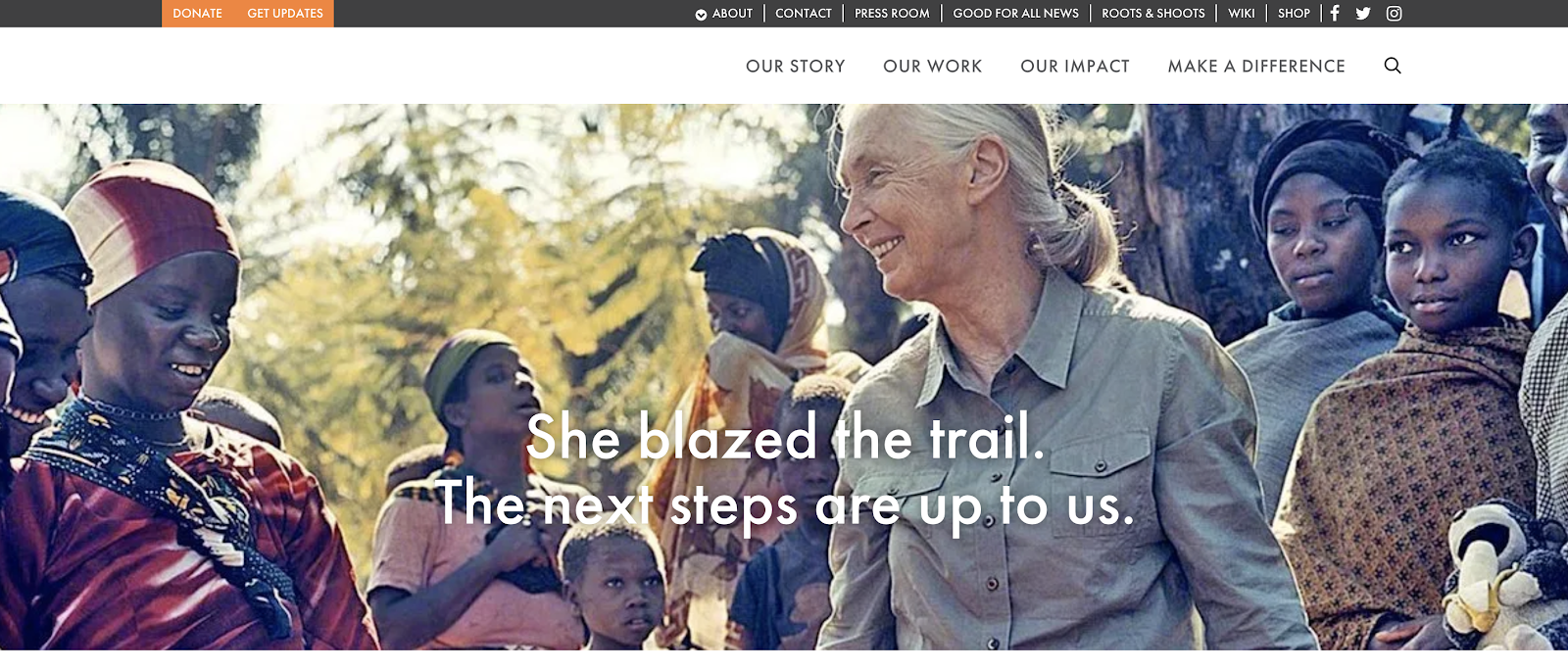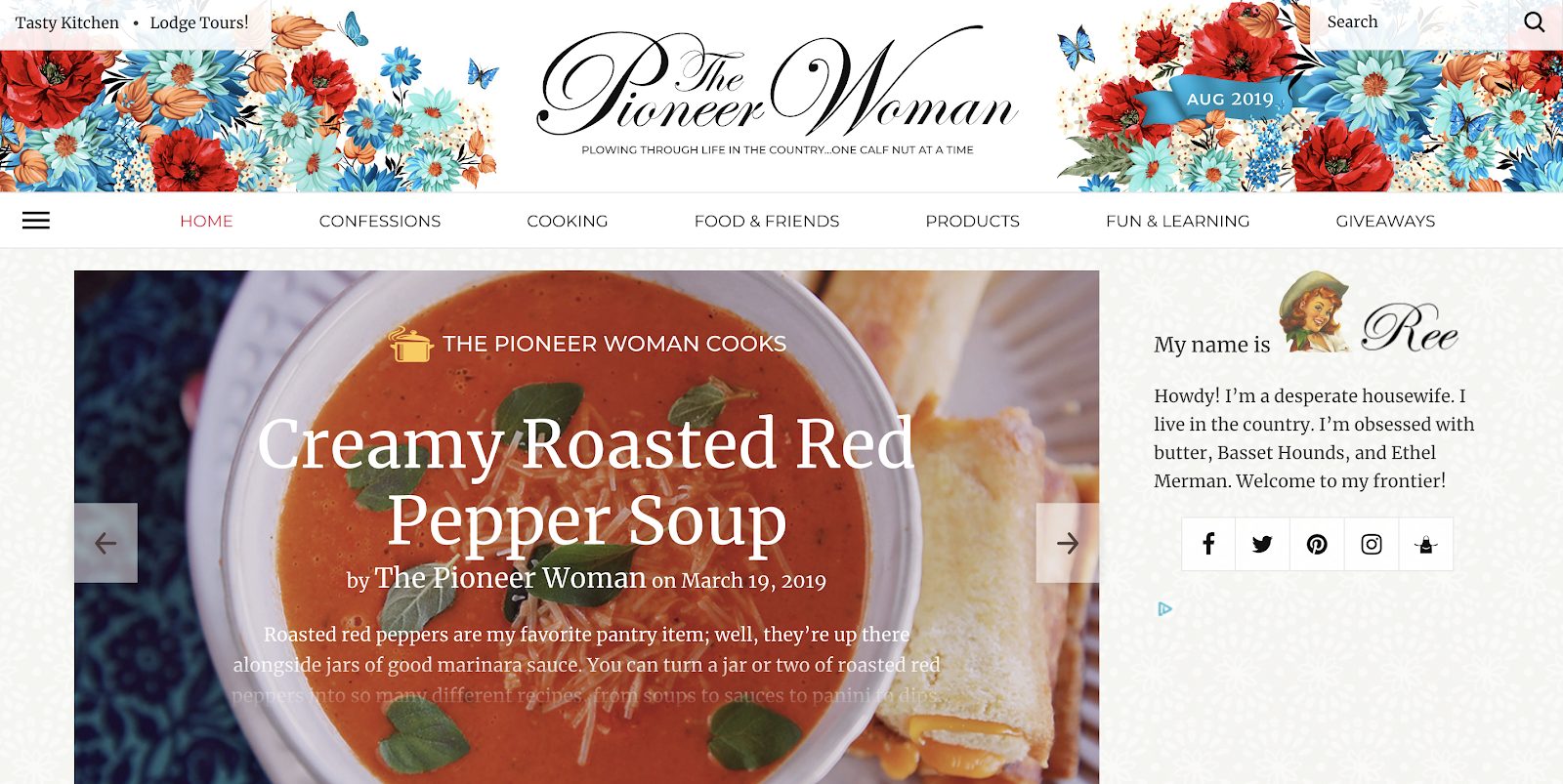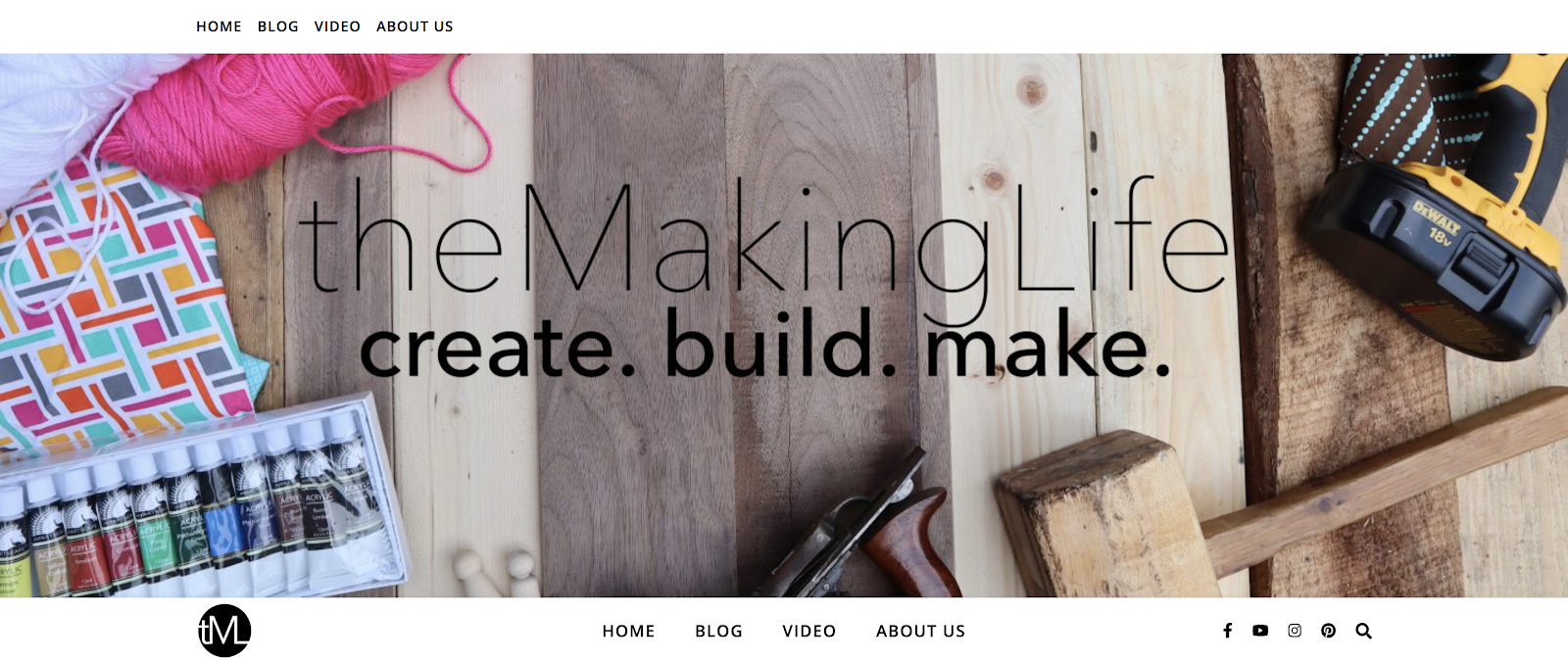 A Look Inside Self-Hosted WordPress (Free Blogging Site)
If you log into your WordPress account and select "Add a New Post" this is the screen you will see.
There are a few plugins added onto this free blog example, including Elementor and Yoast SEO.
In WordPress' editor, you can add media, change text, add a contact form and many other things.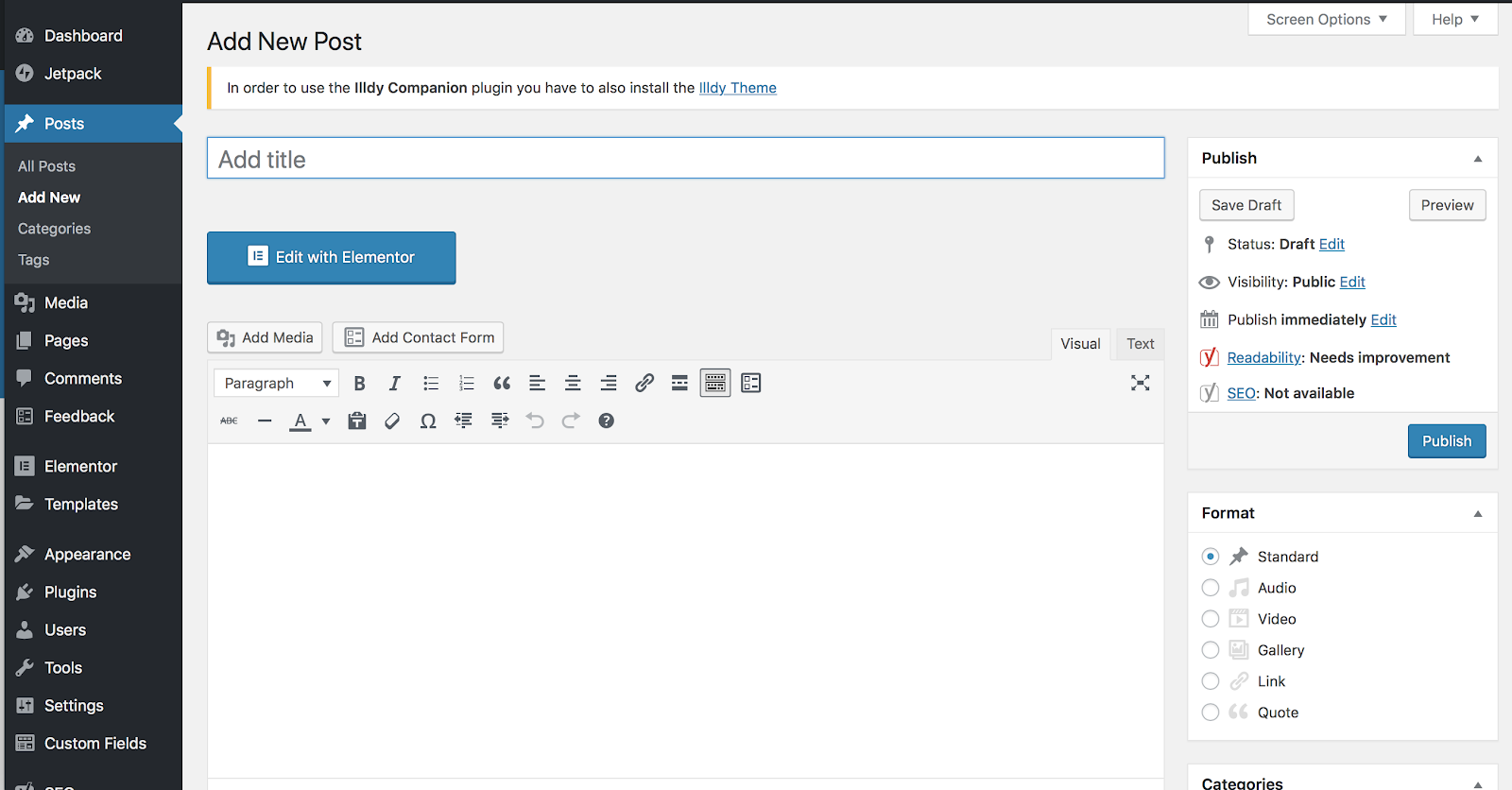 If you want to add a new page you will go to a screen that looks pretty much identical to the add new blog post screen.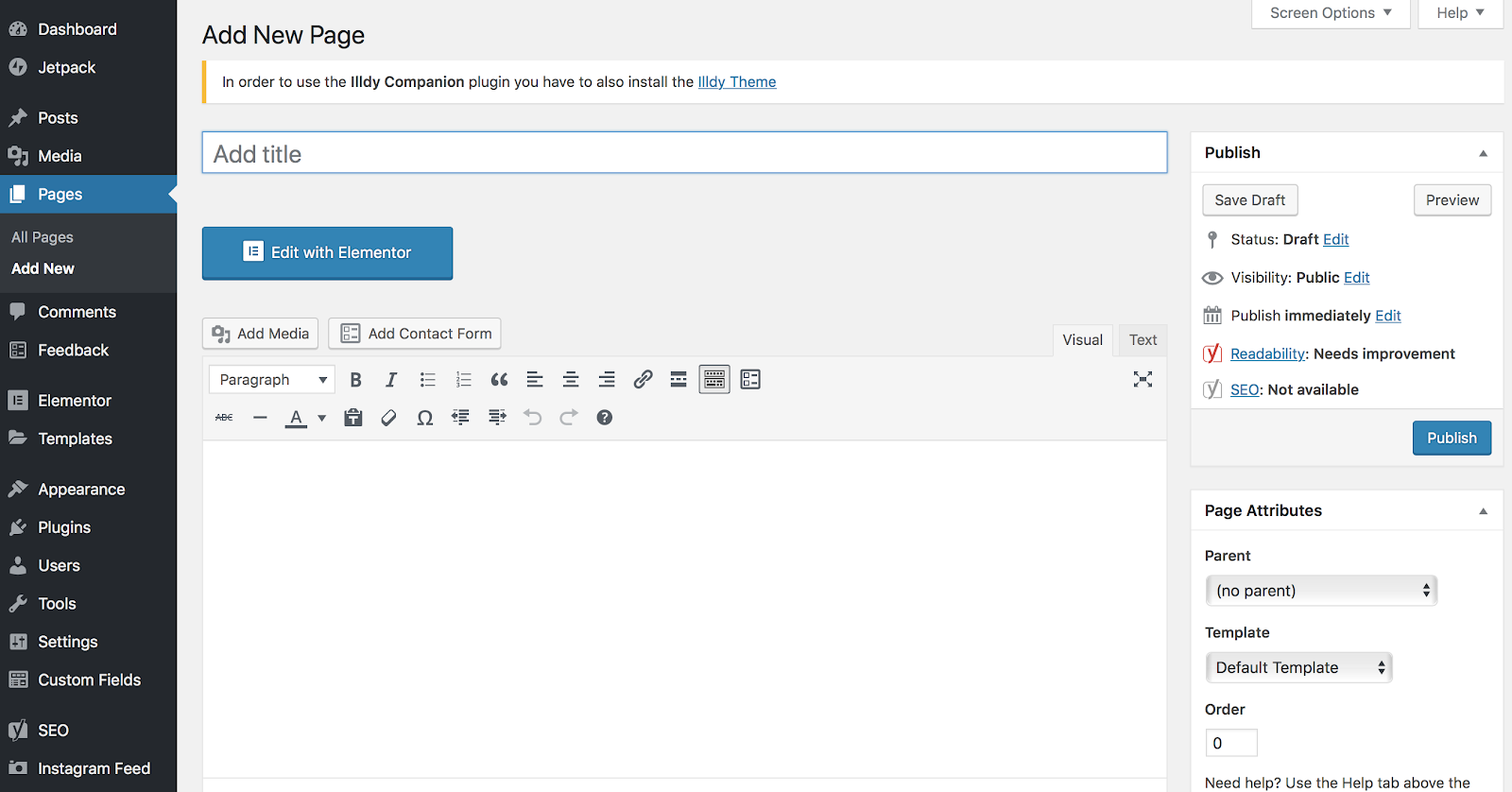 Here you can add different things or you can use the Elementor plugin to use a drag-and-drop interface for easier viewing.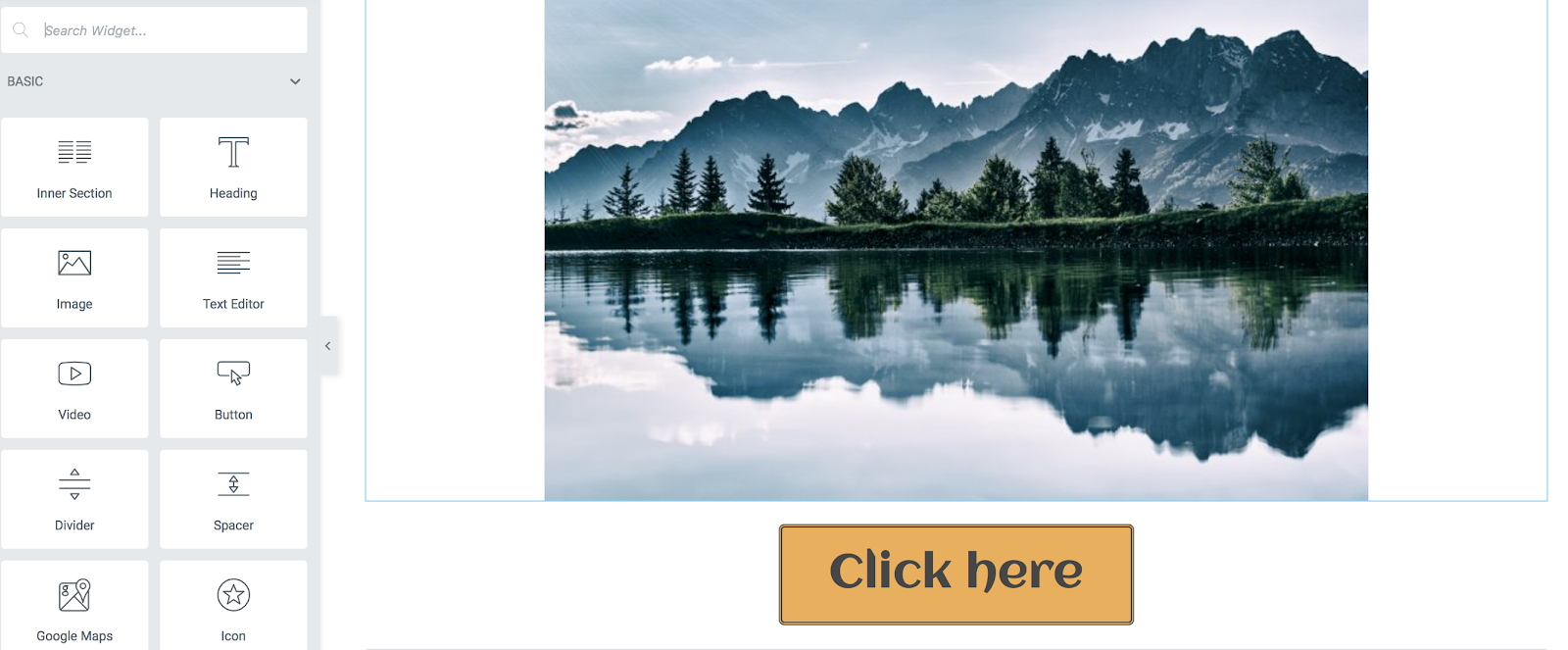 The free version of Elementor gives you a series of "widgets" on the left-hand column that you can use to customize your site.
Pros of Self-Hosted WordPress as a Free Blogging Site
Customization and Flexibility
One of the most appealing features about self-hosted WordPress as a free blogging site, is that it is highly customizable. There are over a thousand themes to choose from and over 55,000 plugins. Many of the themes and plugins are free to use, but there are premium ones that add even more functionality as well.
With WordPress.org, you're pretty much free to do anything you want with your blog, even starting a podcast and embedding episodes from your show with easy-to-use widgets and plugins—just be sure you choose the right podcast hosting platform.
Easiest Blogging Site to Monetize on 💸
If you're planning on monetizing your blog, WordPress.org is a good avenue. You're allowed to monetize your blog any way you choose. Zero restrictions.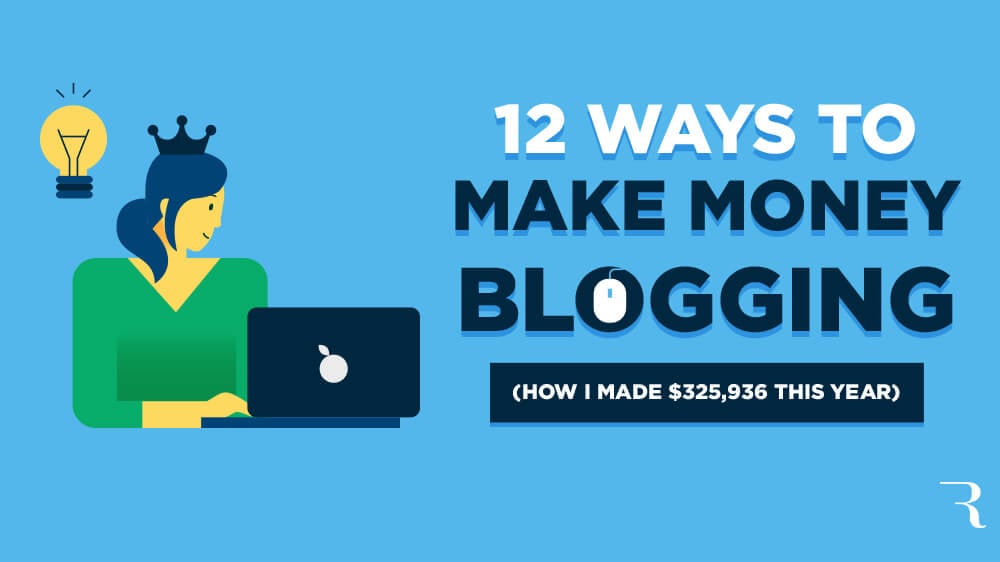 If you also want to use your blog as an eCommerce site, you can use a plugin like WooCommerce (one of the best eCommerce website builders on the market) to accept payments, display products and manage inventory. By migrating your store to WooCommerce, you'll unlock a world of possibilities—not to mention seamlessly integrating your blog and eCommerce site for a streamlined and efficient online business experience.
It's a Free Blogging Site That Grows With You
Unlike many of the other free blogging sites, WordPress can actually grow with you. If you find that you really like blogging and you want to take it to the next level, Wordpress can take you there.
Cons of Self-Hosted WordPress as a Free Blogging Site
Hosting Isn't Free
The WordPress blogging platform is free, but you'll still have to pay for self-hosting. You'll also need to pay for a domain name with WordPress.org. This may be a deterrent for you, especially if you're looking for something that is completely free. But if you're ready to get started, head over and use my free domain name generator to get dozens of clever website name suggestions.
But, chances are as your blog grows you're probably going to want to find a platform that offers a lot more flexibility than the other free options. Instead of upgrading with a plan like Wix or Weebly, you can find a fairly inexpensive hosting plan and develop a blog that's exactly what you want.
Higher Learning Curve
WordPress is a good choice, even for newbies, but it does have a higher learning curve than some of our other free blogging sites like Wix or Weebly. The interface isn't quite as easy to navigate as the other "what you see is what you get" (WYSIWYG) website builders on this list—without the right theme and page builder.
If you do want to use a drag-and-drop page builder to create your blog, I'd highly recommend Elementor. Here's what it looks like behind the scenes: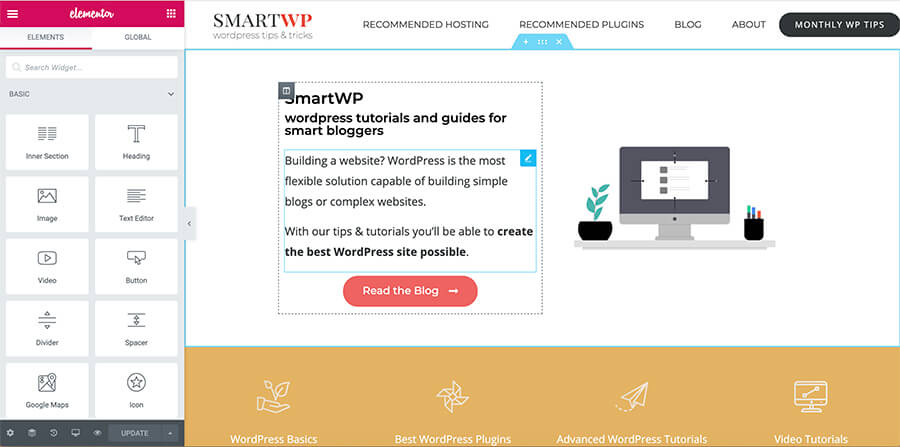 Elementor has an amazing free version that you can use and it allows you to view what your site will look like before you hit publish.
Plus, when this page builder is paired with their Elementor's (free) WordPress theme, it's a lightning fast combination that'll get your blog off the ground quickly—and set up well for the months and years to come.
Maintenance
One last potential drawback to using self-hosted WordPress as your free blogging platform, is that you're responsible for managing and maintaining everything on your blog. That includes things ensuring security plugins are safe, backups are happening regularly and updates are going live.
Some of these things may be provided for you through your web hosting plan, especially if you're using a top hosting company like Dreamhost or Bluehost—but regardless, it does take a little bit more time to maintain than some of the other free blogging sites we're covering here.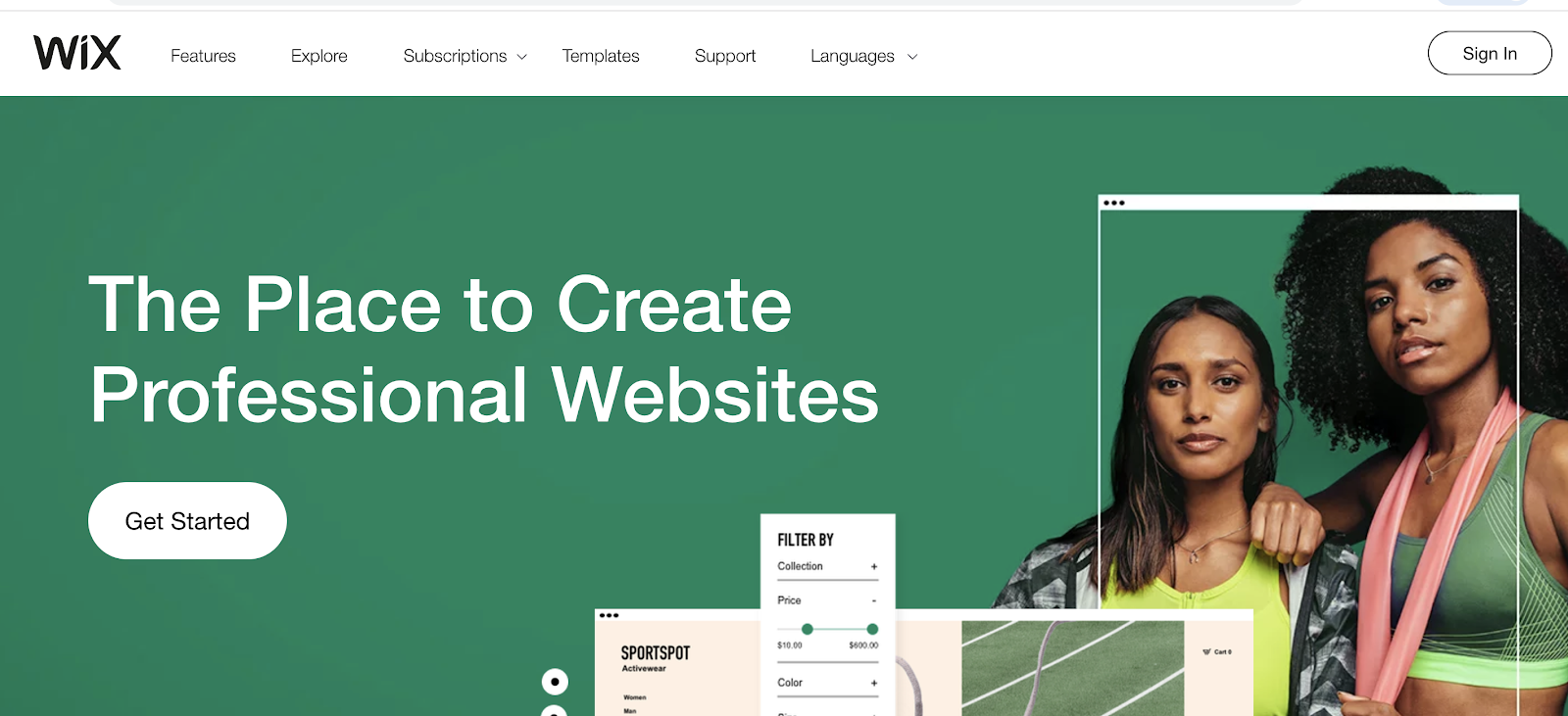 Wix first entered the scene as a free blogging platform in 2006. Since then, it has provided a website platform to a remarkable 150 million people. It is also used in 190 countries around the world.
Wix is a website builder with a drag and drop interface. It's a (WYSIWYG) software so you know exactly what your blog will look like before you hit the "publish" button.
They have several paid plans, but they also offer a free option.
Who Would Like Wix
Wix is a good choice for someone who wants a really easy way to start their blog for free. If you want to start a blog without having to take care of things like security, backups, hosting and so on, Wix is a good option. Wix takes care of all that for you, even on their free platform plans.
The free version of Wix would not work for someone who is looking to monetize their blog or create a more customized look.
General Information about Wix
Wix was created by three founders who wanted a "platform that empowered anyone to create their own website with no coding or design skills needed." Hence their continued focus on providing a free blogging site option to new bloggers around the world.
In other words, they wanted to create a really easy way for people to create a blog or website.
With the free version of Wix you get:
Up to 500MG storage
Up to 500MB bandwidth
Customer Support
Examples of Wix Websites
If you want to start a food blog and keep it ultra simple, here's a good example of how to pull it off on this free blogging site: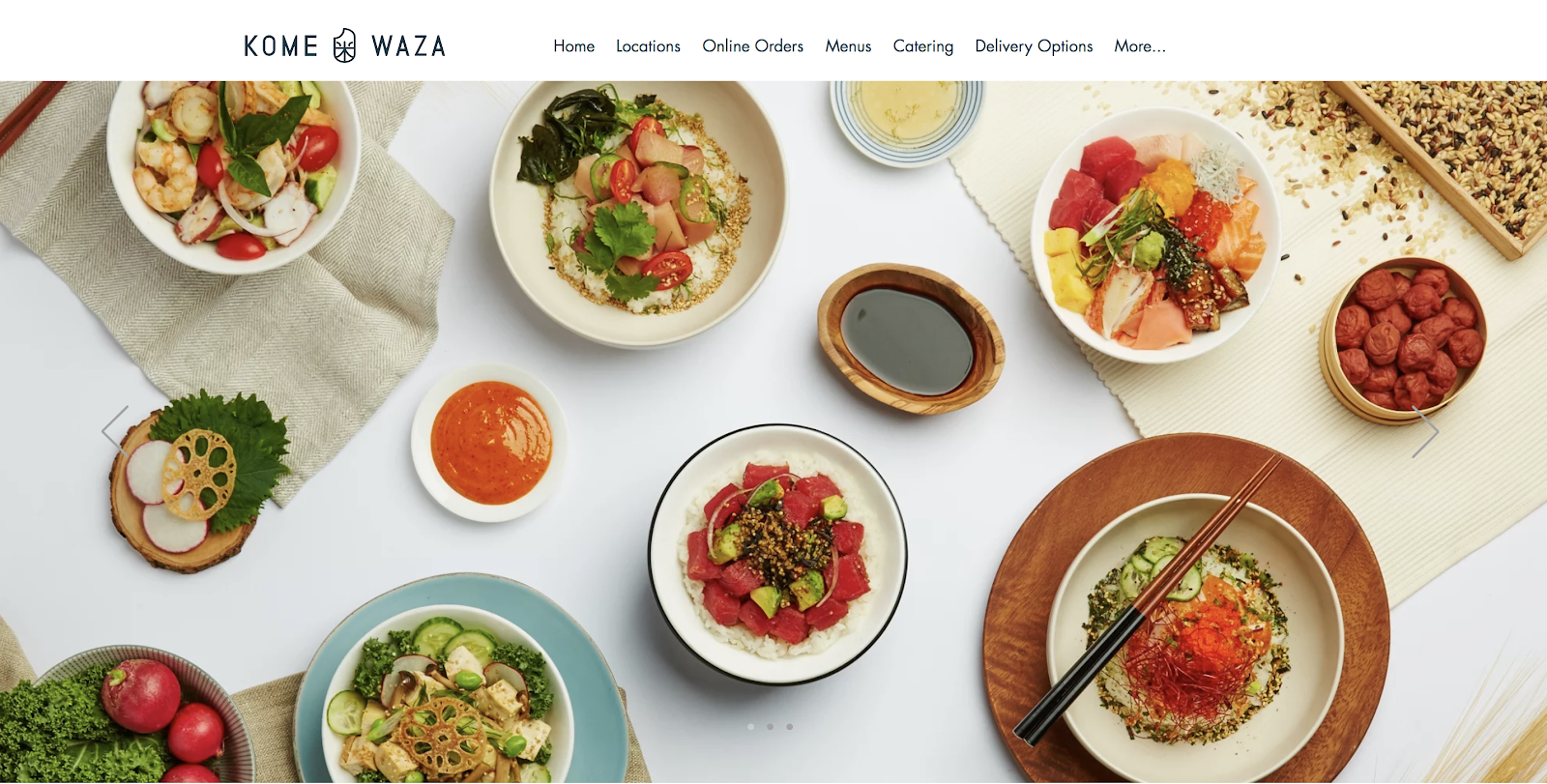 And here's an example of a more portfolio-driven site: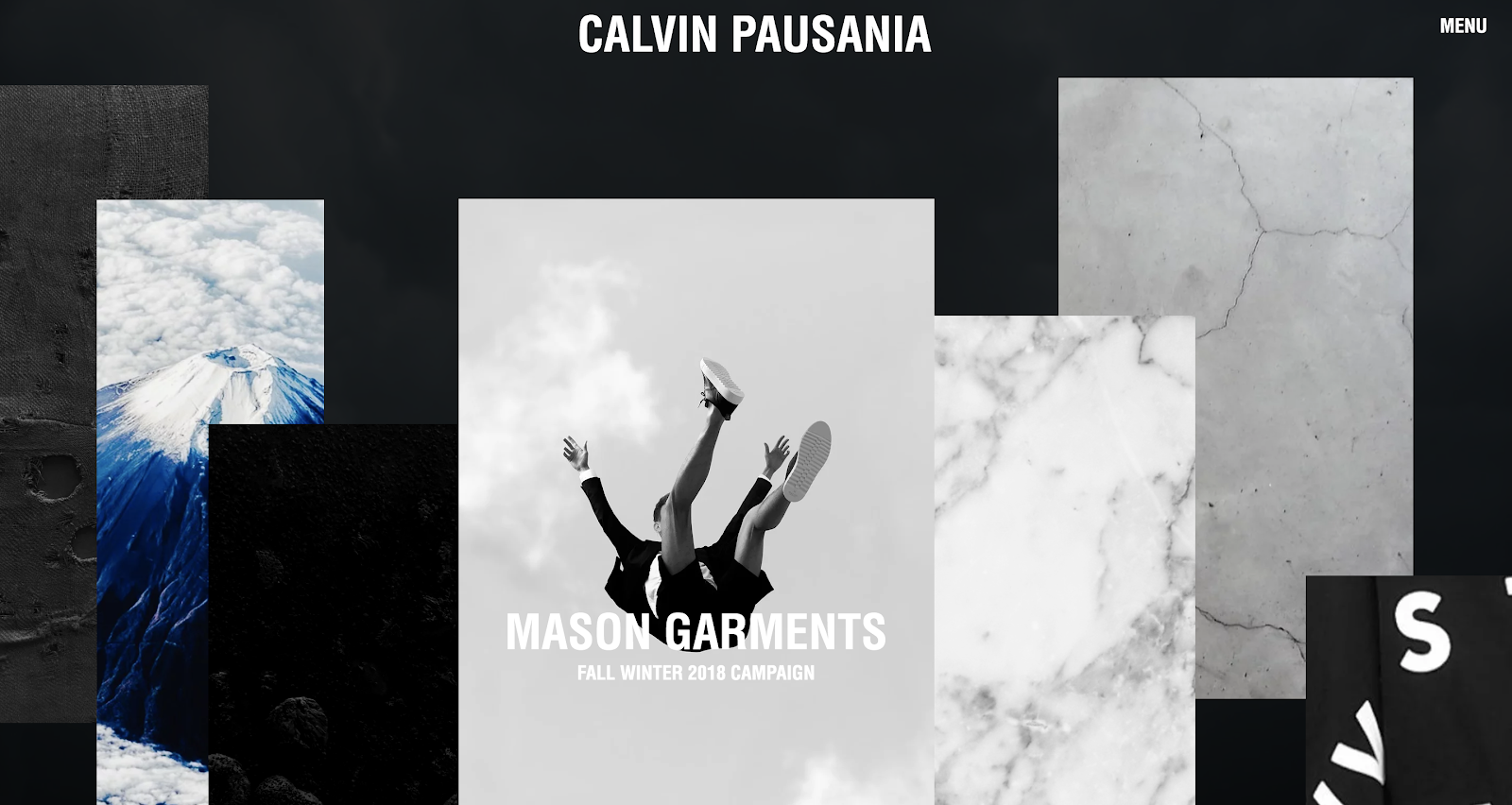 These are examples that Wix highlights as what you can create with their free blogging site tools.
They're visually very stunning, but they were likely created using Wix's more premium plans.
A Look Inside Wix
Wix is a true drag-and-drop builder. That means you take features from the left side column and drop them directly on to the page. You can then manipulate text, images, videos, apps, and more just by moving them around.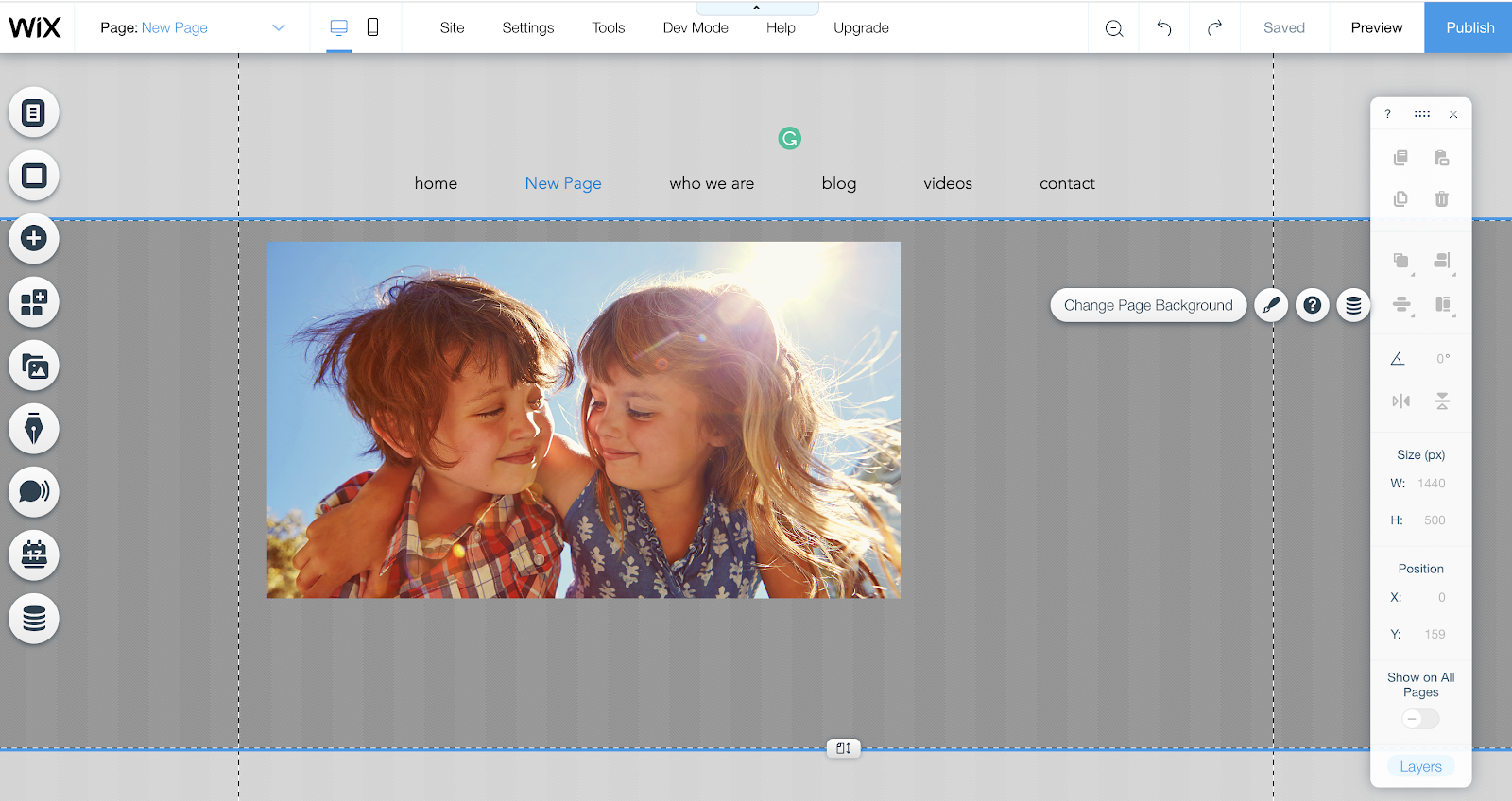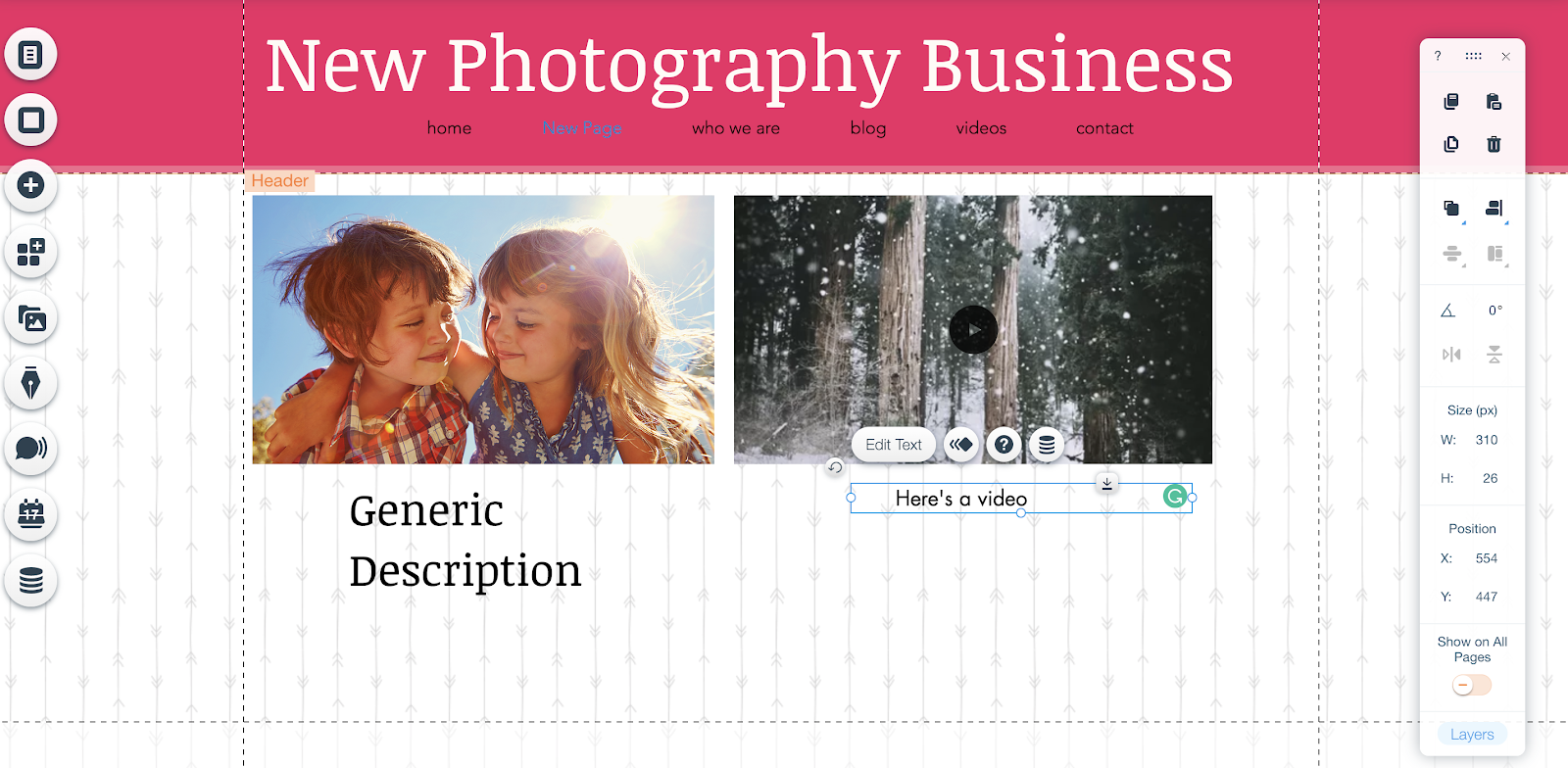 Then nice thing about Wix is you can really change any element on your pages.
One of the drawbacks of Wix as an editor though, is it does not offer the same flexibility with blogging features as it does on your more static pages.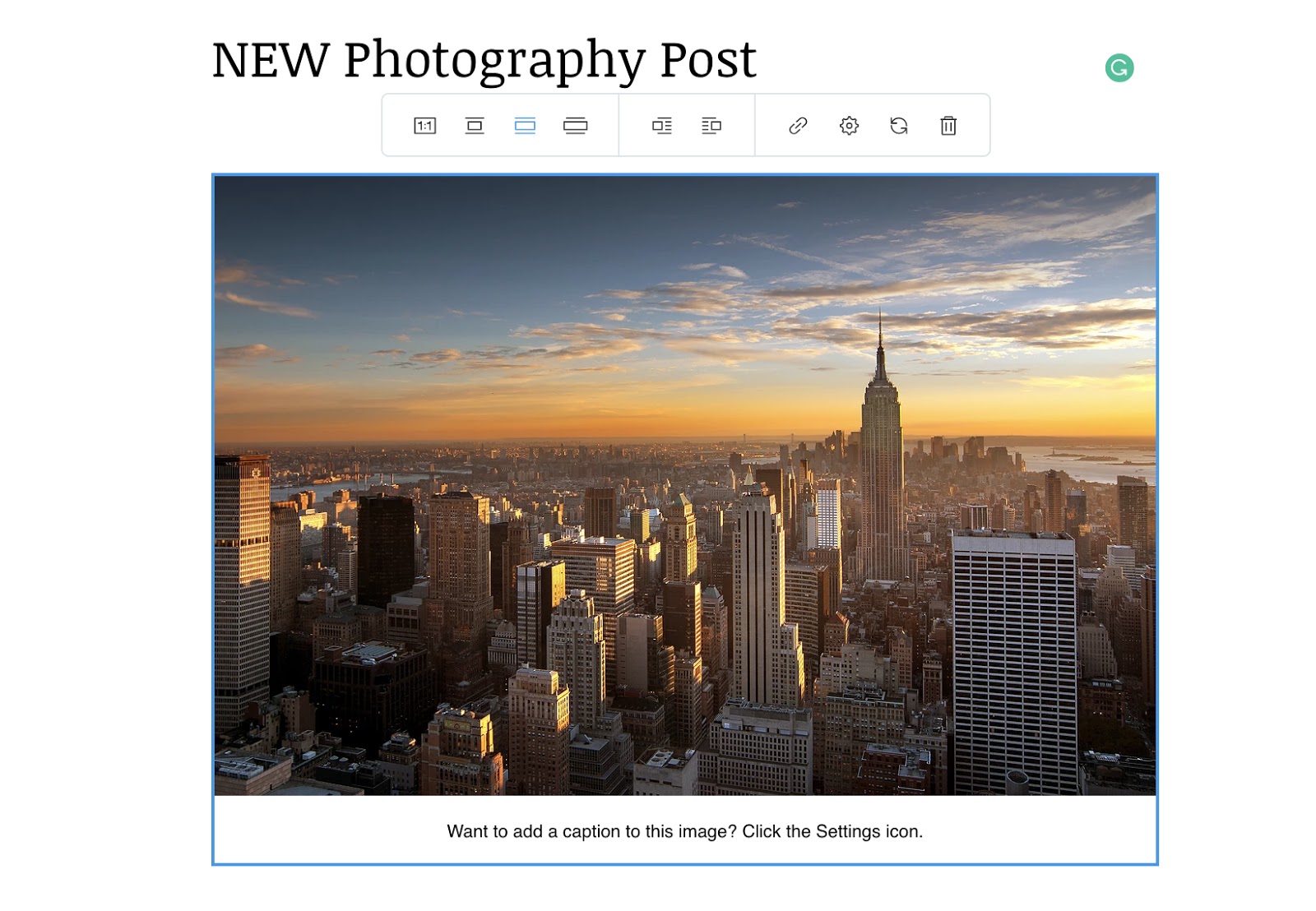 The blogging interface is fairly basic with Wix. There are a limited number of settings for images and text making this far less appealing for a free blog site.
Pros of Wix as a Free Blogging Site
Very Easy to Use
It can't be denied that Wix is really easy to use. With drag-and-drop for the website and the ability to see exactly what you're getting, it's super simple for beginners.
Completely Free (if You Stay on the Right Plan)
The free version of Wix is completely free. No need to sign up for hosting or a domain name.
Cons of Wix as a Free Blogging Site
Wix Branding and Advertising
Like WordPress.com, if you use a free Wix site, your site will have Wix branding on it (which is a standard feature of all free blogging sites).
Wix's name will be in your URL, and there will be Wix advertising on your site.
Little to No Monetization
Because Wix uses their own advertising, they do not allow you to run your own ads on the free version. There's also no eCommerce option for Wix's free blogging sites.
Limited Blogging Functions
While Wix has very responsive website features that make it easy and intuitive to use, its blogging platform isn't as strong. It's still easy to use, but it's far more restrictive than the regular website pages you can create on Wix.
Bonus: If you're interested in food blogging as a potential niche to dive deep into, then check out my own real-world approach to food blogging with my girlfriend's vegan food blog, Vegan Anj.
No Site Migration
If you start your blog and decide that Wix isn't where you'd like to stay, it's extremely difficult to migrate away from their free blogging site. They have no easy option for site migration, so you'll have to be more tech-savvy to transfer your content.
Can't Change Templates
Wix has a nice selection of beautiful templates, but you're more or less stuck with one once you've chosen it—a fairly common occurrence with free blogging sites like this. This is a big downfall if you have a different vision for your blog in the future, but nothing that can't be overcome by working with their support team.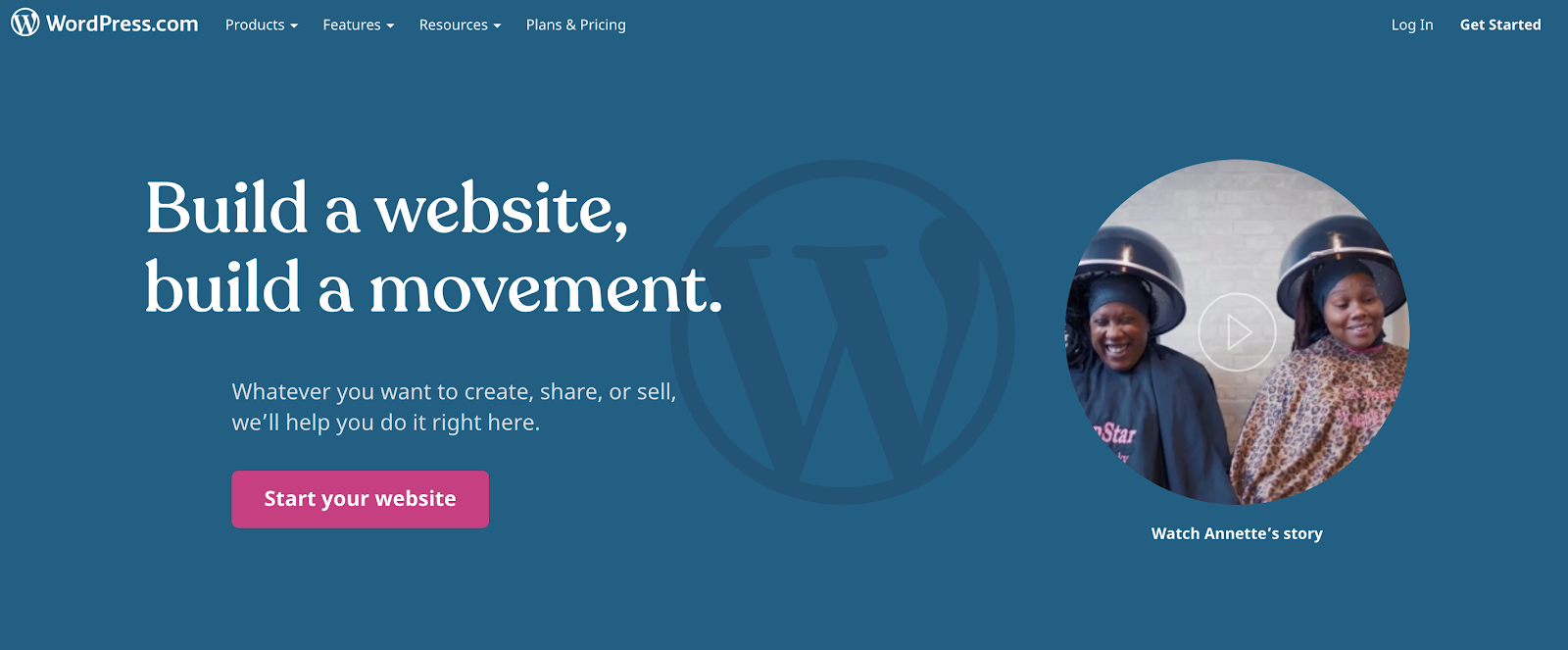 Even if you're new to blogging, you've probably heard of WordPress.
What you may not know however—is that there are two different types of WordPress. There's WordPress.org (Self-Hosted) and WordPress.com. Both of this actually offer options to serve as one of the best free blogging sites.
I reviewed (self-hosted) WordPress.org first as our #1 pick here amongst the best free blogging sites, but now let's talk about it's counterpart—WordPress.com
WordPress.com has paid plans, but they also offer a limited free version as well.
Who Would Like WordPress.com
The free version of WordPress.com would work well for someone who wants to test out a blog, but isn't too concerned with monetizing it or having access to a lot of features—at least for now. While this is common amongst the free blogging sites on the market today, it's a pretty substantial drawback in my opinion.
For those who want a simple hobby blog, or for those who just want to see if they enjoy blogging, WordPress.com is an easy option for a sturdy, free blog site.
Another nice benefit of WordPress.com is you do have room to grow with this platform. You can purchase more expensive plans for added benefits. You can also migrate your site easily from Wordpress.com to WordPress.org if you would like more flexibility in the future.
General Information About WordPress.com
WordPress.com launched in 2005 as a way to "bring the WordPress experience to an even larger audience," and has continued to offer their truly free blogging sites as a gateway for new content creators to enter the world of blogging on a budget.
WordPress.com describes themselves as, "a hosted version of the open-source software. Here, you can start a blog or build a website in seconds without any technical knowledge."
Instead of paying for self-hosting, the hosting plan is part of the WordPress.com experience. This is true even with the free version of WordPress.com.
The free version of WordPress.com includes:
Jetpack Essential Features
3G Storage
Dozens of free themes
Examples of Websites Created on WordPress.com
Here's a look at some of the themes available for WordPress.com: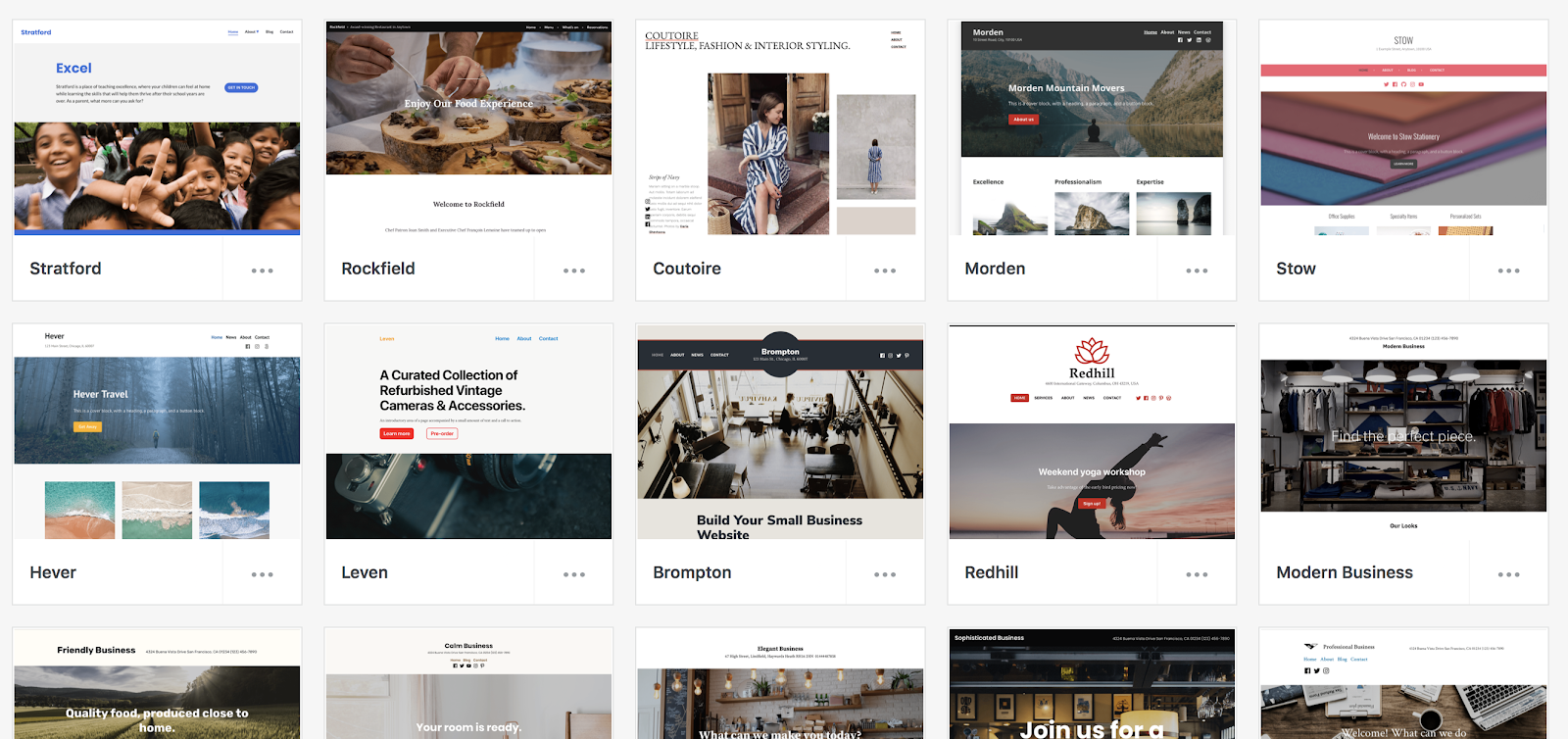 A Look Inside WordPress.com
WordPress.com's interface has some similarities to the self-hosted WordPress.org version, but it's not identical and doesn't come with as much functionality.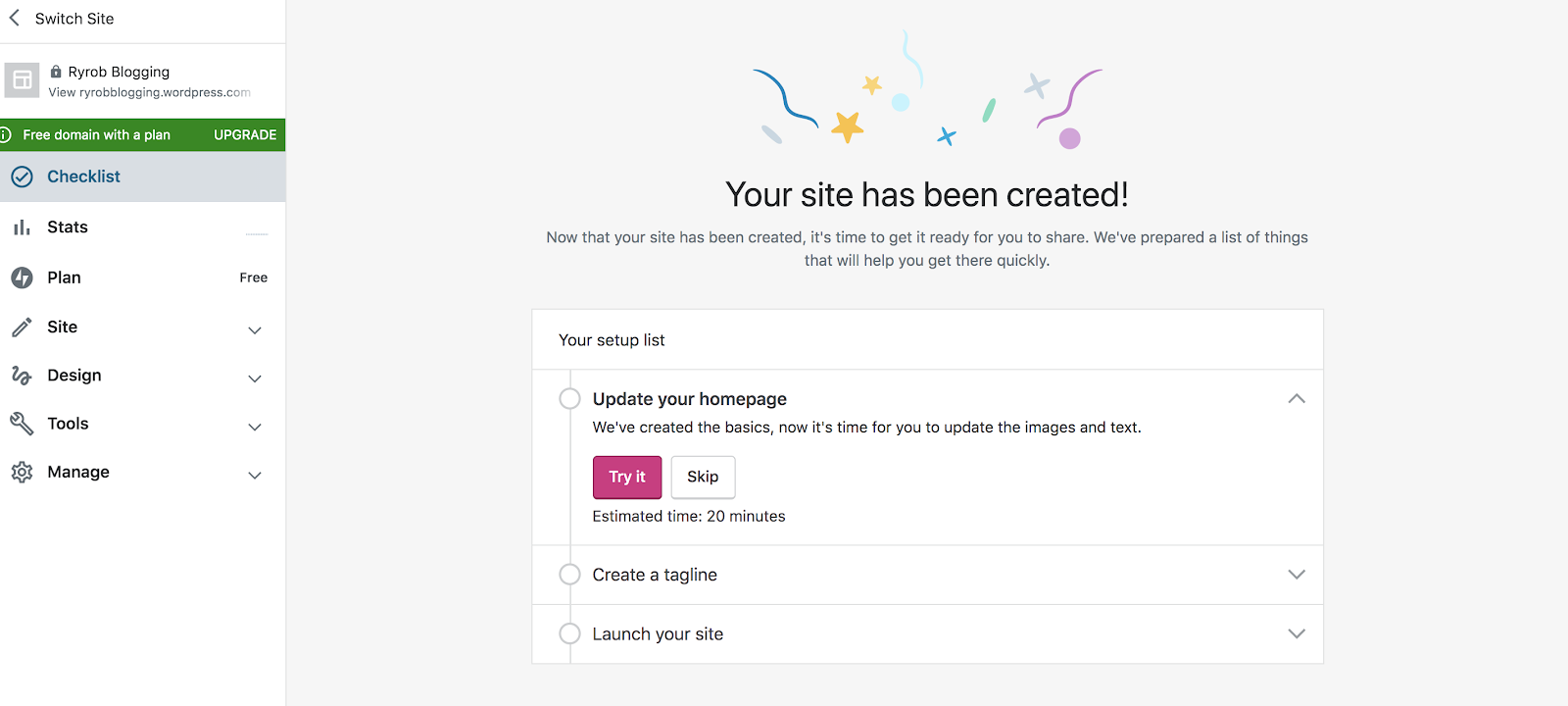 Once you create a blog on WordPress.com you'll be taken to this page. You can choose options like "stats," "design" and "tools" which all lead to the ability to create different types of content on your new blog.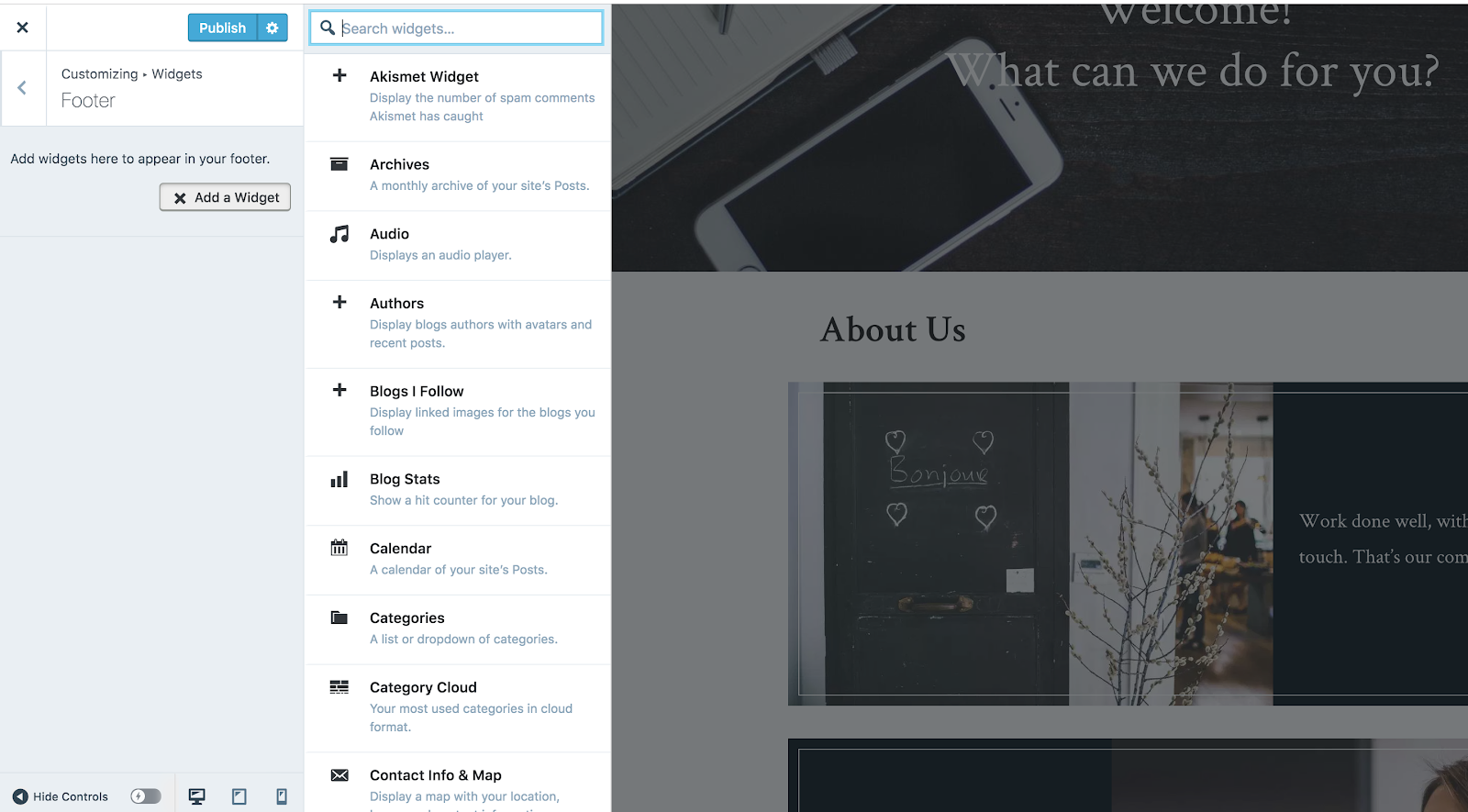 WordPress.com does give you access to the admin dashboard that's used in self-hosted WordPress, but it can be a bit more confusing using both dashboards if you're not already familiar with WordPress.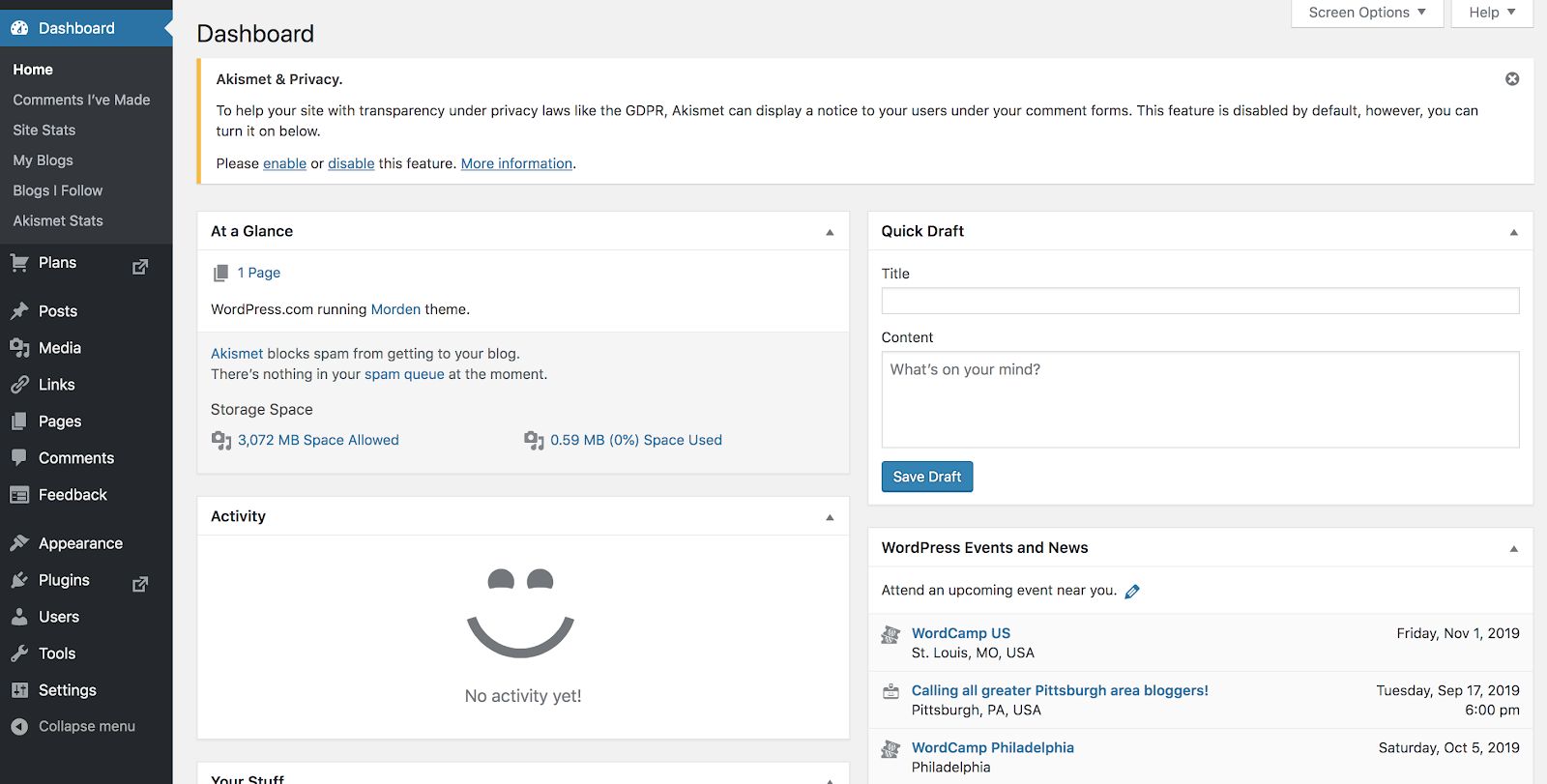 Pros of WordPress.com as a Free Blogging Site
Completely Free
If you use the free version of WordPress.com, you can run a blog completely free. You don't even need to worry about paying for a domain name as your free blogging site will be hosted at a URL like yourblog.wordpress.com.
Maintenance Free
With WordPress.com, you don't have to worry about things like site security, updates, or hosting. These things are taken care of for you through WordPress—even on their free platform.
WordPress.com also offers live chat community support and a forum where you can ask questions.
Cons of WordPress.com as a Free Blogging Site
WordPress Branding
When you use a free WordPress.com account, your web address will include WordPress (like yourblog.wordpress.com), which is fairly common amongst free blogging sites.
While you don't have to pay for a domain name, it doesn't look clean and professional to have the WordPress branding. It's also harder for people to remember your web address than if it was simply yourdomainname.com.
Limitations with Customization
WordPress.com does offer a variety of free themes and plugins that you can use with your blog. But, it doesn't offer nearly as many as the paid versions of WordPress.com. Neither the free or paid version of WordPress.com offers as much access to plugins and themes as WordPress.org.
Little to No Monetization
WordPress.com is not a good choice if you're planning to monetize your blog. The free version of WordPress.com may allow you to restrictively use affiliate links, but you will not be able to advertise in any other way.
Their ads are displayed on your site and you have no control over them nor do you make revenue from them.
There's also no eCommerce option with the free blogging site version of WordPress.com.
More Difficult to Use Than Other Website Builders
WordPress.com is not an extremely difficult interface, but it isn't as easy to use as Wix and Weebly.
The ability to switch between the WordPress.com interface and the WordPress.org admin does give you more flexibility with this free blogging site, but it makes things more complicated for new bloggers.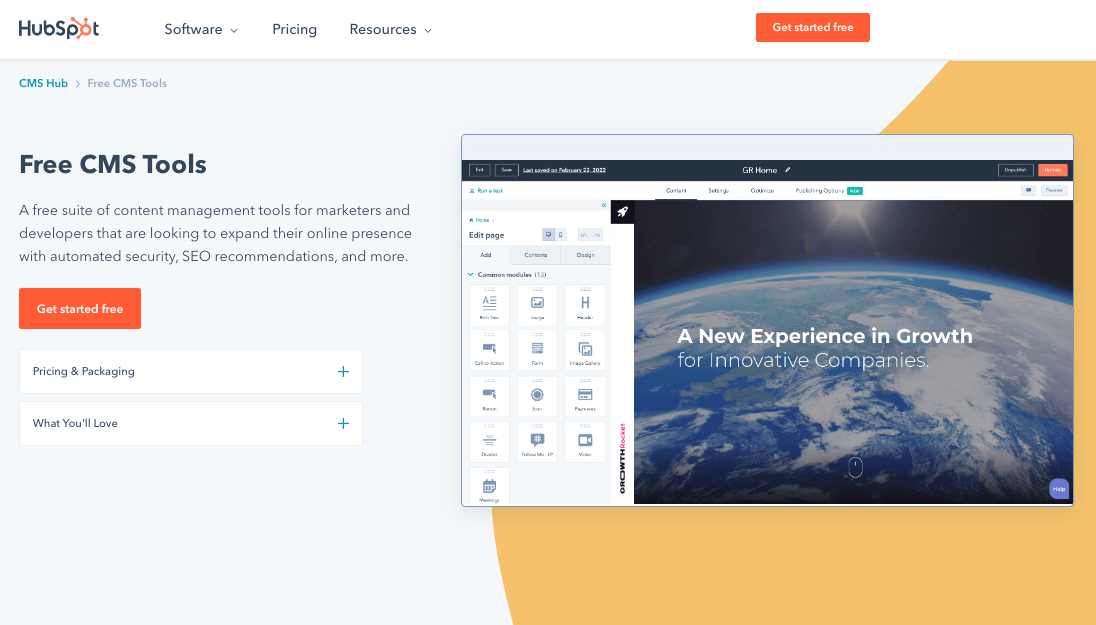 If you haven't used HubSpot as a CMS, you most likely recognize HubSpot as a customer relationship management platform.
HubSpot is known for its award-winning all-in-one tool that includes a huge collection of tools through its Marketing, Sales, Service, and Operations Hub. In the last few years, HubSpot has made huge strides in the CMS space, recently launching its brand new free CMS platform.
The best part of HubSpot's platform is the connectivity between its business tools and website tools that bring your brand and customers together in one place.
Who is HubSpot's Free Blogging CMS for?
In the past, HubSpot was a great choice for marketers, sales representatives, and customer service teams. But with their intuitive drag-and-drop website builder and CMS, HubSpot is becoming a great option for small and big businesses looking for one solution to manage their entire company.
You can start with HubSpot's free CMS along with their free business tools. If you decide you want to scale, HubSpot also offers premium versions and features that can help you grow.
General Information About HubSpot's Free Blog CMS
With the new free CMS platform, HubSpot provides everything you need to start a free site with great content and even better security. This plan includes:
Free theme marketplace with built-in templates
Built-in SEO recommendations to optimize content
Included security measures including SSL, web application firewalls, and malware detection
Content distribution network and content hosting
Integrations with their marketing, sales, and support tools
Examples of Real Blogs Built with HubSpot
There are tons of companies, both big and small, that have used HubSpot's CMS to build professional, engaging, and high-converting websites. Here are a few examples of the kinds of free blogs, websites, themes and content you can create within HubSpot: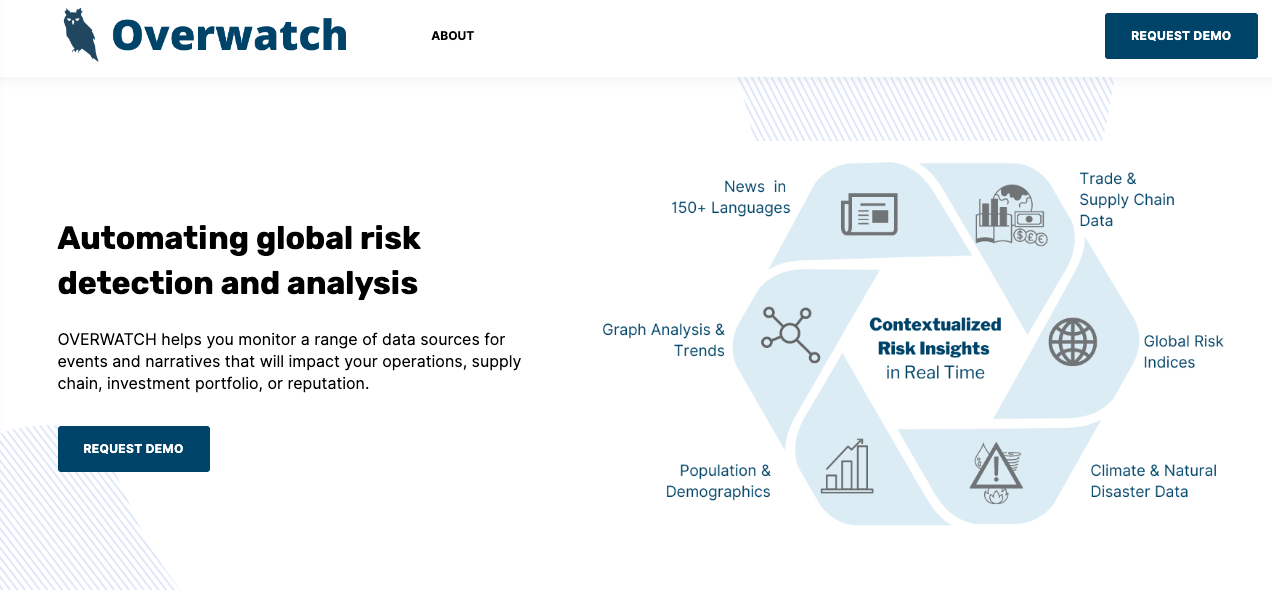 Source: Overwatch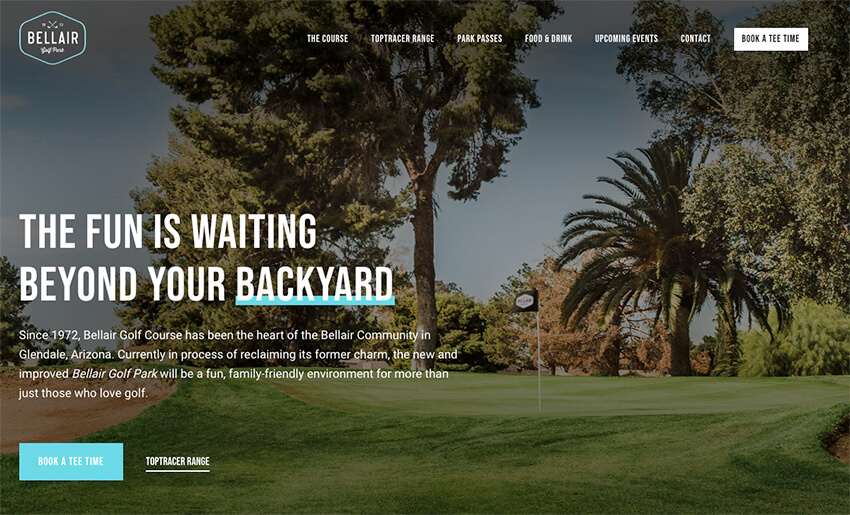 Source: Bellair Golf Park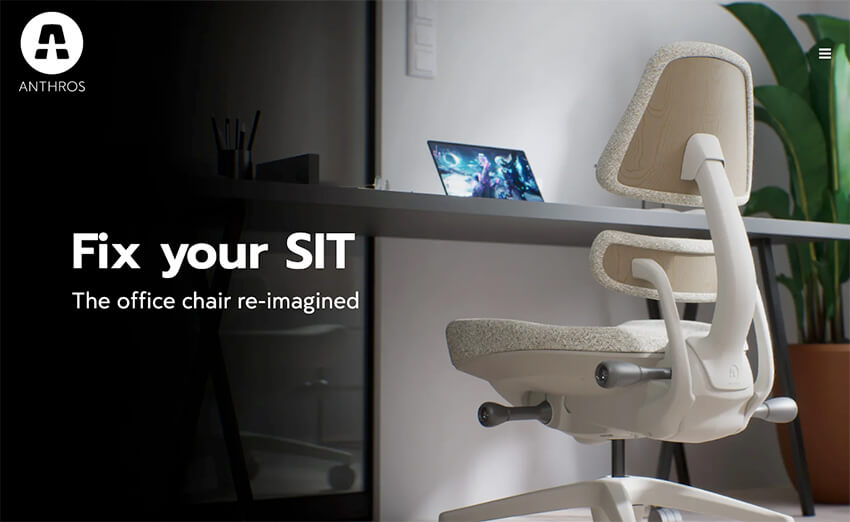 Source: Anthros
A Look Inside the HubSpot CMS
Since HubSpot's blogging and website builder is connected to the rest of your tools. You'll need to navigate to their Marketing Hub which stores all your websites, landing pages, blogs, and site trees.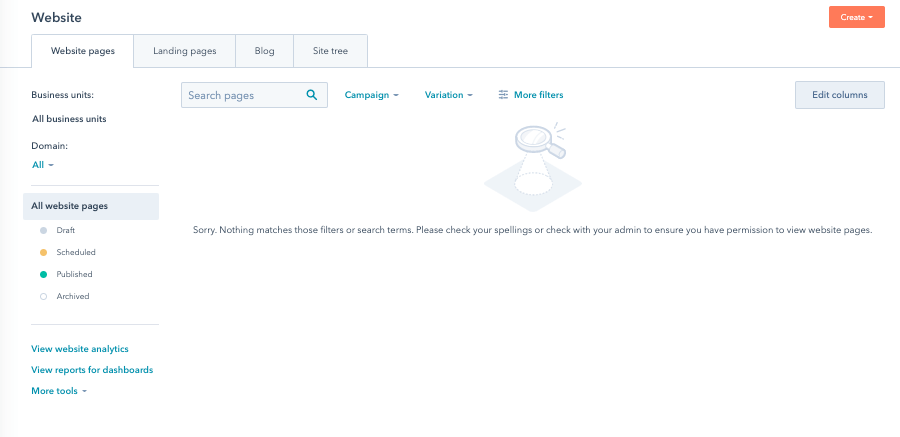 Depending on which types of content you're creating, you have a ton of options for where to start. For example, you can quickly write a new blog post in a matter of clicks.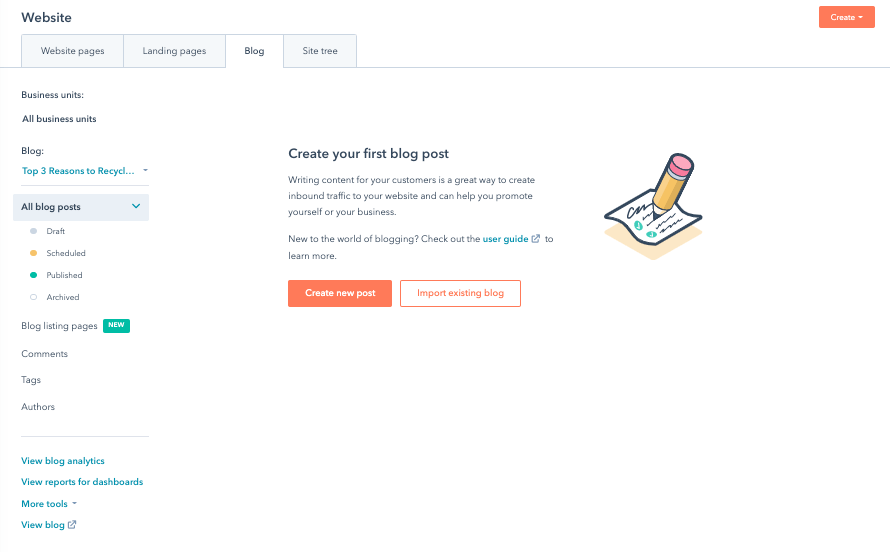 From here, you can start writing your content, and drag and drop various page sections like headers, rich text, or related posts.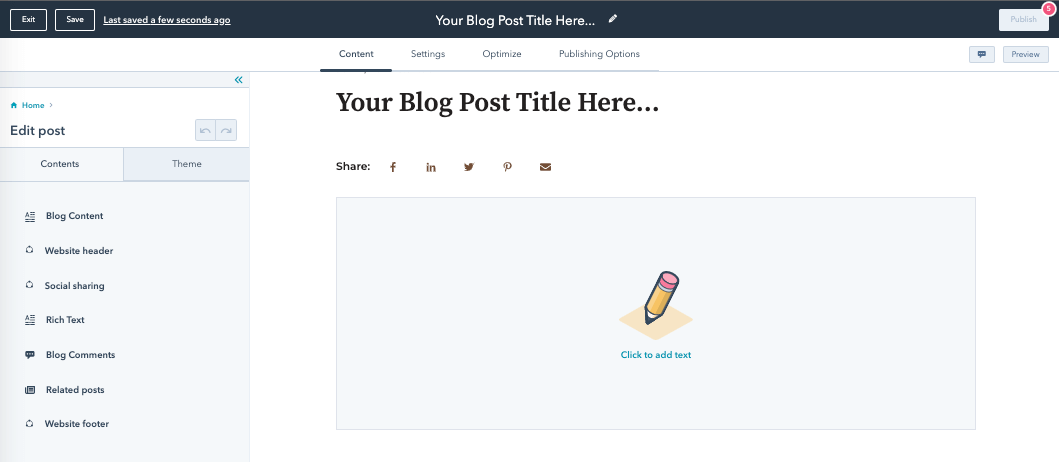 Whether you're an SEO expert or a beginner, you can use the powerful built-in SEO recommendations to make sure your titles, meta descriptions, headers, and content are optimized for rankings and driving as much traffic and leads as possible. To get your title right, be sure to use my blog title generator tool.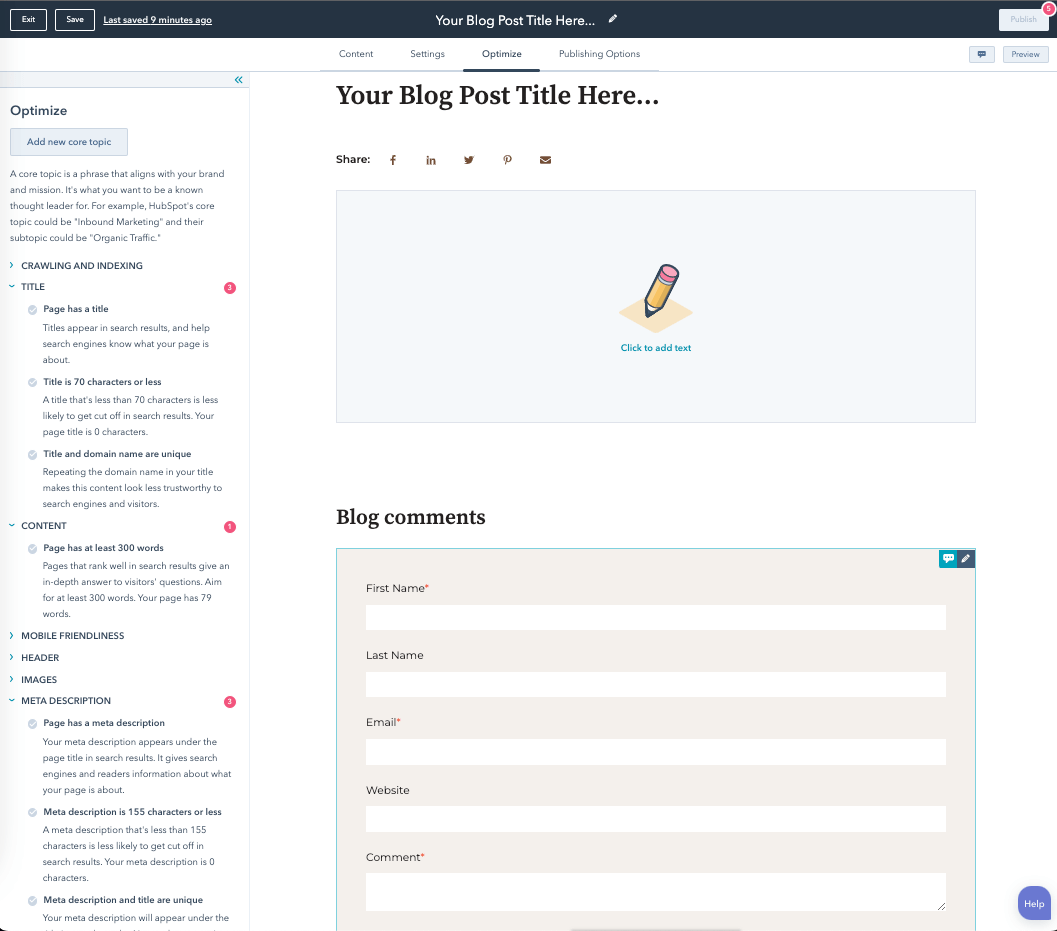 Pros of HubSpot as a Free Blogging Site
Completely Free Blogging CMS
While HubSpot does have some premium features, their free CMS is exactly that, free. You can create, host, and publish blog content without spending a cent. You won't be charged extra for using your custom domain or hosting your content.
All-in-One Blogging Tool Connection
HubSpot's greatest strength is a lot of other CMS platforms' greatest weakness: connectivity. By using HubSpot's CMS, you also get access to their free marketing, sales, and service tools that combine your customer experience into one inclusive platform. For example, a customer can go to your website and sign up for your newsletter.
Now, that customer's data can be stored in your personal database to add to your HubSpot email workflows or sent to your Customer Service team to help resolve an issue. Rather than having to install plugins or rely on integrations, you can find all your solutions in one place.
Maintenance-Free Blogging
Since HubSpot's free CMS comes with a built-in content distribution network and free security features like their web application firewall, SSL, and malware scanning and threat protection, you can spend less time with plugins and maintenance and spend your time blogging and writing content.
If you run into any issues, you can easily reach out to HubSpot's support teams, knowledge base, or the HubSpot community using the same tools as you.
Cons of HubSpot as a Free Blogging Site
Expensive Premium Features
HubSpot operations on a freemium model. While a lot of their tools are free to use, there are more that you'll have to pay to unlock. Since the company is keen on helping you scale and focuses a lot on their enterprise plans, it can get expensive once your company starts growing. You can start with the free tools, but if you're a growing business, you might need to upgrade faster than anticipated which comes with additional costs.
Difficult Onboarding
As you can imagine, with the limitless possibilities with HubSpot it can quickly get confusing to use your tools to their maximum potential. HubSpot has tried to mediate this issue by providing their Knowledge Base, HubSpot Academy, and HubSpot Community to help mitigate any confusion. In general, using HubSpot can seem a bit daunting and will definitely be a challenge for a first-time user.

Weebly is another extremely popular option amongst the best free blogging sites today—largely because it's easy to use and built especially with eCommerce in mind.
Like Wix from above, this free blogging site also has a drag-and-drop feature, and is centered around a WYSIWYG page builder. It's very user-friendly to a brand new blogger that wants to test things out using a free platform to get familiar with blogging.
Weebly starts out as a free blog site, but also offers premium plans to unlock more features, get your own blog name and allow more readers to your site.
Who Would Like Weebly?
Weebly is another good choice for a blogger who wants a really easy (free) website builder to work with.
It also has an eCommerce option so you can use it to start a small business and sell physical or digital items right from your blog.
The free version of Weebly would not be a recommended choice as a long term blog that you intend on monetizing.
General Information About Weebly
Weebly was established as a free blogging site back in 2006, the same year as Wix. Their Free Plan Includes:
Free SSL Security
500MB Storage
SEO
Lead Capture and Contact Forms
Community Forum
Chat and Email Support
Examples of Weebly Sites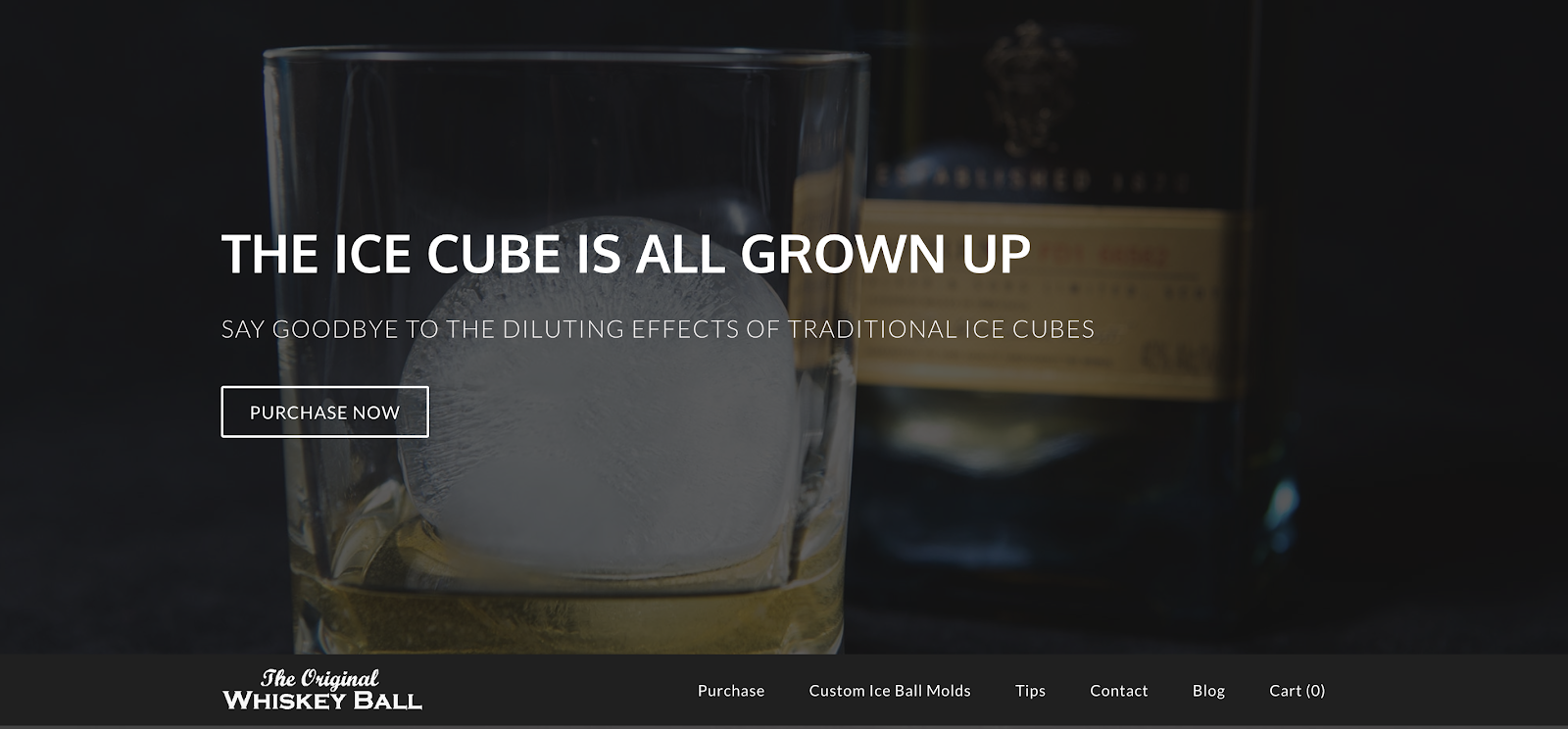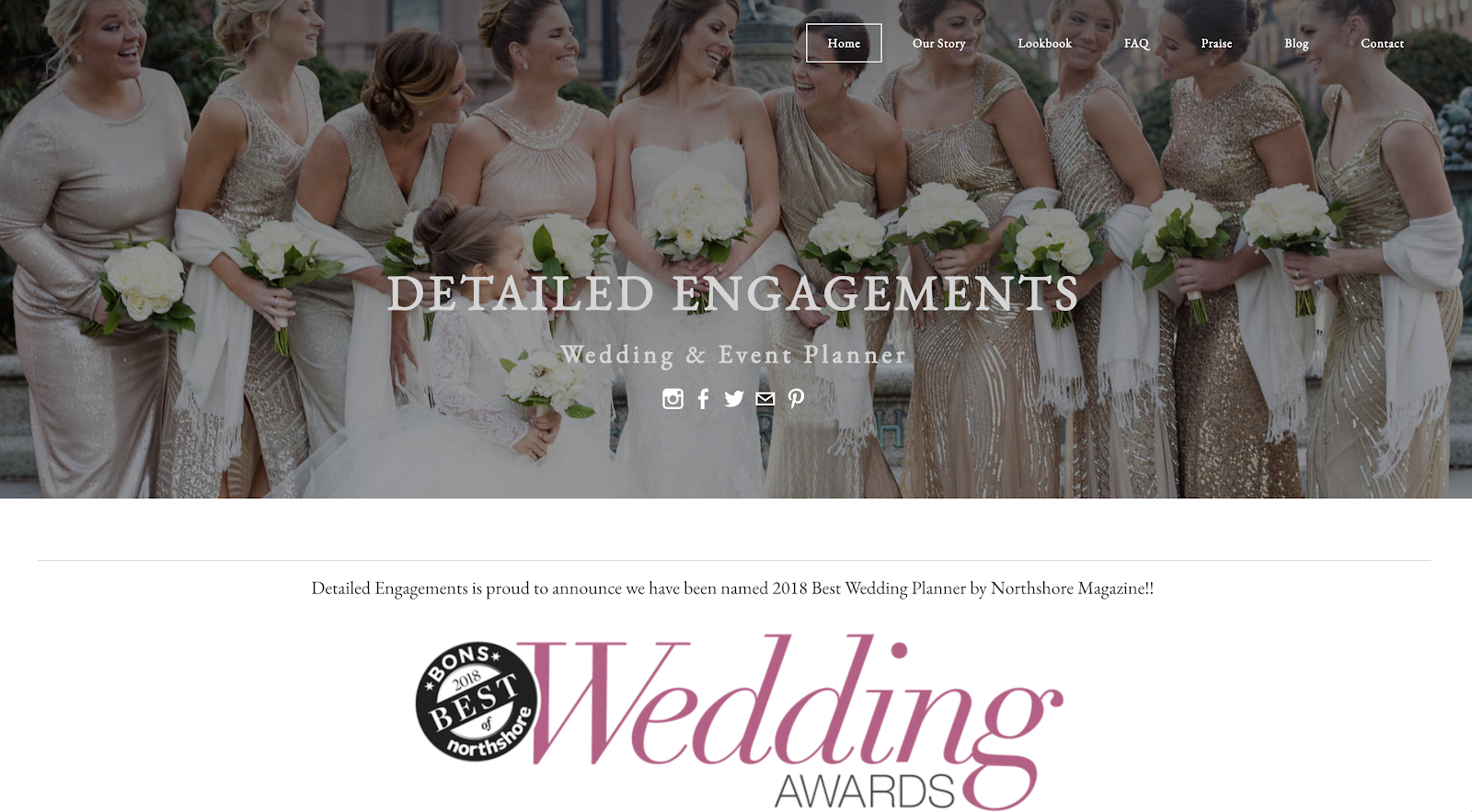 These examples are featured on Weebly's website, but they're more than likely created with premium plans (rather than just their free blogging site features).
A Look Inside Weebly
If you choose Weebly's free plan, you'll get this initial option: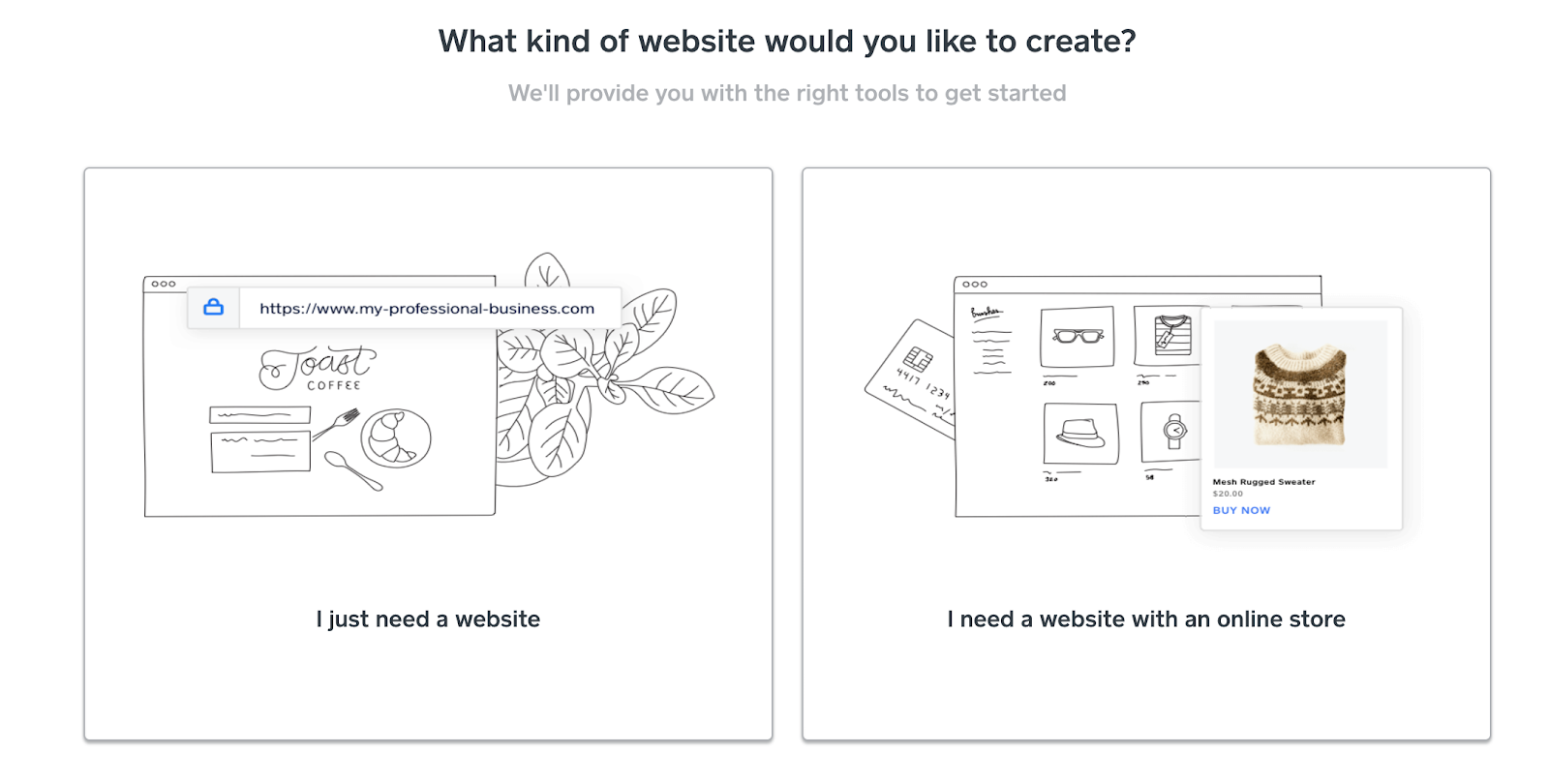 For our free blogging sites roundup here, I've decided to choose a website with an online store to fully explore what Weebly has to offer. If you want to run only a content-driven blog, choose "I just need a website."
Then you can choose from a number of free themes.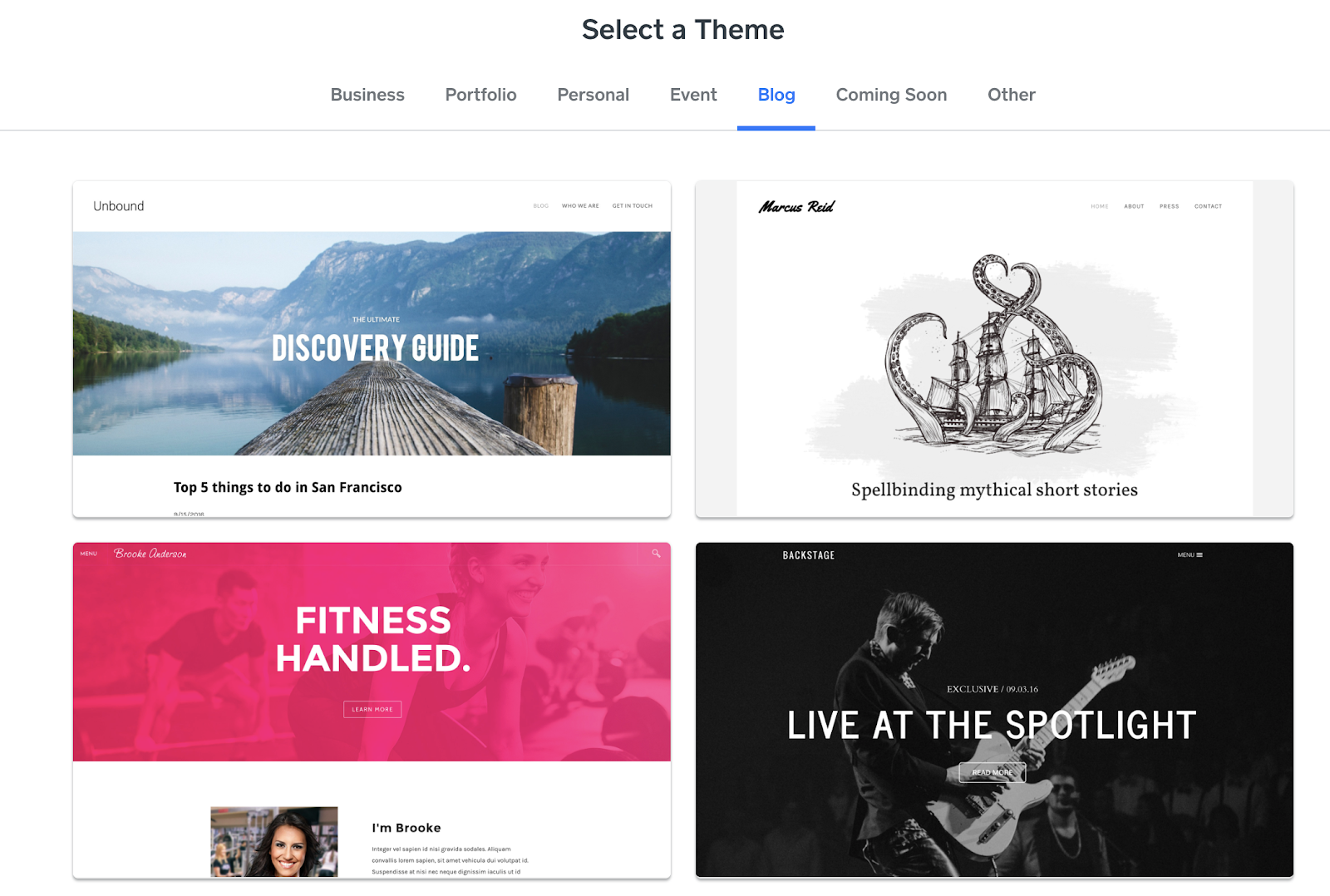 Once you pick a theme you can go to the editor.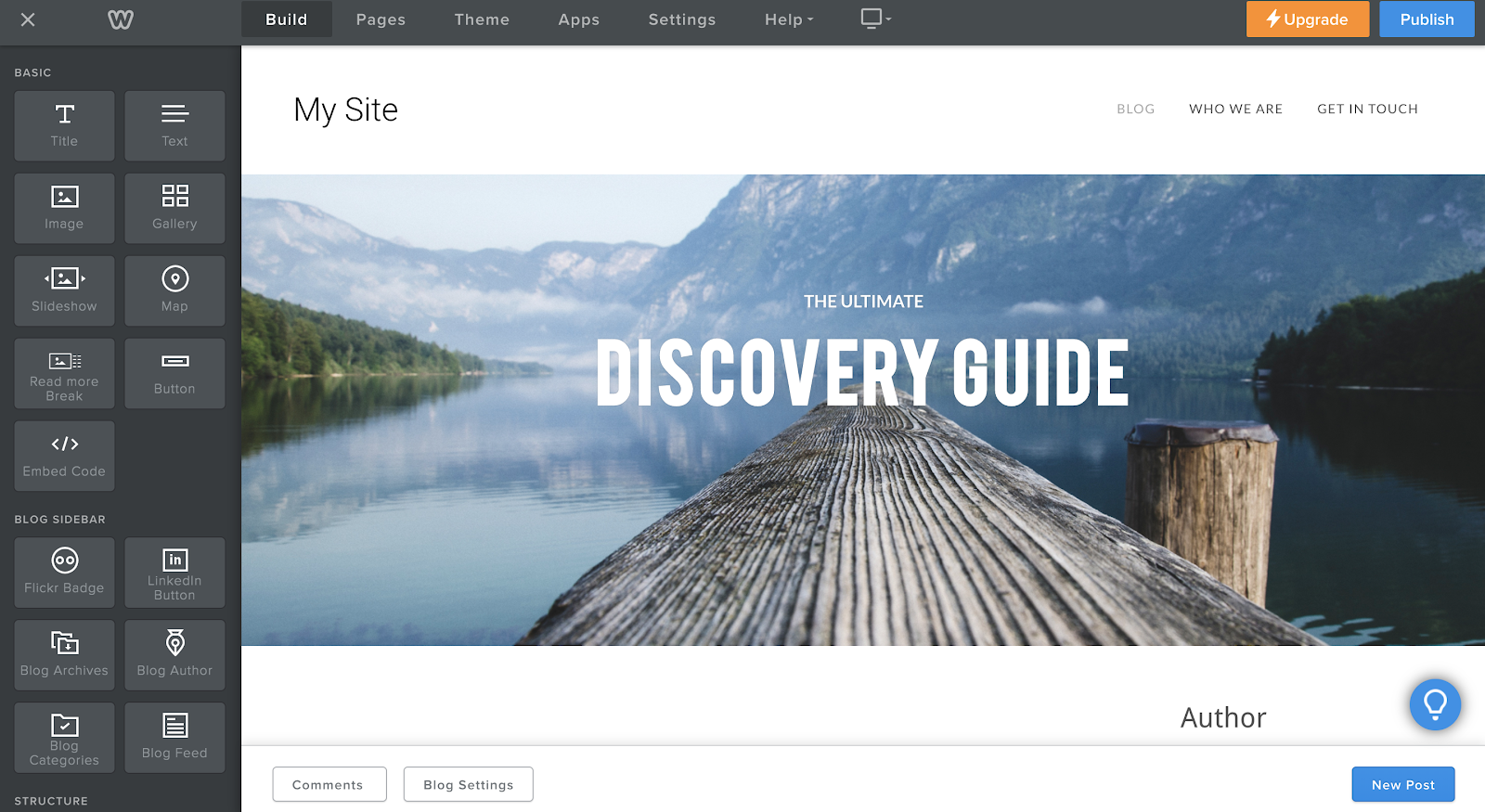 The sidebar dash is very to ease, but it is not as intuitive or easy to use as the Wix interface. Plus, you also have a lot more customization options with Wix.
If you want to add a blog post, it's really simple. Plus, there's more flexibility with Weebly on this side of things, than with Wix. The same drag-and-drop options you have for your website are available with your blog posts.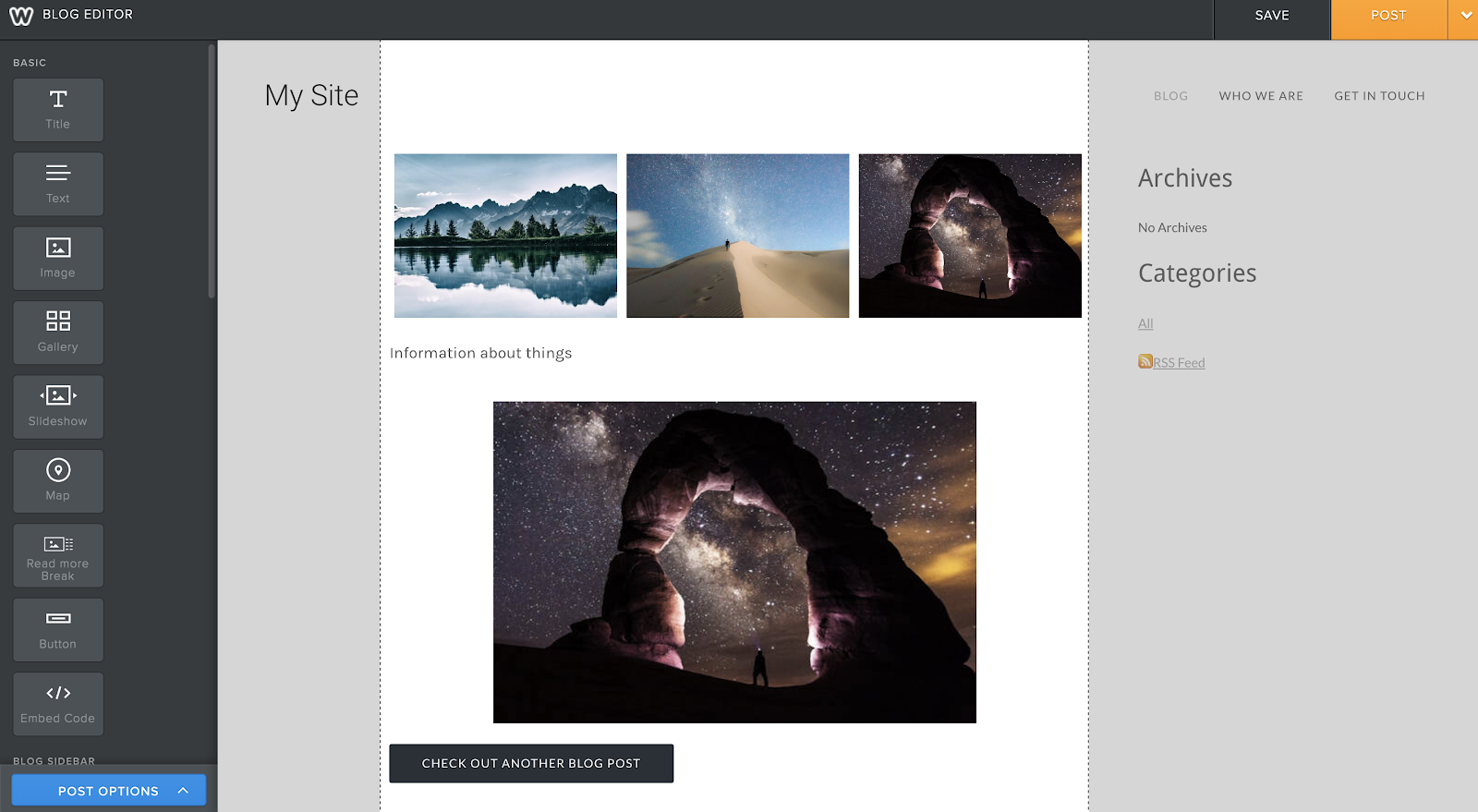 Because Weebly is focused on eCommerce, you can also add products and categories.

Pros of Weebly as a Free Blogging Site
Completely Free
Weebly's free version is completely free. No domain or hosting costs. A great way to get started if you want to test things out on a free blogging site with no strings attached.
Easy to Use
Weebly is really easy to use and offers the same quick set up to create posts through their free blogging platform. You can make attractive and interesting blog posts using Weebly's free plan. The Weebly blog option has more features and customization ability than Wix's blogging platform.
Change Themes Easily
With Weebly, you can change your themes as often as you like. You're not locked into a theme forever, which is a nice option if you'd like to change things up after you get your blog off the ground.
eCommerce Options
There is an option to sell items right from your blog with Weebly. If you'd like to use this as a way to monetize your site, it is possible with Weebly.
Cons of Weebly as a Free Blogging Site
Weebly Branding
As with WordPress.com and Wix.com, you'll have to deal with the Weebly branding for the free version. That means your URL will have the Weebly branding and they will run Weebly ads on your site.
Unlike the other two options, Weebly does allow you to put in a custom domain name with the free version of Weebly. You still have Weebly ads, but you will be able to use your own domain name.
Not as Easy as Wix to Learn
Weebly has a more customizable blogging feature, but the platform, in general, is not as easy or intuitive as Wix.
Limited Customization
Compared to my top pick amongst free blogging sites (WordPress.org), Weebly has far fewer ways to customize your free blog site. With only a handful of themes and apps, it doesn't compare to WordPress.com or WordPress.org.

Medium is unlike the other names on this list of free blogging sites, because it's not really a true website builder.
In fact, while Medium is a free blogging site, it functions slightly more like a community of writers meets social media platform.
That being said, Medium is completely free to share your blog content on, and you can get started right away.
Who Would Like Medium
Medium is a good option for writers looking for exposure through a free blogging site that also has a large built-in community component. It would work well for a hobby blog, or to start finding your voice as a writer.
Another reason people use Medium is to give new life to the content they produced elsewhere. Since Medium has a built-in audience, some people choose to republish blog posts that they have already posted on their primary blog—to help drive traffic back to their blogs.
General Information About Medium
Medium was originally created not as a free blogging site, but rather to be a social media outlet for people who wanted to write longer posts than the ones you could find on Facebook or Twitter.
When Medium launched in 2012, CEO Ev Williams posted a blog post named, "Welcome to Medium." In it, he explained the purpose of the platform.
"Medium is a new place on the Internet where people share blog post ideas and stories that are longer than 140 characters and not just for friends. It's designed for little stories that make your day better and manifestos that change the world…"
"On Medium, you can contribute often or just once in a blue moon, without the commitment of a blog. And either way, you're publishing into a thriving, pulsing network — not a standalone website, which you alone are responsible for keeping alive."
So the main appeal of Medium is that it gives you a built-in audience—similar to when you post content on YouTube, Twitter or LinkedIn.
Example of a Blog Post Created on Medium
Here's a post I wrote for my Medium blog a few years ago, where I sometimes republish content to attract more readers: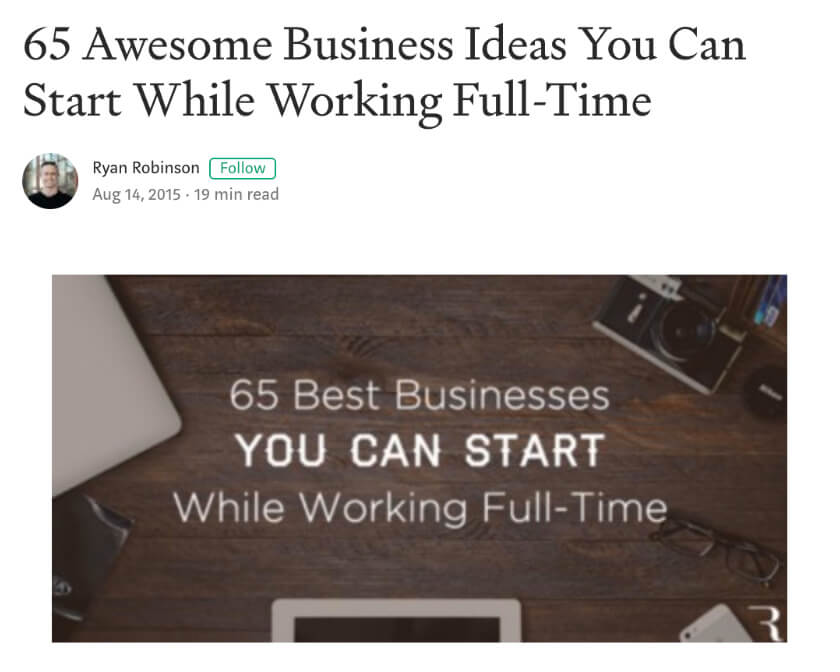 There's no need to show you multiple blog posts on Medium, because apart from different pictures or videos, the blog layouts are essentially all the same.
A Look Inside Medium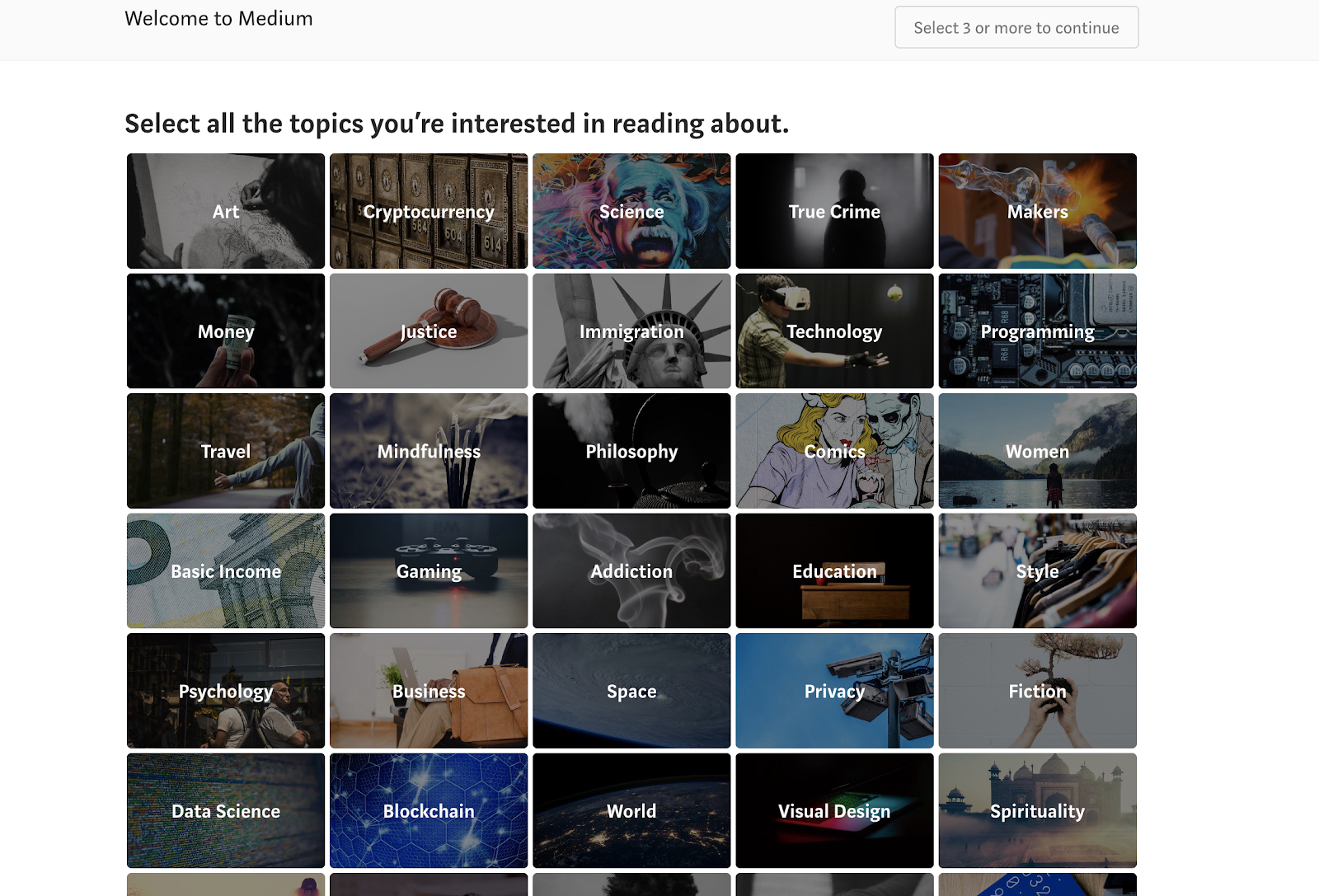 When you start your Medium account you'll be asked to pick topics you're interested in.
This has more to do with the type of articles that will show up on your feed and less about your own blog.
When you start writing a blog post, this is what your initial screen will look like.

These are your editing options. Here's what it looks like once you write a headline and add a top image.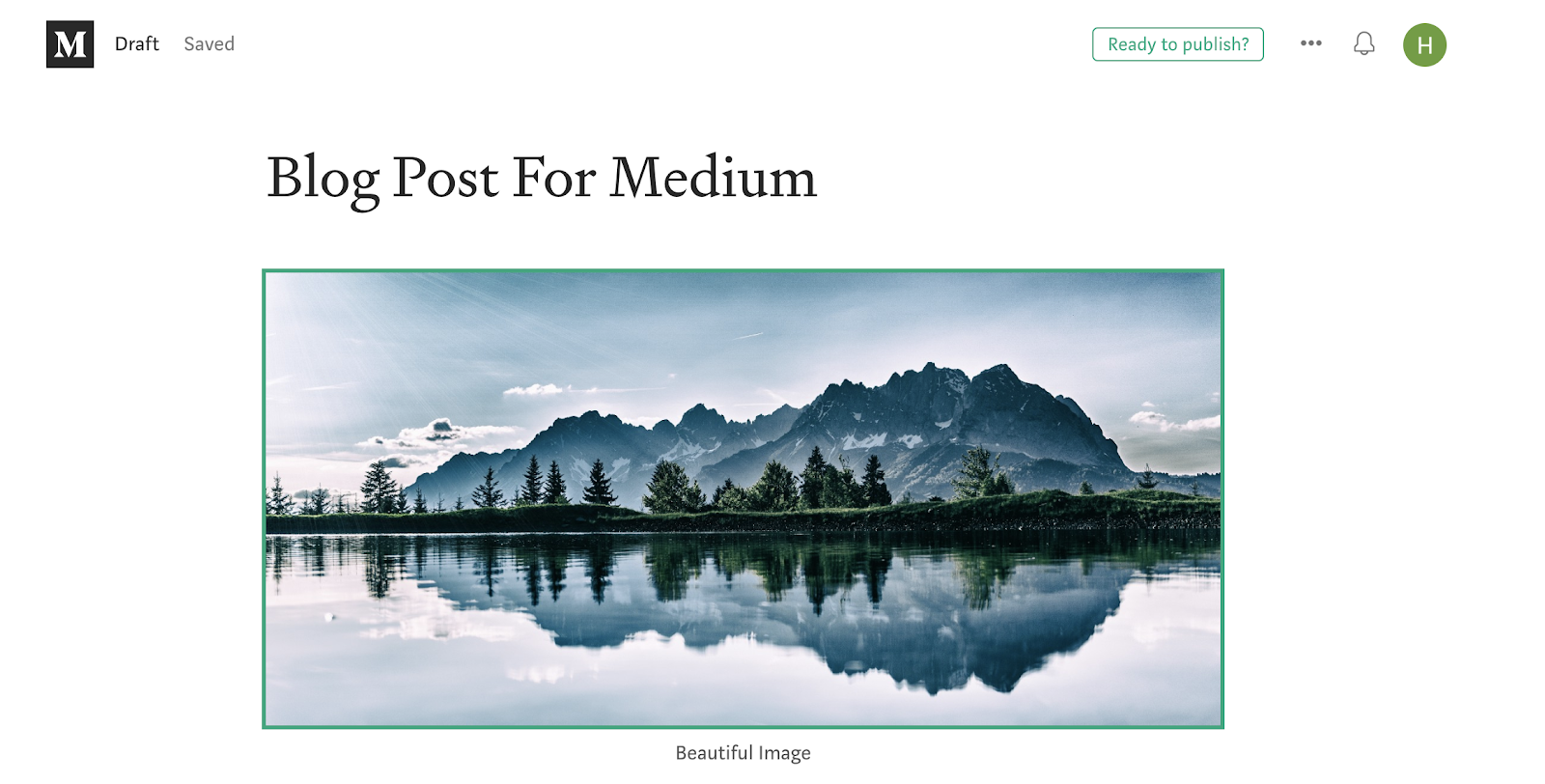 You can embed videos directly into your blog posts on Medium.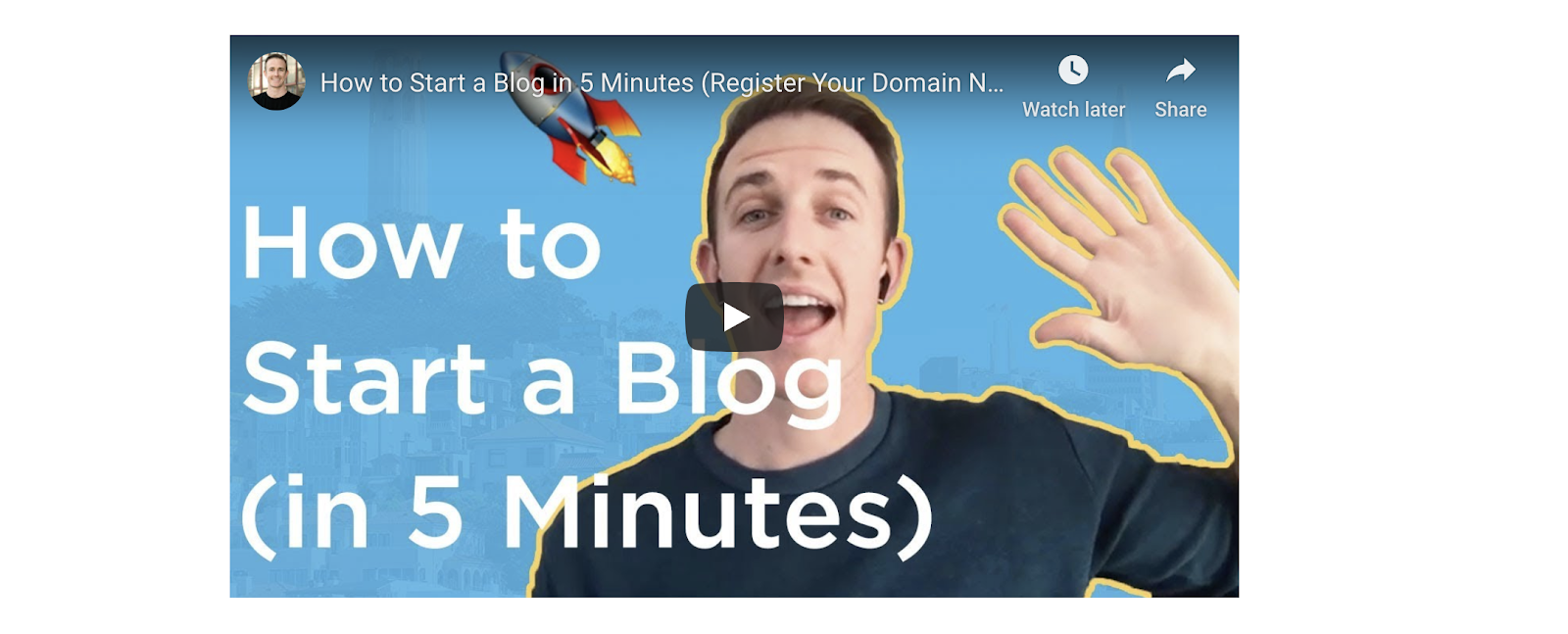 You can also embed social media posts like this one from my Twitter account.
Apart from those features, there's very little you can do to change the look of your blog post or customize it.
And you can search the Unsplash media gallery to add pictures related to your blog post.
Pros of Medium as a Free Blogging Site
Easy to Learn and Publish
Medium might just be the easiest free blogging site to use out of all the options on this list. Just sign up and start writing. No need to set up a website or look for hosting. Everything is ready for you to get started immediately.
The blogging interface is also extremely easy and takes no time at all to understand.
Completely Free to Use
Medium is completely free to use. No hidden fees or upgrades needed, making it a truly free blog site.
Built-in Audience
When you publish on Medium, you're writing to an audience that already exists. You don't necessarily have to compete with SEO masters on Google in order to learn how to find your target audience on Medium, especially since there are hundreds of dedicated Medium publications that can feature your content (if you do some smart blogger outreach to impress them with your writing).
Cons of Medium as a Free Blogging Site
Virtually No Customization
Apart from adding images, videos, or embedding social media posts, every post on Medium looks the same. It's like posting on Facebook—your text and images are different—but every post has basically the same layout and design.
With Medium, there are no themes, apps, or plugins to customize your posts, which does make it one of the most simple free blogging platforms on the market today.
No (Real) Monetization
Medium is not a platform you can use to monetize your blog. There's no option for ads or eCommerce. It's explicitly against the rules to, "advertise or promote third-party products, services, or brands through Medium posts, publications, or letters," but you can still promote your blog content with tactics like blogger outreach.
You can use affiliate links, but you're not allowed to create content, "primarily to drive traffic to, or increase the search rankings of, an external site, product, or service… Scraping and reposting content from other sources for the primary purpose of generating revenue or other personal gains." One viable way to earn some income from Medium though, is to write an eBook that you can sell to your most engaged audience (done carefully on an external site, of course).
You Don't Have a Blog of Your Own
With Medium as your free blog site, you don't have to take care of the upkeep of a blog which could be a plus for some. On the other hand, you ultimately have no control over the content that you publish.
You do, "own the rights to the content you create and post on Medium." But your content can also be removed for "any reason."
Let me be clear. With Medium, you're publishing on someone else's website. That means they have control over the way things are presented.
They can also change the way they do things at Medium without consulting you or considering your interests… and hell, they can even go out of business one day, taking your free blog site right along with it.
That's one of the biggest reasons why hosting your own blog (where you're in control) is the smartest way to start a blog.

Blogger is another solid (yet slightly outdated) option for free blogging sites designed for those who want a free blog to test the waters on.
Purchased by Google back in 2003, with this free blogging site—instead of actually owning your own site, you're more-or-less renting it from Google.
Who Would Like Blogger
Blogger can be a decent option if you're looking for a free place to start your hobby blog. However, with many more future-proof, modern free blogging sites available on the market today, I wouldn't personally recommend going with Blogger.
General Information About Blogger
Blogger was originally created by Pyra Labs in 1999 to be a free blogging site for the masses (back in the very early days of blogging), but was later purchased by Google in 2003 as the platform grew significantly.
At one time, it was a very popular way to start a blog on a budget. Today, not so much anymore.
While there are multiple options for customization with Blogger, it doesn't have the sophistication of more modern blogging sites.
Examples of Websites Created on Blogger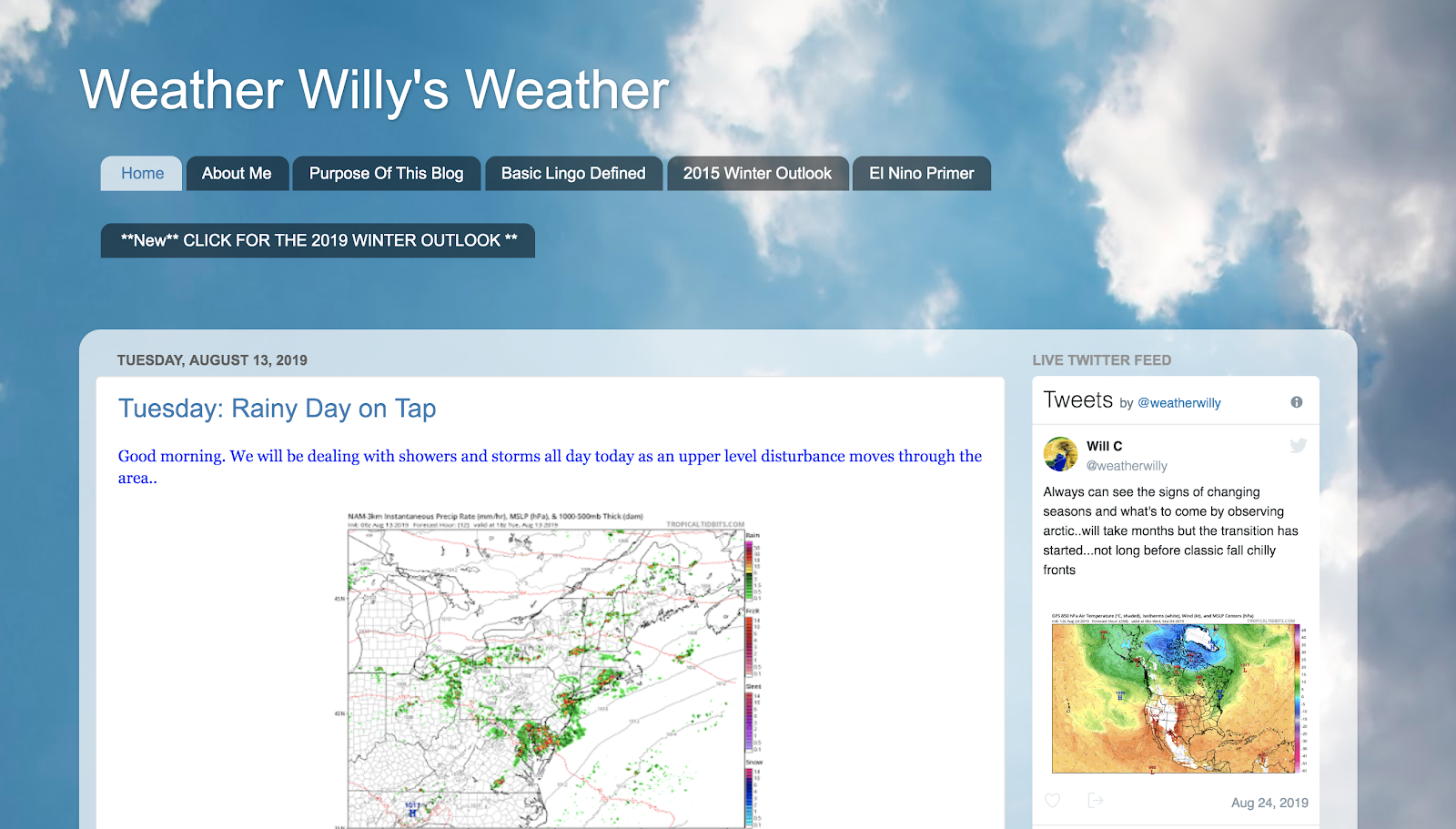 A Look Inside Blogger
Here's an example of some of the themes available with Blogger, as a free blogging site: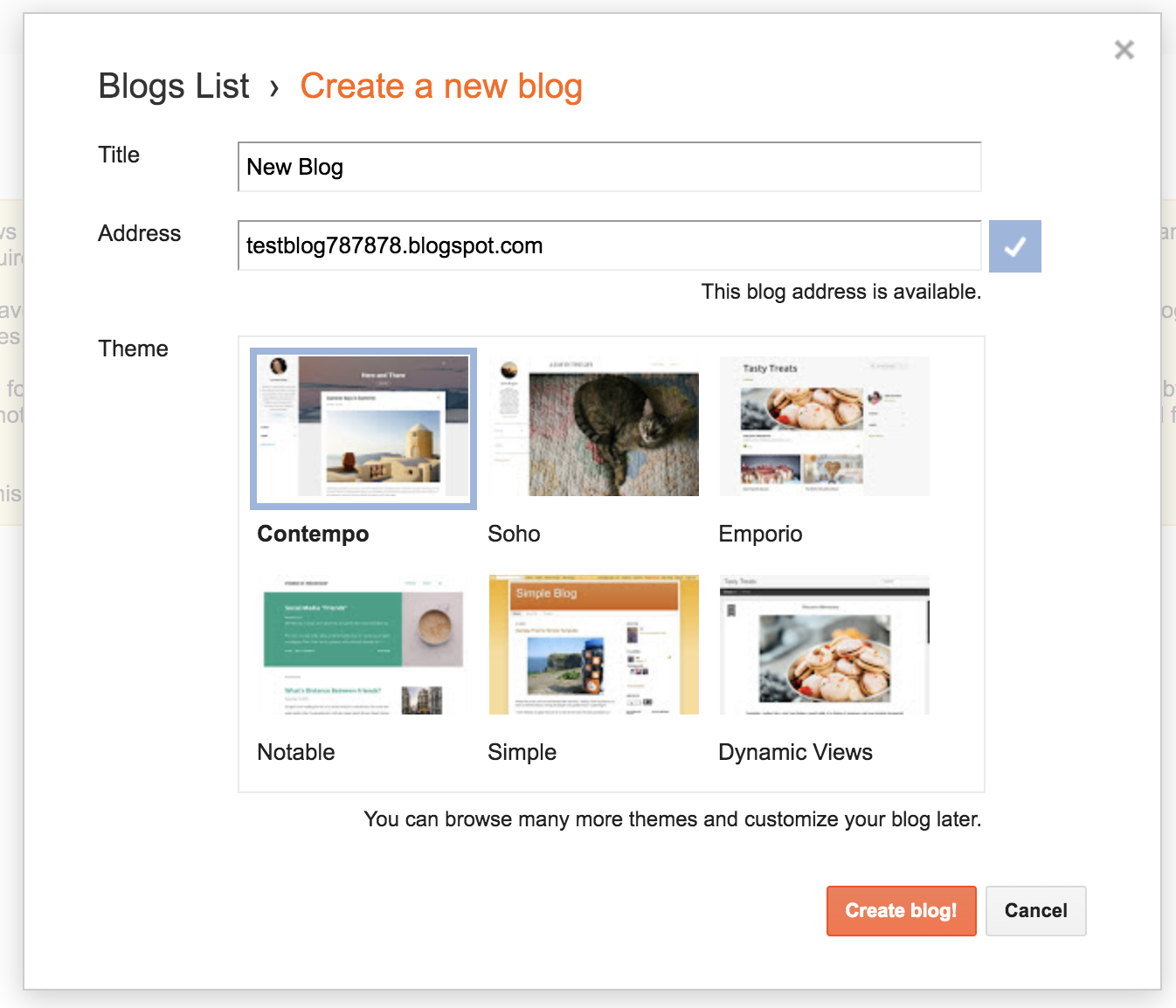 Your blog post editor has a number of customization options, which actually come close to what you'll get from a better blogging site like WordPress.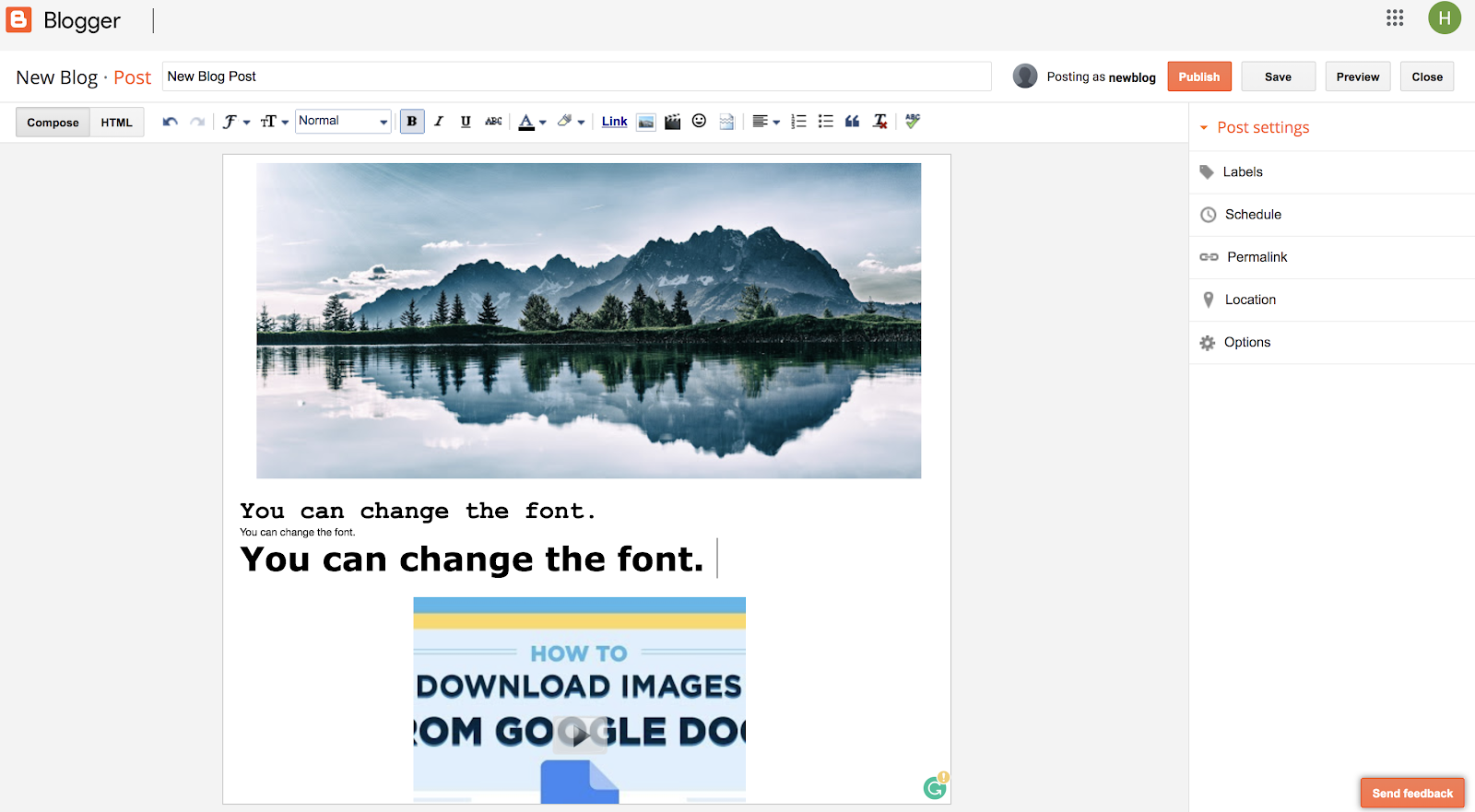 There are a handful of fonts you can choose from, and you can load pictures and videos. You can also add HTML code for greater customization.
The website editor can be a bit clunky and difficult to navigate, though…

You also have to "preview" your blog before you can see the changes you've made.
Pros of Blogger as a Free Blogging Site
Free to Use
You can create a blog with Blogger and you'll have no fees. No hosting fees. You can choose to pay for a domain name which will eliminate the branding from blogspot in your URL.
Monetization Choices
Probably one of the best things about Blogger as a free blog site, is the ability to run AdSense ads on your page. You have a lot more freedom to monetize your site with Blogger than many of the other free blogging sites we've discussed.
Cons of Blogger as a Free Blogging Site
No Ownership of Your Site
Unfortunately, with Blogger you don't actually own your site. That means Google can choose to shut down your site if they want to.
Not as Easy to Use as Other Options
While Blogger is fairly simple to run, it does have a higher learning curve than many of the other options. It also has a smaller payoff once you do learn how to run it.
Limited Customization
There are several different things you can change with Blogger, but ultimately it's not loaded down with customization options.
Outdated Interface
Not a lot of people are using Blogger as a free blogging site these days, because it isn't up-to-date with other options like we've broken down here already. The interface is not as user-friendly or modern as other blogging platforms.

Ghost was founded in 2013 from a Kickstarter project, with the intention of offering a free blogging site to professional writers. It has some similarities to WordPress, and like WordPress, it has a hosted and self-hosted version.
The self-hosted version is free, but (like with WordPress) does require a domain name and hosting.
Who Would Like Ghost
Ghost would work well for people who are looking for a simple, free blog site that's specifically geared towards blogging. While WordPress began as a blogging platform, it has evolved into much more than that.
Ghost is still solely focused on blogging—not on general website production or eCommerce.
John O'Nolan, founder of Ghost has shared, "If you want a simple website with eCommerce that you use to run your business, give Squarespace a try. If you want to participate in a social network with sharing and re-posting and lots of cats, maybe Tumblr would be a better fit for you. On the other hand, if you're looking to develop your own fully-fledged website or application with every imaginable bell and whistle, WordPress might be ideal."
He continues, "If you want to have a simple but powerful independent publication, something that's focused on the writing experience and giving you the freedom to be in complete control of your content, then you might find Ghost interesting."
General Information About Ghost
Ghost exists as a free blogging site, primarily because John O'Nolan wanted to create something like WordPress that was solely for writers, while being more minimalistic and easier to navigate.
Ghost is a non-profit that is still in its infancy and still gaining its footing as a free blogging platform. While I certainly wouldn't recommend Ghost over WordPress as a free blogging site at this point, I would keep an eye out for what they're doing.
It also seems that they're planning on changing the direction of their platform in the upcoming months.
Here's an excerpt from Ghost's 2018 inside look:
"We spent a very long time trying to compete on convenience and simplicity. This was our biggest mistake and the hardest lesson to learn – because user feedback told us that this was what was most important… But it ended up being still not simple enough for the average user, and not powerful or flexible enough for the professional user — the worst of both worlds.
So the biggest takeaway after 5 years is that we have been moving, and will continue to move up market, toward professional users who value power and flexibility over ease of signup. This is where we can win compared to the competition. This is where Ghost comes into its own."
The hosted version of Ghost has its lowest plan priced at $29 a month, so it obviously doesn't have a free option.
Ghost is an open-source CMS though, so there is a free self-hosted version available. Signing up for that is less straight-forward than going with WordPress.org as your free blog site of choice, though.
Hosting Options for Ghost
Not all hosting companies support Ghost as a blogging platform, but here's a list of great hosts that do:
An Example of a Ghost Theme

A Look Inside Ghost
One cool thing that Ghost offers is an actual way of checking it out before you dive in. It's called play-with-ghost.com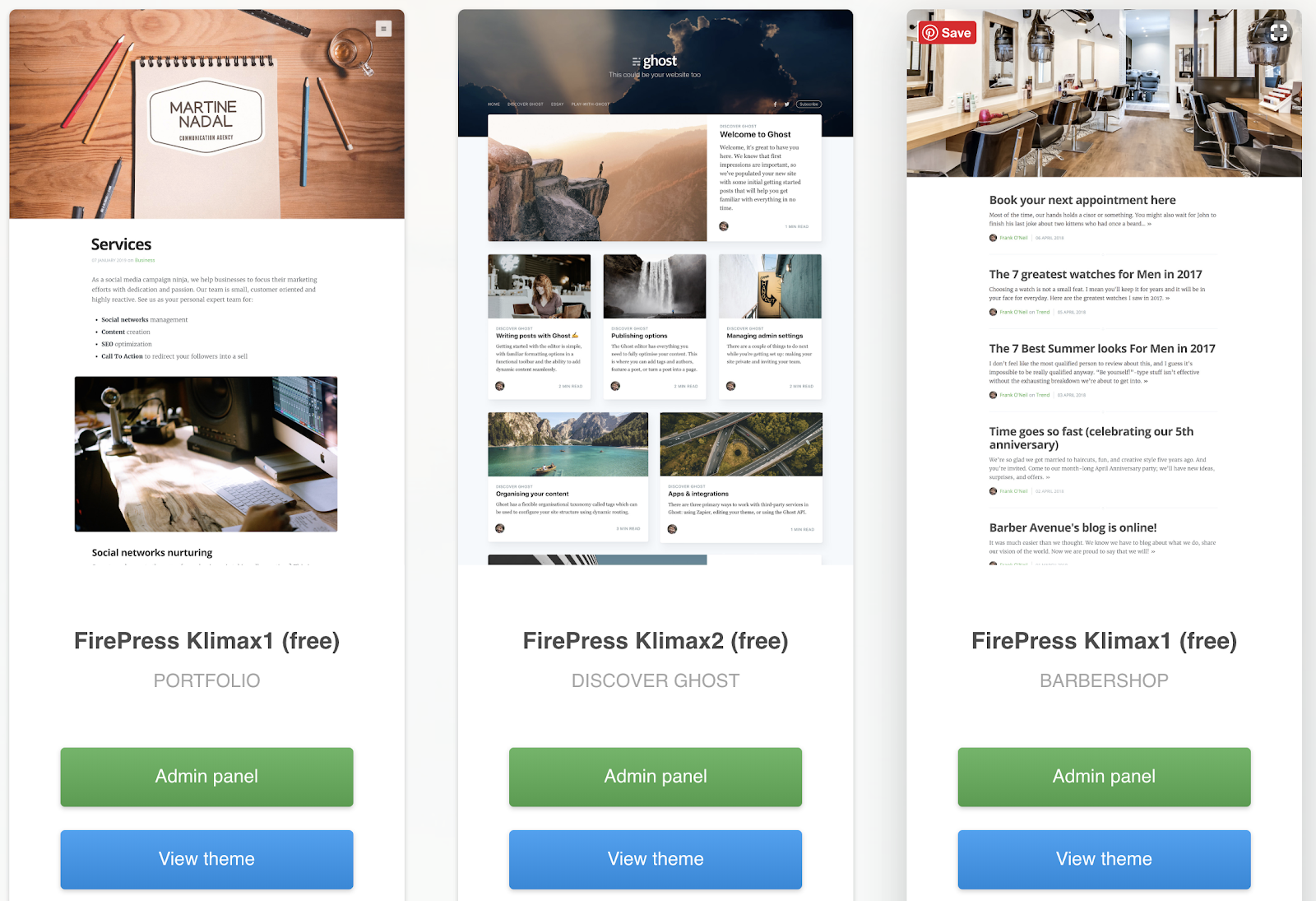 With it, you can pick a theme, insert the admin info they provide, and actually mess around with the software for free.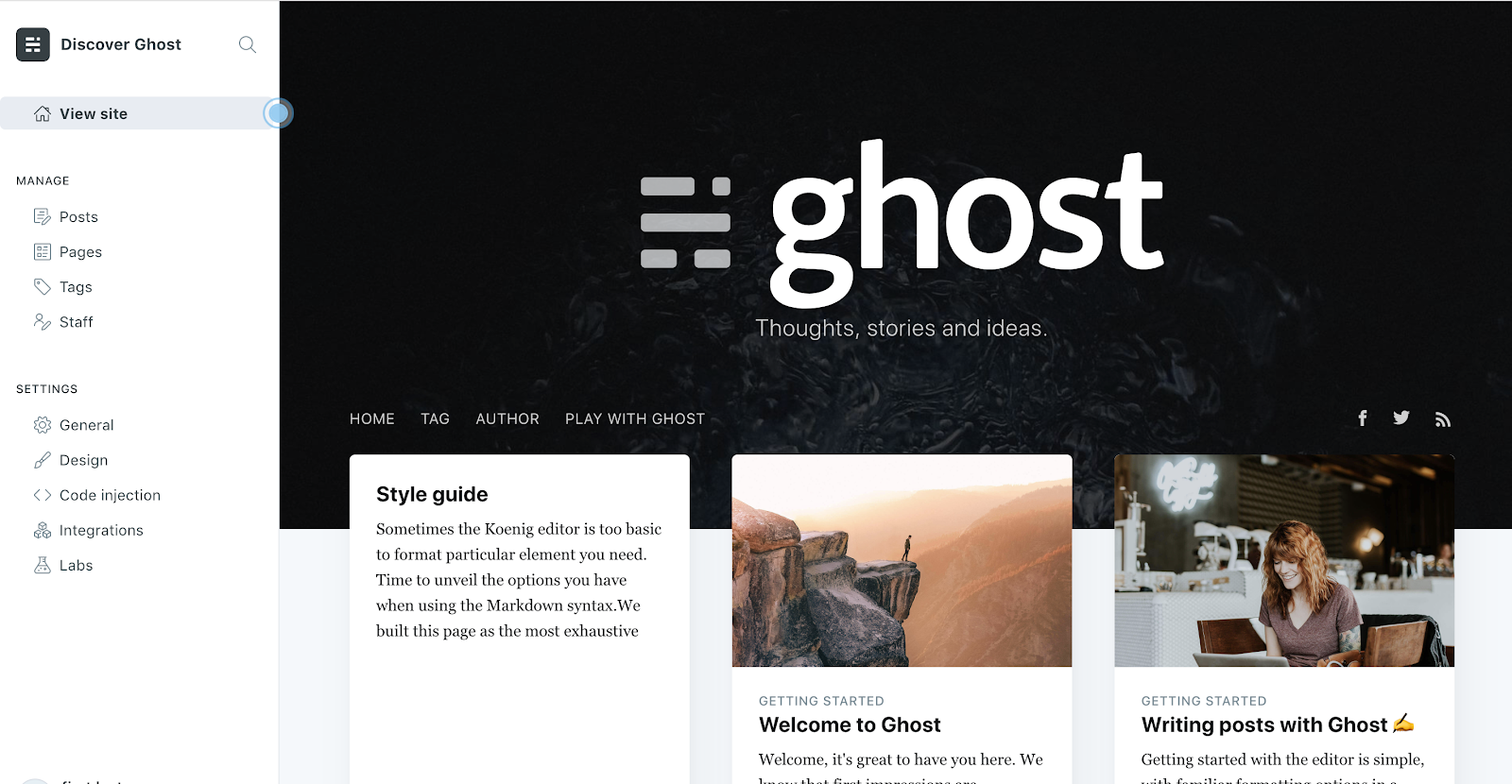 Once you've selected a theme, it takes you to a testing area where you can choose different options and play around with the features.
The blogging features are very clean and simple.

Here's a look at some of the elements you can add to your blog post: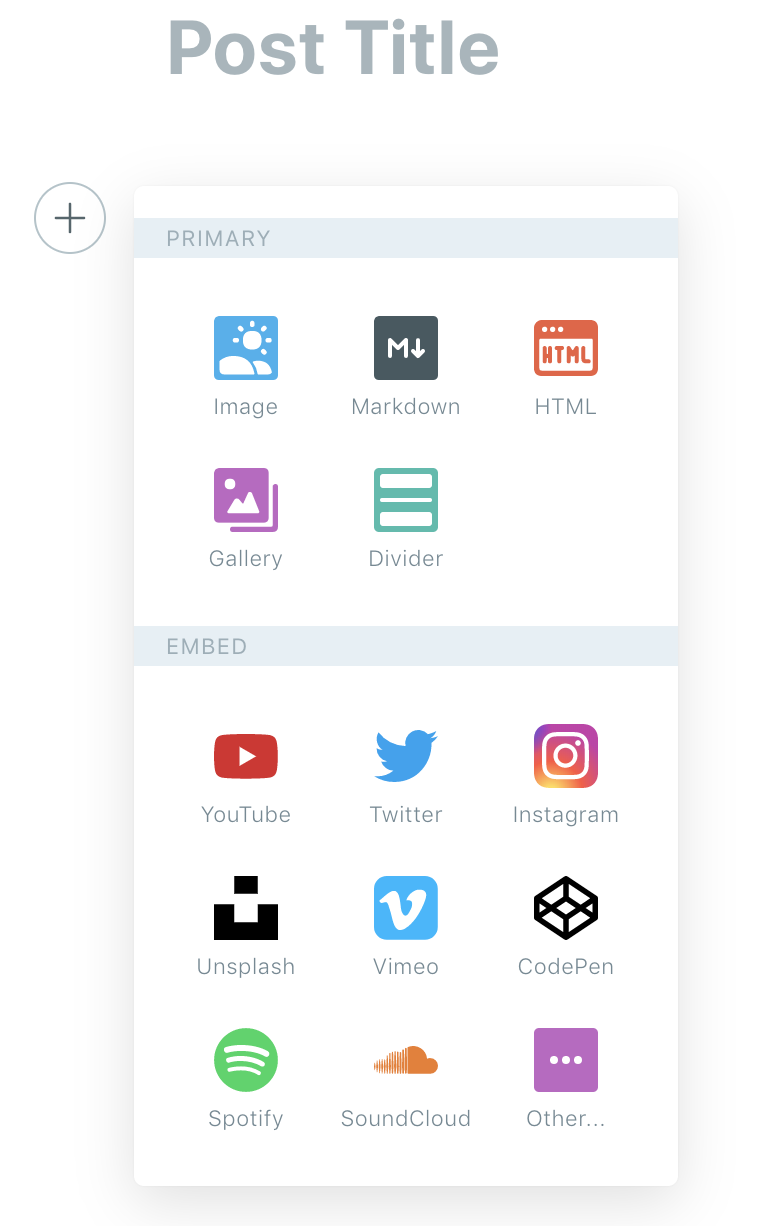 An example of what you can create as a blog post: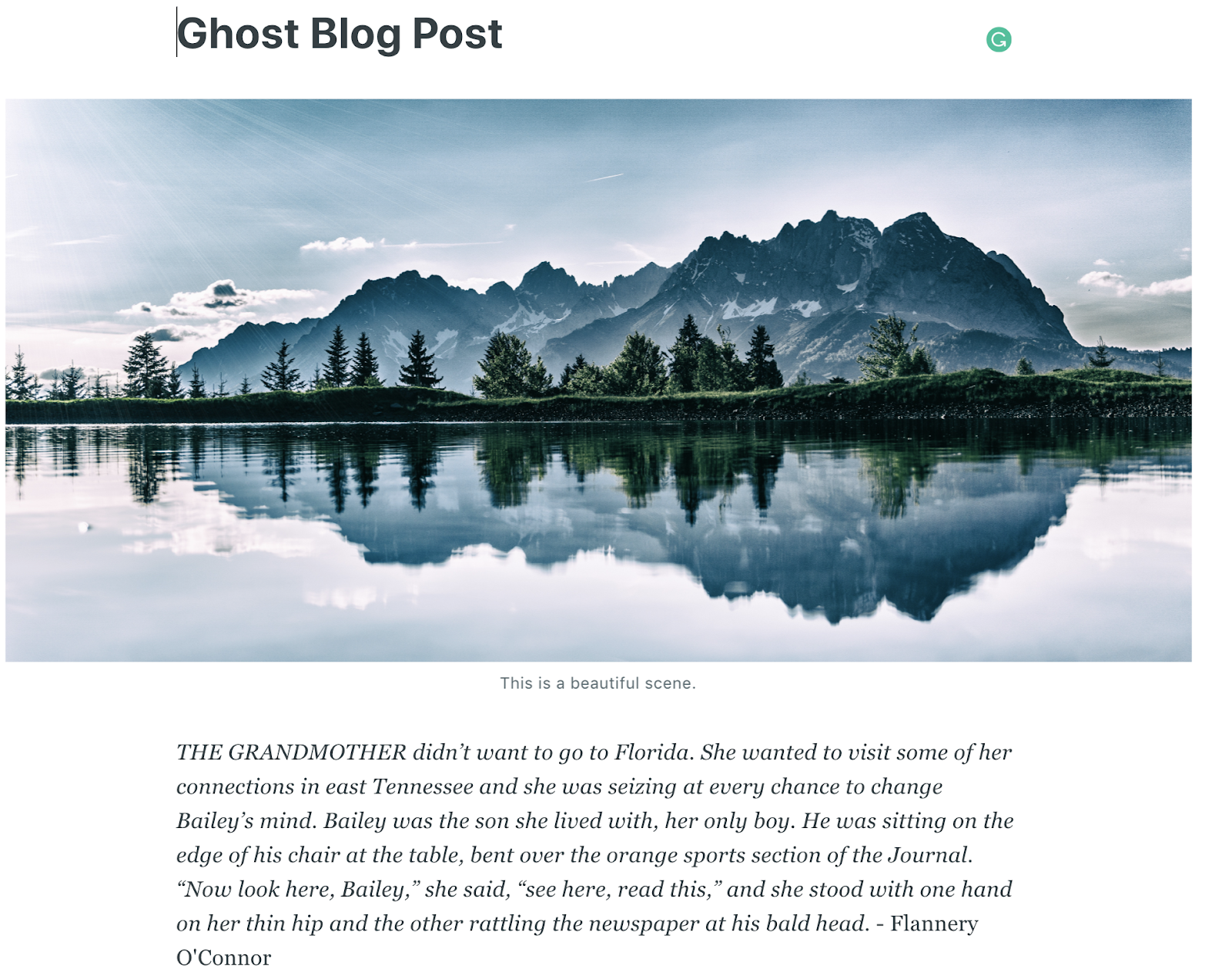 It's a fairly simple layout without an abundance of options. It does, however, have a feature called "markdown" which converts content into HTML code.
Like this: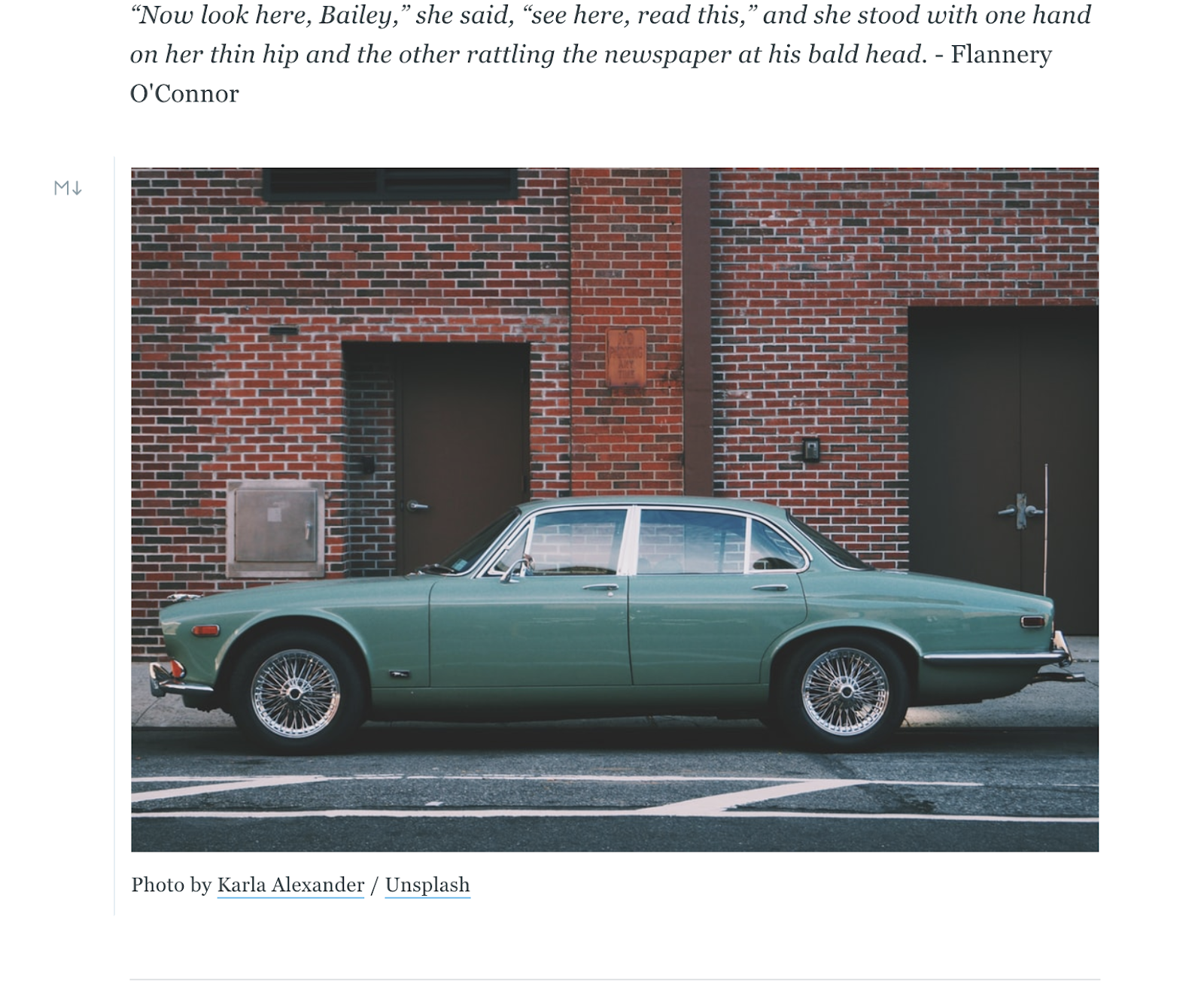 To this: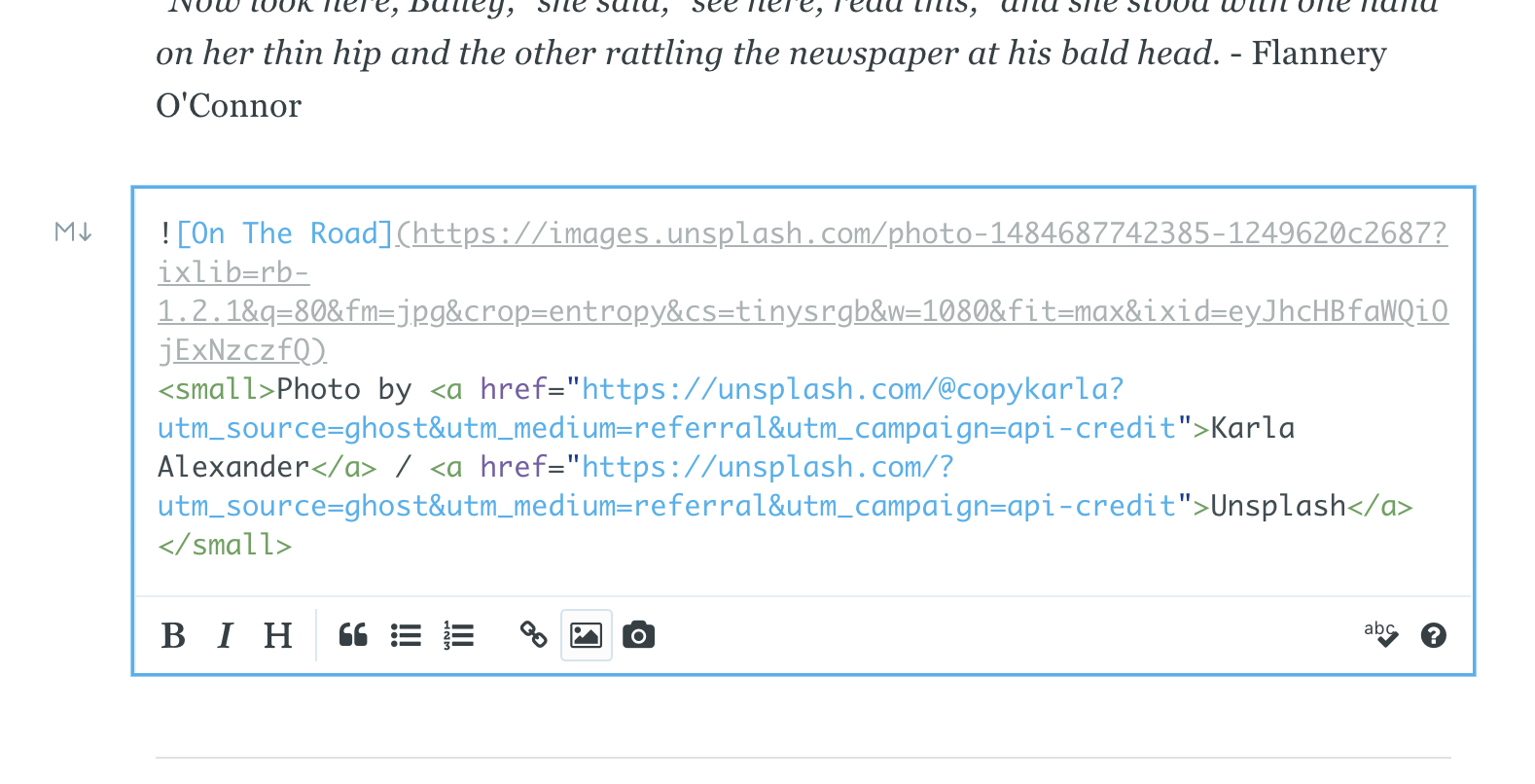 Pros of Ghost as a Free Blogging Site
Simple and Easy to Use
For those who want a clean space to sit and write—Ghost offers just that.
It's easy to navigate and isn't weighed down by a lot of extras. It's minimalistic setup makes it easy for bloggers to sit down and write.
There's Room to Grow
Ghost is a newer establishment so it will be interesting to see how they develop over the next few years. They may change the blogging sphere in interesting ways—like using javascript instead of PHP to run their blogging site.
Cons of Ghost as a Free Blogging Site
Not the Most Customizable Option
It's pro is also somewhat its con, as founder John O'Nolan has noted. In their effort to create simplicity, they have missed another group of people who want more flexibility and customization.
Hosting and Domain Name Fees
As with WordPress.org, Ghost offers no completely free blogging site option, because you'll still be responsible for your monthly hosting plan and getting a domain name.
Harder to Find Hosting Plans
Because Ghost chose to use javascript (node.js) to power their free blogging platform, it's more difficult to find a hosting company that supports it from a technical standpoint—aside from their own hosting plans, of course.

Tumblr is an alternative free blogging site that currently hosts 476 million different blogs, and it was just recently purchased by Automattic (the company behind WordPress). Like Medium though, Tumblr is a mix between a blog and a social media channel.
Who Would Like Tumblr
Tumblr is geared towards a younger generation and trends well with 18-29 year olds. It's a fun and interesting way to share your content. Tumblr describes itself as a place where you can find just about anything, making it a fascinating blend of free blogging site and built-in community.
It's a great choice for people who want to produce relatively quick or short content and don't want to be bogged down by website production or the extra work involved with running your own site.
Tumblr would not be an ideal choice for someone interested in owning their own blog/website. It would also be an unlikely choice for someone starting a business, although you could use Tumblr to funnel traffic to an outside shop like Etsy or eBay.
General Information About Tumblr
Tumblr was created as a free blog platform in 2007 by David Karp. Sometimes Tumblr is referred to as micro-blogging, which is what Instagram, Facebook, and Twitter are. But, Tumblr is more middle of the road between Twitter and WordPress. It's multi-media and a little different than most other forms of blogging sites out there.
In an interview with TechCrunch, David Karp describes the reason he created Tumblr. "All blogs took the same form… I wanted something much more free-form, much less verbose."
He went on to explain that some people want to create an online identity without learning the process of website building. He said, "It's a commitment, you need to sit down for an hour and hammer out a post." He believes that WordPress is the best tool for people who enjoyed writing and wanted to put in the extra time, but it was the wrong tool for those who didn't.
Tumblr describes their platform this way: "We made it really, really simple for people to make a blog and put whatever they want on it. Stories, photos, GIFs, TV shows, links, quips, dumb jokes, smart jokes, Spotify tracks, mp3s, videos, fashion, art, deep stuff. Tumblr is 476 million different blogs, filled with literally whatever."
Another compelling part of Tumblr is you can follow people on it. You can build a following through the platform and like Instagram, those people will see your new posts on their dashboard. People can also reblog your content so it gets shared and shared again.
Changes for Tumblr
As of August of 2019, Automattic, the owner of WordPress, purchased Tumblr. It's still unclear what changes might come from this acquisition, but executives from both entities said they're looking for ways for WordPress.com and Tumblr to share services and functionality.
Tumblr has lost popularity since its original launch, partly due to its more recent ban of adult material, but Automattic may breathe new life into this free blogging site.
Examples of Blog Posts Created on Tumblr
Here's a fun one from NPR: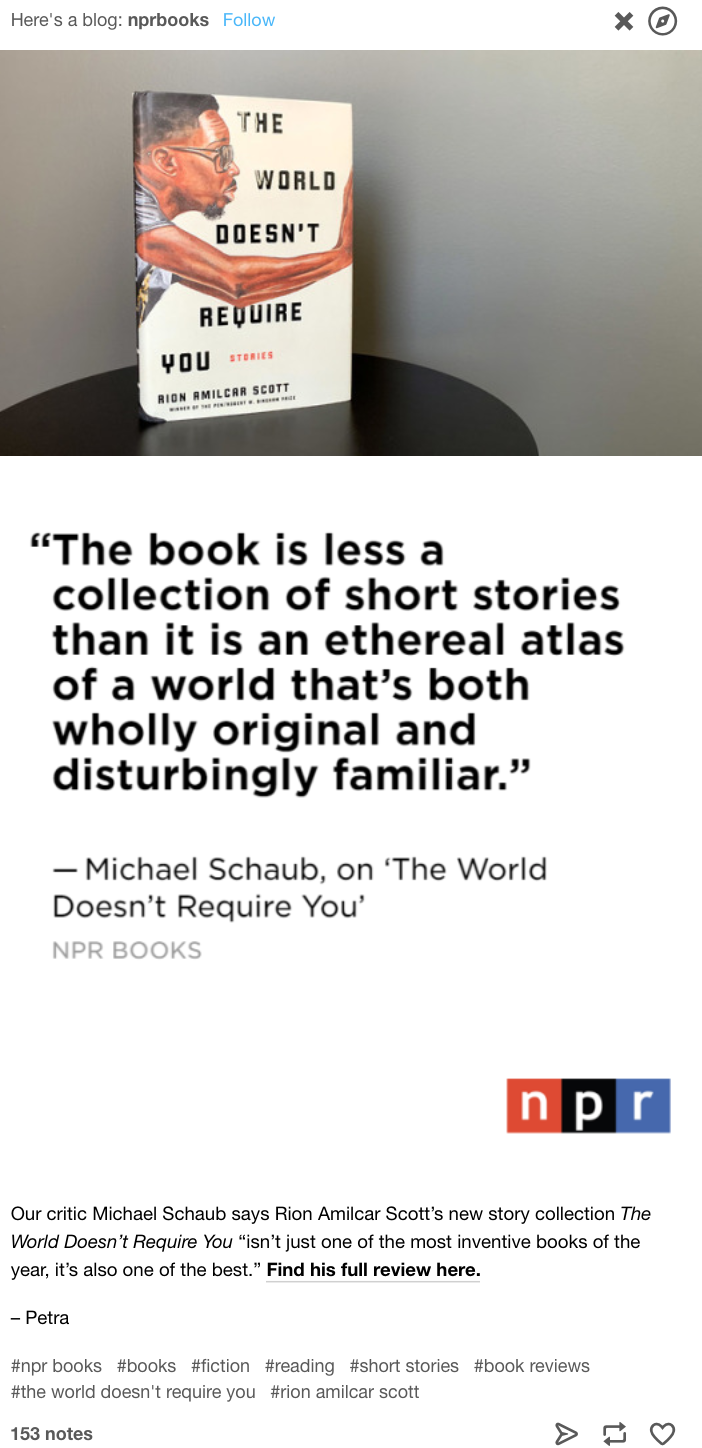 And here's another example of creative Tumblr content: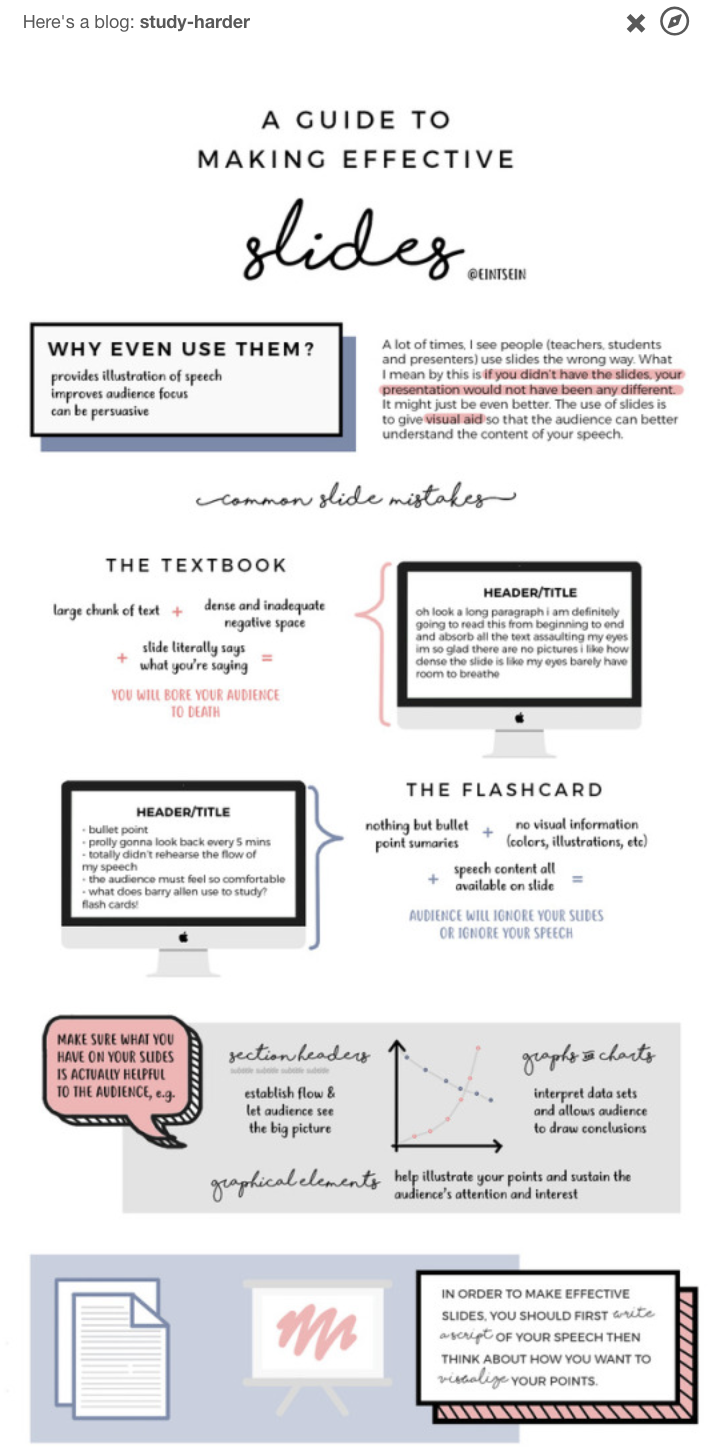 A Look Inside Tumblr
Tumblr allows you to include things like gifs, audio, and quotes.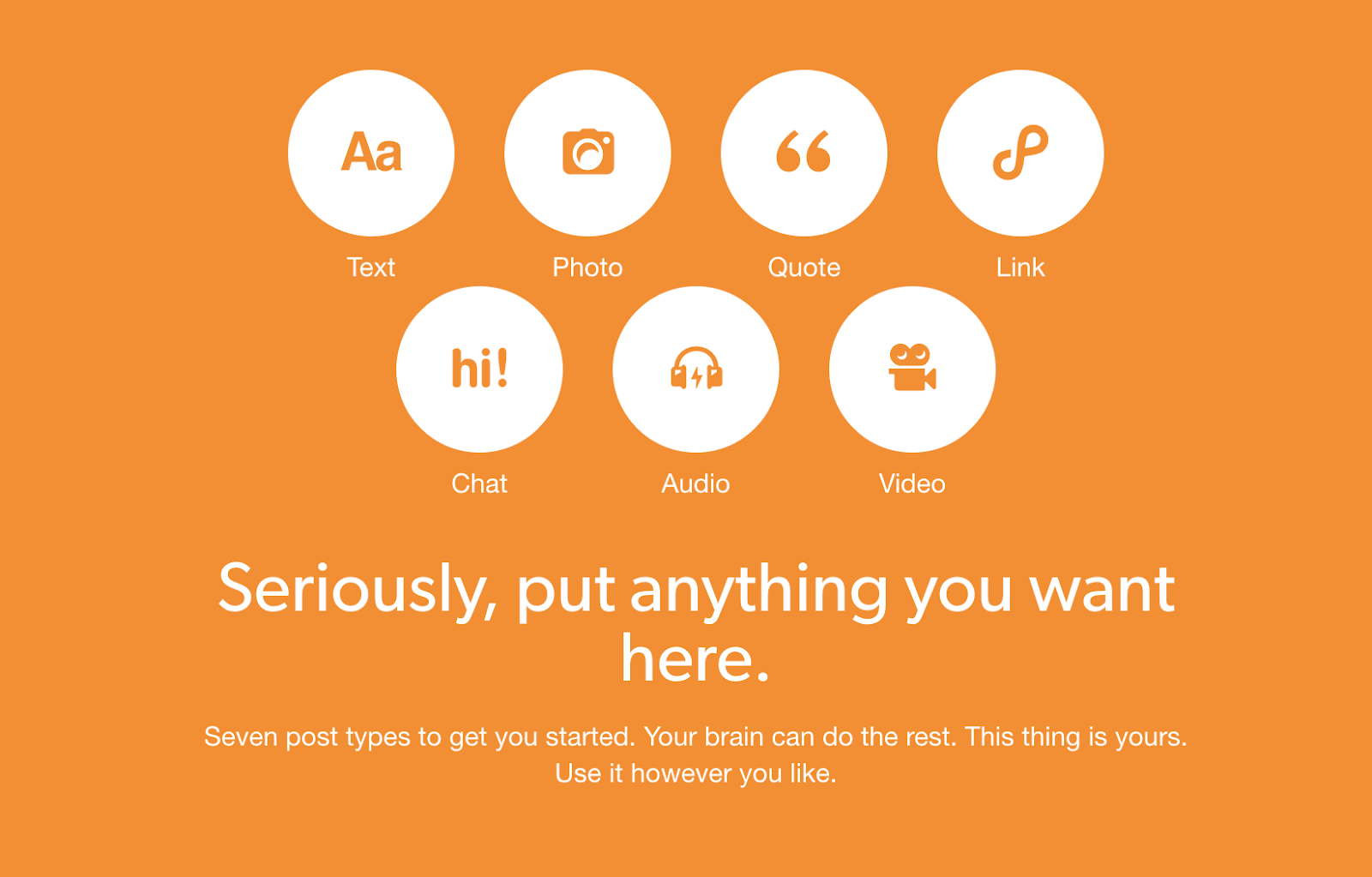 It functions as a social media platform as well but it's very playful in nature.
Here's what it looks like when you first log in to your account.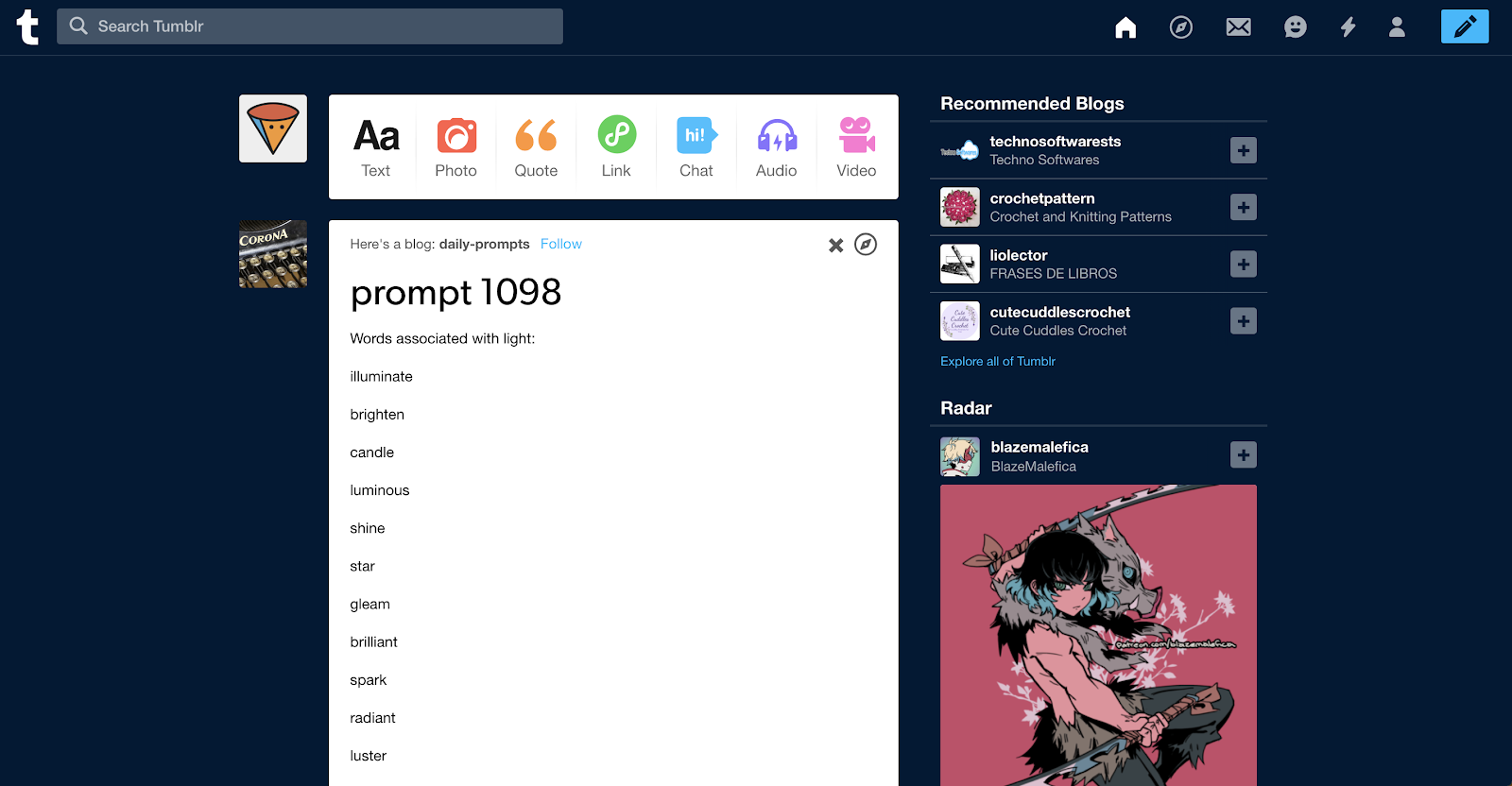 You can also add videos, images, and tags.
Pros of Tumblr as a Free Blogging Site
Fun, Creative and Interesting Community
If you want to produce fun and interesting content without being weighed down by website construction, Tumblr is a vibrant place to express your creativity—and one of the most widely used free blogging sites in the world.
Free to Use
Like Medium, you don't have to pay to post on Tumblr. You're free to do what you want on the platform without extra fees—it's a truly 100% free blogging site.
Ability to Monetize
Surprisingly, Tumblr offers a variety of ways to monetize your blog including ads and affiliate links.
Cons of Tumblr as a Free Blogging Site
You Don't Own your Site or Your Content
When you use Tumblr you have no control over changes made to the platform, which is one of the biggest drawbacks of using this as a free blog site. And while you own the "subscriber content" you create, Tumblr also has certain rights to it. Their privacy policy explains,
"When you provide Subscriber Content to Tumblr through the Services, you grant Tumblr a non-exclusive, worldwide, royalty-free, sublicensable, transferable right and license to use, host, store, cache, reproduce, publish, display (publicly or otherwise), perform (publicly or otherwise), distribute, transmit, modify, adapt (including, without limitation, in order to conform it to the requirements of any networks, devices, services, or media through which the Services are available), and create derivative works of, such Subscriber Content."
On Tumblr, when people reblog your content, they also have the right to modify it. This may not be the worst thing, but if you want your original content to remain untouched, Tumblr probably isn't your best choice.
Limited Customization
While Tumblr allows you to be very creative with the multimedia content that you share, especially amongst free blogging sites, the outlet itself is very standard. You don't have the flexibility to extend your features or add custom themes.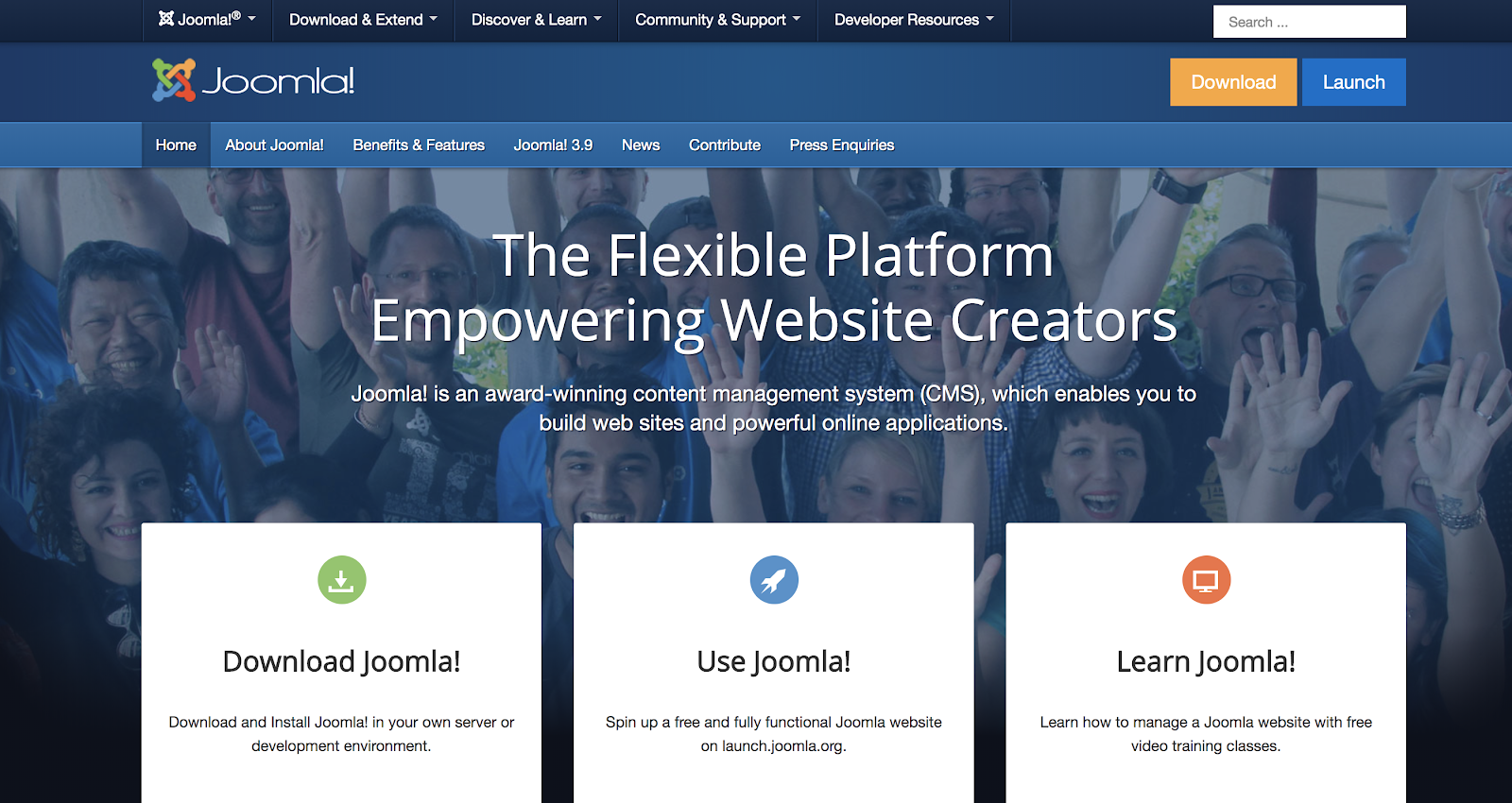 Similar to WordPress, Joomla is also an open-source CMS. And like with running a self-hosted WordPress site, you'll be required to purchase your domain name and hosting plan in order to fully utilize this otherwise free blogging site.
Joomla is the second most popular CMS in the world (behind Wordpress) and powers around 58 million websites.
Who Would Like Joomla
Joomla requires a bit more technical knowledge than WordPress and most of our other top free blog sites here today, so it wouldn't be ideal for someone looking for a very easy (non-technical) platform.
It also has a more advanced user system, so that means if you do have the technical knowledge, there's more you can do right out of the box.
Another selling point about Joomla is it has multilingual support built into it without adding any additional plugins.
General Information About Joomla
Joomla was originally called Mambo. Mambo was developed in 2000 by an Australian company called Miro. Eventually, the source code was "forked" into what's now called Joomla.
Joomla was officially launched in 2005, and has had several major updates since.
If you want to increase the capability of Joomla, you can add an extension.
Joomla has five types of extensions:
1. Components
Components are like mini-applications. Most have two parts to them, an administrative side and a site side.
2. Modules
This extension is used for page rendering. A footer or a login would be examples of modules.
3. Plugins
Plugins in Joomla refer to a function that triggers an event. This could be something like adding a form to your site, adding shortcuts, or adding an extra authentication method.
4. Templates
A template is the way the website looks. It changes the way the component and the modules will be viewed.
5. Languages
Extra languages are already built into the core Joomla package, but more can be added with an extension.
Hosting with Bluehost
Joomla also requires you to self-host your website, which technically pushes it a little away from being a completely free blogging site. I highly recommend using Bluehost for your Joomla hosting as well. Bluehost currently hosts over 85,000 Joomla sites, and it gives you a 1-click installation option immediately after signing up—but you can check out my compilation of 25 honest Bluehost reviews and make that decision for yourself.
Examples of Websites Created on Joomla
Harvard's Graduate School of Arts and Sciences: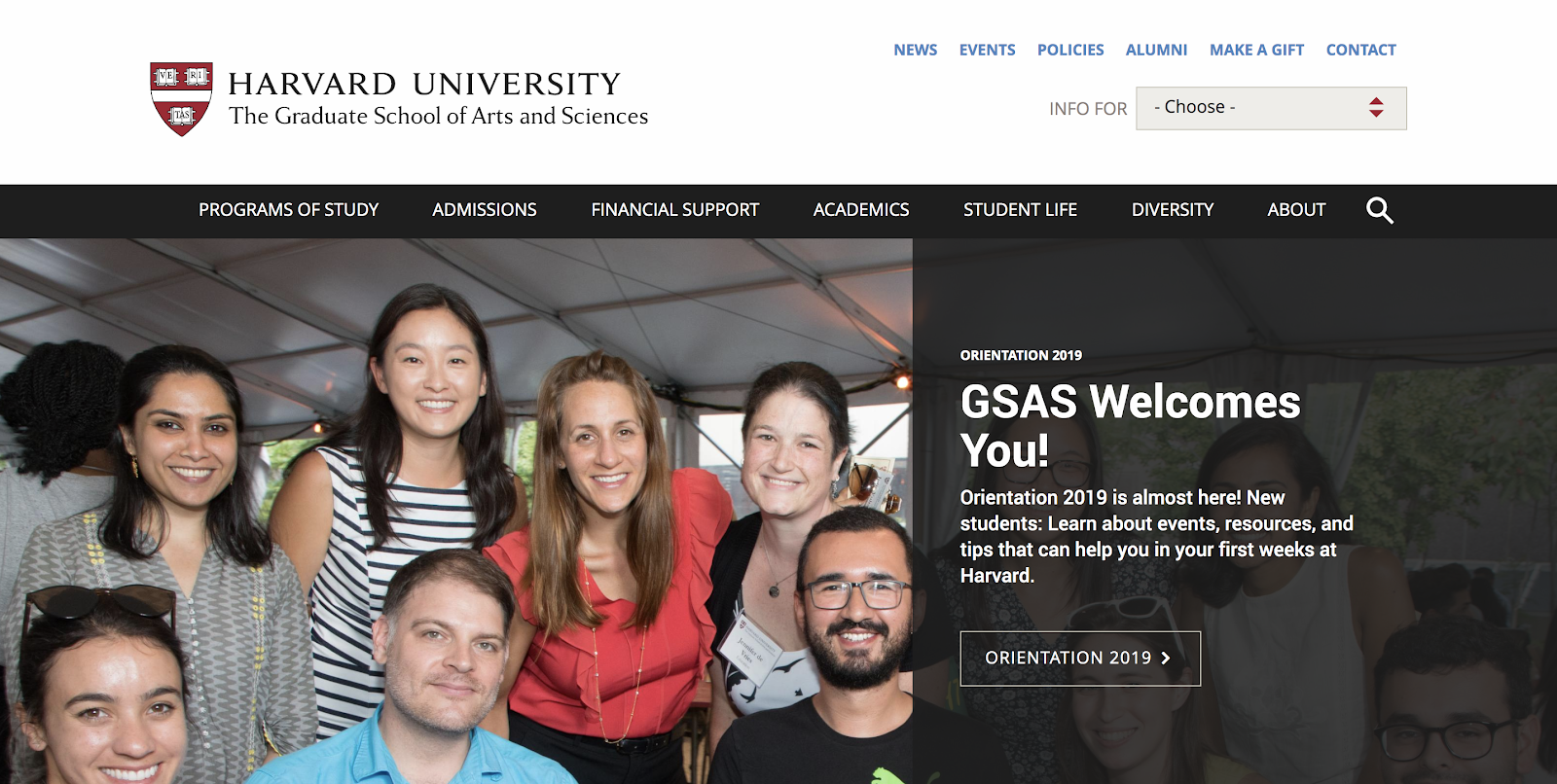 The Hill (a politics news website):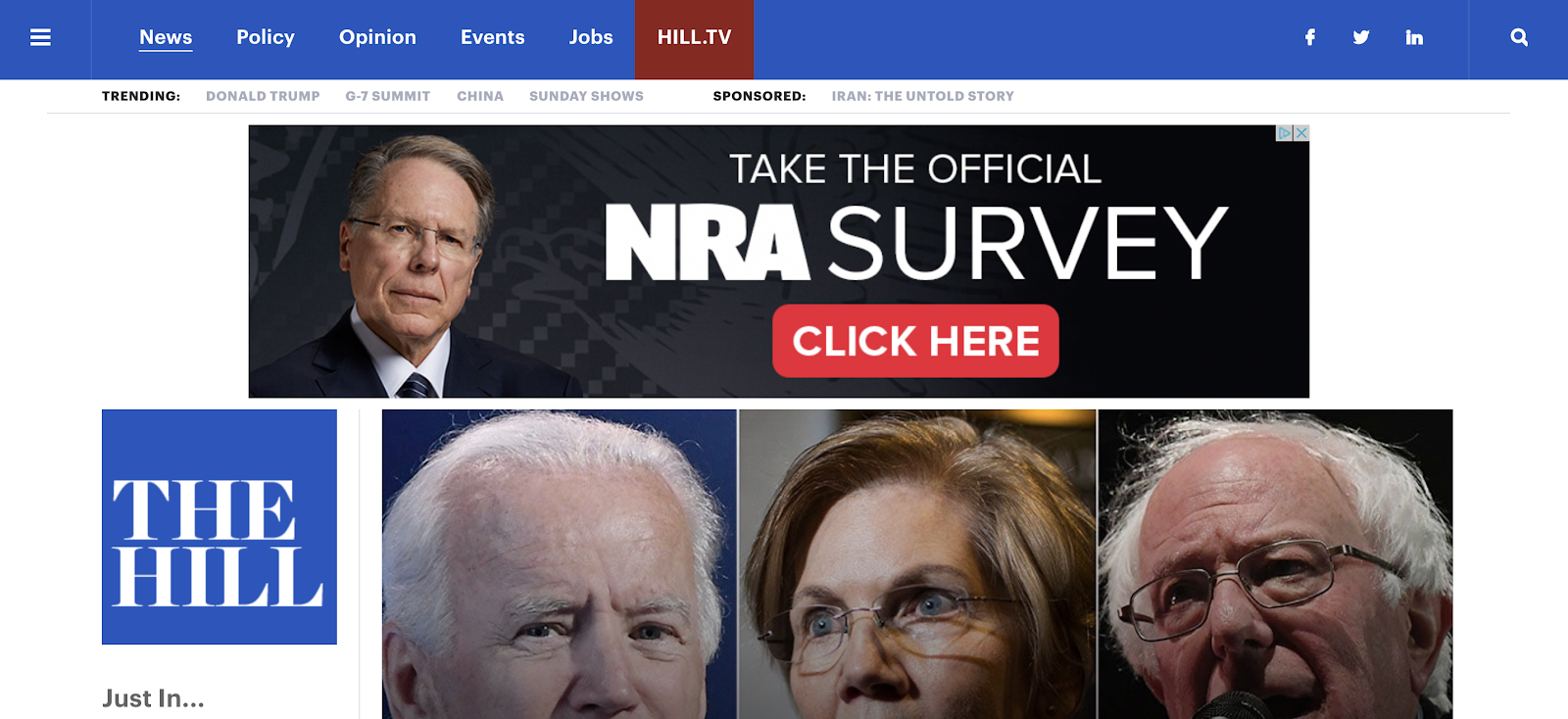 Pros of Joomla as a Free Blogging Site
Great Multilingual Options
Joomla is a great choice for people searching for a way to translate their website into many different languages.
Customization and Flexibility
Joomla allows you to do many things with your website and blog. You're not locked into a particular theme or minimal set of features. This level of flexibility gives you the ability to grow your blog.
Good for Monetization
With Joomla, you can monetize your site however you like, even as a free blogging platform which is an attractive feature. You can include ads, use affiliate links, and sell products as you see fit.
Joomla has eCommerce extensions like Eshop and J2Store that you can use to set up shopping carts and add products.
Cons of Joomla as a Free Blogging Site
Requires Moderate Level Tech Skills
If you're brand new to site building and blogging, Joomla would probably not be the best choice for you. Someone who has some running knowledge of coding would do better with this free blogging site.
Cost for Domain and Hosting
The Joomla CMS is free to use, but you will still have to pay for your domain name and hosting.
Some Compatibility Issues
Some of the plugins with Joomla have compatibility issues. These could be resolved by someone with more extensive coding experience, but is not a reasonable avenue for people with limited coding knowledge.
This frustration is compounded by the fact that many of the plugins are not free, so you're paying for a plugin that is incompatible with other plugins you've installed.
Site and Security Maintenance
Again, with any CMS, the onus is on you to make sure that your site is secure and properly maintained. If you're looking for a very easy way to maintain your site, you may prefer something like Wix or Weebly who do the background work for you—even on some of their most basic free blog site plans.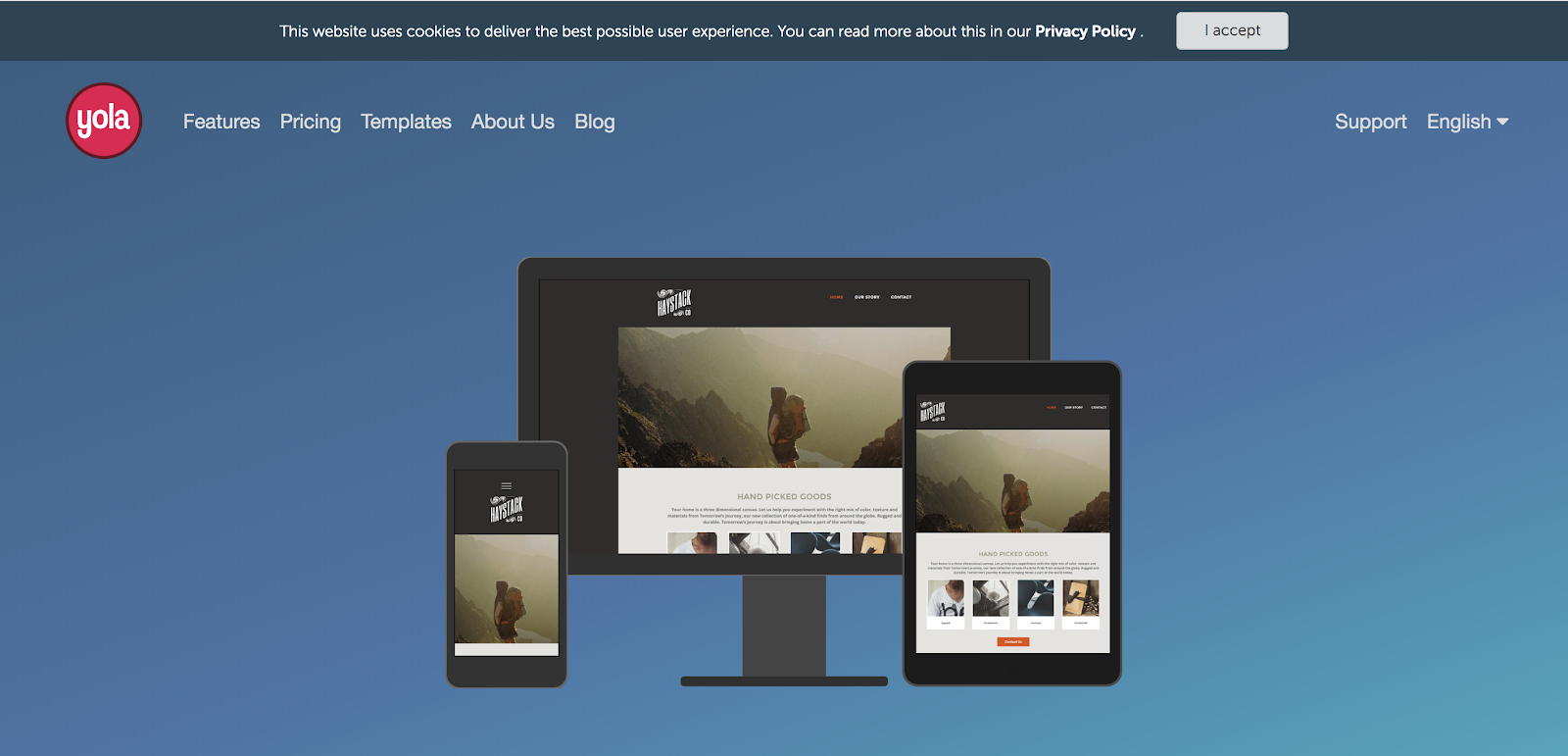 Yola is a free blogging site that's fairly easy to use, with a drag-and-drop feature. It's WYSIWYG, straightforward and it doesn't take long to learn & use.
Who Would Like Yola
I personally wouldn't consider Yola's free version as the best free blogging site to go with. While it does give you access to some nice responsive templates, the free version is very limited and doesn't quite stack up against the other free blogging sites we've compared in this list.
The ability to use your Yola site as an eCommerce space is probably one of its more alluring features. Unfortunately, this is not available with the free plan.
Most importantly, you can't create a blog directly on the Yola site. You can only create a blog by integrating an already existing Tumblr blog.
With these things in mind, I would only recommend the free version of Yola's a way to play around with website building or to determine whether you're interested in paying for a higher premium plan.
General Information About Yola
Yola began as a free blogging site in South Africa during 2007. The company is located in Cape Town and currently has over 12 million users.
Yola has around 80 templates — one minor issue with their templates is they are not categorized in any way. So you'll have to determine if you think the template works for the site you're trying to create.
The Sitebuilder is available in six languages including English, French, German, Italian, Portuguese, and Spanish.
Their goal is, "Making it easy for you to get your business online."
With a free plan you get:
3 Pages
1GB bandwidth
1GB storage
Yola subdomain
An Example of a Website Created on Yola
Transportation Children's Center: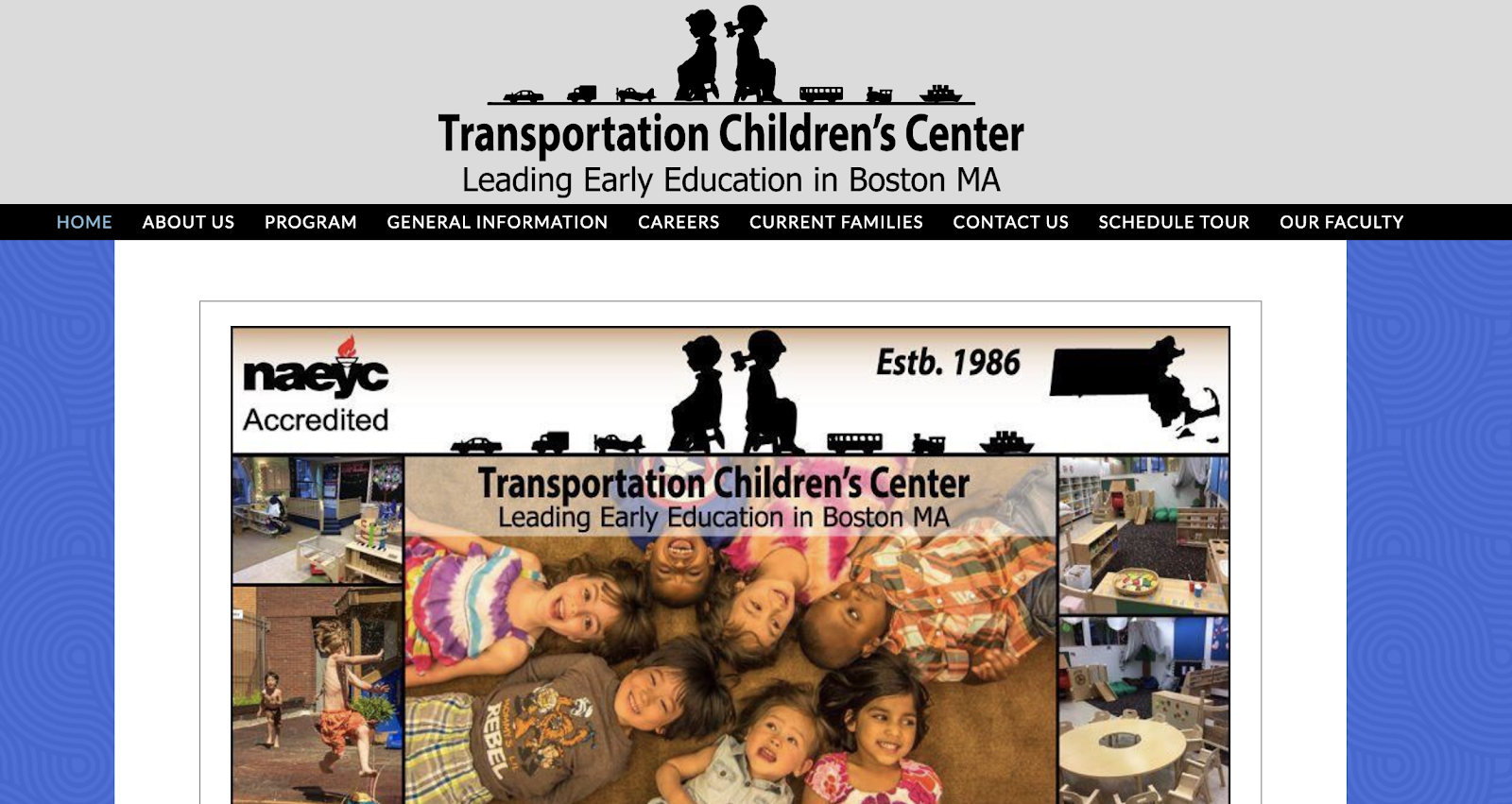 A Look Inside Yola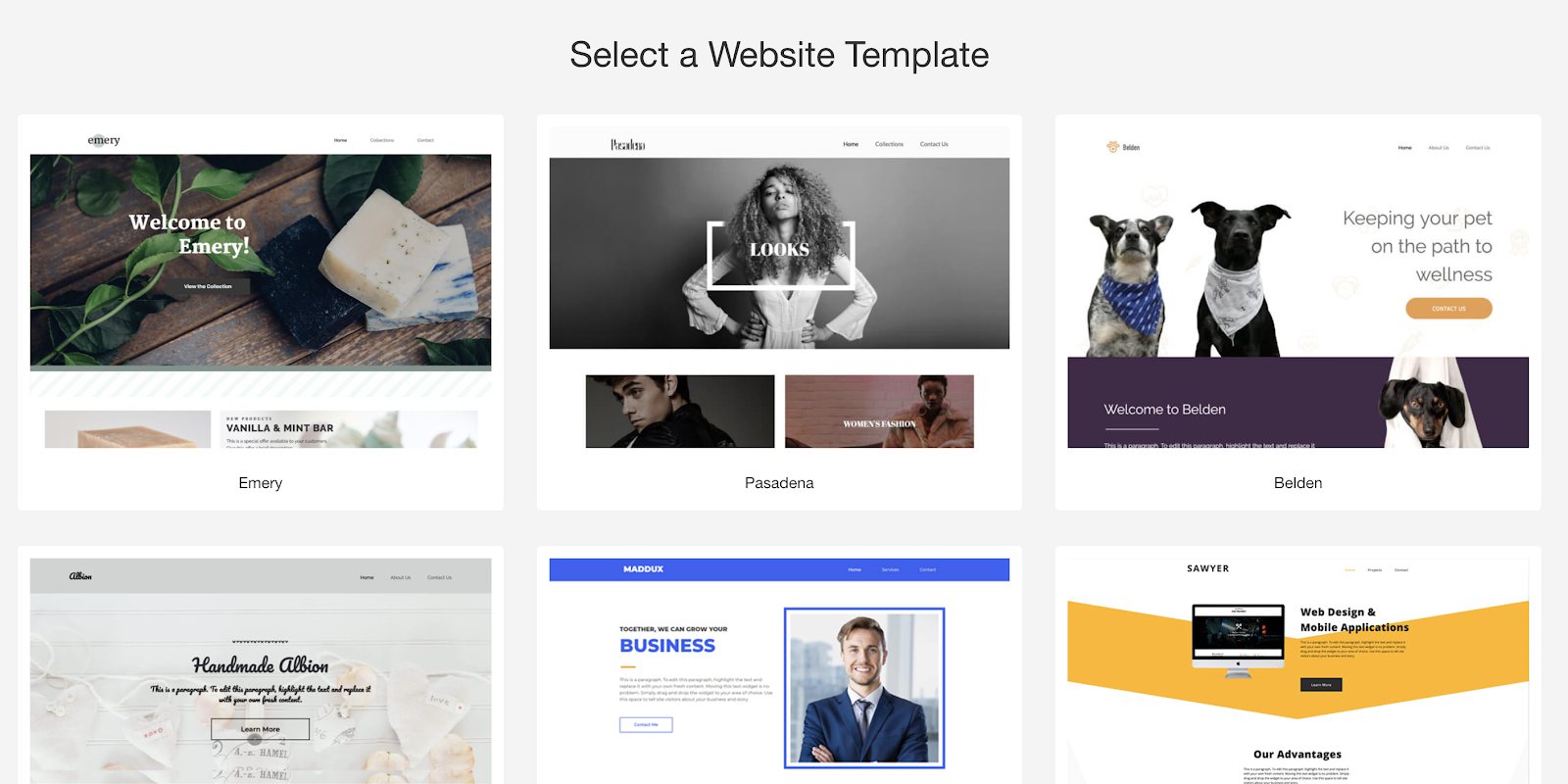 Yola allows you to choose a template to start with designing your blog. You can even choose a blank template if you'd like to start from scratch.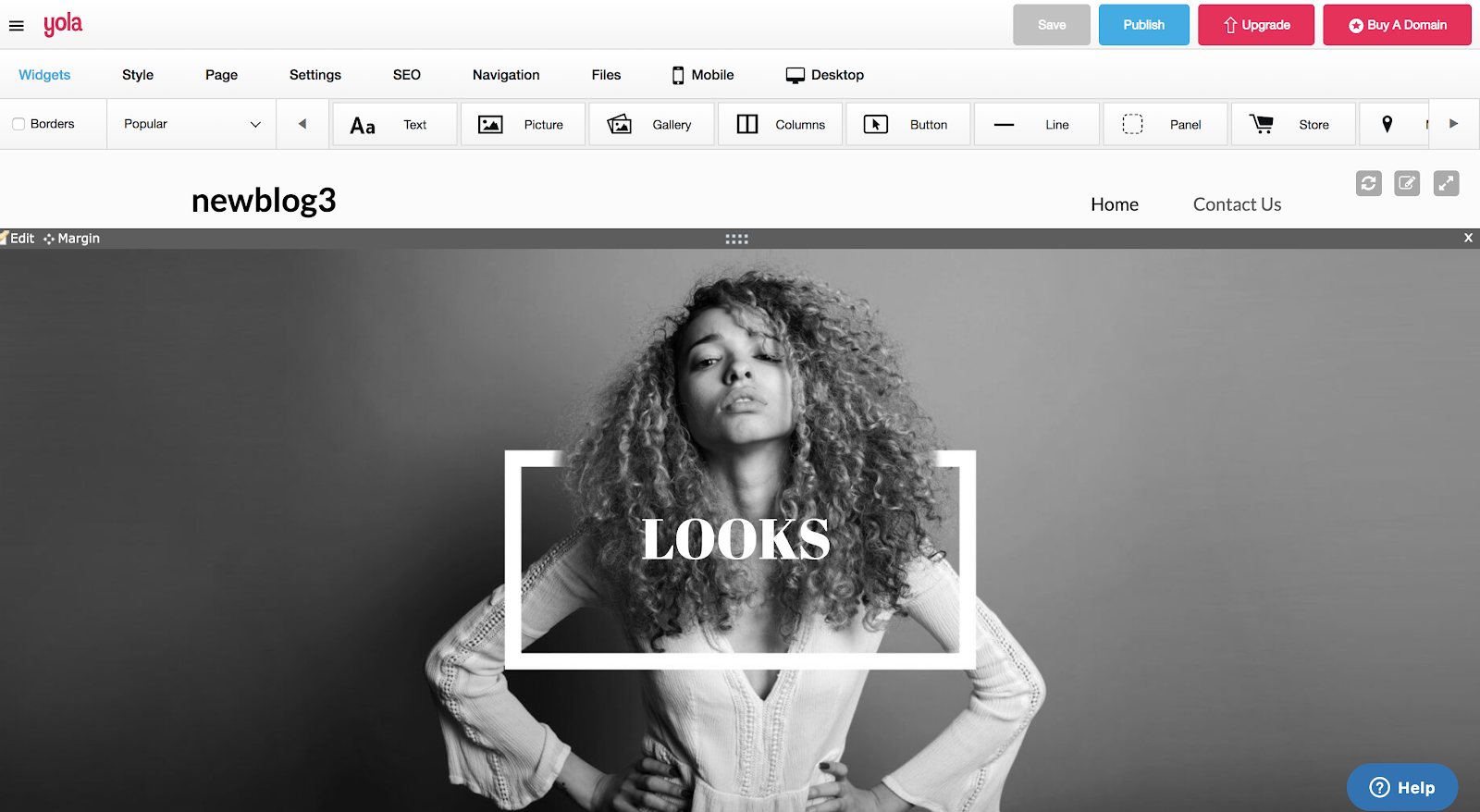 Here's what the editor looks like with the chosen template. In order to get started, you can remove the standard pictures and exchange them for your images.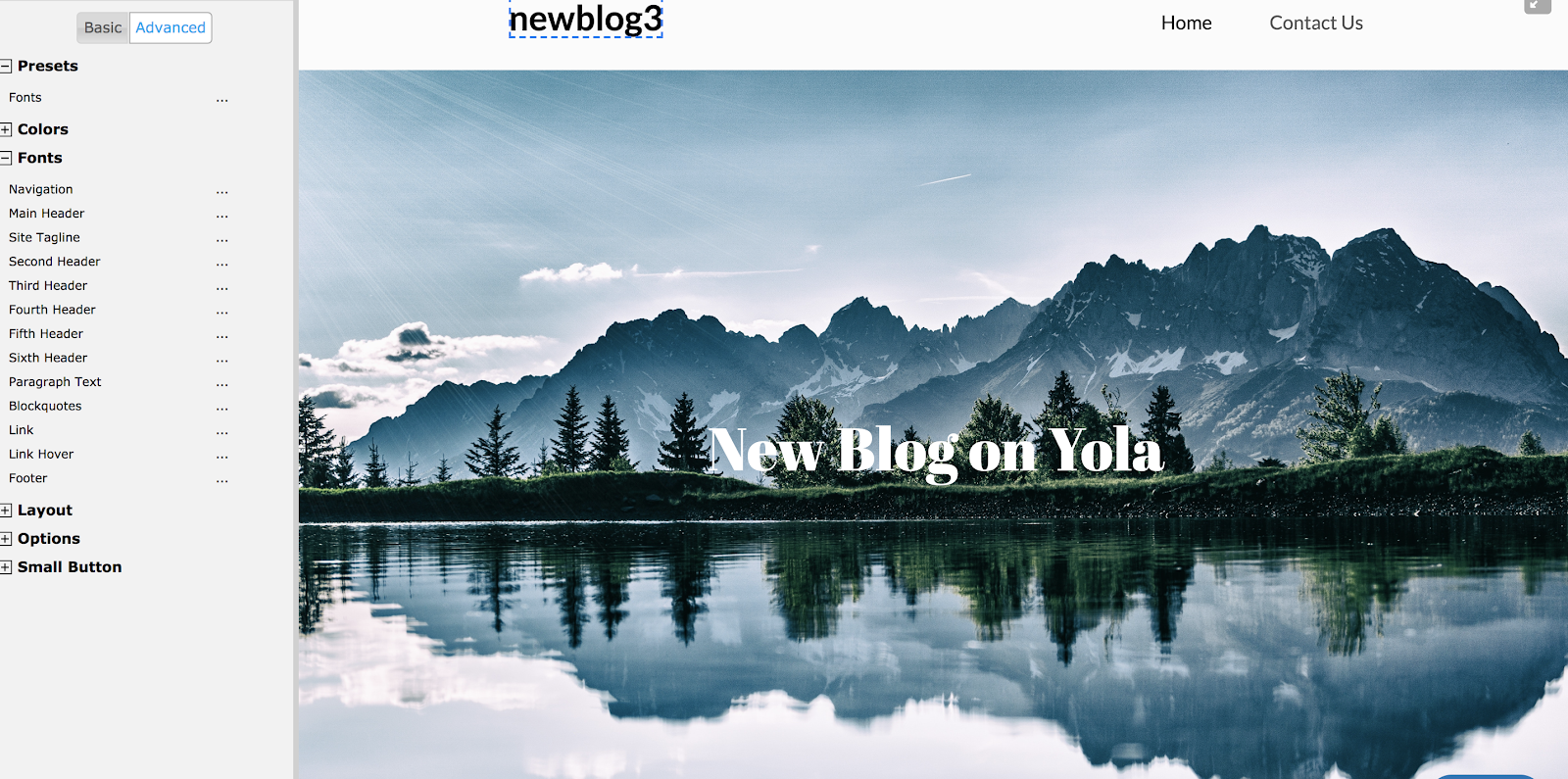 There are a lot of things you can customize on Yola including font, color, alignment etc.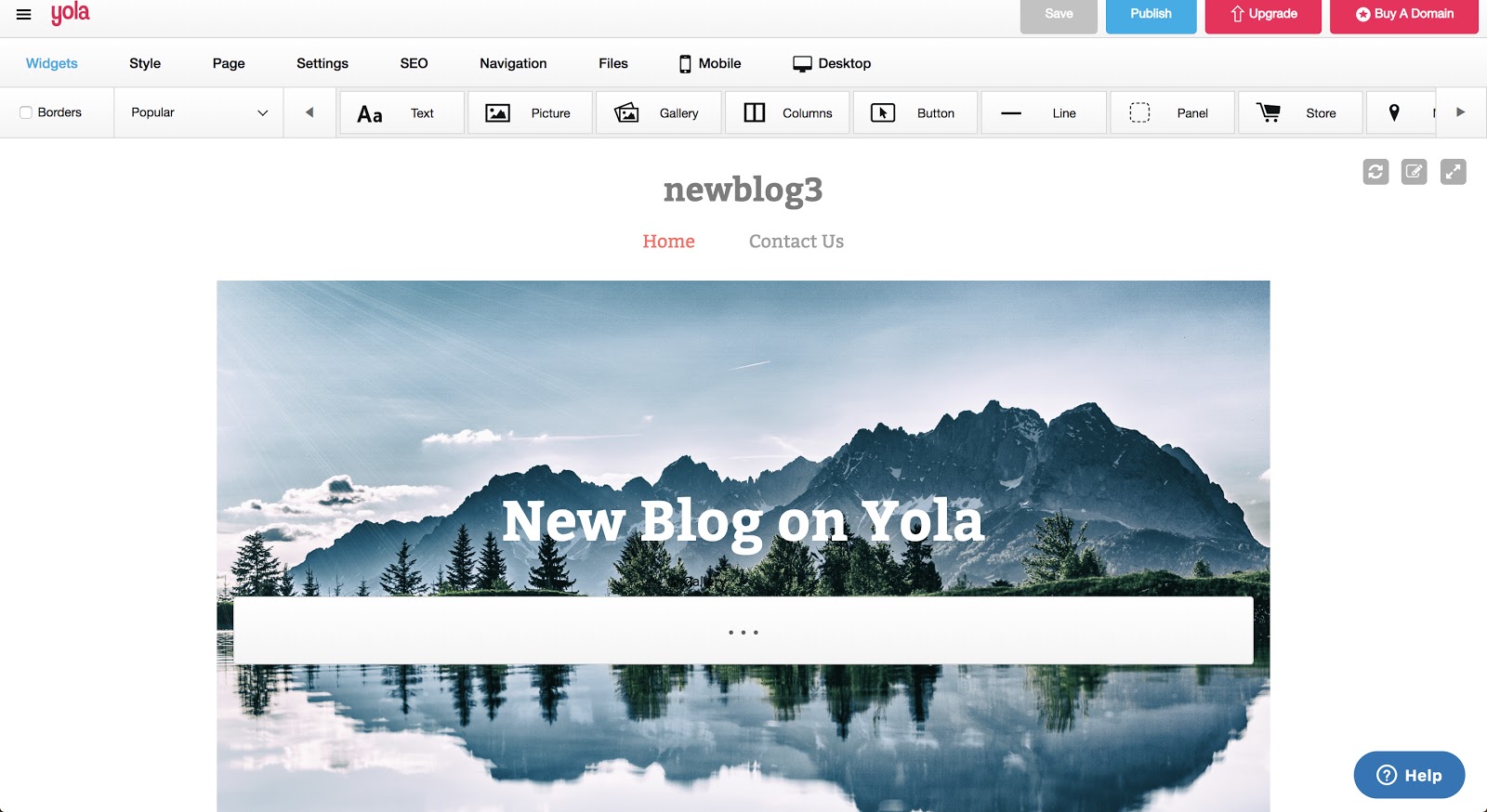 You can drag-and-drop widgets into place, but they do have to land in a predetermined area.
This can be a little restrictive if you have a different vision of what your blog should look like in your mind.
Pros of Yola as a Free Blogging Site
Fairly Simple to Use
Yola has a low learning curve and it doesn't take a lot of time to start putting together a website.
Free to Start
You can start using Yola right away without paying for anything, but will have to upgrade to remove Yola branding, add multiple pages to your site or sell products online.
Customization and HTML
Yola does offer quite a few customization choices for a free blogging site and you can add coding for additional features. They do explain that your coding may conflict with their Site builder at times, so that's something to be aware of.
Cons of Yola as a Free Blogging Site
Yola Branding
With the free plan, you will have a prominent Yola ad on the footer of your page.
Only Three Pages
If you're using the free plan with Yola, you are only able to have three pages total.
No In-House Blogging Options
Possibly the biggest problem with Yola is you cannot run a blog straight from the editor. You would instead have to create a blog on Tumblr and integrate it into your Yola site.
Have to Upgrade to Add a Store
Yola does have quite a few attractive eCommerce features, especially for a free blog site, but you'll have to upgrade to use them. You can't add a store with the free package.
---
Which Free Blogging Site is Best For You?
Which free blogging site matches what you're looking for is ultimately up to you.
If you're looking for an extremely simple way to start a blog and aren't concerned about making a profit with your site, something like Wix as a free blogging site might be your speed, at least from a starting point.
If you want something fun and a little unusual with a built-in community, you may want to choose Tumblr.
For the top one-size-fits-all answer to which of these blogging sites are best though… I would only recommend self-hosted WordPress as the way for you to start your blog today—especially if you eventually want to touch the lives of lots of readers or build a business around your blog.
In short, if your blogging goals include eventually generating revenue from your site and having a cohesive blog strategy that attracts readers, self-hosted WordPress is still the best way to go.
WordPress gives you the greatest potential to grow as a free blogging site (without forcing you to migrate your site soon after you get started). On WordPress.org you can start a simple hobby blog or build a profitable business. And for those who want something easy to start, you don't need any tech experience at all.
A self-hosted blog on WordPress has by far the greatest potential for bloggers who want to build a real business—and you can keep your blogging costs down to around $5.00/mo with the right cheap hosting plan, too.
Once you've done your research and are ready to build a profitable blog—head over to my ultimate guide to starting a blog.
Want to Start Your Blog (the Right Way)?
Check out my ultimate guide How to Start a Blog (on the Side).
---