In this guide, we're comparing, reviewing and looking at examples of all the best eCommerce website builders to choose from this year.
There are a lot of eCommerce builders out there, so deciding which one is best for your online store isn't always immediately clear.
In this comprehensive guide, I'm breaking down all the features (pros & cons) and giving you an unbiased review of all the best eCommerce website builders to choose from right now.
Follow along and you'll walk away with a clear sense of which platform you should use to sell your products online today.
12 Best eCommerce Website Builders (to Sell Products Online) in 2023
Disclosure: Please note that some of the links below are affiliate links and at no additional cost to you, I'll earn a commission. Know that I only recommend products and services I've personally used and stand behind. When you use one of my affiliate links, the company compensates me, which helps me run this blog and keep all of my in-depth content free of charge for readers (like you).
Before we jump into my side-by-side comparison of the best online store platforms, I'm going to answer a few questions that arise when discussing eCommerce.
Just click to expand any question and read the answer.
What is an eCommerce Website Builder?

Simply put, an eCommerce website builder is a software tool that lets you create an online store to easily sell products or services online.sh

Having an online store allows you to show off all your products and quickly accept payments directly from your customers. Using an eCommerce platform is essentially an alternative to selling your products on third-party sites like Etsy, Amazon, eBay, Fiverr, and so on.
What's the Benefit of Using eCommerce Website Builders (for Bloggers)?

Bloggers are often looking for ways to increase their blog's revenue. Many bloggers rely on affiliate marketing, sponsorships, and blog advertisements to make money.

Another way bloggers make money is through selling products and services in an online store. Some bloggers create their own handmade products, or sell digital items, courses, consulting, or other services in fields related to their blog (that are relevant to their readers).

Using an eCommerce platform allows you to sell things straight from your own website (safely and securely). The benefits include:

Diversification of Income

One major benefit of selling products and services online is diversification. While I strongly recommend using affiliate programs for blogging revenue, a mix of income sources can keep a blog's income strong. This is especially true when one area of income is weak for a time. Even if your affiliate sales are low, your sales may be flourishing.

No Commission Fees

Another major benefit of creating an eCommerce website is that you get to keep (almost) all of your income.

Fees may apply through your payment options (e.g. PayPal charges 2.9% + .30 cents for selling online) but you won't have to pay commission fees to third party sites.

Complete Control Over Your Online Store

Having your own eCommerce store also gives you the opportunity to display things exactly as you want. You have complete control over the design of your eCommerce store. You can choose colors, fonts, layouts, styles, and more.

Drag-and-drop page builder tools like Shogun can further help you build and optimize your online store without writing a single line of code.

Keep in mind, your income will depend, to a large degree, on your blog marketing. As with any online side hustle, you need traffic in order to make money from your online store.
What Can You Sell on an eCommerce Website? (40+ Examples)

If you're not sure what to sell from your blog's online store, try some of these ideas:

Digital goods: courses, eBooks, photos, tutorials/guides, apps, software, music, recipes, coloring pages, templates, and more.
Niche products: target a very specific product ideas and audience group, like "gifts for gamers" or "accessories for book lovers".
Wholesale or B2B products: office supplies, computers and tech, building materials, kids' toys, pet supplies, camping equipment, and pretty much anything you can sell in bulk.
Handmade goods: tech accessories, photo prints, art prints, candles, soaps, jewelry, knitted, sewn, or crocheted items … or anything you can make to a high standard.
Branded goods with your website name, logo, and/or slogan on: t-shirts, stickers, hats, water bottles, face masks, key rings, and lots more.
Reselling products: food, wine, clothing, books, tools, kitchen products, luxury items … anything you can buy from wholesalers, distributors, or manufacturers, and sell on at a profit.
Services: workshops, private coaching, consulting, freelance writing, web design, tech help, project management, virtual assistant services, or anything else you can provide

Once you decide the type of product or service you want to sell, the next step is to choose the best eCommerce builder that can help you reach your goals.
Now, let's dive in and break down the features of the key eCommerce platforms on the market this year—so you can pick the one that's right for your business.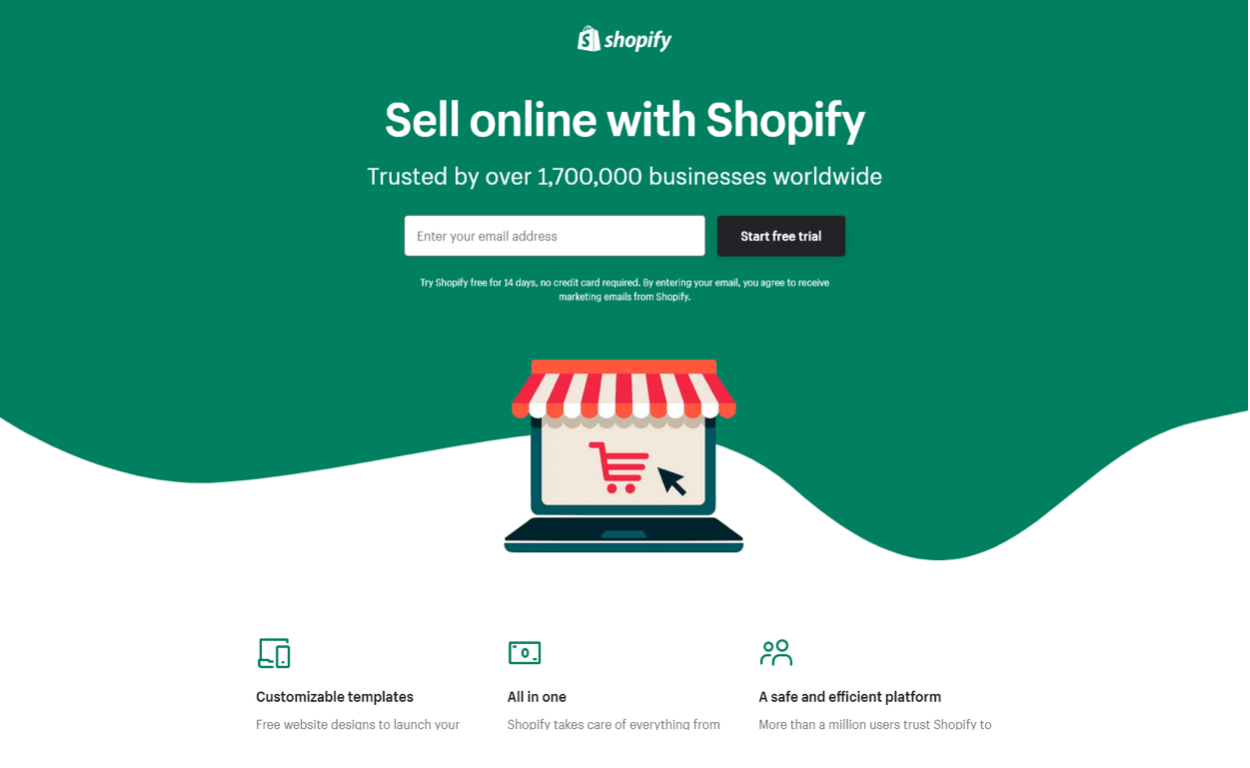 Shopify was created in 2004 by three Canadian residents who wanted to start a snowboarding shop online but were unimpressed by the eCommerce functionality available at the time.
One of the three, Tobias Lütke, was a computer programmer and decided to build his own online store platform to suit his needs. Shopify even offers the capability to purchase a domain name through their platform today—try my free domain name generator and get started.
Shopify is now used by over a million brands. It offers many benefits, including an easy-to-use interface, curated themes, a variety of payment methods, built-in security, and much more.
Now, let's take a closer look at what Shopify has to offer compared to other online sales platforms.
Price of Shopify's eCommerce Website Builder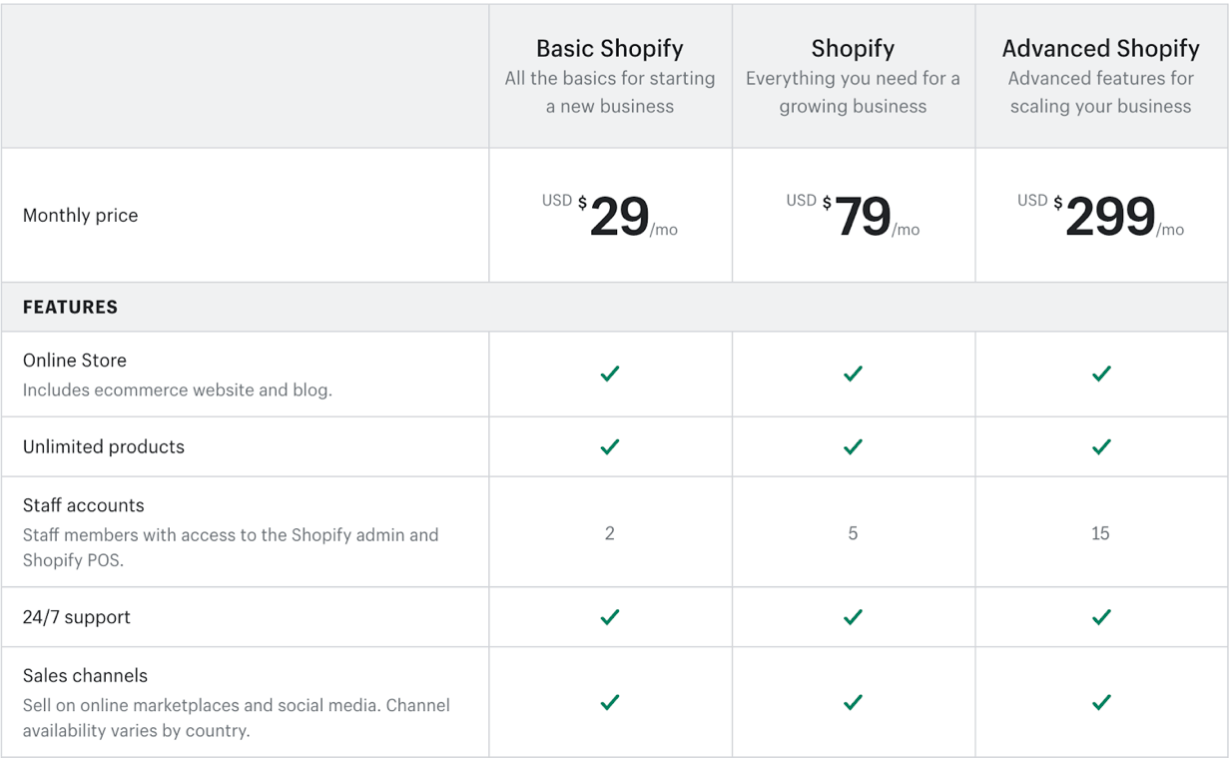 Shopify's cheapest plan is $29 a month and their most expensive plan is $299 a month. They offer a free 14-day trial to see if you like their services (no credit card required).
Features of Shopify
Shopify offers three plans for their eCommerce website builder tool suite. Their cheapest plan, Basic Shopify, includes:
eCommerce website and blog
Unlimited products
2 staff accounts
Sales channels (ability to sell on online marketplaces and social media)
Up to 4 locations for product inventory
Manual order creation
Discount codes
Free SSL certificate
Abandoned cart recovery
Gift cards
Print shipping labels
Fraud analysis
Shopify POS Lite
The Advanced Shopify Plan offers the same features plus:
15 staff accounts
Up to 8 locations for product inventory
Advanced report builder
Third-party calculate shipping rates
Professional reports
Ease of Use of Shopify
Shopify's interface is simple and easy to use. The What You See Is What You Get (WYSIWYG) content management system means you can see new changes to your eCommerce website in real-time.
There are plenty of tutorials on all aspects of creating and running online stores to help. They also offer 24/7 live support if you have additional questions.
Support for Shopify
Shopify offers 24/7 support via phone, live chat, and email.
Scalability of Shopify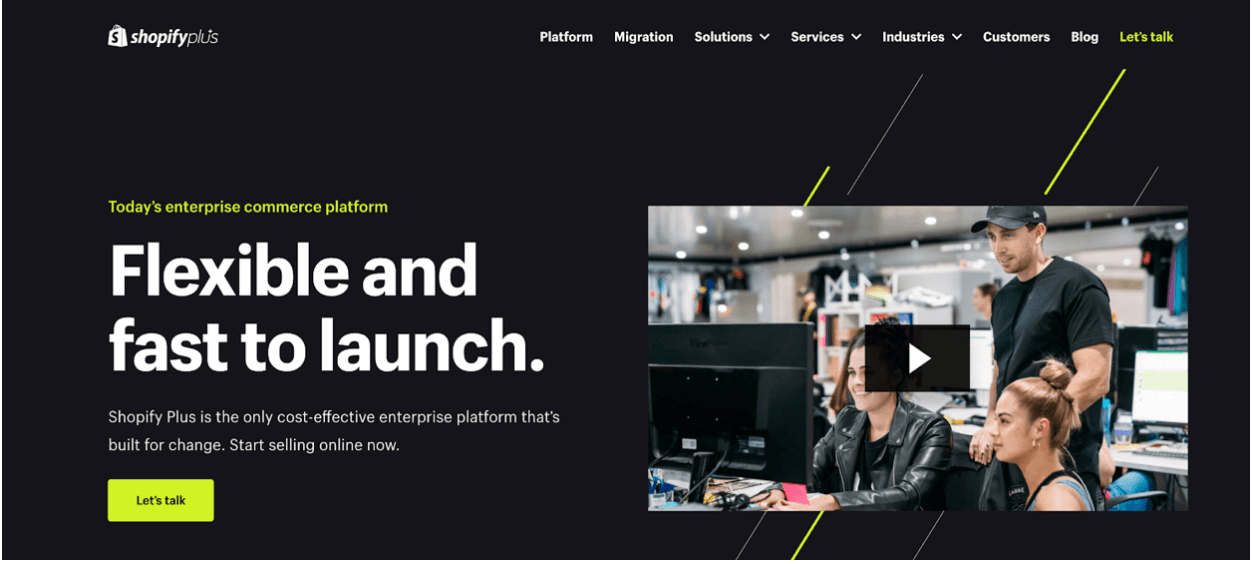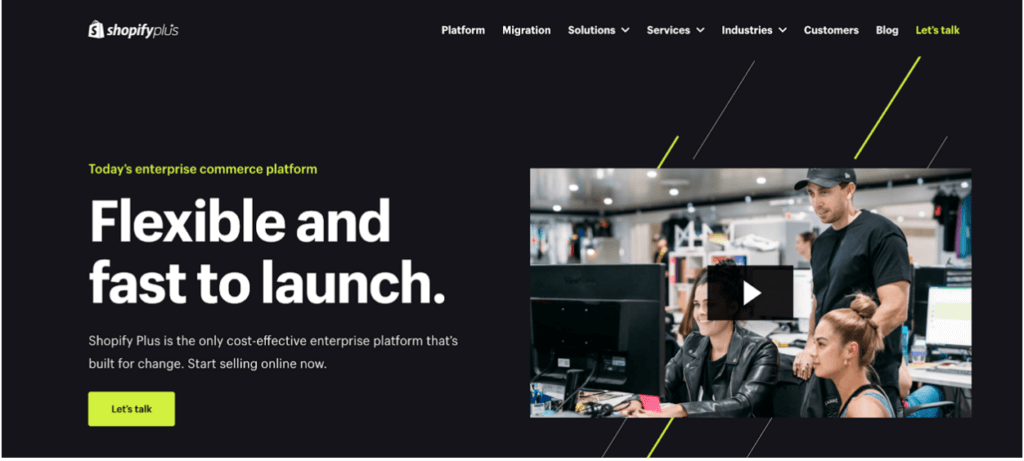 In terms of scalability, Shopify has quite a few perks. Shopify offers three tiers of plans for growth, as well as Shopify Plus that's specifically geared towards enterprise eCommerce shops.
Shopify Plus has been used by the eCommerce agency Simplistic to make eCommerce sites for famous brands like GE, Black and Decker, Fashion Nova, and M&Ms.
A big benefit of Shopify Plus is they take a lot of the work off your shoulders. They take care of a lot of the website management to make your job easier as an entrepreneur.
You don't have to worry about managing updates, security, or performance for your growing shop or online boutique.
Shopify Security
Shopify ensures all of their sites are automatically PCI DSS compliant out of the gate. Their PCI DSS compliance involves:
Maintaining a secure network
Protecting cardholder data
Maintaining a vulnerability management program
Implementing strong access control measures
Regularly monitoring and testing networks
Maintaining an information security policy
Shopify writes, "All Shopify stores using our platform are automatically PCI compliant by default. When you choose Shopify to power your store, you can rest easy knowing that we invested significant time and money to obtain our Level 1 PCI certification and that our certification covers your store, its shopping cart and web hosting."
Shopify also provides SSL security and website updates needed to maintain ongoing security.
Payment Gateways With Shopify's eCommerce Website Builder
Shopify has its own payment method called Shopify Payments. You can also choose from many other payment gateways, including:
Amazon Pay
Checkout.com
DigiPay
PayPal Express Checkout
WorldPay
As far as the best commerce platforms go, it truly doesn't get better than Shopify. Their usability, and speed of getting online and selling make them the best on the market today.
You can read more about Shopify and try a free 14-day trial here. And to help grow your eCommerce store, use my free keyword research tool & blog headline generator today.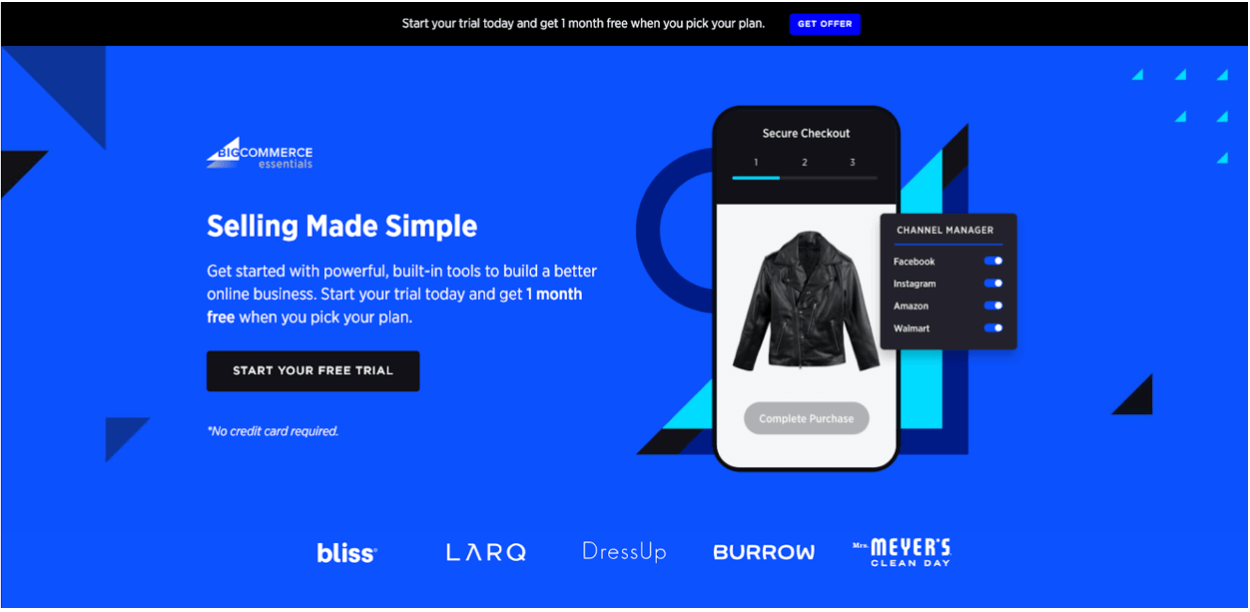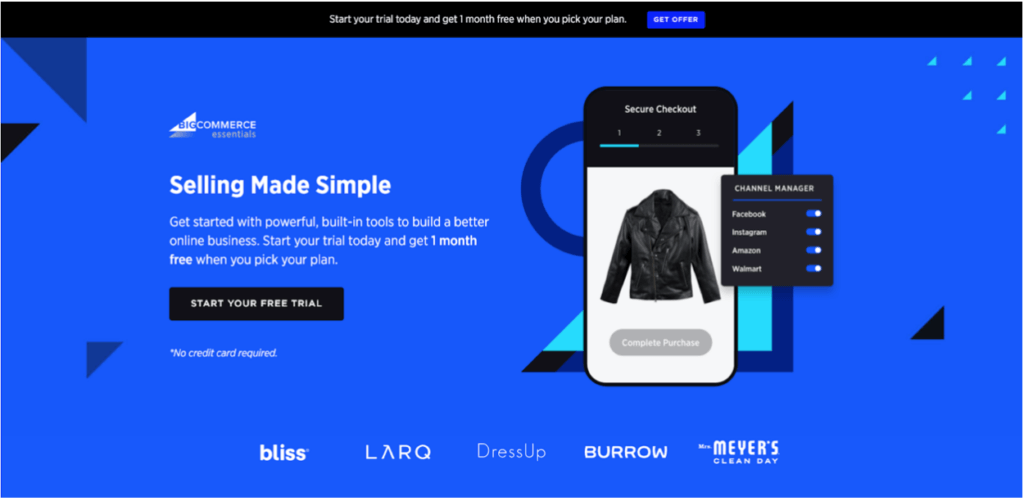 BigCommerce is another fantastic option for online sales.
They're best known for their scalability and wide range of add-on tools. This company began as a solution for small businesses to open online stores, but today services both small and large scale online businesses.
Price of BigCommerce's eCommerce Website Builder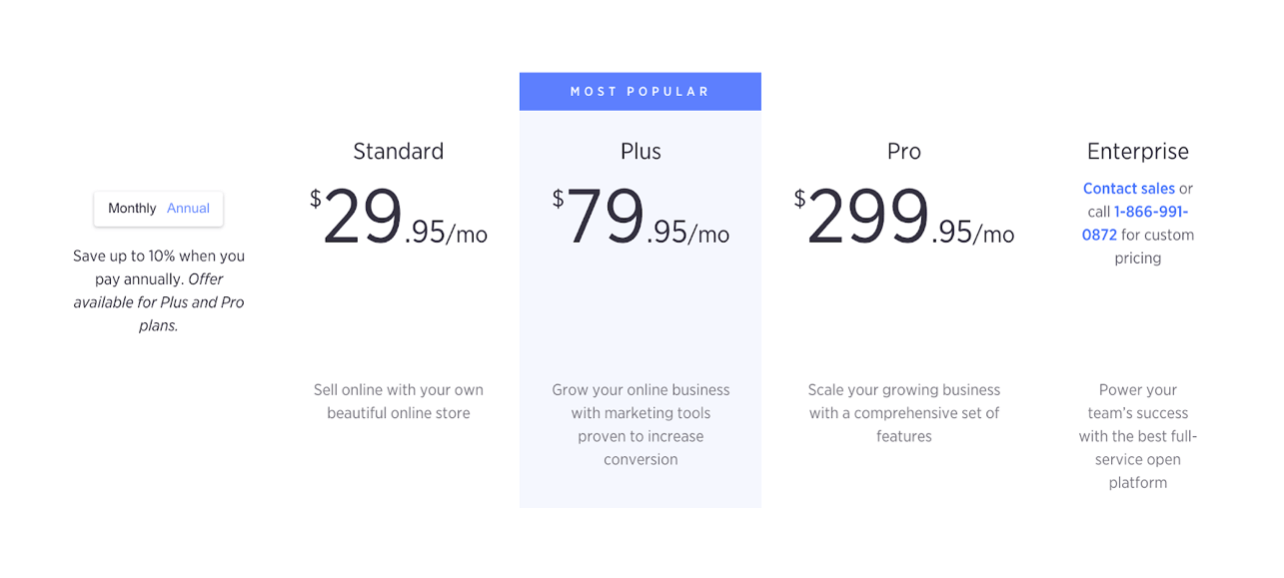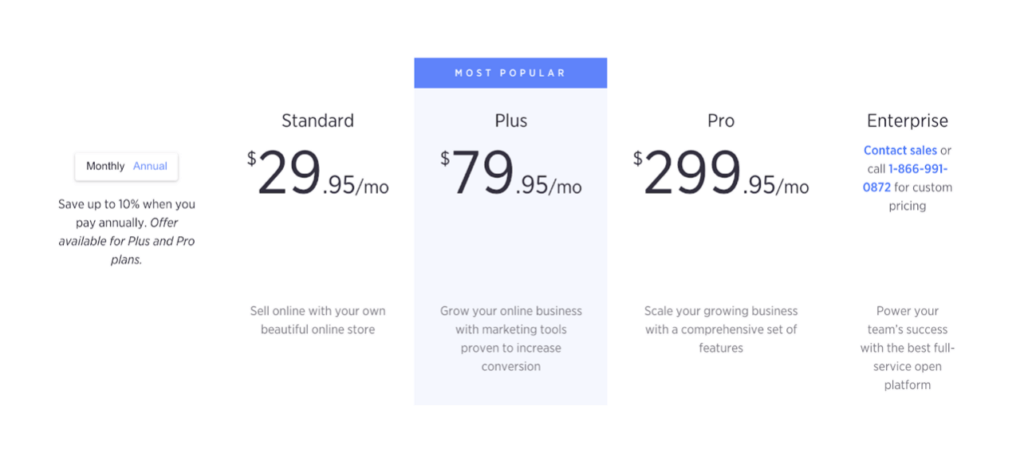 BigCommerce offers a range of plans starting from $29.95 a month for their Standard Plan and $299.95 a month for their Pro Plan, which are virtually the same as Shopify's pricing plans.
They also offer an Enterprise plan for high-volume sellers.
BigCommerce also offers a very robust, fully-featured free 1-month trial you can learn more about right here.
Features of BigCommerce
BigCommerce's least expensive Standard Plan offers:
No transaction fees
Unlimited products, file storage, and bandwidth
Unlimited staff accounts
Branded online store
Ability to connect your store to online marketplaces like eBay and Amazon
Point of Sale
Integration with Facebook, Instagram, and Google Shopping
Responsive website
BigCommerce mobile app
Single-page checkout
Coupons, discounts, and gift cards available
Real-time shipping rate quotes for customers
Professional reporting tools
Blog available to add to your online store
Free HTTPS and SSL security
Multi-currency
Up to 50k in online sales per year
BigCommerce's Pro Plan offers the same features plus:
Customer groups and segmentation (can reward frequent customers)
Abandoned cart saver
Persistent cart (available across devices while the customer is signed in)
Stored credit cards
Product filtering
Custom SSL
Up to $400K in sales per year
Ease of Use of BigCommerce
Some of the extra features offered by BigCommerce add to the higher learning curve with this eCommerce builder.
BigCommerce also uses some occasionally complex terminology. Not being familiar with these technical terms can translate into extra hours developing an online store.
To combat the issues new users were experiencing with the platform, BigCommerce released their Page Builder, a browser-based tool that allows merchants to "rapidly modify and customize a storefront's look and feel without writing any code."
BigCommerce's Support for Their eCommerce Website Builder
BigCommerce offers 24/7 support to customers. They also have a knowledge base center and a community forum where you can ask questions.
Scalability for BigCommerce
Scalability is one of the areas where BigCommerce truly shines.
Unlike many other eCommerce website builders on the market, BigCommerce doesn't rely on third-party apps for growth.
It offers more built-in features than many of its competitors and gives plenty of room to grow through its powerful tools.
Security for BigCommerce
BigCommerce is ISO/IEC 270001:2013 and PCI DSS 3.2, Level 1 certified. BigCommerce stores are also protected by firewalls, file integrity scanners, and intrusion detection.
For additional security help, BigCommerce released a comprehensive guide for best practices for eCommerce security.
Payment Gateways with BigCommerce
BigCommerce offers a large list of payment gateways. Some of the more recognizable ones on the list are:
Amazon Pay
Chase Integrated Payments
PayPal
PayPal Express Checkout
Square
Stripe
Google Pay
VISA Checkout
Apple Pay
Masterpass
At the end of the day, BigCommerce is a great option for your online store for a good reason—you'll be able to create a beautifully designed online shopping experience for your customers that also functions well for you, the manager.
Give BigCommerce a try with their month-long free trial right here.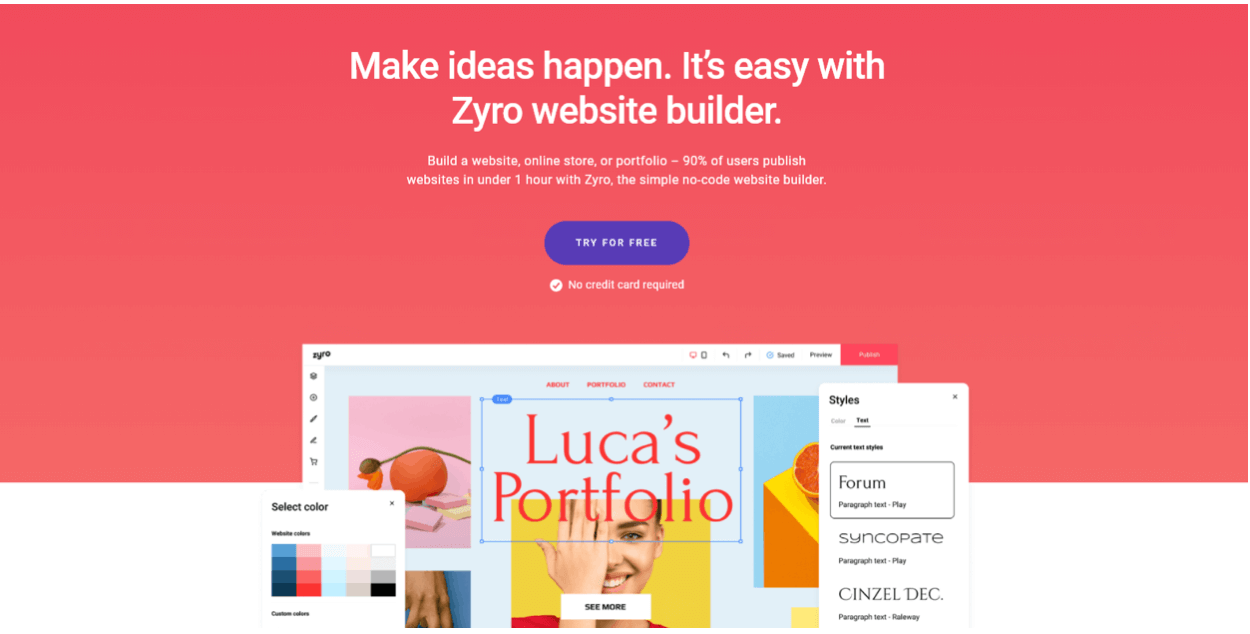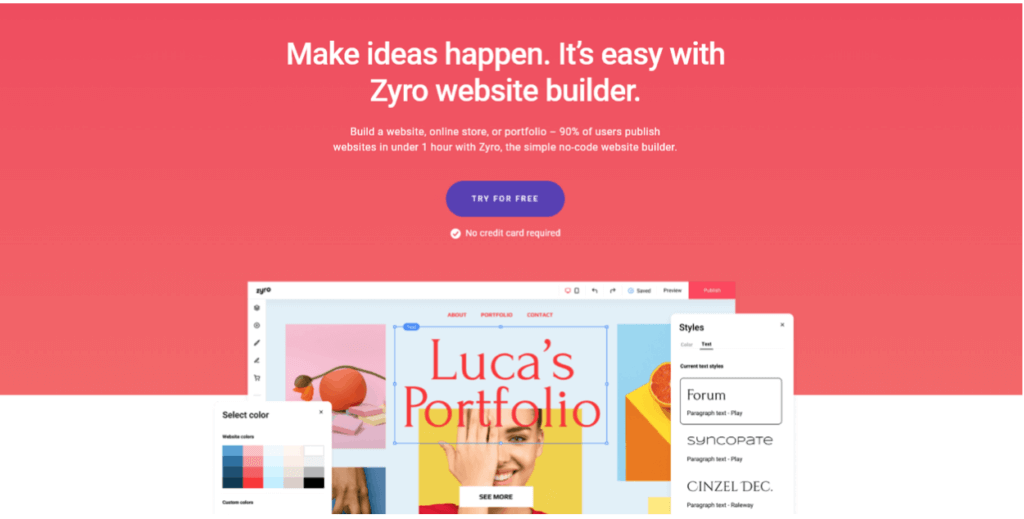 Zyro is a fantastic up-and-coming eCommerce platform, founded in 2019. It uses AI (artificial intelligence) tools to help website owners create their sites, including AI Writer and AI Heatmap.
The AI Writer tool has been used to create Shakespearean sonnets and even song lyrics in the style of famous musicians — though you're more likely to use it to help write your website copy.
If you're interested in freelance writing, you might even use it to help create draft content, such as blog posts.
Over 100,000 websites have been published on Zyro … and it could make a great home for your eCommerce site, as well. It's especially well designed for beginners.
With Zyro, you also get a logo maker and photo repository to get your site looking great with this eCommerce website builder tool. The drag-and-drop interface is easy to use.
Price of Zyro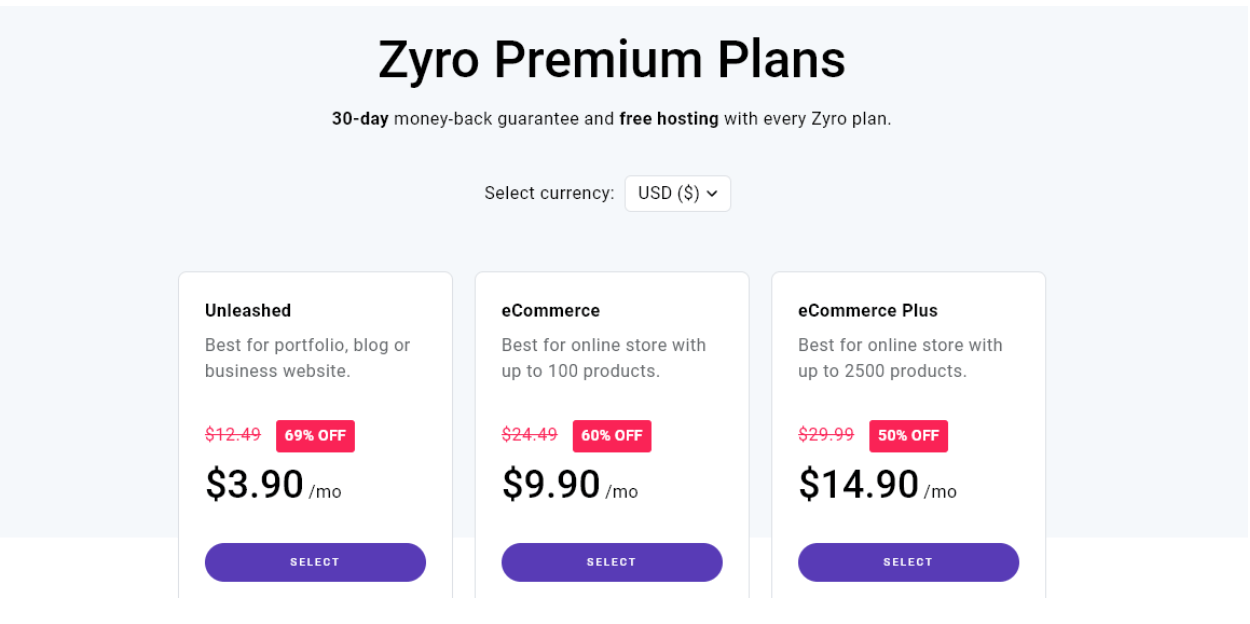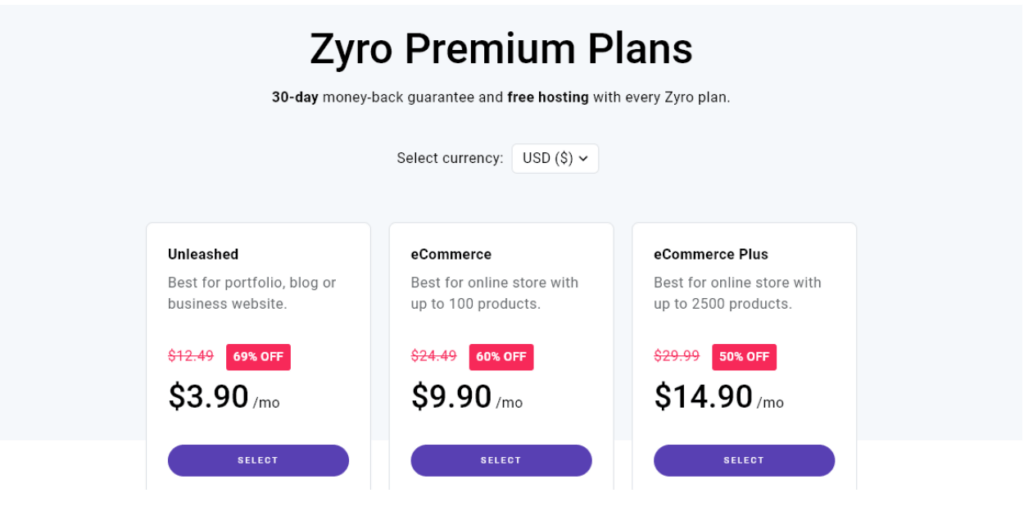 Zyro's eCommerce platform costs from $9.90/month—though to get that cheapest price, you need to pay for 4 years upfront.
You could, instead, opt for the 1 year plan, which works out to $12.90/month (paid upfront), or you could pay for your website monthly at $19.90/month.
With Zyro, your chosen plan will always renew at the initial price you paid. This helps you keep the costs of starting a blog under control.
There's a 30-day money-back guarantee, in case you decide Zyro isn't working well for you.
Features of Zyro's eCommerce Website Builder
Zyro offers two different eCommerce plans. The cheaper one is eCommerce, which includes:
An eCommerce website plus blog
Up to 100 products
Online payments (multiple payment options)
Shipping and tax management
Unlimited bandwidth
Unlimited storage
A free domain name (or connect your existing domain)
Free email for 3 months
An SSL certificate
Automatic search engine optimization
Responsive designer templates
A suite of AI tools for branding (name, logo, and slogan)
Facebook Messenger and WhatsApp live chat to interact with your customers
The more expensive plan is eCommerce Plus and that gives you all the above, plus:
Up to 2,500 products (instead of 100)
Abandoned cart recovery
Product filters
Facebook and Instagram stores
Your products on Amazon
Ease of Use for Zyro
Zyro is straightforward to use, even if you're completely new to building websites. You start by selecting a site template and creating an account.
Once you start building, Zyro will walk you through the most important parts of your website.
You customize your site using an intuitive drag-and-drop interface and a grid system, where the elements you want effortlessly snap into place on the grid.
The templates are fully responsive, so they'll look great to users on desktop, mobile, and tablet devices.
The drawback to this is, you can't switch templates: if you create your site and then want to change the design, you'll need to start from scratch and transfer your content over.
Support for Zyro
The Zyro customer support team is available 24/7 via live chat. If you prefer, you can contact them by email instead. If you want to learn more on your own, there's a good range of online documentation in the online help center.
Scalability for Zyro
You can upgrade your Zyro subscription by contacting the customer support team — you'll only need to pay the difference between your current plan and the upgraded one.
This means you could easily start with the eCommerce plan, then upgrade to eCommerce Plus once your store grows large enough to need more than 100 products, or once you want extra features.
Security for Zyro
All Zyro's plans include an SSL certificate, meaning users will have a secure connection with your site.
Plus, Zyro's eCommerce tools are PCI DSS compliant, meaning your site will meet the highest standards for online financial transaction security.
Payment Gateways with Zyro
When it comes to payment gateways that function with their eCommerce website building tools, Zyro offers plenty of options. You can accept payments through dozens of different gateways, including big popular options like:
Stripe
PayPal
Authorize.Net
WorldPay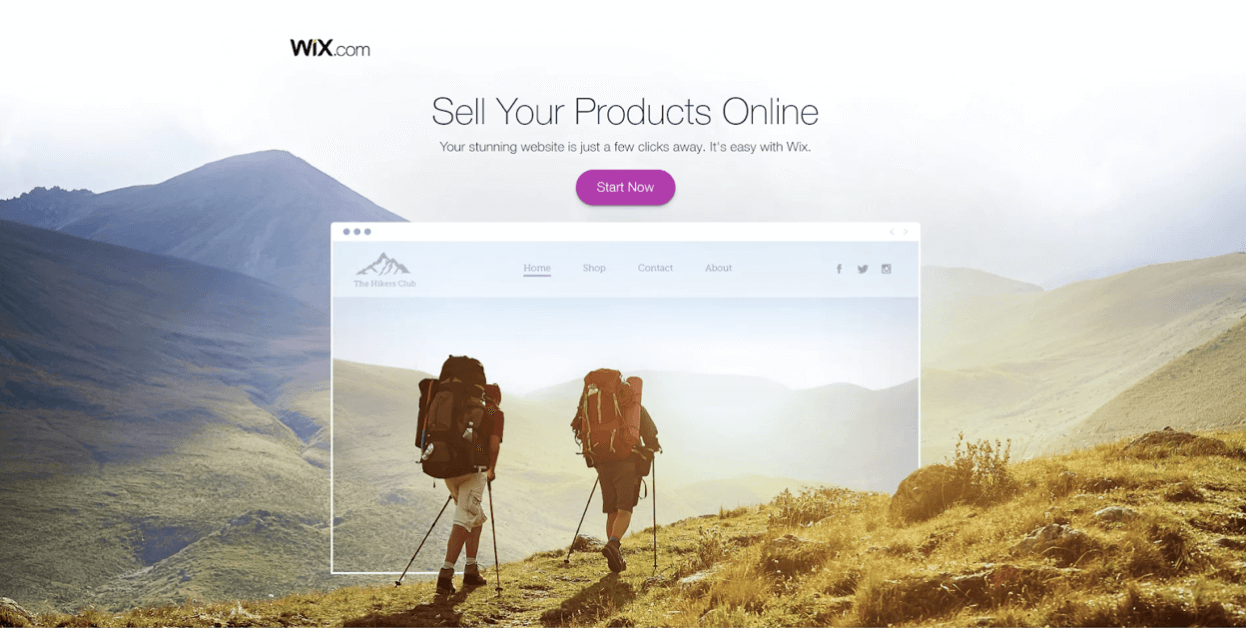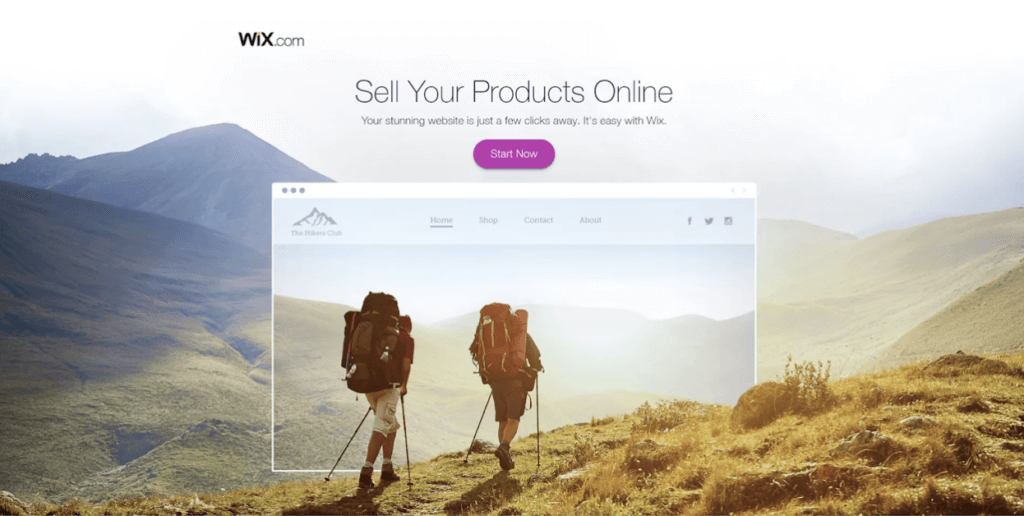 Wix is widely known for being a very easy-to-use website builder and is often used by people brand new to making websites. They're a great platform to use for building your online store
One of the main appeals of Wix is that it has a WYSIWYG drag-and-drop editor that allows you to see changes in real-time.
Wix takes a lot of guesswork out of creating an eCommerce website and can be a good option, especially for beginners looking to make their first online sales.
Price of Wix's eCommerce Website Builder
Wix provides everything in their system. You won't have to pay additional fees for security or hosting, and you get a free domain name for the first year.
Here's a look at Wix's pricing plans: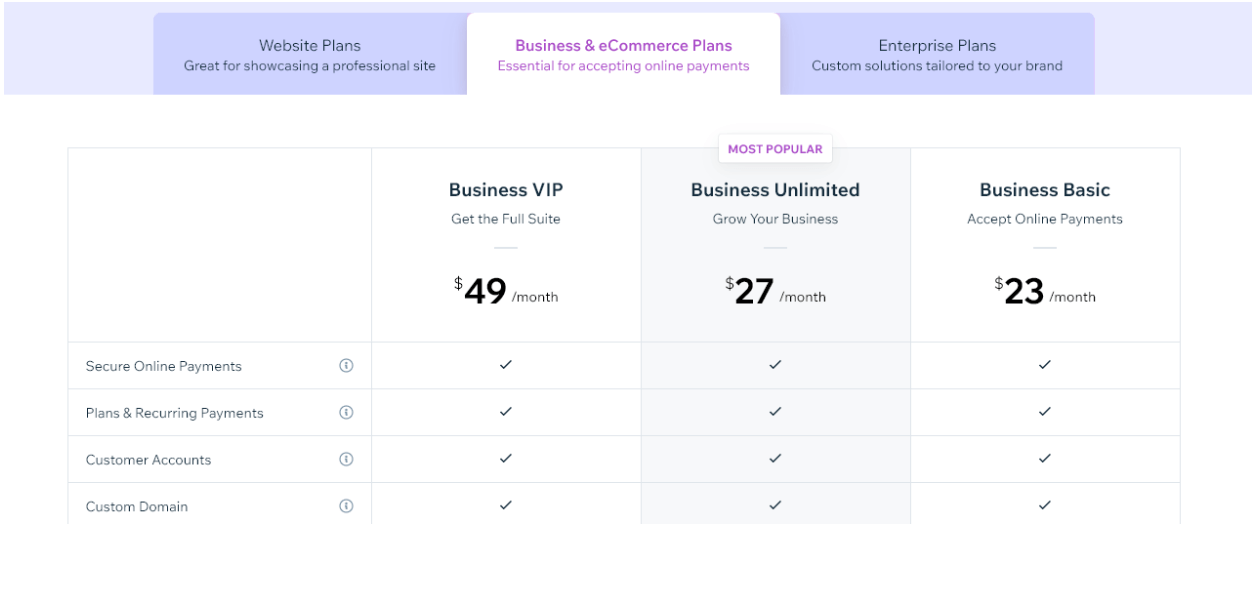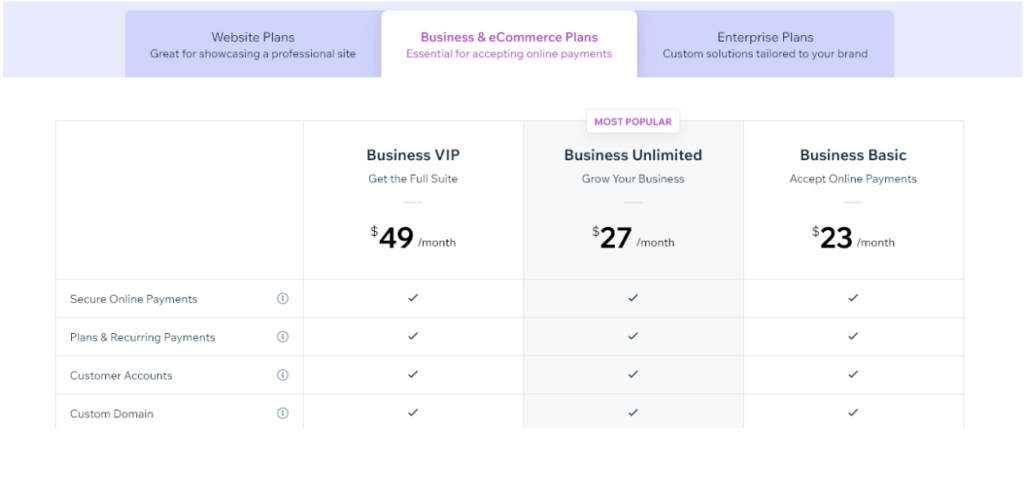 The Wix eCommerce prices range from $23 a month to $49 a month. For users looking for more, they also offer an Enterprise plan.
Features of Wix eCommerce
The cheapest plan, known as the Business Basic plan, comes with:
Secure online payments
Plans & recurring payments
Customer accounts
Free domain name for 1 year
Remove Wix ads
Unlimited products
Abandoned cart recovery
Ability to sell on social channels like Facebook or Instagram
20GB storage space
5 hours video
The $49 Business VIP plan includes all the same features plus:
50GB storage
Unlimited video hours
Priority customer care
Subscriptions
Multiple currencies
Automated sales tax on 500 transactions/month
Advanced shipping options like printing labels and connecting shipping apps
Sell on marketplaces
3,000 product reviews by KudoBuzz
Loyalty program by Smile.io to reward returning customers
Wix also offers a Wix App Market that gives you additional options (some free and some premium) to make your eCommerce website more advanced.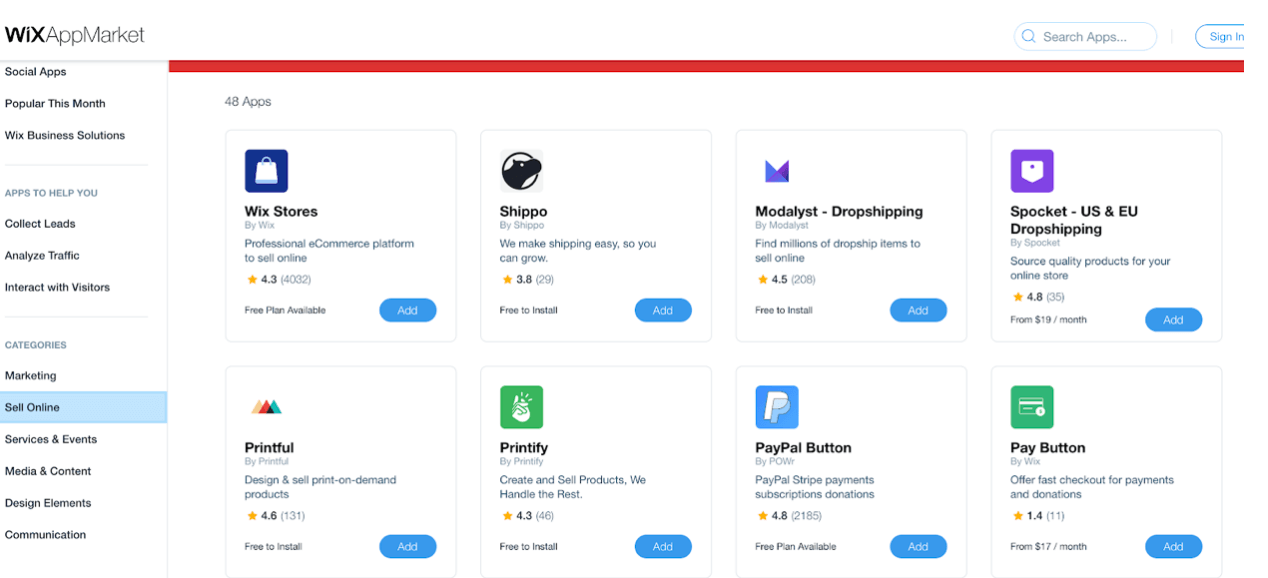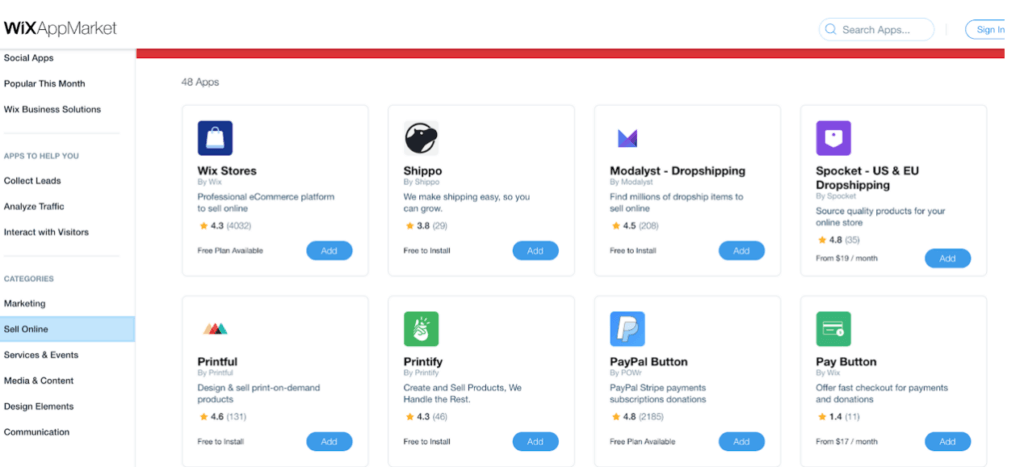 Ease of Use for Wix eCommerce
One of the biggest advantages of Wix as a website builder for eCommerce, is how easy it is to use. The Wix platform is powerful enough to offer a lot of options, but is simple enough for new users to understand.
You can try out the Wix website builder completely free. However, you can't create a free eCommerce site: you need to upgrade to a paid plan to use the eCommerce function.
Wix eCommerce Website Builder Support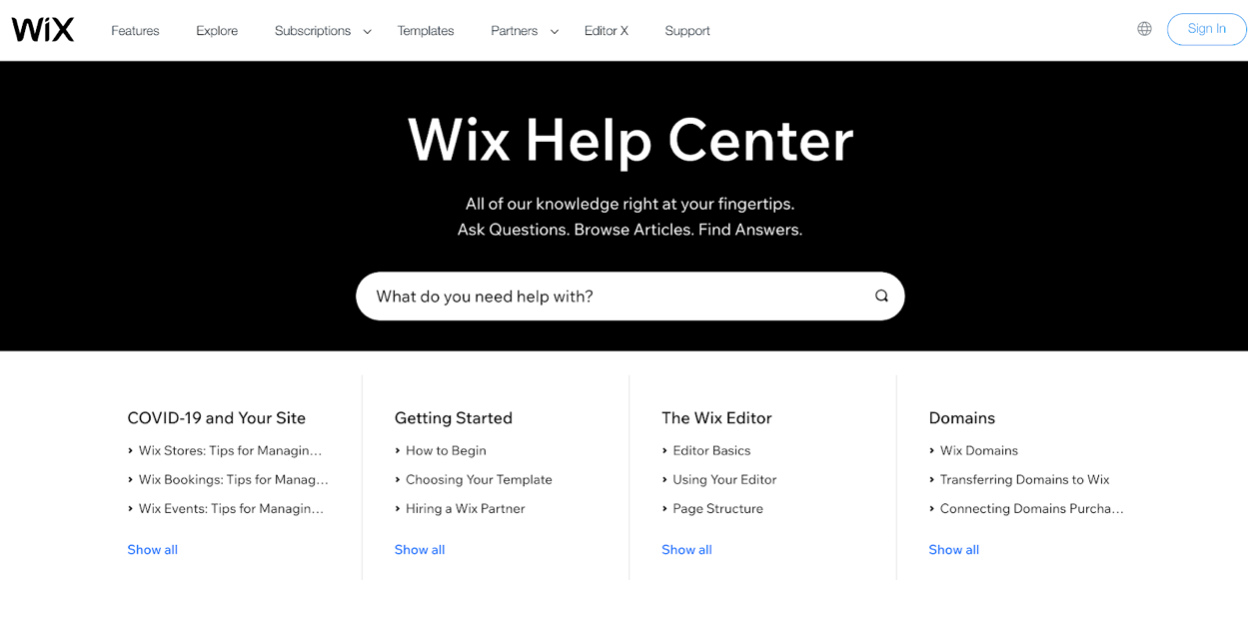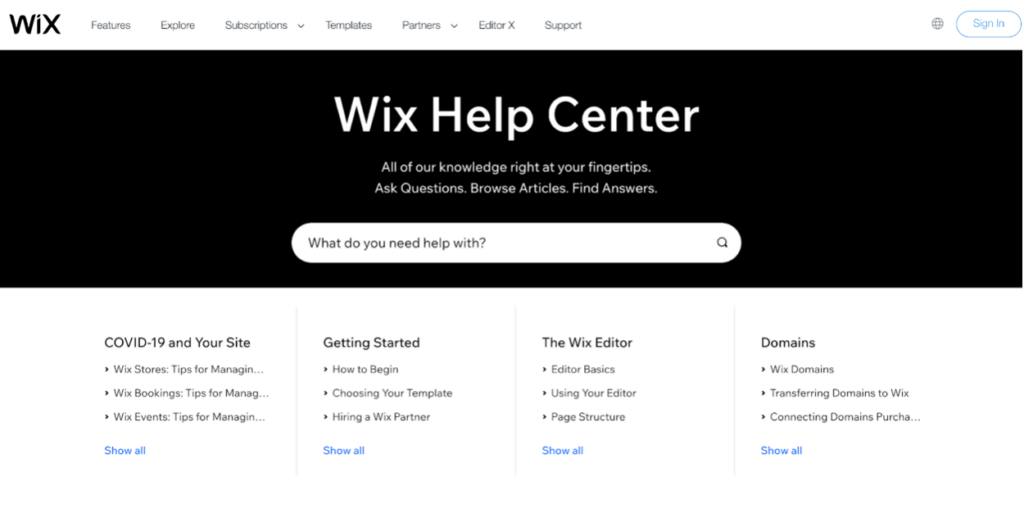 Wix offers 24/7 support for all of its customers plus a knowledge base center that answers a lot of common questions.
Scalability for Wix eCommerce
Wix is a good beginner eCommerce platform that also offers some scalability. Though Wix has an enterprise plan, this eCommerce site builder is best suited for smaller online businesses.
One drawback with Wix is, once you've settled on a template, it's very difficult to make future changes. Switching templates means starting over, as your data will not be automatically transferred over.
Some people report that in order to scale your Wix eCommerce store, you must rely heavily on third-party apps. Wix lacks some of the more advanced eCommerce features you'd be looking for in a larger online store.
Security for Wix eCommerce
Wix uses HTTPS/TLS encryption during each checkout process through your site. In addition, they only work with payment gateways that are level 1 PCI-DSS compliant.
Payment Gateways with Wix eCommerce
Wix offers four main payment providers in the US:
Wix Payments
PayPal
Stripe
Square
If you're looking for the easiest eCommerce website platform, Wix eCommerce is probably your best bet.
While you may sacrifice on some features compared to Shopify or BigCommerce, Wix eCommerce is a little more budget-friendly, extremely easy to learn, and lets you get your online store up and running quickly.
Check Wix out and see for yourself right here.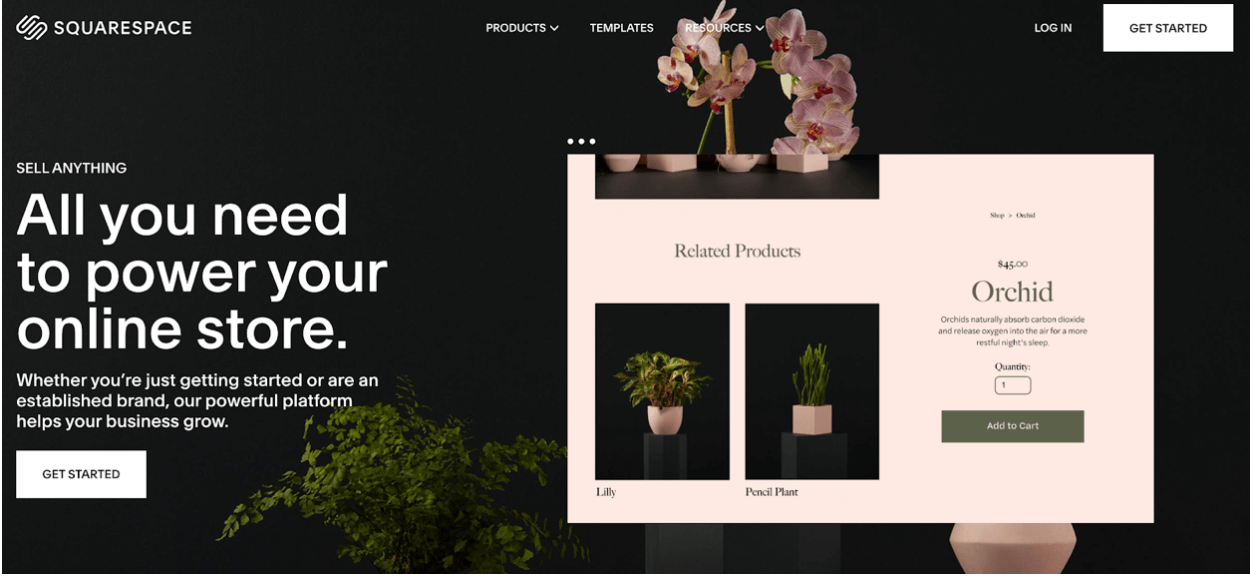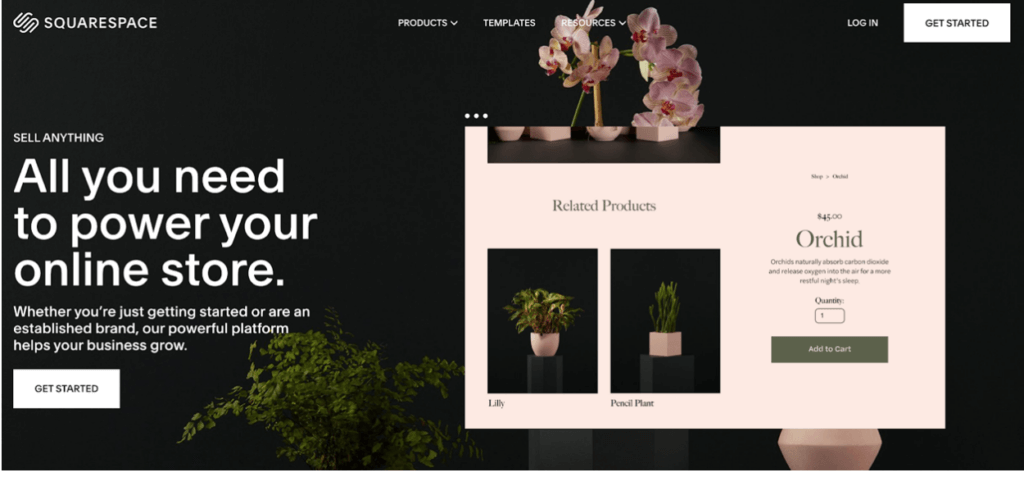 Stunning, elegant, and sophisticated are some of the terms used to describe the look and feel of Squarespace.
For online businesses that have rich photography and want a clean look to their shop, Squarespace really delivers on design.
As an eCommerce site builder, let's see what Squarespace has to offer and how it compares to other online stores.
Price of the Squarespace eCommerce Website Builder
Squarespace offers three plans that include an eCommerce option, as well as Squarespace Select, a customized eCommerce plan for larger stores.


Squarespace Business Plan is $18 a month (when paid annually) and the Commerce Plan is $40 a month (when paid annually).
Features of Squarespace eCommerce:
Squarespace's Business Plan offers:
Free domain name for 1 year
SSL Security
Unlimited bandwidth and storage
SEO features
Range of templates
Unlimited contributors
Basic website metrics
Squarespace extensions
Premium integration and Blocks
CSS and Javascript capability
Advanced analytics
Professional email from Google
Promotional pop ups and banners
Fully integrated eCommerce
3% transaction fees
Unlimited products
Accept donations
Giftcards
The Commerce Plan provides the same features, as well as:
0% Transaction fee
Point of Sale
Customer accounts
Checkout on your domain
Powerful eCommerce analytics
Merchandising tools
Products on Amazon
Abandoned cart recovery
Sell subscriptions
Automatically calculate shipping costs
Offer discounts
Commerce APIs
Limited availability labels
Ease of Use of Squarespace eCommerce
Squarespace has an easy-to-use interface with all of their tools—and the eCommerce website builder side of things is no exception. When you work in the Squarespace editor you see everything happening in real-time, but it's not a drag and drop editor.
However, Squarespace is a very straightforward editor that has a relatively low learning curve.
For more complicated changes, Squarespace does have a CSS module for users familiar with code.
Support for Squarespace eCommerce
Squarespace has a knowledge base, videos, tutorials, and webinars to help users in need.
Squarespace offers live chat support on weekdays, but not phone support. They do offer 24/7 online support through email and Twitter.
Scalability for Squarespace eCommerce
You can easily change your Squarespace template if you want to take your store in a new direction. Another benefit with Squarespace is even their lowest plan offers unlimited storage and bandwidth.
That said, Squarespace is best suited for small businesses or people just beginning in the eCommerce space, especially those with limited tech knowledge.
Templates and features can be somewhat restrictive with Squarespace and it doesn't lend itself well to an eCommerce store that's fulfilling a lot of orders.
Competitors like Shopify or BigCommerce have better features for bigger online stores.
Squarespace Select offers more support and features for larger businesses that need more out of their eCommerce website building tool.
Security for Squarespace eCommerce
Squarespace is PCI-DSS compliant and offers SSL security to all of its customers.
Squarespace uses DDos protection and built-in security to ward off malware.
Payment Gateways With Squarespace eCommerce
At this time, Squarespace payment gateways are limited to: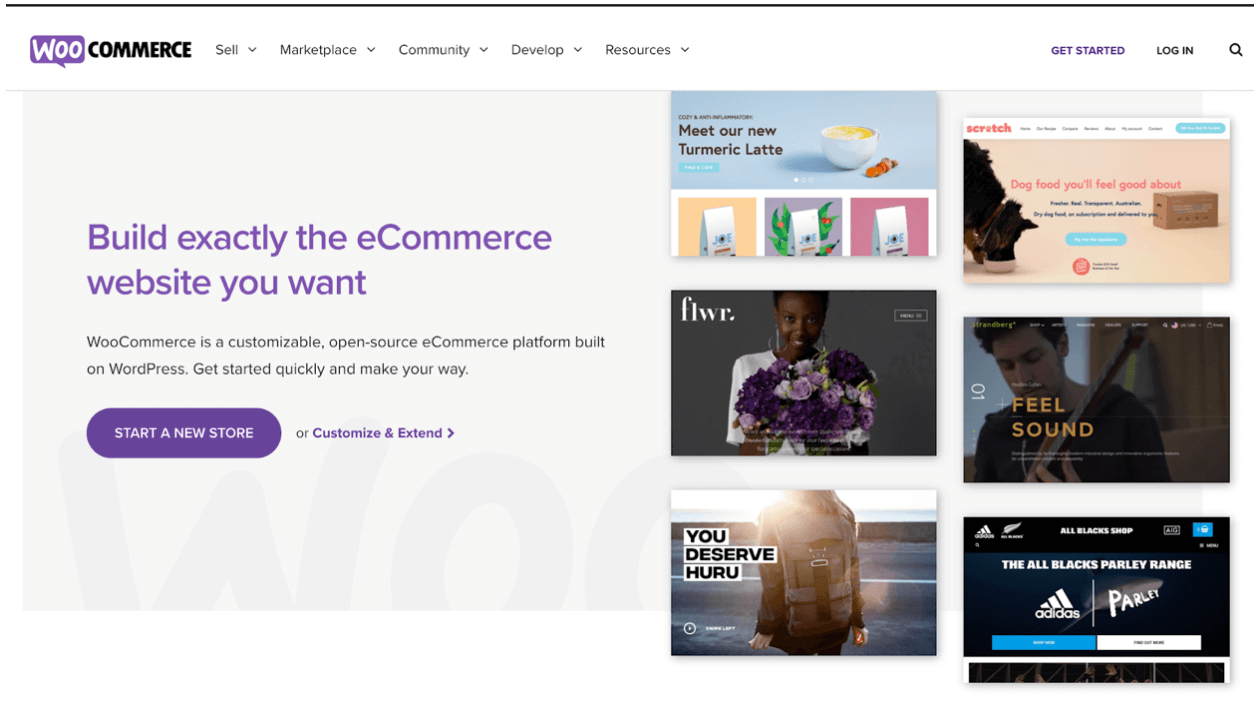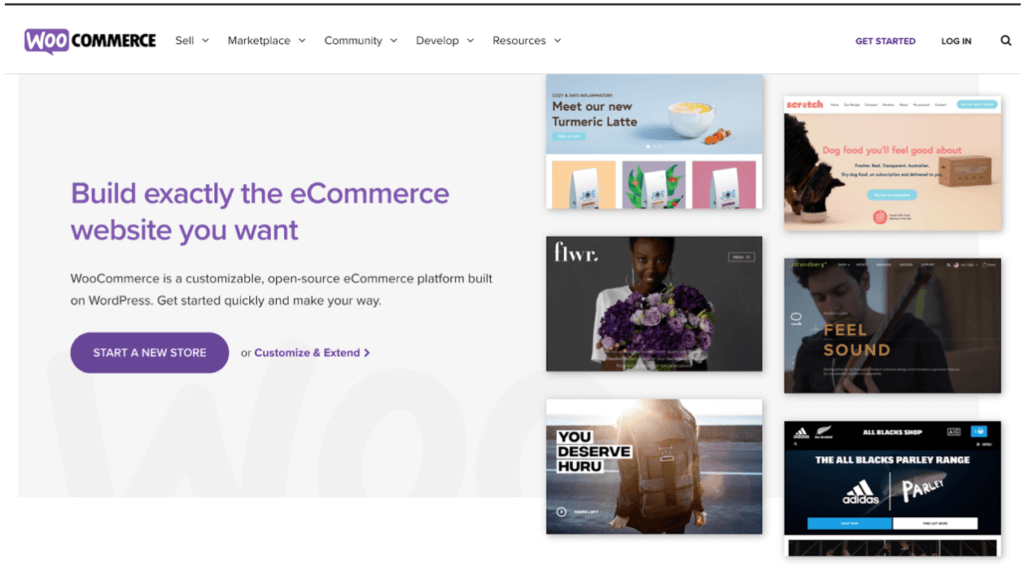 WooCommerce is an open-source eCommerce website builder for WordPress (it's built by the makers of WordPress).
It's free to install, but you'll have to purchase a domain name and a hosting plan in order to take your WordPress website and online store live.
By sheer numbers, WooCommerce is the most popular eCommerce builder — it currently has over 5 million active installations — largely because it's so budget-friendly, works seamlessly with WordPress, and is extremely flexible as a platform. You'll be right at home starting an eCommerce store, powered by WooCommerce.
Price for WooCommerce
A WooCommerce plugin can easily be added to your WordPress website for free.
However, you're likely going to (eventually) pay for additional upgrades like an eCommerce-friendly WordPress theme to power your product-focused blog, or get additional plugins and extensions that'll expand the usefulness of your WooCommerce shop.
Features of WooCommerce as an eCommerce Website Tool
WooCommerce has many features, but some of the most notable are:
Easy start-up with a New Store Owner's Guide
Automated tax calculation
Live shipping rates
Options to print labels at home
Mobile app for iOS and Android
Product variations
Subscription options
Unrestricted customization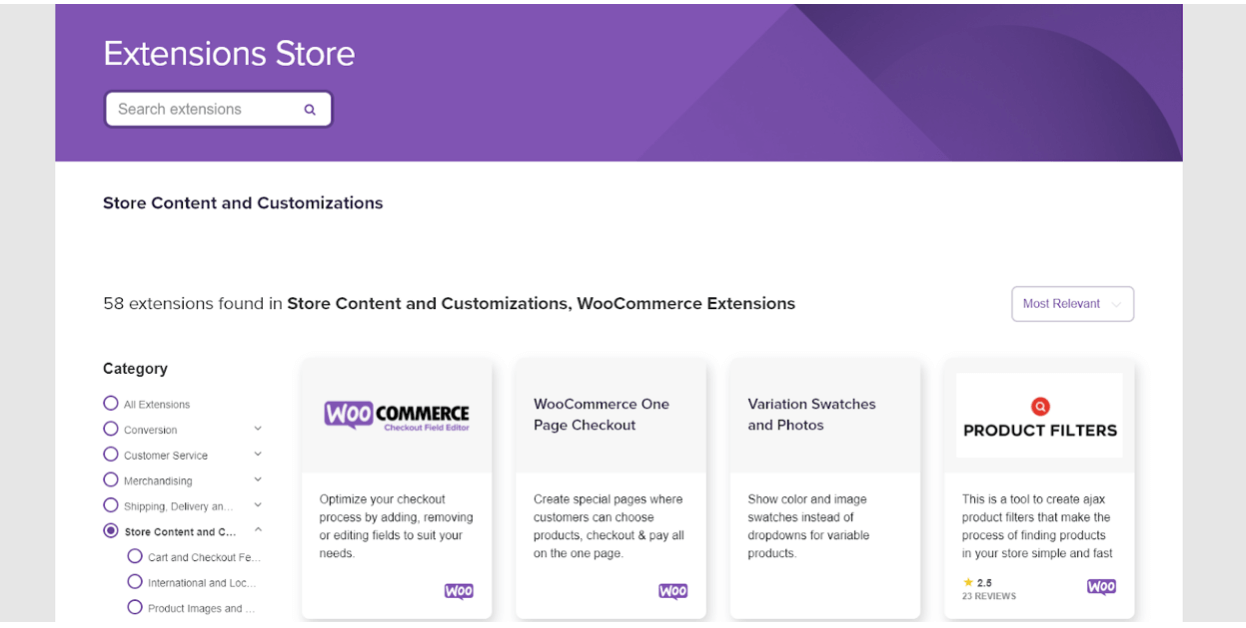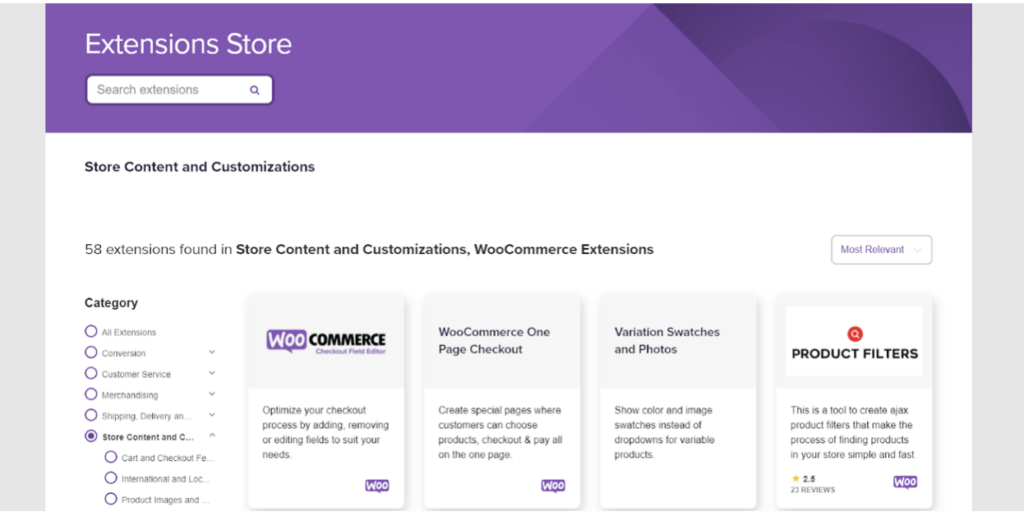 The Extensions Store provides free and premium features that can help you expand the usefulness of your online store.
Ease of Use for WooCommerce
A common criticism of WooCommerce is how much work is required of the user. Unlike with all-in-one eCommerce builders, you're responsible for managing many aspects of your business.
These added jobs include managing security, updates, and backups. However, there are plugins you can purchase to make this job much easier.
Even though you do have greater responsibility with WooCommerce, it also means greater freedom. This platform allows you to customize your store exactly the way you want without restriction.
You may also find that WooCommerce has a greater learning curve than many of the other eCommerce site builders on this list.
WooCommerce Support
Unlike Wix or Shopify, WooCommerce is a free open source platform. Therefore, they don't offer the same 24/7 support you might receive from a paid company.
However, this doesn't mean you're without any resources. WooCommerce offers tutorials, guides, and a support forum where you can ask questions.
Scalability of WooCommerce
According to WooCommerce, you can list as many products as you want, and handle transactions rapidly.
However, in order to power a large business through WooCommerce, you're likely looking to hire a team of developers and work closely with a great hosting company that can handle a high volume of customers — all challenges that can be relatively easily dealt with if your business is growing this much.
Scalability is well within reach, but it'll require a lot more coordination than some of the other eCommerce website builders who offer their services in a single package.
WooCommerce Security
As with other aspects of WooCommerce, there is some additional work needed for security.
An SSL certificate is a must-have for internet security, whether you sell online or run a simple website. Many hosting companies offer an SSL certificate as part of their package, but it can be purchased separately if necessary. From my perspective, all eCommerce website builders should also make sure to have up-to-date SSL certificates. Check out these options for low cost, cheap SSL certificates available for boosting your eCommerce website security.
PCI-DSS compliance is another part of eCommerce security.
PCI-DSS stands for Payment Card Industry Data Security Standard and helps with consistent data security around the world. WooCommerce released a guide to help you stay compliant with PCI-DSS standards.
WooCommerce also offers tips to help keep your WooCommerce store as secure as possible.
Payment Gateways with WooCommerce
WooCommerce uses extensions that give you access to over a hundred payment gateways.
Some of the more recognizable payment options are:
Stripe
PayPal
Square
Amazon Pay
Apple Pay
Google Pay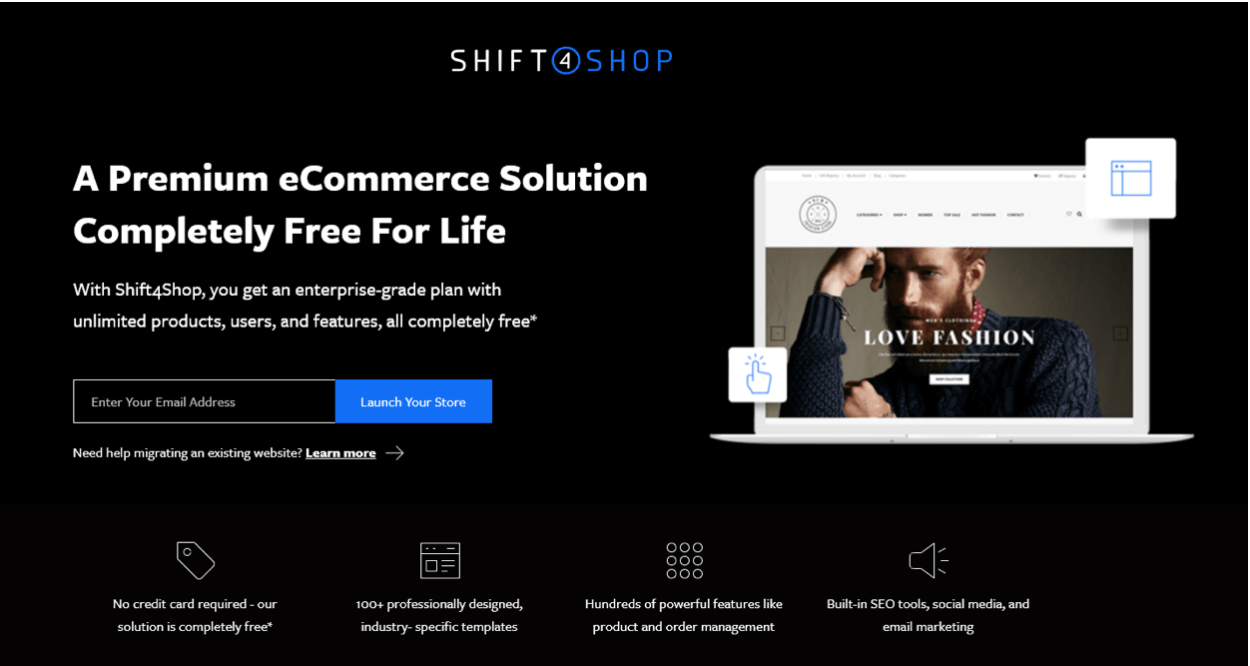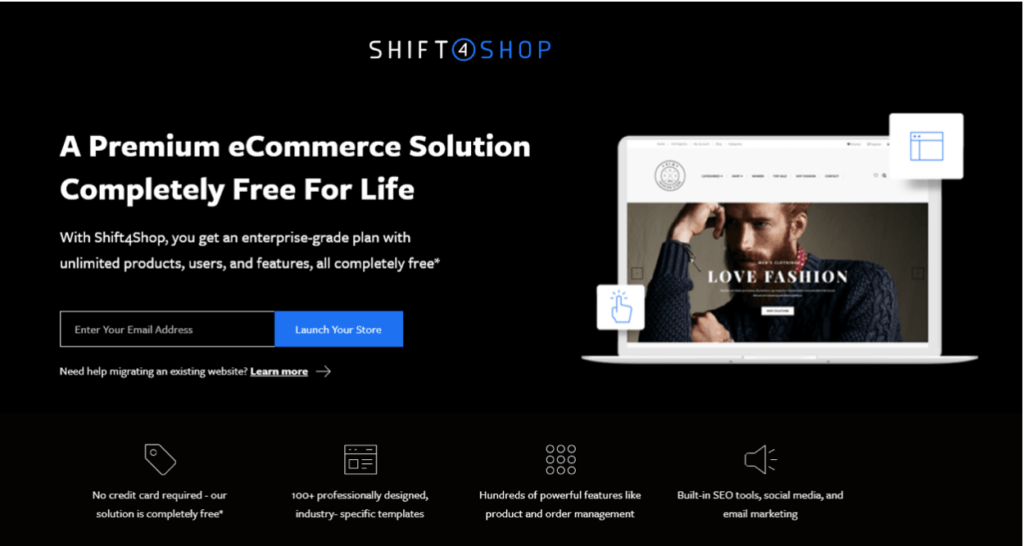 While Shift4Shop (previously 3dcart) isn't necessarily amongst the most recognizable eCommerce website builders on this list, they've earned their reputation in the space by creating a powerful product for their customers.
3dcart, the precursor to Shift2Shop, launched back in 1997 and now powers over 23,000 eCommerce stores worldwide.
Price of Shift4Shop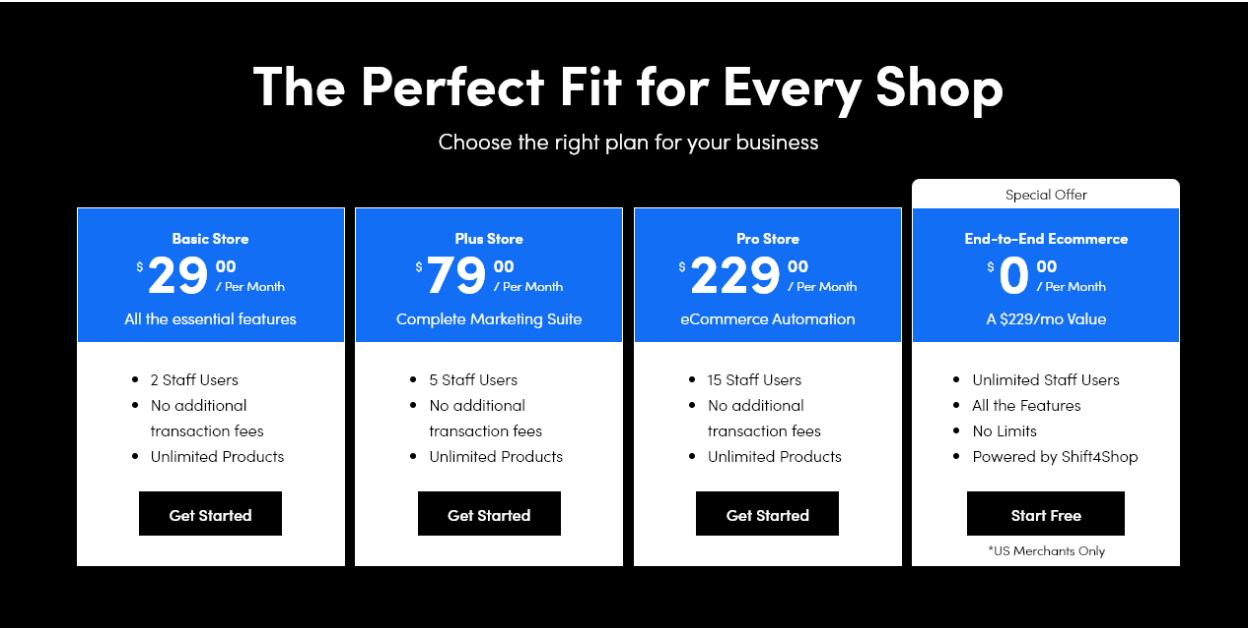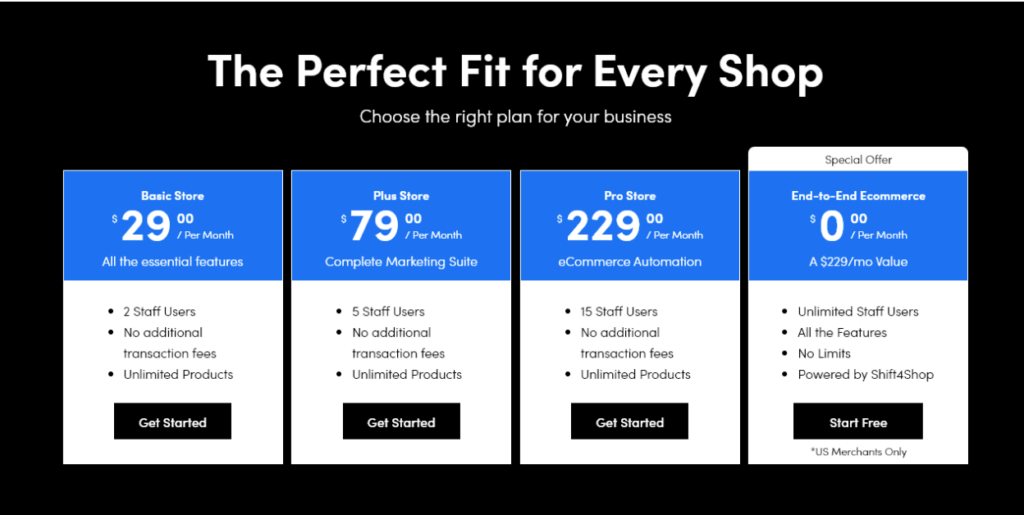 Shift4Shop has a Basic Plan for $29/month. The most expensive plan, Pro Store Plan, costs $229/month as an introductory price.
Alternatively, you can use Shift4Shop completely free, with unlimited features, on their End-to-End plan. The catch here is that you need to use Shift4Shop's payment gateway (instead of PayPal, Stripe, or similar).
Features of Shift4Shop's eCommerce Website Builder
Here are some of the features of the free End-to-End plan:
Unlimited staff users
Unlimited number of products
Unlimited bandwidth
Unlimited sales
Real-Time shopping
Shipping labels
Inventory control
Advanced production options
Single-page checkout
Product reviews
Abandoned cart saver
Reward loyalty program
Waiting list / back in stock alerts
Drop shipping support
24×7 online and phone support
Shift4 Payments gateways
The features of the Pro Store Plan includes all of the above, plus 100+ payment gateways and up to $1M in online sales.
Ease of Use for Shift4Shop
Shift4Shop is packed with features for an eCommerce store, and they offer some pretty impressive SEO setup.
These features make Shift4Shop seem like a great option, but some users find the platform restrictive and difficult to use.
It's probably not a great choice if you're a total beginner, though you could certainly give the free plan a try.
Support for Shift4Shop
Live support is available 24/7 on all plans through different avenues, including phone, live chat, and ticket support. They also offer a knowledge base.
Scalability for Shift4Shop
Shift4Shop is best for medium to large enterprise eCommerce sites. One way their platform scales well is unlimited traffic and sales (with certain plans). They also have CRM software to help grow your site.
Shift4Shop also offers multiple tiers for extra features and capability, but even the most basic plan has a lot of features right out of the box.
Security for Shift4Shop
Shift4Shop is secured with HTTPS, is PCI Certified, has two-factor authentication, and anti-fraud tools to help protect credit cards and personal information.
Payment Gateways With Shift4Shop
Shift4Shop has over 100 payment gateways including:
Square
PayPal
Stripe
Klarna
EVO payments
Elavon
Authorize.net
Persolvent
Amazon Pay
Keep in mind, if you're on the free plan, you're limited to using Shift4Payments (meaning that Shift4Shop takes a percentage of your income from each transaction).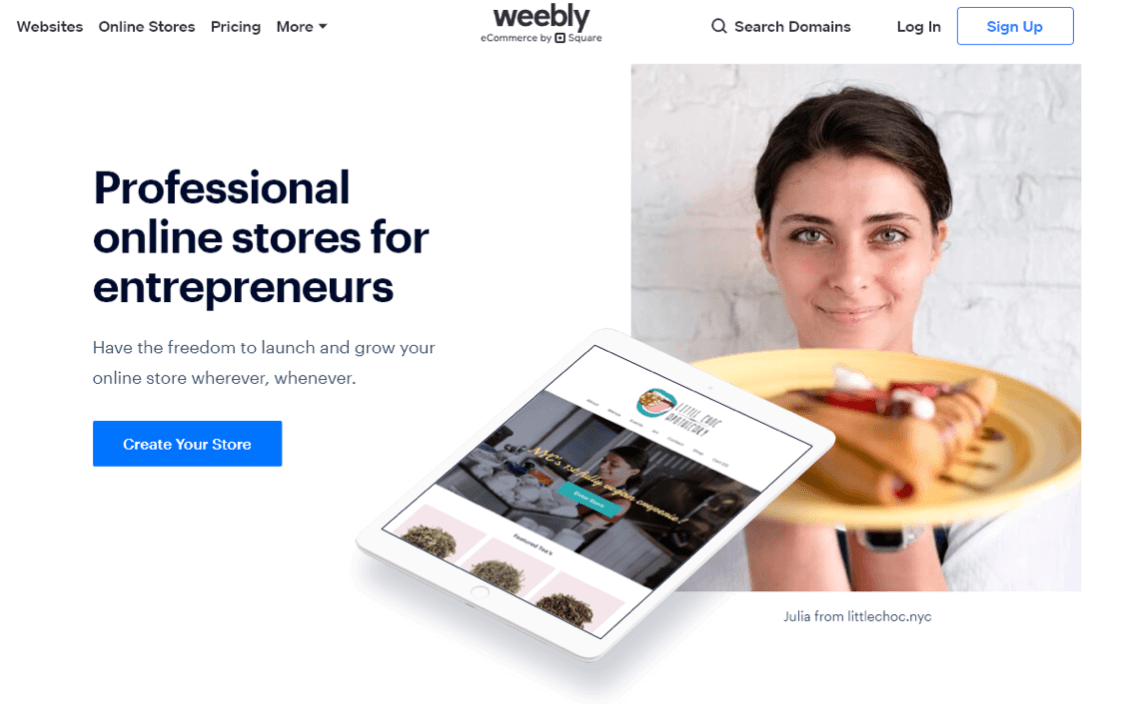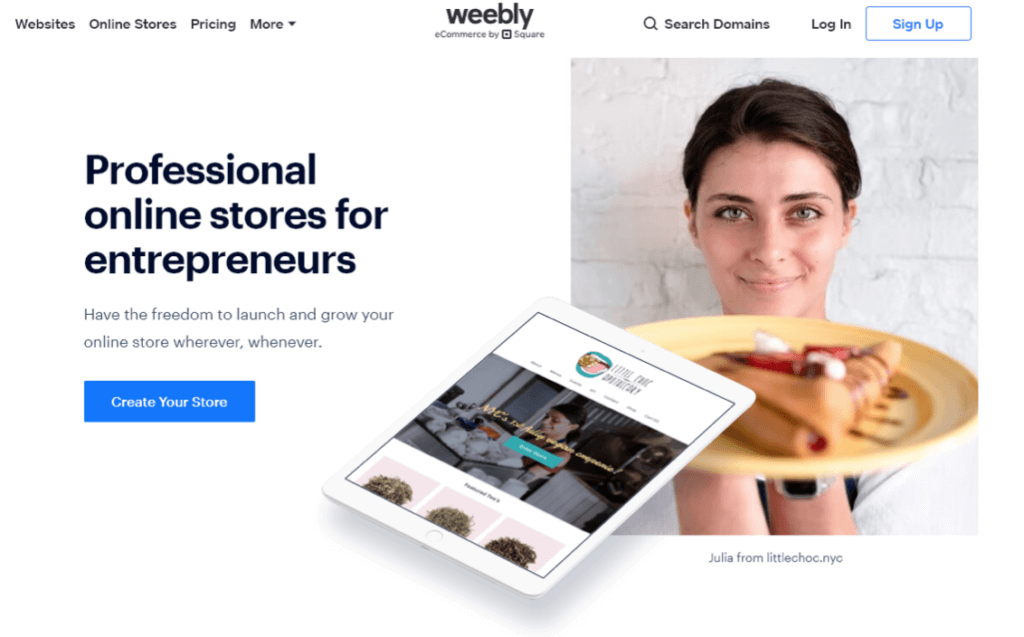 Weebly is an easy-to-use website builder better known for its general website or blogging platform. However, Weebly also offers eCommerce website builder solutions.
Weebly was acquired by Square in 2018 and is now using the Square editor specifically for eCommerce.
Price of Weebly eCommerce by Square
Weebly offers a completely free website builder for basic use. For an online store, however, you need at least the Pro version.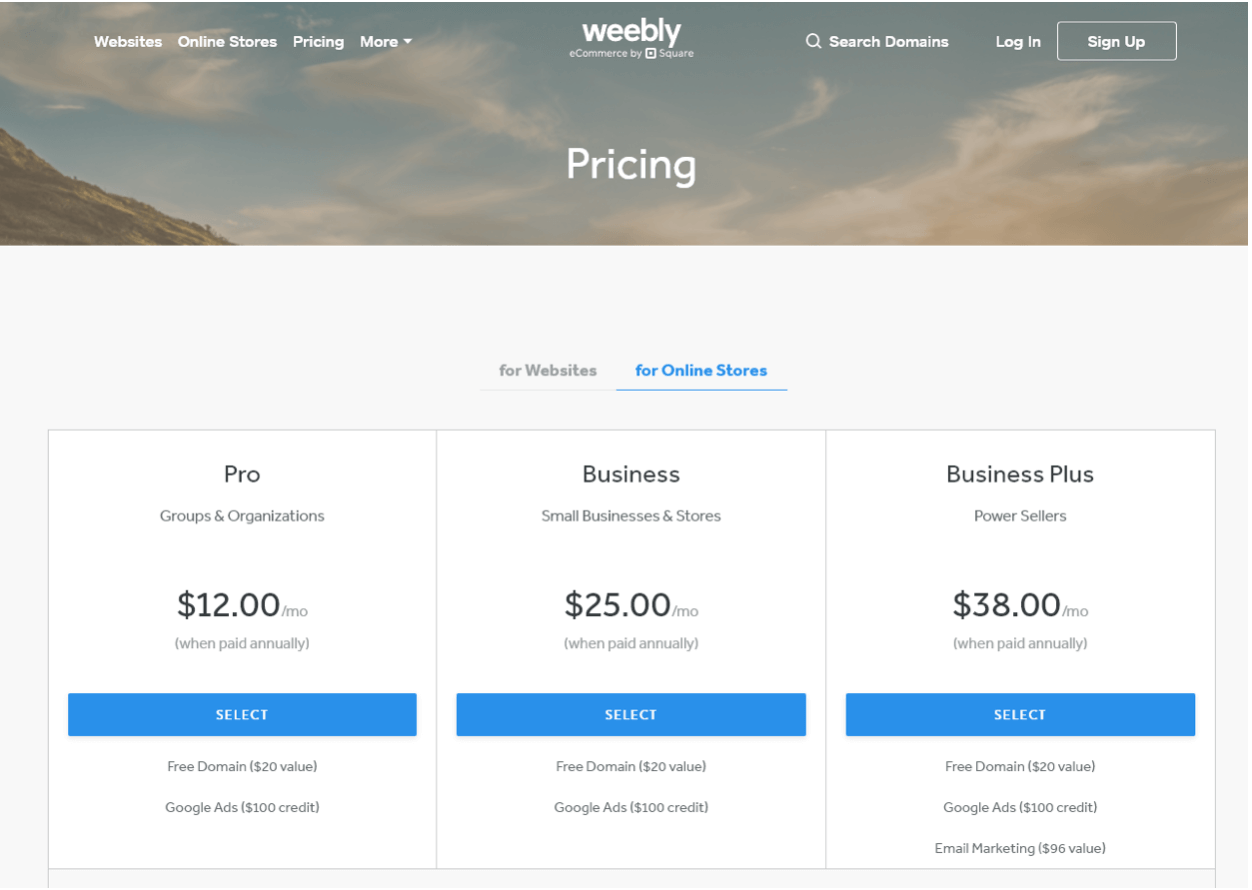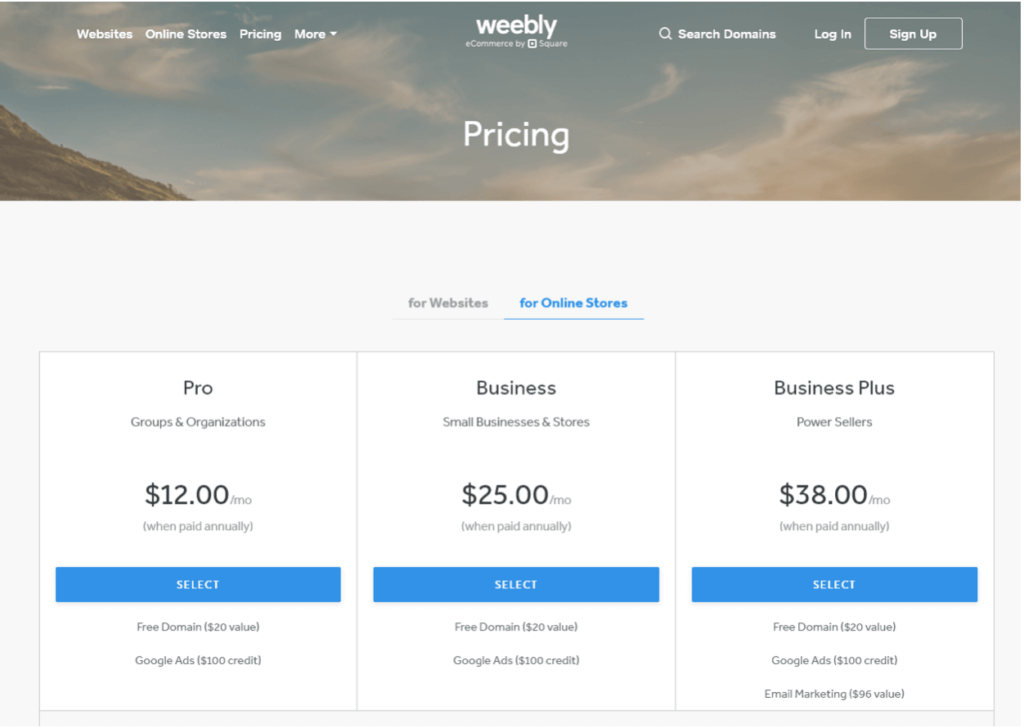 Weebly's Business Plus plan is $38/month, billed annually.
Features of Weebly eCommerce by Square
The Pro version of Weebly offers:
Free domain (or connect your own domain)
Free SSL security
Unlimited storage
Shopping cart
Site search
Payments through Square and 3rd party providers
SEO tools
Lead capture
The Business Plus plan has the same features plus:
Advanced site stats
Item badges
Item options
Inventory management
Automatic tax calculator
Coupon codes
Square gift cards
Item reviews
Shipping calculator
Shipping labels
Abandoned cart emails
Advanced eCommerce
Ease of Use for Weebly eCommerce by Square
In some ways, the Square editor is even simpler and easier to use than the traditional Weebly editor. On the other hand, it's less customizable and offers fewer options.
The Square editor only allows you to work in pre-designed sections. There's limited scope for customization, making it harder to create a unique storefront.
If you want to give your customers a simple, familiar experience, though, the Square approach might be just right for you.
Support for Weebly eCommerce by Square
All the Weebly eCommerce plans include phone, chat, and email support, plus a community forum.
Scalability for Weebly eCommerce by Square
Weebly's eCommerce website builder can be a good option for small online stores, but it isn't really built to power large businesses.
It offers some nice features, like unlimited items, inventory management, and item reviews, but overall it isn't designed to scale for the needs of a large enterprise.
Security for Weebly eCommerce by Square
Weebly offers free SSL security on all their plans. Like other online store platforms, they're also PCI DSS compliant.
Payment Gateways with Weebly eCommerce
Weebly eCommerce offers Square payment, plus third-party gateways, meaning you can use PayPal and Stripe.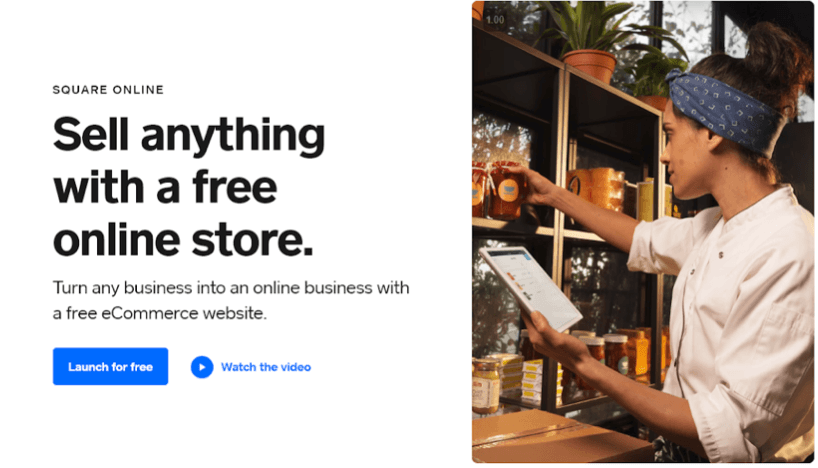 Square acquired Weebly in 2018 and developed it's functionality to become one of the best eCommerce website builders — powered by a combination of Weebly and Square.
Square also has a separate eCommerce website builder called Square Online.
The builders are very similar, but Square Online has some additional features that make them worth checking out. In particular, you can use Square Online to create a free eCommerce site.
Price of Square Online


Unlike most eCommerce builders, Square Online offers a free version of its platform, along with more advanced paid plans.
The most expensive plan is the Premium Plan and it's $72 a month.
Like most payment gateways, you'll be charged a fee every time someone makes a purchase through your site.
With the free and cheaper plans, you'll be charged 2.9% + $0.30. With the Premium Plan, the rate goes down slightly with 2.6% + $0.30.
Features for Square Online
Square Online's Free Plan gives you:
Unlimited products
Can sell digital goods, physical goods, services, and event tickets
Can accept donations
Curbside pickup
Automatic sync with Square POS
Order status text alerts
Contact forms
SEO features
Mobile responsive
Facebook ads
SSL security
Inventory management
Coupons
Gift cards
In-store order customization
Instagram integration
Square Online's Premium Plan offers the same plus:
Free custom domain name for 1 year
No Square branding or ads
Customer reviews on site
Discounted shipping labels
Abandoned cart recovery
Lowest processing rate
Realtime shipping rate calculator
All-in-one shipping tools
Ease of Use for Square Online
Square Online is very easy to use for anyone getting started in eCommerce. You'll find it quick to get started and to create an eCommerce Store.
However, like the Weebly eCommerce option, it is quite limited in terms of customization.
Support for Square Online
Square offers support through phone, email, live chat, help center, community forum, and videos and guides.
Phone support is available 6 AM-6 PM PST M-F and 8 AM-5 PM PST on weekends. Live chat runs the same hours, but you can get email support 24/7.
Scalability for Square Online
Square Online offers several tiers to help grow along with your business. You also have the option of changing your theme settings at any time if you want to update the look of your eCommerce store.
Square Online works best for small eCommerce businesses that aren't looking for a lot of customization or advanced features.
Security for Square Online
Square offers free SSL security for all plans including the free plan. They're also PCI-DSS compliant.
Square uses a tokenization scheme to help keep precious data safe. They make their own hardware, so they know exactly what security measures have been put in place.
You can read more about their security efforts on their website.
Payment Gateways With Square Online
Square Online payment gateways are very limited. With the free plan, you can use Square, Apple Pay, and Google Pay to accept payments.
When you upgrade your plan to a higher tier, you can also accept payments via PayPal using this eCommerce website builder.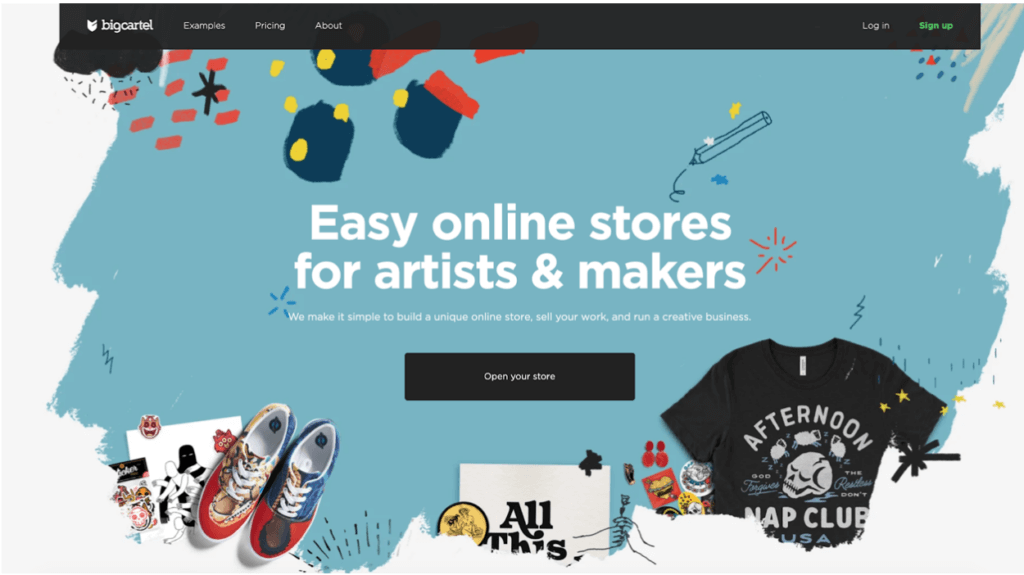 Big Cartel is an eCommerce website builder aimed specifically at creative business owners. The founder of Big Cartel, Matt Wigham, launched the platform back in 2005 when he was looking for a way to sell band merchandise.
Big Cartel is best suited for small independent businesses looking to get started selling their art, photography and other creative endeavors.
Price of Big Cartel


Big Cartel's free Gold Plan lets you sell up to 5 products. Their most expensive plan, The Diamond Plan, is $19.99 a month.
Features of Big Cartel's eCommerce Website Builder
Big Cartel's free Gold Plan comes with:
5 product listings
One image per product
Free customizable themes
Sell in person or online
Real-time stats
Option to use a custom domain
Discounts or promos available
Shipment tracking
Product option groups
Sales tax autopilot
The Diamond Plan has the same features plus:
500 products
Five images per product
Theme code editing
Google Analytics
Inventory tracking
Bulk editing
Ease of Use for Big Cartel
Big Cartel is a very simple and easy-to-use platform, with a setup wizard that guides you through the opening steps of setting up a store.
Like Square Online, part of the simplicity is due to a lack of features and customization.
There's a fairly limited amount of options and without understanding coding, you won't be able to create a very unique shopping experience.
Support for Big Cartel
Big Cartel offers email support 8 AM – 6 PM EST Monday to Friday. No chat or phone support is available.
Scalability for Big Cartel
Big Cartel is not a good option for large businesses, but can be a good choice for small independent creatives. The only real difference between the two paid plans is how many products you can have in your eCommerce store.
For a larger shop, Shopify or BigCommerce would be a better avenue, but with Big Cartel's free plan, you can create your own online store and try selling online.
Security for Big Cartel
One big thing to know about Big Cartel is that it isn't PCI compliant which means the onus is on the shop owner to be compliant.
Big Cartel offers SSL security for URL addresses and custom domains, and in every checkout. They do note that they don't secure assets on your site that you may have added through coding. These assets may include custom images, Javascript, or CSS.
Payment Gateways With Big Cartel
Big Cartel offers two payment options:
With Stripe enabled, customers can also use Apple Pay to check out. With PayPal enabled, customers can pay with Venmo.
That's one of the more unique features of Big Cartel and solidifies its place on our list of eCommerce site builders, especially for indie creators.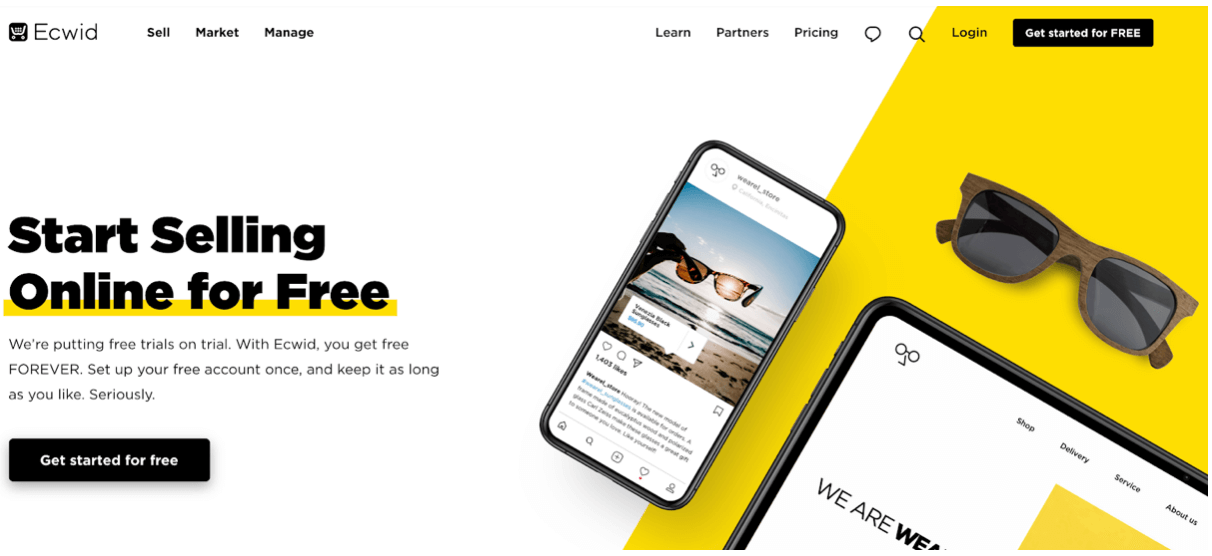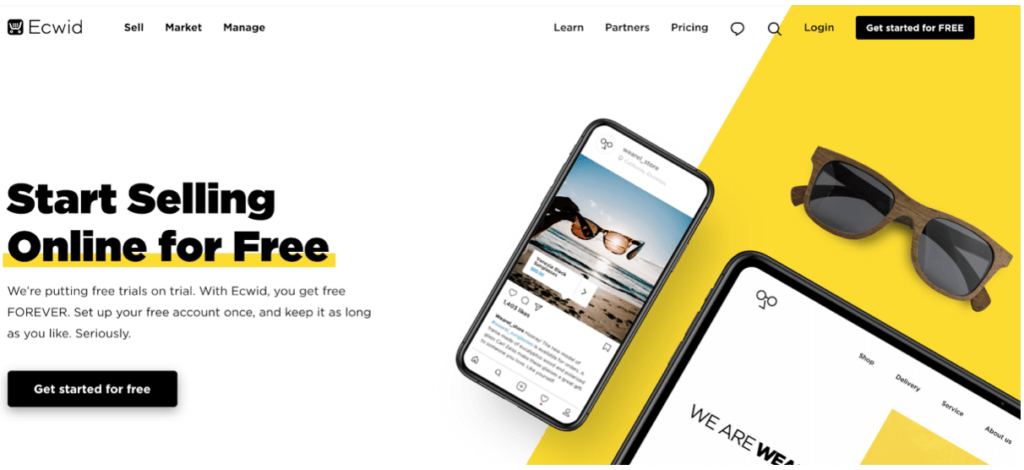 Ecwid is a little different from most of the other eCommerce website builders we've covered so far in this comparison guide. Ecwid is a widget platform you can add to your existing website and sell products from your site as-is.
This platform can also be integrated with social media and online marketplaces like Amazon.
Ecwid gives you one control panel to manage all your synced stores and products.
It can be used in tandem with popular website builders like WordPress, Joomla, Drupal, and Wix. You'll need your own web hosting.
Price for Ecwid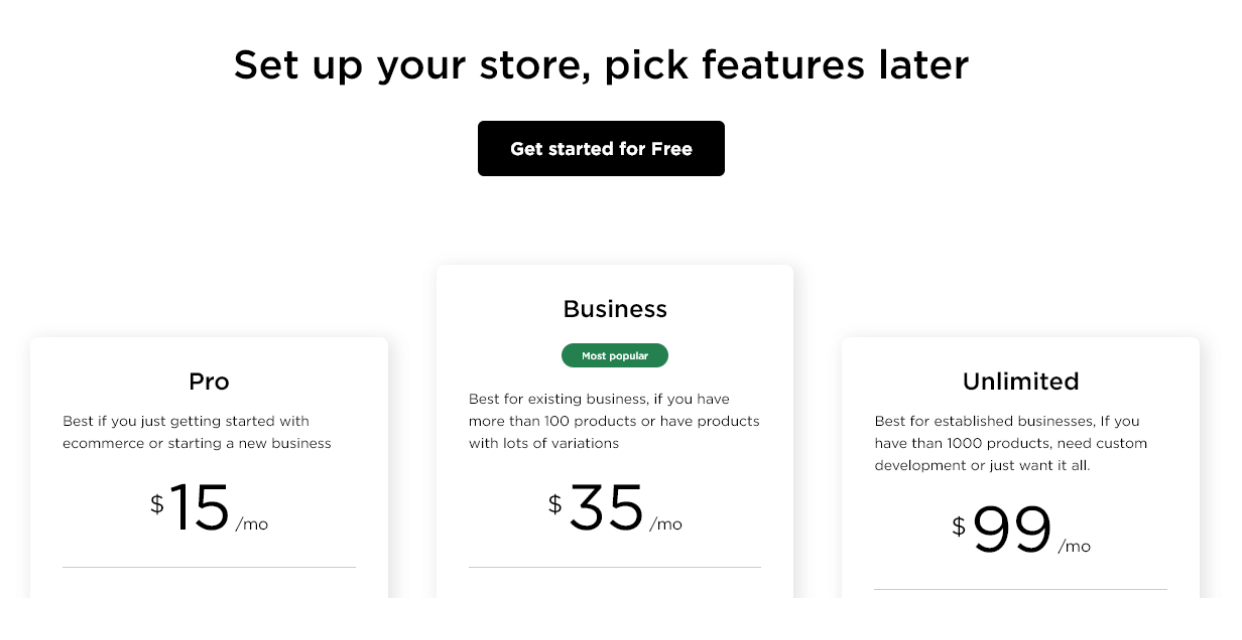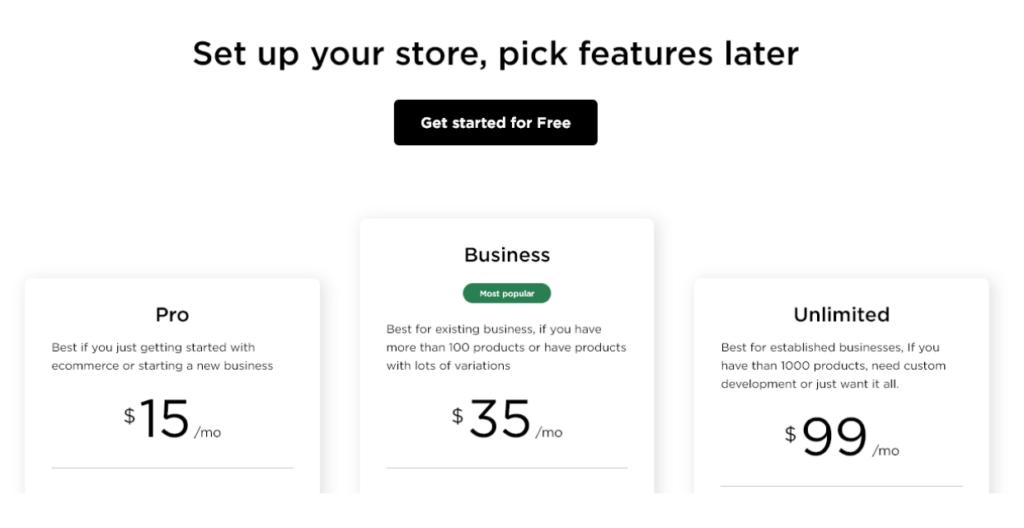 Ecwid can be used for free as an eCommerce website builder tool, but they also offer paid plans for more features. The most expensive is $82.50/month paid upfront annually, or $99/month paid monthly.
Features for Ecwid
With the Ecwid Free Account you get:
Up to 10 products
No transaction fees (apart from the charges from payment gateways)
Online store
Social media advertising
Unlimited bandwidth
Instant site builder
Add store to any website
GDPR compliance
Tax invoices
Ecwid's highest tier plan Unlimited offers the same benefits plus:
Facebook shop
Instagram store
Mobile POS
Sell on Amazon
Sell on eBay
Mailchimp and automated email marketing
Android and iOS management app
Digital goods
Discount coupons
Automated tax calculations
Access to App Market with extensions
Inventory tracking
Advanced SEO tools
Connect your domain name
Scheduled order pickup
Abandoned cart emails
Wholesale pricing groups
Dimensional shipping rates
Staff accounts
Multilingual storefront
Ease of Use for Ecwid
Ecwid is generally very easy to use. They redesigned their control panel in 2018, and they provide a setup wizard to help you navigate adding Ecwid to your website.
There's a fairly low learning curve with Ecwid and you can get started right away.
Support for Ecwid
The free plan for Ecwid provides email support, guides, and a forum. The Pro Plan offers live chat support, the Business Plan provides phone support as well, and the Unlimited Plan offers priority support.
Scalability with Ecwid
Ecwid isn't really designed to support large-scale or enterprise online businesses.
They describe themselves as "ideal for small and medium-sized businesses," which makes them one of the best eCommerce platforms for those on a tight budget.
For businesses hoping to sell a high volume of products, Ecwid isn't the best choice.
Security for Ecwid
Ecwid takes care of quite a few security measures for your online store. Ecwid stores run with HTTPS, they don't collect credit card information, and they're PCI-DSS Level 1 compliant.
They also use secure hosting and regularly check for security issues.
Ecwid writes, "We regularly scan Ecwid for breeches and protect this information with software updates and backups of your stores' information. We store our data on Amazon Web Services — the most reliable and secure hosting solution."
Payment Gateways With Ecwid
Ecwid offers a long list of payment gateways available through its platform. Some notable names include:
Stripe
Square
PayPal Checkout
Authorize.net
Afterpay
American Express
Payeezy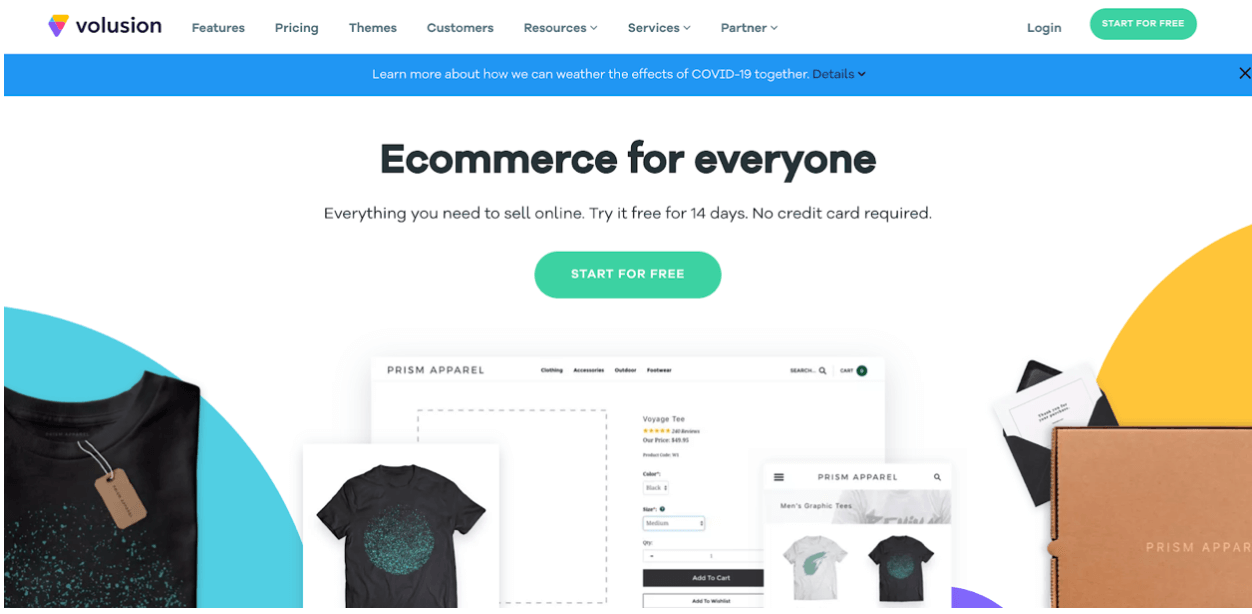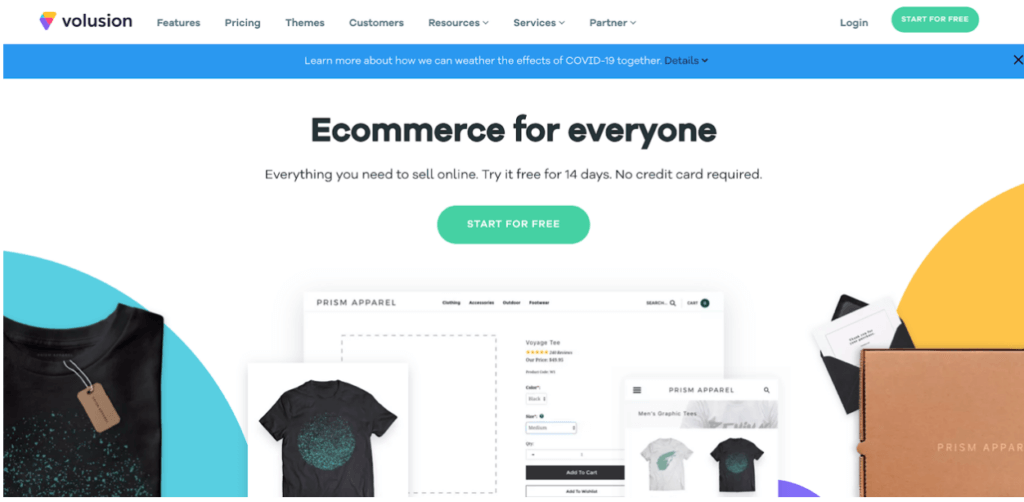 Volusion is a cloud-based platform that was founded in 1999 by website designer Kevin Sproles. His vision was to offer a shopping cart software that could make selling online easier for merchants.
While there are two versions available of Volusion, the second version VOLT is the most modern and popular choice.
One thing to know about Volusion is they don't offer a blogging feature and it is difficult to add extra content through this eCommerce website builder platform.
Volusion does seem to be listening to its customers, however, and adding features they were previously lacking. For instance, users can now sell digital products.
Price for Volusion


Volusion's least expensive option, the Personal Plan, is $26.10/ month, billed annually, and $29/month, paid monthly. Their most expensive plan, the Business Plan, is $269.10/month paid annually or $299/month, paid monthly.
Volusion offers a 14-day risk-free trial (no credit card required).
Features for Volusion
Volusion's Personal Plan offers:
Up to 50K Gross Merchandise Volume (GMV) per year
Unlimited products and storage
No transaction fees
Online support
Easy to manage inventory
Social media integrations
Volusion's Business Plan also offers:
Up to 500K in GMV
Unlimited products
Ratings and reviews
Newsletters
Premium support
Abandoned cart reports
3rd party gateways
Fulfillment centers
Phone orders + CRM
3rd party processors
Unlimited staff accounts
Ease of Use for Volusion
For those that want to do very basic things with this platform, the setup and running of Volusion are fairly simple.
Once you start adding more advanced features, Volusion becomes much more difficult to use. Many users report that the platform isn't intuitive and at times you have to navigate through several pages to perform an action.
Support for Volusion
Volusion's support is relative to what plan you've chosen. With the Personal Plan, you'll have access to online support. With the other plans, they offer 24/7 phone support, and the Business Plan grants you VIP support.
Scalability with Volusion
Volusion doesn't offer as many features as some competitors like Shopify or BigCommerce, but there is room to grow with this platform. Those who have a good understanding of coding can also do more with Volusion.
Security for Volusion
Volusion uses several methods to ensure security for its merchants and merchant customers.
You need to purchase an SSL certificate through Volusion or pay to have your existing certificate transferred, before you can sell anything.
They also use encryption for personal data, web application firewall (WAF), and intrusion prevention system (IPS).
Payments are made securely through redirection or iFrame. Volusion ensures that "…shopper data (including credit card data) is sent using military-grade encryption."
For added protection, Volusion tests their security through team members and independent "white-hat hackers."
Payment Gateways With Volusion
Volusion offers a shortlist of payment gateways including:
Volusion Payments
PayPal
Stripe
Apple Pay
Are You Ready to Choose Your eCommerce Website Builder?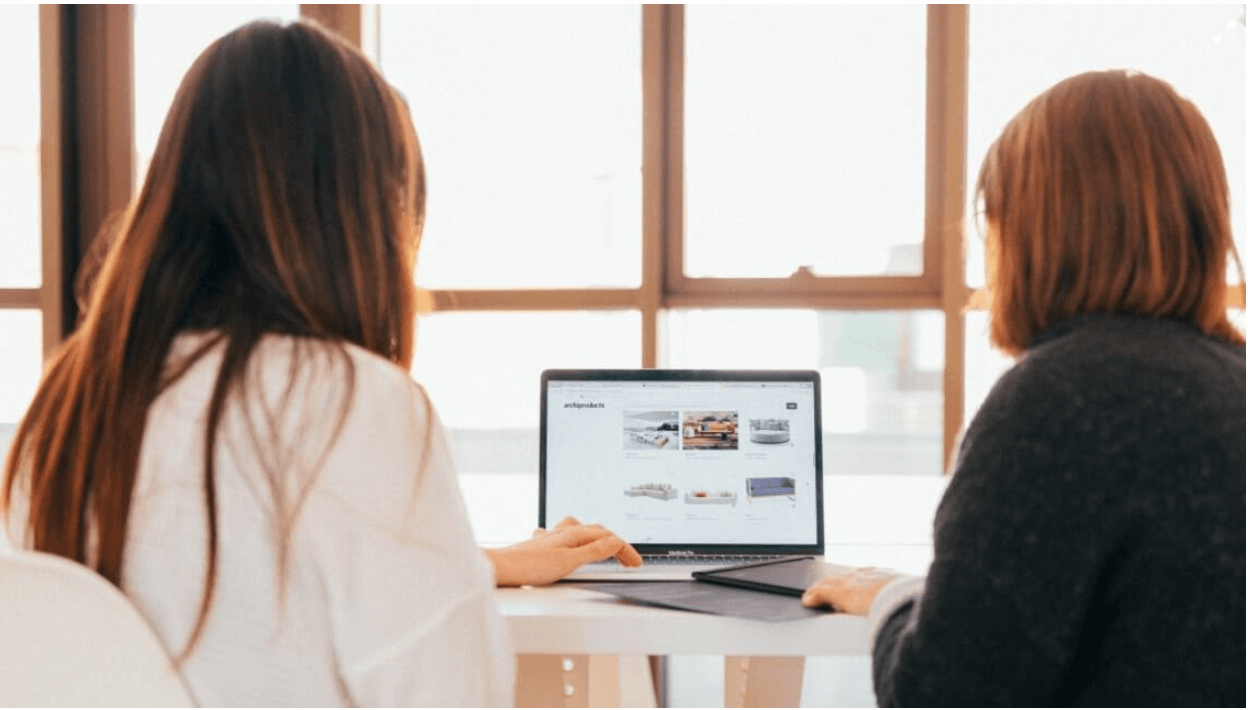 We've covered a lot of ground here — we discussed why you should open an eCommerce business and then took an in-depth look at which platforms are the best eCommerce website builders (depending upon your goals).
It's a lot to consume, but it's also exciting.
Now is one of the best times in history to jump on the eCommerce train, as more and more people turn to online shopping.
And if you're considering throwing your hat into this arena, it can pay massive dividends to find yourself an eCommerce coach that's able to guide you along the way.
With relatively little investment in the right eCommerce website builders, you can start the business that's always been in the back of your mind.
Whether you want to start a blog and sell a few products a month, or build your business into a large operation, the internet is ripe with opportunity.
Now, what did I miss? Which eCommerce website builders have you experimented with? Is there one you've used that I should add to my list?
I'd love to hear from you in the comments below!