There are a lot of eCommerce website builders out there today, so deciding which one is best for your needs isn't always immediately clear.
In this comprehensive guide, I'm breaking down all of the features (pros & cons) and giving you an unbiased review of all the best eCommerce website builders to choose from right now. Follow along and you'll walk away with a clear sense of which platform you should use to sell your products online today.
12 Best eCommerce Website Builders (to Sell Products Online) in 2021
Disclosure: Please note that some of the links below are affiliate links and at no additional cost to you, I'll earn a commission. Know that I only recommend products and services I've personally used and stand behind. When you use one of my affiliate links, the company compensates me, which helps me run this blog and keep all of my in-depth content free of charge for readers (like you).
Before we jump into my side-by-side comparison of the best eCommerce website builders on the market today, I'm going to answer a few of the most common questions that arise when talking about eCommerce. If you're already somewhat up-to-speed on the world of eCommerce, you can skip ahead and read the reviews (click to expand any question and read the answer).
What is an eCommerce Website Builder?

Simply put, an eCommerce website builder is a software tool that allows you to easily sell products or services online.

With one of the top eCommerce website builders running on your site, you can show off all your products and quickly accept payments directly from your customers. Using eCommerce website builders is essentially an alternative to selling your products on third-party sites like Etsy, Amazon, eBay, Fiverr and so on.
What's the Benefit of Using eCommerce Website Builders (for Bloggers)?

Bloggers are often looking for ways to increase their blog's revenue. Many bloggers rely on affiliate marketing, sponsorships and blog advertisements to make money. Personally speaking, one of my most preferred ways of making money is through affiliates—and this can be a good stream of income from month-to-month.

Another way that bloggers make money is through selling products and services. Many bloggers create their own hand-make products, or they may sell digital items, courses, consulting, or other services in fields related to their blog (that are relevant to their readers).

Employing one of these eCommerce website builders allows you to sell things straight from your own website (safely and securely). In this guide, we'll be covering all of the best eCommerce website builders—so you can choose the one that works best for your blog.

Now, what makes an eCommerce site attractive to the average blogger? As we touched on already, there are several reasons why your blogging business may benefit from adding an online store. Here are a few of the advantages to consider:

Diversification of Income

One major benefit of selling products and services online is diversification. While I strongly recommend using affiliate programs for blogging revenue, it is a big advantage to make money through more than one channel.

In many cases, a mix of income sources can keep a blog's income strong. This is especially true when one area of income is weak for a time. Even if your affiliate sales are low, your sales may be flourishing.

Some bloggers run a completely successful blogging business with a primary focus on product sales or services. In fact, online businesses often see increased traffic and sales when they add a blog to their site. According to the digital marketing company  Demand Metric, companies with blogs report a 67% increase in leads.

No Commission Fees

Another major benefit of creating an eCommerce website is that you get to keep all of your income.

While normal fees may apply through your payment options, for example, PayPal charges 2.9% + .30 cents for selling online, you won't have to pay commission fees to third party sites.

If you were to sell products through a third-party website, you can expect to share your profits with your host website.

We'll look at Etsy to show how a commission rate works.

Etsy is an extremely popular online marketplace with well over 2.5 million active sellers. The built-in audience on Etsy is an advantage, but you'll also be liable for fees every time you list or sell something. Here's a break down of the fees charged by Etsy:

$0.20 to list a product
5% transaction fee on sold products
3% + $0.25 payment processing fee if you sell through Etsy Payments

When you sell through your personal blog, you will still owe money to your preferred payment method, but you will skip the listing and transaction fee on every product sold. This can be a big financial advantage in the long run.

Complete Control Over Your Online Store

Many people choose to switch over from third-party marketplace sites to personal websites. The reason? Complete control.

Marketplaces like Amazon, Etsy, and eBay have rules and regulations that work best for their sites. Some of these regulations may not work for every user which is why some choose to sell from their own website.

Having your own eCommerce store also gives you the opportunity to display things exactly as you want. You have complete control over the design of your eCommerce store. You can choose colors, fonts, layouts, and more.

You can choose the style that best suits your product or service. And drag-and-drop page builder tools like Shogun can further help you build and optimize your online store without writing a single line of code (a major bonus that'll allow you to instead focus on the important work of attracting customers).
What Can You Sell on an eCommerce Website? (100+ Examples)

If you haven't already landed on the right idea of which products you can sell from your blog, here are 100+ eCommerce product ideas to consider.

Digital Goods You Can Sell with eCommerce Website Builders

Digital goods are a popular choice for online sales because it doesn't require stocking or shipping a physical product. Digital products don't run out and once they are created can be sold again and again. There's upfront work with digital sales, but once they're finished it's all passive income.

Here is a list of digital products that you can sell on your website:

Photography
Tutorials or Guides
Software Programs
Apps
Podcasts
Music
Printables
Recipes or Recipe Books
Patterns
Blueprints/Plans
Graphic Art
Fonts
Coloring Pages
Templates

Niche Products You Can Sell Through eCommerce Website Builders

There are a host of people who have made their online businesses around niche products. These businesses are often started to fill a need or because the owner is passionate about their niche.

Some people develop businesses that are extremely narrow in scope, while others have a broader more diverse offering of products.

If you're thinking of starting your own niche business, here are some categories to consider:

Eco-friendly home items
Unique fashion
Handy tech accessories
New tech
Skin-care products
Pet owners (especially for pets that aren't well-represented)
Products for frequent travelers
Beard care products
Products for outdoors or extreme sports that are hard to find in box stores
Accessories for book lovers
Gifts for gamers
Subscription boxes (this can be applied to a wide range of niches)
Woodworking tools
Retro furniture and home products
Non-plastic toys for kids
Organic baby products
Fair Trade clothing
Men and women's clothing in a wide range of sizes
Vintage or used items for resell

There are countless other niche ideas that might interest you or help spark a successful business. If there's something in your life that you want but can't find, there's a good chance you're not alone. It may very well be a product that people have been waiting for, and even if it's fairly niche, the internet is the perfect place to test it out.

Wholesale and Business-to-Business Product Ideas to Sell

While many eCommerce stores sell direct-to-consumer (DTC) products and services, many eCommerce websites have also done well selling to other businesses.

According to Statista, "In 2019, the gross merchandise volume (GMV) of B2B e-commerce transactions is projected to amount to 12.2 trillion U.S. dollars, up from 5.83 trillion U.S. dollars in 2013."

When selling to other businesses or providing wholesale items for them to sell, there are many different options. You may sell small wholesale items like coffee mugs, or you may be the middleman between machine manufacturers and small businesses looking for industrial equipment.

There is a lot of room to grow in this space, and it's projected to keep growing.

Here are some ideas for B2B eCommerce stores:

Wholesale jewelry business
Industrial equipment
Appliances
Office supplies
Computers and tech
Building materials
Beauty products
Kids toys
Apparel for men, women, and children
Fashion accessories
Pet supplies
Books
Food items
Equipment for crafters
Camping and RVing equipment and accessories
Seeds for gardening

Keep in mind that many B2B eCommerce businesses also offer B2C products when applicable.

Handmade Goods You Can Sell on eCommerce Website Builders

Handmade goods require ongoing work and care, but many people enjoy making things by hand and want a proper outlet to share their creativity. An eCommerce store can be an excellent place to share these handmade products.

Some ideas for handmade goods include:

Tech accessories
Photography Prints
Art prints
Candles
Sewn items
Crochet, macrame, or knit items
Soap, lotion, bath bombs, lip balm, cosmetics
Personalized gifts
Jewelry
Dog treats
Magnets
Pins
Coasters
Picture frames
Ceramics or pottery
Subscription boxes
Sweets
Handmade dolls
Toys
Hair accessories
Greeting cards
Cell phone protectors

Branded Goods You Can Sell on eCommerce Website Builders

A lot of successful brands cash in on their fame by selling promotional products. They sell items that have their name, logo, or favorite phrases. They not only make money from these products, but it's also another form of advertisement.

Some ideas for promotional goods are:

T-shirts
Coffee mugs
Stickers
Hats
Water bottles
Face masks
Key rings
Tech accessories
Totes
Bracelets

Products You Can Resell on eCommerce Website Builders

Not everyone who runs an eCommerce store sells their own products. Plenty of eCommerce stores sell items purchased from wholesalers, distributors, and manufacturers. These sellers source their products from suppliers and list them on their site for an increased profit.

Here are some ideas for products you can resell on an eCommerce website:

Food products
Wine and beer
Clothing
Fashion accessories
Trinkets
Books
Tools
Kitchen products
Tech products
Luxury items
Jewelry
Home decor
Pet supplies
Cosmetics
Natural care products

Services You Can Sell on eCommerce Website Builders

If your plan is to work remotely, offering services may seem like a strange idea for an eCommerce Store. However, there are plenty of services that you can offer from home built out of your own expertise in your niche.

Here are some services you can provide for pay:

Workshops
Private coaching
Consulting
Social media management
Marketing advisor
Financial adviser
Account manager/Online accounting
Editor/proofreading
Writing services
Data analysis
Online tutoring
Tech help/support
Content creation
Personalized graphic design or art
Video creation
Events planning
Web designer
Once you decide the type of product or service you want to sell, the next step is to choose the best eCommerce website builder that can help you reach your goals.
Now, let's dive in and break down the features of all the best eCommerce website builders on the market this year—so you can pick the one that's right for your business.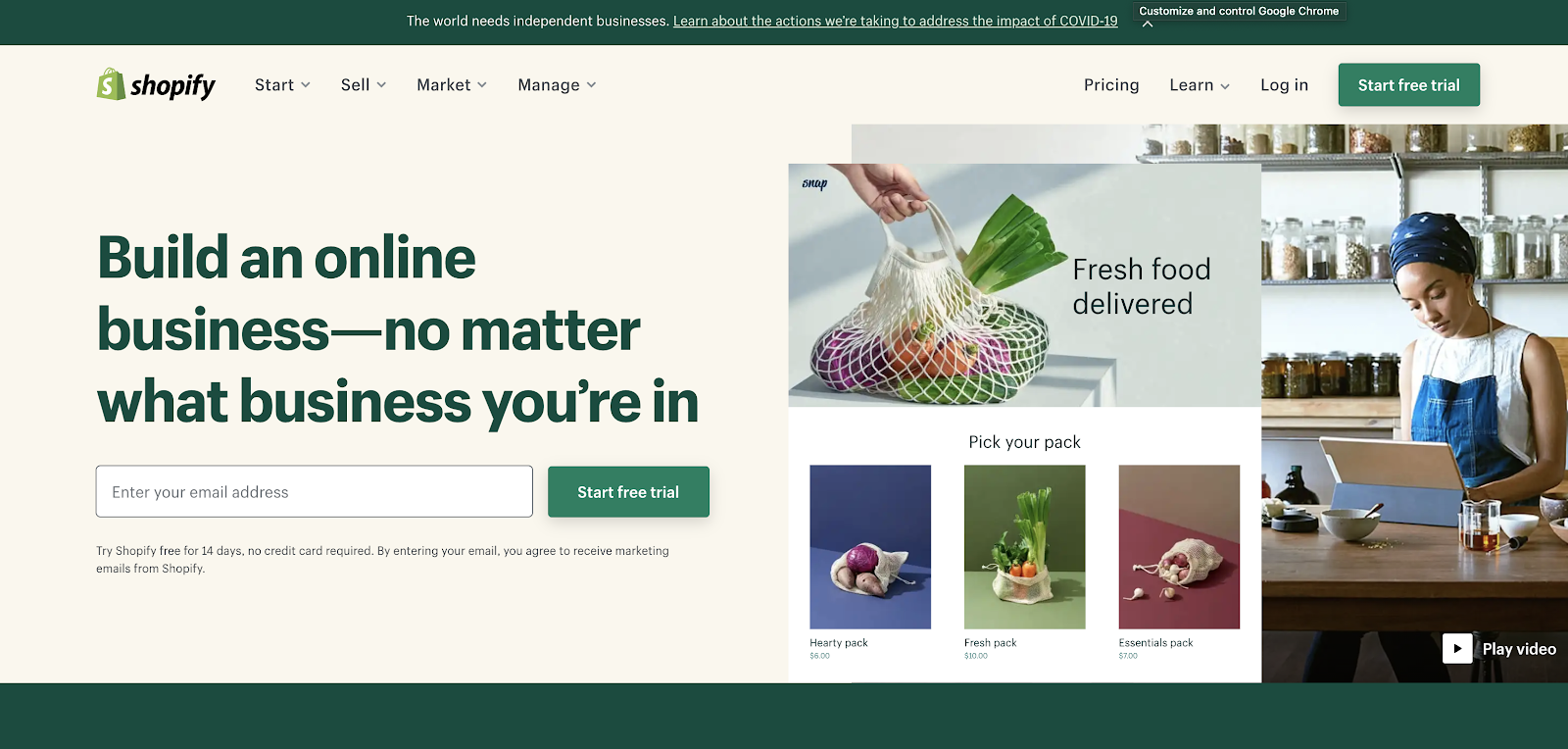 Shopify was created in 2004 by three Canadian residents who wanted to start a snowboarding shop online but were unimpressed by the eCommerce website builders available at the time. One of the three, Tobias Lütke, was a computer programmer and decided to build his own platform to suit his needs.
Shopify has quickly grown in popularity over the years, and last year released in a tweet that they had 820,000+ merchants, placing them as the third largest online retailer on the market—and thus one of the most used eCommerce website builders out there. Since 2019, they've continued to grow as merchants move online in reaction to the pandemic.
As an eCommerce platform, Shopify has a lot of benefits including an easy to use interface, curated themes, variety of payment methods, built-in security and much more. Now, let's take a closer look at what Shopify has to offer compared to other eCommerce website builders.
Price of Shopify's eCommerce Website Builder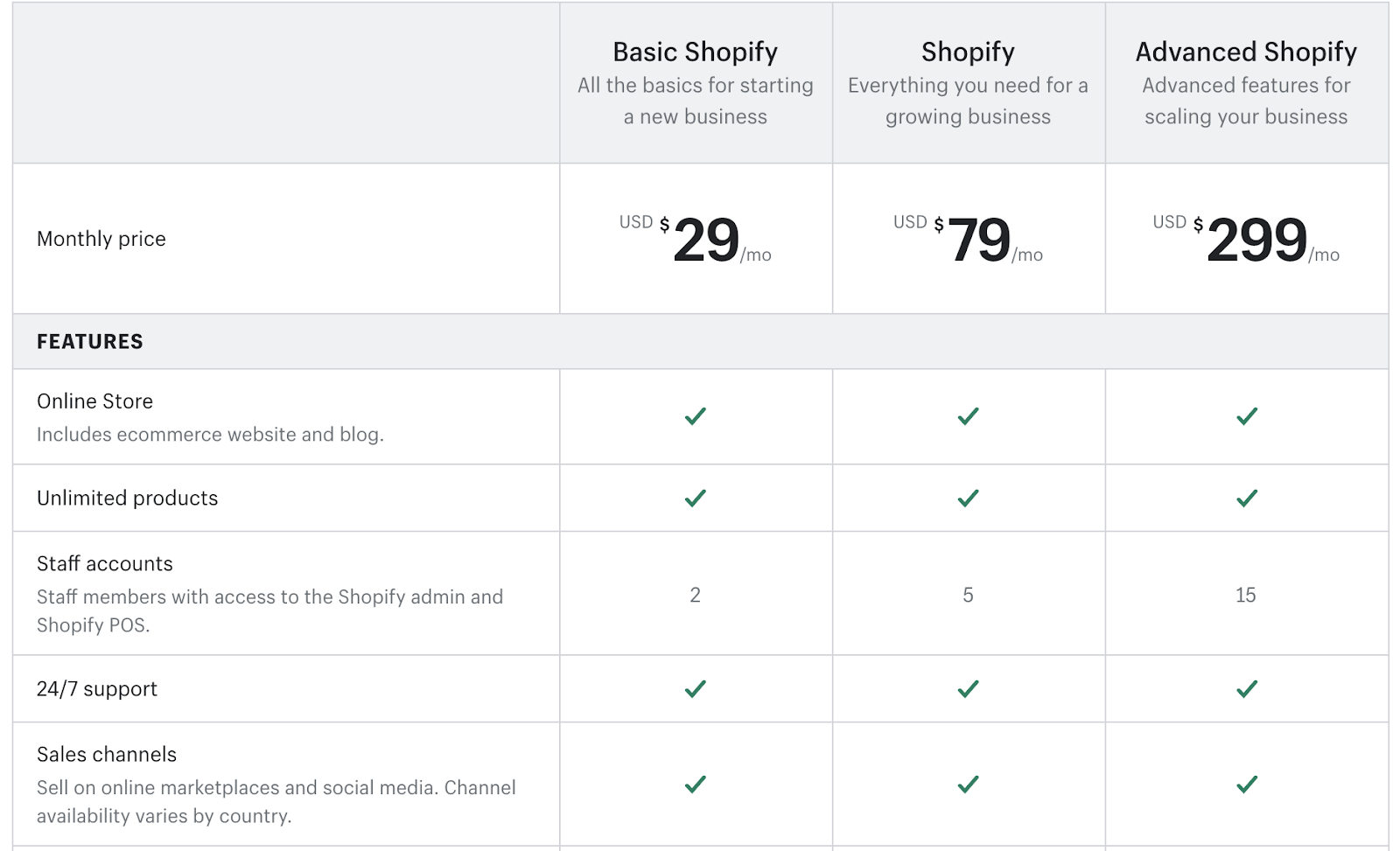 Shopify has a range of how much it'll cost depending on which plan you need to use. Their cheapest plan is $29 a month and their most expensive plan is $299 a month. They offer a free 14-day trial to see if you like their services (no credit card is required to try it out).
Features of Shopify
Shopify offers three plans for their eCommerce website builder tool suite. Their cheapest plan named "Basic Shopify" includes:
eCommerce website and blog
Unlimited products
2 staff accounts
Sales channels (ability to sell on online marketplaces and social media)
Up to 4 locations for product inventory
Manual order creation
Discount codes
Free SSL certificate
Abandoned cart recovery
Gift cards
Up to 64% off on shipping rates with DHL Express, UPS, or USPS
Print shipping labels
Fraud analysis
Online credit card rates of 2.9% + $0.30
In-person credit card rates of 2.7%
Shopify POS Lite
The Advanced Shopify Plan offers the same features plus:
15 staff accounts
Up to 8 locations for product inventory
Advanced report builder
Up to 74% off on shipping rates with DHL Express, UPS, or USPS
Third-party calculate shipping rates
Professional reports
Online credit card rates of 2.4% + $0.30
Ease of Use of Shopify
With Shopify, you don't need to have the technical know-how. You don't need to know coding to use this platform, but those who are tech-savvy are able to use coding to enhance their eCommerce store.
Shopify's interface is simple and easy to use What You See Is What You Get (WYSIWYG) content management system so you can see new changes to your eCommerce website in real-time.
Shopify is extremely intuitive and easy to use—and there are plenty of tutorials to help if things get difficult. They also have live support if you have additional questions.
Support for Shopify
Shopify offers 24/6 support via phone, live chat, and email.
Scalability of Shopify
In terms of scalability, Shopify has quite a few perks. Shopify offers three tiers of plans for growth, as well as ShopifyPlus that's specifically geared towards enterprise eCommerce shops.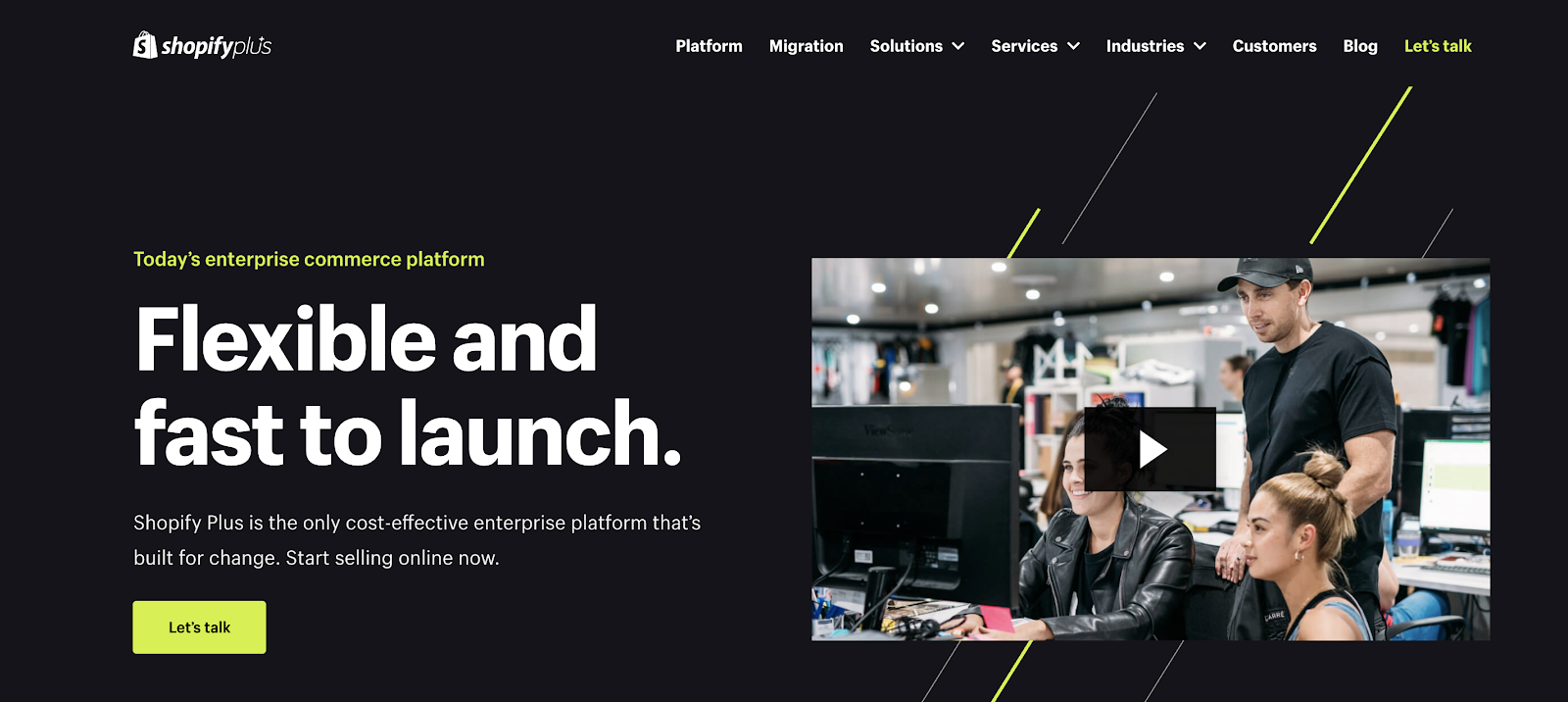 ShopifyPlus has been used by the eCommerce agency, Simplistic, to make eCommerce sites for famous brands like GE, Black and Decker, Fashion Nova and M&Ms.
ShopifyPlus was created to respond quickly to changes and keep sites from crashing when traffic suddenly grows. A big benefit of Shopify+ is they take a lot of the work off your shoulders. They take care of a lot of website management to make your job easier as an entrepreneur.
Your new eCommerce business probably isn't going to need Shopify+ out of the gate, so how well does Shopify work for a growing small business?
You may find that your brand new eCommerce business works well with the basic plan with Shopify, but as your traffic grows and your sales increase you have the option of upgrading your plan. One of the benefits of Shopify is you don't have to worry about managing updates, security, or performance for your growing shop or online boutique. Once you upgrade, all of these things will be worked out for you.
Shopify Security
Shopify has all of their sites automatically PCI DSS compliant out of the gate (there's no additional work required from you for this.)
The six key things covered by Shopify in regards to PCI-DSS is:
Maintaining a secure network
Protecting cardholder data
Maintain a vulnerability management program
Implement strong access control measures
Regularly monitor and test networks
Maintain an information security policy
Shopify writes, "All Shopify stores using our platform are automatically PCI compliant by default. When you choose Shopify to power your store, you can rest easy knowing that we invested significant time and money to obtain our Level 1 PCI certification and that our certification covers your store, its shopping cart and web hosting."
Shopify also provides SSL security and website updates needed to maintain ongoing security.
Payment Gateways With Shopify's eCommerce Website Builder
Shopify has its own payment method called "Shopify Payments." You can also choose from many other payment gateways including:
Amazon Pay
Checkout.com
DigiPay
PayPal Express Checkout
WorldPay
As far as the best eCommerce website builders go, it truly doesn't get better than Shopify. From the perspective of price, to usability and speed to getting online & selling, they're hands down the best on the market today. You can check out more about Shopify and try a free 14-day trial right here.
BigCommerce is very close in the running to hold the top spot amongst the best eCommerce website builders, and they're best-known for their scalability and wide range of add-on tools. This company started out as a solution for small businesses to open online stores, but today services both small and large scale online businesses. We'll take a closer look here at what BigCommerce has to offer and why they're high on my list of the best eCommerce website builders around.
Price of BigCommerce's eCommerce Website Builder
BigCommerce offers a range of plans starting from $29.95 a month for their Standard Plan and $299.95 a month for their Pro Plan, which are virtually the same as Shopify's pricing plans. They also offer an Enterprise plan, but that's a custom plan for high volume sellers and you'll want to start a conversation with their sales team first.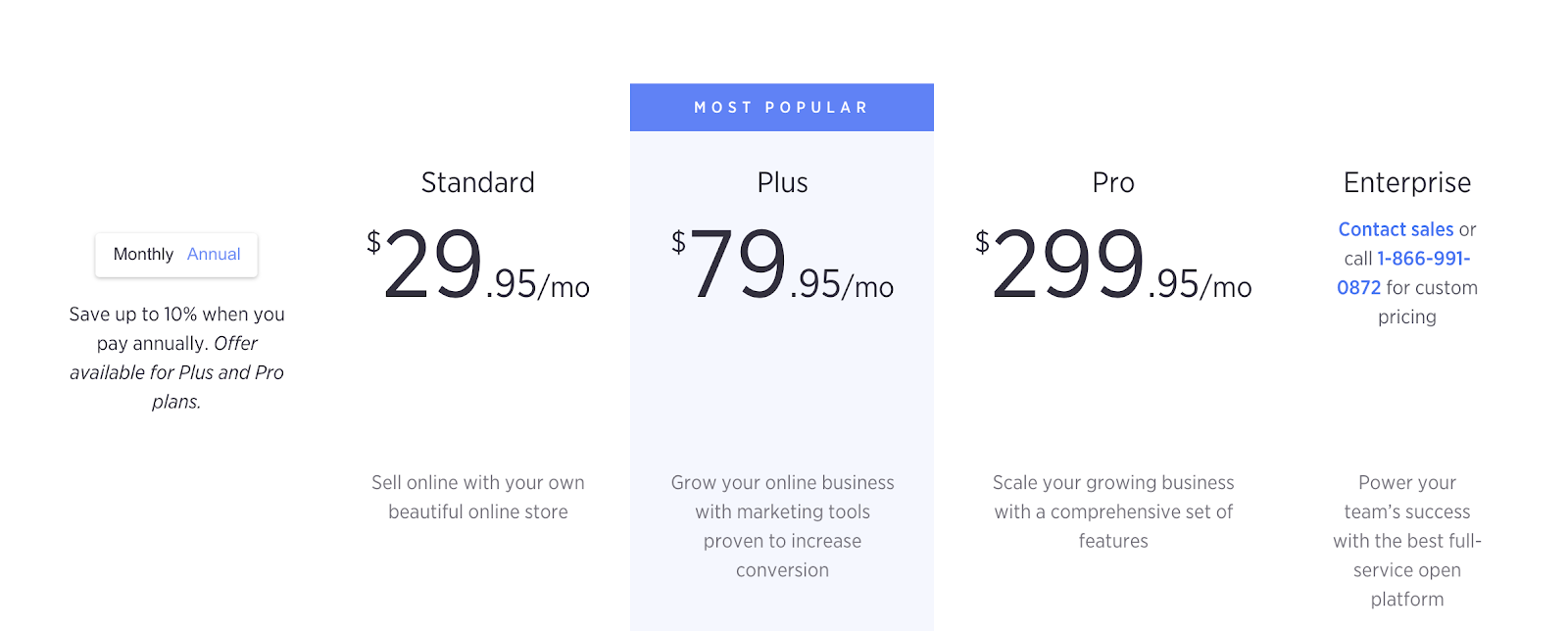 BigCommerce also offers a very robust, fully featured free 15-day trial that you can learn more about right here.
Features of BigCommerce
BigCommerce's least expensive Standard Plan offers:
No transaction fees
Unlimited products, file storage, and bandwidth
Unlimited staff accounts
Branded online store
Ability to connect your store to online marketplaces like eBay and Amazon
Point of Sale
Integration with Facebook, Instagram, and Google Shopping
Responsive website
BigCommerce offers a mobile app
Single-page checkout
Coupons, discounts, and gift cards available
Real-time shipping rate quotes for customers
Professional reporting tools
Blog available to add to your online store
Free HTTPs and SSL security
Multi-currency
Up to 50k in online sales per year
BigCommerce's Pro Plan offers the same features plus:
Customer groups and segmentation (can reward frequent customers)
Abandoned cart saver
Persistent cart (their shopping cart is saved to their account so their cart is available across devices while the customer is signed in)
Stored credit cards
Product filtering
Custom SSL
Google customer reviews
Up to 400K in sales per year
Ease of Use of BigCommerce
BigCommerce offers a wide range of features and is a powerful platform able to help grow an online store. However, BigCommerce isn't known as the absolute easiest of all the eCommerce website builders to master. Some of the extra features offered by BigCommerce add to the higher learning curve with this eCommerce website builder.
BigCommerce also uses some occasionally complex terminology that makes it a little difficult for beginners to understand. Not being familiar with these technical terms can translate into extra hours developing an online store.
To combat the issues that new users were experiencing with the platform, BigCommerce recently released "Store Design" which is a browser-based tool that allows merchants to "rapidly modify and customize a storefront's look and feel without writing any code." This addition is a step in the right direction for making BigCommerce more accessible to newbies.
BigCommerce's Support for Their eCommerce Website Builder
BigCommerce offers 24/7 support to customers. They also have a knowledgebase center and a place to ask the community of users questions.
Scalability for BigCommerce
Scalability is one of the areas that BigCommerce truly shines. BigCommerce is a great option for people hoping to grow their small business into a much much larger operation.
Unlike many other eCommerce website builders on the market, BigCommerce doesn't rely on third-party apps for growth. BigCommerce offers more built-in features than many of its competitors and gives plenty of room to grow through its powerful tools.
Security for BigCommerce
Big Commerce is ISO/IEC 270001:2013 and PCI DSS 3.2, Level 1 certified. Big Commerce stores are also protected by firewalls, file integrity scanners, and intrusion detection.
For additional security help, BigCommerce released a comprehensive guide for best practices for eCommerce security.
Payment Gateways with BigCommerce
BigCommerce offers a healthy list of payment gateways. Some of the more recognizable ones on the list are:
Amazon Pay
Chase Integrated Payments
PayPal
PayPal Express Checkout
Quickbooks Payment
Square
Stripe
Google Pay
VISA Checkout
Apply Pay
Masterpass
At the end of the day, BigCommerce wins major points and sits near the top of the list of best eCommerce website builders for a good reason—you'll be able to create a beautifully designed online shopping experience for your customers, that also functions well for you as the manager. Give BigCommerce a try with their 15 day free trial right here and see for yourself today.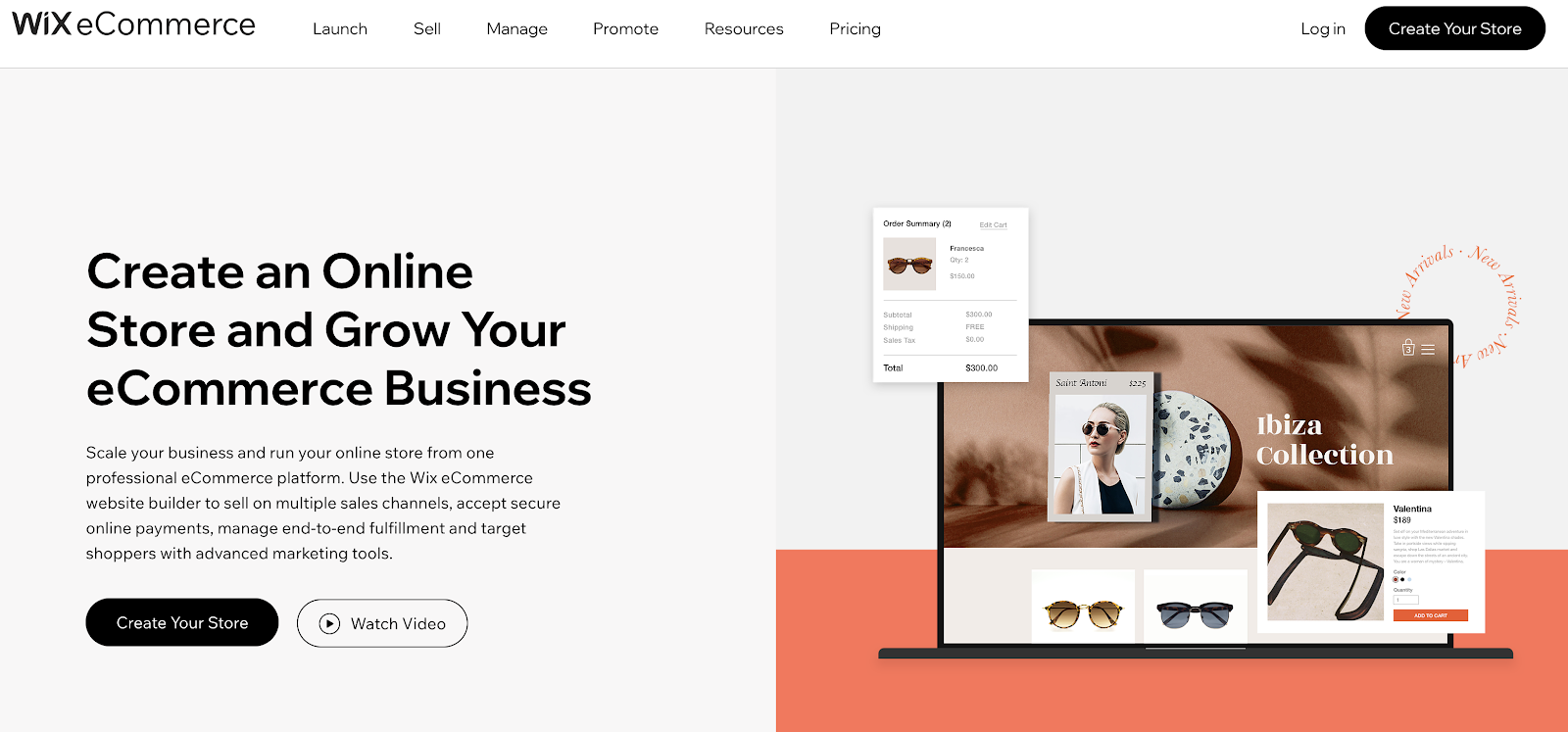 Wix is widely known for being a very easy-to-use website builder and is often used by people brand new to making websites—and no surprise, they also make for one of the easiest to use eCommerce website builders on the market today.
One of the main appeals of Wix is that it has a WYSIWYG drag-and-drop editor that allows you to see changes in real-time. You can manipulate the different elements and know exactly what it will look like in a published form.
Wix takes a lot of guesswork out of creating an eCommerce website and can be a good option, especially for beginners.
Price of Wix's eCommerce Website Builder
Wix provides everything in their system. You won't have to pay additional fees for security or hosting, and you get a free domain name for the first year.
Here's a look at the pricing plans for Wix's eCommerce website builders: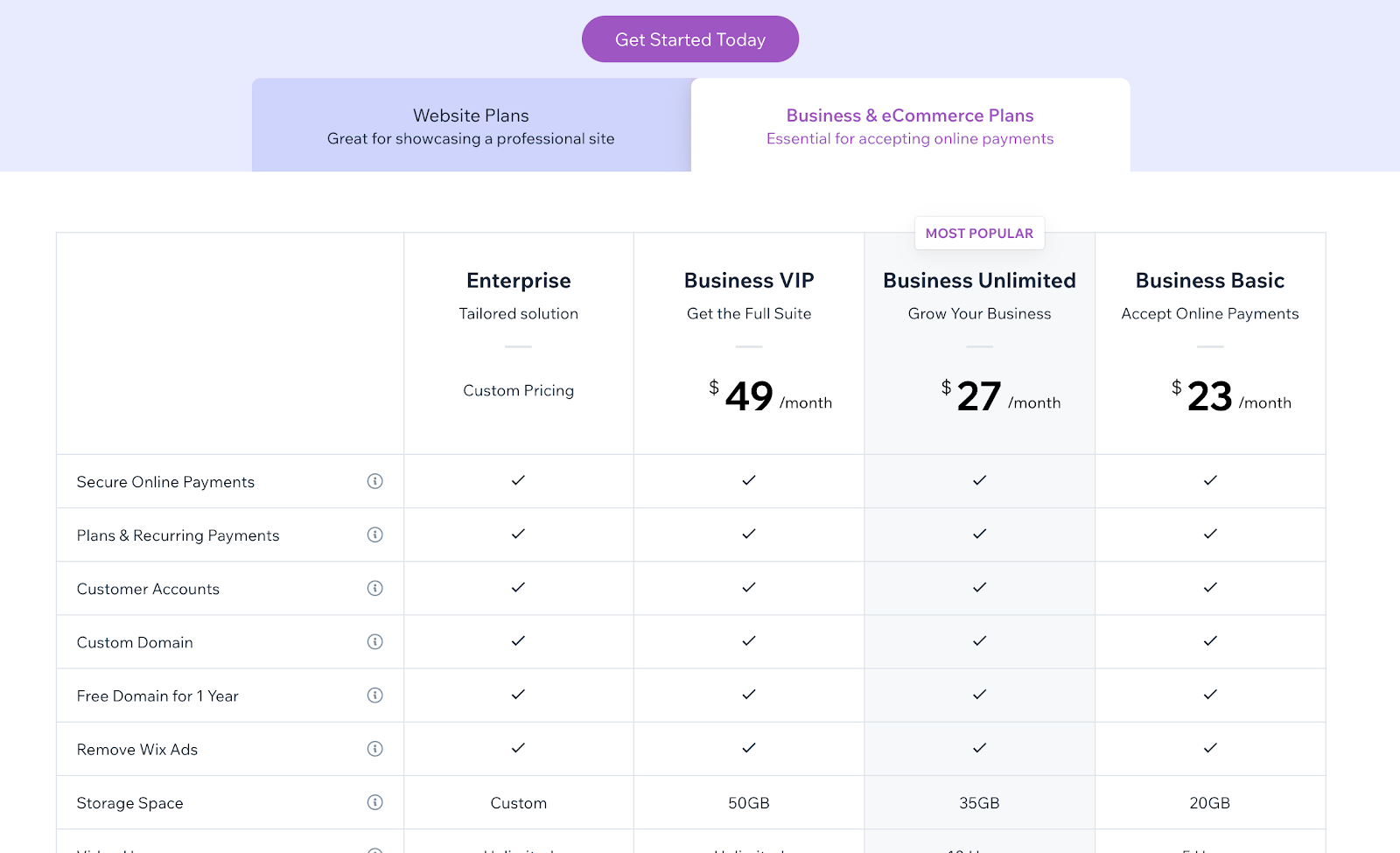 The Wix eCommerce prices range from $23 a month to $49 a month. For users looking for more, they also have an Enterprise plan, though the price of this plan isn't listed because it's customized for each customer.
Features of Wix eCommerce
The cheapest plan, known as the Basic Business Plan, comes with:
Secure online payments
Plans & recurring payments
Customer accounts
Free domain name for 1 year
Remove Wix ads
Unlimited products
Abandoned cart recovery
Ability to sell on social channels like Facebook or Instagram
20GB storage space
5 hours video
The $49 Business VIP plan includes all of the same features plus:
50GB storage
Unlimited videos
Priority customer care
Subscriptions
Multiple currencies so customers can see their local currency on your site
Automated sales tax on 500 products a month
Advanced shipping options like printing labels and connecting shipping apps
USPS discounts of up to 70%
Sell on marketplaces
Unlimited products
3,000 product reviews by KudoBuzz
Loyalty program by Smile.io to reward returning customers
Wix also offers a Wix App Market that gives you additional options (some free and some premium) to make your eCommerce website more advanced.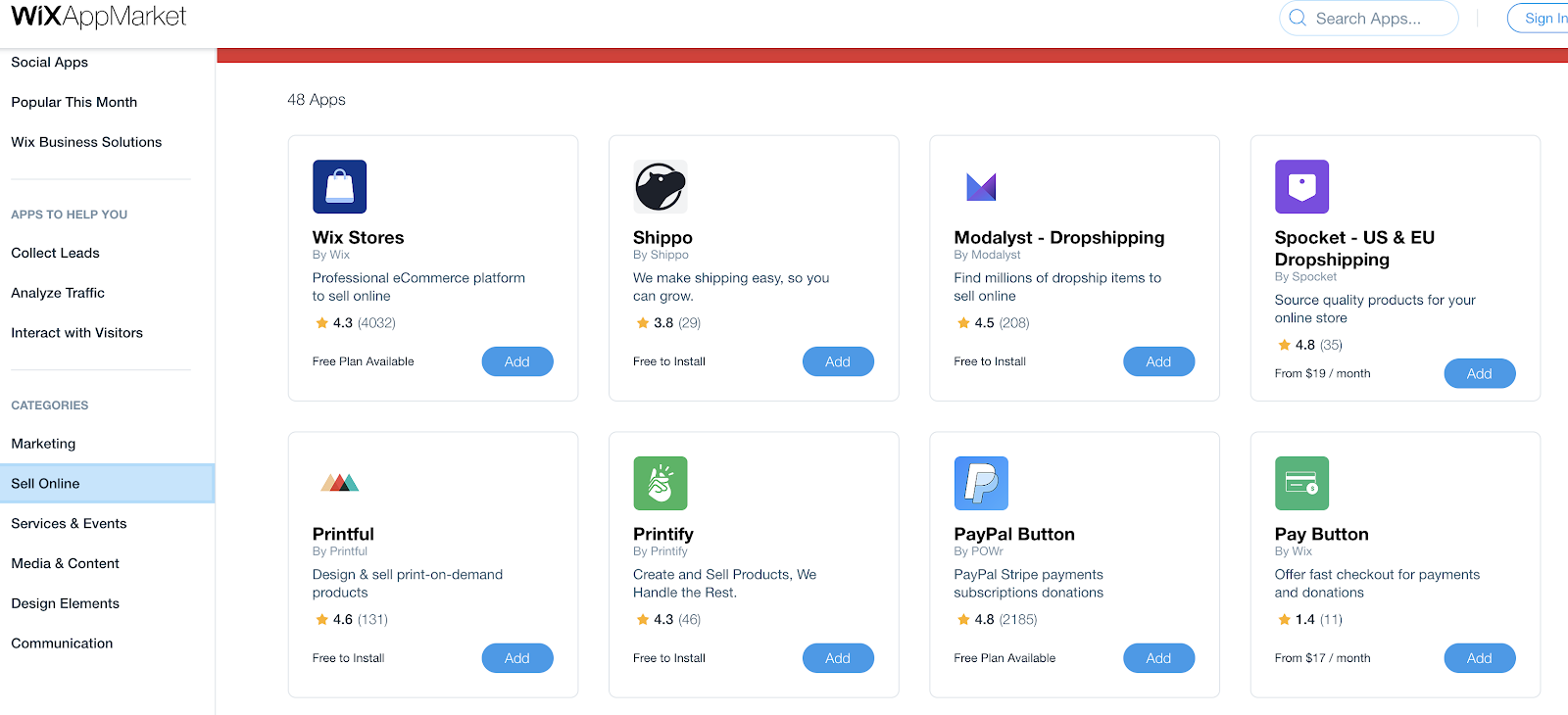 Ease of Use for Wix eCommerce
One of the biggest advantages of Wix is how easy it is to use. The Wix platform is powerful enough to offer a lot of options but is simple enough for new users to understand.
You won't need to understand coding to use Wix, but if you are someone who wants to use coding on your site, that is available by turning on the developer tools.
Wix eCommerce Website Builder Support
Wix offers 24/7 support for all of its customers plus a knowledge base center that answers a lot of FAQs.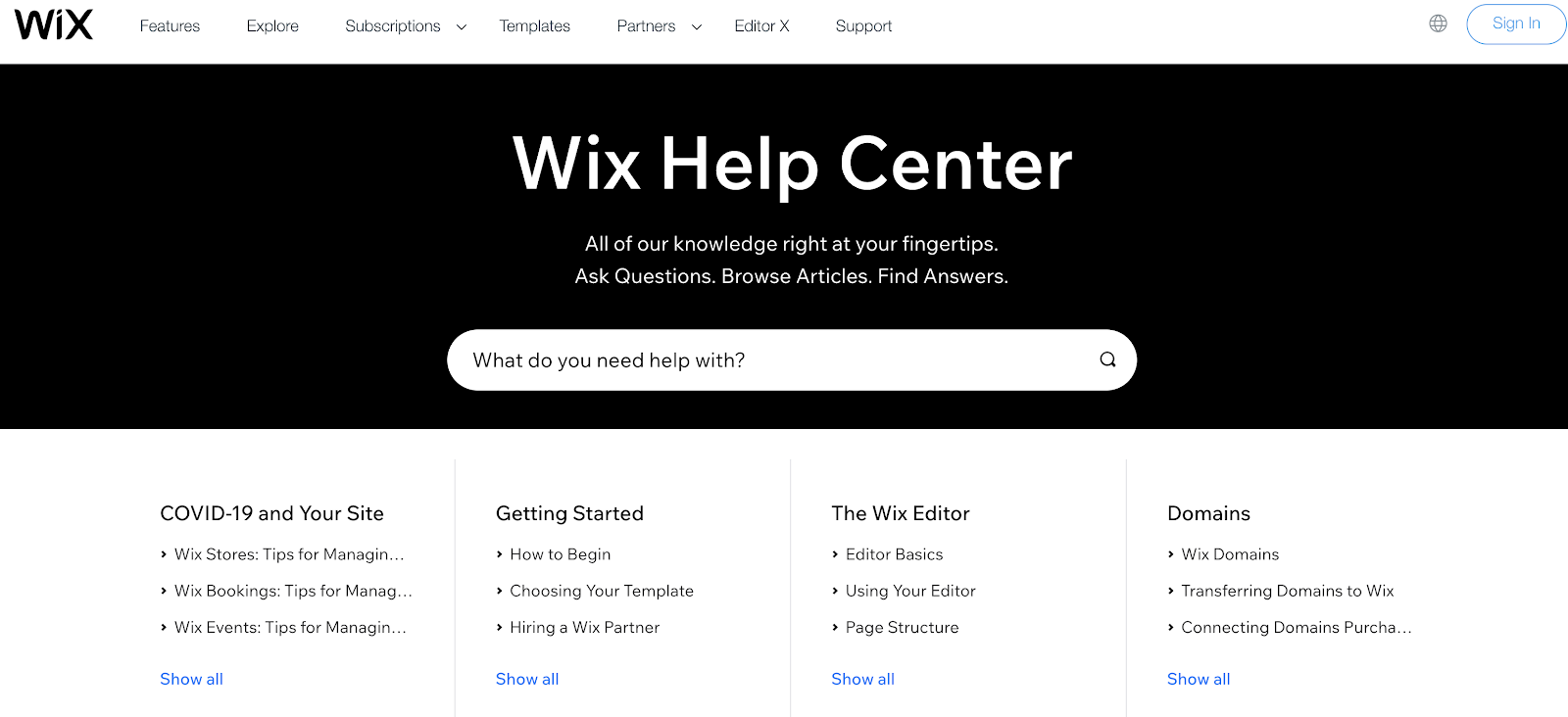 Users that opt for the Business VIP plan are granted priority customer care.
Scalability for Wix eCommerce
Wix is a good beginner eCommerce website builder that also offers some scalability. Though Wix offers an enterprise plan, this eCommerce website builder is best suited for smaller online businesses.
One drawback with Wix is once you've settled on a template it's very difficult to make future changes. Though you can switch templates, it means starting over as your data will not be automatically transferred over.
Some people report that in order to scale your Wix eCommerce store, you must rely heavily on third-party apps. Some of these may not function as seamlessly as the functions that come with your Wix package. In short, Wix lacks some of the more advanced eCommerce features you'd be looking for in a larger online store.
Security for Wix eCommerce
Wix uses HTTPS/TLS encryption during each checkout process through your site. In addition, they only work with payment gateways that are level 1 PCI-DSS compliant.
Payment Gateways with Wix eCommerce
Wix offers four main providers in the US:
Wix Payments
PayPal
Stripe
Square
If you're looking for the absolute easiest of all the eCommerce website builders to get started with today, then Wix eCommerce will probably be your best bet. While you may sacrifice on some features compared to Shopify or BigCommerce, Wix eCommerce is a little more budget-friendly, will be extremely easy to learn and you get your online store up and running quickly. Check Wix out and see for yourself right here.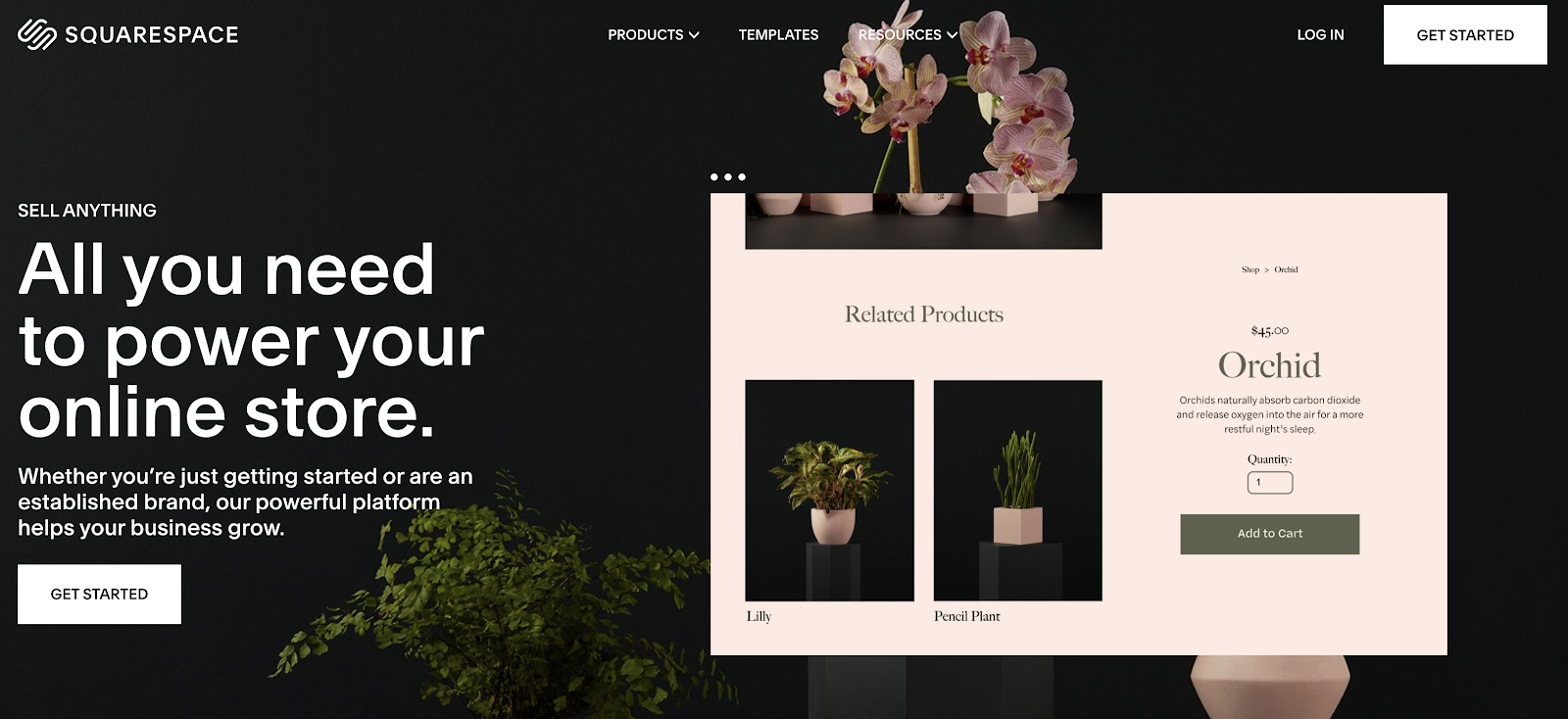 Stunning, elegant, and sophisticated are some of the terms used to describe the look and feel of Squarespace amongst the top eCommerce website builders. For online businesses that have rich photography and want a clean look to their shop, Squarespace really delivers on design. As an eCommerce website builder, let's see what Squarespace has to offer and how it compares to its competition.
Price of Squarespace eCommerce
Squarespace offers three plans that include an eCommerce option, as well as Squarespace select which is a customized eCommerce plan for bigger stores.
Squarespace Business Plan is $18 a month (when paid annually) and the Commerce Plan is $40 a month (when paid annually).
Features of Squarespace eCommerce:
Squarespace's Business Plan offers:
Free domain name for 1 year
SSL Security
Unlimited bandwidth and storage
SEO features
Range of templates
Unlimited contributors
Basic website metrics
Squarespace extensions
Premium integration and Blocks
CSS and Javascript capability
Advanced analytics
Professional email from Google
Promotional popups and banners
Fully integrated eCommerce
3% transaction fees
Unlimited products
Accept donations
Giftcards
The Commerce Plan provides the same features as well as:
0% Transaction fee
Point of Sale
Customer accounts
Checkout on your domain
Powerful eCommerce analytics
Merchandising tools
Products on Amazon
Abandoned cart recovery
Sell subscriptions
Automatically calculate realtime shipping costs
Offer discounts
Commerce APIs
Limited availability labels
Ease of Use of Squarespace eCommerce
Squarespace has an easy to use interface. When you work in the Squarespace editor you see everything happening in real-time, but it's not a drag and drop editor. For those who prefer drag-and-drop, this may be a drawback. However, Squarespace is a very straightforward editor that has a relatively low learning curve.
For more complicated changes, Squarespace does have a CSS module for users familiar with code.
Support for Squarespace eCommerce
Squarespace has a knowledge base, videos, tutorials, and webinars to help users in need.
Squarespace offers live chat support during "most weekdays" but does not at this time offer phone support. They do offer 24/7 online support through email and Twitter.
Scalability for Squarespace eCommerce
There are some things that Squarespace offers that do lend well to scalability. For one, you can easily change your template with Squarespace if you want to take your store in a new direction.  Another benefit with Squarespace is even their lowest plan offers unlimited storage and bandwidth.
That being said, Squarespace is best suited for small businesses or people just starting out in the eCommerce space, especially those with limited tech knowledge.
Templates and features can be somewhat restrictive with Squarespace and it doesn't lend well to an eCommerce store that's fulfilling a lot of orders. Many of the competitors like Shopify or BigCommerce offer more capability for bigger stores in their basic plans.
For a higher premium, Squarespace has launched Squarespace Select which offers more support and features for larger businesses.
Security for Squarespace eCommerce
Squarespace is PCI-DSS compliant and offers SSL security to all of its customers.
Squarespace uses DDos protection and built-in security to ward off malware.
Payment Gateways With Squarespace eCommerce
At this time, Squarespace payment gateways are limited to: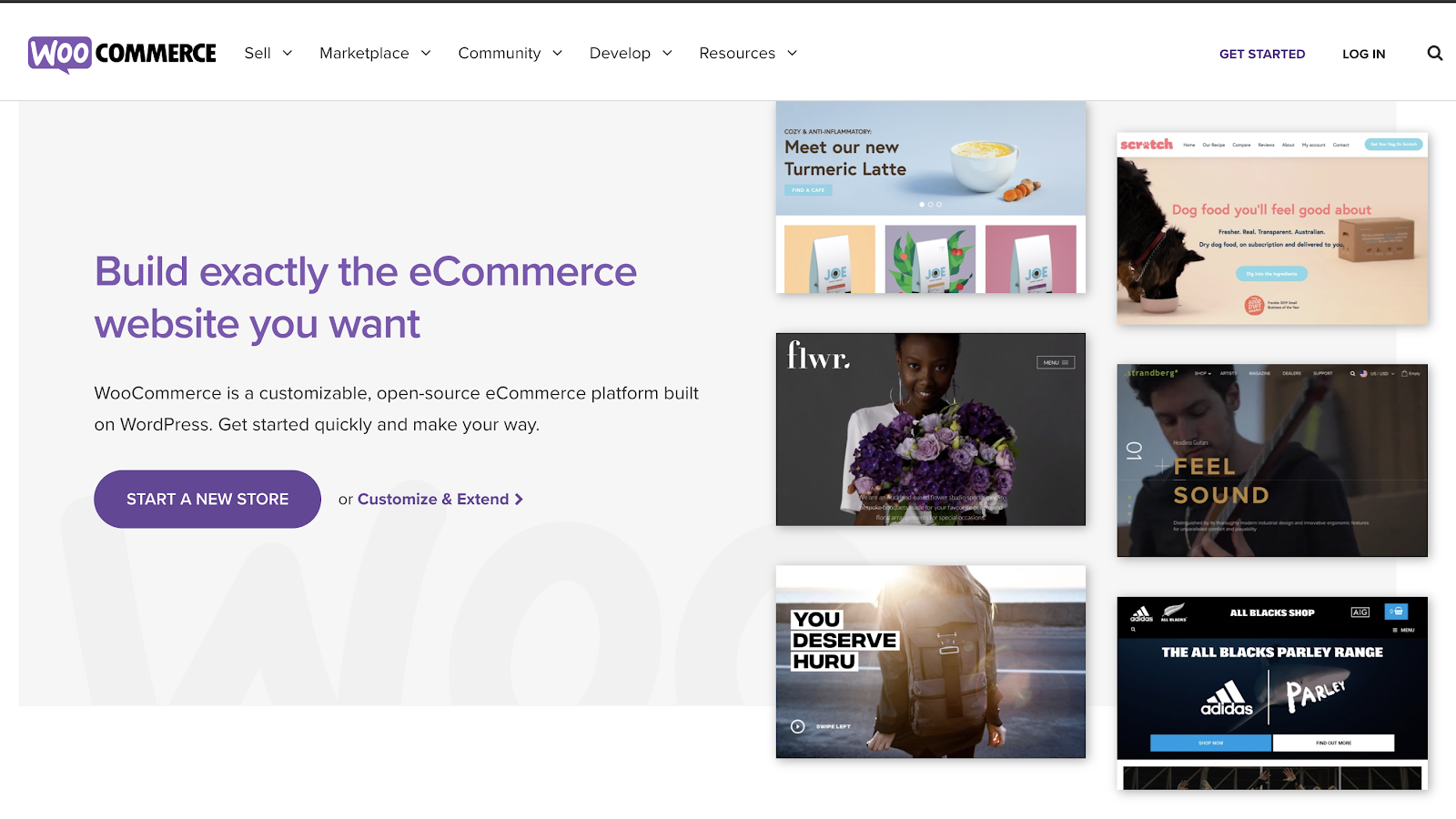 WooCommerce is an open-source eCommerce website builder that's directly compatible with WordPress (and also built by the makers of WordPress). It's free to install and WooCommerce with your WordPress-powered website, but you'll have to purchase a domain name and a hosting plan in order to get your eCommerce website live.
If you're not familiar with the term, open-source means that it's free for personal or commercial use. It also means that the original source code can be modified by users, so theoretically you can make an unlimited number of customizations to your WooCommerce powered store.
By sheer numbers, WooCommerce is the most popular of all the top eCommerce website builders—and currently has over 5 million active installations, largely because it's so budget-friendly, works seamlessly with WordPress and is extremely flexible as a platform.
Price for WooCommerce
A WooCommerce plugin can easily be added to your WordPress website for free, but you're likely going to (eventually) pay for additional upgrades like an eCommerce-friendly WordPress theme to power your product-focused blog, or to get additional plugins and extensions that'll expand the usefulness of your WooCommerce shop.
Features of WooCommerce
WooCommerce has a lot of features, but some of the most notable ones are:
Easy start-up with a New Store Owner's Guide
Automated tax calculation
Live shipping rates
Options to print labels at home
Mobile app for iOS and Android
Product variations
Subscription options
Unrestricted customization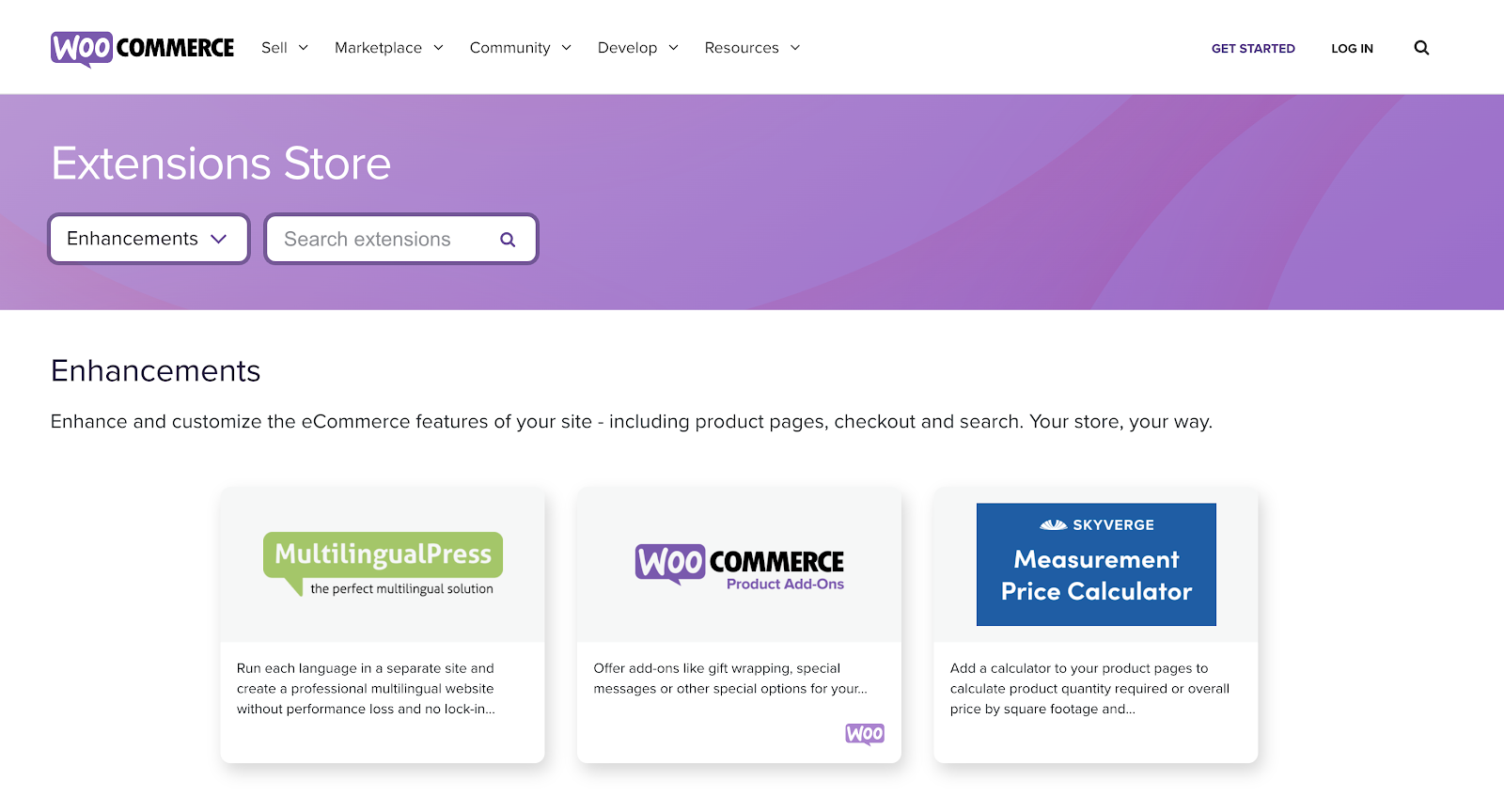 The Extensions Store provides free and premium features that can help you expand the usefulness of your eCommerce website.
Ease of Use for WooCommerce as an eCommerce Website Builder
One of the criticisms of WooCommerce is how much work lands in the lap of the user. Unlike all-in-one eCommerce builders like Shopify (up next in our list), you're responsible for managing many aspects of your business.
These added jobs include managing security, updates and backups. However, there are plugins you can purchase that make this job much easier.
Even though you do have greater responsibility with WooCommerce, it also means greater freedom. This platform allows you to customize your store exactly the way you want without restriction.
Another criticism of WooCommerce you'll sometimes see, is a greater learning curve than many of the other eCommerce website builders on this list. It doesn't have a drag-and-drop feature unless you add a plugin with a visual website builder. This can be a drawback for people who want a more simple platform like Shopify or BigCommerce that let you visually manipulate different aspects of the site.
WooCommerce Support
WooCommerce doesn't operate the same way that many other eCommerce website builders do. Unlike Wix or Shopify, WooCommerce is a free open source platform. Therefore, they don't offer the same 24/7 support that you might receive from a paid company.
It's also different because you will purchase your hosting separately from WooCommerce. Any problems with your server will be directed to your hosting company. In that sense, it matters more whether or not you're choosing a great hosting company than whether or not WooCommerce offers great support.
However, that doesn't mean you're without any resources when it comes to WooCommerce. There are plenty of online tutorials that can help you get started. WooCommerce also offers tutorials, guides, and a support forum where you can ask questions of experts and users.
If you're having a problem that you can't find a solution for, you may also want to consider hiring a developer to help work through some of the technical issues for you.
Scalability of WooCommerce
WooCommerce may not have a reputation as one of the better eCommerce website builders for large brands, but their scalability factor is actually great. According to WooCommerce, you can list as many products as you want and handle transactions rapidly.
Something to understand about the scalability of WooCommerce, though, is that it'll require a change in operation. In order to power a large business through WooCommerce, you're likely looking to hire a team of developers and work closely with a great hosting company that can handle a high volume of customers—all challenges that can be relatively easily dealt with if your business is growing this much.
Scalability is well within reach, but it'll require a lot more extra coordination than some of the other eCommerce website builders who offer their services in a more simple package.
WooCommerce Security
As with other aspects of WooCommerce, there is some additional leg work needed for security.
An SSL certificate is a must-have for internet security whether you sell online or run a simple website. Many hosting companies offer an SSL certificate as part of their package, but it can be purchase separately if needed.
PCI-DSS compliance is another part of eCommerce security. PCI-DSS stands for Payment Card Industry Data Security Standard and it helps with consistent data security around the world. WooCommerce released a guide to help you stay compliant with PCI-DSS standards.
WooCommerce also offers tips to help keep your WooCommerce store as secure as possible.
Payment Gateways with WooCommerce
WooCommerce uses extensions that give you access to over a hundred payment gateways.
Some of the more recognizable payment options are:
Stripe
PayPal
Square
Amazon Pay
Apple Pay
Google Pay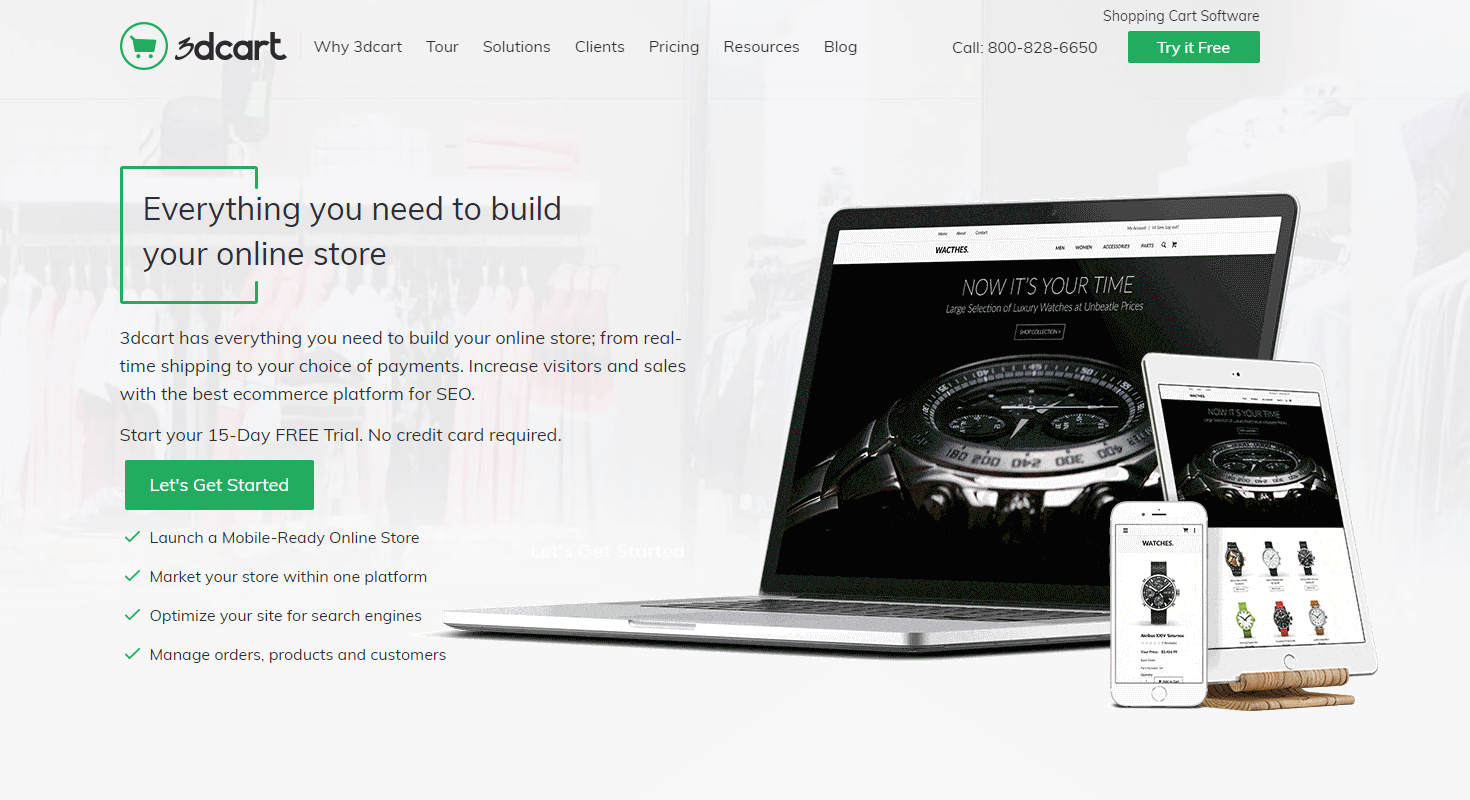 While 3dcart isn't necessarily amongst the most recognizable eCommerce website builders on this list, they've more than earned their reputation in the space by creating a great, easy-to-use product for their customers. This may even be the first time you've heard of them, but believe it or not 3dcart actually launched back in 1997 and now powers over 23,000 eCommerce stores worldwide.
This eCommerce website builder has some surprising features, but it's not a good solution for beginners.
Price of 3dcart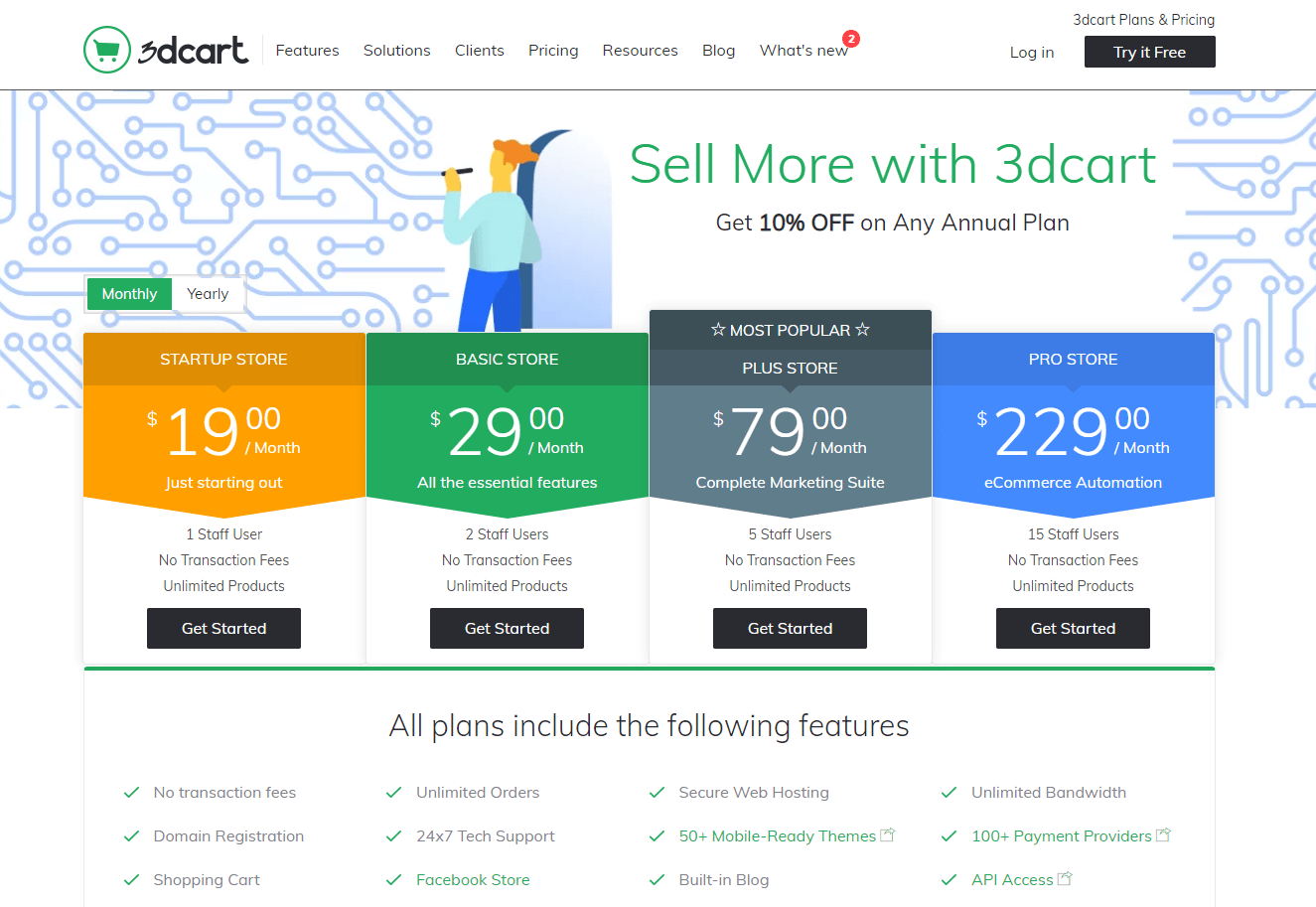 3dcart has some very affordable promotional prices starting as little as $9.50 a month for the Startup Store Plan. The most expensive plan called the Pro Store Plan costs $114.50 a month for an introductory price.
After the promotional period is over, the prices jump quite a bit. The $9.50 plan goes up to $19.00 a month, and the $114.50 plan raises to $229 a month.
Features of 3dcart
Here are some of the features of the Startup Store Plan:
1 staff user
Unlimited number of products
Unlimited bandwidth
2 Email accounts
API access
FTP access
Real-time shipping
Shipping labels
Unlimited product variants
Categories and smart categories
Product images & zoom
Inventory control
Advanced product options
Bulk quantity discounts
Single page checkout
Multiple ship-to checkout
Digital downloads
Report and dashboards
Tax rates
Quickbook connector
Product reviews
Google customer reviews
Gift wrapping
Visitor IP blocking
Upsell & Cross-sell
Saved carts
2-factor authentication
GDPR tool-kit
Built-in SEO tools
Built-in blog
Shareable wishlists
Gift certificates
Mailchimp and AWeber integration
Coupons and discounts
Facebook shop
Phone orders
POS Module
Square POS integration
Drop shipping support
Online chat and tickets
Up to 50K online sales per year
Card on file
Accept bitcoin cryptocurrency
The features of the Pro Store Plan include all of the above, plus:
Returns RMA module
Customer relationship manager (CRM)
3dfeedback
Customer groups
Purchase order module
Product comparison
Product Q&A
FedEx HAL
FedEx returns
In-Store pickup
Checkout additional fees
Quote system
Advanced search
Pre-orders
Shipment delivery notification
Daily deals
Affiliate program so your customers can make money through referrals
Blog subscriptions
Make-an-offer
Store credits
Abandoned cart saver
Email marketing newsletters
Autoresponder campaigns
eBay integration
Amazon order sync
Facebook dynamic ads
Facebook pixel
Houzz order import
Sales rep module
24 x 7 phone support
Ease of Use for 3dcart
3dcart is packed with features for an eCommerce store, and they offer some pretty impressive SEO setup. These features make 3dcart seem like a great option, but many users find the platform restrictive and very difficult to use.
One major complaint is 3dcart does not offer an undo button. The process is not streamlined and it does not operate intuitively. Though there are a lot of possibilities with 3dcart, many of them are difficult to implement.
Support for 3dcart
Live support is available 24/7 through different avenues including phone, live chat, and ticket support. They also offer a knowledge base.
Scalability for 3dcart
3dcart claims to be good for medium to large enterprise eCommerce sites. One way that their platform scales well is unlimited traffic and sales (with certain plans). They also have CRM software to help grow your site.
3dcart also offers multiple tiers for extra features and capability, but even the most basic plan has a lot of features right out of the box.
Security for 3dcart:
3dcart is secured with HTTPS, is PCI Certified, has a two-factor authentication, and anti-fraud tools to help protect credit cards and personal information.
Payment Gateways With 3dcart
One way that 3dcart stands out is the sheer number of integrated payment gateways. 3dcart has over 100 payment gateways including:
Square
PayPal
Stripe
Klarna
EVO payments
Elavon
Authorize.net
Persolvent
Amazon Pay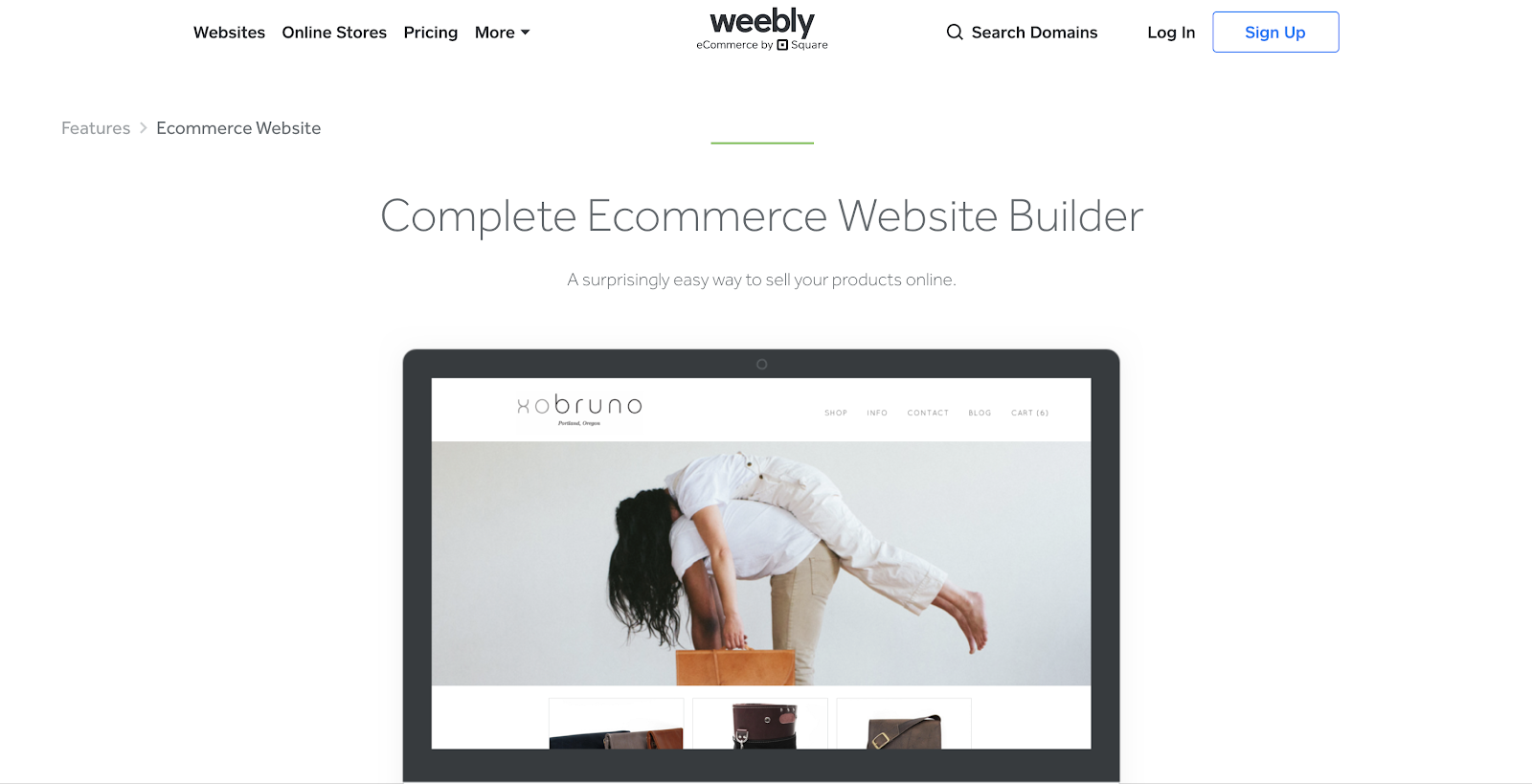 Weebly is an easy-to-use website builder better known for its general website or blogging features. However, Weebly offers eCommerce solutions even with their free version.
In 2021, Weebly's eCommerce is still going through a transitionary period. Weebly was acquired by Square in 2018, and since then they've worked towards shifting the eCommerce. Weebly has separated its general Weebly website builder from its new eCommerce one. They are now using the Square editor specifically for eCommerce.
Price of Weebly eCommerce by Square
Weebly offers a completely free website builder for basic use. One thing to keep in mind about the free version is your site will have Weebly branding and ads. To get rid of the ads, you can upgrade to at least the Professional Plan.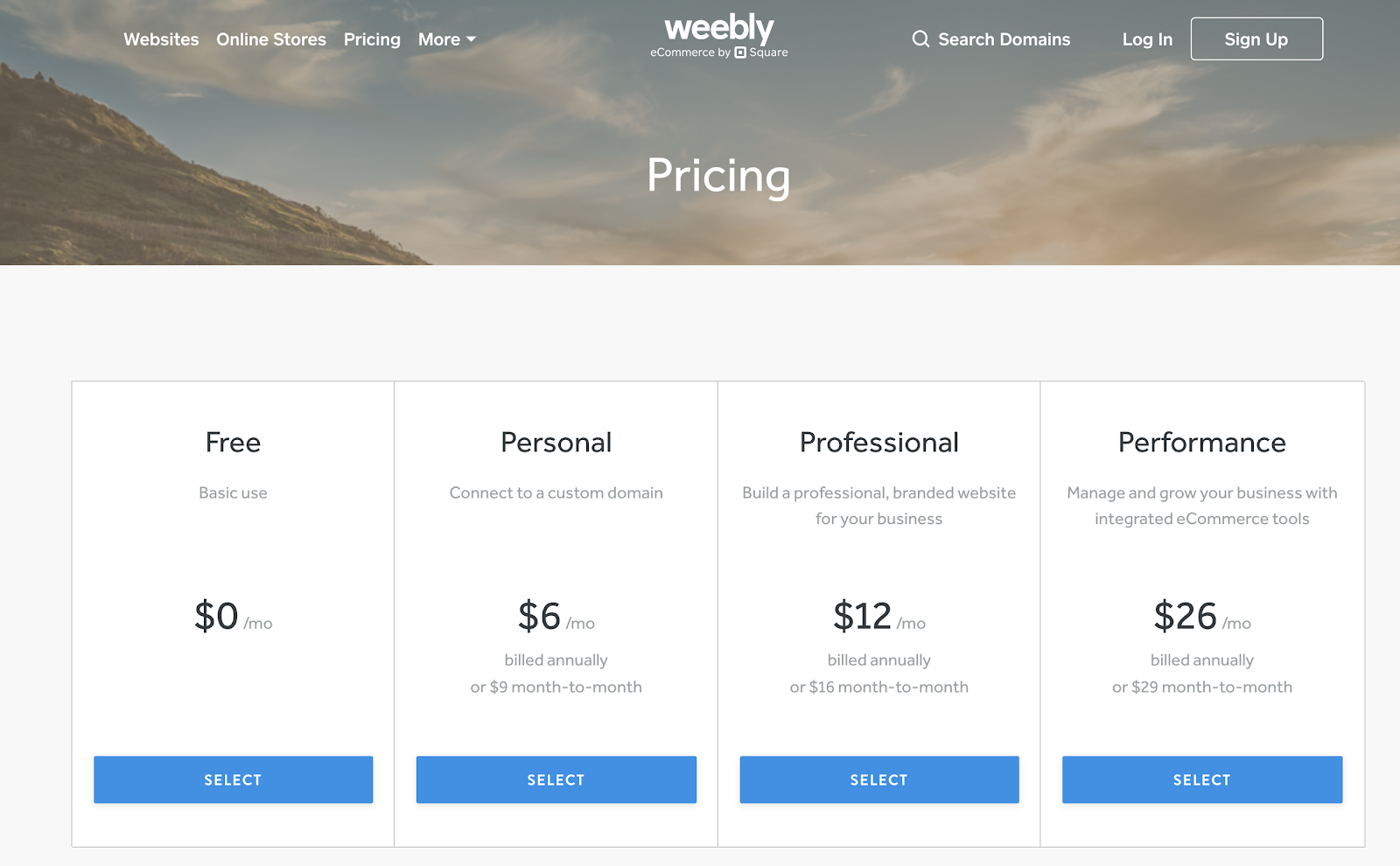 Weebly's most expensive plan is $26 a month when billed annually or $29 a month billed monthly.
Features of Weebly eCommerce by Square
The free version of Weebly offers:
Free SSL security
Ability to add 3rd party embed code
Shopping cart
Unlimited items
Item badges
Item options
Quick shop
Inventory management
In-store pickup
Automatic tax calculator
Coupons
Square gift cards
SEO tools
Lead capture
Instagram feed
Community forum, chat & email support
The Performance Plan has the same features plus:
Unlimited storage
Ability to connect a custom domain
Advanced site stats
Free domain
Square ads removed
Password protection
Digital goods
Accept payments through PayPal
Item reviews
Shipping labels
Abandoned cart emails
Advanced eCommerce
Priority support
Ease of Use for Weebly eCommerce by Square
Those that are familiar with the Weebly editor are likely to be disappointed by the Square editor. In some ways, the Square editor is even simpler and easier to use than the traditional Weebly editor. On the other hand, it's less customizable and offers fewer options.
The Square editor only allows you to work in pre-designed sections. The editor forces you to work within very fine constraints which makes it much harder to create a unique storefront.
This editor is very easy to use, but extremely limited at this time. In the future, Square may take this into account and start using a more dynamic builder. For now, there's a lot of room for growth.
Support for Weebly eCommerce by Square
Depending on the plan you choose you will receive different support options. The free and personal plans provide a community forum, chat, and email support. If you purchase the Professional Plan, you upgrade to include phone support. With the Performance Plan, you gain access to priority support.
Scalability for Weebly eCommerce by Square
Weebly's eCommerce website builder can be a good option for small online stores, but it isn't really built to power large businesses. It offers some nice features like unlimited items, inventory management, and item reviews, but overall it really isn't meant to scale for the needs of a large enterprise.
Security for Weebly eCommerce by Square
Weebly offers free SSL security even for their free plan which is very useful as well as generous.
Payment Gateways with Weebly eCommerce
Weebly eCommerce is fairly limited with their payment gateways. Square payment is the only option unless you upgrade to a higher premium plan. With the upgrade, you can use PayPal and Stripe.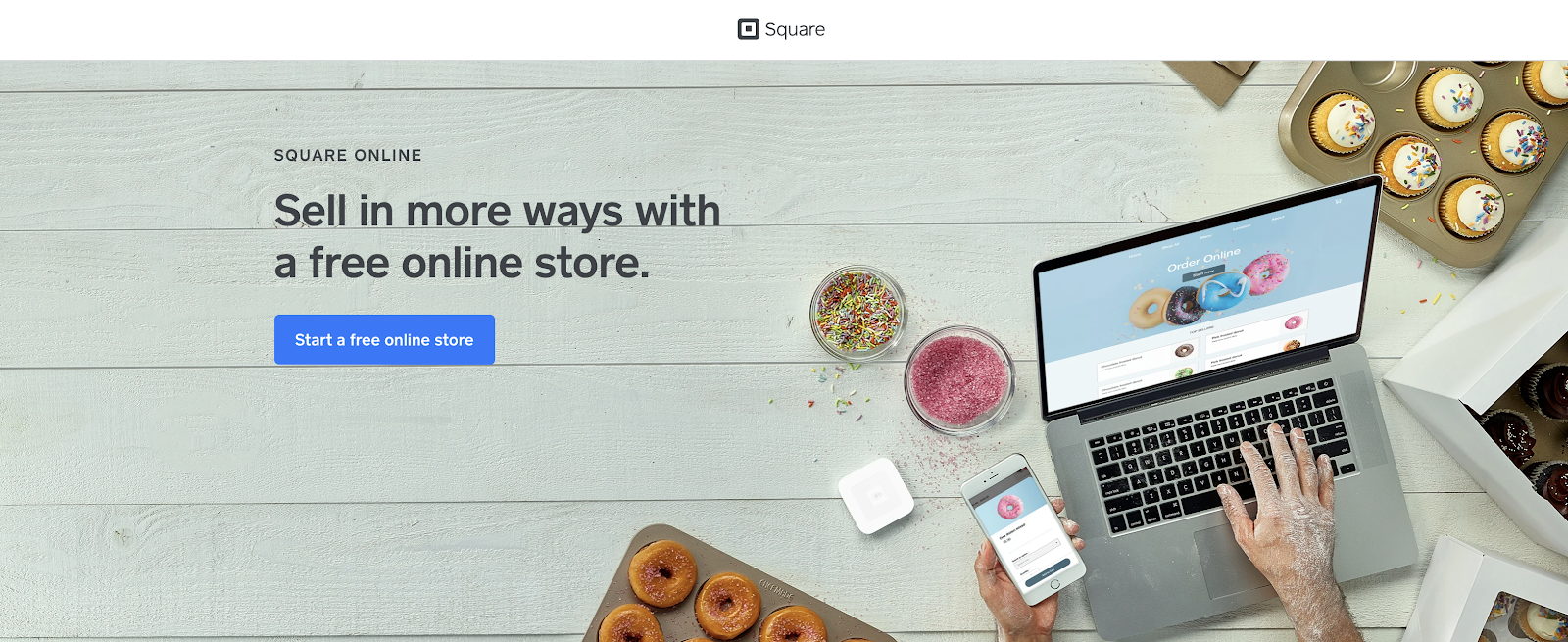 Square acquired Weebly in 2018 and developed it's functionality to become one of the best eCommerce website builders—powered by a combination of Weebly and Square. Square also has a separate eCommerce website builder called Square Online. The builders are very similar, but Square Online has some additional features that make them one of the most versatile eCommerce website builders worth checking out.
Price of Square Online

Like the Weebly counterpart, Square Online offers a free version of its platform.
The most expensive plan is the Premium Plan and it's $72 a month.
Like most payment gateways, you will be charged a fee every time someone makes a purchase through your site. With the free plan, you'll be charged 2.9% + $0.30. With the Premium Plan, the rate goes down slightly with 2.6% + $0.30.
Features for Square Online
Square Online's Free Plan gives you:
Unlimited products
Can sell digital good, physical goods, services, and event tickets
Can accept donations
Curbside pickup
Automatic sync with Square POS
Order status text alerts
Contact forms
SEO features
Mobile responsive
Facebook ads
SSL security
Inventory management
Coupons
Gift cards
In-store order customization
Instagram integration
Square Online's Premium Plan offers the same plus:
Free custom domain name for 1 year
No Square branding or ads
Customer reviews on site
Discounted shipping labels
Abandoned cart emails
Lowest processing rate
Realtime shipping rate calculator
On-demand delivery
In-house delivery
All-in-one shipping tools
Ease of Use for Square Online
Square Online is very easy to use for anyone getting started in eCommerce. It's extremely easy to get started and to create an eCommerce Store. Like the Weebly eCommerce option, it is quite limited in terms of customization.
Support for Square Online
Square offers support through phone, email, live chat, help center, community forum, and videos and guides.
Phone support is available 6 AM-6 PM PST M-F and 8 AM-5 PM PST on weekends. Live chat runs the same hours, but you can get email support 24/7.
Scalability for Square Online
Square Online offers several tiers to help grow along with your business. You also have the option of changing your theme settings at any time if you want to update the look of your store.
Square Online works best for small eCommerce businesses that aren't looking for a lot of customization or advanced features.
Security for Square Online
Square offers free SSL security for all plans including the free plan. They're also PCI-DSS compliant so you don't have to worry about being in violation of your eCommerce store.
Square uses a tokenization scheme to help keep precious data safe. They make their own hardware so they know exactly what security measures have been put in place. Another way they keep things is secure is by testing their own applications, infrastructure, and incident response plans.
You can read more about their security efforts on their site.
Payment Gateways With Square Online
Square Online payment gateways are very limited. With the free plan, you can only use Square to accept payments.
When you upgrade your plan to a higher tier, you can also accept:
PayPal
Apple Pay
Google Pay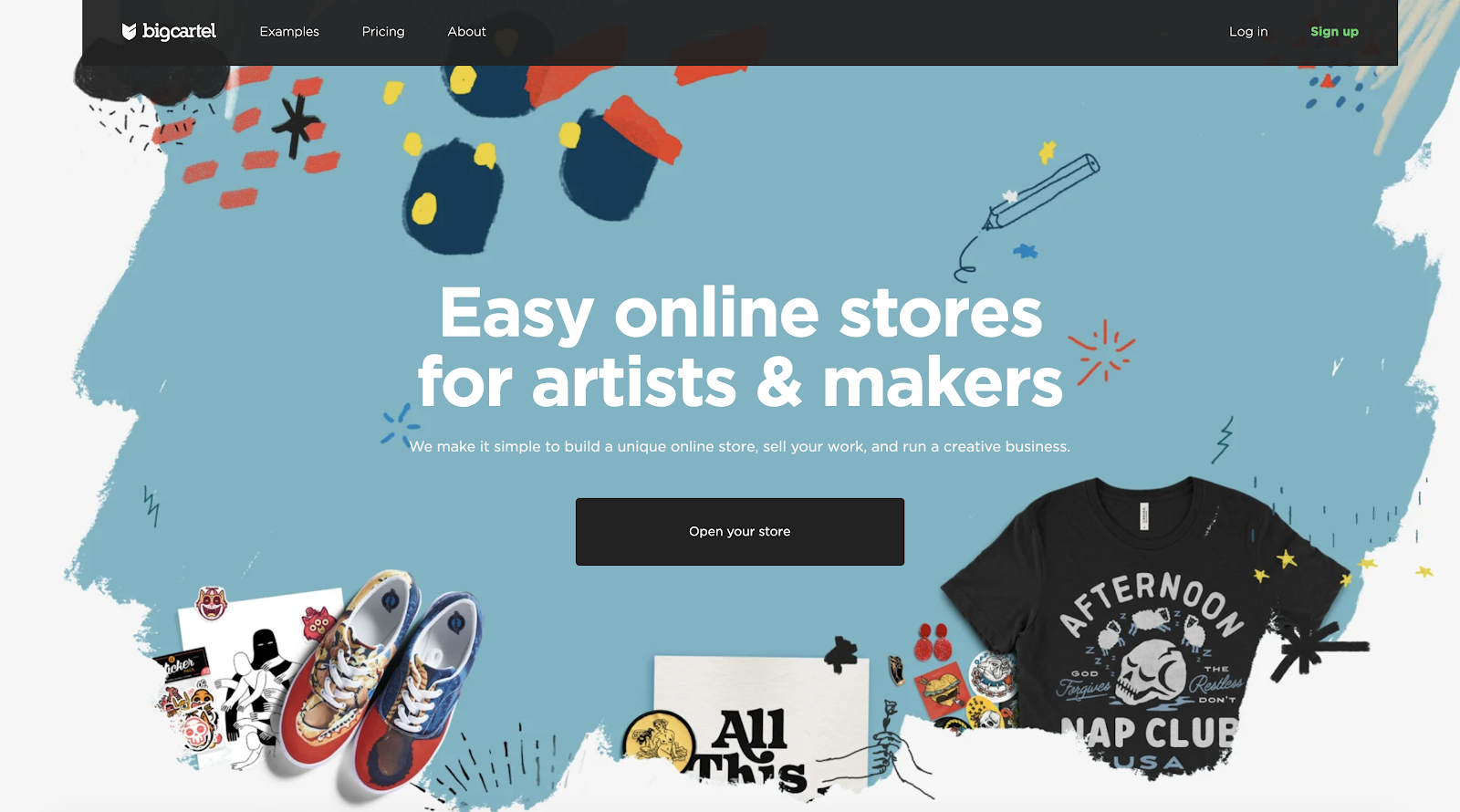 Big Cartel is an eCommerce website builder aimed specifically at creative business owners. The founder of Big Cartel, Matt Wigham, launched the platform as one of the earlier eCommerce website builders back in 2005 when he was looking for a way to sell band merchandise.
Big Cartel is best suited for small independent businesses looking to get started selling their art, photography and other creative endeavors.
Price of Big Cartel

Big Cartel has a free plan called the Gold Plan that doesn't require a credit card to sign up for. Their most expensive plan, The Titanium Plan, runs $29.99 a month.
Features of Big Cartel's eCommerce Website Builder
Big Cartel's free Gold Plan comes with:
5 product listings
One image per product
Free customizable themes
Sell in person or online
Real-time stats
Option to use a custom domain
Discounts or promos available
Shipment tracking
Product option groups
Sales tax autopilot
The Titanium Plan has the same features plus:
500 products
Five images per product
Theme code editing
Google Analytics
Inventory tracking
Bulk editing
Ease of Use for Big Cartel
Big Cartel is a very simple and easy to use platform. The website builder provides you with a setup wizard that guides you through the opening steps of setting up a store.
Like Square Online, part of the simplicity is due to a lack of features and customization. There's a fairly limited amount of options and without understanding coding, you won't be able to create a very unique shopping experience.
Support for Big Cartel
Big Cartel offers email support 8 AM – 6 PM EST seven days a week. No chat or phone support is available.
Scalability for Big Cartel
Big Cartel is not a good option for large businesses but can be a good choice for small independent creatives. Though there are several tiers of plans, each plan offers only a few extra features. The main difference between the tiers is how many products you can have in your eCommerce store.
For a larger shop, Shopify or BigCommerce would be a better avenue, but with a free plan, you can start a small shop and test what it's like to start selling online.
Security for Big Cartel
One big thing to know about Big Cartel is that it isn't PCI compliant which means the onus is on the shop owner to be compliant.
Big Cartel offers SSL security for URL addresses and custom domains and in every checkout. They make a note that they don't secure assets on your site that you may have added through coding. These assets may include custom images, Javascript, or CSS.
Payment Gateways With Big Cartel
Big Cartel offers two payment options:
With Stripe enabled, customers can also use Apple Pay to check out. With PayPal enabled customers can pay with Venmo—both affording store owners the opportunity to generate sales easier from a variety of different payment methods. That's one of the more unique features of Big Cartel and solidifies it's place our list of eCommerce website builders, especially for indie creators.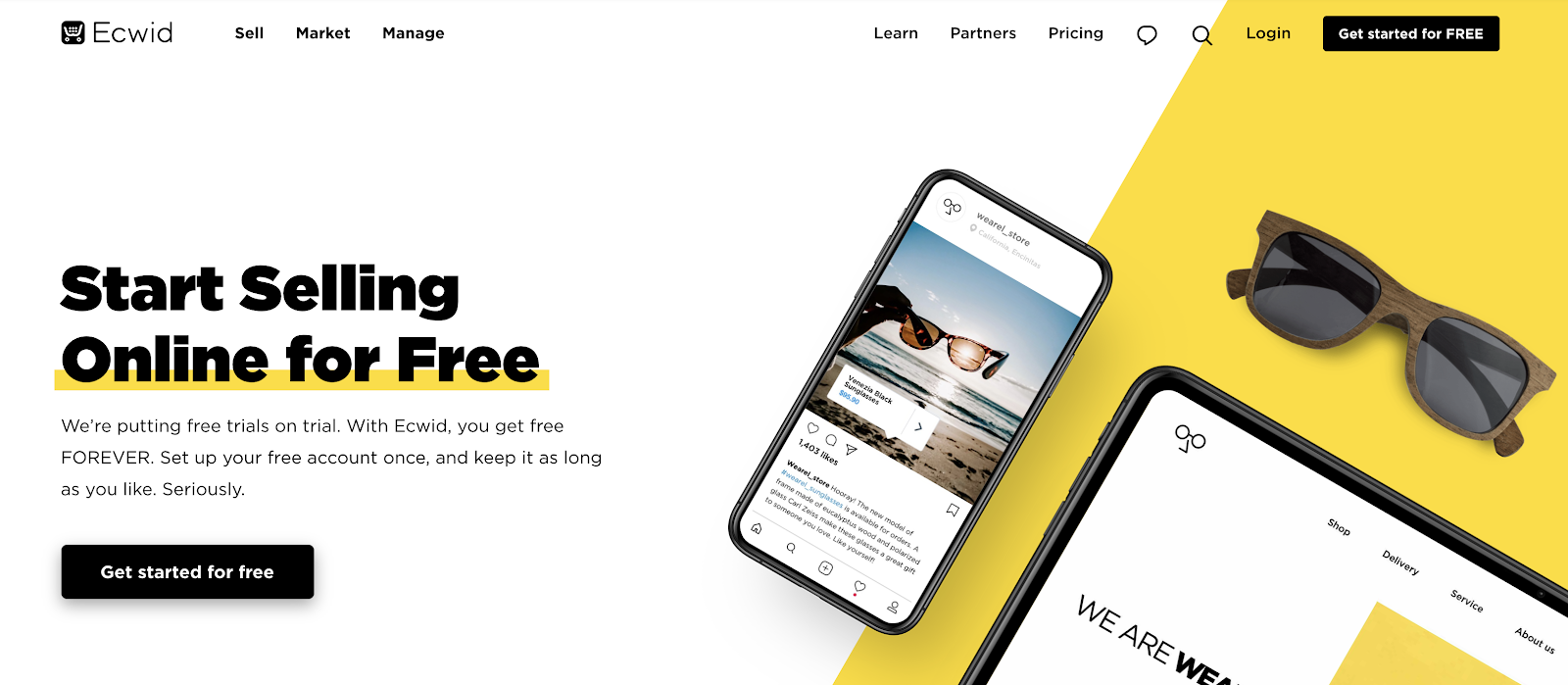 Ecwid is a little different than the other eCommerce website builders we've covered so far in this comparison guide. Unlike Shopify or Wix, Ecwid is not meant to be a standalone website. Rather, Ecwid is a widget platform that you can add to your existing website and sell products from your site as-is.
This platform can also be integrated with social media and online marketplaces like Amazon. Ecwid gives you one control panel to manage all the synced stores and products. It can be integrated with popular website builders like WordPress, Joomla, Drupal, and Wix.
Price for Ecwid

Ecwid can be used for free, but their most expensive plan is $82.50 a month when billed annually, or $99 a month when billed monthly.
Features for Ecwid
With the Ecwid Free Account you get:
No transaction fees (apart from the charges from payment gateways)
Online store
Facebook advertising
Google advertising
Pinterest advertising
Snapchat advertising
Unlimited bandwidth
Instant site builder
Add store to any website
GDPR compliance
Gift cards
Ecwid's highest tier plan Unlimited offers the same benefits plus:
Facebook shop
Instagram store
Mobile POS
Sell on Etsy
Sell on Amazon
Sell on eBay
Mailchimp and automated email marketing
Android and iOS management app
Digital goods
Discount coupons
Automated tax calculations
Facebook messenger live chat
Access to App Market with extensions
Inventory tracking
Advanced SEO tools
Connect your domain name
Scheduled order pickup
Abandoned cart emails
Wholesale pricing groups
Product filters
Product variants
Create orders
Dimensional shipping rates
Staff accounts
Multilingual storefront
Ease of Use for Ecwid
Ecwid is generally very easy to use. They redesigned their control panel in 2018, and they provide a setup wizard to help you navigate adding Ecwid to your website. There's a fairly low learning curve with Ecwid and you can get started right away.
If you're already familiar with your CMS or website builder, the integration of Ecwid is a simple process.
Support for Ecwid
The free plan for Ecwid provides email support, guides, and a forum. The Venture Plan offers live chat support, the Business Plan provides phone support as well, and the Unlimited Plan offers priority support.
Scalability with Ecwid
Ecwid isn't really designed to support large-scale or enterprise online businesses. They describe themselves as "ideal for small and medium-sized businesses," which makes them one of the best eCommerce website builders for those on a tight budget.
For businesses hoping to sell a high volume of products, Ecwid isn't the best choice. Users will be required to upgrade often as their store grows, and Ecwid's features are not cohesive with large scale stores. For people looking to sell a smaller volume of products, Ecwid's easy integration can be a real value.
Security for Ecwid
Ecwid takes care of quite a few security measures for your online store. Ecwid stores run with HTTPs, they don't collect credit card information, and they're PCI-DSS Level 1 compliant.
Ecwid relies on payment gateways to secure payments, which means it's most important to use payment gateways that are safe and secure for your customers.
They also use secure hosting and regularly check for security issues. Ecwid writes, "We regularly scan Ecwid for breeches and protect this information with software updates and backups of your stores' information. We store our data on Amazon Web Services — the most reliable and secure hosting solution."
Payment Gateways With Ecwid
Ecwid offers a long list of payment gateways available through its platform. Some notable names include:
Stripe
Square
PayPal Checkout
Afterpay
American Express
Payeezy
Volusion is a cloud-based platform that was founded in 1999 by website designer Kevin Sproles. His vision was to offer a shopping cart software that could make selling online easier for merchants.
While there are two versions available of Volusion, the second version VOLT is the most modern and popular choice.
One thing to know about Volusion is they don't offer a blogging feature and it is difficult to add extra content through this platform.  Volusion does seem to be listening to its customers, however, and adding features they were previously lacking. For instance, free SSL security is a new addition, and users can sell digital products which was not previously available.
Price for Volusion
Volusion's least expensive option, the Personal Plan, is $26 a month when billed every three months and $29 a month when paid monthly. Their most expensive plan, the Business Plan, is $269 a month when paid every three months of $299 a month when paid monthly.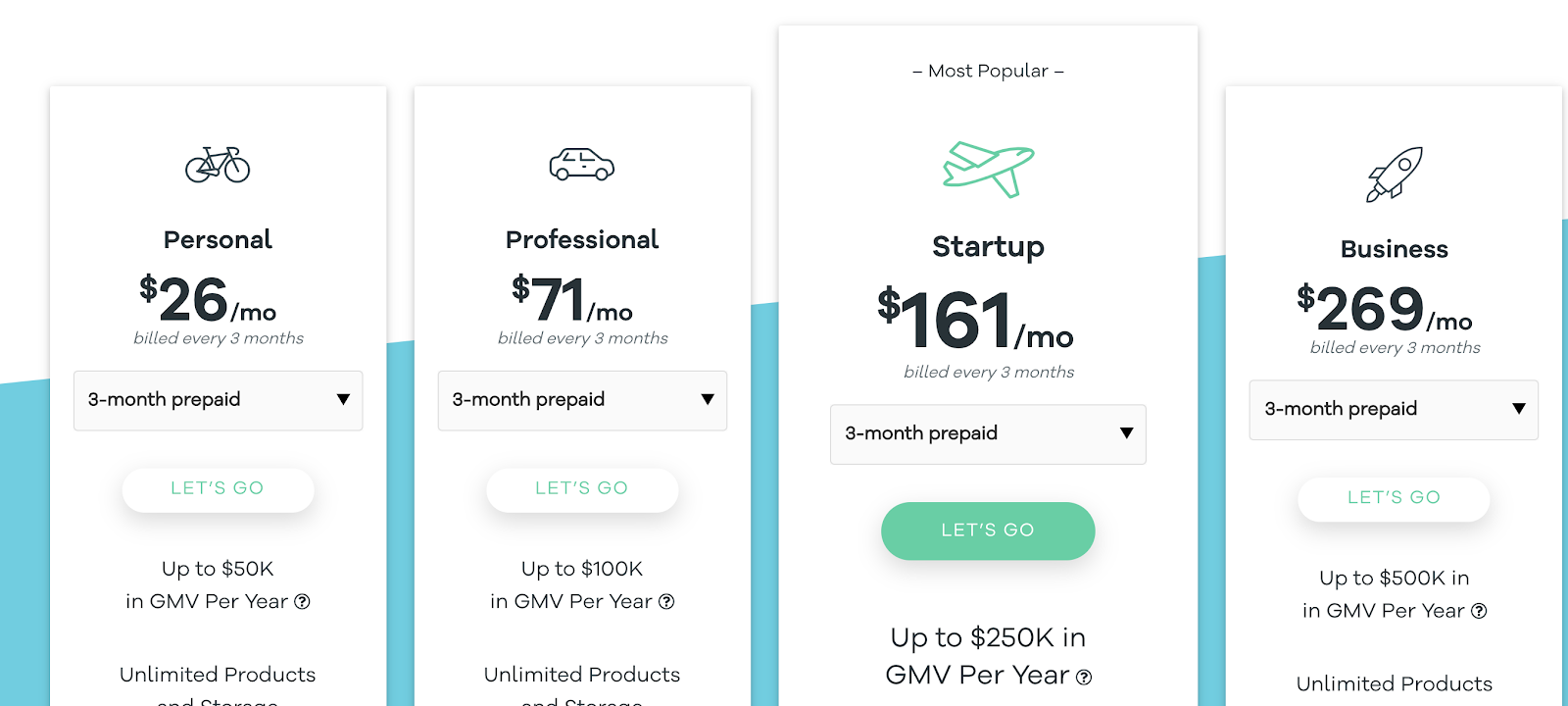 Volusion offers a 14-day risk-free trial.
Features for Volusion
Volusion's Personal Plan offers:
Up to 50K Gross Merchandise Volume (GMV) per year
Unlimited products and storage
No transaction fees
Online support
Free HTTPS/SSL
Synced inventory
Product variants
Coupons and discounts
Automatic tax calculator
Phone/manual orders
Dropshipping integrated
Volusion's Business Plan also offers:
Up to 500K in GMV
Priority support
Traffic growth consultation
Abandoned cart reports
3rd party gateways
Fulfillment centers
Advanced discounts
3rd party processors
Dedicated success team
Executive slack support
Multiple admin users
Premium shipping rates
Ease of Use for Volusion
For those that want to do very basic things with this platform, the setup and running of Volusion are fairly simple. Once you start adding more advanced features, Volusion becomes much more difficult to use. Many users report that the platform isn't intuitive and at times you have to navigate through several pages to perform an action.
Support for Volusion
Volusion's support is relative to what plan you've chosen. With the Personal Plan, you'll have access to online support. With the other plans, they offer 24/7 phone support, and the Business Plan grants you priority support.
Scalability with Volusion
Volusion doesn't offer as many features as some competitors like Shopify or BigCommerce, but there is room to grow with this platform. Those who have a good understanding of coding can also do more with Volusion.
Security for Volusion
Volusion uses several methods to ensure security for its merchants and merchant customers. Volusion now offers free SSL security. They also use encryption for personal data, web application firewall (WAF), and intrusion prevention system (IPS).
Payments are made securely through redirection or iFrame. Volusion ensures that "…shopper data (including credit card data) is sent using military-grade encryption."
For added protection, Volusion tests their security through team members and independent "white-hat hackers."
Payment Gateways With Volusion
Volusion offers a shortlist of payment gateways including:
Volusion Payments
PayPal
Stripe
Apple Pay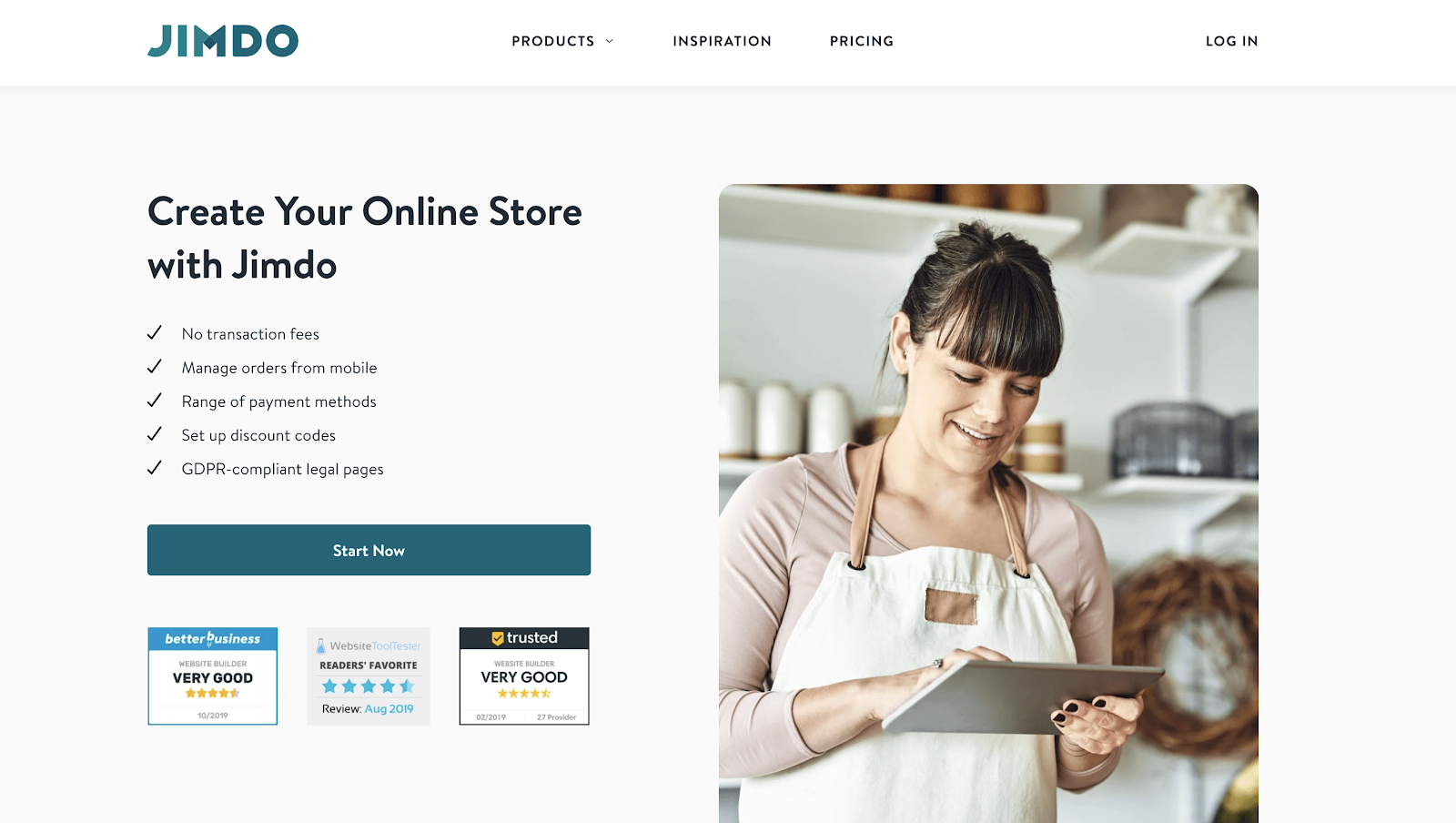 Jimdo is a long-standing online platform that lets you create a business website, blog and serves as… you guessed it, one of the more popular eCommerce website builders too. There are two options for websites, but we'll focus on the online store (eCommerce) option for our breakdown of features.
In 2004 Jimdo's founders launched NorthClick, a precursor to Jimdo. Their website builder grew in popularity and eventually switched to the new name. To date, Jimdo has helped people build over 20 million websites.
Something to know about Jimdo right from the start—this is one of the few eCommerce website builders on our list today that does not have an option for selling digital products or digital downloads. If you're hoping to start a business selling digital goods, this builder would not be a good choice.
Price for Jimdo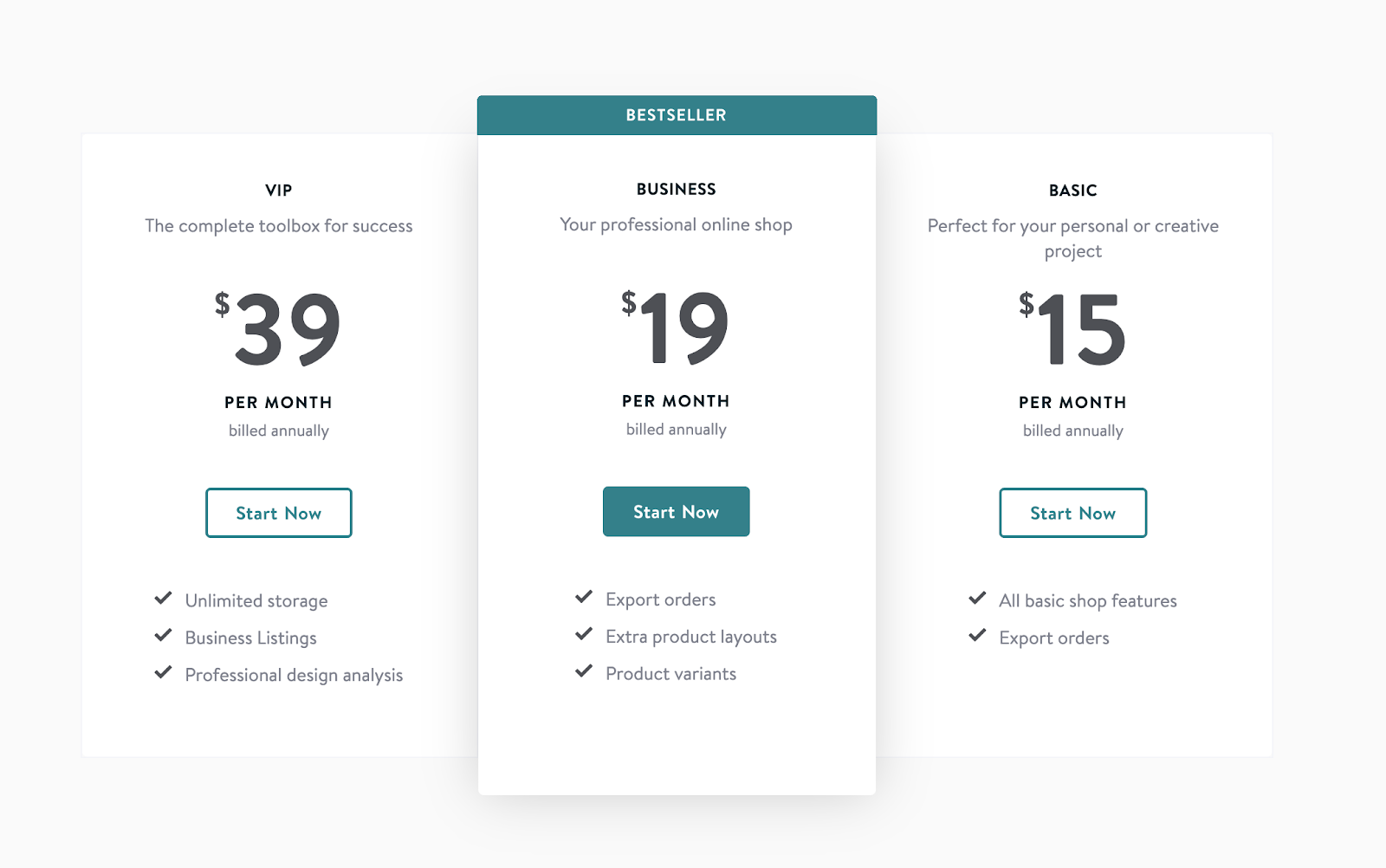 Jimdo's Basic Plan costs $15 a month billed annually. The VIP Plan costs $39 a month billed annually.
Features for Jimdo
Jimdo's Basic Plan provides:
Online store
1 store design
Free domain for the first contract cycle
Free SSL security
10 GB storage
Email support
10 website pages
Jimdo's VIP Plan offers the same plus:
All basic shop features
Export orders
Various product layouts
Product variants
Discount codes
Strikethrough prices
Unlimited storage
Support response time less than one hour
Unlimited website pages
Legal text generator shop
Business listings
Professional design analysis
Ease of Use With Jimdo
Jimdo is a drag-and-drop WYSIWYG builder which makes the process of creating a store easier. The editor is easy enough to follow, though the interface is a bit outdated.
People with a knowledge of coding will get a lot more out of this platform.
Support for Jimdo
Jimdo only offers email support. If you have a VIP plan, you will be answered in an hour or less.
Scalability for Jimdo
Jimdo offers fairly limited features compared to some of the other eCommerce website builders on this list. Jimdo could be an eCommerce solution for a very small store, but once orders became more regular this builder does not scale well.
Security With Jimdo
Jimdo began offering free SSL with all customers of their eCommerce website builder in 2016.
Payment Gateways With Jimdo
Depending on your plan, Jimdo offers:
PayPal
Stripe
*Some additional payment options are available in Germany, Austria, and Switzerland with a Payment Options Plus add-on.
---
12 Examples of Successful eCommerce Website Builders (in the Real World)
Now that we've walked through pros and cons of all the best eCommerce website builders available on the market today, it's time to show off some real-life examples of successful eCommerce businesses. There's nothing quite like seeing the right eCommerce website builders in practice to really illustrate what's possible to accomplish online.
1. Native Union (Powered by the Shopify Plus eCommerce Website Builder)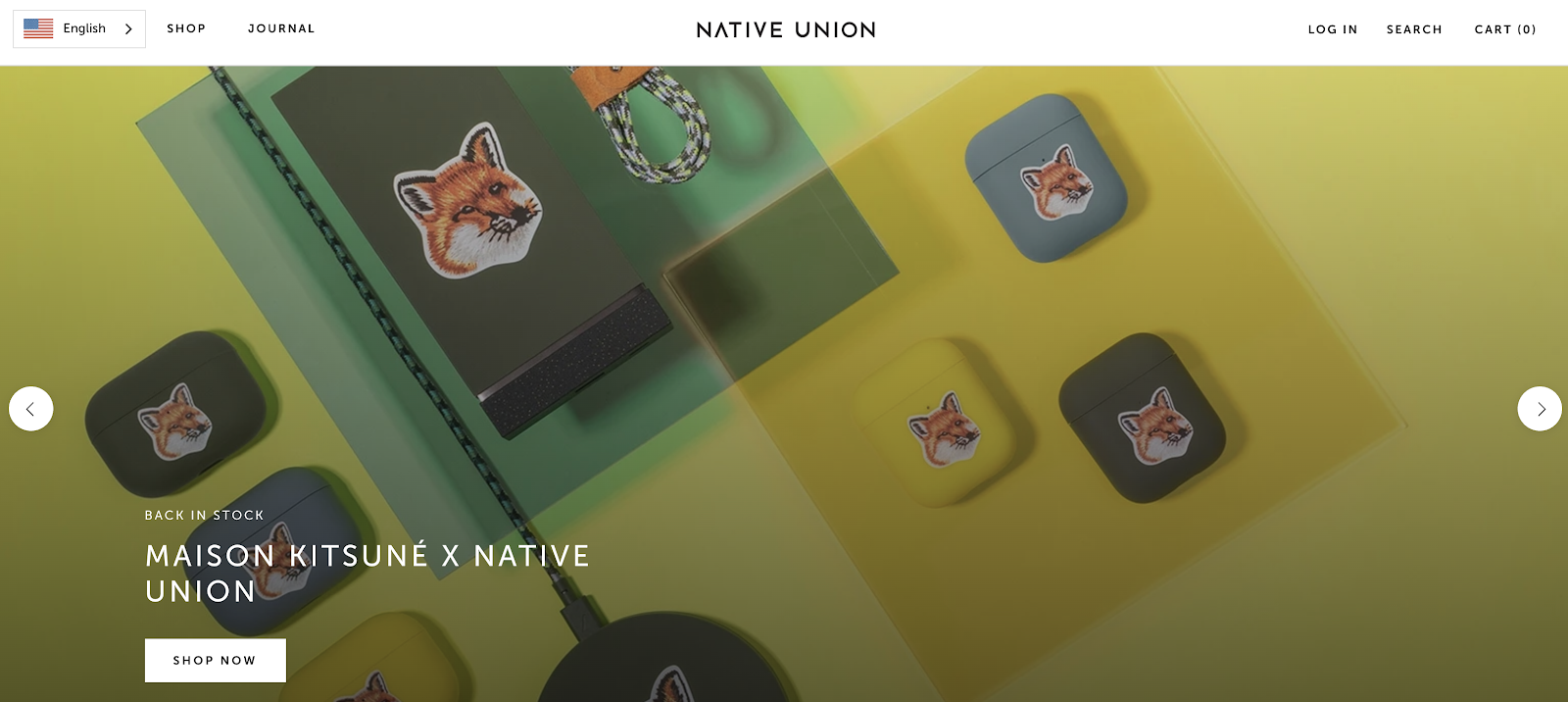 Native Union is a tech accessory business made for the modern lifestyle. This company sets out to make technology fit more seamlessly in day-to-day life while maintaining a "refined style."
The website design fits its branding by being sleek and easy to navigate. They use a lot of negative space around their products to make them pop.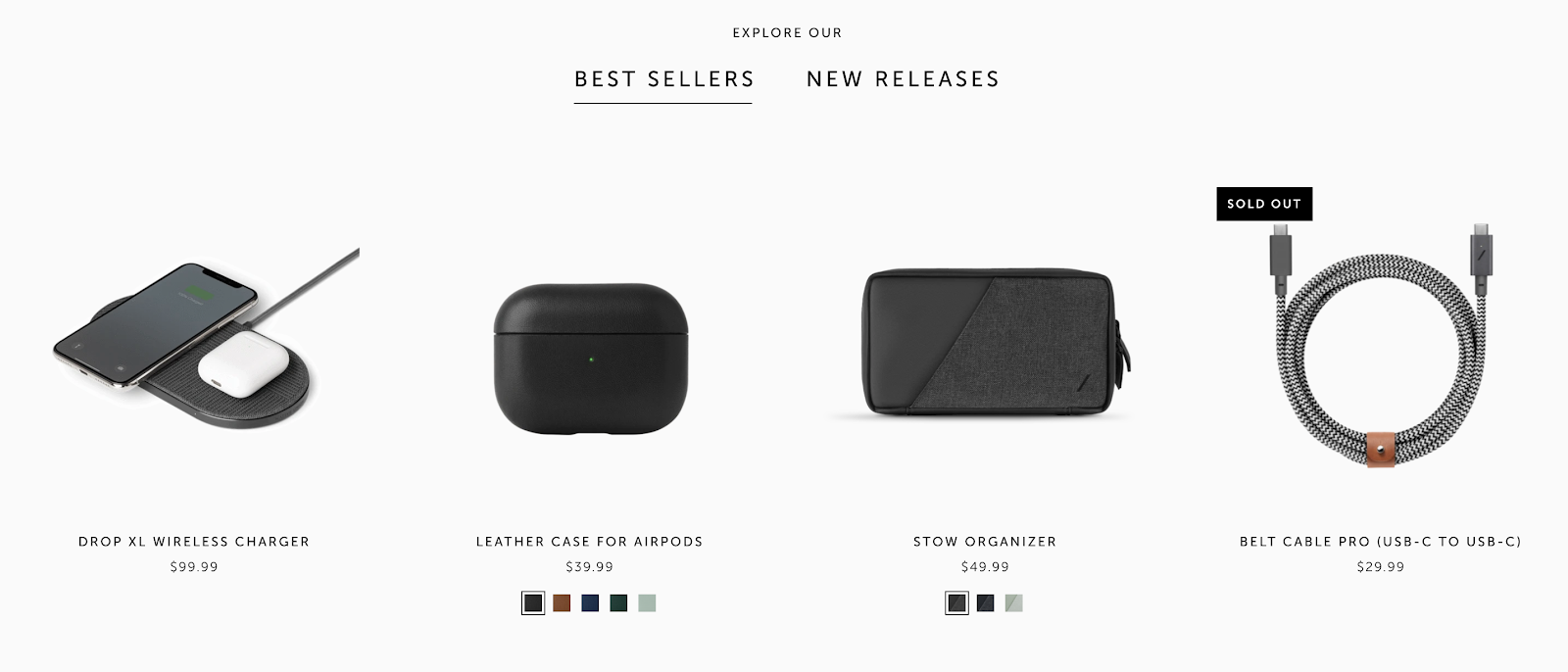 When you make a purchase, they encourage you to purchase more by showing you related items when you add something to the cart. This is a great upselling tactic, especially if the product is affordable or something the buyer would really be interested in.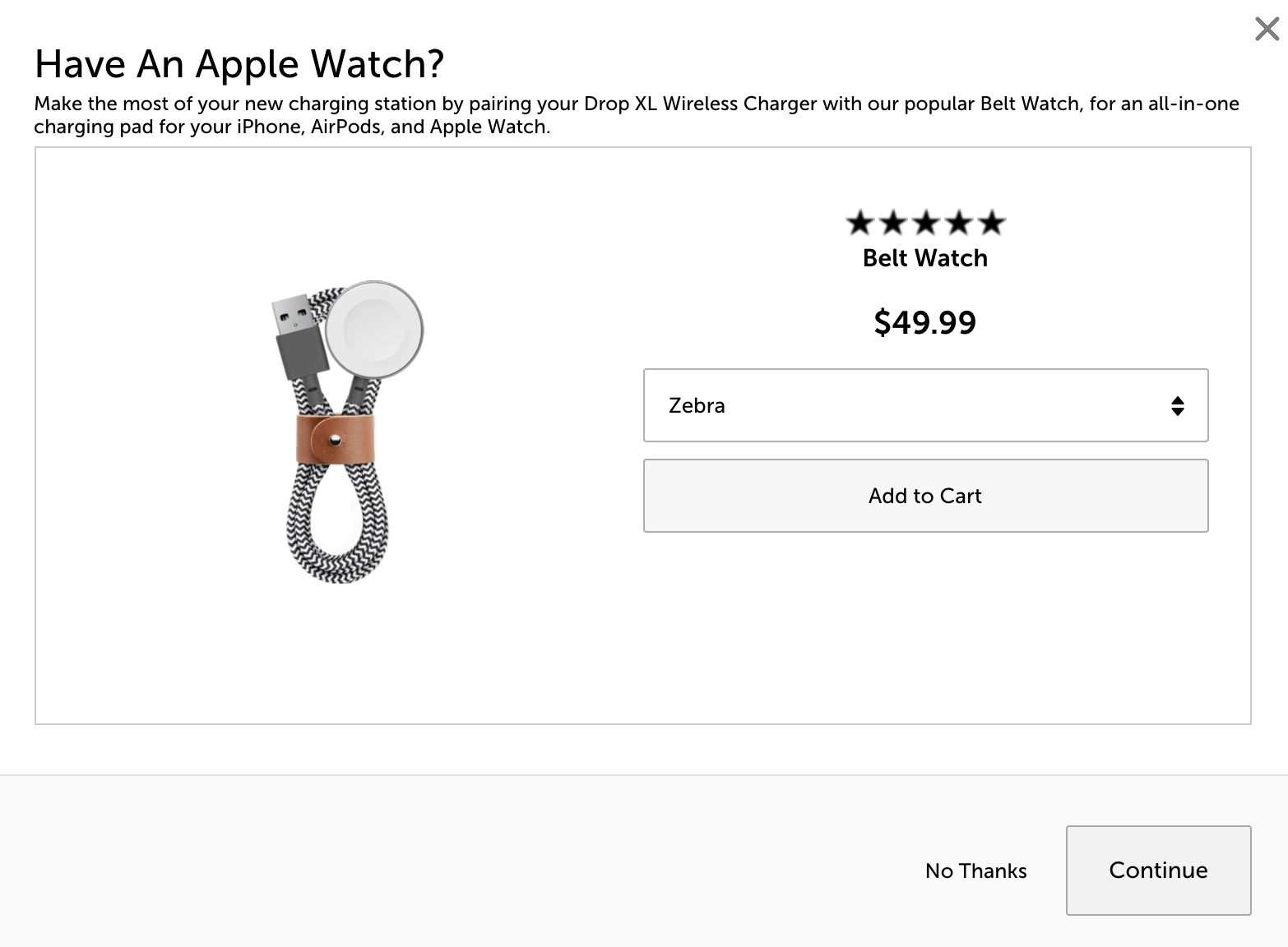 2. Grovemade (Powered by Shopify's eCommerce Website Builder)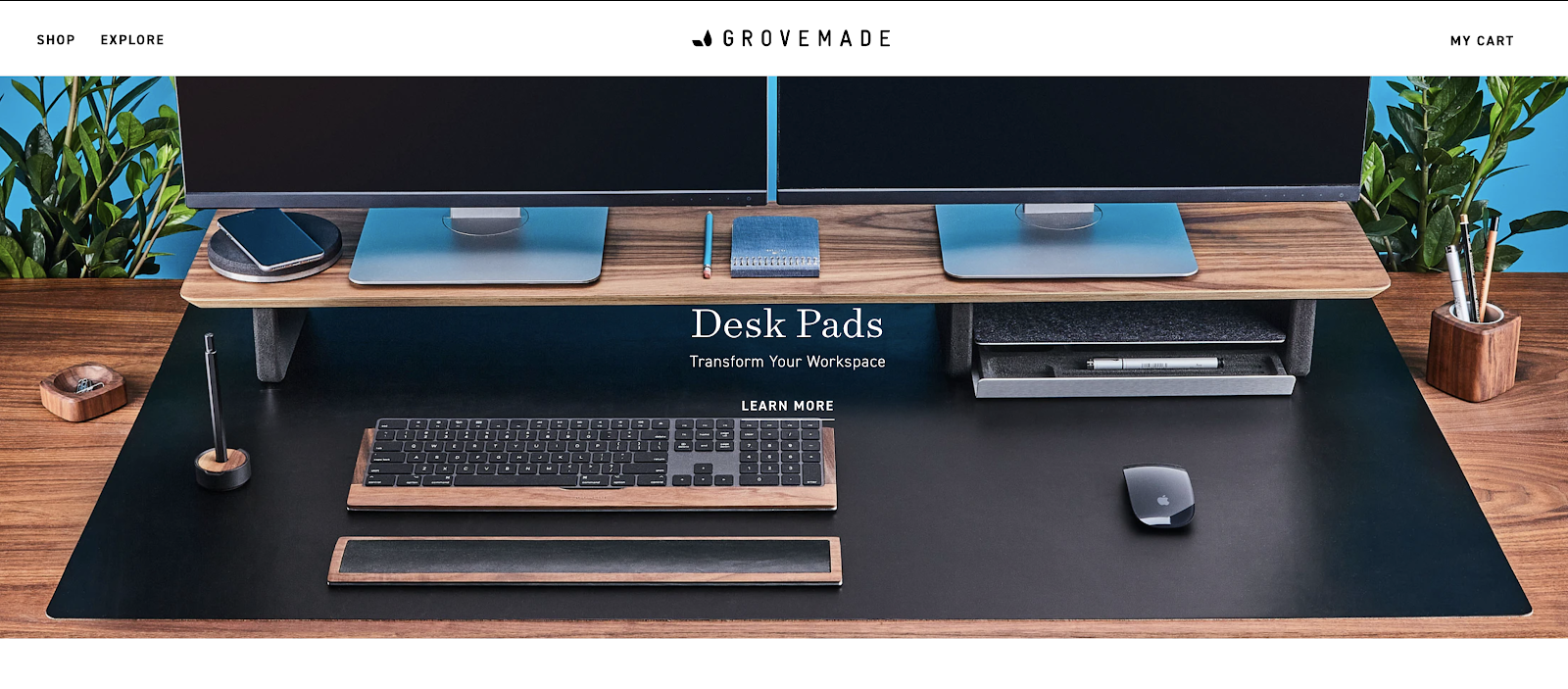 Grovemade is a tech accessory company that uses natural materials like wood and bamboo to make their products. They started their online business in 2009, and still produce 99% of their products in the United States.
In a recent interview with Shopify, they shared tips about their success:
One of the biggest sources of our very first sales was through tech blogs (like Gawker) who were fans of what we were doing with natural materials and featured us on their sites. We also took to social media to spread the news of our fledgling company, and, same as today, by good old fashioned word of mouth from our awesome customers.
They use a direct-to-customer (DTC) business model and the majority of their sales come through online searches from people looking for the types of products they sell. They also rely on social media for advertising and maintain a newsletter with over 50,000 subscribers.
Grovemade uses a similar minimalist style to Native Union in their web design, relying on a lot of negative space to draw attention to their products.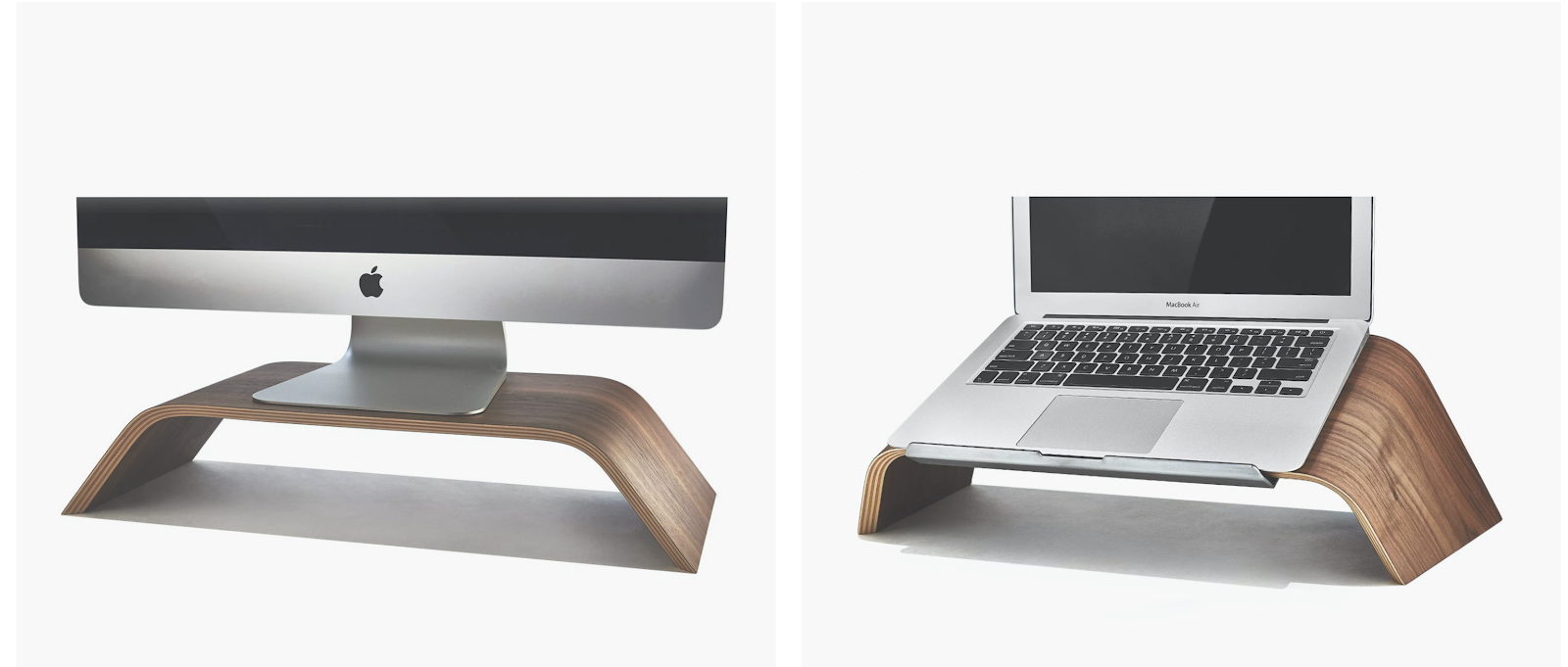 Since many of their products are also handmade, a neat addition to their product pages is images and videos showing how something is made.
Here's an example from a product called "The Leather and Walnut mouse Pad." The first image shows you what the product looks like in its finished state:

The next image shows what elements were used to create the piece, and how it was assembled. This adds transparency and authenticity to their product: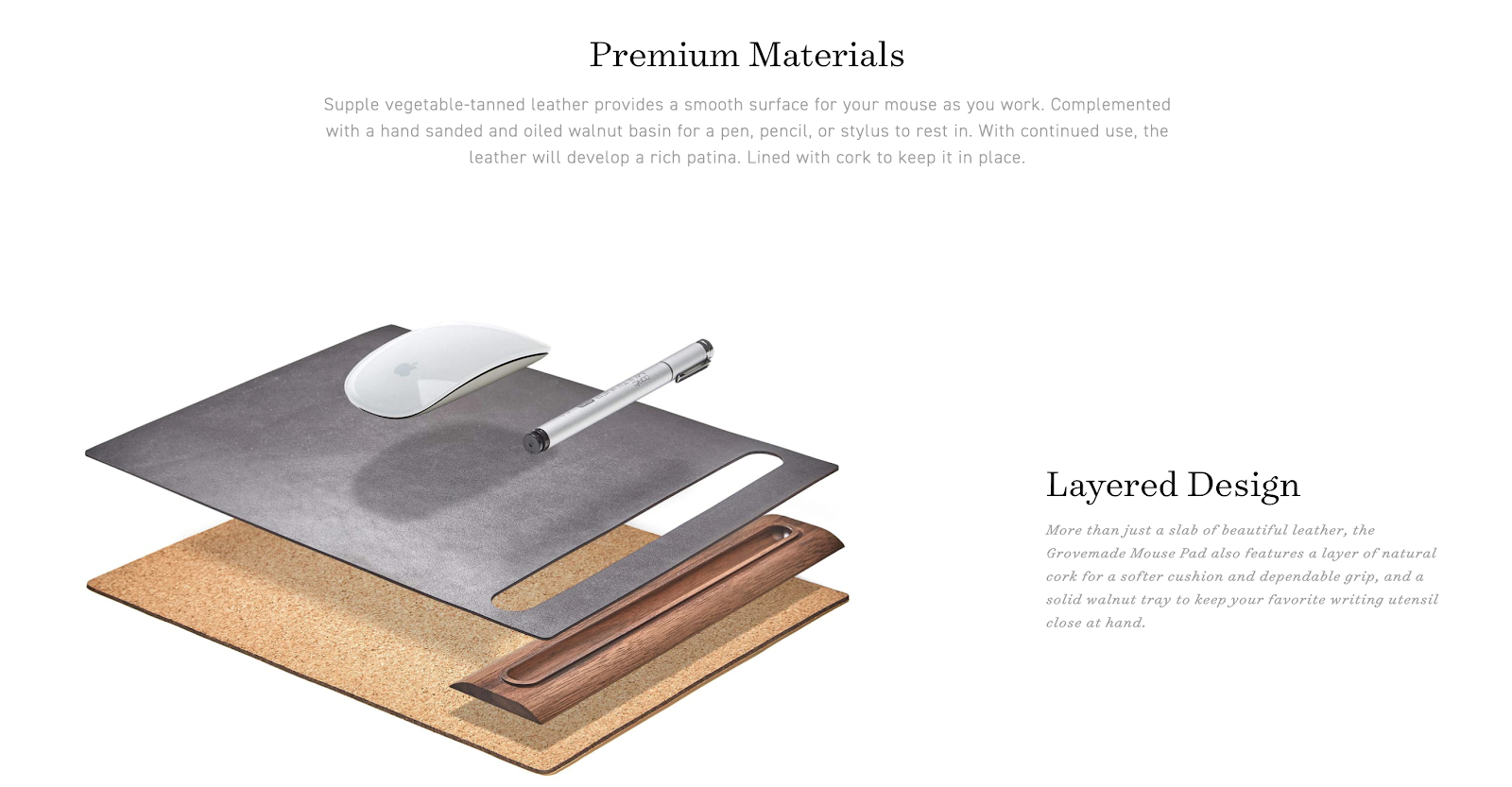 Further down the page, they even include a short video showing each step of their process for making the specific item (I know, this is crazy cool).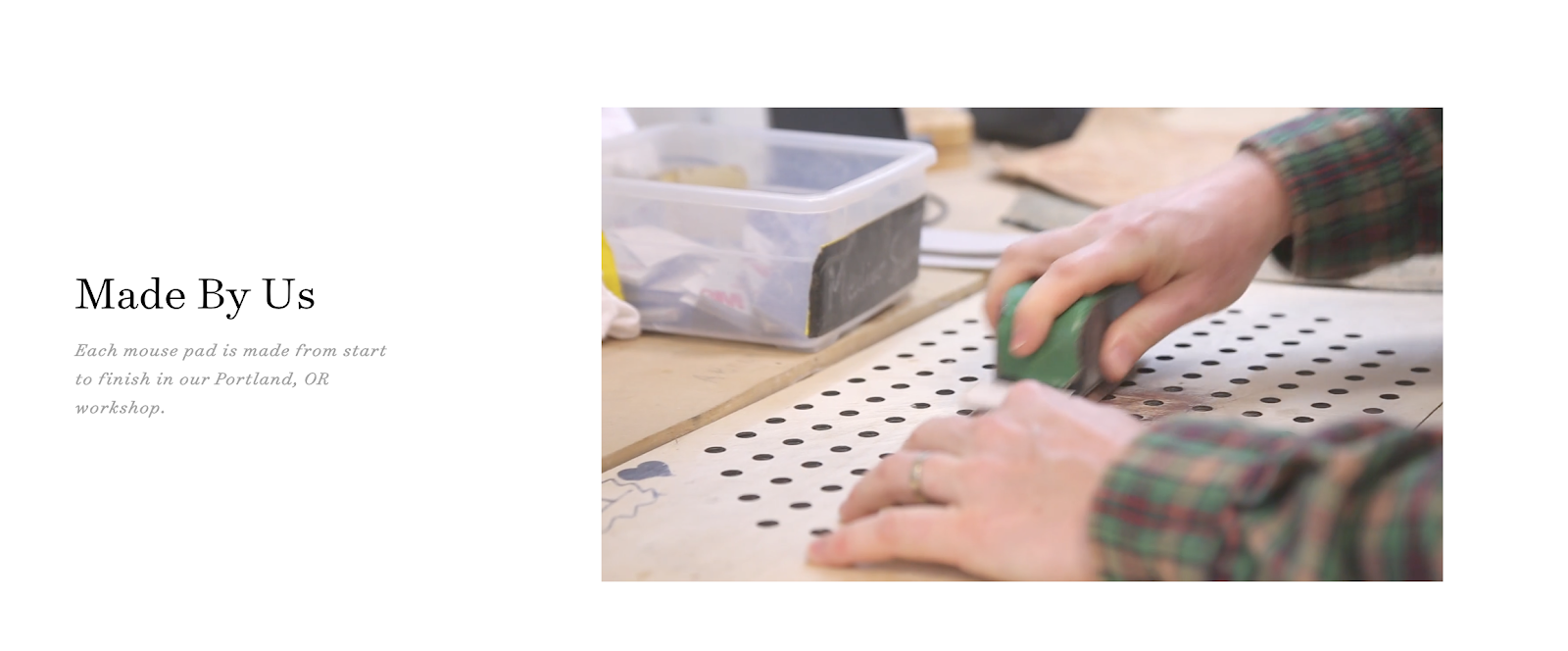 When you click "add to cart," their eCommerce website builder (Shopify) intelligently shows you an item that'd pair well with the one you selected—providing a valuable opportunity for an up-sell that makes sense to customers.
3. Away (Powered by Contentful's eCommerce Website Builder)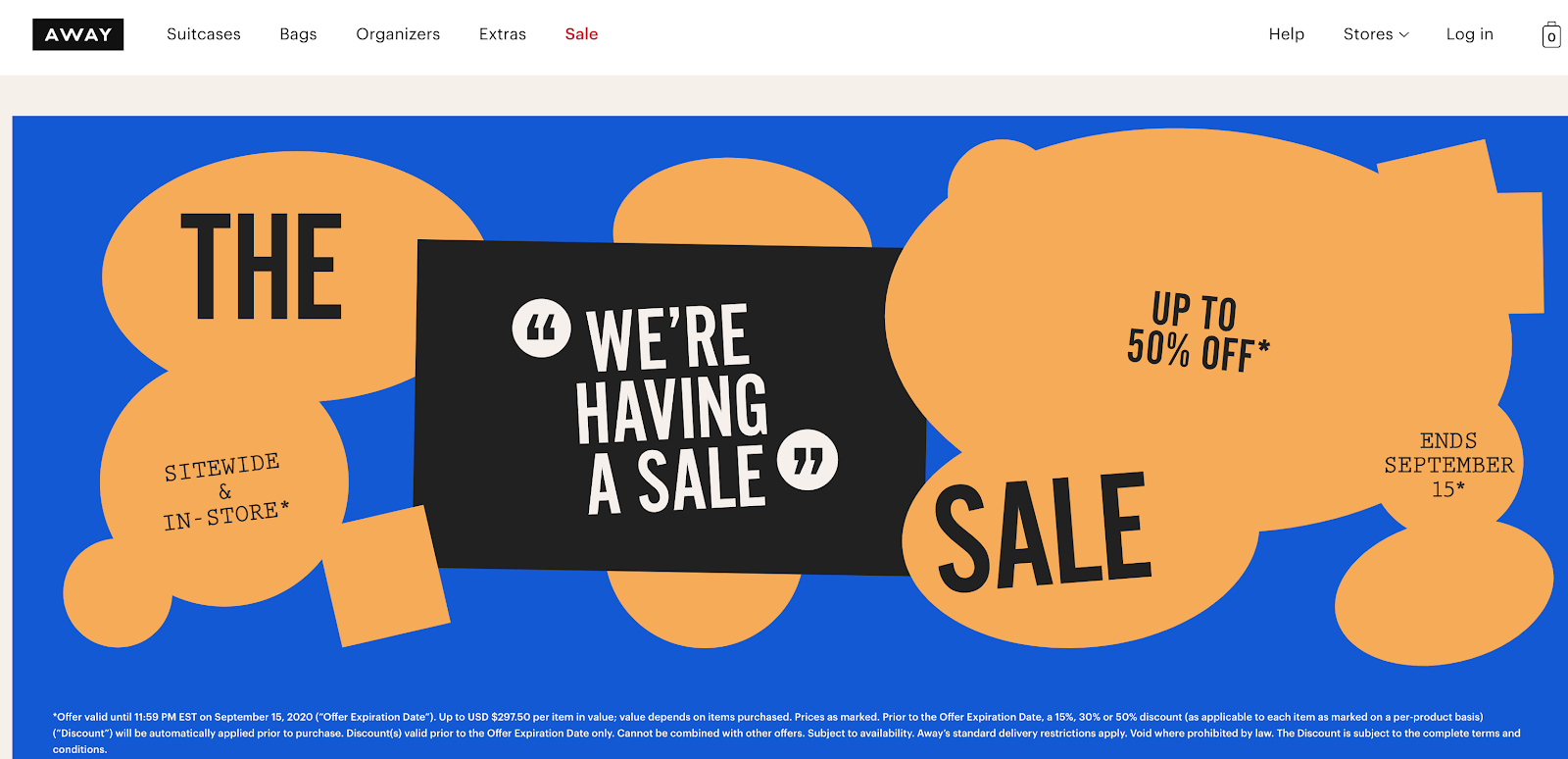 Away is a luggage and travel accessory eCommerce store. They're a DTC business that allows them to offer high-quality products at lower prices.
They explain, "To give the whole world access to better travel standards, we took the direct-to-consumer approach. Our pieces are made with the same top-quality materials as other premium luggage brands'. But our overhead is much lower and our quality is guaranteed—your Away suitcase will be with you for life."
They also believe in partnering with organizations that want to make the world a better place. They write, "…we have worked with Global Giving, Peace Direct, International Medical Corps, God's Love We Deliver, and the Trevor Project. If you've bought anything from Away, you've also contributed to their work. The world is a shared place – together, we can leave it better than we found it."
One thing that stands out about their website design is the large variety of high-quality images they use for each product. Being an online-only store, it's essential that customers get a very clear idea of exactly what they're purchasing. Here's an example of their Aluminum Edition Carry-On suitcase.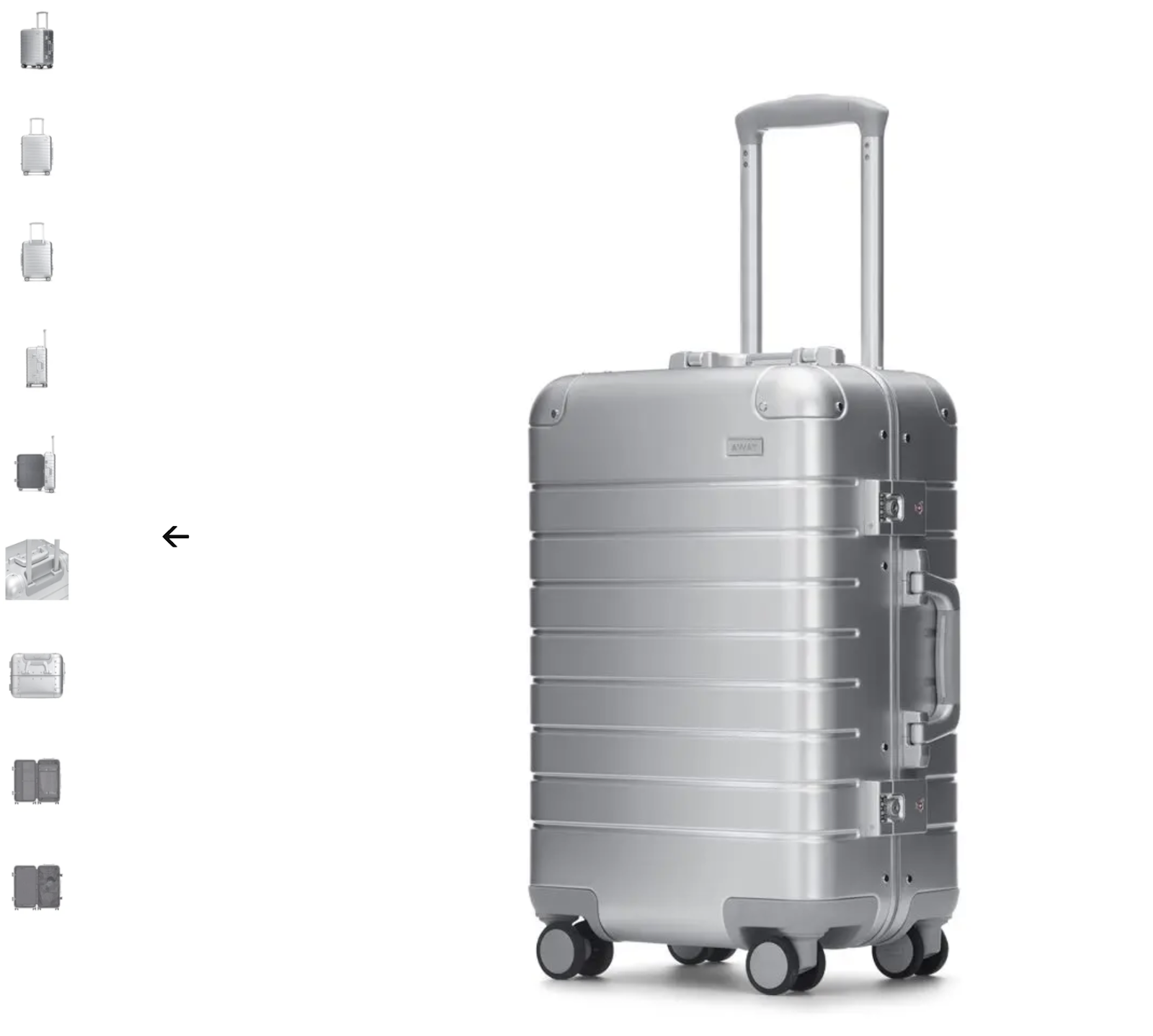 Below each product, they have a list of other products you might be interested in.

They also share even more images below that for an even better idea of the product. One thing they also do is mention that the aluminum suitcase will show wear over time. Pictured here: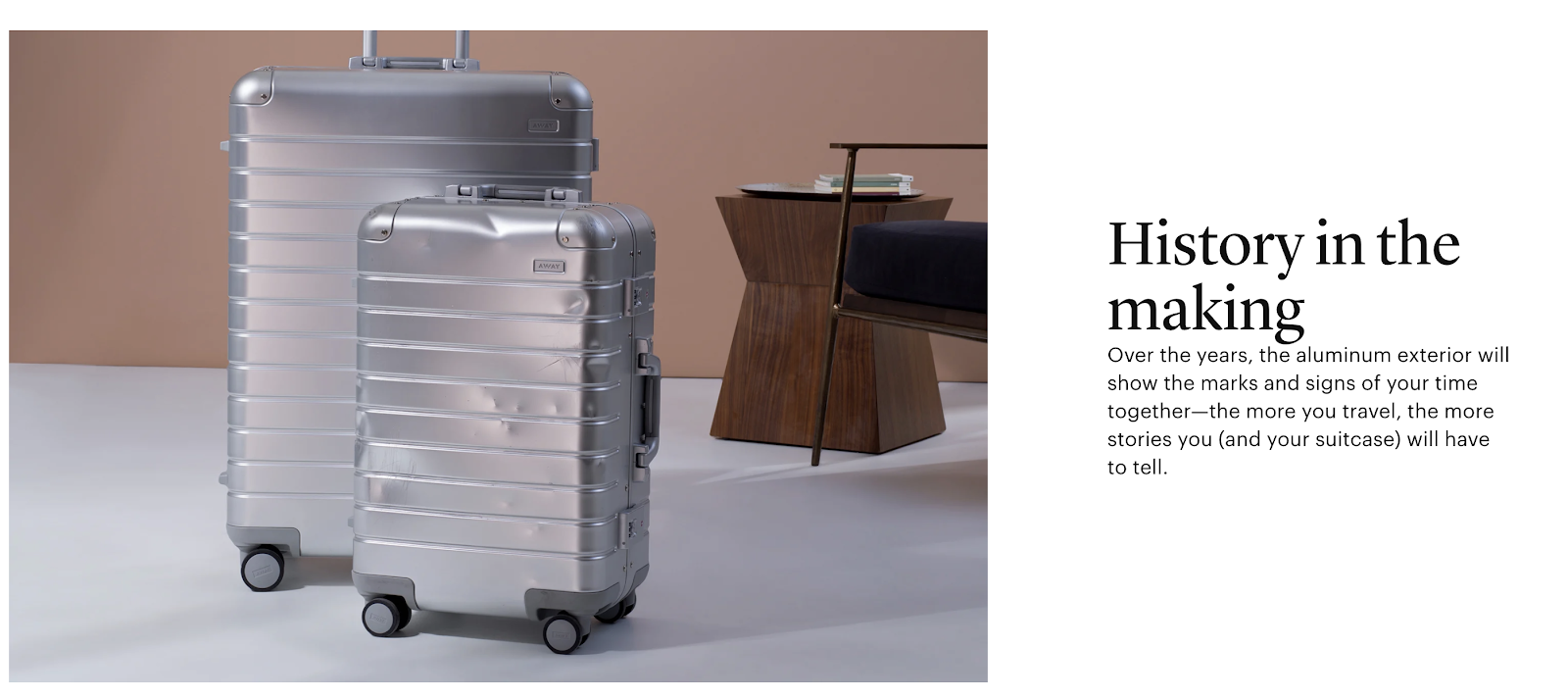 This is another way of being upfront with the consumer and providing important information about the product. This kind of honesty goes a long way towards a strong relationship between merchants and consumers.
4. Bevel by Walker and Company (Powered by Spree's Open-Source eCommerce Website Builder)
Walker and Company is an online business whose "purpose is to make health and beauty simple for people of color." They offer Bevel for men and Form for women.
The main idea is to provide products to people who have historically been overlooked when it comes to products and product marketing.
CEO and founder Tristain Walker explains, "We have the courage to do daring things and build products for our community that satisfy their unique needs. Products that we've desired for a very long time…Walker and Company exists really for one reason and that is to make health and beauty simple for people of color."
One thing that immediately stands out about Bevel is the artistic and captivating photography used to promote the brand. It's not just about the product, but also the feeling the whole company elicits.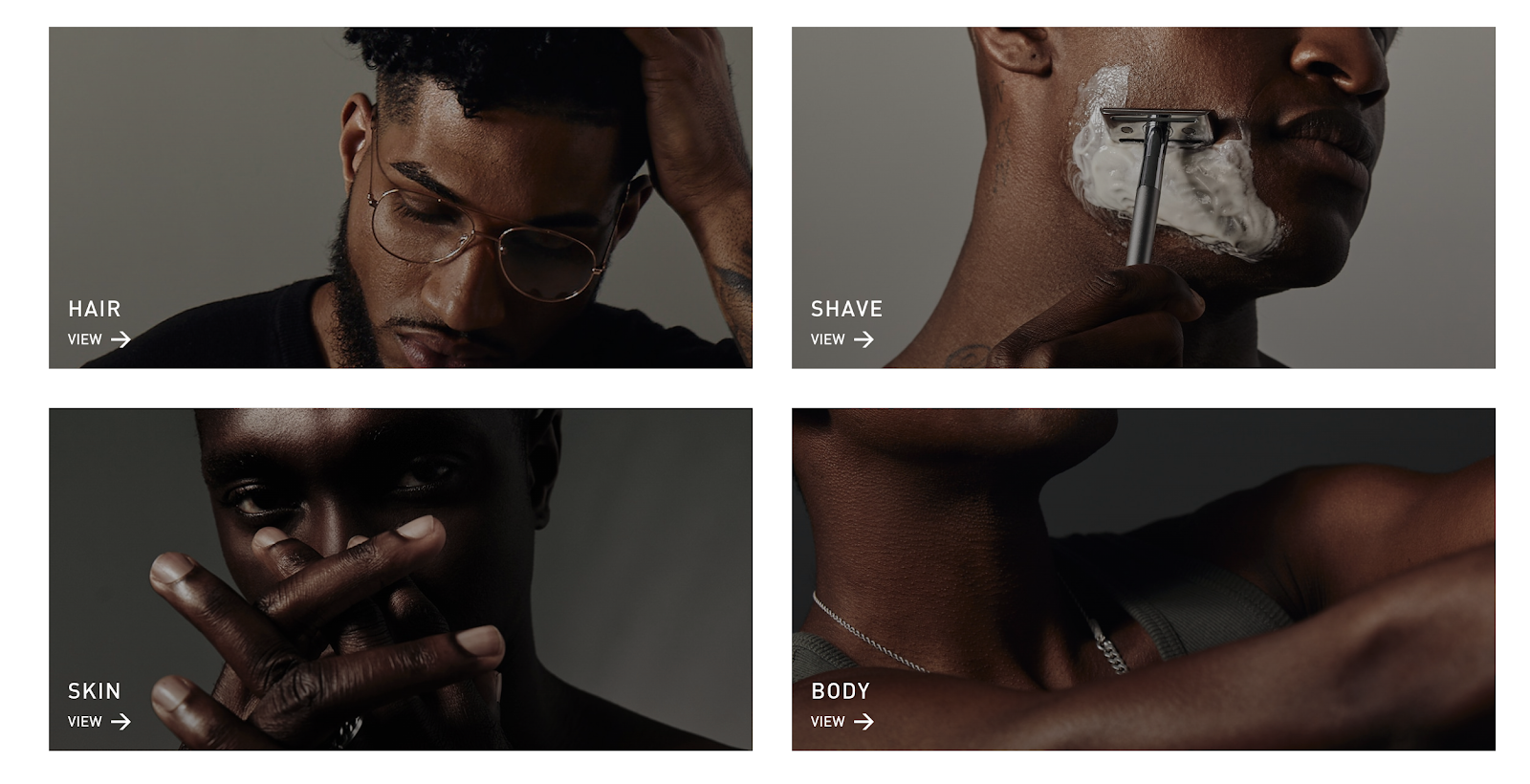 When you click on a product to review, there are several pictures and a description. There's also an incentive to select auto shipping for a 5% price reduction.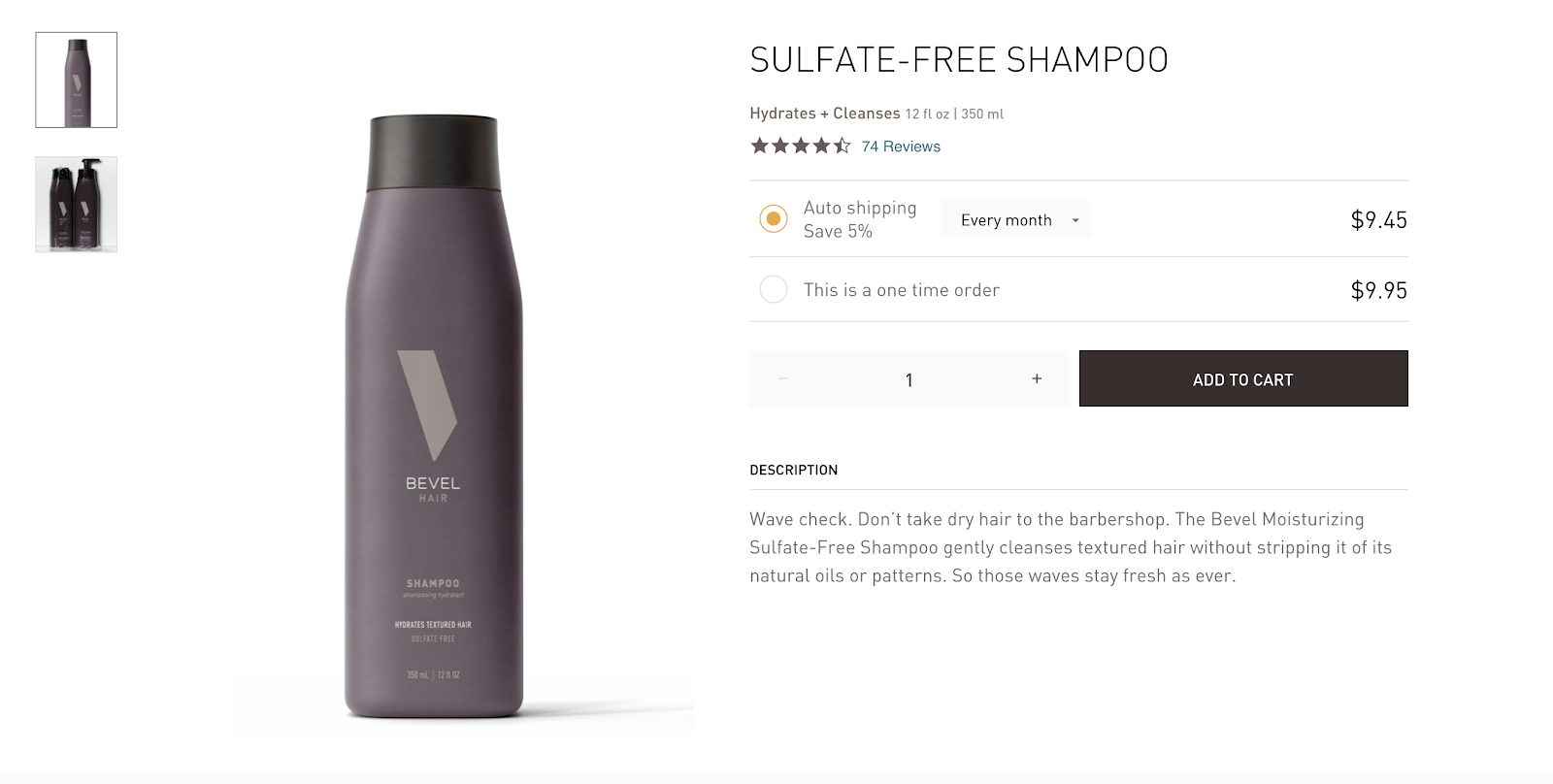 Below that, they share customer reviews. As proven by Amazon, people love reading reviews from other customers to see if a product is trustworthy and reliable. If you have a product you know your consumers will love, this is a really great way of making people feel comfortable buying online.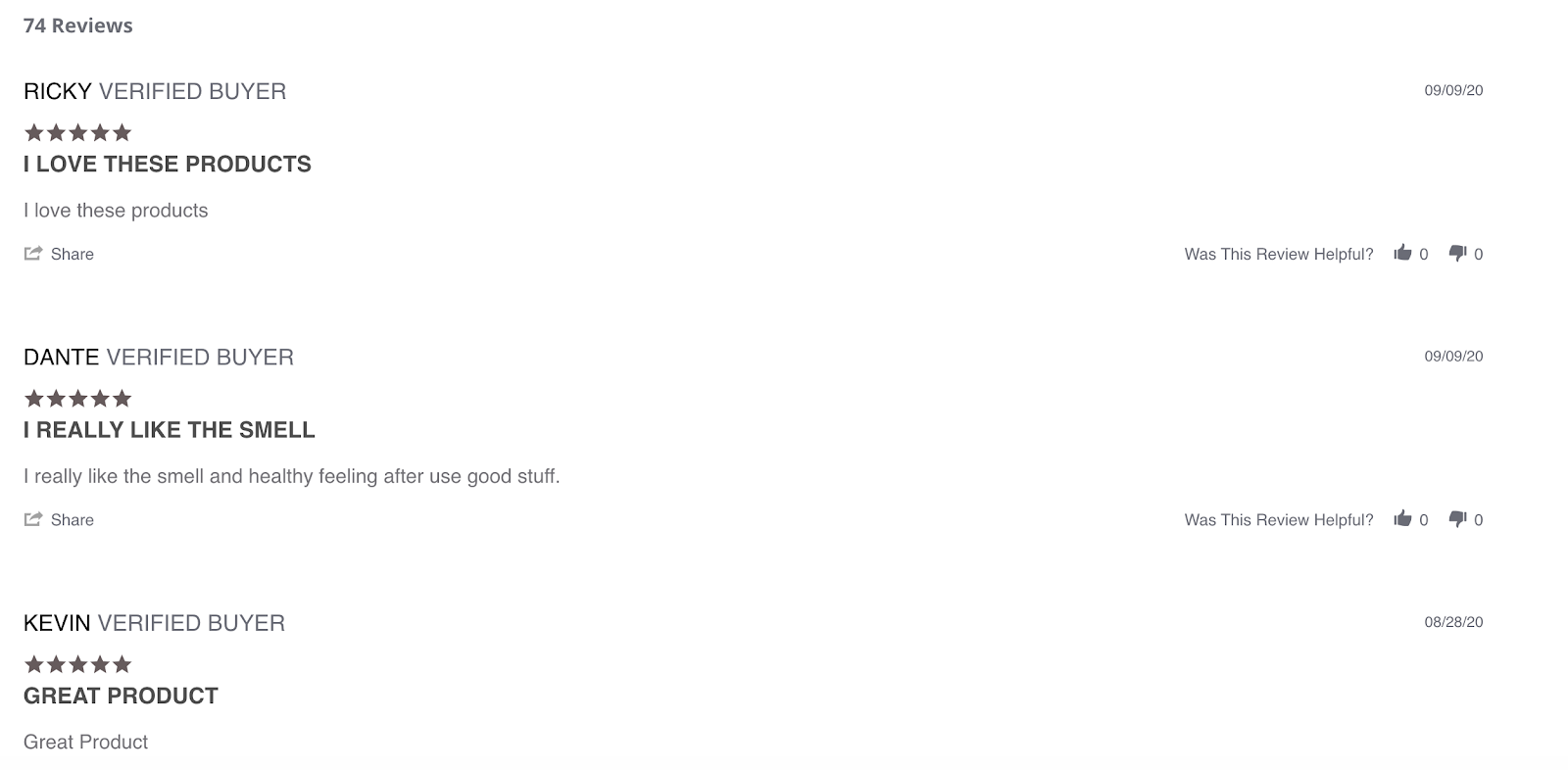 5. Allbirds (Powered by the Shopify Plus eCommerce Website Builder)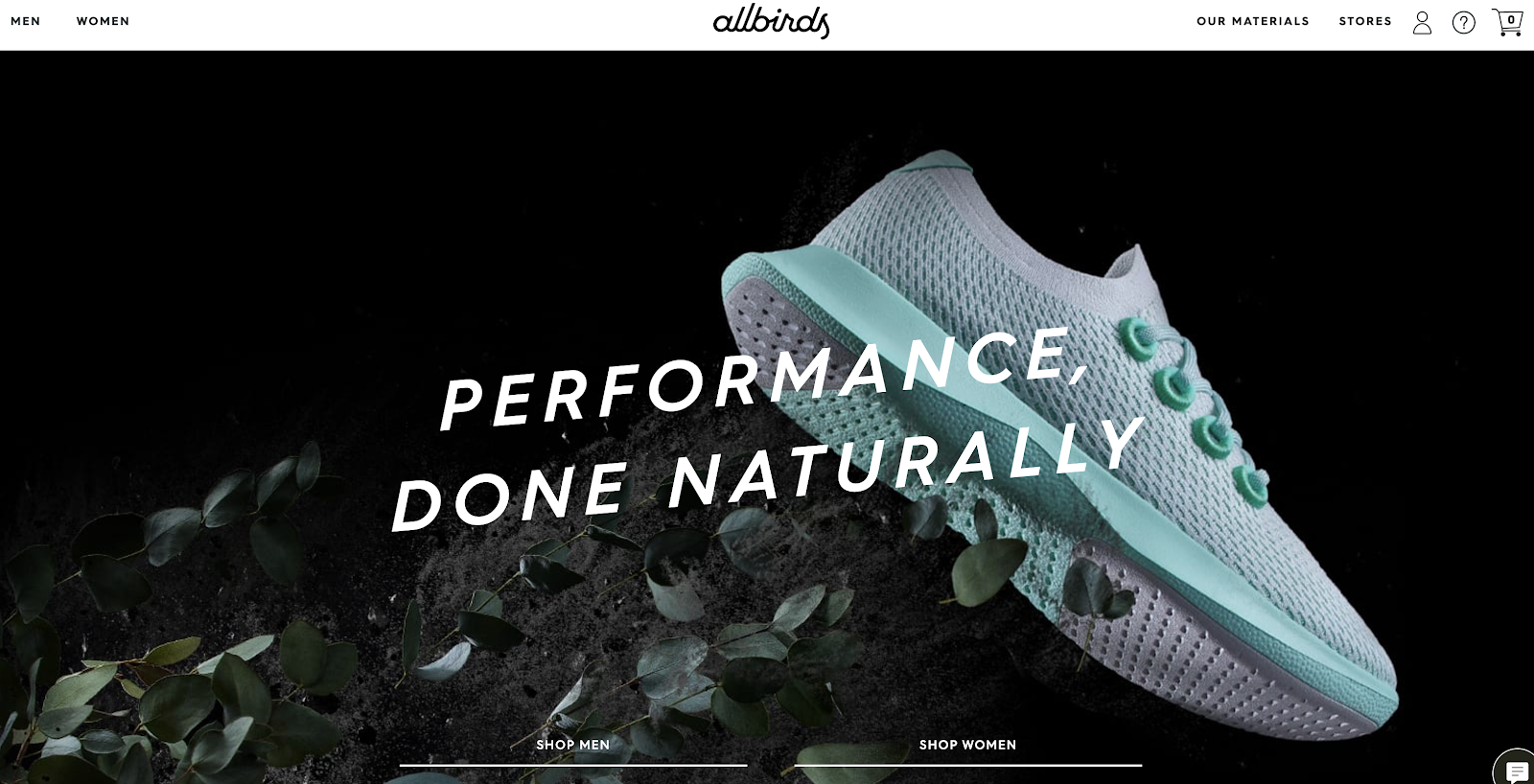 Climate change is a growing issue with many consumers which is what gives a company like Allbirds a platform. Allbirds creates shoes for men and women responsibly and has a goal of not only reducing but eliminating their product's carbon footprint.
Here's how they explain their mission:
We have a plan to eliminate our products' carbon footprint, and it's already in action. First, we measure the emissions of everything from their raw materials to their end of life. Next, we reduce our impact by incorporating things like natural and recycled materials. And finally, we offset the little bit that's left with carbon offsets, making Allbirds a completely carbon neutral business. But our goal is bigger—emit no carbon in the first place. We can create a sustainable future, but only if we hold each other accountable.
This is an example of a women's running shoe product page: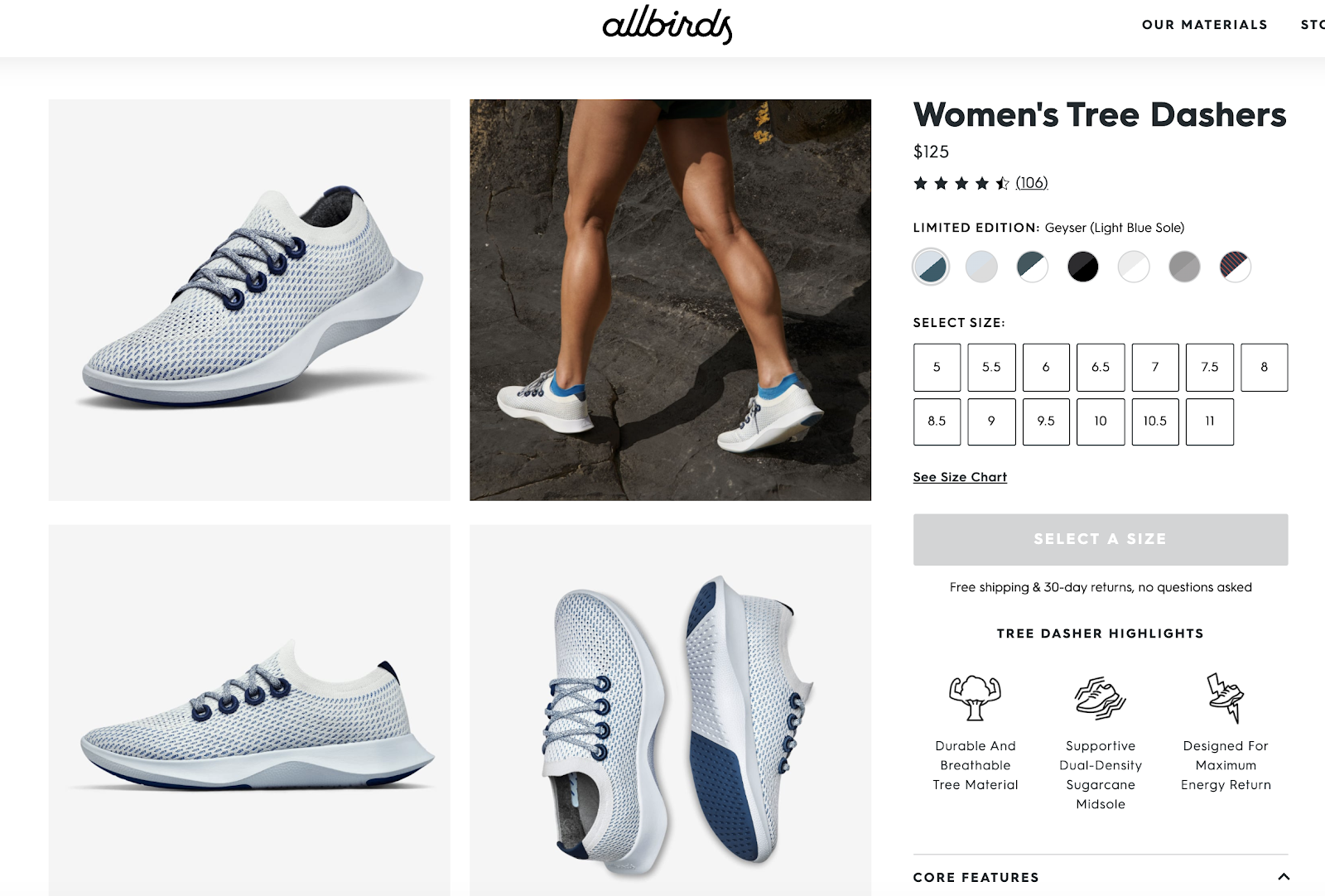 There are high-quality images of the shoe from different angles and a handy sidebar that allows customers to select size and color. They also show highlights of the product and its core features.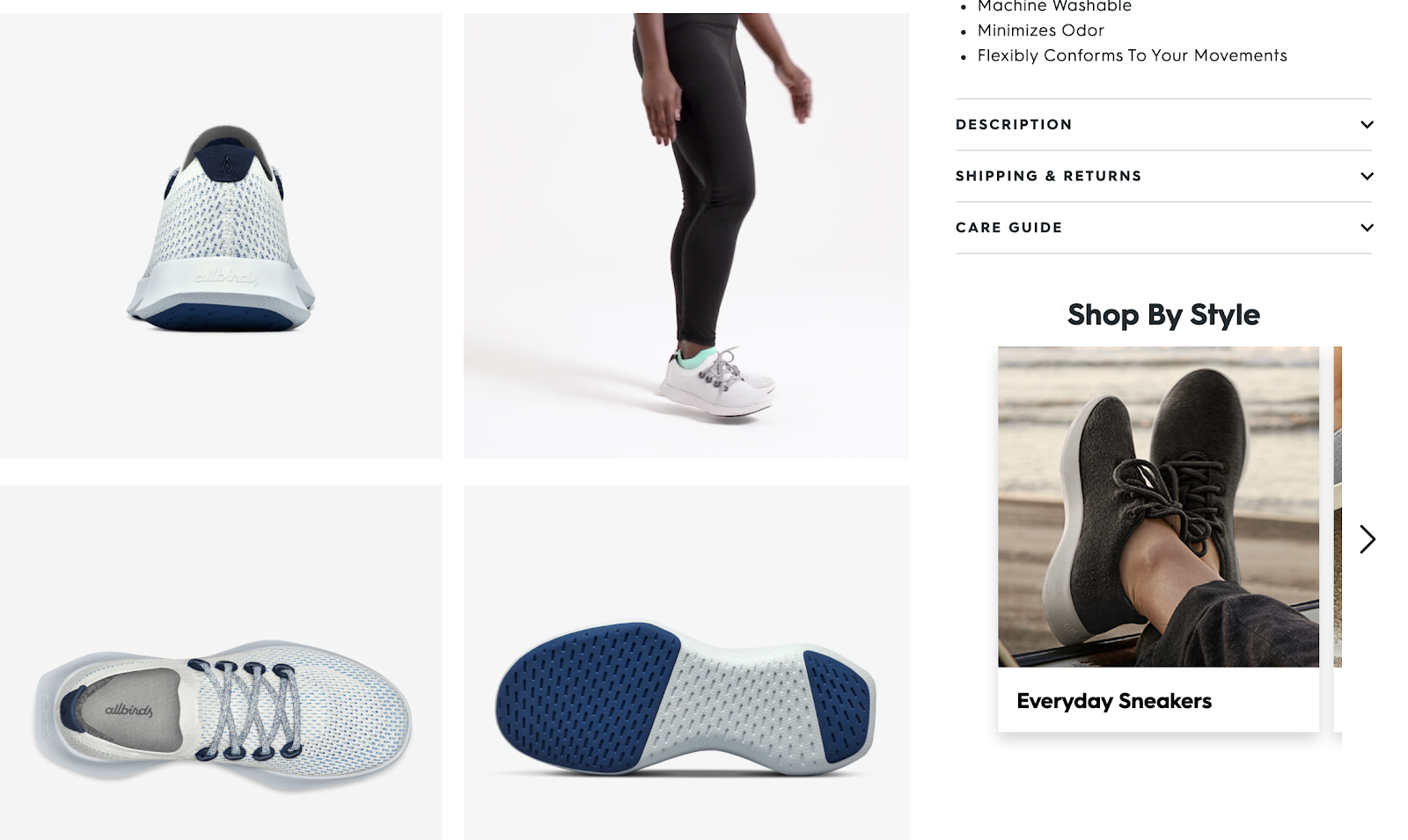 As you scroll down they show more images of the shoes and a video of a real person walking running and moving about in the shoes.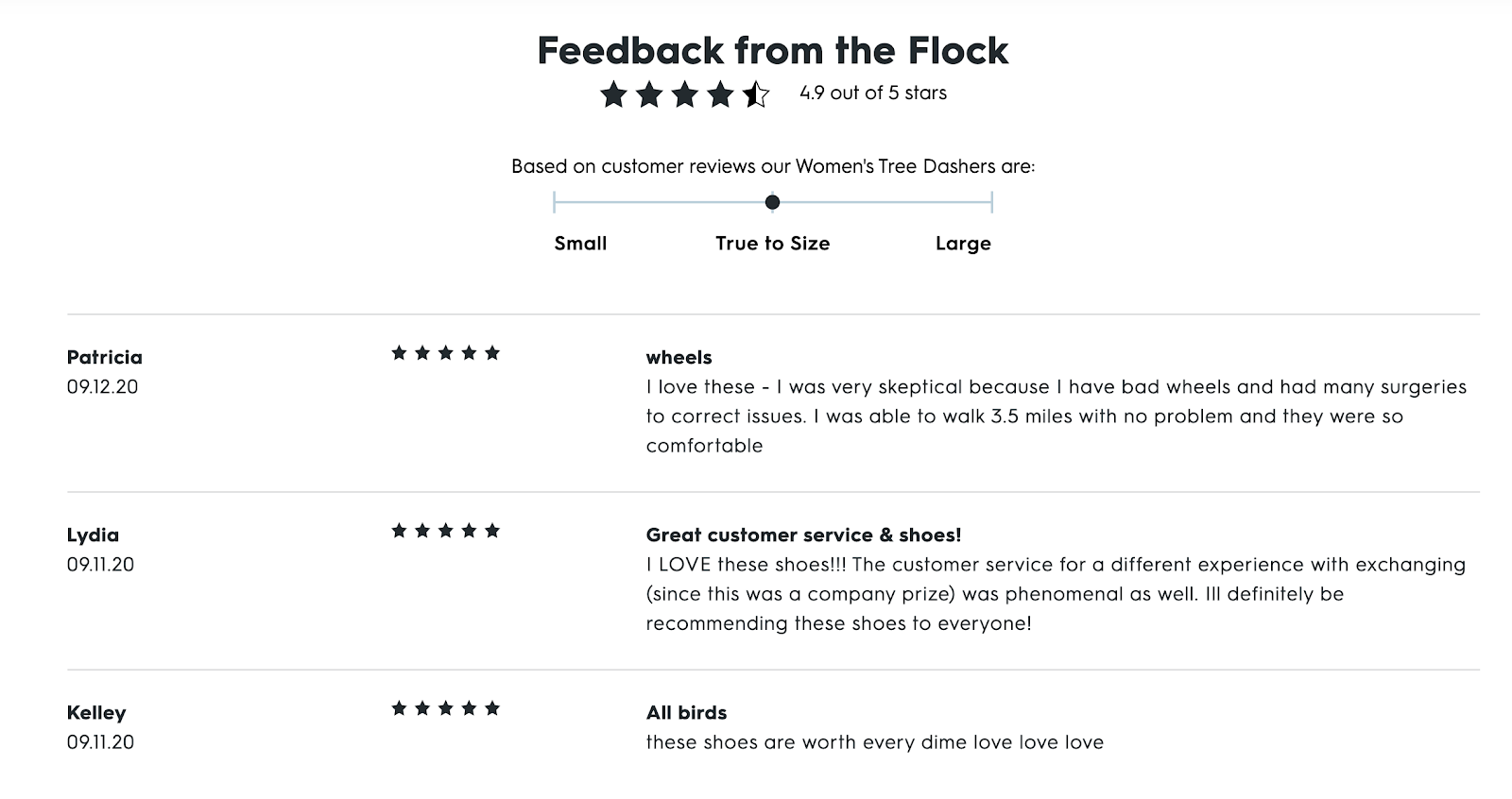 At the bottom of the page, they share customer reviews and let consumers know how well shoes follow normal shoe sizes based on other customer feedback. This is another smart marketing idea for online shopping.
6. Recess (Powered by Shopify's eCommerce Website Builder)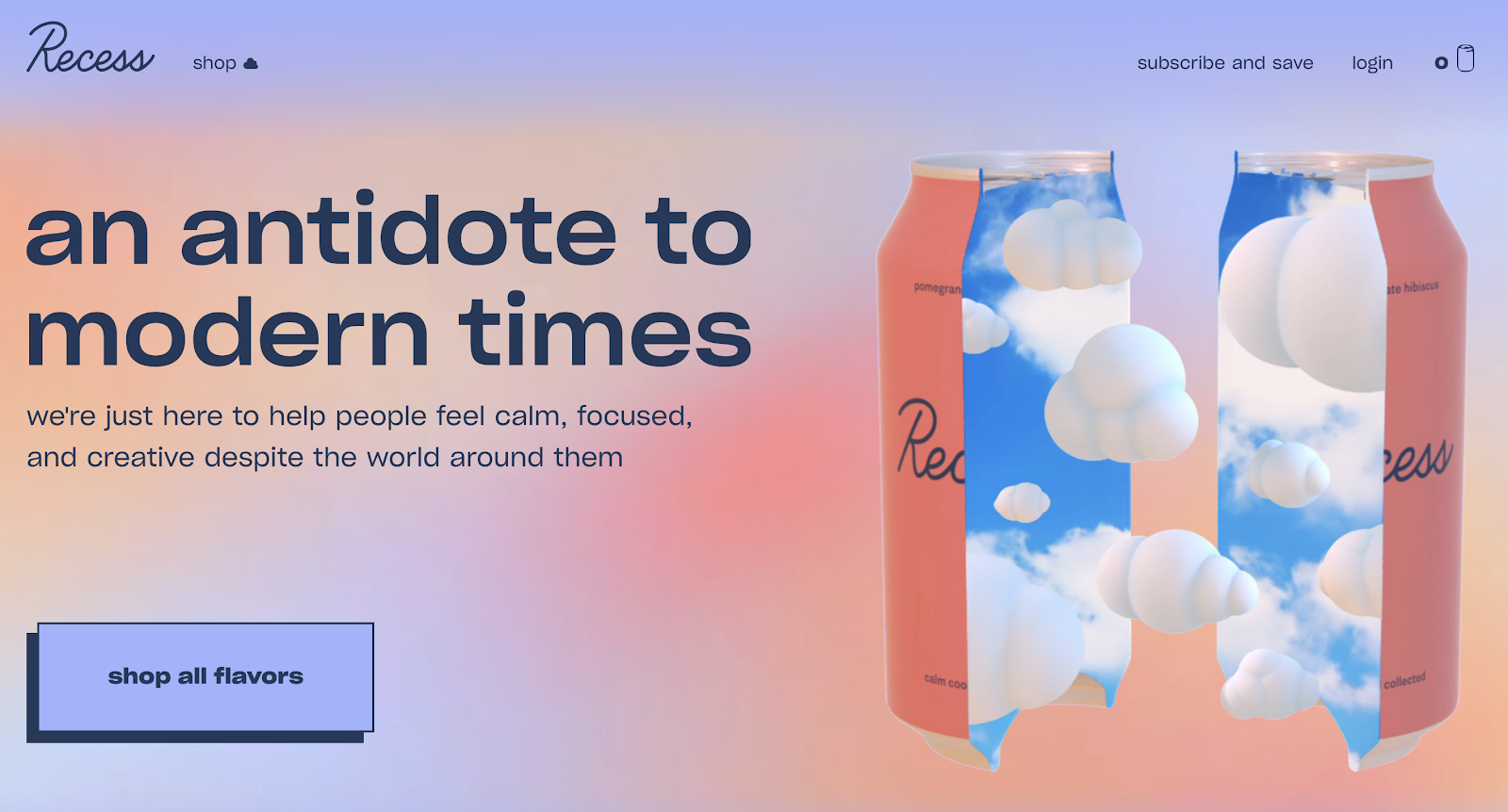 Recess is a drink company with a product meant to help people feel calm and focused even when life is busy. They sell 6 flavors of drinks made with hemp extract, adaptogens, real fruit, functional herbs, and limited sugar.
Their eCommerce website is designed to remind you of a dreamland with clouds and pretty pastels. Some of the words float giving you the feeling of rocking to sleep.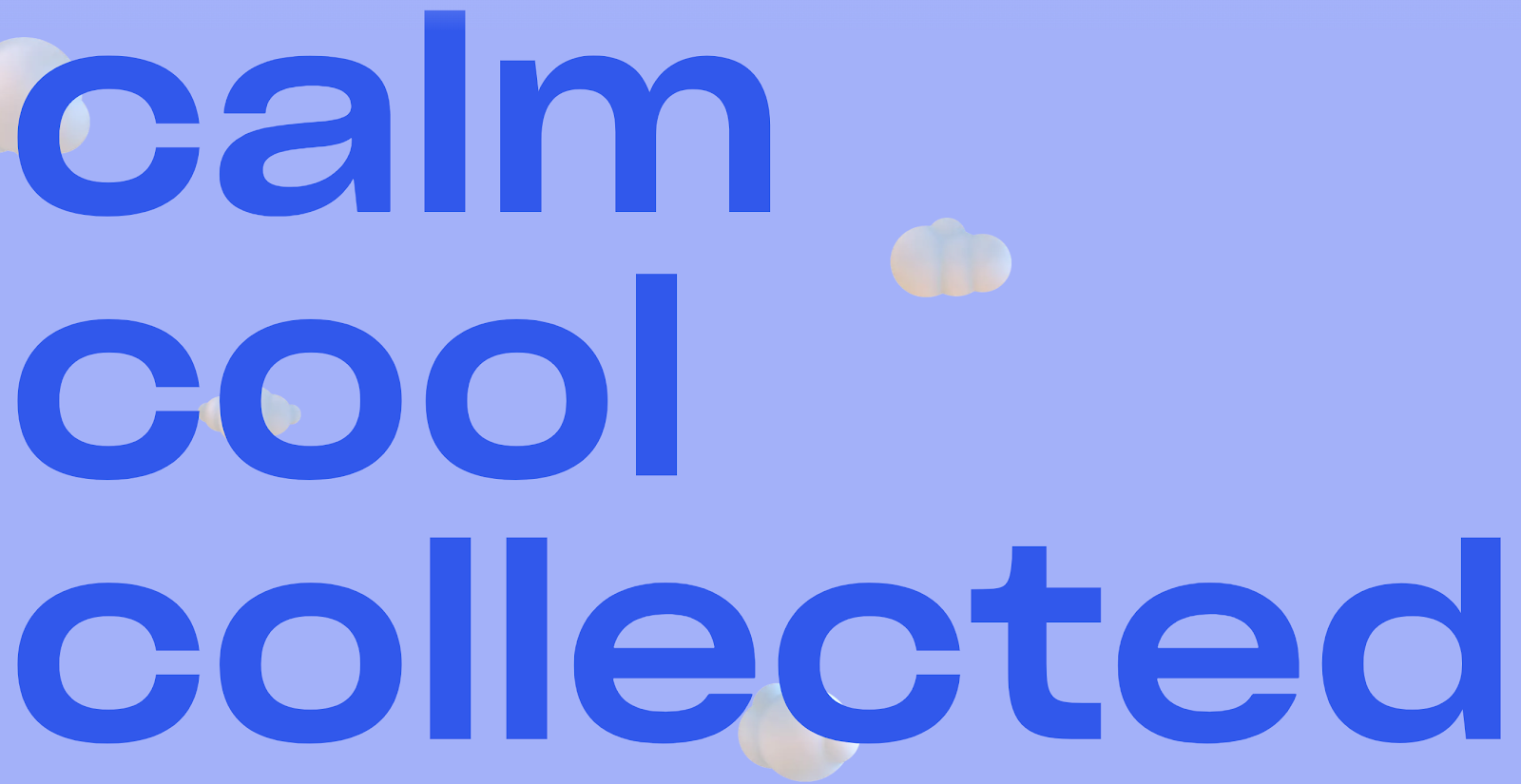 The tag phrase "we canned a feeling" bleeds through in their simple but effective website branding. They're not just selling a drink, they're offering an experience.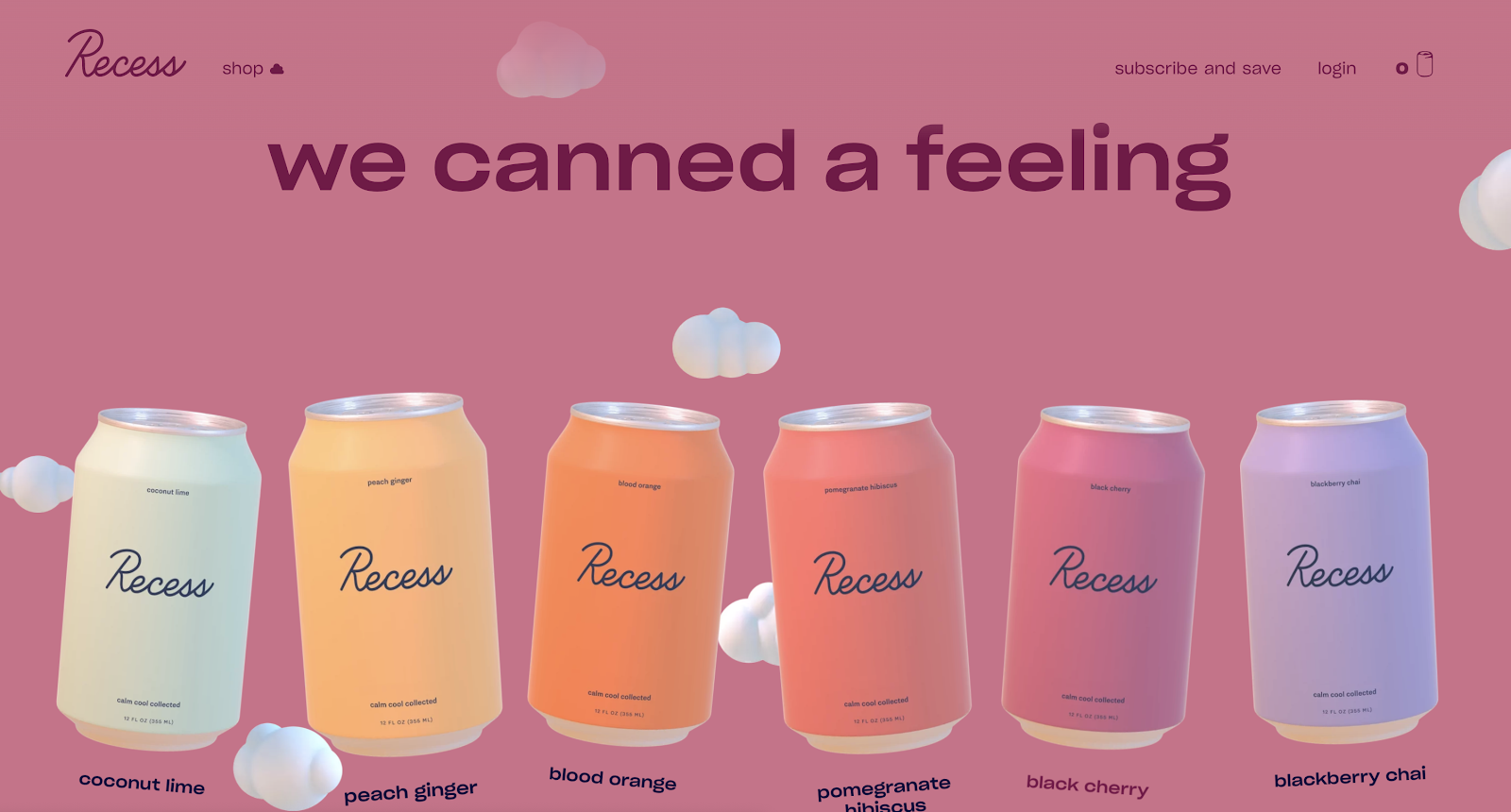 To make the products even more relatable, they ascribe personalities to each of the drinks. Coconut lime is a hustler.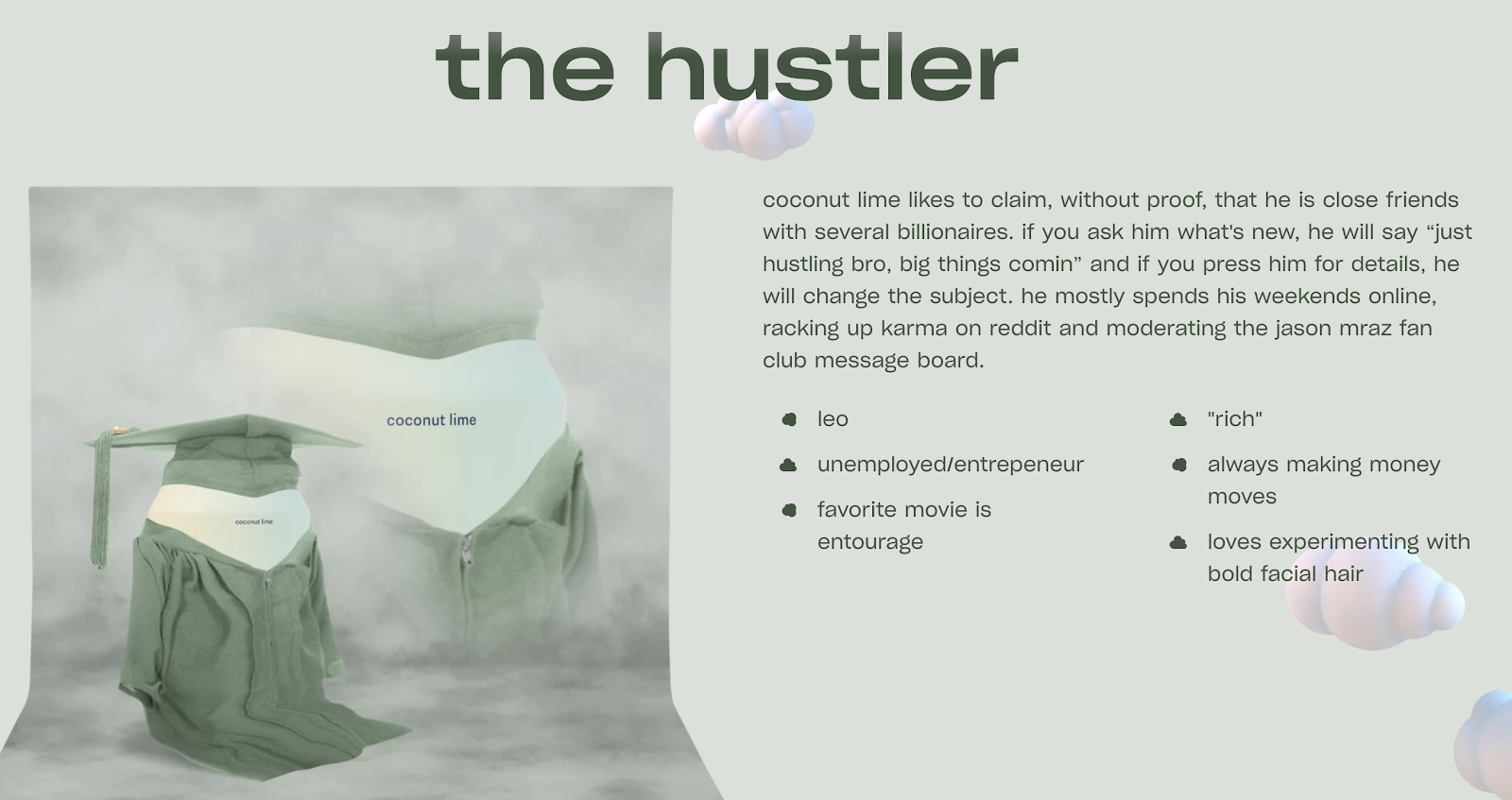 7. 23 and Me (Powered by a Home Grown eCommerce Website Builder)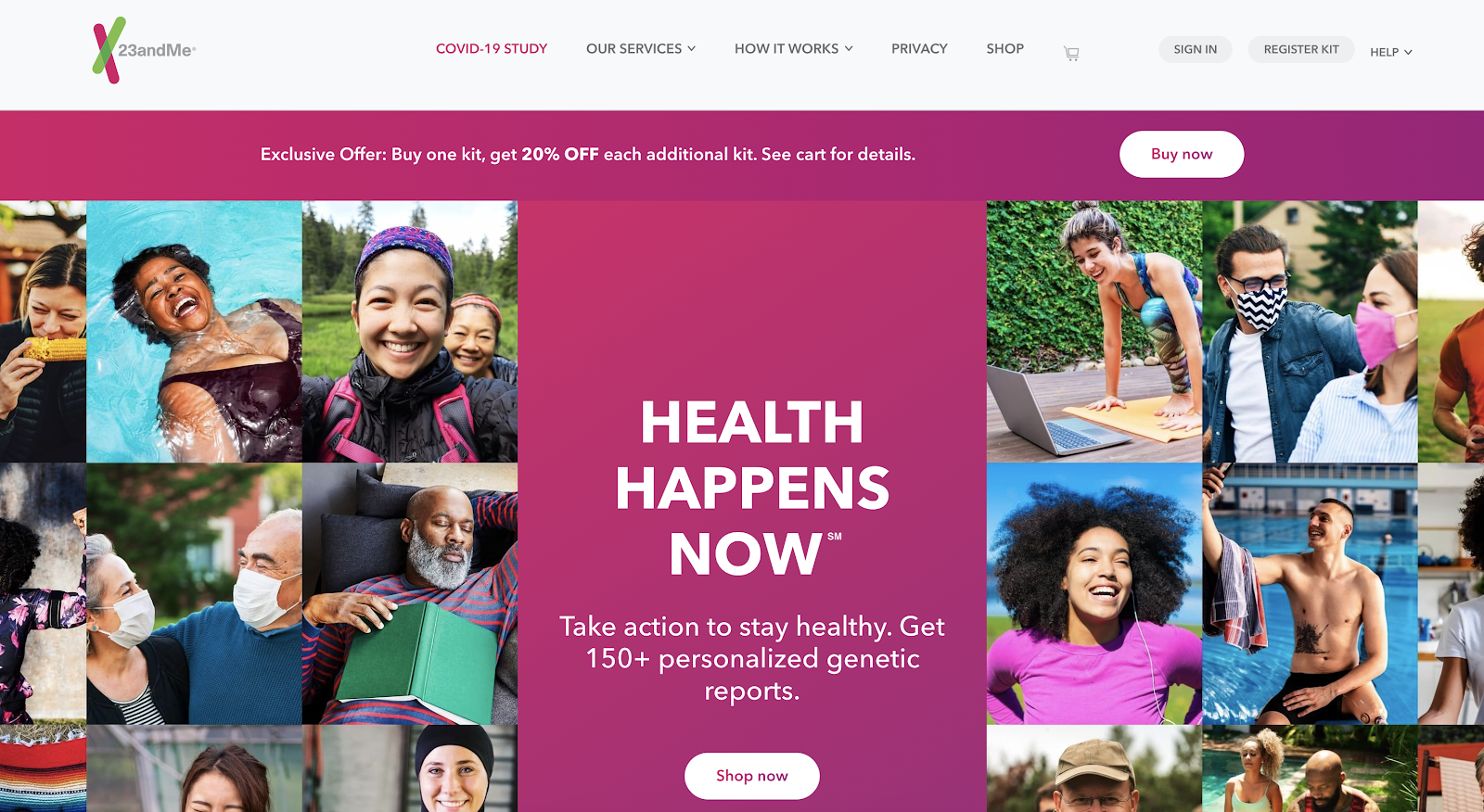 23 and Me is an online service that allows people to research their genetic and genetic health history. They can learn about their DNA, where their ancestors originated from, and potential genetic health risks they may be predisposed to having.
Recently, 23 and Me have even started testing the genetic connection between those who have mild and those who have severe reactions to COVID-19.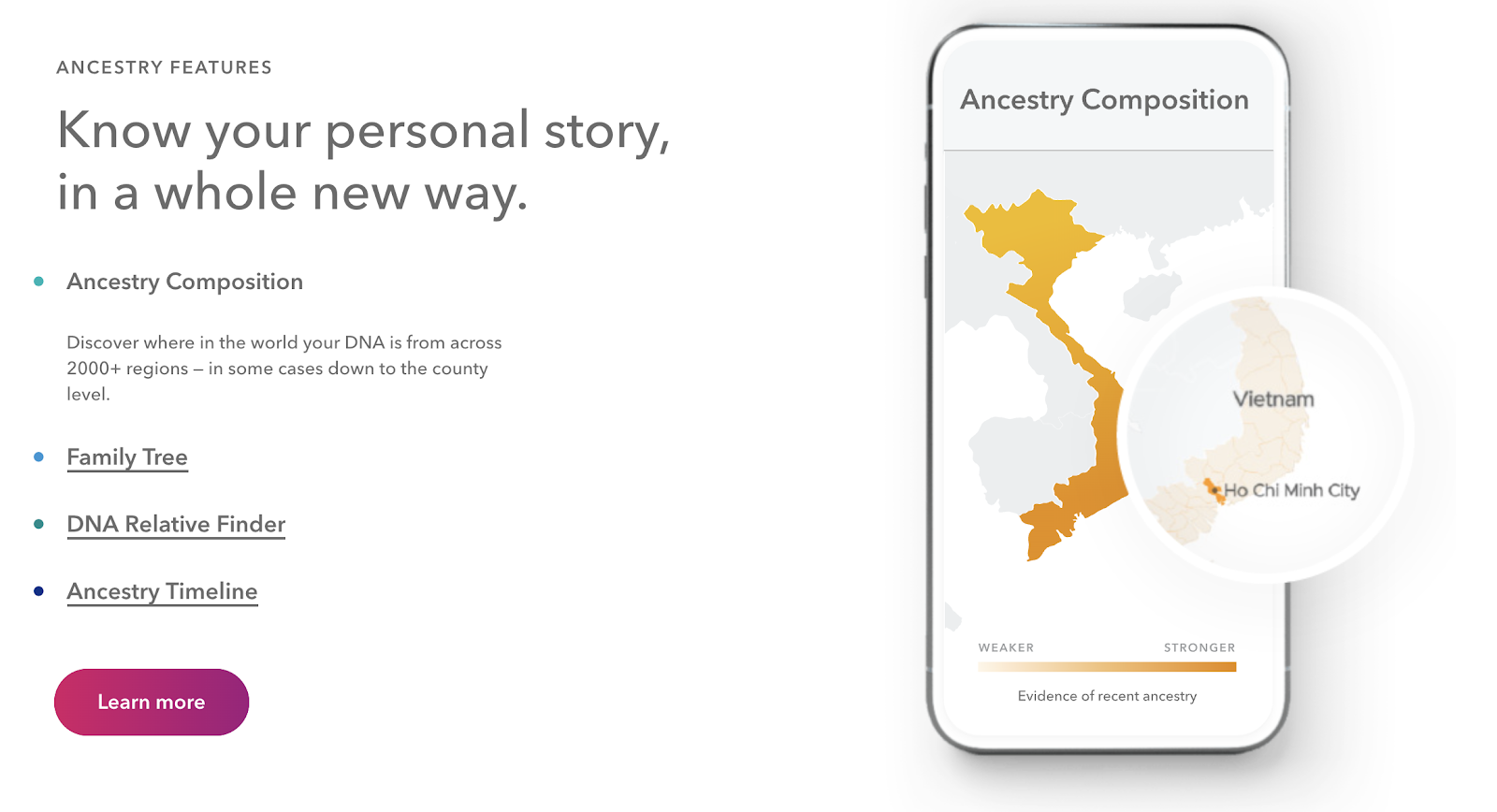 One big appeal about 23 and Me's branding and website design is the way it makes science accessible and interesting to the common person. While most people probably won't know a lot about the science of genetics, 23 and Me shows how these analyses are very important and relevant to people.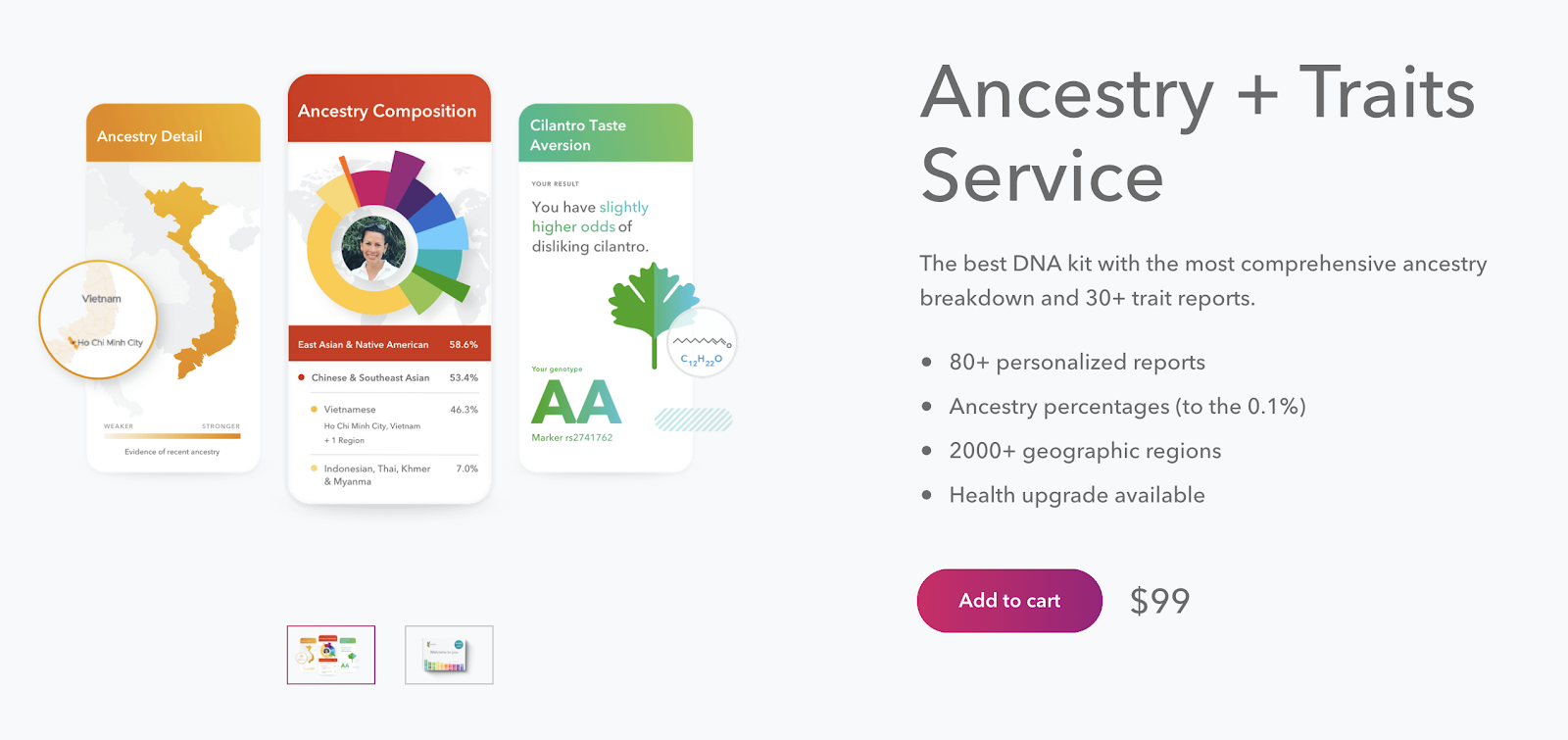 The clean design and bright color scheme also make the website visually appealing.
8. Hims (Powered by a Home Grown eCommerce Website Builder)

Hims is a health and wellness company geared towards the wellbeing of men. According to their site, only 1 in 10 men feel comfortable talking about their health and looks with their doctor. Hims hopes to alleviate the stigma attached to men practicing self-care both mentally and physically.
Prescriptions, supplements, and self-care items are available as well as online psychiatry.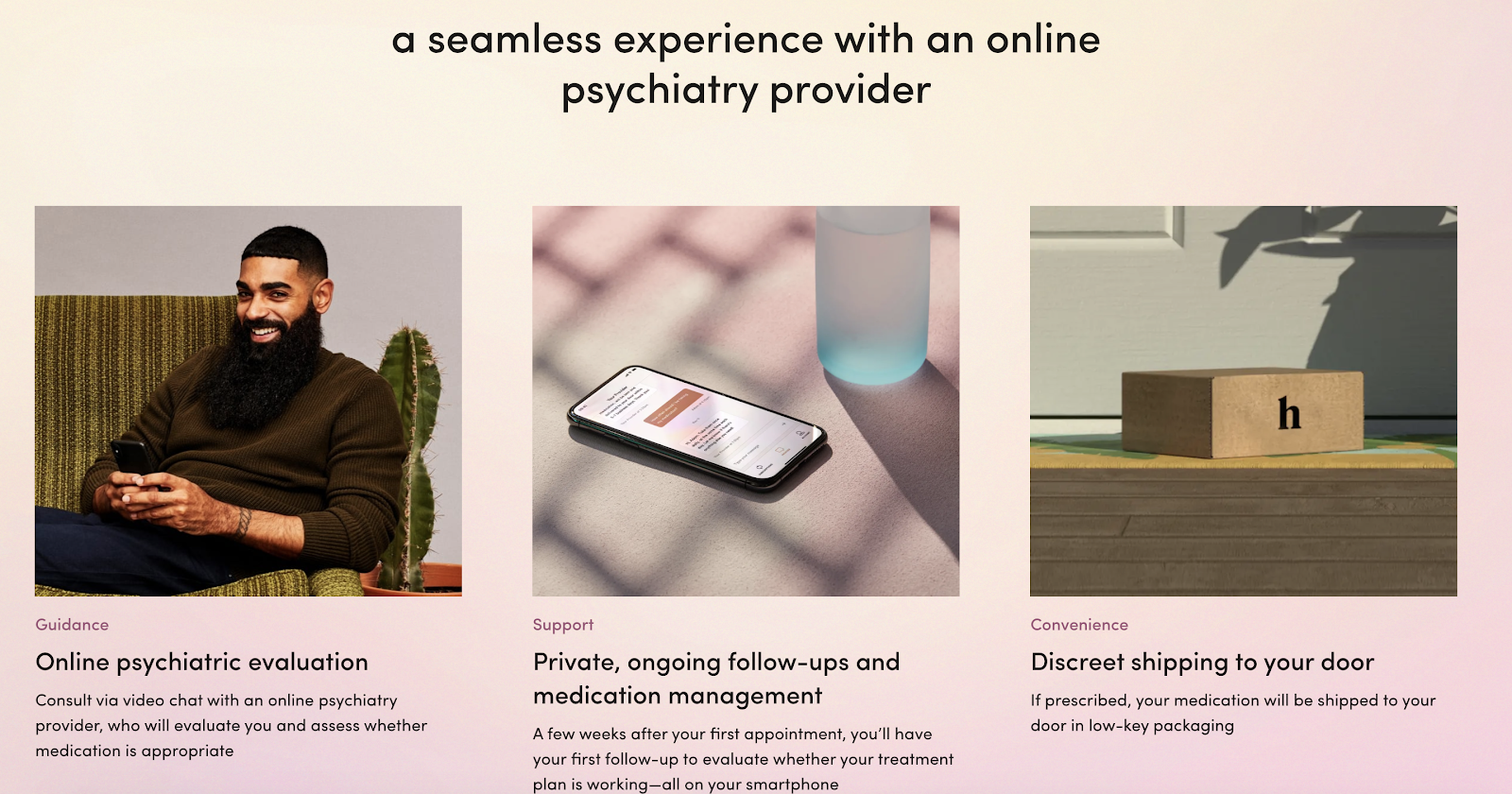 Choosing online psychiatry is an option for people who may feel uncomfortable speaking with someone locally. They also provide discreet shipping on prescriptions. While traditionally this service would not be offered online, for some the added privacy would be a relief.
9. Casper Mattress (Powered by a Home Grown eCommerce Website Builder)

Casper is an online bed-in-a-box mattress company that delivers mattresses right to your front door. Since the product is DTC, they were able to offer a mattress that is more affordable with free shipping. Plus, since you're unable to test it out in person, they even allow customers to use the mattress for 100 days risk-free.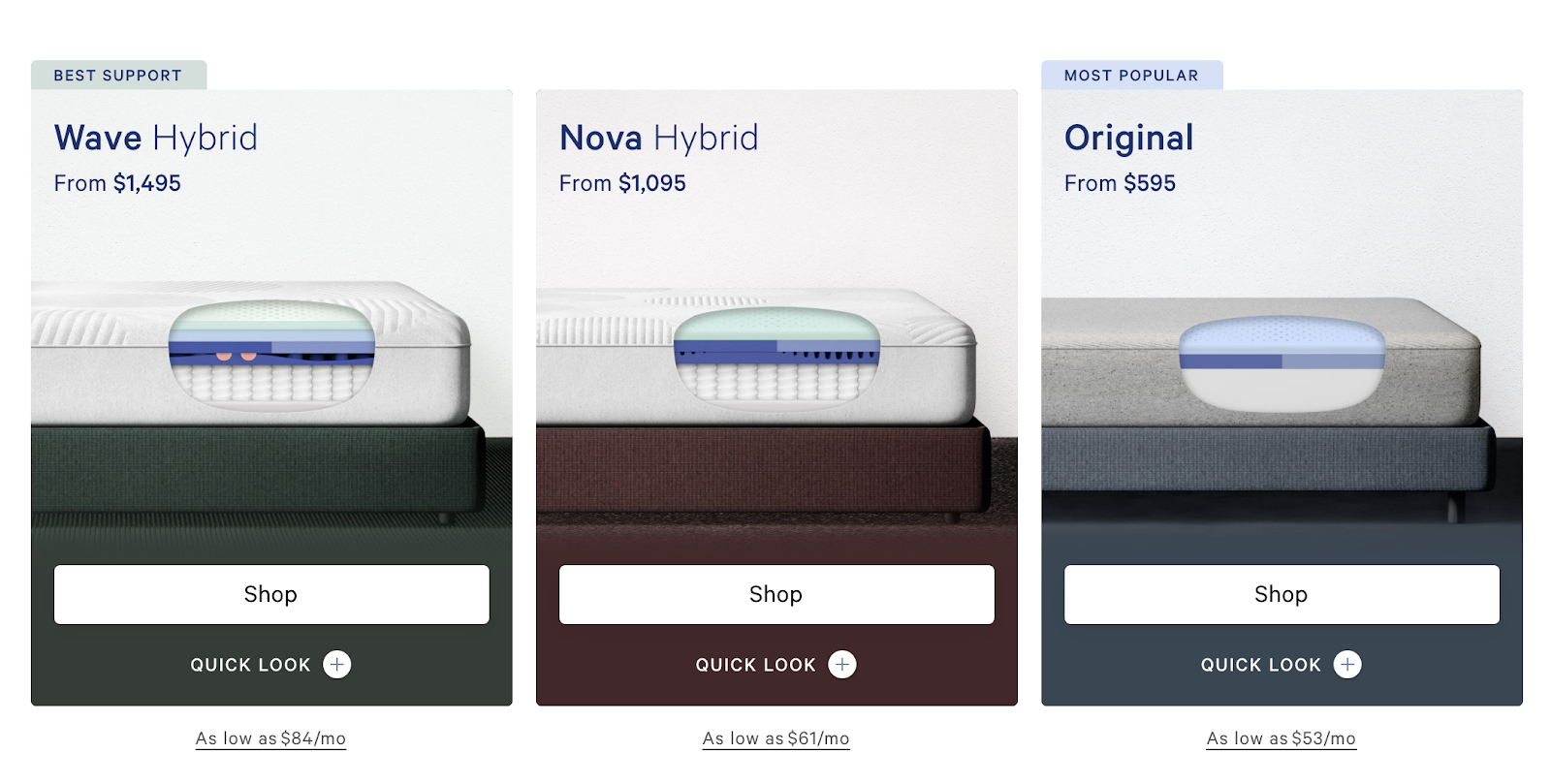 In its first month, Casper made 1 million dollars in sales. The business has continued to grow and they were able to offer a small selection of mattress types while still sticking to their original business plan of providing simple, well built, affordable mattresses.

Casper's website design and branding revolve around the color blue, a color associated with calm and sleep.
If you're interested in a Casper product, they include a chat box at the bottom right corner so you can ask questions about their mattresses.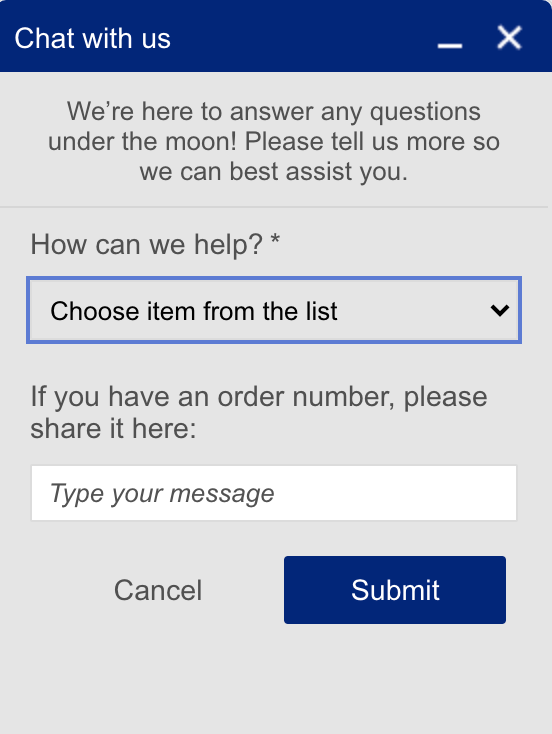 10. Warby Parker (Powered by a Home Grown eCommerce Website Builder)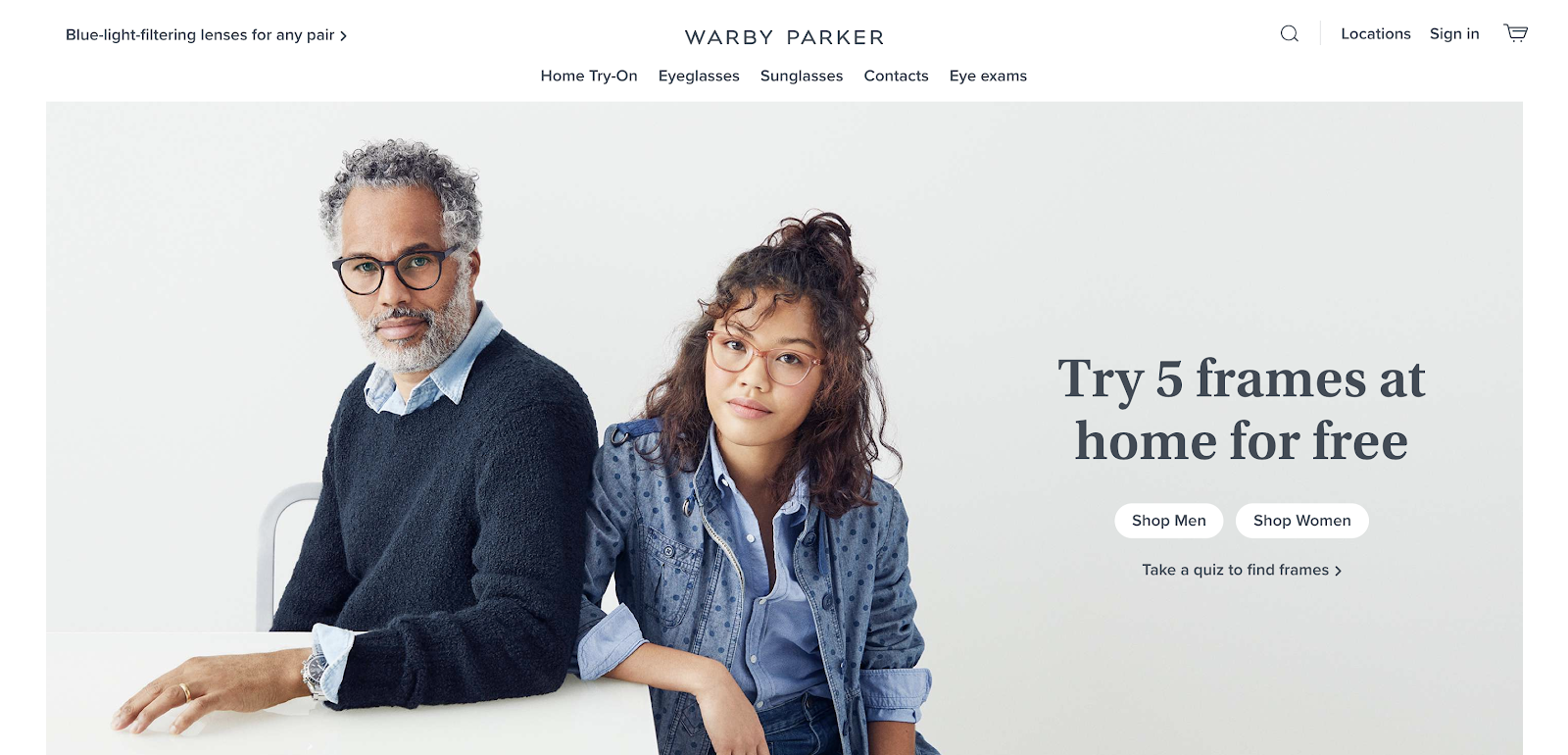 Warby Parker is an eCommerce store aimed at helping people get glasses at an affordable price.
The founders of Warby Parker were faced with their own problem — losing an expensive pair of prescription glasses and not having the funding to replace them. That's when they knew there was a problem and they weren't the only ones experiencing it. After that, they found a new way of making glasses and selling glasses.
They shared, "By circumventing traditional channels, designing glasses in-house, and engaging with customers directly, we're able to provide higher-quality, better-looking prescription eyewear at a fraction of the going price."
They created a successful business finding a solution to a real problem that many people experienced. Not only that, but they also help donate glasses to people who can't afford to purchase them.
They explain, "Almost one billion people worldwide lack access to glasses, which means that 15% of the world's population cannot effectively learn or work. To help address this problem, Warby Parker partners with non-profits like VisionSpring to ensure that for every pair of glasses sold, a pair is distributed to someone in need."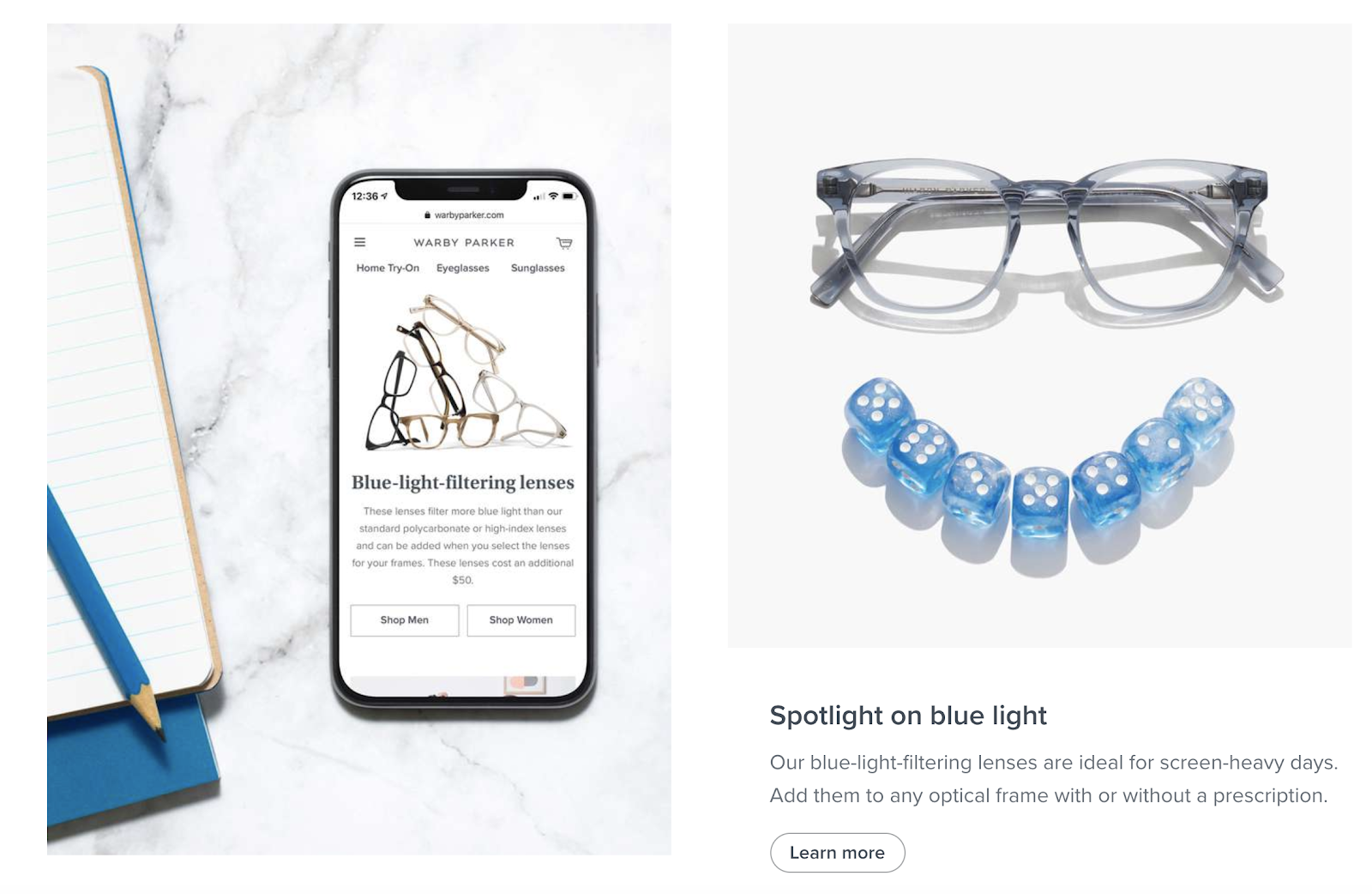 The website design is attractive with little pops of color to add interest.
The product pages show what the glasses look like on and off a person, and the description below adds a little personality.
Since everything is sold online, they have a program where they ship 5 frames to the customer to let them choose which one they'd like to purchase.
11. Everlane (Powered by a Home Grown eCommerce Website Builder)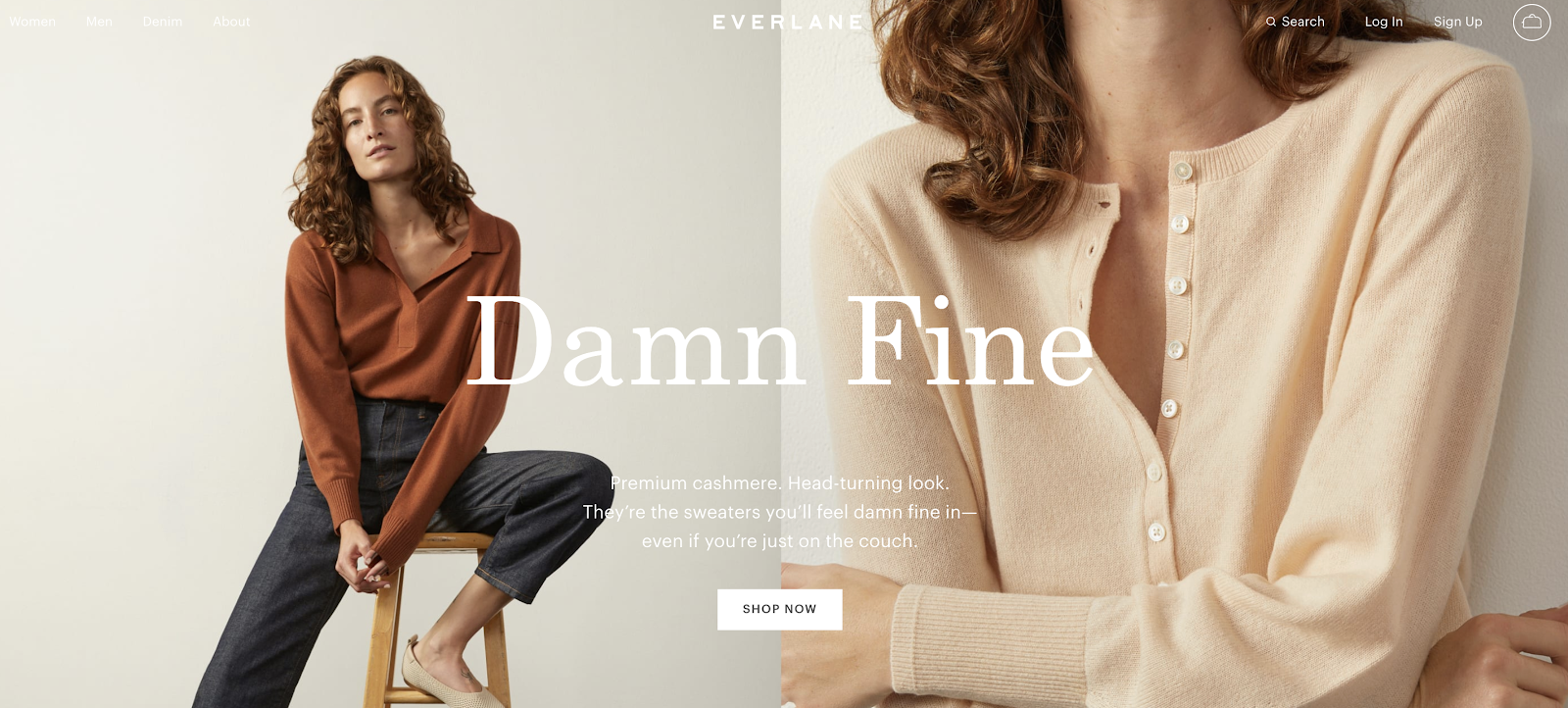 Everland is a clothing company that offers top shelf products sourced ethically. From sweaters to jeans to boots and backpacks, their products are made with what they term "Radical Transparency."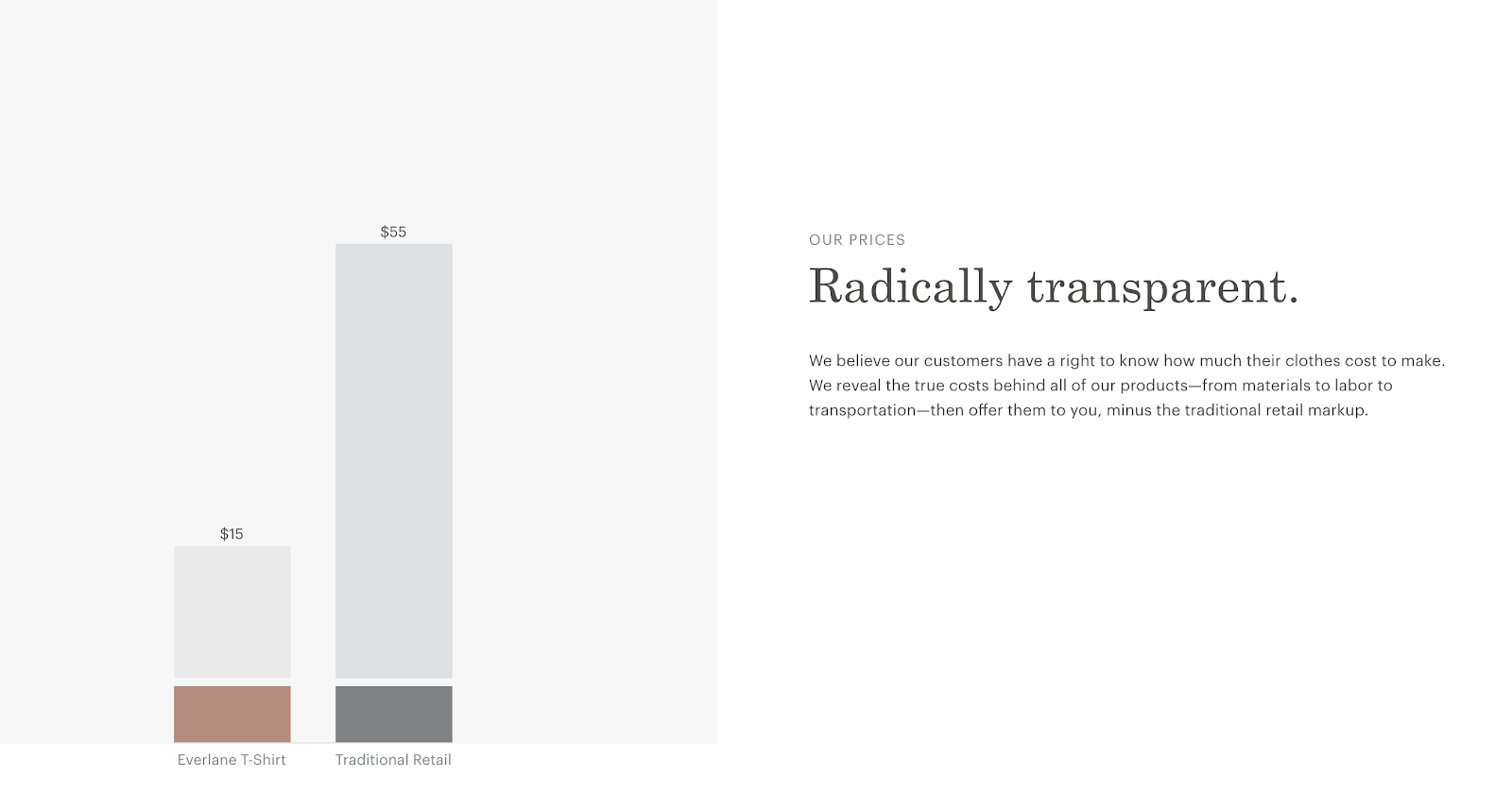 They reveal exactly how much the item costs to purchase and how much they're selling that item to you. They also aspire to make products that will last many years, and not end up the way of many fast fashion companies.
Here's an exactly breakdown of the cost for them to produce their "Modern Loafer" and how much they mark up the product.

This kind of authenticity both in production and cost is not common in today's world, but it's a marketing plan that works for many modern shoppers.
Another smart marketing tactic is a "complete the look" section. If you're looking for t-shirts, you probably need a pair of bottoms to go with it.

12. MeUndies (Powered by Spree's eCommerce Website Builder)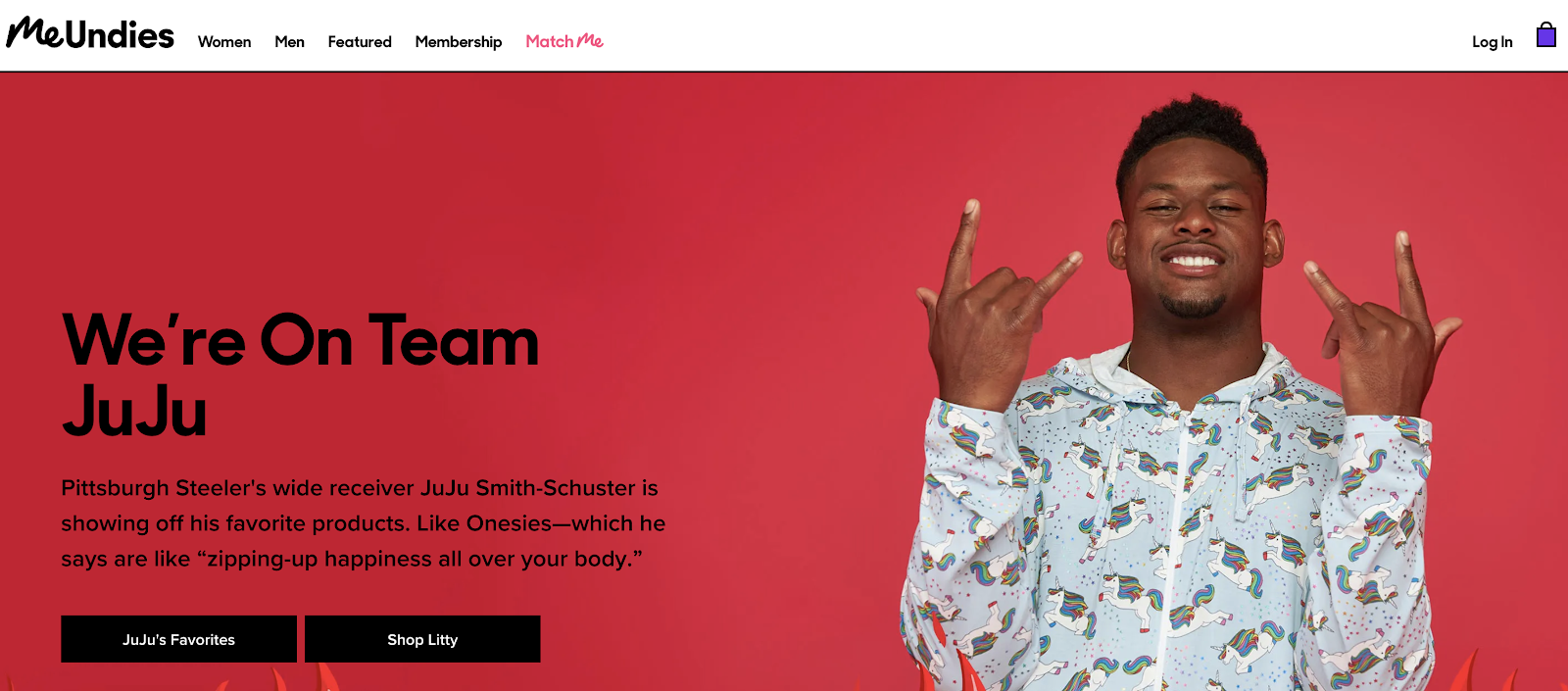 Need some new basics? MeUndies has got you covered. Their products are soft, simple, and comfortable.
They also produce their undergarments with Fair Trade practices and transparency.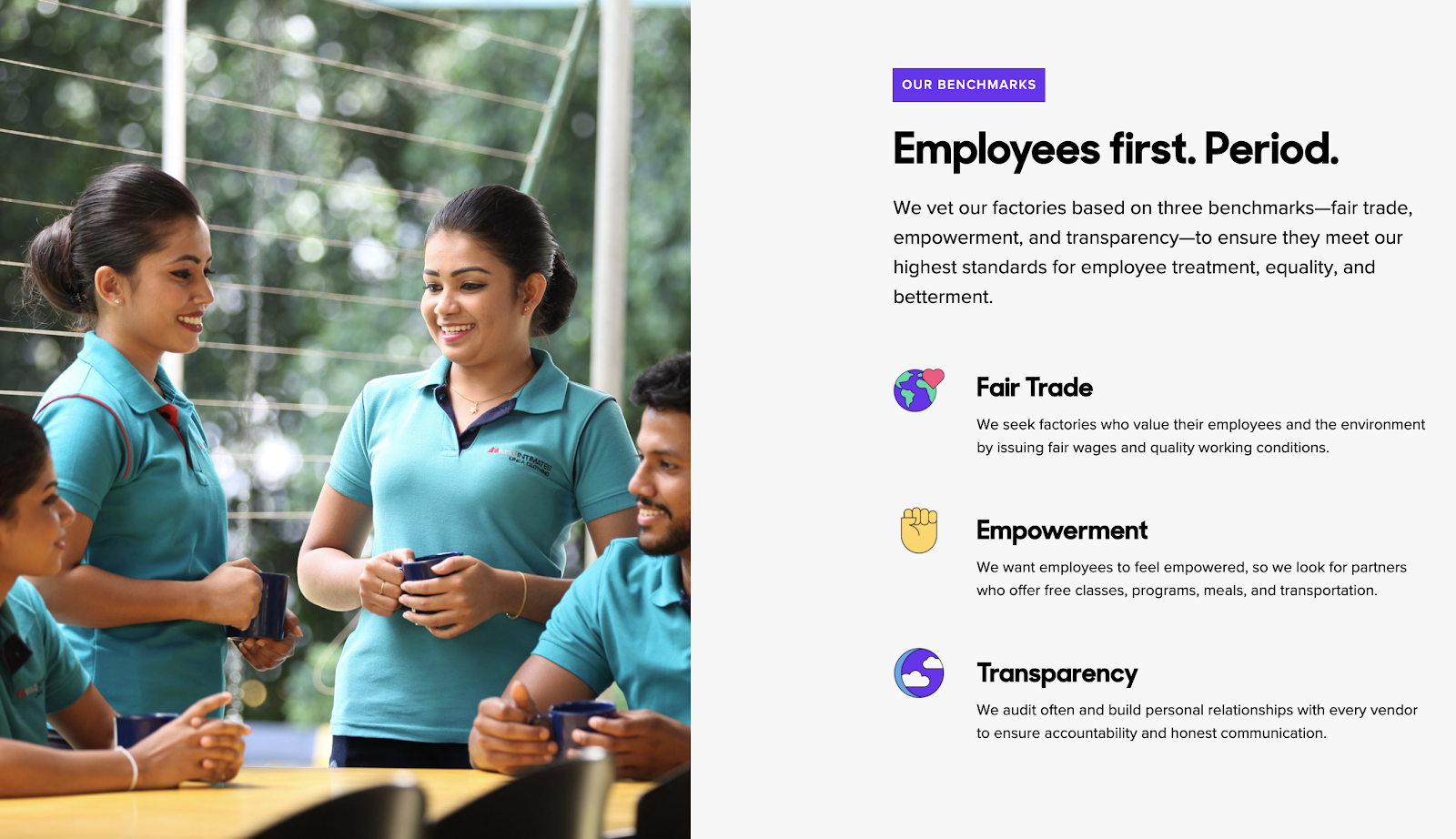 The eCommerce website is designed with blocks of bright colors that draw the eye to individual sections.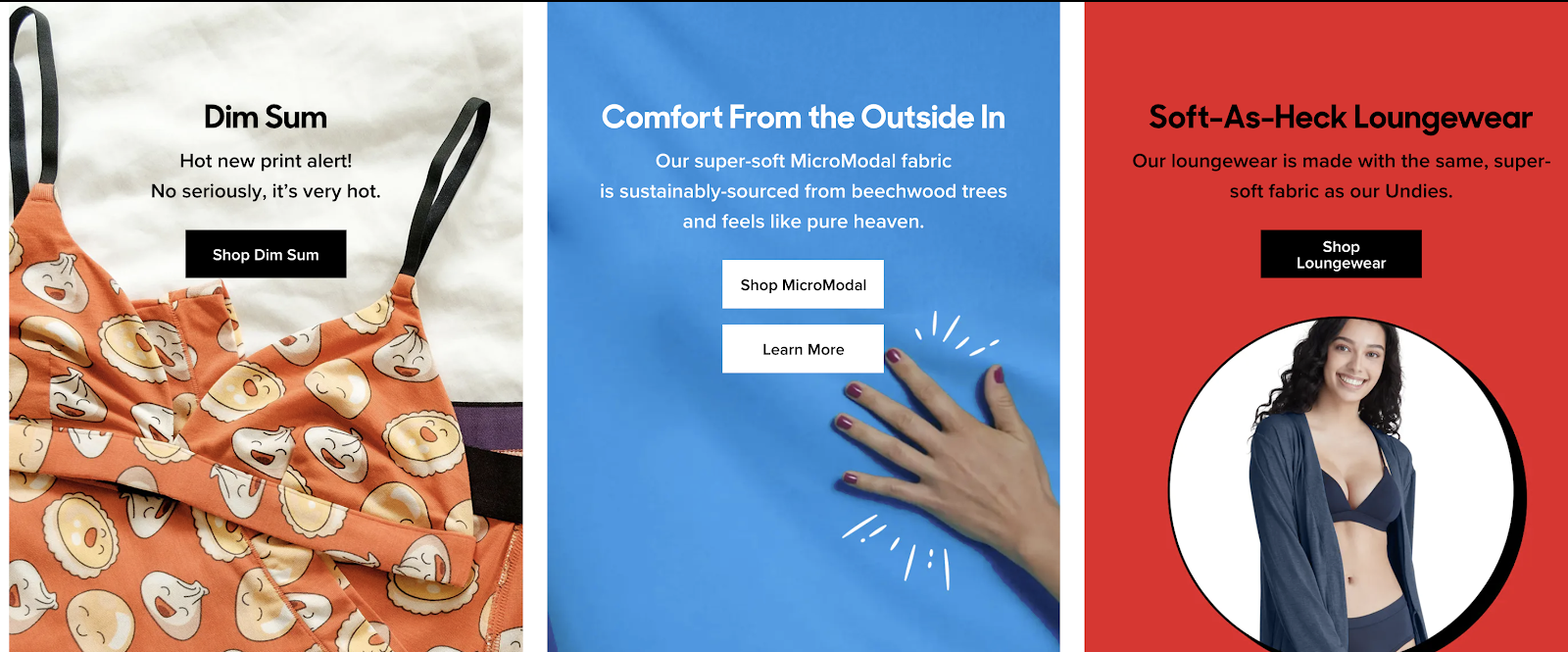 They offer one time purchase or membership subscriptions that provide undergarments at a reduced price.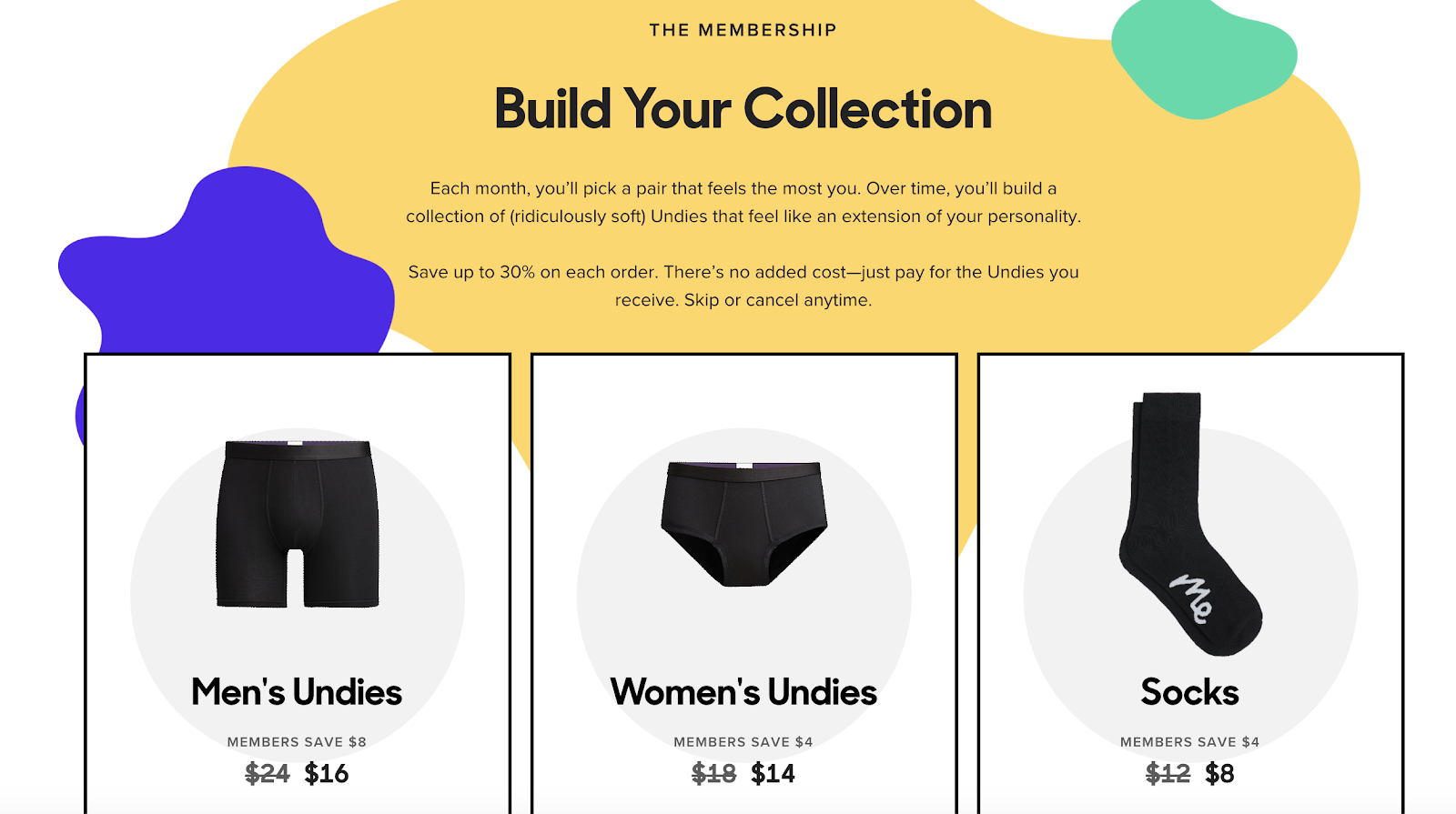 All in all, MeUndies is a pretty stellar example of how to implement one of the top (flexible) eCommerce website builders into a seamless checkout experience that blends well with the rest of your website.
---
Bonus: 7 Bloggers With Successful eCommerce Businesses
Bloggers often diversify their blogging income by offering products and services that coincide with the work they're already doing. From branded merchandise to consulting to handmade products, bloggers can make profit from adding eCommerce to their blog.
Here are some examples of bloggers who have successfully added eCommerce to their blog business plans.
1. Ideas by Arianna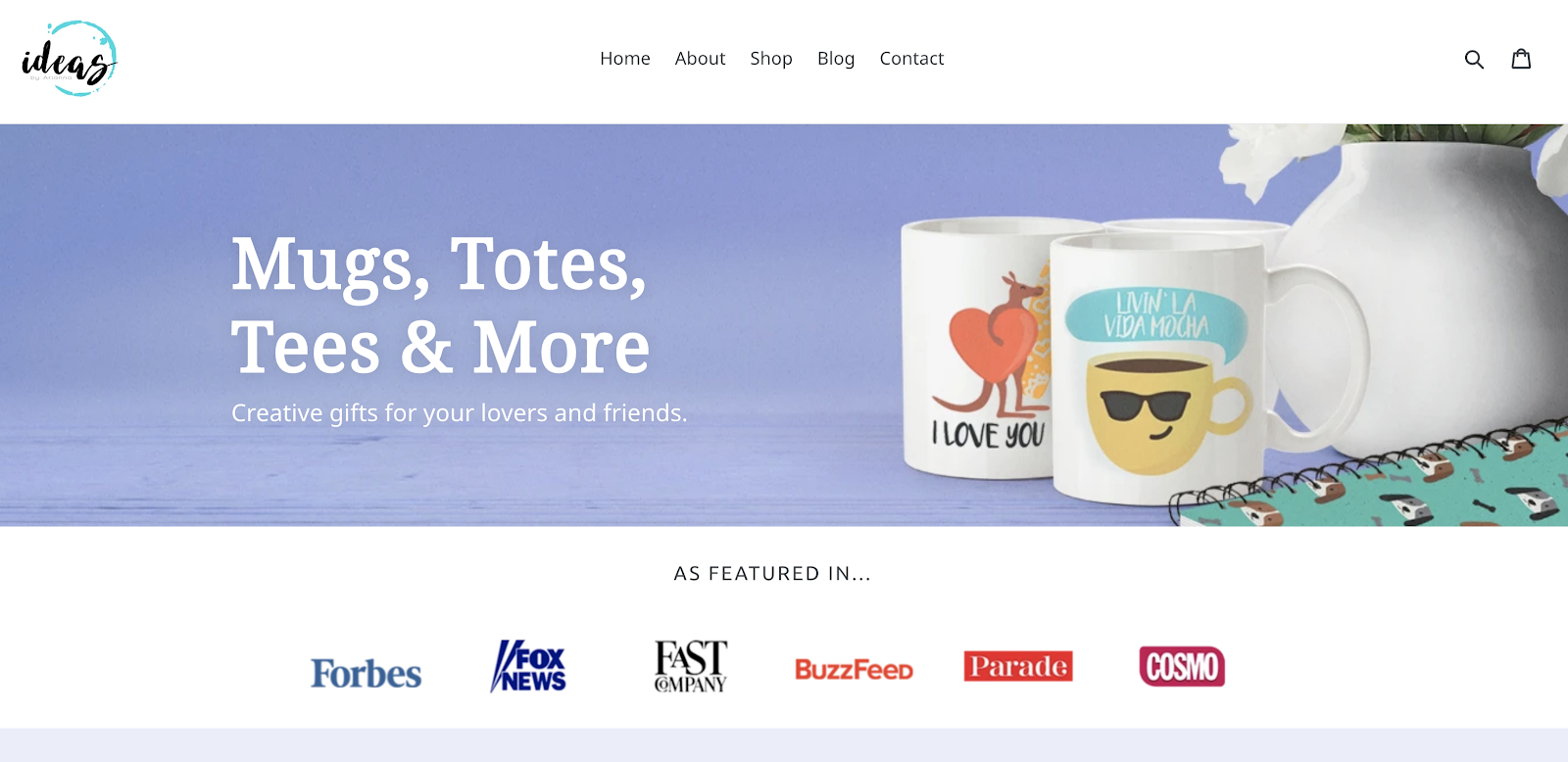 Ideas by Arianna was started by a friend and fellow content marketer, Arianna O'Dell, who wanted to turn her gift ideas into a real eCommerce business. Arianna loved creating gifts for her friends and now offers them for purchase, so others can do the same.
With a knack for fun, silly, and humor, her yoga mats, mugs, face masks have had her featured on popular publications like Forbes, Fox News, Fast Company, and Buzz Feed.
Arianna has a personal eCommerce website, but makes additional income from her Etsy shop. Many creative businesses benefit from selling on a personal eCommerce website while also taking advantage of a built in audience through marketplaces like Etsy.
2. Nimble Bar Co.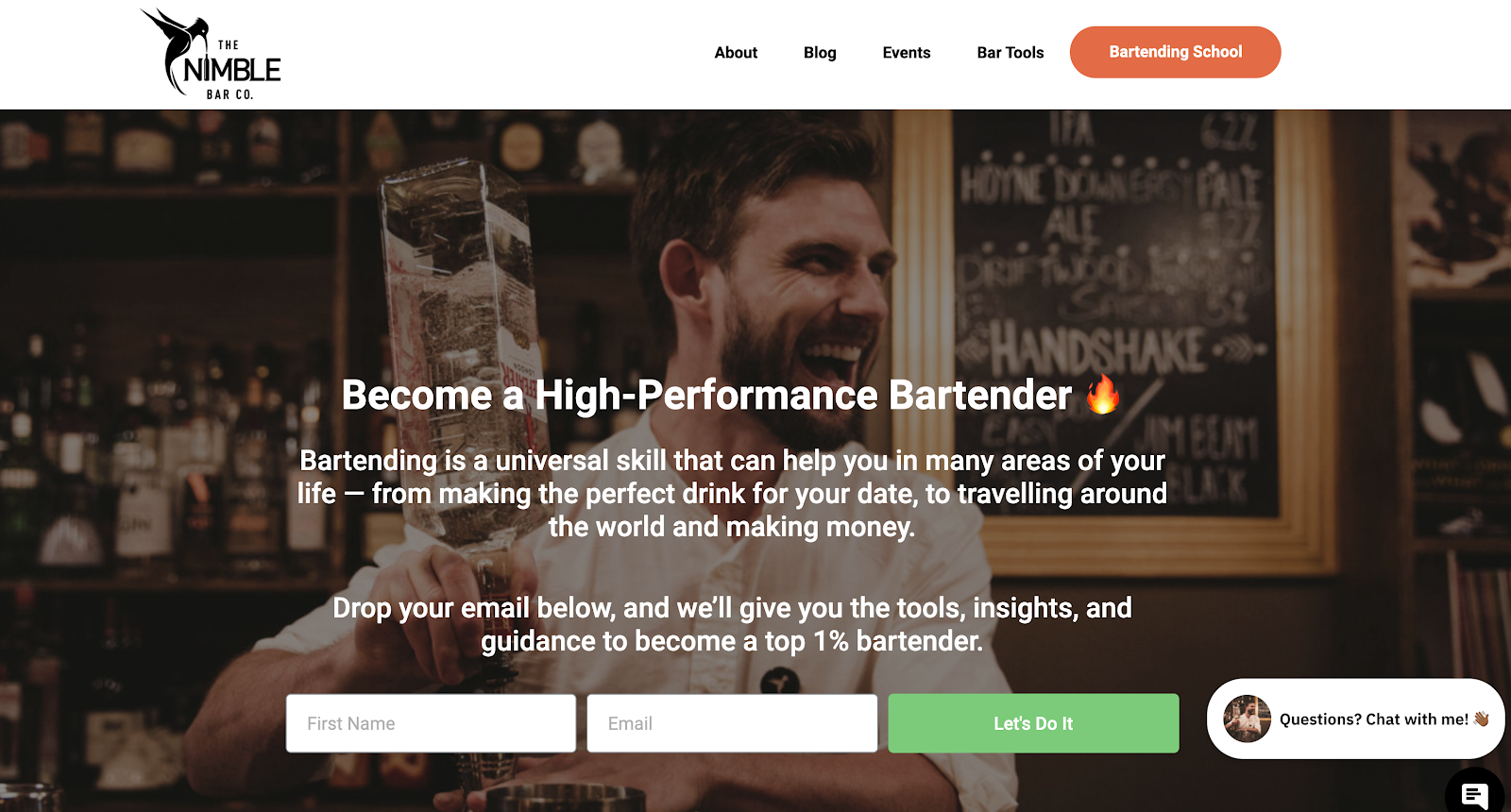 Kyle and Nate founded the Nimble Bar Co. after finding unique success with their personal bar. People who visited their bar often said they offered an experience that was different from other places and bars. That's when they realized they could share their bartending knowledge with others.
Nimble Bar Co. has a bartending school so people can learn to adopt their method.  They offer workshops and online courses to help people get started. They also sell physical products in their "bar tools" shop.
3. Dina Calligraphy
Dina (of Dina Calligraphy) is a modern calligrapher that's successfully sold her own products and now teaches other people how to run their own calligraphy businesses. She was able to take her original business plan and turn it into a new source of revenue.
Dina still sells her own products through custom commissions, but also offers calligraphy workshops and live calligraphy.
4. Press's Squeeze Magazine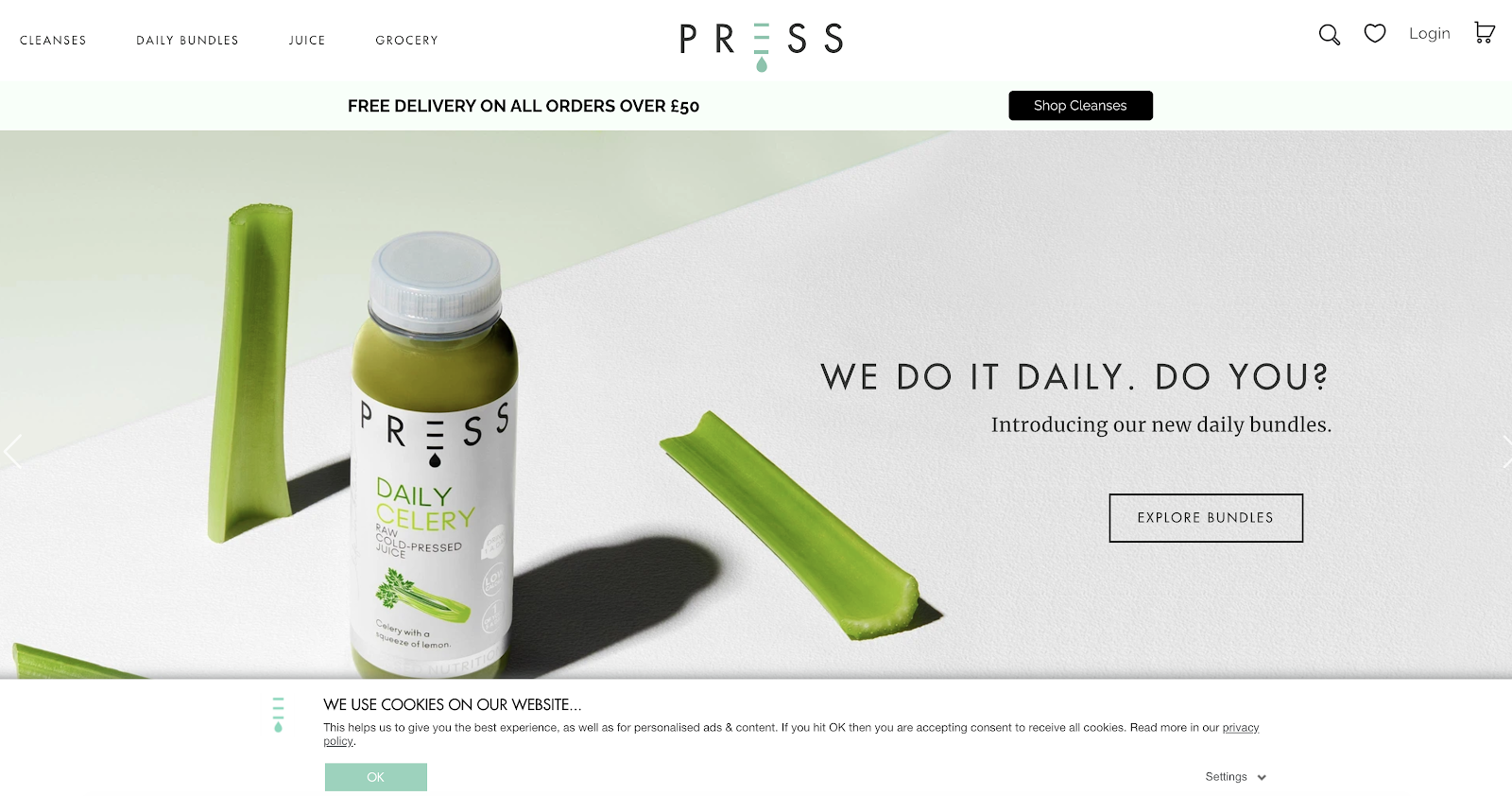 Press is an online health company that sells detoxes, cleanses, juices, and diet plans.

They also have a thriving online publication called The Squeeze Magazine. The blog features all types of health related info from yoga, to fad diets, to coping with anxiety.

5. BestSelf
Best Self is a productivity-oriented eCommerce business that sells products like journals, planners and courses to help people become more organized in their daily life. So naturally, they're using an eCommerce website builder to power their checkout experience too.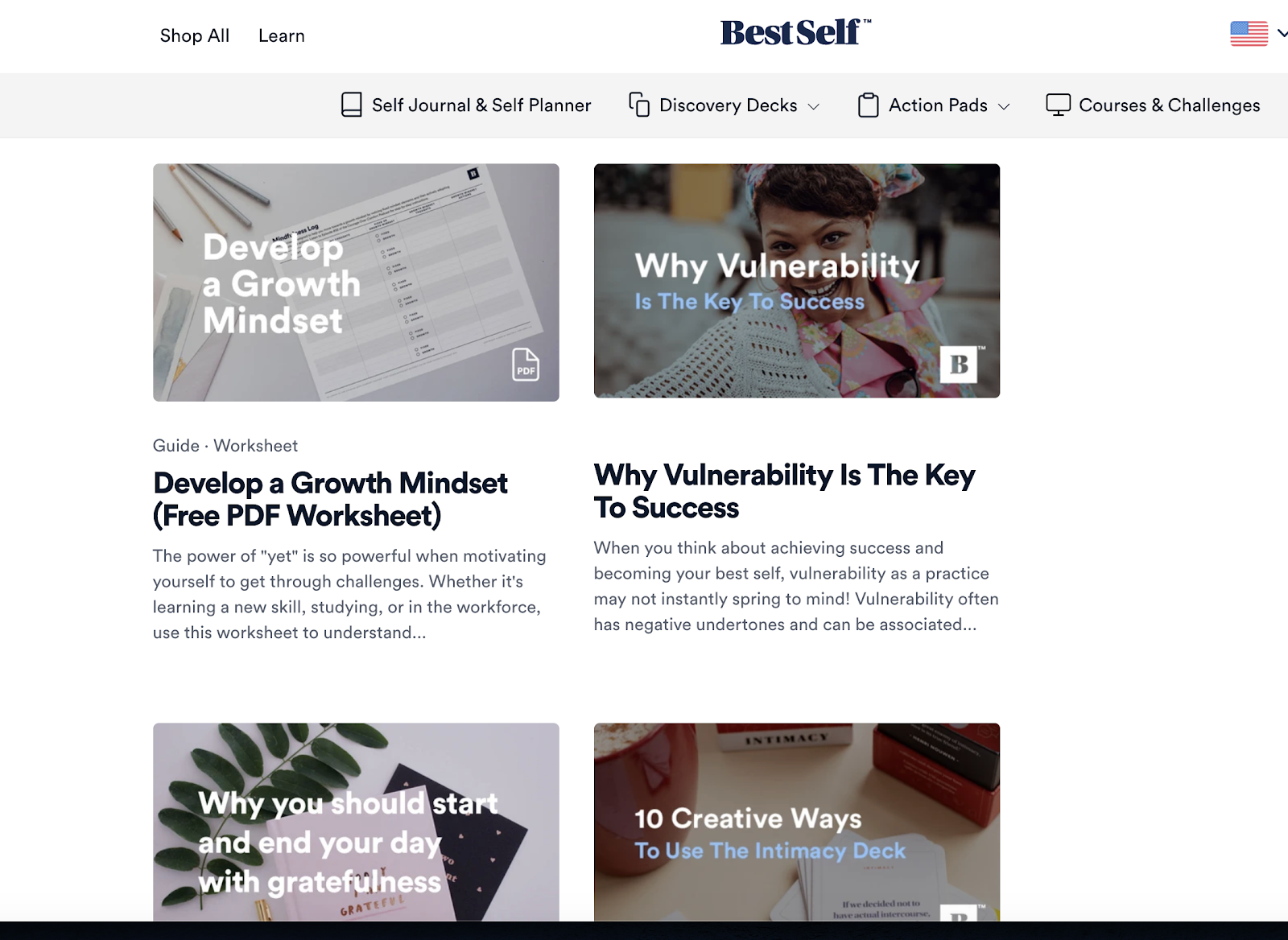 They also have a prolific blog that covers topics like stress reduction, organization, goal setting and more. This company does an excellent job of providing real content value while subtly waving in product promotion.
6. Pretty Litter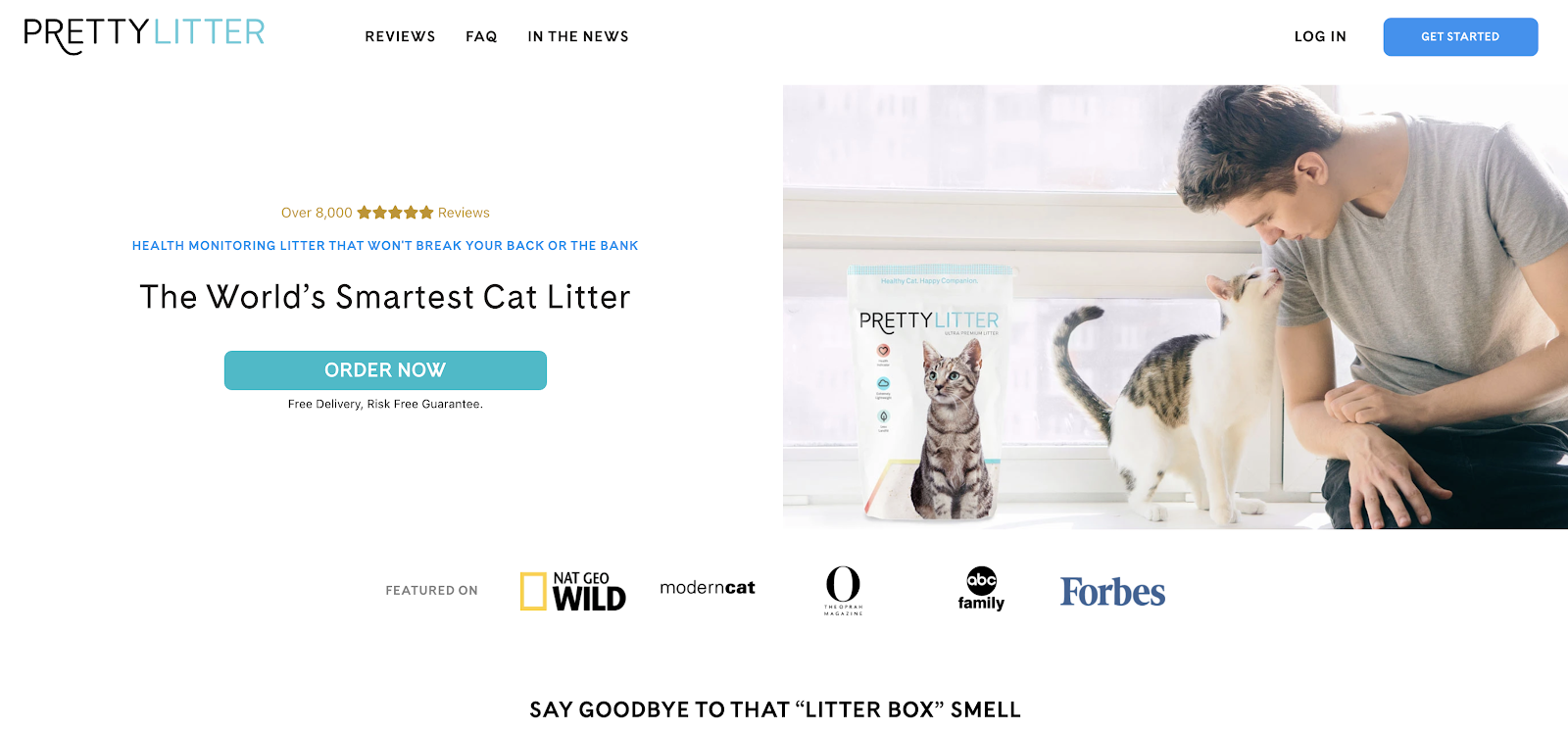 Pretty Litter is a kitty litter company that seeks to revolutionize kitty litter. Kitty litter comes once a month as part of a subcription program. One big perk to Pretty Litter is new technology alerts owners when their cat might be experiencing an illness. The kitty litter will change color when there's a potential health issue.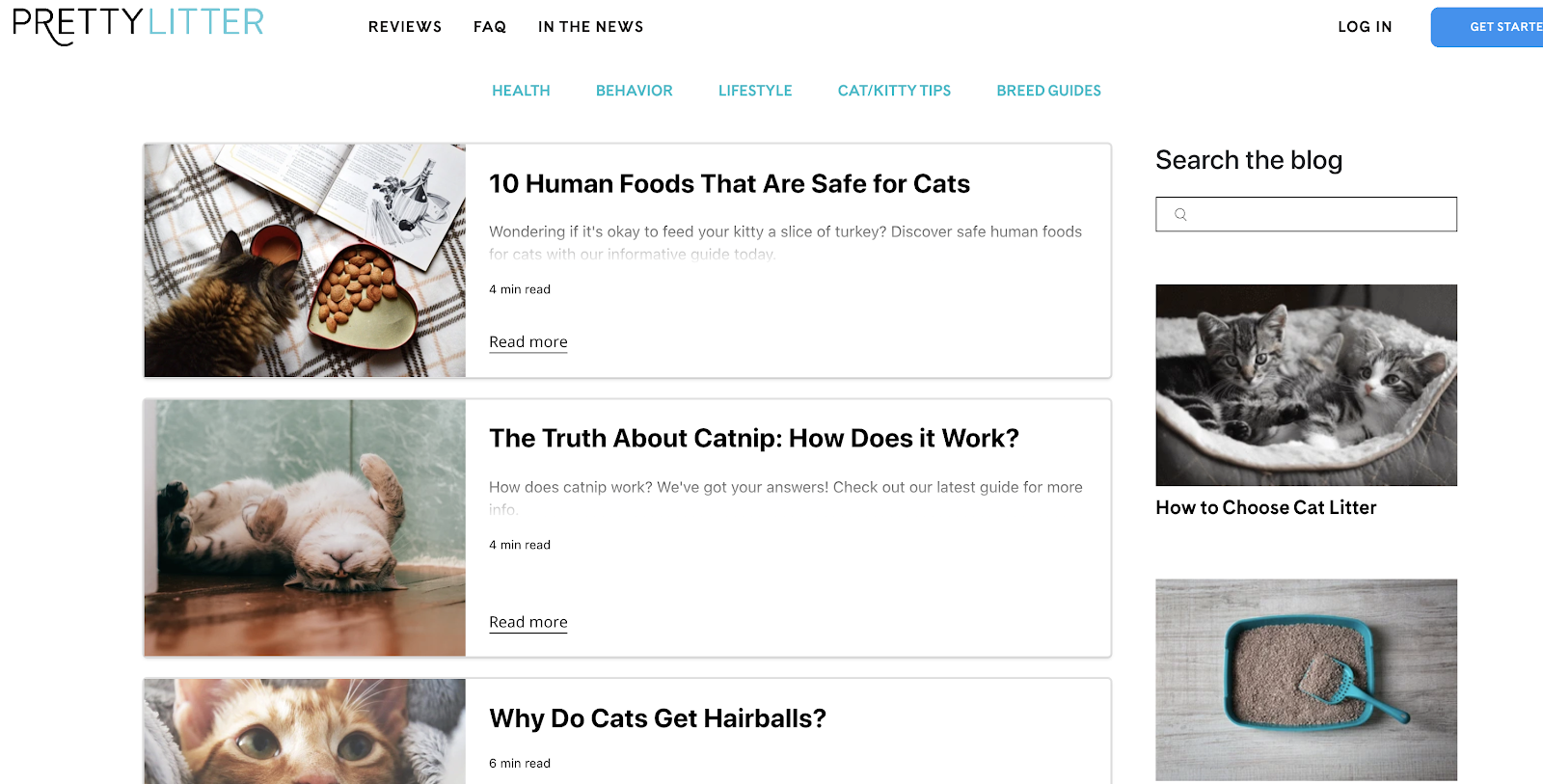 In addition to selling litter, they also have a blog covering all types of cat owner topics.
7. Girl Next Door Honey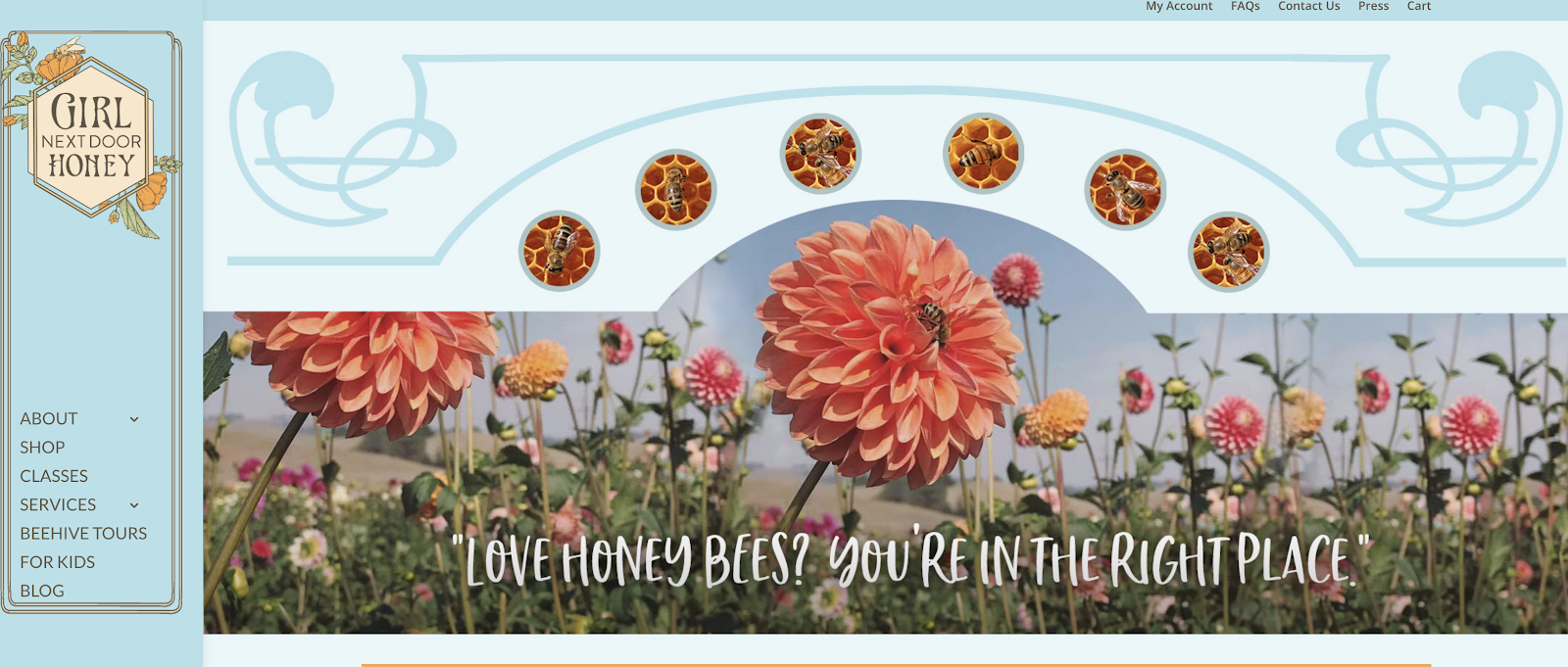 Girl Next Door Honey is a blog that covers a wide range of topics about honey bees and beekeeping. Founder Hilary Kearney offers classes, public speaking, mentoring and live bee removal.
In addition to her blog content, she has a small shop selling bee-related merchandise, powered by WooCommerce as her eCommerce website builder of choice (since it already integrates so well with her WordPress blog).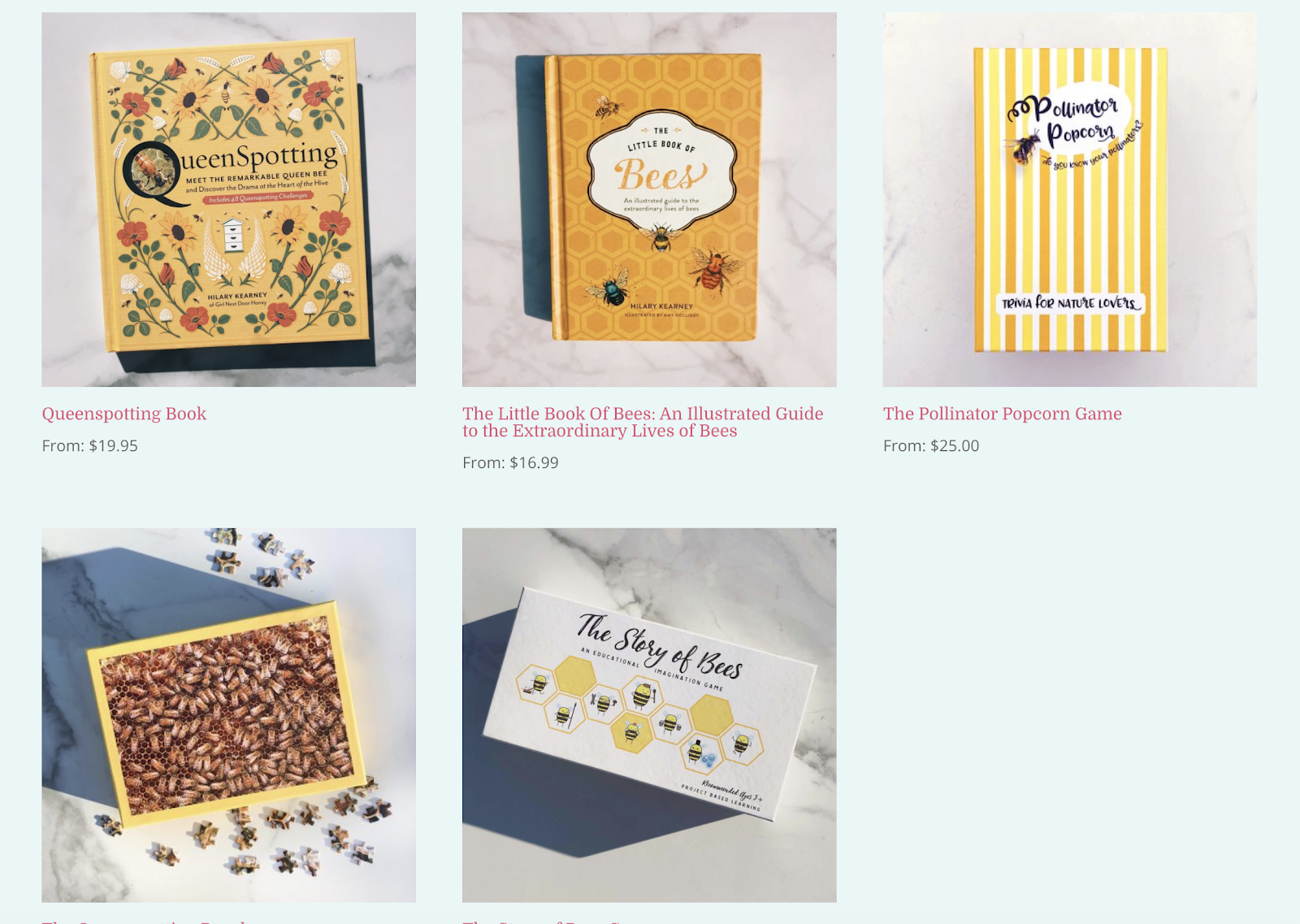 Her shop also sells branded t-shirts that support her mission of raising awareness around declines in the honey bee population, which aligns very well with the ambitions of her readers.
---
Are You Ready to Choose Your eCommerce Website Builder?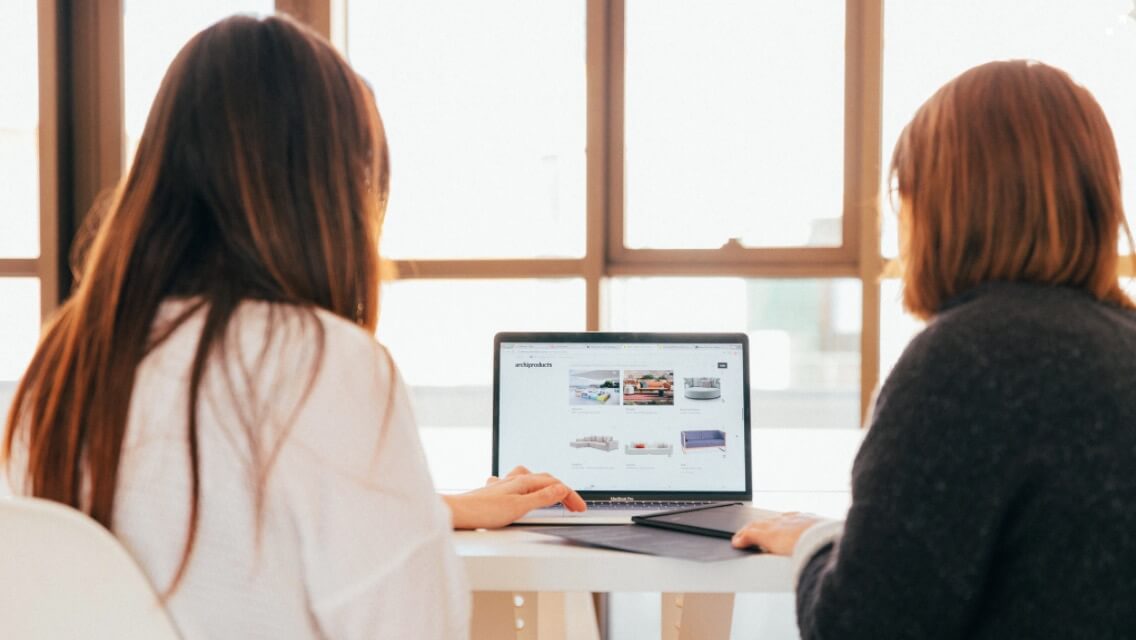 We've covered a lot of ground here—from why you should open an eCommerce business, to which platforms are the best eCommerce website builders (depending upon your goals), inspiration from business owners who've already achieved success in eCommerce and beyond.
It's a lot to consume, but it's also exciting. Now is one of the best times in history to jump on the eCommerce train, as more people continue to use the Internet with increased frequency. And if you're considering throwing your hat into this arena, it can pay massive dividends to find yourself an eCommerce coach that's able to guide you along the way.
With relatively little investment in the right eCommerce website builders, you can start that business that has always been in the back of your mind. Whether you want to start a blog and sell a few products a month or build your business into a large operation, the Internet is ripe with opportunity.
Now, what did I miss? Which eCommerce website builders have you experimented with? Is there one you've used that I should add to my list?
I'd love to hear from you in the comments below!