Blogging is an excellent way to start making money, but it's not without some costs—which brings us to today's topic: how to get a free domain name. If you want to start a blog and avoid as many upfront costs as possible, you may be wondering what you're able to get for free.
It makes sense to keep your expenses minimal in the beginning. You may not want to invest a lot of money until you find out if it's something you really enjoy or if you're able to make real money doing it.
The good news is, you can start a blog without a lot of upfront capital, and you can choose to add more expenses as your blogging starts to thrive.
Another option is to find ways to avoid costs, like getting a free domain name for your blog.
In this guide, I'll show you 6 different ways to get a free domain name. I'm going to preface this article by saying that each option has pros and cons. You know the adage "nothing is really free," and this is true with a domain name too.
In this guide, I'll share what I think is the best option for getting a free domain name, as well as other options you may want to consider based on your blogging goals.
How to Get a Free Domain Name for Your Blog (6 Ways)
Disclosure: Please note that some of the links below are affiliate links and at no additional cost to you, I may earn a commission. When you purchase website hosting using one of my affiliate links, the company compensates me, which helps keep all of my content (like my ultimate comparison of the best hosting plans) free of charge to you. Know that I only recommend tools I've personally used and stand behind.
Want to Start Your Blog (the Right Way)?
Check out my ultimate guide How to Start a Blog (on the Side).
---
What is a Domain Name and Why Do You Need One?
Before diving into how you can get a free domain name for your blog, let's first discuss what a domain name is and why it's important to bloggers.
A domain name is the URL address visitors use to find your blog. For example, my domain name here is ryrob.com.
No one else can use that domain name because it's registered to me through a domain name registrar.
There are a few ways to get a domain name for free, which we will discuss below. In most cases, you pay an annual fee to the domain name registrar to continue having the rights to it.
If you let your payment lapse, the domain name would then become available for someone else to purchase. (which would give them the rights to the address).
Choosing a domain name can sometimes be tricky, considering many of the ones that come to mind easily might already be taken.
That's why it's helpful to use a domain name generator to help you come up with a name. A friend and I created this tool for getting domain name suggestions when the one you prefer is already taken!
Use My Free Domain Name Generator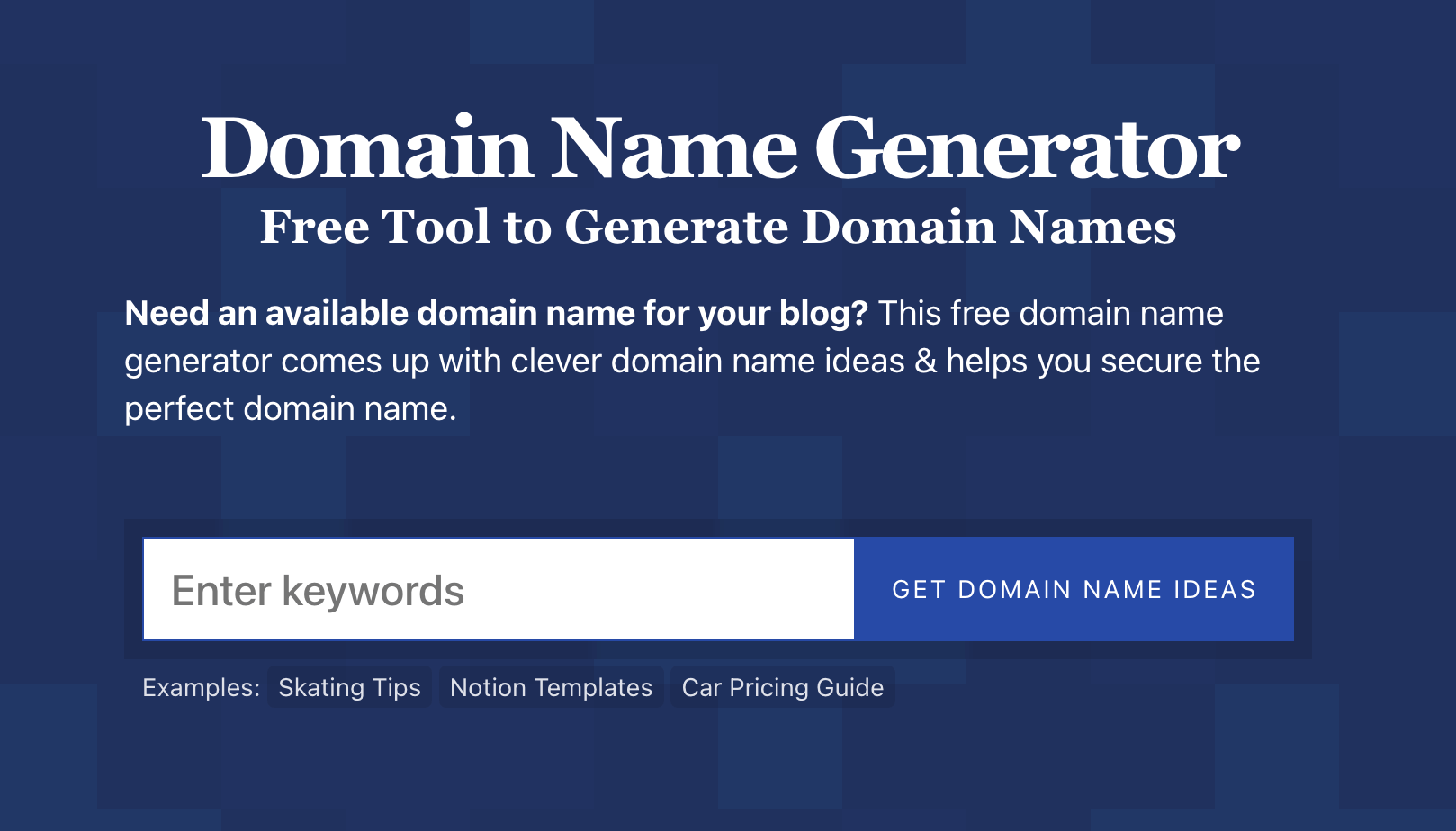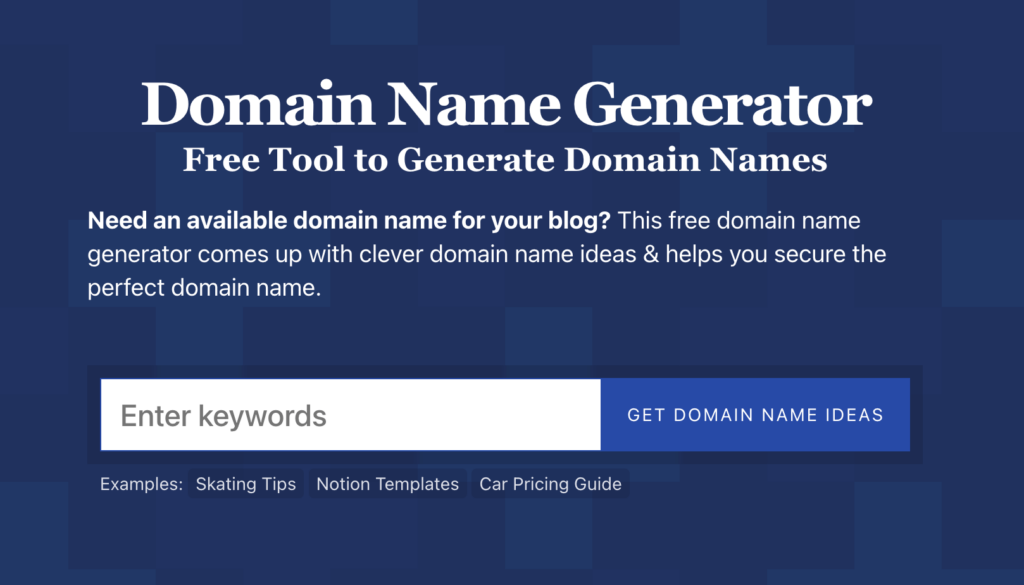 Try my free AI-Powered Domain Name Generator to get dozens of creative (available) domain name ideas today.
---
(Best Choice) Getting a Free Domain Name With Bluehost
My number one recommendation for getting a free domain name for your blog is getting it free through a hosting plan. Bluehost is my top choice for hosting plans.
Ideal for bloggers, Bluehost has affordable plans, free SSL security, 24/7 support, and a free domain name for the first year.
Bluehost is one of the few hosting plans that WordPress recommends – they offer 1-click WordPress installation making it super easy to get started.
I want to make it abundantly clear here that you will be getting a free domain name for a year, but you do have to pay for the hosting plan to get the domain name. So while it is free, there is still an expense.
Here's how you can get your free domain name with Bluehost.
1. Sign Up for a Bluehost Hosting Plan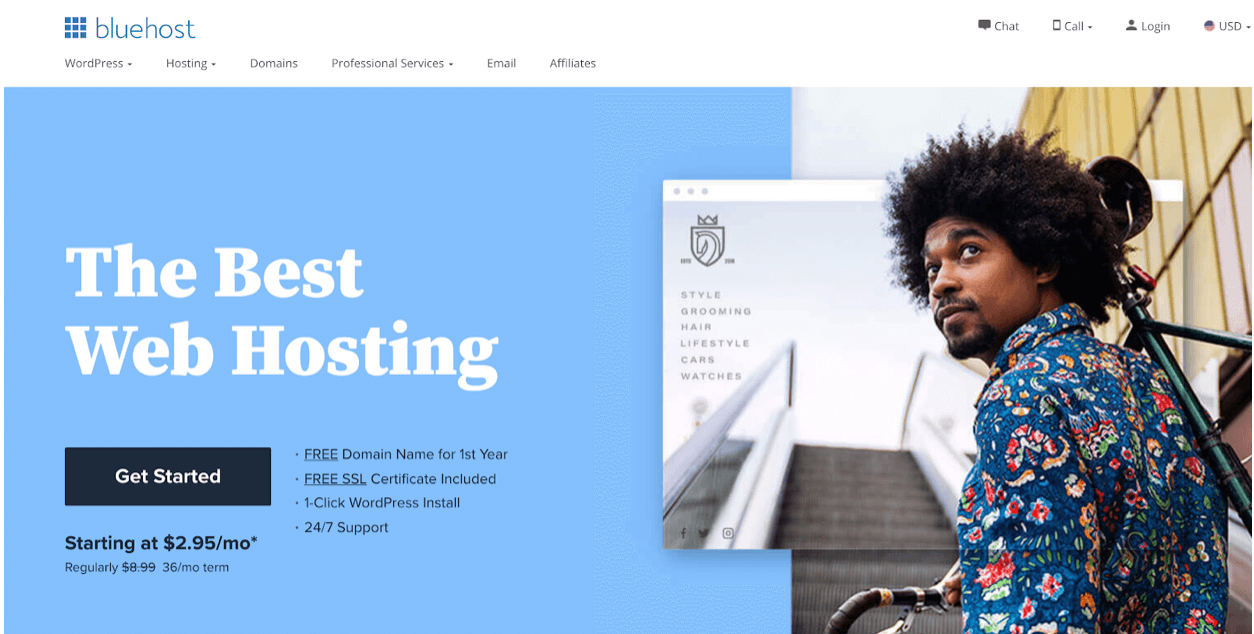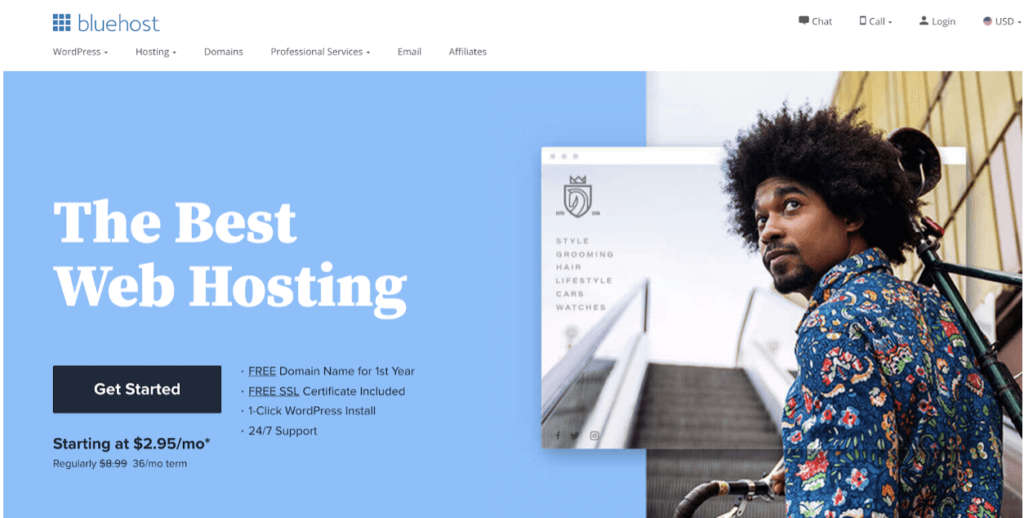 To get your hosting plan, head over to Bluehost here, and select the "Get Started" button.
From there, select the hosting plan that works best for you. Bluehost offers four plans, but each plan provides a free domain name for the first year.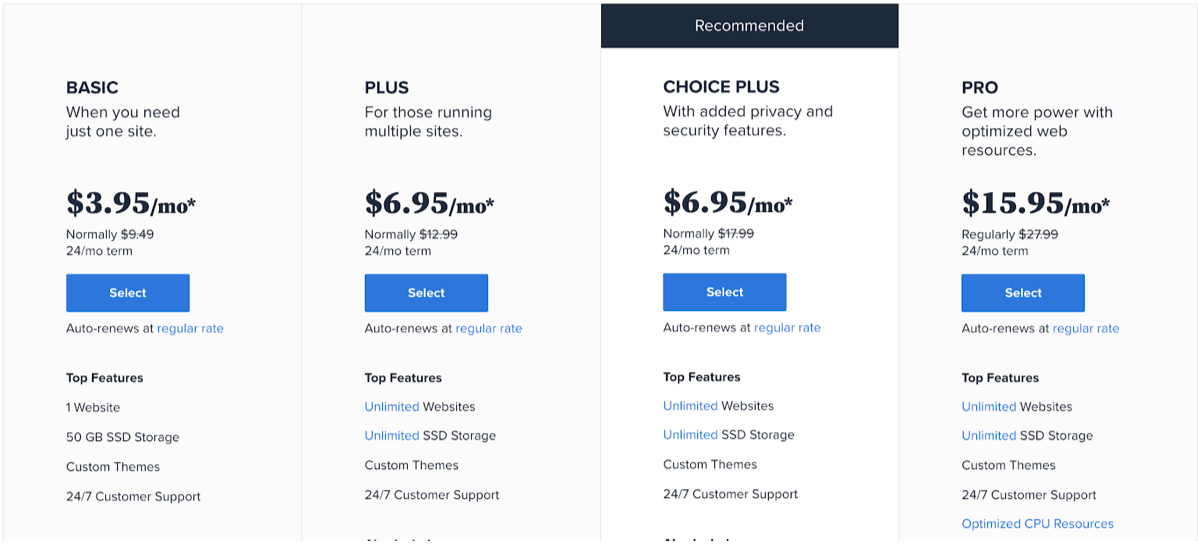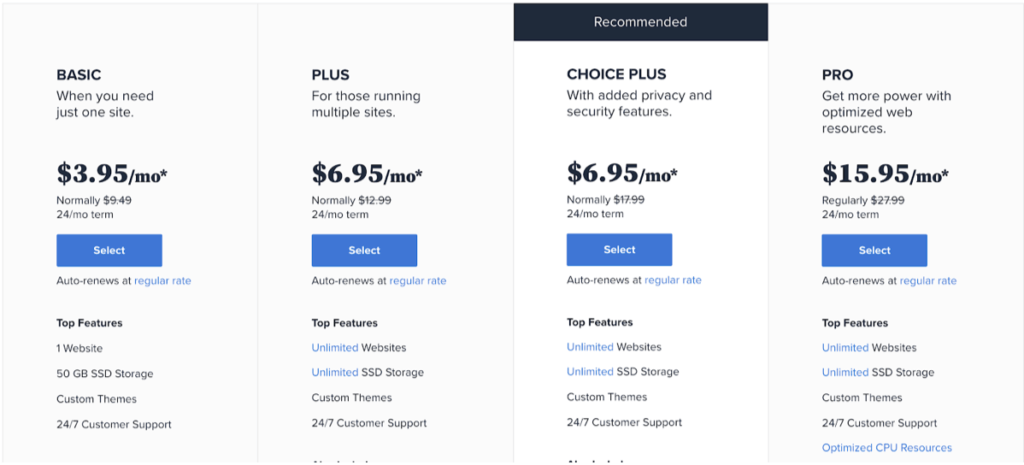 I recommend the Choice Plus plan, because the price includes Domain Privacy, which protects private information like your name, address, and phone number from the public.
2. Input Your (Free) Domain Name

Once you've chosen your preferred plan, choose your domain name.
If you already have a name in mind, enter it now. If your preferred name is already taken or you haven't made a decision on your domain name, you can opt to enter it later.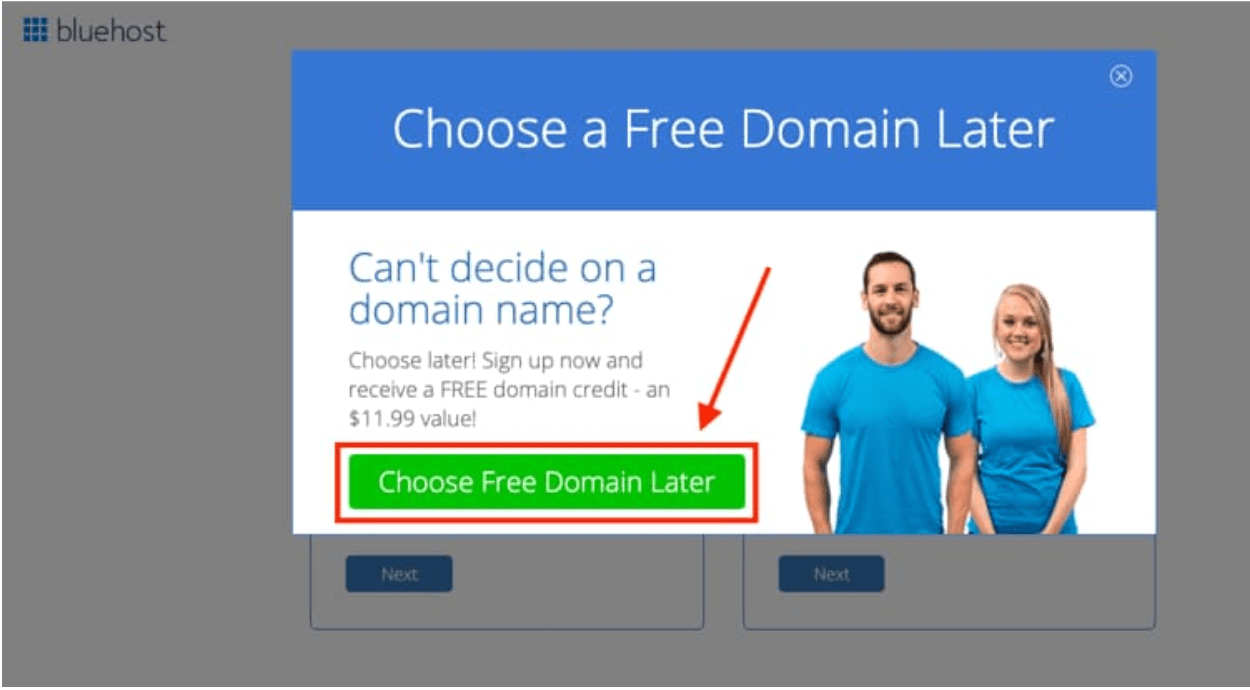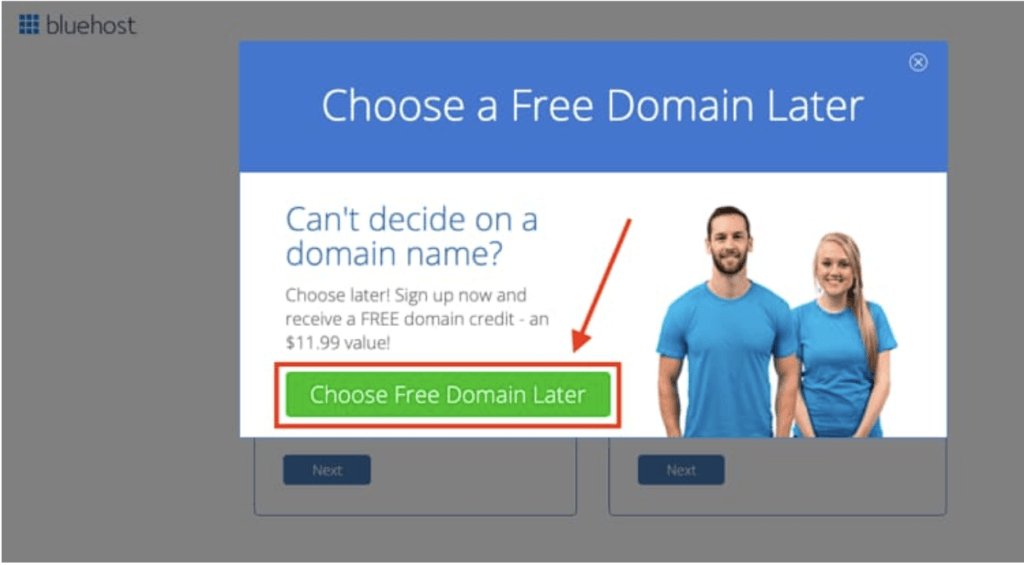 Or, if you want to find out if your domain name is available before you start the process with Bluehost, use their domain checker right here:
Check if your domain name is available:
This checker tool lets you know if your domain name (and extension) is available. If it's not available, it'll show you something like this:


It will also give you a list of the same domain name with other possible extensions, but I suggest sticking with .com since it's the most common and widely recognized.
3. Create Your Bluehost Account
After choosing your domain name (or opting to decide later), the next step is to create your Bluehost account.
Here, Bluehost will ask you for your email address, phone number, and address. It's extremely important to put in a real, current email address since this is the primary way they will be communicating with you going forward.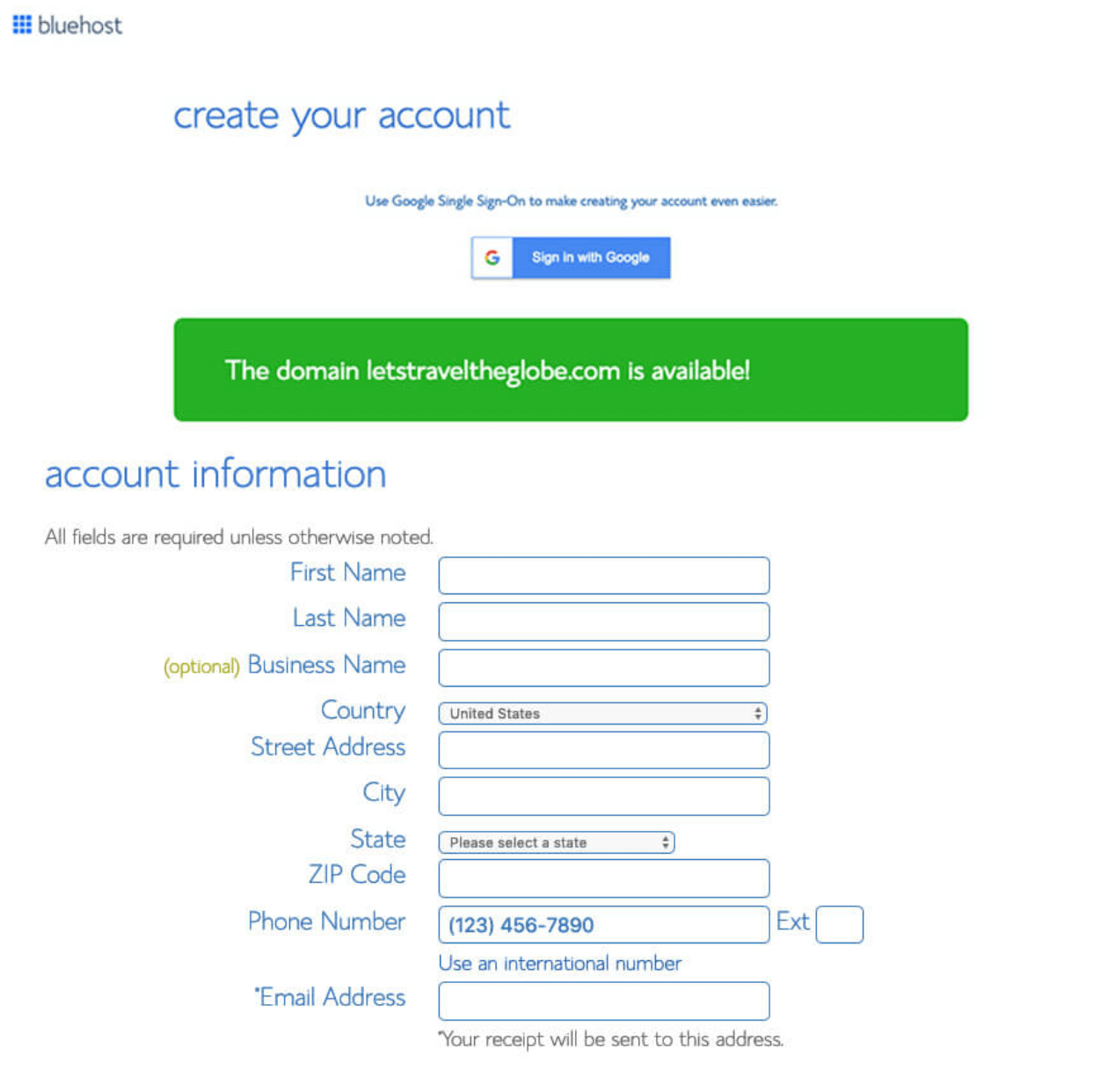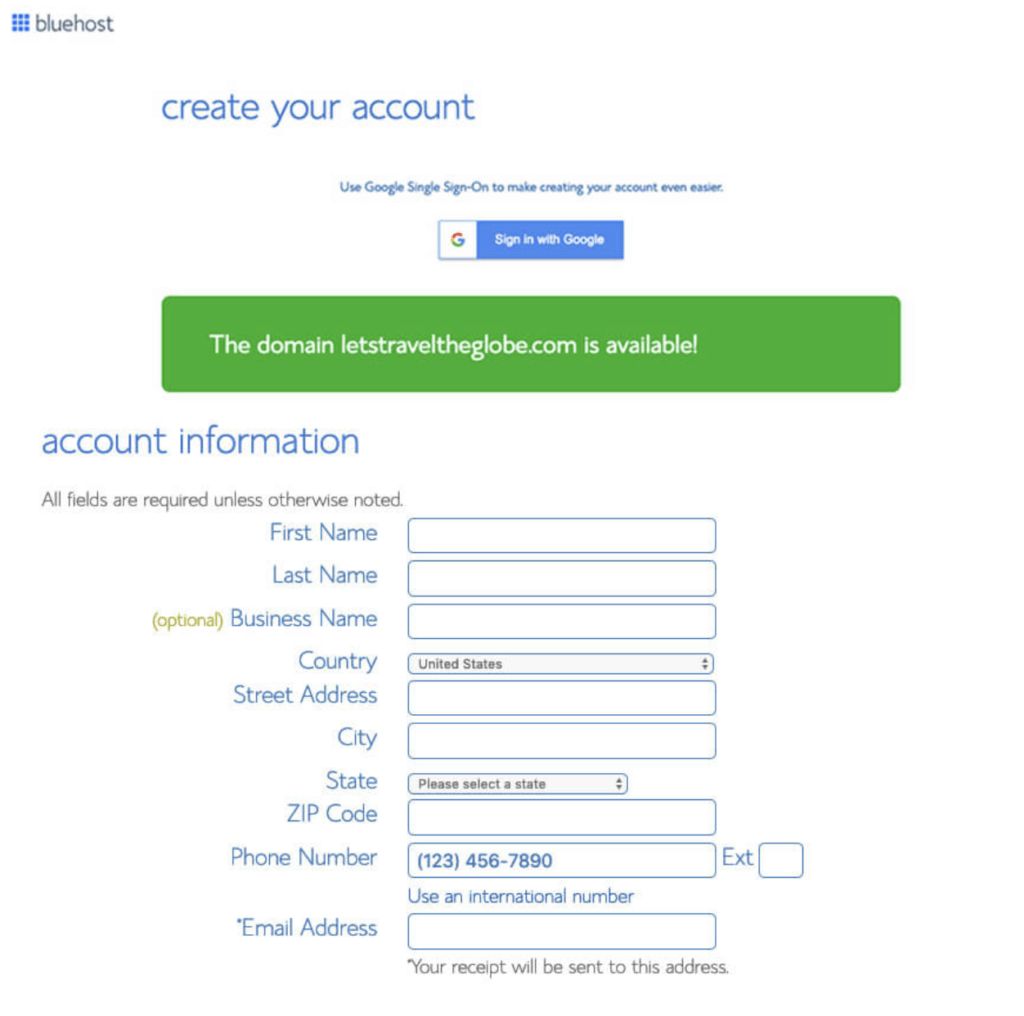 4. Select Your Hosting Package
Besides choosing a hosting plan, you'll also have to agree to a term length. Currently, Bluehost offers a 12, 24, and 36-month contract. Each step up is a longer commitment, but it's also a cheaper price per month.
The least expensive package is the 36-month plan, which is the one I recommend. You'll pay less overall, plus you get to lock in a lower introductory rate for three years, as opposed to one year with the 12-month package.
5. Choose Your Package Extras
At this point, you're almost finished! Your last step before billing is to select which package extras you want. Of those listed, I recommend choosing Domain Privacy Protection. The rest you can skip.
You'll get this free with the Choice Plus plan. So if you've chosen that plan, you won't have to select anything.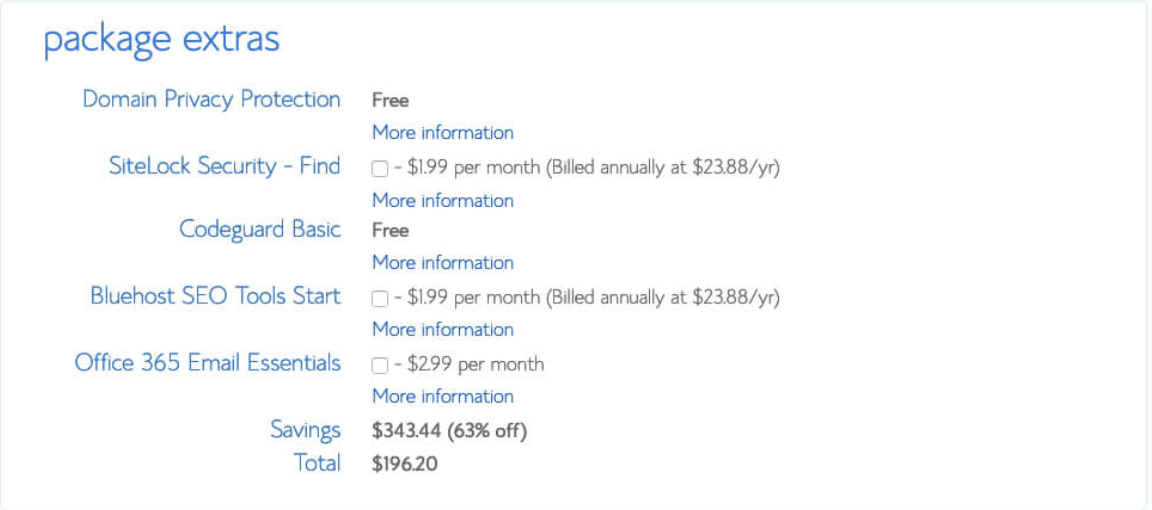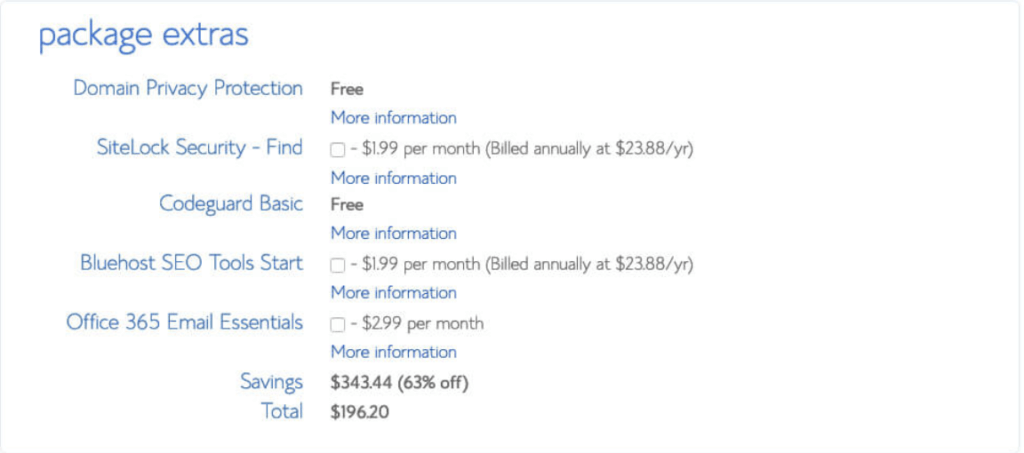 As for the other extras, there are a lot of free or inexpensive tools you can use to help with things like SEO optimization (including my own free keyword research tool & blog title generator tool).
I also have several guides including an important primer on blog SEO tips and pointers about how to optimize a blog post that are both packed with information about how to make your blog more SEO-friendly after launching.
6. Enter Billing Information
Your final step is to enter your billing information. Once you've entered your payment information, don't forget to agree to Bluehost's terms of service.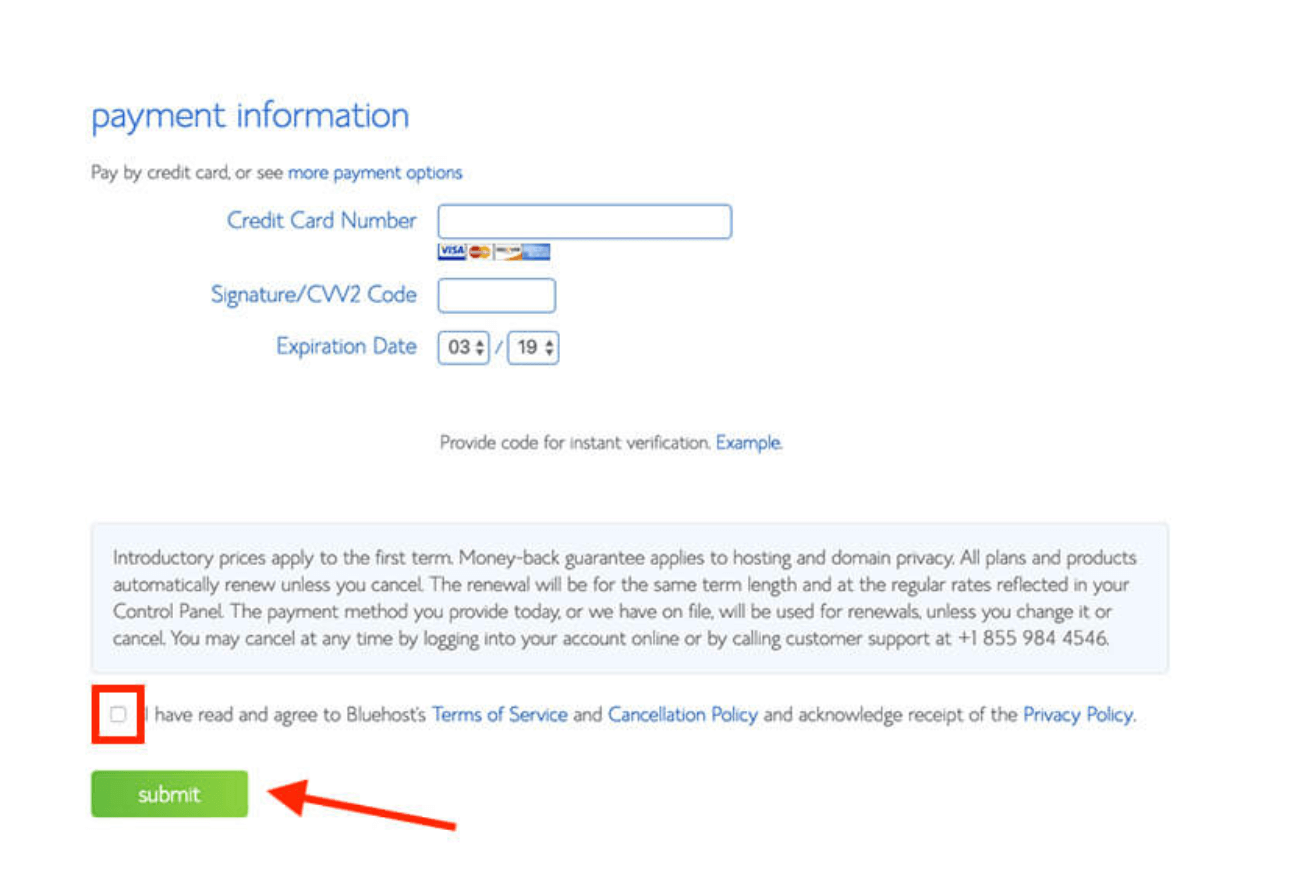 Now, you're done! Congratulations! You've signed up for an awesome hosting plan. Now you're ready to start your new blog, which you can set up, since a free domain name came with your package.
(Honorable Mention) Getting a Free Domain Name With Dreamhost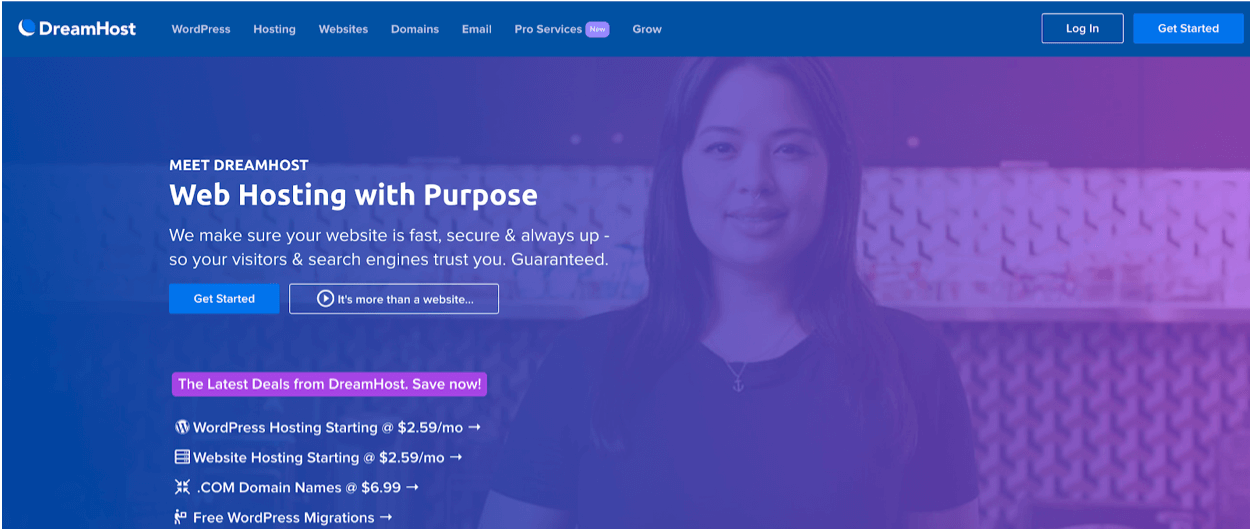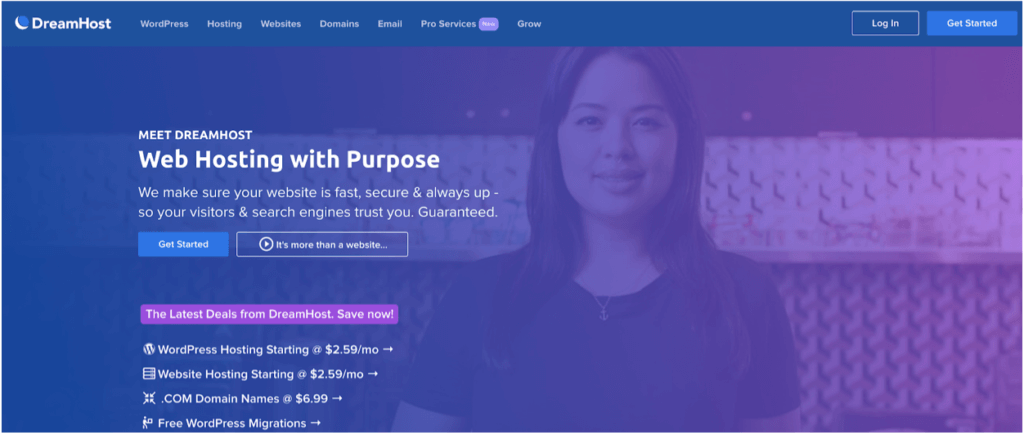 Dreamhost is another hosting plan I highly recommend. They offer inexpensive plans, they're fast, reliable, and have great customer service. Let alone the fact that Dreamhost offers one of the industry's only true monthly hosting plans that'll allow you to pay for your hosting month-to-month as you go.
Another benefit of choosing Dreamhost is they're carbon neutral, ranking them high on the list of green web hosting companies.
Like Bluehost, they're also recommended by WordPress and are one of the longest-running hosting providers on the Internet.
When you choose Dreamhost, your domain name is free for the first year, making it one of the best options for getting a free domain name for your blog.
(Next Best Choice – Not Recommended) Get a Free Domain Name With a Website Builder
Another way to get a free domain name is to pay for a plan with a blogging site that offers a domain name as part of their package plan.
A few website builders that include a free domain name with the purchase of one of their premium plans include:
These website builders do offer a free domain name, but you will still be paying for a plan in order to reap the benefit.
While this is one way to get a free domain name for your blog, it isn't the one that I would choose for new or experienced bloggers.
Website builders certainly have their benefits—they're easy to use, everything's included, and no coding experience is needed. Many bloggers choose Wix or WordPress.com so they don't have to take care of any of the backend work.
The appeal of website builders is obvious, but I wouldn't personally recommend them over WordPress.org. In case you aren't familiar, there are two versions of WordPress.
WordPress.com is a hosting service that uses the WordPress software to create a blog or website. WordPress.org is a free CMS that powers blogs and websites. You can learn more about it on my guide What is WordPress?.
Other website builders may be easier to get started with than WordPress.org, but they lack the customization and freedom you get with WordPress.
WordPress is free to use, and it allows you to do virtually anything you want with your blog.
With thousands of themes and plugins available, you can make your blog exactly what you want without being held back by a third party application.
Although WordPress' learning curve is a bit steeper than Wix or Squarespace, it's still very accessible to the novice blogger and you won't need to understand coding or difficult technology to get started.
Not only that, but there are a vast amount of online resources to help you work through any questions you might have when working with WordPress.
(Not Recommended) Get a Free Subdomain
There are some website builders that offer a completely free version of their software.
These free versions are far more limited than their premium counterparts, but they do give you the option to start a blog without any upfront costs.
Some website builders that offer a free version include:
These free website builders also offer a free subdomain along with their plans. Getting a free website plan and free subdomain is a perk, but these plans offer very little compared to the premium plans.
You'll also have to put up with their advertising on your site. In addition, a subdomain puts their branding alongside your name in the URL.
For example, in a typical domain name (not a subdomain), the address could be YourName.com, like it is here with mine:

With a subdomain, it would instead look something like this:
www.ryrob.wordpress.com
It gives your URL an overall less professional appearance as well as making it more difficult for people to remember your site address in the future.
(Poor Option) Domain Registrar Ad Programs
Another way to get a free domain name is through advertising programs. There are two main ways to get a free domain name this way.
The first is to pay for a domain name by displaying ads for a domain name registrar. In exchange for a free domain name, you agree to run ads on your page.
Another is to display referral ads on your page. You can earn your free domain name by referring other people to their site.
The main reason I consider this a bad option is how little return you get on these adverts. Yes, you're saving a few dollars, but ad space on your blog is precious.
If you're planning on using advertising, it's far more profitable to choose an advertising network that pays more than the $12 a year you'd pay to get a domain name.
(Worst Option) Use a Free Domain Name Registrar (ccTLD Services)
In some cases, you may be able to get a free domain name through a ccTLD (Country Code Top Level Domain) depending upon where you live. When people sign up for a domain name, they have to do it through a registrar.
A top-level domain (TLD) refers to the extension at the end of your website. Mine is .com, but there are many other available extensions available such as .org, .edu, or .net.
There are also country code (cc) extensions. You may have seen this when you visited an official government website. For example, this is England's government website: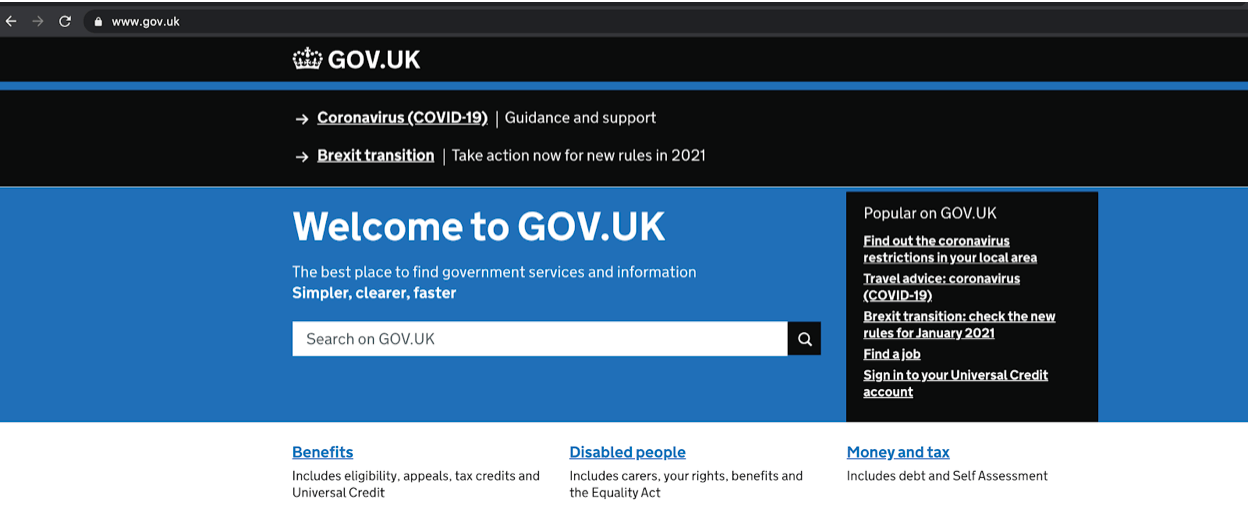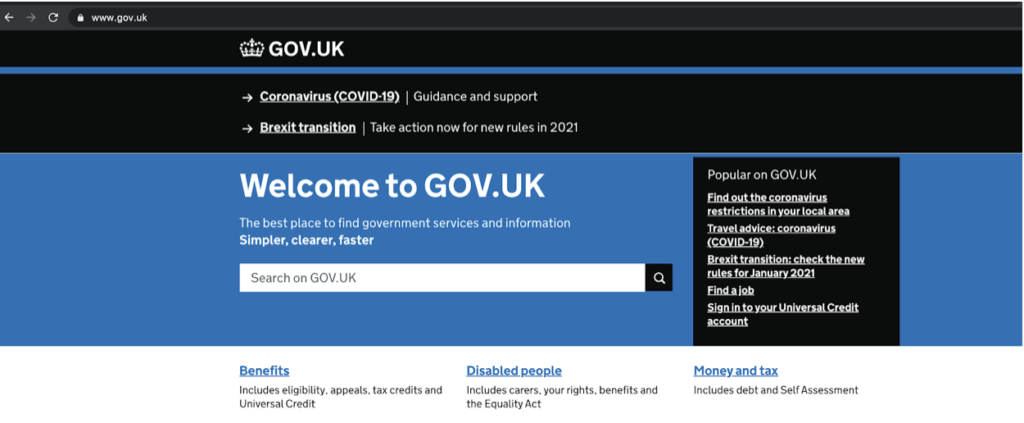 You can see that the extension at the end is ".uk" not ".com".
Some country code extensions are available for free. Included on this list are the extensions:
.tk – Tokelau
.ga – Gabon
.ml – Mali
.cf – Central African Republic
.gq – Equatorial Guinea
The purpose of country extensions is to show the geographical location of certain websites.
However, because these extensions are offered for free, there are quite a few websites using them that are not related in any way to these countries.
According to the hosting service Ionos by 1&1:
"The .tk domain ending is a special case when it comes to country domains. Over 30 million websites use this ccTLD, even though the island state of Tokelau, which officially presides over this domain extension, has less than 2 million inhabitants. The mass registration of .tk websites can be put down to the fact that in the past, it was completely free of charge to secure an internet address with this ccTLD. Even now, website owners with a .tk TLD can run their sites without paying a dime for the first 12 months after registering."
This is why I consider this the worst option on the list. You do get a domain name for free, but you'll have an extension most people won't recognize and one that makes your website look very untrustworthy.
Another reason not to use this free domain name is that people who have used the free extension report their domain name being spontaneously removed.
It also runs the risk of ranking lower on a Google search, since the extension is less recognizable.
This is not a reputable way to get a domain name, and simply not a worthwhile way of saving money on a domain name.
What Free Domain Name Option Works Best For You?
After reading through this guide, which option do you think is best for your blogging strategy?
Do you think you'd like to try to get a free domain name through a hosting company, or would you prefer to run ads on your blog in exchange for a free domain name?
Maybe you'd like to pay the regular price for a domain name and find other ways to save money on your blog.
My top choice for domain name registrar (if you're not getting your domain name free through Bluehost) is Namecheap. They're inexpensive, reliable and very easy to work with.
What about you? Do you know of any other ways to get a free domain name that isn't on my list?
Do you have other ways to save money as a blogger?
I'm looking forward to hearing your ideas in the comment section below.
Use My Free Domain Name Generator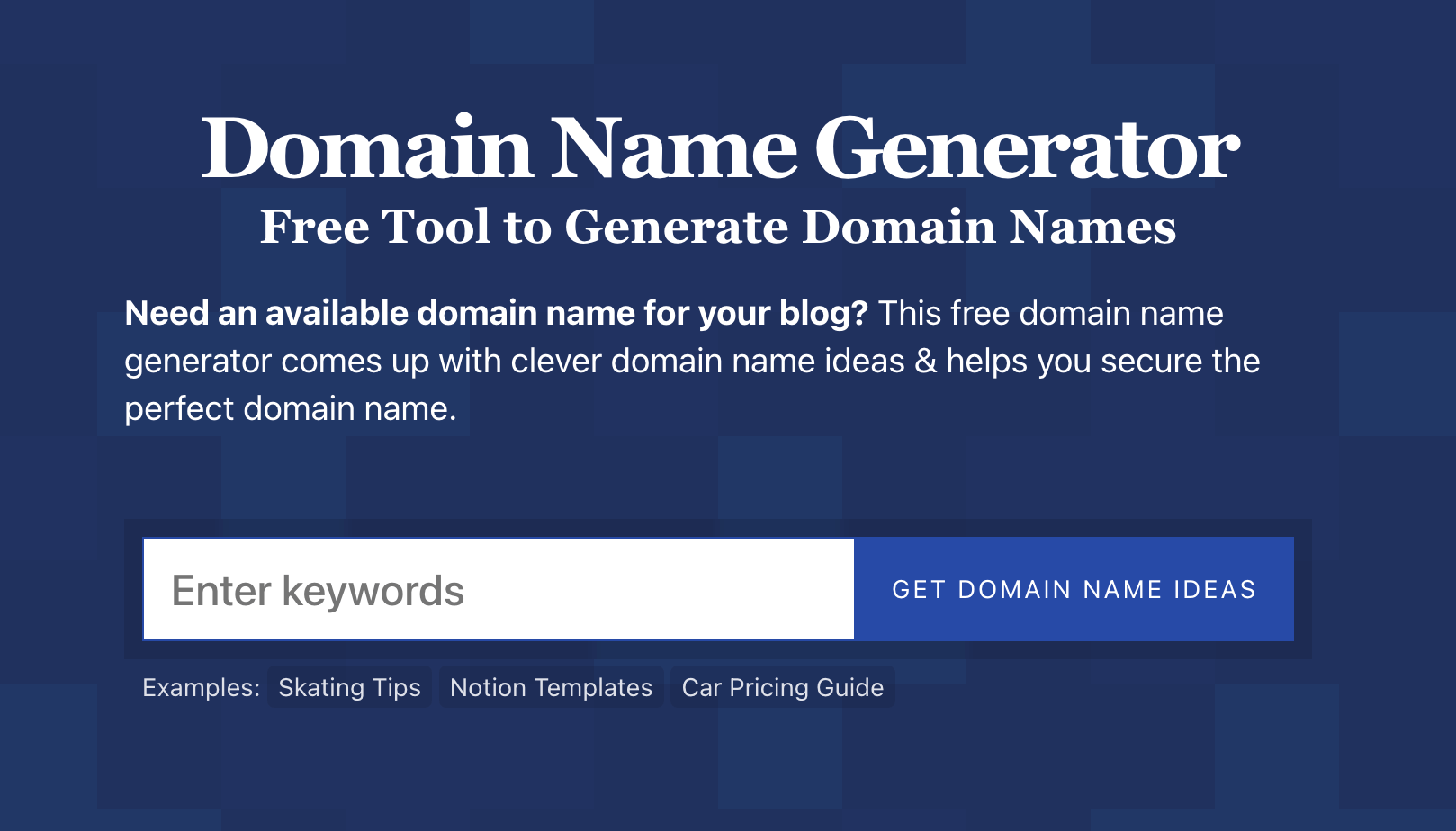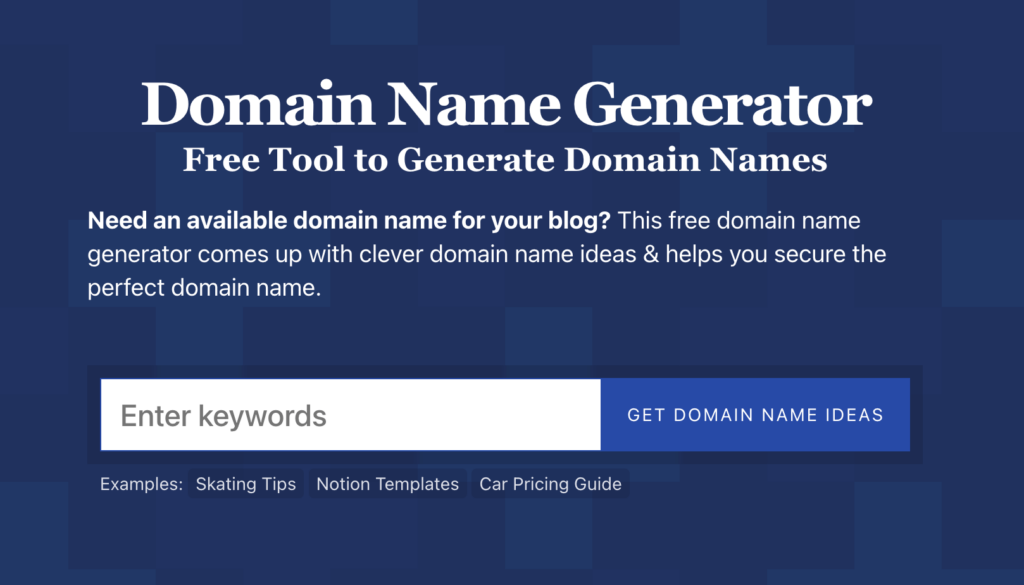 Try my free AI-Powered Domain Name Generator to get dozens of creative (available) domain name ideas today.
---