Since adding RightBlogger's content tools into my AI blogging process, I've been able to publish more content, faster. About 3x faster.
In this video, I'm walking through exactly how I go from doing keyword research, to identifying a good SEO opportunity, generating a dozen article ideas & getting an awesome first draft article written in just a few minutes using AI:
---
If my new AI-assisted content creation process looks exciting (and you'd like to reduce the time investment in your blogging process too), I'd love for you to join us inside RightBlogger today.
Try RightBlogger: My 50+ Hand-Crafted Tools for Bloggers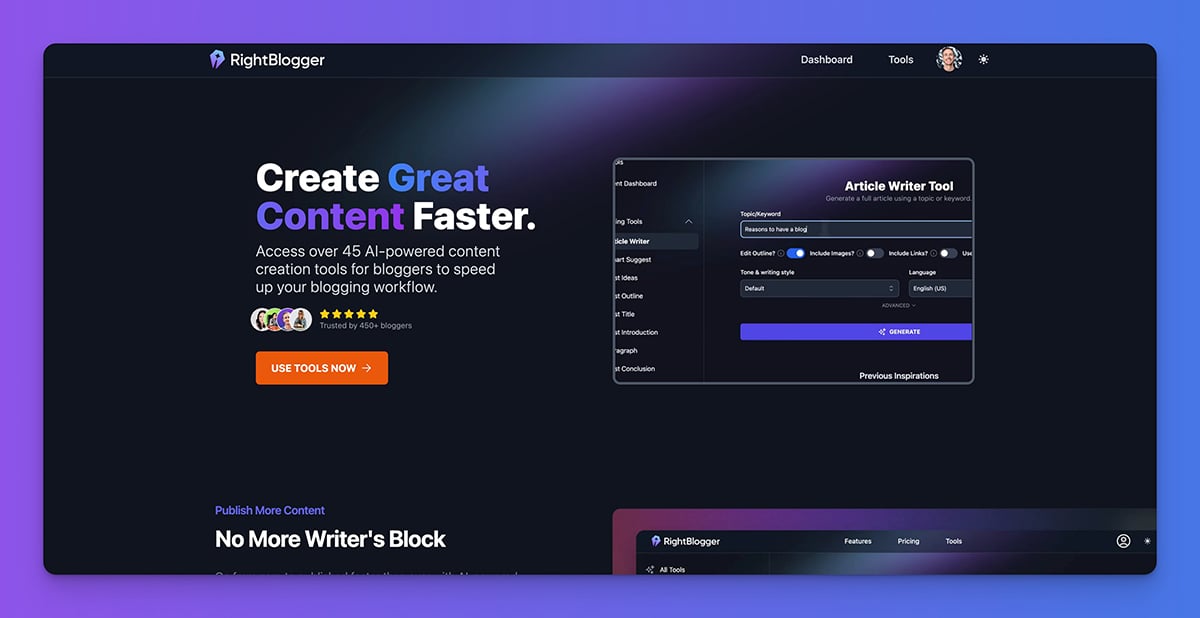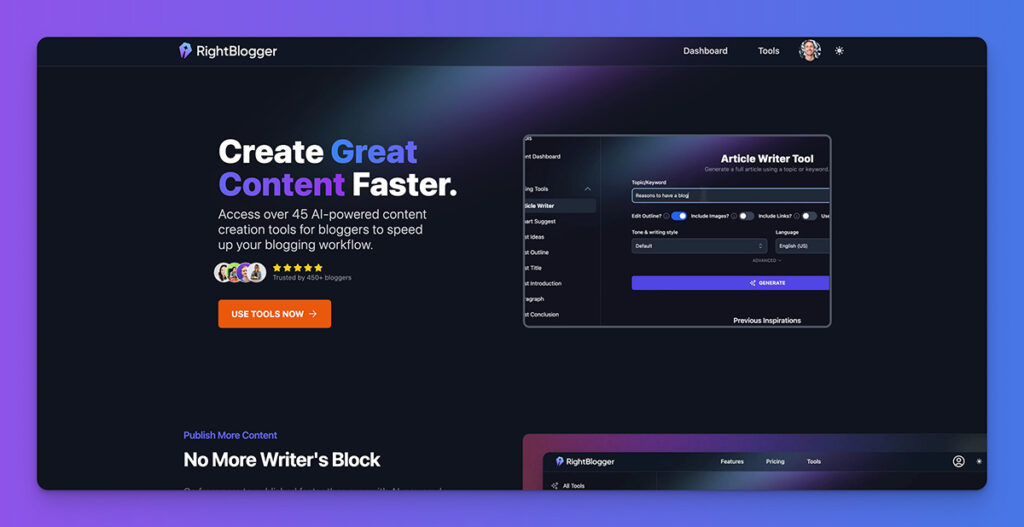 Try my very own Content Creation Toolbox for Bloggers: RightBlogger, to get access to 50+ blogging, SEO, marketing, sales and productivity-focused tools to blog faster & more effectively today.
---
I'll soon be adding a more detailed written guide here with best practices, walking through everything that's changed in my blogging process—but I wanted to get you this video guide as soon as I made it over the weekend!
My AI Blogging Process: How I Create Content 3x Faster
In short, I'm able to publish more content, faster. About 3x faster.
AI-generated content has quickly become a way to get a fantastic first draft in just minutes, to speed up my writing workflow.
Here's a graphic illustrating everything that's changed in my content creation process with the introduction of AI tools: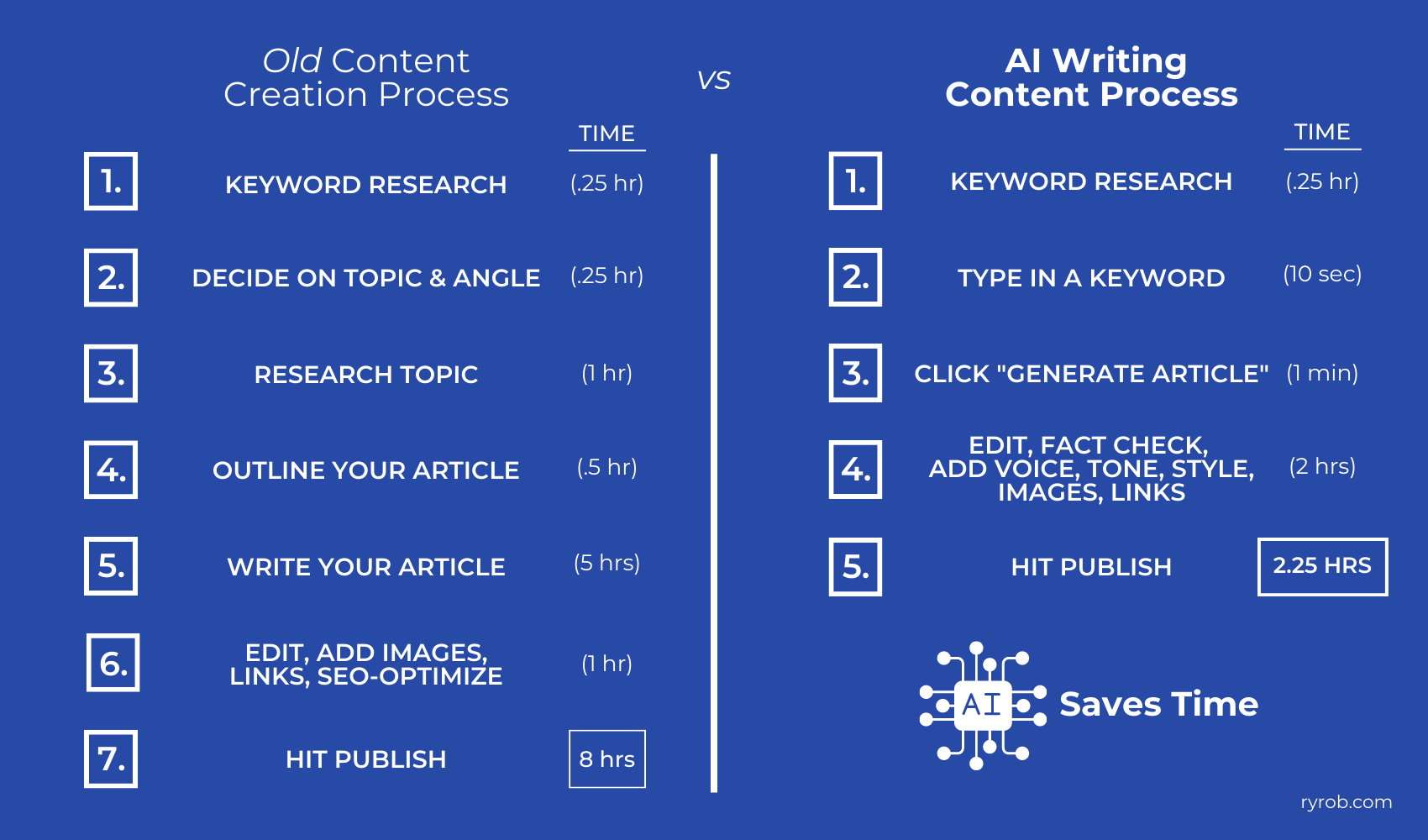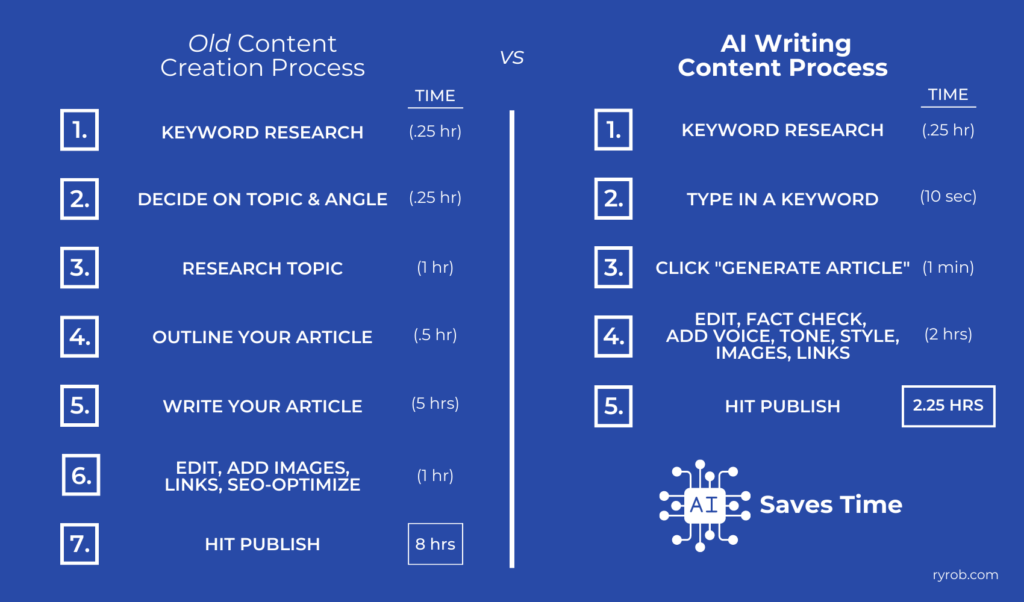 Not bad, right? These kinds of productivity gains don't come around often (not in the 10+ years since I started my blog), and AI tools are making it possible, right now.
Naturally, not every article I create through this AI-assisted process takes exactly 2.25 hours—that's an average so far as I get used to this new content workflow and I expect more gains over time. Plus, some articles will always be more in-depth and require more of my time during the editing process.
I also still work with a couple of fantastic freelance writers who help me create more high-quality first draft content for my blog (faster than I'm able to do, just by myself) & they've been implementing RightBlogger into their processes too.
Here's a quick breakdown of the things that've changed with my new AI blogging process:
Less Time Deciding on an Angle: Unless I'm approaching a blog topic with a very specific angle already in mind, I usually let RightBlogger decide how to best approach a topic I'm blogging about—and if I don't like the outline, I'll made adjustments to it before generating a full article. Even cooler, if I don't like the first article I've generated, I'll just edit the prompt options a little, re-submit it and get a completely new article in minutes.
Less Time Researching (More Fact-Checking): Luckily by now, I'm very well-versed in all things "blogging" that I publish about here, so I don't often need to do a ton of research for an article, but still—the AI behind-the-scenes in RightBlogger almost always does a great job of sourcing the correct information I want for a blog post. Still, it's extremely important to fact-check the content AI produces, because it's prone to make accidental mistakes. In particular, any facts, figures or statistics, I take extra care to double check.
Zero Time Outlining: RightBlogger's outlining process usually generates a stellar outline on its first go, but I find I'll still usually make revisions—adding new sections, removing something I don't need to cover, changing the order of the sections it'll write, and giving the prompt a little more detailed information to work with.
WAY Less Time Writing: This is where almost all of the productivity gains come from when you add AI into your blogging process. With RightBlogger, we've worked hard to fine-tune the prompts we're sending to OpenAI, so that you'll get back a really solid, SEO-friendly first draft of a blog post to work with. AI has helped me reduce my writing time on an article from between 3 to 8 hours (sometimes much, much more) down to around 2 hours of writing combined into my new editing process.
Significantly More Time Editing: The big trade-off when adding AI tools into your content workflow, much less writing and much more editing. It takes time to thoughtfully inject your own humanity, voice, tone, style, experience and examples into an article when you're not writing it from start to finish, yourself. Along with fact-checking while editing, I find I'm often still writing a good amount of content throughout my AI first drafts—stories, examples, newly inspired sections that come to me while editing—to make these articles uniquely my own.
I'll be updating this guide soon with more in-depth best practices on how to blog with the assistance of AI tools.
Try My Free AI Blogging Tools
We've been hard at work building more free versions of the AI blogging tools we have inside RightBlogger, so that I can share them with you—even if you're not yet ready to dive all the way into AI-assisted blogging. Here are my favorites so far:
More free AI-powered blogging tools will continue coming out on my blog soon.
However, the fully powered, unlimited versions of all these tools (and 35+ more) already live inside RightBlogger where you can unlock them right now.
Read My Best Content About AI & the Future of Blogging
If you're looking for some inspiration on other ways to weave AI tools into your blogging process, check out these guides:
I'm working on more content about how I'm personally using AI to scale my content production, so stay tuned!
If you're not already subscribed for my weekly blogging advice emails, head over and join my newsletter right here.
And of course, if this video spoke to you, I'd love to invite you to come and join 200+ bloggers, content creators, writers and marketers using RightBlogger today.
Try RightBlogger: My 50+ Hand-Crafted Tools for Bloggers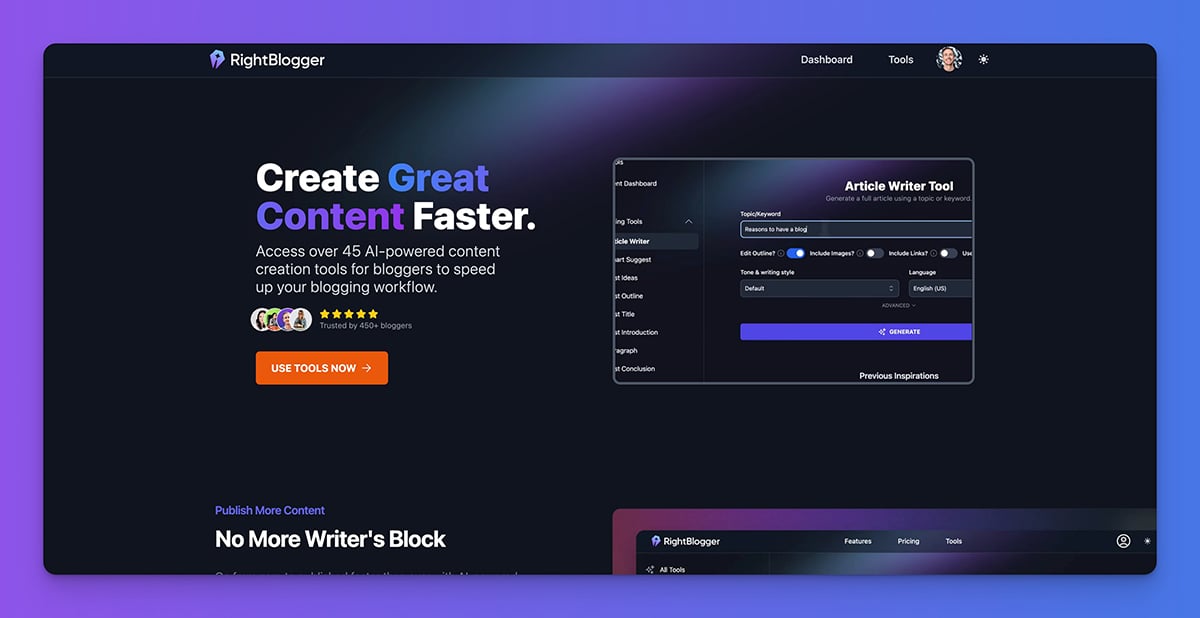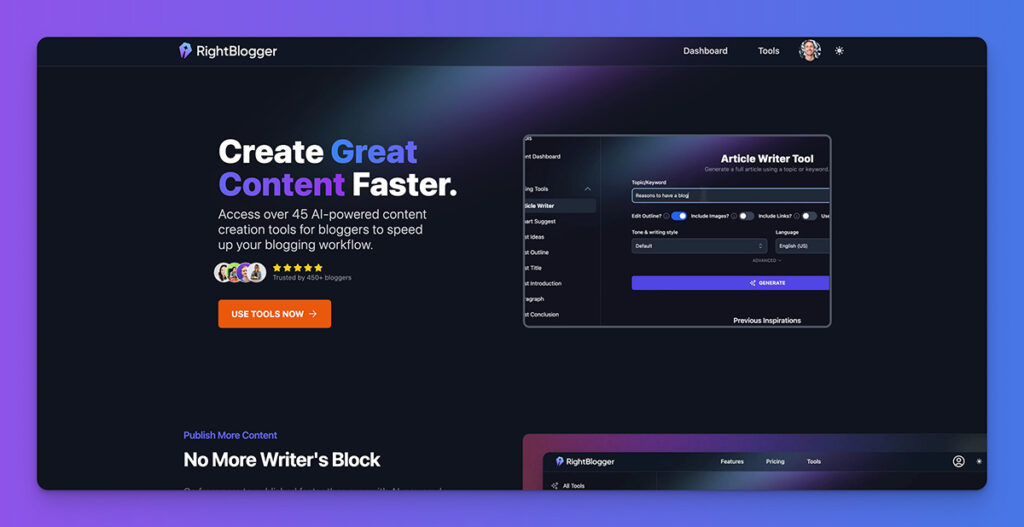 Try my very own Content Creation Toolbox for Bloggers: RightBlogger, to get access to 50+ blogging, SEO, marketing, sales and productivity-focused tools to blog faster & more effectively today.
---
---
Frequently Asked Questions about AI Blogging Process
Here are some of the most common questions I get asked about using AI in my blogging workflow.
How do you use AI in blogging?

AI, or artificial intelligence, has changed many fields, and writing is no different. AI can be used to speed up the process of writing blog posts, finding keywords, coming up with titles, and even suggesting content ideas. The most popular AI tool at the moment is ChatGPT. You can ask ChatGPT to write just about any type of content you want in any format. Bloggers who don't want to figure out how to write ChatGPT prompts can use AI tools like RightBlogger and Jasper. No matter what tool you use AI can also help you quickly write new blog posts and publish more.
What is AI in blogging?

AI in blogging means using a Large Language Model (LLM) to improve different parts of the blogging process. This includes things like analyzing data to find trends and patterns, coming up with ideas for content, making sure content is optimized for search engines, and even automating jobs like scheduling social media posts and email campaigns.

By using AI in your blog, you can save time and work while also making the material better and more relevant. AI is quickly becoming an important tool for bloggers who want to stay competitive. It can do everything from make headlines to analyze how engaged an audience is.
Is there an AI that helps you write blogs?

Yes, there are a few tools that use AI that can help you write blogs. Some of these tools include ChatGPT, RightBlogger and Jasper. These tools can help with many things in your blogging workflow including writing articles, coming up with ideas, and even writing meta descriptions. Though these tools can help speed up the writing process, it's important to remember that they can't replace your experiences, creativity, and critical thinking. In the end, the blog post's quality will rest on how well you can offer unique insights and perspectives.
Can AI blogging process replace human writers?

No, AI writing can't completely take the place of human writers. It can automate the process of making first drafts, but it can't match the creativity and originality of a real writer. There will never be a replacement for experiences lived by a writer. It can, however, be used to help human writers and improve the amount of content that is written.
Will AI replace blogging?

AI has made a lot of progress in the past few years, leading some to wonder if it could one day replace all human writers. Even though AI can quickly and easily create content on a wide range of themes, it's unlikely that they will soon replace all human bloggers. AI might be able to write correct and informative articles, but it doesn't have the creativity and personal touch that human bloggers do.