There are lots of great mom blogs out there—but parenting blogs aren't just for moms. There are plenty of dad bloggers out there, too.
Dad blogging can be a way to reflect on fatherhood, record precious memories, connect with other dads around the world, and starting a blog can even be a great path to making money online.
If you're a dad interested in blogging, check out some of these great dad blogger examples for inspiration. Then toward the end of this guide, we'll go through everything you need to do, in order to get your own dad blog up and running today.
8 Best Dad Bloggers & Influencers to Follow in 2023 (Dad Blog Examples): How to Start a Dad Blog
Disclosure: Please note that some of the links below are affiliate links and at no additional cost to you, I'll earn a commission. Know that I only recommend products and services I've personally used and stand behind. When you use one of my affiliate links, the company compensates me, which helps me run this blog and keep my in-depth content free of charge for readers (like you).
What is a Dad Blog?
A dad blogger is a father who blogs about their experiences, opinions, and advice related to parenting. Dad bloggers often share their personal stories and insights with their readers, discussing topics like fatherhood, family life, and child development. Most dad bloggers are motivated by connecting with other fathers and offering their unique take on the challenges (and joys) of raising children. Whether they're sharing humorous anecdotes in written blog posts or providing practical tips on their YouTube channels, dad bloggers are an essential part of the online parenting community today.
Now, let's dive straight into my picks for the best dad bloggers to learn from this year (and they'll serve as great dad blog examples if you have aspirations of starting a blog, yourself too).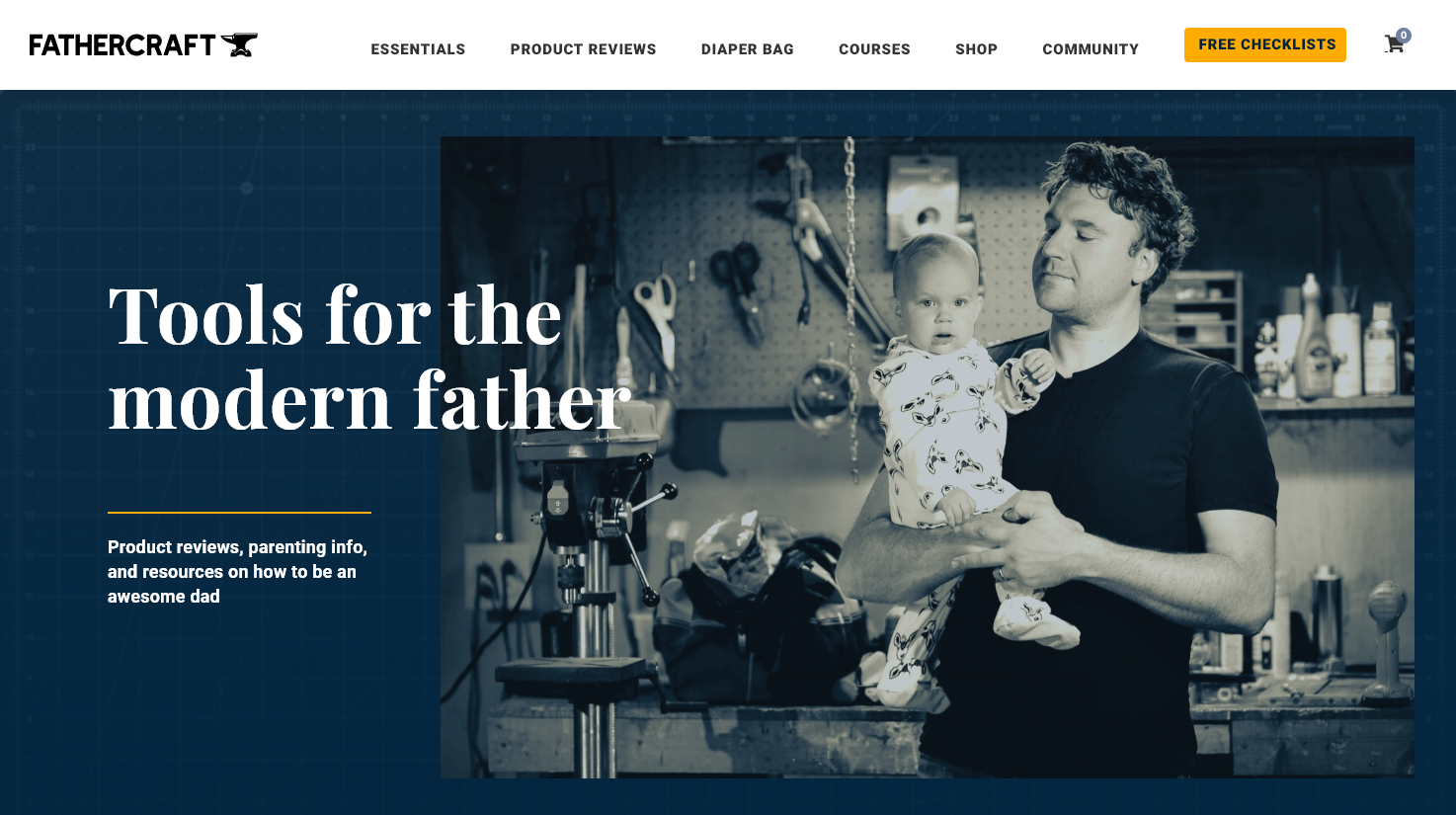 Fathercraft, founded by dad bloggers & brothers-in-law Paul Zalewski and John Doht, is a huge daddy blog packed with product reviews, parenting advice, and more, with a focus on parents of babies and 1- to 2-year-olds. It offers free downloadable resources aimed at first-time dads and new parents.
As well as monetizing through affiliate links, Fathercraft offers online courses, merch, and a stylish diaper bag for dads.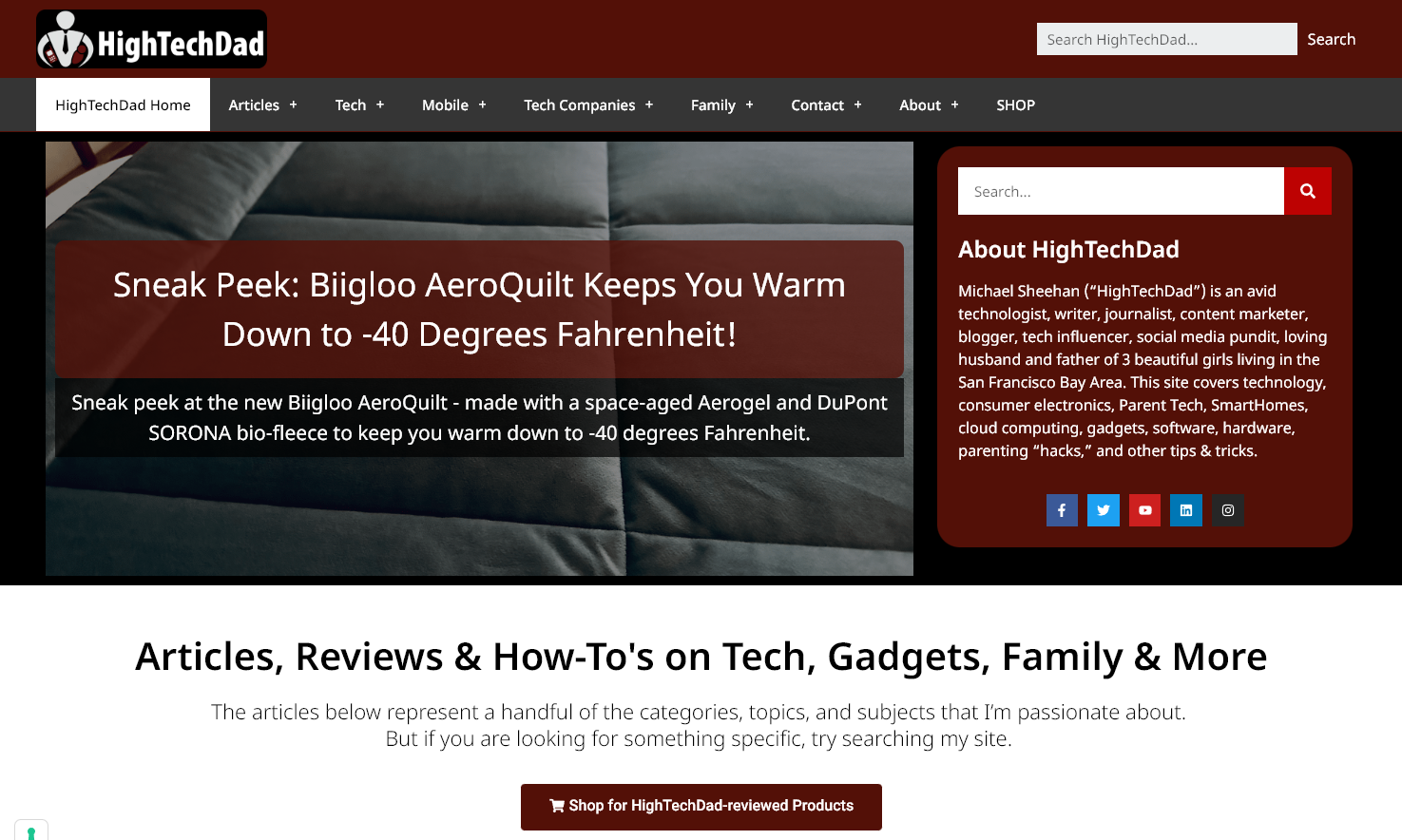 Gadget-loving and geek dads will be right at home at HighTechDad. Run by Michael Sheehan, this dad blog example covers a wide range of gadget and tech topics—usually with a parenting slant.
With its focus on tech and gadgets for parents, HighTechDad makes the most of affiliate marketing to monetize their blog. Posts include a lot of reviews and product roundups, plus there's a shop full of products with affiliate links—making this a great example of a profitable blogging niche to explore.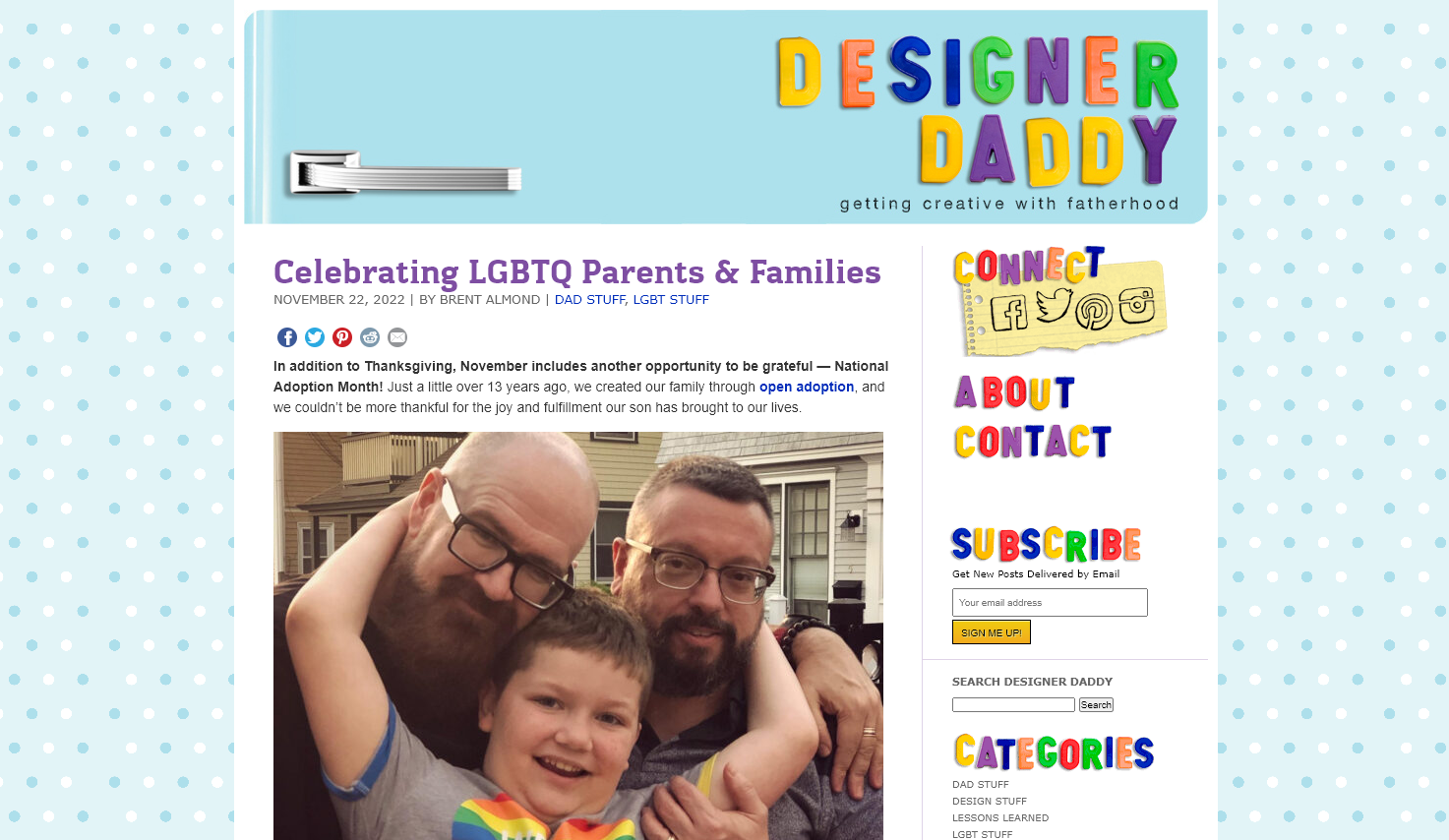 Taking a more old-school approach, the Designer Daddy blog is very much a dad's take on a personal blog from a layout perspective, with a very traditional sidebar, family photos, and a colorful design. It's run by Brent Almond, who writes about life as a gay dad raising an adopted son and about LGBTQ issues in general.
There's some monetization in the form of affiliate links, plus Brent links from the blog's About page to his work as an illustrator and designer, which serves to generate freelance work for him when a reader that could use his creative eye, connects with his mission.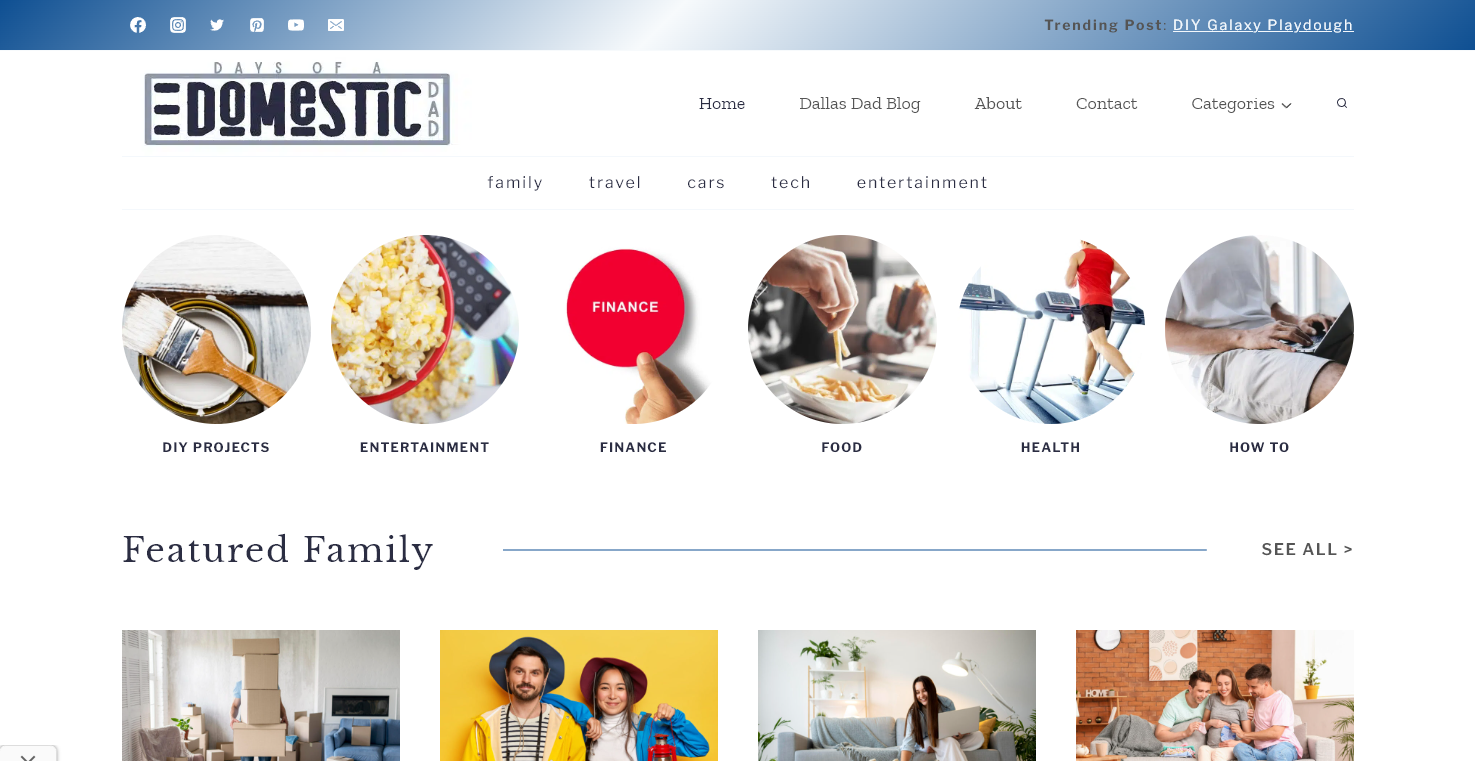 Days of a Domestic Dad is run by father of 5 (and grandfather of 2) Colby Shipwash. It's packed with posts related to family and home, covering everything from starting a family to how-to guides on cleaning dryer vents. There's a focus on cars, travel, tech, and entertainment content, which are often home base topics for many of our top dad bloggers.
Like many other dad blogs, it's monetized through affiliate marketing, with lots of product reviews, and they also run blog advertisements through Google AdSense. Colby is active on social media, including Facebook and Instagram, from where he drives much of his blog traffic.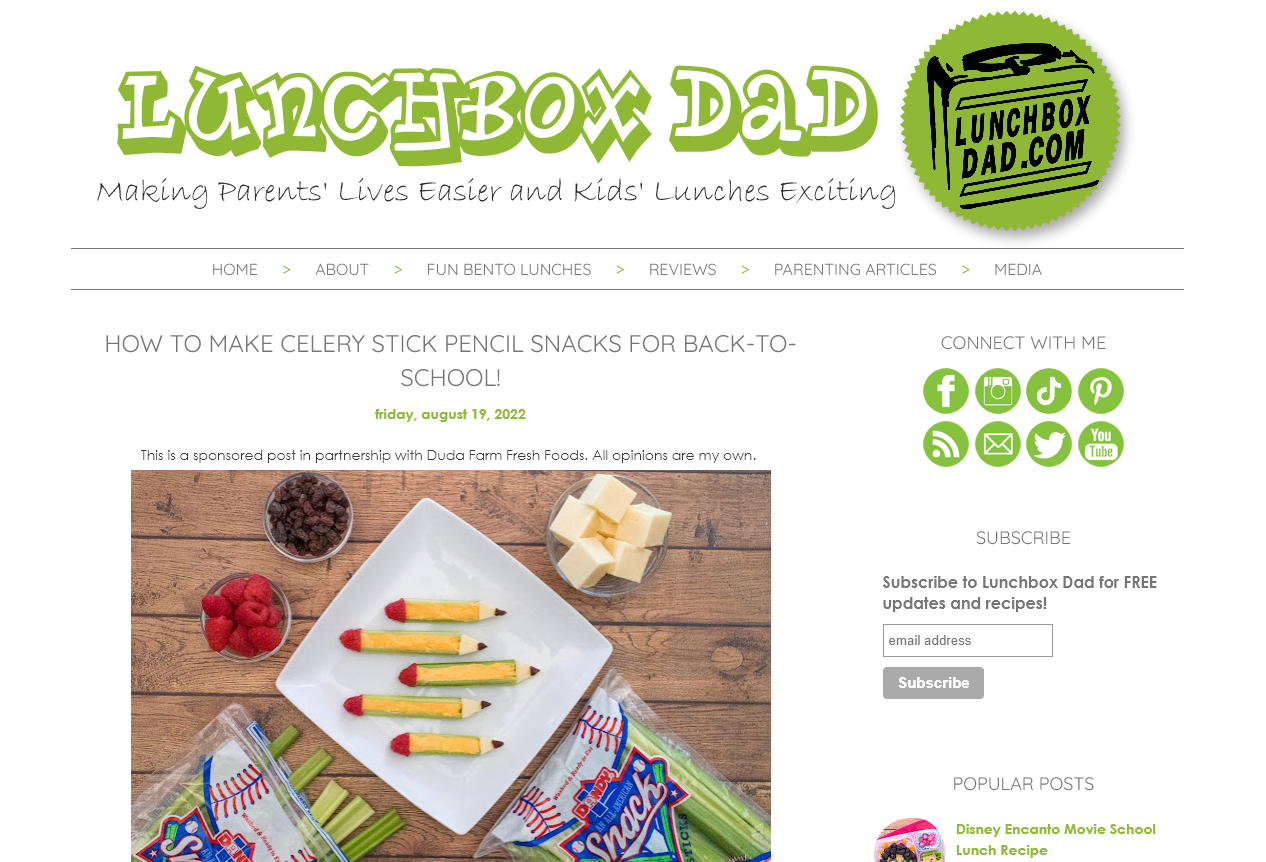 This dad blogger really resonates with me personally, because my step-dad, Dave, was a fantastic lunch packer when I was growing up. Lunchbox Dad, run by Beau Coffron, shares lots of fun and creative lunch ideas for fellow dads to gather inspiration, with simple instructions for creating Bento-box style packed lunches. There are holiday-themed lunches, lunches based on popular cartoon characters, and more.
The blog is monetized through some affiliate links and sponsored posts. Beau also writes for the Huffington Post as well as other sites.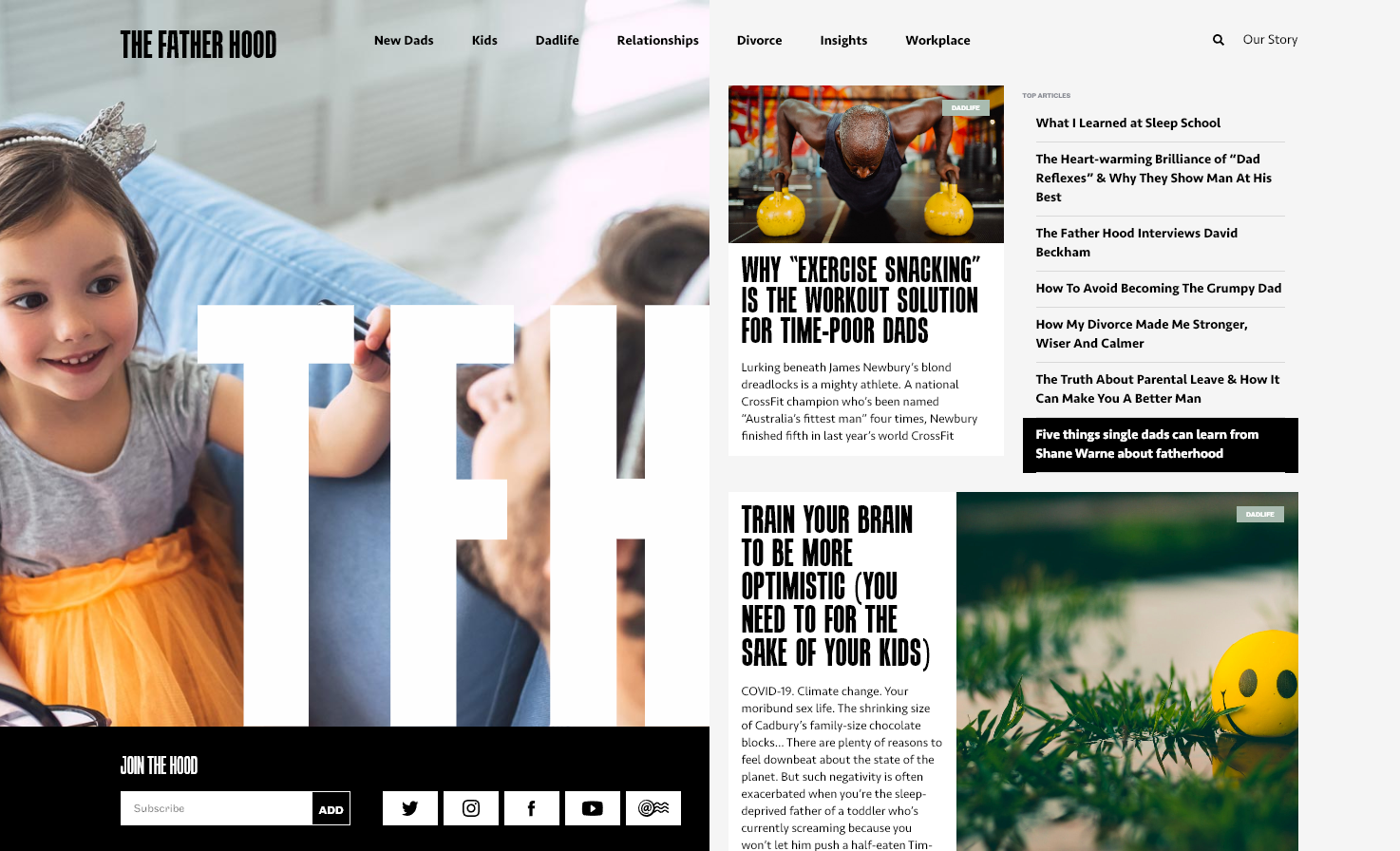 The Father Hood, founded by Australian dads Jeremy Macvean, Andrew McUtchen, and Luke Benedictus, is packed with thoughtful content about being a dad. It covers parenting tips for all stages from babies to teens, and also takes in areas like relationships, workplace issues, and mental health. There are also interviews with other well-known dads & dad bloggers, like Joe Wicks, as well as plenty of first-person accounts of fatherhood.
This dad blog makes money through the founders' consulting business, working with employers who want to make their workplace more supportive for dads.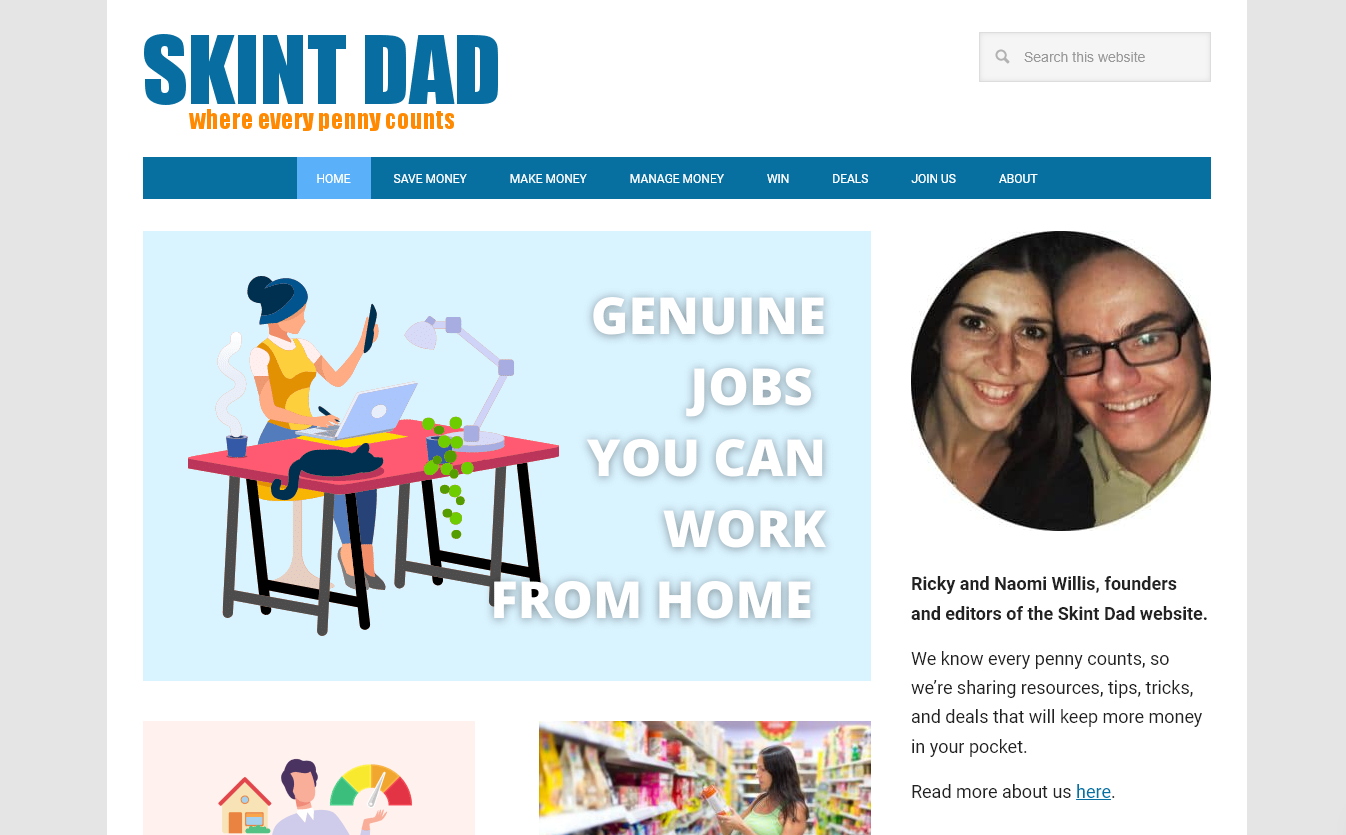 Skint Dad, from UK-based husband and wife team Ricky and Naomi Willis (technically a mom blogger, I suppose), is aimed at families that are on a tight budget. You won't find general parenting advice here: instead, it's all about ways to save money, make money, and manage money when you've got kids—frugal living has become such a popular type of blog to start.
The site has a number of affiliate partnerships along with running ads in order to make money. While it's more of a money blog than a dad blog, it's still well worth a look if you want to bring your experience as a dad to a topic like money (or travel, food, and more).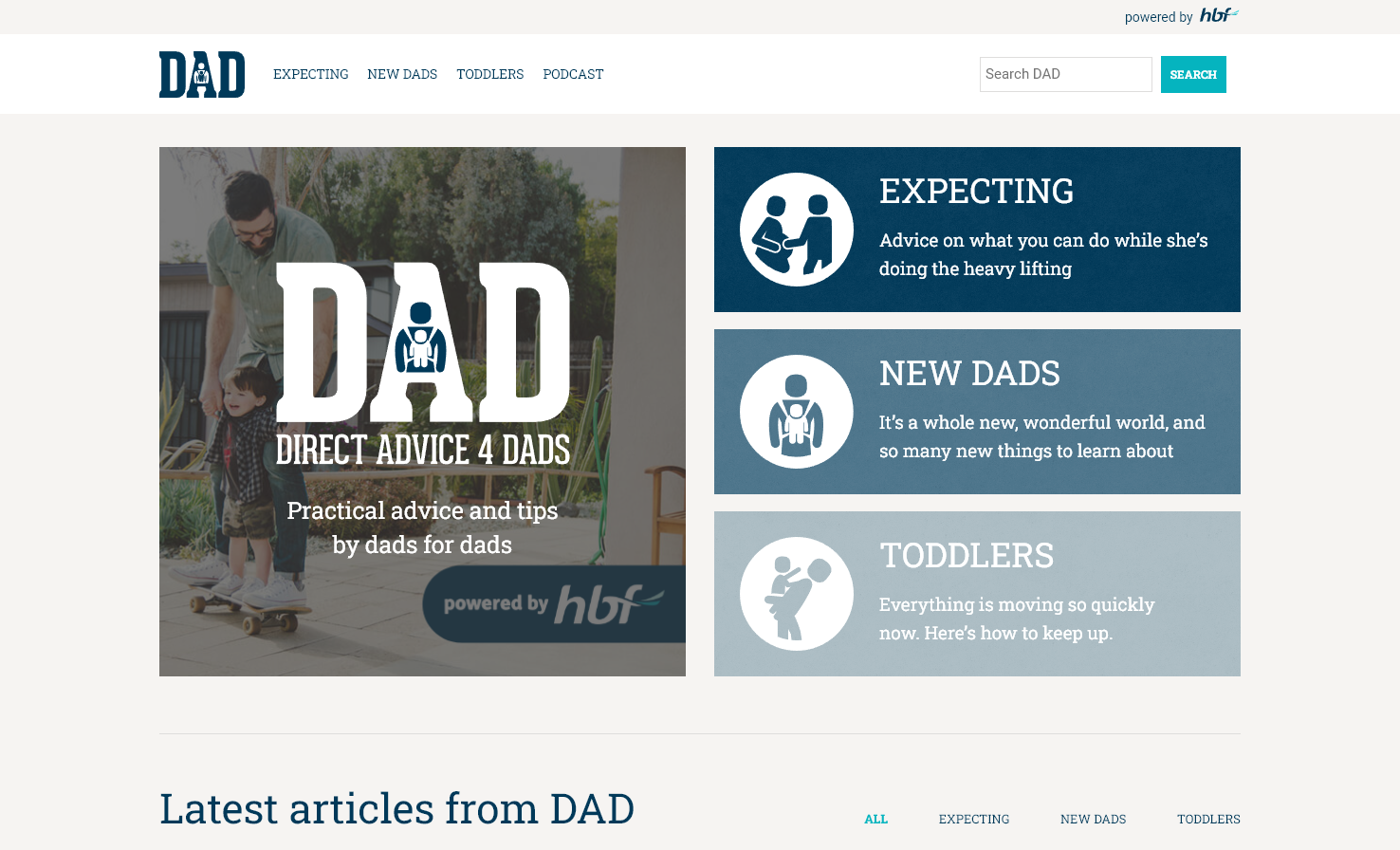 Direct Advice for Dads (DAD) is an Australian blog run by HBF (an Australian not-for-profit health insurer) with an accompanying podcast hosted by dads Ross Edwards and Dan van der Meer. It primarily focuses on the early years of fatherhood: becoming a dad, having a baby, and having a toddler.
The site doesn't run affiliate or advertising content, but it does promote the owners, the non-profit health insurer, HBF.
Honorable Dad Blogger Mentions: Dad and Buried, The Daddy Style Diaries, I Think Therefore I Dad
There are loads of other great dad blogs out there. If you're after a few more inspiring blog examples, try:
Dad and Buried: Dad blogger Mike Julianelle has a huge following on Instagram and Twitter, and also posts some longer-form content on his blog.
The Daddy Style Diaries: Taking in plenty of style and travel topics, this blog by Jeffrey E. Segura runs a number of sponsored posts along with first-person content.
I Think Therefore I Dad: This personal blog by Pat Kose covers a range of topics from the serious to the lighthearted.
It was really hard narrowing this list of the best dad bloggers & influencers down to a small number, so if I missed any of your favorite dad blogs, please share in the comments below! 😊
6 Steps How to Start a Dad Blog of Your Own (Dad Blogging 101)
If you're feeling inspired by the dad blogger examples we've explored in this guide, it's time to get your own dad blog up and running. Compared with changing dirty diapers and navigating toddler tantrums, this will be the really easy part—and it'll only take you 10–15 minutes to get set up.
Here's what you need to do to start a dad blog, step by step:
1. Pick a Good Dad Blog Name (and Your Dad Blogger Niche)
What should you call your dad blog? It's really up to you—though having the word "dad" in there somewhere will definitely clue readers in about your topic. You might break out the dad jokes and go for something pun-tastic, or you might pick a descriptive blog name that lets readers know what to expect in terms of your topics or parenting philosophy.
Use my free domain name generator tool to come up with creative dad blog names:
Check if your domain name is available:
Before you get too attached to your chosen name, make sure it's available as a domain name—preferably a .com—using my free tool.
Your "niche" is the area your blog fits into, which could be to do with your topic, audience, or both. Maybe you're writing about being a stay-at-home dad, for instance, or your blog is all about kids and sports. You might be writing for an audience of younger-than-average (or older-than-average) dads—or for divorced dads. You could be sharing your tips on family travel or DIY. Having a clear niche helps you to bring in an audience of like-minded dads.
2. Get Your Dad Blog Online with the Right Web Hosting
There are a few different blogging platforms to choose from—but the one I always recommend for dad bloggers is WordPress. It's got everything you need to create any kind of blog, from a simple personal account of fatherhood and family life to a huge site that turns over millions in revenue.
Just like your house needs a plot of land to stand on, your blog needs web hosting. Your web hosting company "hosts" your blog on huge servers that are connected to the Internet 24/7/365, so dads can access your blog at all hours of the day and night, from all around the world.
There are lots of different web hosts to choose from. My two absolute favorites are Bluehost and Dreamhost because they're extremely reliable and affordable (using those links will get you my discount when you sign up).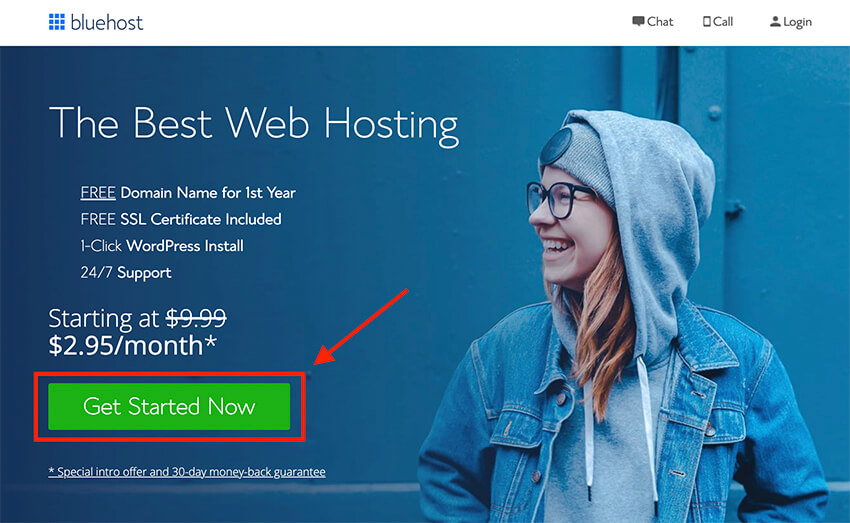 Both of these web hosting companies make it super-easy to install WordPress on your site, they're budget-friendly (especially in your first year of blogging), and they'll give you a free domain name along with your web hosting.
3. Design Your Dad Blog Using Free Resources
While your kid may not appreciate your great eye for color and design, you can let loose on your blog to your heart's content.
When you first set up your WordPress blog, it'll use a default blog layout & design. You'll likely want to switch that up for something better suited to your own vision for your site—and the good news is that it's really easy (and free) to redesign your blog using free & affordable WordPress themes (like the ones pictured below) and plugins.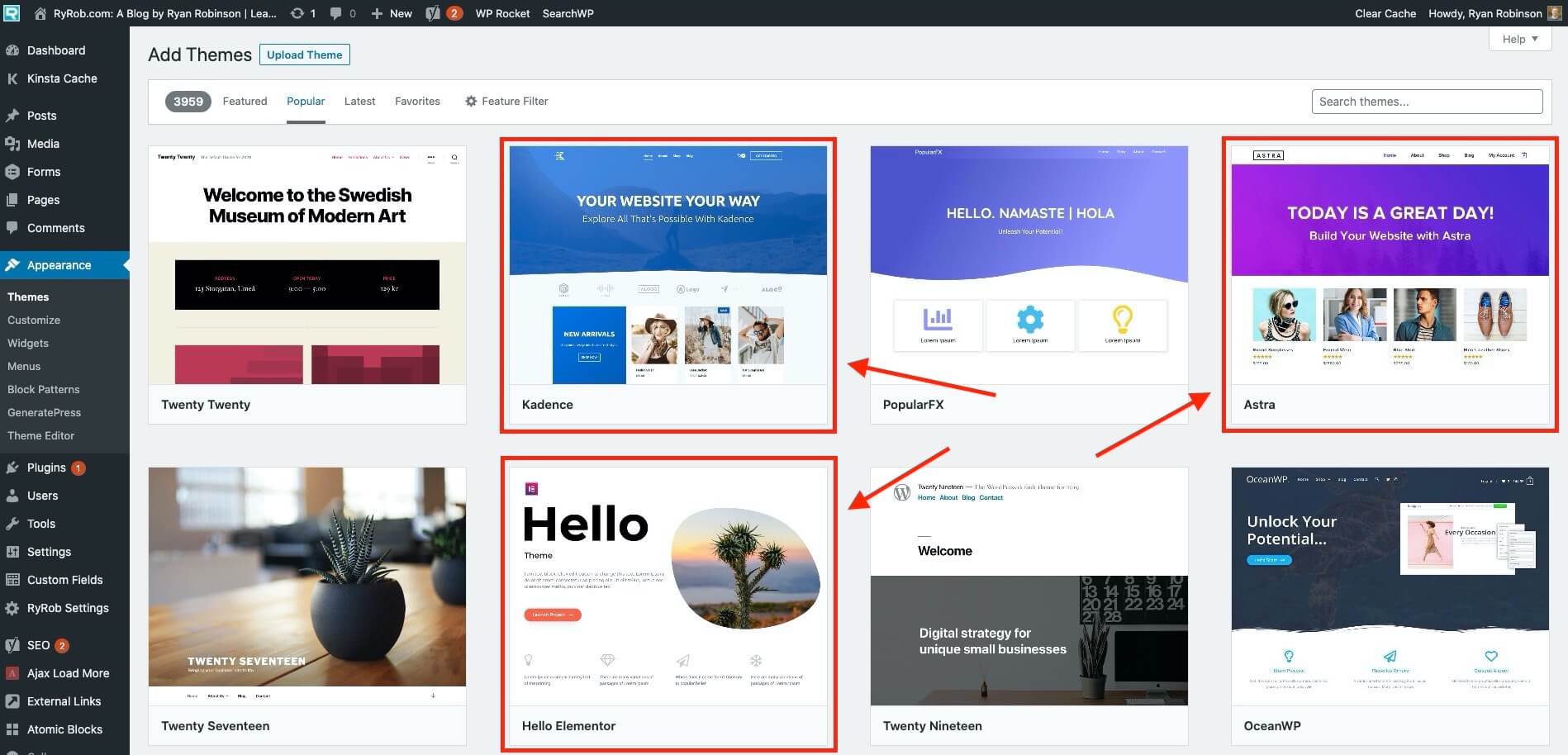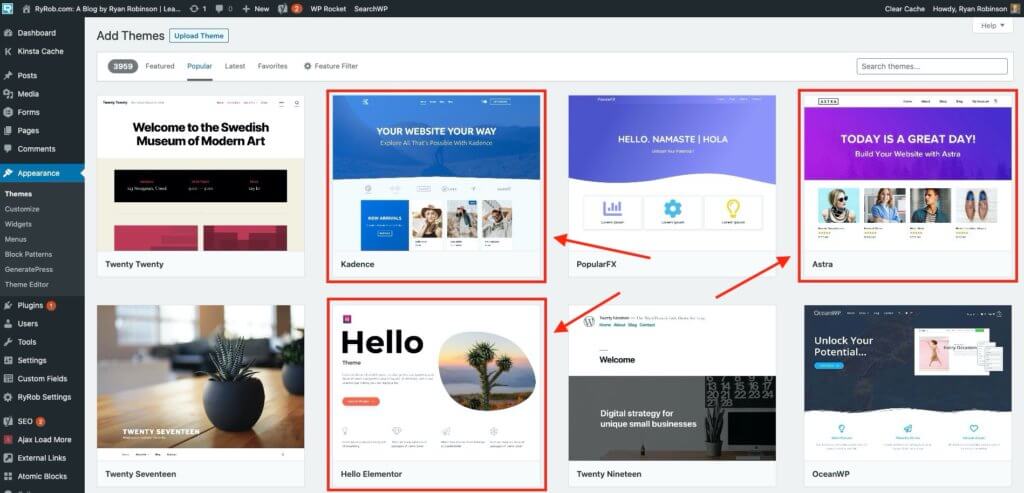 To design your WordPress blog and get it looking dad-ready quickly, you can use:
Free WordPress Themes: WordPress has lots of amazing free themes (templates) that you can use for your blog, instead of the default theme that your blog started with. It's incredibly easy to install and switch themes, so you can try out a few until you find one you love. My favorites are Kadence, Astra and Elementor.
Free WordPress Plugins: There are thousands of great (free!) WordPress plugins that give your blog extra features. You could add a contact form, put easy social sharing buttons on your blog posts, or even create an online store. Check out my plugins guide for all of my top picks.
4. Reach Out to Other Dad Bloggers on Social Media and in Facebook Groups
Starting a blog can be tough, especially if you feel like you're a lone dad in a sea of mommy bloggers. One of the greatest things about blogging is finding other people to connect with—so reach out to other dads.
Follow dad bloggers and influencers on Twitter, Instagram, or your social media site of choice. You could comment on their posts, share their great content, retweet their tweets, and hopefully get to know them a little. This can help give you a good sense of the type of content that their audience enjoys.
Don't forget about "regular" dads, too: you might find them hanging out in Facebook groups or in other online communities. This can be a great place to share your tips or experiences and find out about the challenges or joys of dad life that others are experiencing.
5. Come Up with Great Blog Ideas and Start Writing
You can't have a blog without any blog posts—so at some point, you need to take the plunge. A great way to begin writing your first blog post, is by introducing yourself and your family, and sharing a little about why you decided to start a blog. Don't be afraid to see how some of the top AI content writing tools can help supplement your personal writing process, too.
Beyond that, you'll need some ideas for blog topics to write about. You might think about the questions you had as a newer dad—or you might want to share some funny stories or poignant moments from your parenting journey so far. Maybe your very first father's day wasn't quite what you'd expected or you've got a moving experience to share about your kid with Down syndrome.
Stuck for a topic? My huge list of blog post ideas will keep you busy for a while!
Need Catchy Blog Title Ideas?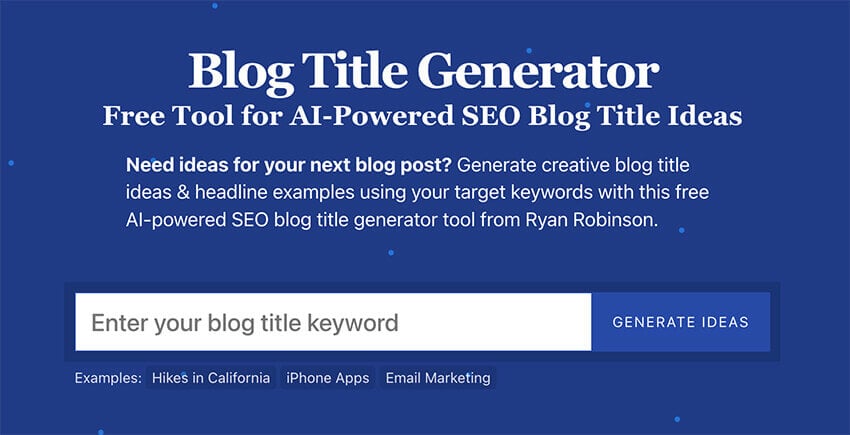 Try my free AI-Powered Blog Title Generator Tool to get dozens of SEO-friendly headline ideas to make your blog posts stand out today.
---
6. Promote Your Dad Blog and Grow Your Audience
You've got everything ready to become a dad blogger: your blog has a fun, catchy name, you've made it look great, and you've written a few early blog posts.
But something's missing… readers. You might think that great content will, one way or another, find its audience. But that's a bit like hoping that your kids' discarded socks will magically find their way into the laundry hamper—without any prompting from you.
To get an audience, you need to draw people's attention. That means promoting your blog content, so that other dads (and moms, and grandparents) can benefit from all the great posts you've written.
For everything you need to know on this, take a look at my guide: 32 Ways to Drive Traffic to Your Blog. If you're in a hurry, though, here are some great starting points:
Learn About SEO: Search Engine Optimization (usually abbreviated to SEO) means using a range of best practices to get your blog's content to rank well in search engines. If you want to build a money-making dad blog, then you're going to need the high-volume traffic that strong SEO can bring you—start with doing some smart keyword research and using one of the best free keyword research tools on the market.
Get New Visitors Onto Your Email List: Your blog's email list is how you stay in touch with the dads who visit your blog and let them know about your new posts. You'll need an email sign-up form on your blog (somewhere prominent) so that new visitors can easily join the list. To get more sign-ups, offer some kind of incentive, like your handy packing checklist of "solo day out with the baby" items.
Write Guest Posts for Other Dad Blogs: Guest blogging lets you borrow the audience of another—more established—dad blogger. It's a win-win-win scenario: you get access to that audience, along with a link back to your own blog (great for SEO). The blog's readers get to benefit from your perspective and ideas. And the blog host gets to take a day off from blogging.
Use My Free Keyword Research Tool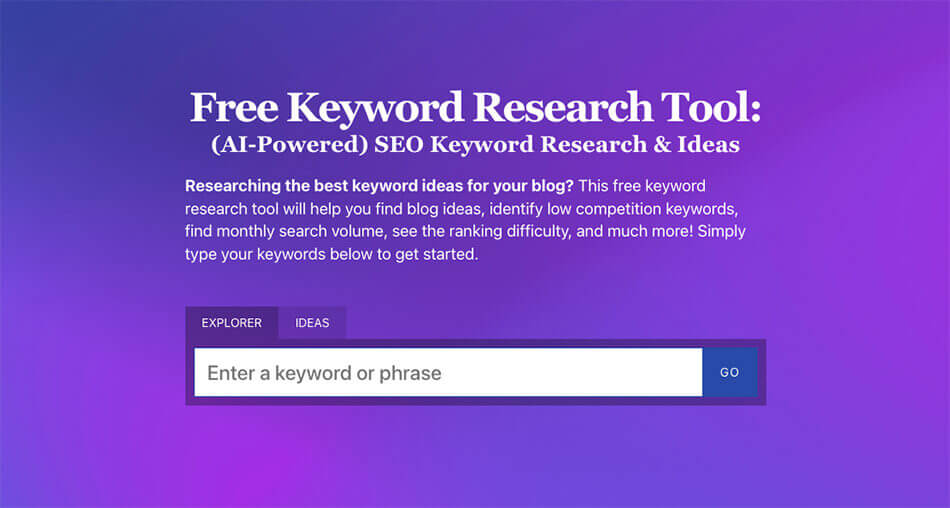 Try my free AI-Powered Keyword Tool to get dozens of research-backed ideas for keywords & topics to write about on your blog today.
---
---
Want to Give Dad Blogging a Try for Yourself?
Whether you're a brand new dad or you've got years of experience, whether you've got one kid or five, dad blogging can be a fantastic way to share your tips and lessons learned with the world.
If you're feeling a little unsure, look at it this way… plenty of dads just like you have started blogs. Some of them are dads who are breaking through outdated gender stereotypes: single dads, for instance, or stay-at-home dads. Others are full-time working dads who find their parenting role fulfilling too.
Every dad blogger started right where you are today—with no blog and no readers. Nobody is the "perfect" parent, it's all about sharing what you've learned from your journey and seeing how it resonates with other dads around the world. If all of these dads have built a successful blog, then so can you… and your blog might well become a crucial part of your own fatherhood journey, too.
Ready to Start Your Blog Today?
Check out my ultimate guide How to Start a Blog (on the Side) that's been featured on Forbes, Inc and Entrepreneur.
---
---