We've already established that choosing the best blogging platform for your own unique needs is (rightfully) a big decision to make. And while some blogging platforms allow you to migrate your content on and off of them quite easily—transferring from one system to another is no small ordeal. Even if the migration process ends up being simple, you still have to take a lot of time to learn a new platform.
For that reason, I've compiled this list of the best blogging platforms to choose from today, so that you can make a good decision the first time.
8 Best Blogging Platforms to Use for Your Blog in 2023
Disclosure: Please note that some of the links below are affiliate links and at no additional cost to you, I'll earn a commission. Know that I only recommend products and services I've personally used and stand behind. When you use one of my affiliate links, the company compensates me, which helps me run this blog and keep all of my in-depth content free of charge for readers (like you).
What is a blogging platform?

A blogging platform is software (or a tool) that allows you to publish content online. The content is then broadcasted out to the world through your blog promotion efforts, and anyone who has access to the Internet is able to see what you've published.

At one time, blogging platforms and website builders were two separate entities. Today, many website builders include a blog function—which means you can create both a website and a functional blog for your visitors. Such is the case with WordPress, which functions as a blogging platform and a dynamic website builder… and is what I use here on my blog, too.
Let's dive in—starting with the most popular blogging platform in the world (according to recent blogging statistics), self-hosted WordPress.
1. Self-Hosted WordPress (WordPress.org)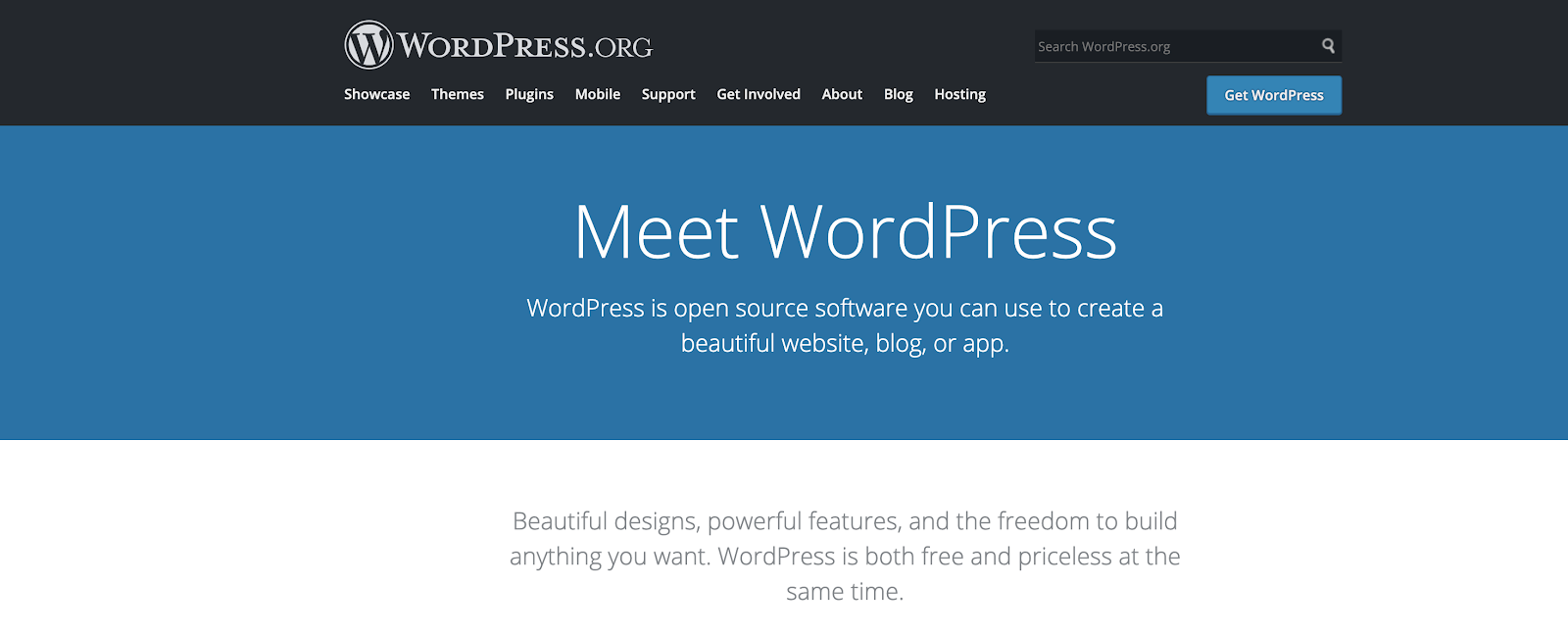 WordPress.org ranks as #1 amongst the best blogging platforms, by far. Not only can you build an incredible website (and blog) with self-hosted WordPress, but it's also free to use and has truly limitless potential when it comes to building a beautiful website, adding complex features and monetizing your audience.
Cost of Self-Hosted WordPress.org
WordPress.org is technically free to use as a publishing platform. It's a content management system (CMS) that can be individually tailored to anyone's needs.
However, you will have to use a hosting plan to get your self-hosted WordPress blog live and published on the Internet. The good news though, is that you can start a blog on a very tight budget with WordPress if you choose a hosting plan with a well-regarded company like Bluehost or DreamHost—which costs as little as $2.95/mo with their introductory prices.
There are other potential costs that can come along with a self-hosted blogging platform like WordPress in time, too. If your hosting plan doesn't come with a free domain name (don't worry, Bluehost and Dreamhost include a domain name), then that's an additional cost to account for. You may also want to pay for a premium WordPress theme or eventually some powerful plugins to enhance the functionality of your blog later on down the line, but that's a topic for another day.
Features of WordPress.org
WordPress has loads of features for you to use when creating your blog. Some of the most notable features are:
Customization
Blogging publishing tools
User management
Greater customization with plugins
Loads of themes to choose from (free and premium)
SEO-friendly
Easy installation and upgrades
Ownership of your own data
Easy migration from other blogging platforms like Blogger, Tumblr and Typepad
Pros of WordPress.org
WordPress has quite a few major benefits that make it the most appealing amongst all of the blogging platforms on the market today. Some of those include:
Complete customization: You're completely free to do whatever you want with WordPress. You can use HTML coding to enhance your website, but it isn't necessary to know it to get started.
Selection of publishing tools: WordPress has many publishing tools including creating drafts, scheduling posts, and the ability to make your content private or public.
Thousands of plugins: WordPress is extremely popular and there are a huge amount of plugins that you can use to enhance your website. Plugins can do things like boosting your SEO, secure your site, help your site run faster, allow you to add forms and forums, and so much more.
A lot of themes to choose from: WordPress has a lot of options when it comes to themes. Many of the themes cost something to use, but there are also a lot of free themes available as well.
Complete control over your site: You aren't under the rules and regulations that you might have to follow with other blogging platforms. You won't run the risk of being shut down or limited.
You can use any kind of media: With the help of plugins, you can easily integrate a range of media on your site including images, videos, podcasts, and social media posts.
No restrictions on monetization: You have the freedom to monetize your blog any way you choose including ads, affiliate links, sponsored posts, and so on.
Cons of WordPress.org
While the pros outweigh the cons, there are a few criticisms that people have of WordPress as well. Some cons include:
A steeper learning curve: If you've worked with drag and drop website builders like Wix or Weebly, it will take a bit longer to master WordPress. To make this transition easier, you can use themes Elementor or Divi so you can have that drag-and-drop feature.
You're responsible for your website: The freedom that WordPress offers also means there's a responsibility as well. While some blogging platforms have things like built-in security, it's up to you to make sure that your website is safe and secure. The good news is when you use a hosting plan with Bluehost, there is a level of security included right out of the box. You can also easily install additional plugins to make your site more secure.
An Inside Look at the WordPress.org Blogging Platform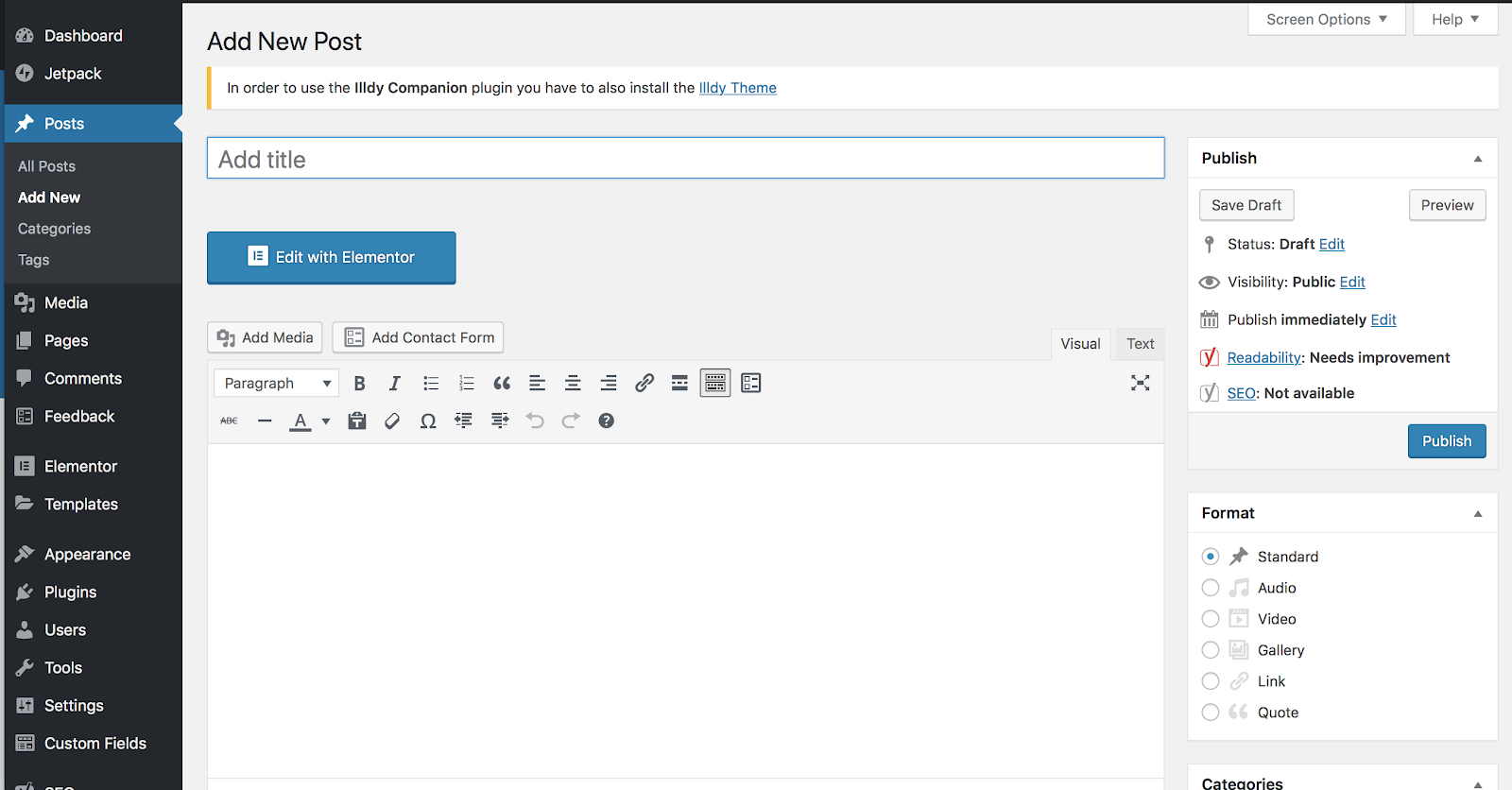 If you're using the Classic WordPress Editor, this is what you will see. This screenshot shows you what you would see if you wanted to add a new post to your blog.
There are multiple functions here including add media, text changes, links and so on. There's also an option to easily switch to HTML if you would like to use coding in your blog post.
If you're using the free version of Elementor to edit a blog post, this is what you will see on the left-hand side of your blog post:

There's a selection of widgets that you can use to add images, text, videos and sections right to your blog post. This is a nice drag-and-drop editor to use so you can see exactly what your blog post will look like.
You can choose to use the classic editor or Elementor, but if you switch back and forth between the two it may cause some formatting glitches to present themselves—so I recommend sticking with the classic editor for your posts.
Examples of WordPress Websites
With WordPress as your blogging platform of choice, truly anything is possible from a design and functionality standpoint—so let's take a look at a few diverse blog examples of what can be done (and since my blog is powered by WordPress too, feel free to poke around and see what I've done).
The Product Angle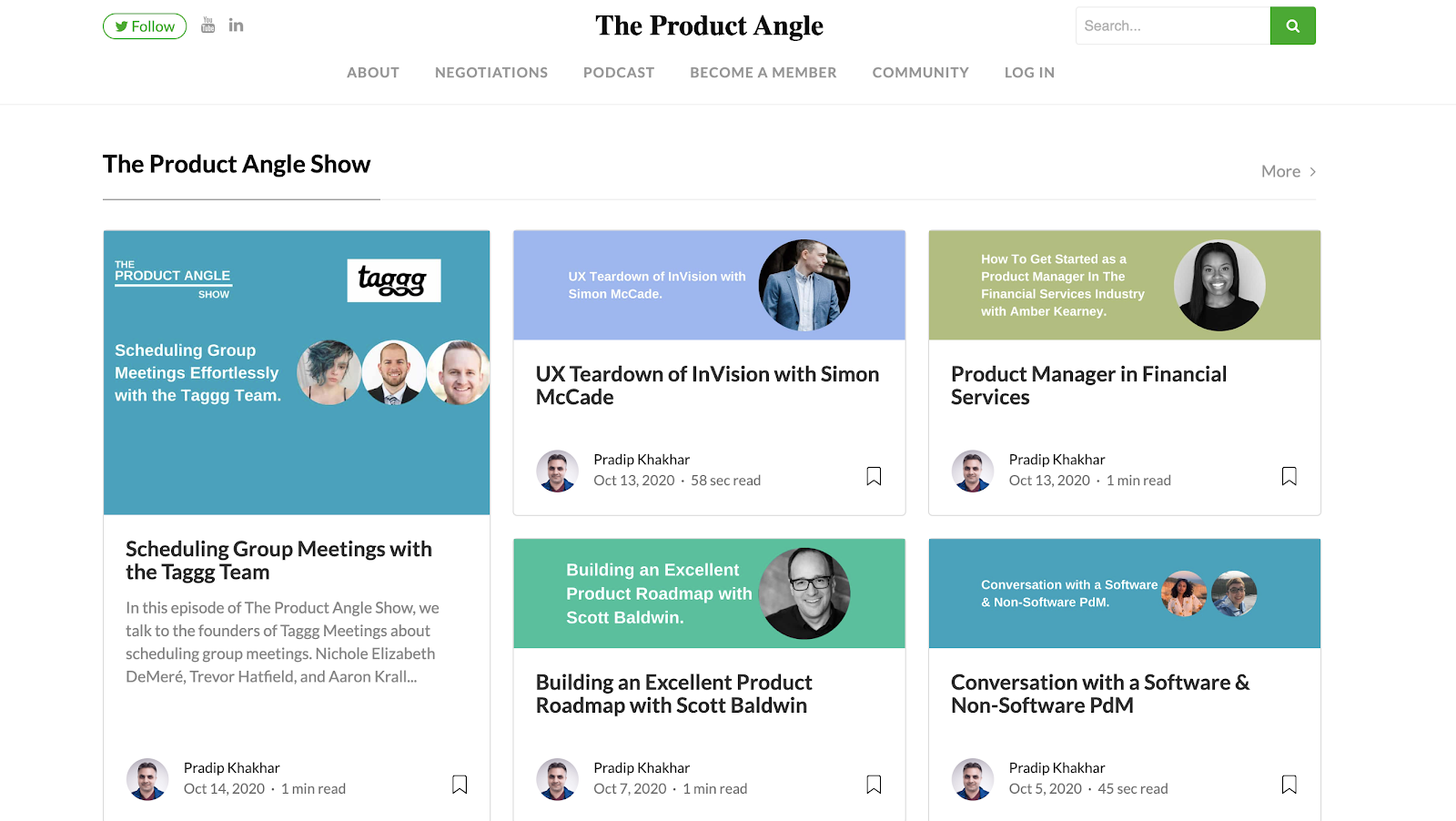 The Product Angle is a website for product managers that includes a blog and podcast with multiple experienced contributors. Here's what Pradip and his content is all about: "The Product Angle focuses on delivering content through speakers, articles, and our flagship course (coming soon) from experienced practitioners. We help Product People become self-aware and grow beyond the traditional Product Management practices."
Quickbooost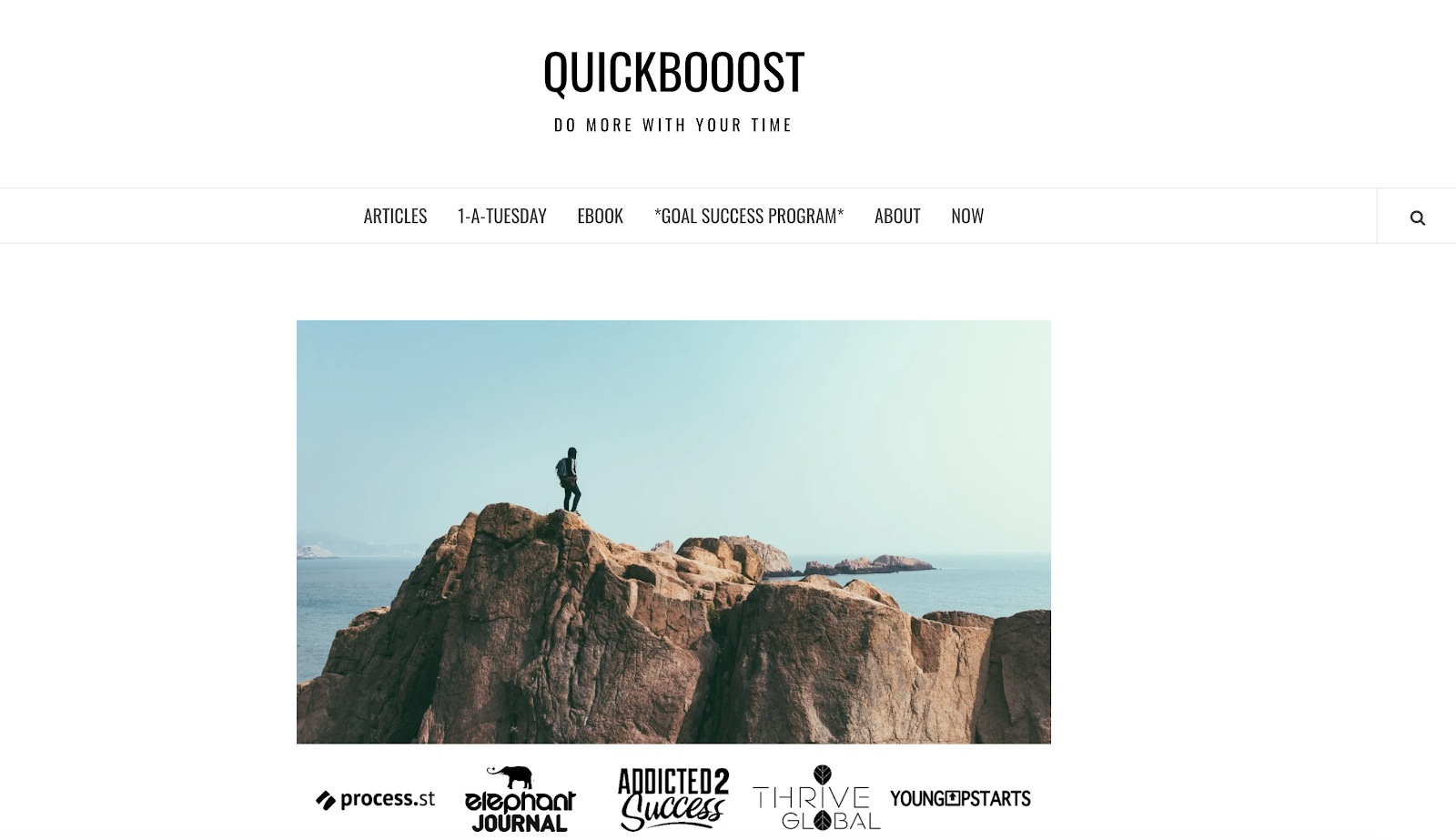 Corey Fradin is the founder of Quickbooost, a blog he launched in 2018. His goal is to share planning, productivity, and time management ideas with his readers. He writes, "I share how I am truly able to get more done in the day than anyone else I know—and what you can do as well."
The Bloggess

Blogger Jenny Lawson has been blogging for over 10 years and is the creator of The Bloggess. What is her blog about? Here's how she describes it, "I've been blogging about my strange little life for over a decade.  It's mainly dark humor mixed with brutally honest periods of mental illness." She's written several bestselling books and is planning on releasing a third title last year.
Sweden's Official Website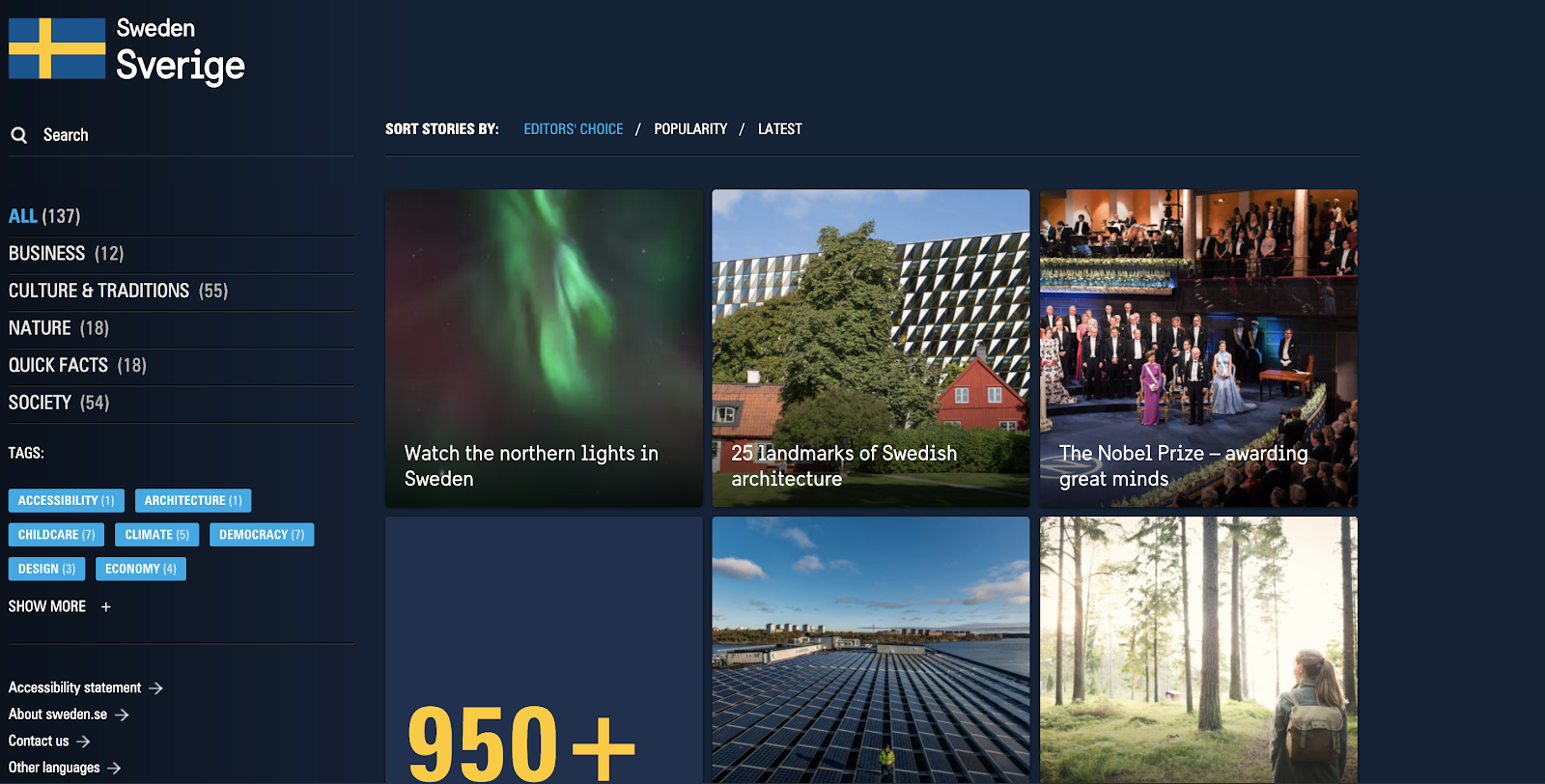 It's not just individuals or businesses that use WordPress, either. Here is a screenshot of Sweden's official website. Four organizations maintain this website including, the Swedish Institute; the Swedish Government Offices, including the Ministry for Foreign Affairs and the Ministry of Enterprise, Energy and Communications; Business Sweden; and VisitSweden.

If you're still just learning about WordPress (or if you're not too familiar with it yet), you may have some confusion about there being two WordPress blogging platforms. You're not alone, because it is confusing—especially since they're both created and maintained by the same company.
WordPress.com shares some similarities with WordPress.org, but there are some major differences as well. Here's a quick graphic that highlights a few of the major differences: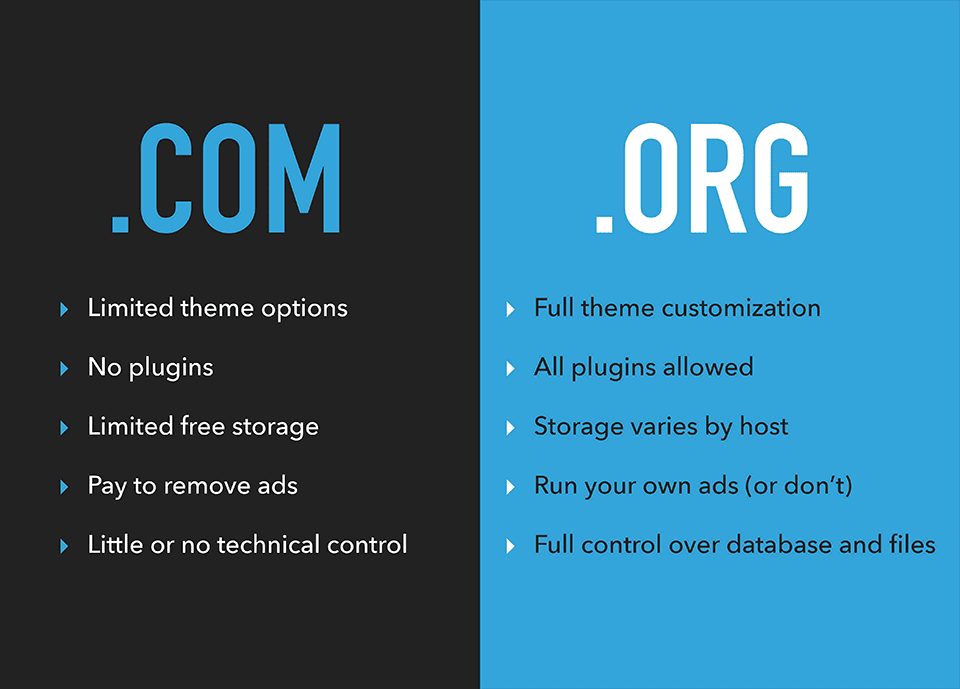 Unlike self-hosted WordPress.org, the WordPress.com blogging platform combines hosting and many of the built-in features of other website builders like Wix and Weebly. WordPress.com does offer a limited free version of their blogging platform, but for most of the upgrades you'll actually want to use, you'll need to pay for their premium version.
My main recommendation would be to choose a self-hosted WordPress.org install—over Wordpress.com—primarily because of the immense freedom of customization available with WordPress.org and how much more flexibility you'll have in terms of design and monetization capabilities. However, WordPress.com is still a popular blogging platform that offers some unique advantages. Now, let's explore more about this blogging platform and compare it to self-hosted WordPress too.
Cost of the WordPress.com Blogging Platform
WordPress.com offers a basic free version that anyone can use. It's easy to set up and get started. The main issue I have with the free version of WordPress.com is that your site will have WordPress.com branding.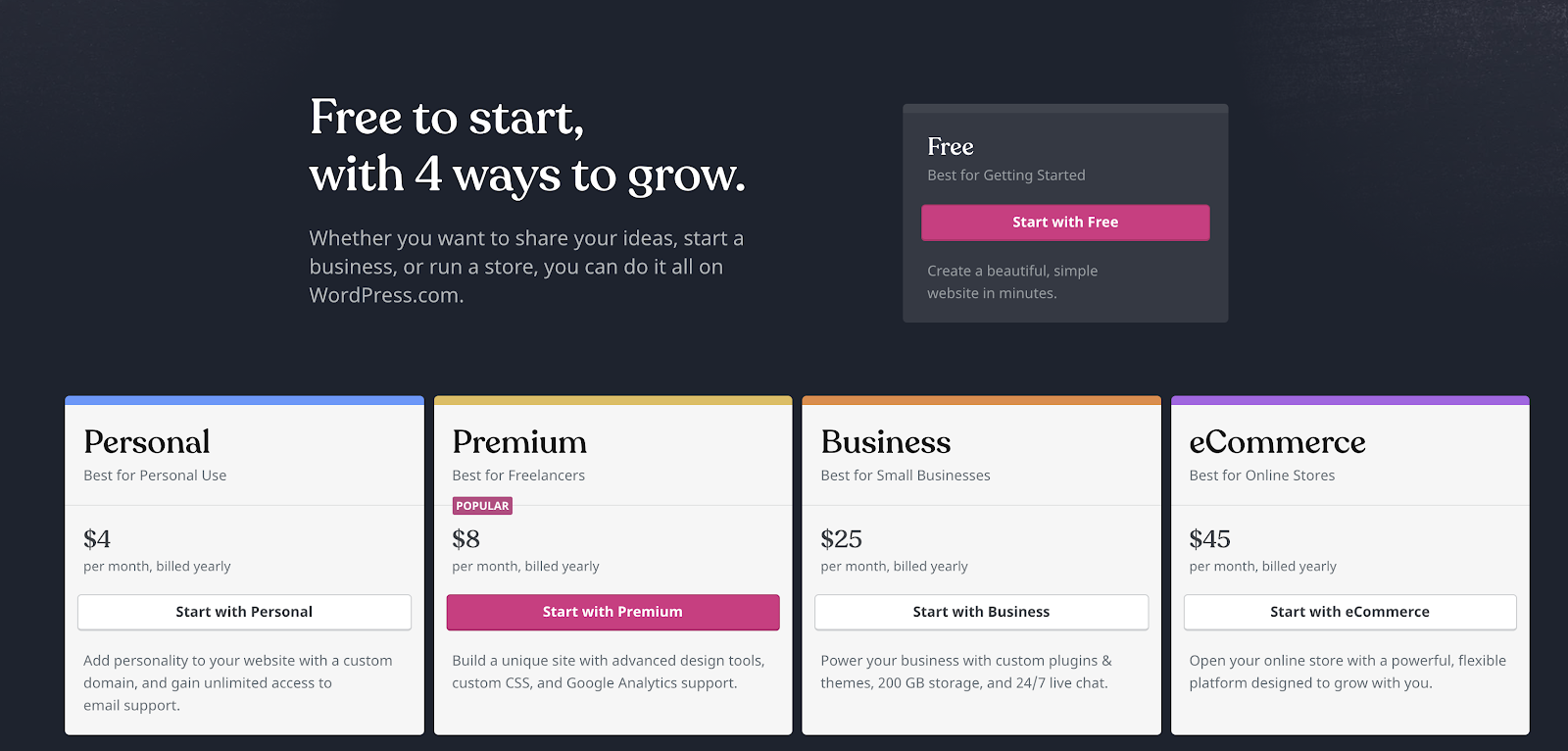 If you want to have your website free from branding, you must upgrade to a paid plan. Plans start at $4 a month and go as high as $45 dollars a month.
Features of WordPress.com
WordPress.com has a list of features that change depending on what plan you choose. Here I'll show you what's available with the cheapest plan and the top-tier plan.
Features of the Personal Plan
Jetpack Essential Features
Pre-Installed SSL Certificate
Free domain name for 1 year
Unlimited email support
6GB storage space
Dozens of free themes
Remove WordPress.com Ads
Payments for monetization — one time or monthly payments
Subscriber only content
Paid newsletters
Features of the eCommerce Plan
Personalized expert support sessions
200 GB storage space
Advanced design customization
Unlimited premium themes
Payments
Pay with PayPal
WordAds
Social media scheduling
VideoPress support
Google Analytics integration
SEO tools
Install plugins
Upload themes
Automated backup & One-Click Rewind
SFTP and Database Access
Accept payments in 60+ countries
Integrations with top shipping carriers
Unlimited products or services
eCommerce marketing tools
Pros of WordPress.com
Maintenance-free: With WordPress.com you won't have to worry about things like hosting, updates, or security. These things are managed by WordPress.com.
Free version available: There is a completely free version available if you would like to start blogging with zero costs.
Access to some of the same features as WordPress.org: WordPress.com does support some of the same plugins as WordPress.com and the backend platform shares some similarities.
Cons of WordPress.com
Branding on the free version: If you choose to use the free version of WordPress.com your website will have their branding and ads.
Very limited monetization methods: WordPress.com is far more limited when it comes to monetization. According to their site, only certain plans are eligible to run ads. Even then, the types of ads are restricted to their ad program called WordAds. Only business and e-commerce plans are allowed to run third-party ads on their site.
Affiliate linking is allowed so long as "as long as the primary purpose of your blog is to create original content, and as long as the code for the ad is supported." But they restrict affiliate linking as well, and don't allow links to gambling sites, multi-level marketing programs, or "get-rich-quick schemes." While the majority of their restrictions are understandable (such as restrictions on malware or phishing-type scams) there are quite a few people who use their blogs to market MLM products.
Limited plugins available: Certain plans do allow plugin integration with WordPress.com, but you won't have access to the large variety available through WordPress.org.
You don't officially own your own content: One of the biggest drawbacks with WordPress.com is that you don't fully own your own data.
An Inside Look at the WordPress.com Blogging Platform
WordPress.com is unique in that it offers two ways to edit your website. You can use the WordPress.com editor that looks like this: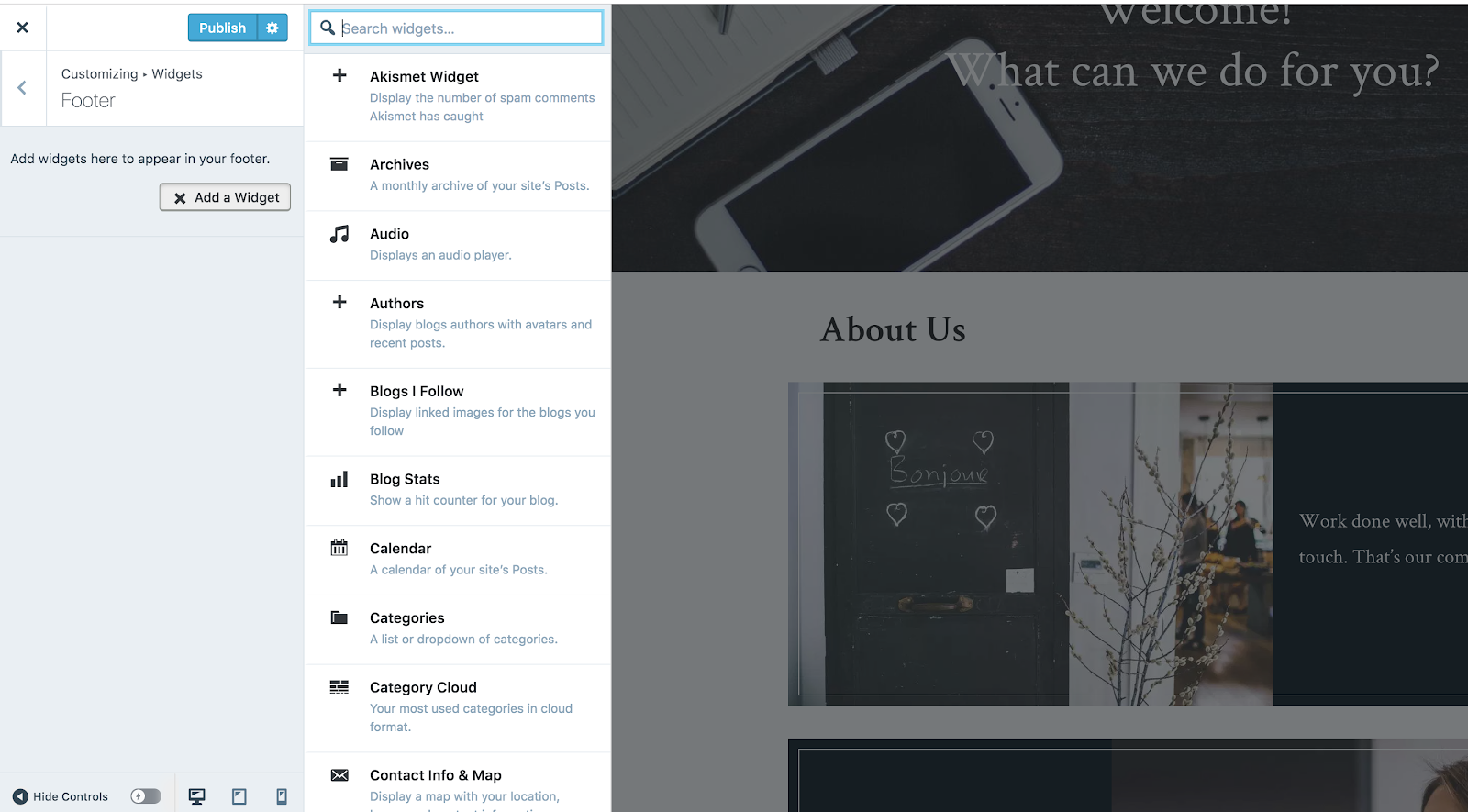 Or you can use the classic WordPress.org editor, which looks like this: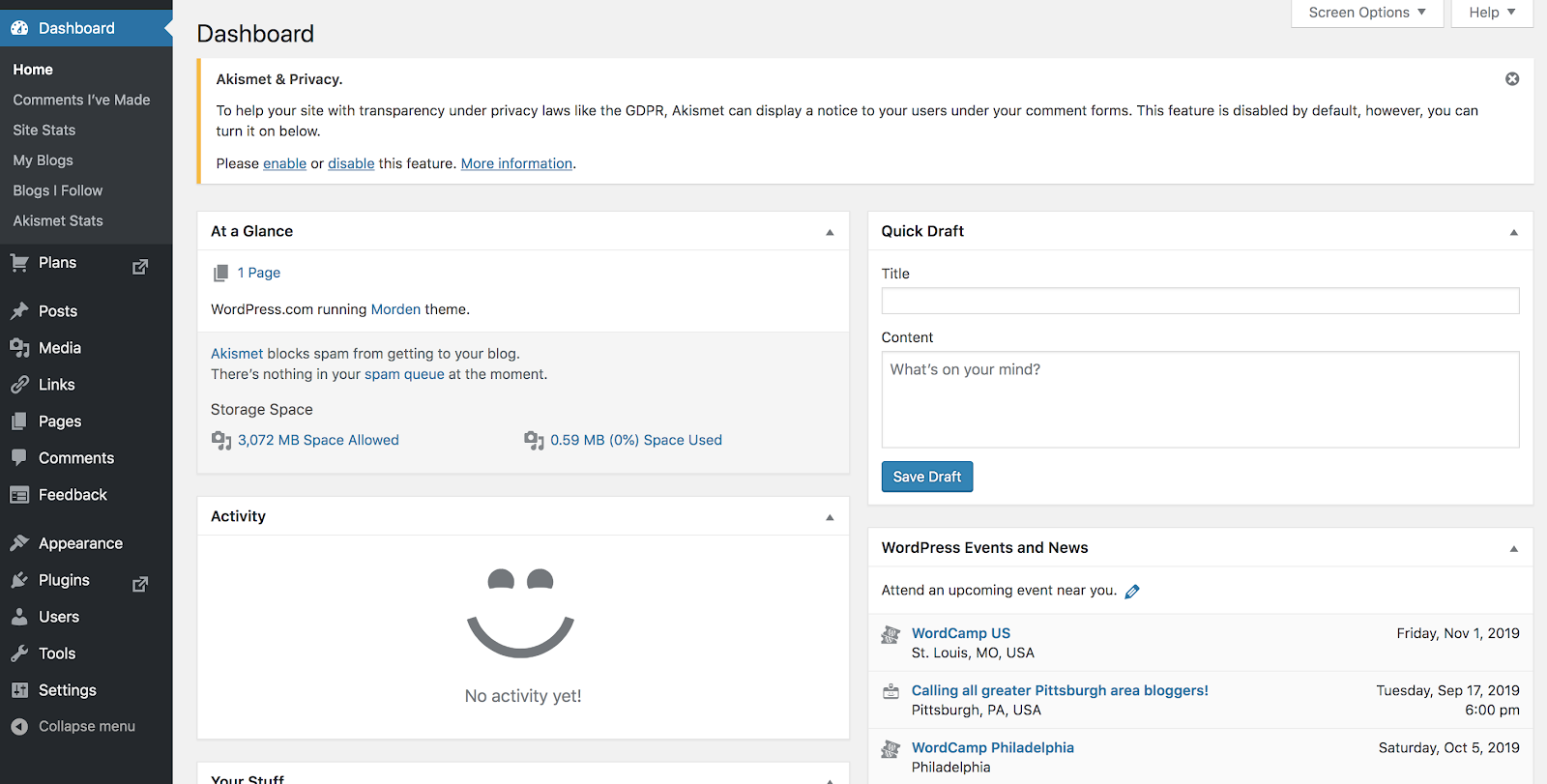 While it may be an advantage to have access to both editors, it can be a bit confusing in practice, especially for new users—making WordPress.com a less favorable option amongst the two WordPress-powered blogging platforms today.
Examples of WordPress.com Websites
While many of the blogs powered by WordPress.com (compared to a self-hosted WordPress install) tend to be much more simple, you can still make some beautiful things happen. Here are a couple of examples.
Snapshots in Cursive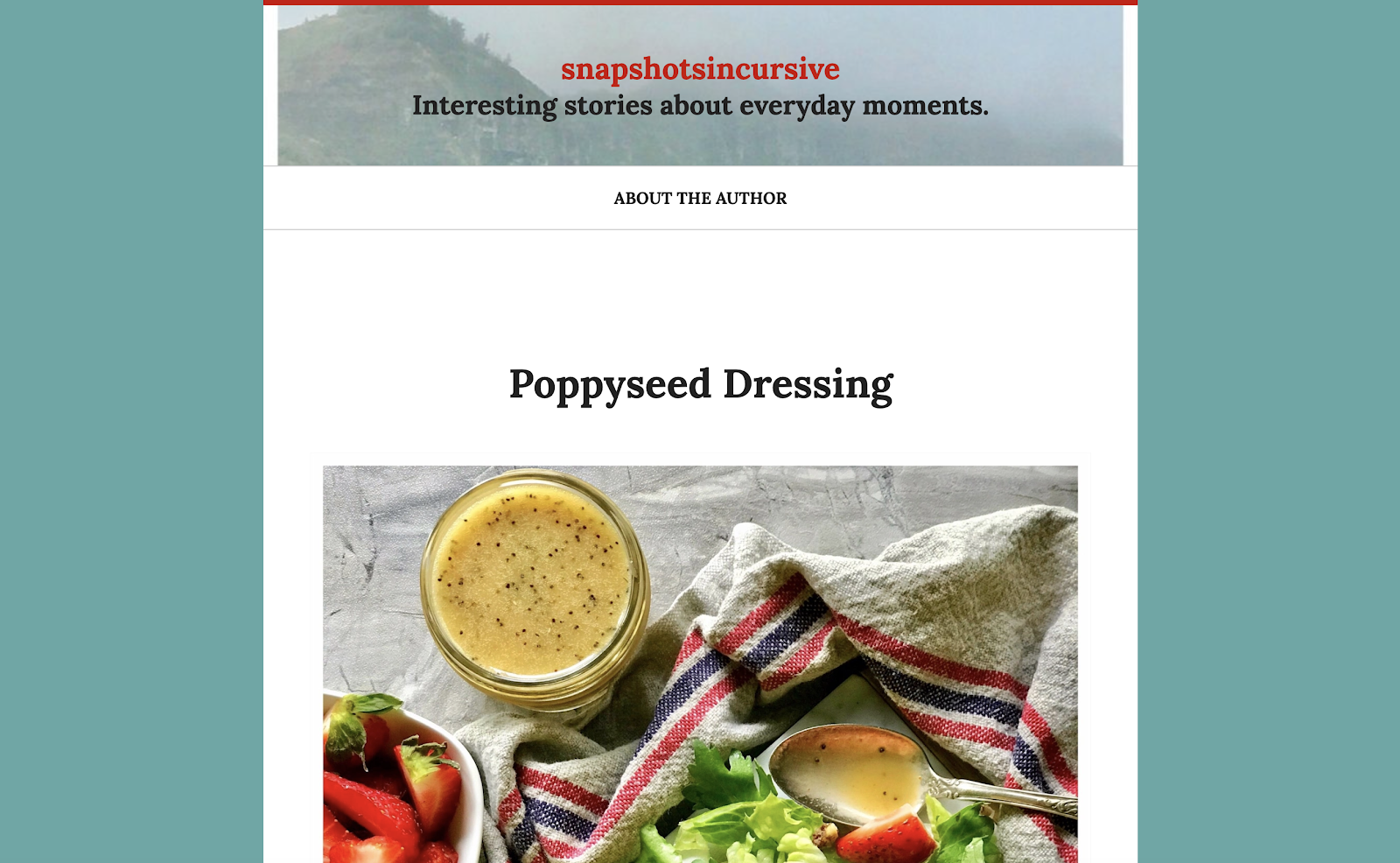 Snapshots in Cursive is a blog that share photography, recipes, and travel insights. The entire website is the blog, and the most captivating part is the bright images and clean design.
The Lifestyle Collective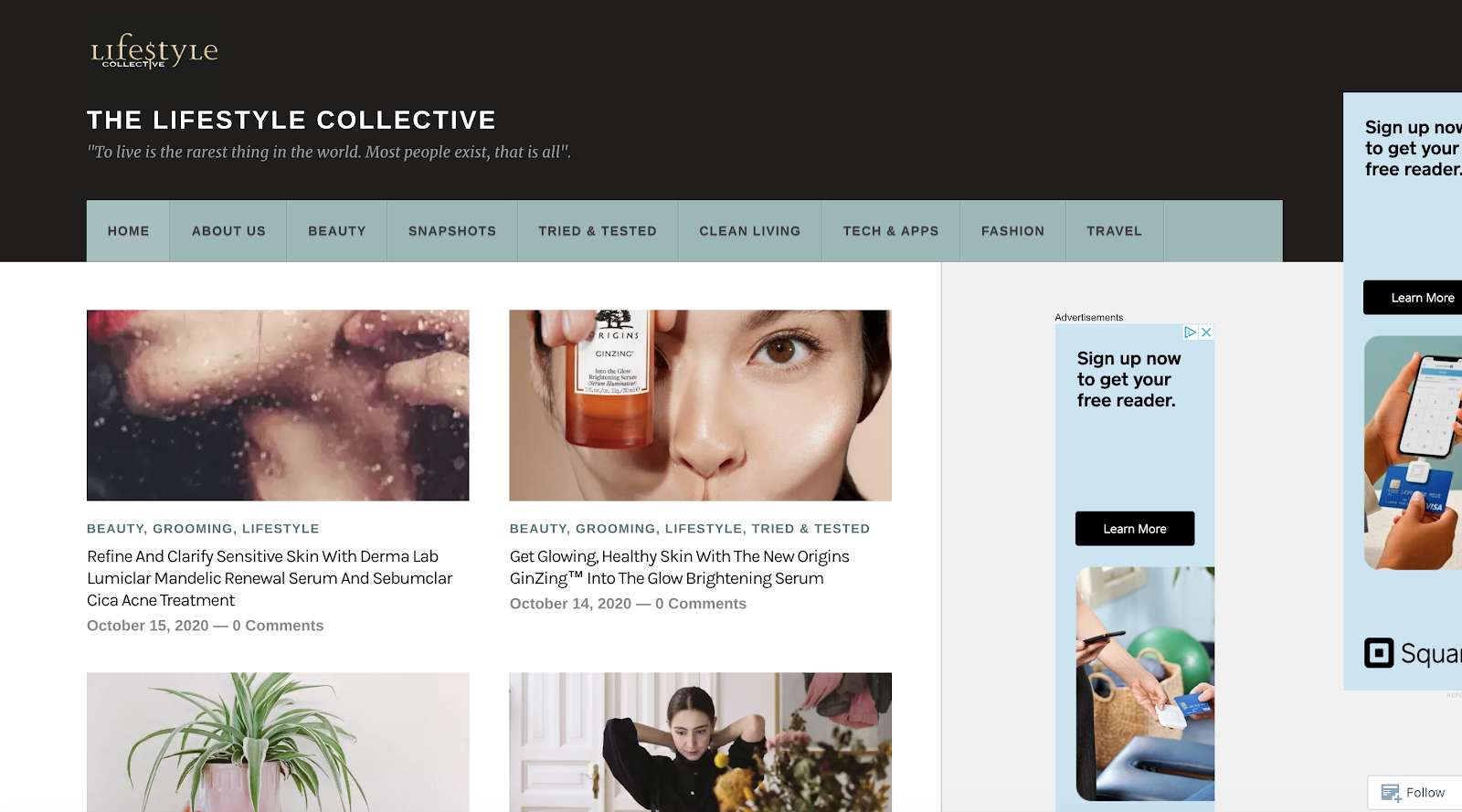 The Lifestyle Collective is a blog that covers beauty, fashion, travel, dining and entertainment. It has a collection of contributors from "all walks of life."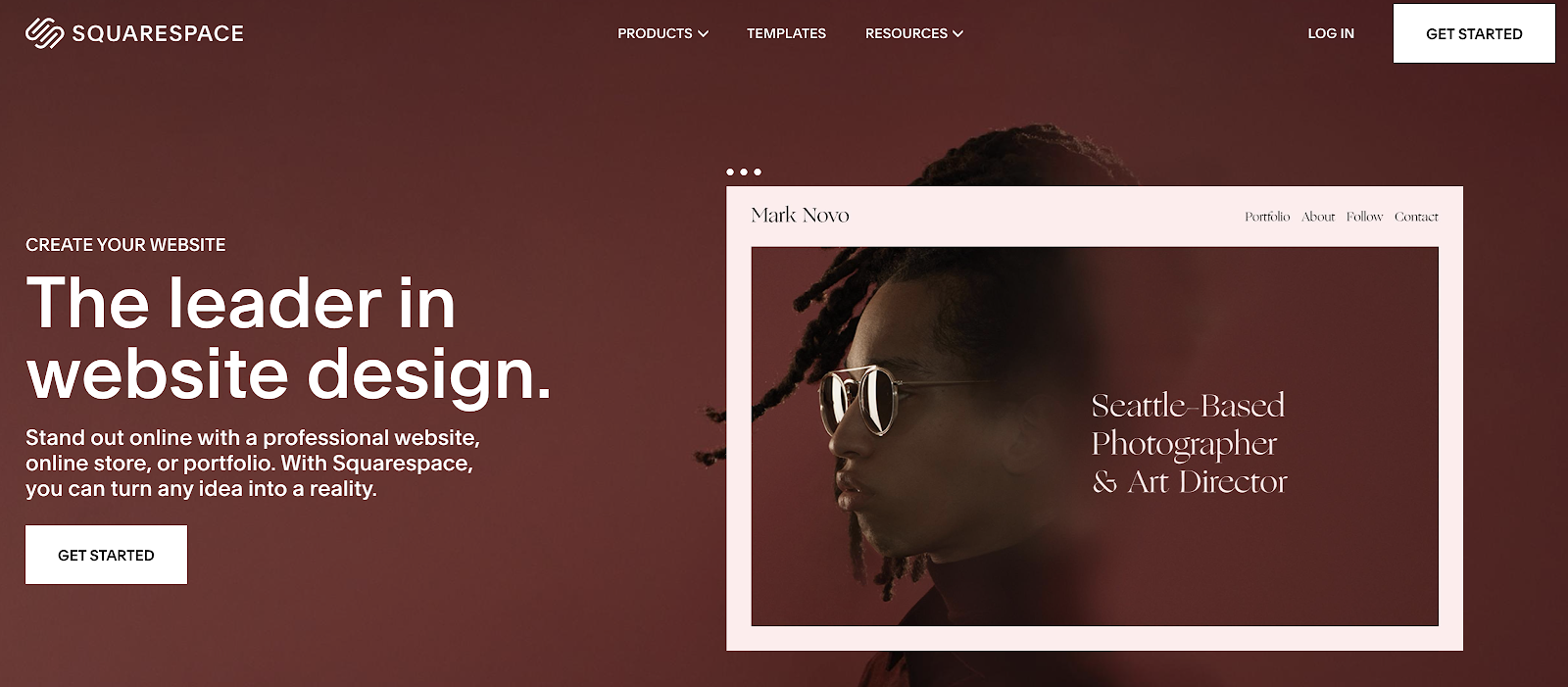 Squarespace was founded in 2003 in a dorm room at the University of Maryland. As a blogging platform and website builder, the thing that stands out most about it is, the sleek minimalist design they encourage. The designs are particularly stunning when users use large high quality images. Squarespace is best known as a website builder, but it also has a built-in blog feature, which earns it a top spot amongst blogging platforms on the market today.
Squarespace 7.0 vs Squarespace 7.1
In 2020, Squarespace released Squarespace 7.1 with some improvements and some changes. At this time, the 7.0 version is still available to use, but you'll have to choose on or the other. If you choose the 7.0 version you won't be able to migrate to 7.1, and vice versa.
What's New With 7.1
So what does the 7.1 version have to offer that the 7.0 version doesn't? Here are the changes:
Page sections: This version offers pre-built sections that you can add to your Squarespace pages.
Header and footer layouts: There are now customizable layouts for headers and footers.
New style design panel: Ability to control things like font pairing, color pallets, and buttons. Basically, further ability to tweak the aesthetics of the blog.
One template: It may sound like a drawback, but instead of switching between templates to get the look you want for your blog, the new version allows you to use all the elements of all the themes so you don't have to switch between templates.
Automatic mobile styling: Style updates automatically work for mobile devices. No need to style specifically for mobile devices. This can be a drawback for those who are interested in making a different layout for mobile versions.
Banner images: Ability to add banners to any page.
What's Lost With Squarespace (7.1)
There are some features that are forfeited with version 7.1. Here are some of the things you can't do with the new version:
Switch templates: Since there's access to all the template features in one space, you can no longer switch between templates.
Album and gallery pages: Album and gallery pages have been replaced with Audio blocks and gallery sections.
Developer mode: The "Developer Program" is not available with Squarespace 7.1.
Parallax scrolling on background images
Anchor links
Share buttons for social media
Some of these features may be included as Squarespace updates the 7.1 version.
Cost of Squarespace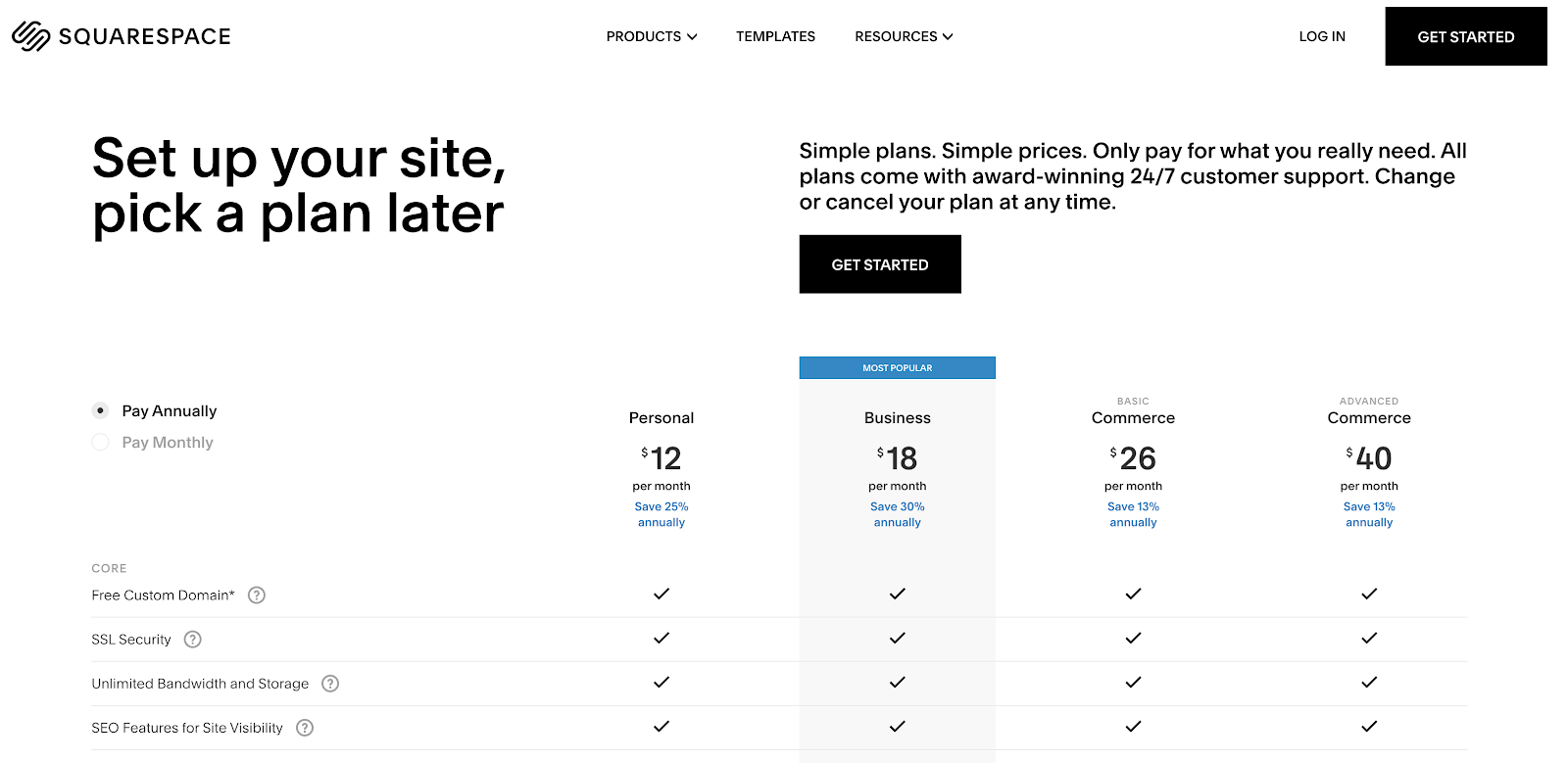 Squarespace offers a free trial, but to use the platform you must pay a monthly fee. The starting price is $12 for the Personal Plan and it goes up to $40 a month for the Advanced Commerce Plan.
Features of Squarespace
Squarespace offers four plans with different features offered. The starting plan, called the Personal Plan offers:
Free custom domain
SSL security
Unlimited bandwidth and storage
SEO features
2 Contributors
Mobile-optimized
24/7 customer support
Basic website metrics
Squarespace extensions (third-party extensions)
The Commerce Plan is the most expensive plan offered, and it provides the same features plus:
Professional email from Google
Integration and blocks (integrate additional apps)
CSS and Javascript
Advanced website analytics
Promotional pop-ups and banners
Fully integrated eCommerce
0% Transaction fees
Sell unlimited products
Accept donations
Gift cards
Point of sale
Customer accounts
Checkout on your domain
E-commerce analytics
Merchandising tools like searching related products & Product waitlists
Products on Instagram
Abandoned cart recovery
Sell subscriptions
Advanced shipping
Advanced discounts
Commerce APIs
Limited availability labels
Pros of Squarespace
Beautiful templates: One of the best features that Squarespace has to offer are their sophisticated templates that can help even a new blogger set up a good looking blog. There are over 100 to choose from.
Maintenance-free: You won't have to worry about security, updates, or hosting with Squarespace.
Drag and drop builder: Squarespace is designed as a drag and drop builder with What-You-See-Is-What-You-Get (WYSIWYG). That means you can see everything you're doing in real-time and you'll know exactly what it'll look like in a published form.
Lots of fonts available: Squarespace has over 1000 web fonts available for immediate use.
Great customer support: Squarespace doesn't outsource their support and have people who are very familiar with the product available to help.
Cons of Squarespace
A little more expensive than some of the competition: Squarespace is not the cheapest plan in comparison to other website builders, but it does have some extra features that make it a step above some of the competition.
A steeper learning curve: When compared to Wix or Weebly, Squarespace is a bit more difficult to start using. Though it has been reported that the new 7.1 version is easier to use than the 7.0 version.
Geared toward smaller blogs: This isn't a problem for many bloggers, but Squarespace is best suited for blogs and eCommerce stores on the smaller end of the scale.
An Inside Look at the Squarespace Blogging Platform
Of all the blogging platforms to choose from today, Squarespace has one of the easiest admin areas to learn (and it's very visually appealing). Here's an example of what it looks like under the hood of a Squarespace-powered website—with all of your editing options in the left-hand sidebar: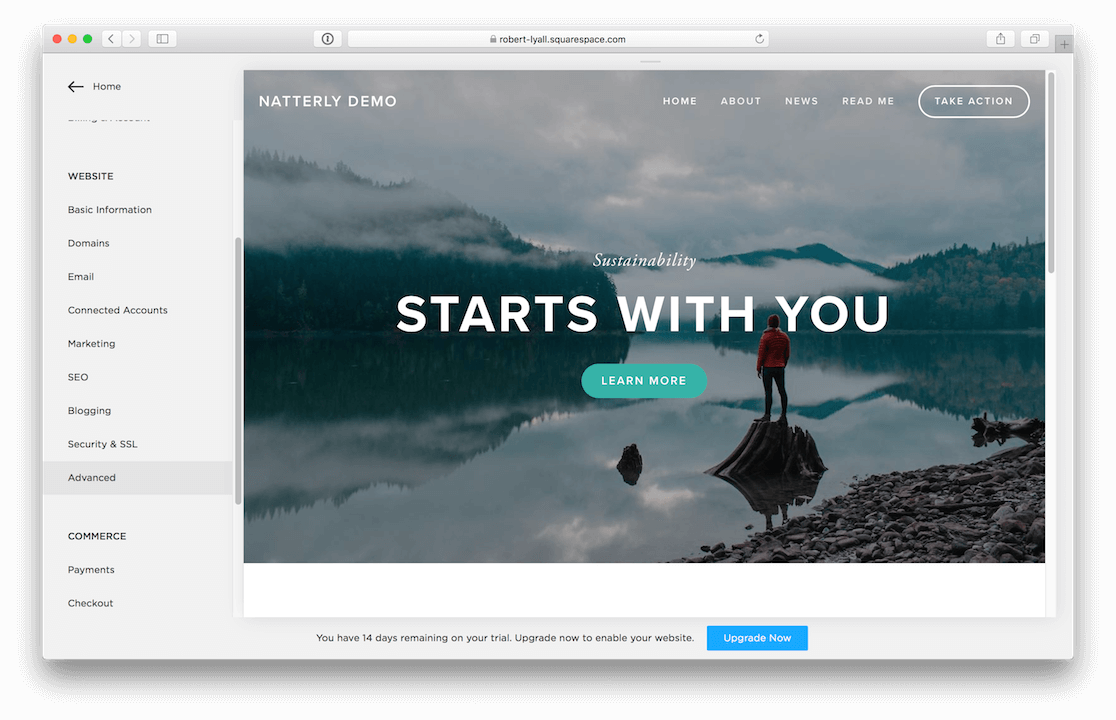 And from the perspective of adding a new post to your blog in Squarespace, here's a snapshot of what the content editing window looks like: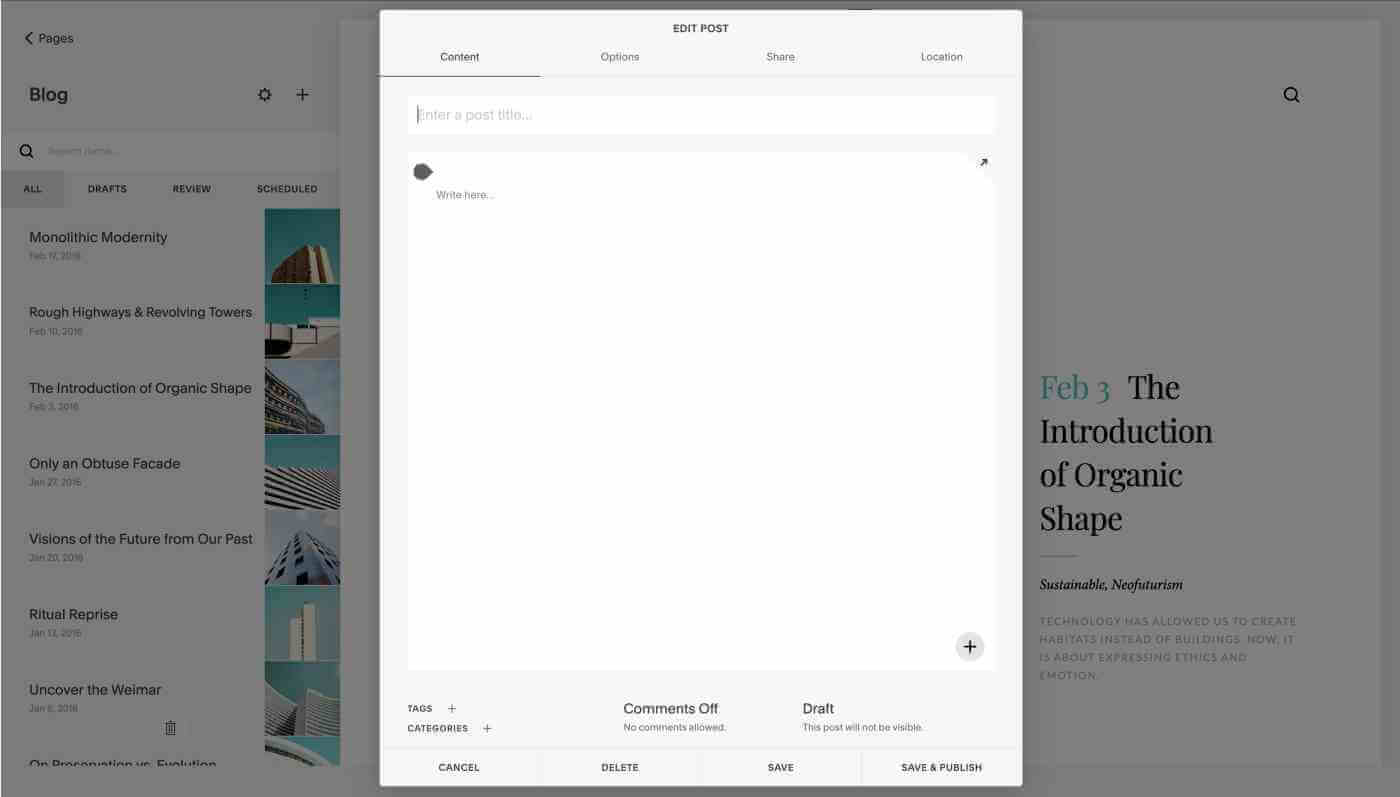 Compared to some of the more versatile blogging platforms like WordPress, you'll notice that the content editing options are fairly limited with Squarespace. However, if you're going for simple and quick (at the expense of missing some blog SEO best practices), then the Squarespace options may be all you need.
Examples of Squarespace Websites
Squarespace is very designed-focused in how they've positioned themselves amongst blogging platforms, so let's take a look at a few examples of what others have done with their Squarespace-powered websites.
Darren Booth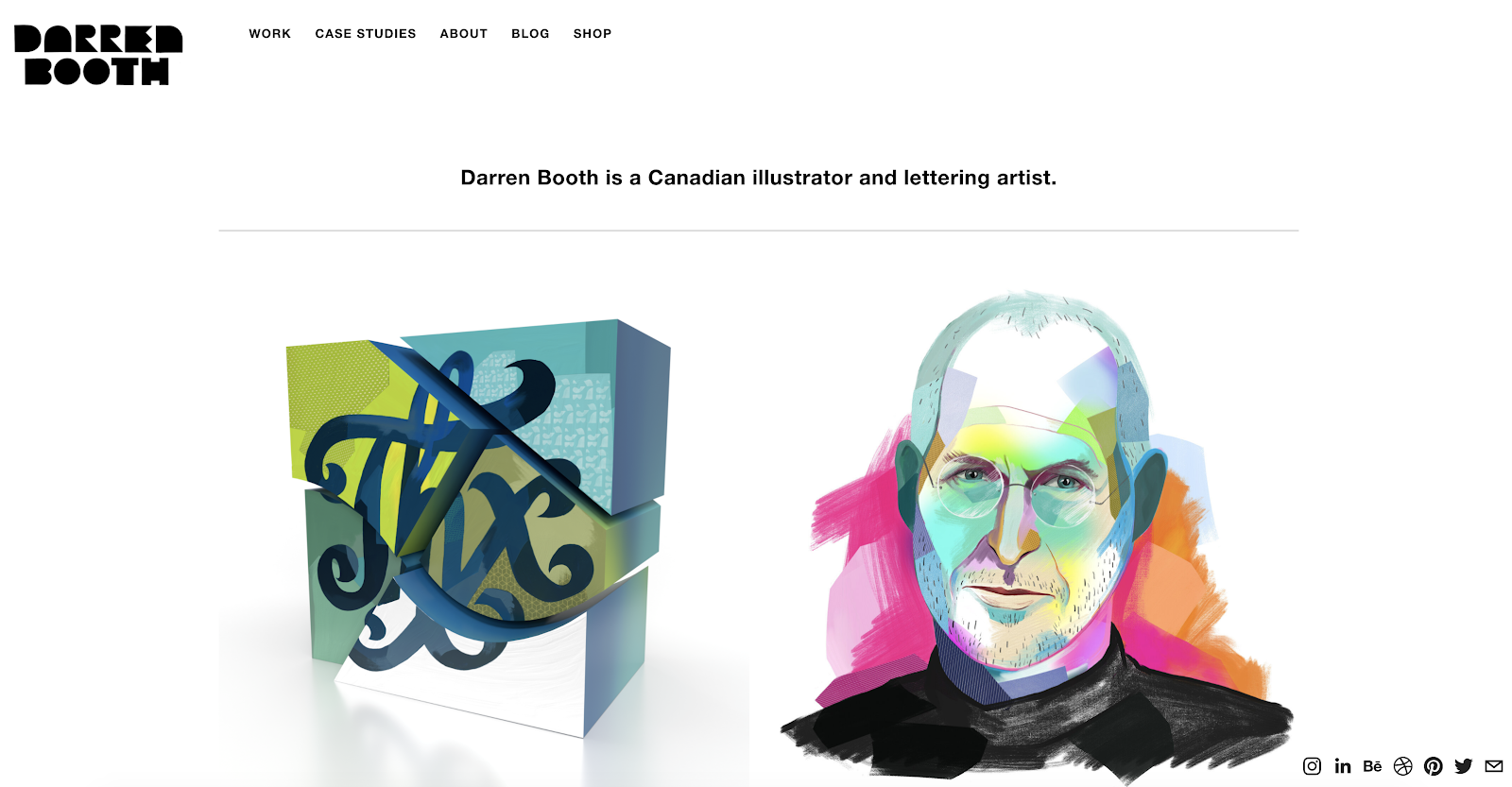 Darren Booth is an illustrator and lettering artist and his Squarespace website feature his artwork, blog, and shop.
Yassmin Abdel-Magied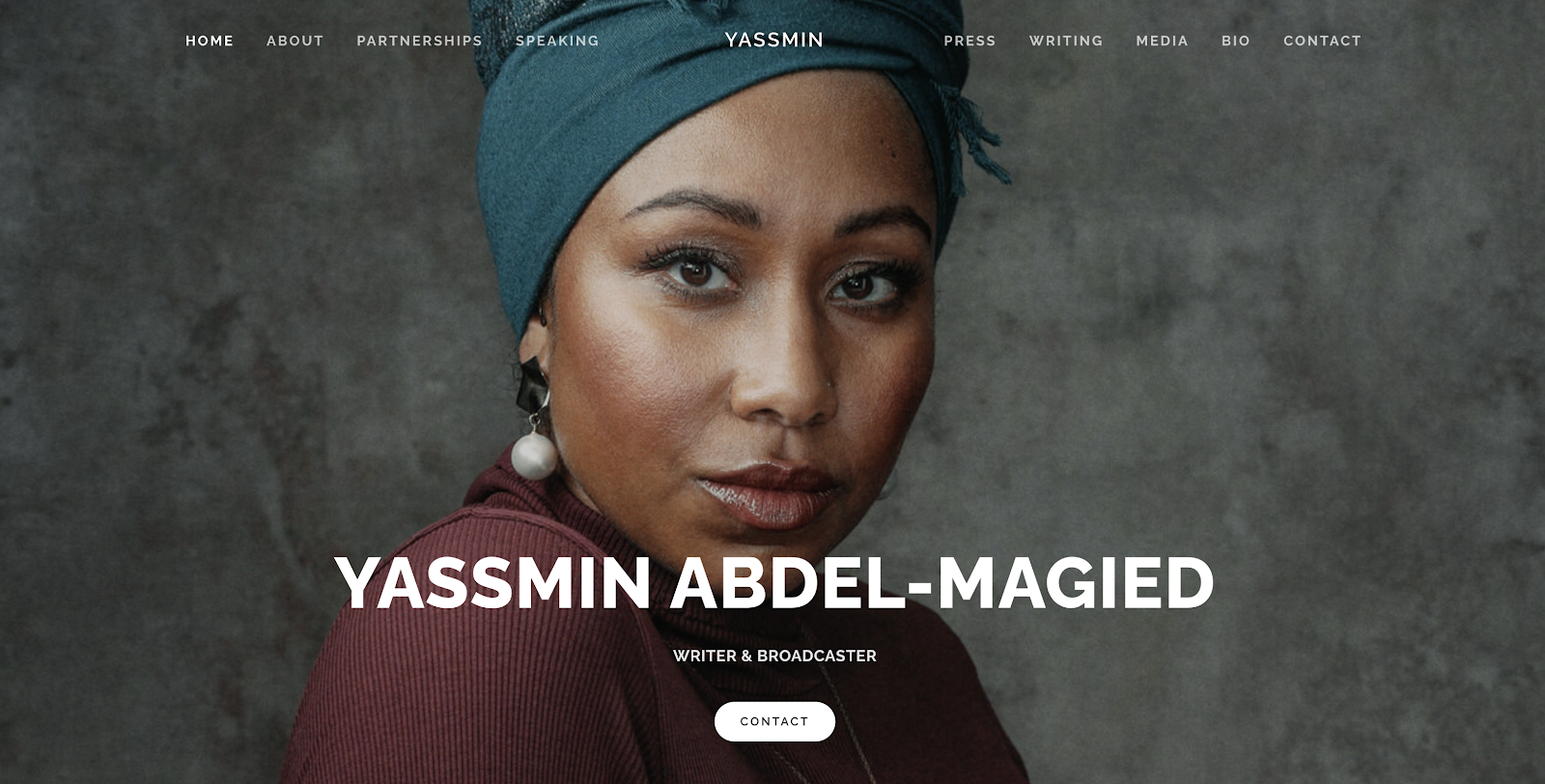 Yassmin Abdel-Magied is a Sudanese-Australian writer, broadcaster, and social activist. She uses her Squarespace site to advocate for, "transformative justice and a fairer, safer world for all."
Salvage Solutions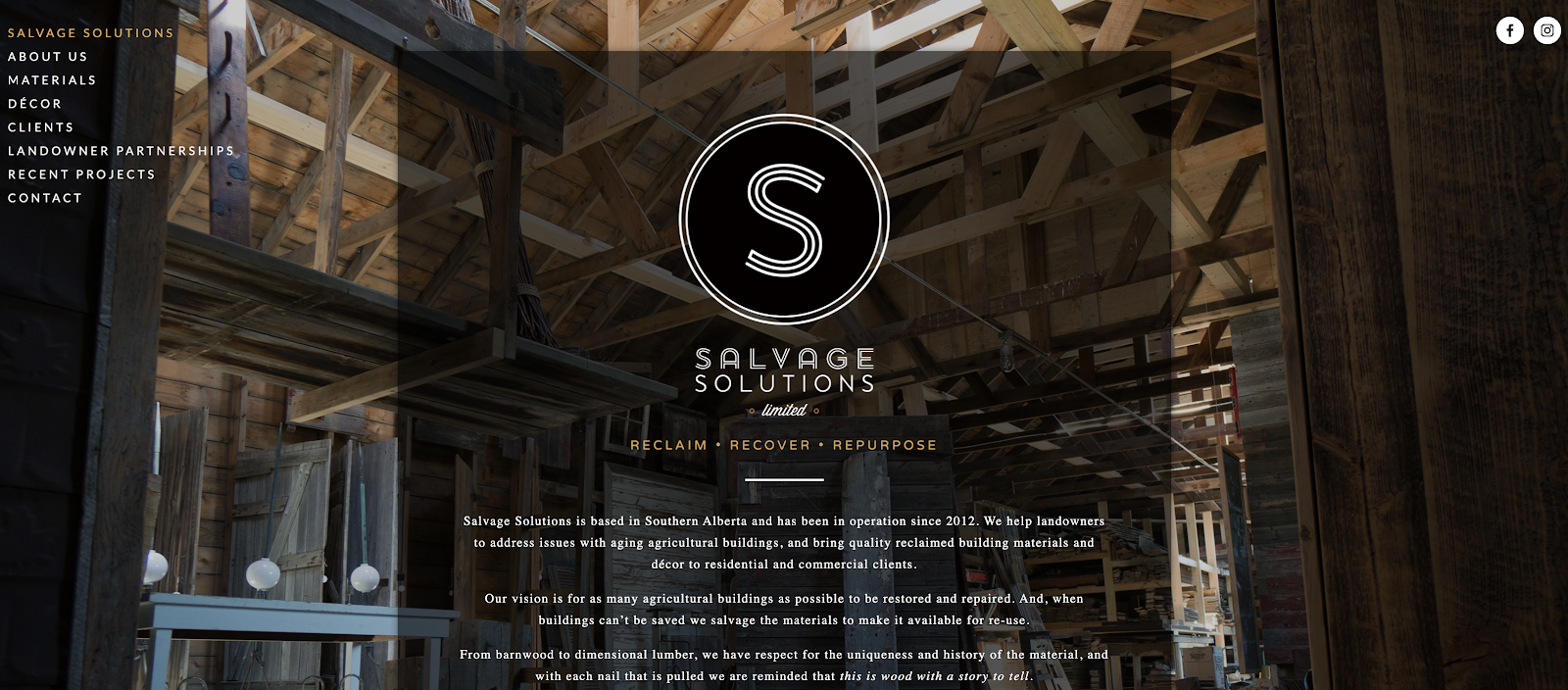 Salvage Solutions is a business that helps farmers with aging agricultural buildings. They write, "Our vision is for as many agricultural buildings as possible to be restored and repaired. And, when buildings can't be saved we salvage the materials to make it available for re-use."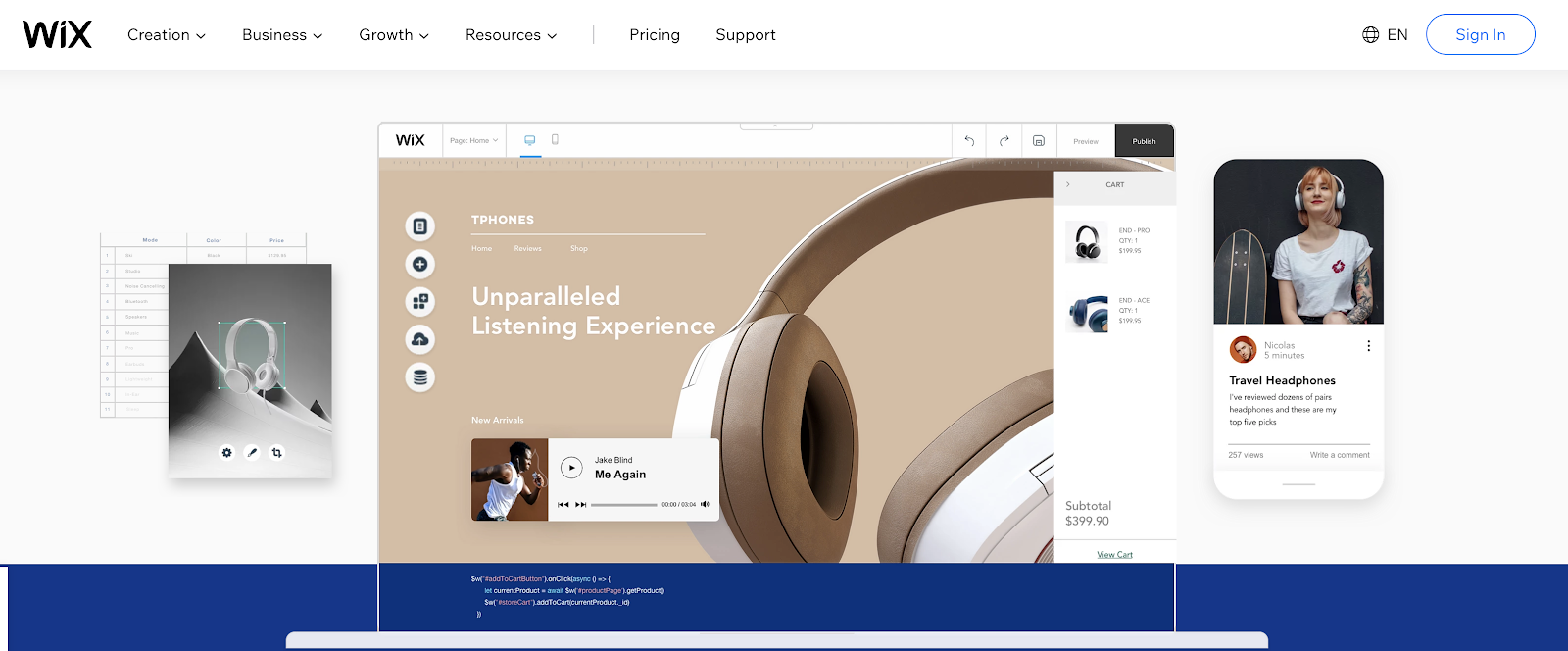 Wix is extremely popular amongst the top blogging platforms, though I tend to think of it as more of a website builder that's often the first choice for brand new beginners. It's one of the easiest blogging platforms to use, it comes with a lot of built-in features that help get a new site started quickly, but it's not a powerful publishing tool and it won't likely power a real business around your blog.
Let's take a closer look at what Wix is all about, the features they have to offer and where they stand amongst blogging platforms today.
Cost of the Wix Blogging Platform
Wix has two sets of plans, one for websites and one for eCommerce. We'll focus on the one offered for websites here. The cost to use Wix has recently increased, and prices have been affected. There is also a free version you can use with Wix that won't cost anything but is more limited than other versions.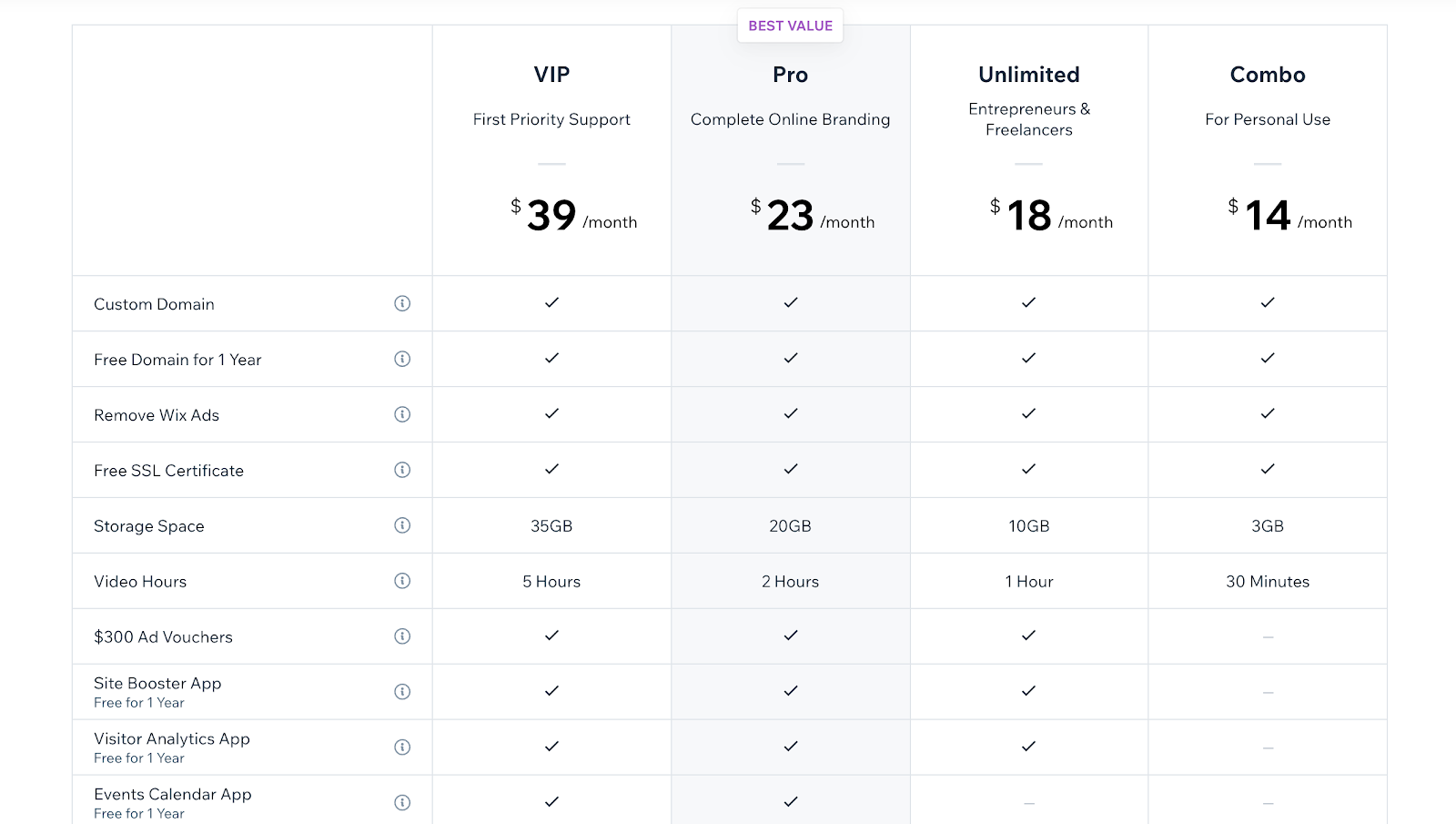 Wix's least expensive plan is the Combo Plan. It costs $14.00/mo when paid annually. The VIP Plan is $39.00/mo when paid annually.
Features of Wix
While there is a free version of Wix, here I'll share the features available with premium plans. Here's what's available with the Combo Plan:
Free domain for 1 year
Remove Wix ads
Free SSL Certificate
3 GB Storage space
30 minutes of video hours
24/7 support
Drag'n drop editor
Wix app market
HTML embed code
Customizable designs
Image editor
Site analytics
Here's what's available in addition to the above with the VIP plan:
35 GB storage space
5 hours of video
Professional logo
Social media logo
Priority customer care
Pros of Wix
Easy to use: If I could pick one thing about Wix that makes it stand out it's how easy it is to use. It's extremely user-friendly and its drag-and-drop WYSIWYG editor makes it simple to manipulate the placement of images, text, and video.
Lots of templates: Wix offers over 500 templates to choose from.
Wix App Market: You can extend the functionality of your site with 3rd party and additional Wix apps.
Lots of features available: Wix comes with a lot of built-in features right out of the box.
Cons of Wix
Limited for blogging: Unfortunately, one of the biggest drawbacks of Wix is the blogging functionality. While you can use a blog on Wix, it's very limited and only provides a few ways to customize blog posts—complicating its status as one of the more popular blogging platforms if you plan to publish content frequently.
Can't transfer your site: If you choose to switch to a different blogging platform in the future, you are forced to do so manually. This means starting from square one and copying and pasting your old blog posts.
Can't change templates: Once you've chosen a template with Wix you can't switch to a different one without starting over.
Wix ads and branding with the free version: You have to pay for premium Wix to remove Wix branding.
An Inside Look at the Wix Blogging Platform
Wix's interface is very easy to use. You can move images or text wherever you want, add backgrounds, change fonts, and so on.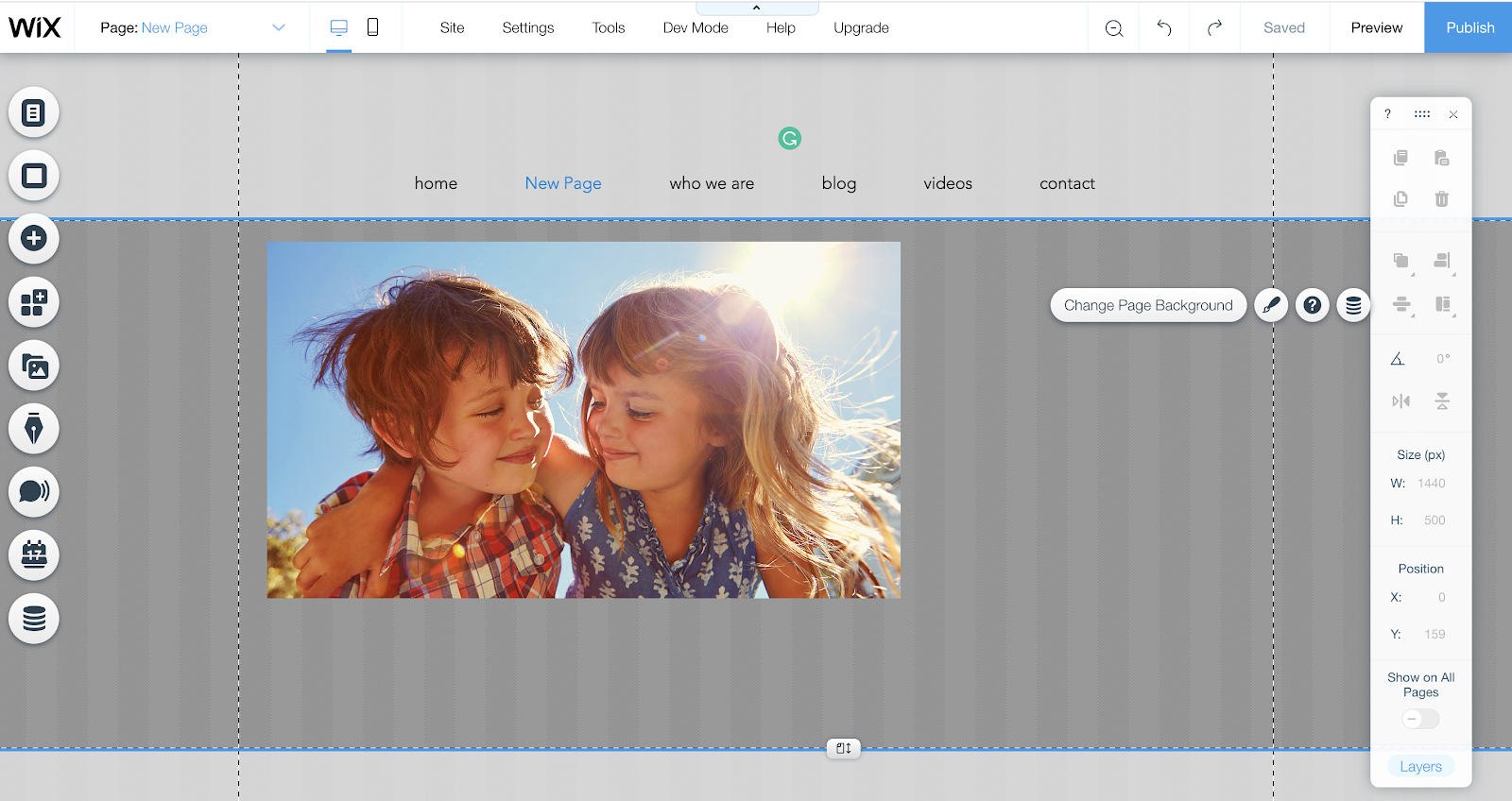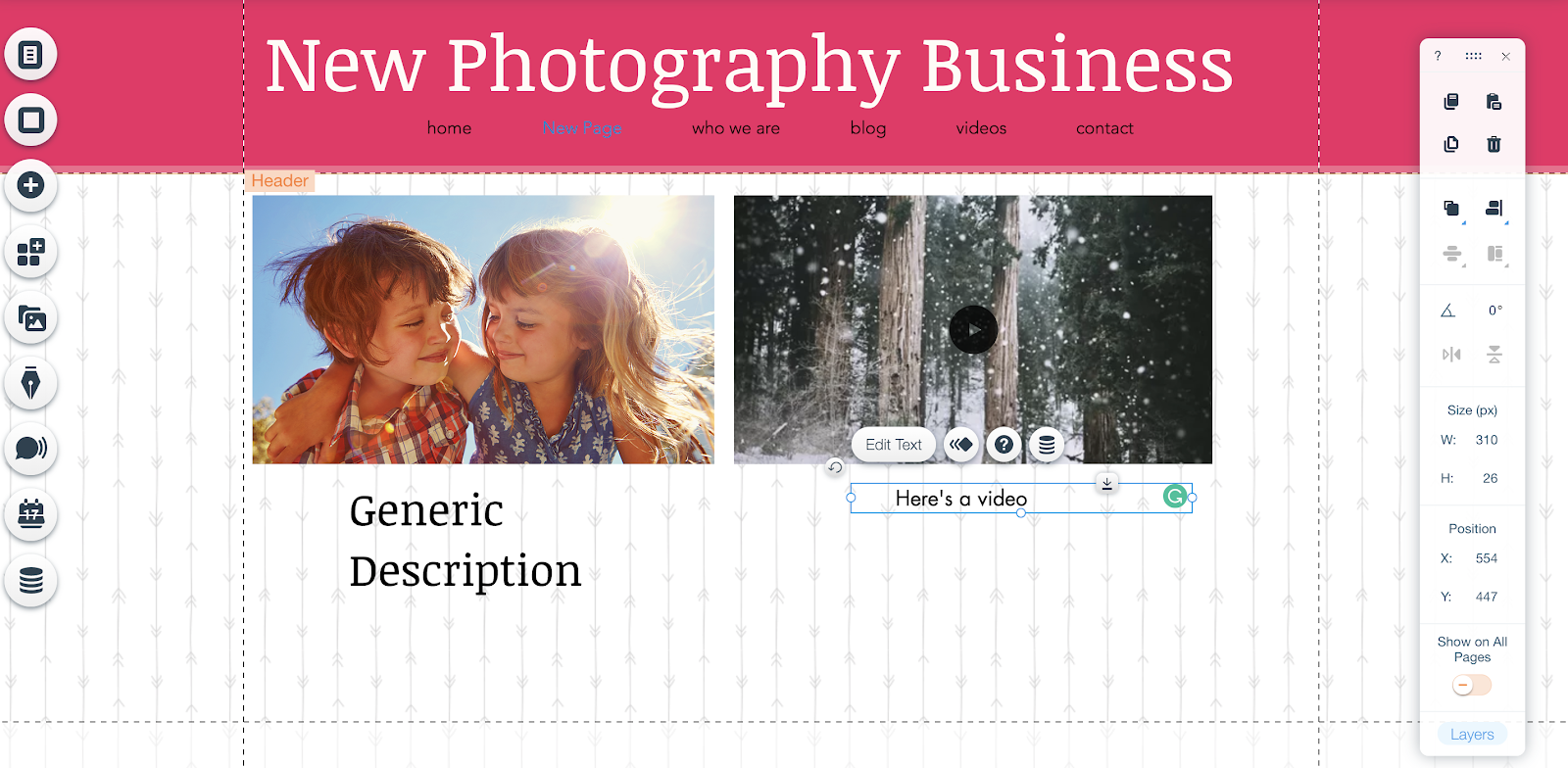 The blog feature of Wix is a bit more restrictive than the regular website builder. You don't have the freedom to change images or text the same way that you do with the main editor.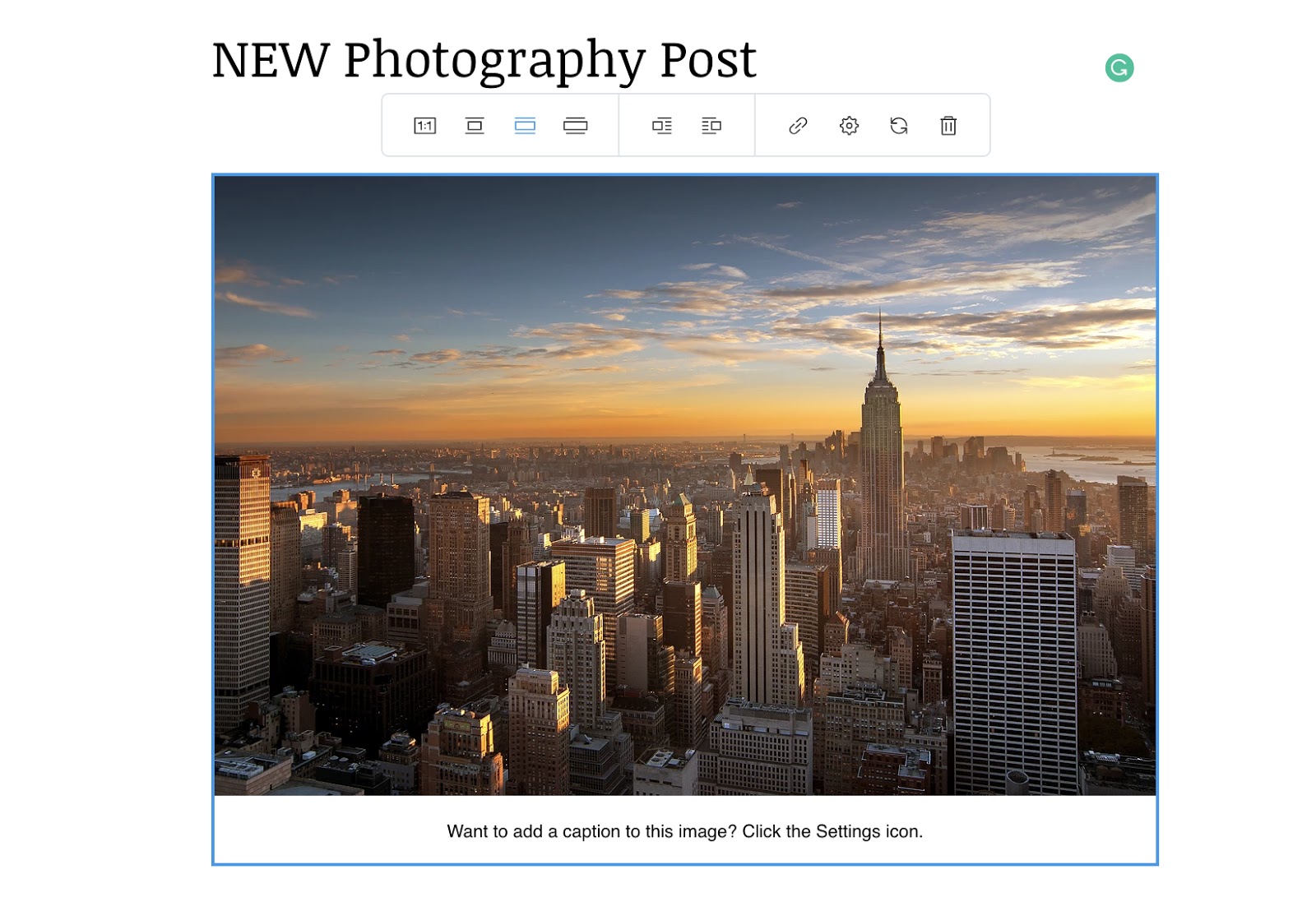 Examples of Wix Websites
Not all blogging platforms are created equal, so let's take a look at a few websites that are built using Wix.
Zelie for She
Zelie for She is a fashion business designed and produced by designer Elann Zelie. "Zelie for She is an unapologetic expression of ones authenticity and individuality."
Find More With Les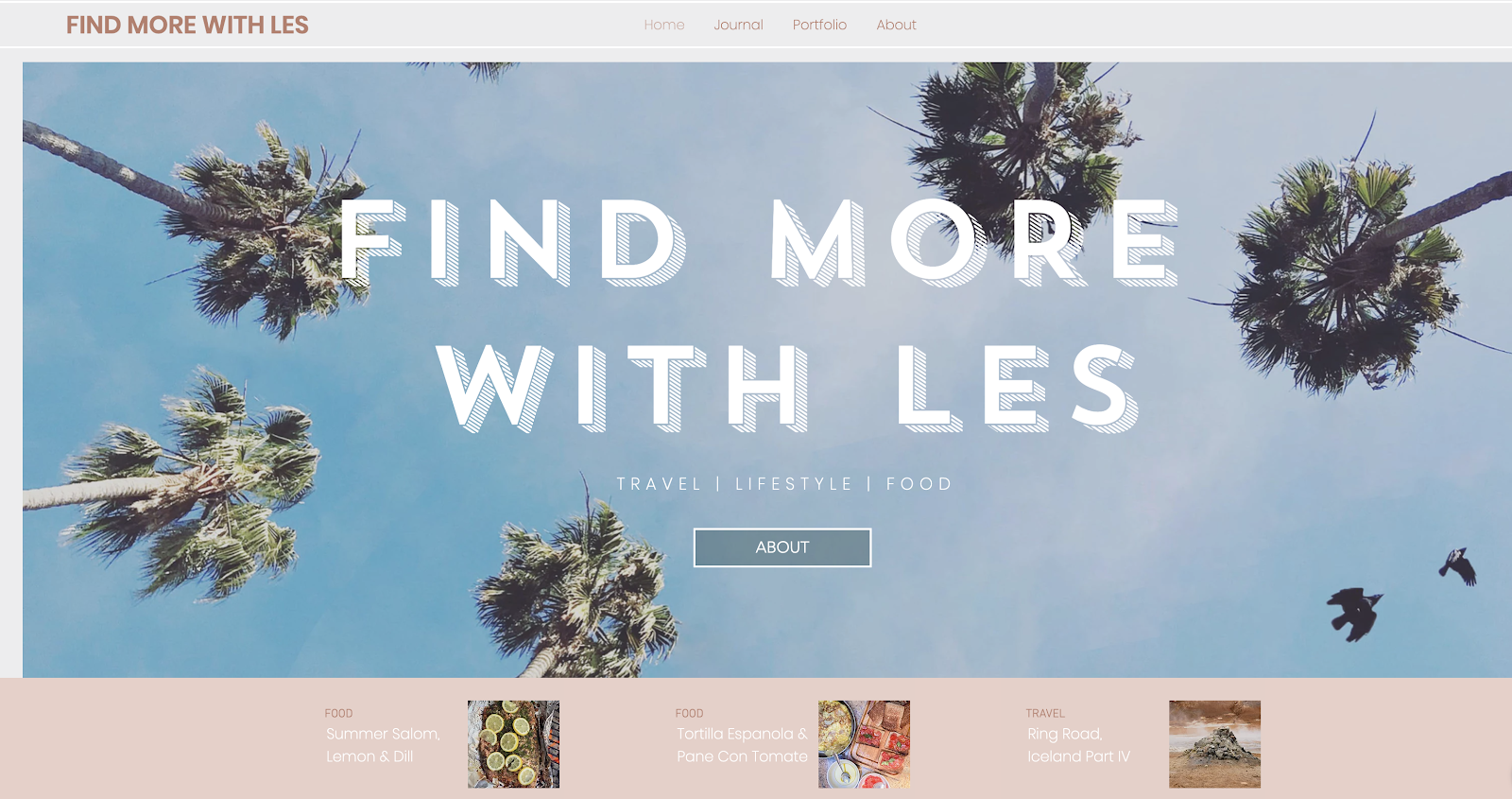 Find More With Les is a blog about travel, lifestyle, and food. Leslie is the creator of the site and has traveled to many destinations in the world through her job and private travels.
Simply Tabitha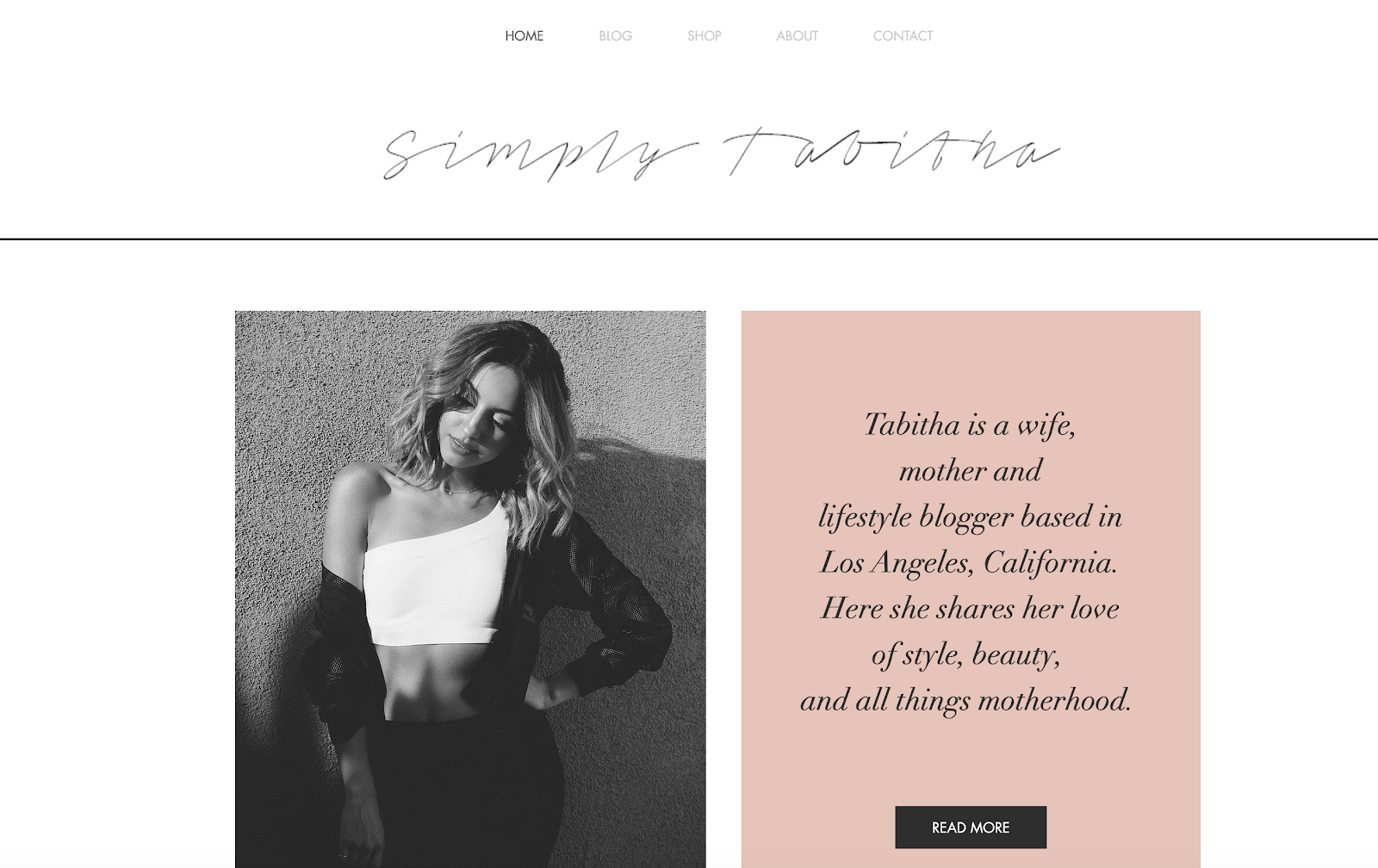 Simply Tabitha has been a blogger since 2013 and she started her blog as a creative outlet while working a full-time corporate job. She blogs about style, beauty, recipes, and motherhood.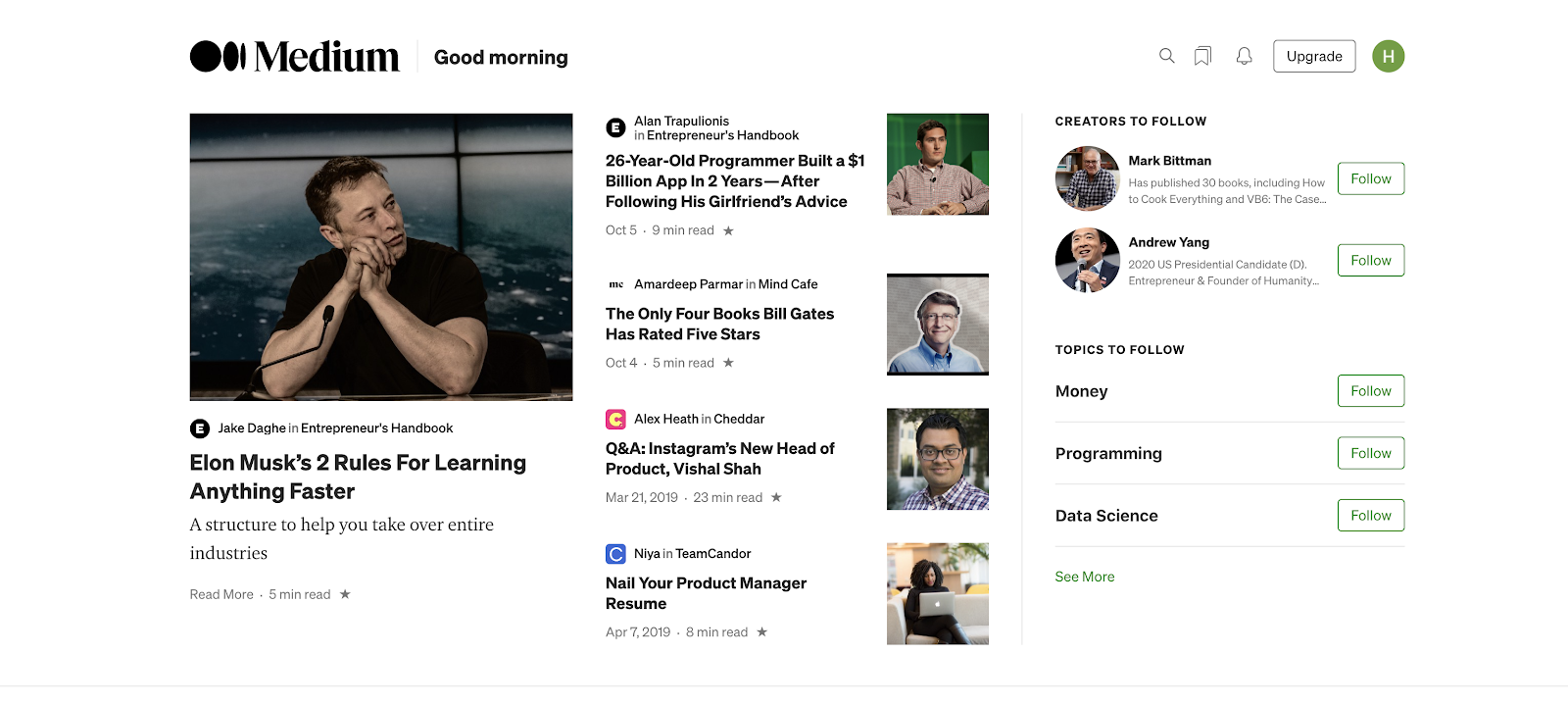 Medium was designed to draw inspiration from some of the best blogging platforms and combine those features with a social media platform.
Creator Ev Williams, one of the co-founders of Twitter, wanted a place to share longer-form content in a similar fashion to other social media. When Medium debuted, he wrote, "Medium is a new place on the Internet where people share ideas and stories that are longer than 140 characters and not just for friends. It's designed for little stories that make your day better and manifestos that change the world. It's used by everyone from professional journalists to amateur cooks. It's simple, beautiful, collaborative, and it helps you find the right audience for whatever you have to say."
One of the biggest appeals to using Medium is the built-in audience. Just like other social media platforms, people are able to find your content when they visit the Medium site. Medium posts can also appear in search engine searches for additional traffic.
Cost of the Medium Blogging Platform
Medium is completely free to use as a publisher (a major pro amongst blogging platforms you may be comparing)—but you can also pay $5.00/mo to be a full-fledged Medium reader and unlock more features to help other publishers effectively monetize their audience.
Features of Medium
Easy to use editor
Basic SEO tools
Change tracker (keeps track of previous edits)
Story options
Built-in audience
Import content
Pros of Medium
Easy to use: Medium is very easy to use. You just log in and can begin writing a new blog post. You can also import content from an existing blog.
Built-in readership: You can take advantage of an already existing audience with Medium. Currently, Medium has over 100 million monthly readers.
No tech knowledge is necessary: You don't need to know any additional website building knowledge to get started with Medium.
Cons of Medium
Lots of competition for traffic: Medium does have a large audience, but it doesn't necessarily translate to readers to your blog posts. There are a lot of readers but also a lot of competition on Medium.
You are building up Medium and not your own blog: One of the biggest cons of working with Medium is that you're not pulling in traffic to a website you own. You're helping Medium grow their online authority, but you're not fully benefiting from this traffic.
You don't own your content: As with other social media platforms, you don't fully own your content. You can't change the design or look of your blog. It also means you don't have control over what happens to Medium. If Medium shuts down, so does your content.
Very limited monetization: Medium is not the best choice for monetization. You can't include ads or any sort of eCommerce. It's against the rules to, "advertise or promote third-party products, services, or brands through Medium posts, publications, or letters." Affiliate links are allowed, but not if the primary goal is to generate personal revenue or personal gains. You can, however, make money through the Medium Partner Program which is based on the amount of time people spend reading your posts.
An Inside Look at the Medium Blogging Platform
The interface for Medium is very simple. You can add your title, add media, and write. Those are the basic components of the Medium interface.

A few nice things you can add to your Medium post are social media embeds, which would look something like this: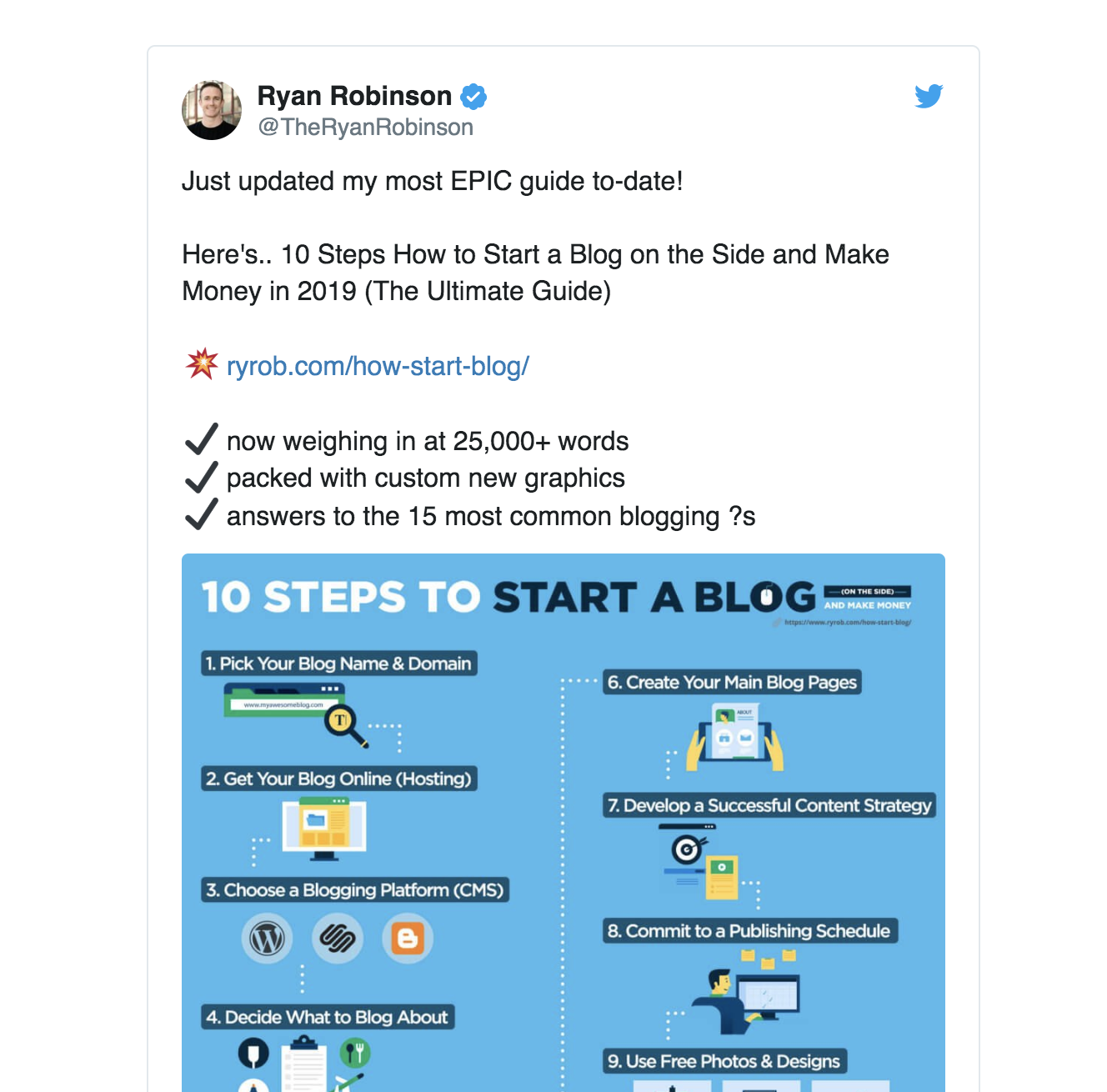 And, you can also embed a video into your Medium blog post, like this: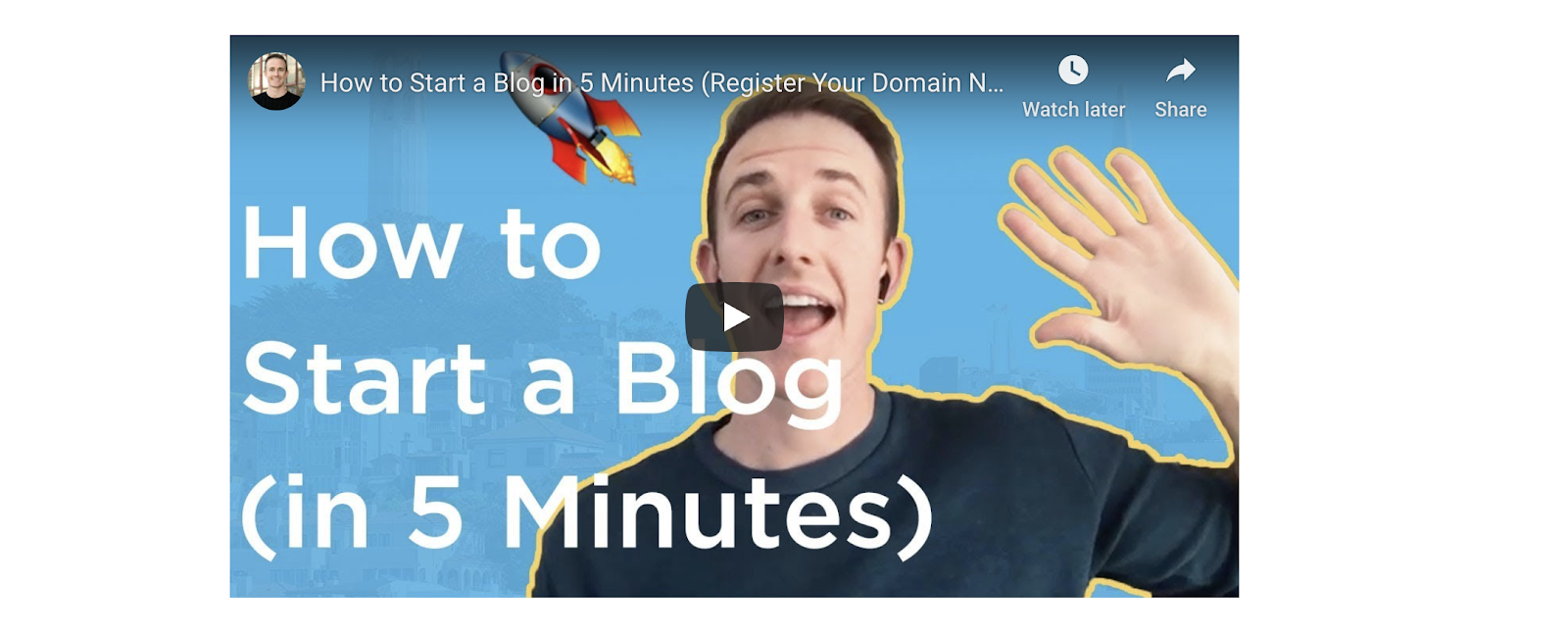 Though Medium is comparatively limited when pitting it against many of our other top blogging platforms, this additional feature does give it some more functionality.
Examples of Bloggers on Medium
For the most part, blog posts on Medium are going to look almost exactly the same from a structure standpoint. For example, here's a post by blogger, writer and entrepreneur Tim Denning: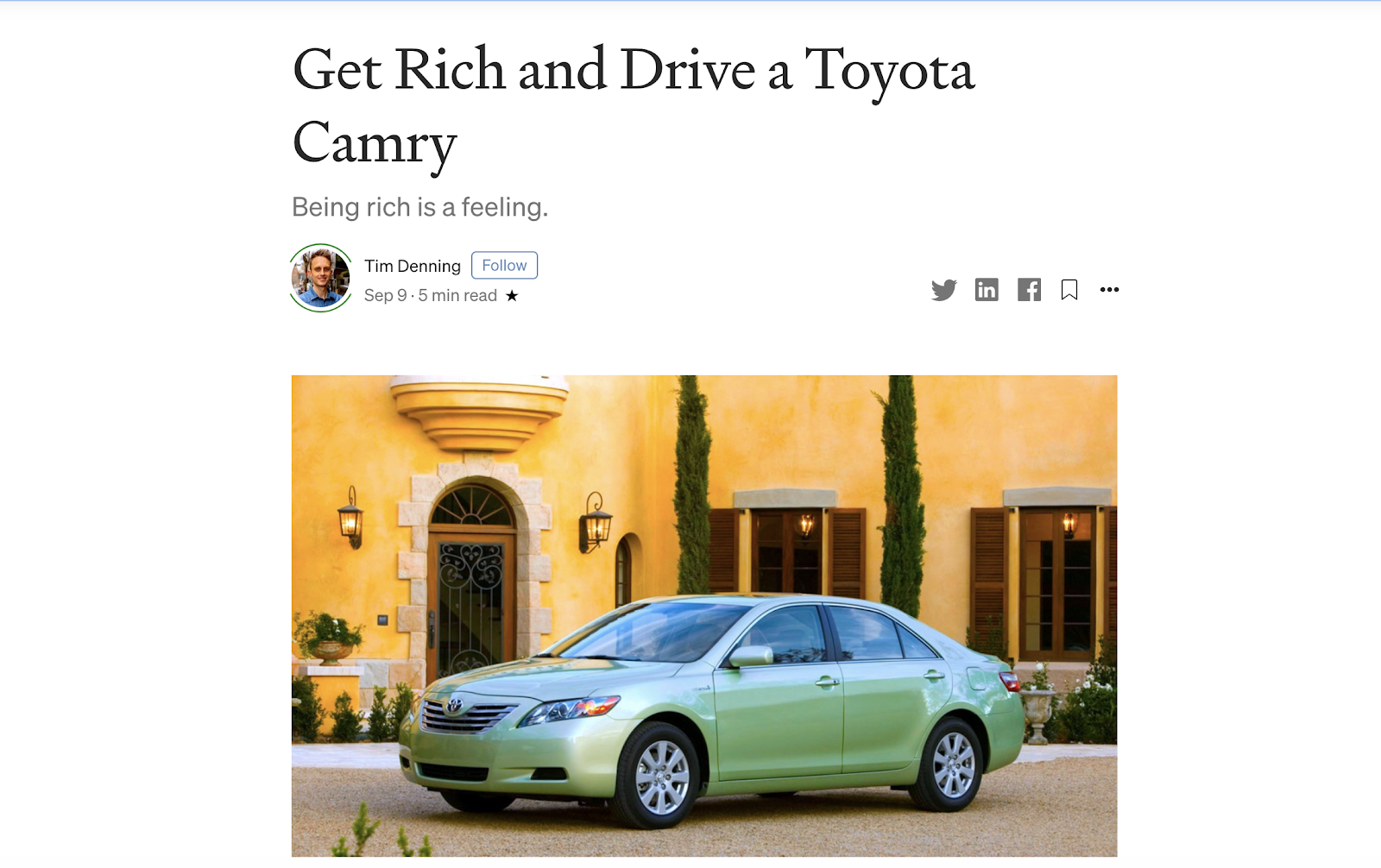 On Medium, it has less to do with the design of your content and more to do with the content itself. Interesting, relatable, trending, or surprising blog topics are going to be the big appeal on this blogging platform.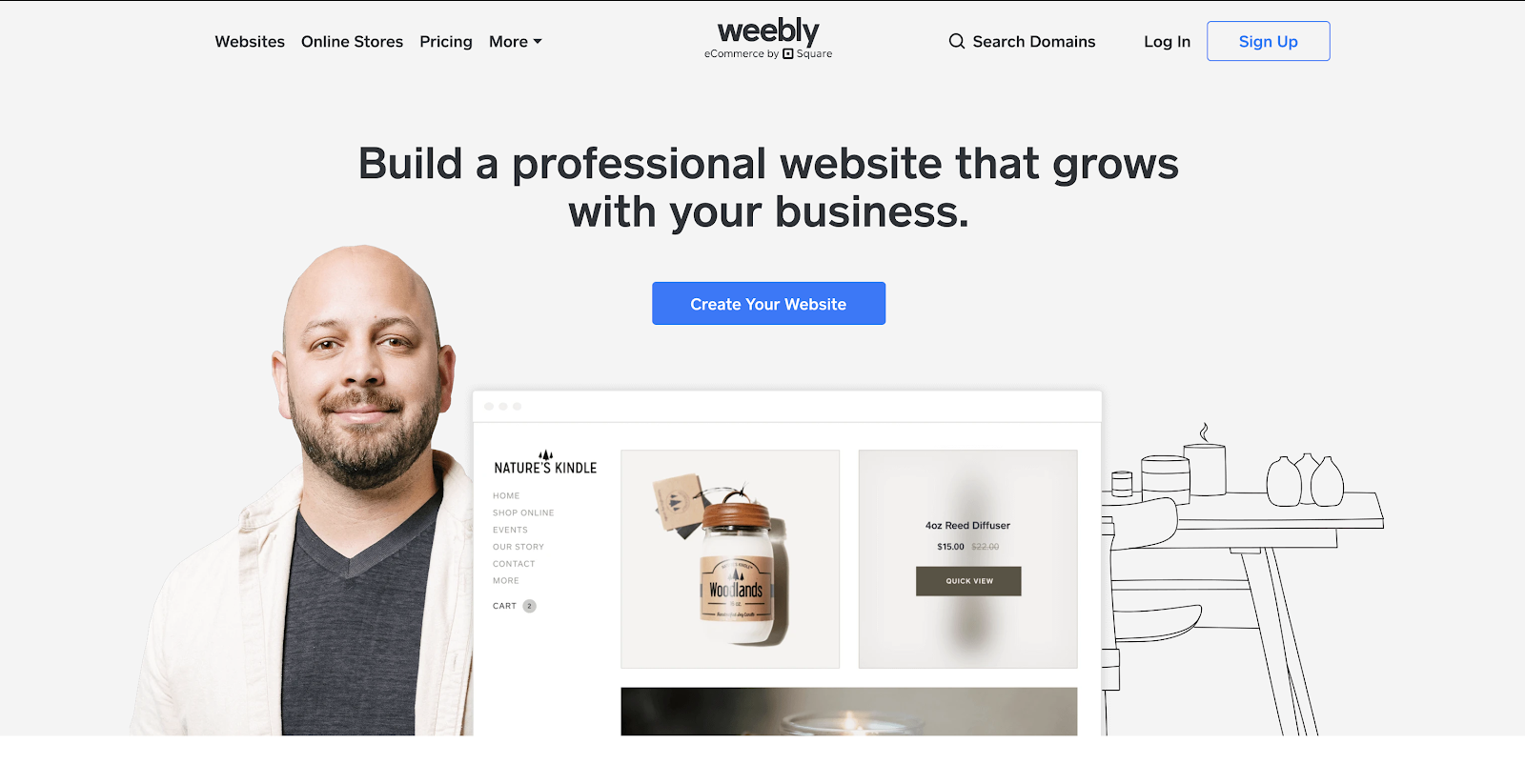 Weebly is a relatively simple website builder and one of the most straightforward blogging platforms on the market today—having been around in the industry since 2006. In 2019, Weebly was acquired by the small business financial services startup, Square, and the focus shifted more towards eCommerce, rather than just simple website building. As such, their versatility amongst the best blogging platforms has gone down a little bit, in exchange for being a more targeted solution for eCommerce businesses.
While Weebly does offer the functionality of a blog, it's now best suited for a small business looking to add a blog, rather than a blogger looking to run a true online business.
Cost of the Weebly Blogging Platform

Weebly has a free plan available, but the premium plans range from $6 a month to $26 a month when billed annually.
Features of Weebly
Weebly's least expensive plan (after the free version) is the Personal Plan. It offers:
Free SSL Security
3rd party embed code
Connect custom domain
Shopping cart
Unlimited items
Item badges
Quick shop
Digital goods
Inventory management
In-store pickup
Automatic tax calculator
Coupons
Square gift cards
SEO
Lead capture
Instagram feed
Pop-up notifications
Community forums
Chat & email support
The Performance Plan includes the same features plus:
Unlimited storage
Advanced site stats
Free domain
Remove Square ads
Accept payments through PayPal
Item reviews
Shipping labels
Abandoned cart emails
Advanced eCommerce Insights
Priority support
Pros of Weebly
Easy to use: It doesn't take very long to get used to Weebly's interface and start putting together a website or blog.
Templates are customizable: You can customize Weebly's templates and they're all mobile responsive.
Third-party integration and coding are available: You can extend the functionality of Weebly with coding and or third-party extensions.
e-Commerce available: If you want to include products with your blog, Weebly has both options available. You can even have an eCommerce store and blog with the free version of Weebly.
Site migration is possible: If you do decide to leave Weebly for another platform it is possible.
Inexpensive plans available: Weebly is on the less expensive side of the spectrum and you can even get started for free.
Cons of Weebly
Not geared towards bloggers: While you can blog with Weebly, it's more of an afterthought than a central focus. When working with the editor it can feel restrictive without much flexibility for design or customization.
Not a lot of storage unless you get the higher-tiered plans: If you're using the free version of Weebly you'll only get 500 MB of storage.
Weebly branding: If you use the free or Personal Plan with Weebly you will be subject to their branding.
An Inside Look at the Weebly Blogging Platform
If you open up the Weebly editor it will look like this: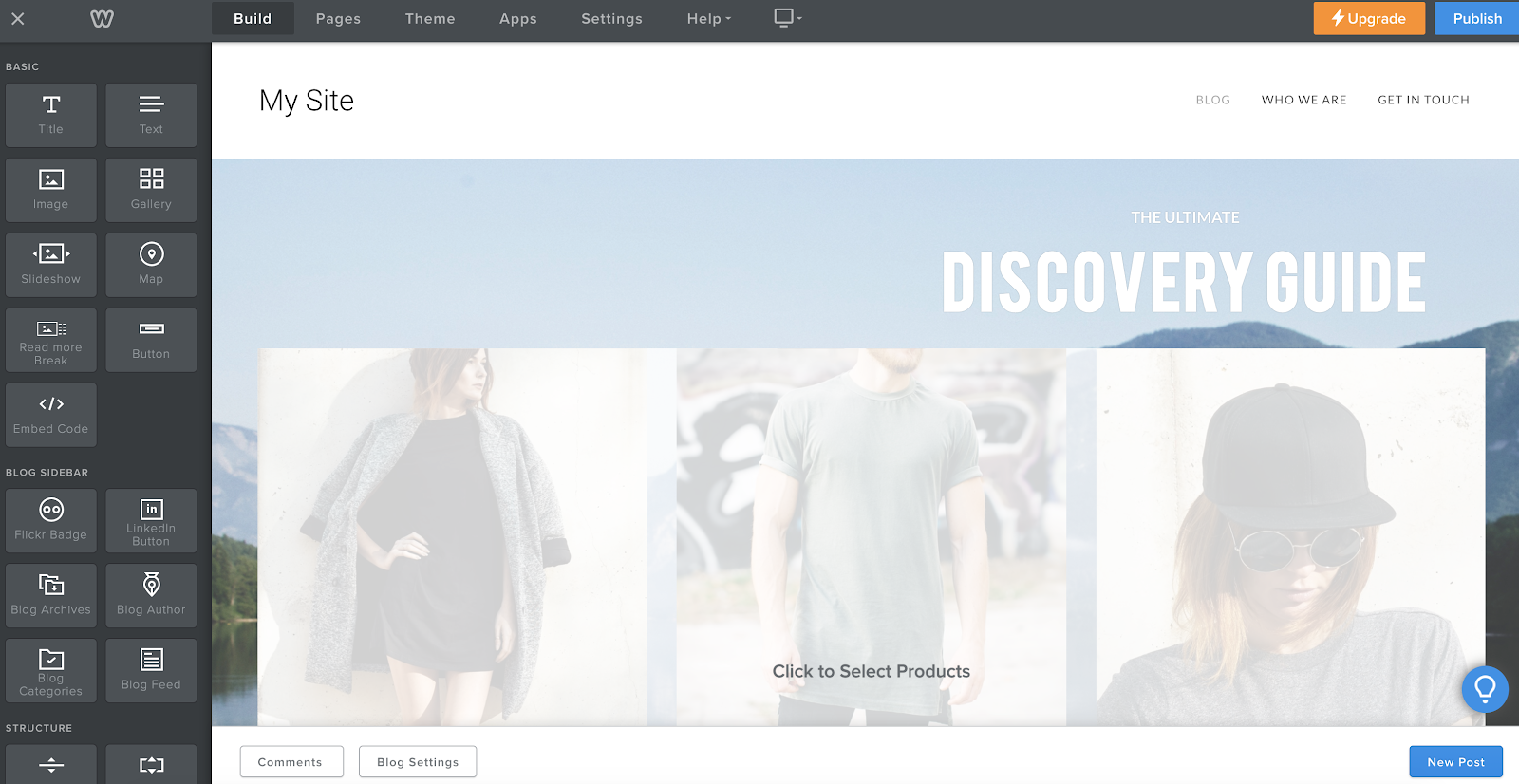 You'll have your drag and drop "blocks" that you can place in different sections of your page. Here's an example of the blogging feature: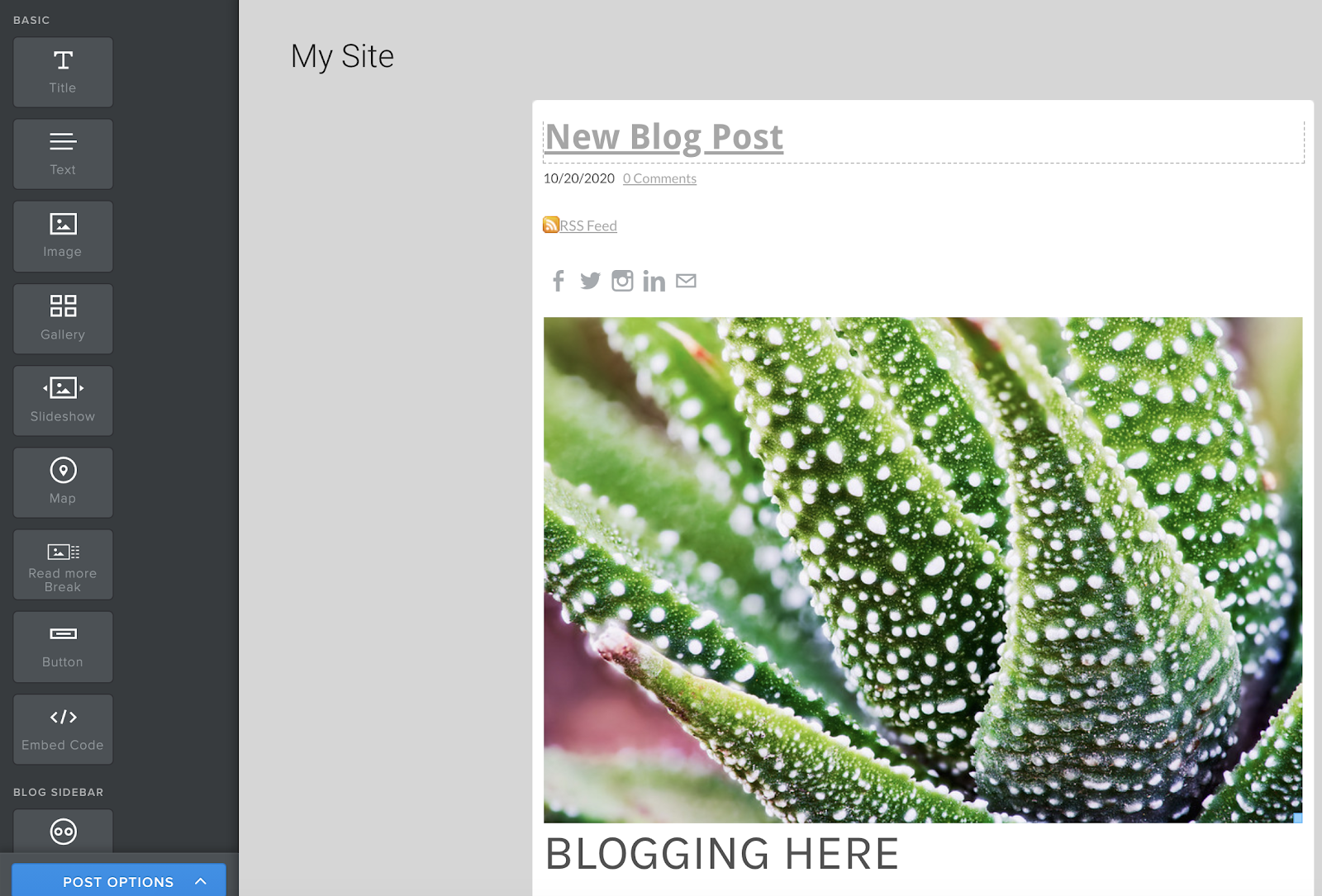 It does allow you to put in some helpful things like images, galleries, social media icons, and videos which is very easy to do. That being said, the actual blog editor is limited and restrictive about where you can place things and what the end results look like.
Examples of Weebly Websites
Given the pivot of Weebly as one of the more popular blogging platforms for eCommerce companies, let's take a look at a few brands using this platform to power their websites.
Box Bros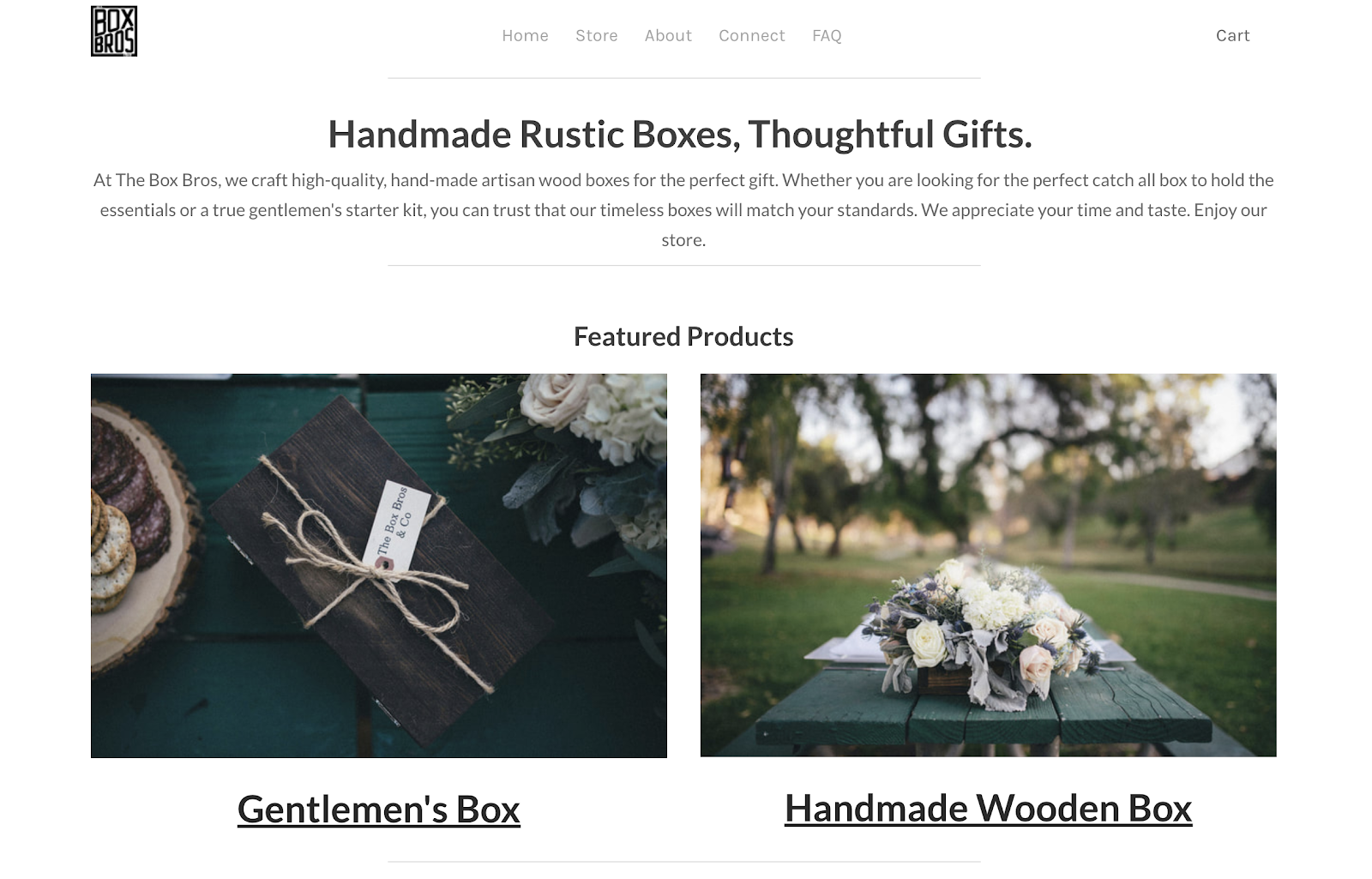 Box Bros is a company that makes "artistic wood boxes" for gifts. They're located in California and the boxes are made by the two friends who founded the company.
Detailed Engagements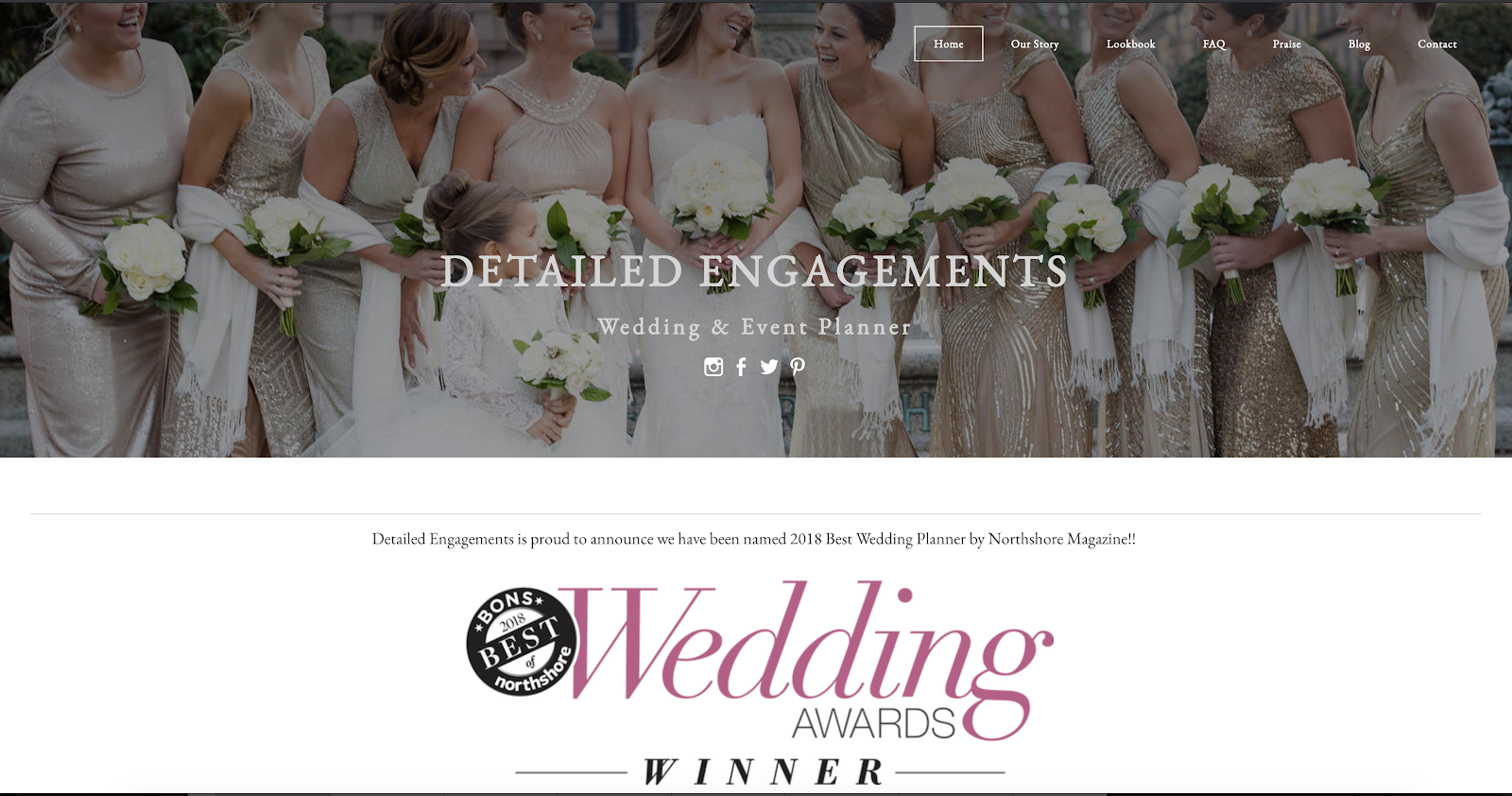 Detailed Engagements is a wedding coordinating business located in Newburyport, Massachusetts. They've been planning weddings since 2010, and they also have a blog sharing stories and photos from weddings they helped coordinate.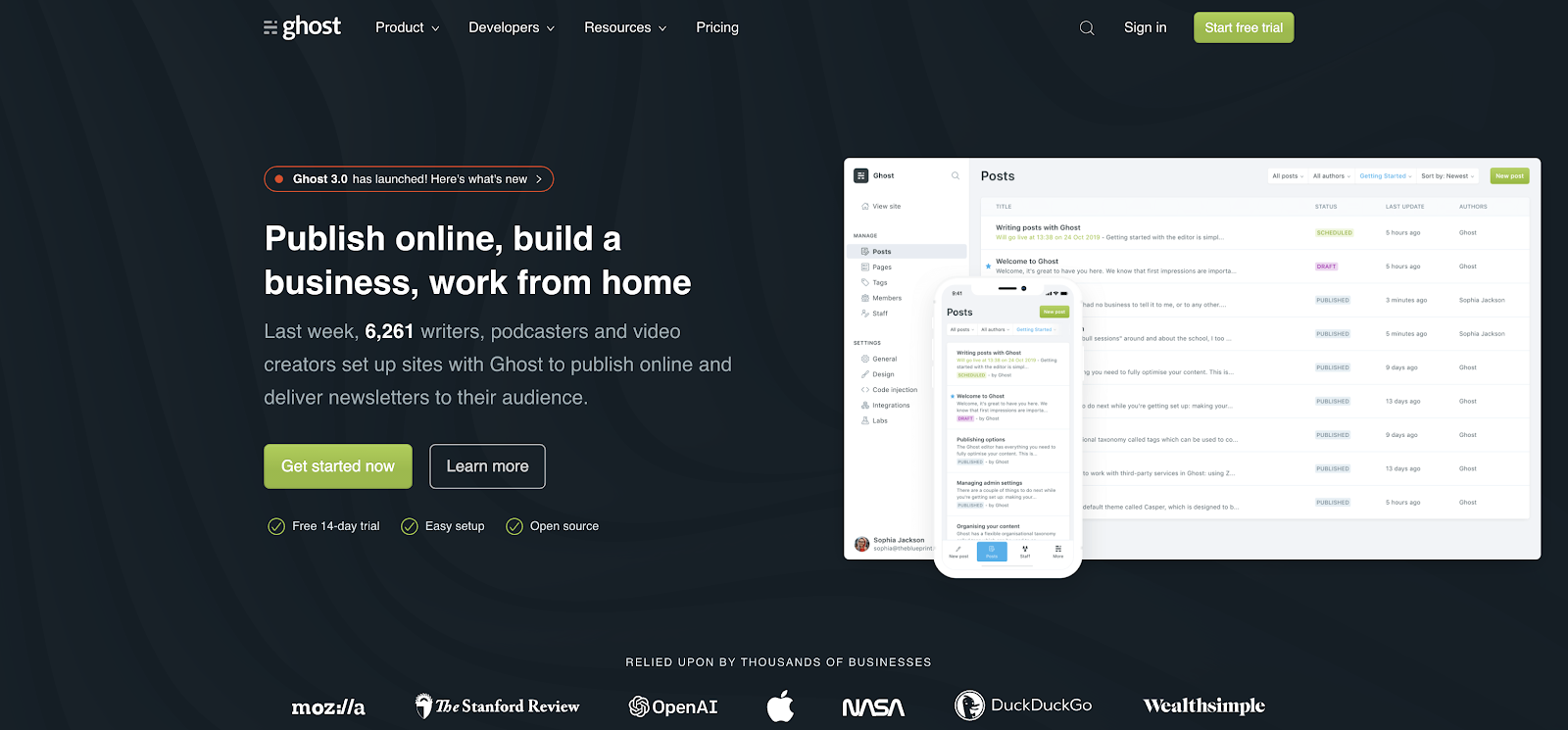 Ghost probably isn't one of the first blogging platforms you'll hear about. They're not quite as popular or well marketed as some of their competitors, but one thing that makes Ghost a good blogging platform is that it's solely for bloggers.
Founder John O'Nolan put it like this, "If you want to have a simple but powerful independent publication. Something which is focused on the writing experience and giving you the freedom to be in complete control of your content. Well, then you might find Ghost interesting."
Like WordPress, Ghost is an open-source platform that has both a hosted and a self-hosted version.
Cost of the Ghost Blogging Platform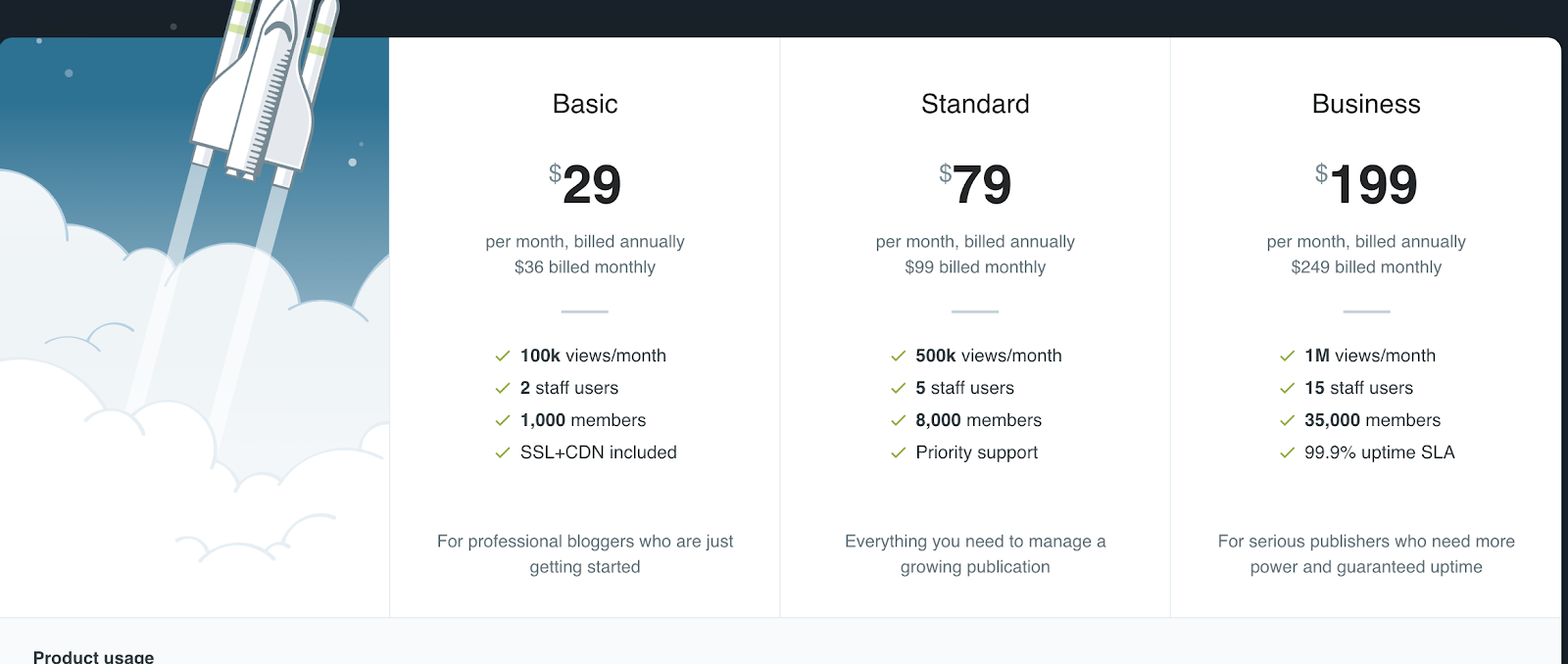 Ghost is an open-source CMS that is free to use but will require hosting and a domain name. They also offer a managed hosting option that costs between $29 and $199 a month.
Features of Ghost
Since Ghost has a self-hosted and a managed option, I'll first talk about the features offered with the open-source platform of Ghost. Then, I will show the features you can get with the managed version of Ghost.
Here's what Ghost has to offer:
Built-in memberships and subscriptions
Developer-friendly API
Add contributors easily and with complete control
Custom themes
Integrates with 3rd party apps for greater usability
SEO tools
Here's what Ghost's least expensive managed Basic Plan has to offer:
100K views per month
2 staff users
1,000 members
Custom domain support
Own your data
Managed install and setup
Automatic weekly updates
Server maintenance and backups
Threat and uptime management
Worldwide CDN
Enterprise-grade security
Automatic SSL certificate
Email support
Basic migrations
This Business Plan includes the same features plus:
1 million views per month
15 staff users
35,000 members
SSO/Oauth 2.0 beta
Use custom SSL certificate
Managed sub-directory (for $50+ a month)
24/7 priority support
Business migrations
99.9% uptime SLA
Pros of Ghost
Very fast: Ghost uses Javascript and it has quick load times.
Built for blogging: Ghost is made for bloggers. If you're interested in maintaining a blog and you're not interested in eCommerce or developing a broader website, Ghost cuts out all the extras so you can focus clutter-free on blogging.
Simple to use: Ghost is a simplistic platform and it's very easy to use once it's installed and ready to go.
Free to use: You can use the self-hosted version of Ghost for free though you will have to pay for hosting and a domain name.
Ghost continues to grow: Ghost is not a stagnant platform. In 2020, they added more features for people with membership sites, added 5 currencies, added a membership referral program, and acquired IVEEL a theme company, and released their themes for free to users.
Cons of Ghost
Harder to find hosting plans for self-hosting: Ghost uses javascript (node.js) which makes it more difficult to find a hosting company that supports it.
Self-hosting can be difficult to set up: Once Ghost is up and running it's easy to use, but it can be complicated to get it up and running.
Managed plans are more expensive: If you choose to use the managed plans they are more expensive to use than many of the other blogging platforms on this list.
Too simple: This is kind of a pro and con of Ghost. Some people like the simplicity of Ghost, but others are frustrated that they aren't able to do more in terms of customization.
An Inside Look at the Ghost Blogging Platform
Here's a look at the back end of the Ghost blogging platform.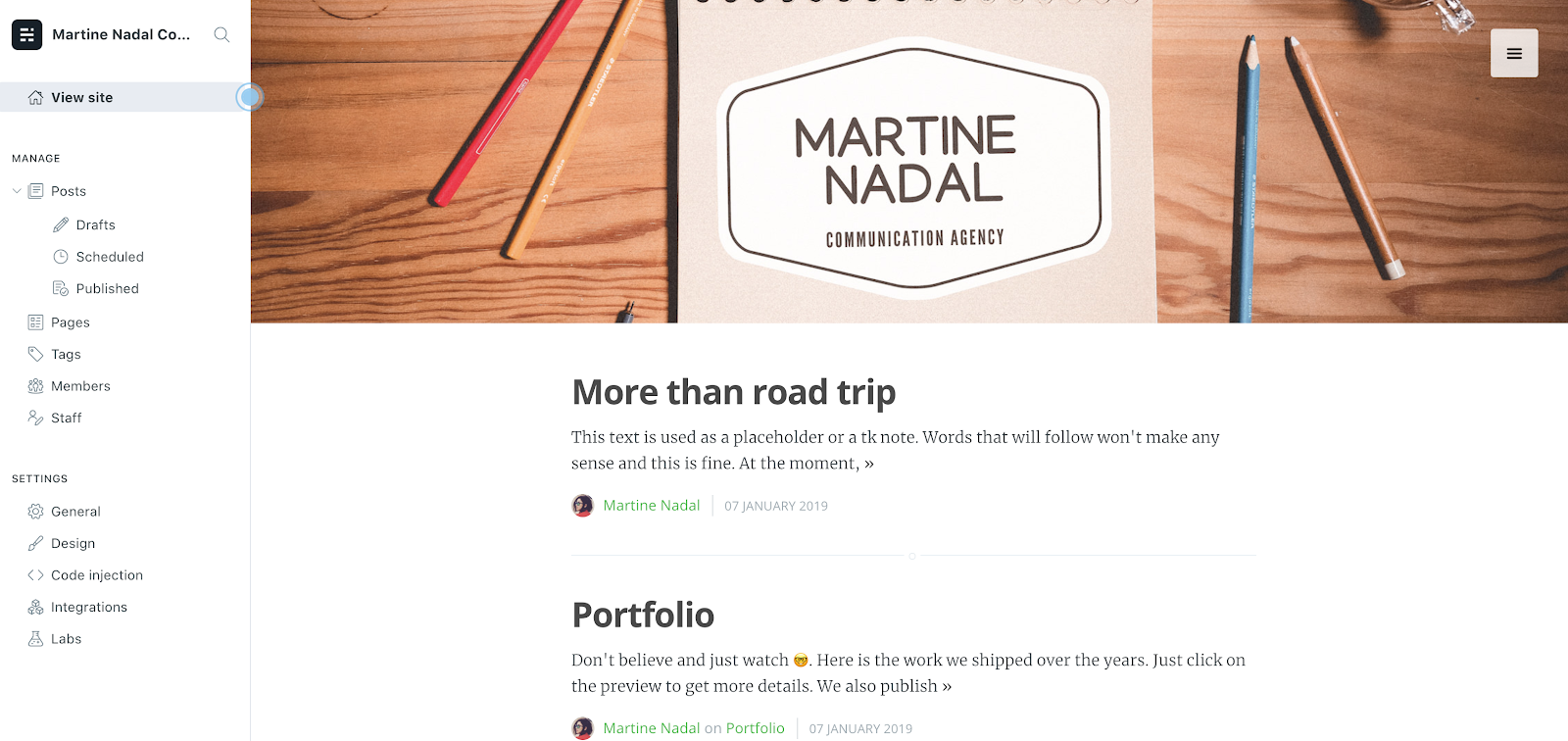 This is what it looks like when you start a new post for your blog:

It's a very clean look that allows you to do more than you might think at first glance. For example, if you click on the plus sign you're given the chance to add a number of things to your blog post including HTML and social media integration.
If you want to play around with the Ghost platform, you can check out their live demo called Play-With-Ghost.
Examples of Ghost Websites
Of all the blogging platforms on the market today, Ghost has been picking up the most momentum as a tool being leveraged by startups and technology-focused brands. Let's take a look at a few examples.
Buffer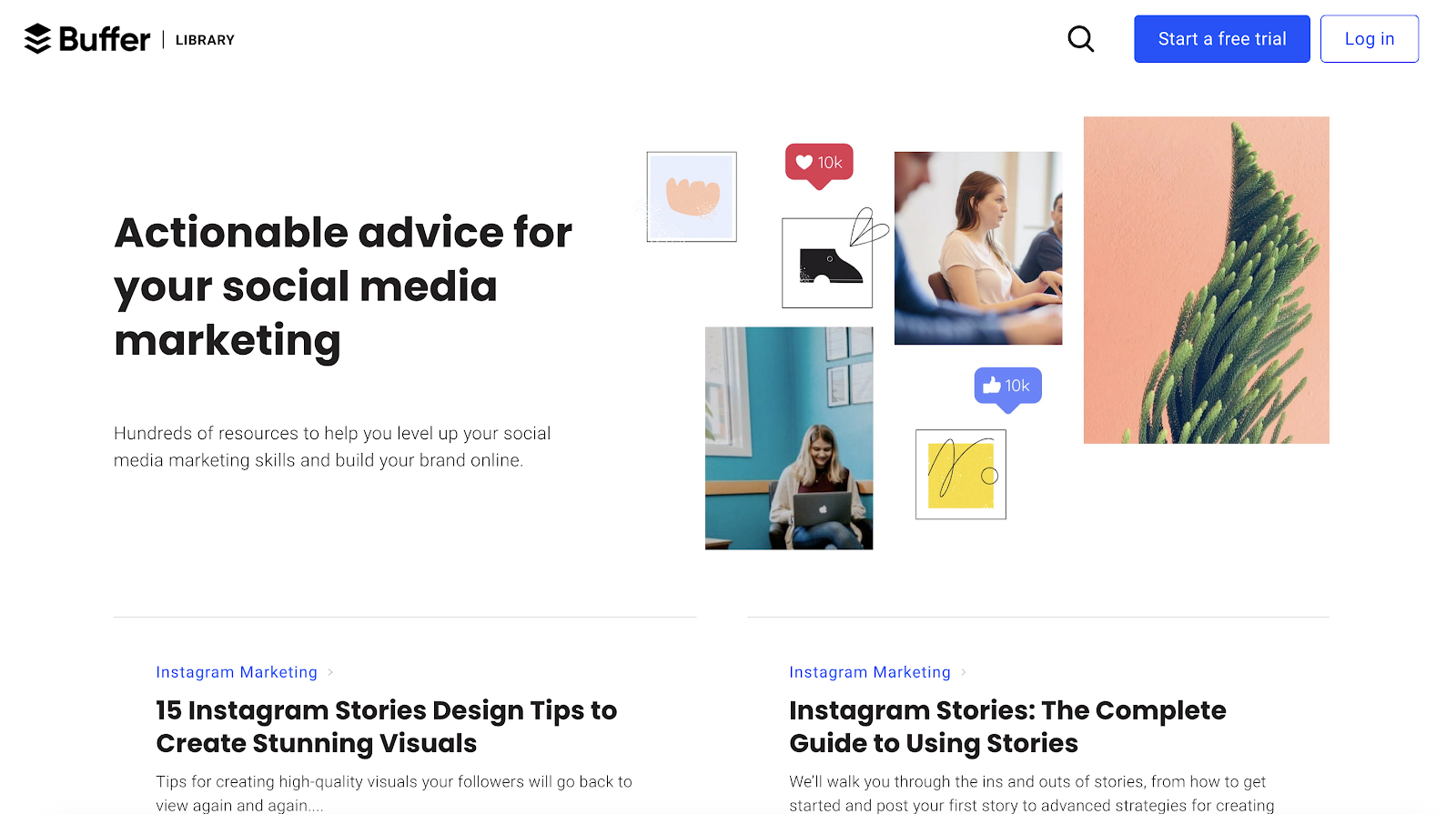 In 2020 Buffer, a social media marketing company migrated its site to Ghost.
Duck Duck Go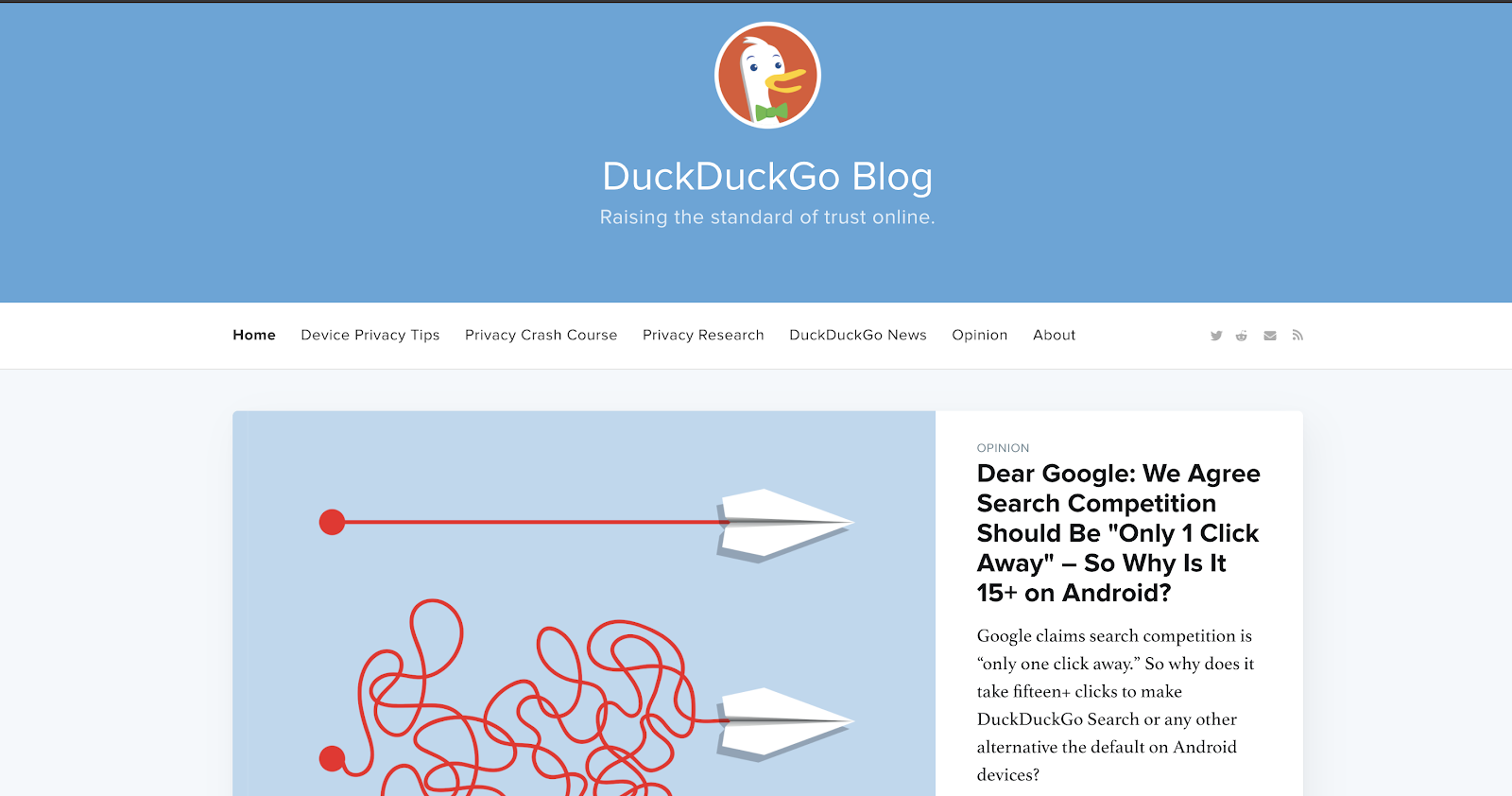 Duck Duck Go is a search engine alternative to Google. They also have a blog that they run on Ghost.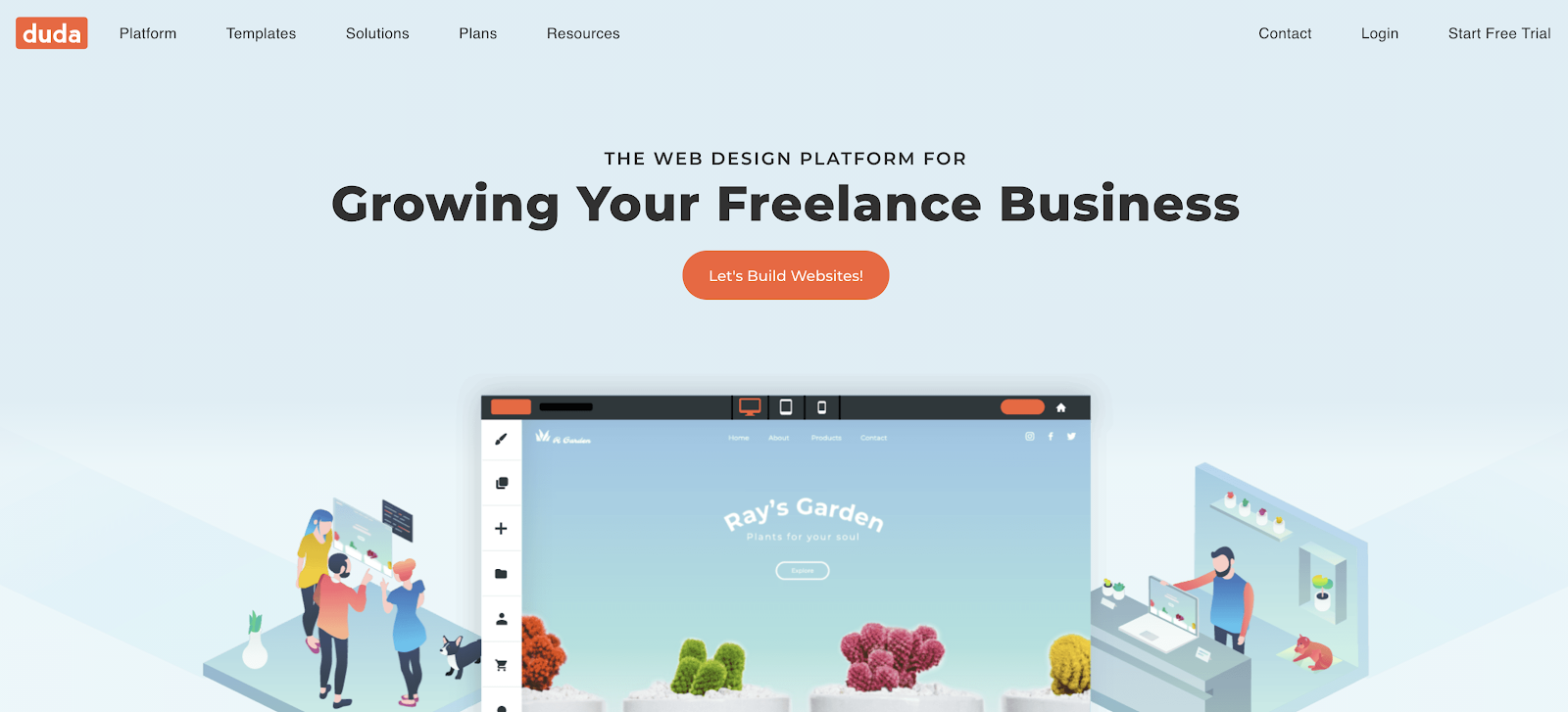 Duda launched in 2008 as a website builder focused on making responsive websites. In the last 12 years, they've expanded their functionality and have worked with companies like Thryv, Hibu and UOL.
Duda is mainly marketed towards hosting companies, agencies creating websites for clients and freelancers, but it can also work for bloggers.
Cost of Duda's Blogging Platform

Duda's plans range from $14 for the Basic Plan to $44 for their Agency Plan. They also offer a custom Enterprise Plan with an undisclosed price.
Features of Duda
Duda's Basic Plan provides:
1 Website
Email support
HTTPS encryption
Hosted on Amazon cloud
Website personalization
Multi-language websites
App-store (apps are priced by third party)
Millions of free and premium images
Limited content library
1 team member
The Agency Plan offers:
4 Websites
Complete content library
Up to 10 team members
Users & Permissions
Creat and share website templates
Fulfillment channel
White Label client access (custom branding/domain)
Site comments
White Label stats and analytics
Instant websites from existing client data
Website export
Widget builder
Dynamic pages with external collections
1K API calls a month
Pros of Duda
Simple to use: Duda is simple to use and easy to run.
App and widget extensions: Can be extended with apps and widgets.
Full backups: When you write a blog post you can back it up in case something happens and you have to revert back to it.
Flexibility with design: Duda allows you to use a populated template that you swap out with your own images and text, or you can start a section from scratch and design it the way you want.
Cons of Duda
Higher starting price point: Duda has a higher starting price than some of the competition.
Not the most customizable: Duda allows you to do quite a bit with your site, but once you reach the limitations many feel it's difficult to push it past the basic functions and templates.
eCommerce costs more: You can add eCommerce to your Duda blog, but it costs extra every month.
Marketed towards a specific group – not necessarily bloggers: Duda can perform well as a blogging platform, but it isn't their main objective. As Duda begins to progress their business there may be fewer blogging options and more options geared towards hosting companies and website designers.
An Inside Look at the Duda Blogging Platform
Duda functions in sections so if you want to add more content, you can add a section with images, text, videos and such: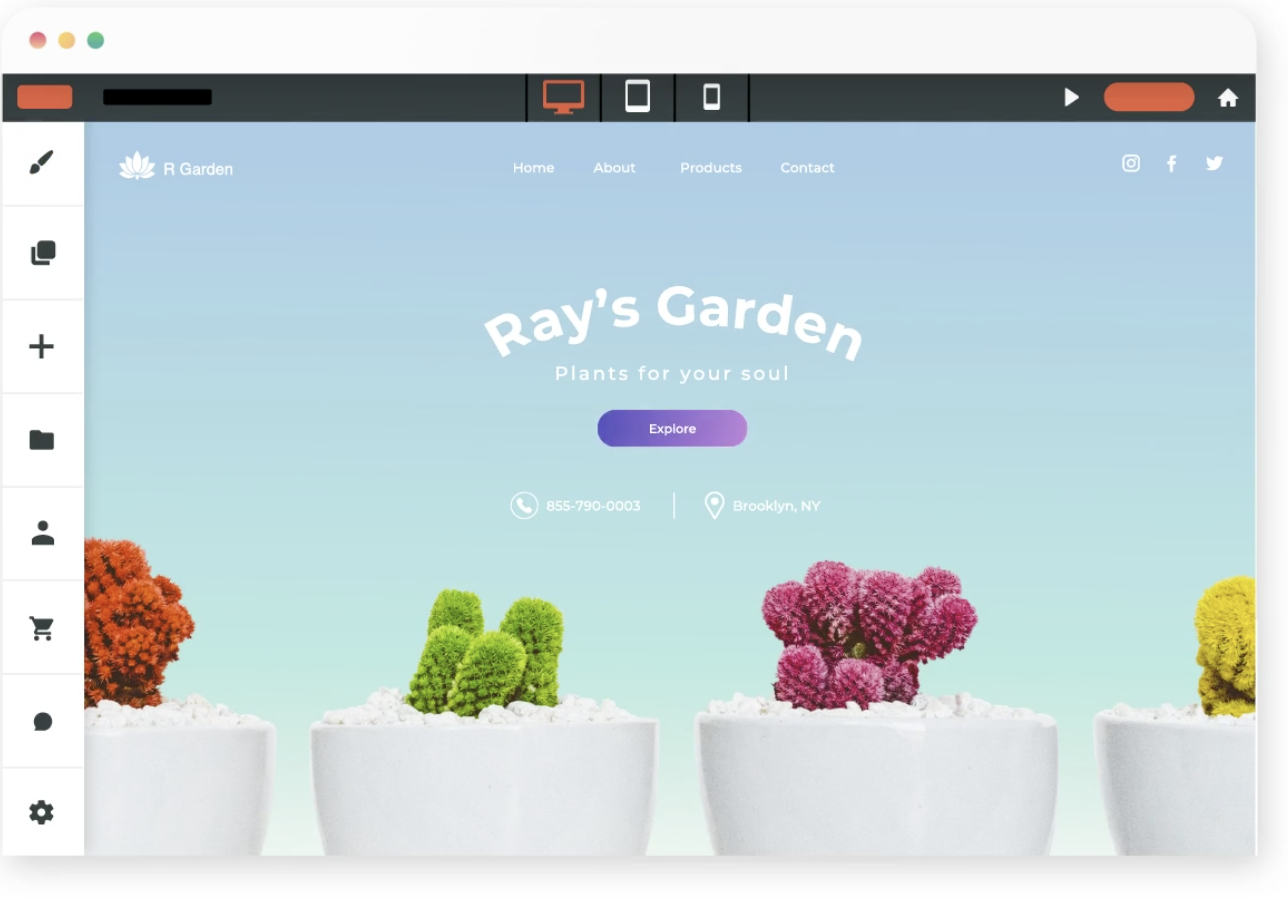 In 2019, Duda updated their blogging section to match the main site page. Here's what the transformation looks like. The new design looks far more sophisticated and professional than the original design. You can read all about their new blog update on their site: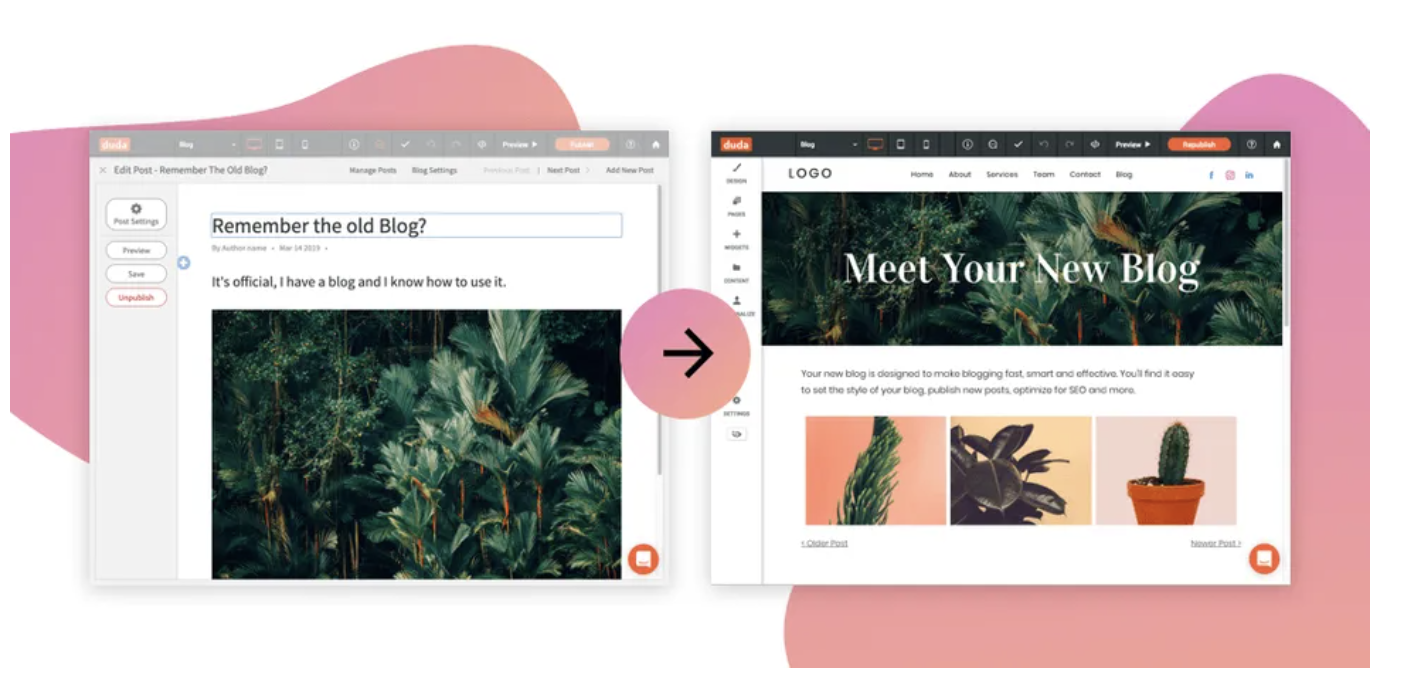 Examples of Duda Websites
Now, let's walk through a few examples of websites built on the Duda blogging platform.
Tygerpoort Primary School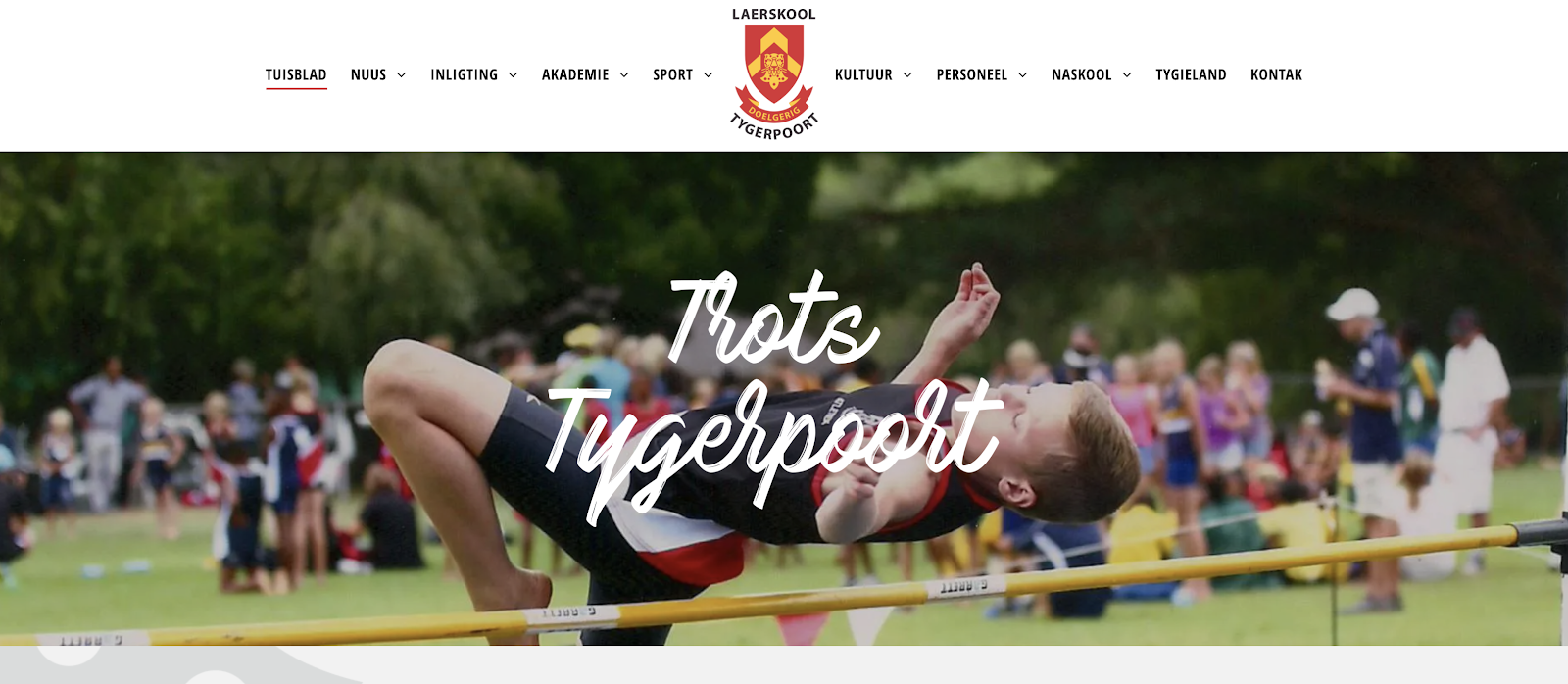 Tygerpoort Primary School's website was designed by an agency called Digital Zoo. They used Duda to create the site.
Renaissance Window Dressings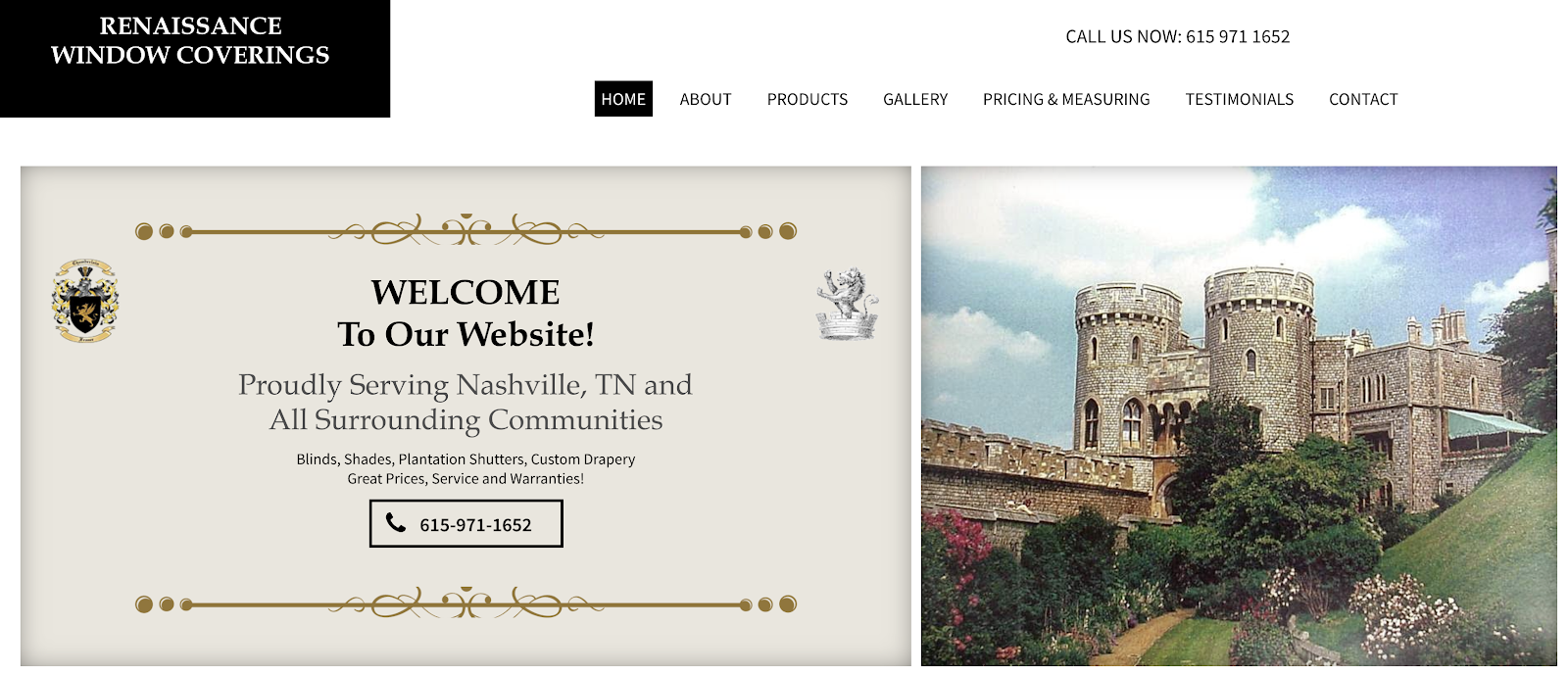 Renaissance Window Dressings is another website designed by third-party website designer.
---
Which Blogging Platforms Are You Considering Today?
When it comes to blogging platforms, I firmly believe that self-hosted WordPress is by far the best choice for creating the foundation of a long-term business around your blog. Once you understand the fundamentals of how WordPress functions, there's so much more flexibility in terms of design and monetization capabilities—compared to the other blogging platforms on the market.
With WordPress, you'll have complete control over the blog monetization methods you choose to utilize—from adding an eCommerce store, to choosing from amongst thousands of themes and plugins to extend your blog's functionality—truly anything can be done with a WordPress-powered blog.
So, we're pretty clear now that WordPress is my top choice amongst the best blogging platforms out there today, but what's yours?
Are there any up and coming blogging platforms you think people should know about?
Is there one on this list that you've used, loved and feel should be ranked at the top?
Let me know in the comments below! I'd love to hear about your experience, too.