Do you dream of making money from a blog? Well, it helps significantly if you choose one of the right types of blogs that are set up from the start to generate revenue.
Even if you're feeling your idea may be unrealistic, I'm here to tell you it's definitely possible to make money from a blog. I'm an example of this in practice. These days, I'm a full-time blogger, podcaster and content marketing consultant. I've worked with Fortune 500 brands and top startups—including LinkedIn, Google and Adobe to name a few.
Of course, I started out exactly where everyone else does… with no blog, no traffic and no income.
My first business was a failure. But in the process of losing $6,537, I also learned a lot about digital marketing. After that, I co-founded a phone case manufacturing company that's still around today.
Now, my blog here gets over 4 million readers each year and earned me more than $450,000 last year alone. In this guide, my goal is to walk you through all the best types of blogs you should consider starting—and we'll cover the fundamentals of building a popular blog that makes money in your niche.
9 Popular Types of Blogs (and Monetization Ideas) in 2023
Disclosure: Please note that some of the links below are affiliate links and at no additional cost to you, I'll earn a commission. Know that I only recommend products and services I've personally used and stand behind. When you use one of my affiliate links, the company compensates me, which helps me run this blog and keep my in-depth content free of charge for readers (like you).
Ready to Start Your Blog?
Check out my ultimate guide: How to Start a Blog (on the Side) Today.
---
The Basics of Building a Money-Making Blog
First, it's important to recognize that some niches are easier to monetize than others. If you're writing in a big, popular niche, it's likely going to be easier to make money than if you're writing about something very obscure. Choosing the right niche can make a huge difference to your chances of reaching your monetization goals.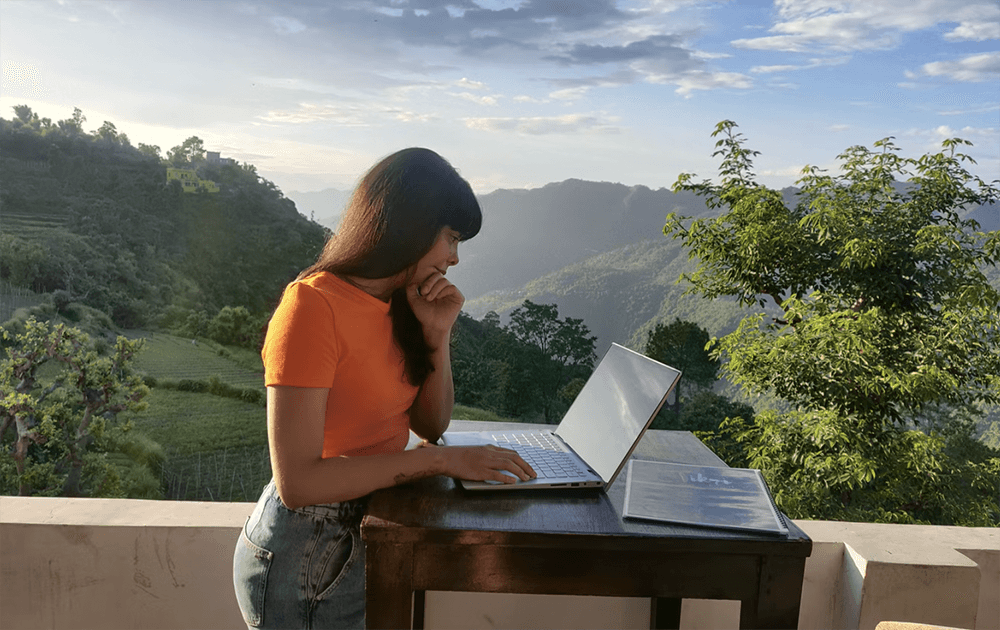 Second, you'll need to put in the time and effort to drive traffic to your blog. However popular your niche is, you have to work to get readers — especially in the early days of growing your blog.
We're going to take a look at how to build and run a popular blog, what niches tend to be most popular, and how exactly blogs make money.
What Makes a Blog Popular? 3 Key Factors
How do some blogs end up with hundreds of thousands of readers and others disappear without a trace?
It can seem like pure chance. You might feel that you're just as good of a writer (or perhaps even better!) compared to lots of top bloggers in your niche… yet their posts get widely shared and yours don't.
So what key factors might be at play? Aside from making sure you're choosing one of the right types of blogs for your skills & interests, consider these three key factors. And be sure to check out my extensive compilation of blog examples for even more.
1. Writing Blog Posts Readers Want to Read
Whatever your niche, you need to write blog posts that people actually want to read. That usually means your content should do at least one of the following:
Solve a problem:

This could be something very straightforward (like "how to change the font size in WordPress") or something much bigger and more complex (like "how to raise happy children"). Whatever niche you're in, readers will have problems, struggles, and questions — your task is to figure out what those are, and offer solid solutions.

Provide information:

It's important that this is information readers actually want, not just information

you

think is interesting. Often, this will overlap with solving a problem, but not always. On news-focused blogs, providing information may mean covering breaking news.

Inspire your readers:

Some of the pieces you write won't necessarily offer readers anything they don't already know — but they might inspire them to action. That could be through a powerful story (perhaps from your own experience), through encouraging words, or through making readers open their eyes to the costs of inaction.

Entertain your readers:

Some content is read mainly (or even solely) for its entertainment value. Perhaps you have a lighthearted blog about the ups and downs of your daily life. It doesn't really provide readers with any useful information, but they might come back again and again if your writing style is sufficiently engaging.
So what can you do if you just don't know what your readers want to read?
One great solution is to figure out what questions they're asking or what struggles they're having. You could do that by seeing what comes up in your blog comments (or in the comments of more popular types of blogs in your industry), on social media responses, or in emails from your readers. Another option is to run a survey, directly asking your readers what they're finding difficult and what they'd like you to write about.
2. Publishing Fresh Content Regularly
Some popular blogs don't publish all that regularly—but the latest blogging statistics suggest that's somewhat rare nowadays. Most popular types of blogs stick to a regular publishing schedule, so that readers know how often to expect fresh content.
So what does "regularly" mean here? In most cases, popular blogs will:
Publish on a schedule:

Normally, they'll use an

editorial calendar

behind the scenes to stay on track with this. Readers will know to expect new posts on, say, Mondays, Wednesday, and Fridays.

Publish fresh content fairly frequently:

That won't necessarily mean posting every day, but it will usually mean posting at least once every week or two. If you only publish once or twice a month from the beginning though, it's going to take a long time to create enough content to give your blog a solid foundation.
Publishing regularly can be a real challenge when you're just starting out. Don't try to write too much—it's better to publish one high quality blog post every week, or even one every two weeks, rather than rushing to put out lots of posts just for the sake of publishing something.
3. Writing Longer-Form Content
In the early years of the history of blogging, blog posts tended to be fairly short: 500-800 words was common, and anything over 1,000 words was considered long.
These days, "long-form" content has become increasingly popular with marketers, as they've seen this type of content being rewarded in search engines. Most popular blogs will have posts that are 1,000 words minimum—and often, you can expect posts to run between 1,500-4,000 words (like you'll find here on my blog).
These long, in-depth blog posts work well because:
They make it possible to target several different keywords within one piece of content, due to the length.

They're likely to attract links (and shares) because they offer something truly useful or compelling.

Their length means readers will stay around on your site for a while, as they read the post — this gives them time to get more invested in (and interested in) your blog.
Use My Free Keyword Research Tool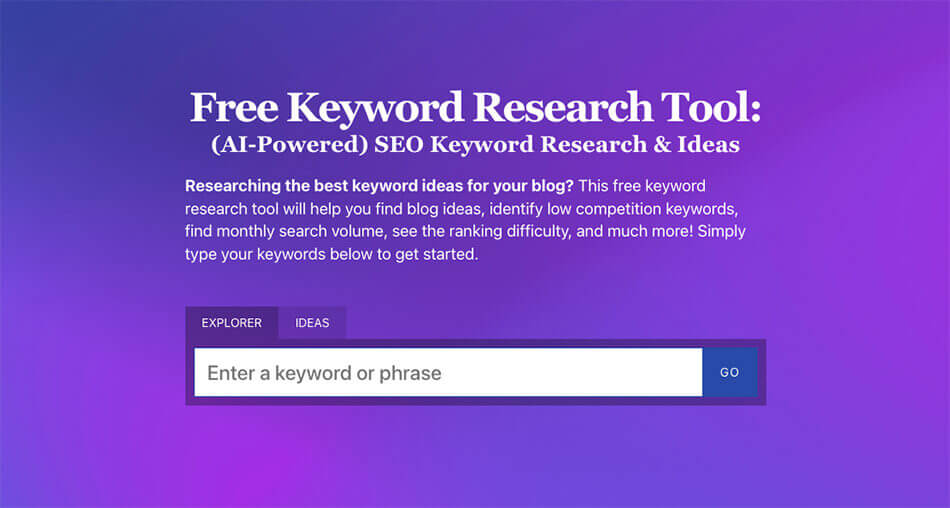 Try my free AI-Powered Keyword Tool to get dozens of research-backed ideas for keywords & topics to write about on your blog today.
---
Now, let's talk about the most popular types of blogs you should be considering for your own blogging efforts.
9 Popular Types of Blogs (and Monetization Ideas) in 2023
There are tons of different blog niches (blog topic areas) out there that give you the scope to create a popular blog. Some of the most proven, popular, profitable niches—that are also easy to monetize with the ideas I'm covering later in this guide—include these types of blogs:
Health and Wellness Blogs

Personal Finance Blogs

Self-Improvement Blogs

Small Business Blogs

Food Blogs

Travel Blogs

Parenting Blogs

Relationship Blogs

Photography Blogs
Now, let's take a closer look at each of these types of blogs, exploring why they offer the potential to make meaningful money while blogging. And don't worry if you're not familiar with some of the monetization techniques I mention, like affiliate marketing and selling online courses—we'll cover these in more detail later on.
Ready to Start Your Blog?
Check out my ultimate guide: How to Start a Blog (on the Side) Today.
---
1. Health and Wellness Blogs
All of us, however young or old we are, however fit (or not!) we are, have some level of interest in health and wellness. We all want to have plenty of energy, sleep well and live for many years in good health—right?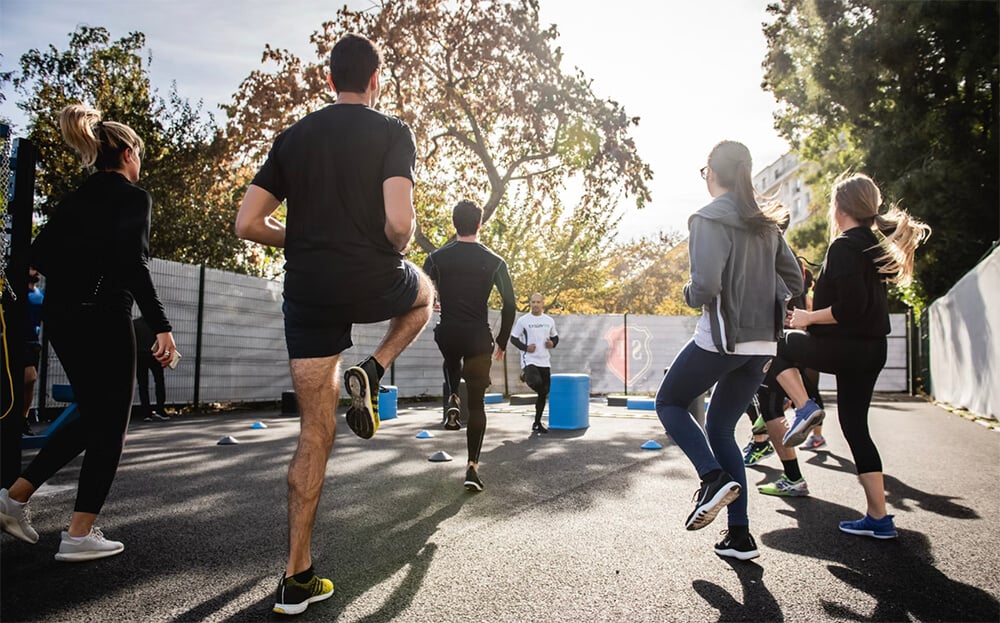 Some people are very motivated to maximize their health—frequently reading the types of blogs that cover topics like fitness and nutrition for active people.
Others might be seeking to manage an ongoing health condition, seeking out the types of blogs that offer useful information or, perhaps just as importantly, a sense of community.
Health and wellness are topics that will never go out of fashion. They're also topics that you can monetize in lots of different ways: anything from selling online fitness classes to promoting affiliate products. Be sure to check out Nerd Fitness as an example of a profitable health and wellness blog.
2. Personal Finance Blogs
Personal finance is another topic that pretty much everyone has some level of interest in, sheerly by the nature of the society we live in. We all (unfortunately) need money to live—and many people are motivated to maximize how much money they have.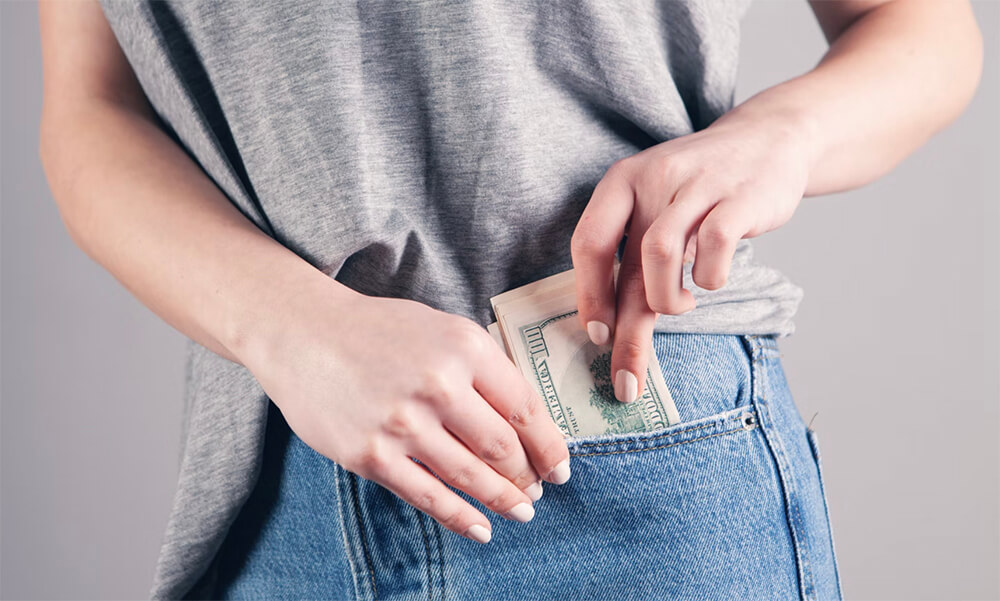 Many blogs about personal finance are aimed at beginners (helping people understand how to get out of debt, for instance, or how to create their first budget). But other types of blogs in personal finance are targeted at people with greater wealth and experience, covering topics like how to invest in the stock market or how to maximize your retirement savings.
Personal finance blogs can be monetized in lots of different ways—affiliate marketing is particularly popular in this niche and advertising can bring in strong revenue. Mr. Money Mustache is one of my favorite examples of successful personal finance blogs.
3. Self-Improvement Blogs
Self-improvement is another huge niche, making it one of the most popular types of blogs today. It can encompass other topics like health, but the focus of self-improvement blogs tends to be more holistic.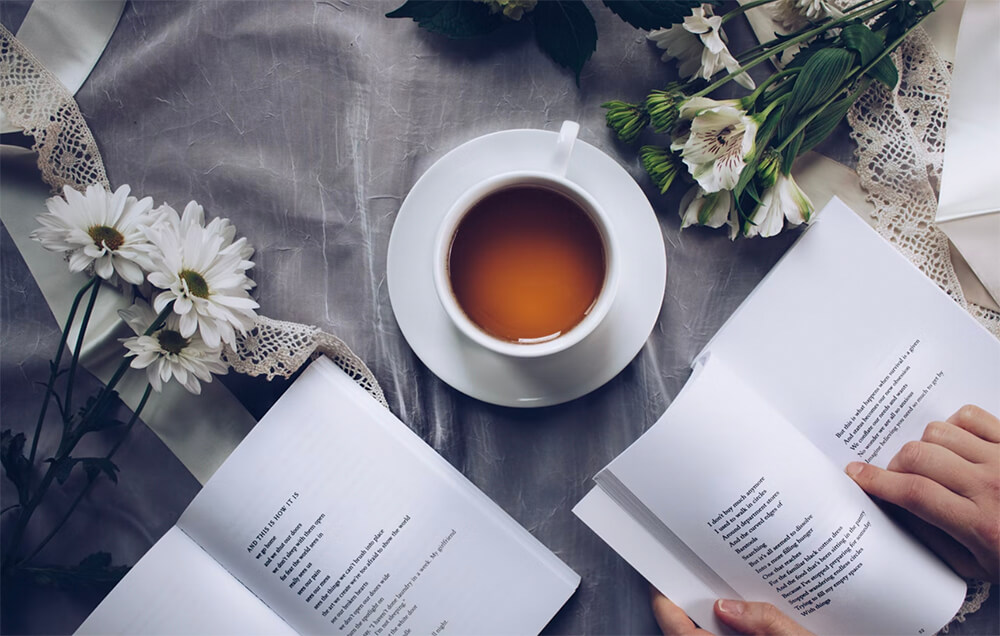 These types of blogs can take a range of approaches, from practical "how to be more productive" tips to esoteric spiritual advice.
Like health and wellness and personal finance, the self-improvement niche isn't going out of fashion any time soon. In fact, it's an even more "evergreen" niche than either of those, as plenty of self-improvement advice is truly timeless, with wisdom from centuries ago still applying today.
Self-improvement blogs can be monetized in a wide variety of ways. That could include offering courses or paid-for private communities, promoting affiliate products, or running advertising. Zen Habits is one of my favorite of these types of blogs killing it in the self-improvement space.
4. Small Business Blogs
With the "great resignation" of 2021, more people than ever are looking to for small business ideas to start.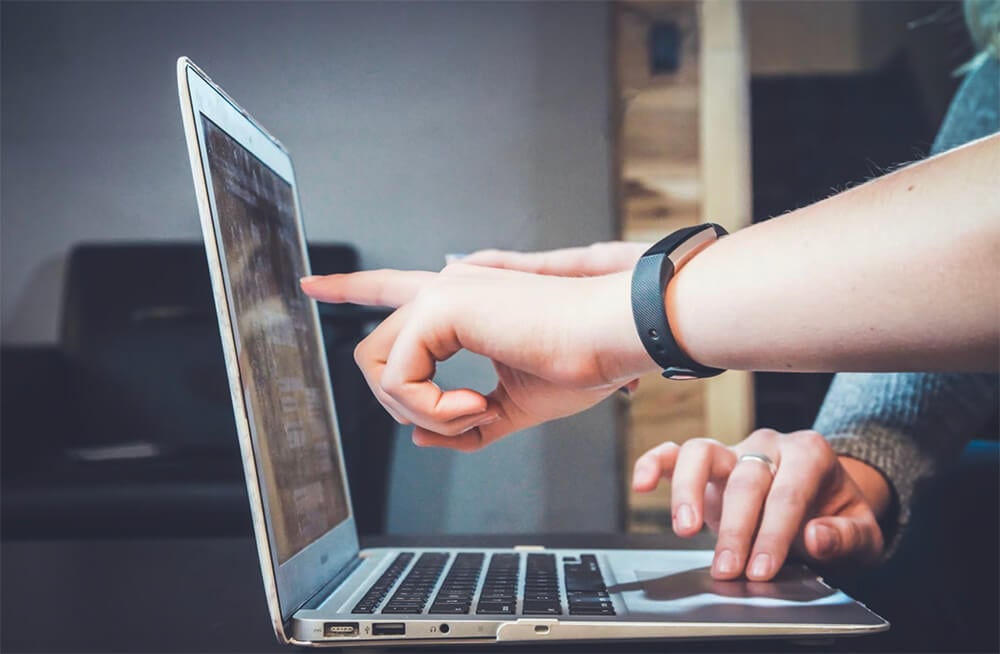 There are a huge number of types of blogs that offer advice, which might be aimed at specific types of small businesses (such as tech startups, local cafes, or solo freelancers) or at specific demographic groups (such as "mompreneurs," side hustlers, or retirees looking to supplement their income).
While small business blogs may not have the huge potential reach of universal topics like health, personal finance, and self-improvement, they do have fantastic potential for monetization. Small business owners (or aspiring entrepreneurs) are often keen to pay for tools and information to help them grow their business faster—especially as their purchases can be deducted from their blog taxes.
Many small business blogs (like IttyBiz) will offer paid courses, promote affiliate products and services, and run advertisements. Other small business blogs exist to help promote a product or service, particularly software as a service (SaaS).
5. Food Blogs
Food and recipe blogs are very popular—after all, we all need to eat. To stand out in this niche, you'll want to find a specific angle. That could mean blogging about an unusual way of eating (such as a raw food diet), solving a problem that lots of people might have (like how to eat vegan food on a budget), or focusing on a particular type of cuisine.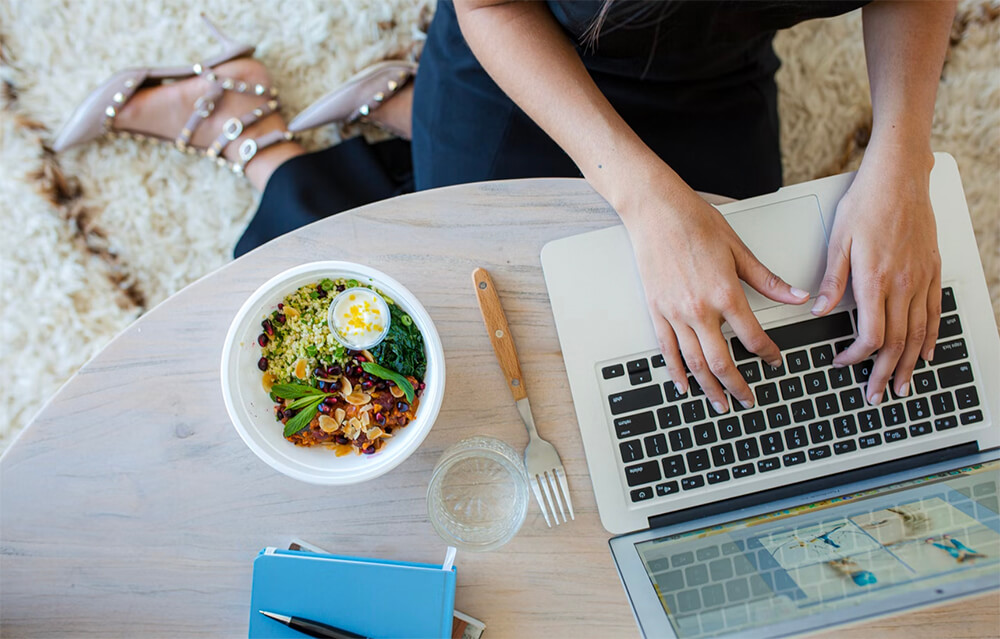 There are plenty of different ways to monetize food blogs. That could mean creating your own products, like how some food bloggers sell books of their own recipes. Most food bloggers use affiliate marketing—for instance, using an affiliate link to point readers to their favorite cooking or baking equipment on Amazon. Be sure to take a peek at What's Gaby Cooking and With the Grains for examples of successful food blogs—and follow along with my guide to starting a food blog too.
6. Travel Blogs
Like food blogs, travel blogs can take wildly different approaches, often with highly specific audiences in mind (like my own new hiking blog, Hike with Ryan).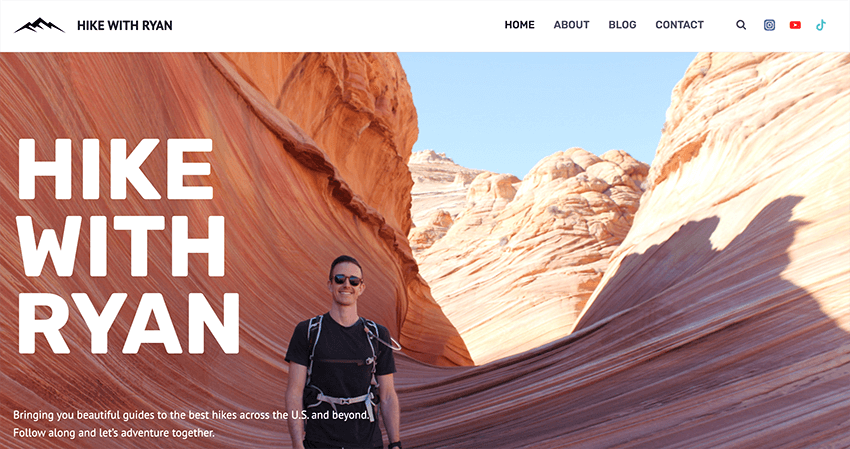 There are blogs covering traveling on a budget, solo traveling, traveling with young children, and much more.
There are lots of different ways in which travel blogs can monetize. One great option is with a brand partnership, where you team up with a company that wants you to use and promote their travel gear—though it can be tricky to land this kind of deal.
Many smaller travel blogs rely on sponsored posts from companies looking to promote their product, service, or website. Affiliate marketing is another strong option, especially if you're writing about specific travel-related products. One hiking blog I'm really in love with right now is The Adventure Junkies, a great example of this type of blog in action.
7. Parenting Blogs
Another huge niche, parenting blogs are popular types of blogs because of the sheer size of their audience—after all, a lot of people have kids or are planning to have kids. Many parenting blogs are also read by grandparents looking for ideas for entertaining their grandchildren.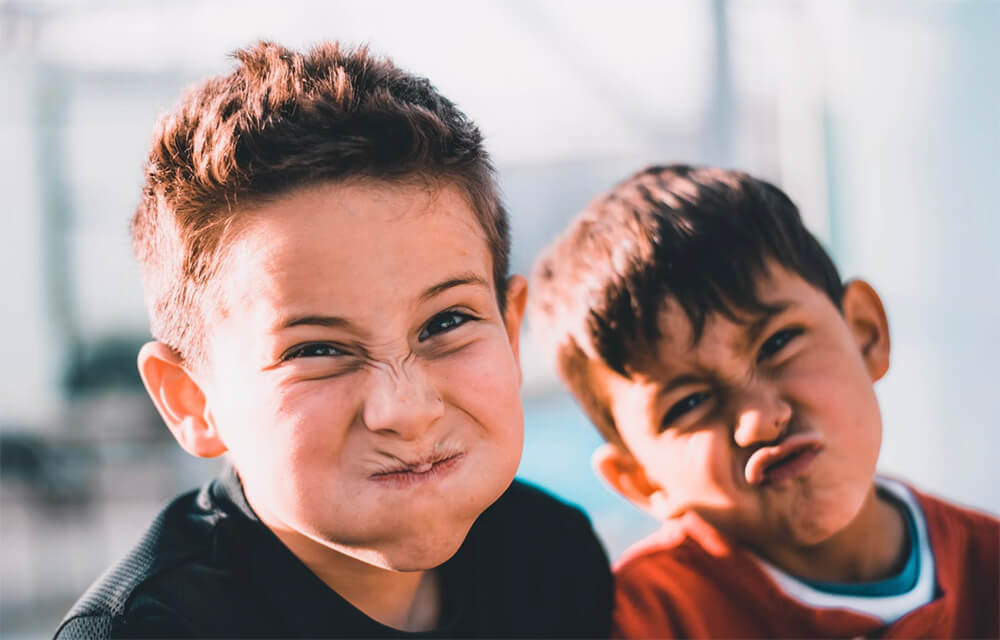 Some parenting blogs will focus on a specific stage of parenting, from babies up to adult children in their 20s. Others will cover different ages and stages, but have a specific focus through their writing style or approach to parenting. You don't need any special expertise — other than the experience of being a parent yourself.
Parenting blogs can be monetized in a range of ways: advertising, affiliate marketing, and sponsored posts are all great options. Some larger parenting blogs will also sell e-books or offer online courses aimed at parents. ScaryMommy and Fatherly are two of my favorite types of blogs that've built substantial businesses in this space.
8. Relationship Blogs
Most of us seek some form of romantic relationship during our lives, which means relationship blogs are another major type of blog with a lot of demand for help, advice and even hands on assistance.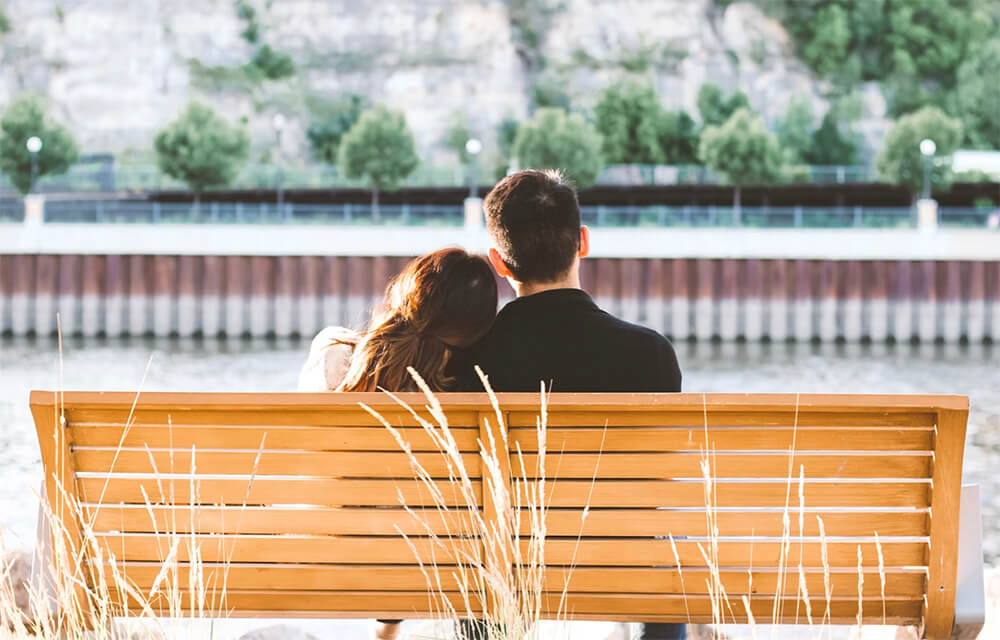 Relationship blogs cover everything to do with finding "the one" or connecting more deeply with the person you're already with.
Some relationship blogs focus on specific areas of relationships, such as dating, finding love after a breakup, or building a stronger marriage. Others tackle relationships through a particular cultural or religious lens.
Relationship blogs monetize in lots of different ways, often through advertising, affiliate links, and sponsored links. Some popular relationship blogs are run by relationship coaches or counselors who specialize in working with individuals and/or couples. The Gottman Institute's blog is one of the best around in the relationships space, and Heart Hackers Club is another really fun example, so be sure to give them both a look.
9. Photography Blogs
With a camera on every smartphone and digital SLRs opening up professional-level photography to the masses, photography has become a very popular hobby. That's created a thriving niche of photography blogs (like my friend Andy's), which review the latest gear, offer tutorials, and share inspiration.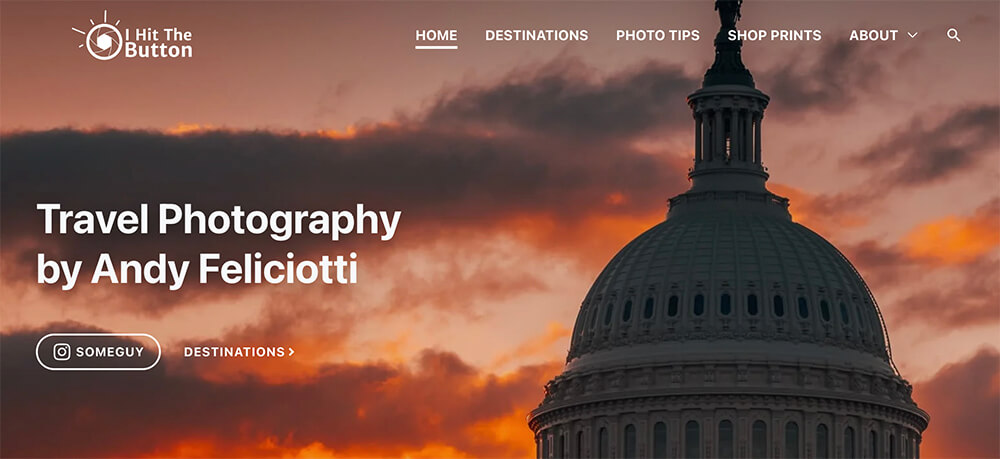 Although the photography niche isn't as big as some of the others on this list, it's a great one for monetization. Most photography blogs make money through affiliate links to cameras, gear and accessories. Since these tend to be quite expensive products, the affiliate commissions can really add up if you can tap into quality traffic sources.
Many photography blogs also sell eBooks or courses, run ads, and partner up with camera companies. Popular photography blogs will often receive free cameras and accessories to review, too. Here's a guest post Andy wrote recently about his experiences monetizing his photography blog with the Amazon affiliate program.
Bonus: 7 Blog Monetization Ideas (for All Types of Blogs)
Let's take a look at some key ways that you can monetize your blog, regardless of your niche and audience.
1. Advertising
One of the simplest ways to make money blogging is from blog advertising. You can sign up for Google AdSense and put a widget in your blog's sidebar to show ads to your readers. You get paid based on the number of clicks your ad gets. (Note that you're not allowed to click on your own ads.)
While running ads is simple and straightforward, there are a few key drawbacks you need to consider:
You won't make much money from ads unless you have a huge amount of traffic. Most people won't click on an ad, so you may need hundreds or even thousands of visitors for just a single click — and each click may pay only a few cents.

When someone clicks on an ad, they're directed away from your site. You might get a few cents, but they may never return. That means you've potentially missed out on money you could have made if they bought a product or service from you.

Ads can make your site look less reputable. Some people are less likely to trust your blog if it has a lot of ads — and if you're using a network like AdSense, you may find that your blog ends up advertising products you don't particularly want to be associated with.
Advertising is certainly worth considering as a monetization method, but it's important to think it through carefully. One of the methods below might end up being a better fit for you, especially if you don't have much traffic yet.
2. Affiliate Marketing
Affiliate marketing is when you promote another company's products or services. You use a special link to do so, and if someone buys the product or service after clicking on your link, you'll get paid a percentage of commission.
Affiliate commission can be very generous — some digital products pay 50% or even more. You can also promote physical products through affiliate programs run by huge online stores like Amazon. You won't get such a large commission (5% is more typical here) but if you're promoting expensive products like digital cameras, your commission will soon add up. There are loads of different affiliate programs out there that you might want to take a look at.
It's important to stick to the legal rules around affiliate marketing — mainly, that you need to clearly disclose to your readers that you're using affiliate links. If you're in the U.S., that means following the FTC's Endorsement Guides.
3. Sponsored Posts
Sponsored posts are blog posts that companies pay to have published on your site. Usually, they'll write the post for you, but if you prefer to write it yourself, they'll often be happy with that arrangement too.
Within the sponsored post, the company will want to place a link back to their website. They're essentially paying you for an advertisement in the form of a blog post.
It's important to be aware that Google does not allow you to sell regular links. You need to mark the sponsored link as "nofollow" so that it doesn't affect search engine rankings. Of course, this means it's not so valuable to the sponsoring company and they may not want to pay so much for the sponsored post.
If you choose not to "nofollow" the link and Google discovers that it's a paid link, your blog could be penalized and you might lose a lot of your search engine traffic.
4. Selling Digital Products
So far, we've covered blog monetization strategies that involve partnering with another company to promote their products or services. But what about creating your own products to sell?
You might think that making your own products would cost you thousands of dollars in researching, producing, and storing stock. But digital products cost next to nothing to create — and many bloggers make a significant amount of their income through these.
Digital products to sell on your blog could include:
Written materials, often e-books or other written guides: These are often called "information products" and would be something like my blogging courses or blogging books
Templates that customers can use for their own purposes: Think Powerpoint templates, Canva templates, WordPress themes and WordPress plugins—anything that you could create for people to use and customize
Patterns, designs, or instructions: Think of knitting patterns or plans for creating an item of furniture
Printables: This includes anything that people can print out and use at home like a vegan grocery list or a spreadsheet CRM template
Creative digital products: Music, photography, illustrations, novels, or anything else creative that can be sold digitally
Before you invest lots of time in creating a digital product, make sure it's something your audience actually wants. You might want to run a survey to find out what they'd most like you to produce, or you could look at common questions that come up in your niche.
5. Selling Physical Products
It's perfectly possible to make money selling physical products online too, and without huge overheads. One way to do this is through dropshipping, where someone else stores and ships the product — you simply make the sale.
If you want to invest in designing and creating your own products, a great way to do so is by running a fundraising campaign on a site like Kickstarter. This lets you get the backing you need in order to produce your products.
Some bloggers and YouTubers also sell "merch" — merchandise printed with their logo, slogan, and/or brand name. This can be a great monetization option if you have a popular brand that people want to publicly show their support for … but it's not a realistic income stream for most bloggers.
6. Creating Online Courses
Another great way to monetize is through running an online course. Most bloggers do this through platforms like Teachable or Udemy, though you could also run a course through your own website or even in a Facebook group.
Creating and running an online course can be a lot of work, but it can also be very lucrative: some online courses (particularly business-related ones) cost thousands of dollars.
Online courses cover a massive range of topics. Pick any of the popular niches we covered above, and you'll find hundreds of different courses being offered. If you're interested in taking a look at some specific examples, try my list of the 101 Best Online Business Courses for Entrepreneurs.
7. Running a Membership Site
A membership site is a bit different from an online course as it doesn't have a fixed "start" or "end" point. Instead, people pay to be part of the site, usually receiving regular material such as monthly seminars, weekly tips, Q&A sessions, online networking, exclusive videos, podcast episodes, or blog posts and/or other opportunities.
Most membership sites charge a monthly fee. Members will usually get access to historic content when they join, along with fresh content that comes out regularly. Normally, members can leave at any time—they don't have to commit to a minimum stay.
One of the biggest advantages of membership sites is that they provide a regular income. You'll know roughly how much you'll get each month, and although a certain percentage of members will likely leave every month, this is usually fairly predictable—and you'll hopefully be more than replacing them with fresh members who arrive.
You can easily turn a WordPress blog into a membership site using software such as MemberPress, aMember, or WishList Member.
How Quickly Can You Make Money from Your Type of Blog?

Let's dig a little deeper into how exactly blogs make money—and, most importantly, how your blog could make money.

You might be curious to know how soon you'll be able to make money blogging—or even how much money bloggers make for that matter. Lots of bloggers start their blogs full of enthusiasm, expecting to see the money coming in almost straight away.

It takes time to start making money from your blog, though. You can't simply launch your blog, put up lots of ads and affiliate links, and make money instantly.

Instead, you need one very crucial ingredient to monetize your blog: traffic. You won't have traffic immediately—and it takes some time to get your blog to the stage where you have consistent, reliable traffic from multiple different sources.

Does that mean you shouldn't even think about monetization until you've built up your audience? No.

If you plan on making money blogging, you want to have that in mind right from the start—which means forming a thoughtful blog strategy with a realistic blog business plan from day one.

Setting Up Your Type of Blog for Monetization from Day One

Planning to monetize affects the technical choices you make when it comes to setting up your blog. Firstly, you'll need to blog about a topic that can be easily monetized. If you're considering several potential blogging niches, you may well want to opt for the one that has the best monetization potential.

You'll also need to make technical decisions that give you the ability to monetize. That usually means creating a self-hosted WordPress-powered blog that gives you unlimited opportunities to customize and monetize your site. You'll also want to choose a professional-sounding domain name.

Plus, if you plan to monetize, you want to set reader expectations from the start. If you build a loyal readership without a single ad or affiliate link, then you suddenly plaster ads, sponsored posts, and paid offerings all over your blog, that could lead to a reader backlash.

At the same time, it's important to recognize that you're not going to make money instantly. You need to be patient as you build up your traffic and experiment with different ways of monetizing your blog. If one monetization idea doesn't seem to be working for you, and you've given it a good shot, then don't be afraid to try something new.
What Types of Blogs Are You Considering Starting Today?
We've covered a lot in this article—and I hope you're feeling enthusiastic and inspired about starting your own money-making blog.
If you're not too sure what to do next, here's what I recommend:
Figure out which blogging niche is right for you:

I briefly covered some options above. Make sure you take a look at my article on

profitable blog niches

for lots more guidance, along with plenty of real-life examples and suggested ways to validate your blog idea.

Choose one monetization method to explore in detail:

Perhaps that will be one of the key options above, but I also go through some other ideas in my comprehensive article on

making money blogging

. Check that out for loads of tips as well as plenty of links to further guidance and help.
Creating and monetizing a blog takes time, but if you stick with it, you'll find it's worthwhile. Take your first steps today, and in a year, you could easily be making a full-time living from your blog.
Ready to Start Your Blog?
Check out my ultimate guide: How to Start a Blog (on the Side) Today.
---