Are you thinking about starting a personal blog? Well, you're in luck—we'll be going through my step-by-step process of how to start a blog & examining several personal blog examples to give you inspiration on your way to becoming a blogger.
Back when blogging began, all blogs were personal blogs. The word "blog" comes from "web log". Essentially, a blog is a diary of someone's life, kept on the Internet.
There are still plenty of bloggers who run personal blogs, or blogs that are primarily about their own lives. This is a perfectly valid approach to blogging, but because it's not so focused on making money as many other types of blogging, it doesn't always get a lot of attention. Though choosing to start a vlog (video blog) alongside your more traditional personal blog is a very smart idea.
If you're wondering about starting a personal blog, whether that's for fun or to build an online audience, this is the guide for you.
How to Start a Personal Blog (5 Personal Blog Examples) in 2023
Disclosure: Please note that some of the links below are affiliate links and at no additional cost to you, I'll earn a commission. Know that I only recommend products and services I've personally used and stand behind. When you use one of my affiliate links, the company compensates me, which helps me run this blog and keep my in-depth content free of charge for readers (like you).
Ready to Start Your Blog Today?
Check out my ultimate guide How to Start a Blog (on the Side) that's been featured on Forbes, Inc and Entrepreneur.
---
---
What is a Personal Blog?
A personal blog is all about you and your personal experiences. That doesn't mean you need to share the most intimate details of your life—or that you need to exhaustively catalog what you had for breakfast each day.
But the central focus of a personal blog is on you and your life.
That might sound a bit like a lifestyle blog, but here's the big difference.
Personal blogs are focused on the blogger. Lifestyle blogs are focused on the reader.
On a personal blog, you might write about how you reorganized your kitchen cupboards at the weekend—but your focus is on telling that story and sharing the little details of your life with your readers.
On a lifestyle blog, you might also write about how you reorganized your kitchen cupboards—but the focus will be more on the reader, perhaps offering tips on how they could follow the same process as you.
As a personal blogger, you're primarily writing about things that interest you… without worrying too much about things like search engine optimization and building traffic.
Tip: Plenty of blogs will combine aspects of personal blogging, lifestyle blogging, and perhaps other types of blogging too. Check out my favorite popular blog examples for more. There's no rule saying your blog needs to stick to just one type of content.
5 Best Examples of Personal Blogs to Learn From
Want to check out some of the best personal blogs out there? Here are a few examples to inspire you, including my own blog right here: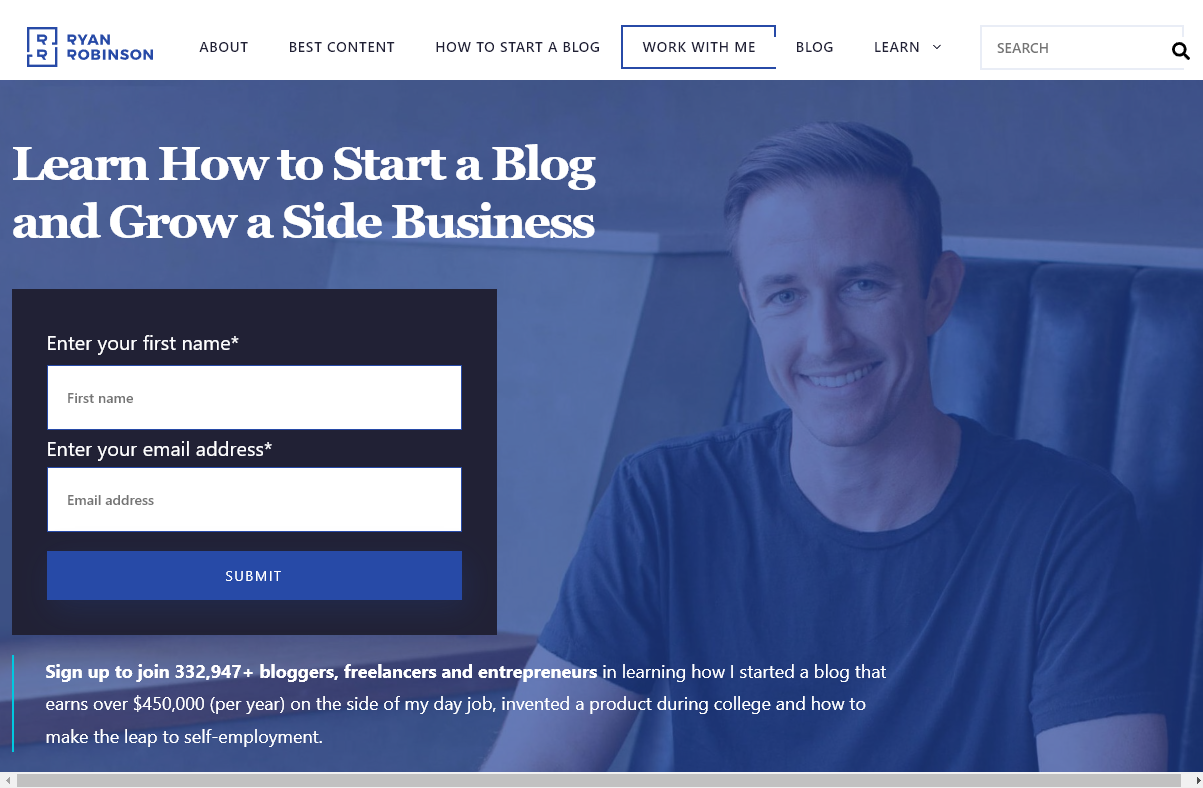 My own blog began as more of a personal blog—and gradually grew into a business over time as my readers began asking so many questions about how to build an audience & monetize your digital presence. If you take a look back at my earliest posts, you can see how they're focused on my own story. They even incorporate some of my (old) interests like sports and skydiving.
Today, I monetize RyRob mainly through affiliate marketing, along with my own product sales (blogging courses & blogging books), and my work as a content marketing consultant. Back when I published those first few posts on my brand new blog, I just had a handful of readers and lots of ideas that I wanted to share about entrepreneurship.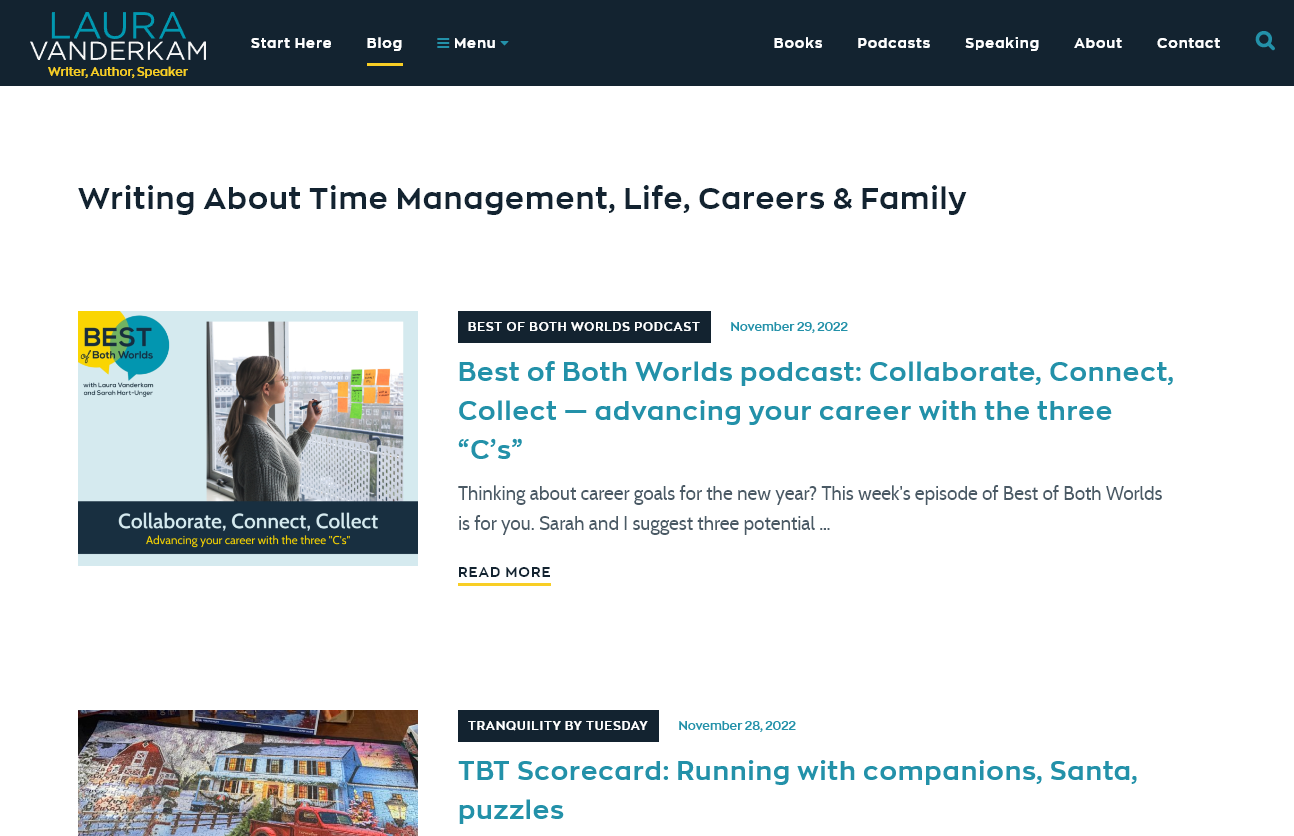 Laura Vanderkam's blog, headed "Writing About Time Management, Life, Careers & Family" deals with all those topics, but has a distinctly personal blogging angle. For instance, Laura posts a weekly "Wednesday Musings" which is focused on details of family life, as well as links to various projects Laura's working on, or places she's been interviewed.
Her "TBT Scorecard" posts are roundups of how she's doing on various metrics she's tracking, and they're very much focused on her life rather than offering lots of tips or advice to the reader.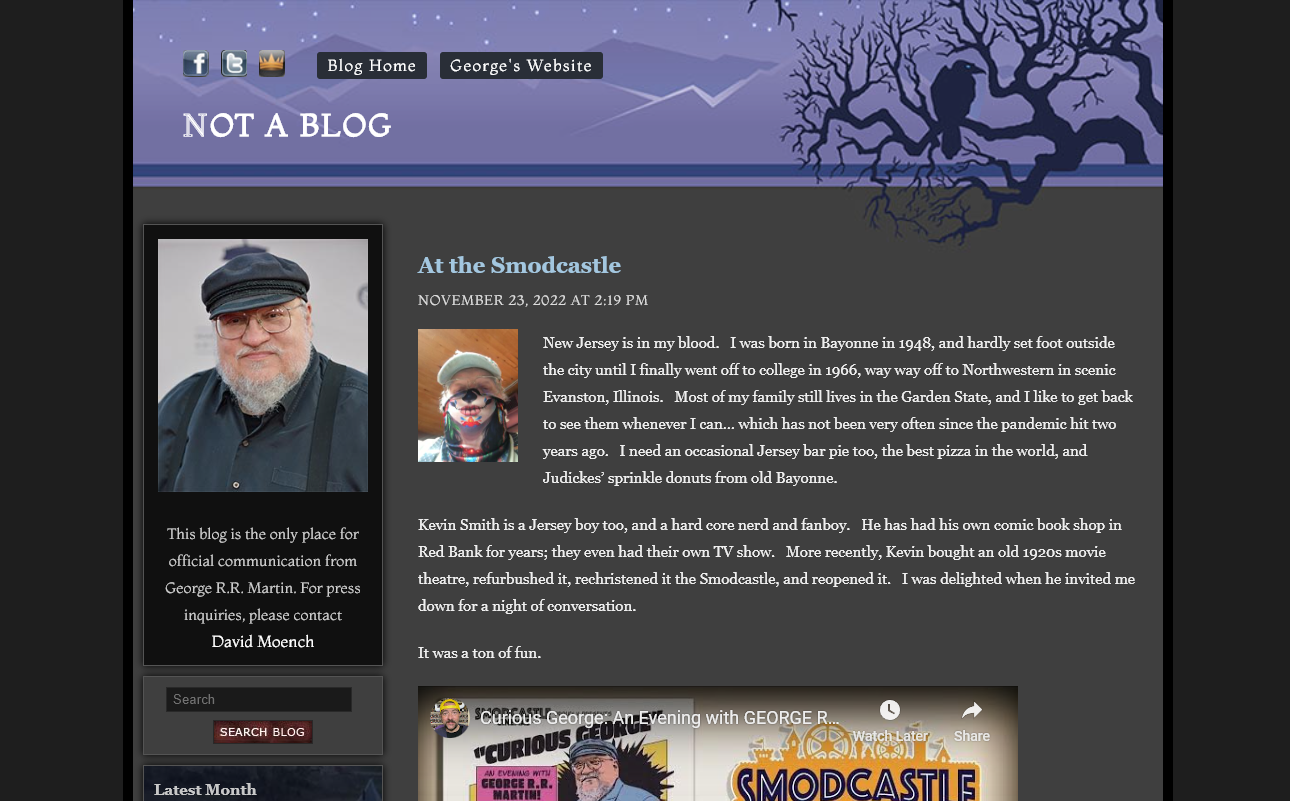 Okay, George R.R. Martin literally calls this "not a blog"… but let's be honest, it is a blog. In fact, it's a proper personal blog and it says so right in the sidebar. This is a fantastic example of a personal blog from the very well-known author of the Game of Thrones books, where he regularly explores sharing his personal interests.
George could write a typical author blog about things like his writing process and tips for would-be authors… but instead, his blog is very much focused on the things that interest him. That includes stuff like the NFL, his experience of Covid in recent years, his travels, Marvel movies, and much more, as well as details about his books and the TV shows based on them, all written in a low-key, chatty, personal style.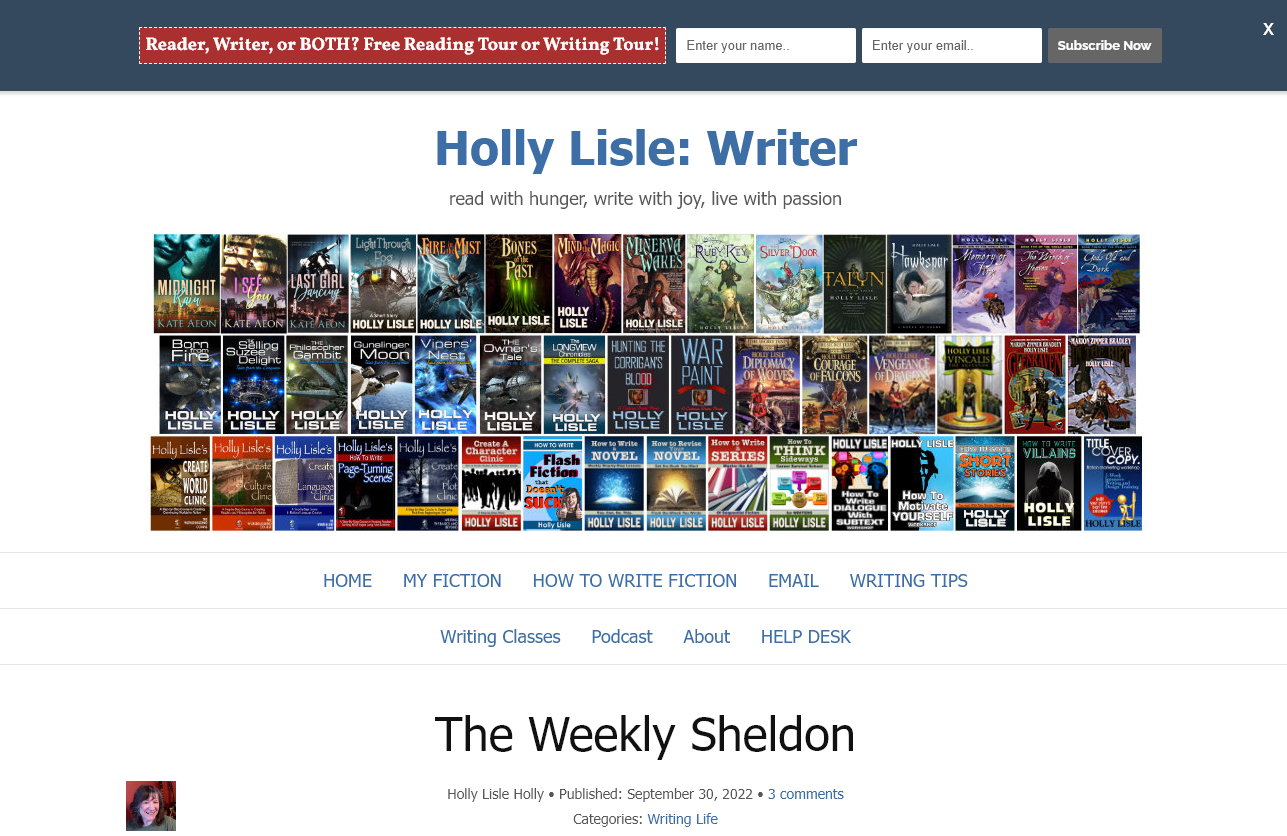 Holly Lisle, another author (you're picking up on a trend here), uses her personal blog to talk about how her writing is going, and to sometimes tell anecdotes from her past. She also posts photos of her cat, Sheldon. Her blog is a great way for her to connect with both her audiences: fans of her books and people looking for writing advice.
Her blog helps market her many novels, as well as her books and courses aimed at writers.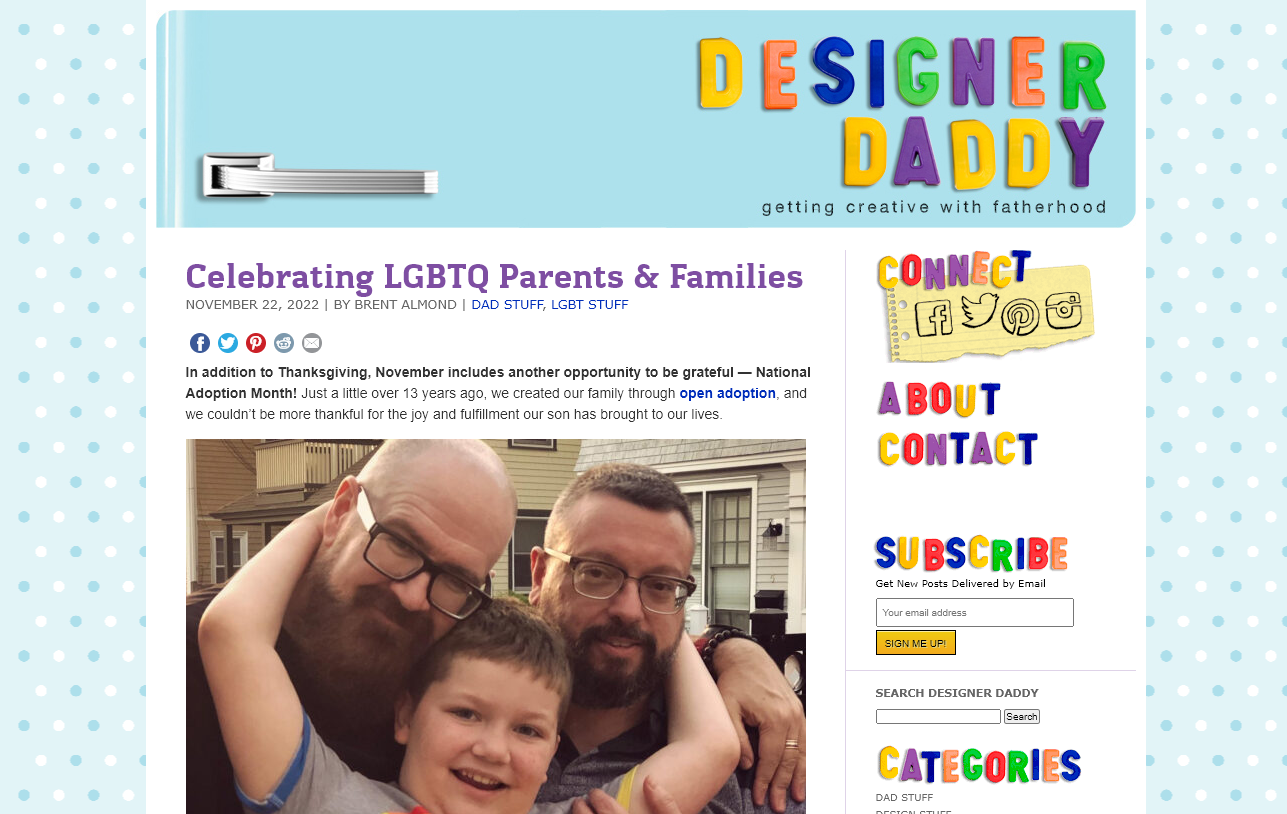 Designer Daddy is a really fun and heartwarming personal blog from gay dad Brent Almond that's packed with life lessons, stories about family life, and LGBTQ activism. Brent doesn't post especially frequently—around once a month—which is absolutely fine for a personal blog.
Designer Dad isn't monetized, though Brent includes a link on his About page to his illustration and design work.
3 Reasons to Start a Personal Blog (& Become a Personal Blogger)
So why does anyone start a personal blog? If you're looking to make money online, there are plenty of better options. Going into a niche like travel blogging or food blogging is likely to make your blog much easier to monetize.
But if you're drawn to blogging as a form of self-expression or as a new hobby, then making money may not be of interest to you – or at least, it probably isn't your priority. Here are a few of the best reasons to start a personal blog.
1. Try Out Blogging in a Low-Key Way (on a Budget)
Are you thinking about blogging as a potential side hustle or career path—but you're not sure how much you'd enjoy it, or you're feeling daunted by the technical side of things? Or maybe the costs of blogging seem out of reach at the moment?
Running a personal blog is a great way to dip your toes into the world of blogging, without necessarily committing a huge amount of time, effort, and money.
You could easily start a personal blog on a free blogging site: your blog could be up and running in just 10 minutes or so, without you having to spend a single cent. You could write new posts whenever you want, and see if you enjoy the process.
2. Stay in Touch with Family and Friends
Is your favorite social networking site having a meltdown? Or perhaps you have family members who don't "do" social media. Writing on a personal blog can be a great way to keep family and friends up to date with what you're doing.
You might start your blog during a particular life transition – perhaps you've just had a baby, for instance, and you want somewhere to post your baby photos. Or maybe you're traveling or studying abroad and you want to share your experiences each week without having to email or WhatsApp a whole bunch of family members.
3. Build a Personal Brand (and Find Your Writing Voice)
Another great reason to start a personal blog is if you want to build a personal brand. This works particularly well if you have a strong and distinctive writing voice: people may keep coming back to your blog not just because they're interested in the ins and outs of your life, but because they find it an entertaining read.
If building a personal brand is your main reason for starting a personal blog, you may want to think a little strategically. How can you capitalize on your blog's readership? Perhaps you're hoping to write and promote a book, become a keynote speaker, or create a popular podcast.
Your goals may make a difference to the decisions you make early on in the life of your blog. For instance, you might want to use a professional blogging platform like WordPress rather than a purely personal one like Tumblr.
How to Start a Personal Blog in 5 Easy Steps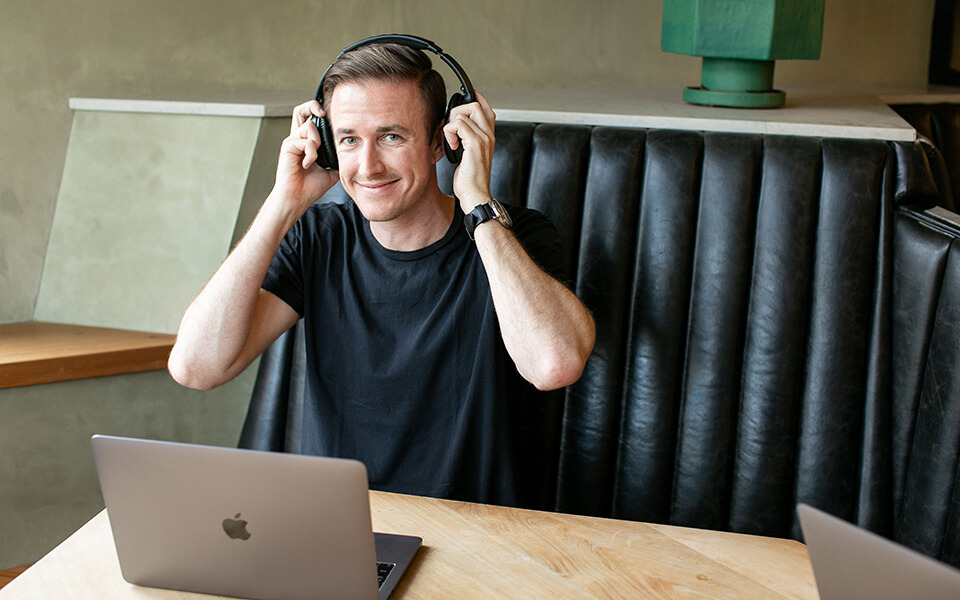 I'm going to take you through the whole process of starting your personal blog. We're going to focus on using WordPress, which will give you the biggest range of options for your blog as it grows, but I'll also offer some suggestions on other blogging software along the way, in case you want to opt for something that's completely free to get started with.
Before we get into the details of blogging software and getting your personal blog online, though, let's look at what your blog will cover and what you're going to call it.
Step 1. What Should Your Personal Blog Cover?
Most bloggers need a clear niche to pursue: a topic that their blog fits comfortably within, so that readers know what to expect from the blog content.
With personal blogging, you've got a lot of freedom here. You don't need to pick a particular topic like "travel" or "food" or "parenting" … because your topic is you!
Even so, it's worth thinking about what types of things you'll cover on your blog. This can help give you a focus when deciding what to write about on any given day. For instance, you might want to cover things like:
Family life
Hobbies (e.g. DIY, craft, creative writing, sports)
Weekend adventures
Just as importantly, you'll want to consider what you won't cover on your blog. Maybe you won't mention your dating life, or you won't talk about health issues. Or you might decide that you will only talk about your kids in passing, rather than recounting funny anecdotes about them.
Step 2. Naming Your Personal Blog
Another tricky question is what to name your blog.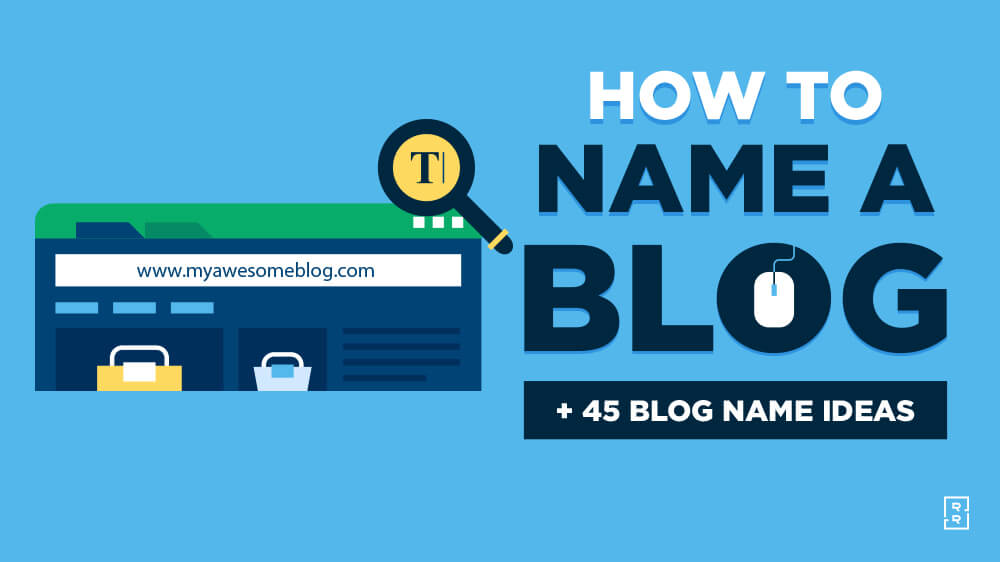 With more topic-based blogs, it often makes sense to choose a blog name that incorporates your topic (for instance, the blog "Making Sense of Cents" is about personal finance).
But with a personal blog, you won't usually have a core "topic" to theme your blog around.
Some good options for naming your blog are:
Using your own name. A lot of the personal bloggers mentioned above do this, and it's usually the simplest option – if your name is available as a domain name.
Picking a broad theme for the name of your blog. For instance, Kimchi Mamas, named for the classic Korean dish, is a blog run by a group of Korean-American moms.
Using a short quote or saying that appeals to you. (Just make sure it's old enough, or ubiquitous enough, that you won't run into copyright issues.)
Use a domain name generator to come up with a list of ideas. Some of them probably won't make much sense, but you might well find that a few are good contenders.
Step 3. Getting Your Personal Blog Online (Web Hosting)
Once you've come up with a name for your blog, and checked that it's available as a domain name, it's time to get your blog online.
In almost all cases, I recommend that bloggers use self-hosted WordPress (WordPress.org). However, if you want to start a personal blog purely as a hobby or to try blogging out, you might prefer to use a totally free blogging site instead.
For most personal bloggers, though, self-hosted WordPress (with an affordable web hosting plan) is still the best choice. Here's why:
It doesn't cost a lot to host your own WordPress blog. You'll need to pay a small fee (on a monthly hosting plan or annually) to a web hosting company – and they'll often throw in a domain name for free.
The WordPress software itself is completely free, including all updates – forever! Because it's hugely popular open source software, it keeps getting better and better with each new version. There are also lots of free tutorials available online.
You can add all sorts of extras to your blog using plugins. For instance, you might want to add a contact form so people can get in touch, a plugin that shows related posts so your readers can easily carry on reading what you've written on a particular topic, a plugin that automatically translates your blog into other languages … and much more.
If you do want to develop your blog in a different direction in the future, building it on WordPress in the first place gives you lots of possibilities. For instance, you might build a strong following with a personal blog, and decide to monetize it and turn writing your blog into a full-time career.
Choosing the Best Web Hosting for a Personal Blog
To get your blog online using self-hosted WordPress, you'll need web hosting. The good news is that there are lots of web hosting companies out there that offer very good value deals for your first year of hosting—and it's really easy to sign up and get your blog online.
I recommend using either Bluehost or Dreamhost for your personal blog.
Both of those are great, long-established web hosts with a very strong reputation. There's not too much to choose between them, but Bluehost has the edge in offering top-notch support, whereas Dreamhost wins out on offering the best prices. (If you want a more detailed comparison, check out my review of Bluehost vs Dreamhost here.)
Tip: Bluehost and Dreamhost both give you a free .com domain name, as long as you sign up for at least a year.
It's really easy to get started. Both Bluehost and Dreamhost will walk you through the whole process of setting up your web hosting account.
Installing WordPress is as easy as clicking a button: you don't have to do anything technical or complicated.
Once you've successfully created your web hosting account and installed WordPress, you'll get an email from your web hosting company telling you how to login to your WordPress admin area.
This admin area will normally have the URL yourdomainname.com/wp-admin – like this: ryrob.com/wp-admin.
When you log in for the first time, you'll have plenty of options for customizing your personal blog. Let's take a look at two key areas:
Your blog's theme (design) and plugins (add-ons)
Publishing new pages and posts for your blog
For a more granular tutorial on the setup process, check out my ultimate guide to starting a blog.
Step 4. Designing Your Personal Blog (Free Tools and Templates)
Your blog will be working straight out of the box – but chances are, you'll want to make some changes and additions. There are lots of ways you can tweak and customize your lifestyle blog for free.
Changing Your WordPress Theme
All WordPress blogs have a theme (template, or design). To start with, your blog will have whatever the default theme is for that year. Here's the 2023 theme, which also comes with a range of color and style options: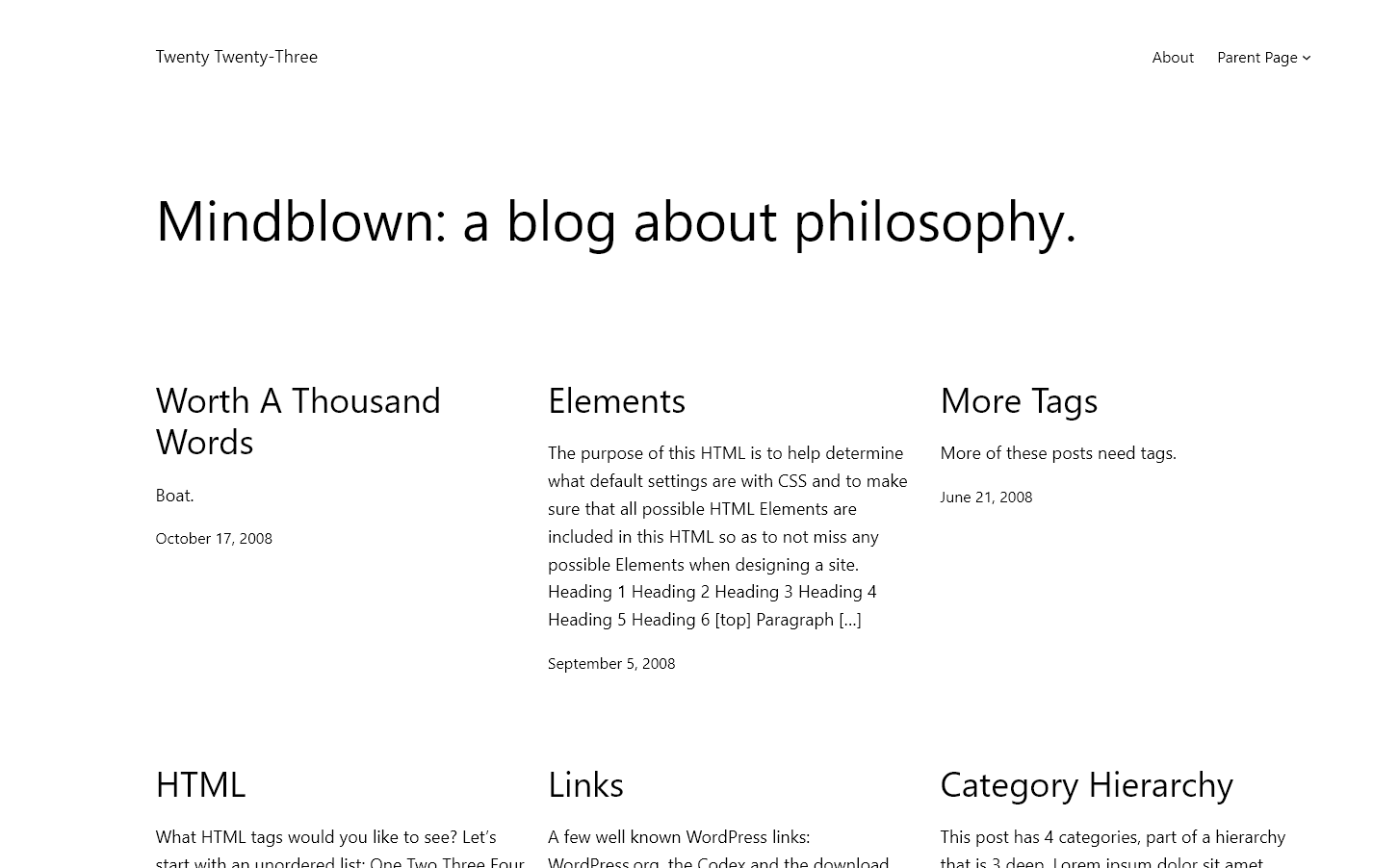 You can simply use the default theme, if you want – but most bloggers prefer to switch to a theme that better suits their personality and topics. Plus, some themes (even free ones) offer extra features beyond the basics.
Here are two of my favorites that you might like to try for your personal blog:
Elementor: Right at the top of my list of the best WordPress themes is Elementor. It's fast and easy to use, with a drag-and-drop page builder so you can have fun making your personal blog look exactly how you'd like it to. Elementor's free version is likely to be all you need for your blog in the early days: you can always upgrade to the paid version if you want more features in the future.
Challenger: The Challenger theme is designed especially for bloggers, with a simple design that keeps the focus on your writing itself. Your blog will look great on all screen sizes, including mobile, and the theme also comes with lots of customization options… even in the free version.
You can choose from thousands of different WordPress themes, as well. To take a look at some of the themes available, login to your WordPress admin area, then head to Appearance → Themes → Add New.
To narrow down the possible results a bit, you may want to use a word like personal, simple, or minimalist in the search box.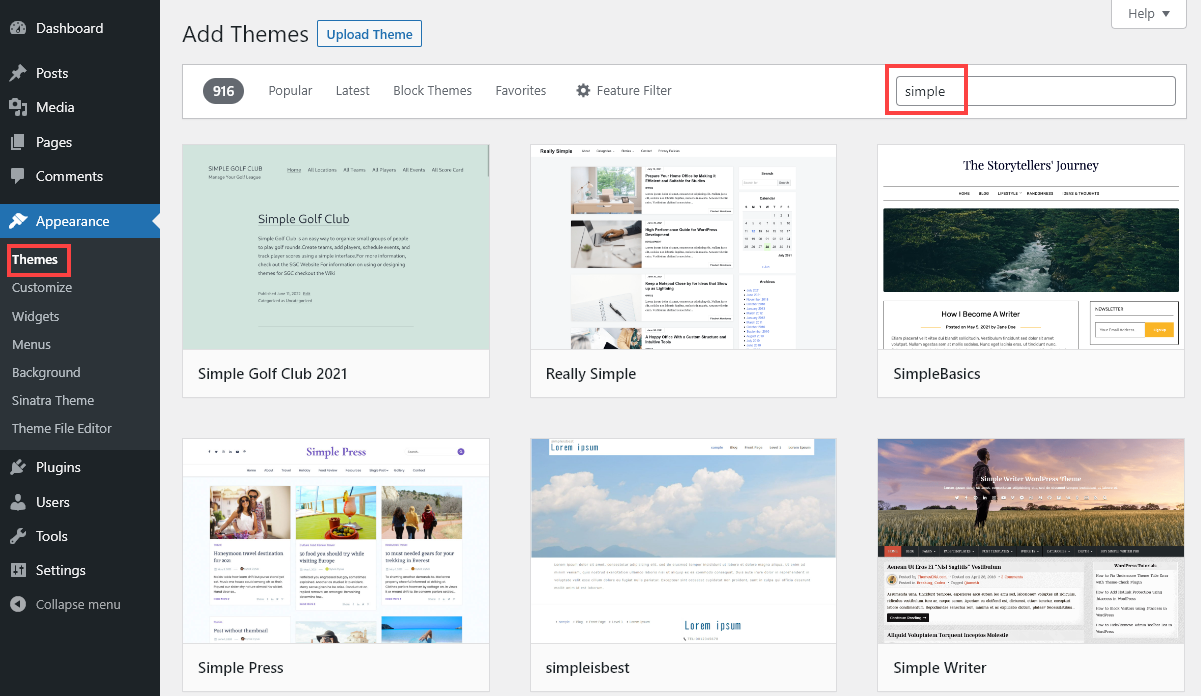 Found a theme you like? Go ahead and hover your mouse over it, then click the "Install" button. If you want to check it out in more details first, just go with "Preview."
Tip: When you change your WordPress theme, all your content (like your posts, pages, and blog comments) stays in place. It's just the design of your site that changes: things like the fonts, colors, and layout. You can change your blog's theme as often as you like.
Adding WordPress Plugins to Your Blog (for Greater Functionality)
One of the greatest things about WordPress is that you can easily add lots of extras to your blog to give it new functionality. You might want to try out plugins like:
The WPForms plugin to include a contact form on your site. Sure, your family and friends (hopefully!) have your email address already – but you might want casual readers to be able to get in touch, too.
The Ultimate Addons for Gutenberg plugin, which adds lots of extra blocks to the default WordPress Gutenberg block editor. (We'll get into using the block editor when we take a look at blog pages and posts in a moment.)
The Google Site Kit plugin. This handy plugin lets you see how readers are interacting with your website – and how they're finding it in the first place. Even if you're not actively looking to grow your website traffic, it's still fun to get insights into which of your blog posts are proving most popular.
It's very easy to add a new plugin in WordPress: no technical skill required! Simply login to your WordPress admin area, then go to Plugins → Add New.
If you know the name of the plugin you want to install, you can type that into the search box. If you just want to look for plugins that do a specific thing (like "online store" or "contact form") then just type that phrase into the box instead.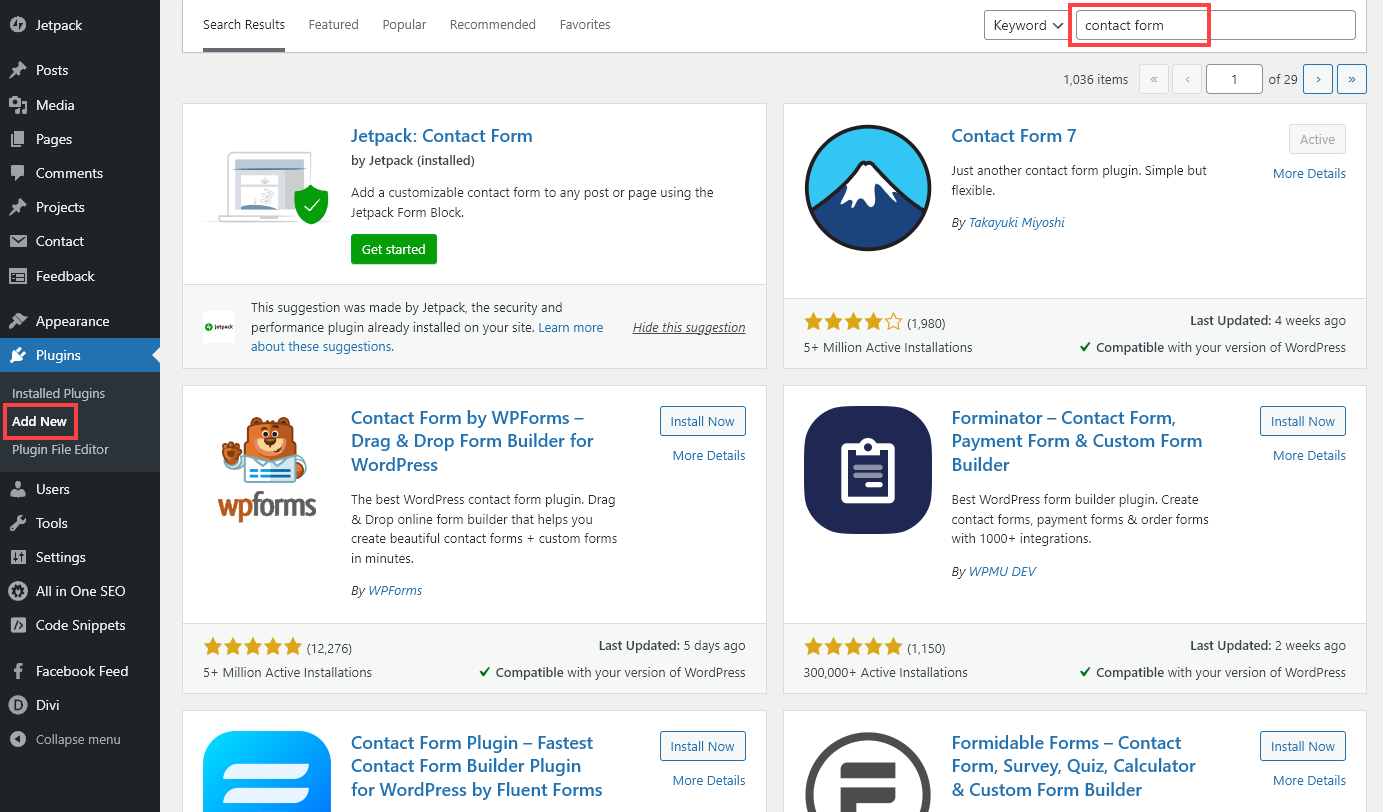 Want more plugins to try out? There are so many great ones out there: many are completely free, but others are paid for tools that offer a wide range of features. I've listed my favorite WordPress plugins here.
Step 5. Creating Useful Pages for Your Personal Blog
When you're busy setting up your personal blog, you've probably got blog posts on your mind: the updates that you'll publish, maybe daily or weekly, about things you've been doing or thinking about.
But blogs actually have two different key types of content:
Posts: Dated content, usually appearing in reverse chronological order (with the newest content at the top).
Pages: Undated content that doesn't form part of the sequence of blog posts, often linked to from the navigation menu
When you first get your personal blog up and running, it's helpful to add some pages to welcome new readers. It's up to you what you want to include here: this is very much your blog, and there's no "rule" saying that you have to have a particular kind of page.
Most personal bloggers, though, will include an About page, and possibly a Contact page too.
You might also want to create a custom home page (if you want to display something other than your most recent blog posts on your site's home page).
Creating an About Page for Your Personal Blog
It's easy to create a page in WordPress. Just go to Pages → Add New, and the WordPress block editor will open up for you, with a blank page ready. Your blog's about page is going to be especially important as you grow into becoming a personal blogger.
You'll need to type in a title for your page, then you can simply start writing the content. You can add image blocks if you want to include photos. (It's up to you how personal you want to get on your personal blog: some bloggers choose to remain anonymous, and others blog under a pseudonym or using their first name only.)

On your personal blog's about page, you might want to include some details about:
Who you are and why you started your blog.
What readers can expect from your blog (perhaps "weekly posts about my life" or "regular musings about life, the universe, and everything" … or whatever makes sense for you).
Contact details (if you don't want to create a separate contact page).
Once you're happy with your about page, you can go ahead and click the Publish button over on the right hand side.
As your blog grows over time, you might also add a "Start Here" page where you link to some of your best posts. You could also create a "Recommendations" page to share links to some of your favorite resources, products, or services with your readers. (This is also a great opportunity to try out affiliate marketing.)
Should You Monetize Your Personal Blog?
It's definitely possible to make money blogging… but it helps a lot if you've chosen a popular and profitable niche.
Making money from a personal blog is trickier. If you already have an existing platform or online presence, then you could certainly use your blog as a marketing tool to promote your products or services.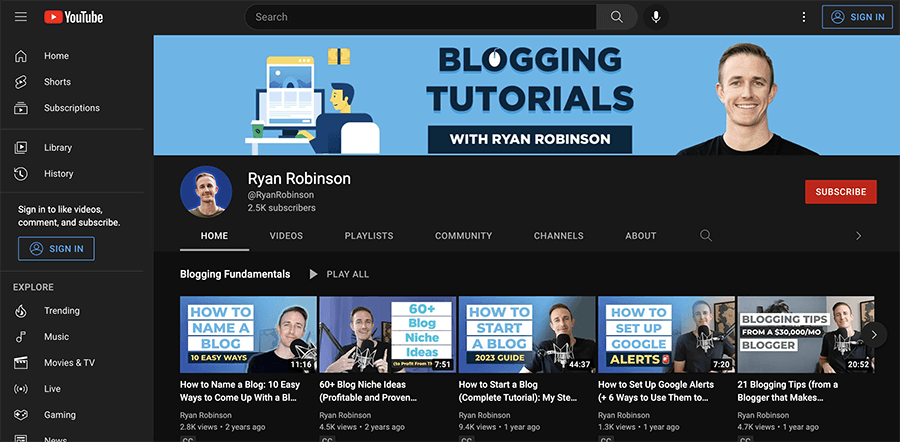 For instance, if you're a novelist like George R.R. Martin, it certainly makes sense to use your blog to promote your new books. If you're a speaker and author like Laura Vanderkam, you can write about your latest book and your speaking gigs.
What if you don't already have a platform? Before you go down the route of making money from your personal blog, it's worth thinking carefully about what you enjoy most about blogging. If you simply like to blog as a creative outlet and a way to keep in touch with friends and family, you might decide you'd prefer not to get to grips with digital marketing and monetization.
Another option is to allow your blog to evolve over time into a different type of blog. Perhaps your stories about getting out of debt will lead to you running a personal finance blog – or maybe your funny anecdotes about getting through airports with four kids will pave the way for a travel blog.
How to Make Money from a Personal Blog
If you do want to monetize a personal blog, here are a few options to consider as you begin attracting an audience:
Accepting Donations
Plenty of personal bloggers have a "donate" or "buy me a coffee" button on their website. You're unlikely to make much money in this way – but even a few dollars here and there might be enough to cover your hosting costs or even pay for a premium WordPress theme.
Running Ads (Blog Advertisements)
Ads are only really an effective monetization method when you have a lot of traffic. If your personal blog has a large readership, they could be a useful way to bring in some income through the right blog advertising networks. Keep in mind, though, that running too many ads can be intrusive and annoying for readers—not to mention negative impacts on your Google PageSpeed scores.
Promoting Affiliate Products
Affiliate marketing can work well with a much smaller audience than running ads, as you get commission when someone buys a product after clicking on your link. If you want to write about some of the products or services you're using in your daily life, see if those brands have affiliate programs—or join Amazon's affiliate program. It will likely only take a few minutes and it can become a great source of passive income.
Branching Out into Freelance Writing
Finding that you're enjoying writing for your blog? Then you might want to consider branching out into freelance writing – using your best blog posts as samples for potential clients. I've got some tips on getting started with freelance writing here—or you can check out my whole archive of freelance-related content.
Driving Traffic to Your Personal Blog (Growing Readership)
With a personal blog, you may not be too concerned how many readers you have. Maybe it's just your mom and your cousins reading… and you're happy with that! But some personal bloggers will want to reach a wider audience by promoting their blog content.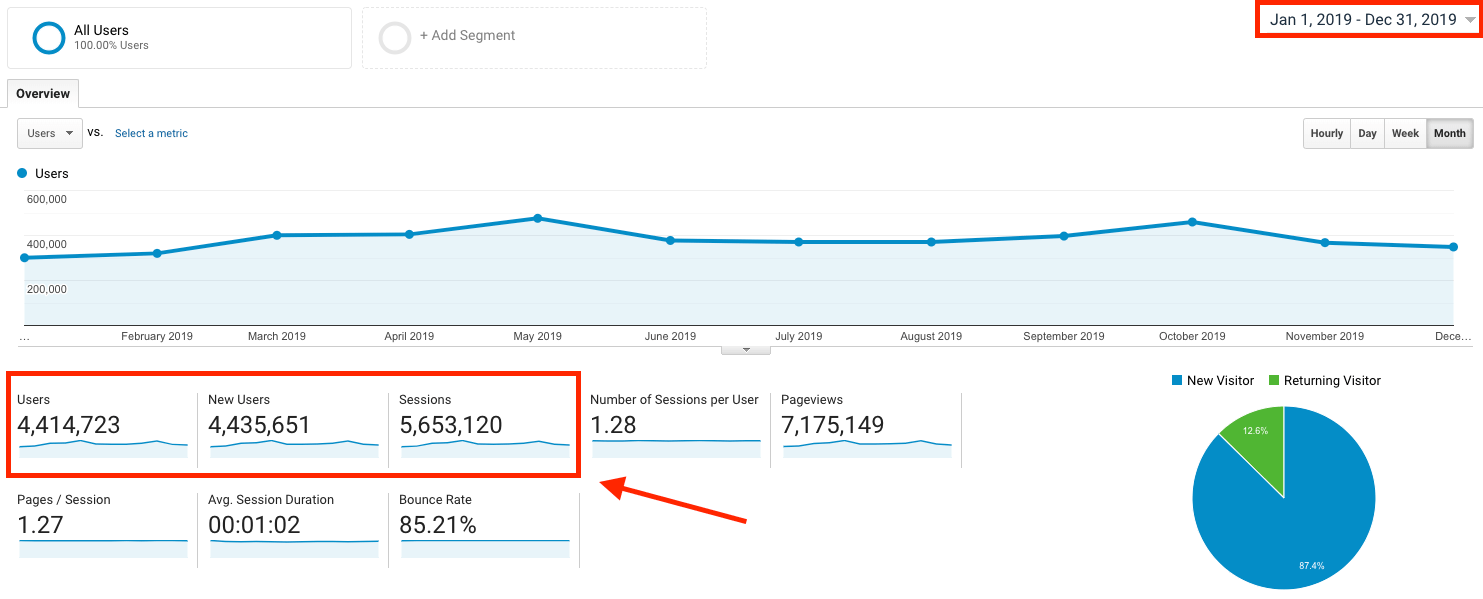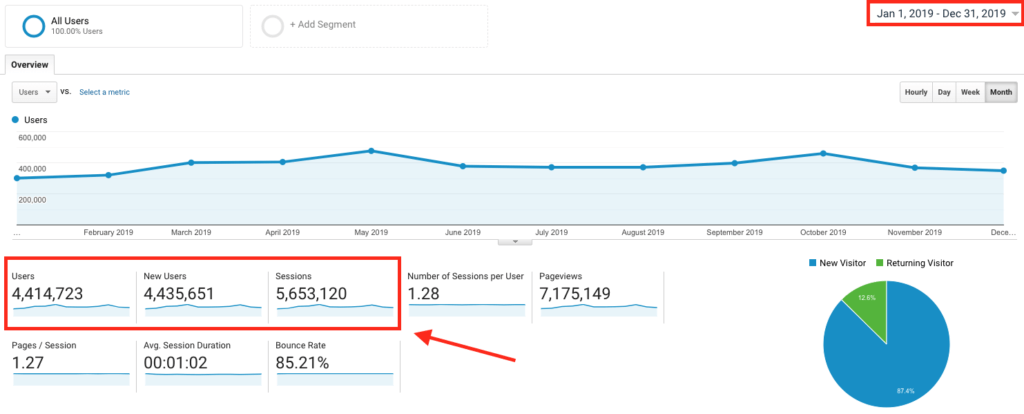 Getting more traffic to a personal blog can be a unique challenge due to the personal nature of the content you're creating that doesn't necessarily conform to typical SEO best practices like keyword research.
Use My Free Keyword Research Tool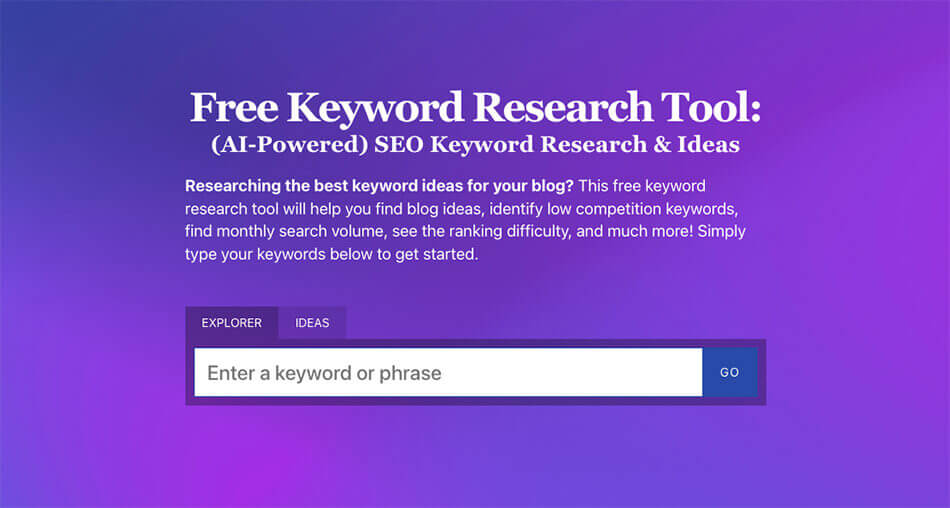 Try my free AI-Powered Keyword Tool to get dozens of research-backed ideas for keywords & topics to write about on your blog today.
---
Here are a few things you can try:
Building a Social Media Following
If you've got a unique take on life – or just a lot of online friends! – then building a following on a social app like TikTok or Instagram could be a great way to grow your blog's traffic, too. This can also help you connect with other personal bloggers or online influencers.
Starting an Email List
While email lists are often seen as marketing tools to promote products and services, they can be a very effective way to bring traffic to your blog. Encourage readers to sign up for regular updates: you might offer extra behind-the-scenes details in your newsletter, or you could simply send out your blog posts to your subscribers.
Using SEO for Personal Blogs
One of the best ways for most bloggers to get traffic is from search engines (aka blog SEO). But search engine optimization may not make much sense for your personal blog. If you're writing personal anecdotes, they aren't that likely to fit easily with keyword research.
Something you can aim to get traffic for is your own name. Of course, it helps if your name is a little unusual, and if you don't share a name with anyone really famous! You could use guest posting to build up backlinks to your blog, making it increasingly likely that people will find your site if they Google your name.
Ready to Get Your Own Personal Blog Up and Running?
Whether your personal blog takes off and makes you a household name, turns into a profitable side hustle, or simply remains a way to keep family and friends updated on your day to day adventures, it can be a whole lot of fun.
You could start your blog today in just 15 minutes or so, whether you opt for a free blogging platform or self-hosted WordPress. And if you get stuck at any point, don't worry: I've got a detailed guide on starting a blog that will walk you step-by-step through everything you need to know.
Interested in making money but don't want to monetize your blog itself? Check out these small business ideas. You could then potentially start out like I did, by blogging about your first business endeavor. I just hope yours goes better than mine did 😂
Ready to Start Your Blog Today?
Check out my ultimate guide How to Start a Blog (on the Side) that's been featured on Forbes, Inc and Entrepreneur.
---
---