If you're here, you've probably heard about ChatGPT in the news. It's making waves as an easy-to-use AI copywriting tool that can produce almost any type of content. Enter the question: What is AI copywriting?
Or maybe you have friends running an eCommerce store who've been raving about how quickly they can create product descriptions using AI copywriting software (like my very own, RightBlogger: the AI-powered content creation platform for bloggers).
But what exactly is AI copywriting? And how can you use it for your website or business?
What is AI Copywriting? How it Works, Best Practices & 6 Best AI Copywriting Tools
Disclosure: Please note that some of the links below are affiliate links and at no additional cost to you, I'll earn a commission. Know that I only recommend products and services I've personally used and stand behind. When you use one of my affiliate links, the company compensates me, which helps me run this blog and keep my in-depth content free of charge for readers (like you).
What is AI Copywriting?
AI copywriting is writing produced by a machine (using artificial intelligence-powered tools).
AI isn't a new concept. The idea of artificial intelligence has been around since the 1950s. But it's only been in recent years that AI technology has become powerful enough to produce human-like writing.
To produce AI copywriting, all a human needs to do is give the software a prompt, like "write a product description for a plain black cotton t-shirt for men" (which has become a lot easier to do with seamless AI copywriting tools today).
For example, RightBlogger's AI-powered product description tool then provides a response: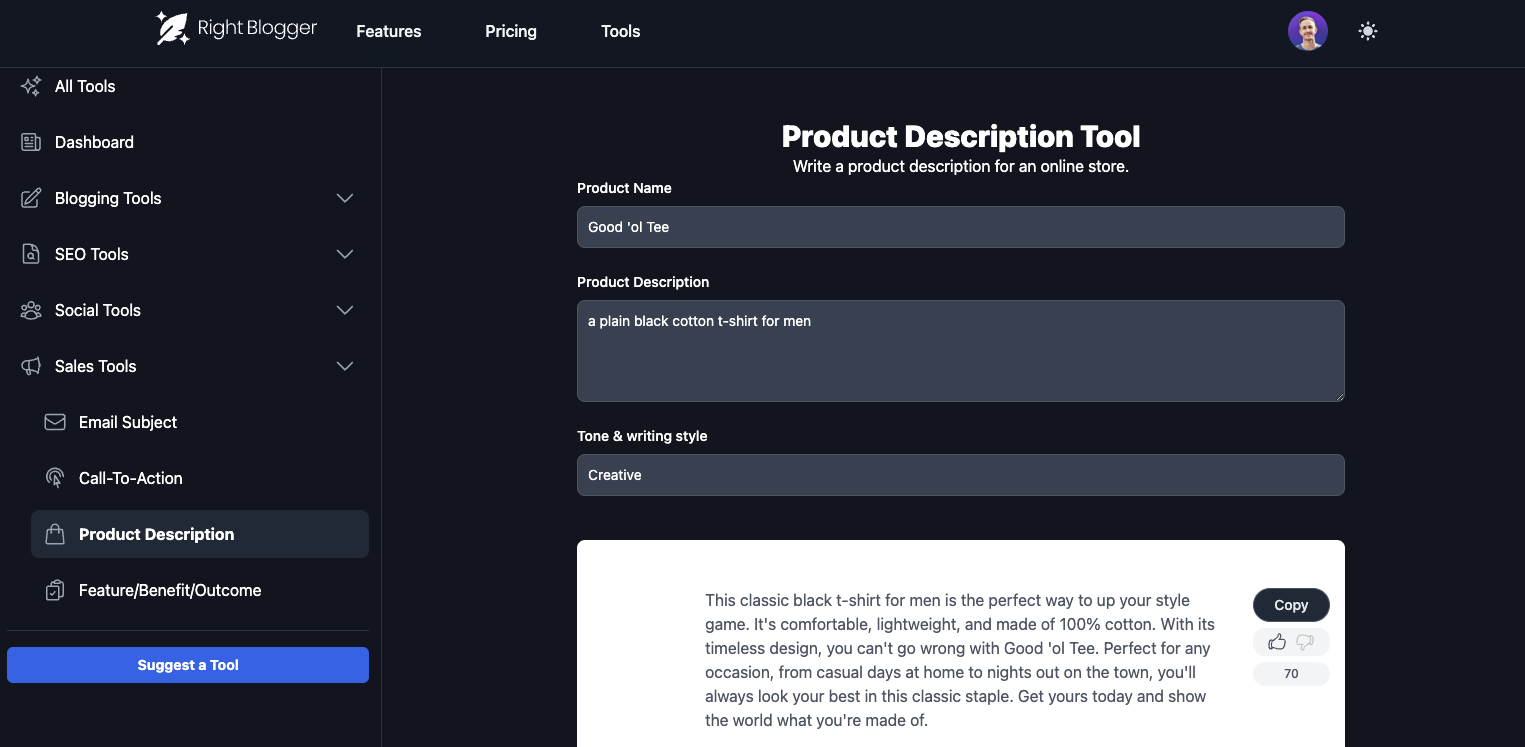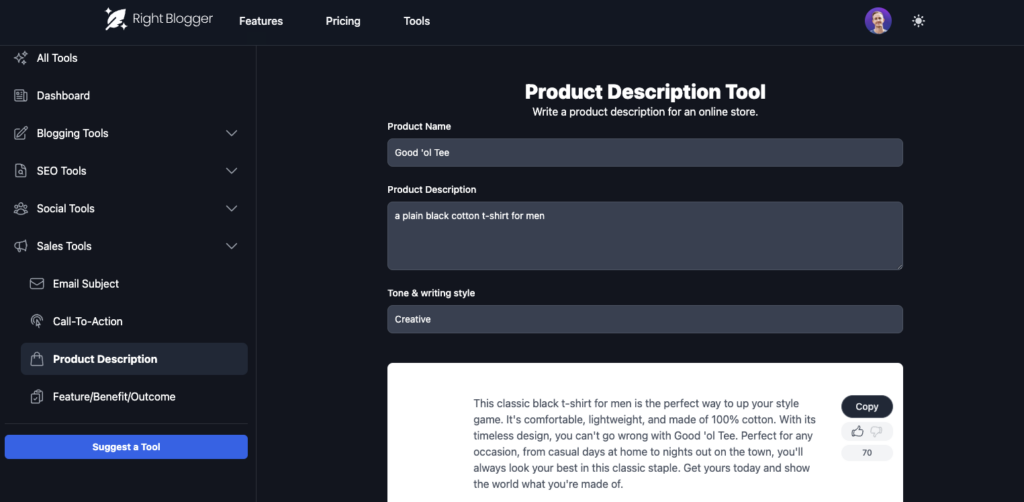 The end result is that in just a few seconds, you've generated a unique product description: "This classic black t-shirt for men is the perfect way to up your style game. It's comfortable, lightweight, and made of 100% cotton. With its timeless design, you can't go wrong with Good 'ol Tee. Perfect for any occasion, from casual days at home to nights out on the town, you'll always look your best in this classic staple. Get yours today and show the world what you're made of."
Pretty cool, huh? That's just a glimpse of the power AI copywriting has in store for bloggers & content teams alike.
How Does AI Copywriting Work?
AI copywriting tools are trained on a huge dataset of existing written material. Essentially, they read lots of other copy and learn how it works, through AI algorithms (machine learning). They can then produce unique copy that's plagiarism-free.
AI tools can understand the way language is used: this is called natural language processing. That understanding applies to the prompts you give the AI tool, as well as to the content they create. You can imagine that the AI copywriter is a young, keen writing assistant: just ask them for what you want, and they'll try their hardest to deliver it.
AI copywriting tools understand grammar and spelling rules. You'll still need to check for any clumsy sentences—but you won't need to correct typos like you might with a human writer.
AI Copywriting vs AI Content Writing
If you're already familiar with AI writing tools, you might wonder what the differences is between AI copywriting and AI content writing.
Copywriting involves sales-focused writing, like product descriptions, ads, landing pages, and promotional emails.
Content writing can help to drive sales, but it's not overtly promotional. Content writing includes blog posts, articles, and social media posts: types of content marketing that can help you attract your target audience to your website.
Most AI writing tools are useful for both copywriting and content creation, but some tools are designed more for one type of writing than the other.
6 Best AI Copywriting Tools to Try Out Today
Before we dig into how exactly you can use AI copywriting to scale your content efforts, let's take a quick look at some of the most popular AI copywriting tools on the market today.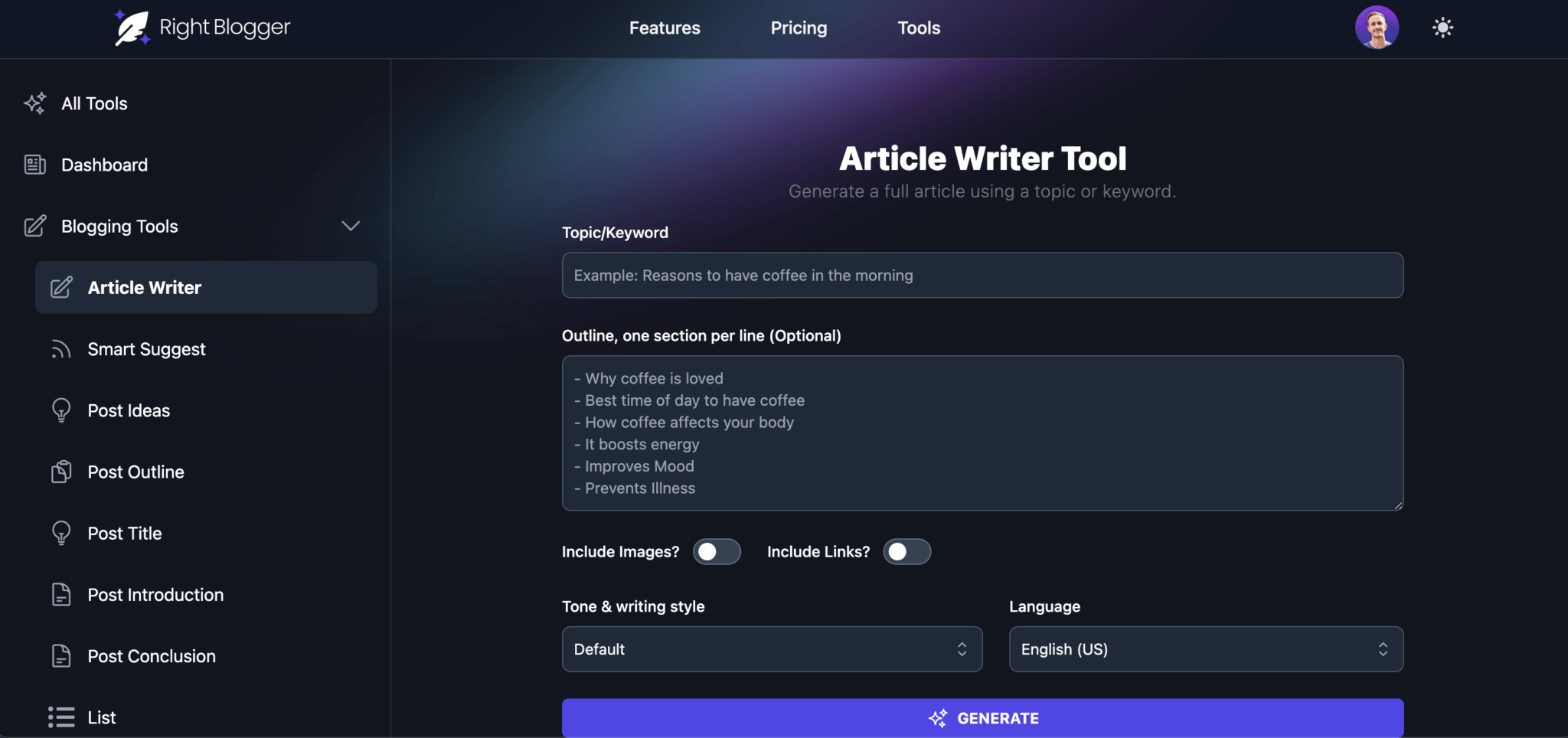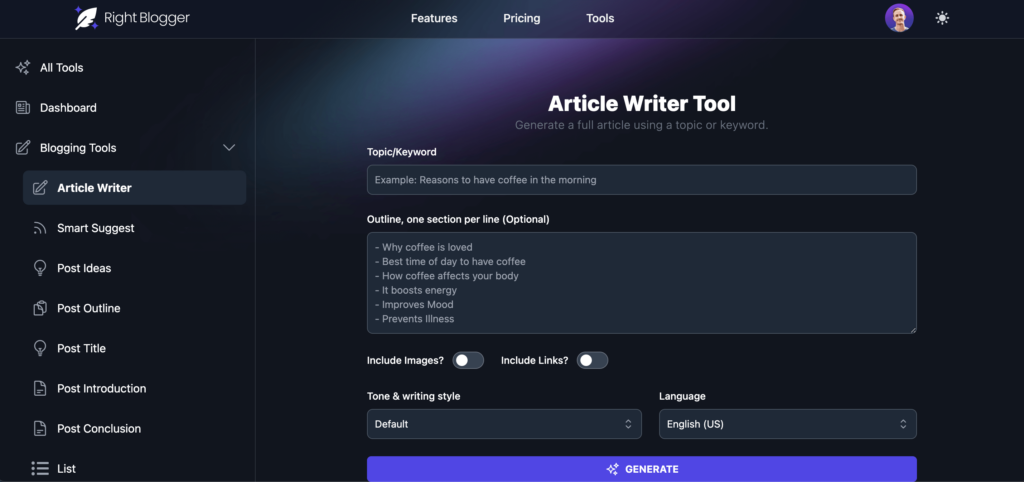 We built RightBlogger with the goal of simplifying the way bloggers & content teams use AI-powered tools to scale their content creation processes (on a tight budget). With advanced AI-assisted writing tools like automated content creation, outlining, idea generation, automated SEO optimization, and streamlined workflows for team collaboration, RightBlogger will help take your blog to the next level.
Jasper, formerly called Jarvis, is an advanced and widely used copywriting tool. It has a range of "recipes" (pre-built workflows) available to produce specific types of copy, such as a "cold email" that uses the AIDA copywriting model.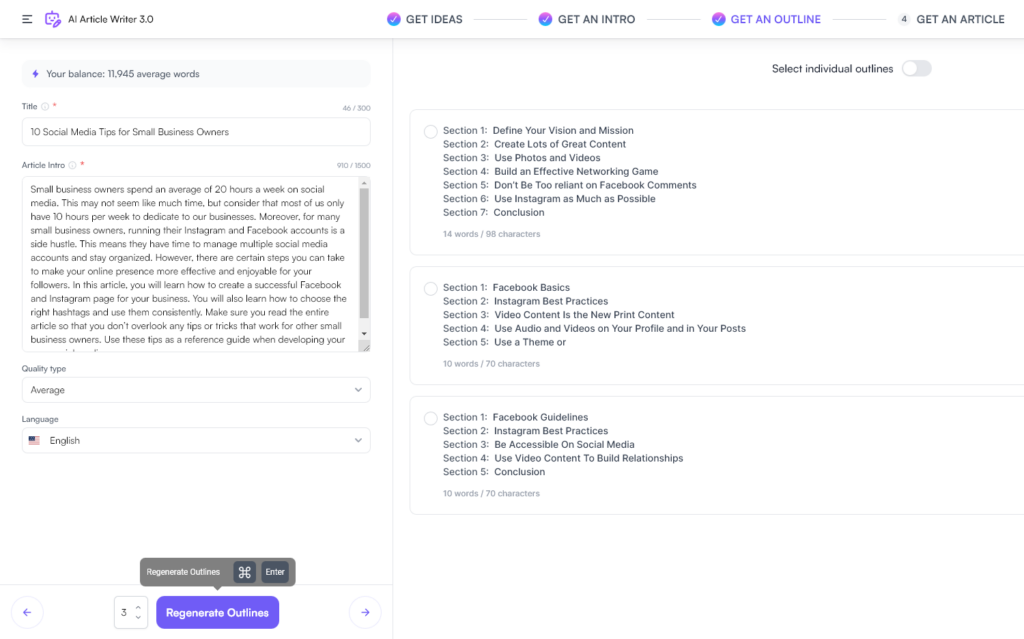 Writesonic can easily create ad and email copy. It also has a special product description generator where you can set the tone of voice (e.g. professional, excited, witty, and more). You can even use this to create product descriptions in 25+ different languages.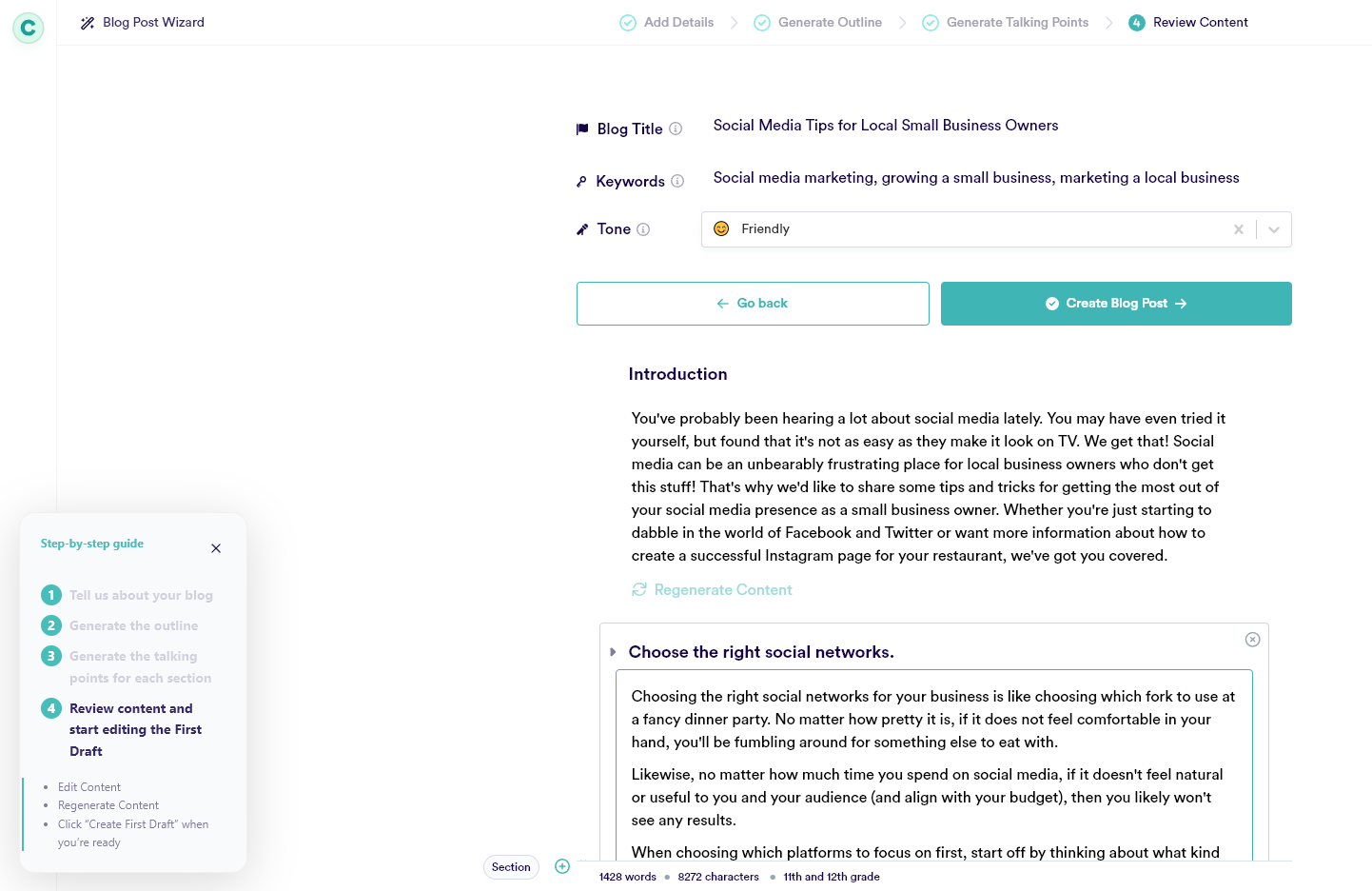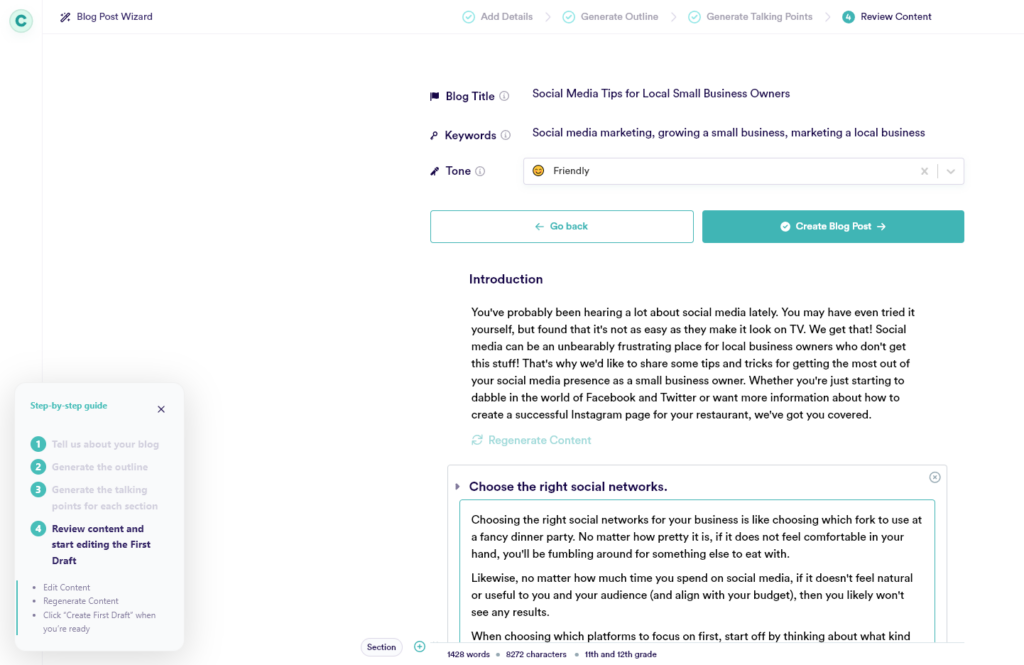 Copy.ai is particularly well positioned in the AI copywriting space, with lots of help with creating email campaigns in particular. The Copy.ai team offers free weekly demos along with lots of on-demand video guidance.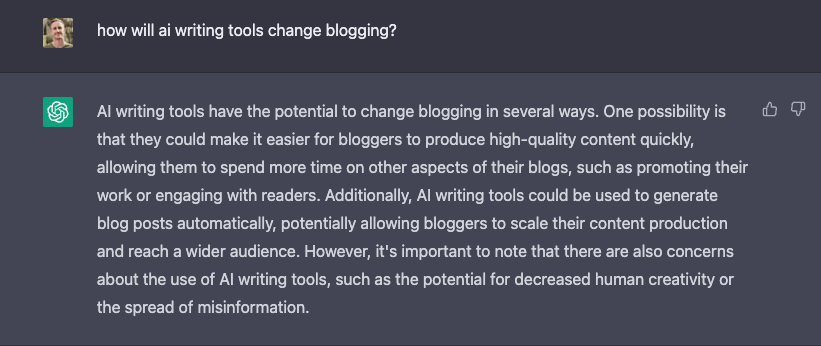 ChatGPT from OpenAI has made headlines around the world recently, due to its easy, chatbot style interface and its ability to craft any kind of written text you can imagine. (Plus, at the time of writing, it's completely free.) While ChatGPT isn't specifically designed for copywriting, you can use it for emails, ads, product descriptions, and more. It's based on the GPT-3 language model.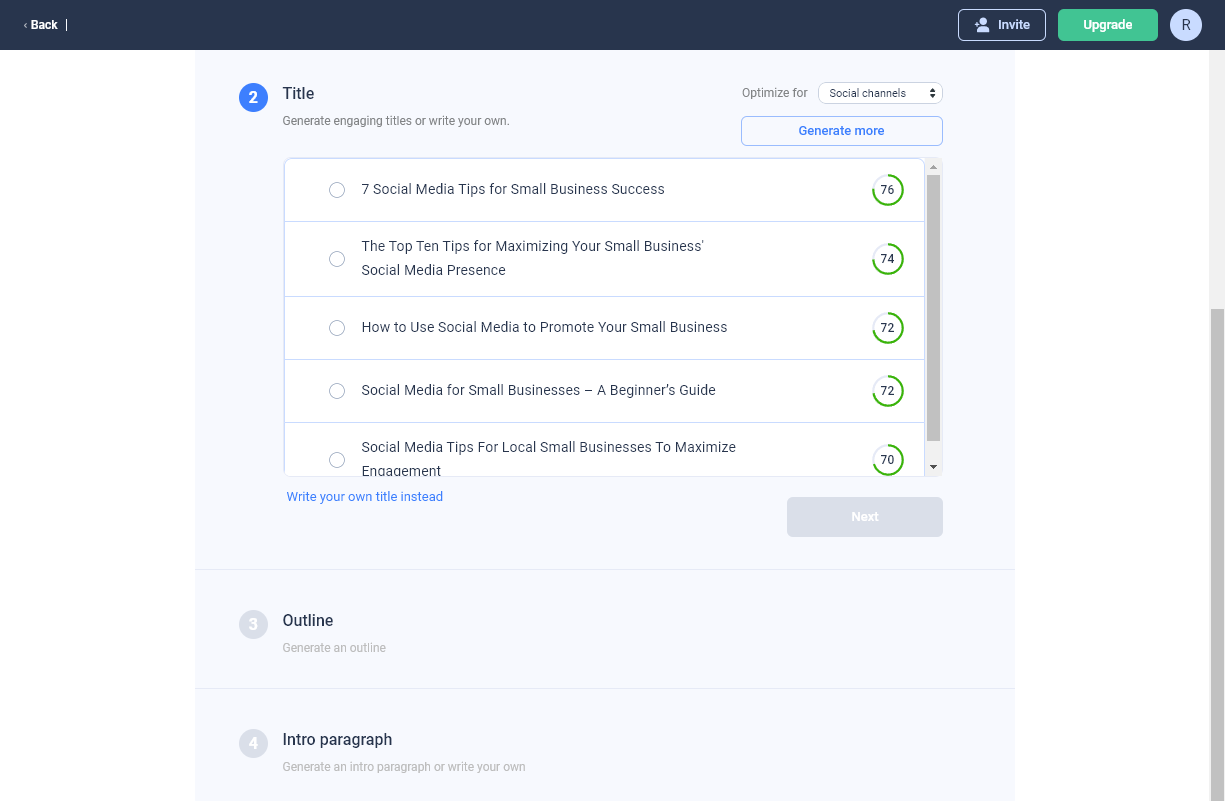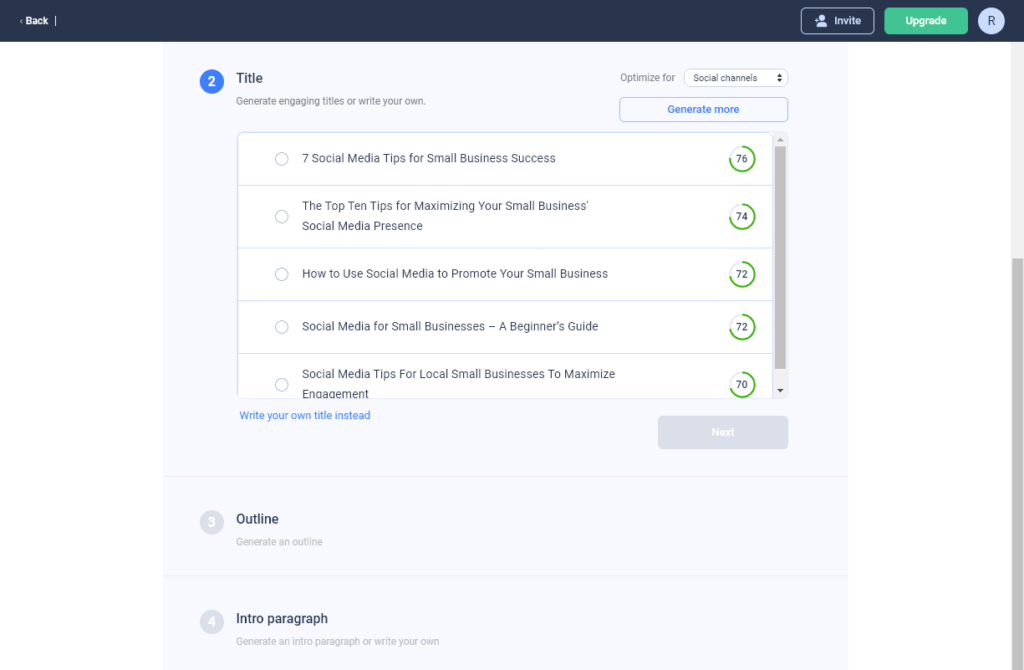 Anyword is another solid copywriting-focused AI tool that lets you create anything from ad copy to whole landing pages. It also has a sentence rewriter to help you optimize copy that you've already written.
How to Get Started With AI Copywriting
Thinking about trying AI copywriting to help you sell your own products or services—or as part of your affiliate marketing efforts? Here's everything business owners need to know about creating different formats of content.
5 Use Cases for AI Copywriting
1. Product Descriptions
One of the best ways to use AI copywriting is when you need to write a bunch of product descriptions. Perhaps you've got dozens of products in your online store and you want to flesh out their descriptions to help with your SEO (search engine optimization)—but you don't have hours to spend writing lots of copy.
Many of the best AI copywriter tools also offer Amazon-specific product descriptions, saving you a lot of time if you're getting ready to list your whole catalog on Amazon.
Example of an AI-powered product description:
For this example, we gave ChatGPT the prompt "Write a product description for an organic baby bodysuit. Key features: elephant design; available in blue, pink, or yellow; very snuggly."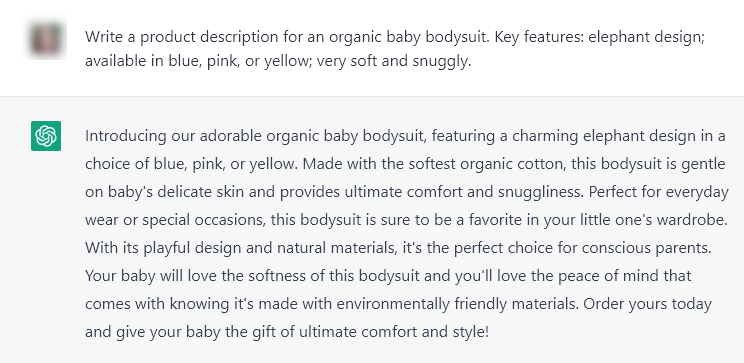 2. Ad Copy
If you're not a trained copywriter, you might find it a struggle to write ad copy that converts. An AI copywriting tool can take over this task for you, producing compelling ad copy to the length you require. You can generate lots of different options, too, and split test your ads to see which are the most effective.
You can use an AI writer to create Facebook ads, LinkedIn ads, Google ads, or any other type of ad you might want.
Example of AI-written ad copy:
For this example, we gave ChatGPT the prompt, "Write a short ad for an online course about Facebook marketing. Include humor."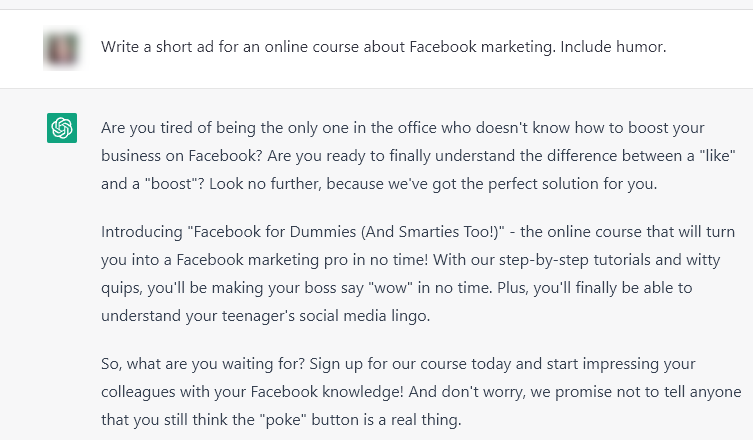 3. Landing Pages
AI copywriting software can also be used to create landing pages or sales pages—extended copy about a product, designed to drive sales. This could also be a great way to brainstorm ideas for a product: by having AI create the sales page first, you can design a product that meets your audience's most pressing needs.
If you want the software to include specific details, you can simply add that to your prompt or input.
Example of a landing page written by ChatGPT:
For this example, we gave ChatGPT the prompt, "Write a landing page for an online course about better sleep."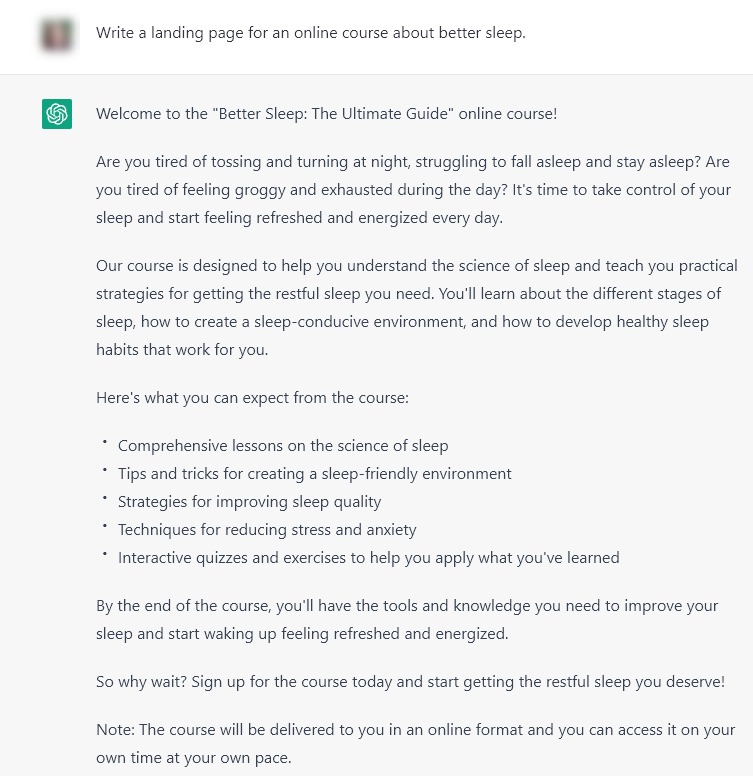 4. Social Media Posts
Promoting your products or services on social media can take a surprising amount of thought. Social media posts are often short—but getting just the right words can take time. If you're having to come up with several different posts every day, you'll save a lot of time by enlisting an AI copywriter to help.
Many AI writers can produce multiple social media posts from a single prompt.
Example of social media posts (tweets) written by ChatGPT's AI bot:
For this example, we gave ChatGPT the prompt, "Write five tweets promoting website design services for restaurants."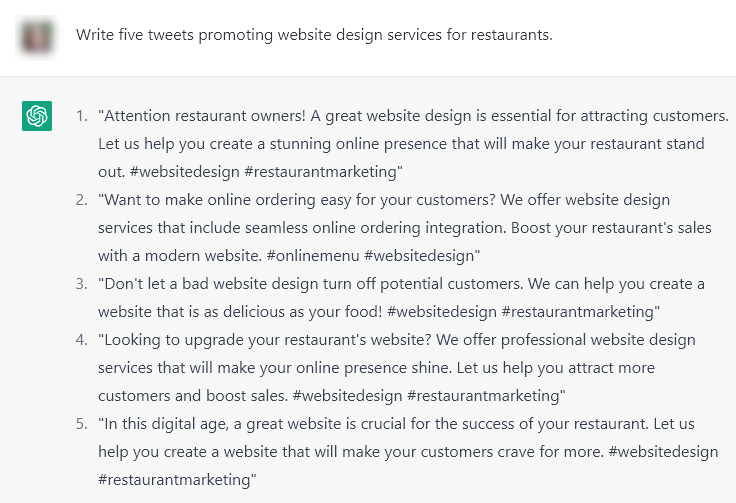 5. Marketing Emails
Email marketing is a fantastic way to make sales—but it can also be hard to come up with great email copy, especially if you're sending several emails about the same product launch or promotion. You can use an AI tool to generate email copy for you
Example of marketing email copy written by ChatGPT:
For this example, we gave ChatGPT the prompt, "Write three short emails promoting a 50% off sale for an online store selling running and fitness gear."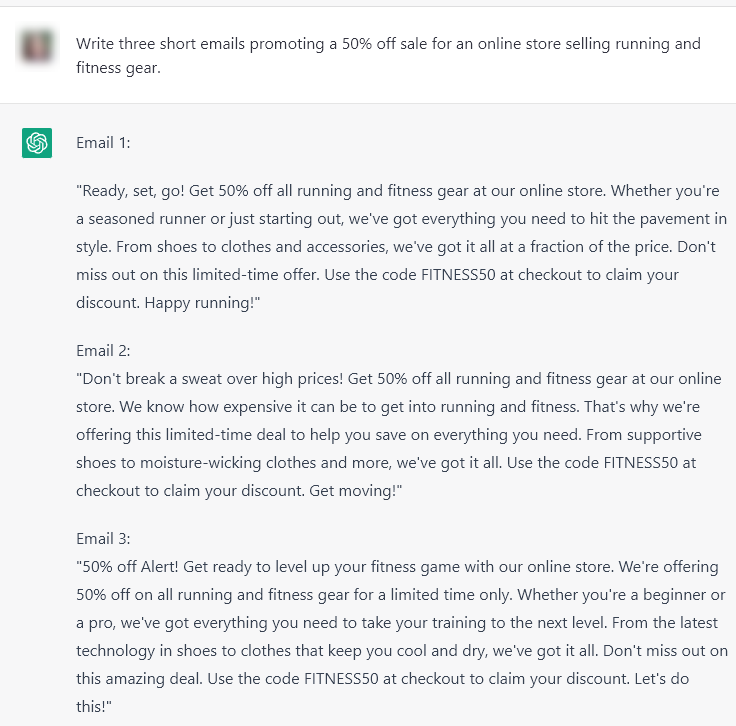 Creating Prompts for an AI Copywriter (with Real Examples)
The output that you get from your AI tool is only ever going to be as good as the input.
That might seem obvious—but it's something that some website owners and bloggers don't realize. By spending an extra minute or two giving the AI more information about what you want, you can get a vastly better quality of output.
Some AI copywriting tools guide you through the process of giving prompts to the software. For instance, if you use Writesonic to create a product description, you'll be prompted to enter:
The name of the product/service
Key characteristics of the product/service
The tone of voice (chosen from a dropdown menu)
With other tools, though, you'll need to think carefully about what to include in your prompt.
Let's take a look at how this works with ChatGPT, using a series of different prompts:
Example 1: Very Basic AI Writing Prompt
In this example, we've simply used the prompt "ski vacation". Chat GPT has given a brief definition and explanation:
This type of output might be useful if you're trying to create a glossary, perhaps to link to other content or resources on your site. However, it's unlikely to be a great fit for your marketing efforts.
Let's try giving ChatGPT a little more to work with.
Example 2: Making a Clearer Request of the AI
This time, we've used the prompt "Write an advert about ski vacations." This gives ChatGPT an idea of the type of content we want—advertising copy.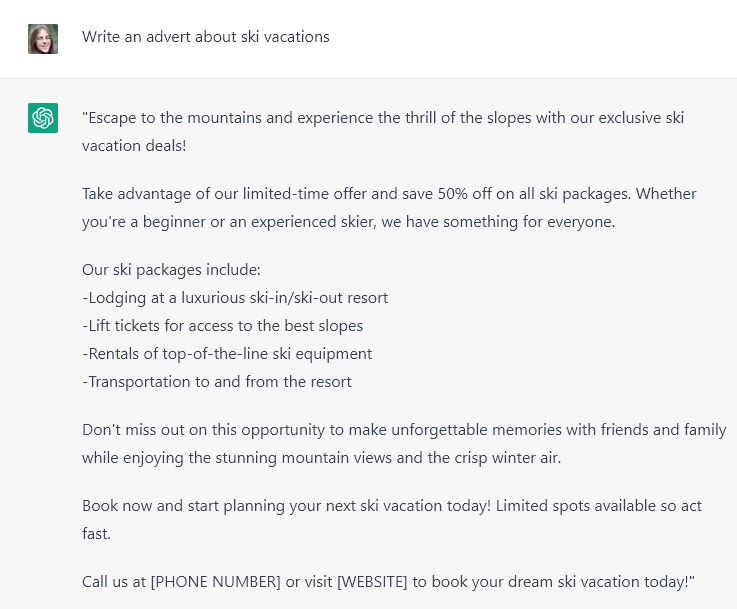 Obviously, if your company doesn't offer 50% off, or doesn't include everything in those bullet points, you'd need to edit this advert quite a bit.
Example 3: Giving the AI Software More Details to Work With
If you've already got details of an offer set up, make sure you give those to the AI copywriting tool to include in your ad. You'll also want to include any specific requests along with a mention of the type of tone you'd like for your ad.
Here's the prompt we used this time:
Write an advert about ski vacations in Canada. Include a 30% off coupon "SKI30". Mention that packages that include flights are available too. The tone of the advert should be exciting and daring.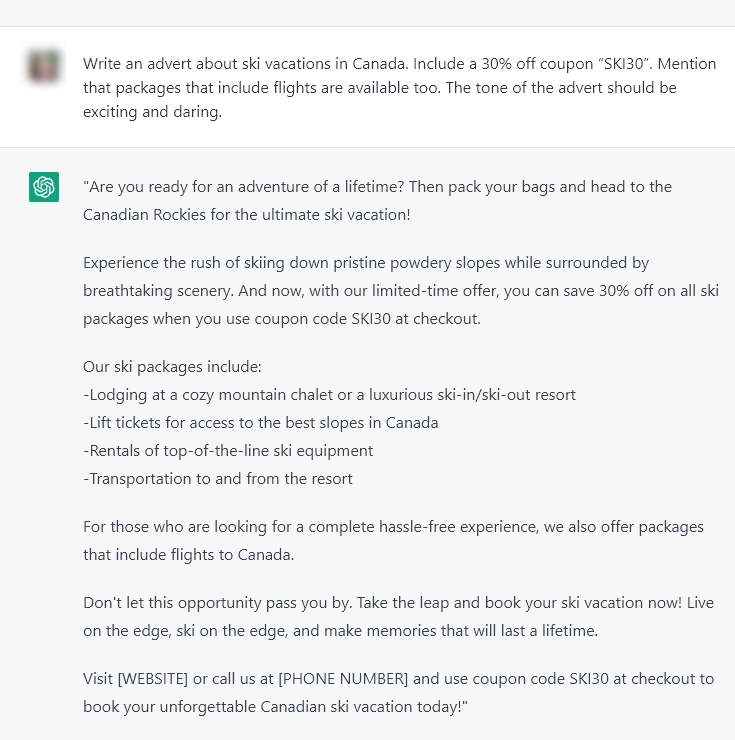 As you can see, the more information you give the AI tool, the better quality the output is. The bullet points in this ad might need a little tweaking to suit exactly what the company offers, and the company's website and phone number need adding … but it's otherwise ready to be edited and published.
Tips to Get the Most from Your AI-Generated Content
Once you've got some AI generated content, it's a good idea to:
Carefully review the AI copy for any factual errors. The AI may have picked up misinformation online.
Ask the AI for multiple options where appropriate. For instance, you might want to ask for several email subject lines, so your marketing team can choose their favorite.
Run the content through a plagiarism checker (if the AI tool doesn't have a built-in checker). This lets you be confident that you haven't ended up accidentally plagiarizing from other content creators.
You can also use AI tools at a much earlier stage of the writing process. You might try them out for brainstorming when you're trying to come up with ideas, e.g. to plan out your next few months of marketing content.
3 Big Questions About AI Copywriting (FAQs)
Now we're getting to the good stuff… how will AI writing tools impact the world of blogging, content marketing and SEO? Let's dig in.
1. Can AI Copywriting Tools Really Replace Human Copywriters?
With the rise of AI copywriting over the past few years, particularly with ChatGPT becoming very popular in recent months, some freelance copywriters are concerned that their jobs are at risk.
The truth is that AI copywriters aren't ever likely to fully replace human copywriters. They can certainly speed up copywriting tasks—but you'll always need the human touch to produce truly high quality content. You'll want a human writer to add personality, to make sure the copy produced is in keeping with your brand, and to supply the AI with prompts in the first place.
AI writing tools can help writers to become more effective and efficient—but truly great writing requires sentience. (And machines haven't achieved that … at least, not yet!) If you're a content writer, you might want to try out some AI content generators to help you get over writer's block and write content faster.
2. Is AI Copywriting Good for SEO? Is it Bad for SEO?
AI copywriting is essentially no better or worse than human copywriting when it comes to SEO. The main advantage comes when AI copywriting lets you generate extra content: the more content you have on your site, the more chances you have to rank in search engines.
Some AI copywriting tools have built-in SEO optimization, but you'll still need to carry out tasks like keyword research to be sure you've chosen the right keywords to rank for. Still, AI tools can speed up your digital marketing progress.
3. What's the Best AI Copywriting Tool Today?
While I'll definitely recommend RightBlogger as head and shoulders above the rest, any of the AI copywriting tools I talked about above—RightBlogger, Jasper, Writesonic, Copy.ai, ChatGPT, and Anyword—could be great options for you depending upon your needs.
All of these AI writing tools can create both short-form and long-form marketing copy. Each tool has slightly different functionality and you may find you prefer one interface over another. At the end of the day though, we've been curating the RightBlogger tools & user-experience to fit the needs of both bloggers and content marketing teams—so I'm biased to steer you towards trying my tool first. ☺️
ChatGPT has rapidly gained a lot of popularity, because it's (a) very easy and intuitive to use and (b) currently free. But many premium tools have set templates for creating specific types of copy, so you may find these easier to work with.
Ready to Use AI Copywriting to Grow Your Business?
AI copywriting could help you grow your business faster—particularly if you need to create a lot of website copy. If you've got dozens of product descriptions to churn out, a good AI copywriter could get that done for you in a fraction of the time.
You can also use AI copywriting tools to create content fast: this could be a huge help with your content marketing strategy.
This week, try out at least one AI tool. Experiment with different prompts and see what sort of output you get.
Keep in mind that even the smartest AI isn't going to completely replace a human writer. Rather than seeing AI copywriting as a replacement for human copywriting, see the AI writer as an assistant. The AI can do a lot of the grunt work… while the human adds the magic.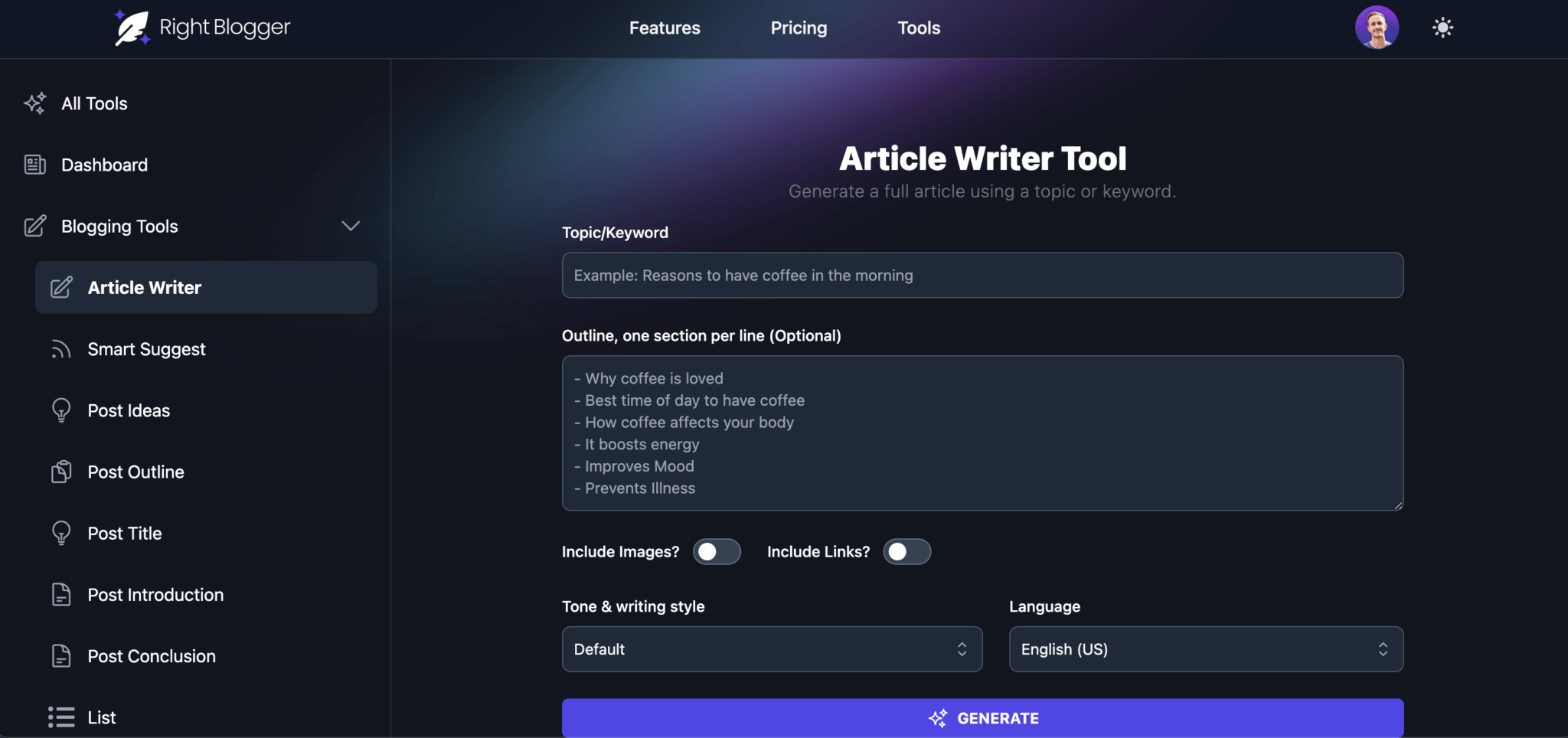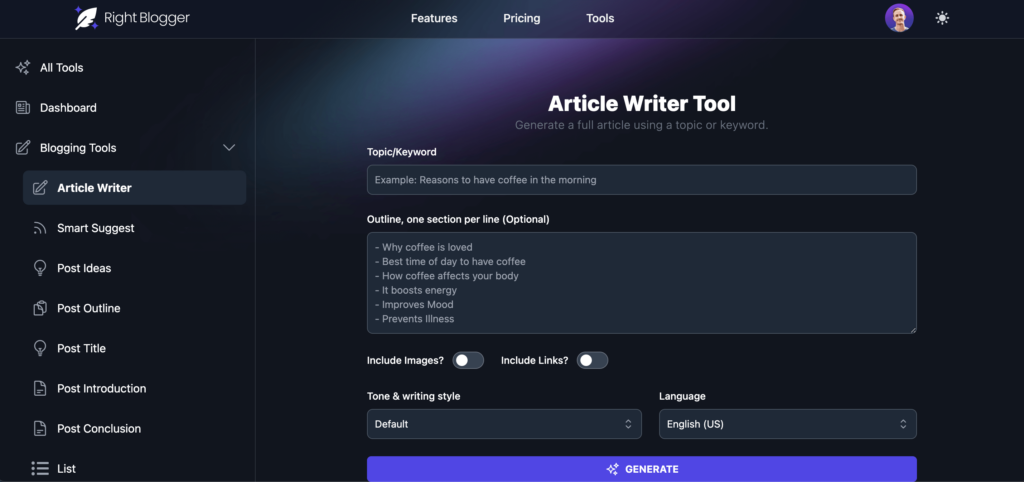 Try my very own AI-Powered Content Creation Toolbox for Bloggers: RightBlogger, to get access to 30+ blogging, SEO, marketing, sales and productivity-focused tools to blog faster & more effectively today.
---