This month's update is going to be another very short and sweet one. I've got a few fun projects in the works that are focused on increasing my affiliate earnings and I expect them to start paying off within the next 2-3 months.
In a couple of months, I'll do a deep dive on the changes I made and we'll see if the experiments were effective or not 🙈
I generated $6,313.71 in revenue. We've been getting settled in our short-term stay here in Palo Alto while we prepare to move back up to San Francisco in the next few months.
While my overall side income revenue was down marginally last month, I turned a larger profit than in April ($736.33) and I also booked a second freelance content marketing client (a friend's startup I'm doing some discounted work for at $4,000/mo). That project kicked off June 1st and most likely won't hit my books until July.
Now to the details…
Side Income Report May 2018: 

$6,313.71
In these monthly reports, I track my total side income every month, including each individual source of that income, and associated expenses with running my side businesses.
Next, I break down the traffic to my blog which heavily impacts my side income, including what's performing best and how I'm working to drive in more readers. I also cover how many email subscribers I have, the number acquired during the month, and what that growth trajectory looks like.
Then I talk about my podcast download numbers for the month, and which episodes performed best.
Finally, I cover updates on other side projects I'm working on.
Want my side income reports delivered straight to your inbox?
Join me today and I'll send you my weekly tips, strategies, and detailed insights on growing a profitable side business.
"*" indicates required fields
Now, let's do this.
1. Side Income Breakdown for May 2018
1 x Content Marketing Clients
1 x Freelancing Course Sale
     $863.42    
        $291.44
          $251.84
          $212.31
          $0.00
          $0.00
          $29.00
          $0.00
            $0.00
            $0.00
            $0.00
            $0.00
            $0.00
            $0.00
           $35.27
            $0.00

Expenses Breakdown
     $292.30    
        $200.00
        $57.85
         $33.99
          $.46
     $556.85    
        $405.34
        $49.99
        $0
        $19.00
        $12.00
        $10.00
        $20.00
        $14.99
        $25.53
Professional Services
   Freelance Writers (Client Work)
   Hourly Office Rent (Palo Alto, CA)
   Podcast Producer (Xavi at Branded Pod)
   Business Insurance
     $3,587.51    
       $2,581.77
        $270.00
        $699.00
        $36.74
Travel, Office Supplies & Misc
   New Mic (Heil PR40)
   iPhone X Payment Plan
   AT&T Service Plan (iPhone)
   Transaction Fees (from Int'l Payments)
   Travel (Tesla Car Rental on Turo 🚕)
      $1,188.70  
        $510.09
        $56.16
        $100.73
        $158.25
        $315.49
Net Profit Breakdown
Real quick update on the rest of my side business…
Keeping the rest of this side income report pretty quick, as time is a precious commodity right now!
2. Blog Stats for May 2018:

224,076 Sessions and 48,109 Total Email Subscribers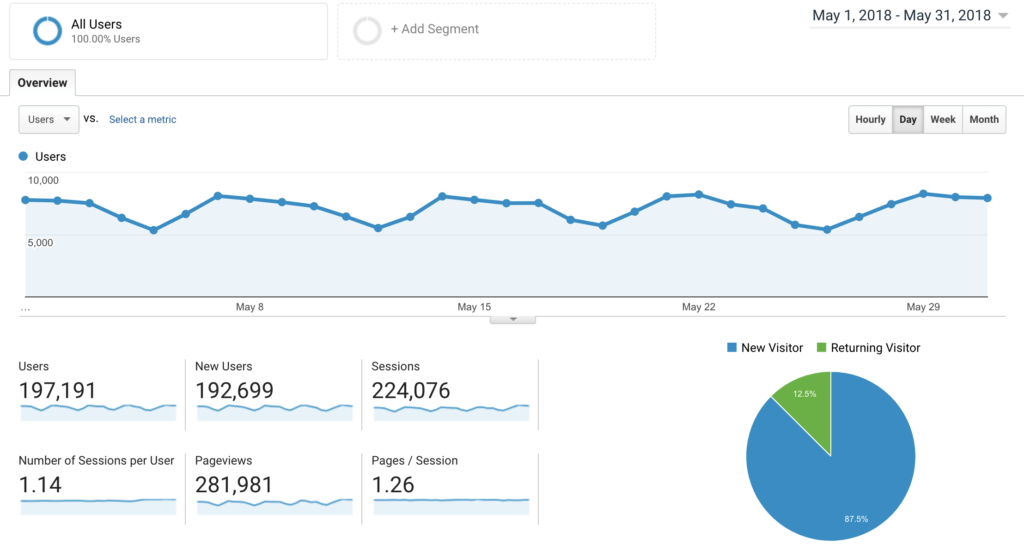 Sticking with the overall trend so far this year, traffic has continued climbing month-over-month. This month I was up by almost 6%. And I moved up to 281,981 pageviews.
This increase in traffic is directly correlated to several of my posts ranking higher in organic search.
Posts that are competing on very high volume search terms like:
Overall site traffic is up by about 29% compared to May 2017.
Email Subscribers.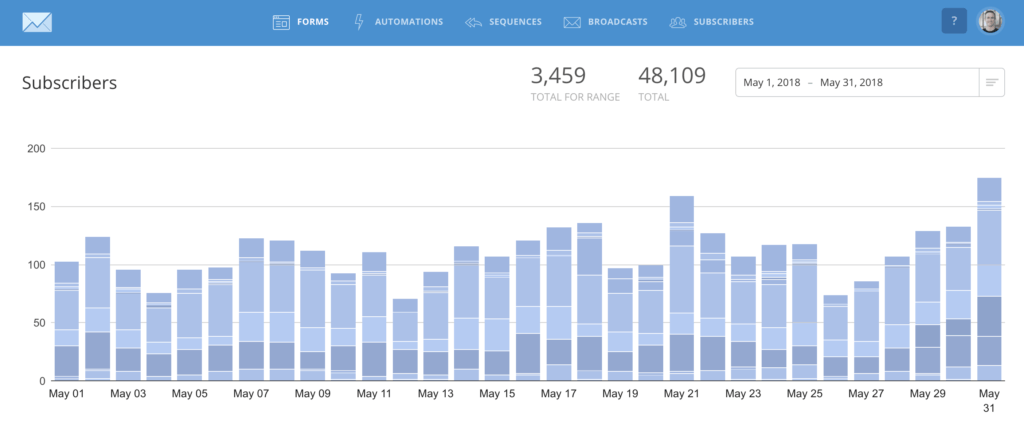 I use ConvertKit to manage my email subscriber community and send out my weekly (sometimes twice weekly) updates.
May saw the addition of 3,459 subscribers to my community (10% growth over April).
Which brings me up to 48,109 total subscribers.
3. Podcast Downloads for May 2018: 

15,616 Downloads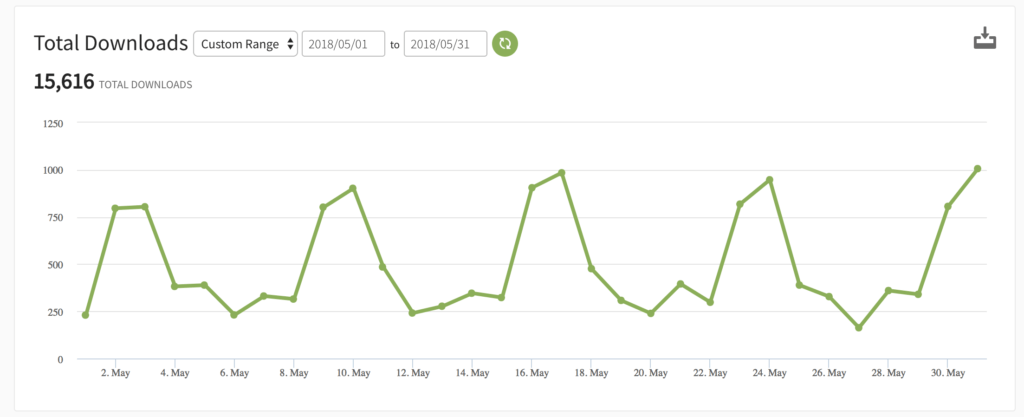 The end of May marks the 11th month of hosting my podcast, The Side Hustle Project.
With a total of 15,616 downloads, down a bit from May (my highest month ever).
Here are the episodes that went live last month:
May brought my total download numbers for the show up to 140,232 downloads!
If you're not a listener yet, give it a try right here 🙂
That's it for my May side income report.
And real quick, if you're looking for some additional reading to help grow your own side business, I recently launched an 18,000 word (free) guide to building and scaling a profitable blog right here.