April's been a very busy month, so this update is going to be short & sweet!
I generated $6,960.37 in revenue, and once again (as in March and February) spent more than usual with things like yearly tax services and on travel back and forth between my hometown of Hanford, California dealing with family affairs after the passing of my father in March. We also made a quick move back to California (from Denver) for my girlfriend's job working with A Well Traveled Life and we're staying in Palo Alto for a few months before ultimately getting back up to San Francisco.
One of the most amazing aspects of having a dependable side income, is that I don't have to worry about finances when the metaphorical 💩 hits the fan in other areas of my life. Short-term profitability can take a hit, but it's priceless to not have to dip into my savings or incur debt in times like these.
At the end of the month, I turned a small profit ($277.27) despite the higher than usual expenses.
Now to the details…
Side Income Report April 2018: 

$6,960.37
In these monthly reports, I track my total side income every month, including each individual source of that income, and associated expenses with running my side businesses.
Next, I break down the traffic to my blog which heavily impacts my side income, including what's performing best and how I'm working to drive in more readers. I also cover how many email subscribers I have, the number acquired during the month, and what that growth trajectory looks like.
Then I talk about my podcast download numbers for the month, and which episodes performed best.
Finally, I cover updates on other side projects I'm working on.
Want my side income reports delivered straight to your inbox?
Join me today and I'll send you my weekly tips, strategies, and detailed insights on growing a profitable side business.
"*" indicates required fields
Now, let's do this.
1. Side Income Breakdown for April 2018
2 x Content Marketing Clients
1 x Fiverr Pro Consulting Call
     $387.52    
        $83.14
          $83.48
          $203.86
          $0.00
          $0.00
          $0.00
          $0.00
            $0.00
            $0.00
            $0.00
            $0.00
            $0.00
            $0.00
           $16.00
            $0.00

Expenses Breakdown
     $234.41    
        $200.00
        $23.95
          $9.99
          $.47
     $485.38    
        $319.00
        $49.99
        $0
        $19.00
        $12.00
        $10.00
        $10.00
        $14.99
        $50.40
Professional Services
   Freelance Writers (Client Work)
   Office Rent (thx Close.io 😉)
   Hourly Office Rent (Palo Alto, CA)
   Podcast Producer (Xavi at Branded Pod)
   Wordpress Development
   Tax Services (2017 Tax Return Filing)
   Business Insurance
     $4,773.66    
       $2,488.00
        $0.00
        $0.00
        $699.00
        $475.00
       $1,075.00
        $36.66
Travel, Office Supplies & Misc
   Office Supplies
   iPhone X Payment Plan
   AT&T Service Plan (iPhone)
   Transaction Fees (from Int'l Payments)
   Home Office Internet (Comcast 👎)
   Travel (Hotel)
   Travel (Enterprise Car Rental 🚕)
      $1,188.70  
        $15.99
        $56.16
        $100.73
        $155.25
        $132.26
        $173.00
        $555.31
Net Profit Breakdown
Real quick update on the rest of my side business…
Keeping the rest of this side income report pretty quick, as time is a precious commodity right now!
2. Blog Stats for April 2018:

212,889 Sessions and 45,558 Total Email Subscribers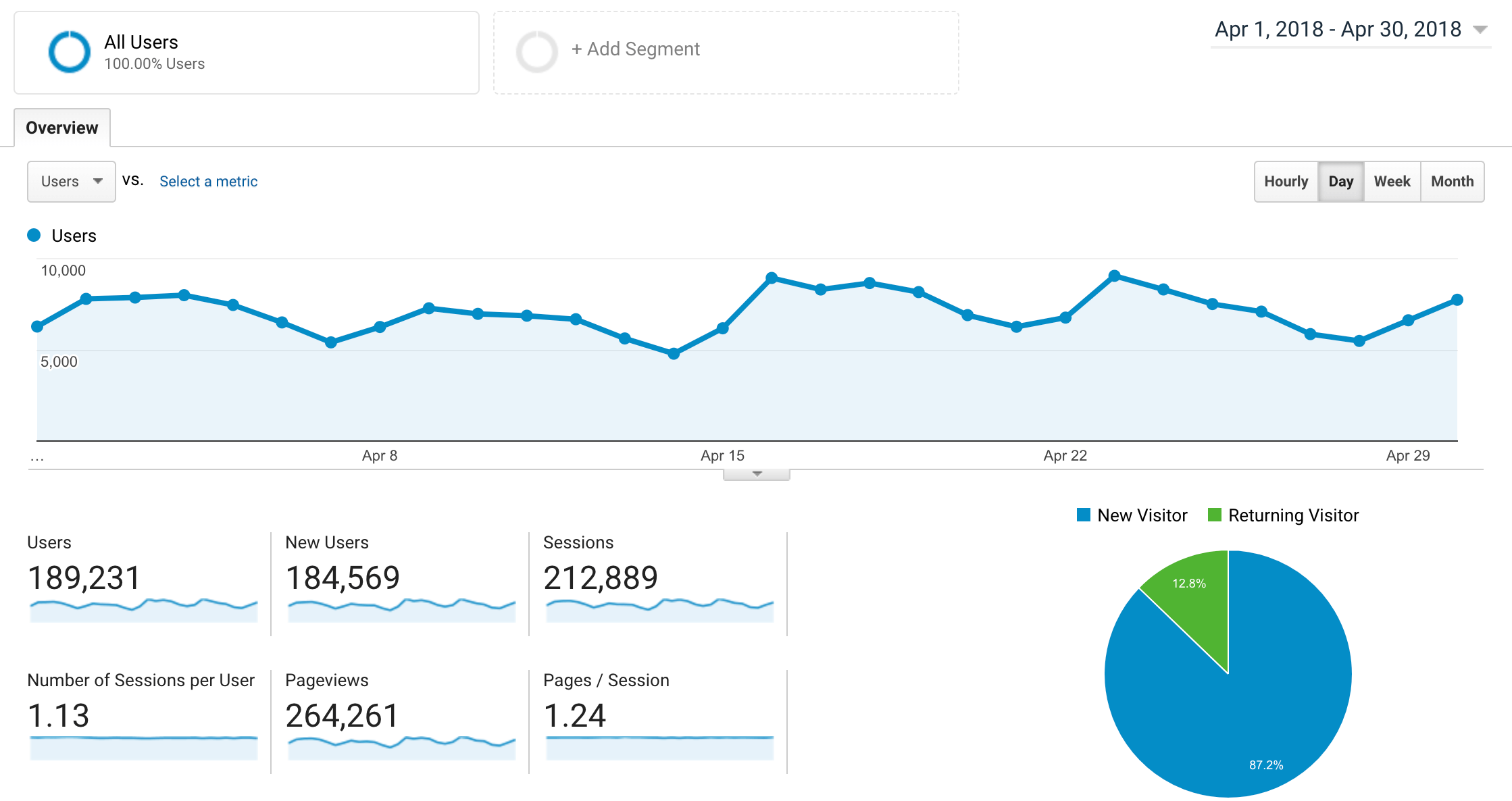 Overall traffic has continued to climb month-over-month, and this month I was up by another 10%. And I moved up to 264,261 pageviews.
This increase in traffic is directly correlated to several of my posts ranking higher in organic search.
Posts that are competing on very high volume search terms like:
Overall site traffic is up by about 28% compared to April 2017.
Email Subscribers.
I use ConvertKit to manage my email subscriber community and send out my weekly (sometimes twice weekly) updates.
March saw the addition of 3,148 subscribers to my community (9% growth over March).
Which brings me up to 45,558 total subscribers.
3. Podcast Downloads for April 2018: 

16,629 Downloads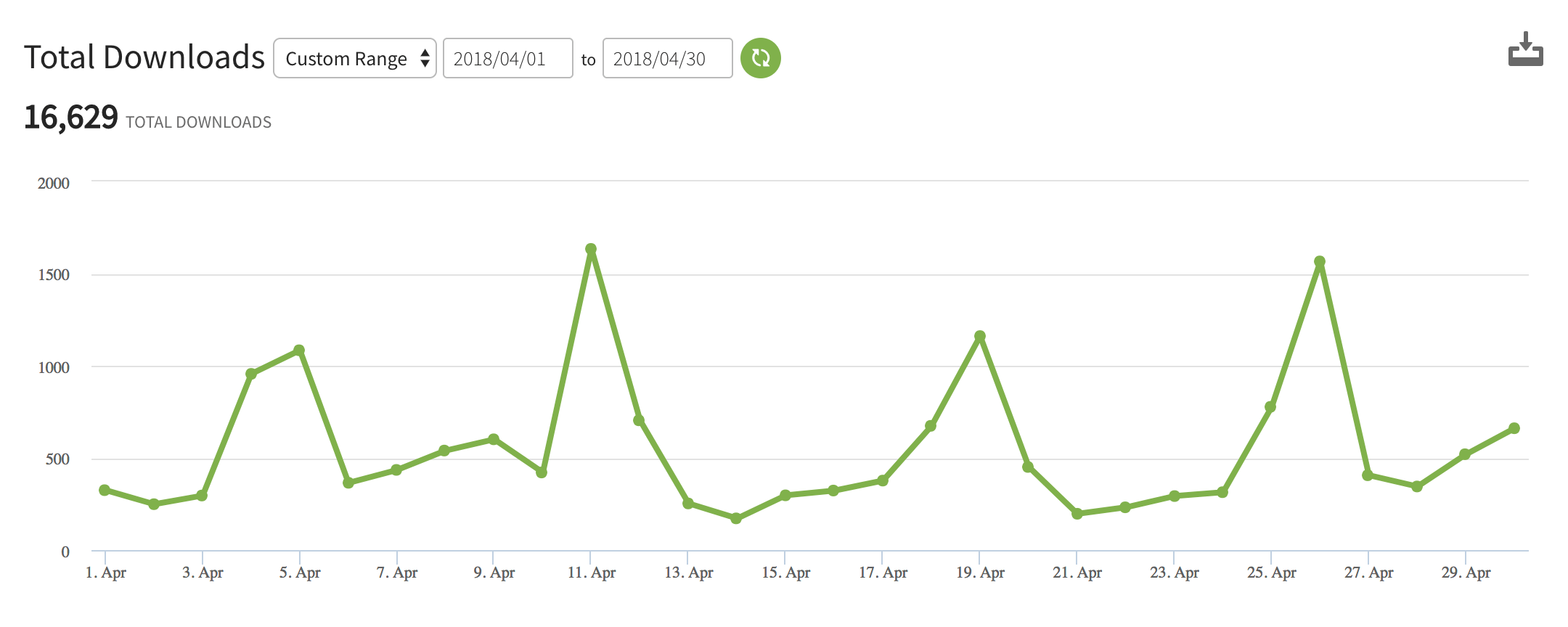 The end of April marks the 10th month of hosting my podcast, The Side Hustle Project.
With a total of 16,629 downloads, my highest month yet!
Here are the episodes that went live this month:
April brought my total download numbers for the show up to 120,598 downloads!
If you're not a listener yet, give it a try right here 🙂
That's it for my April side income report.