The sheer number of blogs on the Internet today makes finding the best domain name generators that can help you pick the right (available) domain name idea—a must do activity nowadays.
It makes sense though. Starting a blog has become one of the most accessible, low-cost and potentially high-reward businesses in the world today. More people than ever before are jumping in to register their domains and make a run at building a blog-based online business.
Blogging allows you the freedom to not only write on any topic you're passionate about, but to also make money from your blog through many different monetization channels—ranging from advertising to sponsorships, affiliates, your own product sales and more.
You can create a blog about food, gardening, travel, auto repair, fashion or even self-care… and if you have a great domain name, you're off to a really good start.
With an estimated 31.7 million bloggers and their websites already online today, it can be difficult to come up with the perfect blog name (and corresponding domain name) that isn't already taken—and can help you establish a memorable brand for your new blog.
That's where the best domain name generators come into play.
What is a Domain Name Generator?
A domain name generator is a tool that helps you come up with clever ideas for domain names for a new blog or website that you want to start. The best domain name generators detect when a domain name you may want is available or not, it offers clever suggestions for good domain names and also links directly to a reputable hosting company where you can register the domain name right away.
For example, the top-ranked domain name generator here on our list, SmartWP's domain name generator, is a free tool my friend Andy and I built to help the thousands of bloggers I work with here on a weekly basis—to find smart, SEO-friendly, available domain names. Here's what our domain name generator looks like: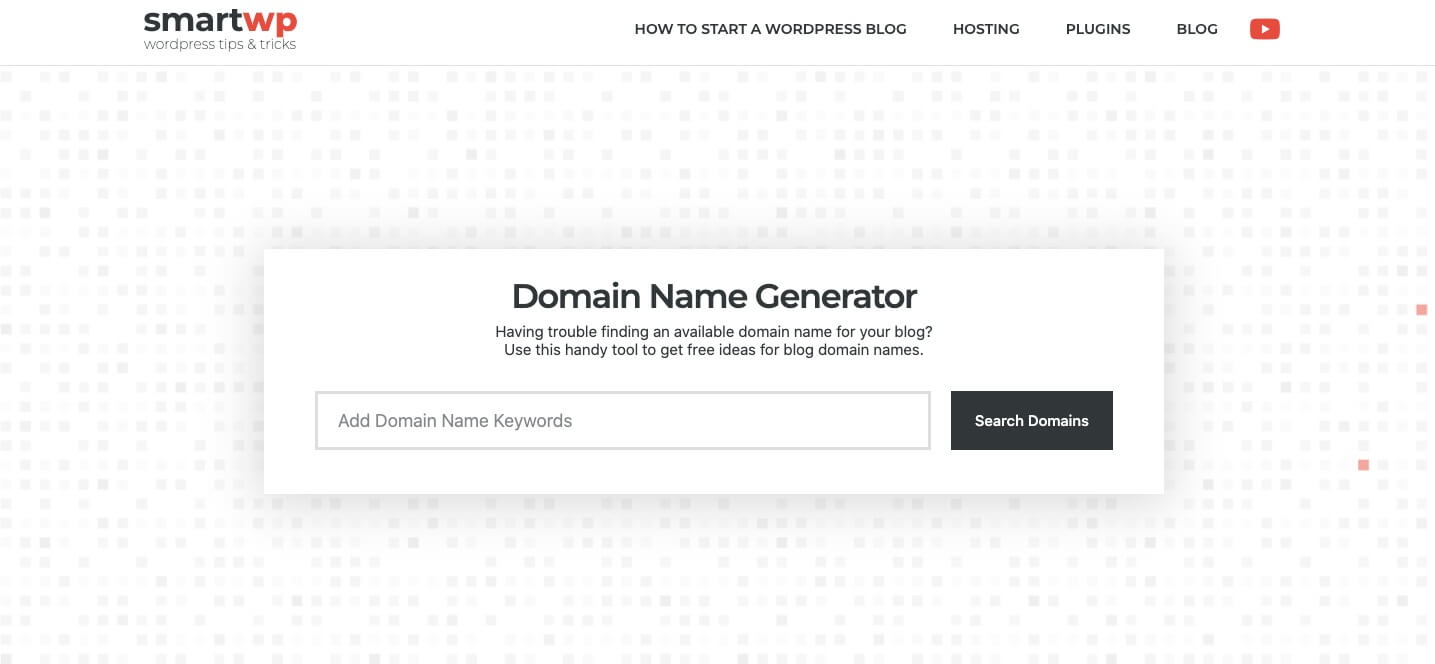 When you head over to our name generator, type in a domain name idea you're hoping to register and then hit [enter], you'll immediately see the results that tell you whether or not that domain name is available.
If it is, then there's a one-click button to go and register the domain name right away (before someone else gets it). And if the domain name you wanted is already taken, then you'll get a ton of ideas & suggestions for available domains that you can register instead.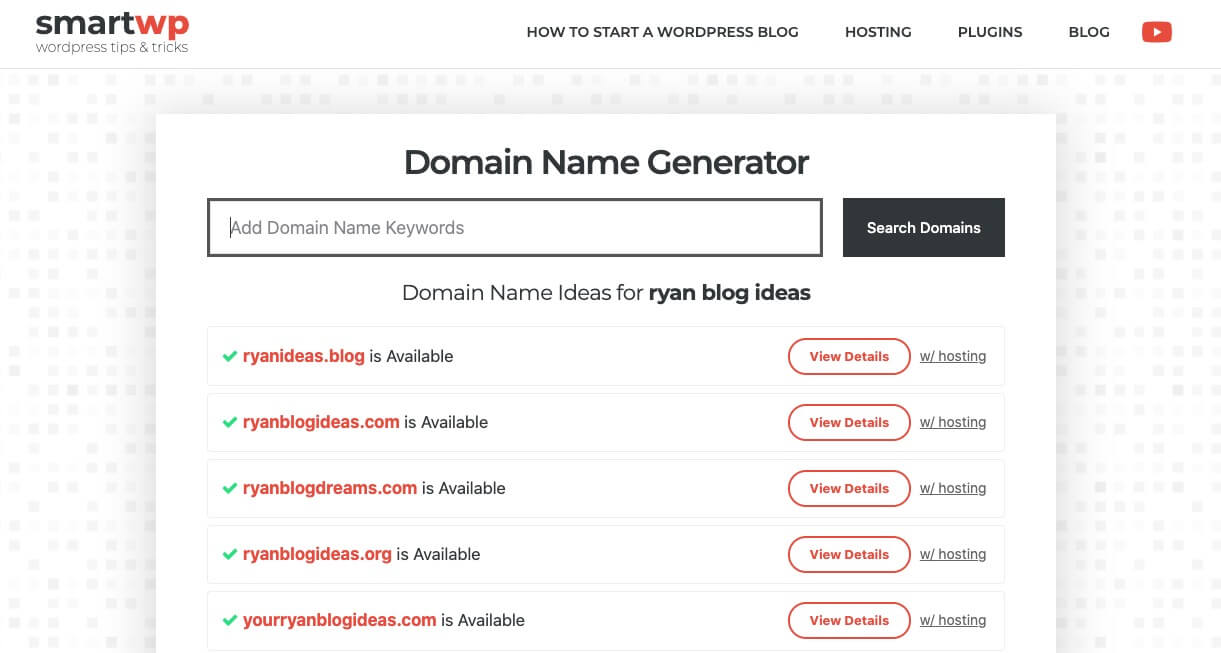 That's the beauty of what a truly great domain name generator can do for you—not only give you clever ideas to run with, but also check (in real-time) whether or not the ideas you're seeing are actually available to register today. That's why we built SmartWP's Name Generator.
Now, let's get to my breakdown of all the best domain name generators on the market today.
21 Best Domain Name Generators in 2023 to Get Domain Name Ideas
Disclosure: Please note that some of the links below are affiliate links and at no additional cost to you, I may earn a commission. When you purchase a domain name using one of my affiliate links, I will be compensated, which helps me keep this content free of charge to you. Know that I only recommend products and services I've personally used and stand behind.
Remember, if your blog has a great name that rolls off the tongue, you'll be more memorable to your readers.
On top of that, you'll be more likely to get searched for again—helping your content rise in search results and your online reputation grow.
Here are the best domain name generators to find a memorable blog name today.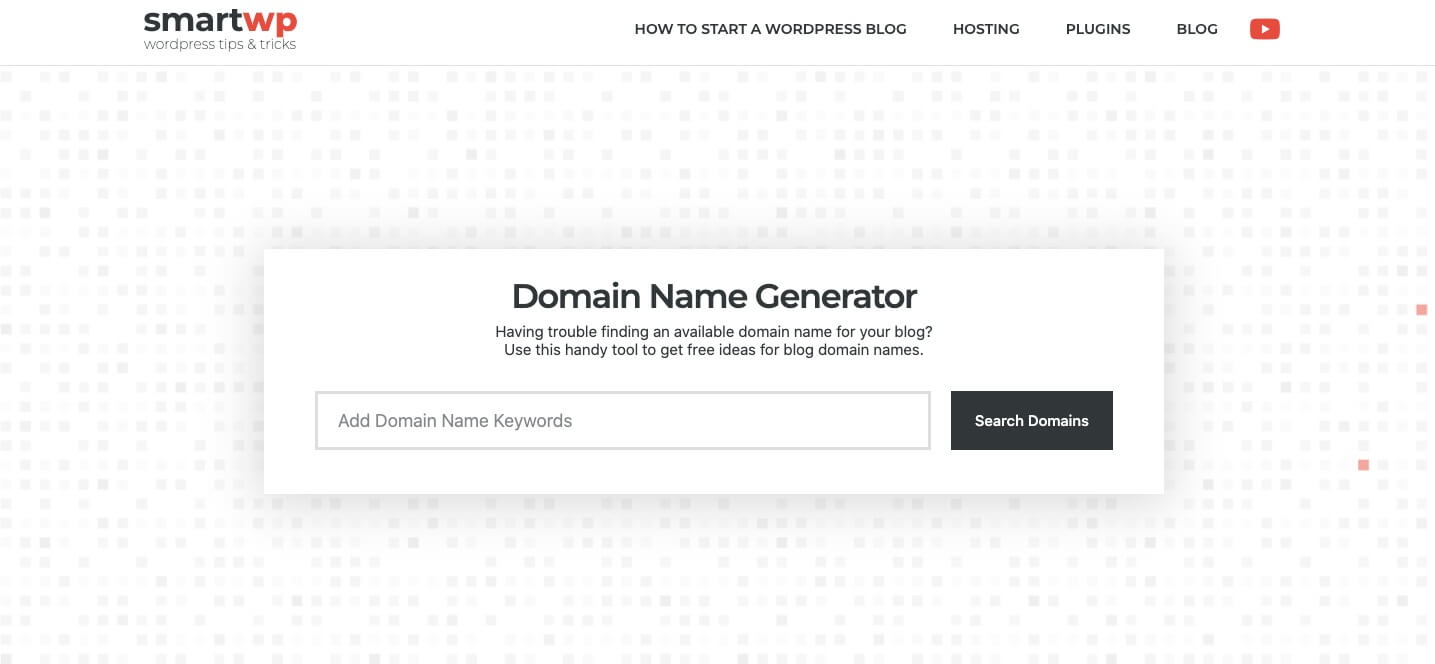 SmartWP's Name Generator is a 100% free, AI-powered domain name generator that uses computer algorithms to help you come up with SEO-friendly domain name ideas for where your new blog is going to live (especially if many of the domain names you've been searching for have all been taken up to this point).
We built our domain name generator to be extremely simple & easy to use.
When you land on the page, you'll see a single search bar that allows you to type in a few phrases, some words that define your blog, or even the exact domain name you're interested in registering (like yourawesomeblog.com).
The tool then instantly scans the Internet for the closest domain names matching the words or phrases you typed in—and will omit the ones that are already taken. You'll then be shown a list of suggestions for domain names that are currently available right now and can be registered in a matter of minutes through our discounted Bluehost link.
Here's what a results page looks like, with multiple suggestions of domain ideas you can register related to the terms you type in: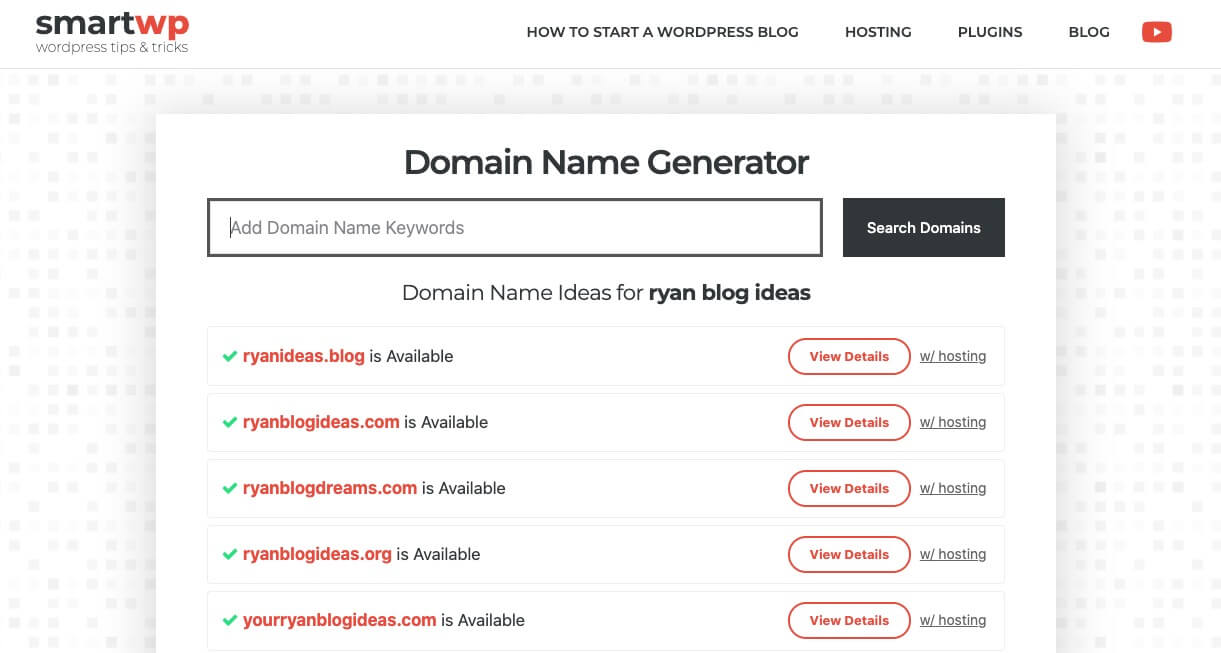 Now, let's talk through some pros and cons about our domain name generator—compared to others on the market.
Pros of SmartWP's Domain Name Generator
SmartWP's Name Generator is 100% free to use and gives you immediate results to your searches
We only give you domain name suggestions that are currently available (helping you not waste time chasing taken domains)
The interface is built to be super clean, clutter-free and hosts no advertisements or distractions
There's a one-click "Get it Now" button that'll immediately take you to where you can register an available domain name
You get a very extensive list of different domain name ideas (and TLD extensions) to choose from
Cons of SmartWP's Domain Name Generator
Our domain name generator doesn't allow you to sort or filter by different TLDs (like .com, .net, .org or .co)
We don't support choosing between different hosting providers, we recommend Bluehost as the best option for new bloggers
2. Name Generator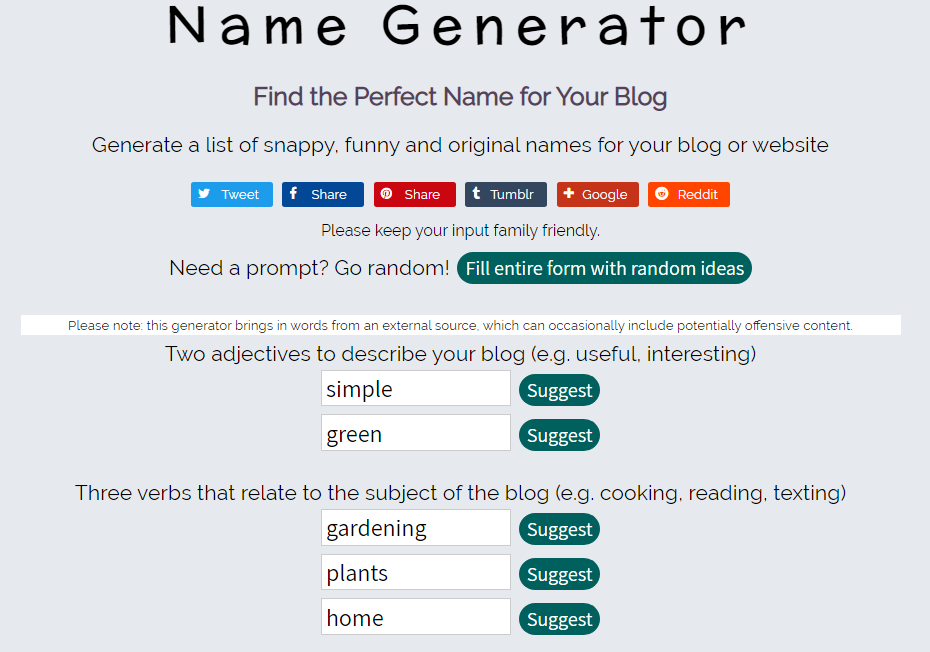 This tool for coming up with blog names is part of the large suite of naming algorithms made by Name-Generator, and is more of a blog name generator than a domain-specific one. Their naming algorithm takes in a lot of different pieces of information in order to generate a long list of domain names for you to choose from. What makes it unique is that it not only tells you to input adjectives that describe your blog, but also your name (or pen name).
Not only does this domain name generator include a general list of name ideas to choose from, but it also gives you specifically categorized lists. For instance, there's a list of names to choose from for a new site, and it also gives you blog post ideas, blog name suggestions that are puns and more.
It even incorporates your name into the titles of these blog post topics and name ideas. This is one of the more creative domain name generators on this list.
Pros of Name Generator
You get an extensive list of domain names and blog post title ideas
It takes in a lot of information in order to generate more creative domain name ideas
Clean interface, yet slightly out-dated
Free to use
Cons of Name Generator
Doesn't generate domain names with TLD extensions like .com or .net attached to them (this gives you blog name ideas)
Doesn't check if the blog name suggestions have available domain names still
Doesn't allow you to purchase a domain name (and doesn't give you an option to do so through a partner web hosting plan)
3. Domain Wheel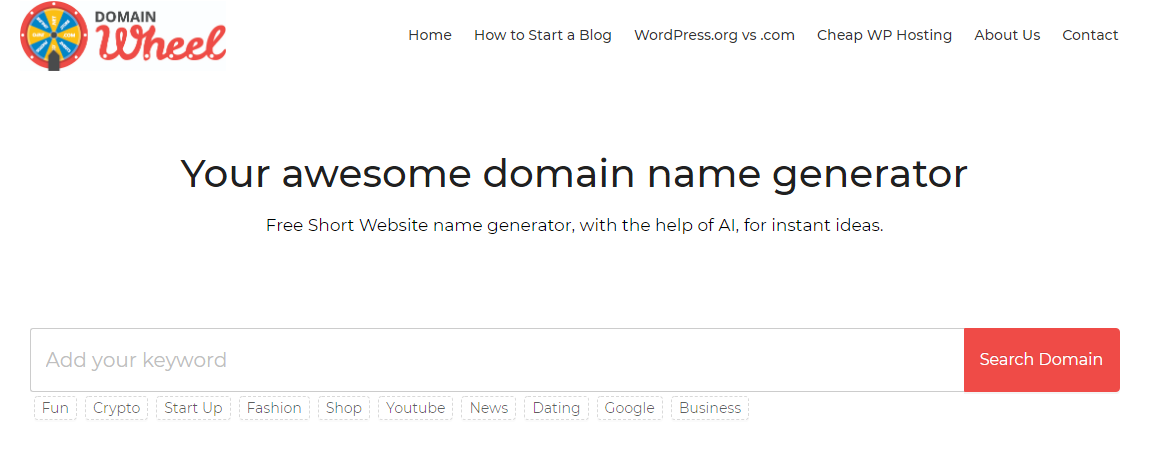 Domain Wheel is a pretty straightforward domain name generator with a beautiful, clean interface. It asks you to input phrases or words that describe your blog and outputs several potential domain names you could register. There's even an option to filter out the TLDs that you don't want to see—such as .us or .org.
Every result that comes up in this domain name generator's result page allows you to buy the domain name from Bluehost for as low as $2.95/month. Beneath the suggested domain names is another list of random ideas that you can browse too. And below that list, there are suggestions in red for blogs that are generated from the keywords you've used.
There are even suggestions for domain names that rhyme with your keywords, as well as a list of random suggestions to help inspire you.
Pros of Domain Wheel
Very clean interface and beautiful design
Free to use
Multiple types of domain name suggestions
Advanced filtering options
Cons of Domain Wheel
Though you do get a lot of domain name ideas, this tool can sometimes give you some pretty weird domain name suggestions
4. Name Mesh

Name Mesh is a pretty comprehensive domain name generator. It has a search bar for typing in keywords, and it also has options to filter for different TLDs and even hosting companies where you can register the domain. You can choose from hosting providers like Bluehost, Dreamhost, GoDaddy and more.
The suggestions you'll get for domain names are laid out in several different categories. The closest domain name is displayed just below the search bar in green, with a yellow registration button below it. Next, there are several lists of common domain names, premium domain names (available at very high prices), similar names and more.
Pros of Name Mesh
The list of suggested domain names is very extensive
Advanced filters for both TLDs and hosting platforms makes this domain name generator stand out
You'll get suggestions for premium domain names available for higher-end businesses
Cons of Name Mesh
Their scroll down for more feature makes it pretty difficult to navigate to different categories
5. LeanDomainSearch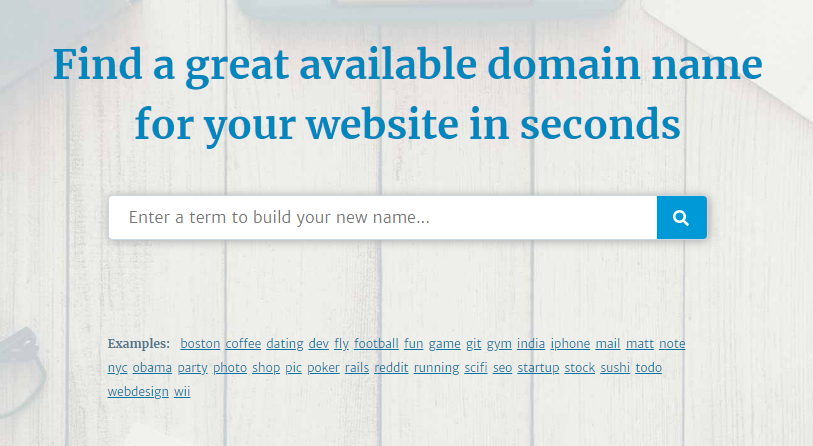 LeanDomainSearch generates literally thousands of ideas for domain names you can pick up. It has a pretty clean interface and allows for one of the most extensive searches around. There are even options to filter the domain names alphabetically and by length. There's also an option to filter by popularity, which will help new bloggers to pick a domain name that's most click-worthy.
Pros of LeanDomainSearch
Extensive filtering options
Thousands of suggested titles
Ideas load very quickly
Option to buy the domain on Bluehost or WordPress.com
Cons of LeanDomainSearch
No filtering by TLD or monthly hosting plan providers
The very long list of ideas from this domain name generator can be a little exhausting
6. Panabee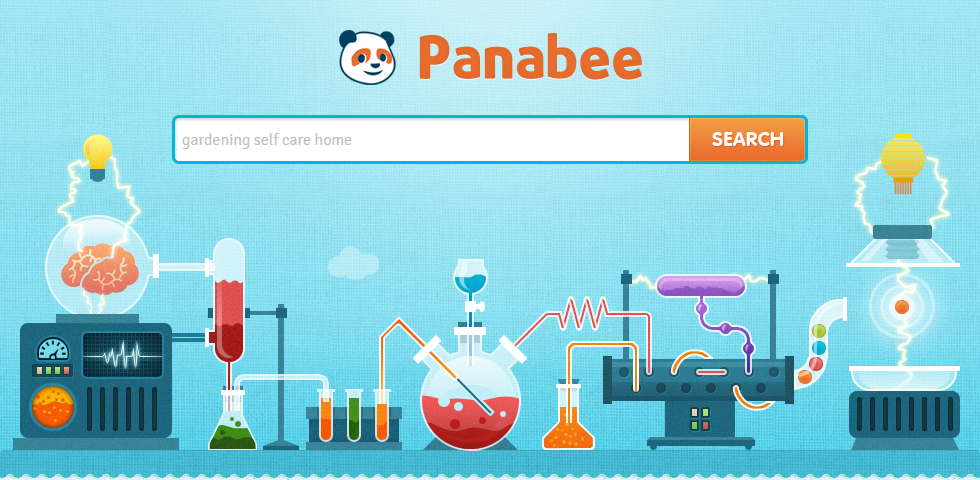 Panabee is a pretty standard blog domain name generator, and has a very visually appealing design layout. You can input as many search terms as you want into the search bar and it'll spew out available domain names—it'll also show you blog names that are taken, to gather more inspiration.
For the available domain names, it shows you the pricing and directs you straight to GoDaddy to buy them. In a side menu, there are also options to help you rank the domain names by TLD extensions and there's also a translation tab for domains not in English.
Pros of Panabee's Domain Name Generator
Suggests social media usernames based on the domain names you're considering
You'll get quite literally thousands of domain name ideas
Filters by TLD extensions
Cons of Panabee's Domain Name Generator
No filtering by popularity
No filtering by hosting companies
7. Nameboy

Name boy works in much the same way most of our top domain name generators here today work. It displays available domain names that it generates from phrases and words you type into the search bar. However, this is a much more bare-bones domain name generator than most. It has no filtering and no multiple category suggestion lists, among other simplified features.
It does however, have instructions on what to do after you've selected the domain name. For a novice in the blogging game, these kinds of tutorials can be helpful.
Pros of Nameboy's Domain Name Generator
Option to check domain availability through Bluehost
100% free to use
They also give you instructions on blogging basics like how to start a blog
Cons of Nameboy's Domain Name Generator
No filters for TLD extensions or hosting companies to choose from
No multiple category lists
Doesn't show nearly as many available domains as other domain name generators
8. Domai.nr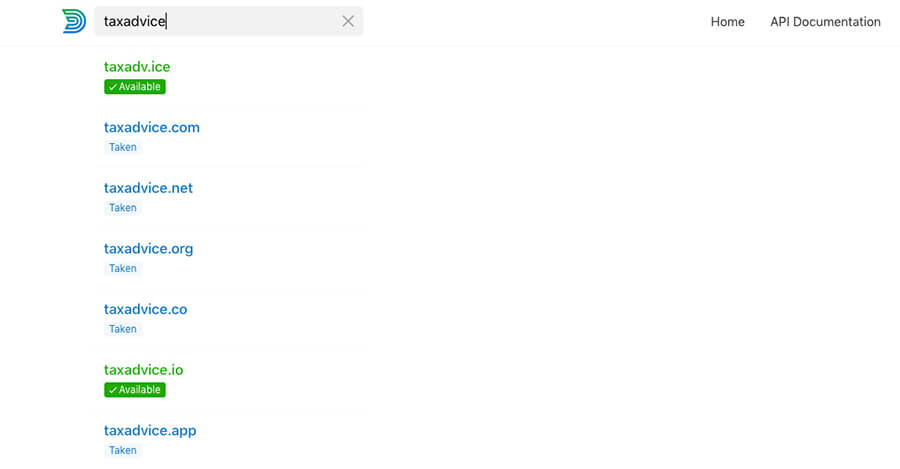 Using much the same interface as other domain name generators here on this list, Domai.nr is far more minimalist and takes the approach of offering you more unique domain names that are available—outside of providing just the usual .com, .org, .net, and .co options.
This domain name generator also has the filter for checking availability through a preferred monthly hosting provider (like Dreamhost or Bluehost), but they stop at domains—not taking the next step of providing instructional tutorials on actually getting your blog set up after the domain name has been registered.
Pros of Domai.nr
Very minimalist UI that's easy to understand and use
Free to use
Several options on where you can buy the domain name with a one-click button to get started
Cons of Domai.nr
No filters by domain extension or hosting services
No filters by popularity
9. Domain.com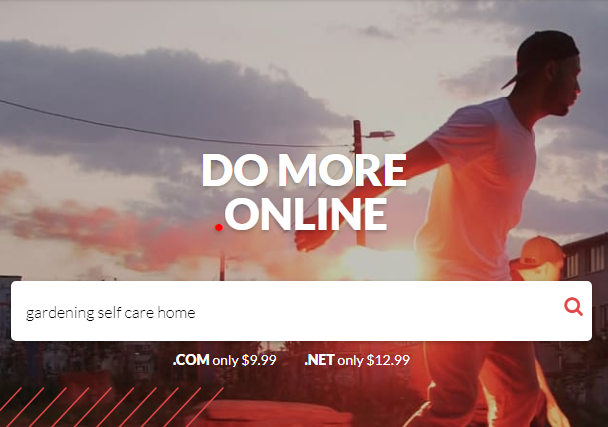 Domain.com is a pretty self-explanatory website. It's one of the first website names you could possibly think of when wanting to find a domain name generator. This is actually one of the most well-thought out domain name generators on this list. It not only gives you a clean interface and good domain name ideas, but all sorts of different buying options.
It doesn't filter the domains by way of extensions or hosting sites, but it gives you multiple options on where to buy depending upon the particular domain name. It gives you domains that are priced differently, helps you buy them for up to 5 years and appears to be the most financially-focused of these domain name generators.
Pros of Domain.com
Lets you add domain privacy to your domain name purchase for $8.99
Allows you to buy a domain for a period of up to 5 years
Allows the purchase of multiple domains at once
Cons of Domain.com
No filters for domain extensions, popularity or by hosting sites
10. Wordoid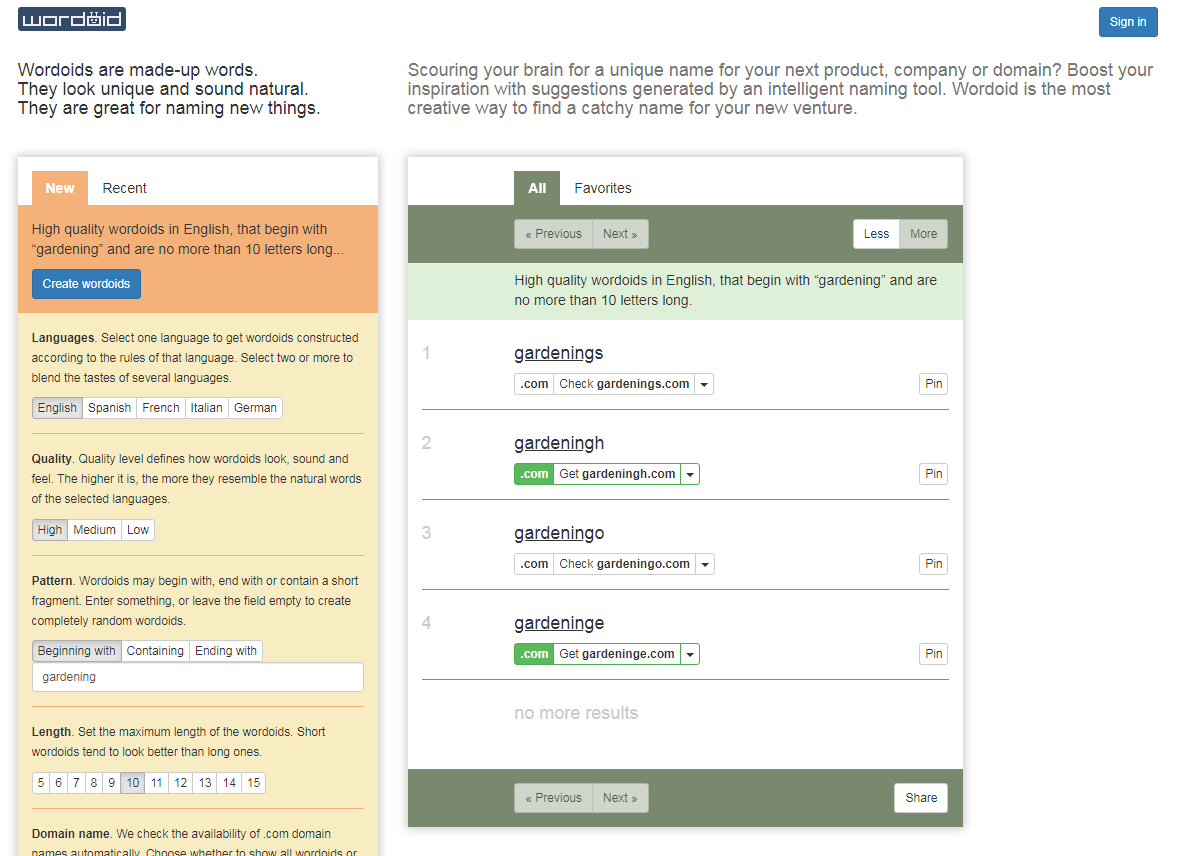 Wordoid is one of the most advanced domain name generators on this list. It allows you to select the quality of the blog name you're generating as well as the words it begins or ends with. It also allows you to set the maximum length for the domain names and the language in which they're generated. There are also filters for hosting sites (like GoDaddy and NameCheap).
Pros of Wordoid's Domain Name Generator
Great features to narrow down available domain names
Filters to help buy domains from multiple different hosting companies
Filters for languages, name length and even name quality
Cons of Wordoid's Domain Name Generator
No filters for TLD extensions to choose from
The sheer amount of options in a domain name search here can be a bit overwhelming
11. DomainsBot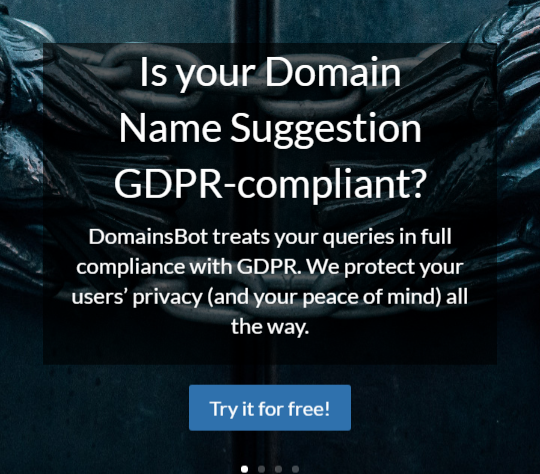 DomainsBot is one of the only paid domain name generators I'd ever recommend considering. Thier claim to fame is that it's GDPR compliant.
However, since most businesses that operate in Europe already need to be GDPR compliant, that doesn't set it apart from the others. You can try it for free, but you will have to pay a monthly fee to retain it after a one month trial. There are three packages for using this domain name generator, the Tiny, Small and Enterprise package. The monthly fee for these packages can go up to $99.95/month. However, they do offer volume discounts for special customers.
Pros of DomainsBot
High volume domain name generation and buying in one service
The dashboard has a conversion tracking feature
Allows for up to 20,000 domain name searches/month
Great for businesses that need high volume domain acquisition
Cons of DomainsBot
It's a paid product with very high prices for relatively standard services that are available for free elsewhere
12. NameStation

NameStation is a full-featured domain name generator. It takes inputs the same way as most of our domain name generators here on this list, but also includes several filters to narrow down your choices. It has the option to hide taken domains and generate creative custom domain names, as well as extension filters. It also has options to buy the domain names you're seeing, and it's capable of generating thousands of ideas so you won't have to worry about scarcity.
However, the best thing about Name Station is their clean design and layout. There are no distractions—there's a simple display and there are no hiccups to be found.
Pros of NameStation
Extremely easy to use and 100% free
Clean user interface without any distractions
Great suggestions and filtering options
Cons of NameStation
No popularity filters available
No options for name quality, length, or language
13. Bust A Name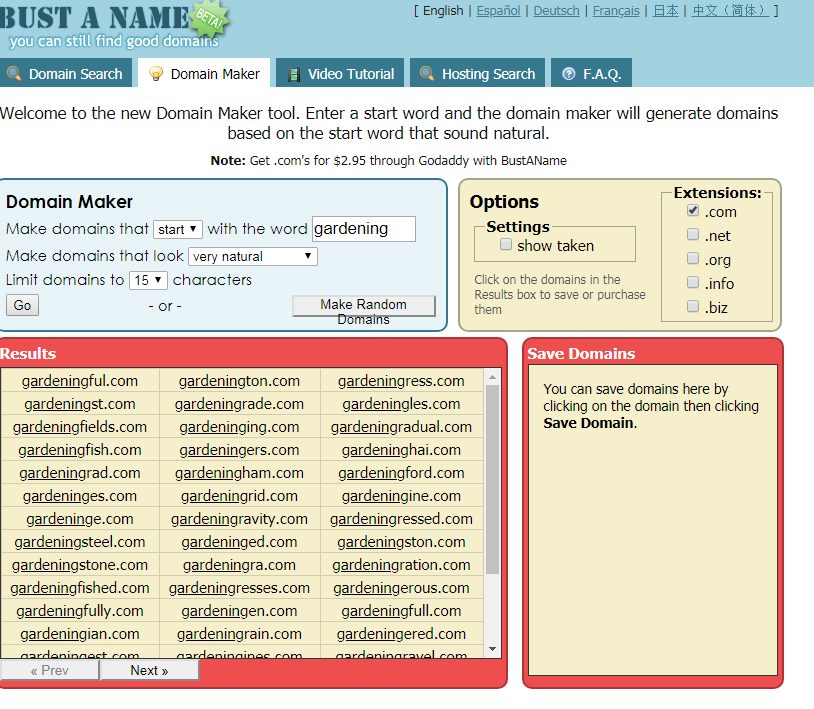 Bust A Name is a pretty straightforward interface to navigate, yet feels a bit dated. It allows you to input words and phrases to generate a blog name. However, it allows you to filter by domain extensions—and more uniquely, to shorten or elongate your domain name by multiple characters. It also allows you to purchase the domain name from a link that's embedded into the search results.
There are also options to help the domain name sound more normal, or to even generate random domain names to choose from. Options are also available to shift languages for domain names for other countries rather than the US or UK.
Pros of Bust A Name
Straightforward interface to help find a concise domain name
Options to limit name length and to buy domain names from different hosting sites
Options to begin or end a domain name with a particular word
Free to use
Cons of Bust A Name
A bit of a clutter interface and dated look
No options to filter by popularity or by hosting companies
14. Dictionary Domains

Dictionary Domains is a very simplistic domain name generator, yet it's simplicity stems from its extremely minimalist UI that helps you get the job done quickly.
There are options to sort by domain extension and by length, as well as plural words. However, the interface is arranged in a way that de-clutters the entire experience. There are a couple of setbacks with the interface though, including no option for filtering by popularity or language. Other challenges with this domain name generator includes a lack of many search results.
Pros of Dictionary Domains
Clean interface that's easy (and free) to use
Options to elongate or shorten domain name and filter by TLD extension
Options to buy the domain name from several hosting sites
Cons of Dictionary Domains
No filters for popularity or language
Limited results compared to other blog domain name generators
15. Shopify's Business Name Generator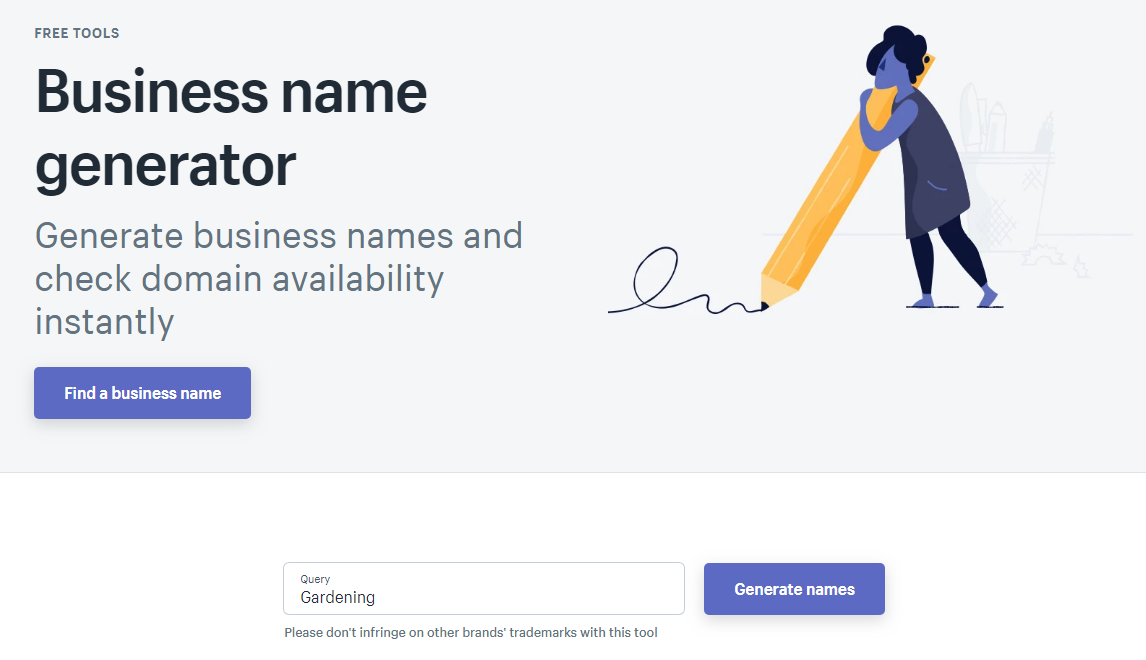 This tool is a little out of the ordinary, as it's the business name generator for domains that can go along with your eCommerce business from Shopify (one of the best eCommerce website builders on the market today).
While it's a little more geared towards generating business names, it's specialty makes it more attractive to the small business crowd. Remember though, that this domain name generator allows you to register your blog with Shopify—it's not a search engine for domain names like the others on this list. Hence, to buy a domain name, you will have to contact Shopify, which you can do after choosing a name you'd like to go with.
Pros of Shopify's Business Name Generator
A one-stop-shop for an existing eCommerce business that wants to add a domain name
Clean interface that's easy to navigate
Free to use
Cons of Shopify's Business Name Generator
You'll have to make an account on Shopify in order to buy the domain name
The service is geared specifically towards business owners (not necessarily bloggers)
Their name generator doesn't allow purchases from third party hosting companies
It has no filtering options
16. NameStall

Name Stall is a very straightforward domain name generator, but hasn't changed much over the years. It generates thousands of results through the input of keywords and phrases. It has filters for domains and it even has filters for popular word groups. The best part about this domain name generator, is that it presents a plethora of hosting sites to purchase the domain from.
However, one drawback it doesn't present any filters for hosting sites. The interface is also quite cluttered and the design is very outdated. That being said, it does offer pretty good domain name ideas—and gives you several pages of search results to choose from.
Pros of NameStall
Their vast multitude of search results allow for easy purchasing of domains
Filters for keywords you can place at the beginning, middle or end of your domain name
Filters for word groups and TLD extensions
Cons of NameStall
Cluttered interface that feels straight out of the early days in the history of blogging
No filters for hosting sites, popularity or extra language filters
17. Domain Puzzler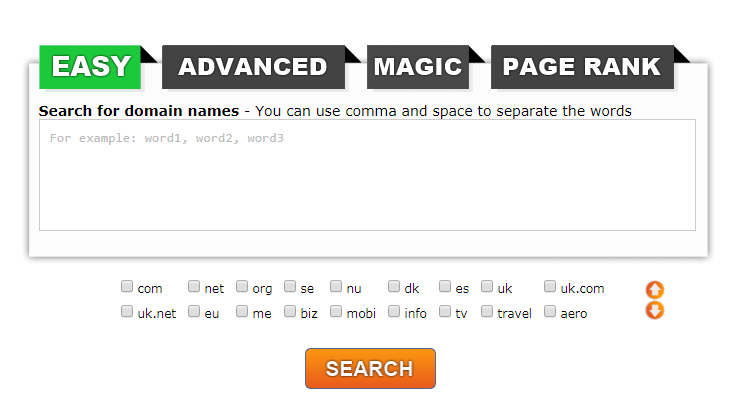 Domain Puzzler has a very long list of domain extensions to choose from. It allows for filtering according to those extensions and even has a page rank filter—which allows for a comparison of the popularity of different blog domain names. Other features of this domain name generator include an Advanced option to pair names with different phrases, and Magic pairs names with popular words related to the blog niche you're searching about
Pros of Domain Puzzler
Filters for domain extensions and popularity (page rank)
Huge list of domain extensions
Search results allow easy purchasing of domains
Clean interface and it's free to use
Cons of Domain Puzzler
No extra language filters or for hosting sites to choose from
No filters for keywords to be placed at the beginning, middle or end of the domain name
No filters for specified word groups
18. Impossibility!

Impossibility is a very stripped-down domain name generator that has a bare-bones interface with typeface fonts and very few options to filter your domains. There are no options to filter by popularity, length, language or TLD extensions. However, there is a very useful option that filters the best monthly web hosting plans that are tied to the available domain name search results.
Pros of Impossibility's Domain Name Generator
Gives you great hosting deals to pursue after choosing a domain
Easy access to buying the domain names
Options to add adjectives to the beginning or end of the domain name
Clean interface with de-cluttered results to view
Cons of Impossibility's Domain Name Generator
No filters for popularity or domain extensions
No filters for length or randomized suggestions
Very few search results compared to the rest of the domain name generators on this list
19. Instant Domain Search

Instant Domain Search lives up to its reputation as one of the best domain name generators on the market. It gives you search results for available domain names as you're typing them. This is much the same as how Google's search engine pumps out results in real-time, making it very fast. The Instant Domain Search results can be filtered according to different TLD extensions, and by ones that are currently for sale or expired ones heading into auction.
This domain name generator gives you a massive list of extensions that allows the results to be filtered extensively. However, the best part about this domain name generator is the clean look of its user experience. For a tool that has so many options, it's surprisingly easy to navigate. It's also very easy to buy the domains generated and it's even easy to make offers on domains that are currently expired—and still owned by someone else.
Pros of Instant Domain Search
Huge list of extensions to filter by
Easy to use interface with very intuitive controls
Easy to buy domain names and make offers on domaines that are currently for sale
Option to search for similar available social media handles
Cons of Instant Domain Search
No filters for popularity
No filters for length and no randomized suggestions
20. I Want My Name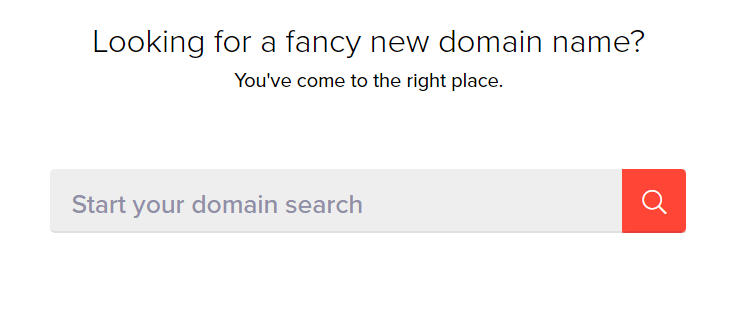 IWantMyName is pretty intuitive and easy to use domain name generator. There's no clutter, but there aren't many filters either—it allows you to purchase domain names straight from a dedicated inventory of available URLs. Their search engine is nothing special, but it's clean and has an option to hide unavailable domain names. The search results show you the exact price that the domain names are available for, which makes scanning by budget a bit easier.
Pros of I Want My Name
Simple, clutter-free interface
Prices listed next to domain names
Free to use and you can hide unavailable domain names
Cons of I Want My Name
Lack of filters altogether, making it pretty restrictive
21. Name Smith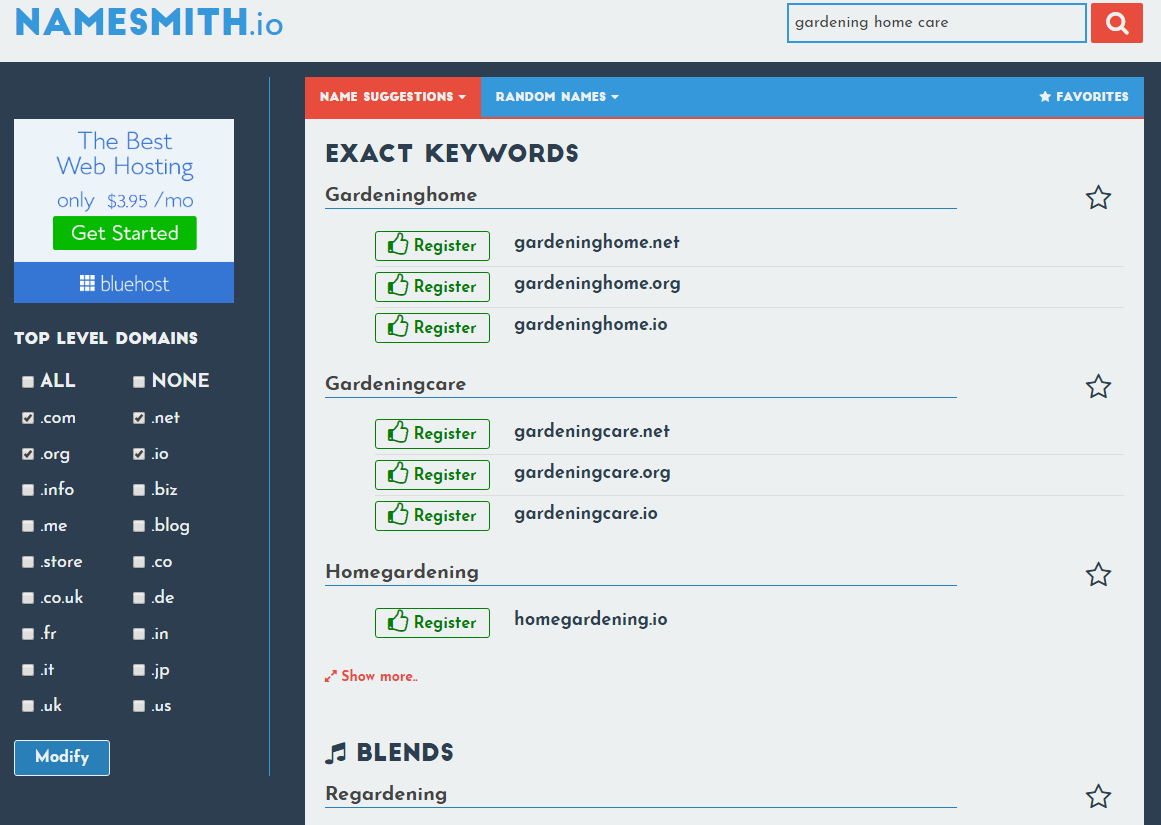 Name Smith is as standard as it gets when it comes to domain name generators and allows you to purchase domains through embedded links to Bluehost and NameCheap. It also has an extensive filter for domain extensions and a randomized name generator. The search results contain multiple lists for categorized names like pre-suffixes, modifications, rhymes, and such. Name Smith does suffer from a lack of filters though.
Pros of Name Smith's Domain Name Generator
An extensive list of domain extensions to filter by
Randomized name generator is available too
An easy path to purchase domains from NameCheap and Bluehost
Cons of Name Smith's Domain Name Generator
A bit of a cluttered interface
No popularity filter
No prices listed next to domain names
Final Thoughts: Using Domain Name Generators to Find the Right Domain
I compiled this list of all the best domain name generators (and teamed up with my friend Andy to build SmartWP's Name Generator) in order to help you find an SEO-friendly domain name that'll power the future growth of your blog. If you're looking for something beyond just a domain name, check out the super clever business name generator from Simply Business that dynamically creates punny names for new businesses.
Each of these domain name generators feature different interfaces, tools and filtering options.
Need Catchy Blog Title Ideas?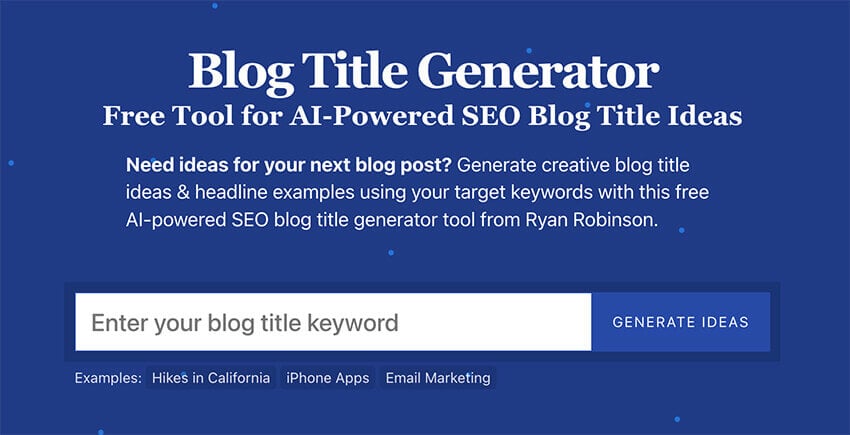 Try my free AI-Powered Blog Title Generator Tool to get dozens of SEO-friendly headline ideas to make your blog posts stand out today. Pair it with my free keyword research tool for maximum growth.
---
However, they all cater to finding the best domain name for you and your needs. If you're still unsure of what that name is, then read these two guides on my blog:
All of these domain name generators here today work to help you find the best (available) domain name, but first you need to know what you'll be blogging about—and have at least a rough idea of what you'll be naming your blog. Start with those two guides and then register your domain name.
Happy hunting!
Want to Start Your Blog the Right Way?
Head over to read my comprehensive guide: How to Start a Blog (on the Side)
---