Are you thinking about starting a lifestyle blog? Well, you're in the right place. We're breaking down lessons learned from the 8 best lifestyle blogs out there today, and covering an in-depth guide to getting your own lifestyle blog launched & on the path to monetization.
Maybe you've been inspired by a blogger whose content you enjoy—or perhaps you're just excited to share your passions with the world.
Lifestyle blogging can be a fun and creative way to build a personal brand around whatever you love most in life, and it can also be surprisingly lucrative. Lifestyle blogs are hugely popular with readers—some make hundreds of thousands of dollars a year, and a few (like A Beautiful Mess, my pick for the best lifestyle blog) are earning millions annually.
So what should you blog about… and how do you get started as a lifestyle blogger? We'll take you through everything you need to know.
How to Start a Lifestyle Blog (and Make Money): 8 Best Lifestyle Blog Examples
Disclosure: Please note that some of the links below are affiliate links and at no additional cost to you, I'll earn a commission. Know that I only recommend products and services I've personally used and stand behind. When you use one of my affiliate links, the company compensates me, which helps me run this blog and keep my in-depth content free of charge for readers (like you).
Ready to Start Your Blog Today?
Check out my ultimate guide How to Start a Blog (on the Side) that's been featured on Forbes, Inc and Entrepreneur.
---
---
What is a Lifestyle Blog? Why Start One?
Some blogging niches are easy to pin down. Mom blogs are mostly about parenting kids. Small business blogs are about running a small business.
Lifestyle blogs are a little different, though. They often cover multiple related topics, perhaps delving into areas like food, fashion, and travel. However, they generally aren't just a food blog, fashion blog, or travel blog. What ties a lifestyle blog together is the strong sense of voice and style from the blogger.
Most lifestyle blogs will have a very clear target audience. At a bare minimum, this audience is usually pretty clearly geared toward either women or men, but you'll generally find that lifestyle bloggers are targeting a specific age group and often a certain type of person who aspires to a particular kind of lifestyle—that lifestyle is what's being promoted by the blog.
So whether you're a vegan 30-something looking to reach an audience of fellow millennial women, or a sharp-dressed man in your 60s wanting to inspire a love of style in the younger generation, lifestyle blogging could be for you.
Tip: A lifestyle blog isn't a personal blog. If you want to build a popular lifestyle blog, that isn't just about living your best life … but about helping readers to live their best life too.
8 Best Lifestyle Blogs: Successful Lifestyle Blog Examples & What You Can Learn From Them
Let's take a look at a few popular (and successful) lifestyle blogs that'll serve as great inspiration while you plan for your new blog. You'll see that these blogs all cover different topics, in different ways – but the bloggers have all built a huge following as influencers and made a significant amount of money.
A Beautiful Mess was founded back in 2007 by sisters Elsie Larson and Emma Chapman, and has thousands of posts that cover crafts, recipes, interior design, style, and even business advice, as well as delving into topics like health and weight loss. Its tagline is "stay home and make something" and that's what ties the content together.
The blog has grown to have full-time team members as well as a whole range of contributing writers. It's monetized through a range of methods, including ads, products, online courses, and affiliate marketing, and is reported to make $5 million or more annually.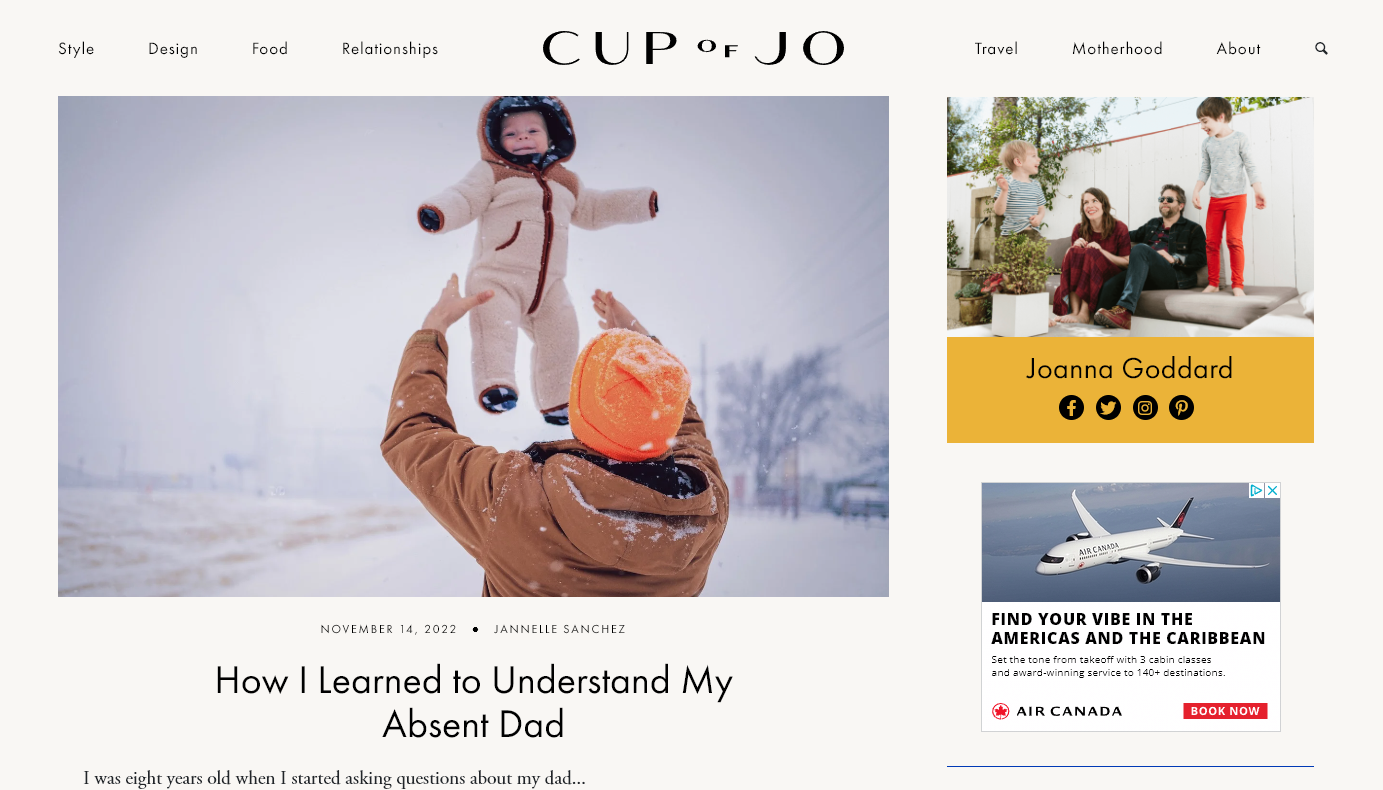 Cup of Jo (also sometimes called A Cup of Jo) launched in 2007 as well. Joanna Goddard, who lives in New York City, describes her blog as "a daily lifestyle site for women" and covers a whole range of topics, including motherhood, travel, food, relationships, style, and home decor, from a number of different writers. The posts include a lot of first-person stories aimed at the modern woman, told in a warm, engaging, and vulnerable way.
Cup of Jo makes money through sponsored posts, affiliate marketing, and advertising – all methods that much newer and smaller blogs could easily use, too.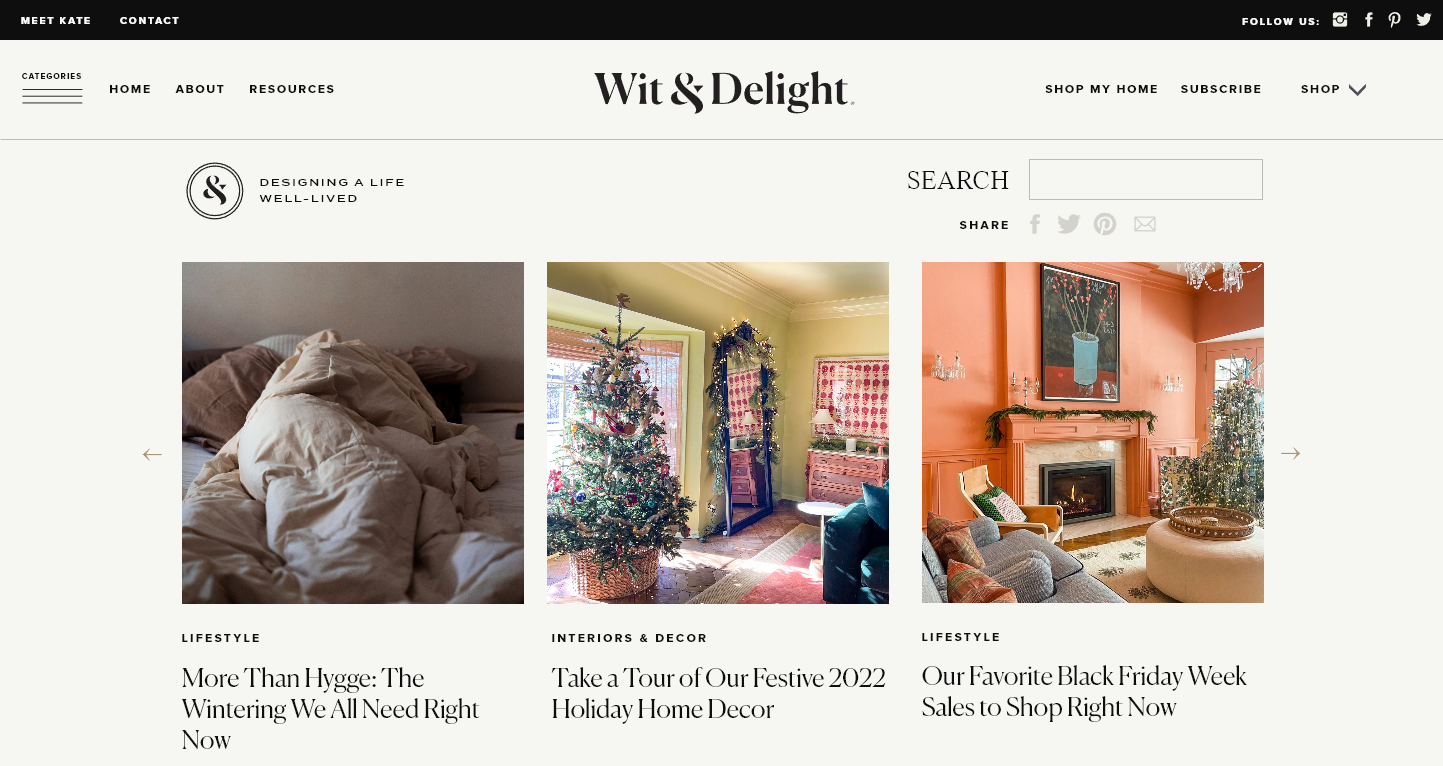 Wit & Delight (witanddelight.com), like many lifestyle blogs, covers a wide range of topics – parenting, travel, food, shopping, mental health, personal growth, and more. It's run by Kate Arends, who founded the blog in 2009, and now has a whole team of people behind it.
As well as selling a range of planners and notebooks, Wit & Delight also runs online courses and uses affiliate marketing to make money.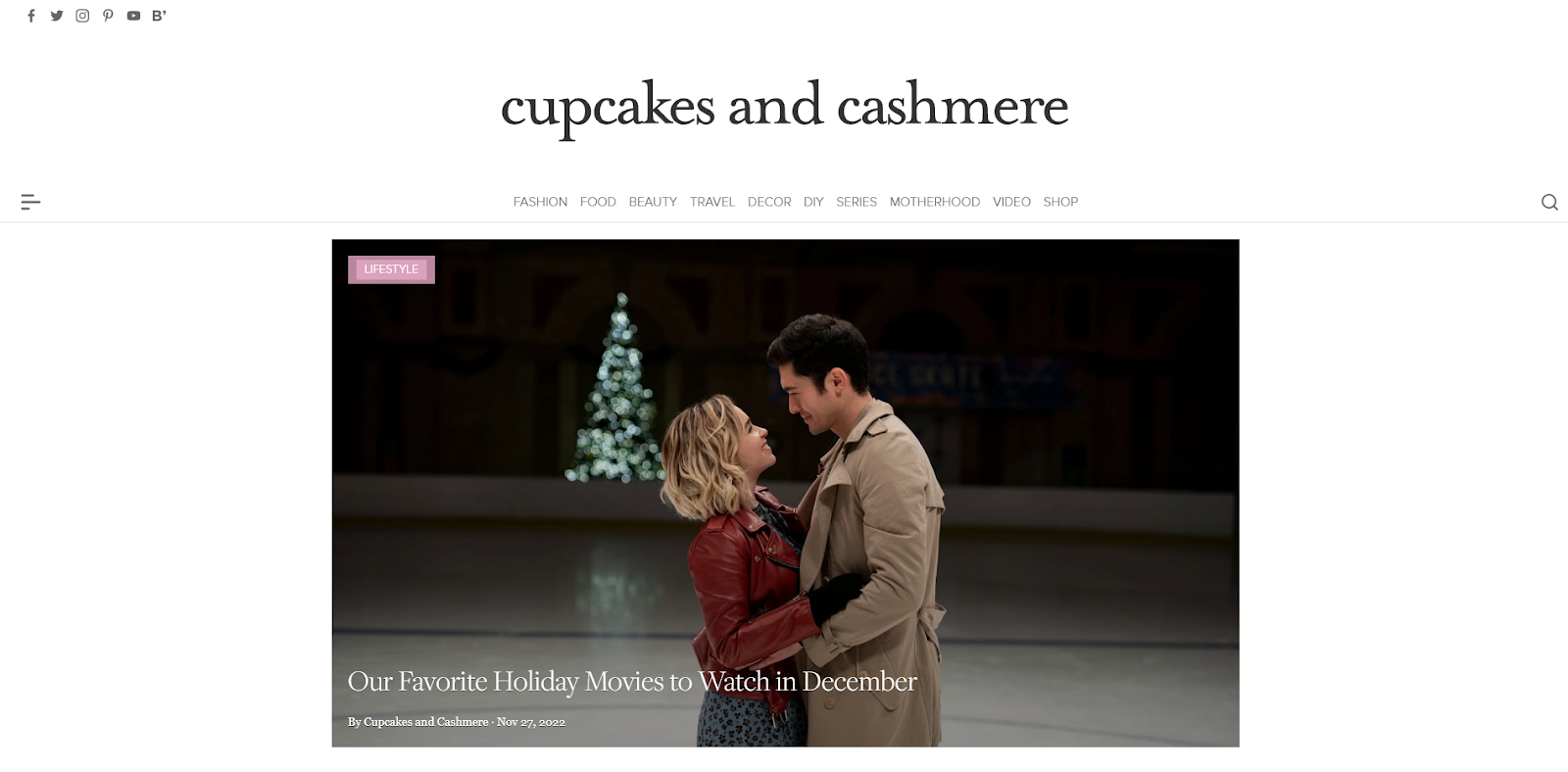 Cupcakes and Cashmere covers a typical range of lifestyle blog topics: fashion trends, food recipes and ideas, beauty tips, travel tips, and motherhood, as well as DIY and decor. It was founded in 2008 by Emily Schuman, and aims to "celebrate the little pleasures in life."
The Cupcakes and Cashmere shop includes jewelry from the blog itself, along with items from other small businesses (mainly candles). Like other lifestyle blogs, there's also lots of monetization through affiliate links.
5. Goop by Gwyneth Paltrow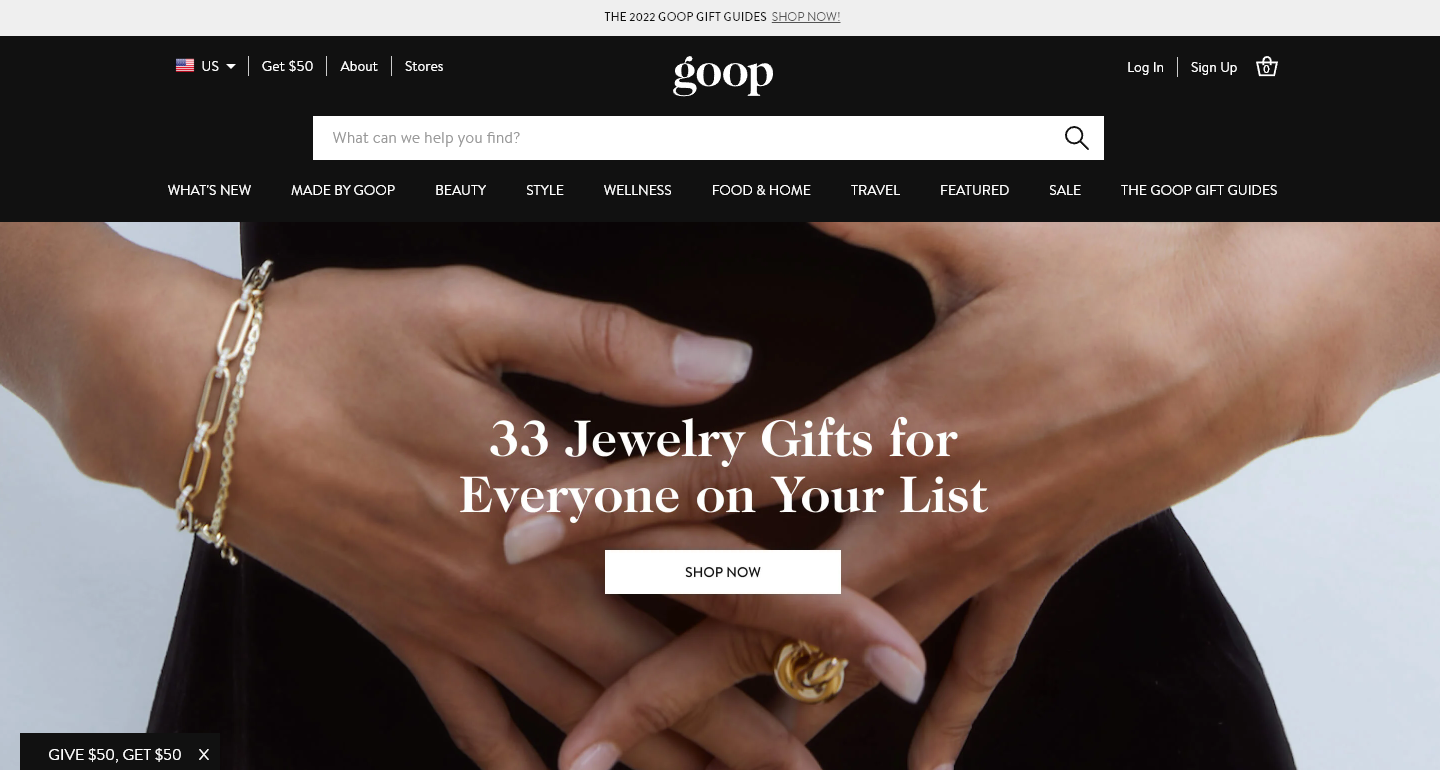 Even if you don't read lifestyle blogs much, you've probably heard of Goop, actress Gwyneth Paltrow's famous brand. You may have come across her beauty products or her podcast. Her blog focuses on beauty, wellness, style, and food, and is prominently monetized through the online shop filled with goop branded items plus products from other brands too.
Unlike many other lifestyle brands, there's a distinctly NSFW focus with some of the items in the store. Even less racy items sometimes have rather risque names, like the "Ménage à Trois" candle trio.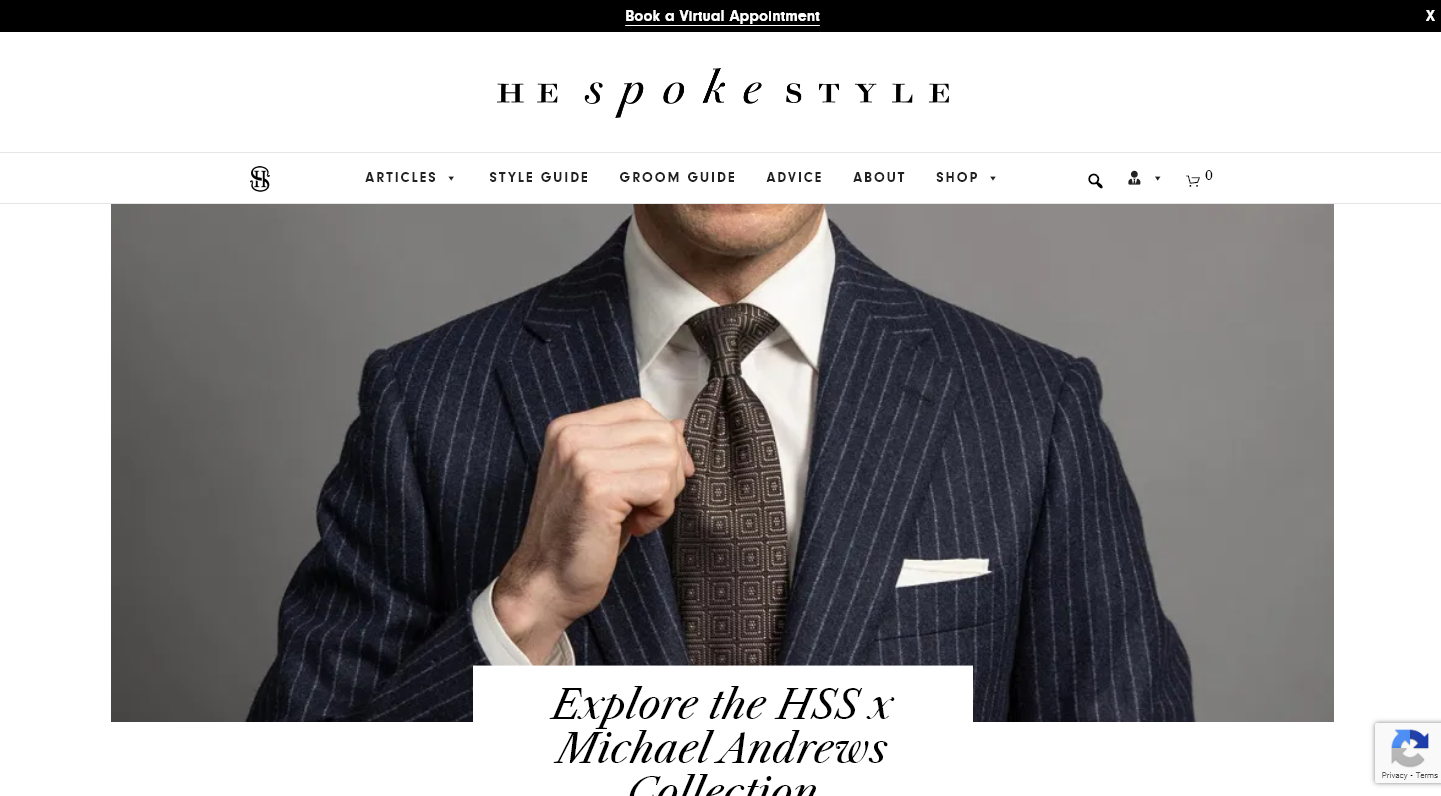 He Spoke Style shows that lifestyle blogs aren't just for women – though it's hard to deny that most lifestyle blogs are firmly aimed at a female audience. He Spoke Style focuses on men's style and particularly offers advice on dressing for a wedding.
As with most lifestyle blogs, there's a strong focus on affiliate marketing, with lots of posts linking to top picks for items like shoes and shirts. Some of these are also products sold by the brand itself. He Spoke Style runs sponsored posts from other luxury menswear brands, as well.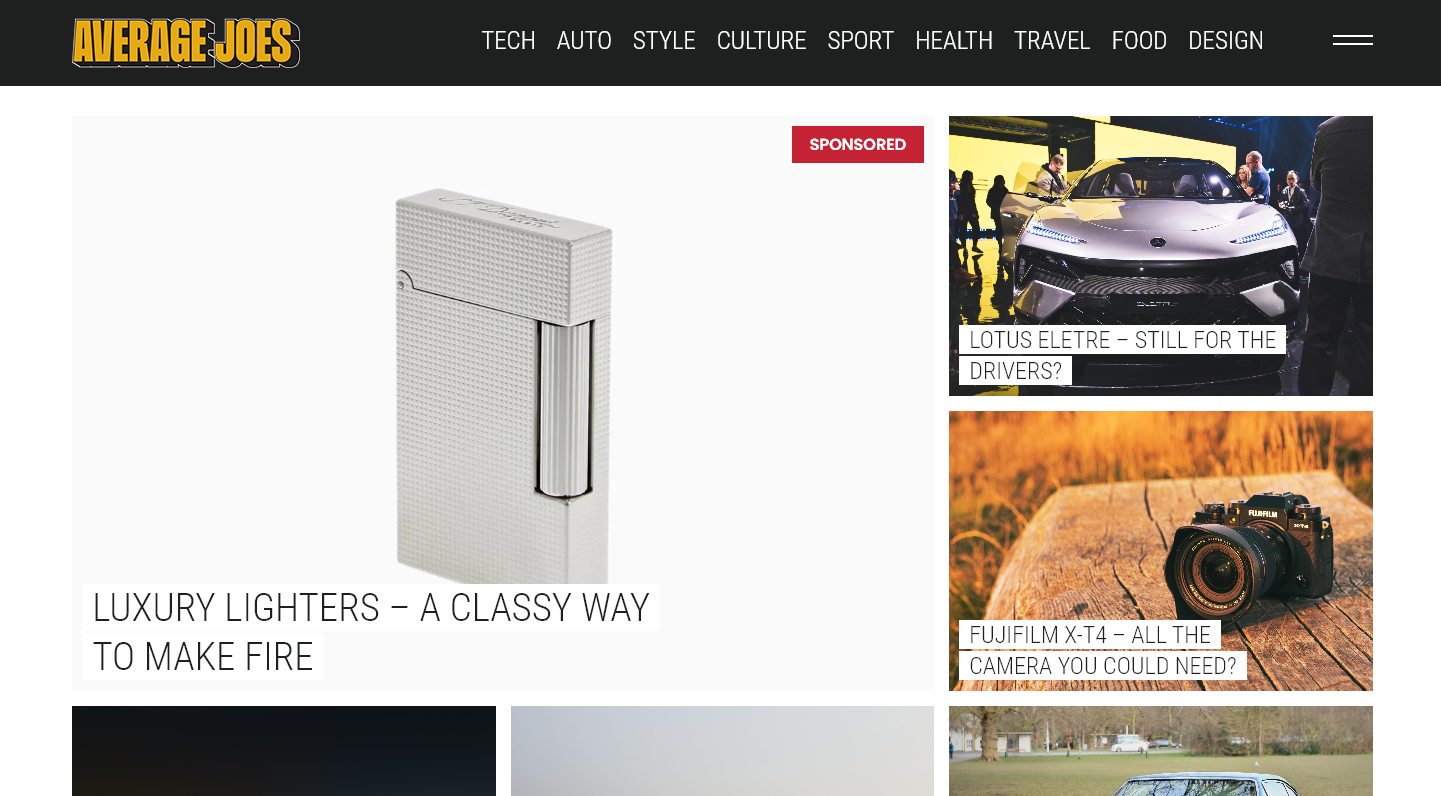 Average Joes does include some style advice, but also covers a much broader range of men's lifestyle topics – including content about tech, cars, culture, sport, health, travel guides, food, and design – and describes itself as "your aspirational male lifestyle magazine."
It's monetized mainly through advertising, including sponsored content, newsletter promotions, and more.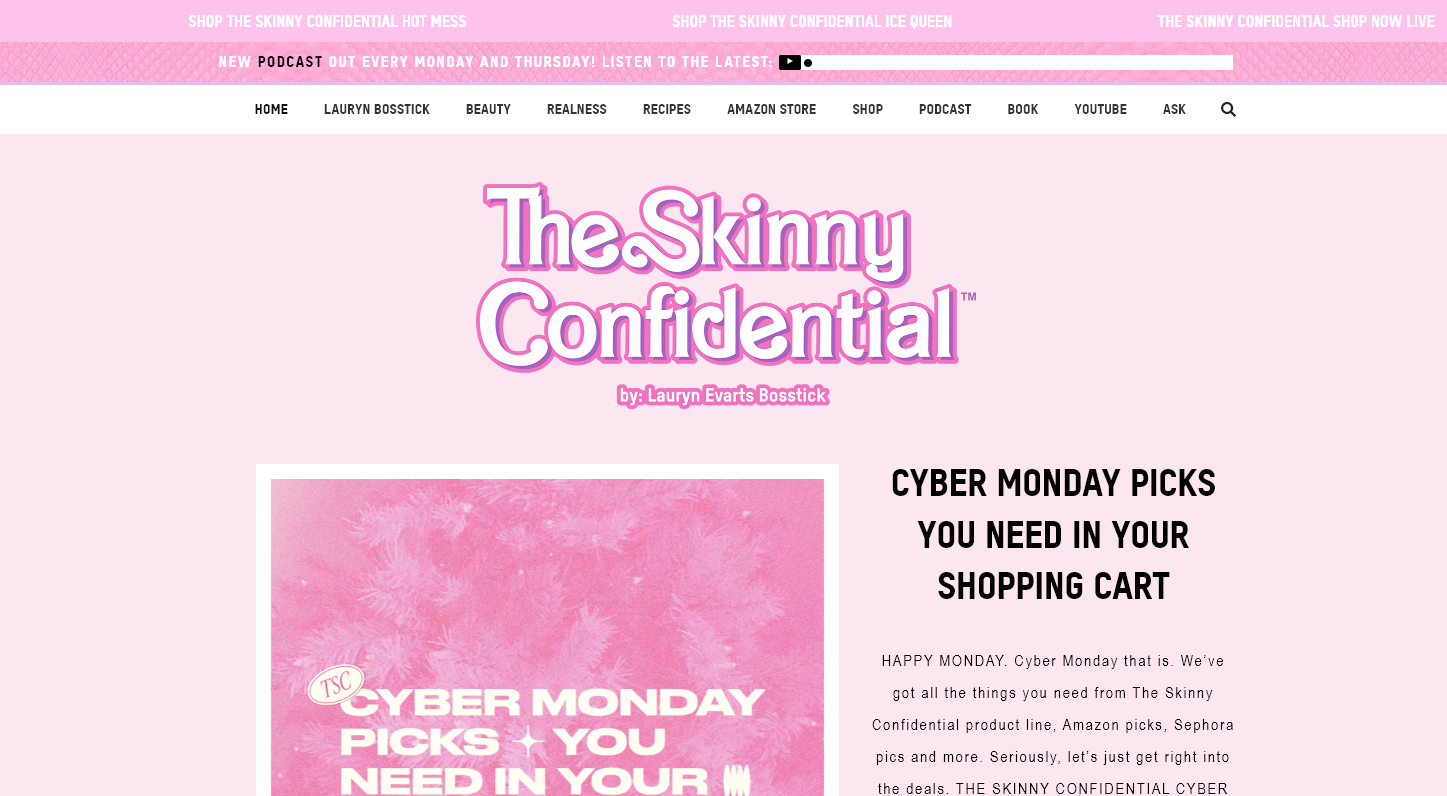 The Skinny Confidential, by Lauryn Bosstick, is a bold and bright lifestyle blog about health, fitness, recipes, and beauty.
Lauryn monetizes through a range of products, including lots of branded beauty-related products, an ebook full of blogging tips aimed at aspiring lifestyle bloggers and a premium mobile app filled with workout routines, healthy recipes, and more. She also uses the Amazon affiliate program extensively.
How to Start a Lifestyle Blog in 6 Easy Steps
Ready to get your lifestyle blog up and running? Whether this is your very first time starting blog or a second attempt you're trying out, here's how to get started.
Step 1. Choosing Your Lifestyle Blog Niche
"Lifestyle" isn't really enough of a niche for your blog. You need to think about what you're going to focus your blog around.
One of the great things about lifestyle blogging is that readers probably won't expect you to stick to one, and only one, topic. But when it comes to naming and designing your blog, it'll definitely help to have a core focus.
Some popular options for lifestyle blogs are:
Fashion and style
Travel
Food
Beauty and skincare
Health and wellness
Self-care
Homemaking
Remember, your lifestyle blog is centered around you – so pick a niche that you truly love to write about. You'll want to infuse your blog posts with verve and enthusiasm.
Step 2. Naming a Lifestyle Blog: Tips
When naming a blog, many bloggers will seek to incorporate words that indicate the blog's topic. Making Sense of Cents, for instance, is a blog about personal finances.
With a lifestyle blog, it's often trickier to do that. So many lifestyle bloggers look for words that evoke a particular feel or idea. You might want to pick two words that fit well with your style and voice, like Cupcakes and Cashmere and Wit & Delight do.
You could also opt to use your own name, but if you're hoping to eventually expand your blog to include a team of writers, you may find this might not be the best blog name for you.
Before you get too attached to whatever blog name you've come up with, make sure it's available as a domain name. Ideally, you want a .com domain – as that's what most readers will expect.
Step 3. Getting Your Lifestyle Blog Online (Web Hosting)
Once you've chosen a domain name for your lifestyle blog, it's time to get it online. If you want your lifestyle blog to have full potential to grow, you'll need to pay for web hosting.
Tip: There are some free blogging platforms out there – but you'll likely find it hard to develop a professional website that can grow with you, using these. I always recommend using self-hosted WordPress (which is free) and paying for your own good-quality WordPress hosting.
The good news is that there are plenty of budget web hosting options available. My favorites for beginners are Bluehost and Dreamhost (you can check out my comparison of them here). They're both great value, especially for your first year, and both of them offer a free domain name when you pay upfront for at least a year of hosting.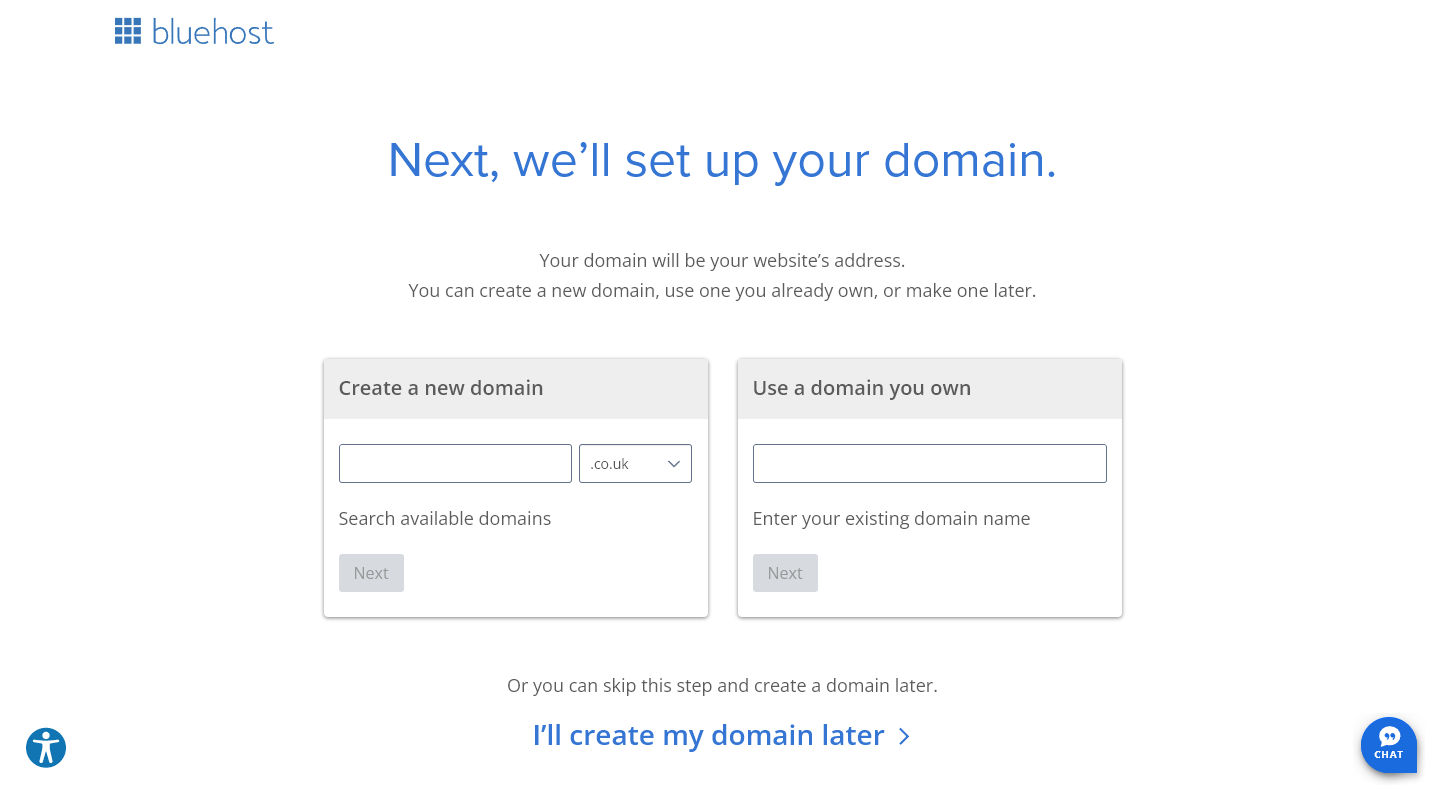 Whatever web host you choose, they'll walk you through the step-by-step process of setting up your web hosting account, and it should only take a few minutes at most to sign up.
Both Bluehost and Dreamhost offer a very simple installation process for WordPress, too, with nothing technical to worry about.
You'll get an email from your web hosting provider once everything is set up, letting you know what you need to do to log into your WordPress admin area.
It should only take a minute for your web hosting account to be active after you send payment, but it can take a little longer for your domain name to be fully working.
Your WordPress admin area will normally be your domain name plus /wp-admin – like this: www.ryrob.com/wp-admin
Once you've logged in, you'll see lots of different options for adding to your lifestyle blog: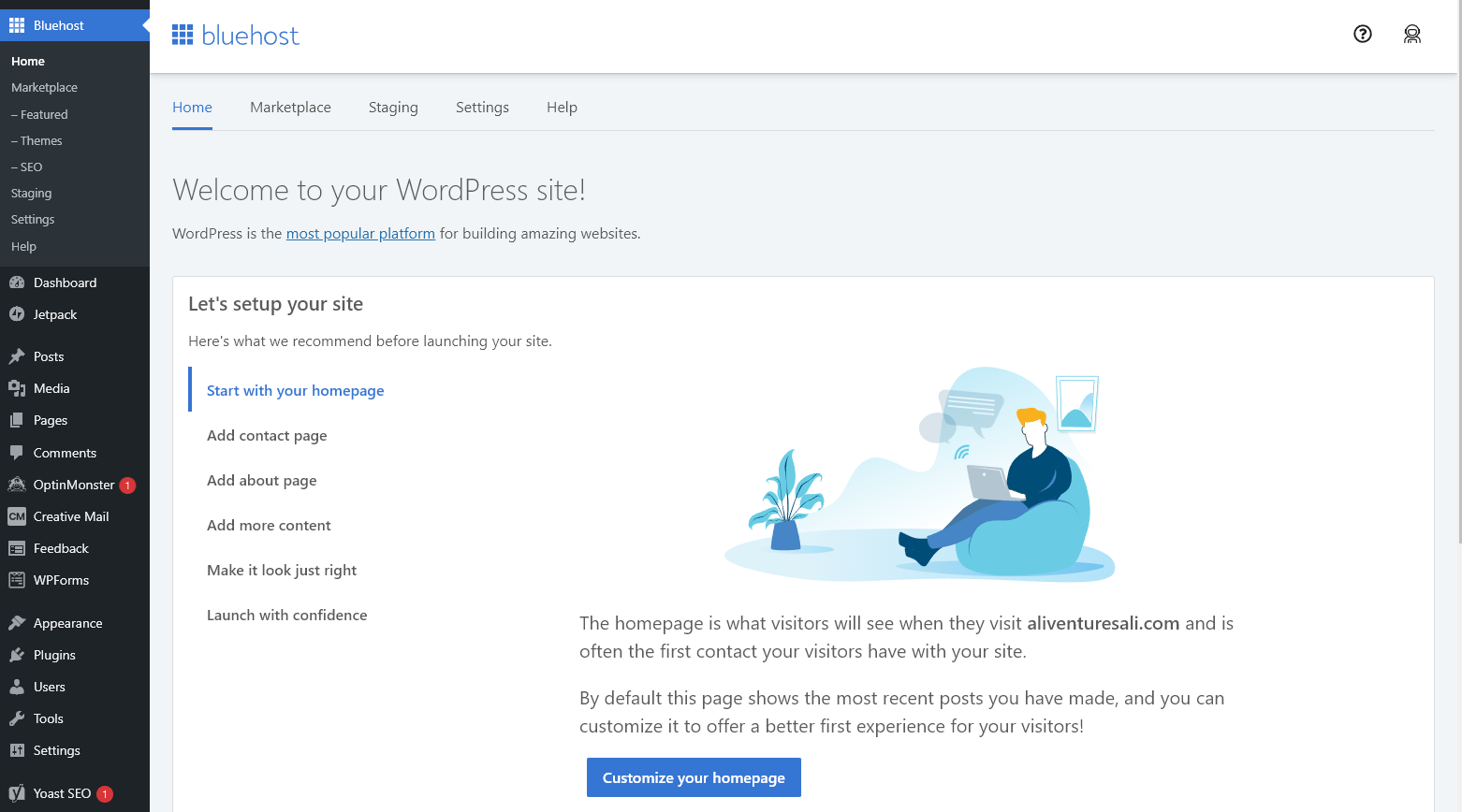 It can look a little overwhelming at first, so we're going to focus on the most important areas to start off with:
Your blog's theme (template) and plugins (add-ons)
Publishing new pages on your blog
Step 4. Designing Your Lifestyle Blog With Free Tools and Templates
WordPress itself is totally free – and you can add lots of free extras to your WordPress site, too.
Changing Your WordPress Theme
A great place to begin is with choosing your blog's theme (template). All blogs start out with the default WordPress theme for the year, but you'll likely want to change this to a theme that better matches your personal style.
There are lots of free themes that work very well for lifestyle blogs, including themes that offer lots of extra features beyond WordPress' defaults.
A couple of great (free) lifestyle themes to check out are:
Elementor – Elementor is my favorite WordPress theme because it's really fast and has a fantastic drag-and-drop page builder that lets you get your site looking just how you want. The free version is likely to be all you need to begin with, but the paid version offers even more extras.
Felt – this WordPress theme is fast, adaptable, and modern. It'll look great on your readers' phones as well as on computer screens, and you can customize your colors, fonts, logo, and more. There's also a paid version with more features.
There are lots more WordPress themes to choose from, too. It's easy to choose a new theme for your site: just log in to your admin area, then go to Appearance → Themes → Add New.
Here, you can choose from lots of different themes. You might want to put "lifestyle" into the search bar to get the most relevant options:

To change your theme, just hover your mouse over the theme you want and click "Install". (You can also preview the theme if you want to check it out in more detail.)
Tip: Changing your WordPress theme doesn't change any of your content, like posts, pages, and blog comments. Those will all still be in place – but things like fonts, colors, and layout will have changed.
Adding WordPress Plugins to Your Blog
WordPress plugins are useful add-ons for your blog that let you include new features. You can get free plugins for all sorts of things, like:
An online store. If you plan to sell products, whether digital or physical, then you can use the free plugin WooCommerce to create a fully functioning online store for your blog.
A contact form, so readers can easily get in touch with you straight from your contact page. WPForms is a great plugin for this – the free version should be fine to start off with, or there's a paid version if you want a whole host of extra form-related features.
Setting up your site with SSL (so that your domain starts with https instead of http – Google prefers this). Really Simple SSL gets everything working with just one click. Your web host will usually offer a free SSL certificate, but if not, the Really Simple SSL plugin can create a new one for you.
Adding plugins is very straightforward. Just go to Plugins → Add New in your WordPress admin area. You can then type in a keyword to search for the type of plugin you want, or you can search by name if there's a specific plugin you want to install.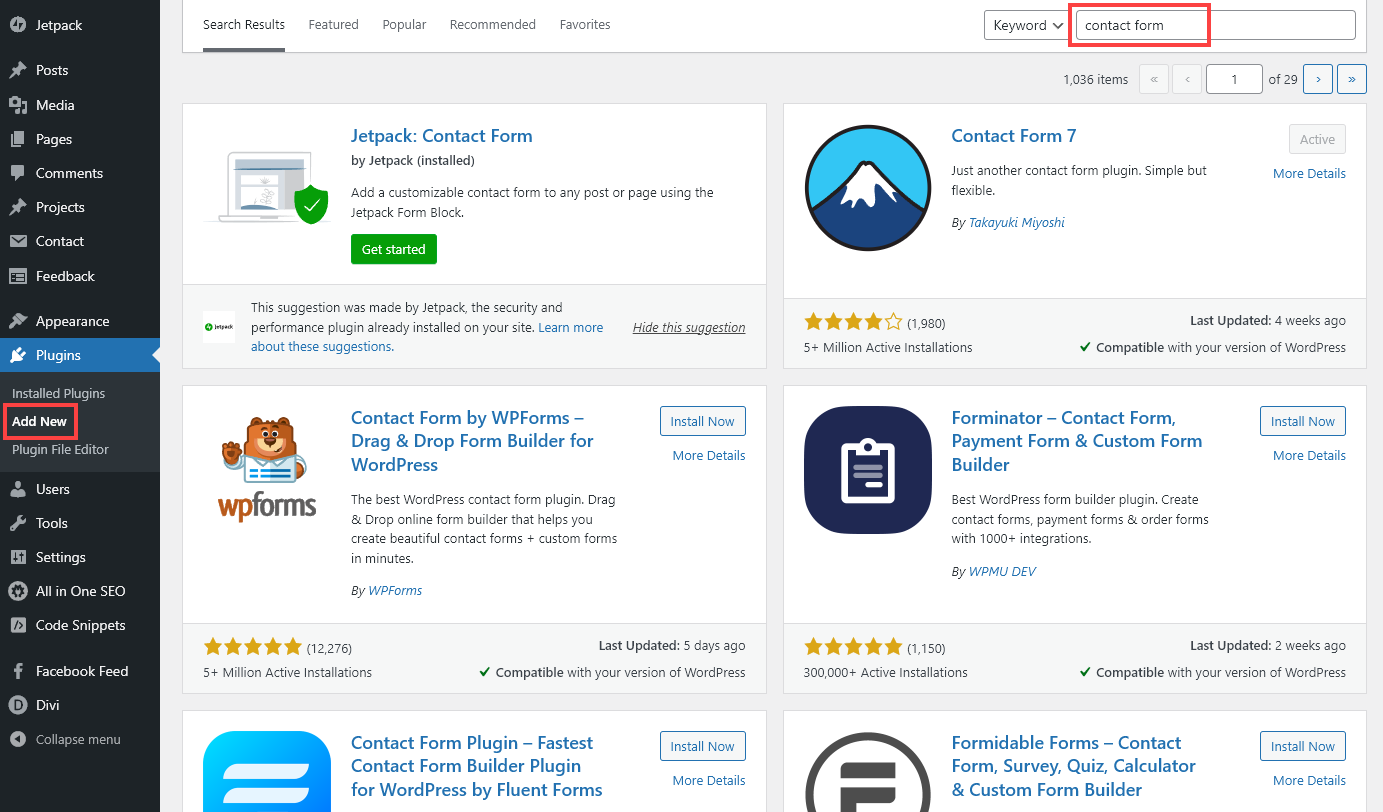 To install a plugin, just click the "Install Now" button. You'll then see an "Activate" button which you need to click to activate the plugin.
There are so many more things you can do with plugins, especially if you're happy to pay for premium ones. You can check out my full list of the best WordPress plugins here.
Step 5. Creating Key Pages for Your Lifestyle Blog
In WordPress, you can create two key types of content: pages and posts.
Posts are dated content. They appear on your homepage or your blog's page (depending on your settings) and they can be sorted into categories, given tags, and more.
Pages are static content. That doesn't mean they never change—in fact, it's a good idea to review and update key pages from time to time.
You should use pages, not posts, for things like:
Your About page
Your Contact page
Landing pages, e.g. for your newsletter
Sales pages (like for a course you've created)
Your privacy policy page
It's very easy to create new pages and posts in WordPress. Let's get started with a few key pages for your lifestyle blog.
Your Home Page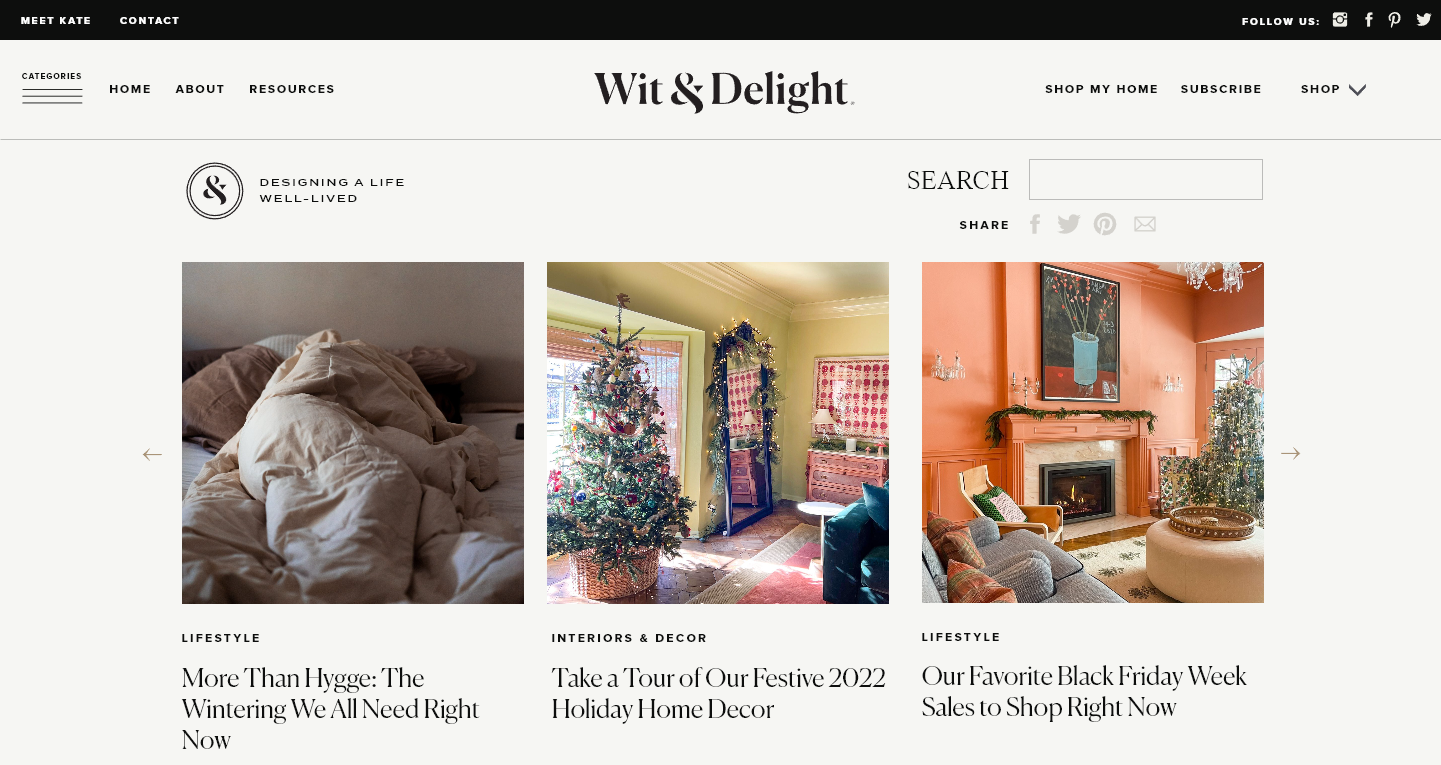 Example: The Wit and Delight home page
Your home page is the very first thing people will see when they come to your site's domain name. Some blog themes simply have your most recent blog posts displaying on the home page – but this is a wasted opportunity. Instead, you want to use your homepage to quickly introduce your lifestyle blog and give readers a compelling reason to read it. You also want to make sure you highlight some of your best content on your home page.
You can create your home page just like any other page. Simply go to Pages → Add New and you can use the built-in WordPress block editor to put together a great-looking home page.
Once you've created your page, you need to tell WordPress to use it for your home page. Simply go to Settings → Reading and click the option for "A static page" and select the name of your home page from the dropdown list: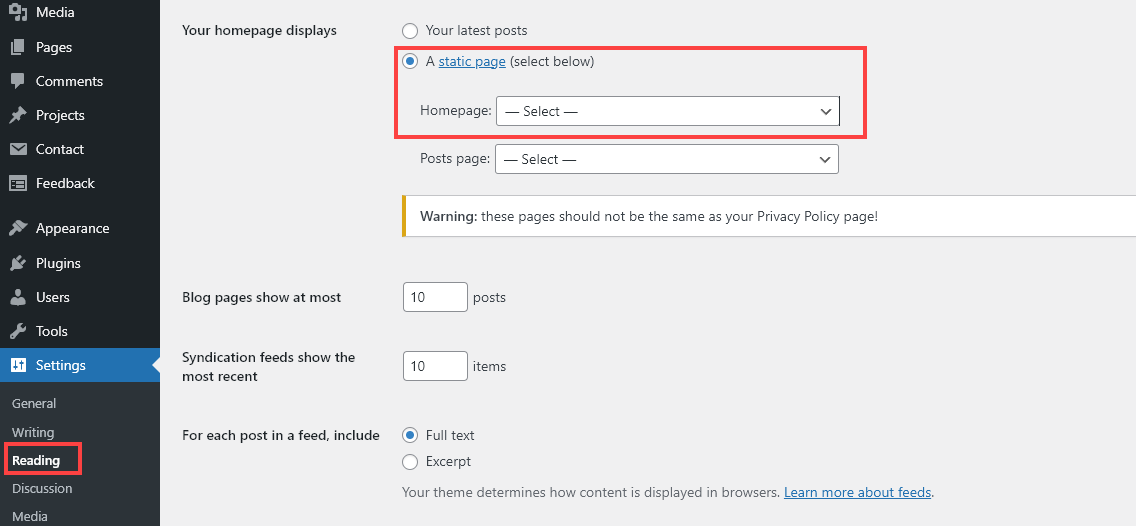 Tip: Want to go further with your home page design? Use a page builder theme like Elementor to get lots of fancy features.
Your About Page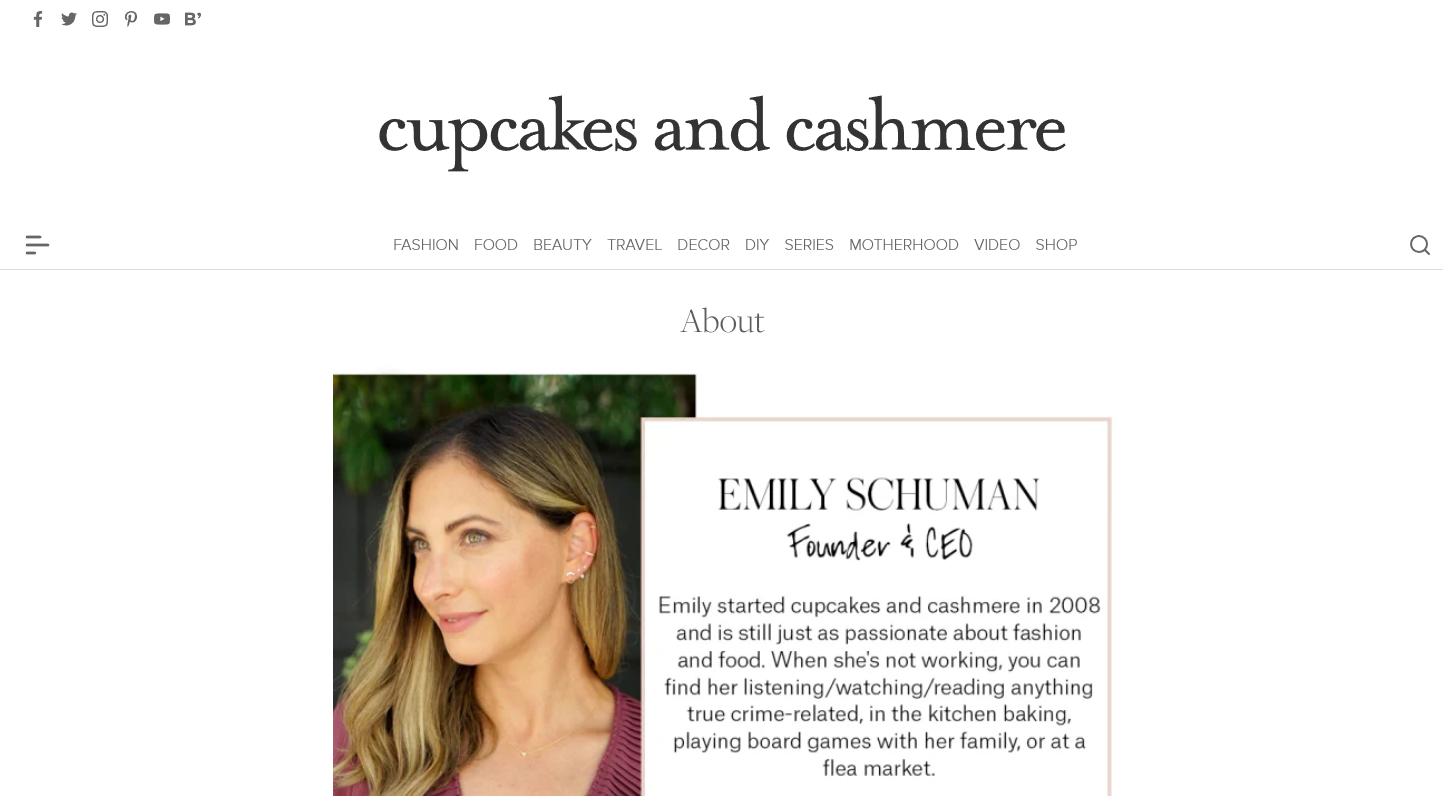 Example: The Cupcakes and Cashmere About page
New visitors may well check out your About page to get a sense of what your blog covers—and since lifestyle blogs may cover a range of topics, it's a great idea to use your About page to clarify what readers can expect!
You might want to share a bit about you and your life, and add a photo of yourself, on your About page. This is also a good place to highlight some of your best content, so once you've written a few blog posts, come back and edit your About page.
Tip: WordPress will have already created a sample page for you, which you can find under Pages → All Pages. You could either delete this or edit it to use as your About page.
Your Contact Page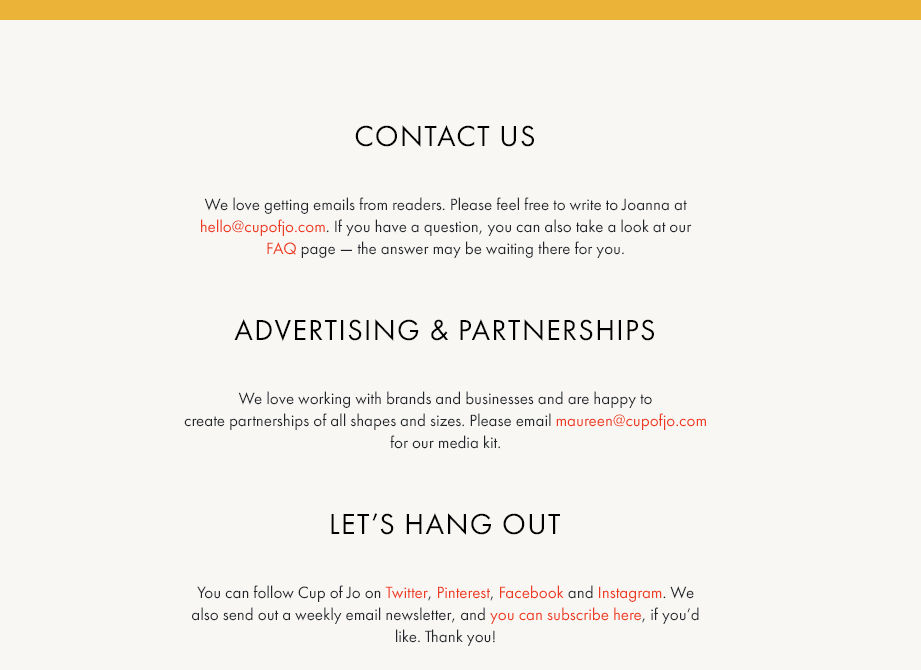 Example: The Cup of Jo contact page
A contact page lets readers get in touch—and if you want to monetize through running ads or sponsored posts, it also lets potential advertisers contact you.
Your contact page doesn't need to be long, and you might not even create it as a separate page: the Contact page on Cup of Jo, above, is a section of the much longer About page.
It's a good idea to include:
Brief answers to very frequently asked questions, to cut down on the volume of emails you receive.
Your email address
Links to social media accounts where you're reasonably active
A short and straightforward contact form
Step 6. Creating Your First Blog Post
Ready to write your first blog post? If you're not sure what to write about, check out my list of ideas for your blog posts (you might also want to bookmark it for easy reference).
Creating a blog post in WordPress is very similar to creating a page. Just go to Posts → Add New and you'll see the block editor.
You'll want to add an attention-grabbing title for your blog post, then you can simply start writing. If you want to add images in your post, just use an image block. You can also add quote blocks and much more.
Need Catchy Blog Title Ideas?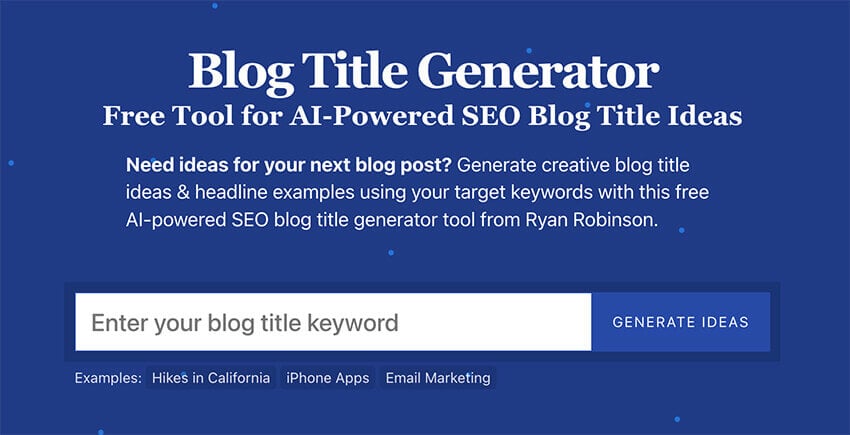 Try my free AI-Powered Blog Title Generator Tool to get dozens of SEO-friendly headline ideas to make your blog posts stand out today.
---
Not sure how best to structure your blog post? While many lifestyle bloggers write essay-style posts, these do have a clear beginning, middle, and end—but a lot of other types of content including list posts, how to's, and reviews are all very popular on lifestyle blogs, too. Take a bit of time to learn about blog post structure and why it matters—and your posts will be so much easier to write (and read!) as a result.
Once you've finished your post, you'll need to give it a category and—if you want—tags, though they're not taken into account from an SEO perspective, so use them only if you plan to organize collection pages on your blog around these tags.
Categories are particularly useful for lifestyle blogs, as it's likely that you're covering several quite distinct categories. Many lifestyle blogs will have their categories as part of the navigation menu. To add new categories and/or set your blog post's category, simply go into the Post settings when writing a new post (in the menu on the right-hand side).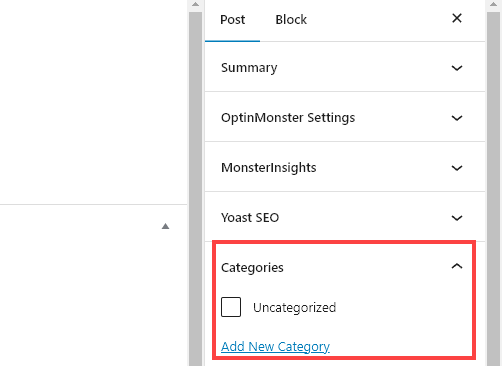 Tags aren't essential, but they can help to show readers related content and they're another useful way to organize your blog posts. For instance, you might have a "Recipe" category but a "gluten-free" tag.
Each post should ideally only have one category, but you can add as many tags as you like.
Making Money from Your Lifestyle Blog (4 Smart Ways)
Plenty of lifestyle blogs make money—and yours could, too. With any type of blog, the more traffic (visitors) your blog has, the easier it is to make money. Many bloggers find that it takes six months, a year, or even more to start making any significant amount of money. But from your earliest blogging days, you can pave the way for monetizing your site.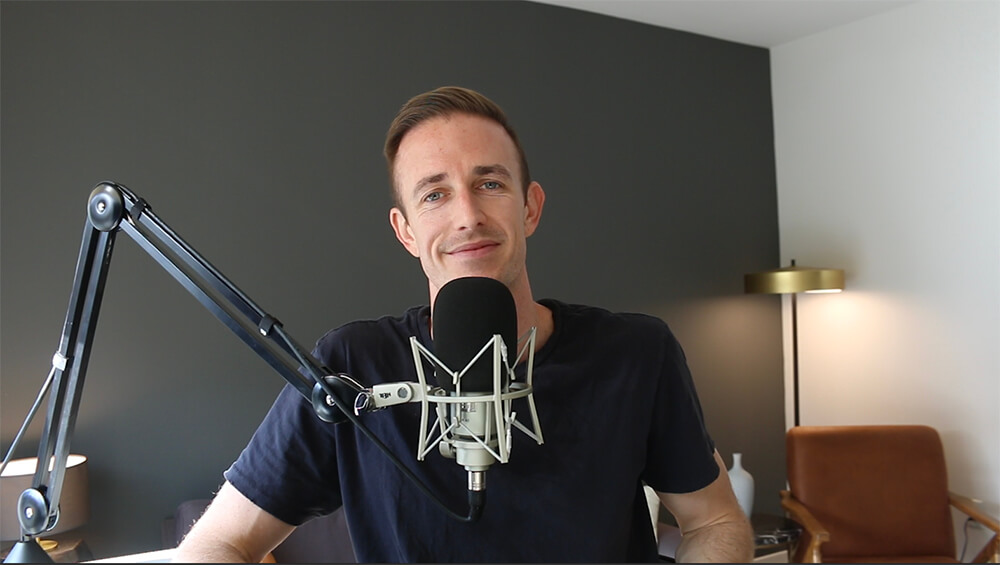 Here are some of the best ways to make money from a lifestyle blog, as soon as you have an audience flowing in:
1. Sponsorships and Advertising
Lots of lifestyle blogs run sponsored posts. A sponsored post is either written by a brand, or written by the blogger to promote the brand. The brand benefits from increased exposure, the blogger gets paid, and the blog audience gets to know about a product or service that is—hopefully—a great fit for them.
You can offer sponsored posts at any stage, but realistically, sponsors will want to see some regular traffic.
Advertising works in a similar way, but instead of running a full post, you might place an ad in your blog's sidebar or within an existing post. There are also lots of advertising networks you can use—Google Adsense is probably the best to get started with to begin displaying ads & earning some income—but check out these best blog advertising networks as you grow.
Here's the catch: advertising very much depends on your blog traffic. You'll likely need thousands, perhaps hundreds of thousands, of visitors each month before you can make a meaningful amount of money through running ads.
2. Affiliate Marketing
Affiliate marketing is one of my favorite ways to make money online. It's easy to get started with, and it's a great fit for lifestyle bloggers in particular because you're likely to be mentioning products or services that you're using anyway.
As an affiliate, you get a special tracking link to use when you mention a particular product or service. Then, when someone buys after clicking your link, you get paid a commission.
This commission varies depending on the type of product/service you're promoting. For digital products, it can often be as high as 50%. For products sold through Amazon (which has a huge affiliate program), it's likely to be around 5%.
To get started with affiliate marketing, take a look at this list of affiliate programs and see whether you're already using any of those products or services. If so, sign up as an affiliate, blog about them, and you could make some very easy money.
3. Creating and Selling Your Own Products
While it takes a lot of upfront effort, creating your own products to sell can be hugely rewarding. As well as potentially bringing in a lot of money, it can help you raise your profile in your niche.
Depending on the topics you cover on your lifestyle blog, you might create products like:
An app that helps readers manage some aspect of their lives.
A downloadable collection of your recipes.
An ebook where you go into a lot more depth about something you've covered on your blog.
Physical products, such as a printed household planner.
… or pretty much anything else that would be a good fit for you, your blog, and your readers!
4. Running Online Courses
Another option that works well for many lifestyle bloggers is running an online course. This doesn't necessarily require so much work in advance as creating a product—you can potentially create lessons for your course while running it live.
Your online course could, again, cover any topic that your readership would be interested in. That might be:
Makeup and beauty tutorials.
Fashion and style advice.
Parenting tips and tricks.
Household organizational support.
… or again, any topic your readers would like to know more about.
As a lifestyle blogger, one of the things that's likely to appeal to your readers about taking a course from you is that they'll get to work with you personally—so you'll want to think about how to connect with students without that becoming overwhelming.
Growing Your Lifestyle Blog's Traffic & Readership (3 Quick Strategies)
Whatever way you choose to monetize your blog, you'll make more money if you have more readers. Growing a lifestyle blog can be a little different from marketing blogs in general, as your blog is so driven by your own personality and style.

There are lots of great blog marketing strategies & blog promotion tactics you can use to get more readers. Here are three that are particularly effective for lifestyle bloggers.
Using Social Media
Social media really is a must for lifestyle bloggers: many find that they get a huge amount of traffic from Pinterest or other social networks. You don't need to be everywhere—instead, choose a couple of social sites that your target audience uses and that you enjoy too.
You don't necessarily have to post a lot on social media—a couple of posts each day might well be enough. (Posting too frequently can overwhelm your followers and can quickly exhaust you, too.) If you're not sure if you have the balance right, take a look at Hootsuite's guide on how often to post to social media.
To make the most of your social media accounts, make sure you point followers back to your blog on a regular basis. It's also a great idea to share fun or inspiring photos, polls, questions, and other content to encourage engagement—and to help you get to know your audience. If you're just getting started, consider growing your instagram followers to build credibility and establish trust for future blog readers.
Starting an Email List (With a Freebie)
I've never hear a lifestyle blogger say they started email marketing too soon—but I've heard many experienced bloggers express their regret that they left it untouched longer than they should have!
As soon as your blog is up and running, you should get your email list in place too. While you might not have many sign-ups at first, it'll gather momentum over time.
Your email list is a crucial way to stay in touch with your readers. If someone visits your blog and likes it, they might forget about it the next day. But if they visit your blog, like it, and there's an email signup, they can enter their email address—and receive your newsletter week after week.
There are plenty of different ways to run your email list. Some bloggers send out a monthly newsletter, others email several times a week. Some send out a teaser for every blog post, others send a regular roundup of recent posts. What matters is figuring out what works for you and your readership.
One thing that almost all lifestyle bloggers will want to do, though, is to offer a freebie. This is a great way to nudge people to sign up. Think of a freebie that saves people time or offers them something valuable that they might well have paid for. That could be a printable, checklist, cheat sheet, audio guide, or almost anything you like.
Organic Traffic from Google (with SEO: Search Engine Optimization)
In the early days of your blog, you might find that most of your traffic trickles in through social media shares or even through you personally contacting friends and family to let them know about your new project.
But as time goes by, more and more of your traffic will likely come from search engines, like Google.
Search engine optimization is the process of making your lifestyle blog easy for Google to find. That means using keywords in your posts, particularly in their titles, so that Google can match those posts with what real people are searching for. It also means making sure your website loads fast and that it looks great on mobile as well as on computers. Check out my primer on keyword research for more.
Use My Free Keyword Research Tool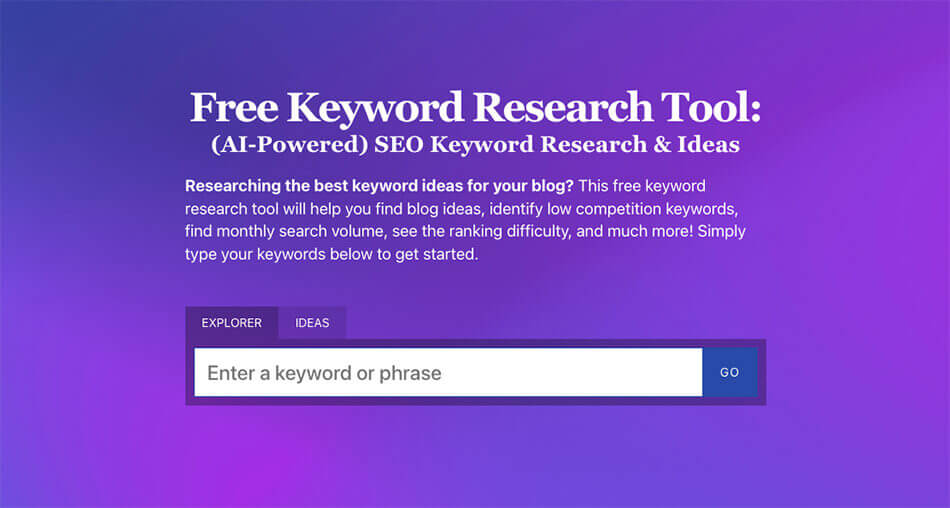 Try my free AI-Powered Keyword Tool to get dozens of research-backed ideas for keywords & topics to write about on your blog today.
---
One challenge of SEO for lifestyle bloggers is that you might find that a number of your posts are based on personal experiences, rather than posts that target a common keyword that people are searching for.
It's a good idea to also include some list posts or how-to posts, so that you can bring in traffic to those posts from search engines. Or, as Belle Brita puts it, "if your post is Pinterest-worthy, your post deserves good SEO."
That way, people can discover your blog through Google, then stick around for your deeper, more personal and heartfelt content.
Ready to Launch Your Lifestyle Blog and Share Your Passions With the World?
Hopefully, you now feel ready to get your lifestyle blog up and running—and that could be the first step on an amazing journey to a money-making or even award-winning new blog.
If you need a bit more help, though, make sure you take a look at my start a blog guide. It takes you through the process of signing up with a web hosting company, and should help you solve any technical issues as you get your WordPress blog up and running.
Once your blog is online, the next step is to write some great blog posts. Check out my ultimate guide on writing blog posts to help you get started.
You'll also want to check out some of my top blog posts for plenty of blogging tips to take you further on your lifestyle blogging journey.
Ready to Start Your Blog Today?
Check out my ultimate guide How to Start a Blog (on the Side) that's been featured on Forbes, Inc and Entrepreneur.
---
---