Many of us are naturally drawn to fashion as a beautiful form of self-expression (thus fashion blogging is huge). Whether we buy from thrift stores or purchase directly from high-end designers, some of us just know what looks great.
Call it intuition, or call it a deep trust & confidence in who you are—if you're one of those people, then I'm thinkin you're considering starting a fashion blog of your own, yeah?
Perhaps you already have a lively Instagram feed that demonstrates your unique personal style—or showcases your latest fashion finds. I'm guessing your Pinterest boards are probably full of gorgeous outfits and curated lewks for the season.
Whether it's a hobby, passion, or you're a self-identified fashionista, fashion blogging may be perfect for you. Maybe you want to become one of the next top fashion influencers, or you're just hoping to make a little side income from fashion blogging. Follow these simple steps to starting a blog and getting your fashion blog up & running today.
Fashion Blogging: How to Start a Fashion Blog (and Make Money) + Examples
Disclosure: Please note that some of the links below are affiliate links and at no additional cost to you, I'll earn a commission. Know that I only recommend products and services I've personally used and stand behind. When you use one of my affiliate links, the company compensates me, which helps me run this blog and keep my in-depth content free of charge for readers (like you).
Want My Free Blog Business Plan Template?
Grab my free blog business plan template in both Google Doc and PDF format (that's helped me build a six-figure blog) and reach 500,000+ monthly readers today.
"*" indicates required fields
---
Now, let's get this show on the runway, shall we?
Step 1. Choose a Name for Your Fashion Blog
If you want to start a fashion blog you're going to need a good name. You can choose a blog name that tells readers something about your style like "Who What Wear" or "Accidental Icon" (more on these blogs later), or you can use your own name and come up with something clever like "Runway Riley."
A lot of fashion bloggers use their own names because their blog is about them and their lifestyle. Essentially, they are the brand they're selling. Use my free domain name generator tool to come up with clever (and available) blog names instantly.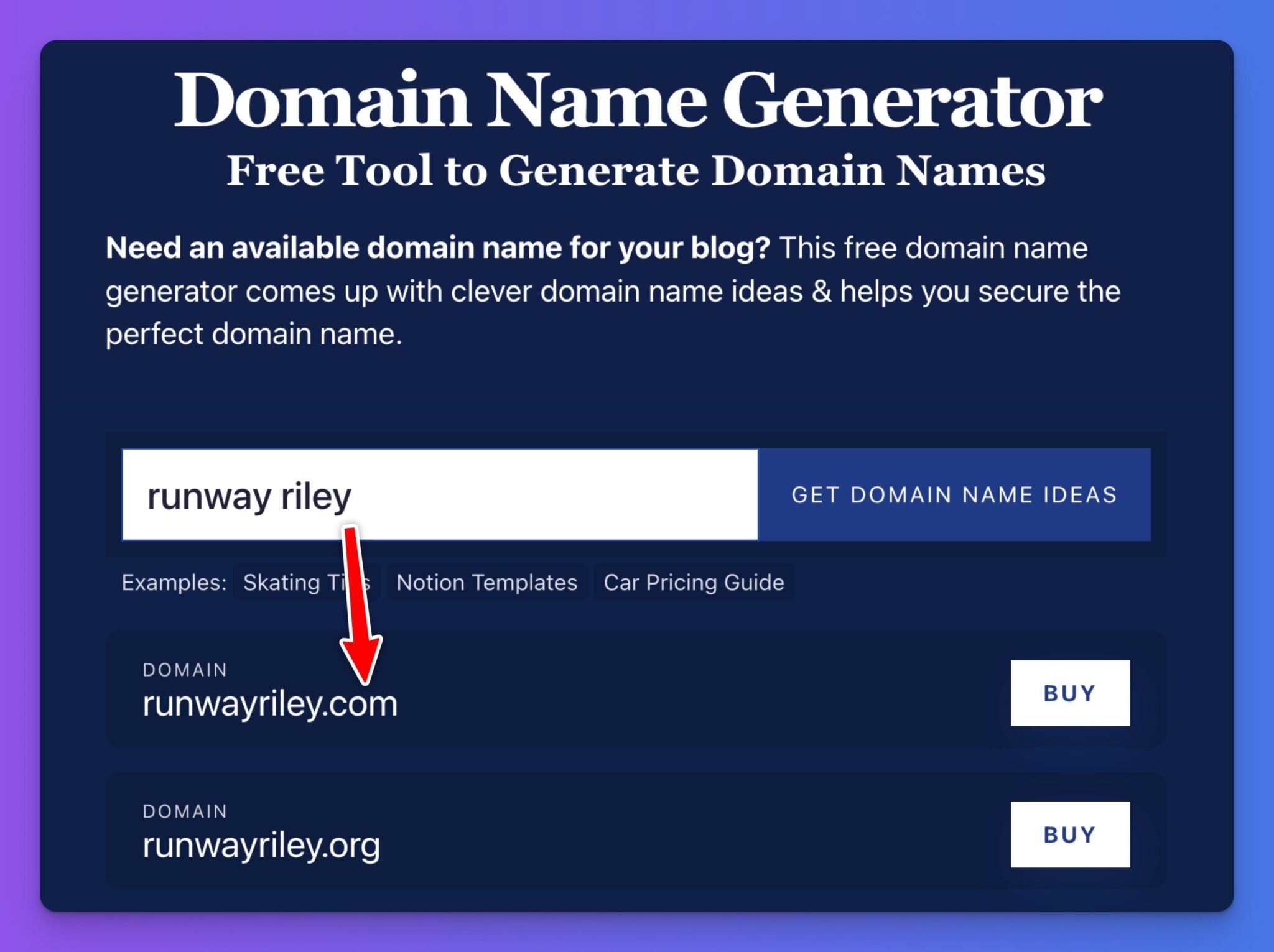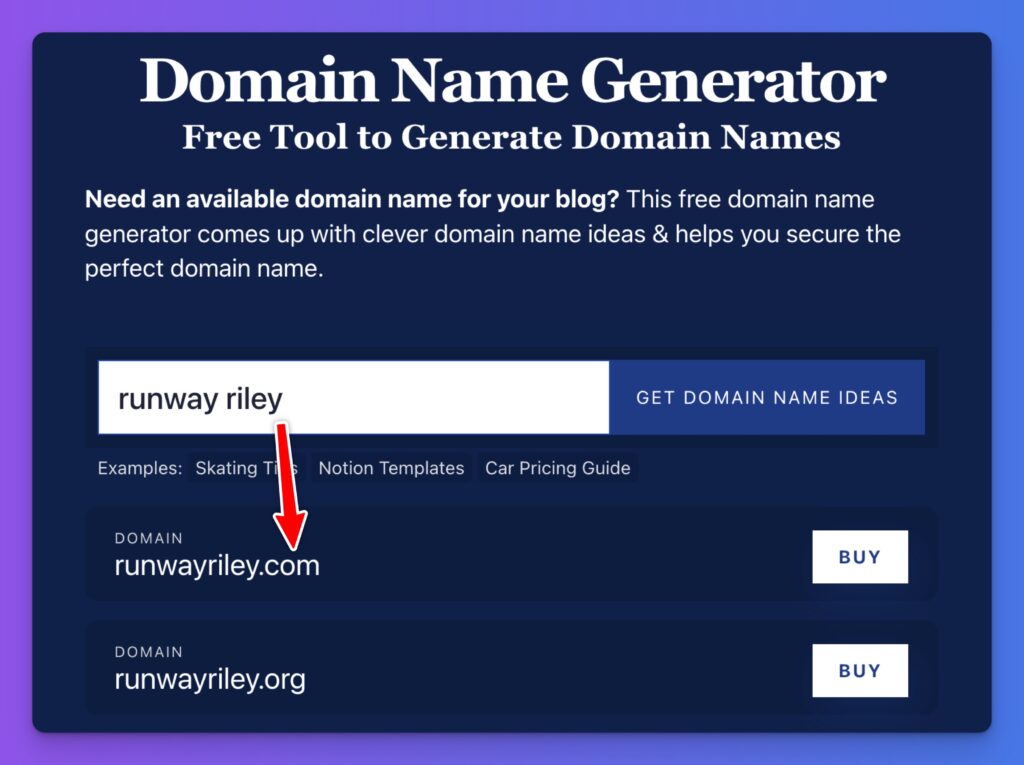 However you choose a name for your blog, remember to make sure the domain name (URL) is available. You should also check whether the name is available for social media platforms, particularly Instagram.
Step 2. Dive Into Your Niche: What Kind of Fashion Blog Will You Run?
Before you launch your brand new fashion blog, you should spend some time thinking about what will set your blog apart from the competition. What do you have to share that's different from what's already out there? Defining your blog's niche is crucial.
Be prepared to take some risks here. Remember that not everyone is going to be drawn to the same thing (or the same type of fashion). If your blog is too generic, you'll struggle to develop a loyal readership.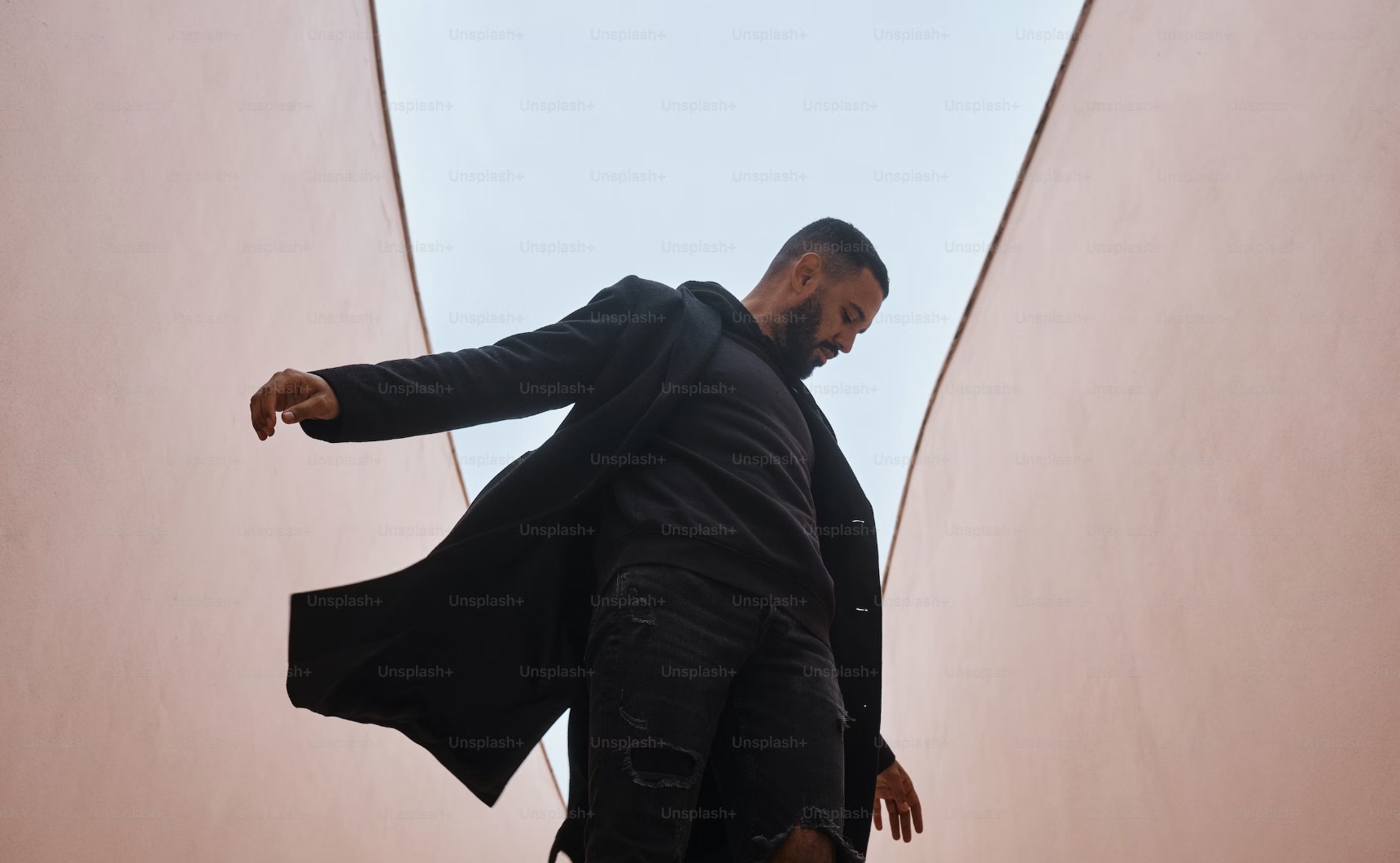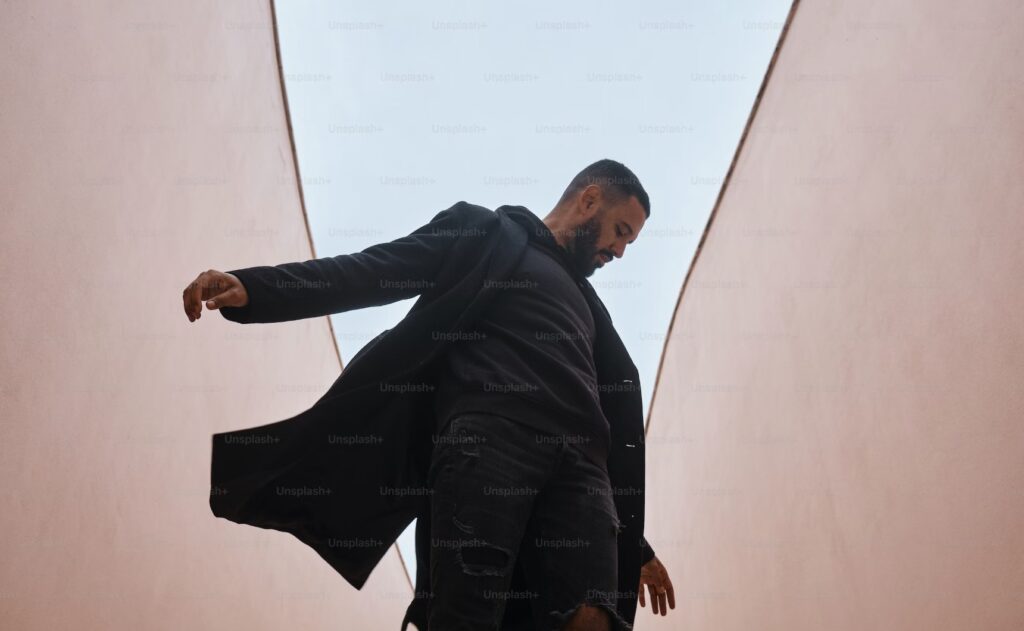 Consider your target audience and the unique angle that would work for you and them. Some fashion blogs are focused on a particular demographic. You may want to create content for a certain age range: a fashion blog aimed at teens and 20-somethings is going to be very different from a blog aimed at glamorous retirees. You may want to create a blog for a certain body type or you may want to show people how they can be fashionable on a dime.
Maybe you love vintage clothing or bright colors, or maybe you want to create a blog specifically for business wear. Perhaps you've looked at the blogs that are already out there and you see something big missing. A style or a group that doesn't have a voice. You can be that voice.
Step 3. Get Your Fashion Blog Online with WordPress
Another integral part of getting your blog started is picking a blogging platform.
This is where the power of Bluehost web hosting + WordPress come into play as a fantastic budget-friendly option to get your fashion blog online in the next 10-15 minutes. Follow along with my step-by-step guide to starting a blog for a more detailed walkthrough.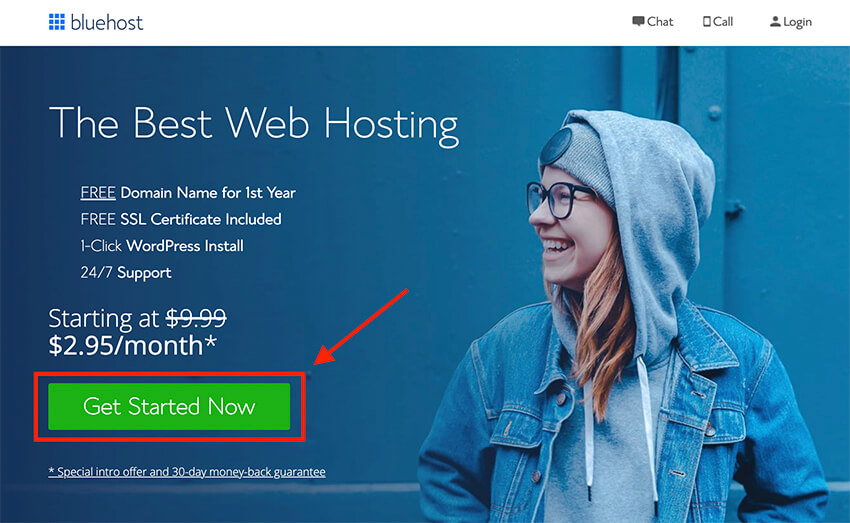 There are many ways to start a blog but I personally recommend WordPress.org to most bloggers. WordPress is a very customizable and free platform to run your blog with (though you'll need to pay in order to host your blog and get it online). It has tons of plugins and themes to choose from so you can create a gorgeous blog that captures readers' attention the moment they arrive
To get started on WordPress, you'll need a domain name (usually ending .com) and web hosting. A domain name is your blog's address on the Internet: mine is ryrob.com. Web hosting is the place where it's built—think of it like renting a piece of land to build your blog on.
When it comes to hosting services, I recommend Bluehost. Bluehost has highly affordable plans, especially in your first year, and also gives you a free domain name. It's WordPress approved, and the support team is always happy to help out with WordPress-related questions as well as hosting issues.
Step 4. Pick the Right Theme & Design for Your Fashion Blog
Since fashion blogging is so visual, it's important to pick a WordPress theme (design template) that allows you to showcase large, striking images. That's why you should take some time to discover the right theme as soon as you've set up your blog.
There are thousands of different WordPress themes to choose from, so I've narrowed it down a bit for you. These are some of the best fashion blog themes: both premium (paid) and free.
Premium Fashion Blog Themes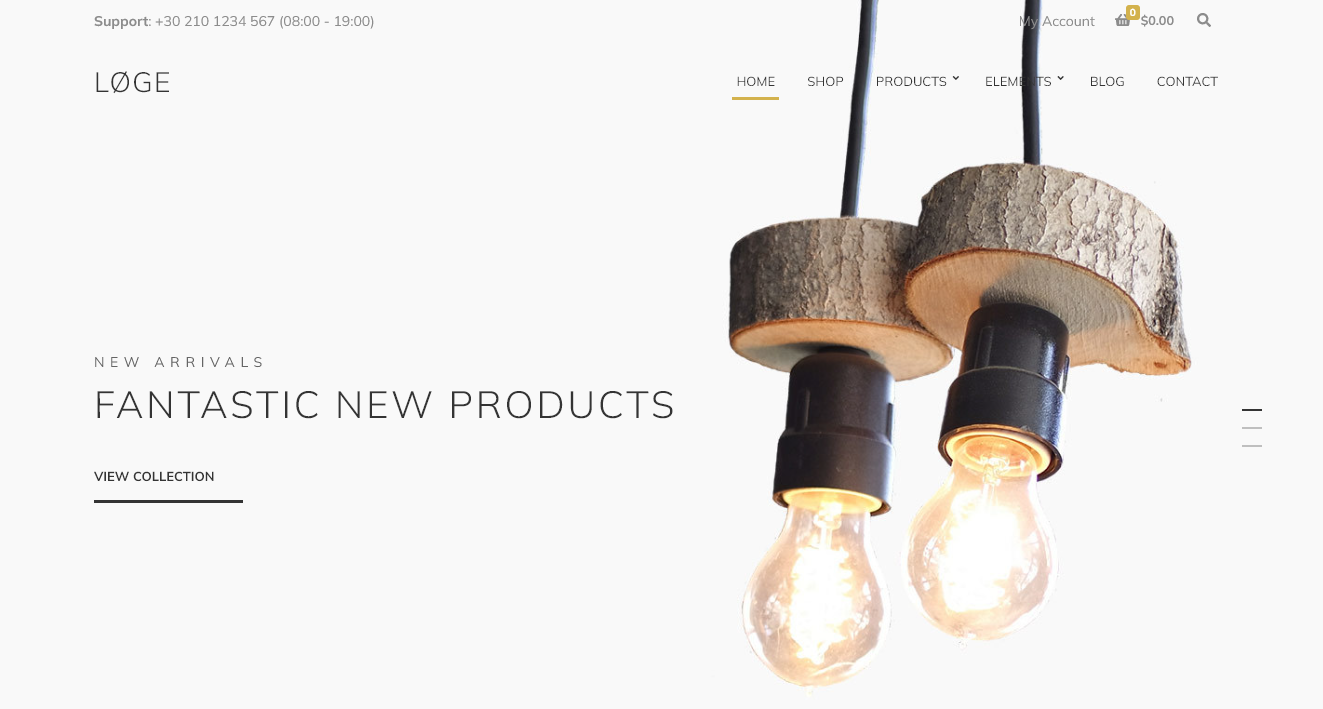 The Løge theme is a good choice for fashion bloggers looking to create both a blog and an ecommerce store. If you don't have anything to sell, it's not such a great option, as the shop elements are quite prominent.
However, if you already have items for sale, Løge is the perfect theme: stylistic and minimalist. Plus, it's easy to integrate with WooCommerce (a free plugin that lets you easily create an online store and sell items on your WordPress blog).
Løge also works well with the Elementor plugin, making it easier to add images and items to your page. The storefront is customizable so it's easy to give your blog its own unique look and feel.
This theme is also designed for good SEO and will look great on mobile devices as well as on computers.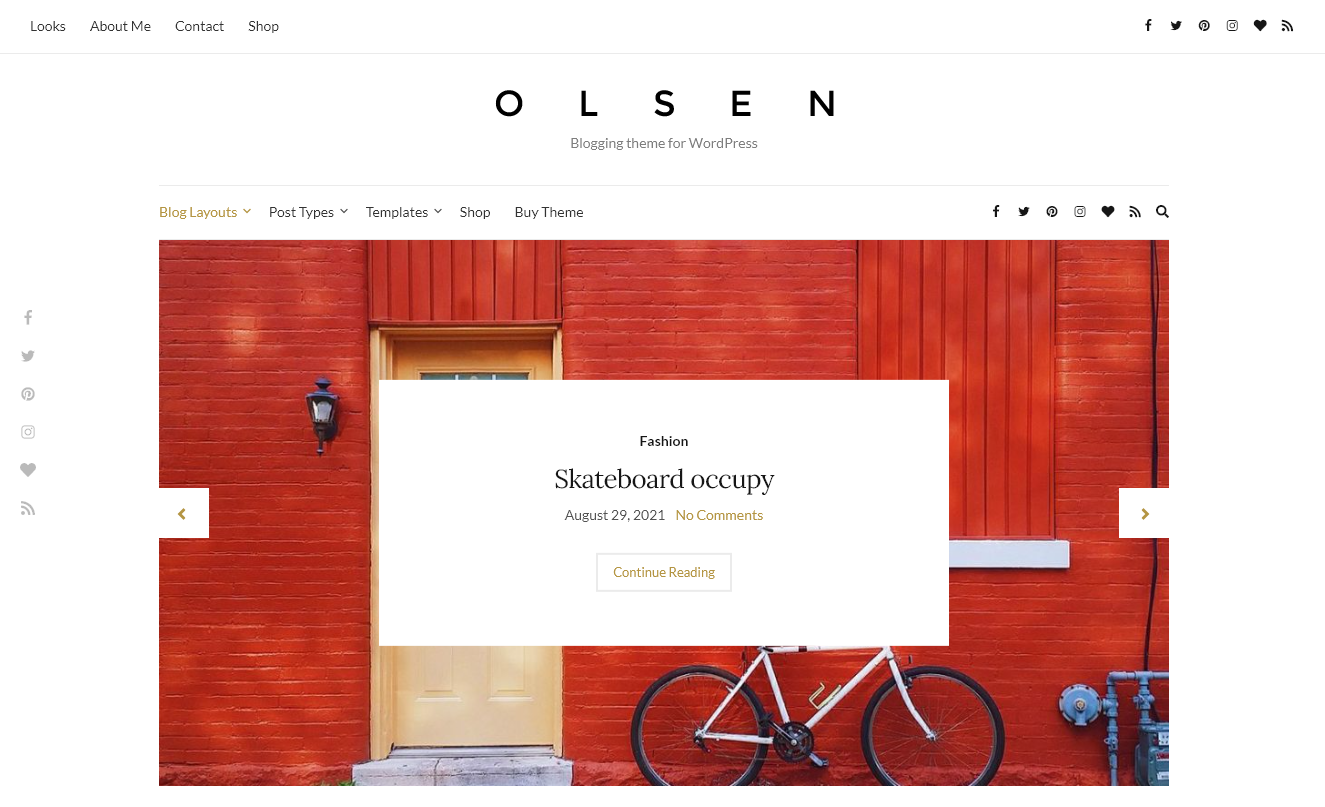 The Olsen theme also allows you to run an ecommerce store, but the focus is on blogging. This theme is image-heavy (perfect for fashion or photography blogs) and it gives you many different post formats to create a unique look.
Olsen also includes eleven different layouts, 20+ color and typography settings, custom widgets, and SEO optimization.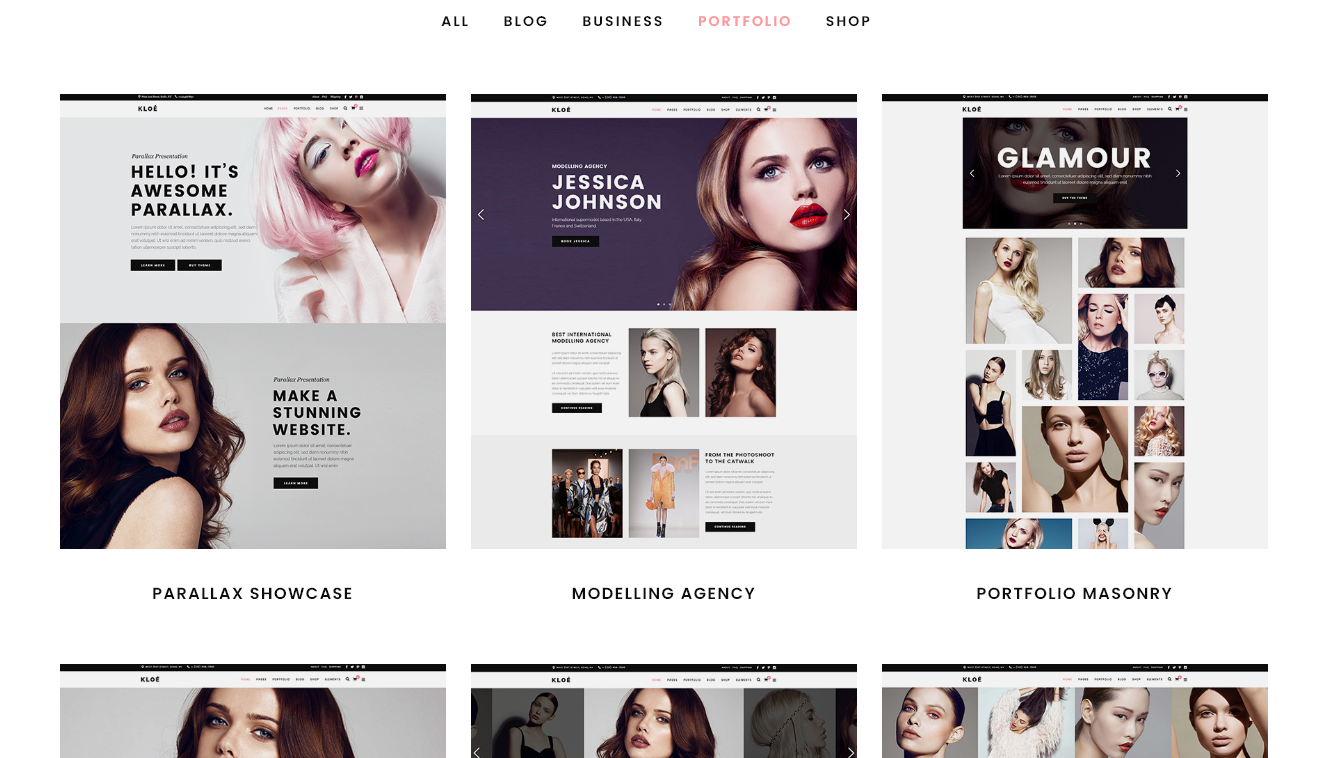 Kloé is another highly visual WordPress blogging theme. It's a really elegant and stylish choice for fashion blogs.
It features a full-screen slider with parallax functionality. Like the other premium themes we've looked at, it's highly customizable so you can create an original-looking blog. It also offers ecommerce integration and SEO optimization.
Free Fashion Blog Themes
You'll want to check out my list of the best WordPress themes for bloggers—which features plenty of free options. Many of those are easy to customize for any type of blog. If you're looking for a free fashion blog theme that works well straight out of the box, though, I've got a few extra options for you here.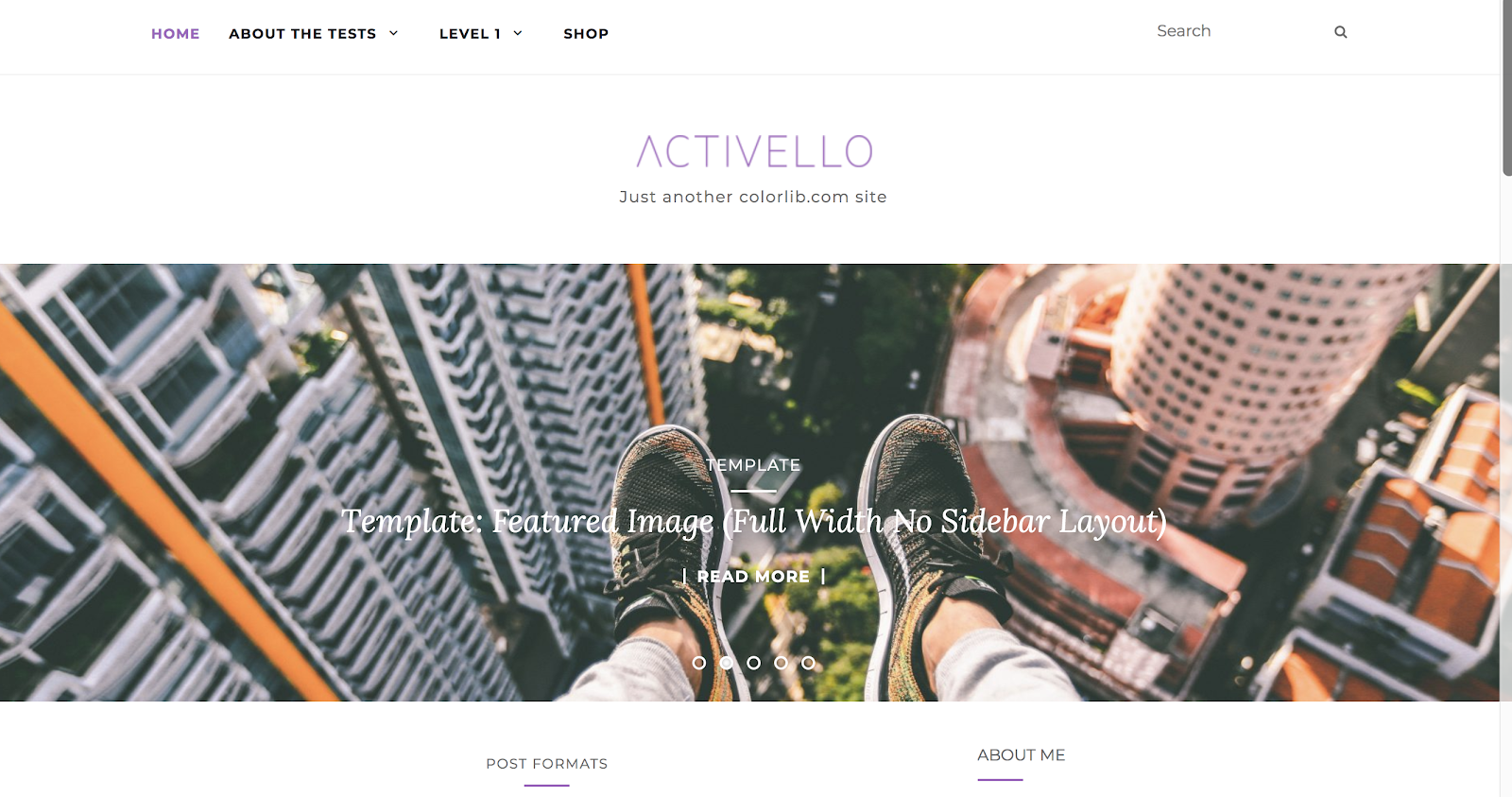 Activello is a free blog-focused theme that can be used for a fashion blog. It also has an ecommerce integration option so you can include items that you would like to sell.
It's mobile responsive, image-rich, and works well with popular WordPress plugins like WooCommerce, JetPack, Yoast SEO, and Gravity Forms.
You also have unlimited color options for this blog theme, plugin support, and as an added bonus, it's translation ready.
Next up, we have a very light and airy fashion blogging theme.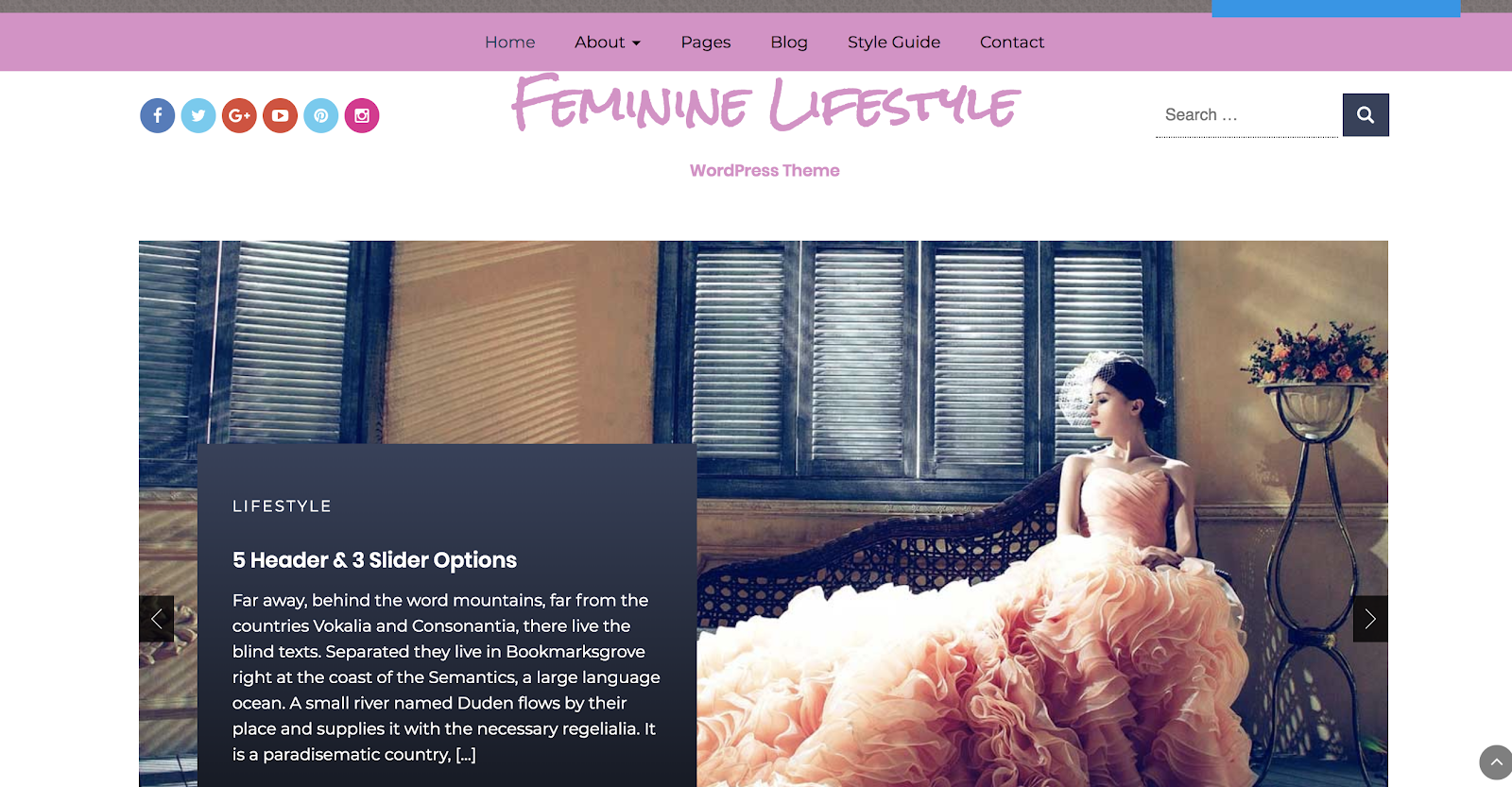 Chic Lifestyle is a free WordPress theme geared toward fashion and lifestyle blogs. Featuring large images and a banner slider, it's a great way to showcase photos of your favorite fashion trends or street styles.
Chic Lifestyle is mobile responsive, has drag-and-drop sections to make it easier to use, and is WooCommerce compatible.
Step 5. Brainstorm Content Ideas For Your Fashion Blog (and Write Your First Post)
Creating content for your blog is one of the most exciting parts of fashion blogging. Even bloggers who enjoy the technical side of things tend to find their passion lies in the process of writing posts, creating images, or recording videos to share their thoughts with the world. Take a peek at my in-depth tutorial on how to write a blog post if you're new to writing.
For the times when you're feeling less than inspired, I built a free tool that instantly generates dozens of research-backed topic ideas to write about for your fashion blog.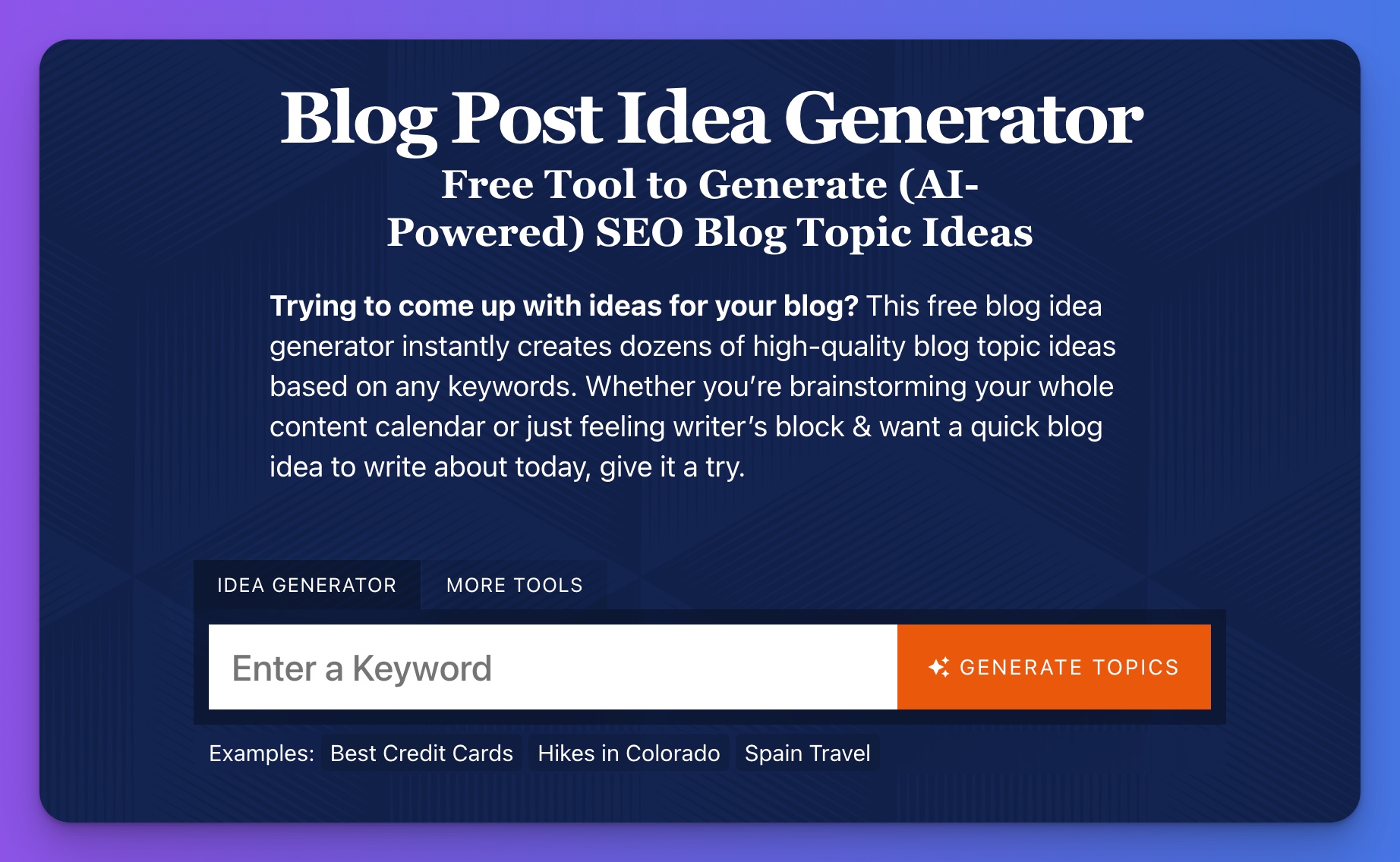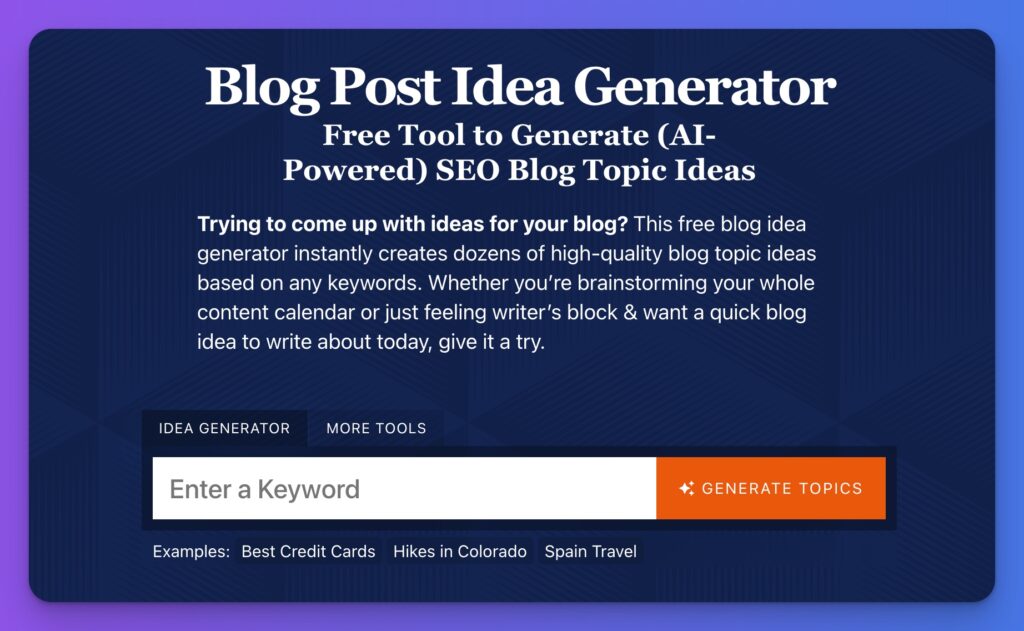 Writer's block can be a real pain. Trust me, I know. That's why I built this forever free blog post idea generator tool, powered by AI. In seconds, you can generate endless ideas for your next blog posts.
---
Craft Content That Speaks to Your Readers
Blogging is about sharing your life experiences and passions, but your blog should also give something back to your readers.
Here are a few questions to ask yourself and find meaningful ways your fashion blog can serve people today:
How can you solve a problem your potential readers are facing when it comes to their fashion?
Can you be the voice for a group of people who feel underrepresented in fashion (or the world)?
Do you want to inspire other men or women to try something new, or give them confidence to experiment?
After reading your fashion blog, your readers may purchase a new outfit or accessory that makes them feel good about themselves. You might open a new world to them. Your style and voice could be the completely refreshing take on fashion that they were searching for.
Use LOTS of Quality Images and Videos
Fashion is an extremely visual medium. Ordinarily, I would advise bloggers to use long-form articles to rank higher on Google searches. For fashion blogging that is not always the case.
The things that will keep people coming back to your blog are your images and videos. Readers will want to see your style in action … not just read about it or hear about it
Your website's front page should captivate your visitors and give them a clear idea of what they'll find on the blog.
Understand and Use SEO (Search Engine Optimization)
SEO (search engine optimization) is all about helping your ideal readers to find your blog through Google and other search engines..
Use SEO for Your Written Content
Your blog should answer some of fashion's most burning questions. If summer is coming, there's a good chance people are searching Google for bathing suit ideas. They may want to know what the newest bathing suit trends are or they might be looking for modest, practical, but still stylish options.
Your job is to find out what your target audience wants to know. Start by doing keyword research (and using my free keyword research tool). By writing the type of content they're already searching for, you can bring in lots of new fans.
Use My Free Keyword Research Tool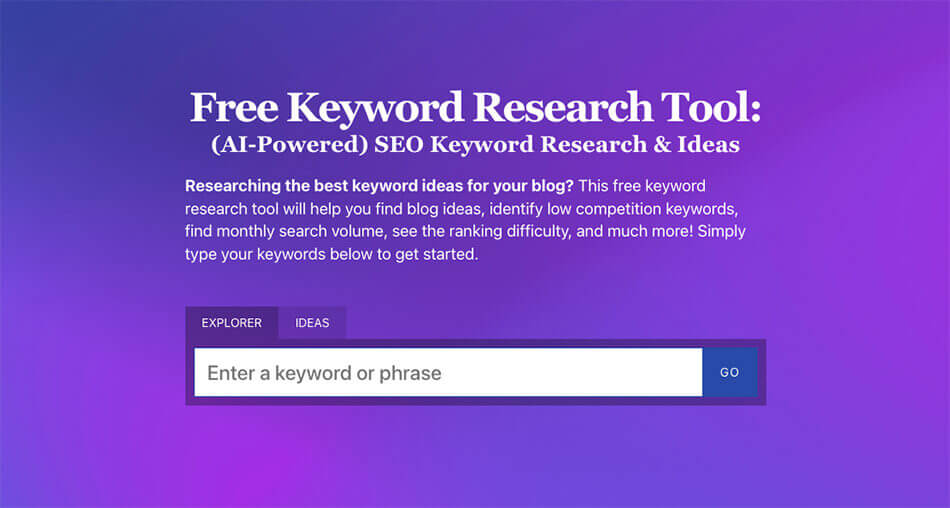 Try my free AI-Powered Keyword Tool to get dozens of research-backed ideas for keywords & topics to write about on your blog today.
---
Use SEO for Your Images
You should also make sure that your images are SEO-ready.
To do this, give each of your images a proper file name on your computer before uploading them to your blog. Your camera will likely assign your pictures a series of letters and numbers. Instead, use something meaningful—ideally, a keyword you're aiming to rank for (like modest-bathing-suits).
Next, add captions to pictures that could use more explanation. Readers might be scanning your post, pausing at the captions to get more information about the clothes or accessories that interest them the most.
You also need to use alt text (alternative text) to describe your image. Alt text is used for accessibility, so visually impaired people using screen readers can get a good sense of what an image is about. It also helps search engines to know what your image is about, potentially improving your post's ranking, but also giving your image a better chance of coming high in the results of a Google Image search.
Write Your First Post
Getting your first blog post out there can feel intimidating. But every single fashion blogger out there was once looking at a blank screen… just like you. Check out these blog examples & blog post examples for a little more inspiration.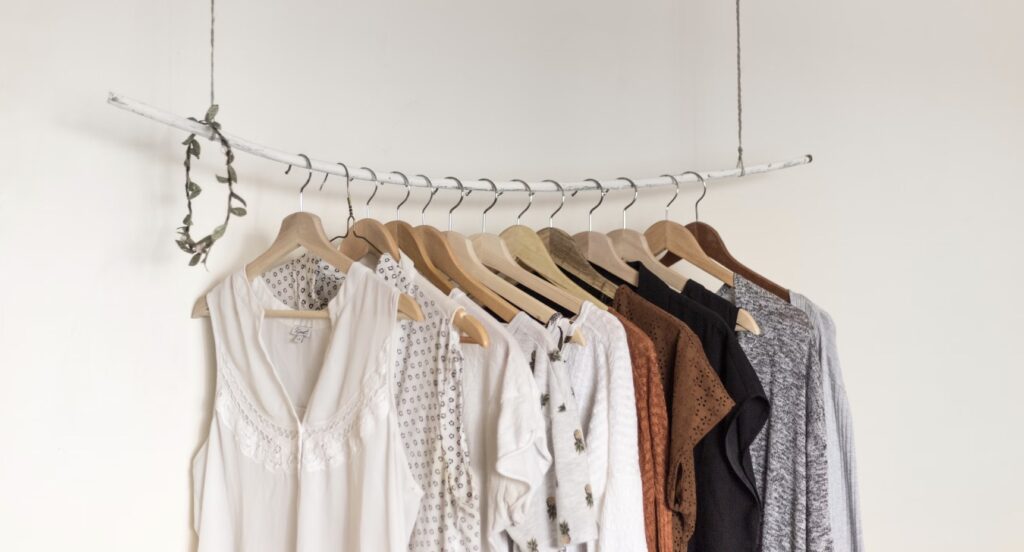 Some great topics to kick-start your fashion blog include:
A photo of you in your favorite outfit. You could talk about where each piece came from, you could discuss your own sense of style or fashion philosophy, or you could simply share a bit of information about you and your life.
The history of a particular fashion trend that you love. How and when did it start? What developments have there been since then? Share lots of photos (just make sure you're either using your own photos or sourcing copyright-free images).
Your take on a current fashion trend—don't be afraid to get a little controversial, so long as that suits you and your brand.
A tutorial that teaches readers how to get a certain look—beauty and fashion tutorials are very popular on YouTube, too.
Want more topics to write about? Check out my list of blog post ideas and use my free blog topic generator tool as much as you please.
Step 6. Promote Your Fashion Blog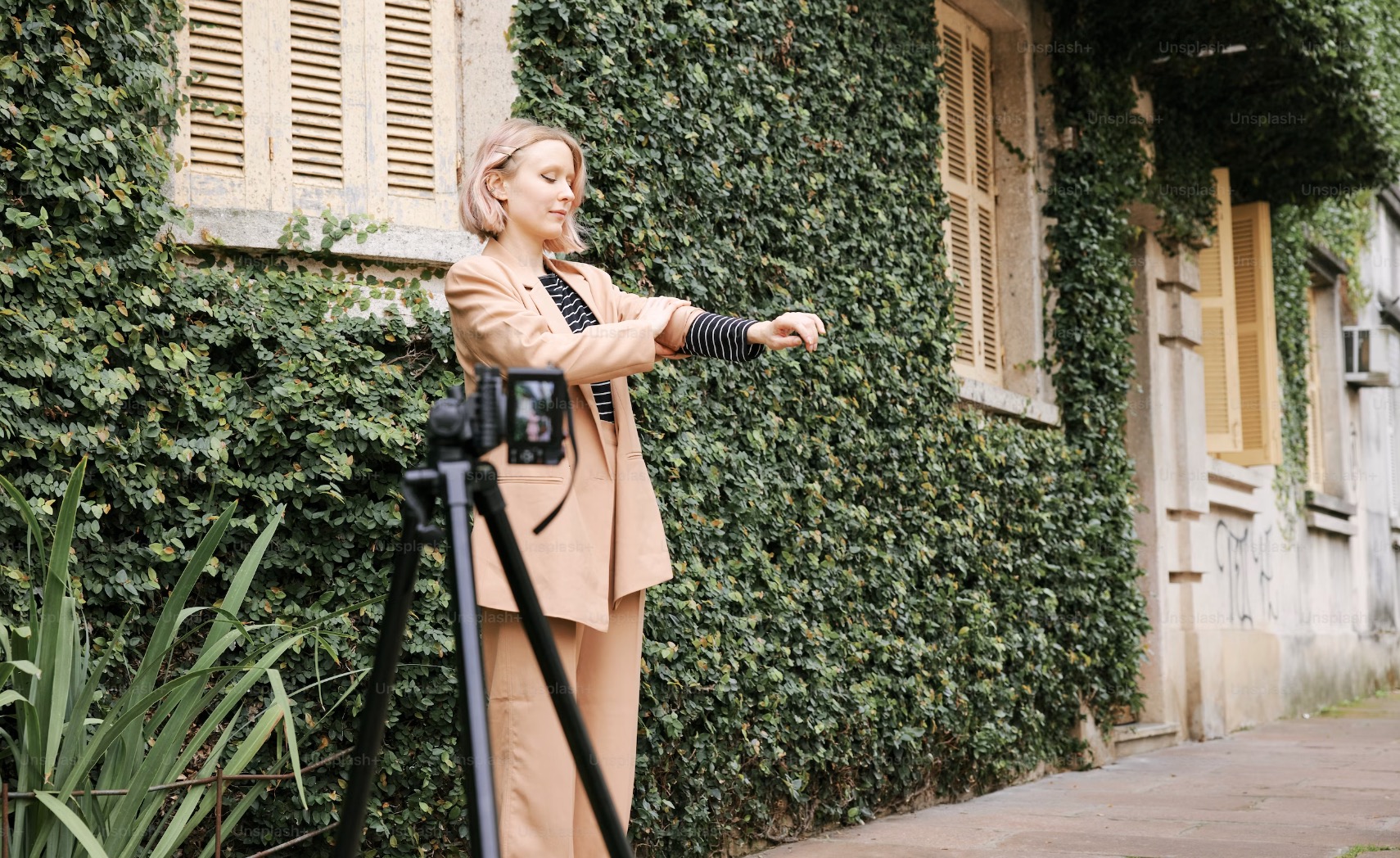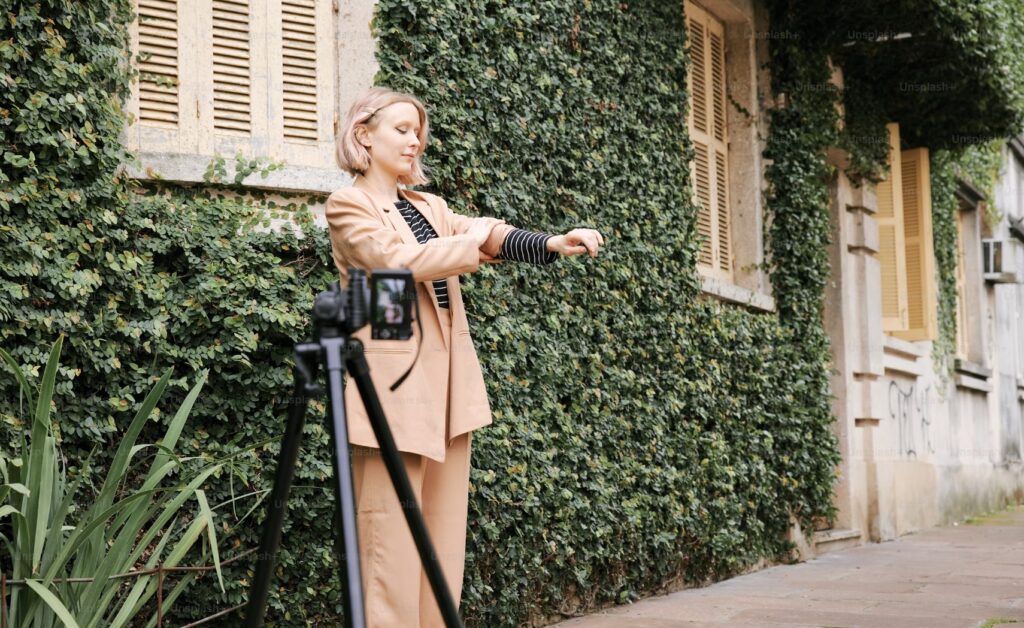 A fashion blog—or any blog for that matter—won't make it very far if you don't find ways to promote it. Here are some of the best ways you can promote your fashion blog.
Use Social Media
Because fashion is so deeply visual, social media is an integral part of a marketing campaign for your blog. In fact, many of your blog's readers will likely first find you on a social media platform like Instagram.
Instagram for Marketing
Instagram is made for lifestyle influencers and your potential followers will enjoy seeing what sets you apart stylistically. If they consistently like what they see on Instagram, there's a much higher chance that they'll head to your blog for a bigger collection of images, advice, or shopping.
If you haven't already created an Instagram account, start right away. As well as helping you build your brand, it could prove to be a great way to monetize if you have products to sell: 44% of Instagram users use the site's shopping features every week.
You'll want to use hashtags to help your target audience find your posts: there's a handy list of popular fashion hashtags here.
Why You Should Still Have a Blog In Addition to Instagram
Some fashion influencers solely use Instagram as a form of microblogging—and that can work well. But a blog gives you a number of things that social media doesn't:
With a blog, you own all of your content and you have full control over the way it is displayed. If Instagram decides to shut down one day you have no control over their decision. If they decide that your content violates their terms, they can shut you down. You're putting content on their website, not your own. You also give Instagram certain rights to your content in your agreement plans.
Blogs have more monetization options. While you can use Instagram's built-in shopping features, having your own blog means you can have a fully-featured ecommerce store too.
A blog gives you the possibility to spread out and create a look that is unique to you. You have total control over the look and feel of your space and you can create an atmosphere that transcends the possibilities of Instagram.
Blogging also allows you to create longer posts if you have something to share as well as giving you the extended space to showcase full-sized images and videos.
YouTube Channel
Videos and images are hugely important in the very visual world of fashion. Take Amber Scholl for example, an incredibly popular fashion YouTuber—she has well over 3 million subscribers to her YouTube channel, alone.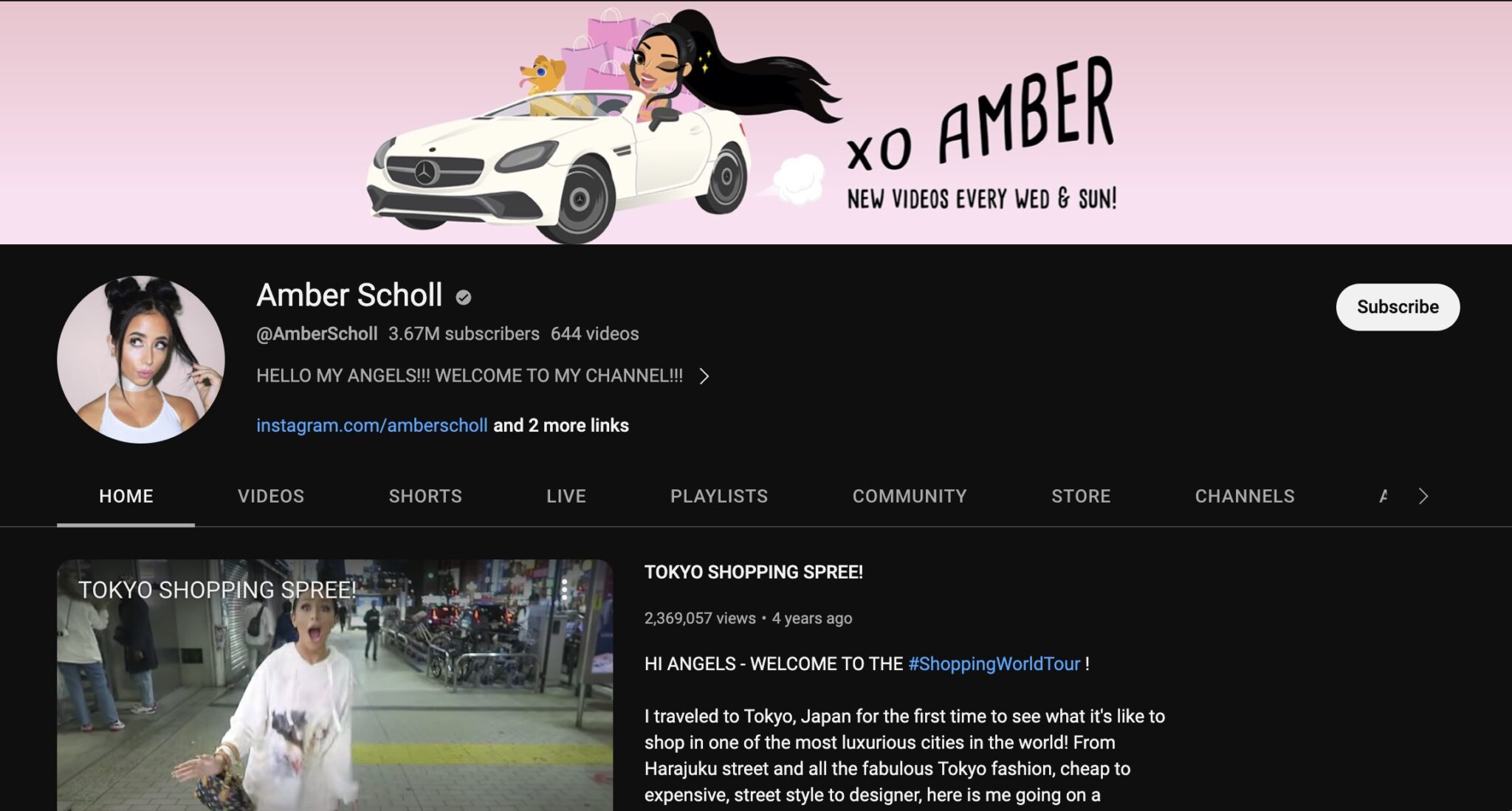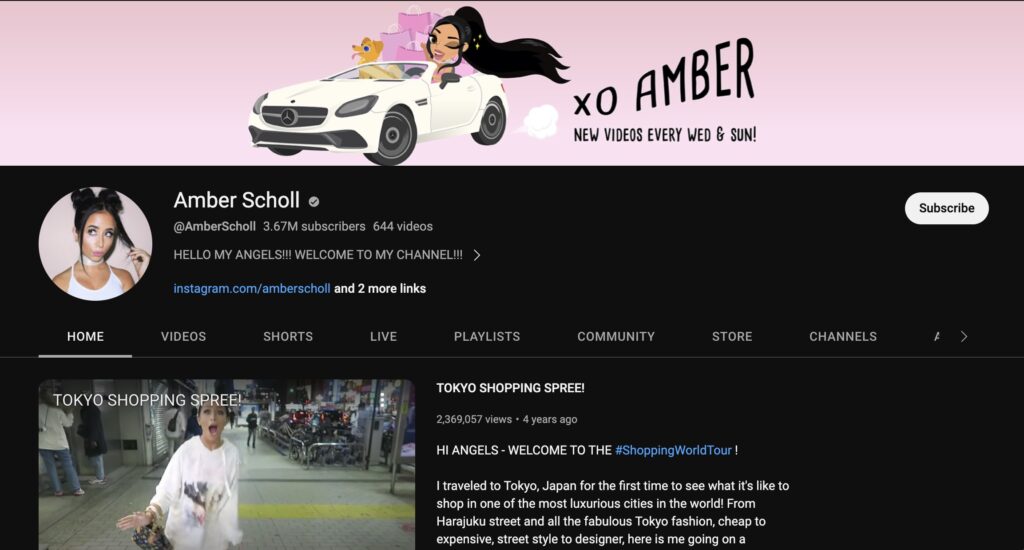 With the new built-in Gutenberg blocks inside WordPress, you can easily add your YouTube videos directly to any post or page by simply pasting a link and seeing the embed magic happen. Video content on your blog gives you flexibility in what you can show your visitors and you can break up lengthy texts with your video content.
Trying to decide whether to start a fashion blog or a fashion YouTube channel? Check out my guide on blogging vs YouTube channels.
Network and Connect With Other Fashion Influencers
Most bloggers struggle to find success without networking. All bloggers need to connect with other people in their industry through guest blogging, collaborations, interviews, and so on—but this is especially crucial for fashion bloggers.
The fashion community is much easier to break into when you're connecting with influencers and bloggers who are already well-known.
Here are several ways to network in the fashion industry.
Connect on Social Media
One of the easiest ways to network is through social media. It's not difficult to find people in the fashion industry on social media. Follow their accounts, like pictures, leave comments, share their posts, and give them genuine engagement.
You don't just have to choose the top people in the industry, either. In fact, if you're able to connect with people who have a few thousand followers, you may have a better chance of gaining their attention.
Facebook Groups
Another way you can use social media is through Facebook groups. Facebook groups are becoming more and more essential to a social media strategy.
It's hard to get much exposure for your business page on Facebook unless you're willing to pay for ads. Groups on Facebook can be a much more effective way to connect with your audience.
If you want to include Facebook in your marketing strategy, you can join other Facebook groups in your industry, or you can start your own. You can also join blogging-related groups that allow you to promote your blog.
Choose Your Favorite Social Media Platforms
If you do use social media for marketing, I suggest you choose one or two platforms that you give your attention to.
Social media marketing can be very time-consuming, especially if you are taking time to genuinely engage with your followers and other brands and users. You don't want to spend so much time on social media that you sacrifice creating great content for your blog.
Engage with Other Fashion Bloggers
Similar to using social media, you can also reach out directly to other fashion bloggers. If there are fashion blogs you love, take the time to comment on their posts and leave a link to your blog.
Send them an email or DM if you can. Ask them if they have advice for you about fashion blogging or if they would like to do a collaboration with you. They may be willing to let you do a guest post or they may give you a few quotes to boost the authority of your own post. If you do quote them, there's a good chance they'll share your blog post with their audience—bringing you a lot of new, engaged readers.
Go to Fashion Events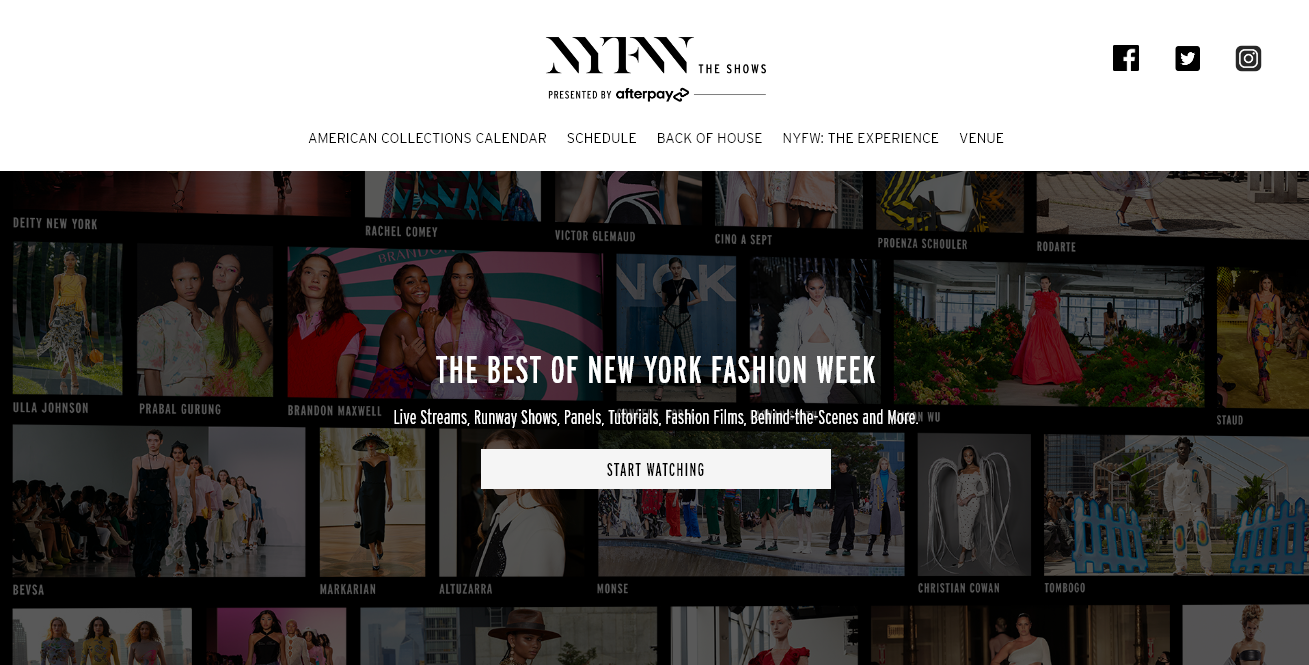 As important as it is to establish relationships with other people in fashion online, it's also important to reach out to them in person. Whenever New York Fashion Week is in progress, there's a flurry of online activity in response.
NYFW gains a ton of interest and it would be a big boost to your blog to attend it—or a similar event. It gives your blog authority and it gives you a chance to reach out to other fashion enthusiasts.
Even if you're not able to attend this specific event, search for local or nearby fashion shows. When you're present at fashion events you're opening yourself up to meet influencers, fellow bloggers, fashion designers, fashion brands, and more.
Reach Out to Brands You Love
As you design your blog and create beautiful blog posts, you may find that you have a limited wardrobe to create stunning photos. Reaching out to brands you love could get you some freebies.
This works best once you've already established a following. If your blog is brand new or you only have a small following, you could potentially ask brands or retailers to loan you clothing or accessories for a photo shoot.
Step 7. Monetize Your Fashion Blog
The fashion world is extremely competitive… and fashion blogging is no exception.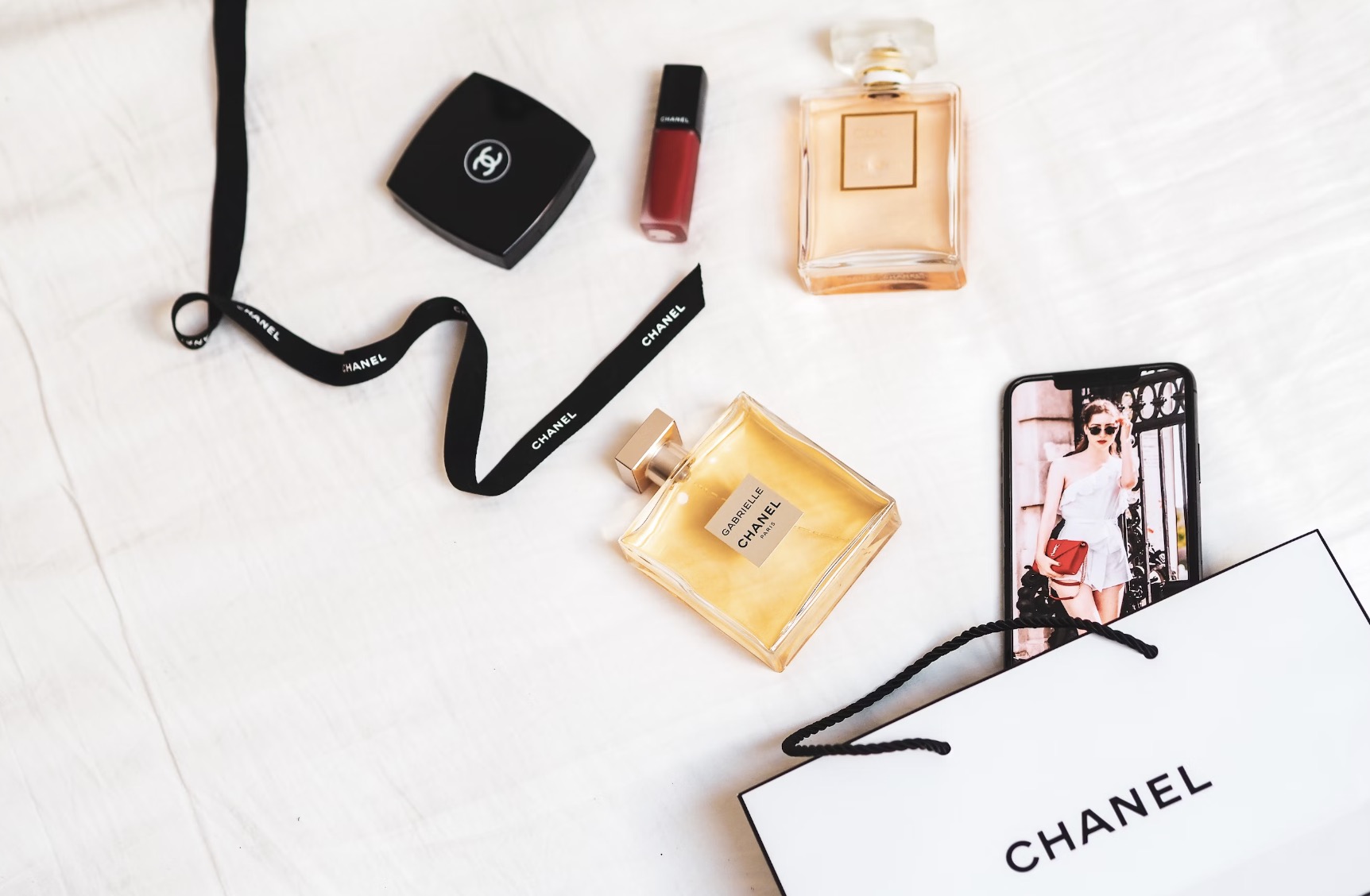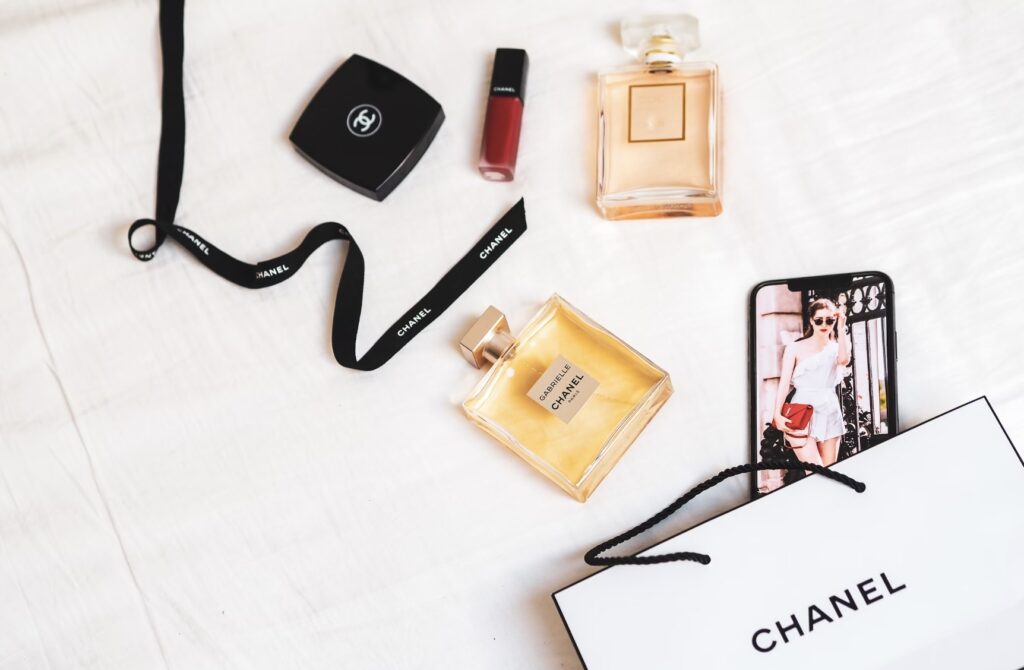 It is not easy to make money as a fashion blogger and not everyone manages to be successful. Don't go into fashion blogging (or any blogging niche!) just because you think it'll be profitable: you want to pick a blogging niche that you're truly passionate about. That way, you're more likely to stick with it even when little or no money is coming in.
Of course, it's perfectly possible to make money blogging. Here are a few monetization techniques that work particularly well for fashion blogs.
Blog Advertisements
Selling ads is one way that bloggers earn money. It's quick, easy, and doesn't involve very much work for you. The ad appears in a designated space on your blog and you get paid when people click on it.
Apart from connecting with advertisers, this is completely passive income. It's easy to do, and you don't have to do anything once the ad is up and running. You don't have to create a blog post or do a photo shoot—you just host the advertising on your page.
The downside? If you're using an ad network such as Google Adsense, you might find that ads appear that aren't a good fit for your brand or values. Advertising also doesn't tend to bring in much money unless you have a lot of traffic to your blog.
Sponsored Content
When you're a brand new blogger, free merch can feel like you've hit the jackpot. It'd be thrilling to receive free products from your favorite brands.
As your blog grows in popularity, however, you should expect brands to start paying you for promotional content—not just offering you freebies. Your readers come to you for trusted advice and that means potential sales for the brands you support.
Only promote brands and products that you actually like and trust, or you could risk fracturing the trust you've built with your audience.
Affiliate Marketing
Affiliate marketing is similar to sponsored content with some key differences. In either case, you're promoting a brand through your content.
Brand sponsorships may mean that you wear their clothing line in a collection of photos on Instagram, or you could create a blog post promoting their new fall accessories. With brand sponsorships, you will likely be paid a one-time dollar amount for the content you produce. If they feel the sponsorship was successful, they may well want to collaborate again
With affiliate marketing, you will also create content that promotes another business, but you will likely be paid per click or per purchase. You won't receive a lump sum for the work that you do. This can be beneficial if your promotional material is strong because you could create long-term passive income. However, if it doesn't convert to sales or if your commission rate is very low, you may not make a lot.
You don't normally need permission to be an affiliate: many brands and companies let you simply sign up for affiliate programs, get their special affiliate links, and start earning. You can also sign up as an Amazon affiliate to promote almost anything that Amazon sells.
Launching Your Own Brand (and Other Brand Collaborations)
For bloggers who have an eye for design as well as a strong sense of fashion, your goal may be to sell your own clothing or accessory line. Your blog can be a perfect launch point for that, but probably not before you have a significant readership that can support your business.
Tip: Set up an email list and encourage people to join. Once you have a thousand or more subscribers enjoying your quality content, you'll find it easier to sell your own fashion items.
If you're becoming very successful as a fashion blogger, you may also find that a brand or stylist wants to collaborate with you. Selling your own products or brand collaborations can be extremely lucrative if done correctly.
Bonus: 6 Inspirational Fashion Blog Examples to Follow
You're almost ready to start your fashion blog, but first, here are a few inspirational fashion bloggers to follow.
They're all successful, but they don't all approach fashion in the same way. Learn from their stories and imagine how your blog will add to this rich community of fashion bloggers.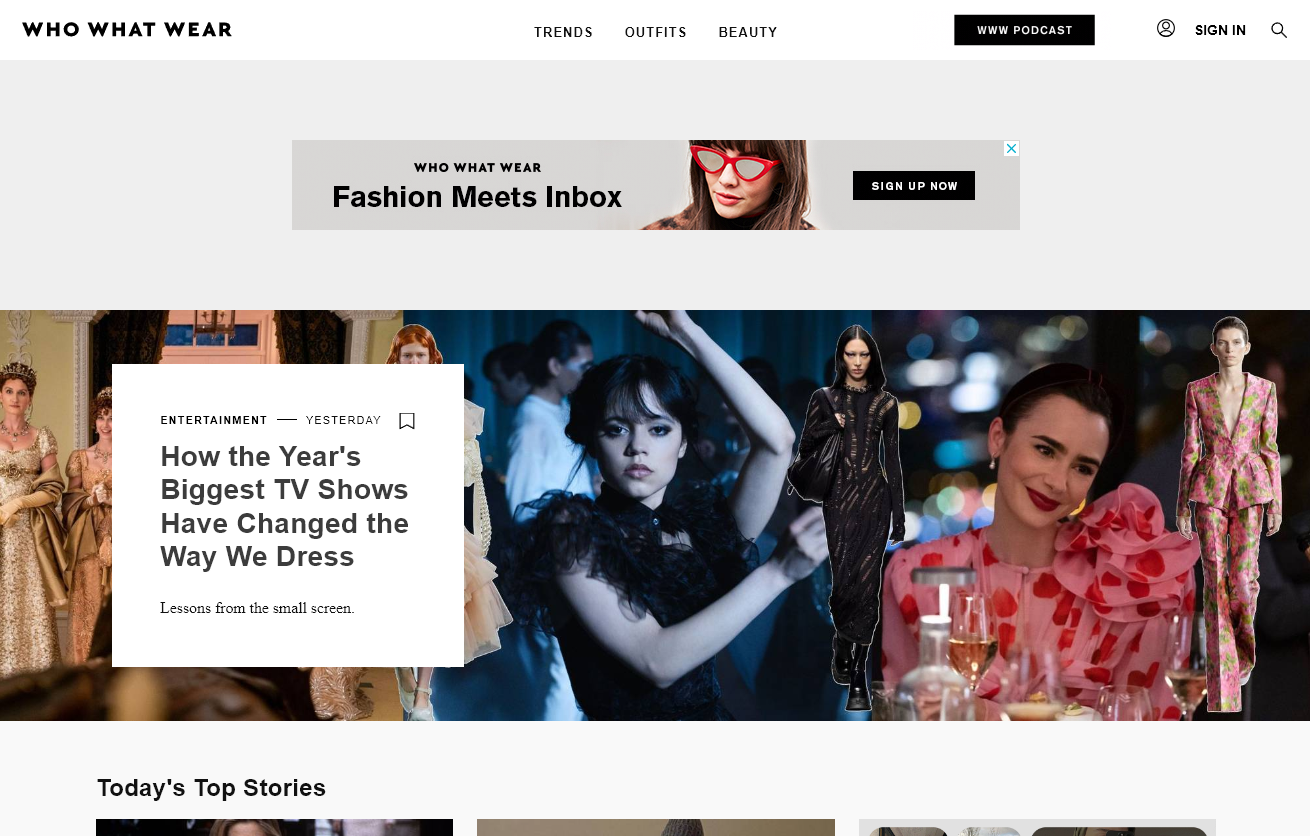 Who What Wear is a very successful fashion blog that started in 2006. It originally began as a daily celebrity e-newsletter managed by former Elle editors Hillary Kerr and Katherine Power.
Today, it isn't just about celebrities—the blog covers all things fashion including trend reports, shopping secrets, and fashion tips.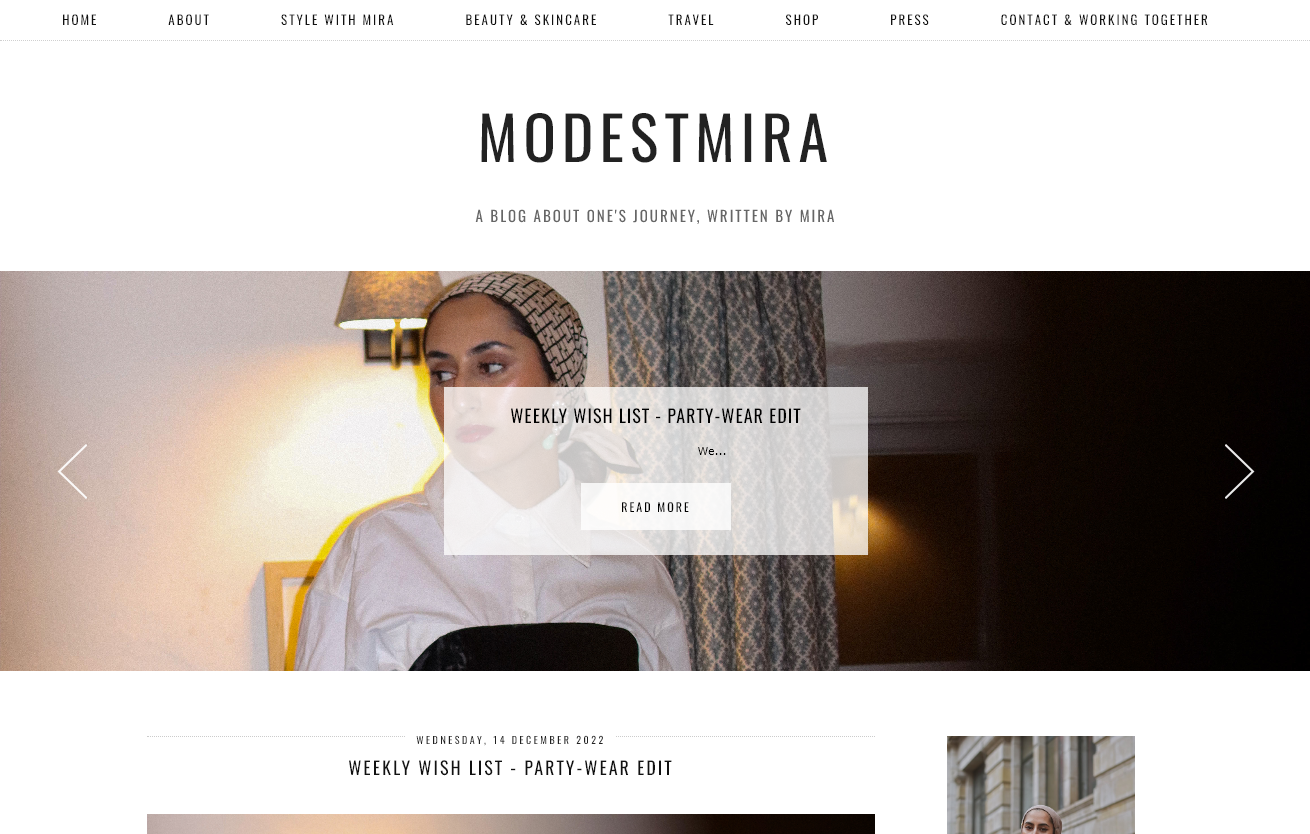 Modest Mira is a fashion blog that proves that you can be both modest and fashionable. UK blogger Amira decided to start her blog in 2015 to share her sense of style. She wanted to create a place that included modest fashion pieces to inspire young women.
Modest Mira is monetized through affiliate links and through partnerships with fashion brands.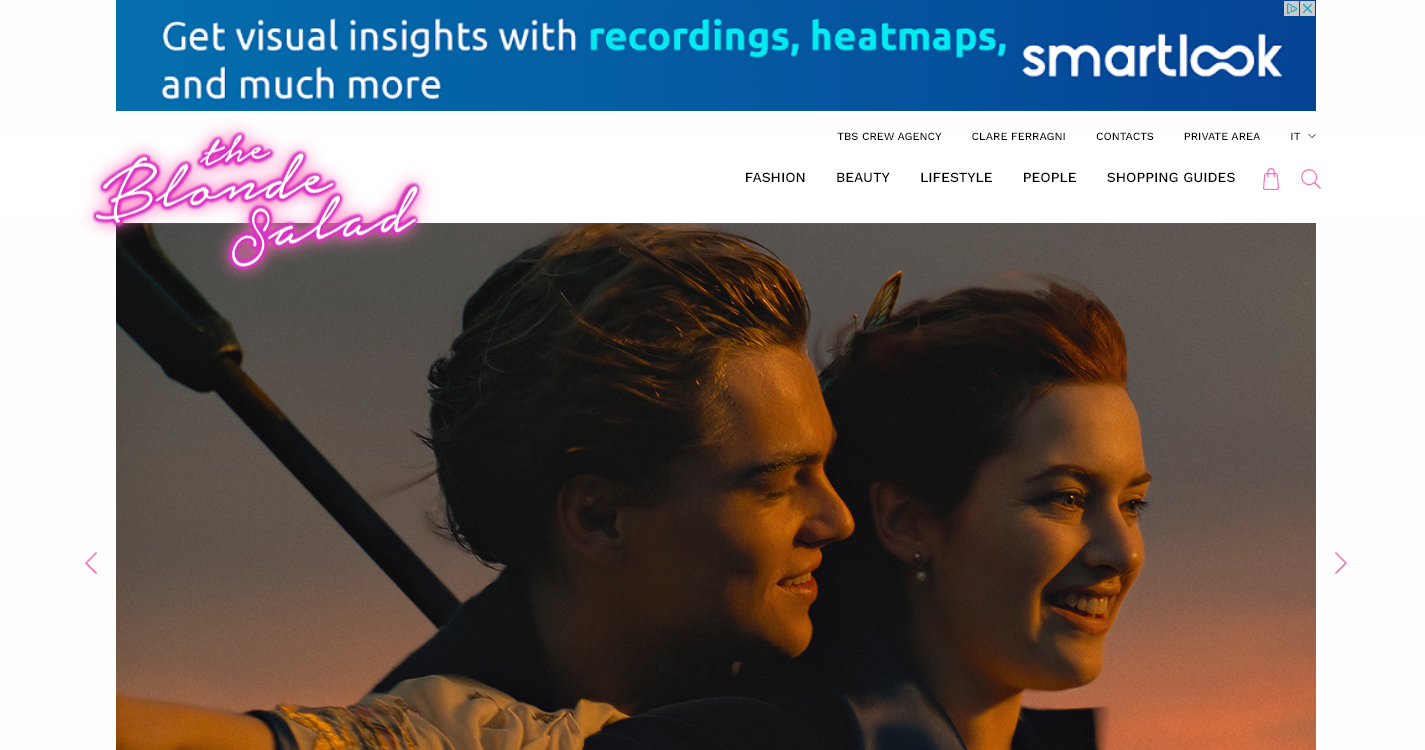 The Blonde Salad launched as a fashion blog in 2009. Creator Chiara Ferragni has a massive social media following of over 28 million (on Instagram) and is one of the world's top fashion bloggers.
Chiara Ferragani is Italian, but she has traveled the world. She originally studied law but chose to follow fashion instead of law and did not finish her degree. In 2015, she launched her own shoe line. The same year she was listed on Forbes' 30 under 30 and in 2017, she was named on Forbes "Top Fashion Influencers" list.
It has been estimated that her net worth is at least $12 million. A lot of her income is from her shoe line, but she also makes money from brand sponsors.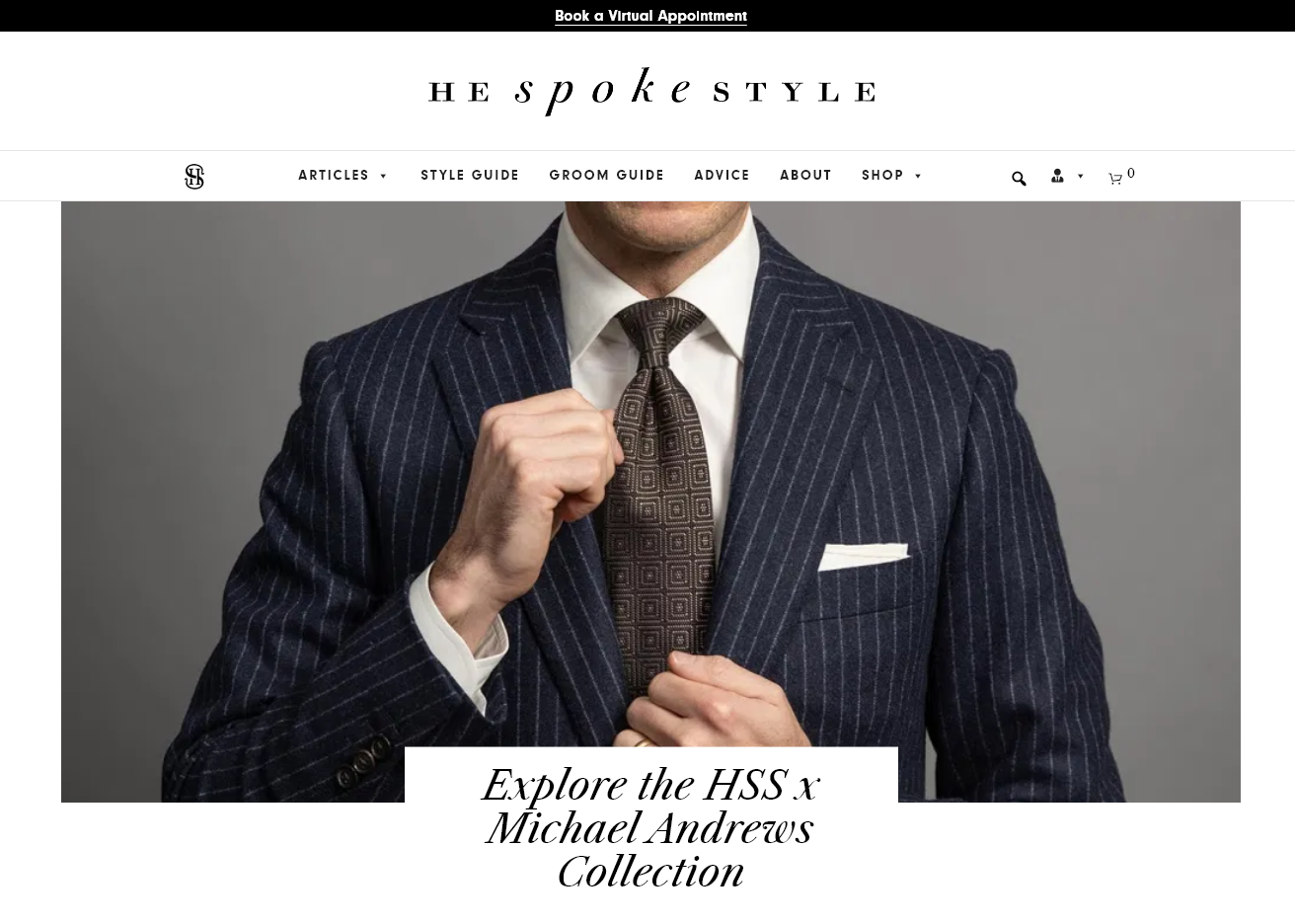 Naturally, fashion is not exclusive to women. There's a thriving market for men's fashion with many successful male bloggers like Brian Sacawa, creator of He Spoke Style.
He Spoke Style covers a range of topics including tips for buying your first tux, the definitive list of loafer styles, and skincare routines for men.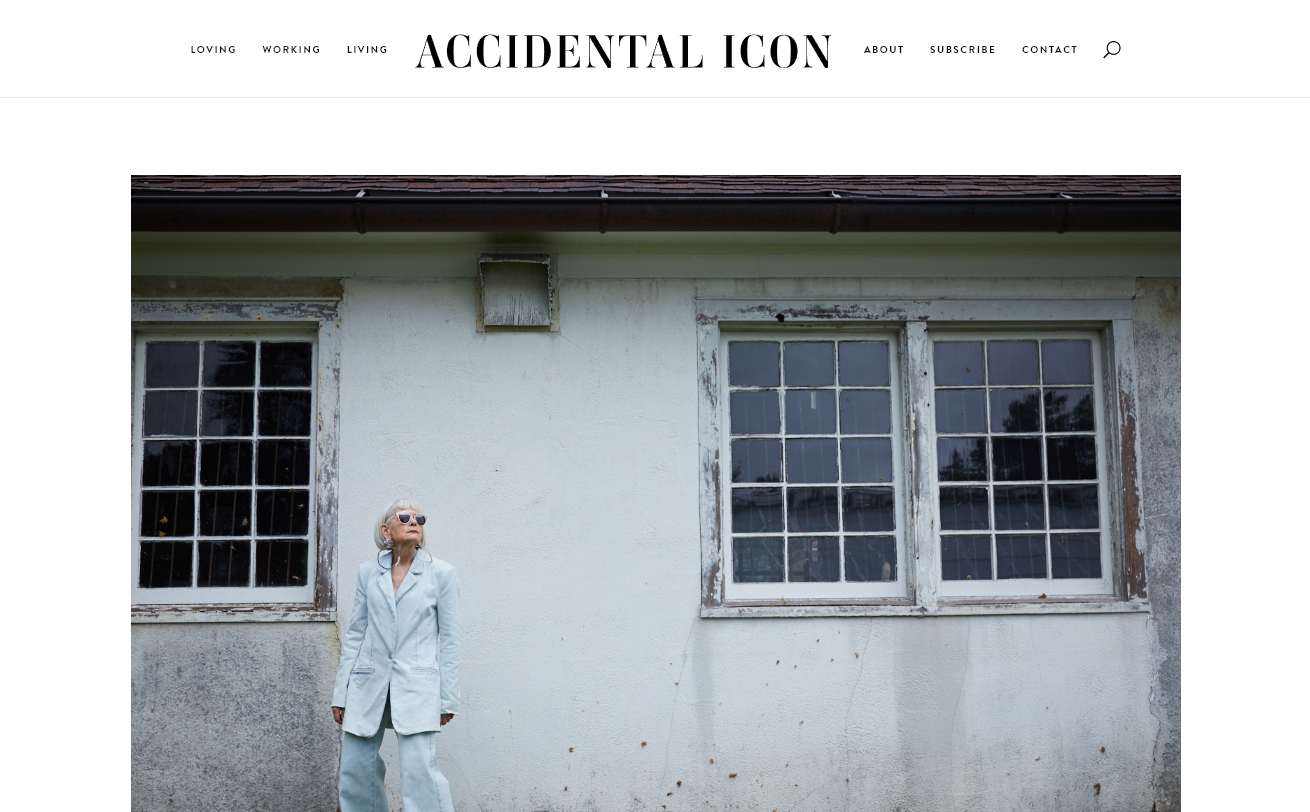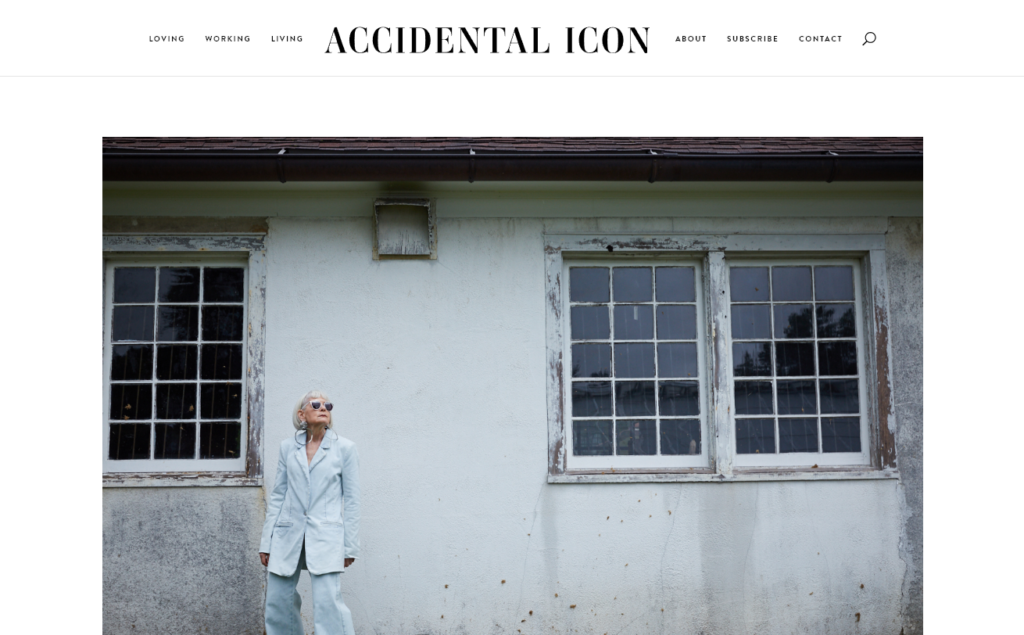 Lyn Slater, the creator of Accidental Icon, set out to create a blog that engaged "thoughtful women" of all ages. Her blog features her travels, style, and musings—all with a twist of academia, rather than seeking to emulate the "trendy" style of many fashion blogs.
Posts have titles like "Shedding" and "Cloistered" and are written in a thoughtful, literary way; in one, she refers to her readers as "my tribe of wise women".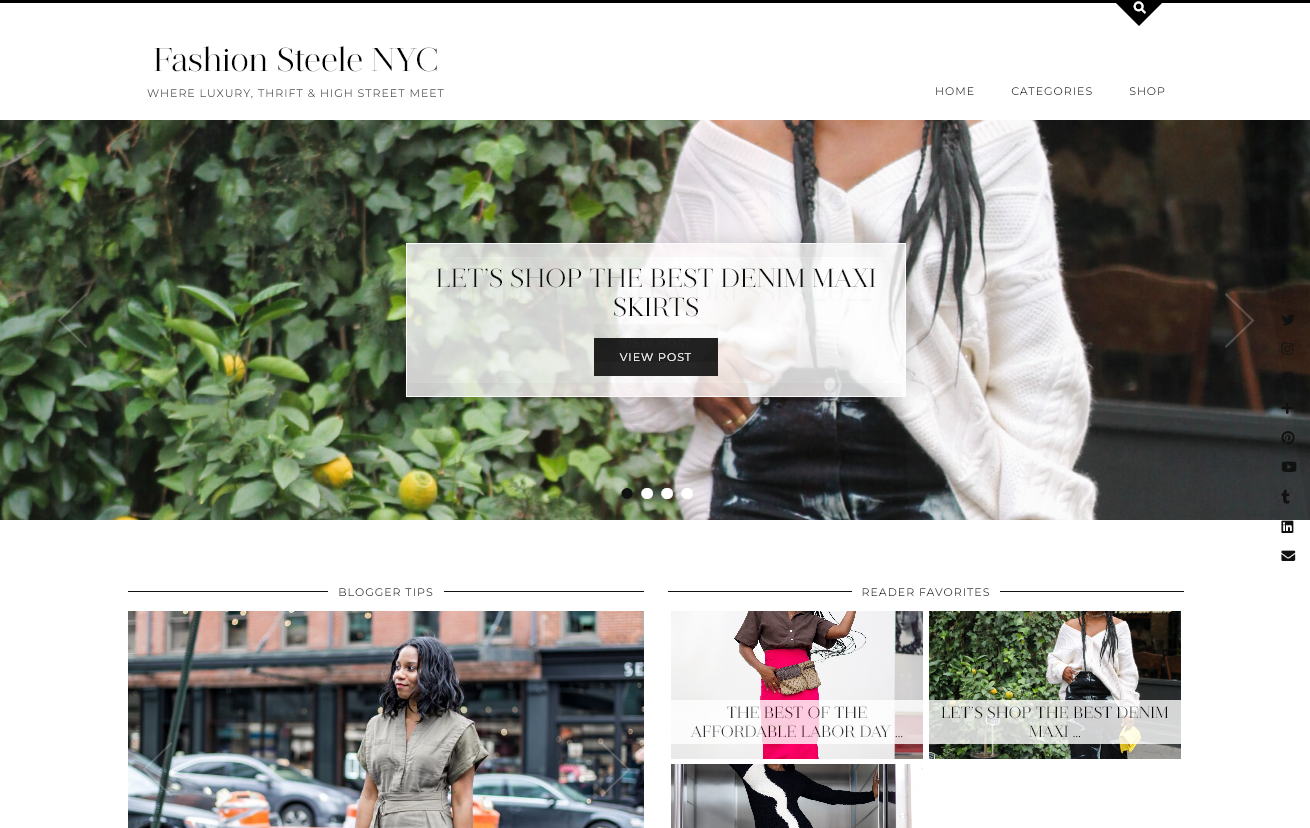 Fashion Steele NYC was created by Monroe Steele back in 2010. She was a recent graduate from New York University with a doctorate in physical therapy and her blog first began with her showcasing her latest thrift finds but over time she began covering fashion events.

With an emphasis on affordability, her blog also includes fashion outfits, travel, beauty, collaborations, fashion week, and more.
Monroe also shares blogging and entrepreneurship advice, with tips on YouTube, Instagram, and more.
Are You Ready to Start a Fashion Blog?
Once you've taken some time to think about your strategies, image, and branding, it's your moment to get started.
Come up with a name for your blog and make sure that it's available as a domain (URL). Then, begin putting together wardrobe collections that you think would look amazing on your blog.
Follow my step-by-step guide on starting a blog to get your fashion blog online… and you'll be able to share your incredible style and fashion sense with the world. Whether you just want to make some money on the side or you're looking for a full-time career in fashion blogging, who knows where your blog could take you?
Want My Free Blog Business Plan Template?
Grab my free blog business plan template in both Google Doc and PDF format (that's helped me build a six-figure blog) and reach 500,000+ monthly readers today.
"*" indicates required fields
---