If you've done any reading about blog SEO, you've no doubt heard "backlinks" mentioned. I'm guessing you're here to learn why high quality backlinks matter, and exactly how to get them for your blog. If so, you're in luck, my friend. In this guide, we'll be covering all the ways I've learned how to get backlinks.
Backlinks are links back to your blog from other websites. Shocker, I know you probably figured that one out already. Here's how backlinks work—if a fellow blogger writes an article, mentions me, and links back to RyRob.com, then that link is a backlink. Since starting my blog, I've gotten just shy of 100,000 backlinks from the blog marketing strategies I've employed:


What some new bloggers struggle to grasp is why backlinks help your blog's SEO—and, in particular, why some backlinks will boost your SEO a lot more than others.
We're going to take a quick look at what exactly backlinks are, what makes for a high quality backlink, and why you need to be wary of low quality backlinks. Then, we'll dig into lots of practical and straightforward ways to earn high quality backlinks for your website.
How to Get High Quality Backlinks for Your Website (12 Strategies)
Disclosure: Please note that some of the links below are affiliate links and at no additional cost to you, I'll earn a commission. Know that I only recommend products and services I've personally used and stand behind. When you use one of my affiliate links, the company compensates me, which helps me run this blog and keep my in-depth content free of charge for readers (like you).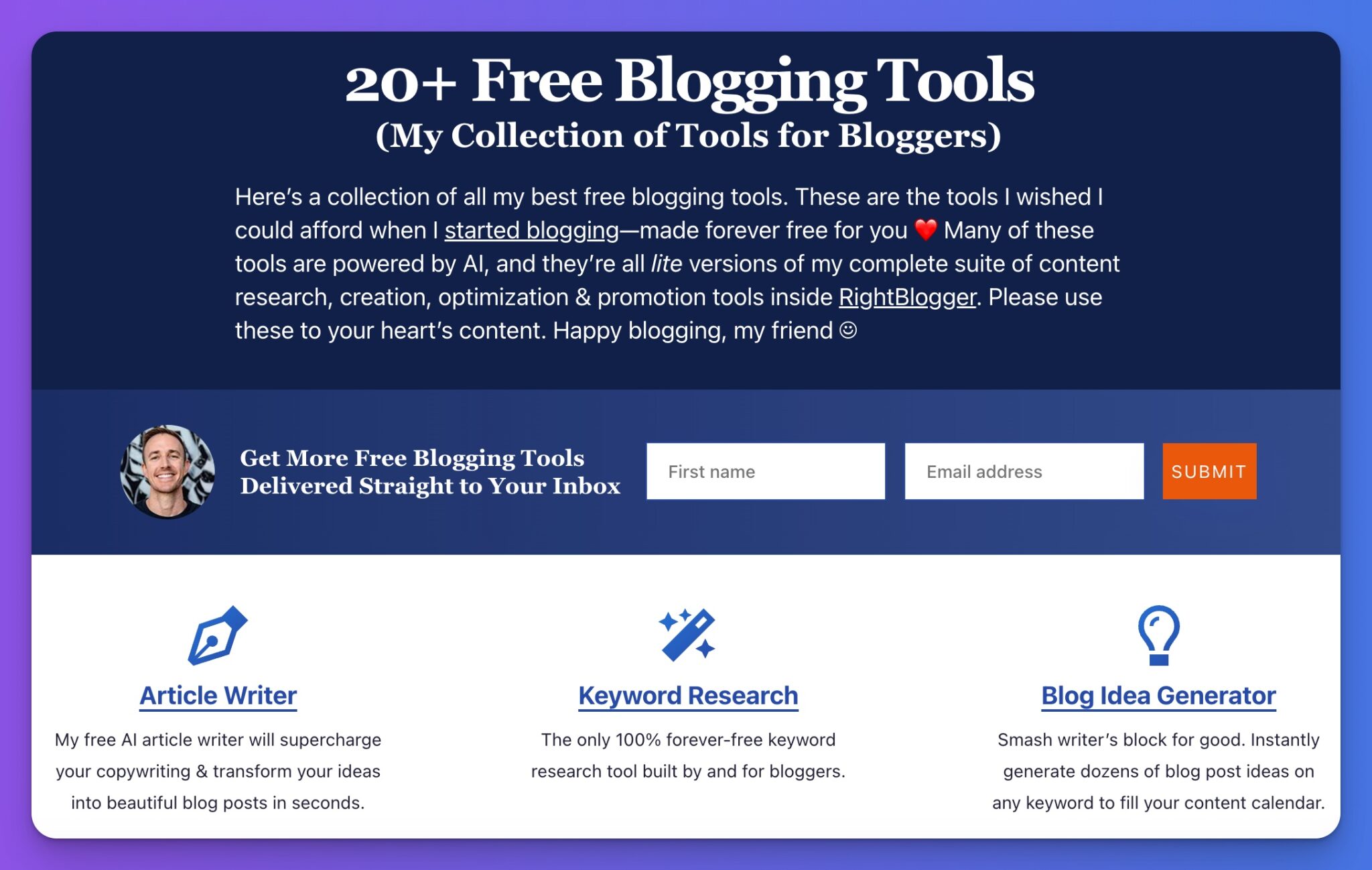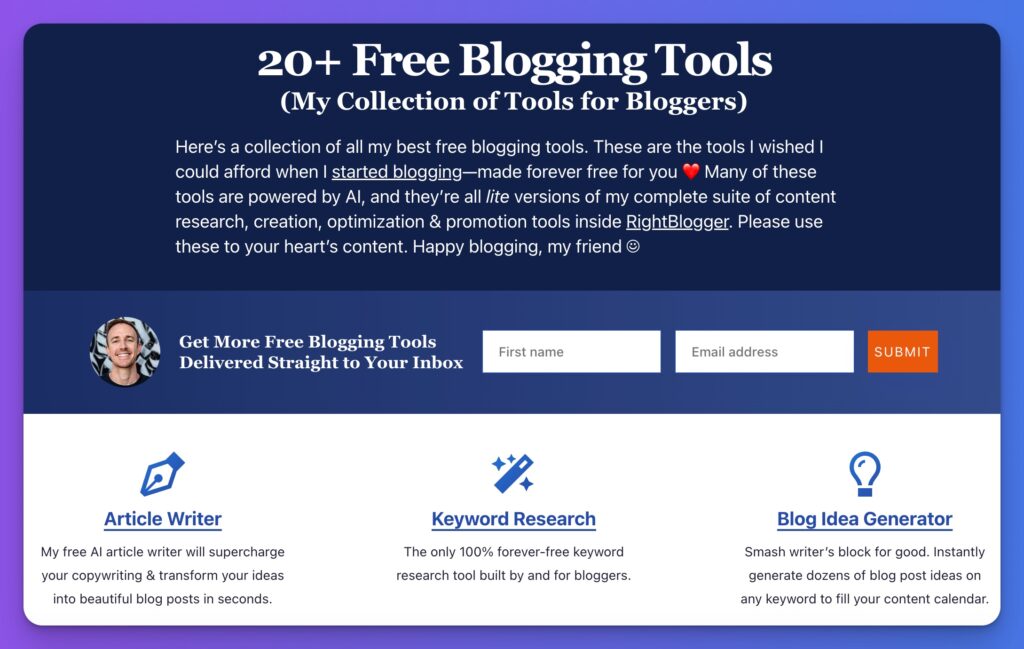 When I first started blogging, I couldn't afford fancy tools. That sucked. And that's why I've built a stable of powerful free blogging tools ranking from keyword research to an AI article writer, blog idea generator and more. Free for all to use—no strings attached.
---
What Are Backlinks and How Do They Help Your SEO?
Let's start by covering all of the basics before we dive too deep into how to get backlinks.
What is a Backlink?
Backlinks are any links to your website from other website. Here's an example of 2 backlinks to RyRob.com, from my podcast interview by Jon Penland at Kinsta.com.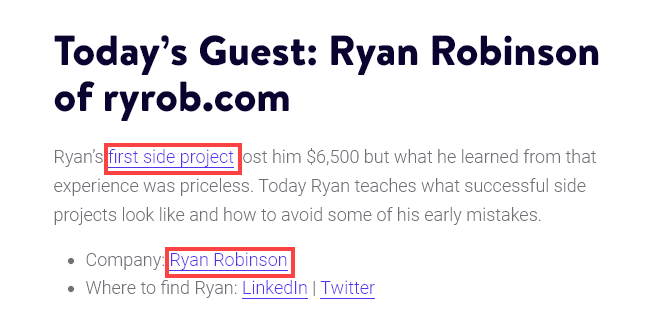 The first of those links goes to a specific page on my site (the iStash story) with the anchor text "first side project". The second backlink is to my homepage, with the anchor text "Ryan Robinson". Both types of backlink are useful for improving your SEO (search engine optimization).
What is an External Link?
When you link to someone else, that's called a backlink for their site and an external link for your site. Many bloggers choose to have their external links open in a new tab so that readers don't lose their place on the original site.
An internal link is one from one page on your site to another. Although it won't have the same power as a backlink from another site, it can still help your SEO.
Why Do Backlinks Improve Your SEO?
Google (and other search engines) can "crawl" the web by following links. Each link to your site from another site is like a vote for your site, telling Google that your site is interesting or useful. This means it's going to get higher priority in the Google rankings.
Imagine two different websites. One has just 5 backlinks from other sites. The other has 500 backlinks.
You can see why Google would prioritize the site with 500 backlinks in search results. It's much more likely to be well-established and reputable. So backlinks are one of Google's key ranking factors.
Now, this might bring up an obvious problem: what if someone unscrupulous started a scammy website, got their friends to add links to it from their scammy websites, gaming the system to bring in lots of organic traffic that they don't deserve?
Luckily, Google is smart enough to recognize this problem! And that leads us on to…
What is a High Quality Backlink vs Low Quality Backlink?
Let's say your website has a number of backlinks from different sites. You might think that each is a single vote—but actually, Google's algorithm weights the backlinks differently depending on where they come from.
If you have a backlink from an authoritative website, like a government site, national newspaper, or major publication like Forbes or Time, then that's going to count for a lot.
If you have a backlink from your friend's blog that they started last week, that's not going to count for much.
And if you have a backlink from a site that Google knows is full of dodgy scammers… then that's definitely not going to count in your favor. In fact, it's almost definitely going to hurt your site in the long run.
Google has a special system called "domain authority" where it rates domains out of 100 on how authoritative they are. Moz has a free tool that lets you check any site's domain authority here.
When you're focused on getting backlinks, you want to build high quality backlinks.
That includes:
Links from websites with high authority—ideally, a domain authority of 50 or above.
Links from well-established websites that are relevant to your website (e.g. from other blogs in your niche).
Links from official websites, like .gov or .edu domains—though these can be hard to get.
Can Low Quality Backlinks Damage Your Website?
Yes, absolutely. Low quality backlinks come from spammy and irrelevant websites or forums. Alternatively, they might be from sites that you've paid to link to you—like link mills or link schemes. Google is not excited about either of these, as you might imagine.
If you do pay for an ad on a website, with a link back to your site, that link should be marked "no-follow" in the HTML code so that Google knows not to count it. Only natural, unpaid links should be dofollow.
If Google thinks that you've been doing something shady and building unnatural links, your site can be penalized with a "manual action". That means you won't rank as well in search engine results pages (SERPs) as you should.
Don't worry if this has happened to you—Google lets you disavow those links using Google Search Console.
Link Building: 12 Ways to Get High Quality Backlinks for Your Website
We're going to run through lots of great ways to earn high quality backlinks that will boost your SEO. But don't get too carried away with crafting your link building strategy, you might need to do a little preparation first.
What's most important to remember, is that it's your responsibility to give other bloggers, websites & publications a good reason to give you a backlink in the first place. What can you create that's worthy of a high quality backlink?
First, Make Sure Your Website is in Good Shape
If you launched your blog fairly recently, there might be a few tasks you haven't quite got around to yet, such as:
Your Home page has a big "Coming Soon" banner and not much actual content.
Your About page has a bunch of placeholder text.
Your Contact page is non-existent.
You haven't yet set up an email list.
And if your blog has been around for a while, you might have some issues like:
Broken WordPress plugins that aren't working properly.
A cluttered-looking sidebar that needs tidying up.
Outdated information on your About page.
Your recent posts all seem to start with "Sorry I haven't been blogging much recently…"
Now, none of these are a big deal when you're just starting out—but if you're going to reach out to fellow bloggers and try to earn lots of links, you want your site to be in good shape.
Before doing lots of outreach or digital marketing in general, take an hour or two to spruce up your website. Make sure your key pages (like your About page and Contact page) look good and have accurate information. If your recent blog posts aren't very impressive, publish some new ones—or update and republish an older post to bring it back to the top of your blog.
A little bit of time invested now could make all the difference when a busy influencer in your niche only has a few seconds to glance at your website or webpage and to decide whether it's a "yes" or "no" to your link request.
Happy with how your site looks? Then it's time to get started on building those backlinks with these top 12 link building techniques.
1. Create the Type of Content that People Will Want to Link to
The foundation of your backlink strategy needs to be link-worthy content. There's no one "right" way to create this type of high quality content, but some ideas to consider are:
Ultimate guides—long, in-depth blog posts like my guide to starting a blog that go into lots of detail about a topic, aiming to be a complete resource.
Unique information—survey results or studies often get linked to, like my blogging statistics, especially if they reveal something new or unexpected about your niche.
Posts that give a strong opinion or a different way of thinking about something in your niche.
Expert roundups like my blogging advice and business advice lists, where you ask the same question of a bunch of people in your niche and publish the results. The people included may well link back to your post.
Posts that tell your story, especially if it's an interesting one or involves triumphing over adversity, like my iStash story.
Content that fills a gap in your niche—perhaps there's a topic that beginners often ask about, but no one in your niche has written anything at length about it, like my in-depth guide on how to use WordPress for beginners.
In an ideal world, your great content would naturally attract links from other bloggers who want to talk about it… but usually, you'll need to use this technique along with some of the other ideas on this list to gain backlinks.
2. Find Out Which Websites Have Linked to You in the Past
If you've been blogging for a little while, there's a good chance that you have some backlinks already. You can discover what these are by using Google Search Console (it's free).
Once you've logged into your Google Search Console account, click on the "Links" option in the left-hand sidebar. You'll then see a section called "Top linking sites":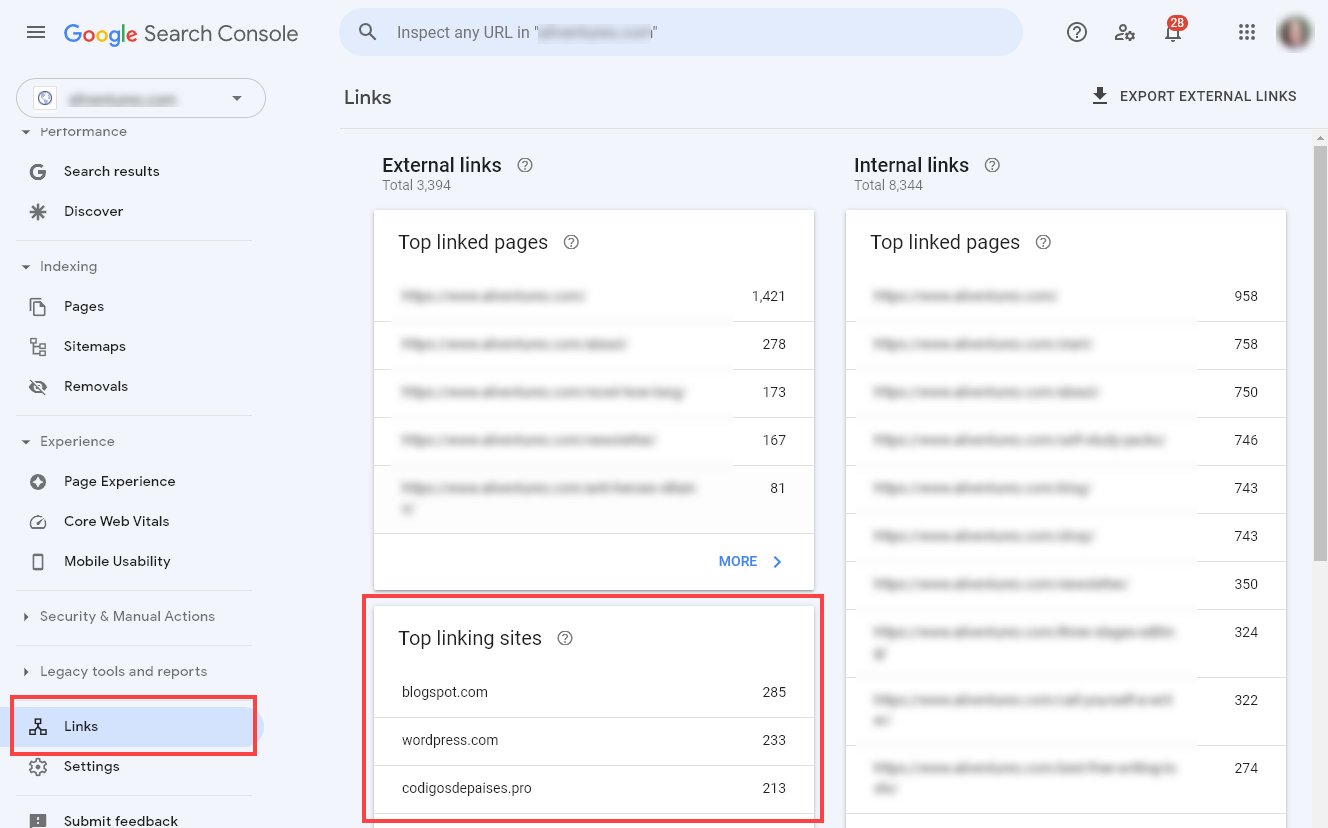 Sites that have linked to you in the past may well link to you again. Perhaps you could pitch them a guest post or see if they have some existing content where it'd make good sense for them to link to something you've written on your blog.
3. Use HARO, Featured & Help a B2B Writer to Connect With Journalists
Links from big, reputable newspapers and magazine websites are very valuable… and the good news is that there's a simple way to get these.
There are several fantastic websites that run email lists (or have built-in platforms) where "sources" can sign up to be connected with journalists and bloggers writing for a wide range of publications. Here are my 3 favorite websites to use for this kind of link building:
As a source, you can sign up for several different broad topic areas, as well as master lists on just about all of these journalist query sites. For instance, if your blog is full of parenting and home tips, you might sign up for the "General" and "Lifestyle and Fitness" areas.
Here's a typical HARO query, for example: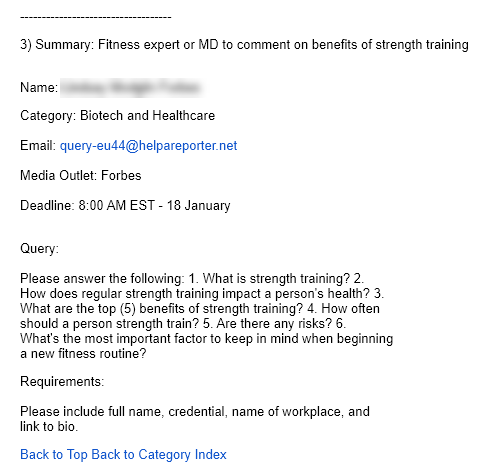 If your response gets chosen for an article, then you'll normally receive a link back to your website.
4. Check Out Where Your Competitors' Backlinks Come From
Another great way to find potential backlinks is to see who's linking to your competitors: other bloggers with similar content to yours.
If a publication links to one of your competitors, they might well be happy to link to you too. In fact, if you have a better resource than your competitor on a particular topic, then that publication might link to your resource instead of theirs.
There are a number of tools you can use to find your competitors' backlinks: a good one to get started with is RightBlogger's Backlink Checker. It gives you 1 free weekly use with a free account, but it'll shows far more backlinks (hundreds) than many other tools' free versions.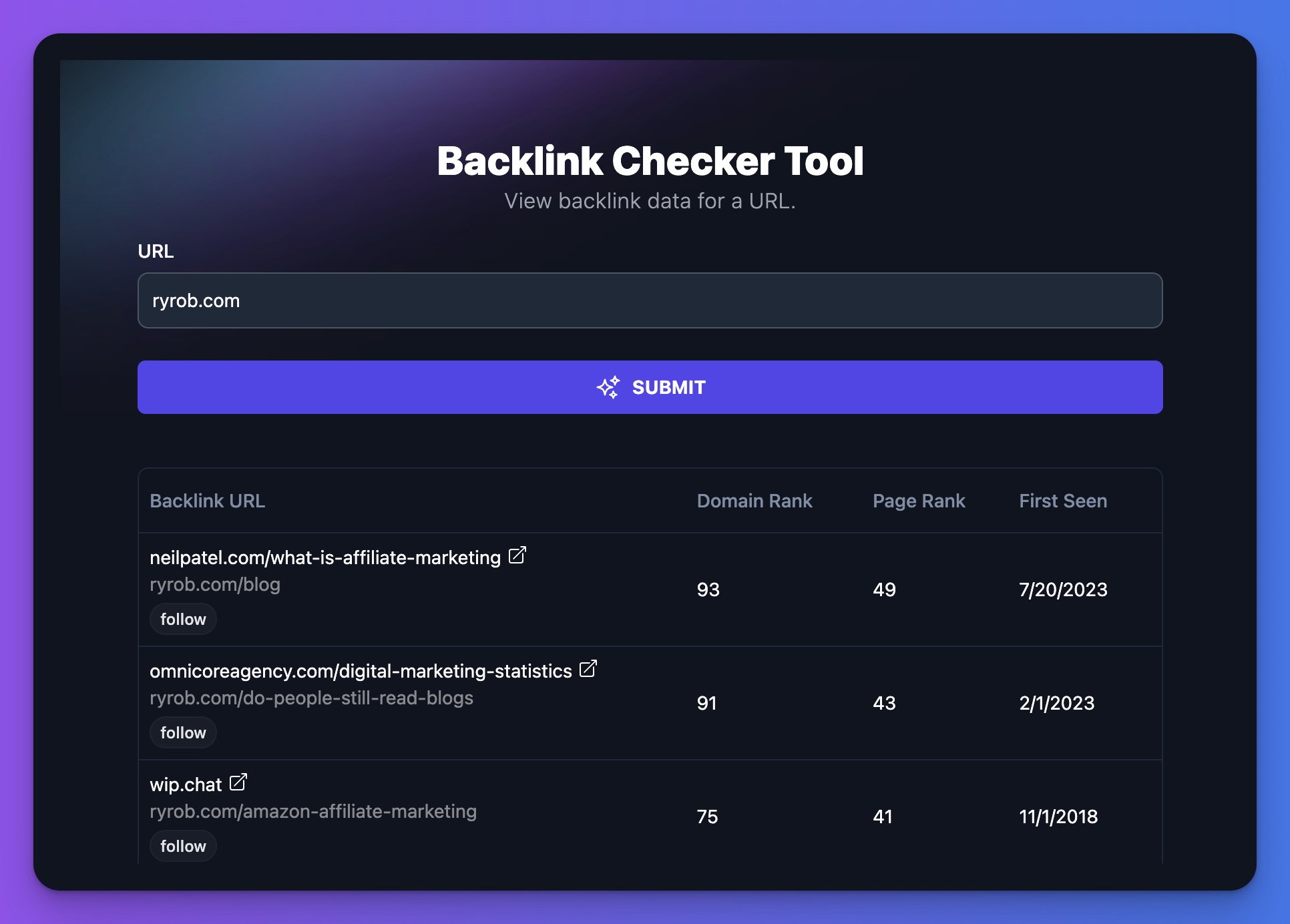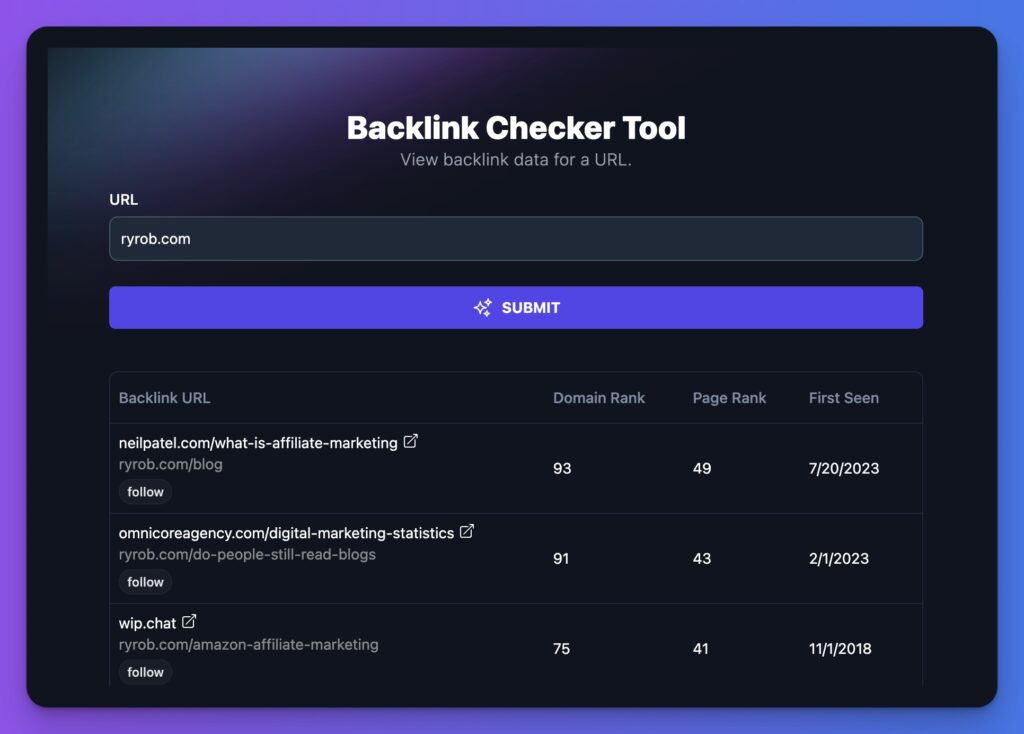 You'll get some general information about your competitor's domain and backlink profile (domain rank, page rank, and when the link was first seen) at the top—here's how that looks for RyRob.com:
If you scroll down, you can see lots of backlinks. By default, these are sorted with the highest authority domains at the top.
You might want to sort this so that lower authority domains are at the top (just click on the arrows next to that column), as these sites are likely to be a little easier to get links from.
5. Request Links Where You've Been Quoted or Mentioned
Let's say you published a thought-provoking post that got talked about on social media—a lot. Another blogger in your niche publishes their own post, building on your ideas, and mentions you by name, perhaps even quoting from your post: "Joe Blogger made some great points last week about…"
You can simply reach out to the blogger, say how much you appreciate their post, and ask if they would add a link to your original post. Most bloggers will be more than happy to oblige.
To keep track of where you're being mentioned online and spot those unlinked mentions, I highly recommend using Google Alerts. I've got a whole guide to setting up Google Alerts (and using it effectively) to help you with that.
Tip: Even if you're not getting mentioned much (or at all) by other bloggers yet, it's definitely worth setting up Google Alerts for your name, your blog's name, and specific brand mentions now. That way, you'll be ready when people do start talking about you.
6. Write Guest Blog Posts and Include Links to Your Content
One of the simplest ways to get a link from another website is to write a guest blog post for them.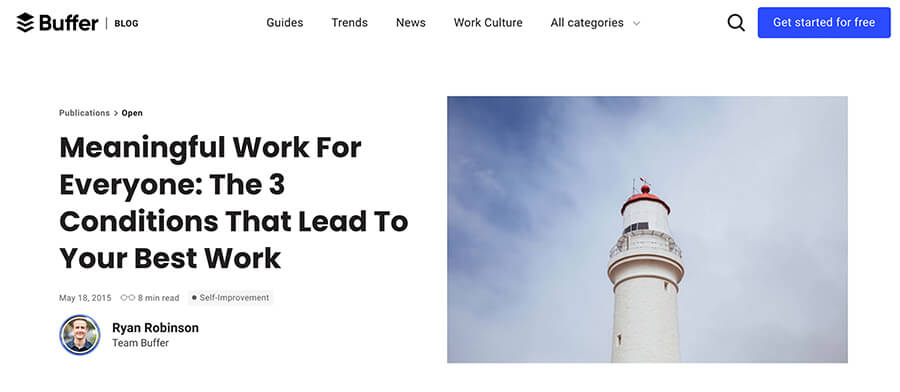 In return for the piece of unique content you've created for their site, the site owner should give you a short "bio" (usually at the end of your post). You can use this to tell readers a bit about you and, crucially, to link back to your blog.
That link isn't just important for SEO—it's also a way to get direct referral traffic from the post, making it a powerful type of content marketing. Readers who enjoy your guest piece may well click through to read more from you. To maximize the chances of them doing so, you may want to link to a specific piece of content on your blog—perhaps an ultimate guide or a useful tool.
You can also link to your social media profiles, e.g. your LinkedIn profile or Facebook page, from your guest post if you want to.
In most cases, you can also include links in the body of your guest post, so long as they're highly relevant. For instance, if you've written a guest post all about "Top 10 Ways to Improve Your Fitness as a New Parent" and there's a method that you've covered in detail in a step-by-step guide on your own blog, link to that from the relevant section of your guest post.
7. Pitch Your Content as a Replacement for Outdated/Broken Links
Have you ever been in the middle of reading a blog post, clicked on a link to get a useful definition or more information about something—only to get a 404 error?
Blogs come and go, and sometimes, a website owner may have linked to a resource that no longer exists online.
When you're browsing through older posts on your favorite blogs, look out for broken links that relate to your niche—and pitch your own suitable content as a replacement. You could write an email along these lines:
Hey (name of blogger),
I wanted to give you a heads up that a link to [resource] in your post [title/link] is broken. Looks like that site no longer exists, or something funny is goin on there.
Here's the shocker—I have my own [resource/page/guide/etc] on this topic, and I wondered if you'd be up for linking to that instead? Here's the [hyperlinked URL] if you're interested in checking it out.
Thanks,
[your name]
(You can do something similar if you spot links to outdated content: perhaps you've produced something much more up-to-date and comprehensive.)
Ahrefs also has a great and in-depth guide to broken link building using automated tools, too.
8. Write Testimonials for Products/Services You've Used
One really easy way to get a link is to write a testimonial about a product or service that you've used and loved. Most companies will be happy to link back to your website from your testimonial—as this helps prove to their customers that you're a real person.
Here's an easy template you can use to write a great testimonial:
Talk about your problem or goal. (E.g. "I was determined to get fit in 2023…")
Explain why you were initially unsure about the product/service as a solution ("…but I'd tried so many different exercise plans in the past and I was never able to stick to them.")
Tell the reader why it was different this time. ("When I emailed John and explained my worries, he was really reassuring and explained how the plan can be easily customized.")
Say what you enjoyed most about the product. ("I enjoyed the workouts much more than I expected, and I loved the backing music! Working out felt like a treat to look forward to—not another chore to fit in.")
Mention the outcome. ("I can't quite believe it, but I'm now back into the jeans I was wearing 10 years ago!")
Say who you'd recommend the product/service to. ("If you want to get fit and actually enjoy the process, these classes are fantastic. They're suitable for beginners but I found myself enjoying some of the more challenging options too.")
This type of testimonial will be invaluable to the company and they're likely to be keen to publish it on their website.
Another option here is to get included in a case study, talking about how a service or product helped you to succeed in reaching your business (or personal) goals.
9. Get Interviewed in a Blog Post or on a Podcast
Another way to get a guaranteed link is to get interviewed, either in written form in a blog post, or as a guest on a podcast. The blogger or podcaster will link back to your site from their post or show notes—giving you a great backlink.
Interviews are also a great way to get more exposure and name recognition within your niche, meaning you'll want to incorporate them into your overall marketing strategy. If you keep popping up on other blogs and podcasts, readers will quickly get to know your name—and they'll likely come to check out your website too.
You might think that you can't get interviewed if you're not already well known. But lots of podcasts, in particular, are always on the lookout for guests. You can pitch yourself to them directly, asking if they'd be interested in having you on the show to talk about a particular area of expertise.
10. Directly Ask for a Link from a Resource Page or Roundup
If a blogger in your niche has a resource page where they link to useful information or tools from other websites, then you could ask for a link from that. (Make sure you have something that's well worth linking to, of course.)
For instance, you might write something in your outreach emails like:
I loved your list of resources for new moms. I've got a free printable for tracking a newborn's feeds and wondered if you'd like to add that too? I've attached a copy here, and the URL where readers can get their copy is [URL].
You can use a similar technique for blogs that publish a weekly or monthly roundup of interesting content in their niche. If you've written a post that you're particularly proud of, contact them and ask if they'd include it in their next roundup. Some bloggers are very happy to take requests from contributors, so long as their content is of a high standard.
Here's an example of what you could write:
Thanks for publishing the weekly roundups every Friday—I've come across so many great blogs through them! I wrote a post this week about [topic] and I'd be thrilled if you could include it this Friday. Here's the link, if you're interested: [URL]
11. Create a Free Tool that's Useful to Your Niche
This method is a bit more time-consuming than most of the others… but trust me, it's incredibly worthwhile if you're willing to learn.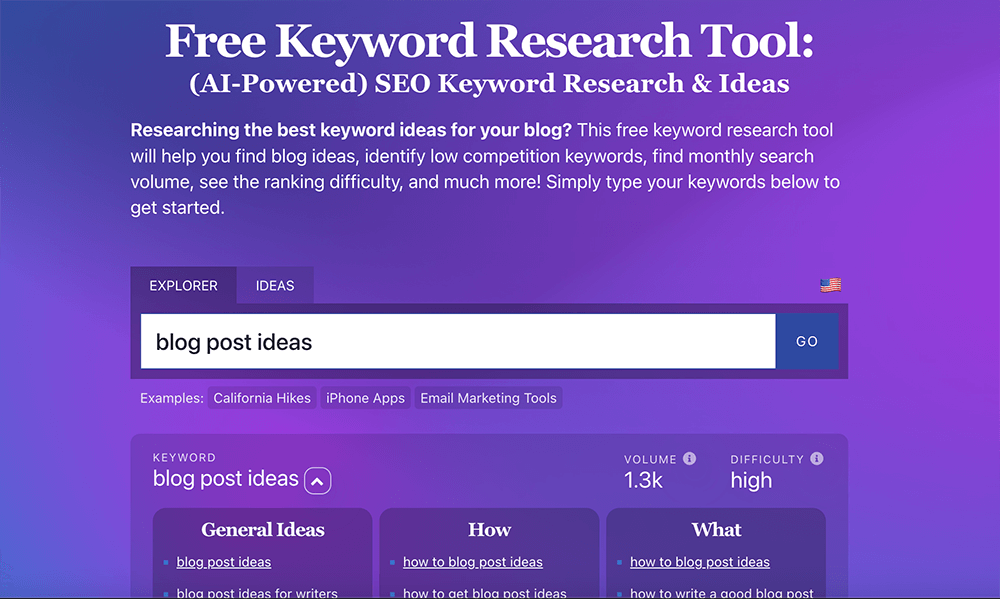 Bloggers love to link to useful tools for their readers. If you can develop a tool that solves a problem in your niche, there's a great chance that people will link to it.
I've got a ton of free blogging tools (many of which are AI-powered) like:
The tool you create doesn't need to be complicated. You could make a calculator tool, for instance, to help readers figure something out without resorting to complicated formulas or Excel spreadsheets. Another option is to create infographics: although they're not quite so popular as they were a few years ago, good infographics do still get republished—with links back to your original, of course.
Once you've created your tool, don't forget to publicize it. Email friends in your niche and spread the word on social media. Reach out to bloggers who you think might be especially interested and ask for a link (e.g. from their Resources page).
12. Get a Link from Groups or Organizations that You Belong to
Are you a member of any groups or organizations? That could be a local club, a national organization, or anything that you belong to in some way.
Those organizations may well have a "Members" or "Links" page where they'll be happy to link to your website. If you're not already included on that page, simply email the group's administrator or webmaster and ask them to include your name and URL.
If you don't belong to any suitable groups, you might consider joining:
Community groups, e.g. Lions Club.
Local business-related get-togethers.
National or international groups that relate to your niche.
Start Building Backlinks to Dramatically Improve Your SEO
Building backlinks is a big part of an effective SEO strategy.
While most blogs will eventually attract a few backlinks over time, you'll have a much greater chance of success if you proactively build those links. Even better, you'll find that as you work for links, other sites start linking to you organically … because they're seeing that you're getting a strong reputation in your niche.
The methods above are all great ways to get more backlinks to your website—and most of them are really quick and easy to put into practice. Make sure your site's in good shape, then choose one or two methods to try out this week. Keep looking out for link building opportunities and you'll soon see your content rising up through the search rankings.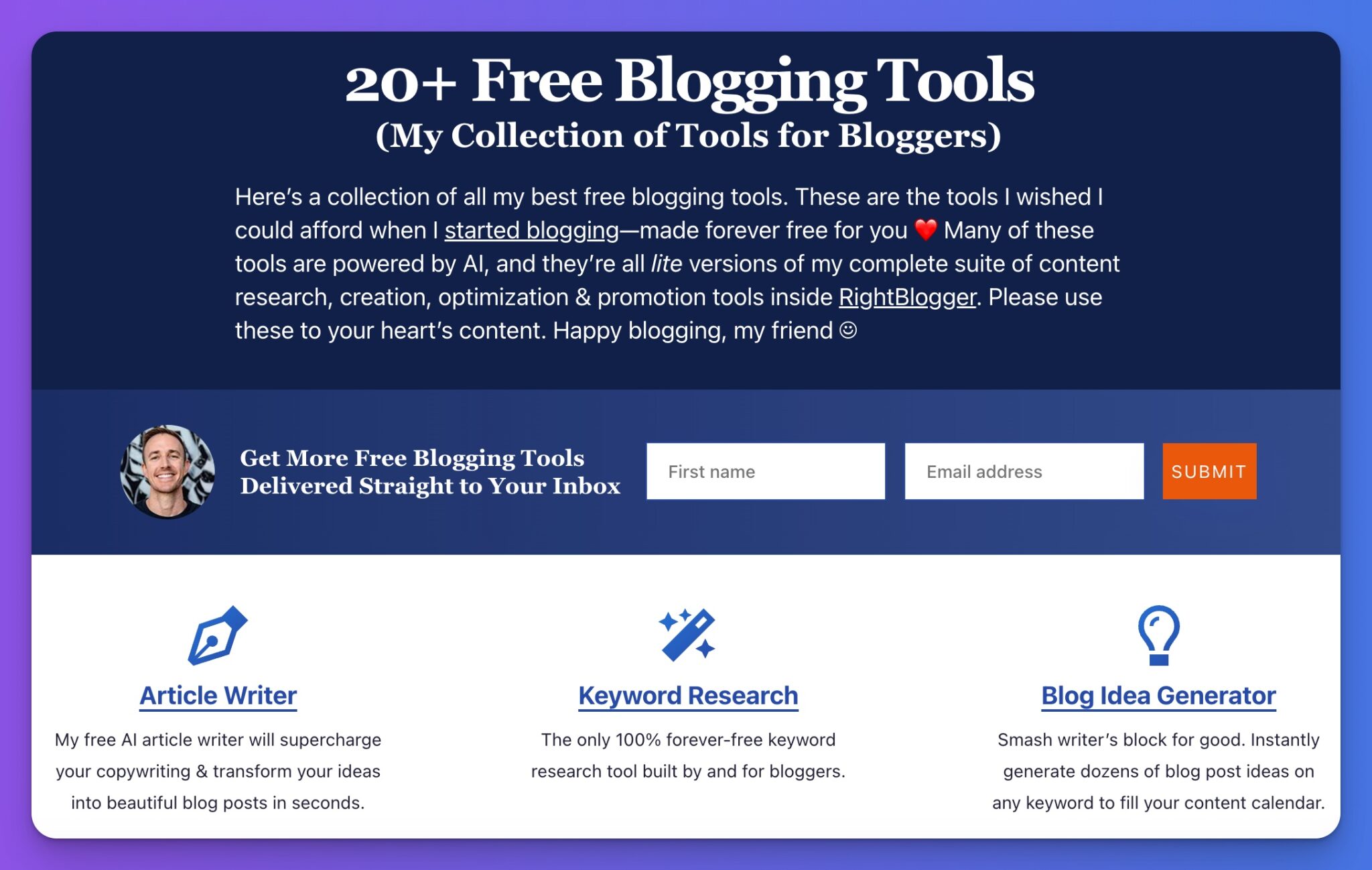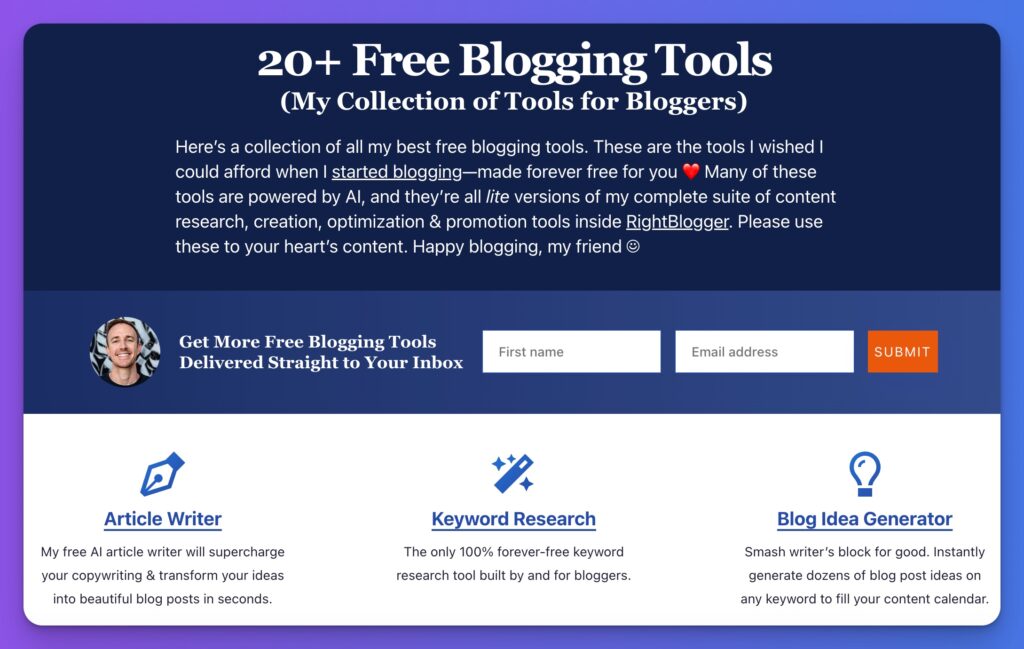 When I first started blogging, I couldn't afford fancy tools. That sucked. And that's why I've built a stable of powerful free blogging tools ranking from keyword research to an AI article writer, blog idea generator and more. Free for all to use—no strings attached.
---