Blogging doesn't need to cost a fortune, in fact you can still start a blog for free if you're willing to get a little creative.
While you could spend hundreds or even thousands of dollars on top-notch blog hosting, a custom-made theme, powerful plugins, and professional logo design for your blog—you don't need any of that in order to get started (and enjoy yourself along the way).
Many bloggers start their blogs for free, or on a very small budget.
I know it because I've been there. Maybe you're blogging around going to school, at an entry-level job, or you just have a lot of other financial commitments—maybe you just don't wanna commit much money before you know whether blogging is going to work out. I get it.
So what exactly do you need in order to start a blog for free… and how little can it really cost you to do it right?
16 Tips to Start a Blog for Free (and on a Small Budget) in 2023
Disclosure: Please note that some of the links below are affiliate links and at no additional cost to you, I'll earn a commission. Know that I only recommend products and services I've personally used and stand behind. When you use one of my affiliate links, the company compensates me, which helps me run this blog and keep my in-depth content free of charge for readers (like you).
Ready to Start Your Blog Today?
Check out my ultimate guide How to Start a Blog (on the Side) that's been featured on Forbes, Inc and Entrepreneur.
---
3 Key Things You Need to Start a Blog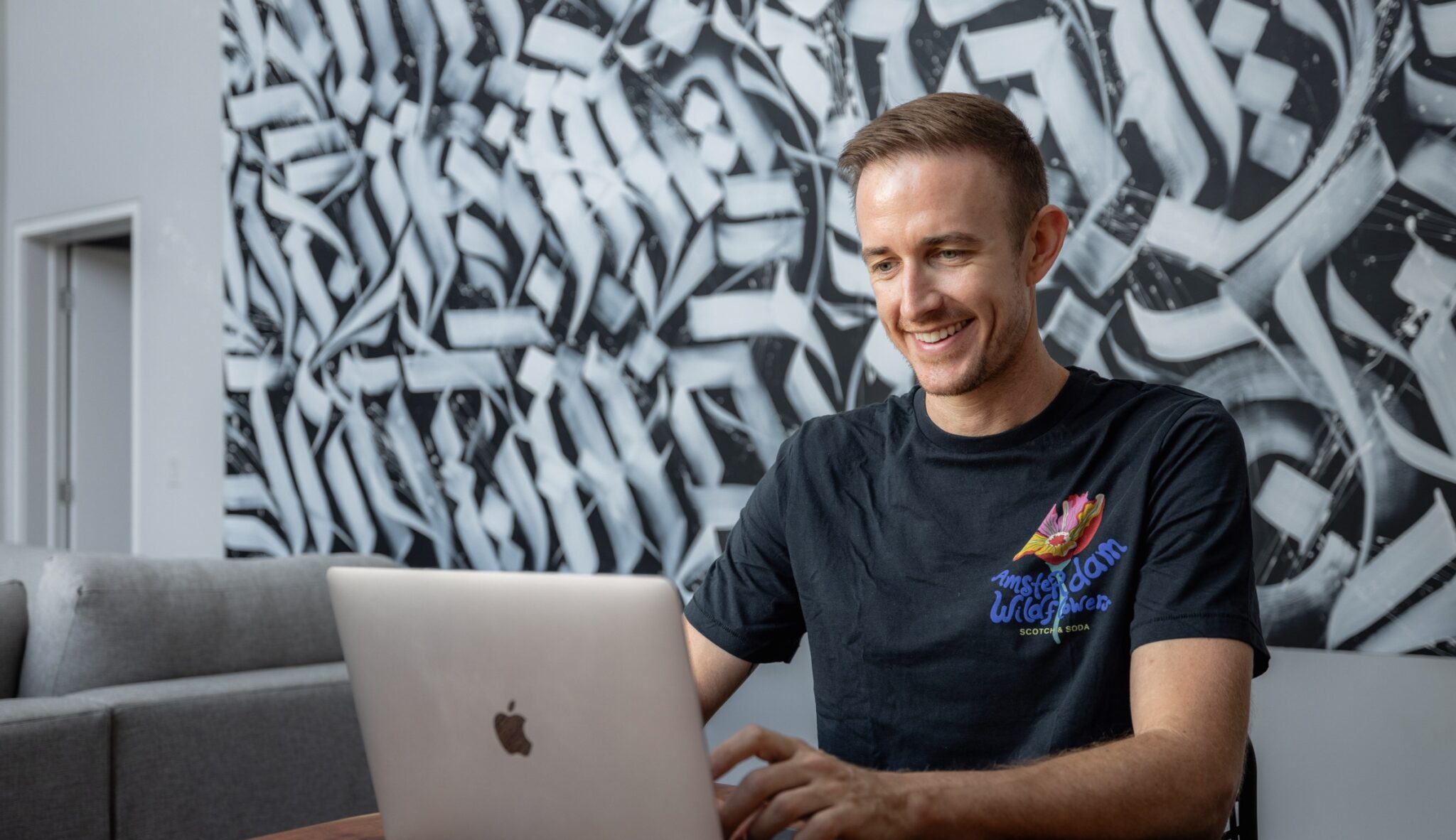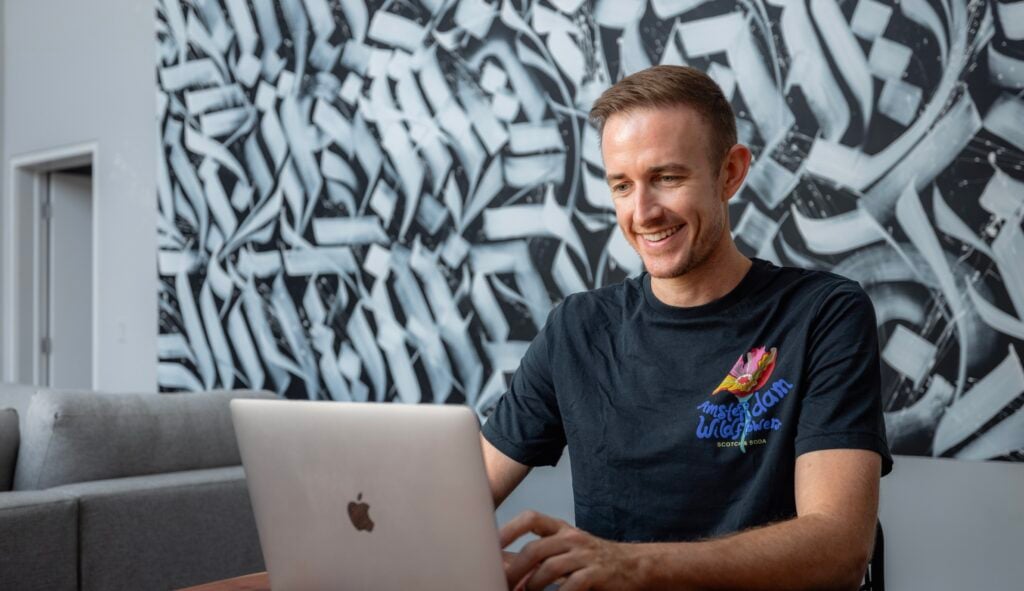 All blogs need to have three basics. Without these three things, your blog can't exist:
We'll take a look at what these are, then I'll explain how you can get them for free or on a very tight budget.
Blogging Platform
Your blogging platform is the software that you use to run your blog. This software lets you create and publish blog posts, add images to your site, include a contact page, and more, automatically turning your text and images into HTML code.
Some popular blogging platforms include WordPress, Wix, Weebly, and Blogger. We'll take a look at each of these later in this article.
Domain Name
Your domain name is the address of your blog. Mine is ryrob.com.
Sometimes, you'll hear the domain name called the "URL" or "web address" for your blog.
Every blog has to have a domain name. Otherwise, it can't exist on the web. Ideally, you'll want a .com domain name—though there are other options, too. Check out my free domain name generator tool to find your name today.
Hosting
Just having a blogging platform and a domain name isn't enough to create a blog. Your blog also needs to be hosted somewhere.
If your domain name is your blog's address, your hosting is the land on which your blog is built.
Your blog needs to be available 24/7 from all around the world. This means storing your blog on a big computer owned by a web hosting company. Most web hosts can run popular blogging platform software, including WordPress, with ease.
How to Choose a Free Blogging Platform
When it comes to starting a blog for free, the first piece of really good news is that a number of (excellent) blogging platforms are free.
We're going to run through five of the most popular free blogging sites: WordPress.org, WordPress.com, Wix, Weebly, and Blogger.
Note: You'll also hear these called "website builders" or "content management systems". For our purposes, all these mean the same thing.
WordPress.org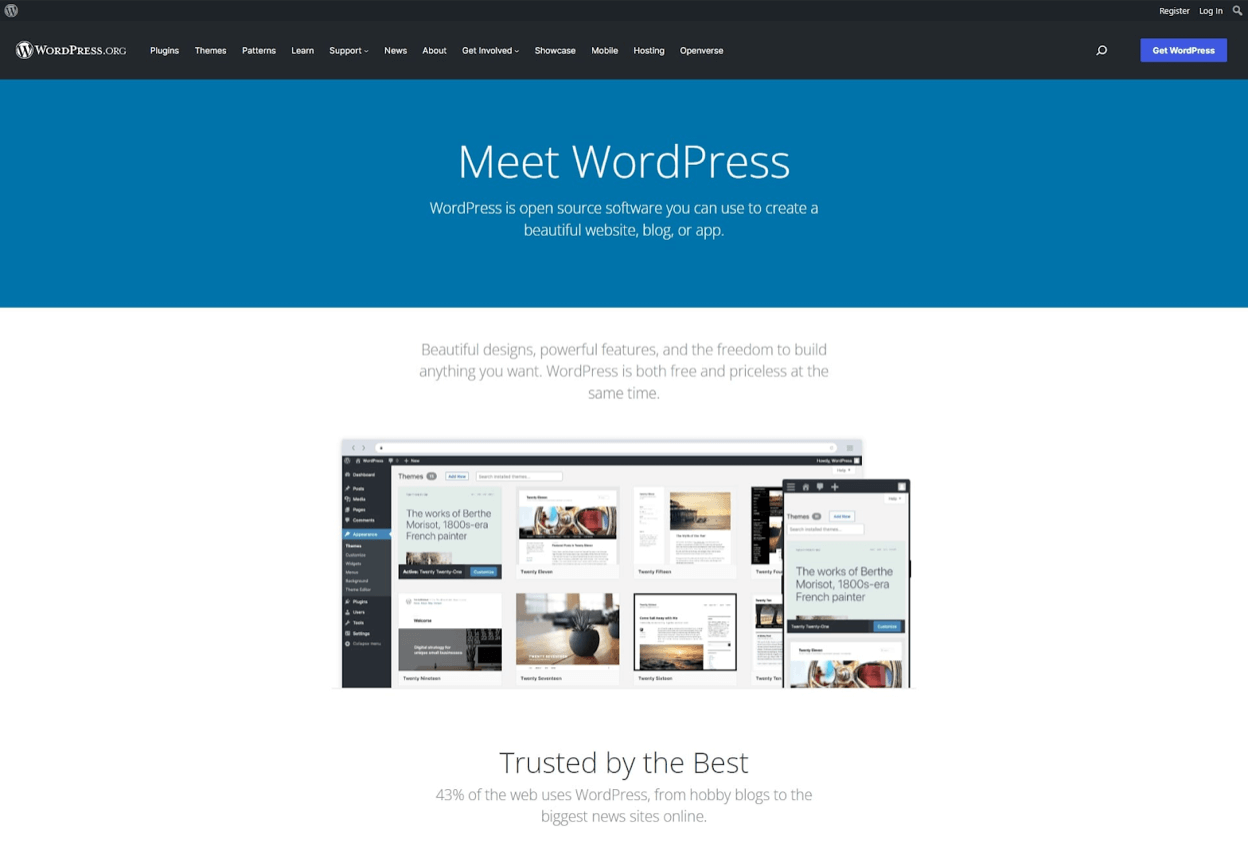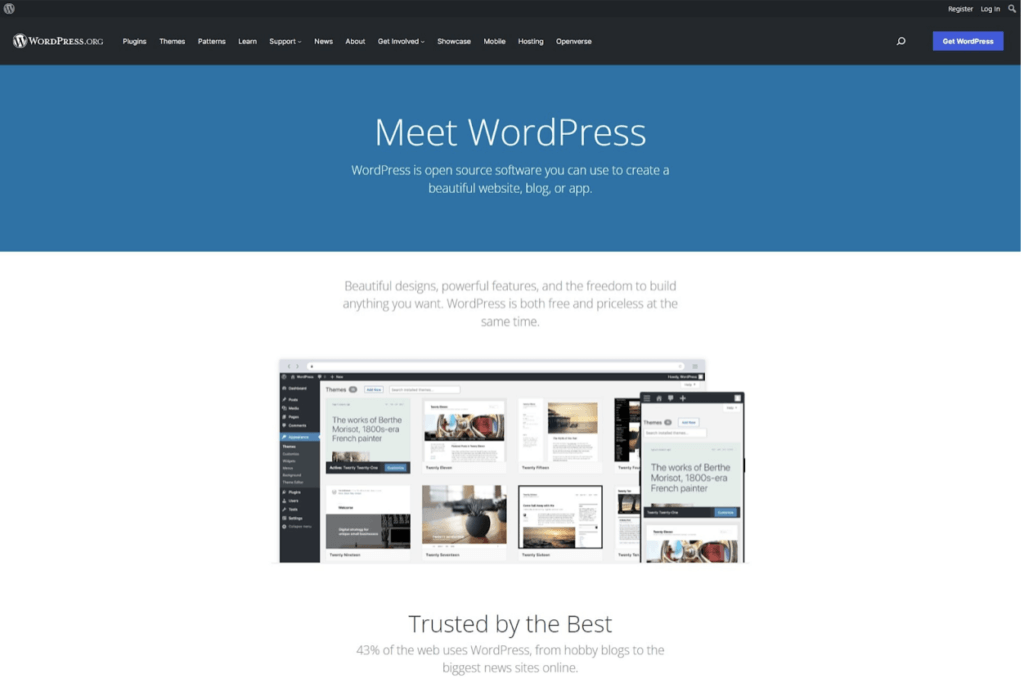 WordPress.org—often just called "WordPress" or "self-hosted WordPress"—is the gold standard for blogging software.
It's the platform I use to run RyRob.com … and it's used by pretty much every large blog out there for its impressive functionality and performance.
WordPress.org is open-source, meaning that the core WordPress software is constantly being improved and added to by a whole community of volunteers and enthusiasts.
With WordPress.org, you get a huge degree of flexibility and freedom. It's incredibly popular, so almost all web hosts (including budget ones) make it very easy to install and run the WordPress software for your blog.
While there are lots of paid extras you could add to your WordPress blog, like premium themes and plugins, you'll also find lots of free themes and free plugins that you can use.
You can add new themes or plugins to your site at any time: to find some great ones to try out, take a look at my round-up of the best WordPress themes and my list of recommended WordPress plugins.
WordPress's best-known ecommerce plugin, WooCommerce, is also free. This means that, if you want to set up an online store, creating a WordPress site using WordPress.org is a lot cheaper than using WordPress.com.
WordPress.org doesn't offer web hosting, but recommends three great-value hosts: Bluehost, DreamHost, and SiteGround.
WordPress.com
WordPress.com is the commercial wing of WordPress. Like the other blogging platforms we're going to look at next, it combines both blogging software and hosting. For this reason, you'll sometimes hear it called "hosted WordPress".
You can create a blog for free using WordPress.com, though it's worth noting that the free version has a number of limitations. In particular, you can't add Google Analytics (which is super-useful), you can't use Google Adsense to run ads, you can't sell products through your website, and WordPress.com will put its own ads on your site unless you upgrade to the (paid) Blogger plan or higher.
If you want more than the basic or very cheap WordPress.com plans, it's going to work out cheaper to use WordPress.org and pay for hosting separately.
However, if you just want to try out blogging or create a simple free website for a local group or organization, then WordPress.com might be a good fit for you.
Wix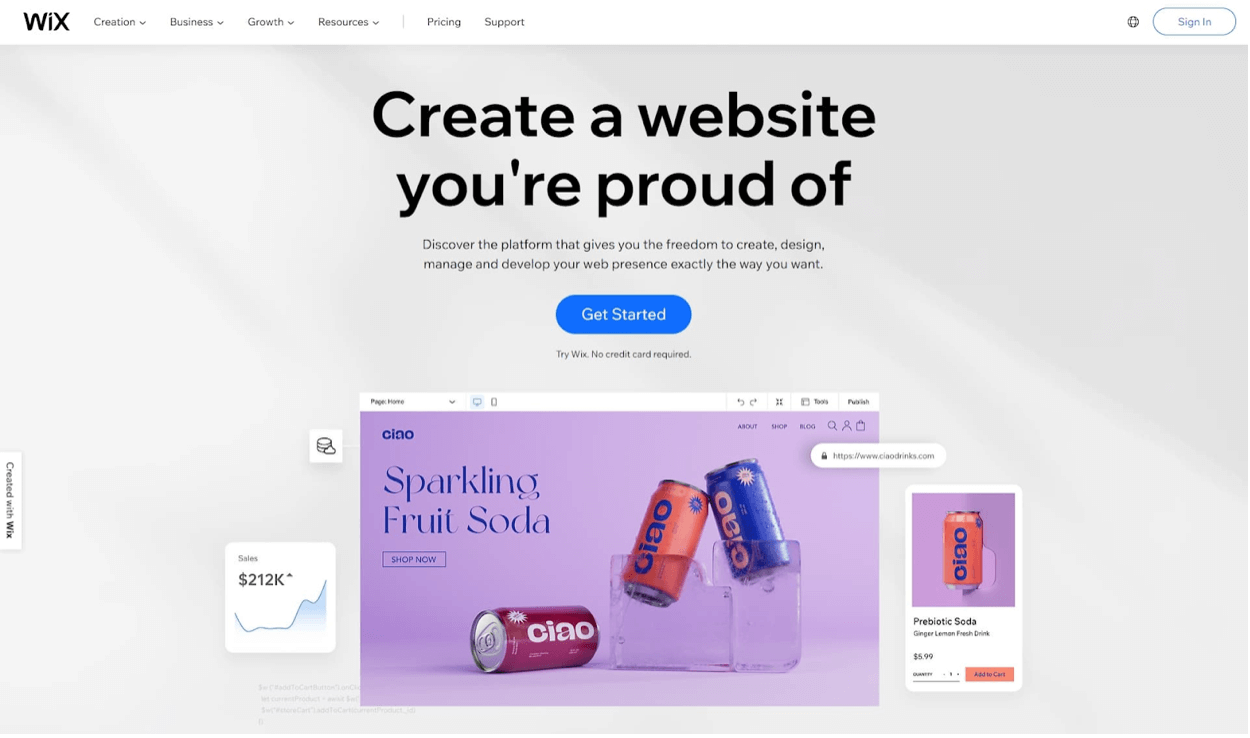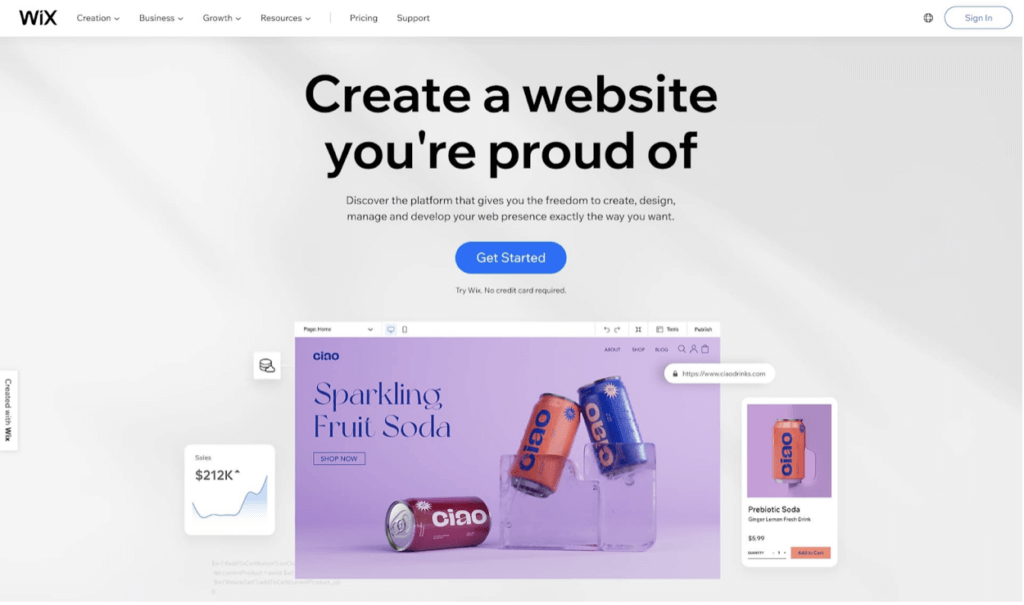 Wix is another popular blogging platform—and one that runs huge advertising campaigns. Some website creators feel it's simpler and easier to use than WordPress, and it's a good option if you want to create a slick-looking website without many pages.
Wix doesn't stand up so well to the demands of a large blog site, with lots of different posts: WordPress is a more powerful and more fully-featured platform, even if it does require a bit of extra technical knowledge.
You can add "apps" to your Wix site that give it extra features, like being able to showcase Amazon products and earn affiliate revenue. Many of these apps are free.
Wix offers a free plan that showers the Wix branding. This shows ads, so if you don't want those, you'll need to upgrade to a paid plan. This costs from $16/month (billed annually).
If you want a small website with just occasional updates on your blog, and you've tried WordPress in the past but found it difficult to use, then Wix might be right for you.
Weebly

Weebly is another website builder that some people find even easier than Wix to set up a blog for free. It has a structured editor that uses a pre-designed grid to help you create a great-looking site.
There are 70 different themes to choose from, all of which look good. You can easily change your theme without losing your content (something that isn't possible with Wix)—making it easy to give your site a new look and feel with different fonts, colors, and so on. You definitely don't need any knowledge of web design to create a great-looking site with Weebly.
Weebly has a free plan, which offers very limited storage (just 500MB). You'll need to pay for the Pro plan ($12) or higher if you want to remove ads from your website.
Blogger
Blogger, owned by Google, has been around since 1999—four years longer than WordPress, which was released in 2003. Blogger is often used for personal blogs. It has limited features, but it's well-designed for publishing lots of posts—unlike some other website builders
If you simply want a place to share your thoughts or join in a fan community, Blogger could be perfect for you. It isn't an especially good option for a professional-looking website, however.
Blogger is completely free (including themes and "gadgets" or widgets that you can add to your blog and its sidebar). You also get up to 15GB of storage space—more generous than many other free blogging plans. It's a more powerful blogging tool than other completely free tools like Tumblr, and it's quick and easy to add a new post whenever you have something to say.
How to Choose Your Blog's Domain Name
Coming up with a domain name for your blog can be tricky—and you'll also face some limitations if you're getting a free domain name from your blogging platform. Here are a few tips to help, and my free domain name generator tool to steer you in the right direction:
Use My Free Domain Name Generator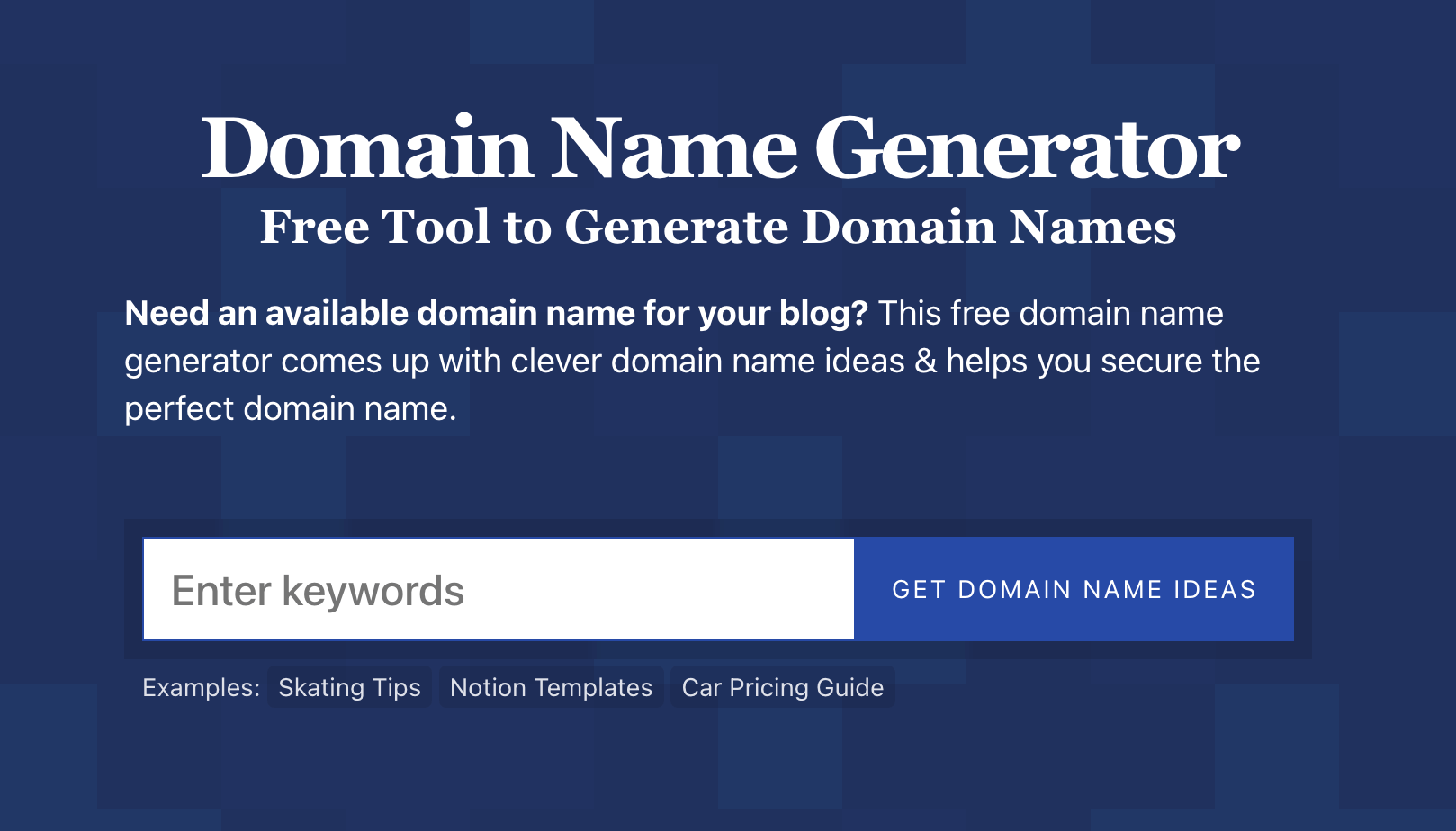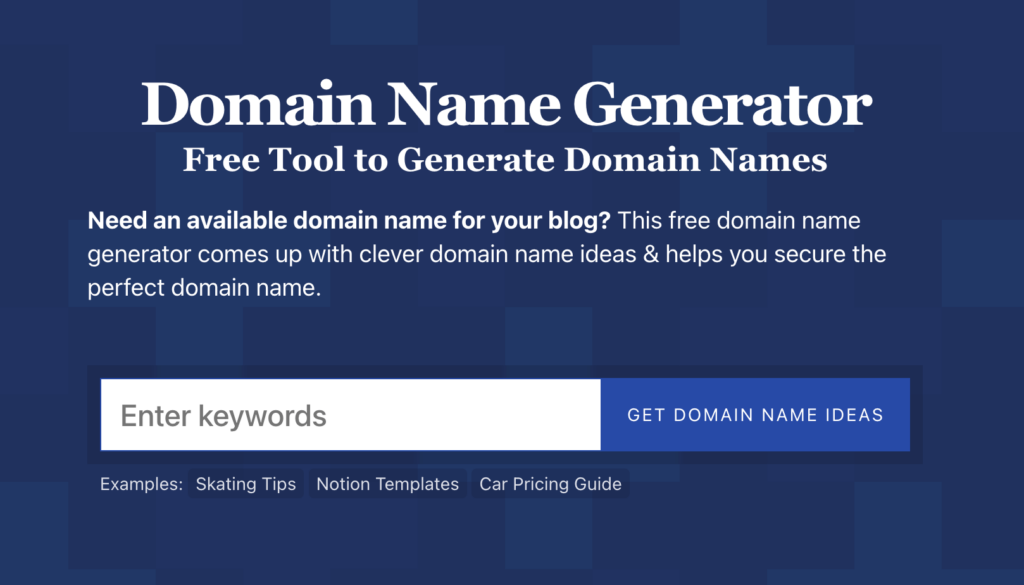 Try my free AI-Powered Domain Name Generator to get dozens of creative (available) domain name ideas today.
---
Using a Free Domain Name
WordPress.com, Wix, Weebly, and Blogger all offer free domain names (technically, subdomain names)—but there's a catch.
Your free domain will include the name of the blogging platform (except for Blogger, which uses the name Blogspot for domains). So your blog name will look something like this:
accountname.wix.com/siteaddress
siteaddress.weebly.com
siteaddress.wordpress.com
siteaddress.blogspot.com
If you do use a free domain name, I'd recommend brainstorming a few different options in case your chosen name isn't available. Your own name, for instance, might well be taken already, so it helps to have a new domain name in mind too.
While it's always a good idea to keep a domain name fairly short, this is especially important if you're using a free domain. Because you already have the name of the blogging platform in there, you need to keep the customizable part really short, or your domain will look overly long. This could be an issue if you want to, say, print your domain name on business cards.
Getting Your Own Custom Domain Name
Registering your own domain name is a better option, as it looks more professional.
You can easily get your own .com domain name—and it's surprisingly good value. Most domain registrars (companies that register domains on your behalf) charge around $15 – $20 per year for a .com domain.
In many cases, you can get a custom domain completely free, by paying for a year or more of web hosting. Both Bluehost and Dreamhost offer a free domain along with a year of hosting.
When choosing your domain name:
Consider using your own name if it's available.
Also consider a short phrase that sums up your topic, especially if you can add a sense of emotion or humor—RightBlogger and Making Sense of Cents both do a great job of this.
Use the .com domain extension (suffix) if you're hoping to make money from your blog.
Consider .org or .net for non-profit blogs.
Try a regional domain extension like .co.uk for the UK if your blog is aimed at people in a single country.
Coming up with a great domain name can be tough, especially if a lot of your initial ideas aren't available. I've got lots of tips to help you in my guide on choosing a domain name for your blog.
How to Get Cheap Blog Hosting
Blog hosting isn't free, unless you're going with a blogging platform that makes money through putting ads on your blog (or persuading you to get an upgrade to a paid plan).
The good news is that you can absolutely get blog hosting on a small budget. Many web hosts have special offers for your first year of blogging, in particular.
One of my favorite bargain web hosts, Dreamhost is easy to use and also very good value for money. Their cheapest web hosting plan is just $2.95/month if you pay upfront for a year—that's $35.40 for the whole year.
Unlike many web hosting services, Dreamhost also has a month-by-month payment plan. This starts at $4.95/month. So if you only have a few dollars to spend right now, you can still sign up for web hosting.
Dreamhost has a "one-click install" process for WordPress, making it super easy to get started. The low price won't cost you in terms of website performance, either: your Dreamhost site should run lightning fast.
Hostinger is another great budget-friendly web host, offering web hosting from $2.99/month when paying upfront for a year. You can also opt for a monthly plan from $9.99/month, but if you want to pay monthly, Dreamhost is a much cheaper option.
It's easy to find your way around with Hostinger, and as with Dreamhost and Bluehost, you'll get a free SSL certificate plus a free domain when you pay for a year or more upfront.
Another fantastic option for your web hosting is Bluehost. They offer similar features to both Dreamhost and Hostinger, with prices starting from $4.95/month for a year, or $2.95/month when you pay for 3 years upfront. (You can't pay month by month with Bluehost.)
Although Bluehost is a little more expensive than Dreamhost and Hostinger, they do offer fantastic customer service. This makes their hosting a great option if you're not very confident with technology.
4 Tips to Create Blog Content for Free
Once your blog is up and running, you want to fill it with content… but you don't have a budget to pay a freelance writer (or even to pay for downloadable blog post ideas, templates, or stock images). Here's what you can do instead: use all of my free blogging tools!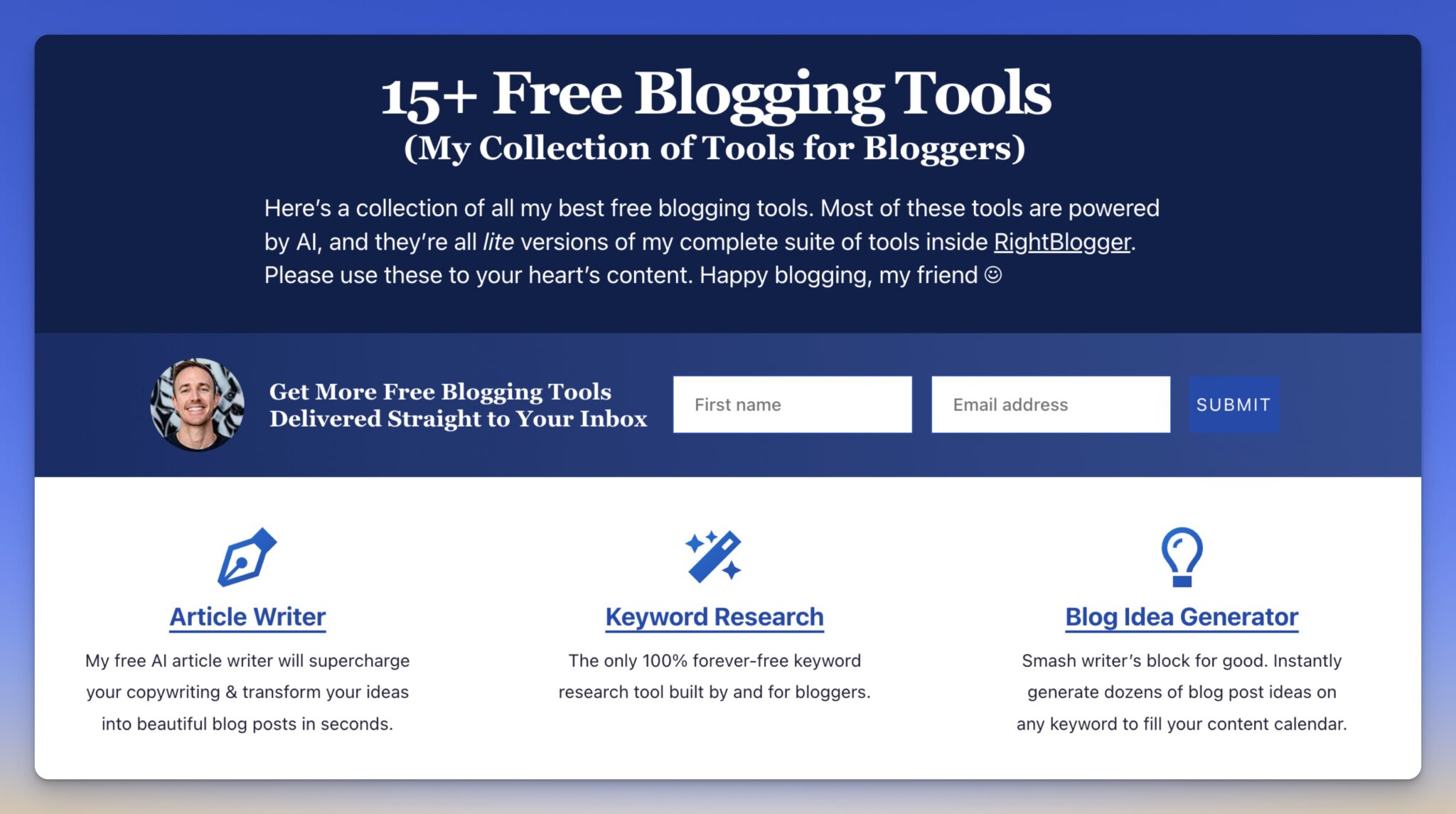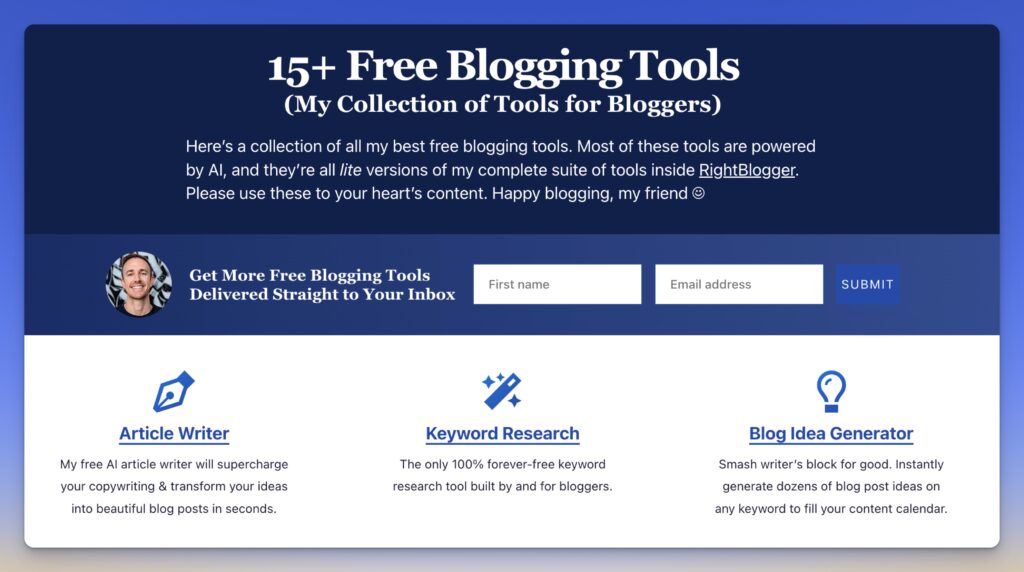 1. Use Free Templates to Write Posts
You can start writing blog posts much faster when you've got a reliable template to help you structure your thoughts. You can get my top 10 blog post templates here (completely free) and take a peek at the best blog post examples too. With these 10 structures, you could easily create a variety of types of content for months or years to come.
2. Bookmark Free Lists of Blog Post Ideas
It might be easy to come up with an idea for your first blog post—but after that, you may find that you're lacking inspiration. There are dozens of lists of free blog post ideas around the web, so make sure you bookmark a few of these to come back to whenever you need some help. Try my huge list of 200+ blog post ideas to get started and use my free blog idea generator to really turn things up a notch.
3. Use Free Stock Photos (or Take Your Own)
Stock photos from sites like Shutterstock can add up fast … but there are lots of free sites for stock images too. Some great ones to try are Unsplash, Pixabay, and Pexels.
Alternatively, you could take your own photos to use on your blog: this can be a great way to add a more personal touch, and works especially well for food blogs, lifestyle blogs, and travel blogs.
Important: Don't take "free" images from Google Image Search or similar. These images are likely copyrighted and you could get hit with a hefty fine. For more help, check out my guidance on using images on your blog.
4. Download the Free Blog Post Planner Bundle
My free blog post planner bundle is packed with resources to help you create fantastic posts for your blog.
This includes brainstorming prompts and ideas, a keyword research checklist, an editable blog post outline and SEO-driven blog post template, an SEO checklist, a promotion checklist for your content, an editorial calendar spreadsheet, plus a weekly to-do list. Plenty of bloggers charge for similar resources—but my bundle is totally free.
6 Ways to Promote Your Blog For Free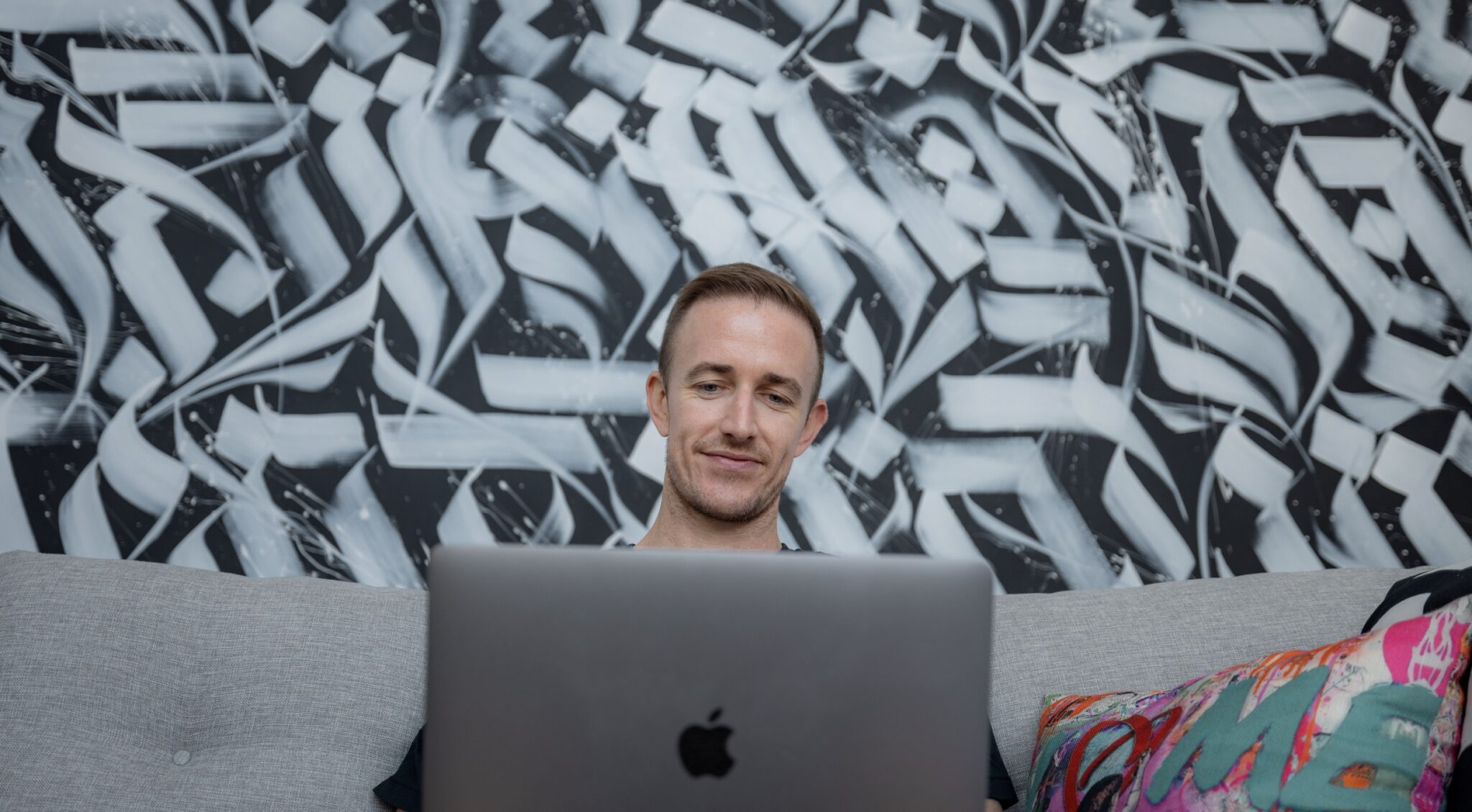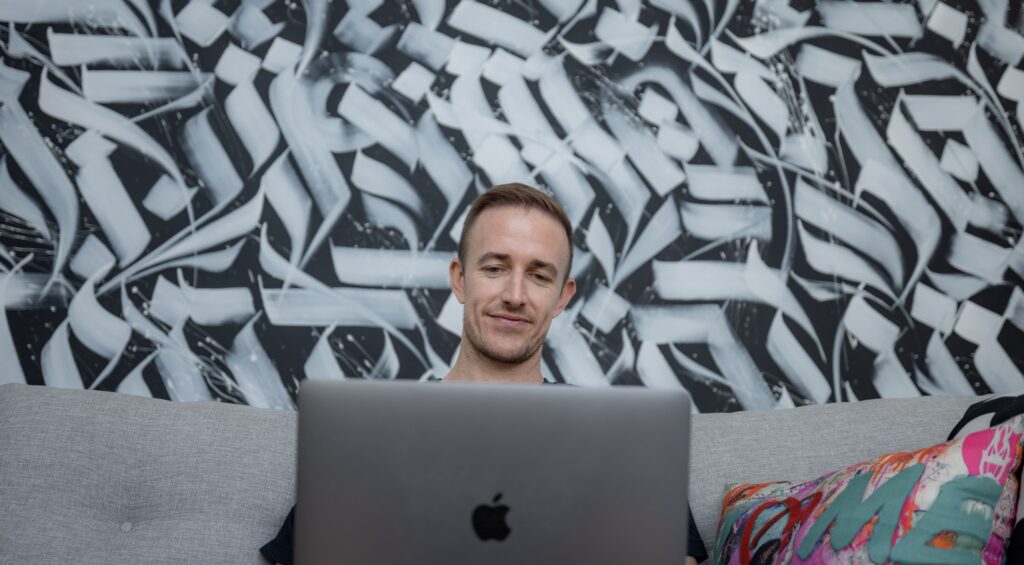 Once you've got some posts up on your blog, it's time to start promoting your blog. Large blogs can pay for ads—but that's not an option when you're on a tiny or non-existent budget. Instead, try some of these free options.
1. Social Media
One of the most obvious ways to promote your blog is on social media. Even if you don't have any blog readers yet, you hopefully have some friends and family members who might be interested.
Start by sharing new blog posts on your favorite social networks, like Facebook, Twitter, Instagram, or LinkedIn. Include social media buttons or links on your blog, too, so that people can easily connect with you and share your posts.
2. Email
Ask experienced bloggers what they wish they'd done sooner, and many will say, "Set up an email list." Email marketing is a fantastic way to stay in touch with blog readers who might otherwise forget all about you and your blog.
Even if you don't have any subscribers on your email list yet, you can still promote your blog by email. Add your blog's URL into your email signature, so that anyone you email can check it out. Consider sending out an email to friends and family (though don't spam!) to let them know about your new blog, too.
3. SEO
SEO stands for Search Engine Optimization. It might sound a bit complicated, but what it really means is making sure that it's easy for Google and other search engines to find your blog posts and show them to people who're looking for that type of information.
Good blog post SEO involves a few basics like:
Doing some keyword research to make sure you're writing a post about a topic that enough people are interested in.
Using your primary keyword in the title of your post, so search engines (and your readers!) know exactly what your post is about.
Making sure that you provide useful and accurate information on your topic.
There's plenty more to know about SEO, of course, and a great place to begin is with my in-depth article on blog SEO strategies. New bloggers often ignore the importance of SEO, so even putting a few simple tips into practice can make a big difference to how successful your blog is.
4. Facebook Groups
As you start to build up your blogging network of readers and fellow bloggers, you'll want to look for Facebook Groups relating to your blog's niche. Whatever you're blogging about, you're sure to find like-minded communities on Facebook.
Avoid just creating posts to link to your blog—that's going to come across as self-serving and even spammy. Instead, get involved in the conversation, and occasionally link to one of your blog posts where it's relevant.
5. Online Forums
As well as looking into Facebook Groups, you could search for online forums that tie into your topic. With many of these, you can post under a pseudonym, so it's a good option if you want to keep your blogging separate from your personal life. You can often include your blog's domain name in your forum signature, so it appears on every post you create.
Forums are also a great way to connect with other bloggers, to share ideas, tips, and questions. You can find some popular forums (and Facebook Groups) for bloggers listed here.
6. Q&A Sites (e.g. Quora)
Another great place to promote your blog is on Q&A sites such as Quora. On Quora, anyone can pose a question—and anyone can answer it. This can be a great way to find people interested in your topic and showcase your expertise. You could also use Quora as a source of FAQs to inspire blog posts for our own site.
It's important to make sure your Quora answers are detailed and helpful: don't simply link to your blog post. The most helpful answers will get more prominence as more and more Quora readers upvote them.
3 Free Resources to Learn More About Starting a Blog
While there are lots of great blogging courses out there to help you reach your blogging goals, you don't need to pay for a course in order to get started.
Instead, try these free resources that I've created for you:
How to Start a Blog—This step-by-step guide takes you through the process of starting a blog, including picking a domain name, signing up for web hosting, and installing WordPress. I've designed it as a tutorial for complete beginners and you don't need any special technical knowledge. I explain everything in plain English so you can get your own blog up and running.
7 Days to Building a Blog—This free course goes into more detail about creating a blog, sharing my tips on creating high-quality content, monetizing your blog, and much more. You just need to pop in your name and email address, and I'll send it to your inbox.
Free Blogging Books—I've got 3 completely free blogging books that you can download and read straight away. These aren't tiny eBooks, either: they range from 63 to 184 pages! They're a full blogging education, covering How to Start a Successful Blog This Year, How to Promote Your Blog This Year, and How to Make Money Blogging This Year.
Key Takeaways: Ready to Start a Blog for Free (or Very Little?)
It doesn't need to cost much—or even anything at all—to start your own blog.
If you really can't afford to pay even a few dollars, I'd recommend using WordPress.com. It'll give you a good understanding of WordPress, and you can transfer your blog to a self-hosted WordPress.org site in the future.
Ideally, though, you should use WordPress.org from day one.
By using WordPress(.org), you can create a professional-looking blog straight away… and you'll have all the flexibility you need to grow your blog and make money from it. The WordPress software is completely free.
If you opt to host your WordPress blog with Dreamhost, you can pay just $35.40 ($2.95/month) for the entire the next year—with a free domain name included too.
And it won't take long, either: if you've got just 10 – 15 minutes to spare, you could start your blog today.
Ready to Start Your Blog Today?
Check out my ultimate guide How to Start a Blog (on the Side) that's been featured on Forbes, Inc and Entrepreneur.
---