This guide is a breakdown of my ten most practical tips to learn how to rank higher on Google. You can jump straight down to the first tip right here.
First, let's talk about an exciting day we've all had: you've just started your blog! You head straight to Google and type in the name of your blog… only to find it doesn't show up in Google results at all.
Even after you've waited a few hours—or a few days—your blog still isn't showing up on Google. So what's going on?
Don't worry, you most likely haven't done anything wrong. The reality is that it just takes the Google search algorithm a little while to recognize a new blog and decide how it wants to rank the new blog's content.
The great news is that you can do something right now to massively speed this process along—and rank higher on Google sooner rather than later.
In this guide, I'm going to teach you exactly what to do when it comes to learning how to rank higher on Google (quickly).
How to Rank Higher on Google in 2023: 10 Practical Tips
Disclosure: Please note that some of the links below are affiliate links and at no additional cost to you, I'll earn a commission. Know that I only recommend products and services I've personally used and stand behind. When you use one of my affiliate links, the company compensates me, which helps me run this blog and keep my in-depth content free of charge for readers (like you).
Ready to Start Your Blog?
Check out my ultimate guide: How to Start a Blog (on the Side) Today.
---
Why it's Important to Rank Higher on Google (and What That Means)
Google is the world's biggest search engine, with 85.55% of the global search market.
That means your blog really needs to show up on Google.
Even if you expect your traffic to come from sources other than search engines – like an email list, social media pages, or word of mouth – Google's still important.
Let's say someone comes across your blog's name in an email or on social media. They might not have time to check it out there and then.
If they later Google your blog's name and you don't appear, they're likely to forget all about you. What you want is for your blog to show up right at the top of the search results for even your own name, like this:

Of course, most blogs find that they get a lot of their traffic from search engines. Therefore, you want your blog to show up when someone searches for the type of information or content you offer.
For instance, if someone types "blog marketing strategies" into google, my blog post 10 Blog Marketing Strategies to Get 584,863+ Readers is the first result.
It even gets a "featured snippet" where Google shows a little preview of the post – making it more likely that my post will be the one that gets clicked on and read.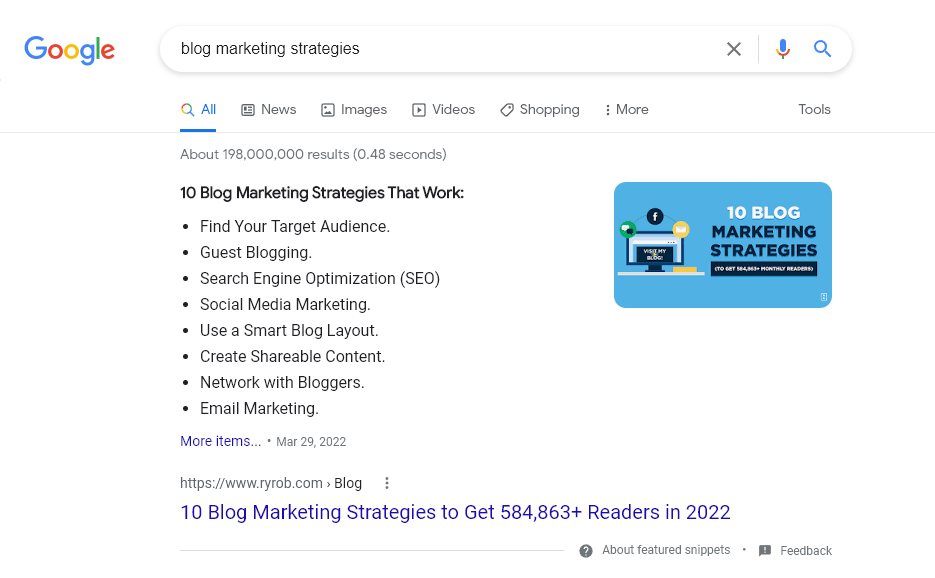 Here, "blog marketing strategies" is a keyword. (Yes, it's more than one word, but that's normal for keywords.)
We'll cover a bit more about keywords and how to use them later in this guide. For now, what you need to know is that:
Blog posts have different ranks in Google for different keywords: My blog marketing strategies post comes 1st in Google for "blog marketing strategies" but 7th for "blog marketing guide".
Other bloggers will be trying to rank for the same keywords as you: This means that you might not hit the #1 spot for a keyword – but even if you can be in the top 5 or the top 10 (on the first page of Google results), that's a great achievement.
Getting your website to rank well in Google, and other search engines, is called "search engine optimization" (SEO), and we'll be covering the basics you need to know below.
Ready to get started?
10 Tips to Rank Higher on Google With Your Blog in 2023
How can you get your blog (and your blog posts) to not only show up in Google's search results, but actually rank higher than your competitors? Here's what you need to know.
1. Make Sure Your Blog is Live (Not "Coming Soon")
First, check that your blog or website really is live on the internet. If you're using a "coming soon" plugin, then you might be able to see your blog, but no one else can.
To check this in WordPress, log in to your dashboard and find your Coming Soon plugin's settings, usually under the Settings menu. Check that your Coming Soon plugin is set to "off" or "Deactivated":

You can also double-check by using an incognito browser window to visit your site: it should show up live, without a Coming Soon message.
2. Check Your Search Engine Visibility Settings
When you were setting up your blog, you might not have wanted search engines to find it – as it wasn't yet ready for visitors. (If a web developer created your blog for you, they may also have activated this setting.)
In your WordPress admin area, go to Settings → Reading. Make sure the search engine visibility box is not checked.

If it's checked, then uncheck it and click the "Save Changes" button at the bottom of the page.
Tip: Got pages under construction or private pages that you don't want to show up in Google's search results just yet? I highly recommend the free Yoast SEO plugin, which lets you "noindex" specific pages.
3. Create Google Search Console and Google Analytics Accounts
Google provides lots of free tools that can help you get your website to rank higher on Google—and get your blog posts driving more traffic.
I strongly recommend creating accounts with:
Google Search Console: to check that your site is being indexed (listed) by Google and that there aren't any technical problems with your posts and pages
Google Analytics: to see lots of useful data about your website traffic, like where your readers come from, which pages they visited and how long they stayed on your site
You'll need to verify your website to set up these accounts, so that Google knows you really are the website owner. It's easiest to set up Google Analytics first and then Google Search Console.
That way, you can use the Insert Headers and Footers WordPress plugin to add the Google Analytics tracking code, then you can also opt to use that code to verify your site with Google Search Console.
4. Generate a Sitemap and Submit it to Google Search Console
Google needs to "crawl" websites to add them to their search listings: think of a spider crawling through a web!
To help Google crawl your site, you can submit a sitemap. This tells Google the URL (web address) of all the pages on your website.
It's really easy to create a sitemap in WordPress. In fact, you have one already – unless you haven't updated your WordPress installation before August 2020 (that's a scary thought).
Simply enter your website's domain name into your web browser, and add /wp-sitemap.xml to the end, like this:
ryrob.com/wp-sitemap.xml
You should see a list of 2 or more links, depending on how your sitemap is structured, and on whether you're using an SEO plugin like Yoast.
Don't worry about what your sitemap means. You just need to copy that URL and enter it into Google Search Console. Go to Index → Sitemaps in Google Search Console, then enter and submit your sitemap URL: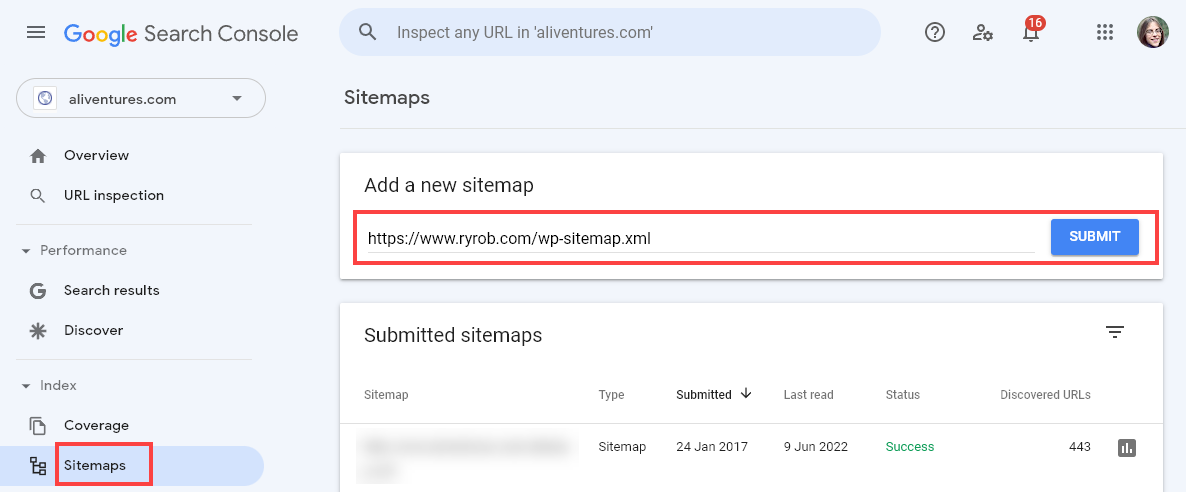 Even if you've been blogging for a while, it's smart to go into your Google Search Console and double check that you've submitted your sitemap already.
If you're hoping to rank higher on Google, giving them helpful information to make sense of your blog is a good idea.
5. Link to Your Blog from Social Media Profiles
Social media websites are huge sites that have a huge number of inbound links from all over the web. This makes them a great place to put a link to your website: Google can follow that link from your social media profile to find your website.
Of course, it also makes a lot of sense to include your website in your bio – and to post links to your blog's content. That way, you'll hopefully get some people clicking through from social media to view your website.
Make sure that all your social media profiles include a link to your website. There'll usually be a special section for this, but you can usually add one (or more!) links in your bio, like I do on Twitter: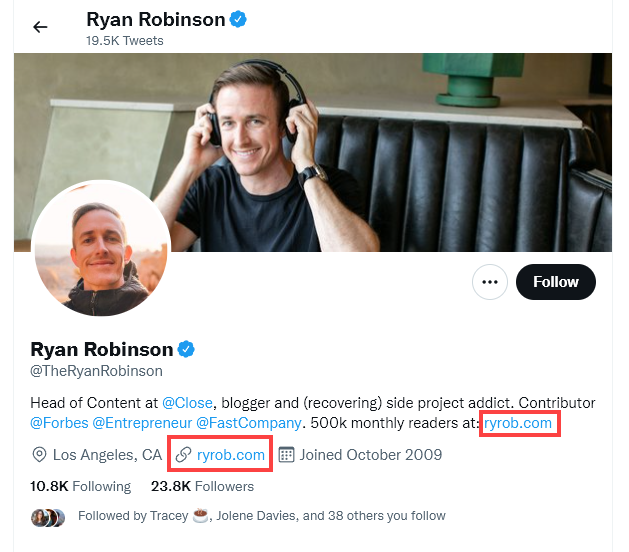 While these links won't get too much action in the early days of your blogging journey (unless you're super active on a particular social media channel), they still serve an important purpose to help your blog rank higher on Google.
By pointing links to your website from highly authoritative websites like Twitter, Facebook, LinkedIn, Instagram and others, you're giving Google crawling bots a link to follow to your site. And that's how trust & authority gets conveyed online.
6. Write Useful, Long-Form Blog Content Readers Will Enjoy
Most of your Google traffic won't come to your homepage. Instead, it'll be to your individual blog posts.
The more good content you create, the more opportunities you have to appear in Google search results.
To maximize your chances, write blog posts that are long-form in nature. Definitions of "long-form" content vary widely, but most people would agree it means writing at least 1,000 words, and more like 1,500 or more. Blog posts under 1,000 words are much less likely to rank highly—see more in my guide about how long a blog post should be.
Your content also needs to be useful. That means:
You should pick a topic that people want to know about: When coming up with blog post ideas, try to choose a topic that comes up a lot in conversations with other people in your niche, a topic that you needed help with as a beginner, or a topic that you see a lot of people asking about on question sites like Quora.
You should make your post as useful as it can be: That might mean including additional resources and links, quoting from what other people have said about the topic, adding practical tips or takeaways, explaining any technical terms, including a table of contents (on a longer post) and a summary, and more.
And your content should be enjoyable! That doesn't necessarily mean it needs to be funny or entertaining—unless that's a key part of your brand—but it should be engaging and easy to read.
Use conversational language, include high quality blog images, subheadings, and plenty of white space, and make sure your font size is big enough for your post to be easy to read on all devices.
For more detailed guidance, here are all of my best practices on how to write a blog post that'll attract readers.
7. List Your Website in Trusted Online Directories to Rank Higher on Google
There are a number of online directories where it's worth listing your blog or website. While you may not see any search engine benefits from this, simply having that link to your website can help Google to find and rank it more quickly.
Some of the best online directories to submit your site to include:
Head over to this article and you can find a ton more good online directories that are still worth submitting your blog to.
8. Optimize Your Blog Posts for Google Search Ranking (On-Page SEO)
The first core tenant of smart on-page SEO is that you need to thoughtfully use the keywords (search terms) that your readers would use when searching for your content. This helps new readers know that they're in the right place and it also helps search engines to rank your content for those search terms.
This is not about "keyword stuffing" – an outdated SEO concept that involves putting lots of keywords repeatedly into your content. That makes your posts or pages hard for people to read and won't help you rank well in search engines.
Instead, you want to do keyword research, then write natural-sounding content that reads well to both readers and search engines. For a deep dive on writing content for both robots and humans, check out my friend Maddy Osman's fantastic book and be sure to compare my top picks for the best free keyword research tools.
Use My Free Keyword Research Tool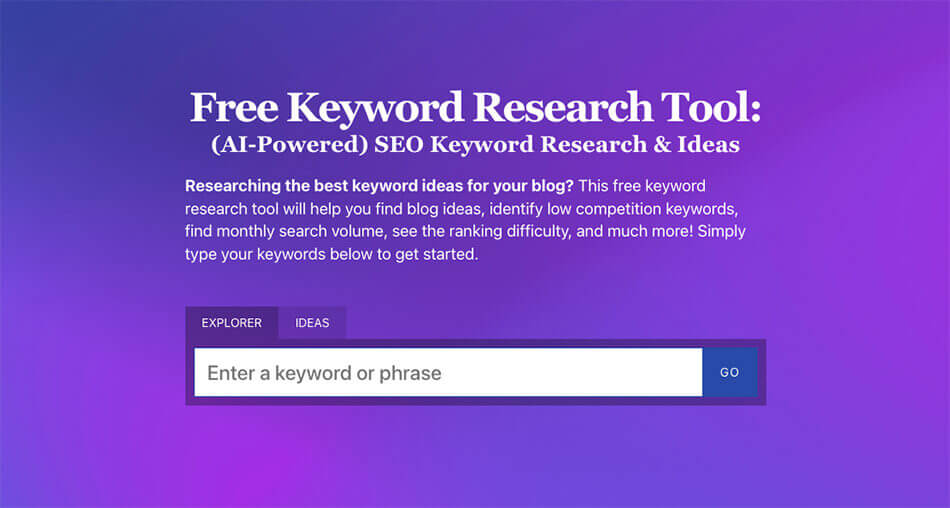 Try my free AI-Powered Keyword Tool to get dozens of research-backed ideas for keywords & topics to write about on your blog today.
---
To rank higher on Google with your content, you'll want to strategically use keywords in:
The SEO title of your blog post: This is the title that appears in Google's search results. It doesn't have to be the same as the title on the page of your post—you can set a different SEO title using a plugin like Yoast SEO. (Obviously, you won't want to make it too different, or that could confuse readers.)
The meta description for your blog post: Again, you can add this using Yoast SEO.
Subheadings within your post: And where it reads naturally, in the text throughout your post. Remember, don't force keywords into your post. You want to make it clear and helpful for readers, not just for search engines.
Keywords are just the beginning, so read my in-depth guide to on-page SEO right here.
Need Catchy Blog Title Ideas?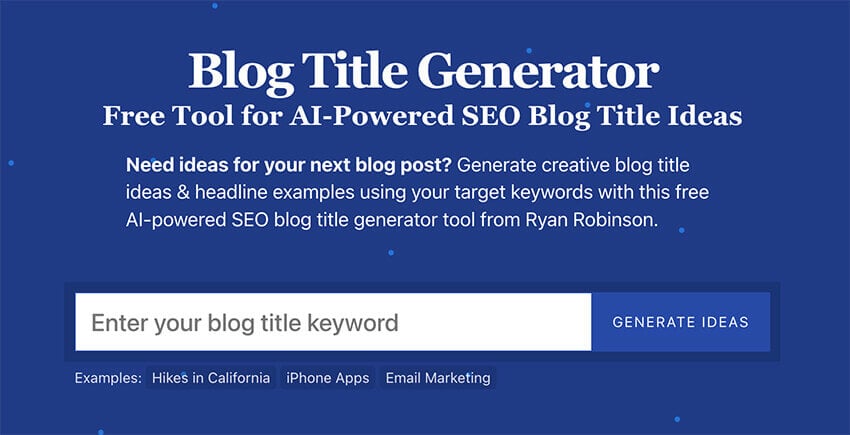 Try my free AI-Powered Blog Title Generator Tool to get dozens of SEO-friendly headline ideas to make your blog posts stand out today.
---
9. Publish Guest Posts on Other Blogs to Boost Your Authority (Off-Page SEO)
Beyond just the on-page SEO (the things you do with your content on your site), off-page SEO is very important in getting your site to rank well in Google search results. Enter: guest blogging.
Off-page SEO means, primarily, getting high quality links back to your website. You've hopefully already gotten a few links from good blog directories, but another great way to get them is to write guest posts on other sites in your blog's niche.
A guest blog post is a free piece of content that you offer to another blog. In return, you'll get at least a "bio" at the bottom of the guest post, where you can link to your homepage, a blog post, or (hopefully) whatever you like within reason.
This is a great way to boost your Google ranking for your website and for specific posts/pages on your site. Links from other blogs are signals to Google that your site is worth linking to.
Plus, the more you get your name out there through guest posts, the more chances there are that other people will start linking to your blog – especially if you have lots of useful information there.
10. Use Clear, Descriptive Titles for Your Blog Posts
We touched on this above, when looking at on-page SEO, but I wanted to reiterate how important it is to give each blog post a clear and descriptive title.
Imagine you're looking for tips about writing better blog posts and you come across two articles titled:
Writing Tips
10 Powerful Tips for Writing Better Blog Posts (Fast)
Which one of these articles are you more likely to click on in a Google search result?
With the second post, you know exactly what to expect. It's relevant to what you want. It makes a clear promise: you'll get 10 tips, they're powerful ones and this won't take too much of your time. All other factors held equal, the second headline is going to rank higher on Google every single time.
That title is much clearer and more descriptive. Not only is it better for readers, it's better for search engines, which can see from the title what your post is about. If someone looks for "writing better blog posts" on Google, your post might well rank for that term.
Finding Your New Blog On Google
So you've followed some of the tips above: at the very least, you've made sure your blog is live, you've checked it's visible to search engines, and you've submitted a sitemap to Google Search Console.
How do you find your blog on Google?
1. Search for Your Blog's Name
Your first step is to simply type your blog's name into Google. If it's live on Google, in most cases, it should come up near the top of the results.
If your blog's name is used by other websites, though, or the name is a common phrase, your blog might not show up on the first page – even though it's being indexed.
2. Turn Off SafeSearch
Sometimes, Google's SafeSearch can prevent your blog showing up in search results. That's most likely to apply if your blog includes adult content.
To turn off SafeSearch, go to Google in your browser, then click Settings → Search Settings on the bottom right. Right at the top, you should see the checkbox for SafeSearch. Uncheck it, then click the Save button at the bottom of the screen.

3. Search Using the site: Command
Google lets you find results from a specific site by using the site: command in your search query.
For instance, typing site:ryrob.com will show results only from my website.
You can use this command to find your website on Google. (Your homepage should be at the top of the list.)
To find posts or pages from your site, enter a keyword before the site: command, like this:
blogging tips site:ryrob.com
If you see a message telling you "Your search did not match any documents" then your site is not being indexed by Google. Double-check that you've spelled your websites domain name correctly (you can see I've added an extra 'y' in my domain name, below).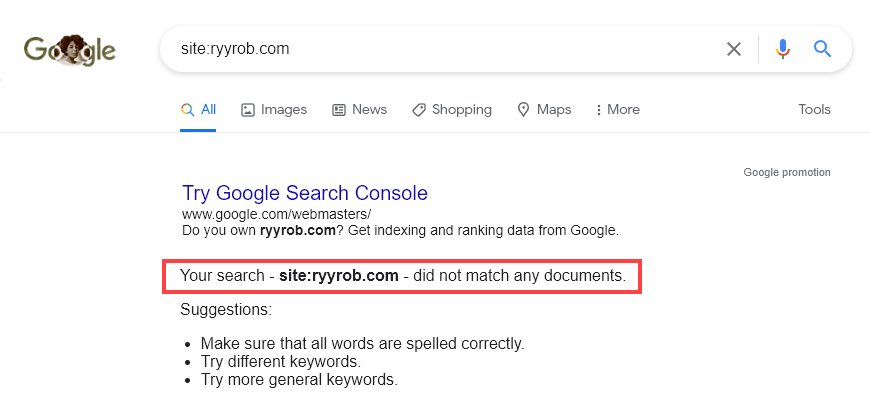 If you can take action on all the tips in this guide—check your Google visibility in a few days to see if your site is now being indexed. It should show up within a week or so at most.
How to Rank Even Higher On Google (Promote Your Blog Content)
Just showing up on Google isn't enough, especially if you want to make money blogging.
You need your posts and pages to rank higher on Google for the most important keywords in your niche.
The good news is that, while some SEO factors will forever be outside your control, many others are easy to influence.
Your next step is to learn more about SEO—by investing more time into optimizing your blog, you'll get your content to rank higher on Google (faster).
Of course, search engines aren't your only source of traffic, though. Take a look at these other ways to promote your blog—and you'll soon be getting more readers, leads and customers.
Remember, though, it all starts with getting your blog or website to show up on Google in the first place.
Make sure you've followed at least tips 1 through 6 in this guide, before progressing any deeper in the pursuit of ranking your content higher on Google.
Ready to Start Your Blog?
Check out my ultimate guide: How to Start a Blog (on the Side) Today.
---