Are you struggling to come up with an idea for your next blog post? Maybe you're staring at a blank screen as you battle writers' block—or you're wondering about giving up blogging and digital marketing entirely. Enter: my favorite blog writing prompts to get you back on track today.
Coming up with blog ideas can be tough, even for seasoned bloggers—though I built a free blog idea generator to help with exactly that. From a more traditional standpoint, working with some creative blog writing prompts are a great way to kick things off—giving you the inspiration you need to make a start.
Whether you're working on your 1st post or your 100th post, these writing prompts will get your creative juices flowing. I've split them into different categories: you can either pick prompts that suit the type of post you're trying to write, or you can dig into specific writing prompts that relate to your blogging niche.
With these prompts & brainstorming tips in hand, you can get your creative juices flowing right now. My goal is that you'll never struggle with writer's block again. Add in my free AI writer tool, blog title generator, keyword research tool, paragraph rewriter, meta description generator and you'll be blogging on fire.
70 Blog Writing Prompts to Get You Past Writer's Block
Disclosure: Please note that some of the links below are affiliate links and at no additional cost to you, I'll earn a commission. Know that I only recommend products and services I've personally used and stand behind. When you use one of my affiliate links, the company compensates me, which helps me run this blog and keep my in-depth content free of charge for readers (like you).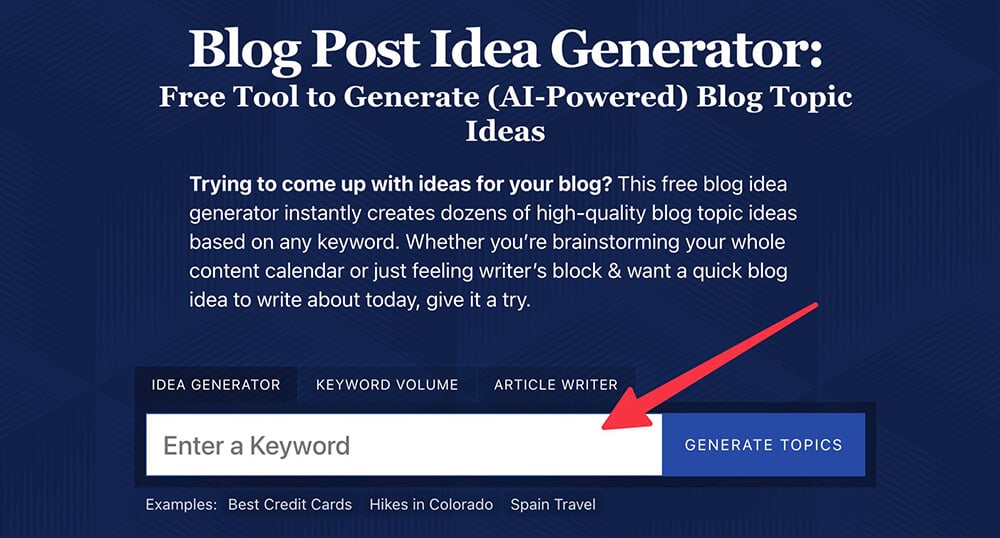 Writer's block can be a real pain. Trust me, I know. That's why I built this forever free blog post idea generator tool, powered by AI. In seconds, you can generate endless ideas for your next blog posts.
---
---
What Are Blog Writing Prompts and How Can You Use Them?
Blog writing prompts are a type of creative writing prompt, giving you ideas or starting points for your blog posts. Not to be confused with ChatGPT prompts for bloggers, you could view writing prompts as themes, topics, or even challenges for your blogging efforts.
There's no "right" way to use writing prompts for bloggers. Some people like to look through lists of prompts until they find something that resonates with them. Others choose a prompt at random and start brainstorming a post to fit that prompt. You might even want to adjust or tweak prompts so that they're a perfect fit for you and your blog. Anything goes—so long as it works to get you blogging!
Another way to make the most of writing prompts is to use ChatGPT: feed in the prompt and see what the OpenAI algorithm comes up with. ChatGPT can understand natural language so these prompts can work well there too.
25 General Blog Writing Prompts to Beat Writer's Block for Good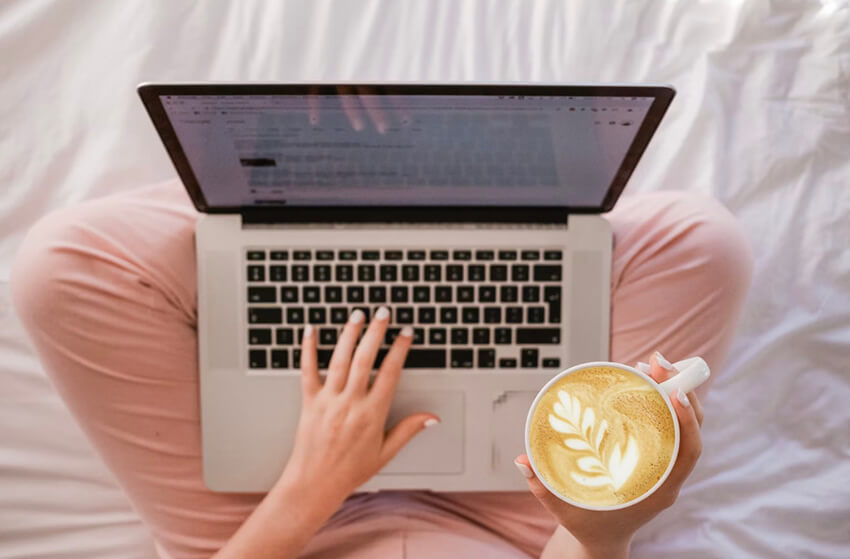 Let's start with some prompts that are tailor-made for specific types of posts. I've deliberately come up with prompts here that work across all sorts of different profitable blogging niches. You could also tweak these ideas a little to create shorter posts for social media platforms.
Blog Writing Prompts for "How To" Posts
Taking a page out of my own book with guides like how to start a blog and make money, the "how to" post is a blogging classic—and it's a great one to turn to if you're having a hard time getting inspired. Try some of these prompts to get you going.
Teach the reader how to do something small and self-contained. For instance, if you write a recipe blog, you might come up with a basic how-to on "How to chop onions" or even "How to preheat your oven correctly."
Write a how-to post that tackles a huge topic in a straightforward and helpful way, like "how to be happy" or "how to make money".
Do you use a piece of software or online tool that fits with your niche? Write a how-to guide on getting started with it.
Choose a question that you frequently get asked and create a how-to post that walks readers through everything they need to know.
Flip it around and write a "how to not" post. That could be something practical like "how to not snore" or something more inspirational like "how to not care what people think."
Blogging Prompts for Listicles
Another staple of the blogging world is the listicle or list post. This type of content is fun to write … all you need is a prompt to get you going.
Write a list of your favorite books relating to your niche. If you have a lot of favorites, choose a specific topic and come up with books just for that topic.
List your best advice for beginners or newcomers in your niche. What do you wish you'd known when you got started? What lessons have you learned?
Bring together your favorite quotes—those could be inspirational, funny, insightful, or anything that you think will resonate with your readers.
Write a "top tips" post: come up with lots of tips that readers can put into practice, without needing to follow them all at once.
Create a "top 10" post that lists the best 10 items of some kind: movies, people, cities, recipes, local restaurants… it's up to you.
Writing Prompts for Affiliate Marketing Posts
Affiliate marketing is a fantastic, beginner-friendly way to make money blogging. Some types of posts are particularly good for bringing in affiliate income (if you're a member of the right affiliate programs for bloggers). Here are a few blogging prompts to help:
Review a product or service that you use on a daily (or near-daily) basis. You could even include photos or a video showing how you use it.
Round up a list of top products/services in a particular category. This is a great type of post to link to on social media.
Create a product comparison that takes 2 or 3 popular products and compares them head to head. (This works well for SEO, as many people will search for X vs Y when looking to make a purchasing decision.)
Keep a journal as you try out a new product or service, recording what you think of it and how your view develops. You can use this as the basis for a blog post.
Write a case study about the results you got from a particular product or service (or interview someone else for a case study).
Blog Writing Prompts for Inspirational Posts
Some blogs just stick to informational content—but many also try to inspire their readers, offering encouragement to dream big. These blog post ideas will help you create this type of content.
Write about your biggest challenge (related to your niche)—and how you overcame it or what you learned from it. Don't be afraid to be vulnerable: readers like to see that you're human, too, and that you make mistakes just like they do.
Think about your readers who may want to give up on their goal. Write a post aimed at them, encouraging them to continue. If it suits your blogging voice, you could even write this as though you're writing them a letter.
Share facts and figures about how far you've come from where you started out. If you write about small businesses, for instance, you could share your own income figures year-on-year, so readers can see how your business grew slowly at first, then much faster.
Choose some inspirational quotes that you find especially powerful and explain what each one means to you.
Start a conversation or even a challenge for your readers to take part in. Encourage them to set a goal or achieve something specific.
Fun Writing Prompts for Creative Writers
What if your blog doesn't have a "niche" as such? Some bloggers write purely for personal enjoyment, or for a small audience of personal friends, seeing their blogging as a form of creative nonfiction. If that's you, try these blog post prompts.
Choose a photo that you've taken and that you love. Tell the story behind the photo—the sometimes-stressful family holiday, the moment of calm and tranquility, the longtime friendship, or whatever it might be.
Write about an unusual hobby or interest that you have. Explain it to your readers and try to convey just why it is that you enjoy it so much.
Write a letter to your past self, at a specific age. What advice do you wish you could give to your younger self? What would you tell them to do differently? Another option is to write a letter to or from a fictional character.
Describe a family gathering: that could be a typical Christmas or Thanksgiving, where you write about special traditions, or it could be one standout memory of a specific time, told in the form of a short story.
List some of the things you're most grateful for in your life currently. They could be tiny or ordinary things—but through your writing, you can show readers why they're filled with meaning for you.
45 Blogging Prompts for Popular Blog Niches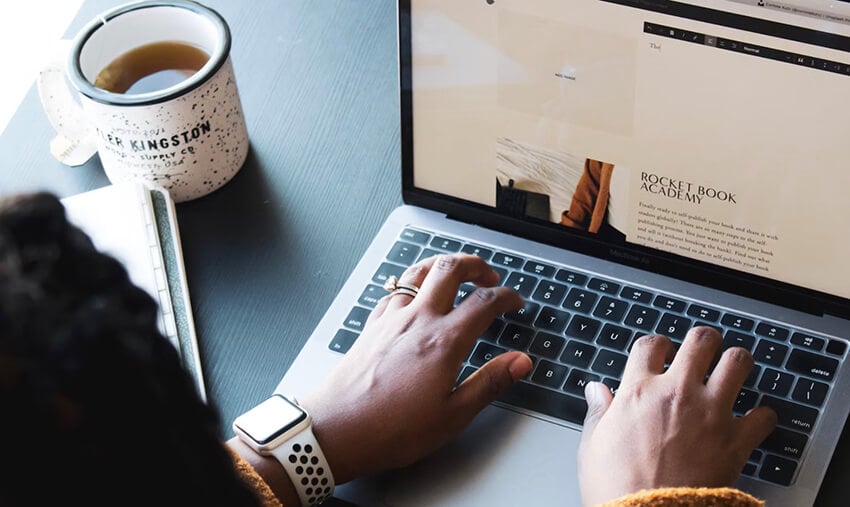 Now that we've taken a look at some more general blogging prompts, let's dig into specific prompts niche by niche. If you write in a big, popular niche, you'll hopefully find some great prompts here to inspire you.
Finance Blog Writing Prompts
Give your advice to readers at a specific age (e.g. "financial tips for your 30s" or "how to get on top of your finances in your 50s"). Alternatively, you could offer tips for a specific stage of life—e.g. "How to manage your money when you've just bought your first house."
Offer practical and encouraging tips on how to get out of debt: a huge issue for many people. You could potentially tackle this in the form of an FAQ (Frequently Asked Questions) guide.
Share your advice on saving: how much should readers save? How can they save faster? What about saving for a range of different goals with different timespans?
Write about the financial mistakes you've made—and how you recovered from them. Explain exactly what readers need to do to avoid those mistakes.
Cover some common scams or dangerous practices with money, helping readers to spot red flags and keep their money safe.
Travel Blog Writing Prompts
If you're feeling a little uninspired with your travel blog, these writing prompts will get you back on the go.
Tell readers about the typical contents of your luggage—what are your "must haves" when you're traveling? If possible, share photos, and don't forget to use affiliate links wherever you can.
Write about the worst trip you ever had, including plenty of humor. This is a great way to keep it real on your blog and let readers know that you, too, have had your share of vacation disasters.
Offer tips on having a budget-friendly vacation. What are the countries or cities where readers can get the most for their money? How about clever ways to cut the costs of plane tickets or other travel?
Pick a destination you love and share the top reasons to visit it. What are your favorite attractions, sights, restaurants, or experiences there? How can readers get the most from a trip to that place?
Share a fun story from a recent trip. What stood out in your memory? Really paint a picture for your reader, giving them all the details so they can imagine just what it was like.
Parenting Blog Writing Prompts
If you run a mom blog or dad blog, then these writing prompts will be right up your alley.
Write about a "day in the life" of how things are at a particular stage of your parenting journey, sharing details about your kids' routine, typical activities, school, and so on.
List the things you worried about before having kids that turned out to be no big deal.
Share advice for new parents, or parents at a new stage (e.g. child starting school) in the form of a letter.
Talk about the best toys or other purchases you made. What stood the test of time? What still gets used or played with years later?
Write about some of the funniest things your kids have said—or some of the strangest (but ultimately relatable) misconceptions they've had.
Technology Blog Writing Prompts
Create a list of useful shortcuts for a popular software program, like Excel, Google Docs, or Notion.
Make a free course or ultimate guide to a piece of software (such as WordPress) perhaps rounding up other pieces that you've written or linking to tutorials by other bloggers.
Record a video or write a tutorial about a small but important use of technology. For instance, if you focus on blogging, you might explain how to create a meta description for search engines.
Choose a technology topic that's been in the news recently and give your take on it, like artificial intelligence or automation.
Write about why you switched from one tool to another—this is another take on the "comparison" post but can also help readers understand your journey in your niche.
Food Blog Writing Prompts
Food blogging is one of my favorite niches—here are some prompts to get you back to feeling inspired with your blogging menu.
List a range of ways to use up a common ingredient. Pick something that readers might often have left over, or something that they may end up buying or acquiring in bulk (e.g. a glut of tomatoes from their garden).
Write a guide to a particular vegetable: how to cook it, recipes that use it, when it's in season, how long it lasts in the refrigerator, and so on.
Tell readers about your favorite kitchen tool or gadget. You could even make a video that shows how you use it.
Let readers know when it's worth spending more for better quality ingredients … and when they'd just be wasting their money.
Write about foods that are in season right now and share recipes or ideas for using them (this type of post is one you could do quarterly or even monthly).
Personal Development Writing Prompts
Give readers a "before" and "after" picture of your life. What's changed in the last few years? Maybe you've paid off your debts, become much more productive, or significantly improved your health.
Share your best "little" tips that make a really big difference. Think things like putting your alarm out of reach so you have to get out of bed. What small, easy things could help your target audience to make big progress?
Describe your typical morning routine—and explain why you include different elements. You could also add more of your personal story, detailing how your routine has changed at different stages of your life.
Pick a popular influencer and discuss some of their social media posts. What can your readers learn from them?
Create a tool, template, or resource to help readers with their goals, and share that in a blog post. For instance, you might make a habit tracker printable for readers to download, and use your post to discuss habits and how to use the tracker.
Business Blog Writing Prompts
Whether you're teaching about online marketing, business basics, or how to nail your follow-up game as a startup founder, these business blog writing prompts will steer you in the right direction.
Write candidly about any business failures you've had. Many small businesses fail, and it's reassuring to readers to know that failure definitely isn't the end!
Tackle "firsts", like creating your first website, hiring your first employee, or running your first marketing campaign. All of these can be daunting challenges for readers: a guide explaining what to do and what to expect will really help.
List your top business-related podcasts, audiobooks, or other resources that busy readers could enjoy listening to.
If your company has a number of employees, consider interviewing them for the blog. Ask them about their work, what they enjoy most, and what advice they might have for your readers.
Talk about top conferences or events that small to medium business owners could visit. Explain who each conference/event is best for and share details about what to expect and how to get the most from them.
Health and Fitness Writing Prompts
Write a "Beginner's Guide" to an aspect of health and fitness—perhaps to a specific type of exercise, like running, or to a type of healthy eating program, like calorie counting, Keto, or intermittent fasting.
Talk about your health journey, including any challenges you've faced. What helped you to get through difficult times?
Write about common mistakes or misunderstandings about a particular aspect of health or fitness. What myths or half-truths do you find yourself hearing again and again from readers? How could you debunk these?
Create a video demonstrating a particular exercise or technique, and share it with your readers. You could even include multiple short videos in one blog post.
Share health and fitness advice for different ages or stages of life. What health advice would you give to someone in their 20s versus someone in their 60s? How about busy stay-at-home parents vs child-free adults working long hours?
Lifestyle Blog Writing Prompts
Lifestyle blogging is all about building connection with your readers—and the right story ideas will help set you apart from the crowd in this packed niche.
Tell readers about your typical day. What time do you get up? What do you eat? What do you do for work and for fun? Lifestyle blog readers are keen to get to know you and what makes you tick.
Talk about your favorite recent purchase: what have you loved since the moment you bought it? (Don't forget the affiliate links, and photos.)
What self-care activities do you enjoy? Share these with your readers—again, don't forget affiliate links, if appropriate.
Share the books, movies, or TV shows you've been enjoying recently. What did you love most about them? Why would you recommend them to your readers?
Tell readers about a fun recent day trip. Where did you go, who did you go with, and what did you do?
Beauty and Fashion Blog Writing Prompts
Write about your favorite accessories and how you use them to style different outfits. Add photos or even a video.
Create a simple, basic guide to a particular beauty technique, like "5 steps to flawless eyeliner". Keep it easy and go step by step.
Choose a particular beauty or fashion trend and tell readers your take on it. You might want to explore the history of that trend or you could just give your opinion.
Show readers what's in your makeup bag—or what products you never leave the house without. (This is a great post for making affiliate revenue.)
Give readers skincare tips for different ages or different skin types (dry, oily, etc).
Get Blogging Again: Use These Writing Prompts to Inspire Your Next Post
Writers' block is a struggle for lots of bloggers—and coming up with idea after idea, week after week, isn't easy, even if blogging is an important part of your marketing strategy.
Hopefully, my blog writing prompts will give you the inspiration you need to get moving again, whatever your niche. You might even incorporate prompts as a regular part of your blogging workflow.
Once you've chosen a prompt, I've got plenty of help for you with writing and structuring your post. Check out my tips on writing a blog post and my guide to creating a blog post structure that hooks readers for everything you need to know.
Keep in mind too, that employing the right writing tools (like my AI tool suite, RightBlogger) can help immensely in blowing past writer's block forever.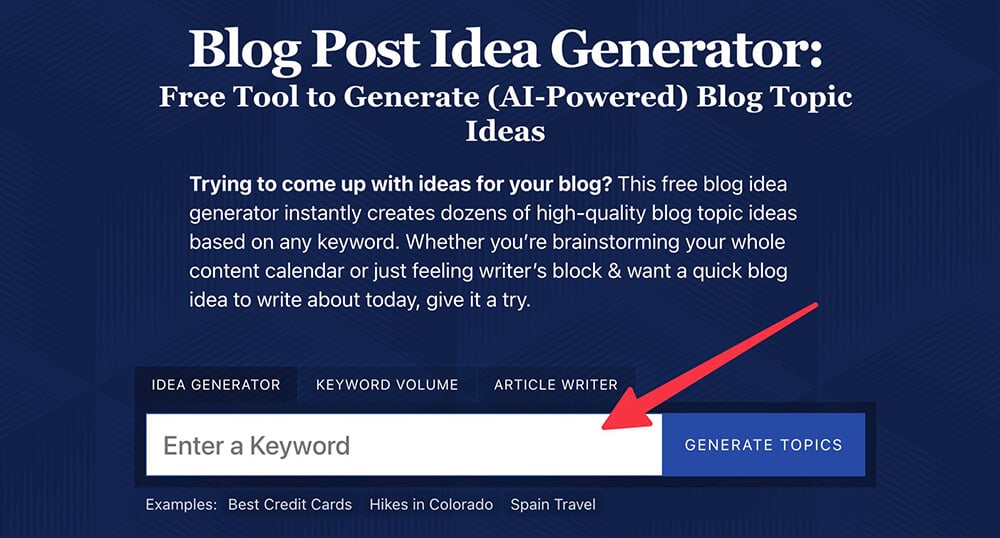 Writer's block can be a real pain. Trust me, I know. That's why I built this forever free blog post idea generator tool, powered by AI. In seconds, you can generate endless ideas for your next blog posts.
---