Meta Description Generator
Free Tool for (AI-Powered) SEO Descriptions
Want instant SEO-friendly meta descriptions? My free meta description generator lets you come up with the perfect SEO description for search engines, incorporating your keywords, in seconds. Rank higher, stand out in SERPs & improve your click-through rates effortlessly with this tool—it's 100% free to use.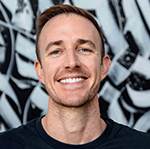 Get More Free Blogging Tools
Delivered Straight to Your Inbox
"*" indicates required fields
Rank High in Google and Other Search Engines with this Free SEO Meta Description Tool (More Clicks & More Traffic)
Are you trying to get more traffic to your blog? SEO (Search Engine Optimization) is a huge part of that—but without a flawless meta description fueling the foundation of your on-page SEO efforts, you're missing a key piece of the puzzle.
Search engines show 2 crucial pieces of information about your content: the meta title and the meta description. The meta description is usually up to 2 lines long before it gets clipped by search engines like Google:

Most people focus on optimizing the title for SEO purposes—but the meta description (sometimes called the SEO description) is a vital ranking factor for search engines. In those 2 lines of text, you need to (a) let search engines know what your post is all about and (b) grab the attention of busy searchers, convincing them to click on your result.
Crafting the perfect meta description isn't easy. You only have around 155–160 characters before Google cuts you off. That means you need to pack a lot into a short space. And if you have a whole bunch of meta descriptions to write—say, for past blog posts that you want to optimize—then you could be facing hours of work.
That's where my meta description tool comes into play. It's 100% free and it'll create SEO meta descriptions for you in just seconds, based on the topic or keyword phrase you enter above.
What is a Meta Description Generator Tool?
A meta description generator tool is a nifty piece of software designed to come up with a meta description for your blog post or web page, based on its title. The tool should come up with meta descriptions that are the perfect length, work well for search engines, and get readers' attention.
This free AI-powered meta description generator is really easy to use. Just type in your blog title and you'll get 5 meta descriptions to choose from, in seconds. No more writing, editing, rewriting, and starting over… you can grab your chosen meta description and add it to your content within minutes.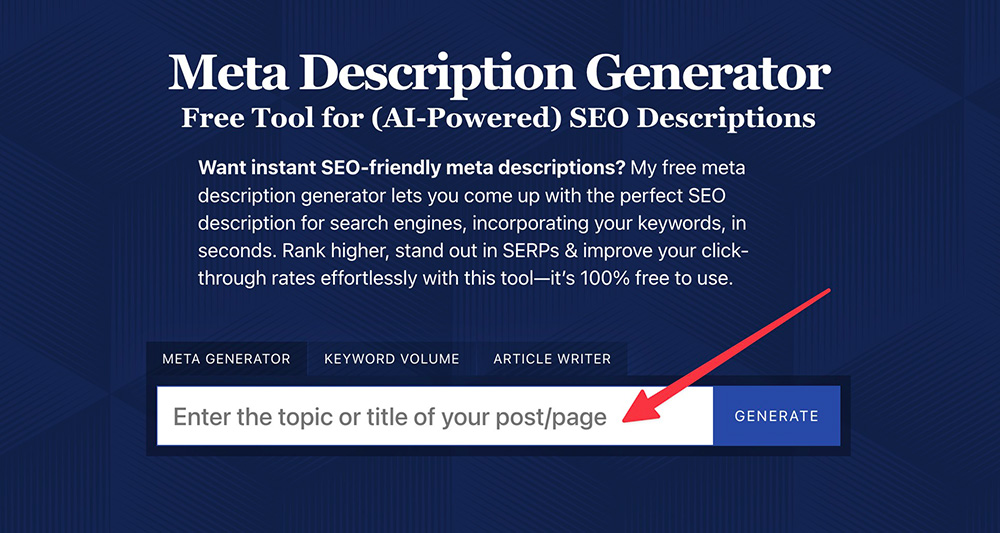 The best meta description tools (including mine) will give you:
The opportunity to enter a full title. While you can generate meta descriptions from keywords, you'll find that meta descriptions are best tailored to your posts if you can use full titles.
Control over voice and tone. You want your meta descriptions to have at least a hint of your writing style. If you're normally chatty and informal, that should come across in your meta descriptions. Readers will be attracted to your tone and style, not just your content. You'll have the option to toggle tone & writing style inside RightBlogger's fully featured meta description generator.
Multiple language options. If you're creating meta descriptions for a non-English website, you don't want to go through the extra step of having to translate them all. Use a meta description tool that lets you select your language ahead of time. With this free tool, you have a few language options, and you'll have the option to utilize 20+ language outputs inside RightBlogger's fully featured meta description generator.
Several meta descriptions to choose from. While you can run most meta description tools over and over again, the very best tools will give you several different options right off the bat. That way, you're much more likely to see something that's perfect for you, on the first try.
Now that we've covered the best practices of using a meta description writer tool, let's dive into a few best practices all bloggers, writers & content marketers need to get well-versed in.
How to Craft the Perfect SEO Description With This Free Meta Description Generator
Ready to start creating your meta descriptions? It'll take just seconds with this free meta description tool. Let's get started.
Type in Your Blog Post Title (That Contains Your Keyword)
First, you'll need to enter the full title or headline for your content. This title should include your primary keyword, so that the meta description can make use of that too.


What is a Keyword and Why Does it Matter?
A "keyword" is a short phrase (usually more than one word) that people type into Google when searching. You could think of it as a search query.
Some keywords are much more popular than others. For instance, the keyword "time management" has 40,500 monthly searches— which would make it tough to rank for. But "how to focus on studying" has 1,300 monthly searches, and would be a lot easier to rank for.
Optimizing your content for the right keywords matters. If you optimize for a keyword that hardly anyone is searching for, you might rank #1 in Google… but you still won't get much traffic. If you optimize for a hugely popular and competitive keyword, you might do everything right… but bigger websites will still beat you to the top slots in Google.
Not sure what keyword to use? Check out the free keyword research tool for lots of ideas as well as detailed guidance on how to pick your target keywords.
Choose Your Preferred Tone (Great for Branding)
The next step is to pick the tone & writing style you want, features that are available with the full version of this tool inside RightBlogger. The "default" tone works fine for most content, but if you've got a strong brand voice, you'll want to experiment with the other options too. Just click on the dropdown list to choose one.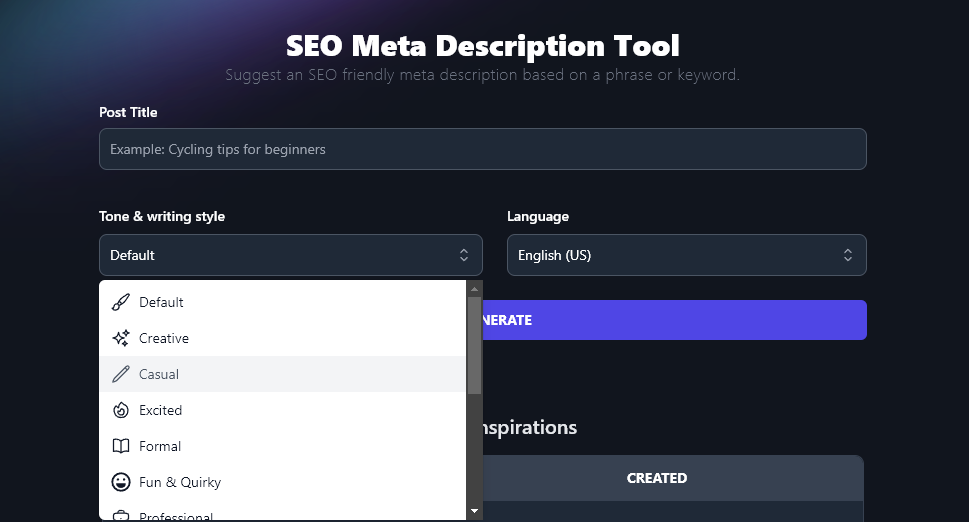 Since the Tone & writing style options are only available on meta descriptions inside RightBlogger, you'll need to take the SEO description this free tool generates and customize it a little bit to match your desired tone.
How the Different Tones Work
This SEO meta description generator gives you a wide range of tones to pick from, with each influencing the word choices used in your meta descriptions.
For example, here's an AI-generated meta description for the post "5 Easy Steps to Organize Your Desk" in the "default" tone:
Get your workspace in order with these 5 simple steps to organize your desk. Boost productivity and reduce stress today!
And here's a description for the same title, but this time written in the "fun & quirky" tone:
Revamp your work area with these 5 simple tips to organize your desk like a pro. Start today and say goodbye to messy piles and hello to a tidy workspace!
Here's a meta description in a "professional" tone, suitable for a workplace or school blog:
Revamp your workspace and increase your focus with our 5-step desk organization guide. Start organizing now for a better tomorrow.
Which Tone is Right for Your Blog or Business?
It can be tricky to choose just the right tone to convey your business's brand to infuse your meta description (and your digital marketing in general) with your personality. And, with 160 characters at most, you can probably only get a flavor of your voice into your meta descriptions.
But it's still worth spending some time exploring different tones. You can run the meta description generator as many times as you like—so try out any of the tones that sound like they could be a good fit for you, and see which gives you the best results.
Generate 5 (or More) Meta Descriptions and Choose the One You Like Best
The meta description tool gives you 5 AI-written descriptions for every blog post title, so you can pick the one that best fits your post and your audience. If none of them are quite right, just generate another 5—you can use the free tool over and over again, as many times as you like.
Of course, you may want to tweak a couple of words in your meta description: it's fine to write it however you want.
If you can, try to have a clear call to action within the meta description, like "Start now" or "Follow our guide". This copywriting technique can help increase your conversion rate, so more people seeing your description will click on it.
Make Sure Your Meta Description Incorporates Your Primary Keyword
Some of your generated SEO meta descriptions will use your exact primary keyword and others will use a fairly close variation. If you're focused on optimizing for one specific keyword, you'll want to tweak your meta description to make sure it's incorporated as closely as possible.
(If you're optimizing for 2 slightly different keywords, you may want to have one in your title and one in your meta description.)
Add Your Meta Description (Meta Tag) to Your Post or Page in WordPress
Once you have a good meta description that you're happy with, it's time to add it to your website's post or page as a special HTML meta tag. Here's the easiest way to do that if you're using WordPress.
Installing an SEO Plugin on Your Website
First, you'll want to install an SEO plugin like Yoast SEO on your website. Just head into your WordPress admin area (backend) and go to Plugins→Add New. Search for the Yoast SEO plugin, then click Install Now. Once it's installed, click Activate.
Your posts and pages will now have an extra section for your meta title and meta description.
Adding the Meta Description to Your Post or Page
Next, create a new post or edit the existing post that you're working on. Below the content box, you'll see the new SEO title, Slug, and Meta description fields: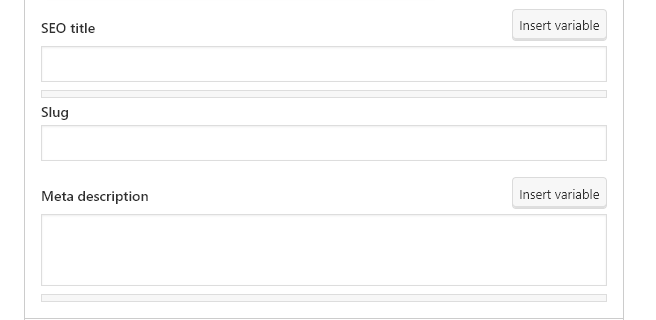 You can simply copy your chosen meta description (and a meta title using my other free tool) into the Meta description box. Make sure you save the post afterward.
Bonus: Use My Free SEO Checklist Alongside this Meta Description Tool
As well as using the meta description tool, you'll want to make sure your whole post is optimized to rank well on search engines (this process is called on-page search engine optimization, or blog SEO).
Here's my own step-by-step SEO checklist to use before you publish your new post or republish an old one:
Install and use the Yoast WordPress plugin
Make sure you've chosen a good keyword phrase for your target audience
Tweak your post's subheadings to help Google index your post faster and use it for rich snippets
Don't use H1 headers within your post, only for your post title at the top
Check that you're using header hierarchy properly (H2 subheaders, with H3s within those if you need an additional layer of headers)
Use your primary keyword phrase naturally within your post—you don't need to go overboard, but make sure it's in there at least a few times
Include links to content on your site and on other people's sites (at least 3–5 links should be external links, to others' sites)
Make sure your meta-description is enticing and will catch readers' attention
Add keyword-rich descriptions for your image alt text, for all images
Check your post is long enough—usually, 1,500+ words (you could add an "FAQs" or "Bonus Tips" section or similar if it's a little short)
Use the blog title generator tool to craft an SEO title that Google will love
Make sure your primary keyword is in your post or page's permalink (also called the URL or slug)
As a fun aside, you can even use this meta description generator to create a perfect length LinkedIn profile description for yourself. The OpenAI API prompt template we use behind-the-scenes for this tool writes content to a similar length.
The Features of This Free Meta Description Tool
My free meta description generator has several different features to help you come up with the perfect (SEO-optimized) meta descriptions for your blog posts and website pages.
Post or Page Title (Make Sure it Incorporates Your Keyword)
The only thing you have to enter when using this tool is the title or headline for your content.


If you haven't yet finalized the title for your post, that's fine. Enter your topic or working title here and the meta description tool will still be able to come up with something good.
Tone & Writing Style (Experiment With This to Match Your Brand Voice)
The full-featured SEO meta description generator inside RightBlogger offers a whole range of tones & writing styles, to choose from for customizing the vibe of your meta descriptions, including:
Creative
Casual
Excited
Formal
Fun & Quirky
Professional
Authoritative
Empathetic
Irreverent
Direct
Passionate
Persuasive
Sales-oriented
You can try out as many of these as you like. At least one should be a good fit for your personal voice or your blog/business brand. You might even want to use one for blog posts (e.g. casual) and another for product description pages (e.g. sales-oriented).
Language (Choose Your Preferred Language)
You can pick from 20+ languages when using the unlimited version of my meta description generator inside RightBlogger—it'll create flawless content in any of these languages at near native-level writing.
The description generator defaults to English (US), but if you're in the UK, you can use English (UK) for British spellings and turns of phrase.
Meta Description Generator Tool FAQs
Is it plagiarism to use the SEO meta description generator tool?

No, it's not plagiarism to use this meta description tool. The tool isn't copying meta descriptions from anywhere else on the web. Instead, it's an advanced AI writing tool coming up with unique, custom descriptions that fit perfectly with your topic or title.
Why doesn't Google show the meta description I entered?

Google won't always use your meta description—even if you've set up everything 100% correctly. Sometimes, Google will pick a short section of your post that it feels is a better match for the user's search intent.

Of course, you should always make sure your meta description is well-written and accurately describes your page content. That's what my tool helps you with

Beyond that, there's nothing you can do to prevent Google from changing your meta description in SERPs (search engine results pages). Personally, I try to see it as a good thing: Google wants people to find and click on a result, and so by rewriting your meta description, it's aiming to improve your CTR (click-through rate) and get you more organic traffic.
What other AI tools should I use to improve my SEO?

I'm a huge fan of AI (artificial intelligence)—and of all the ways it can help bloggers and online business owners. Along with the free meta description generator, my team has created a whole set of useful AI tools and more specifically—AI blogging tools. You'll want to check out the meta title generator, AI keyword research tool, the AI blog idea generator, the AI writer for blog posts, the AI paragraph rewriter, my blog title generator, domain name generator… and I've got more coming soon! I've also got a round-up of the best AI writing tools here for you.

All my free tools are based on full, unlimited tools in RightBlogger, which has over 40+ blogging, social media, and SEO tools—all powered by AI.
Why did you make this free meta description generator… completely free?

When I started blogging 12+ years ago, I was on a tight budget. I couldn't afford all the fanciest blogging tools—even though I knew they'd help me grow my blog more quickly. So I hunted around for free alternatives, and even asked friends to share subscriptions for years until my blog started bringing in serious income.

That's why I made the meta description tool free. I've stood exactly where you stand. And I wanted to reach out and give you the gift that I would have been so grateful for when I was getting started. Because of that, this tool will be free forever. I want every blogger to benefit from it, even if they're just starting out and have literally nothing to spend. This tool is free because I care. You don't need to sign up and enter your credit card details, navigate complex pricing or anything like that (and you never will) just to get a good meta description tag.

Once your blog grows and starts to make money—and I'm confident that, with my tools and your hard work, it will!—then I'd love it if you'd try out RightBlogger. It's a full version of all my free tools (and many more besides) and it'll help you grow your blog faster than ever before.
Can I use the meta description tool for my existing content?

Absolutely! One great way to use this tool is to go back to older posts that don't have a meta description—or ones with a description that needs some SEO tweaking. You can go ahead and generate meta descriptions for posts you wrote months or even years ago. This can be a useful SEO strategy for improving traffic to your site.
Can I use the meta description tool if I don't yet have a title?

Yes—but it's not usually the best way to use it. You can definitely enter a general topic, rather than a full title or heading, but your meta description won't necessarily be such a great fit for your finished post. I'd start with my meta title generator first.

If you do want to use the meta description tool this way, it can be a good way to refine your ideas as you come up with a clear title for your post. But generally, I'd recommend using the blog idea generator and the blog title generator before turning to the meta description tool.
Who is this meta description generator tool designed for?

Anyone with a website can use this SEO meta description generator. When my team put it together, we wanted to make it as useful as possible for bloggers, and also for content marketers, content creators, SEO professionals optimizing their clients' content, small businesses looking to grow their search engine traffic … and basically anyone looking to create high-quality content to take their website or blog to the next level.

The meta description tool is free (and always will be), so it's for anyone who wants to use it. Even if you only launched your blog yesterday, you can get started with this tool right away.
How can I check if my meta description is the right length for Google?

Meta descriptions need to be about 155-160 characters maximum to display in Google's search results.

This isn't an exact figure as some characters are narrower than others—the cut-off point is around 920 pixels. A good length is usually between 120 and 158 characters.

You can check your meta description in the Yoast preview or use the Google SERP Generator to see how it'll look to potential visitors once it's live in Google.
Tool built by my insanely talented friend, @sup.