Whew, this is the latest I've ever been on getting a blog income report published, so I'm going to keep this short and sweet. Most of my time this month has been going into implementing my blog redesign (as I'm sure you've now noticed the new look & feel)—and I'm still working away! Blog income for January came in at $22,922.83. Traffic was pretty steady, bringing in 354,039 readers and 452,428 unique sessions.
Now, let's dig into the numbers for January… blog income rose slightly from the previous month, landing well above my forecast range thanks to solid affiliate commissions from my guide about how to start a blog and another consistent month of sign ups for my comprehensive blogging course, Built to Blog: How to Get Your First 10,000 Readers and Earn Six-Figures Blogging.
Overall, I generated $22,922.83 in blog income during January of 2020.
My expenses were pretty low last month, as much of my time has been spent on the website redesign project (and less on writing help). Profit for January came in at $18,304.13.
The Forecast 🌤: For February, I'm anticipating a slight increase in blog income as a couple of new revenue sources continue to grow. I'm expecting to land in the range of $22,000 – $25,000. Income will likely level off in this range for the next few months as I continue experimenting more with new traffic driving strategies and weaving in new affiliate program promotions throughout my content. February should also be pretty light on expenses as I'm still working a lot on my site redesign (manually rebuilding many pages) and I'm getting less new content created by my writers.
Now, on to the details of my January blog income report…
Blog Income in January 2020:

$22,992.83
In these monthly reports, I track my total income every month, including each individual source of that income, and associated expenses with running my business. This is the good and the bad.
Next, I break down the traffic to my blog which heavily impacts my income, including what's performing best and how I'm working to drive in more readers. I also cover how many email subscribers I'm at, the number of new subscribers acquired during the month, and what that growth trajectory looks like.
Finally, I cover updates on any other side projects I'm working on for the month.
---
Want my income reports delivered straight to your inbox?
Join me today and I'll send you my weekly tips, strategies, and detailed insights on growing a profitable side business.
---
Now, let's do this.
Blog Income Breakdown for January 2020
Expenses Breakdown
Net Profit Breakdown
---
Now, on to my blog and email-related statistics.
---
2. Blog Stats for January 2020:

452,428 Sessions and 135,309 Total Email Subscribers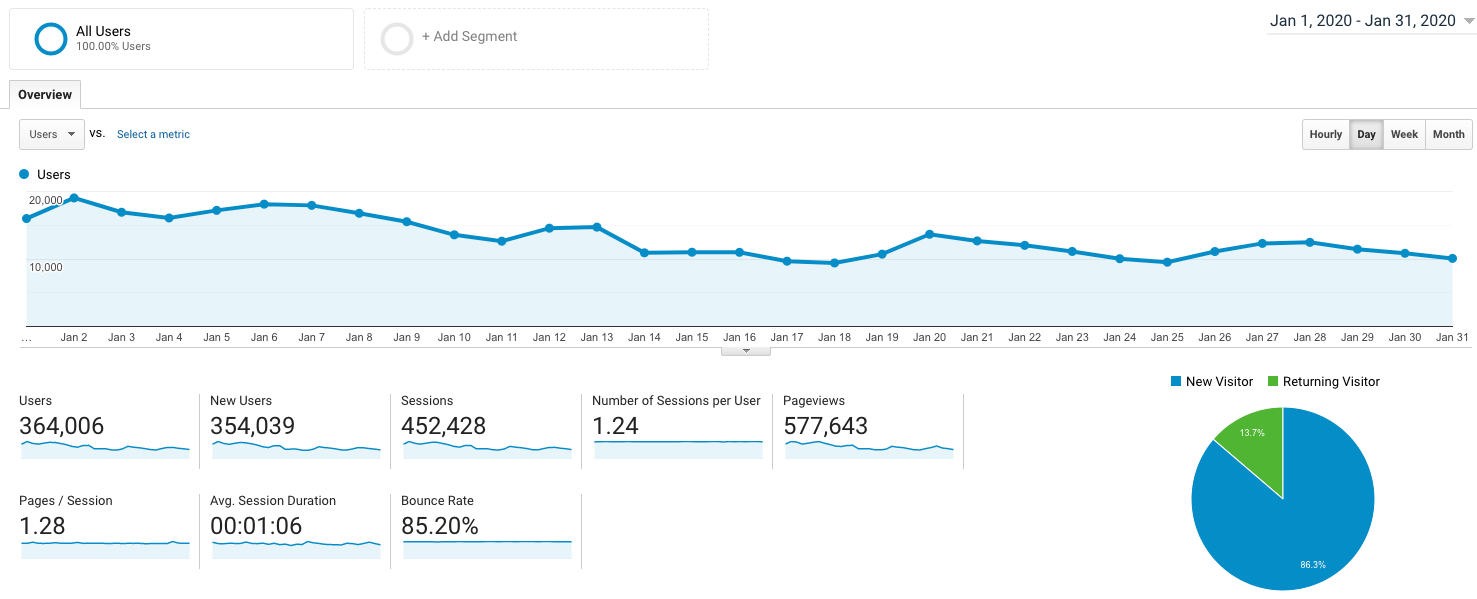 January was another relatively steady month in terms of traffic and key organic search rankings. Almost all of my long-form blogging-related content and guides that've been published over the course of the last 6 months are continuing to climb the first page of search results for their target keyword phrases (suggesting massive potential this year). There's been a lot of volatility with most of my competitive search rankings, but this is a long game… and I'm continuing to invest in the future performance of my blog.
The biggest change in my blog strategy this year is that I'm now driving significantly more traffic to a larger number of articles (and revenue sources), rather than relying on just one or two articles to prop up my business. As we get further into this year, diversification in traffic & revenue remain one of my primary areas of focus.
I was up in Sessions from December by 5.60% as traffic started to climb marginally in the new year. Pageviews increased to 577,643.
Overall, I'm still up more than 22% in growth year over year compared to December of 2019, so I have a lot to be grateful for still. My most trafficked posts still continue to deliver strong traffic from organic search and my new content from the second half of last year is climbing in organic search rankings as well. I'm in a great position heading into this new year.
Here are my top 15 trafficked posts from January, ranked in descending order of which drove the most readers:
January was pretty flat in terms of traffic compared to last month, but readers to my 25,000+ word guide, How to Start a Blog and Make Money increased a bit—which is still holding onto good rankings in organic search for competitive terms like how to start a blog, how to blog and such.
Plus, as more readers land on that guide, more are joining my free course, How to Build a Blog in 7 Days and are offered an opportunity to join my more comprehensive paid Built to Blog course that'll help them level up their blogging journey even more.
Also in January, I published four new long-form articles for my growing audience of bloggers:
Much of my time in January went to updating and expanding my most successful guides, like:
My plan is to keep publishing a high volume of in-depth content for bloggers this month, with the goal of clearly signaling to Google that my site is primarily about blogging and expecting that to keep delivering me more readers looking for tactical blogging advice over the long haul.
2. Email Subscribers.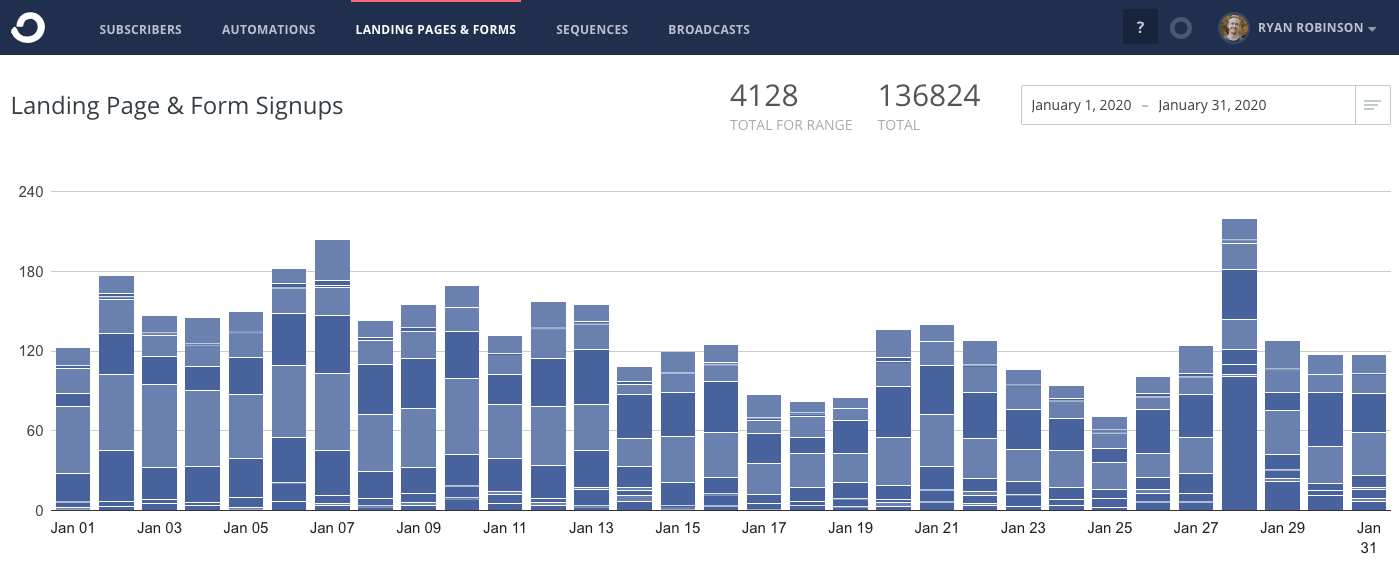 I use ConvertKit to manage my email subscriber community and deliver my emails.
November saw the addition of 4,128 subscribers to my community with my total email list growing to 135,309 subscribers 🎉
This was also pretty flat in terms of new subscriber growth with the previous month, remaining a bit lower than usual (combination of seasonal trends and traffic swings).
Still, many of my new subscribers came from my influx of blogging-related content and free downloads—which is my ultimate goal to keep focused on. Much of my new subscriber growth continues to be fueled by my free course, Build a Blog in 7 Days which is well-optimized for both affiliate revenue—and for offering my more advanced paid course (Built to Blog).
That's it for my January blog income report.
I'm still on a break from recording new podcast episodes as my attention goes primarily to producing more standout written content. Once the time is right, my goal is to bring the show back with a new focus (and format) around providing the most actionable blogging advice out there. Stay tuned for updates on that!
As I said at the beginning of this report, I'm predicting blog income to increase a little bit during February, landing between $22,000 – $25,000 as my traffic remains pretty steady and new income sources continue to pay greater dividends. My focus remains on publishing a high volume of in-depth blogging content that'll pay off over the course of the coming months (and years).
If you're looking for some additional reading to help grow your own blog, I recently updated my 25,000 word free guide to building and scaling a profitable blog right here that I'd love for you to read 😊