No matter where you're at in your blogging journey, learning from the best blog examples (of successful and popular sites) can help significantly increase your success as a blogger.
Since time immemorial, stories have played a major role in shaping civilization. Unfortunately, for the greater part of mankind's existence, only a privileged few had access to large audiences.
Enter the Internet age and pretty much anybody can have an audience, and a large one at that.
How? Through starting a blog—which is where this case study breakdown of successful blog examples really comes into play.
22 Blog Examples (of Successful Blogs) You Need to Know in 2023
Disclosure: Please note that some of the links below are affiliate links and at no additional cost to you, I'll earn a commission. Know that I only recommend products and services I've personally used and stand behind. When you use one of my affiliate links, the company compensates me, which helps me run this blog and keep my in-depth content free of charge for readers (like you).
Ready to Start Your Blog Today?
Check out my ultimate guide How to Start a Blog (on the Side) that's been featured on Forbes, Inc and Entrepreneur.
---
If you're contemplating starting your own blog and looking for inspiration, you're in luck. This post is a compilation of the best blog examples to learn from in 2023. But before we get to them, let's cover some core issues.
What is a Blog?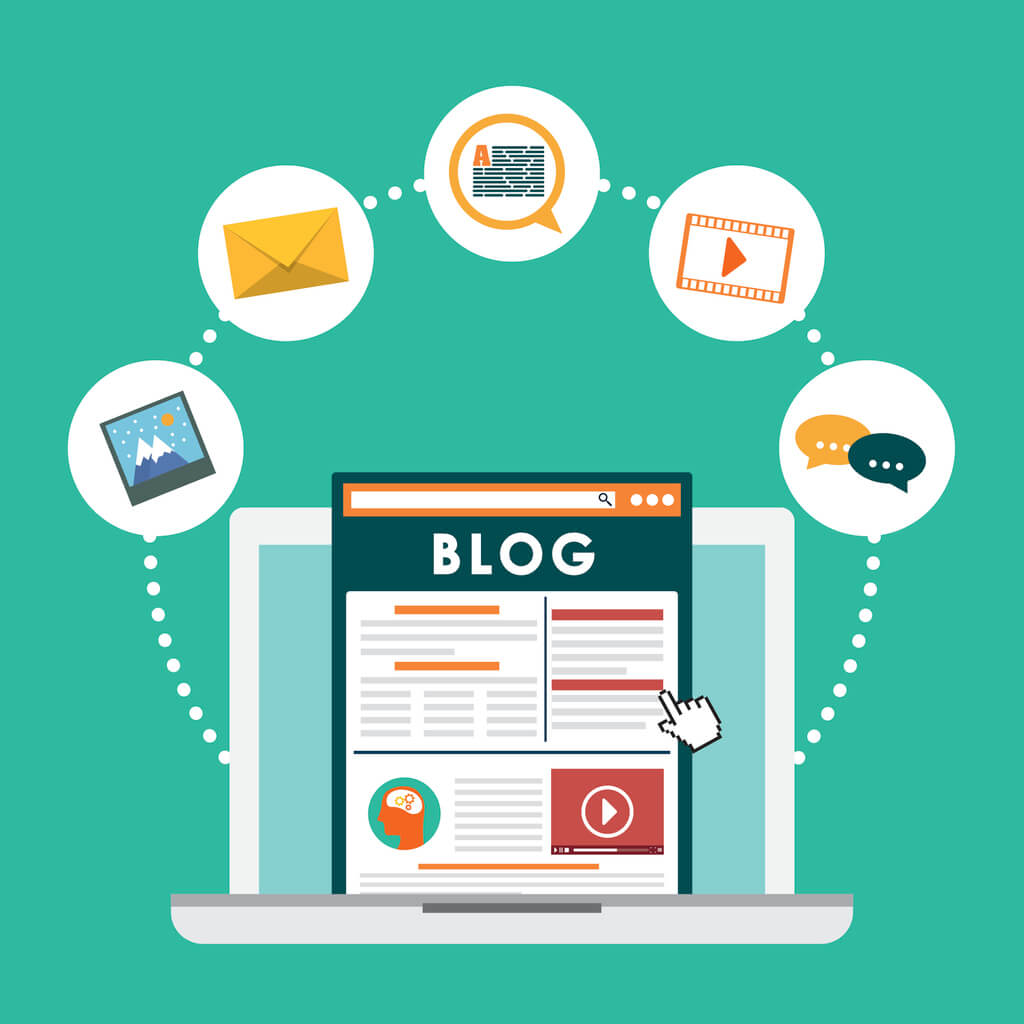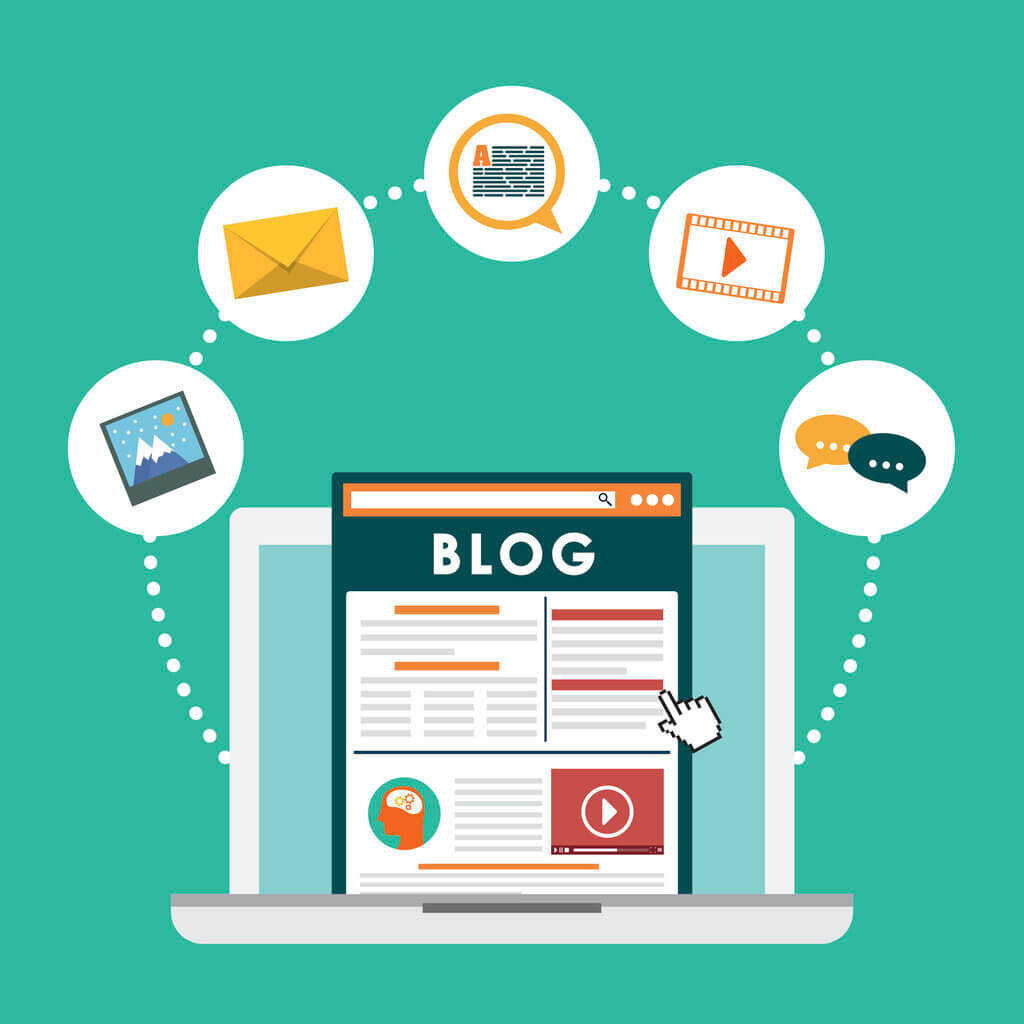 A blog is a website that is regularly updated with new content, typically written in an informal or conversational style.
The earliest blogs were online diaries, but blogs quickly evolved into powerful entities that fulfill several personal and business-related blogging goals, like:
Sharing your passion with the world
Brand awareness
Driving traffic to the "money pages" of your website
Building relationships with customers or other like-minded people
For a more detailed look at what a blog is and what differentiates it from a website, read my in-depth article here.
Ready to Start Your Blog Today?
Check out my ultimate guide How to Start a Blog (on the Side) that's been featured on Forbes, Inc and Entrepreneur.
---
3 Reasons to Study the Best Blog Examples
Here are three solid reasons every blogger (newbie and professional) should study examples of blogs that are popular in their niche.
Inspiration
Blogs that are doing well in your niche help you get inspired. Not only will you be inspired to start your own blog, but you'll also come up with ideas for what you want to do (or avoid!) on your blog.
Insight
Another reason for studying these blog examples is so you can learn from them. For example, you can get insights on:
Income Generation Ideas
Over the past couple of decades, blogs have become effective income generation platforms. By studying examples of blogs in your niche that are successfully monetizing, you can build a money-making blog of your own
What Makes for a Successful Blog?
Why do some blogs drive tons of traffic while others don't? Understanding what makes these blog examples successful will help you start and run your own profitable website. All the sites on our list have:
Relevant Content
One of the biggest contributors to a successful blog is content — relevant content. As much as the blog is yours, the content you publish is meant to cater to your readers. Successful bloggers need to:
Pick a niche. A niche is a particular carefully selected topic area that you plan on focusing your blog content around. Here's a list of profitable niches to blog about.
Study their niche. Understanding your niche is critical in ensuring the success of your blog.
Understand their target audience. That way, they know what pain points to address, thus creating content that resonates with their readers.
Delivering a Great Experience for Your Readers
Besides relevant content, another factor that influences the success of a blog is the experience readers have when interacting with it.
Your blog needs to be easy to interact with.
That means you should follow web design trends for clear and attractive design, the navigation should be easy to use, all features should be working as intended, and readers shouldn't feel lost or confused at any point.
Good user experience is important for readers and it's also important to Google.
Your website should be easy to use on computers and particularly on mobile devices (as more and more people are accessing the internet through mobile).
Now, let's take a look at some of the top blog examples out there. You can use the table of contents above and along the side of this post on desktop to jump straight to the blog examples in the niches that interest you the most.
Ready to Start Your Blog Today?
Check out my ultimate guide How to Start a Blog (on the Side) that's been featured on Forbes, Inc and Entrepreneur.
---
22 Blog Examples (of Successful Blogs) You Need to Know in 2023
Now without further delay, let's dive in.
Today, my personal blog (here) reaches an audience of 500,000+ monthly readers on topics related to blogging, marketing, SEO, writing, business and freelancing. And while I'm now a successful blog example of my own, earning between $20,000 and $50,000/mo, it wasn't always this way.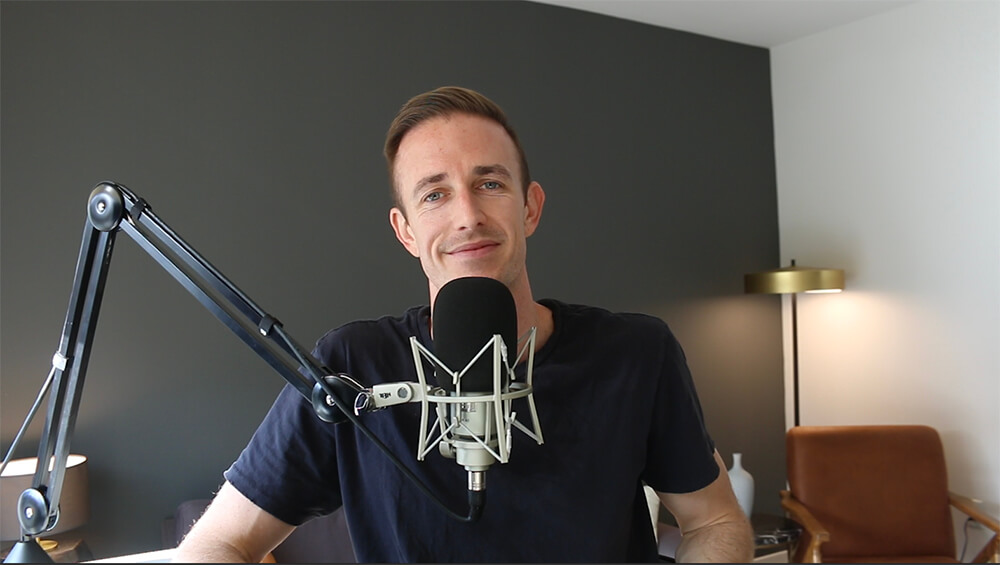 I started my blog in 2014 with the goal of sharing high quality content, pulling lessons learned from my own journey of operating multiple side businesses while getting started in my career as a content marketer (including this early guide on How to Create a Product Nobody Wants and Lose $6,537).
Over the years as I began to attract more readers to my personal blog, the questions I fielded from my audience became more clearly focused around how to build a blog audience & monetize a readership of their own. That's why today, the vast majority of my educational content is centered around teaching everything about blogging with all my heart.
Taking a closer look at why I've become a successful blogger example, here's what works for me:
If what I have to share resonates with you, I'd love for you to join me here in getting my regular content updates. You can sign up for my email newsletter right here.
Want in on the good stuff? Sign up today:
"*" indicates required fields
---
2. Copyblogger (Content Marketing)
Next on our list is one of the oldest content marketing blogs on the net — Copyblogger. Although it was founded in 2006, founder, Brian Clark had been using content marketing to build profitable businesses since 1998.
Started as one man's passion to teach others how to succeed with content marketing, Copyblogger quickly grew to become one of the go-to resources for content marketers all over the world.
Drawing more than 500K visitors in a month and generating an 8-figure revenue, Copyblogger is definitely worth emulating.
So what makes Copyblogger tick?
Powerful copywriting techniques. From headlines to blog posts, Copyblogger practices what they teach. And evidently it works. Side note: Check out my free blog headline generator tool today.
Tons of free and valuable resources. Most blogs lose readership because of not publishing valuable and actionable content. Copyblogger gives readers exactly what they need to succeed.
Great community building. Copyblogger is not just a blog, it's a community of like-minded people who are hungry to learn.
Whether you're a content marketer or not, Copyblogger is one blog you just have to follow. You'll get a lot of practical information that can help you succeed in any niche.
3. Hubspot (Digital Marketing)
SaaS powerhouse, Hubspot, has one of the most trafficked blogs, not only in its niche but across various niches.
Founded in 2005 by Brian Halligan and Dharmesh Shah, the company's core focus has always been helping businesses nail their inbound marketing.
HubSpot's blog is built around 3 general categories — marketing, sales, and customer success. In essence, it's actually 3 blogs in one, catering for their 3 most important personas.
What makes Hubspot one of the best blog examples out there?
Strategic blogging. Hubspot has turned blogging into a science. They invested in in-depth original research to find out what makes a piece of content epic. Each piece of content published (they publish around 20 posts a month) has a particular purpose to fulfill and is targeted at a particular persona.
Strong community. Hubspot has 150+ user groups for their software in 21 countries, helping to grow their brand.
Stimulating content. One of Hubspot's biggest strengths is the content they produce. Well-structured, authoritative, and actionable content that helps marketers succeed. Because of this, the Hubspot blog has become a resource for marketers from all walks of life.
Hubspot's blog is certainly worth visiting if you want to learn how to create in-depth content that moves the marketing needle.
While the name may sound like some get rich quick kind of website, I Will Teach You to Be Rich (IWTYTBR) is far from it.
Started by Ramit Sethi from his Stanford dorm room, the blog focuses on empowering people to be more successful in every area of life (particularly financially and career-wise) by implementing proven systems to get results.
So what is Ramit's secret sauce to building a highly trafficked blog?
Launching a best-selling book. One of the biggest contributors to the IWTYTBR blog was the launch of Ramit's New York Times bestseller by the same title. The runaway success of the book drove tons of traffic and helped generate hot leads for Ramit's business. Try my blog title generator to see what kinds of clever titles you'll get.
Creating digital products that strike a nerve. Thanks to his study of psychology, Ramit identified common financial and career-based pain points that people face as they journey through life.
Aggressive email marketing. One of Ramit's biggest strengths lies in his aggressive email marketing. Sending out value-packed emails that his subscribers share with their network has dramatically increased his blog readership.
If you need advice on personal development, money, or how to make a career change, then you must read I Will Teach You To Be Rich.
2008 was a terrible year for many because of the recession. But for Pat Flynn, it was a blessing in disguise.
Laid off from his well-paying job in the architectural field, he focused on his hobby website — Smart Passive Income.
As the name (and domain name) suggests, the blog is all about helping people start and run income-generating websites that give them the freedom to live life on their own terms.
With many websites offering information on how to make passive income online, what makes Smart Passive Income different?
Transparency. Seen all the monthly income reports bloggers publish? Credit for that transparency can be given to Pat Flynn as he was the first blogger to open up about how much money he makes from his blog.
Tried and proven methods. It's one thing to write about what works when it comes to running an online business. It's a whole different ball game living it. Pat Flynn's is the perfect blog example of one written from experience. And his readers love the candid way in which he shares everything — successes and failures.
Teamwork. If there's one thing Pat Flynn does very well, it's collaborating with other bloggers. From guest blogging to starting a podcast, he enjoys sharing his time and knowledge.
Be sure to check out Pat Flynn's Smart Passive Income blog as you look for some blog examples to help you get yours on track. And if you're looking for some similar domains to use for your own blog one day, use my domain name generator to get dozens of AI-powered suggestions—as well as these top AI content writing tools (like my free AI article writer) to help create more content faster.
Born Junta24 in 2007 and rebranded to become the Content Marketing Institute (CMI) in 2011, Joe Pulizzi's blog has grown to become one of the top resources for all things content marketing.
Although mainly serving as a resource to help enterprise brands map out strategies to attract and retain customers through brand storytelling, the blog has tons of information anyone looking to start and grow a blog can benefit from.
Let's quickly take a look at what has helped CMI become the powerhouse it is today.
Free resources. CMI features a lot of free and very helpful resources to help bloggers create amazing blogs that their audiences will love.
In-depth tutorials. One factor that sets CMI apart from most other blogs is the fact that they specialize in creating in-depth tutorials for marketers. These are well-structured and easy to implement, attracting a lot of traffic.
Strong brand positioning. Brand positioning is important for every business, especially for niche blogs. CMI has done an awesome job of positioning its brand as the go-to blog for all things content marketing, contributing immensely to the blog's success.
Every blogger is a content marketer. As such, studying CMI is worth the effort if you're serious about running a profitable website.
Founded in 2009 by Michael Stelzner, Social Media Examiner was established to help businesses harness the power of social media in growing their revenue.
A wealth of knowledge of trends, best practices, and industry reports on all things social media, Social Media Examiner has more than 2M monthly readers it helps navigate the ever-changing (and often treacherous) social media marketing landscape.
Here are 2 factors that have helped the Social Media Examiner blog thrive:
Original research. The team at Social Media Examiner conducts their own research to ensure they provide readers with content that's not only unique but also practical.
Insightful newsletter. Newsletters are a great way to build a community. Social Media Examiner has designed an insightful newsletter that does a great job of sending readers to the website.
For cutting-edge social media strategies and tips, Social Media Examiner is the blog to visit.
The Search Engine Journal has a mission to educate and empower novice and professional SEOs. The SEJ blog is well-known for providing the latest news and current SEO best practices.
What makes the SEJ stand out from other SEO blogs?
A holistic approach. Unlike most SEO blogs that focus on creating content solely around SEO, the SEJ also creates content around social media, PPC, content marketing, and other online marketing principles.
Building a community of experts. One thing the SEJ founders did well with the blog was to open it up for experts in their niche to contribute to the blog. This ensures that top-notch content is published consistently.
Feel you could do a great job helping other bloggers with SEO? Then the Search Engine Journal is one of the best blog examples you should emulate.
Founded in 2005 by Pete Cashmore in his Scotland home, Mashable has become the go-to source for tech, digital culture, and entertainment news and content.
With 45M unique views a month, they must be doing something right.
So what has helped Mashable become the blogging giant it is today?
Good at picking trends. From the very start, Pete Cashmore had a knack for picking topics that were just waiting to be turned into viral content. By giving their audience content they wouldn't find anywhere else, Mashable quickly became the first stop for millions looking for the latest news in the blog's niche.
Built a strong social media following. Way before social media became popular, the Mashable blog was already riding the wave. In fact, part of its success lies in choosing to publish social media news extensively back in the day when very few sites were. Today, with over 28M social media followers, it's easy for them to drive traffic to their blog posts.
Mashable is a great example of how to please your audience with your content.
Founded in 2006 by Sven Lennartz and Vitaly Friedman, Smashing Magazine is well-known for providing reliable information and well-crafted resources on all things web design, UI and UX for small businesses and startups.
With over 3 million unique page views a month, the blog is definitely one of the best in its niche.
Let's quickly look at what has helped Smashing Magazine smash many blogging records.
Up-to-date industry news. The world of web development is constantly evolving, making it hard to keep up with industry best practices. That's where Smashing Magazine comes in. By publishing the latest trends and tips, they have become the blog to visit if you want to keep abreast of the ever-changing world of web development.
In-depth tutorials. If there's one type of content that does well in the web development niche, it's tutorials. From how-to articles to in-depth guides, Smashing Magazine publishes great resources that help web developers be the best that they can be.
Although Smashing Magazine is aimed at designers and developers, it's a great read for all bloggers.
Another great blog example in the social media space is the Social Media Today blog.
The blog started off by publishing the latest social media news and tips but has now expanded to include content marketing and digital blogging strategy in its categories.
What makes the Social Media Today blog tick?
Trending topics. The Social Media Today blog features the latest news, trends, and social media marketing tips that their audience needs.
Tried and tested tips. Any tips, ideas, or hacks published on the platform have been analyzed by experts at the publication. As a result, when readers put them into practice, they usually see positive results.
Whether you want to write about social media or you're just looking for some tips and tricks to get the most from it, Social Media Today is the perfect place to begin.
12. Gizmodo (Tech News)
Everyone who's interested in tech, science, design, and futuristic tech has read the Gizmodo tech blog. Gizmodo's tagline, "We come from the future" pretty much sums up the blog's mission — to be ahead of the curve.
And, frankly, they're doing a pretty good job of it, especially seeing that the tech blog has an impressive 22 million monthly unique visitors.
Here are a couple of factors that have led to Gizmodo's fast rise as a top tech blog example:
Strategic partnerships. One of the best moves that helped turn Gizmodo into a household name is the way it made international partnerships. These helped the blog reach wider audiences by publishing content in local languages.
Fearless reporting. If there's one thing people look for in content, it's the truth. Gizmodo's fearless reporting of tech (and even political) news has been one of its strengths in building a popular blog.
Gizmodo is a good blog for tech lovers that you can use as a template for your own.
The next blog on our list is Digital Photography School, from the "ProBlogger" himself, Darren Rowse.
Founded in 2006, DPS has a community of over 2 million readers. It's one of the most popular (and longest-running) photography blogs on the web.
So why is DPS so successful?
Photography challenges.DPS has regular "challenge" posts where readers are encouraged to take a photo on a theme — and share it in the comments. This has proved hugely popular and has helped build a strong community around the blog. (The DPS Facebook group alone has over 135,000 members.)
Beginner-friendly tutorials.DPS is very welcoming and accessible to beginners, with some of their most popular posts covering basics like "How to Hold a Camera." In episode 043 of the ProBlogger podcast, Darren explained he thought that post might be too basic, but it became incredibly popular over time and attracted DPS's ideal readers (beginner photographers) through search engine traffic.
Digital Photography School shows how building a strong community and catering for beginners (always the biggest group in any niche) can take you far.
14. Shopify (E-Commerce)
It's nearly impossible to talk about e-commerce without mentioning Shopify—as a platform or a blog. The Shopify blog is one of the top resources online sellers use—ranging from small business owners to startup founders—in order to refine their online business skills.
While most of the content on the Shopify blog was initially geared towards the platform's users, the blog has evolved to become a resource for everyone regardless of the e-commerce platform they're using.
So what helped the Shopify blog become one of the top e-commerce blogs around?
Practical advice. One of the biggest contributors to the success of the Shopify blog is the way they dole out practical advice for their community. Reading the blog is like taking a course in how to successfully run an online business.
Personal stories. Another factor in the wild success of the Shopify blog is the personal stories they share from their community. Filled with valuable lessons and tips for other entrepreneurs, this user-generated content has proven to be very popular.
If e-commerce store owners and other online businesses are the target audience for your blog, be sure to check out the Shopify blog for inspiration.
A Better Lemonade Stand might sound like a food blog, but in fact, it's an online e-commerce incubator (founded by Richard Lazazzera) whose mission is to help entrepreneurs launch and grow their e-commerce stores.
The blog exists to inspire and educate readers in the early stages of their entrepreneurial journey by providing reliable advice and resources needed to launch and grow an e-commerce business.
So what makes this blog with 250,000+ monthly readers stand out from the rest?
Intimate details from the founder. If there's one person who's seen it all in the e-commerce industry, it's Richard Lazazzera. From helping Shopify scale its operations to starting e-commerce stores, he has the experience. And he shares his experiences candidly.
Easy to follow blueprints. Aimed at those just starting out and planning on scaling their online businesses, A Better Lemonade Stand does an excellent job of providing its audience with detailed blueprints to succeed.
From dropshipping to selling on third-party marketplaces like Amazon to online marketing strategies and even product marketing strategies, you'll get it all on A Better Lemonade Stand.
And if that's the kind of blog you want to build, then this is one of the best blog examples for you.
For those in the health, fitness or wellness niche, one of the best fitness blog examples to help you get yours on the right track is the Nerd Fitness blog.
Established in 2009 by Steve Kamb, the blog focuses on helping busy people stay in shape (which is clear from their homepage). The blog also covers mindset, nutrition, and anything that can help readers live a healthy, happy life.
With over a million unique visitors a month, this is definitely a fitness blog that is loved by its target audience. But what key lessons can you glean from the rise and success of the Nerd Fitness blog?
Fun writing style. Many people feel pressured to get into shape. The Nerd Fitness blog goes against the grain and makes getting fit fun with its humorous approach.
Success stories from normal people. It's easy to relate to the topics covered on the Nerd Fitness blog as most of the posts highlight stories from normal people who live hectic lives like you.
Fitness blogs are some of the most challenging to get off the ground, but by following in the Nerd Fitness blog's footsteps, you can easily build a good following.
Founded in 2005 by Albert Lee and Mike Lee, MyFitnessPal is a fitness app and blog that publishes about all things fitness, health & wellness.
From diet and nutrition to fitness regimens to motivation, the blog is a valuable resource for those looking to live life to the fullest.
The success of the app (80 million users around the world, at the time) caught the attention of sports apparel maker Under Armor who eventually purchased it for a whopping $475 million.
Content for fitness junkies. Unlike Nerd Fitness, MyFitnessPal is a blog that caters to serious fitness junkies. And the articles don't disappoint.
A healthy mix of content. Another contributor to the success of the MyFitnessPal blog is the holistic approach they take to fitness. This is evidenced by the different categories on the blog like food and recipes, inspiration, and other fitness-related categories.
Feel like this is the kind of blog you want to build? Then go ahead and study this blog example and mirror what's working.
18. Scary Mommy (Parenting Blog Example)
Thinking of starting a parenting blog? Check out the Scary Mommy blog. Their mission is helping parents understand that you don't have to be perfect to be a great parent.
From funny anecdotes to gripping personal stories, the Scary Mommy blog covers all things parenthood. And yes, it caters to dads too.
Here are a few things that helped the Scary Mommy blog become the success it is today:
Community. If there's one thing every parent needs, it's a community of other parents who understand them. And community is exactly what the Scary Mommy blog is all about.
Confessional. Committed a parenting sin and need to get it off your chest? Well, the Scary Mommy blog has a confessional section where you can do just that. You can also read other parents' confessions too.
The community, the confession section, and the candid nature of the blog have helped the Scary Mommy blog become one of the most visited parenting blogs on the web. By following their example, yours can too.
Another parenting blog example you definitely need to check out is the Family Focus blog.
This award-winning blog run by Scarlet Paolicchi (who quit her job in retail to blog full-time), has categories like green living, arts and crafts, family food, family travel, and more.
So what makes the Family Focus blog so popular in the parenting niche?
Real talk. Scarlet doesn't mince her words on the Family Focus blog. By addressing real-life issues parents face, the blog has attracted the following of parents who need a little help in navigating the treacherous waters of parenthood.
Real stories. Another factor that has led to the Family Focus blog growing so fast is the personal stories that form the basis of most lessons on the blog. Scarlet's openness and frankness make readers feel like they're part of the family.
Starting a parenting blog is a great way to share your experiences with other parents. Done right, it can even turn into your main source of income as in Scarlet's example.
One of my favorite recent successful blog examples in the food space comes from Laura & Sarah at Wandercooks.
The creative wife + wife team behind this Australian-based food blog was founded in 2015 and has grown to reach more than 380,000 unique readers/mo. Based around the principle of sharing cuisines, cultures and recipes from around the world, Laura & Sarah have travelled to over 35 countries and more than 100+ cities learning as they've gone—and you get an instant feeling from their homepage of just how approachable & friendly they are.
So, what makes Wandercooks such a standout blog example in the food space right now?
Authentic, attainable recipes. Their clear mission is to inspire cooks in the kitchen (in their own way) to explore new flavors and cultures. They frequently include substitutes or variations that encourage their readers to have the confidence to give a recipe a go—and make it successfully with whatever they have available in their home or local stores. They also intentionally address specific tricky techniques or areas where something can go wrong in a recipe to help readers avoid sending a dish to the trash.
Impressive SEO game. They have an underlying focus on investing in their blog's SEO, powered by thoughtful keyword research that's helped them quickly gain traction in the food blog niche (where not many of their fellow food bloggers are as well-versed in SEO). Leaning into this strength has helped them organically grow their blog traffic by over 600%.
If you're considering starting a food blog of your own one day, be sure to take a close look at how Laura & Sarah have carved out such a powerful niche in their industry. And be sure to use my free keyword research tool to properly research your niche.
If this blog examples looks or sounds familiar, that's because Hike with Ryan is one of my latest side blogs I launched earlier this year to serve as an example of how to start a blog from scratch and grow an audience in a brand new niche. Here's a snap shot of my blog homepage: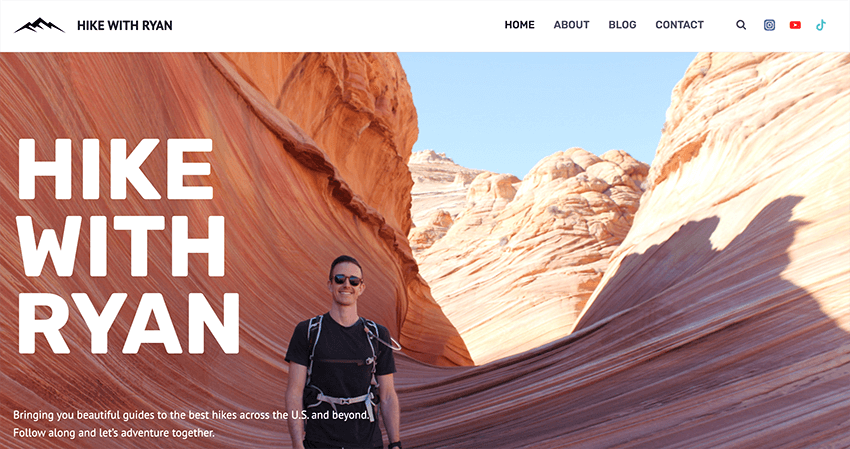 What makes Hike with Ryan a successful blog example in the travel space right now?
Quick SEO early wins. For a brand new blog that's less than 2 months old right now, I've already been able to generate an average of 100+ weekly unique readers from organic search to just 4 articles—and that growth is quickly trending upward. This is due in a large part to applying my long-form, deep dive content creation approach to the hiking/travel niche that doesn't traditionally have as in-depth of content when it comes to topics like the top Yosemite hikes, the best time to visit Yosemite National Park and more.
Affiliate monetized content. Straight out the gates, I started publishing listicles (like my creative hiking gifts, list of the best hiking books and best hiking boots roundups) that are designed to monetize this new side blog through the Amazon affiliate program and I'm brainstorming DIY content to keep that momentum going. I very strategically chose keyword phrases that are in the low-to-medium difficulty range, with medium traffic potential, so that I'd maximize my chances of being able to quickly crack page 1 organic search rankings for these posts. And as SEO traffic already begins flowing into these posts, conversions are just beginning to come through.
If you're considering an outdoor blog of your own, check out my guide to starting a travel blog today—and be sure to follow along with Hike with Ryan too!
22. Cup of Jo (Lifestyle Blog & Fashion Blog Example)
Joanna Goddard's lifestyle blog (and many would also argue a fashion blog, style blog, food blog, interior design blog, parenting blog & relationship blog all rolled into one) is a wonderful blog example to learn from, particularly when it comes to creating a life enriching brand around your own personal interests—something Joanna's done remarkably well.
With topics that range widely from discussing her young children's separation anxiety, to her favorite nail polish colors of the season, fashion trends in New York City, what it's like to travel as a queer black woman and SO much more, there's a very relatable, real, kind & compassionate thread woven throughout everything on the Cup of Jo blog.
So, what makes Cup of Jo such a successful blog example today?
Simple and easy to navigate blog design: Cup of Jo has a very straightforward, easy to navigate blog layout that isn't cluttered with ads or complicated content widgets. The vibe you get when you land on her blog is very inviting, welcoming and encourages readers to click around to the articles they're most drawn toward.
Meaningful content from real people, being vulnerable: If you're like me, you can immediately tell whether a blogger has their guard up with their writing, or if they're sharing vulnerably from the heart. It's a given that everything you'll read on the Cup of Jo lifestyle blog, will fall into the latter camp.
It's no surprise that Joanna's site has grown into such a successful blog example to learn from, particularly for those considering a lifestyle blog that can cover a wide range of topics.
Lessons From the Best Blog Examples of 2023: How to Make Your Blog Stand Out
Now that you've taken a look at these shining blog examples, let's go through some of the most important lessons you can draw from them.
Master Your Message
If there's one lesson you need to take away from these blogs, it's that you need to master your message. In short, you need to create content that your readers will love, remember, and share. How do you do that?
Understand your audience. Study your audience. Know their pain points and the issues that strike a nerve in their lives. Write posts that help them in these areas and they'll be flocking to your website every time you publish a new article.
Get your tone and voice right. Besides getting your message right, you need to determine the tone that works best for your audience. For instance, do the most popular blogs in your niche have a humorous tone or are they more formal? Do bloggers share a lot of their own experiences or focus more on the reader?
Nail Your Design
Blogging is all about story-telling. That, however, does not mean you should ignore the design aspect of your blog. Blog design is also a great part of the stories you share.
As you design your blog, make sure it's:
On a blogging platform that supports long-term growth
User-friendly and has the functionality you need to interact with readers
Simple and uncluttered (avoid busy sidebar advertisements if you can)
Nothing turns readers away as much as a chaotic-looking website. Especially if your monetization method is ads, you must ensure they don't impede your main message.
Pay Attention to SEO
With over 70 million blog posts being published on WordPress alone in a single month, getting your blog noticed (and ranking higher on Google) will take a bit of work. You'll need to pay attention to SEO best practices.
Understand User Intent. User intent means what a searcher on the internet is looking for and wants to achieve. Understanding this allows you to position your content strategically and helps with your search engine optimization.
Keyword research is critical. Once you understand user intent, you can then conduct proper keyword research. This means finding out what words and phrases your readers are likely to type into Google. By designing content around these keyword ideas, you increase the chances of your posts ranking well and being found organically. Take for example, how Anjelica approached her guide to the best vegan dog food—by researching to make sure people were searching for this phrase before creating her article. She's on her way to becoming a pet blogger.
Proper blog post formatting. Structuring each blog post properly helps search engines scan your text. This means using heading tags, short paragraphs, and bullet points where appropriate.
Best Blog Examples 2023: Key Takeaways
There you have it, 22 examples of blogs to inspire you into building a successful blog of your own. Just remember:
Every blog started off small. But with a bit of hard work, you can grow your blog to be counted among those that are doing well.
Learn from popular blogs. Learning from other blogs is essential to the success of your blog.
Content is still king. Content rules the blogosphere. People are hungry for practical and easy-to-digest content. If you give it to them, they'll help you grow your blog by sharing your posts with their network.
While you're still here, why not study my blog for more inspiration? With over 500k monthly readers, I'm pretty sure we're doing some things right 😊
To get you started, why not check out my guide on how to start a blog—and make money from it.
Want to Start Your Blog the Right Way?
Head over to read my comprehensive guide: How to Start a Blog (on the Side)