Ah, freelance jobs. Whether it's a few more bills than usual these days, a slow down at your full-time job, a boss that's getting progressively worse, or you're just ready for a change of pace—I've got your back with these best freelance job websites.
One of the most common refrains you'll hear, is that it takes time to build up a freelancing career. You need to invest in yourself, whether it be classes, software, or branding. You need to make connections, you need to start with lower paying work to build up a portfolio and get your name out there.
And yeah, all of that is true. But that doesn't mean you can't start now. Like, RIGHT NOW.
Just because it takes time to build a freelance business (or launch any other small business idea) doesn't mean you can't get going this instant and start with landing a paid freelance job today. So I compiled this list of freelance job sites that you can get started on right now.
Check out my picks for the best freelance jobs websites, broken down by category:
82 Best Freelance Jobs Websites to Get Remote Freelance Jobs in 2023
Disclosure: Please note that some of the links below are affiliate links and at no additional cost to you, I may earn a commission. Know that I only recommend products and services I've personally used and believe are genuinely helpful, not because of the small commissions I make if you decide to purchase them. Most of all, I'd never advocate for buying something that you can't afford or that you're not ready to implement.
If you're looking for full-time remote gigs rather than freelance opportunities, then check out my 62+ Best Remote Jobs Websites to Land Remote Work Today. And if you're looking specifically for writing-focused gigs, check out my list of the 36+ Best Blogging Jobs Websites today.
Alright, now let's get into the list of the best freelance jobs websites!
Up first, the larger freelance job websites that have a little bit of everything.
The Best Websites for General Freelance Jobs
These marketplaces websites have a broad sampling of freelance jobs. Whether you're a writer, designer, developer, marketer, salesperson, photographer or virtually any other service provider, there are freelance jobs for you on these marketplaces.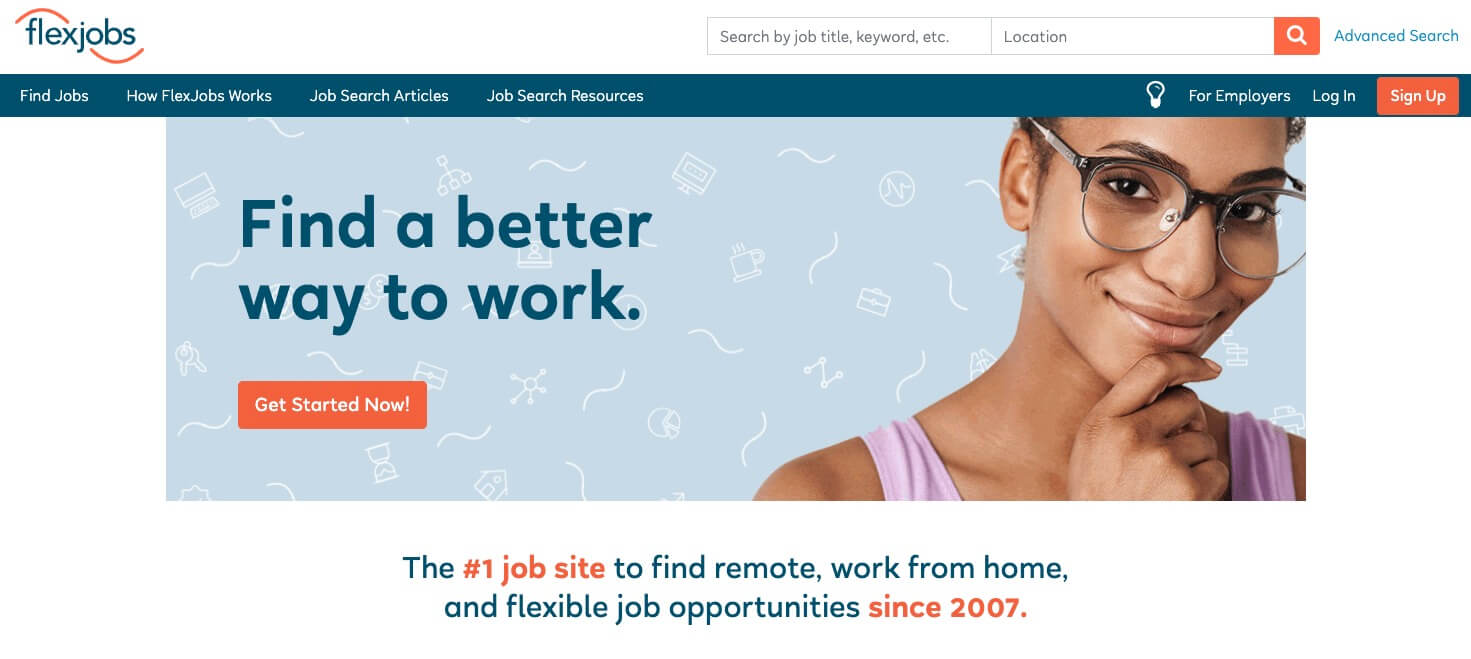 This is a very well-curated site for not only freelance jobs, but also remote and otherwise flexible gigs. It's sorted by the type of freelance job (or otherwise) you may want, and you won't have to worry about scam postings, because they research the jobs and monitor new gigs pretty thoroughly. As I'm sure you've guessed, it's not free if you want regular access to their freelance jobs, though. Check out their details right here to see if it's worthwhile for your niche (hint: it probably is 🙂).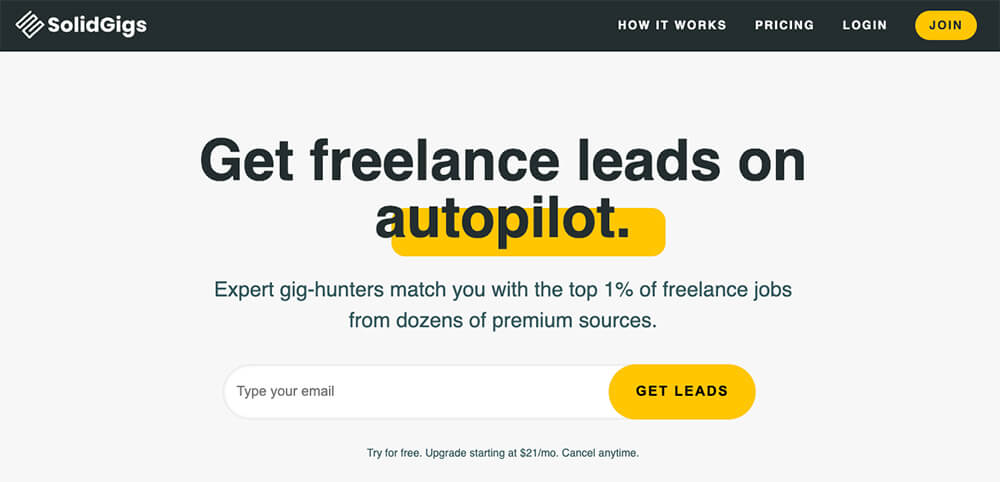 As a freelancer, time is money. Which means if you spend hours every week hunting down new freelance jobs instead of doing billable client work, you're missing out on revenue.
That's why I personally recommend SolidGigs to freelancers of all kinds who need to find freelance jobs fast. The team at SolidGigs (including my good friend Preston Lee) combs through dozens of freelance job boards and sends you the very best 2% of freelance gigs from around the web every single week—removing the time-consuming work of filtering through dozens of freelance job boards and vetting the opportunities yourself.
On top of just the curated gigs list each week, they've also got an enormous resource library with courses, interviews, templates, scripts and other tools all with the focus on helping you land more freelance jobs, negotiate your rates, pitch high profile clients and grow your freelance business. Seriously, this lethal combination of weekly curated gigs and training resources (from top freelancers around the world) is a ridiculous steal for the very low monthly cost.
Check out SolidGigs to give it a try today. I couldn't recommend it more highly… and plus, if you use my link and enter the code "RYROB" at checkout, you'll get your first month for just $2.


Fiverr gets its name from its site design: every job starts at $5. It sounds low, but you can set up tiers above the base $5 option, which adds up fast! It's also a great way to get started and build up your portfolio.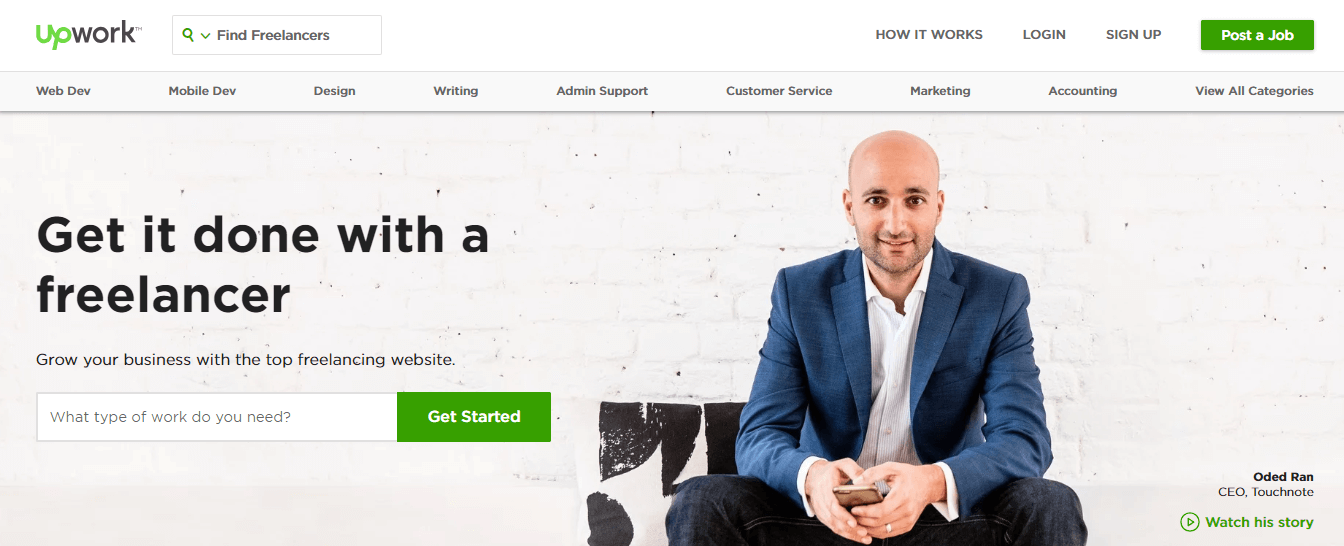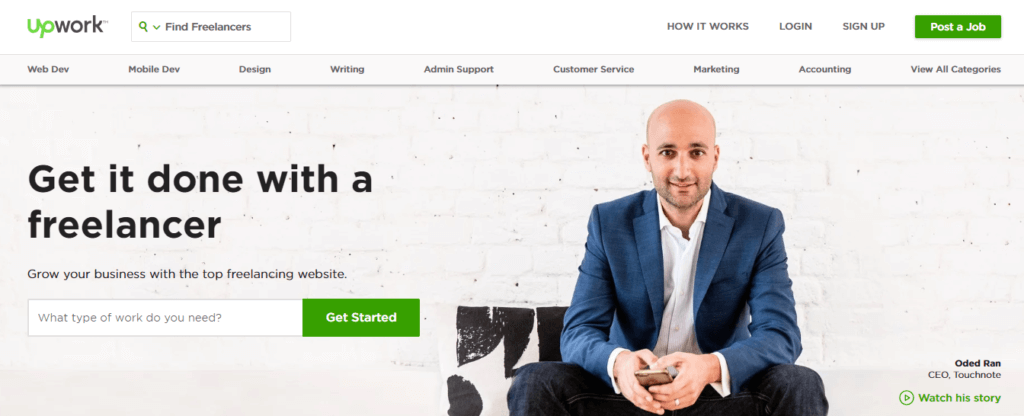 Once upon a time, there existed two leading platforms for landing freelance jobs: oDesk and Elance. Eventually, their two kingdoms combined to create one large peaceful marketplace for people to land freelance jobs from clients all over the world. Enter: Upwork. As a result, this freelance jobs site is huge. They have over 12 million freelancers and 5 million clients listing upwards of 3 million freelance jobs each year. Just about every freelancer can find their niche here, but beware: Upwork takes a 20% cut until you build up a regular relationship with a client. It's very beginner friendly, but be prepared to take lower-priced freelance jobs through sites like Upwork, than you would from the more carefully curated marketplaces that focus on a specific niche.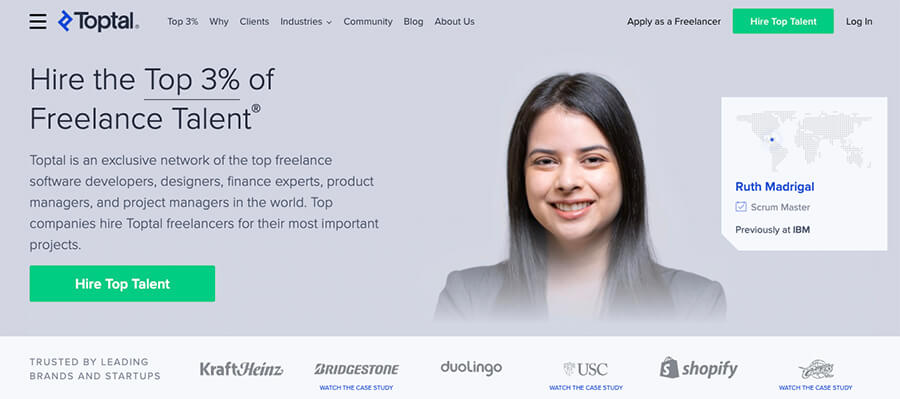 Toptal's promise is that they only work with the top 3% of freelance talent in the world. Their exclusive (application-based) network is designed primarily for top freelance software developers, designers, finance experts, product managers and project managers. If you apply and are approved to work with Toptal clients, you can expect to gain access to very well-paid freelance gigs from recognizable companies like Shopify, Thumbtack, Priceline, USC and many more.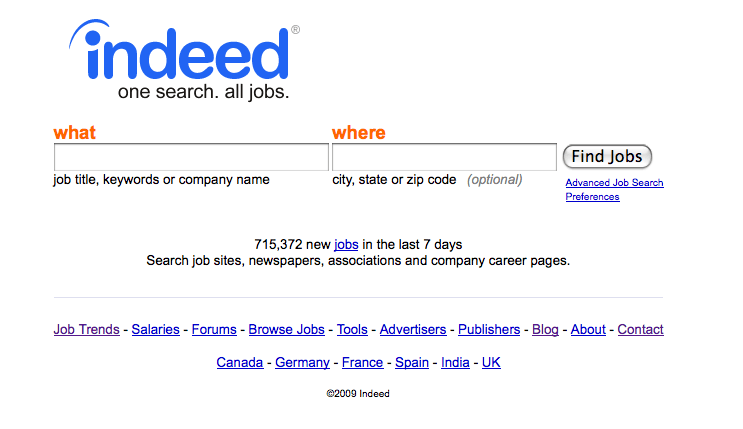 Indeed collects all the jobs on the Internet and puts them all in one place. They're easy to search through, and looking specifically for remote jobs is a piece of cake. If you're open to working at a local company, you can search that too. Best of all, it's free!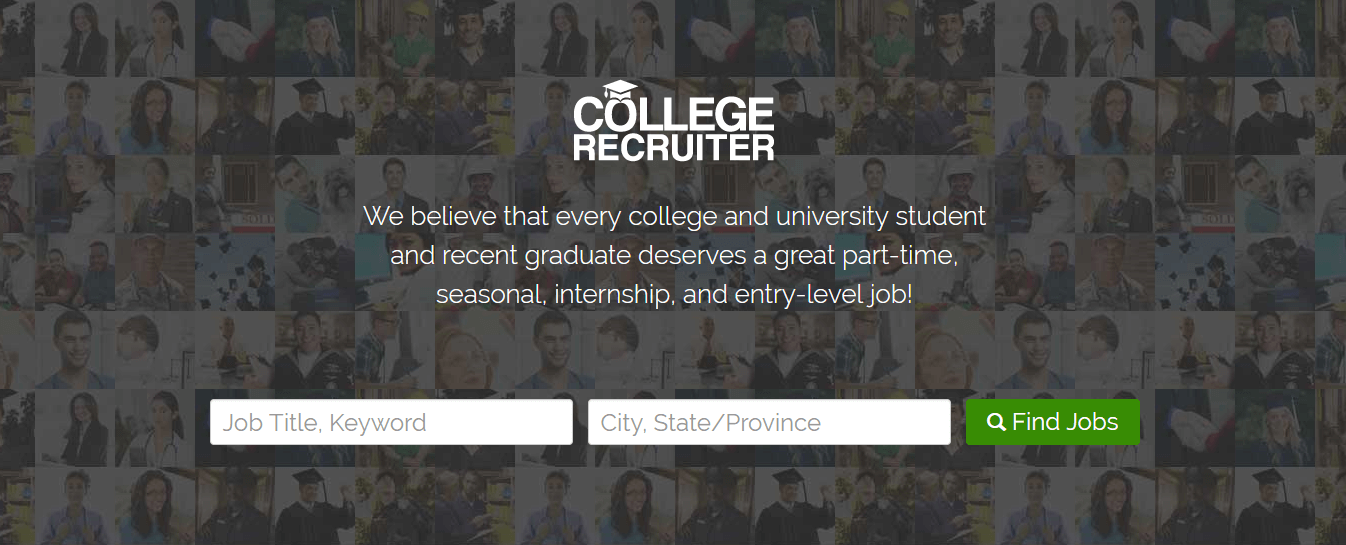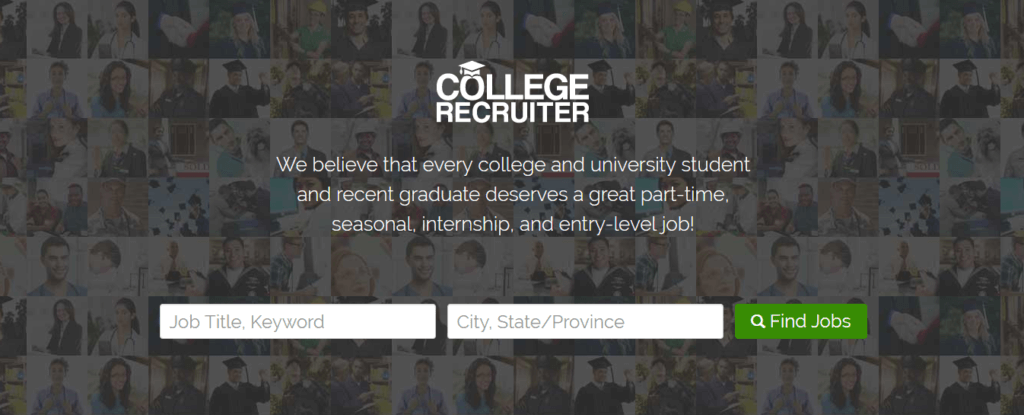 Student or recent grad? Browse this site to see what kind of part time freelance jobs pop up within your degree. These are going to be great beginner jobs that will get you experience and, hopefully, contacts for future work.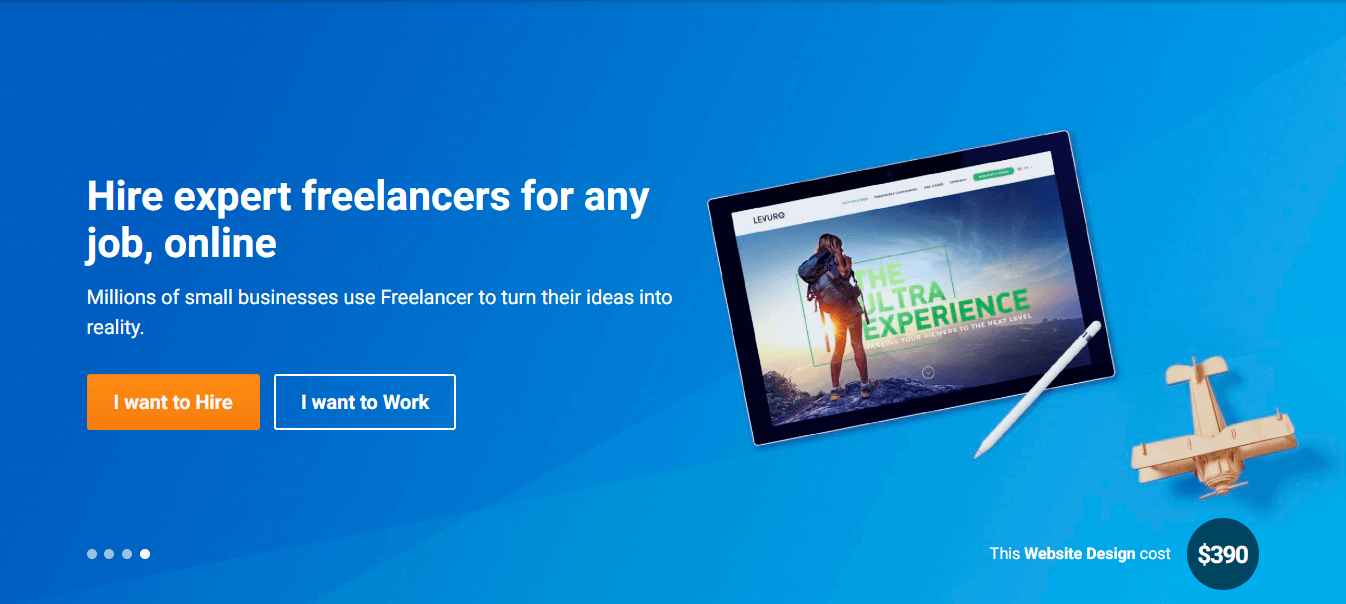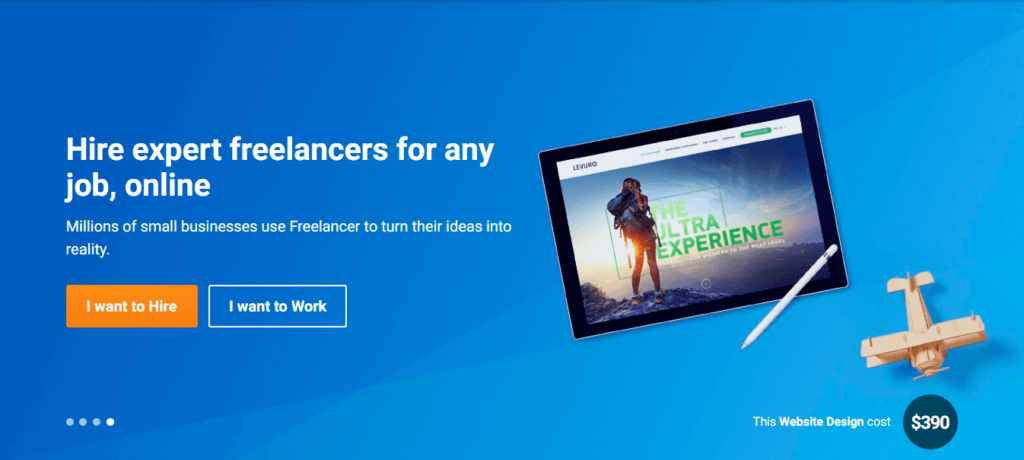 This site has a huge variety of projects, some formatted as hourly and some as contests – the only downside is that they only give 8 free applications before you have to pay the membership fee. The project fee is also a little different – pay between $3-5 or 3-5%, whichever is greater (one of the cheaper commission rates).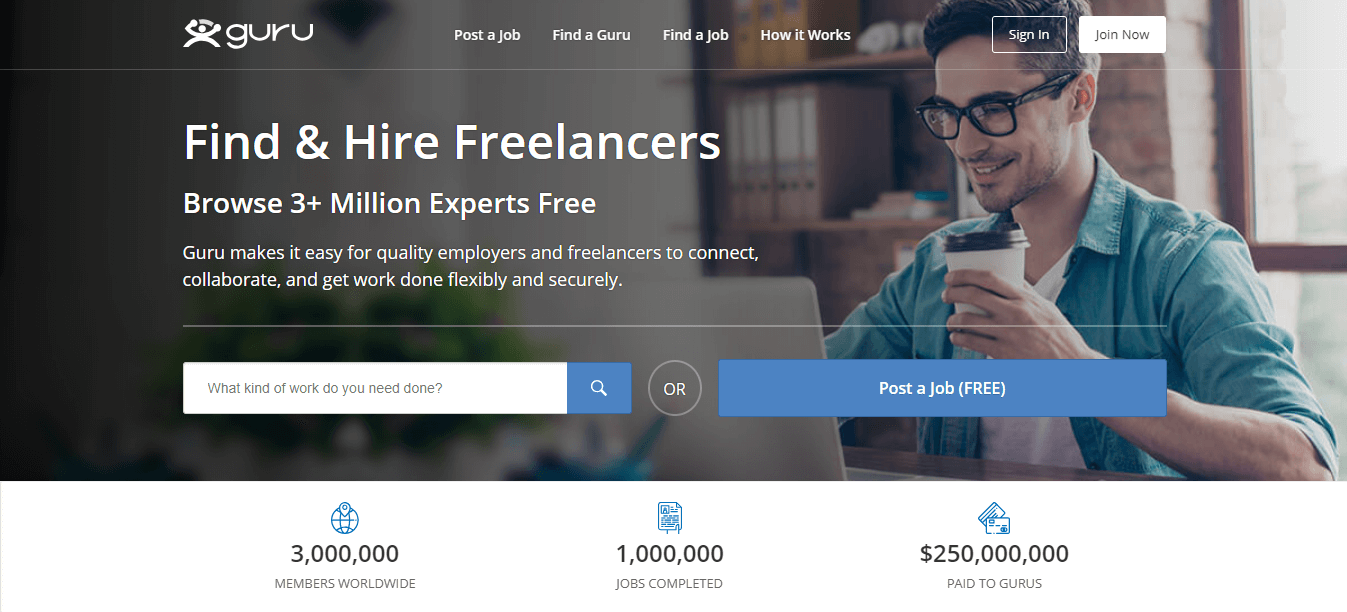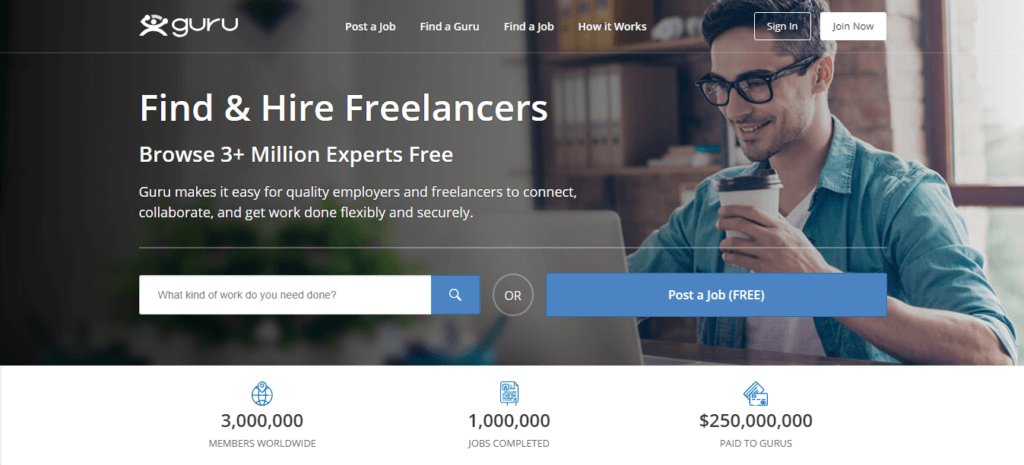 Guru makes it easy to create a profile that shows off your experience, making it easier to be contacted by potential employers, while also wading through the massive amounts of job postings made every day. This freelance job site is particularly great for hiring marketers, developers, writers and designers. They give a decent amount of free applications, rationed by the year, and charge about 9% commission.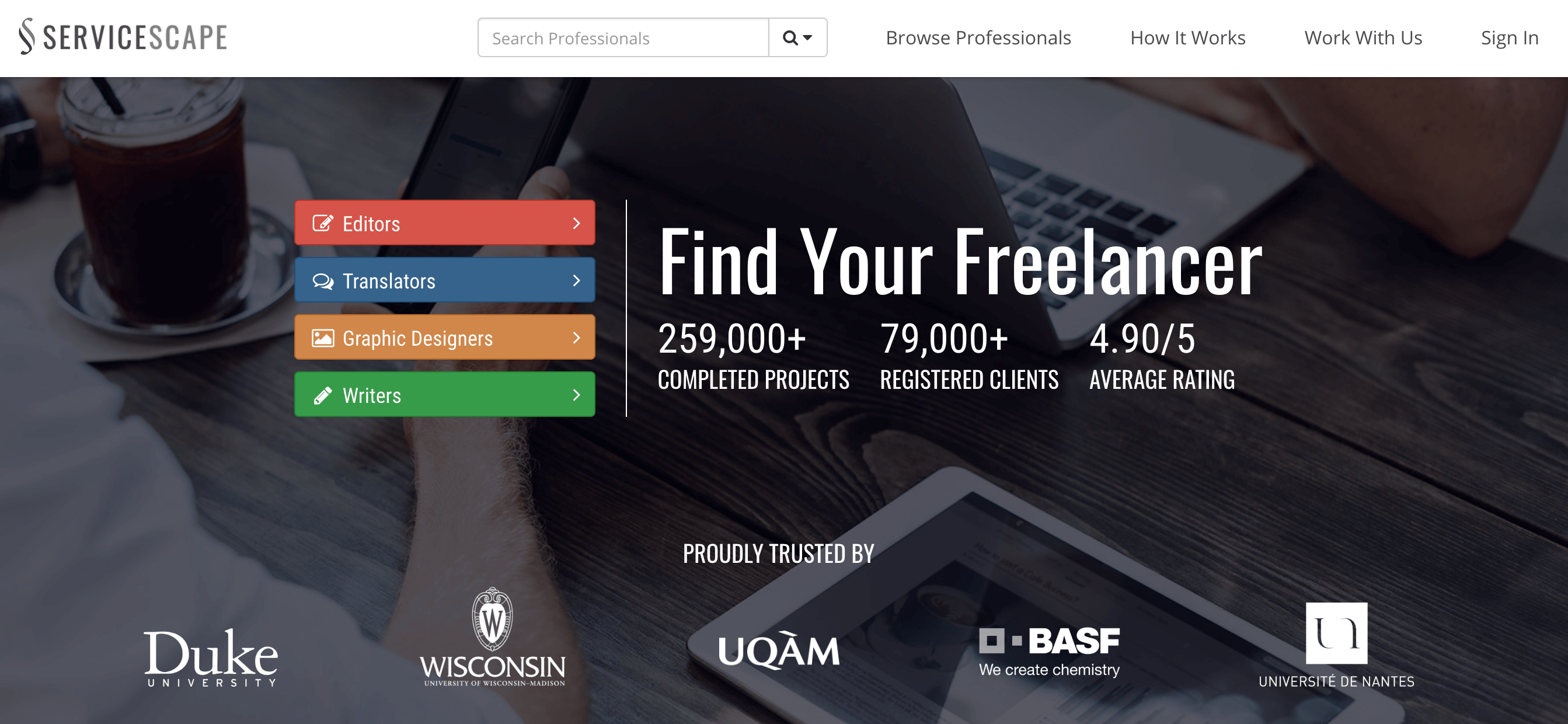 Launched originally back in the year 2000, ServiceScape is a global marketplace for freelancers with a range of skills and experience—with an emphasis on graphic design, writing, editing, and translating. To date, they've had over 259,000 completed projects with more than 79,000 clients that've used the platform.
ServiceScape is a great freelance job website for working with startups and SMBs that are already online outsourcing-friendly. So, if you've got the skills (like blogging skills) and experience, ServiceScape is a great place to spend some time and apply to projects that work for you.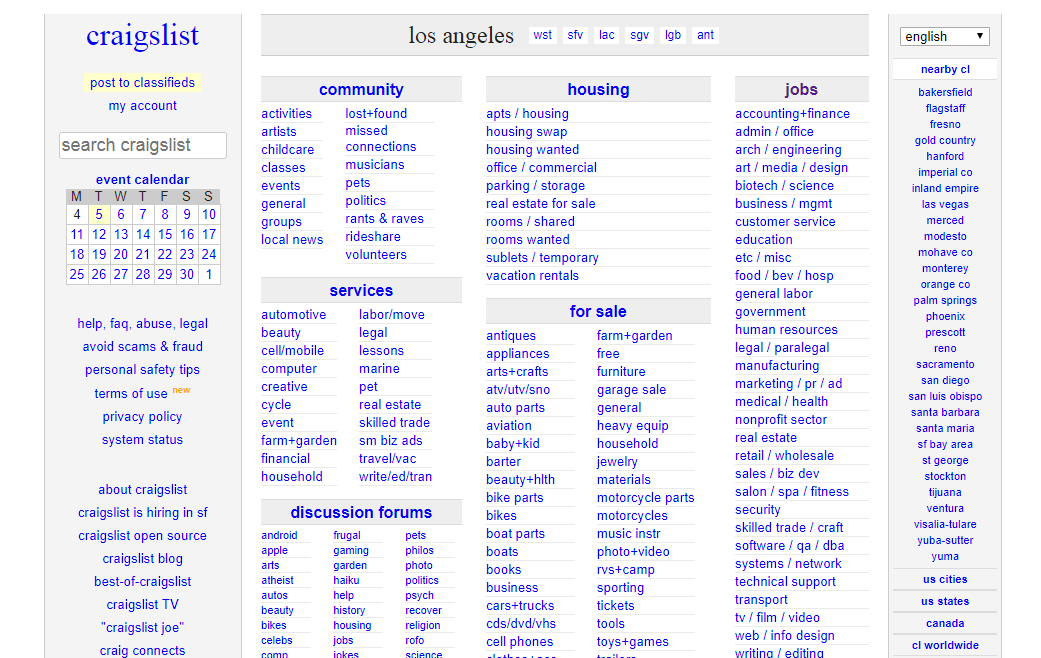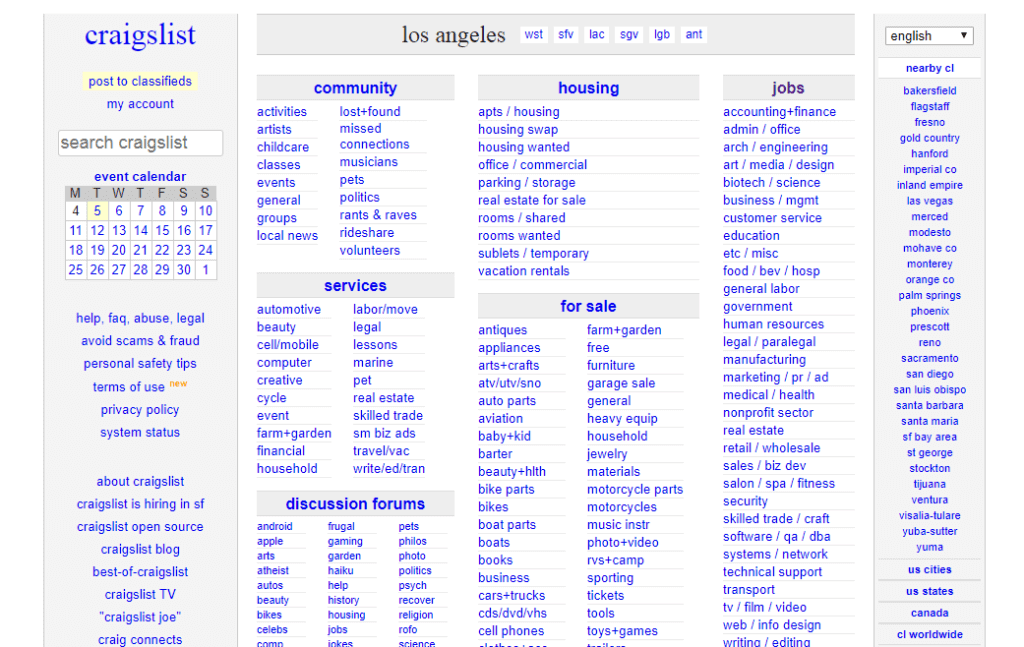 Forget selling your grandma's dusty couch, Craigslist has a pretty great job posting section too. You don't get the security of a site that holds the client accountable, so it's an excellent idea to set up a contract (or meet up in person, if possible), but most people posting are looking for work done as quick as possible. Here's a hack if you want to look through remote jobs: go to the corresponding Craigslist for major cities and search for remote work that way. You're welcome.
The Best Websites for Writers to Get Freelance Jobs
You weave word magic, your sentences are sensational, your calls to action make people want to call their mothers to tell them they love them. Turn all that writing wizardry into some cold hard cash with these sites:

Contena tops this section of the best writing freelance jobs because of the sheer volume of well-paid (and high quality) jobs they always have available for writers, editors and content creators of all kinds (whether you use AI content tools or still do it the old fashioned way). What I love most about Contena, is that they feature a mixture of freelance jobs and full-time remote jobs on their platform. Examples of real freelance jobs recently featured on their homepage include a $10,000/mo eBook writing gig for a tech publication, a sports writing position, photography-focused content writing jobs, and seriously thousands of more opportunities across many industries doing freelance jobs for trustworthy companies.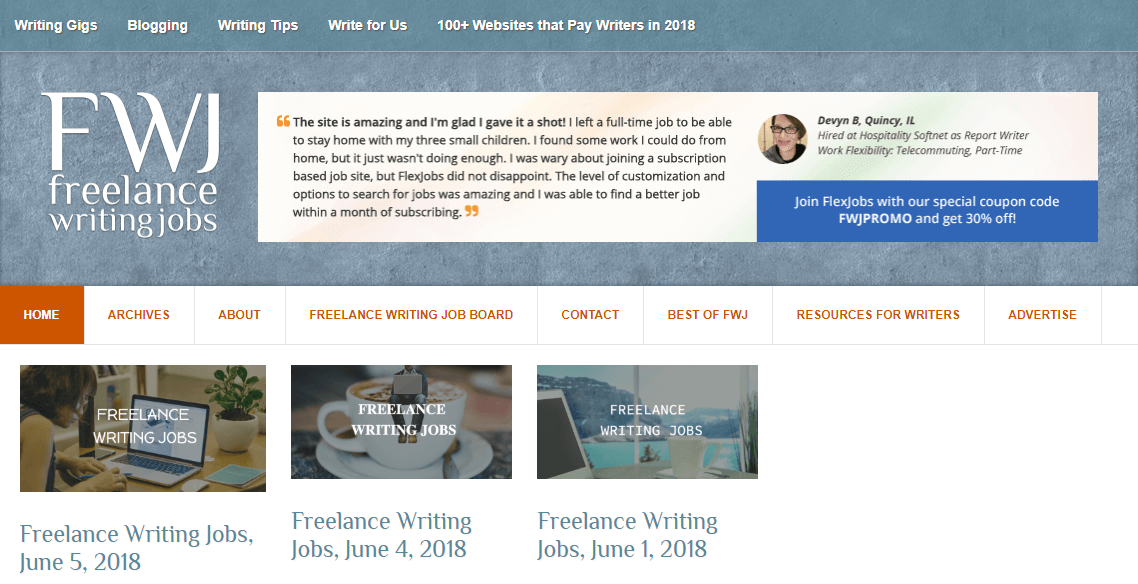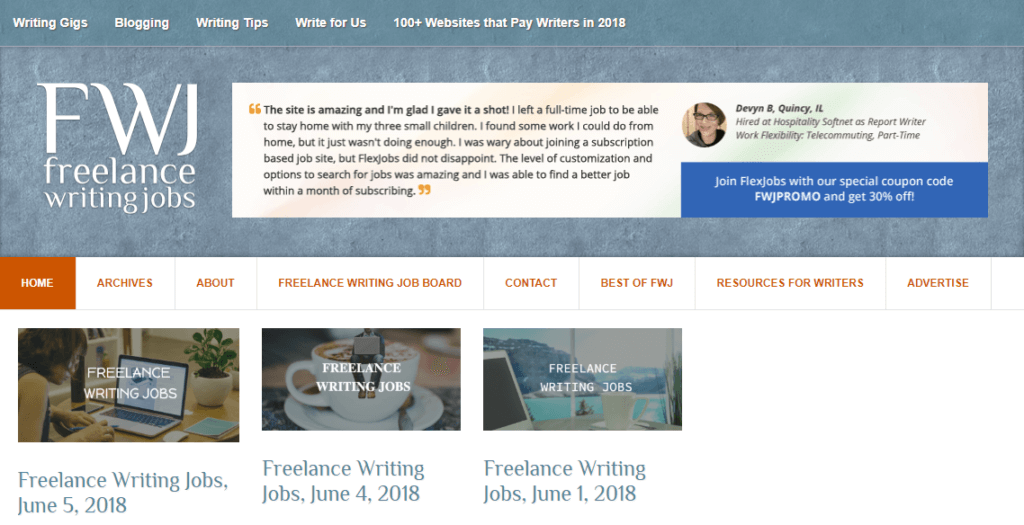 The name isn't winning any creative awards, but it gets the point across. This site is basically a well-curated job board that's updated Monday to Friday with the hottest new clients willing to pay you actual money to write things. Sounds too good to be true, right?
14. Blogging Pro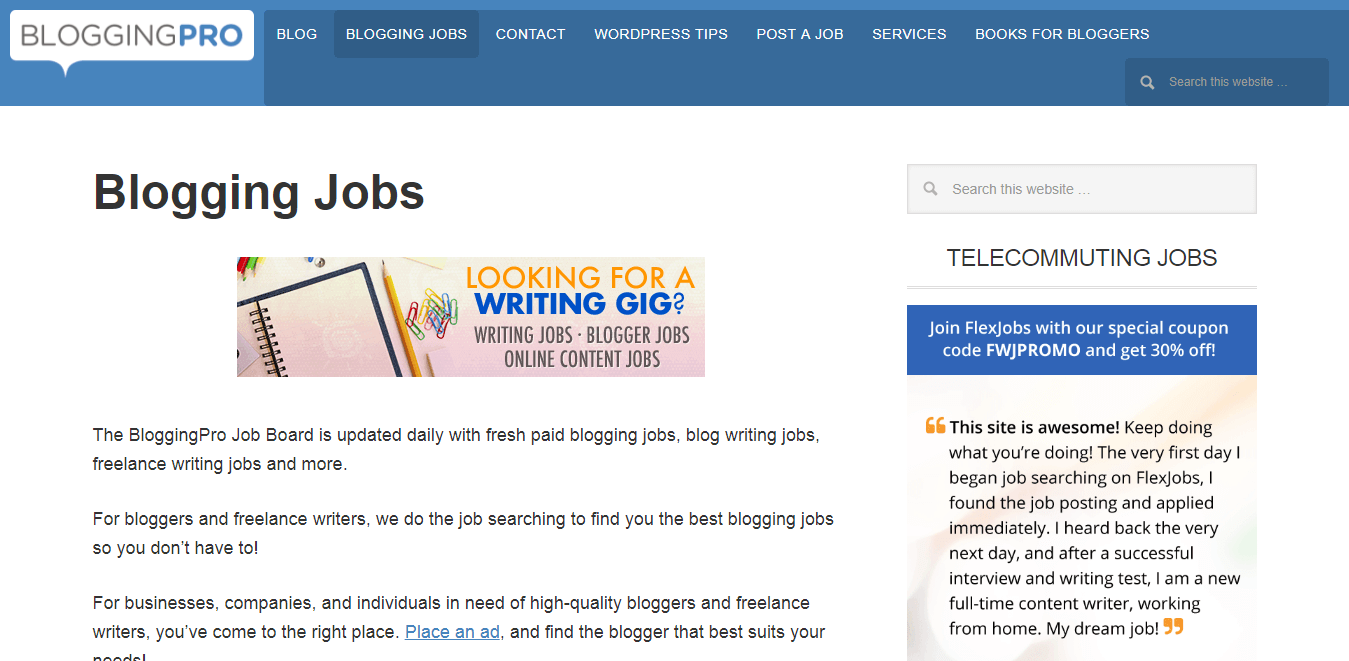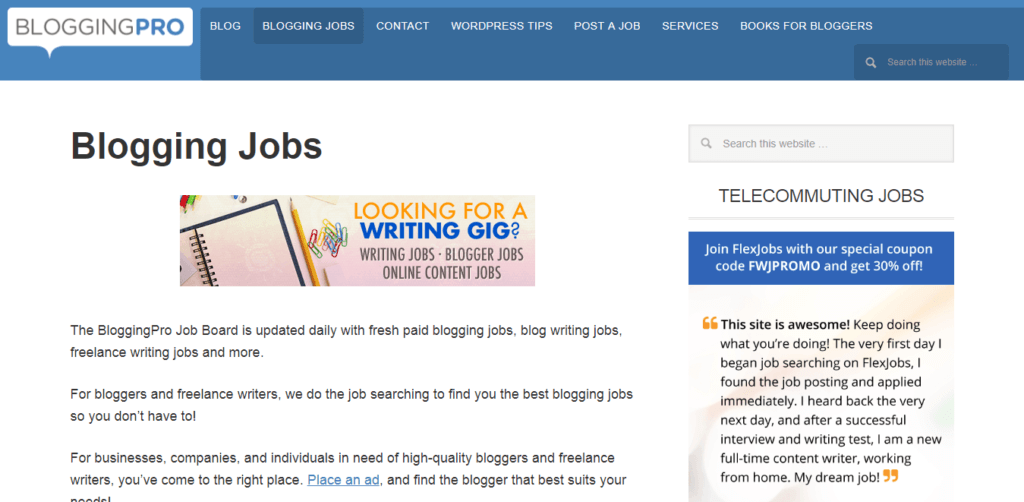 Despite the name, you can find everything from tasks like helping people start blogging to editing to general copywriting jobs here—they aggregate all the best writing jobs they can find to make them easy to find and search through on their site. Also, it's totally free! Be sure to check out my list of the best blogging jobs too. And a final side note: If you want to build your chops as a blogger, start with these top blogging courses today and be sure to read through my guide to finding great blog post ideas, what it takes to drive traffic to your blog and eventually how to make money blogging.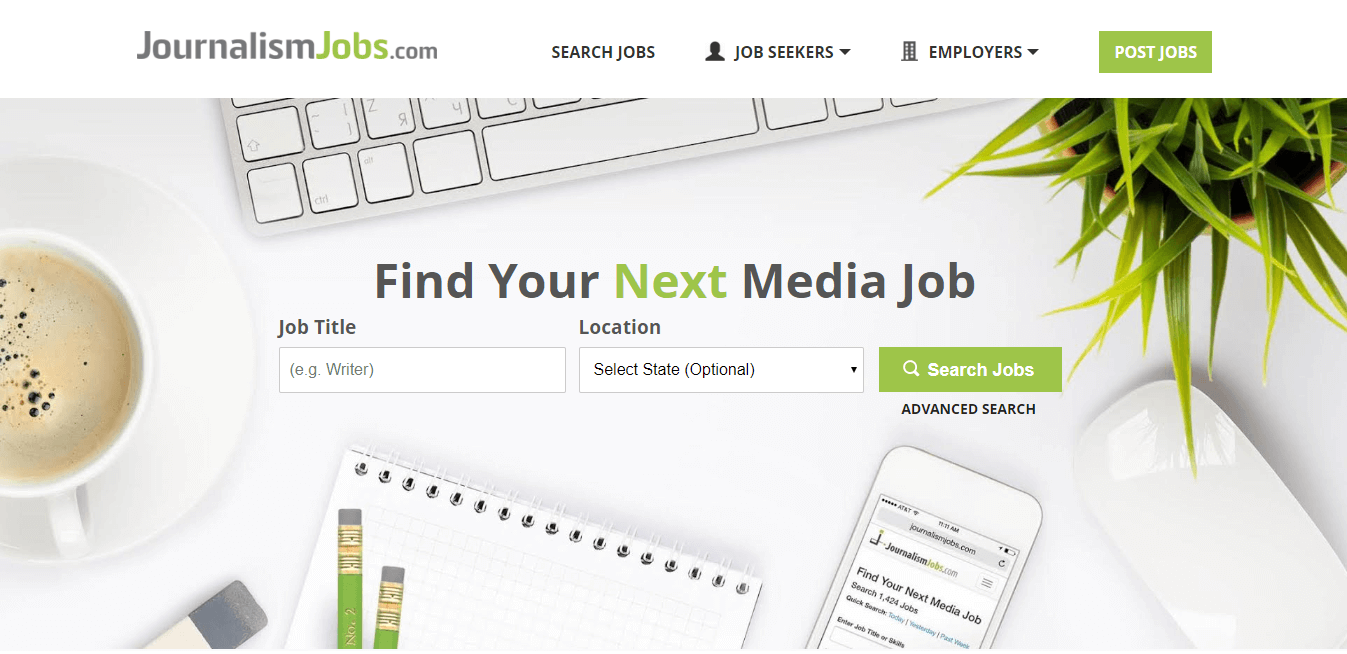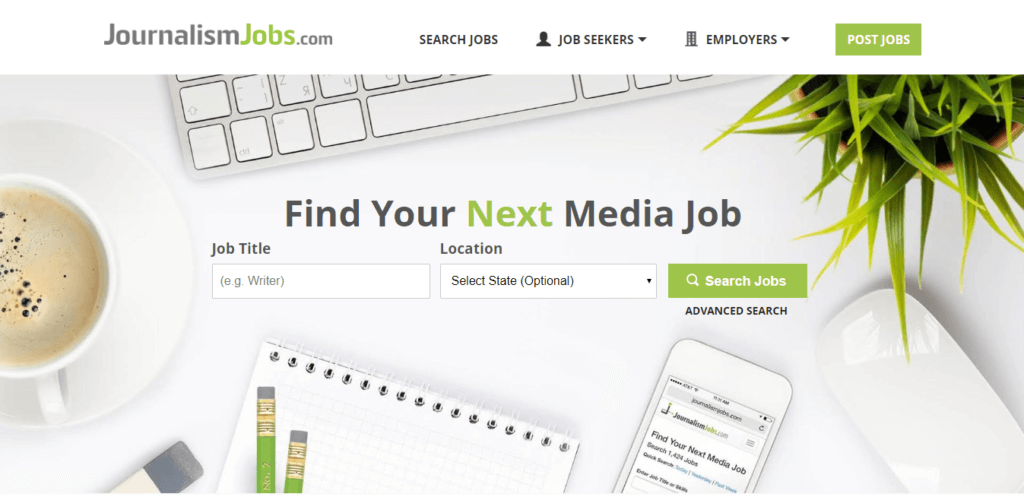 If you have Dan Rather dreams, don't let them die! Check out this job board that curates journalism jobs from around the web – along with other typical writing and editing gigs thrown in.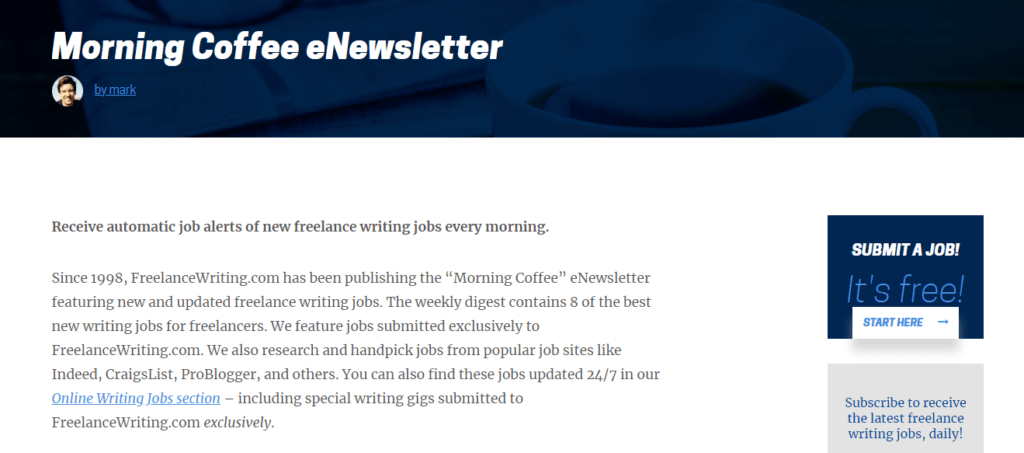 This is an easy one to sign up for, then you get an email every day with the latest and greatest freelance writing jobs. Totally free, and a great way to jumpstart your search.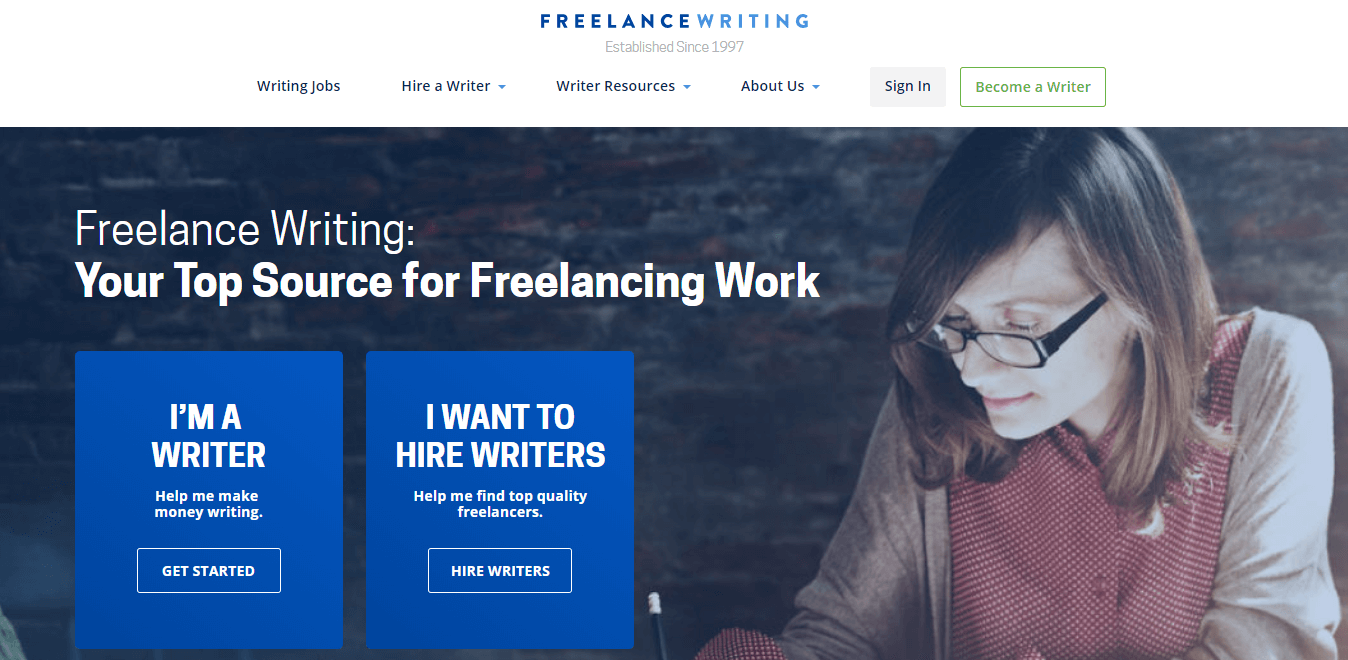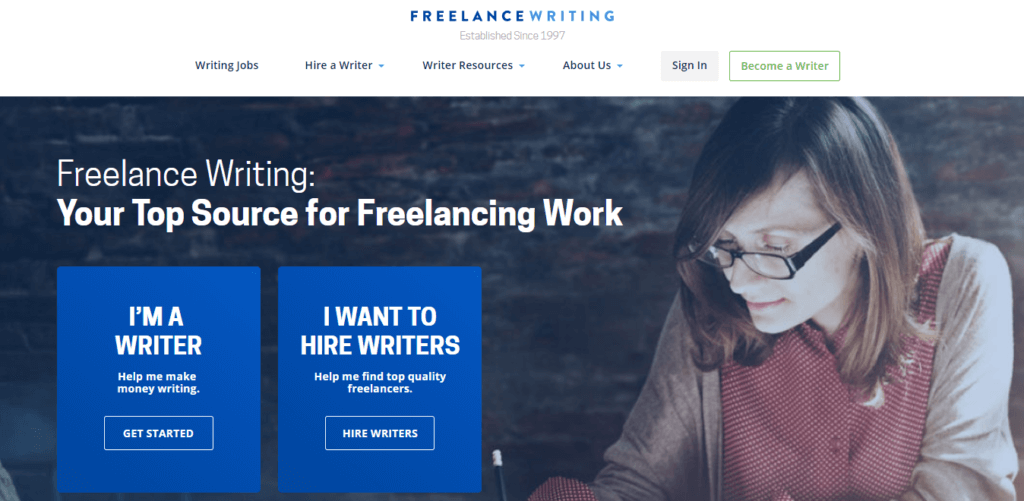 This source of writing jobs is excellent for freelancers all over the map, from brand spanking new to very experienced. It's easy to filter for the type of job you want and the experience you have, and it's totally free.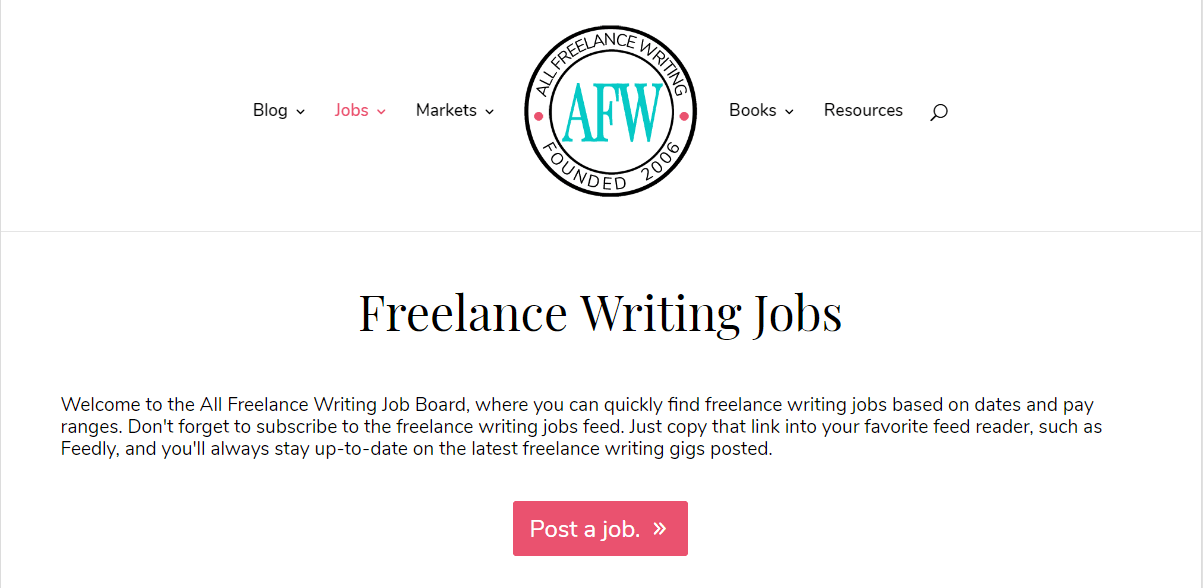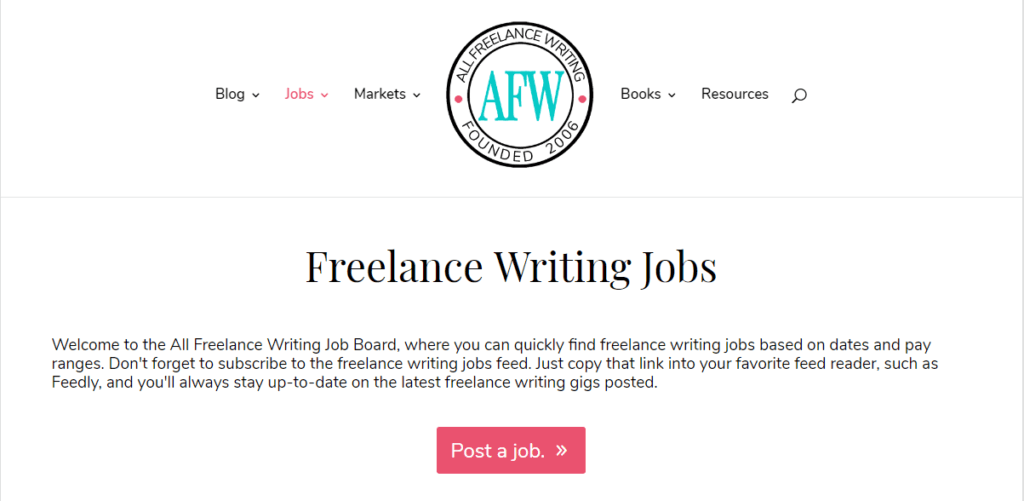 This site has been around for years, and you can search for the jobs that are posted and subscribe to a feed based on keywords you like. Side note: Check out my free keyword research tool today. It's free to use and apply for jobs, and their layout makes it easy to compare the available projects by the client's budget – it will even indicate when the budget is low.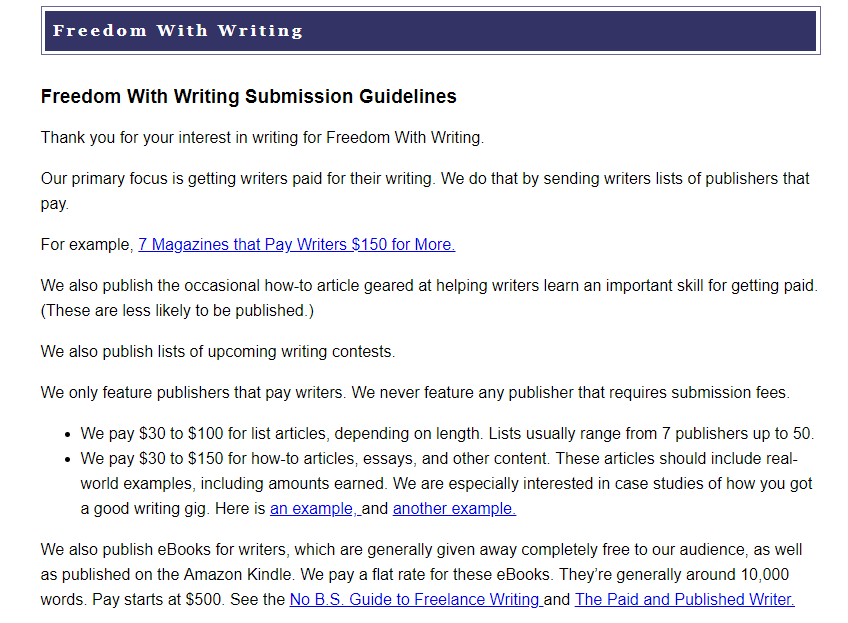 Not only can you sign up for their newsletter with writing opportunities, you can actually submit to write for them. They pay well, but you'll need to come up with a pretty good idea to pitch. If you have a concept you think will work well, it's definitely worth a shot. While you're waiting to hear back, you can always check out the opportunities in their newsletter too.


Media Bistro has a nice little variety of categories, which includes writing and editing. Their curated list features everything from book editing to PR content, so you're sure to find a few things that fit your niche.
21. Paid to Blog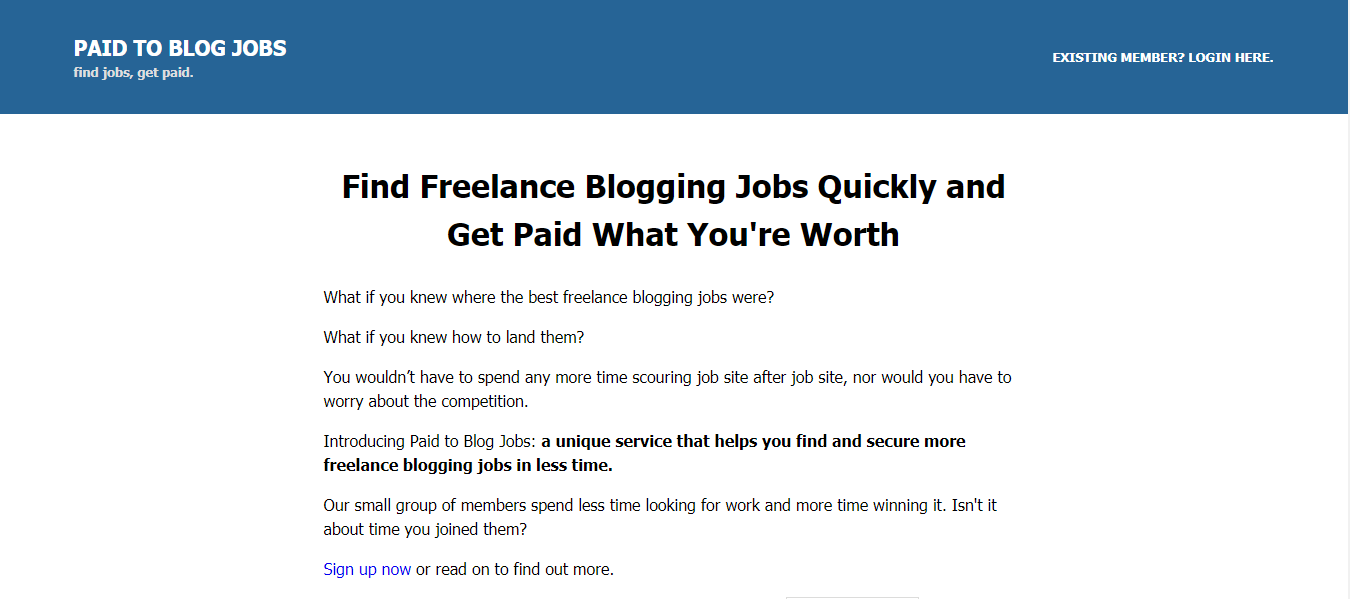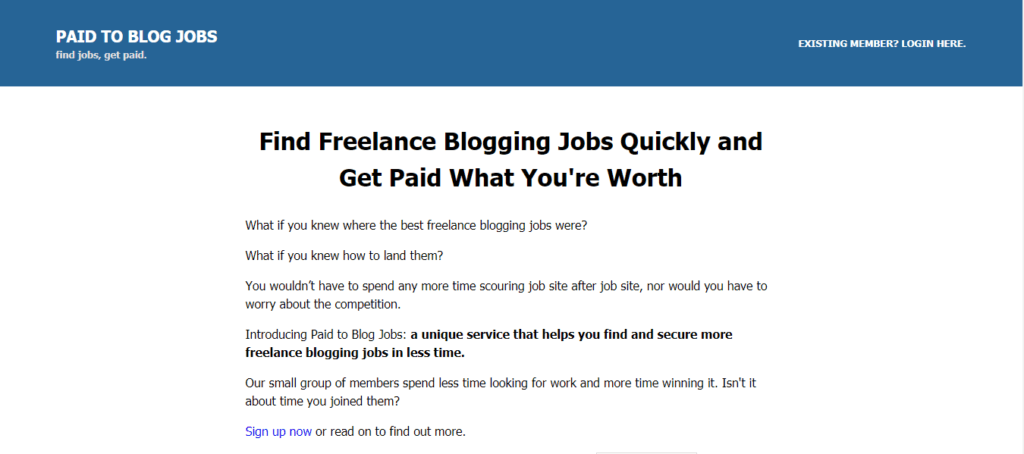 Calling all bloggers! This site was thought up by a freelance writer who already went through the grind and wanted to come up with a better way. The good news is that they put together an extremely well-curated list of jobs to apply for (sorted by blog niche), and they make writing jobs available for their site as well. The bad news is that it costs $30 a month to subscribe to. If you're trying to get your freelance career off the ground on your lunch break, it could be more than worth it to invest a little money to save a lot of time.


We couldn't leave out the technical writers! You can write helpful guides on invoicing, payments, blockchain currency and more. They're looking for longform and well-researched posts, so it would be tough to break into as a newbie, but if you already have background knowledge in the area, it could definitely be worth your time.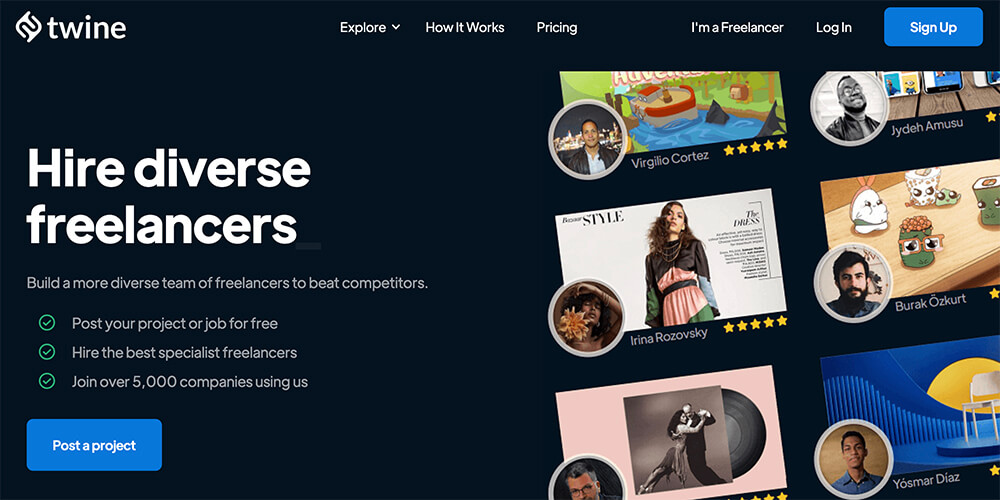 With a focus on finding placements for diverse freelancers, Twine is a great place to find high paying freelance jobs with reliable clients that are actively seeking to hire top talent from underserved communities. Now boasting over 5,000 companies on the platform hiring freelancers every day in spaces like writing, design, development, marketing and more—the rates you can command for freelance jobs on this platform are very competitive.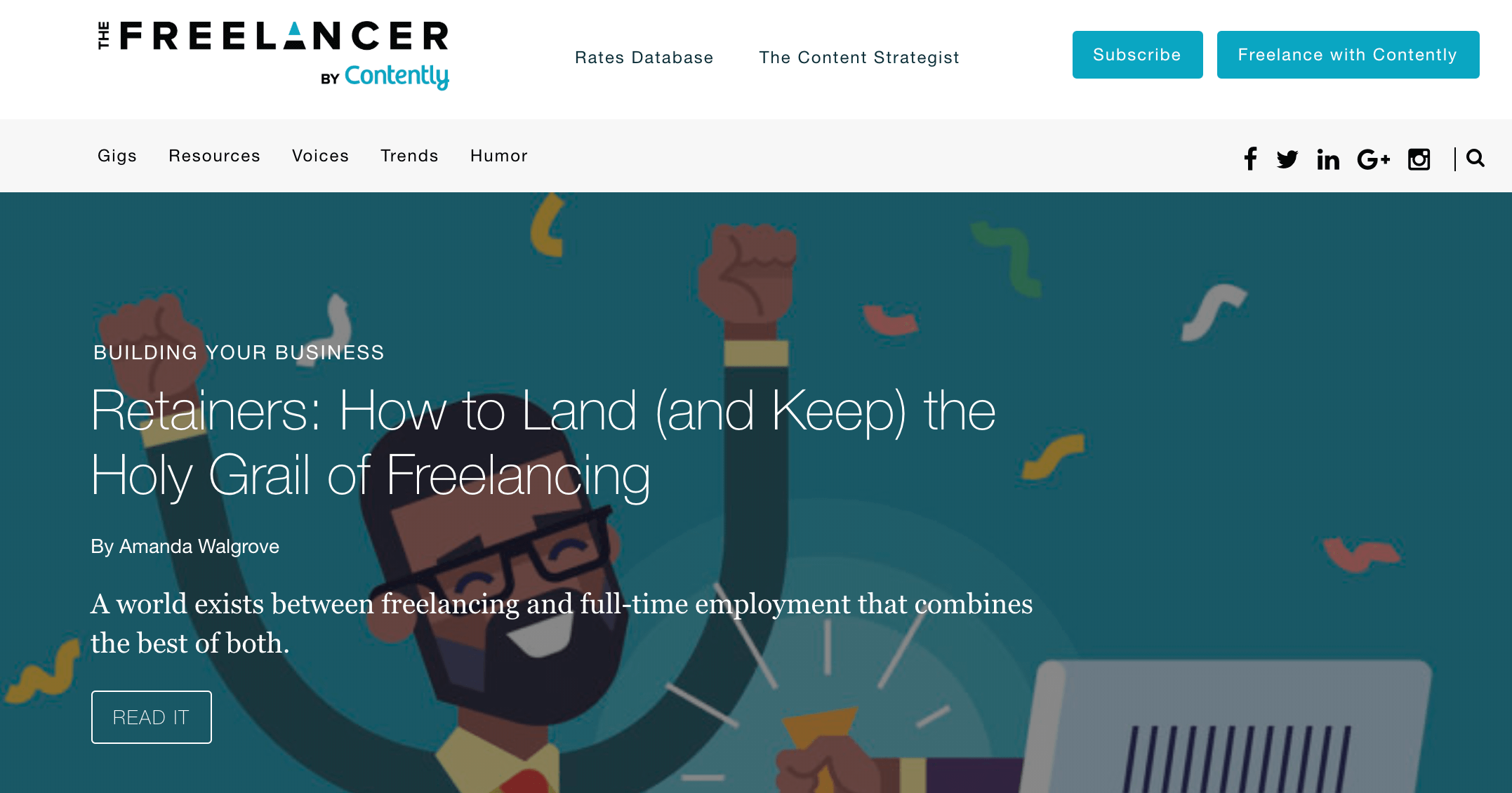 Coming as equal parts free portfolio for creative freelancers, online publication with solid freelance advice, and a platform for scoring freelance jobs with hundreds of the most successful brands & startups in the world, Contently is a high-quality agency style platform that (when you're hand-selected by their account management team after creating a portfolio) connects you directly with clients for very well-paid freelance writing projects. In the past, I've taken projects through Contently, writing long-form blog content for the personal loan startup, SoFi, at between $600 – $1,600 per article depending upon length and scope of the project, with blog headlines that were geared toward their audience of younger readers. As a side note, be sure to try out my blog title generator tool if you're looking to write better headlines, yourself.
The Best Websites for Designers to Get Freelance Jobs
You get paid to make the world a prettier place, one Helvetica logo at a time.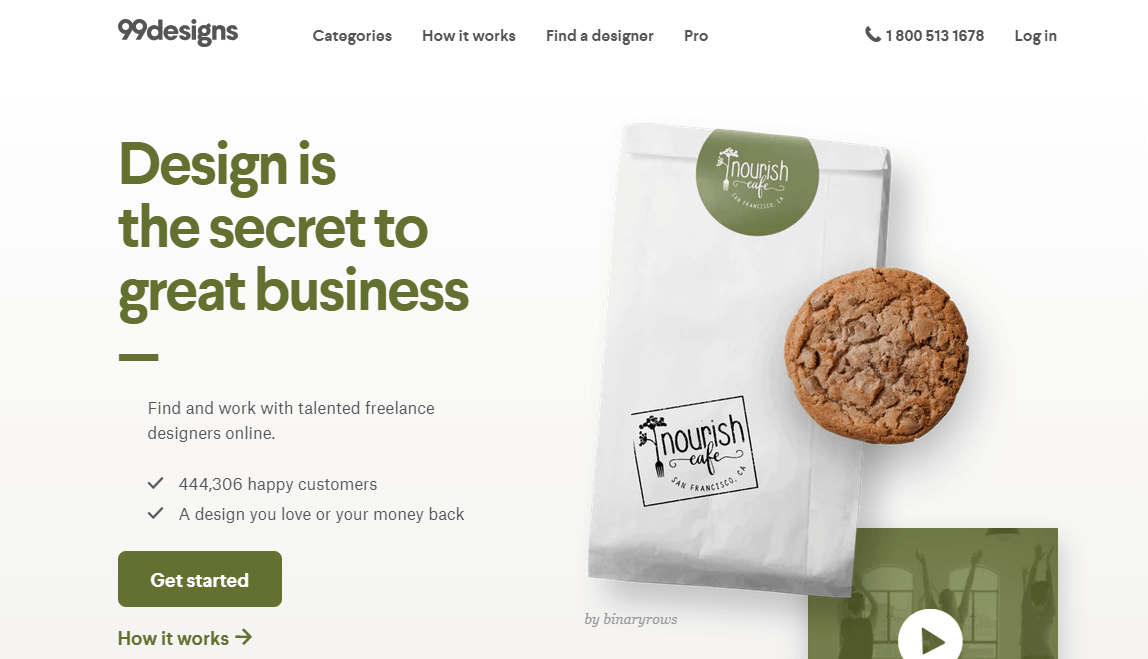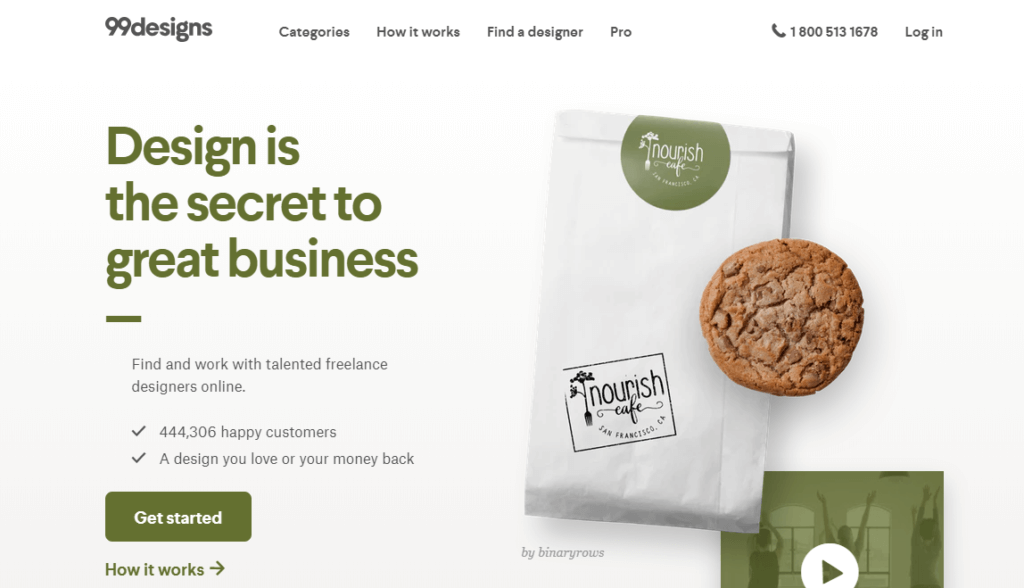 This site is set up in a bit of a different format than typical freelance sites, but it does work in the design context. Clients publish a contest, and designers submit their work as their application. The client chooses the design they like best, and the designer gets paid. I'm sure you've noticed the downside – if you don't win, you don't get paid. However, it can be an excellent way to build up your portfolio at the beginning, and if you'll be doing work anyway, it can be a great resource.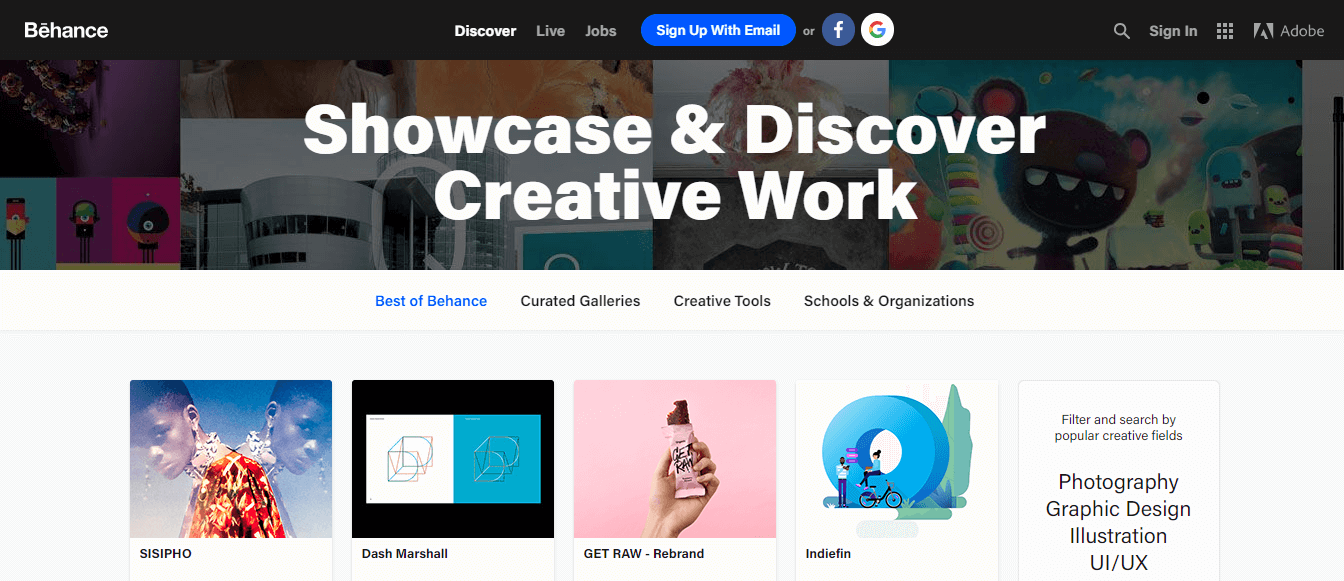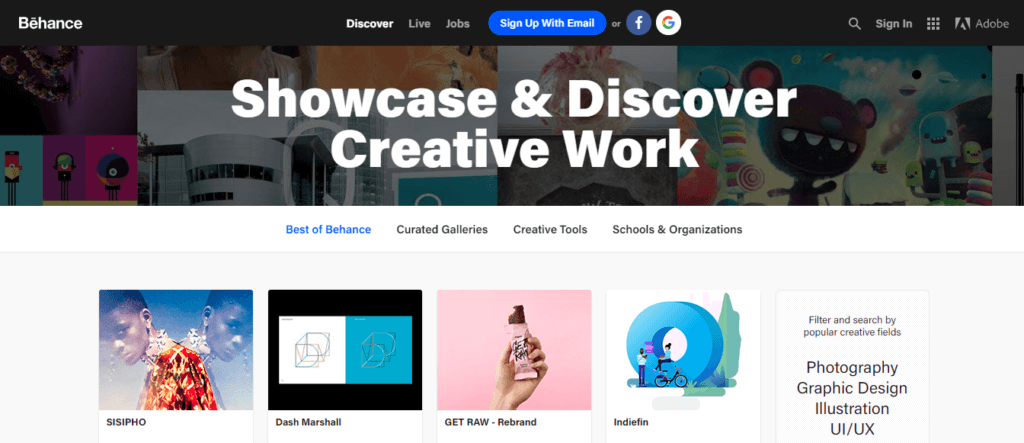 This isn't a freelance job site per se, but it is something you need to do now. Like, right now right now. These kinds of sites help designers showcase their work, and because the site has a much higher DA than any personal website you'll put together, your work has a higher chance of showing up early in the search engine based on the keywords you research. It's a must for designers of any skill level, and something you need to get set up right away.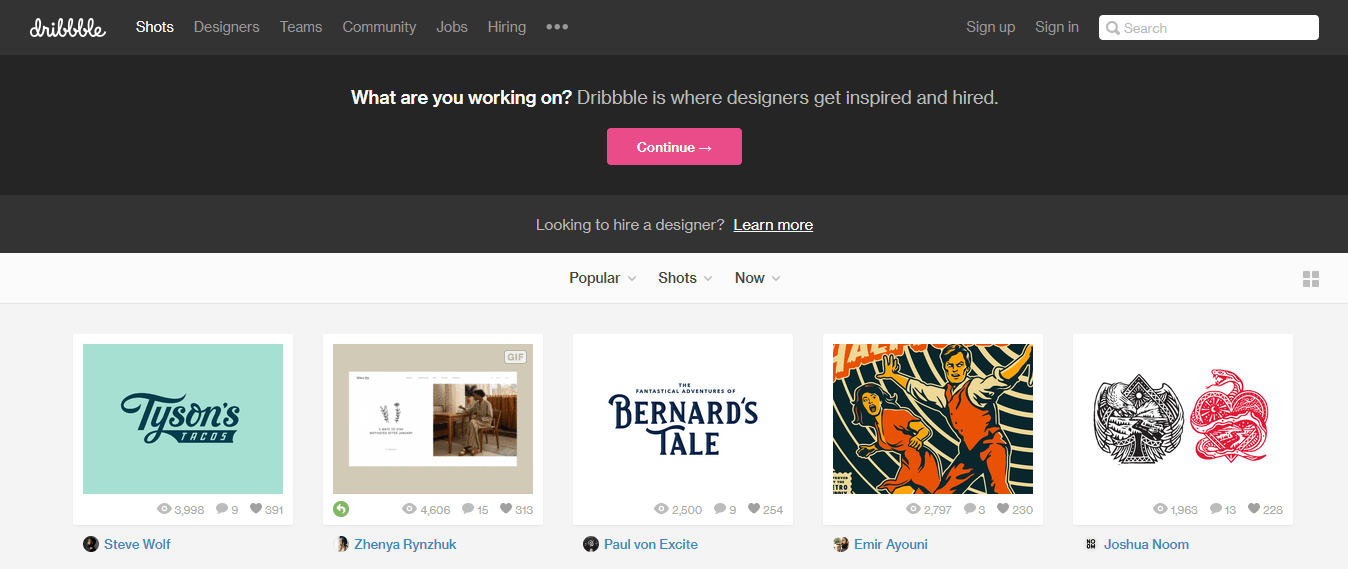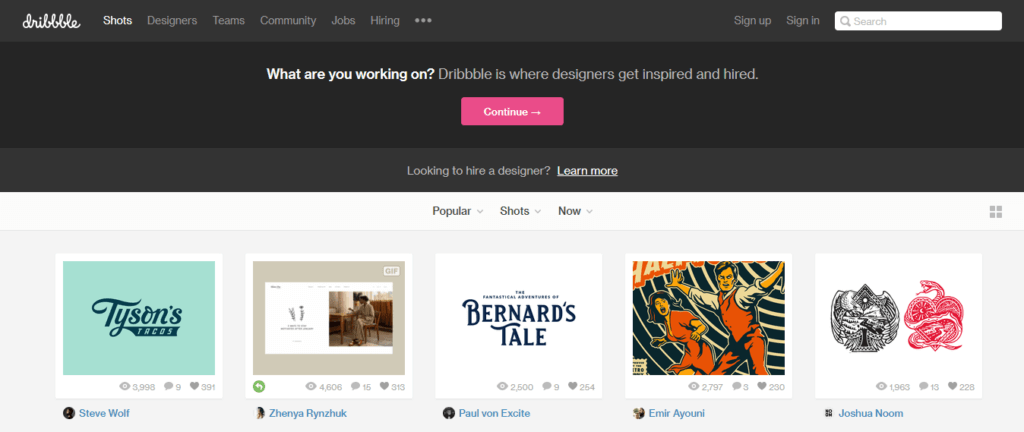 See above – another way to get people's attention and get your work in as many places as possible. The other benefit to these sites is that you'll get feedback from other designers, and potential clients, on your work. Feedback is crucial to improvement, so accept it openly! Also, browse the other designers on the site to get a feel for what kind of projects you like and what you may want to work on in the future.

This self-proclaimed "world's leading creative marketplace" caters to the creative needs of businesses of all sizes—with a whopping number of created designs (5 Million+) to-date. Once you've created an account for yourself as a designer on the platform, you'll have the opportunity to be both (1) invited to submit bids for freelance jobs that match your skills & experience and (2) to compete in design competitions where you'll be paid for your work if it's chosen by the client. Designers on the platform are based around the world, and projects range from logos to marketing materials, t-shirt designs, book covers, business cards and much more.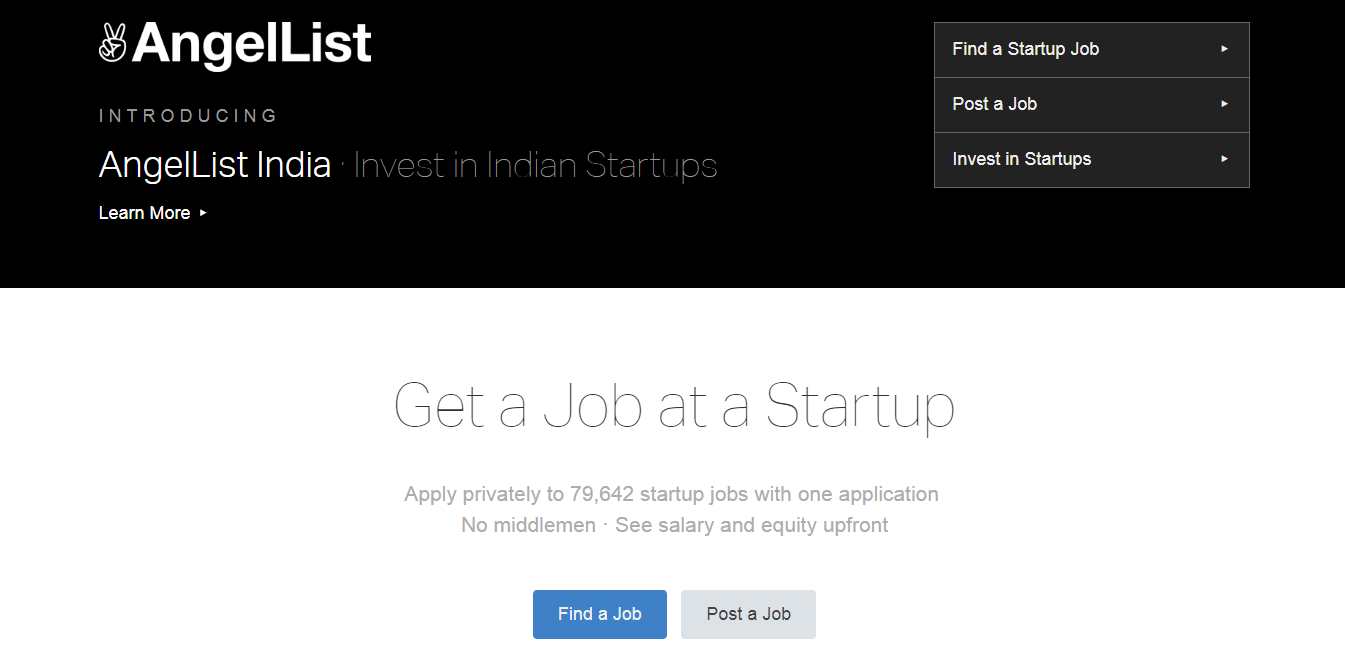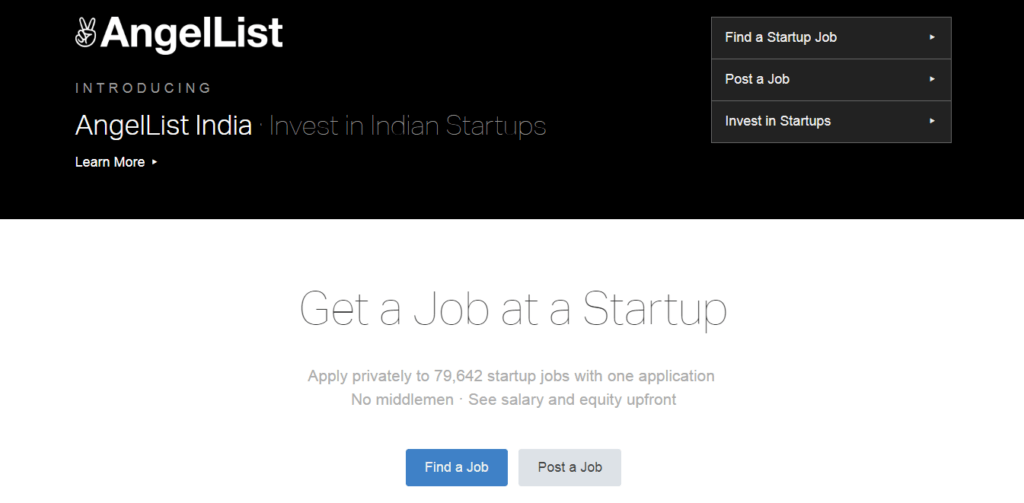 If you've swallowed the start-up pill and your dream is to someday work for a cool, up and coming company, start your path with Angel List. Start-up companies of all kinds search for talent on Angel List, from established to brand new, so you can get a taste of the start-up culture and possibly get your foot in the door for long term employment.


You got art? They want art! If you're more of a graphic designer or digital illustrator (or even if you're pretty skilled already on the side), you can put up your masterpieces on Art Wanted. People can browse them by keywords, and there's always the potential for connecting with clients!


This is another marketplace similar to 99 Designs, with somewhat fewer designers active on the site. They also have contests, but pay out lower amounts. Those are actually both advantages for new designers, as there is less competition from very experienced designers, and you're more likely to be selected.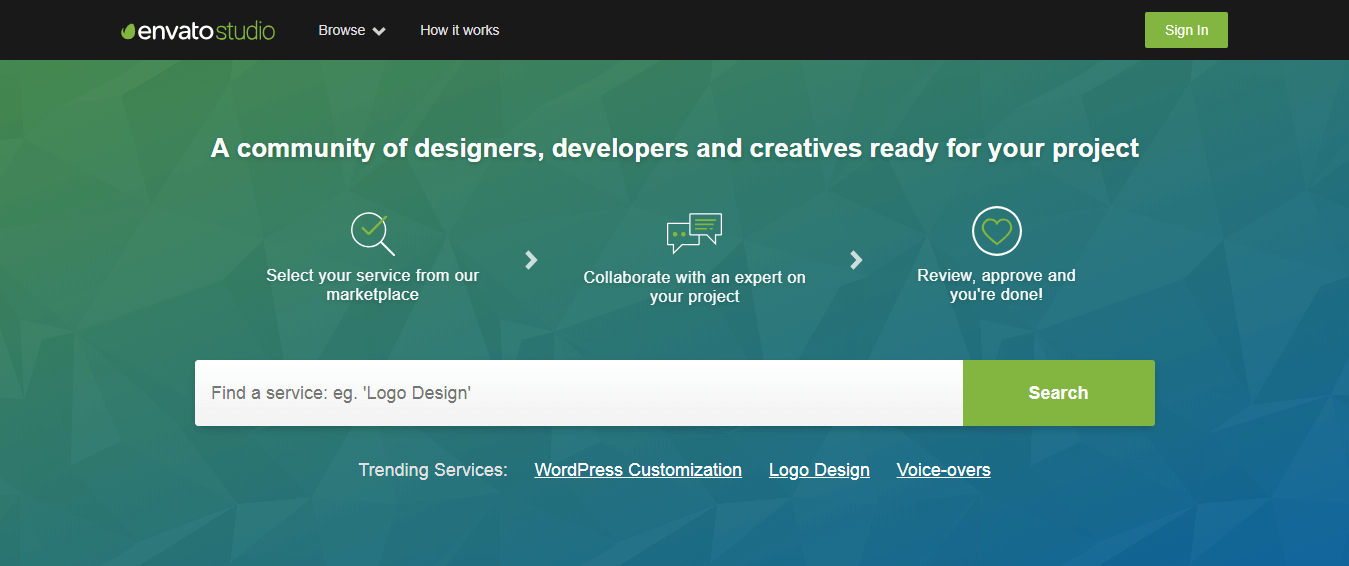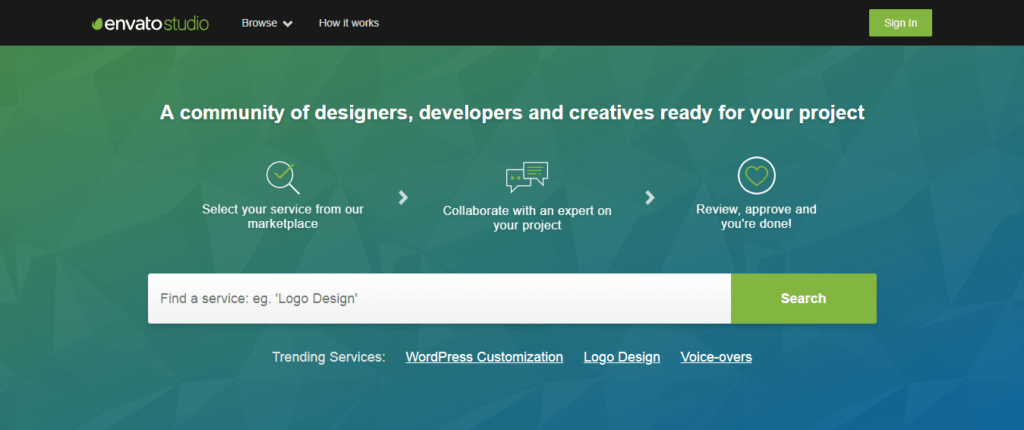 Envato Studio's most popular category is logos, so if that's your thing, start here. They're also known for very fast turn-around and an easy-to-use platform, both win-wins for beginners!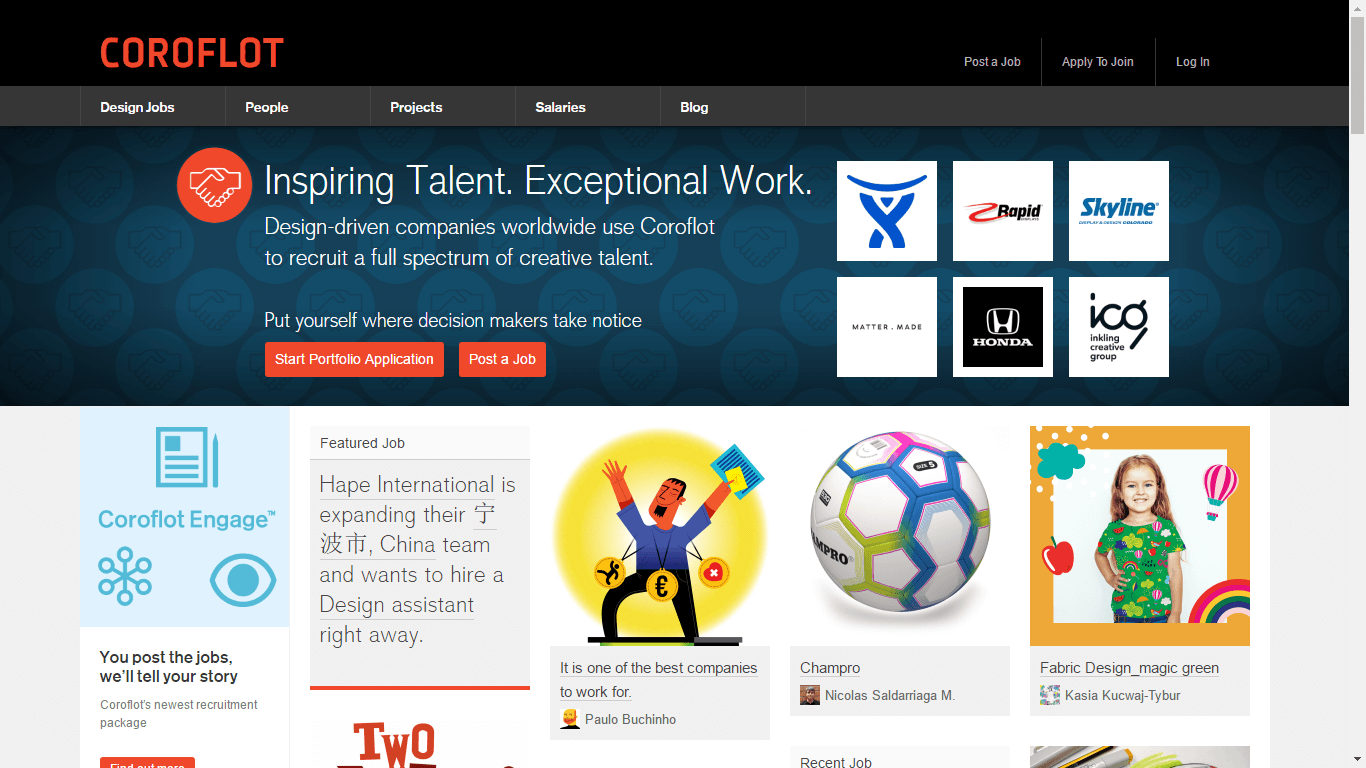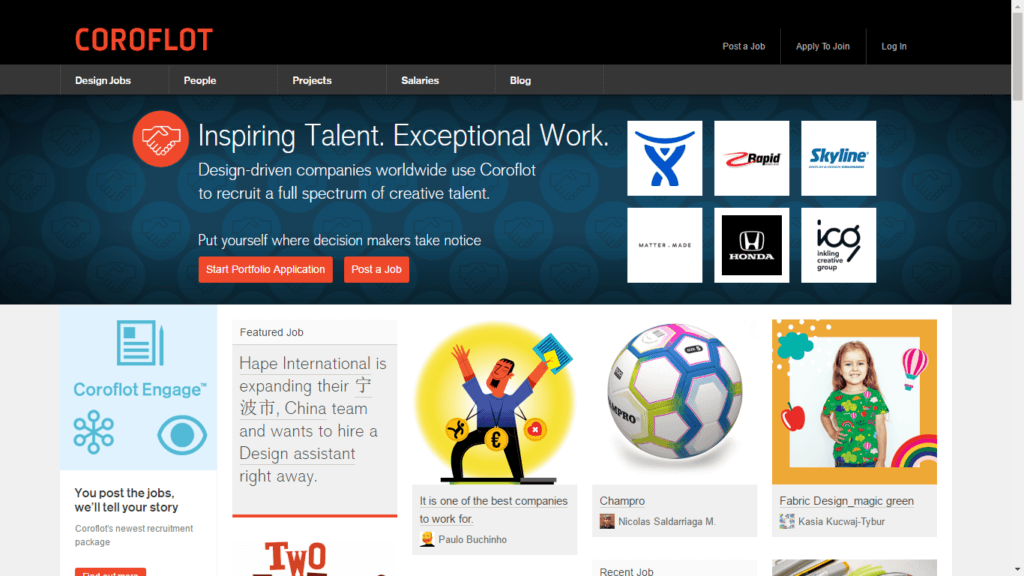 If you're a bit more experienced but need to break into the freelancing world quickly, this setup may be the best for you. On Coroflot, you post your portfolio, and clients post the projects they need. The difference here is that Coroflot is the go-between, setting up connections between the freelancers and clients themselves.

This is another great job board, and it's a great resource for both developers and designers to utilize. It comes with the time cost of sorting through the postings yourself, but it's easy to find freelancing jobs with the time commitment you want.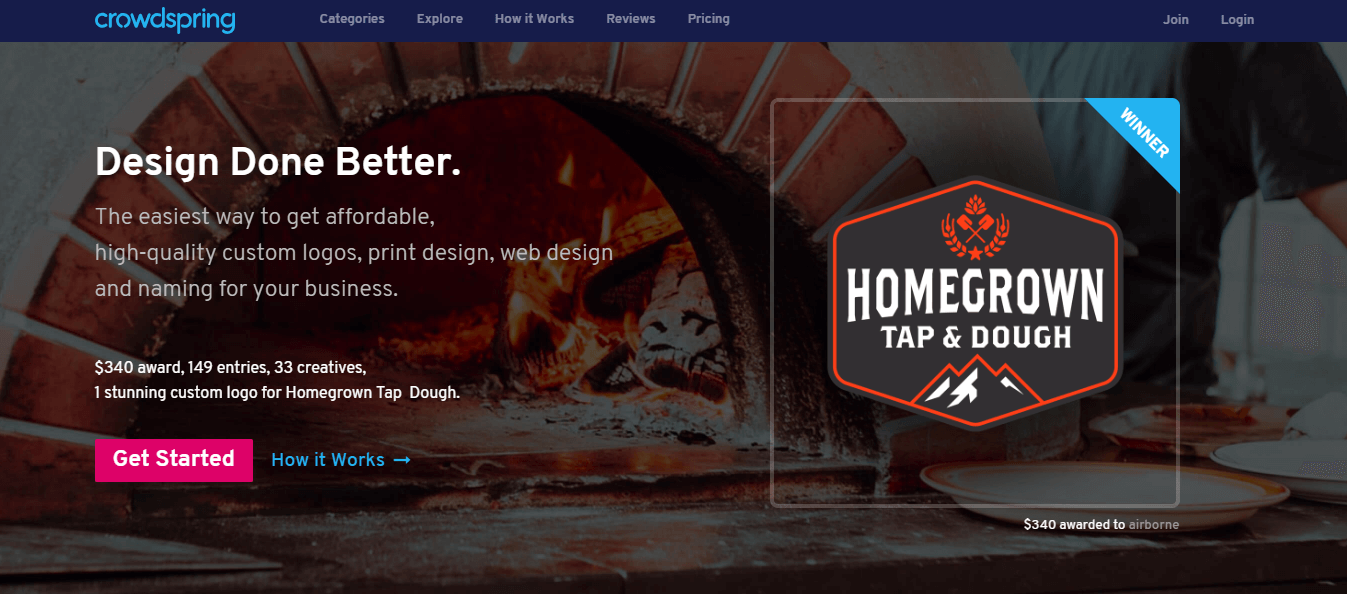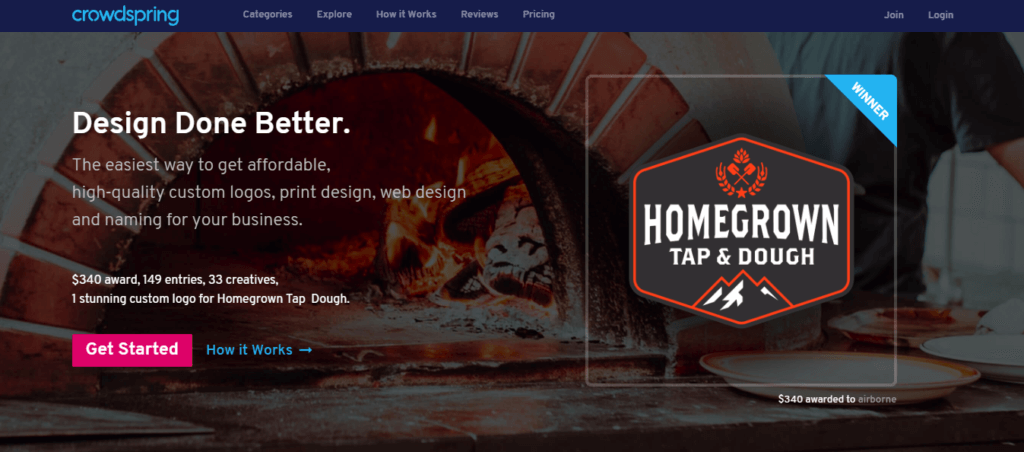 This is solely for designers and "creatives," – which, translated, encompasses every type of design from general graphic design to logo design. It's also free for freelancers and very easy to sign up for – no waiting list or invite-code necessary.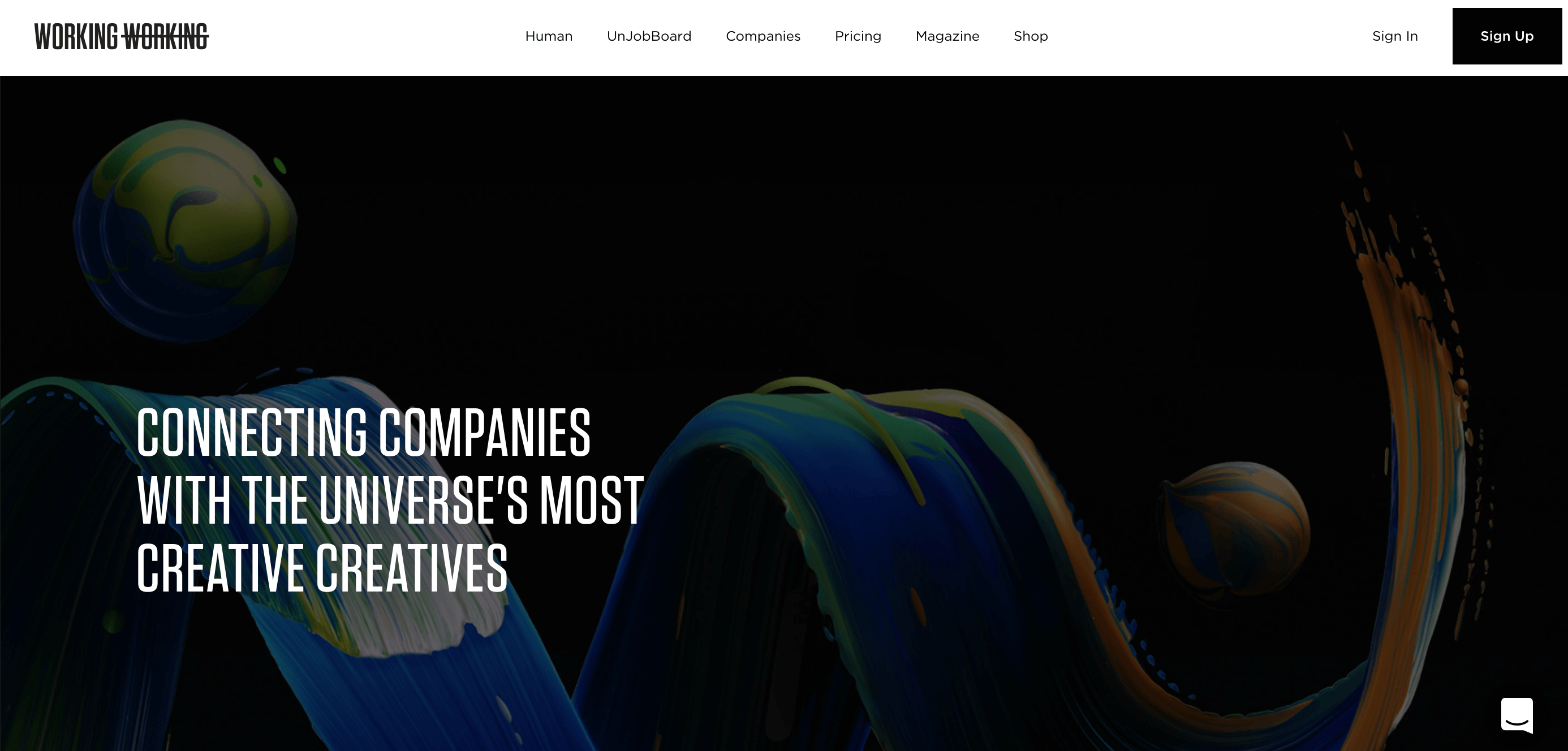 Founded by two world-renowned former freelancers, this extremely high-quality freelance community accepts only a very small percentage of applicants who request to join their platform—though the level of projects (and pay) once you're inside can lead to well into thee six-figures in freelance income if you're staying busy from the gigs their client companies like Apple, Facebook, Google, and more, continually post for designers, artists, photographers, producers and advertising pros.
The Best Websites for Developers to Get Freelance Jobs
It's just like in the movies – you smash your fingers on the keyboard at lightning speed, say some techy mumbo-jumbo words and you've hacked your way through the employment firewall to land yourself a great gig. Easy.
As a side note, a lot of the sites listed for designers also provide work for developers, and vice versa, as people lump them together sometimes, so check out the list above as well.


For WordPress experts, this is an excellent place to start. Codeable focuses on offering their clients everything from Wordpress themes to plugins—and that's it. They're literally just a resource for clients to find WordPress experts (and for experts like you to land WordPress developer jobs), so your task of finding the right clients just got a lot easier.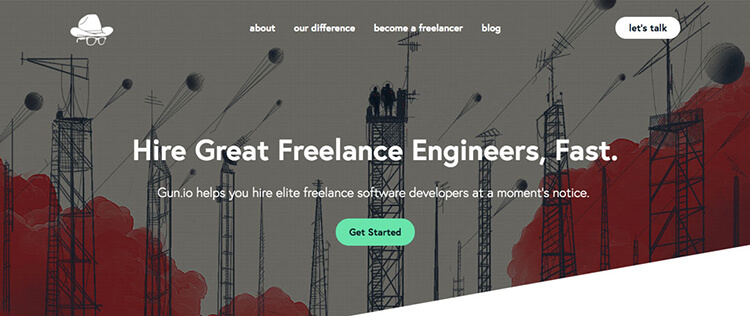 Fancy yourself a hired gun that's got the engineering skills to land top freelance jobs with companies like Tesla, Cisco and Zappos? Gun.io is one of the best freelancing sites to have a presence because of how well they vet both companies that hire freelancers, and the remote developers applying to gigs on the platform. What's even greater, is that most of the freelance jobs are filled in less than 48 hours—a win for both freelancers and clients.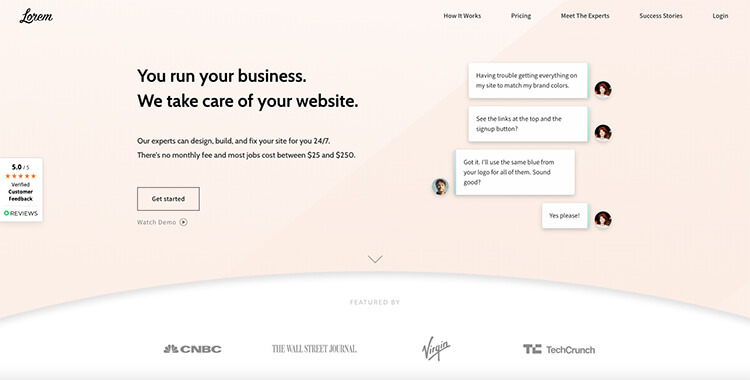 With a ton of recent press on major publications like TechCrunch, The Wall Street Journal and CNBC, Lorem is quickly on the rise as one of the strongest destinations to land short-term freelance jobs related to designing, building and fixing websites. What makes it appealing to clients, is that there's no monthly fee in order to list freelance jobs, and most gigs (for quick projects) pay between $25 and $250. The Lorem team does a great job of hand-vetting the freelancers they allow to work on the platform, so you'll have to apply to become an expert.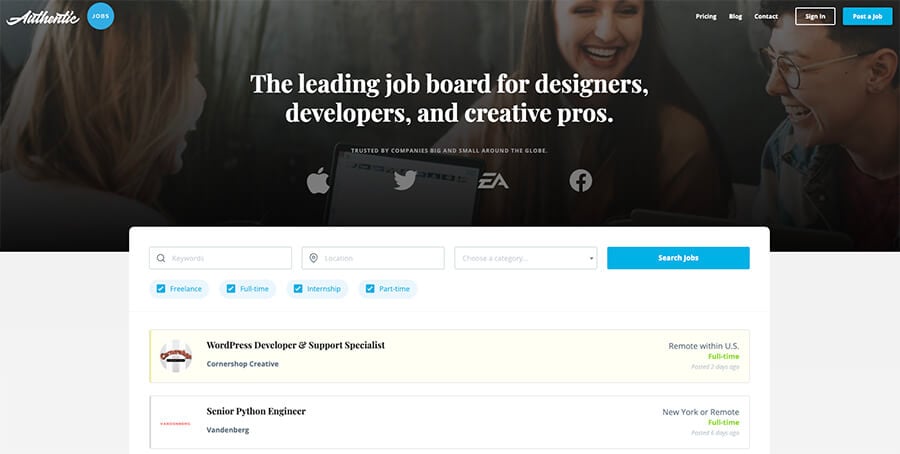 With over 17 years of experience in the full-time and freelance job board space, Authentic Jobs has narrowed in their focus over the years to cater specifically to servicing clients that need access to top developers, designers and creative pros. Their board features virtually only remote freelance jobs that are location independent, so be sure to check them out today.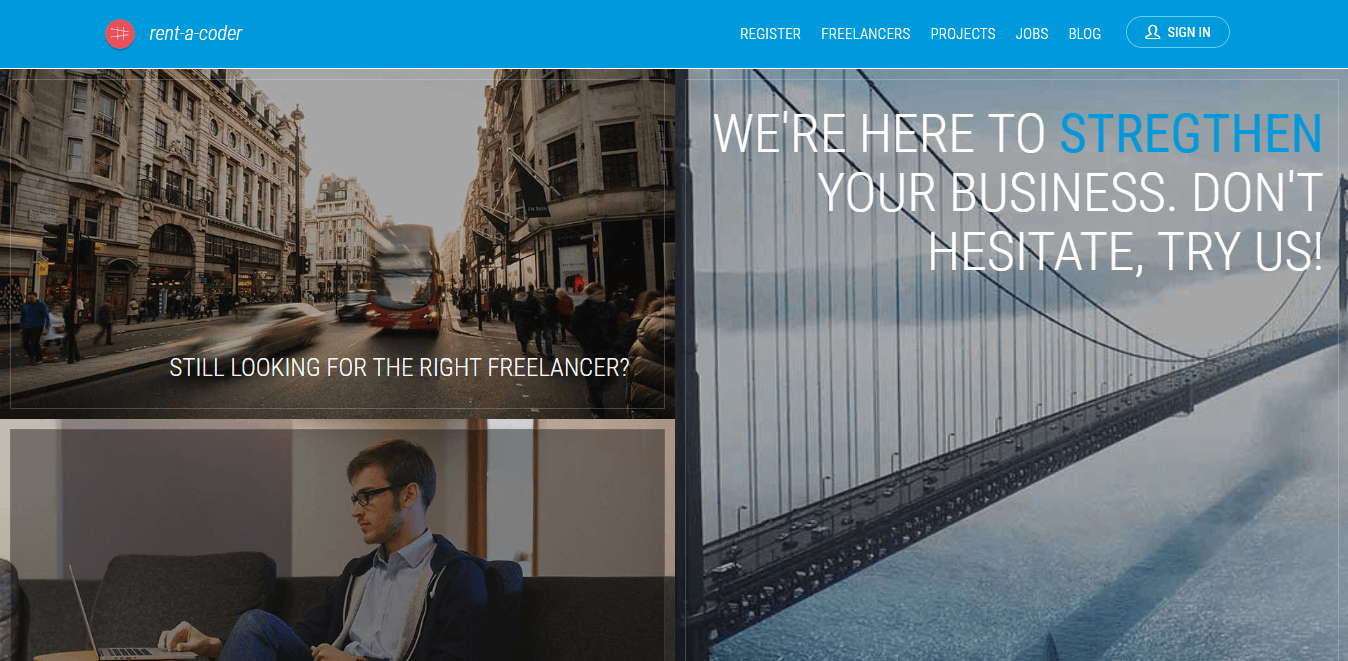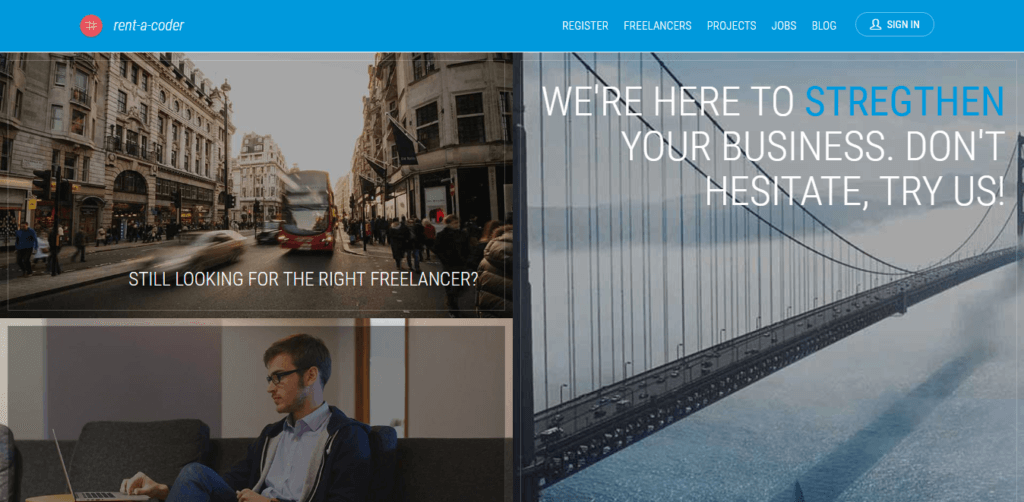 Pretty self-explanatory – clients that are looking for programmers, developers, and even designers will go to Rent a Coder to… well… rent a coder. Also, it's 100% free to sign up!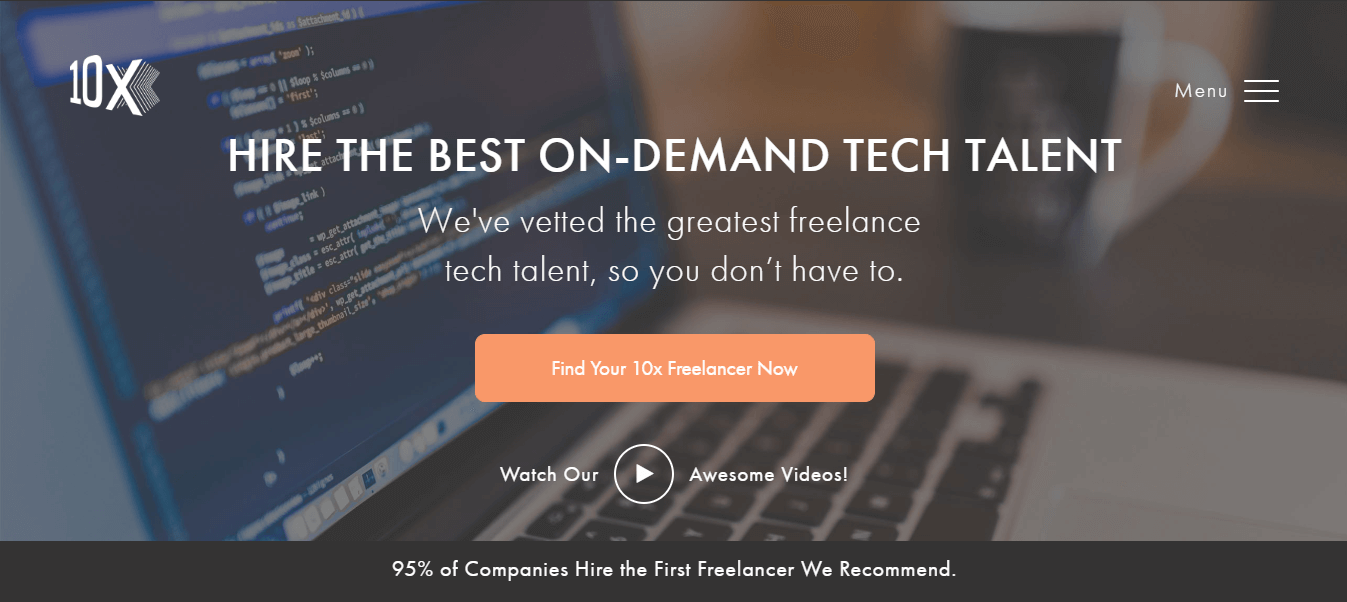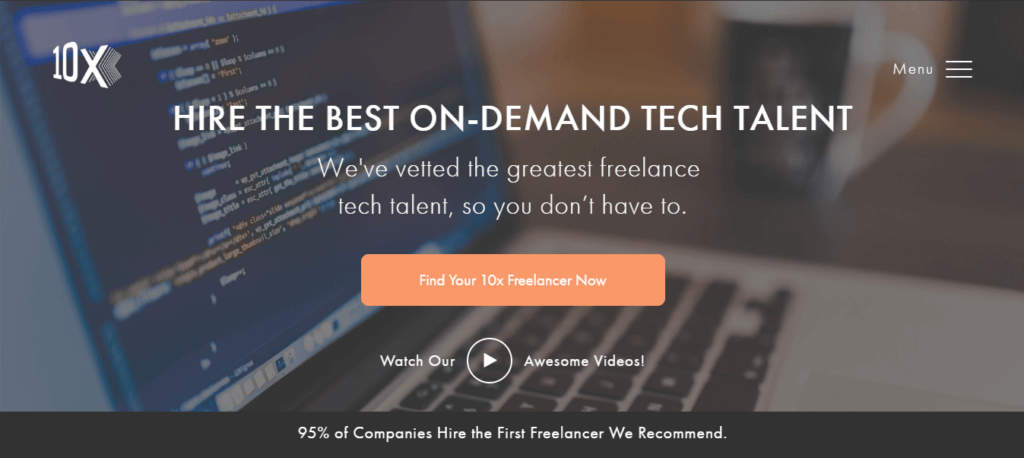 This site is pretty broad in their "tech" allowances, and looks for all sorts of freelancers, from developers to cybersecurity gurus. This is a great place to start if you have a niche tech specialty, or you have an interest and want to see the possibilities.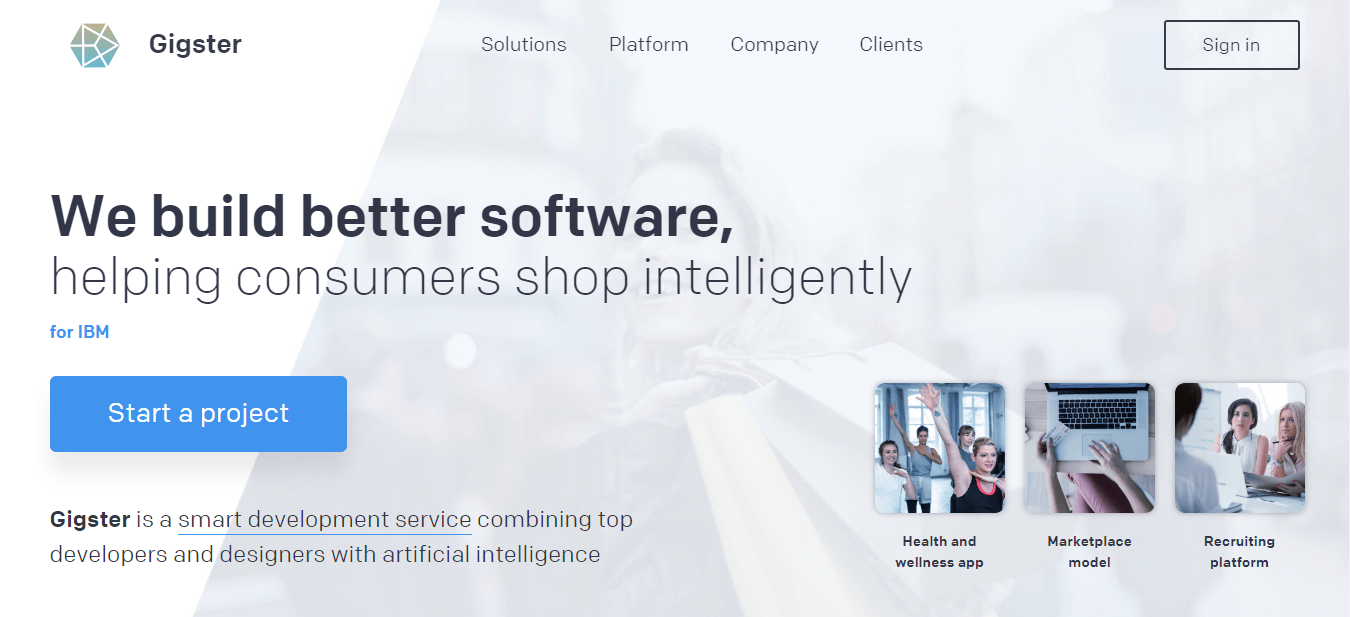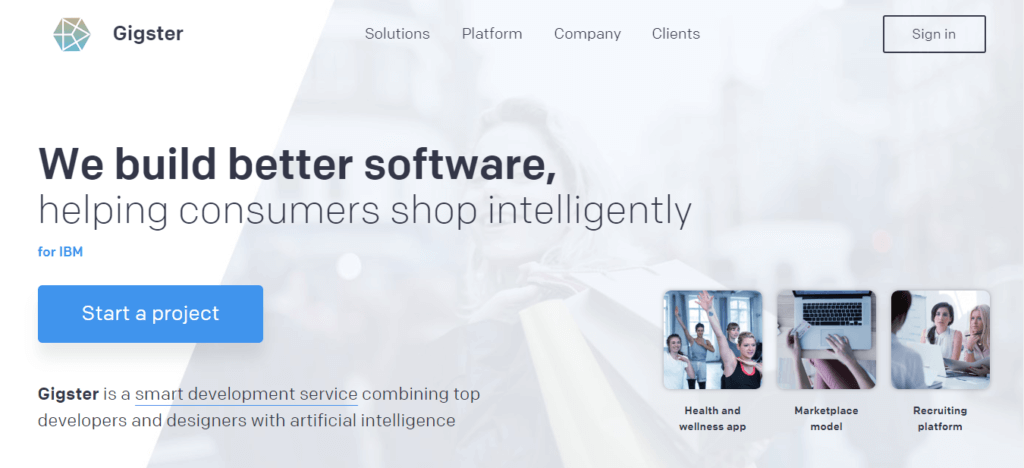 Gigster is also tech tech tech. Software designers, web designers, even app developers can find their home on Gigster. They have a screening process, which can make it tough to be accepted, but they use AI to match freelancers with projects, which is just plain cool. If you have some experience, this is the one to check out.
If you're a developer that has experience using the Webflow (no-code) platform, then run—don't walk—over to the Webflow Experts community where clients small and large are seeking talented freelancers to help out with their website customization projects. You will have to apply and talk with their partnerships team about joining before you'll be accepted into this rather tight-knit community, but being a top recommendation for freelance jobs with the Webflow platform… by Webflow themselves, is a ticket to landing high-paying development gigs.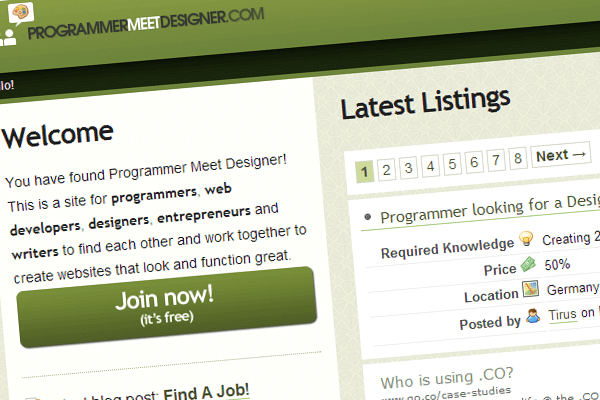 This site brings together every type of freelancer needed to make a website great, including programmers, developers, and designers. It's a pretty easy job board to search through, highlighting budget, skill set required, and deadline.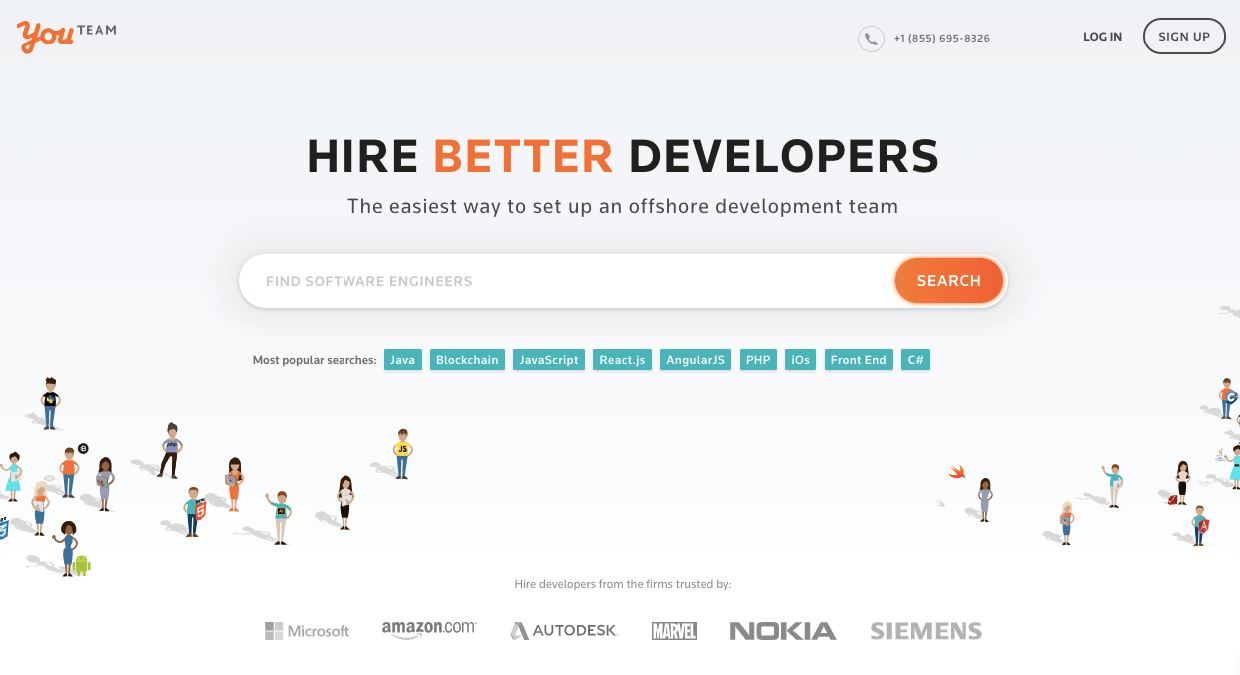 If you're an experienced software developer, YouTeam is a great site that'll pair you up with remote contract work (and even freelance jobs) on-demand. While most engineers on their platform aren't full-time freelancers, this can be a great place to pick up some long-term projects if you're already a contractor for another IT consulting firm or software development shop. In order to join the platform, software firms and their developers are first thoroughly vetted and verified, which adds an additional layer of credibility to this platform.
The Best Websites for Photographers to Get Freelance Jobs
You can often be seen with a camera that sports a lens slightly larger than your head, that can probably only be used in one scenario (but it's totally necessary, you swear). Instead of collecting all the likes on Facebook, collect all the cold hard cash on these sites.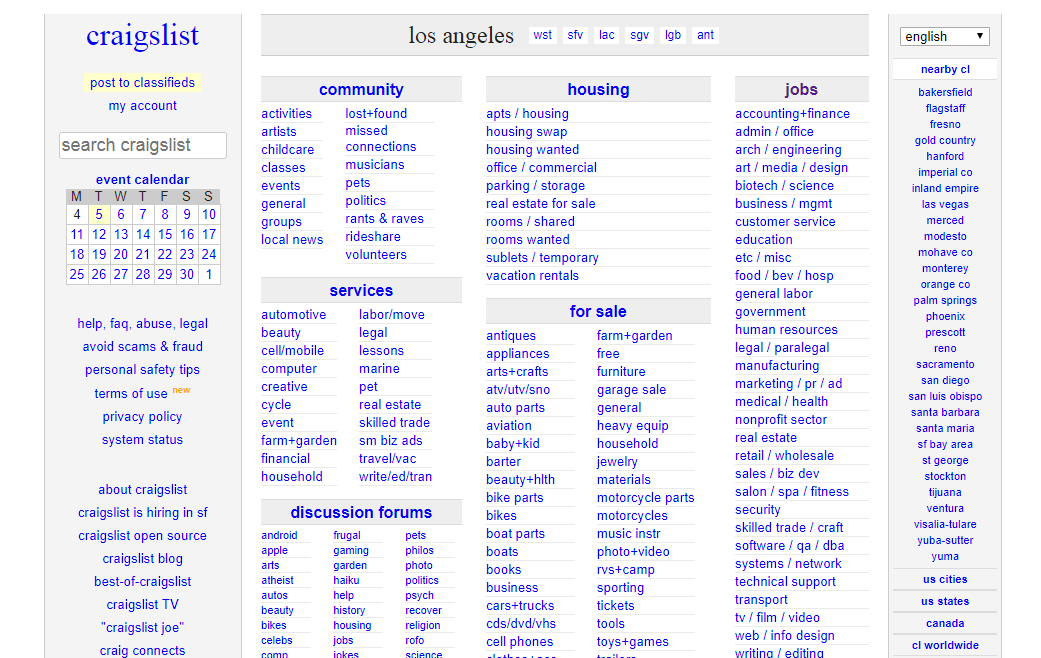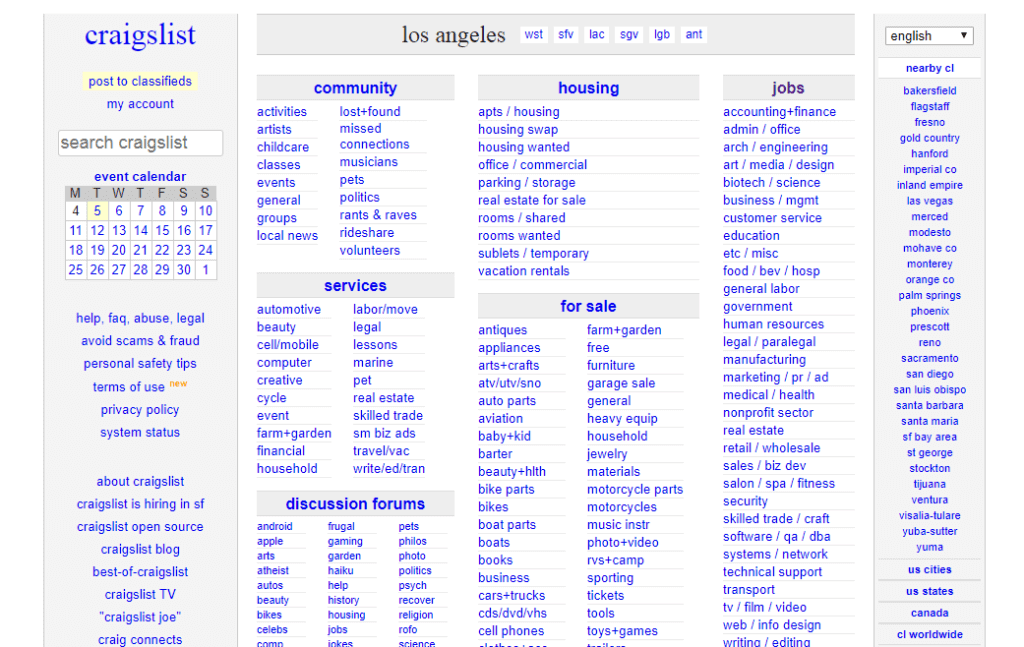 We listed this in the beginning general section, but this applies really well for photographers so we wanted to repeat it here. There are always models looking to build up their portfolio, and will often bring everything to set, just looking for a fellow aspiring talent – you. It can be fun and free, and just what your sparse portfolio needs.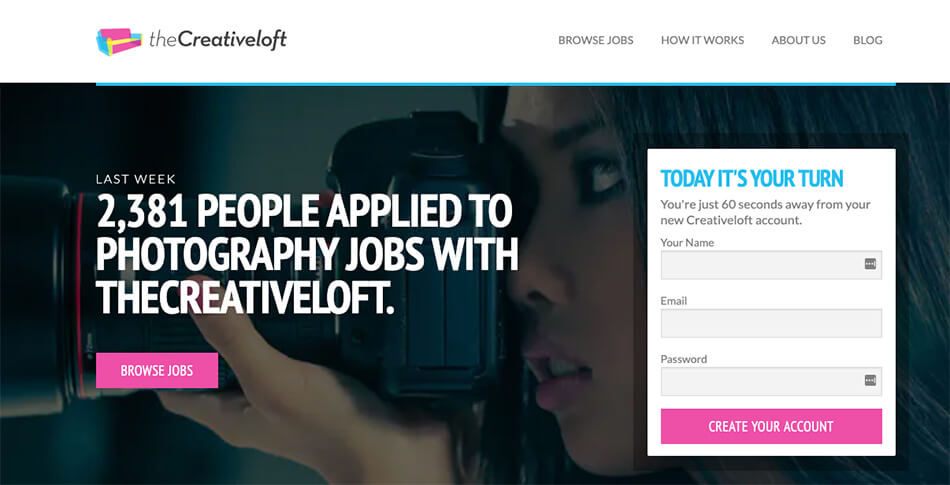 The Creative Loft is actually a great destination for creatives seeking freelance jobs in a variety of categories—ranging from photography to fashion, interior design, event planning, entertainment, music and more. With most of their freelance jobs (especially in the photography section) being listed in the US, the opportunities do skew more towards US-based photographers. That being said, there are dozens of new photography gigs posted daily on the site, so keep a watchful eye out for something that looks like a good fit for you.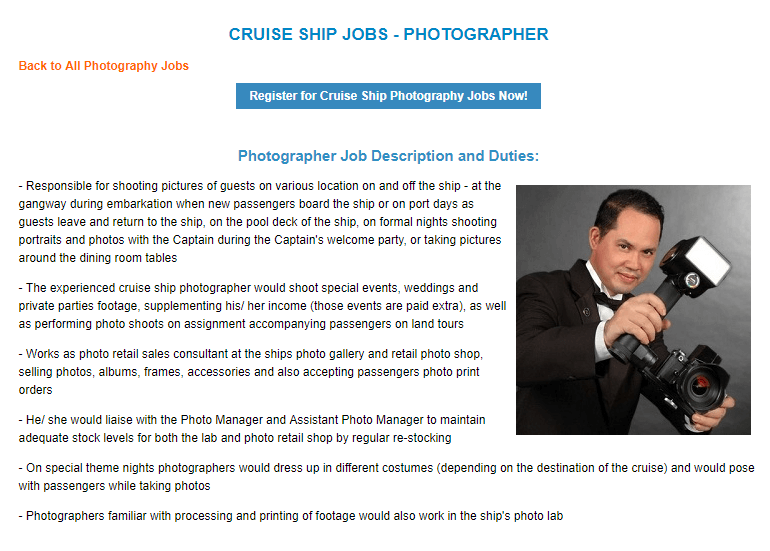 Probably another surprise on the list. Did you know that the ice cream machines on a lot of cruise ships operate 24/7? Do we really have to sell you further? This site is the perfect entryway to travel photography – and ice cream, like, all the time.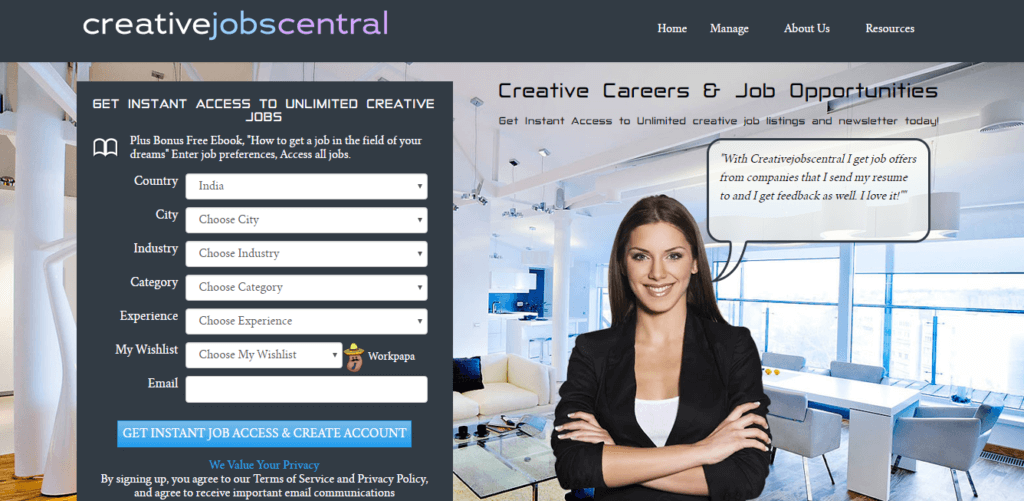 This is a subset of Creative Jobs Central, a fairly typical freelance photography marketplace. Their premium membership does cost money, but they have over a thousand actively posting companies and they virtually guarantee that you will have jobs available in your area. It also weeds out amateurs and reduces competition, which can be worth it if you have a little extra to spend. It's free to join and search through what they offer, so explore it before committing.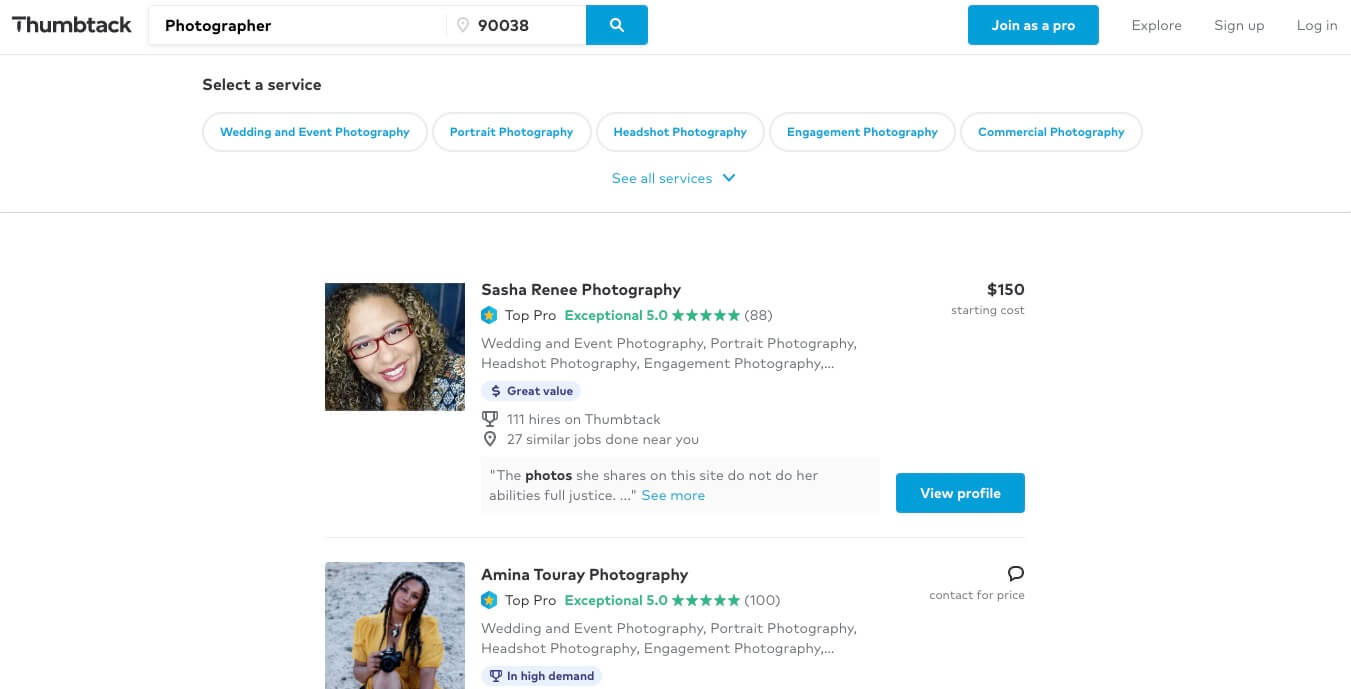 If you're searching for freelance jobs as a photographer for hire, then Thumbtack is one of the best for pairing your with locals in your area in need of your expertise. So, if you've got the skills, congratulations because you're in Thumbtack's target audience. Jokes aside, this is a very useful job board to search through all the photography listings that are posted, as well as being able to upload portfolio samples and showcase reviews so that clients can easily find you.

Another relatively new freelance job site to the party, Zippia, has a solid focus on connecting talented freelancers with paid work locally. Zippia's goal is to connect people with jobs that fit your longer term career goals—providing insights into salary range expectations, what your resume should look like, relevant skills, certifications and more.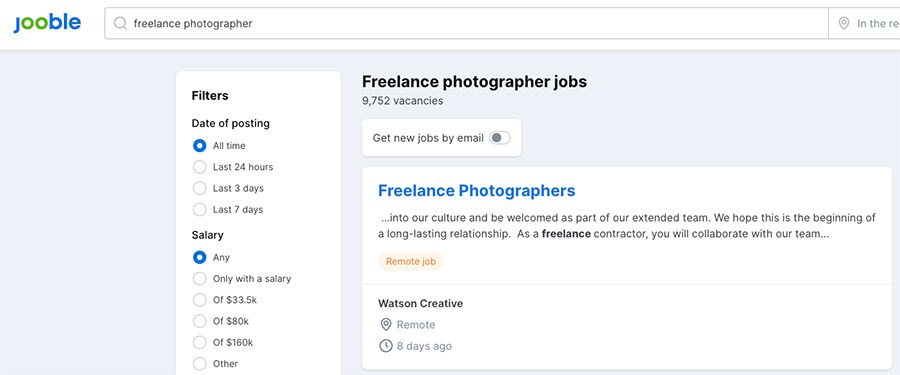 Jooble is one of the larger contract job aggregator websites on the market these days, but they try to get straight to the point with surfacing relevant freelance jobs based on your skills. The benefit to this job board site, is that it's curated and they don't just dump in whichever newest freelance jobs hit the market each day.
The Best Websites for Marketers to Get Freelance Jobs
Seeing companies or start-ups with great ideas and products but no idea how to sell them kills you inside a little bit. You know how to help them – get paid for it. Marketers of all kinds tend to be folded into the big freelance marketplaces, so check all the usual suspects first (Upwork, Guru, etc.). However, there are a few more that speak to some marketing specializations—and if you're looking for some ways to improve your marketing chops, check out my ultimate guide to blog marketing, use my free blog title generator and free keyword research tool, too.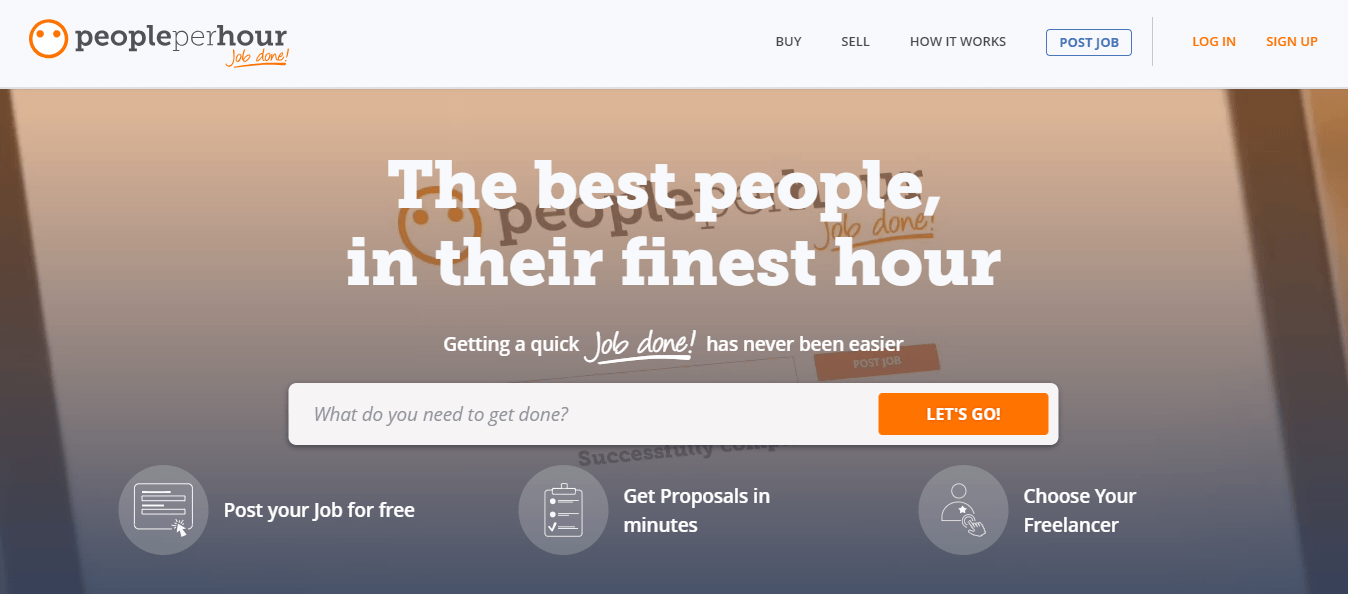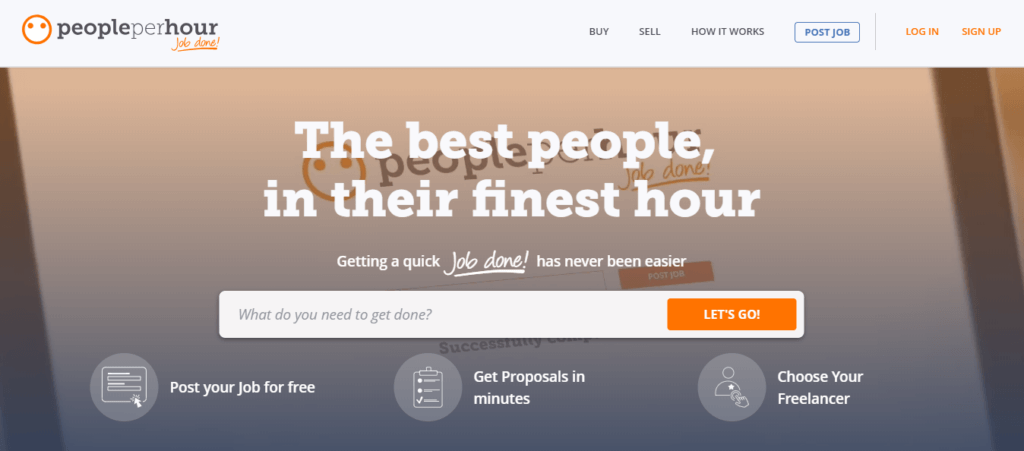 This one is great for hiring marketers, as well as SEO folks and software engineers. PPH takes care of just about everything in the process, but only allows for 15 applications before charging. Browsing is free though, so totally worth it to send out some feelers and see if you think it's worth it.


Remotive is a fairly standard job board that you can search through and has all sorts of categories, including marketing. It's easy to see when the job has been posted, where it's located, and what specialty within marketing it falls under. And free!


This is another great company that will make the connections for you. Their clients come to them with gaps they need to fill, and they turn to their group of freelancers to do the job. They mainly focus on marketing, but also dabble in tech and creative jobs too.
Related reading I highly recommend:
The Best Websites for Virtual Assistants to Get Freelance Jobs
Research, data entry, bookkeeping, answering aggravating emails professionally—virtual assistants can have all sorts of specialties that help their bosses not tear their hair out. It's also a great choice for remote work.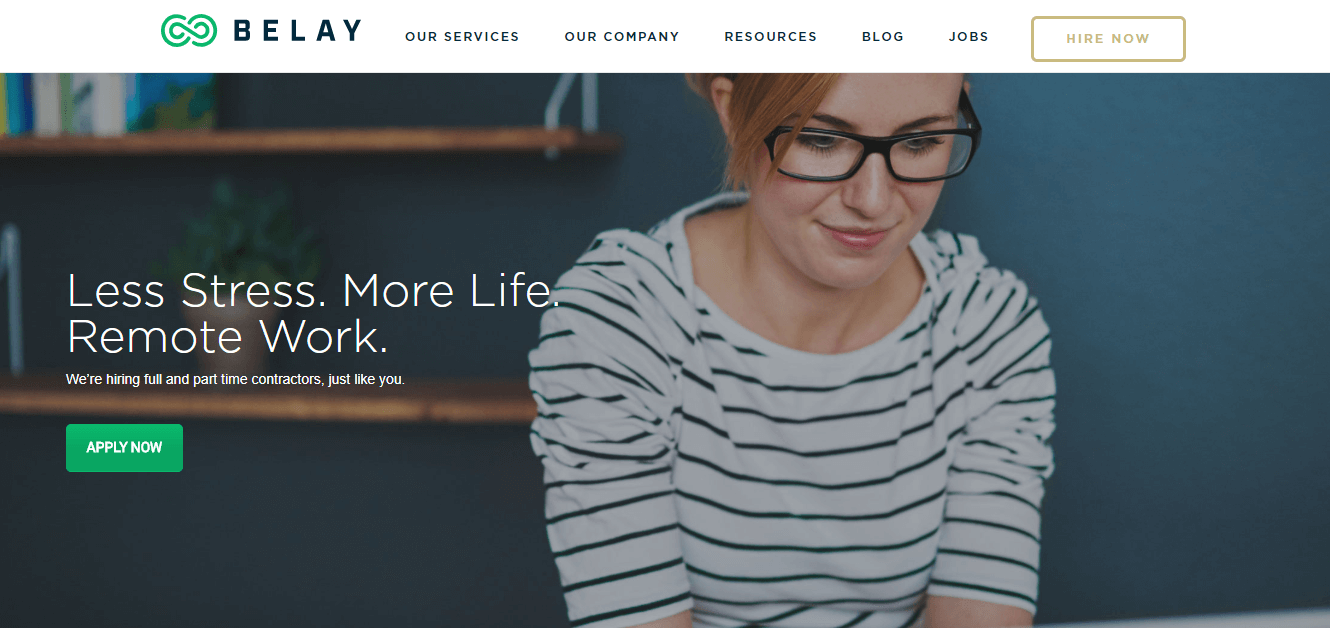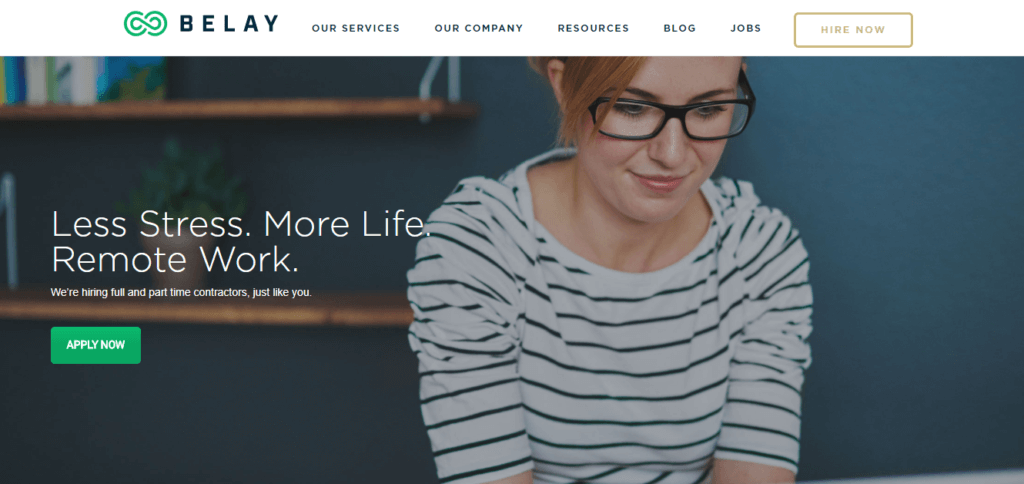 Belay is a company that offers virtual personal assistant work to their clients, and it's always remote, so it's definitely worth it to check and see if they have any openings in your specialty.

This is another great company that sources people that want to land freelance jobs as virtual assistants. They specialize in the virtual assistant space, so you're sure to find your fit there if that's exactly what you're going after.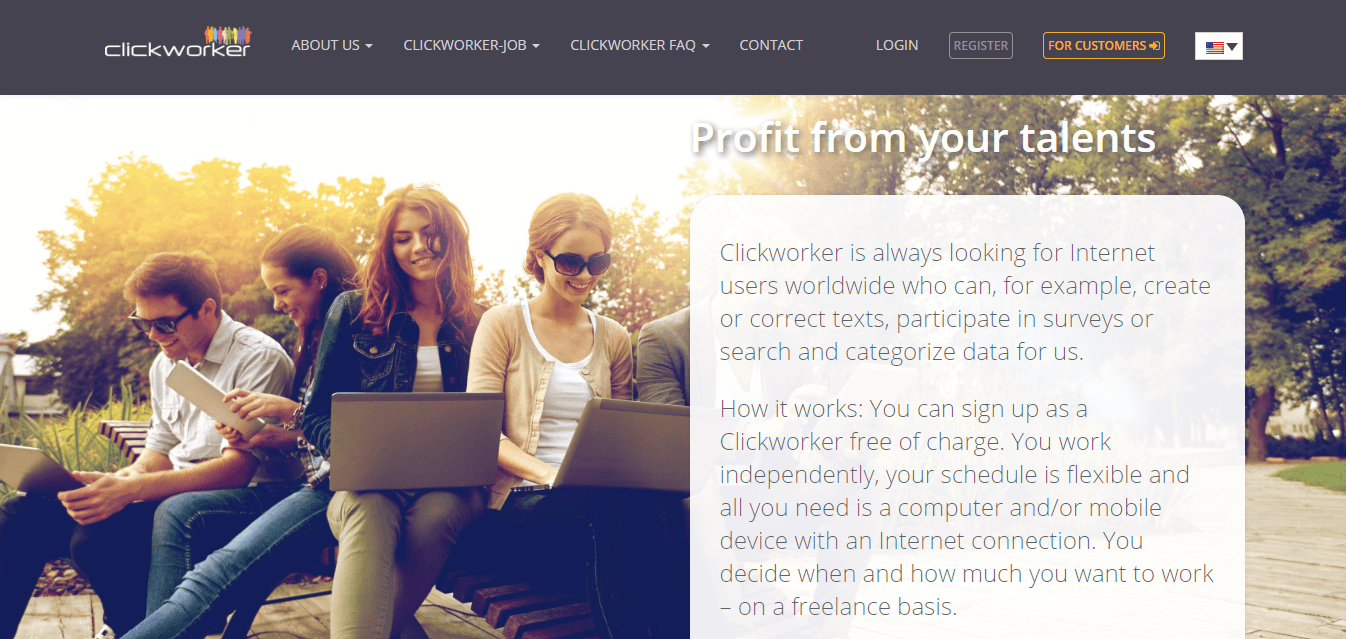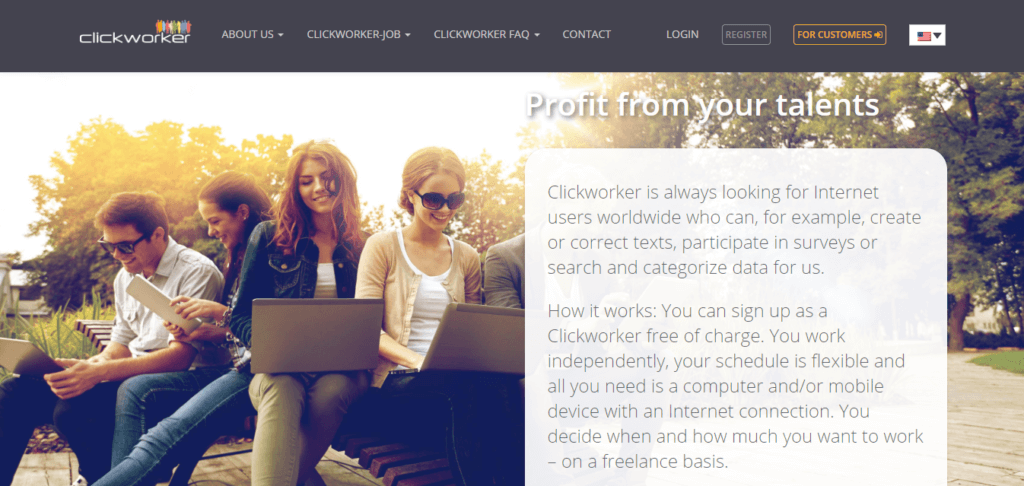 This site has all sorts of paid VA tasks, including writing, data entry, and researching. Take a quick assessment test and then you get access to their jobs board. All sorts of companies post on their site, even large ones like PayPal! It's a great way to get started fast.


This site has the major upside of being able to find quick work quickly – you can literally start completing jobs for them in about an hour. They always have a ton of virtual assistant-type work available. The major downside is that a lot of them are not well-paid, so our advice is either to use this in a pinch, or to really be selective about jobs that are worth your time.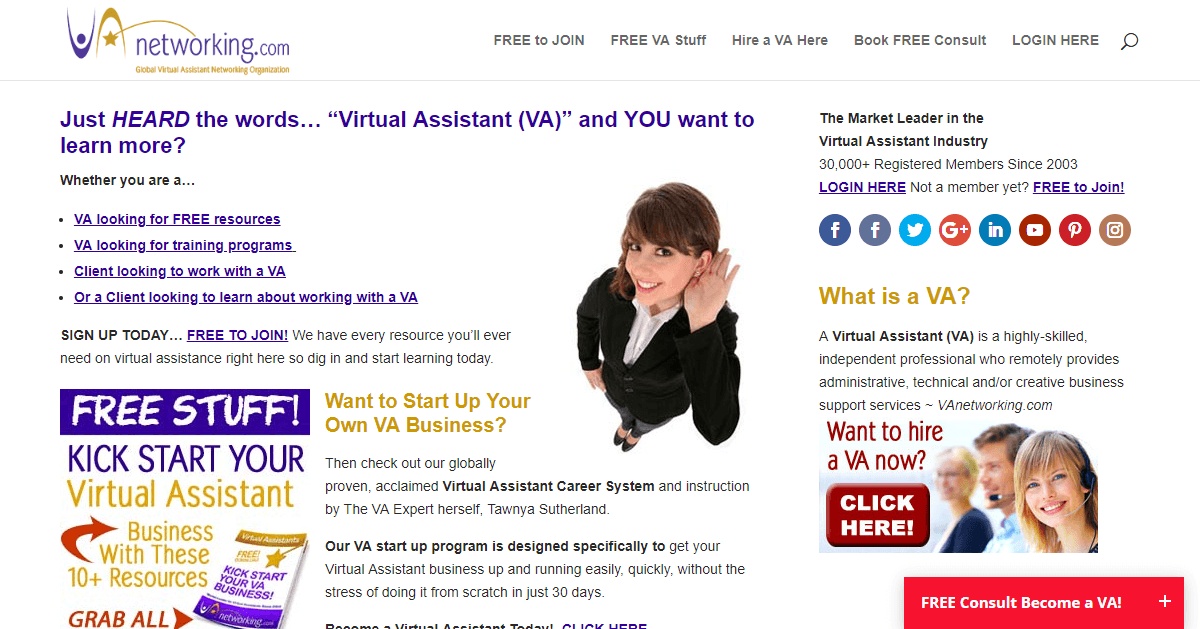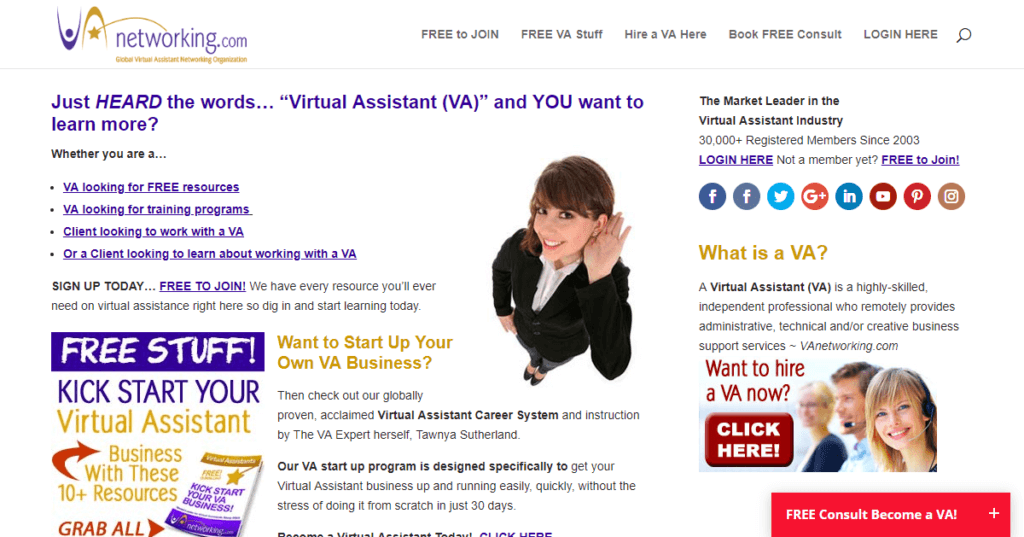 As the name implies, this is a great way to network with other virtual assistants, along with their great job board that you can search through. They have great advice and resources for beginner VA's as well, so definitely a necessary first stop and I'd recommend also checking out these work from home jobs for more virtual assistant job leads.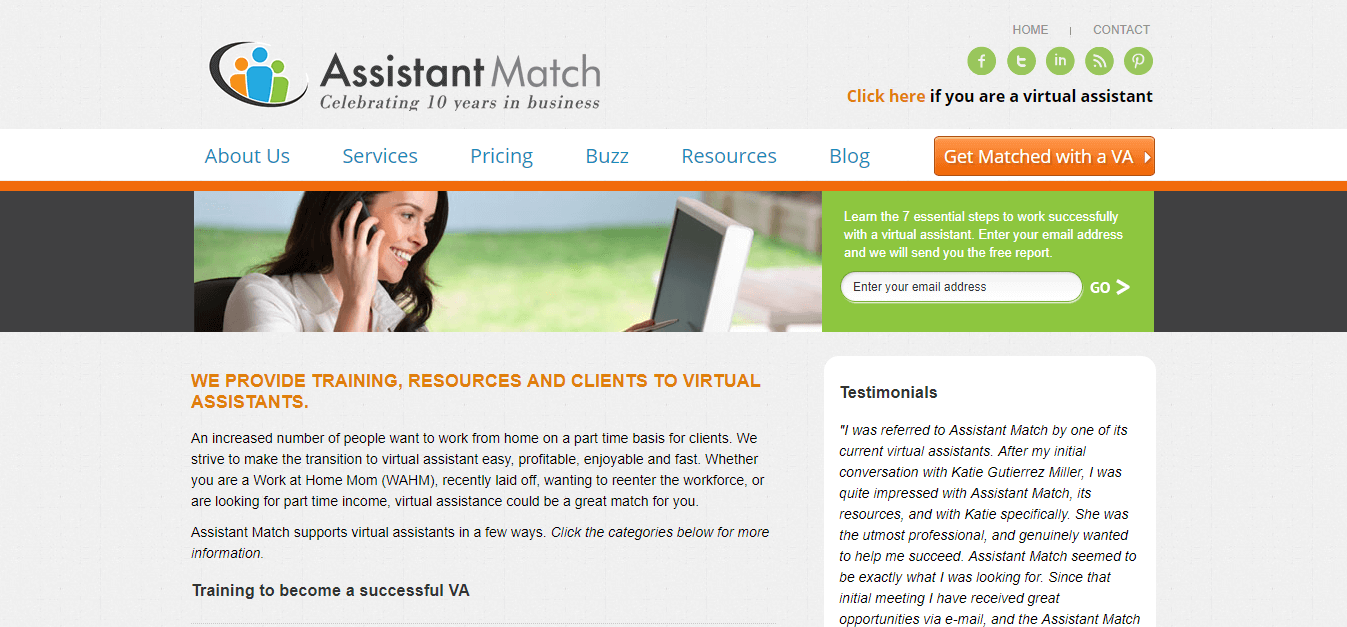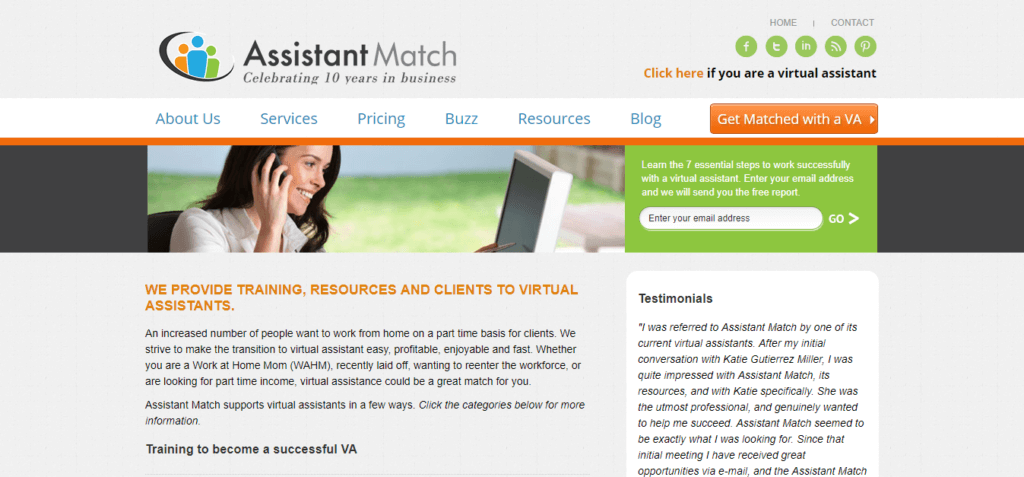 If you don't feel like combing through job boards, this is one of the sites that makes the connections for you. Depending on what your skills are, they'll match you up with what their clients need. The pay isn't great for beginners, but they offer training if you're just starting out, which can be well worth it.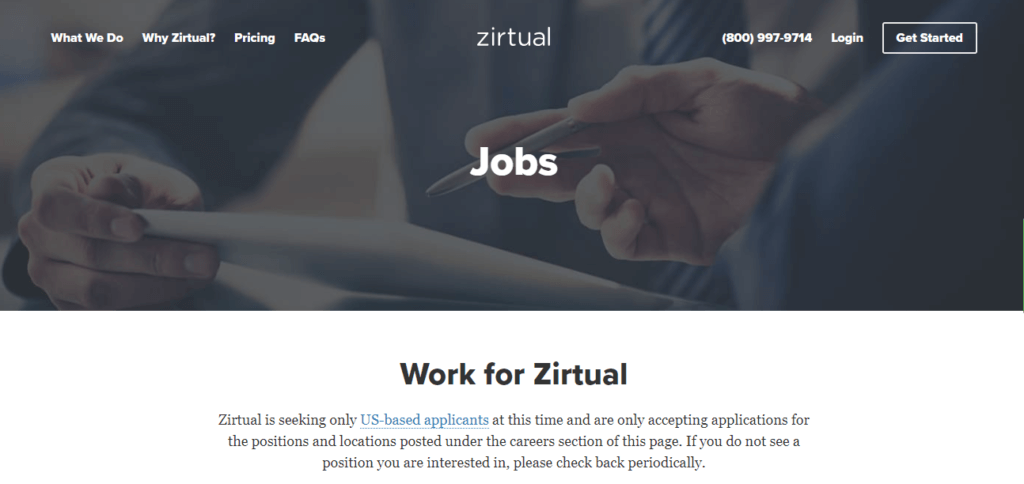 If you're looking for full-time work, and you just care about working remotely, Zirtual could be a great match for you. They hire freelance VA's full-time for various specialties, so definitely check their board to see what they have available. They also have benefits for their employees, which is pretty unheard of in the remote/freelance world.


Can we just say this is our favorite name? They're another site that hires freelancers to provide services for their clients, everything from phone calls to data entry. They parse it out by task, which are worth various dollar amounts, and they even have managerial positions available.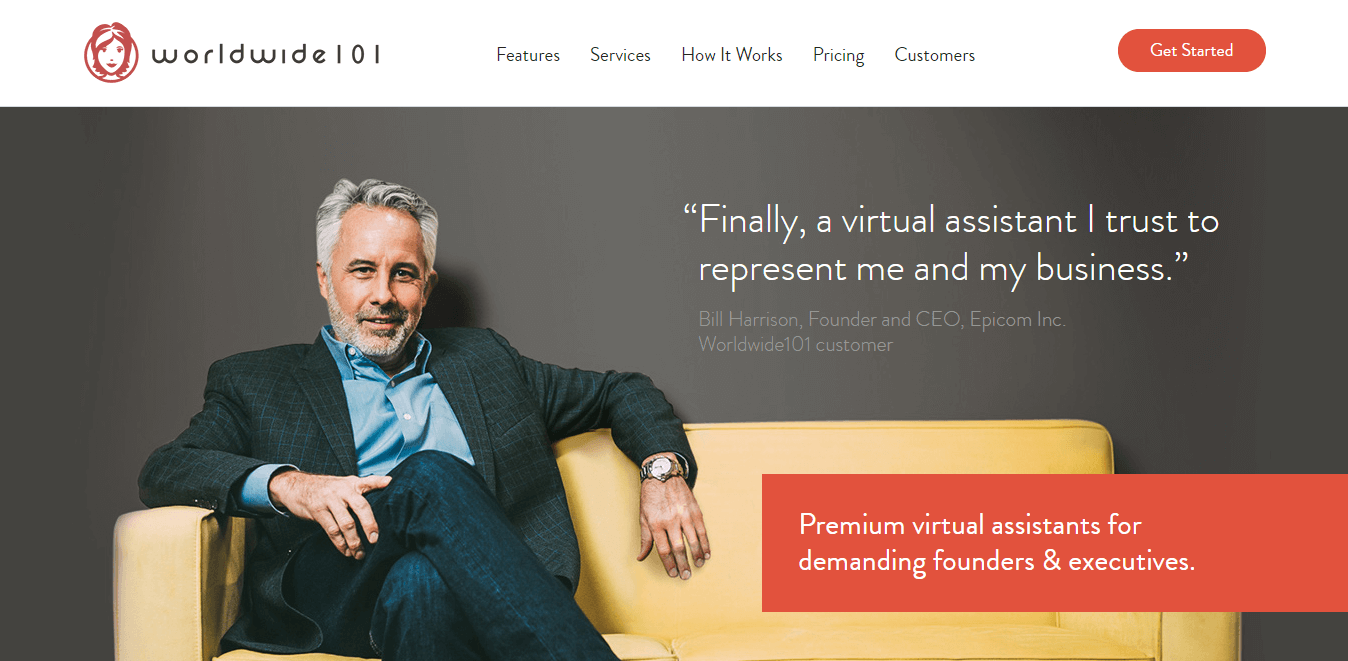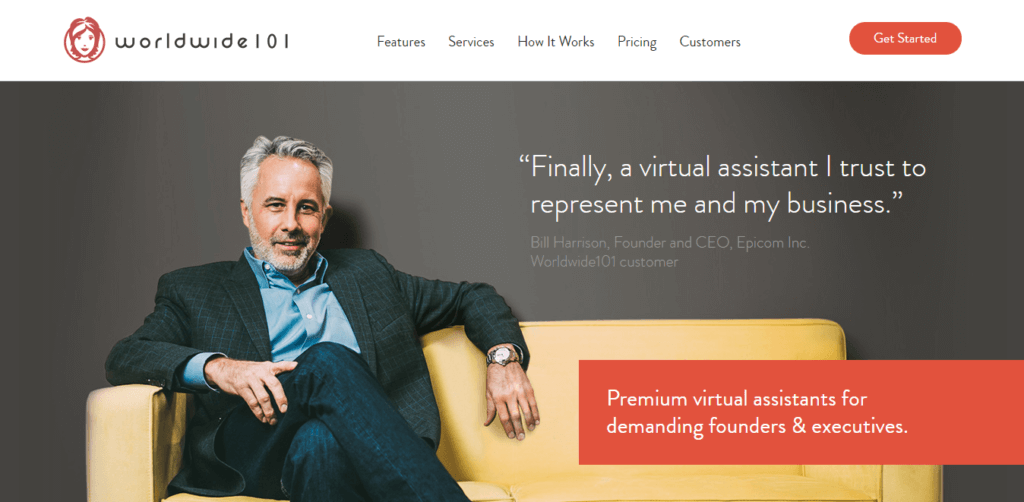 This is another matching service, but this one is a bit more "premium" than the others. If you have some experience, or special skills (like speaking another language), try getting your foot in the door with this site. Their clients are generally higher end, pay more, and the virtual assistants get more regular work.
The Best Websites for Video Editors to Get Freelance Jobs
Anyone can unsteadily hold an iPhone vertically and press record, but not everyone can cut together a polished looking video out of it. If you're up for the challenge, there are jobs out there for you!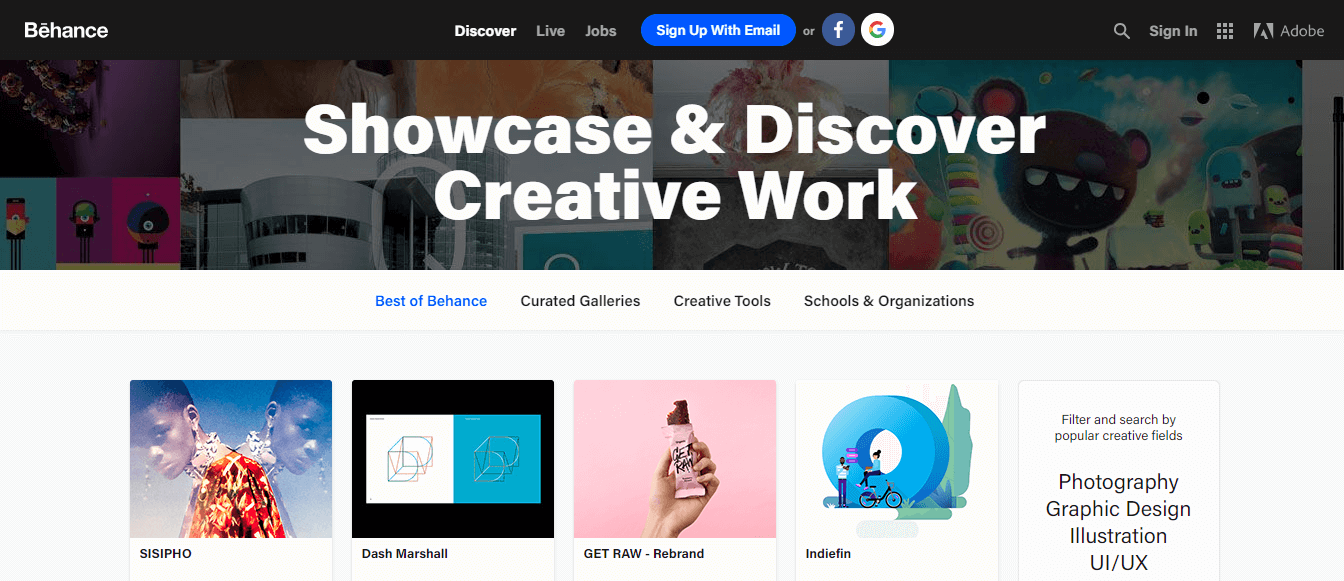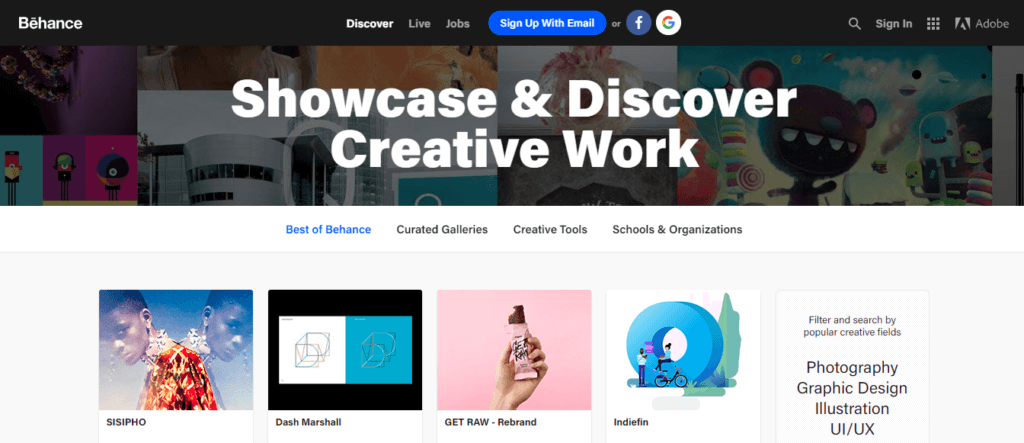 Behance is a great freelance job site for video editors. They post jobs regularly that you can apply for, and they make it easy to put together a great portfolio, so your clients can eventually come to you.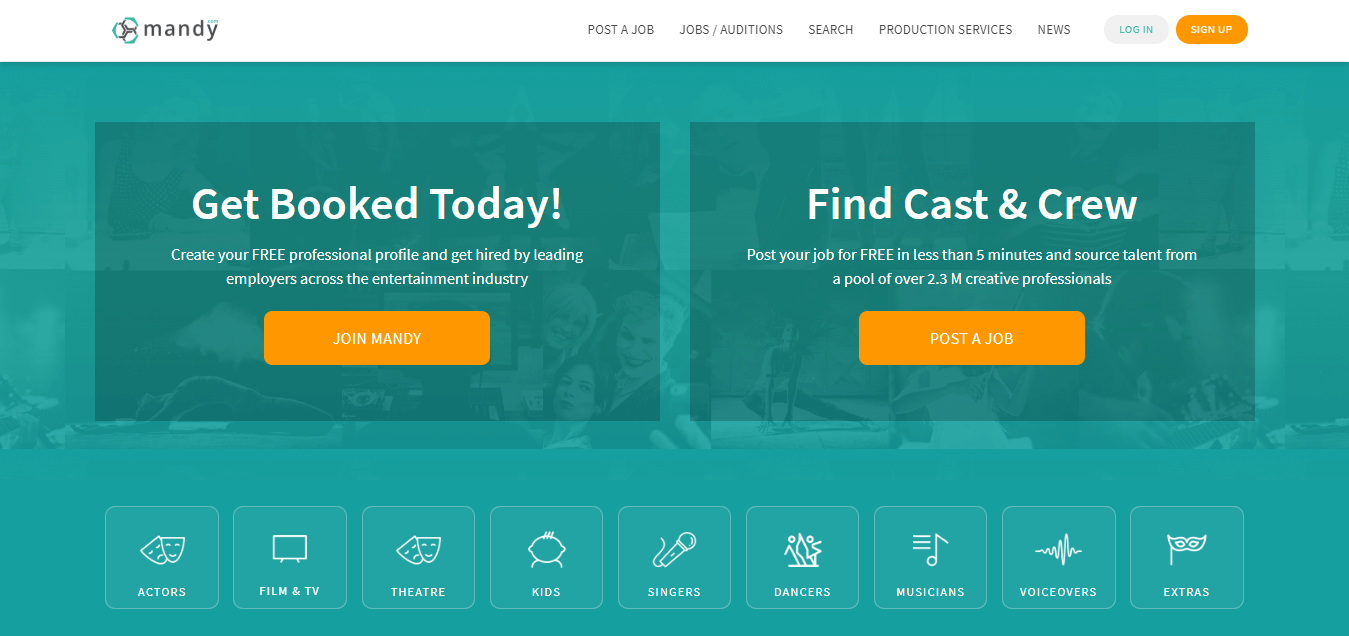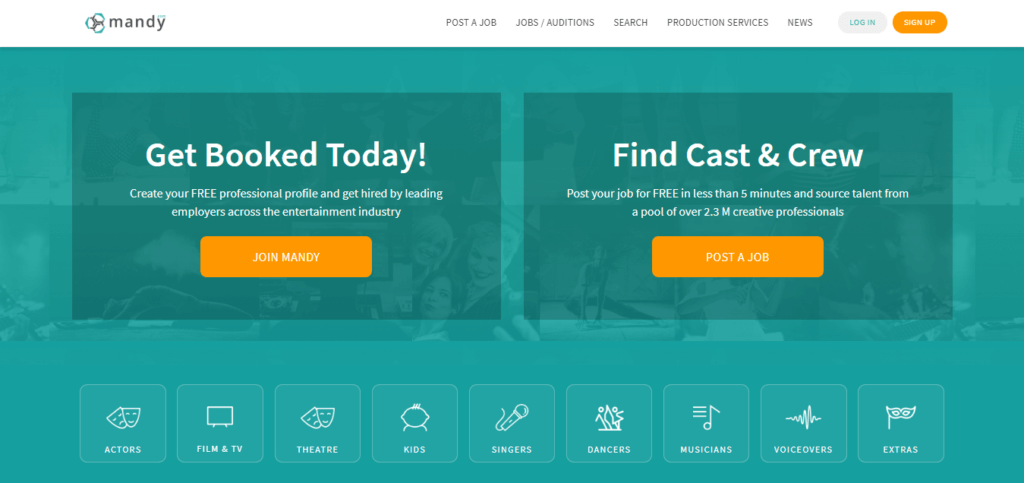 Mandy is dedicated solely to the film and TV production work, for better or worse. The upside is that you don't have to sort through irrelevant jobs, the downside is you're competing with a lot of other people like you. Make sure you stand out, write a great application and have a polished portfolio.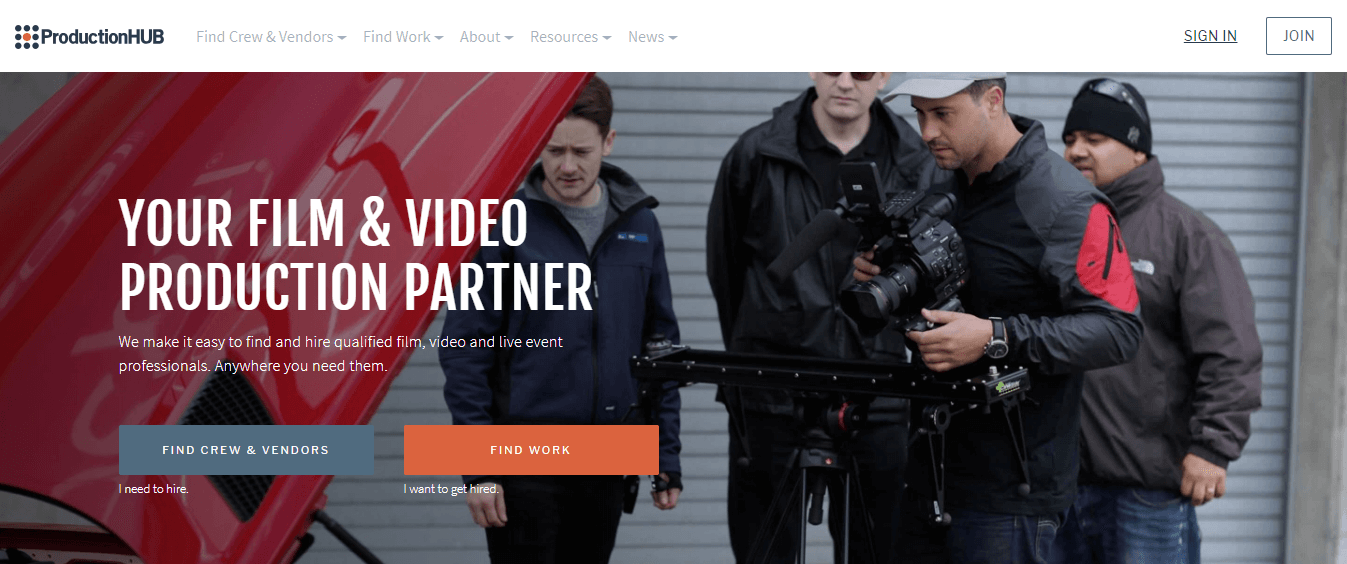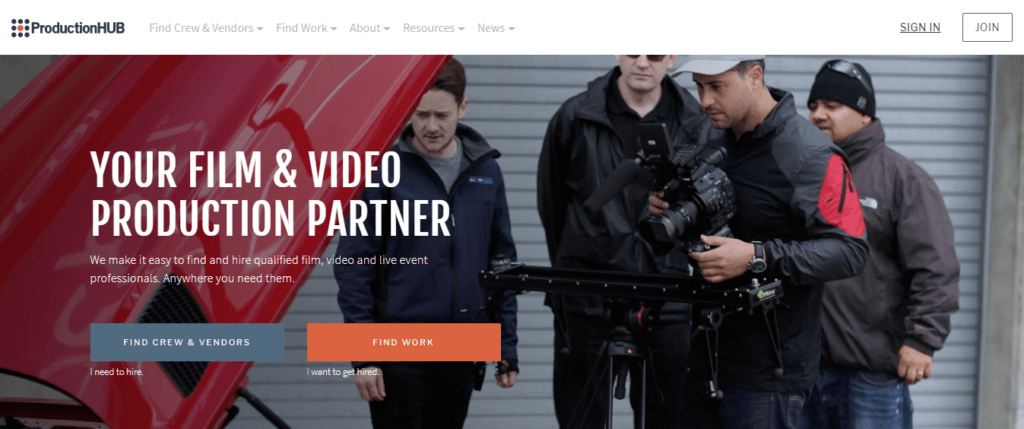 Another site that focuses only on media production, it does cost a little to get on – basic plans are only about $5 a month, though, so don't let that deter you too much.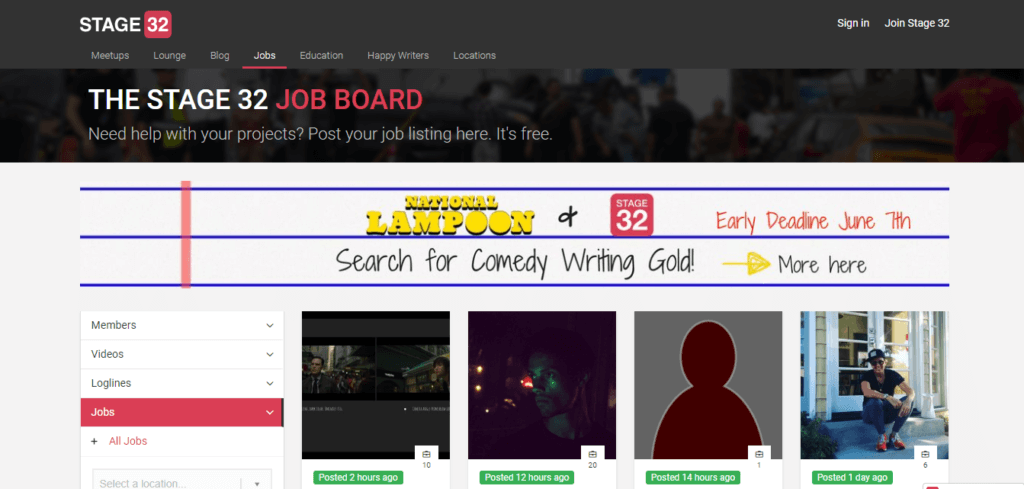 This is the type of site where job board meets networking, which can be great for a career like video editing or even podcast editing, where word of mouth will get you pretty far (but there are jobs posted to sort through when no one is talking about you yet). Side note—if you're considering starting a podcast of your own one day, be sure to check out my picks for the best podcast hosting platforms on the market today.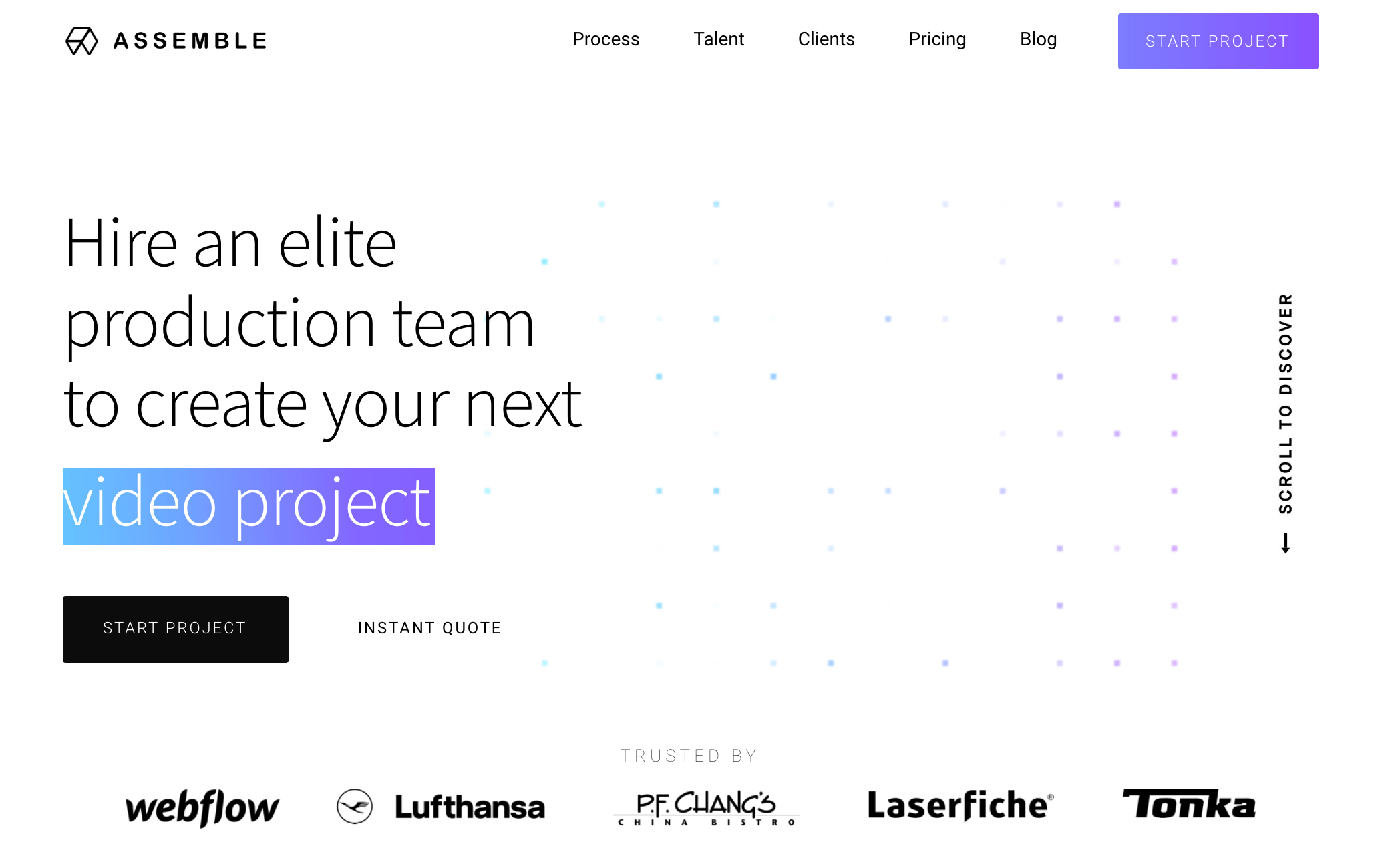 Assemble is a highly curated network of creatives including directors, copywriters, creative directors, photographers, editors, motion artists and more. Because they work with recognizable brands to help them connect with top creative talent, they screen each creative thoroughly to ensure they pass their quality standards before being accepted into their network. You can learn more on their website.
The Best Websites for Salespeople to Get Freelance Jobs
Sure, you can sell ice to an eskimo and a surfboard to a San Diegan, but can you sell yourself?
Chances are, you've already heard of ZipRecruiter because of how many companies use their jobs platform to hire full-time talent, but did you know they also regularly post a large number of high-quality freelance jobs with opportunities to do part-time sales for top companies? You can earn anywhere from $500 up to $10,000/mo (with the right company, skill set and experience) as a contractor that's compensated through a combination of part-time salary and commission on sales.

I'm gonna go out on a limb and say you've probably heard of this website before… LinkedIn, the world's largest professional network is also in the business of allowing companies to post their open freelance jobs and promote them to the millions of jobseekers on LinkedIn each day.


Red Hat works with higher level clients in general, and employs freelancers and remote workers to help their clients with everything from software development to sales. If you have some experience, or think your skill set is high enough, check them out.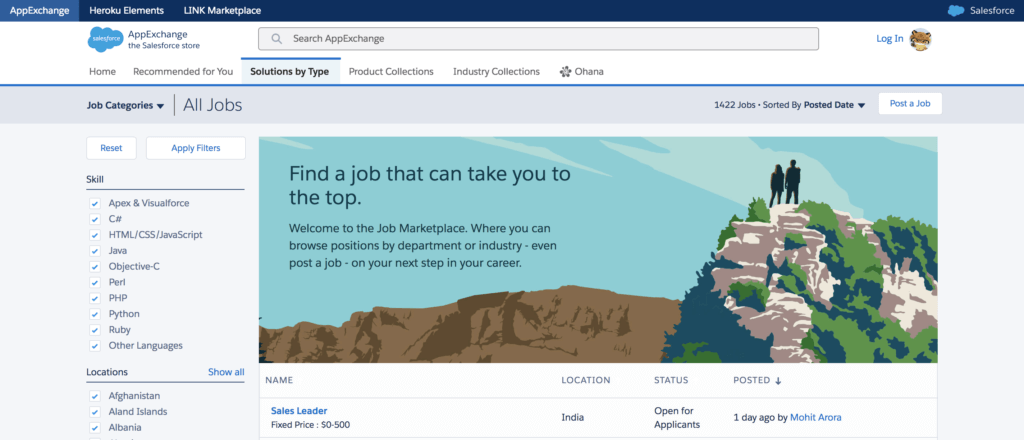 Be a force in sales! Salesforce is known as a leading CRM (customer relationship management) tool for companies of all shapes and sizes. On top of just that though, they have an App Exchange job board where companies that integrate with Salesforce can post about their hiring needs—many of which require freelance or remote salespeople.


This is another job board site, with ample amounts of sales jobs posted. To set itself apart, it tells you how much you saved by not driving to the office.
The Best Websites for Customer Support Freelance Jobs
You like the idea of helping people out, but driving to work and running around a store just doesn't seem like your thing. Online may be more your style: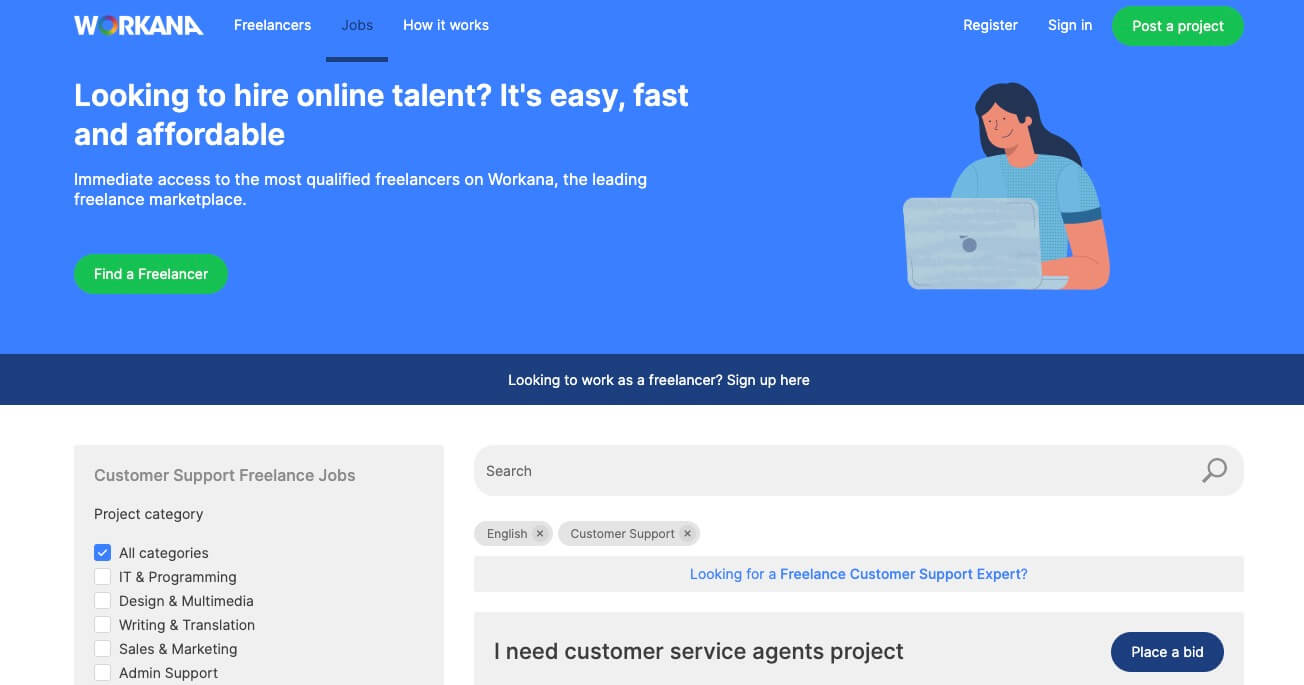 Despite being a little newer to the freelance jobs game, Workana is making a splash in particular when it comes to the amount of quality clients they have requesting help in the freelance customers service job space. With advanced filtering features, you can even choose to view customer service opportunities by industry (like in IT, healthcare, legal, business or otherwise). As a freelancer on the platform, it's free to use—but you'll have to pay a commission to Workana, which ranges from 5-20%, every time you get paid from a client.


As the name suggests, the site is for freelance workers of all types. However, they have plenty of customer support jobs posted that you can look through to see what fits.


This is another great freelance site that has tons of customer support jobs.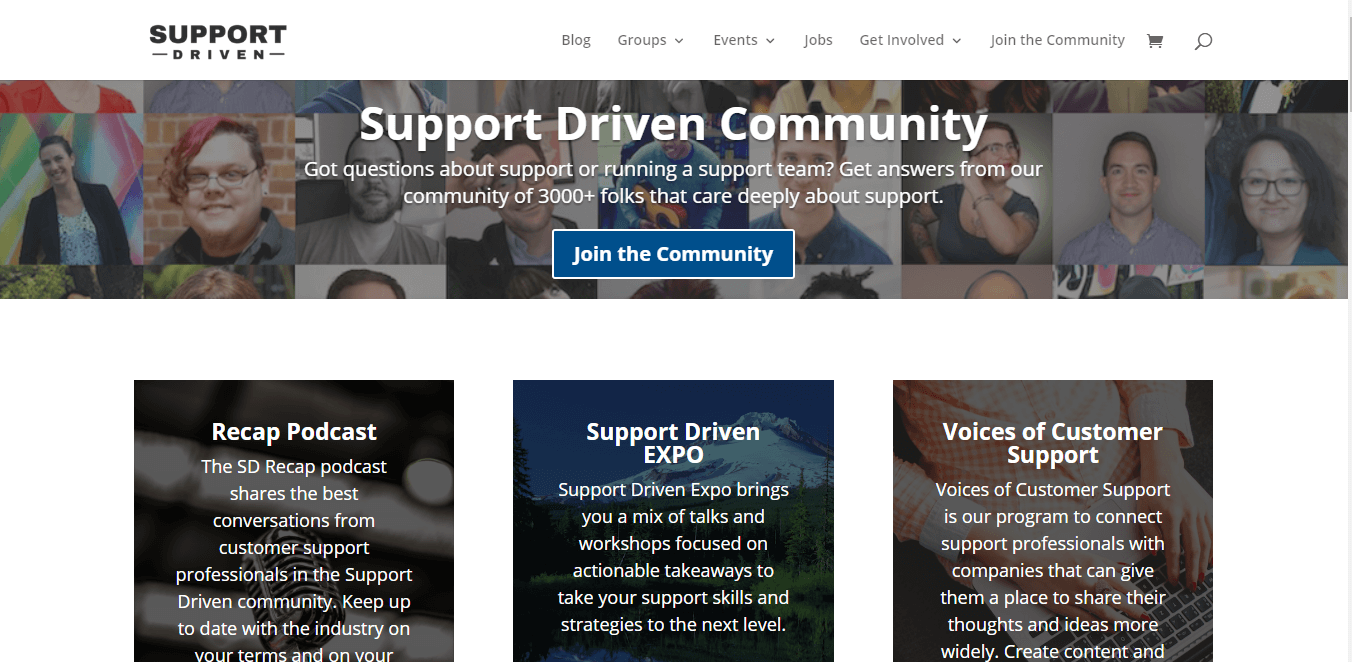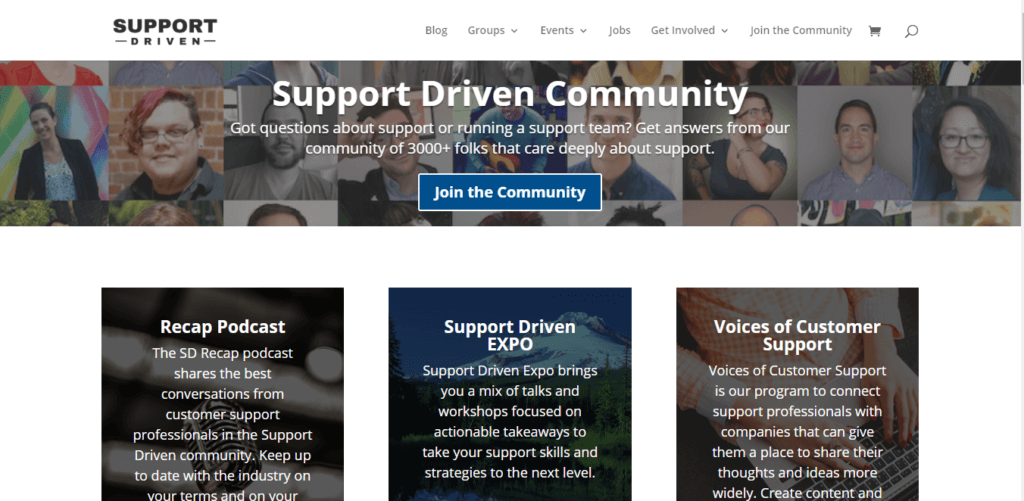 One of the few support-focused job boards out there, definitely keep an eye on it for contract-based jobs that are a good fit in this space.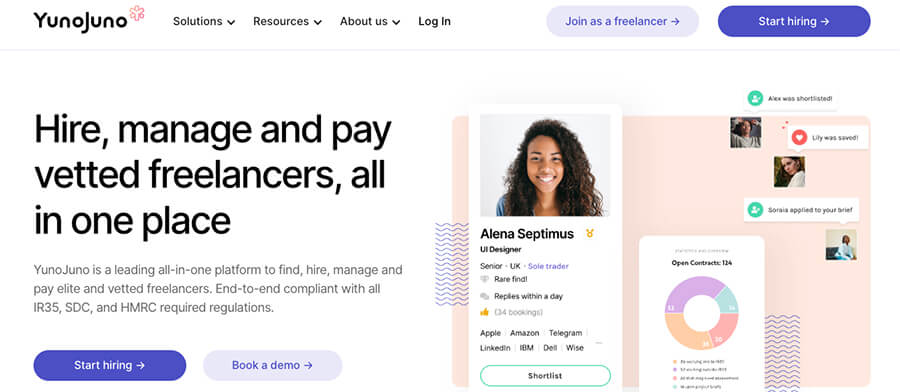 What began as a curated marketplace of freelance jobs (and top talent) for the creative industry, YunoJuno has since grown into the leading platform primarily for the UK's most elite freelancers. If you're not based in the UK though, fear not—you can still apply to join their platform no matter where you live, and still get access to high-paying freelance gigs from companies like Google, Netflix, BBC and more if you're accepted. Their platform supports the entire engagement lifecycle for clients too—all the way through transparent and direct communication with freelancers, to contract and time management, billing software and analytics.
One of the longest-standing job platforms in the business, SimplyHired has been around (and showcasing freelance jobs) since 2005. While not as carefully curated in their freelance work listings, this job search engine scrapes and aggregates listings from all over the web—including directly from company career pages, other top job boards and niche job websites. Then, you're displayed relevant freelance gigs on their website once you search based on your skills & experience. Expect to see A LOT of results, as they regularly have upwards of hundreds of thousands of active job postings at any given time.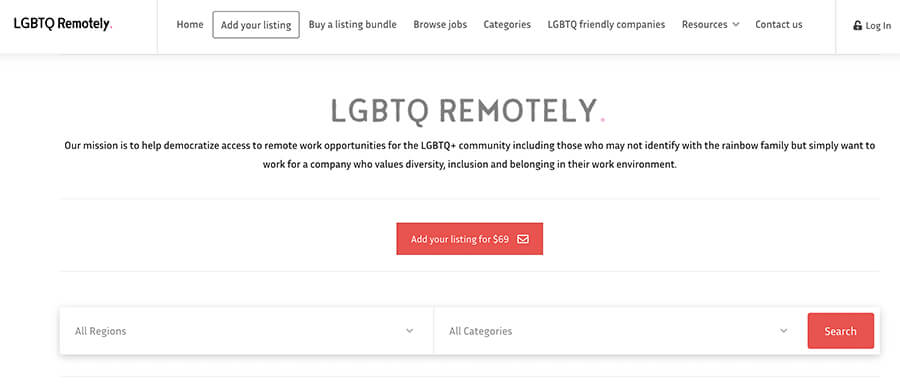 LGBTQ Remotely is a progressive remote job board and they're passionate about making remote work more accessible to all. Their mission is to help democratize access to remote work opportunities for the LGBTQ community, including those who may not identify as part of the rainbow family, but simply want to work in a more inclusive company. You can find remote jobs from companies like Zapier, Expensify, Thoughtbot and many others on their freelance job board.
Bonus: Find the Best Freelance Jobs Through Your Personal Networks
My best advice for landing great freelance jobs, is to leverage your existing network and connections from previous roles.
Better yet, if you have a company you already follow, know someone at, that you're passionate about, or most importantly you're knowledgeable about, reach out to them!
It never hurts to do a little legwork on your own behalf and see what's out there when it comes to high-paying freelance jobs.
And if you're looking for more ideas & inspiration, check out these two lists that are packed with more freelance opportunities:
Beyond those two job lists, I think you'll also get a lot out of my ultimate guide about how to get a remote job this weekend!