This month, a lot of my investments from throughout this year have started to pay off (which feels great 💪)
Overall, I generated $10,650.91 in side income revenue during July of 2018.
On the personal side of things, Shelly & I are finally starting to look at places in San Francisco, and we're expecting to make the move up to the city (from our short-term place in sleepy Palo Alto) by the end of August.
Side income was up significantly in July, and that extra bump above the past few months revenue translated into a net profit of $3,235.05 for July—and that's accounting for a pretty sizable estimated tax payment I also paid to the IRS in July.
Why the significant lift in side income? Most prominently, my billings for a new(ish) freelance client finally hit my books in July. So my side income shouldn't be dipping below this level for at least the next few months.
On top of just that new freelance client's revenue propping up my revenue, July also saw a meaningful lift in both affiliate income across the board and from the ad network I use for tasteful placements on my blog (Carbon Ads).
What I'm really excited about…
With August's side income report will come the start of a brand new income source that's shaping up to be massive for me. I've been working very hard to promote and build traffic for my Ultimate Guide to Starting a Blog and the free 7-day blogging course I recently released. Over 2,600 people have already gone through the course with more than 100+ of you already launching your own blogs (!!!). Amazing results so far.
The positive response to the guide and course have been overwhelming. And from a revenue perspective, after launching these two initiatives, I partnered with the domain hosting provider Bluehost to score all of my readers a 65% discount on their first year of hosting for the blog they start. And when someone signs up for Bluehost through my discount link, I collect a referral fee from the transaction.
The way Bluehost times their payouts, the first ones will start to hit my books during the month of August. As I've done some tweaks to the guide and email course, I've started to see a lift in the number of people signing up for the super discounted hosting through my Bluehost link—and as of the end of July I'm seeing about $100/day come my way in affiliate payouts. This is shaping up to be a massive win-win.
Now before we get ahead of ourselves, on to the details for July…
Side Income Report July 2018: 

$10,650.91
In these monthly reports, I track my total side income every month, including each individual source of that income, and associated expenses with running my side businesses.
Next, I break down the traffic to my blog which heavily impacts my side income, including what's performing best and how I'm working to drive in more readers. I also cover how many email subscribers I have, the number acquired during the month, and what that growth trajectory looks like.
Then I talk about my podcast download numbers for the month, and which episodes performed best.
Finally, I cover updates on other side projects I'm working on.
Want my side income reports delivered straight to your inbox?
Join me today and I'll send you my weekly tips, strategies, and detailed insights on growing a profitable side business.
"*" indicates required fields
Now, let's do this.
1. Side Income Breakdown for July 2018
2 x Content Marketing Clients
Online Course Sale (Friend)
     $920.28    
        $402.95
          $154.00
          $212.68
          $0.00
          $0.00
          $95.00
          $0.00
            $0.00
            $0.00
            $0.00
            $0.00
            $0.00
           $36.72
           $18.93
            $0.00

Expenses Breakdown
     $260.48    
        $200.00
        $49.85
          $9.99
          $.64
     $518.51    
        $379.00
        $0.00
        $49.99
        $0.00
        $19.00
        $10.00
        $20.00
        $14.99
        $25.53
Professional Services
   Freelance Writers (Client Work)
   Upwork Contractor (Blog Optimizations)
   Podcast Producer (Xavi at Branded Pod)
   Business Insurance
   Federal Tax Estimates (Q2)
     $5,125.76    
       $4,974.00
        $38.02
        $699.00
        $36.66
        $681.00
Travel, Office Supplies & Misc
   iPhone X Payment Plan
   AT&T Service Plan (iPhone)
   Transaction Fees
   Amazon (Office Supplies)
      $629.93  
        $56.16
        $101.50
        $166.30
        $30.53

Net Profit Breakdown
Quick update on the rest of my side business…
With the additional boost in affiliate income expected for August, we should see these numbers start to climb in a meaningful way 😊
Now, on to more of my blog and podcast-related statistics.
2. Blog Stats for July 2018:

286,858 Sessions and 54,742 Total Email Subscribers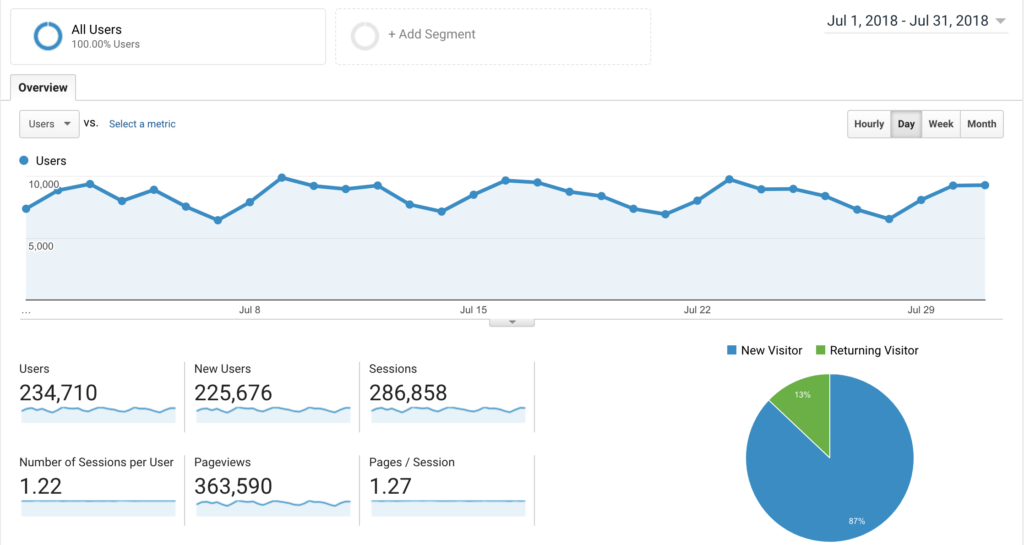 July 2018 (again) saw my highest blog traffic month ever! I'm on a serious streak so far this summer.
This month I was up in Sessions from June by more than 12% (a bit of a slowing in the pace of that growth). And I moved up to 363,590 pageviews, also my highest ever with a meaningful leap above last month's.
As with previous months, this increase in traffic is directly correlated to several of my posts ranking higher in organic search and with some increased activity on Pinterest that's resulted in more traffic from the platform.
Posts that are competing on very high volume search terms like:
Overall site traffic is up by a whopping 132% compared to July 2018, which is ridiculous.
Email Subscribers.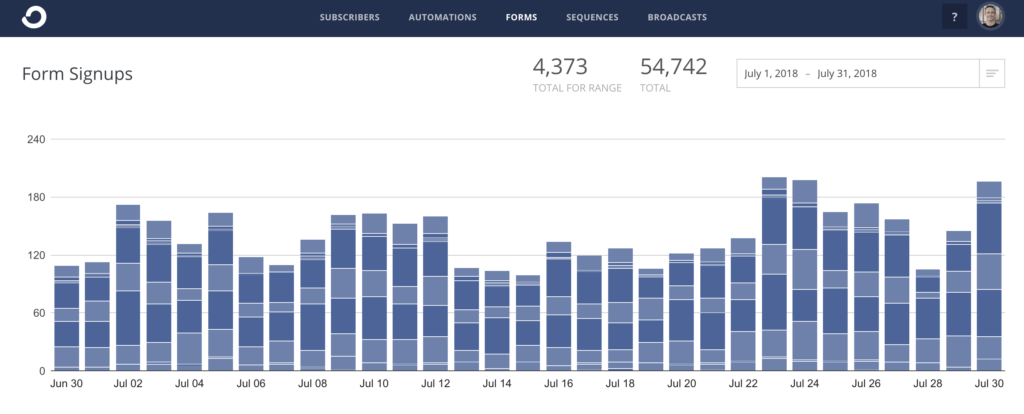 I use ConvertKit to manage my email subscriber community and send out my weekly (sometimes twice weekly) updates, and they recently underwent a rebrand—hence the new coloring style to the graph.
July saw the addition of 4,373 subscribers to my community with my total list size growing to 54,742 subscribers. This was actually an 8% decline in growth rate compared to the number of new subscribers in June—which was due to a pretty large hiccup in my email deliverability rates from July 13 – 22 (as you can see the dip reflected in the graph above for that period of time).
Luckily, ConvertKit's support team is 💯 and was able to help me quickly implement a solution that turned things around in the right direction. For the month of August, I'm expecting to climb back up closer to 5,000 new subscribers.
Still, much of my new subscriber growth has been fueled by my new free course, Build a Blog in 7 Days.
3. Podcast Downloads for July 2018: 

19,311 Downloads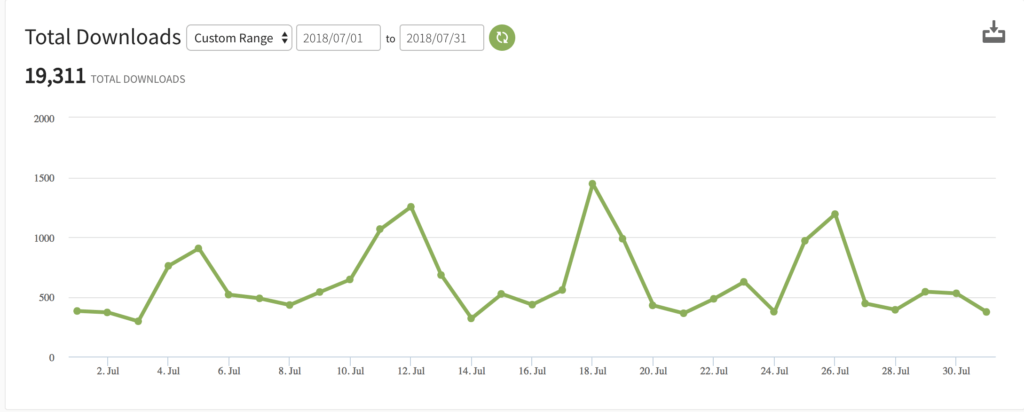 I've now made it over the hump of being 1 year into hosting my podcast, The Side Hustle Project 🎉
With 19,311 downloads in July, I'm up quite a bit from June and we set a new all-time high.
Here are the episodes that went live last month:
July brought my total download numbers for the show up to 173,443 downloads!
If you're not a listener yet, give it a try right here 🙂
That's it for my June side income report.
Like I said above, in July I'm predicting my side income to make a pretty dramatic leap as the first month of content marketing work for a new client hits my books (additional $4,000) and I get paid out from last month's sponsored post (additional $1,500).
This should push me back up to the ~$10,000 range where I'm expecting to hover for at least the following few months. If some of my affiliate optimizations pan out how I'm expecting them to, then that side income level should be close to my new norm.
If you're looking for some additional reading to help grow your own side business, I recently launched a 20,000 word (free) guide to building and scaling a profitable blog right here that I'd love for you to read 😊