For the second month in a row, the content and affiliate experiments I've been tinkering with this year have really paid off. I'll do a deep dive breakdown on all of that in a separate blog post soon, and it's being covered first in my new course, Built to Blog.
Overall, I generated $16,008.94 in side income revenue during August of 2018.
Side income was up significantly over the previous month, and that extra bump translated into a big leap in net profit as well—up to $8,293.71 for the month of August.
The Forecast 🌤: September is already shaping up to be an even stronger month thanks to the income from my Built to Blog course pre-sale hitting my account and a marked increase in affiliate income. I'm anticipating between $18,000 to $20,000 in side income for September. In October, I'm expecting to see a big dip as I'll be offline traveling for 2 full weeks before Built to Blog opens back up for more enrollments, at which point I'm expecting to see a more permanent bump back up from November onward as I re-launch the course and eventually create an automated enrollment funnel for it.
Now, on to the details for my August side income…
Side Income for August 2018: 

$16,008.94
In these monthly reports, I track my total side income every month, including each individual source of that income, and associated expenses with running my side businesses.
Next, I break down the traffic to my blog which heavily impacts my side income, including what's performing best and how I'm working to drive in more readers. I also cover how many email subscribers I have, the number acquired during the month, and what that growth trajectory looks like.
Then I talk about my podcast download numbers for the month, and which episodes performed best.
Finally, I cover updates on any other side projects I'm working on for the month.
Want my side income reports delivered straight to your inbox?
Join me today and I'll send you my weekly tips, strategies, and detailed insights on growing a profitable side business.
"*" indicates required fields
Now, let's do this.
1. Side Income Breakdown for August 2018
2 x Content Marketing Clients
Online Course Sales (Built to Blog)
   $1,741.53    
        $183.52
          $242.01
          $0.00
       $1,200.00
          $0.00
          $116.00
          $0.00
            $0.00
            $0.00
            $0.00
            $0.00
            $0.00
            $0.00
            $0.00
            $0.00

Sponsored Blog Post (Monday.com)
Expenses Breakdown
     $259.49    
        $200.00
        $48.80
          $9.99
          $.70
     $556.28    
        $445.77
        $0.00
        $49.99
        $0.00
        $10.00
        $10.00
        $14.99
        $25.53
Professional Services
   Freelance Writers (Client Work)
   99 Designs (Built to Blog Logo)
   Infographic Designer
   Podcast Producer (Xavi at Branded Pod)
   Business Insurance
     $6,267.85    
       $4,969.85
        $299.00
        $300.00
        $699.00
        $36.66
Travel, Office Supplies & Misc
   iPhone X Payment Plan
   AT&T Service Plan (iPhone)
   Transaction Fees
   Amazon (Office Supplies)
      $569.95  
        $56.16
        $101.50
        $274.60
        $162.69

Net Profit Breakdown
Now, on to my blog and podcast-related statistics.
2. Blog Stats for August 2018:

292,177 Sessions and 58,784 Total Email Subscribers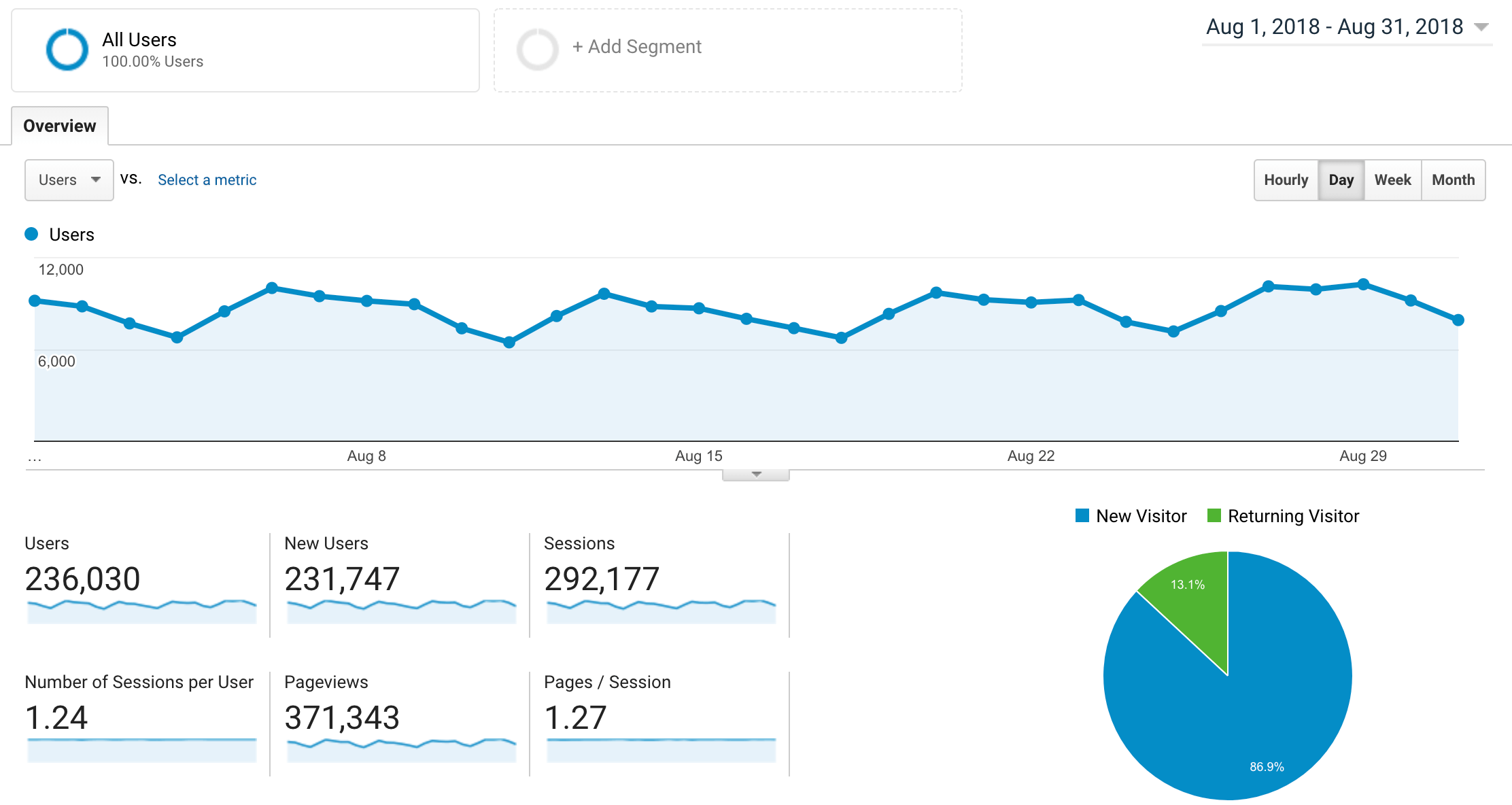 August 2018 (again) saw my highest blog traffic month ever! I'm on a massive tear this year.
Traffic growth has plateaued a bit though. This month I was up in Sessions over July by only 1.9% (a continued decline in the pace of my traffic growth compared to the last six months). And I moved up to 371,343 pageviews, also my highest ever with a comparable jump above last month's.
As with previous months, this increase in traffic is directly correlated to several of my posts ranking higher in organic search and with some increased activity on Pinterest that's resulted in more traffic from the platform.
Posts that are competing on very high volume search terms like:
Overall site traffic is up by a whopping 126% compared to August of 2017, which feels great. The time investments in both content production and promotion have begun paying dividends.
Email Subscribers.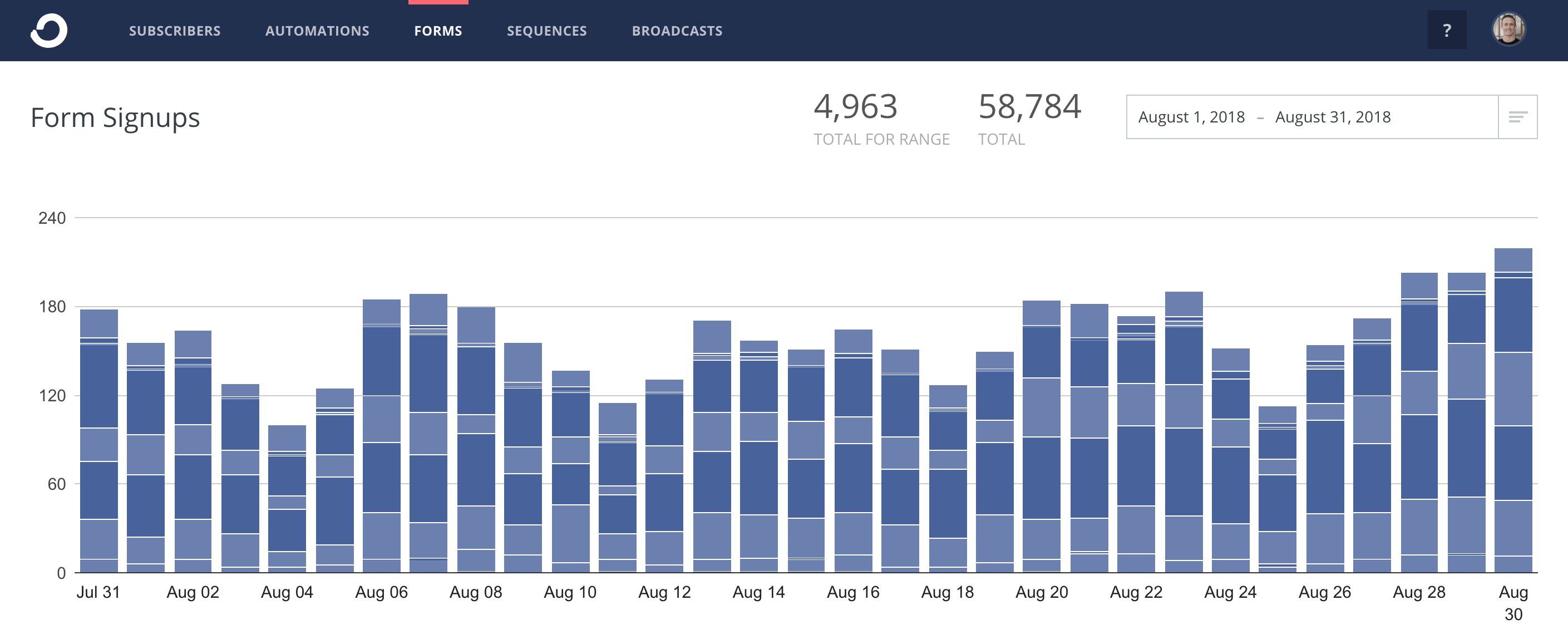 I use ConvertKit to manage my email subscriber community and send out my weekly (sometimes twice weekly).
August saw the addition of 4,963 subscribers to my community with my total list size growing to 58,784 subscribers. As of this writing, I just crossed the 60,000 subscriber milestone 🎉
So much of my new subscriber growth continues to be fueled by my new free course, Build a Blog in 7 Days which is well-optimized for both affiliate revenue and for eventually being offered my paid course (Built to Blog).
3. Podcast Downloads for August 2018: 

20,590 Downloads

My podcast, The Side Hustle Project has officially had it's first month with 20,000+ downloads.
It helped that August  was a long month 😂
And with 20,590 downloads, I'm up again from last month, setting a new all-time high.
Here are the episodes that went live last month:
August brought my total download numbers for the show up to 192,515 downloads!
If you're not a listener yet, give it a try right here 🙂
That's it for my August side income report.
Like I said above, in September I'm predicting my side income to make a pretty dramatic leap again as the bulk of the payments from students who pre-ordered my Built to Blog course hit my bank account. On top of that, my Bluehost affiliate earnings have continued to climb as well.
If you're looking for some additional reading to help grow your own blog (on the side), I recently launched a 20,000 word free guide to building and scaling a profitable blog right here that I'd love for you to read 😊