September was another very successful month for my blog and the third highest in terms of revenue generated for this year, which I'm super grateful for as I celebrate my birthday (yesterday 🎉). Income came in at $43,297.99 and I brought in 255,427 readers—with 316,888 unique sessions.
Now, digging into the numbers for September… blog income remained at a sustained level, again landing far above my forecast range thanks to increased affiliate commissions from my guide about how to start a blog, and another month of steady enrollments in my comprehensive blogging course, Built to Blog: How to Get Your First 10,000 Readers and Earn Six-Figures Blogging (enrollments are still open if you want to join us 👋).
Overall, I generated $43,297.99 in blog income during September of 2020.
Business expenses remained low again as I kept my freelance writers as many articles as they wanted to take on throughout the month, so that my content pipeline remains stocked for the next several months. Profit for September came in at $39,505.03.
The Forecast ☀️: For October, I'm expecting blog income to temporarily drop from the highs I've been seeing these past few months (as a result of some short-term volatility in search rankings), landing somewhere in the range of $32,000 – $38,000. Income is likely to hover in this general range over the coming months before increasing again, as I continue benefiting from a relatively steady rebound in traffic and spend more time updating up my existing content library. My business-related expenses will also remain steady at a lower level as I dedicate more of my time to supporting important causes and organizations that I care deeply about.
Now, on to the details of my September blog income report…
Blog Income in September 2020:

$43,297.99
In these monthly reports, I track my total income every month, including each individual source of that income, and associated expenses with running my business. This is the good and the bad.
Next, I break down the traffic to my blog which heavily impacts my income, including what's performing best and how I'm working to drive in more readers. I also cover how many email subscribers I'm at, the number of new subscribers acquired during the month, and what that growth trajectory looks like.
Finally, I cover updates on any other side projects I'm working on for the month.
---
Want my income reports delivered straight to your inbox?
Join me today and I'll send you my weekly tips, strategies, and detailed insights on growing a profitable blog.
"*" indicates required fields
---
Now, let's do this.
Blog Income Breakdown for September 2020
Freelance Clients & Sponsorships
$43,597.91
$23,615.00
$221.00
$0.00
$11,428.60
$500.00
$0.00
$42.74
$250.00
$17.40
$141.00
$130.26
$1,141.63
$58.00
$484.92
$318.00
$103.80
$0.00
$0.00
$0.00
$330.72
$0.00
$179.06
$0.00
$0.00
$0.00
$0.00
$0.00
$0.00
$71.07
$109.71
$0.00
$206.39
$5.00
$13.85
$0.00
$0.00

Expenses Breakdown
$461.82
$300.00
$25.00
$25.00
$101.83
$9.99
$0.00
$539.90
$0.00
$99.00
$0.00
$52.99
$10.00
$0.00
$14.99
$0.00
$0.00
$62.92
$0.00
Professional Services
Freelance Writers
Technical Consultant
WordPress Development
Rev (YouTube Transcriptions)
Business Insurance
$2,387.25
$1,150.00
$1,000.00
$150.00
$0.00
$87.25
Travel, Office Supplies & Misc
AT&T Service Plan (iPhone)
Internet (Comcast)
Amazon (Office Supplies)
Health Insurance
Transaction and Processing Fees
$703.99
$116.08
$89.91
$74.37
$413.63
$10.00
Net Profit Breakdown
---
Now, on to my blog and email-related statistics for September.
---
2. Blog Stats for September 2020:

316,888 Sessions and 151,384 Total Email Subscribers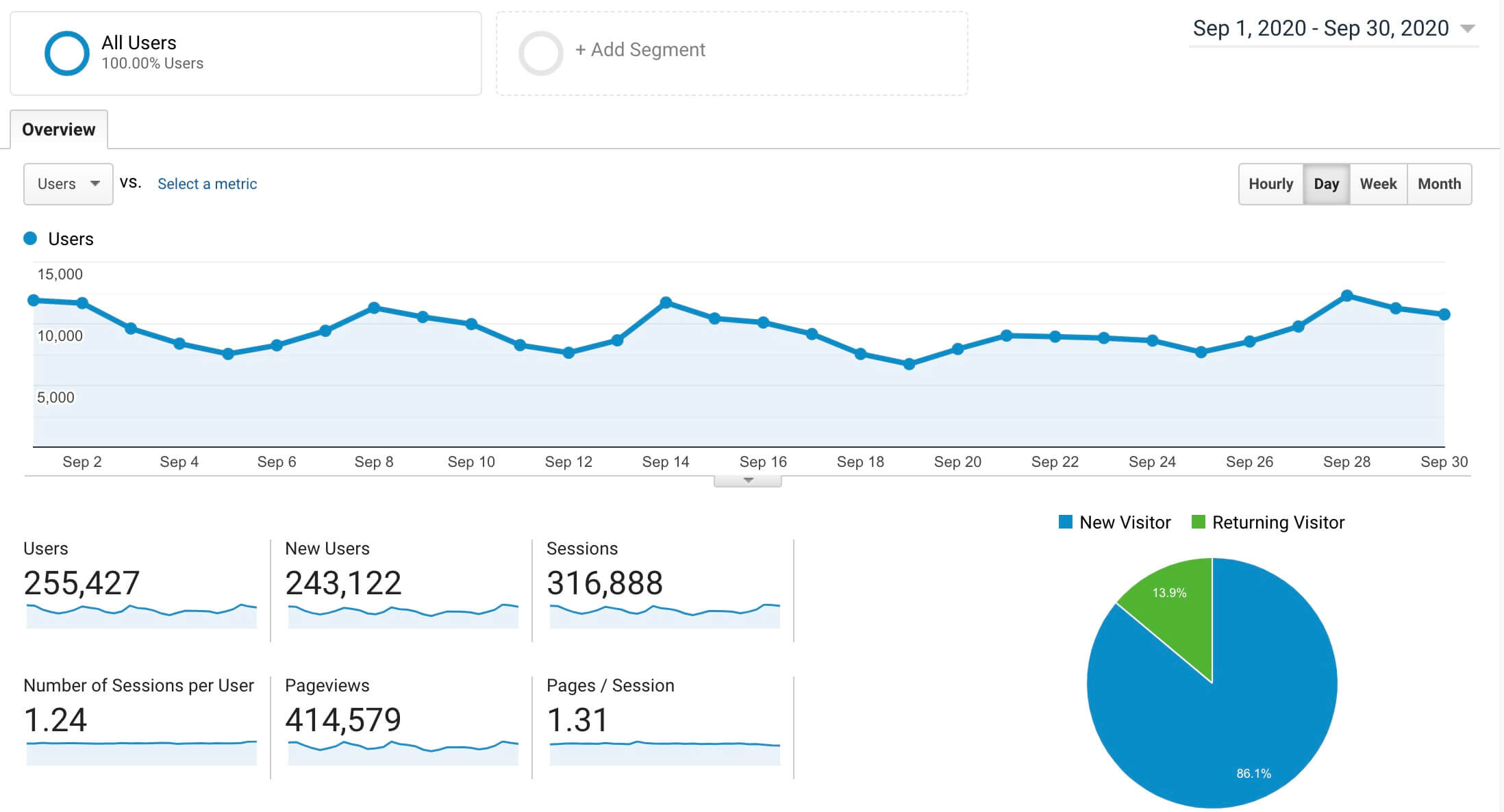 September saw one of my biggest month-over-month drops in traffic in years, due mostly to increased volatility in my key organic search positions (fueled by Google algorithm updates and some technical issues that needed to be addressed with my site). As a result, traffic hovered at a far lower than usual level, but has already begun to bounce back. Not something I'm too overly concerned about though, as a bit of volatility has always been the norm for me, but I'm continuing to work on cleaning up some technical improvements—of which I rely primarily on Google's PageSpeed Insights Tool for actionable insights.
As you already know, I'm the very first to tell you that blogging is a long game… and I'm still investing more than ever into impactful content that'll lead to strong future performance around more profitable topics (with less dependance on traffic to a small number of articles).
I was down 20.37% in Sessions from September as I took a pretty decent punch. Pageviews also fell by 19.38%.
The good news is that my traffic (as of this writing) has already begun to rebound in a major way. That being said, my blog was down 35.27% in traffic year-over-year compared to September of 2019, which was a super strong month that year. Fortunately, my most frequently read articles are already back to delivering healthy traffic from organic search—and my some of my best, newest content pieces (most less than 1 year old) are again climbing in organic search rankings. I'm in a positive position considering my key priorities and focus on increased revenue from existing traffic throughout this year.
Here are my top 15 most trafficked posts from September, ranked in descending order of which drove the most readers:
At the end of the day, September saw one of the steepest declines in traffic that I've experienced in years… granted seasonality suggests September is usually a slightly down month, and 2020 has been a wildcard for everyone. Still, I've been working hard to course correct over the past few weeks with some technical tweaks, consistently publishing new content and continuing to update my existing articles.
That being said, much of this short-term volatility has been from frequent search algorithm updates and isn't fully in my control, but I'm adapting to interpret what the search engines are suggesting they're trying to reward most. Readers to my 25,000+ word guide, How to Start a Blog and Make Money remained pretty steady, thankfully—which still holds rankings in organic search for competitive terms like how to start a blog, how to blog and such. As usual, when more readers land on that guide… more are joining my free course, How to Build a Blog in 7 Days and they're offered an opportunity to join my more comprehensive paid Built to Blog course that'll help level up their blogging skills even more.
Also in September, I published three new long-form articles for my growing audience of bloggers:
Another consistent theme—the majority of my time spent on content these days (as my library of articles grows to 290+ pieces) is still going towards updating and expanding my guides on an ongoing basis to keep them relevant, fresh and highly actionable. New long-form content comes in second and I'm still publishing at least a few new articles every month. My plan is to keep publishing more in-depth, highly actionable content specifically for bloggers this month, and moving forward into the future.
All with the continued mission of signaling to Google (and other search engines) that my blog's niche is clearly focused around the topic of blogging and I'm expecting that intense focus to keep delivering more readers looking for tactical blogging advice over the long-term… and I frequently need to remind myself that this is an investment for the long game 💪
2. Email Subscribers

I've used ConvertKit to manage my email subscriber community and deliver my emails for several years now and I absolutely love the product.
September saw the addition of 2,644 subscribers to my community with my total email list growing to 151,384 subscribers.
This was a pretty sizable drop in email subscriber growth compared to August, my largest in several years actually. This was due largely to a few key articles getting less traffic than than they'd received in previous few months (due to the many Google algorithm updates, which sent fluctuations in organic traffic), so new subscriber growth again took what looks like is going to be just a short-term drop.
As with previous months though, most of my new email subscribers came from the influx of blogging-related content and free downloads I have across my site (like my blog business plan, blogging books, outreach email templates and blog post templates)—which is my ultimate goal to remain focused on, as that's the niche I'm all in on serving for years to come.
A significant chunk of my new subscriber growth continues to be fueled by my free course, Build a Blog in 7 Days which is well-optimized for both affiliate revenue—and for offering my more advanced paid course (Built to Blog) for those looking to get more hands on help in growing their blogs.
That's it for my September blog income report
With all the wildfires in California, on top of record heat temperatures, a global pandemic and everything else this year has to offer… I'm really embracing my freedom to work a little less right now and focus on myself—it's been a welcome shift in mindset that I've been really enjoying.
As we covered at the beginning of this report, I'm predicting blog income to drop a bit in October, landing between $32000 – $38,000 as I experience continued fluctuations in affiliate payouts that are tied closely to the ups & downs in traffic I've seen throughout the summer. My main focus still remains on publishing more in-depth blogging content that'll pay off over the course of the coming months and years. This is the long game.
If you're looking for some additional reading to help grow your own blog, I'm always updating my ultimate guide to building and scaling a profitable blog right here that I'd love for you to read 😊