Let's jump straight into June's blog income report, because it was a big one—and I'm heading out for some much needed offline time for the next couple of weeks. Income came in at $43,942.96. Due to a Google Analytics reporting error with a spike in (fake) bot traffic, my reporting was a little too difficult to quickly parse through, but I brought in between 415,000 and 500,000 readers—with between 510,000 and 585,000 unique sessions.
Now, digging into the numbers for June… blog income increased dramatically over the previous month, landing far above my forecast range thanks to increased affiliate commissions from my guide about how to start a blog, another month of increased enrollments in my comprehensive blogging course, Built to Blog: How to Get Your First 10,000 Readers and Earn Six-Figures Blogging and a final payment coming through from the last freelance project I did earlier in the year.
Overall, I generated $43,942.96 in blog income during June of 2020.
I kept me expenses relatively low again, but continued giving my writers as much work as they wanted to take, so my pipeline of content remains fully stocked for the next several months. Profit for June came in at $37,008.60.
The Forecast ☀️: For July, I'm expecting my blog income to flatten out a little bit from this month's high, landing in the range of $37,000 – $41,000. Income is likely to remain in this general range over the coming months as I continue benefiting from traffic gains, spend more time beefing up my existing content and figuring out ways to promote new win-win affiliate programs throughout my content. My business-related expenses are going to remain relatively steady (possibly lower) as I dedicate a lot more financial resources and time to supporting important causes and organizations that I care deeply about.
Now, on to the details of my June blog income report…
Blog Income in June 2020:

$43,942.96
In these monthly reports, I track my total income every month, including each individual source of that income, and associated expenses with running my business. This is the good and the bad.
Next, I break down the traffic to my blog which heavily impacts my income, including what's performing best and how I'm working to drive in more readers. I also cover how many email subscribers I'm at, the number of new subscribers acquired during the month, and what that growth trajectory looks like.
Finally, I cover updates on any other side projects I'm working on for the month.
---
Want my income reports delivered straight to your inbox?
Join me today and I'll send you my weekly tips, strategies, and detailed insights on growing a profitable blog.
"*" indicates required fields
---
Now, let's do this.
Blog Income Breakdown for June 2020
Freelance Clients & Sponsorships
$37,097.54
$20,100.00
$245.00
$71.00
$10,485.00
$200.00
$103.30
$0.00
$76.77
$160.38
$172.96
$1,834.89
$0.00
$766.85
$205.50
$62.40
$130.00
$0.00
$0.00
$251.65
$0.00
$623.73
$14.00
$158.80
$0.00
$300.00
$0.00
$0.00
$20.36
$117.95
$777.00
$170.00
$50.00

Expenses Breakdown
Web Services: Hosting and Storage
Kinsta
SmartWP Hosting
Dreamhost
Google Drive
GoDaddy (New Domain)
Cloudflare
$2,025.27
$330.33
$50.00
$107.79
$9.99
$1,527.16
$0.00
$457.41
$224.48
$99.00
$0.00
$52.99
$10.00
$0.00
$14.99
$0.00
$55.95
Professional Services
Freelance Writers
Technical Consultant
WordPress Development
Business Insurance
$3,510.77
$2,073.52
$1,000.00
$350.00
$87.25
Travel, Office Supplies & Misc
AT&T Service Plan (iPhone)
Internet (Comcast)
Health Insurance
Transaction and Processing Fees
$940.91
$115.66
$101.83
$400.42
$323.00
Net Profit Breakdown
---
Now, on to my blog and email-related statistics for June.
---
2. Blog Stats for June 2020:

510,000 Sessions and 145,801 Total Email Subscribers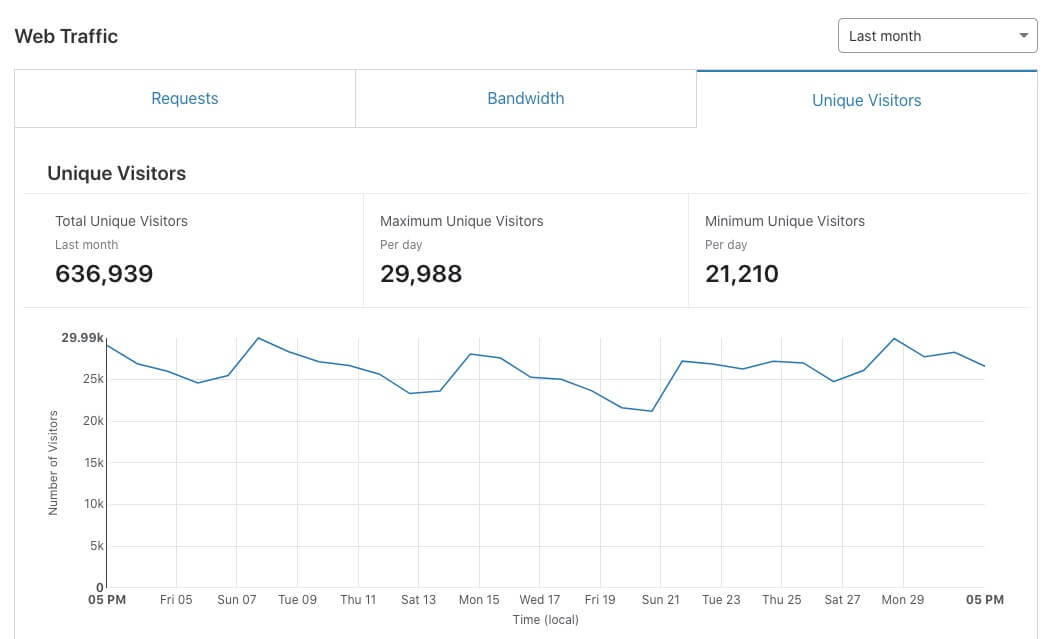 June (most likely) saw a slight dip in traffic from May. It'd take more time than I have right now to dig deep enough into my Google Analytics reporting data & remove the bot traffic spike I saw, so this is a screenshot of my Cloudflare reporting, which is actually a more true source of data than Google Analytics anyway (because this platform is measuring my exact resource usage).
One thing was very clear during June though—lots of volatility in search ranking positions. Many of my key organic search rankings jumped a lot higher in the first half of the month (largely due to Google algorithm updates) and settled back down a little bit from their high points toward the end of the month. I've come to expect this kind of volatility more often now, and it's really the norm in today's digital environment… so diversification of both traffic sources and content topics are essential.
For the past several months now, a very positive signal I'm continuing to see is that almost all of my long-form, blogging-related content I've published over the course of the past year are still continuing to climb higher up the first page of search results for their target keyword phrases (suggesting there's a lot of strong potential for growth throughout this year). This is a long game… and I'm investing more than ever into a strategic content roadmap that should lead to stronger future performance around more profitable content (with less dependance on traffic to a small number of articles).
I was (most likely) down marginally in Sessions from May as traffic leveled off a bit. Pageviews likely fell slightly too.
Despite maintaining numbers I'm pretty pleased with for the month of June, I'm (most likely) down around 5-10% in traffic year-over-year compared to June of 2019, which was one of my all-time best months ever in terms of top-level traffic. Still though, my most read articles continue to deliver traffic from organic search—and my newest content is consistently climbing in organic search rankings as well, which has brought me back up to near all-time highs. I'm in a positive position considering my key priorities and focus on increased revenue from existing traffic.
Here are my top 15 most trafficked posts from June, ranked in descending order of which drove the most readers:
With the month of June seeing traffic level off in a somewhat increased place, readers to my 25,000+ word guide, How to Start a Blog and Make Money actually increased a good deal—which still holds rankings in organic search for competitive terms like how to start a blog, how to blog and such. As usual, when more readers land on that guide… more are joining my free course, How to Build a Blog in 7 Days and they're offered an opportunity to join my more comprehensive paid Built to Blog course that'll help level up their blogging skills even more.
Also in June, I published three new long-form articles for my growing audience of bloggers:
The majority of my "content time" has again gone toward updating and expanding my biggest, most important guides—but I'm keeping up a steady rhythm of working on new long-form guides. My plan is to keep publishing more in-depth, highly actionable content for bloggers this month, and moving forward into the future.
This is all with the continued long-term goal of signaling to Google that my site is primarily about blogging and I'm expecting that to keep delivering more readers looking for tactical blogging advice over the long haul… and I have to remind myself that this is a long-term investment 💪
2. Email Subscribers.

I've used ConvertKit to manage my email subscriber community and deliver my emails for several years now and I absolutely love the product.
June saw the addition of 4,128 subscribers to my community with my total email list growing to 145,801 subscribers.
This was a slight slow down in subscriber growth compared to May, but I saw a few key articles still getting more traffic than than they'd received in the beginning of the year (due to the many Google algorithm updates, which send me fluctuations in organic traffic), so new subscriber growth remains pretty steady.
On the flip side, I did get A LOT more unsubscribes during June after making my stance and actions in support of the Black Lives Matter movement public both on my blog & in an email out to my entire community. There was some good dialogue in the comments section of that post, but a surprising amount of (white) people also felt very threatened and offended, which surprised me a bit. Some of those people, I kept up an email dialogue with to see if they could open their minds a bit to the injustices Black people have experienced in our country and around the world, but most wanted to make it a political issue. I'm happy to have these people unsubscribe from my community. A weird side effect, but I'm proud of putting in some work to do my part—and I'm very content with some people opting out of my content as a result.
As with previous months, most of my new subscribers came from the influx of blogging-related content and free downloads I have across my site (like my blog business plan, blogging books, outreach email templates and blog post templates)—which is my ultimate goal to keep focused on, as that's the niche I've doubled down on serving.
Much of my new subscriber growth continues to be fueled by my free course, Build a Blog in 7 Days which is well-optimized for both affiliate revenue—and for offering my more advanced paid course (Built to Blog).
That's it for my June blog income report.
One final (small) milestone I hit the other day… 1,000+ comments on my guide about how to start a blog! 🙏

I'm still on a break from recording new podcast episodes as my attention remains solely on producing more long-form written content (along with auditing & updating my existing content library) and eventually into more videos for my YouTube channel. Once the time is right though, my goal is to bring the podcast back with a new focus around providing the most actionable blogging advice out there—but it's looking less and less likely that it'll happen in 2020.
I'm also starting to very slowly work on a new side project with a friend, where I can keep putting my greatest strengths (with written content) into building up more blogging-related content sites to diversify my traffic sources. Thus, RightBlogger has been born. Be gentle though, it's brand new and is quite a work in progress.
As we touched on at the beginning of this report, I'm predicting blog income to flatten a bit in July, landing between $37,000 – $41,000 as I experience the downstream benefits of traffic increases positively impacting my revenue. My main focus still remains on publishing more in-depth blogging content that'll pay off over the course of the coming months (and years).
If you're looking for some additional reading to help grow your own blog, I'm always updating my ultimate guide to building and scaling a profitable blog right here that I'd love for you to read 😊