Understanding technical terms when you're new to blogging can take time—so what is a 301 redirect?
Here's the definition of what a 301 redirect is:
What is a 301 redirect?
A 301 redirect is the permanent redirection of one URL forwarding both traffic and search engine crawlers to a different URL. The 301 redirect is best for SEO as it passes the most link authority (between 90-99%) to the redirected page, which contributes greatly to ranking power.
The process of redirection is designed to forward one URL to a different URL (almost always on the same blog or website).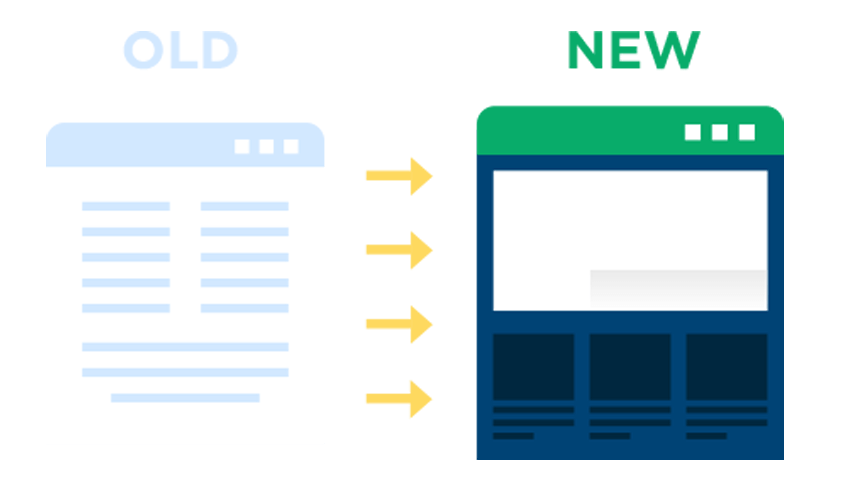 Redirection is most often used to send website visitors (and search engines) to a different—usually new and updated—URL from the one they originally requested.
A 301 redirect is the most permanent and safest redirect to use for blog SEO best practices when you want to pass as much link authority as possible from the old URL to the new URL.
The number 301 indicates the HTTP status code for this type of URL redirect, and this type of redirect gives you the highest possibility of retaining your organic search rankings for the keyword phrases the old URL was ranking for. Those rankings should usually be passed directly on to the new URL.
In most cases, a 301 redirect is going to be the best HTTP status code for a redirect to use on your blog (when you want to move a page or post's contents to a new URL).
Changing the URL (permalink) of an existing blog post or page on your site without setting up a 301 redirect will result in what's called a broken link.
And you don't want that. Broken links are bad for the health of your blog because they'll send readers (and search engine crawlers) to a page that doesn't exist anymore—thus resulting in a terrible experience.
How do I create a 301 redirect?
To set up a 301 redirect quickly & safely, I recommend using a free WordPress plugin like Easy Redirect Manager (like I use here on my own blog), to quickly set up a 301 redirect for any post or page you plan to move to a new URL.
After installing the plugin, it's super simple to use. Navigate to Settings > 301 Redirects and you'll see a complete list of all your 301 redirects, along with the ability to quickly add new 301 redirects across your site:

And it's that simple!
You've now set up a 301 redirect that'll forward all traffic and search engines to the new destination URL. You should also see most, if not all of the link authority your previous URL had—pass on to the new destination URL you're redirecting to.
It make take some time for the page authority of your new URL to rise, but it shouldn't take more than a few weeks.
Can I redirect an expired domain to my blog?
Shortly after publishing this article, I got this question in the comments (thanks Akinduyo 🙏) and I've actually been asked this a few times from readers over the past year—so I felt it warranted a deeper dive answer.

To rephrase Akinduyo's question and add a little more context…
Question: Is it safe from an SEO perspective to purchase an expired domain (that had some existing domain authority) and redirect that URL to point at your blog, with the goal of passing that domain authority on to your main site?
In short, I wouldn't recommend redirecting an expired domain to your blog.
The only exception would be if you're purchasing a domain that very recently expired and had some real content that you're going to migrate over to your main blog.
In that case, a redirect of an expired domain could be justifiable, because you're bringing over real content that's been previously indexed—and this redirect should be recognized as what appears to be a genuine website migration.
Here's why I wouldn't do it.
I strongly believe search engines like Google have done an increasingly great job of identifying these types of link-building schemes (especially this one) and they won't reward your main blog if you just redirect the expired domain.
You might actually even hurt your domain authority or see a manual action against your blog because of unnatural link activity. And Google's only going to get better at detecting unnatural links and other suspicious activities designed to juice a site's domain authority in the years to come.
That being said, I don't claim to know everything about how Google's algorithm functions behind-the-scenes, so this is just my best advice based on using only ethical strategies to grow my blog.
What I do know for sure—is that I'd never risk redirecting an expired domain to my own blog.
The underlying goal of this strategy is actually very smart though.
Making an inexpensive acquisition of an expired domain that used to be something real (in your industry) and had readers, backlinks & some built up authority in the past—with the goal of building up your own blog's authority, by pointing that previously reputable domain to your site, is pretty savvy.
Five or ten years ago, it would've been a great strategy.
A much better move today though, would be to restore the expired domain to an older version of what it used to look like—or even just make it a brand new one-page website today with real content on the homepage.
Then, you can link to your main blog a couple of times from the homepage of that previously expired domain once you've gotten it hosted and live again. This way, it'll be a real website with some actual content.
And as a result of linking to your main blog—you'll be passing any domain authority & page authority (through the links on that homepage) over to your main blog.
That's what I'd do.