The month of March was intense from a personal life perspective, with a couple of major unexpected things happening.
Right at the beginning of the month, Shelly and I decided that we're going to move back to San Francisco. She accepted a job offer that was too good to pass up on with a former employer, and we knew we'd eventually want to be back in the Bay Area again anyway, so this just bumped up our timeline.
So, we began the process of arranging the details of a big move, coordinating with the breaking of our lease here in Denver, and all the fun stuff that goes along with that.
Then a few days later, on March 8th, 2018, I got the terrible news my father had unexpectedly passed away of a heart attack. It caught everyone completely off guard (myself included) as he had no prior known medical issues.
I'll remember my dad, Joe Robinson, as the hardest working person I've ever met. At 74, he was still running his construction company, pouring concrete (largely by himself) just about every day. He was a true lifelong learner; someone who always took every opportunity to be an educator to me—and we traveled the world together starting way back when I was just a toddler.
I'm not going to dwell on this anymore right here. I've been collecting my thoughts and I'll be putting together something I'll share on the blog at some point over the coming months.
For now, here's his obituary if you want to learn more about the man that had such an incredible impact on shaping the person I've become—especially when it comes to my work ethic.
Now, if you knew my dad at all, you'd know pretty easily that he would've been pissed to hear that the world stopped even for a moment, on his behalf. And while I took most of the month of March relatively "off" from my side projects, it's back to business now.
So, let's get to how my side businesses did during the month of march, which understandably took a backseat for most of the month…
I generated $6,478.63 in revenue, and again (like in February) spent more than usual—this time on quite a bit of travel back and  forth between Denver and my hometown of Hanford, California. Still, I turned a small profit ($115.76) despite the rollercoaster ride last month was.
Now, let's get into the details…
Side Income Report March 2018: 

$6,478.63
In these monthly reports, I track my total side income every month, including each individual source of that income, and associated expenses with running my side businesses.
Next, I break down the traffic to my blog which heavily impacts my side income, including what's performing best and how I'm working to drive in more readers. I also cover how many email subscribers I have, the number acquired during the month, and what that growth trajectory looks like.
Then I talk about my podcast download numbers for the month, and which episodes performed best.
Finally, I cover updates on other side projects I'm working on.
Want my side income reports delivered straight to your inbox?
Join me today and I'll send you my weekly tips, strategies, and detailed insights on growing a profitable side business.
"*" indicates required fields
Now, let's do this.
1. Side Income Breakdown for March 2018
1 x Content Marketing Client
1 x Fiverr Pro Consulting Call
     $439.03    
        $159.89
          $75.95
          $162.19
          $41.00
          $0.00
          $0.00
            $0.00
            $0.00
            $0.00
            $0.00
            $0.00
            $0.00
            $0.00
            $0.00

Expenses Breakdown
     $492.45    
        $200.00
        $249.00
        $22.90
         $19.98
          $.57
     $460.51    
        $319.00
        $49.99
        $0
        $19.00
        $12.00
        $10.00
        $10.00
        $14.99
        $25.53
Professional Services
   Freelance Writers (Client Work)
   Office Rent (thx Close.io 😉)
   Hourly Office Rent (Palo Alto, CA)
   Podcast Producer (Xavi at Branded Pod)
   Business Insurance
     $3,243.66    
       $2,428.00
        $0.00
        $80.00
        $699.00
        $36.66
Travel, Office Supplies & Misc
   Office Supplies
   iPhone X Payment Plan
   AT&T Service Plan (iPhone)
   Transaction Fees (from Int'l Payments)
   Home Office Internet (Comcast 👎)
   Travel (Southwest & United ✈️)
   Travel (Uber & Lyft 🚕)
   State Tax Payment (2017 – CO)
      $2,166.25  
        $36.95
        $56.16
        $100.26
        $158.25
        $132.26
        $763.33
        $107.04
        $812.00
Net Profit Breakdown
Back to profitability (sort of)…
Another expensive month for my side businesses, this time with a lot of travel weighing things down more than usual.
Keeping the rest of this side income report pretty quick, as I'm in the middle of packing for our move! 😊
2. Blog Stats for March 2018:

193,483 Sessions and 43,412 Total Email Subscribers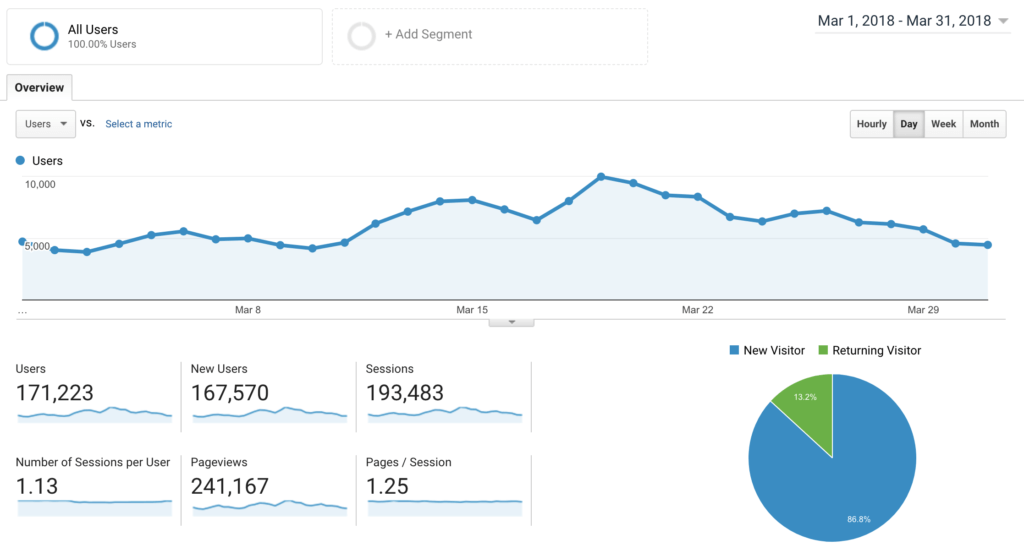 Overall traffic was up by a whopping 30% this month I moved up to 241,167 pageviews.
This massive turnaround was due largely to my post on motivational quotes skyrocketing up to the #1 ranking spot in organic search. Like so…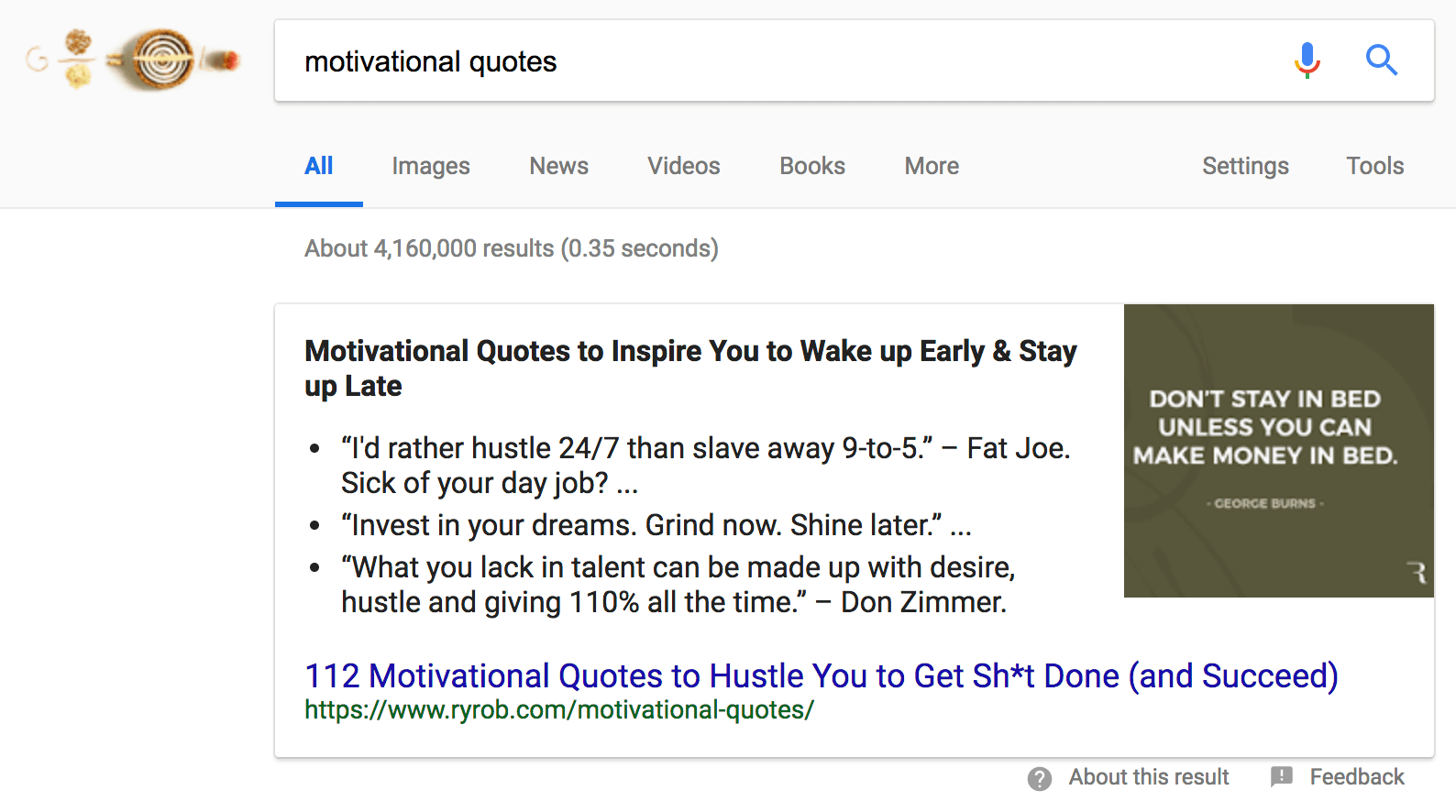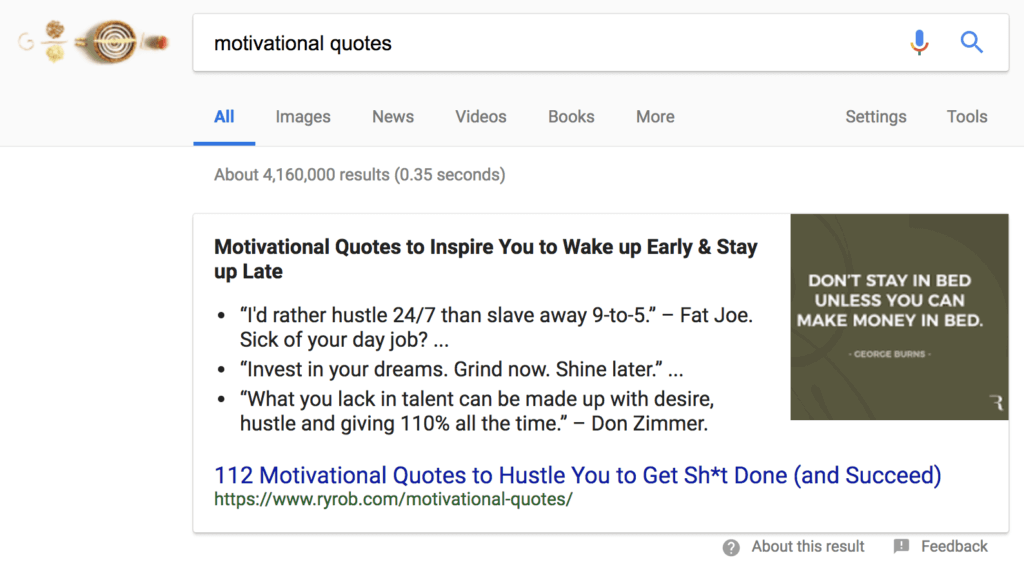 As is typical with Google, this is being tested quite a bit. I've noticed the ranking position fluctuate quite a bit on an hourly, daily and weekly basis. So, I'm expecting that it'll still vary quite a bit (as will my organic traffic) into April—and will hopefully begin to stick up in that #1 spot toward May-June.
As I mentioned in last month's side income report, my dependency on organic traffic makes me prone to pretty big swings in monthly traffic, depending upon where my highest trafficked blog posts get ranked throughout the month.
When my posts show up near the top of search results, my traffic goes up considerably.
However, this is part of my decision when competing on very difficult search terms like:
Overall site traffic is up by about 7% compared to March 2017.
Email Subscribers.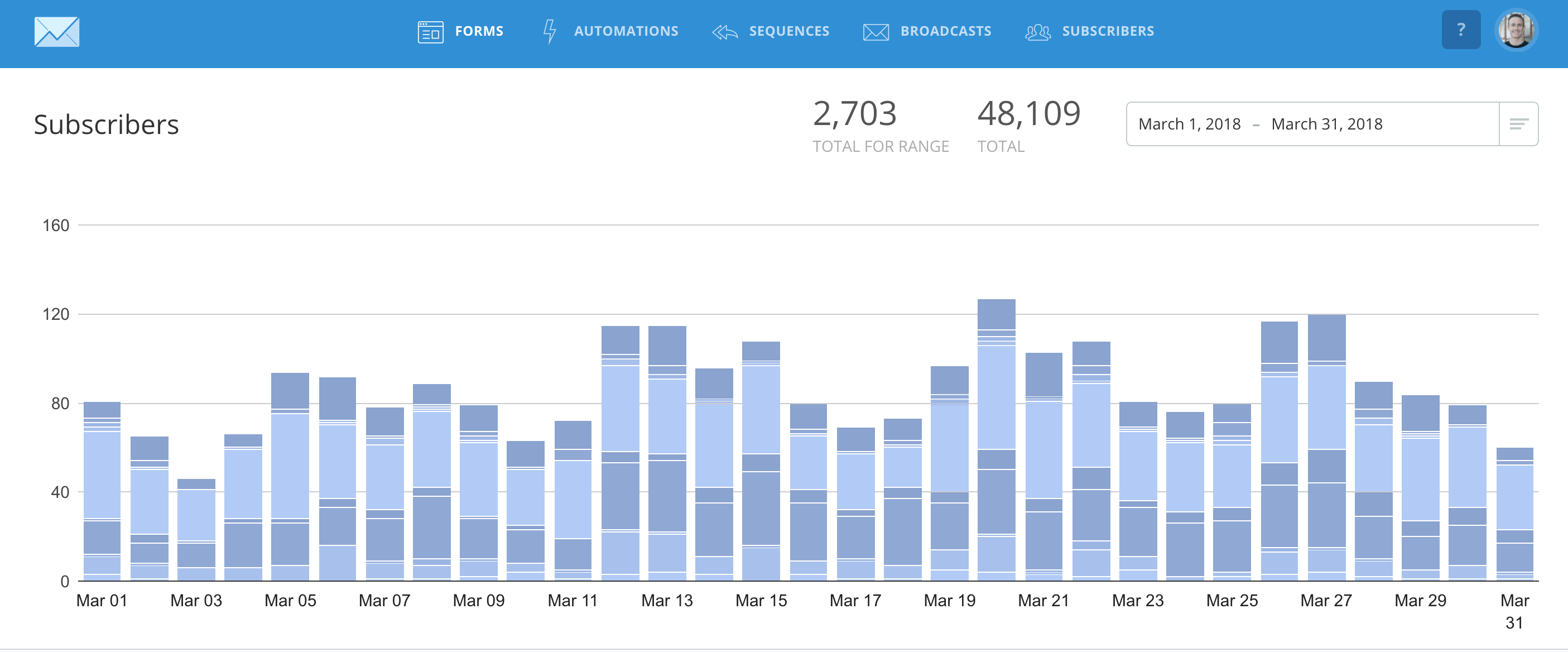 I use ConvertKit to manage my email subscriber community and send out my weekly (sometimes twice weekly) updates.
March saw the addition of 2,880 subscribers to my community.
Which brings me up to 43,412 total subscribers.
3. Podcast Downloads for March 2018: 

13,598 Downloads

The end of March marks the 9th month of hosting my podcast, The Side Hustle Project.
With a total of 13,598 downloads, I'm still down quite a bit from January's high of 16,425.
Overall downloads per episode were down a little bit as I didn't have quite as much time to spend promoting individual episodes this month either.
Here are the episodes that went live this month:
However, March did bring my total download numbers for the show up to 103,969 downloads!
🎉🎉🎉 I CROSSED 100,000 DOWNLOADS OF MY PODCAST 🎉🎉🎉
If you're not a listener yet, give it a try right here 🙂
That's it for my March side income report.