Backlink Checker
Free Backlink Profile for SEO & Link Building
Your backlink profile is hugely important for your SEO (search engine optimization). By building backlinks from high-quality, relevant websites, you can dramatically improve your Google rankings. This free backlink checker tool lets you view referring domains for your competitor websites, as well as your own—that way, you'll know which types of sites to target for your own link building.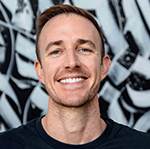 Get More Free Blogging Tools
Delivered Straight to Your Inbox
"*" indicates required fields
Use My Free Backlink Checker to See Any URL's Backlink Profile & Supercharge Your SEO Link Building Campaigns
Backlinks are the lifeblood of SEO (search engine optimization). A backlink is a hyperlink to your website from someone else's website. Google, and other search engines, follow backlinks and count them as a "vote" for your website. If a big, reputable website links to you, that's worth more than the vote of a tiny, unknown website.
Put simply, backlinks are the currency of the Internet. I even wrote an entire guide on how to get high quality backlinks. The more backlinks you have, the higher your chances of regularly ranking high in organic Google search results. Search engine crawlers follow backlinks when they're mapping the web, so having more quality backlinks to your site helps Google to index your site in the first place.
The more backlinks you have to a particular page or post (assuming the content is quality), the higher that URL will rank in the SERP (search engine results page) for relevant search terms, and the more organic traffic you'll get.
Understanding Your Backlink Profile
Your backlink profile is extremely important. Like craaaaazy important in the grand scheme of ranking high in organic Google search results. A good backlink profile will include many links from big sites, along with a lot of links from smaller sites too. It'll also include a wide range of anchor text (the clickable words that the link is attached to).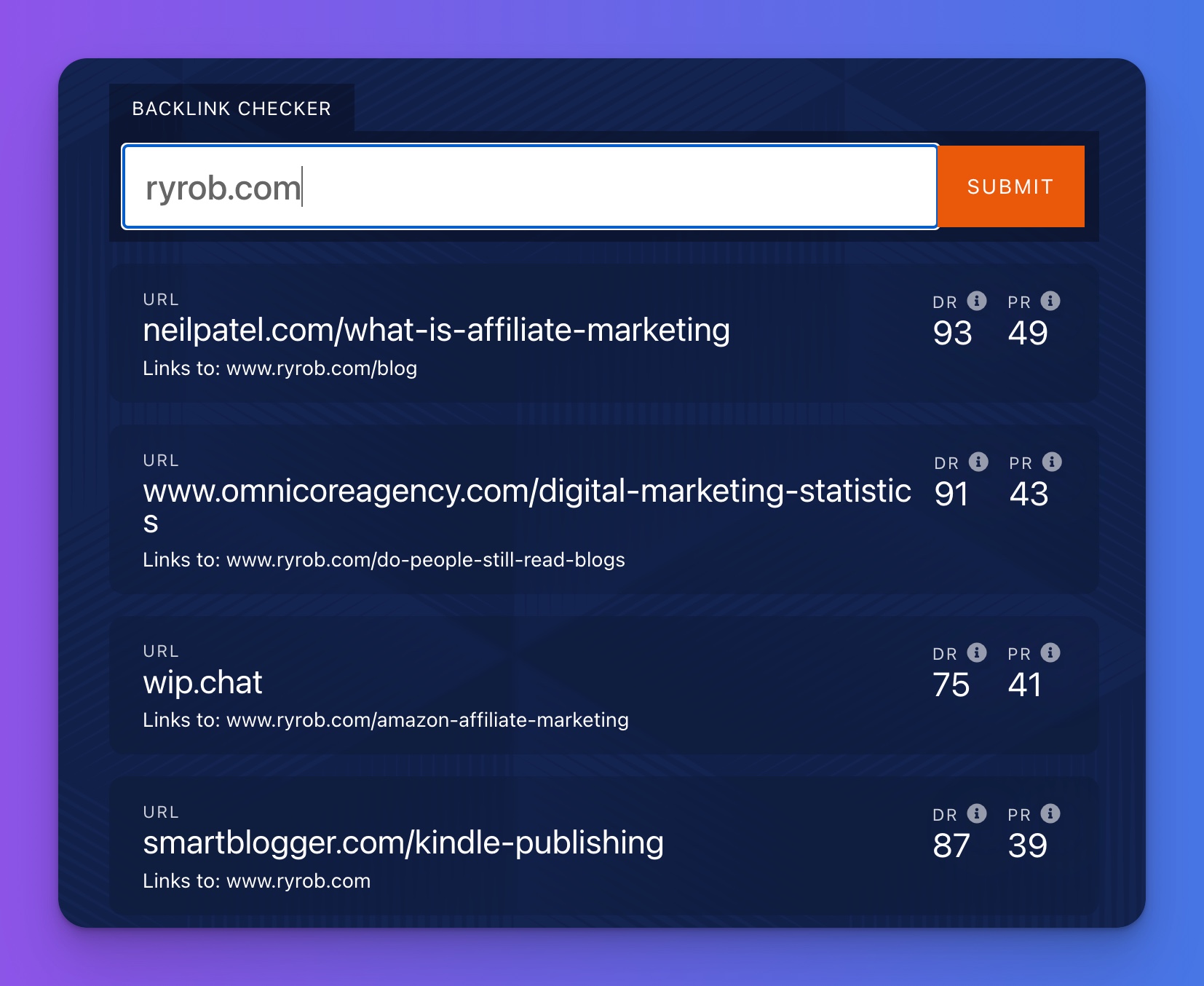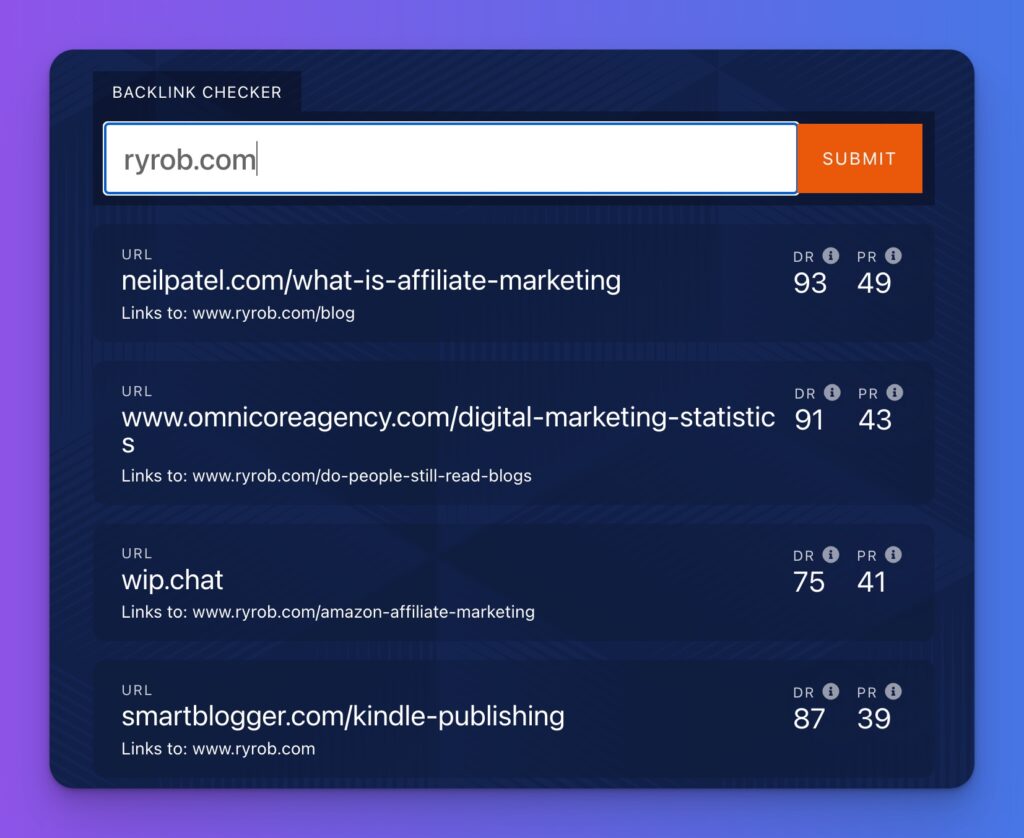 In an ideal world, your website would naturally attract links from other sites, by being incredibly informative and trustworthy. Because the internet is so big and busy, though, you'll likely need to put in some work (at least initially) to encourage other sites to link to yours.
This is where backlink checkers come in. A backlink checker tool makes it easy for you to see exactly where other sites in your niche are getting links from—which means you can target those sites when building links to yours.
How to Use the Backlink Checker to Discover Any Website's Backlinks
Ready to give this free backlink checker a try? Here's how to get started.
1. Choose a Website and Type in the URL
First, you'll need to give the tool the website URL (or copy and paste it from your browser's address bar, if you're already on that website).
How do you pick the right website to investigate? You might want to start by trying out your own site, to get a sense of how the tool works and to see what backlinks you already have. But for the most useful results, I'd recommend picking a well-established site in your niche.
For instance, here on RyRob, I might take a look at one of my competitors' backlinks—peeking behind the scenes at where a blog like ProBlogger is getting some of their best links: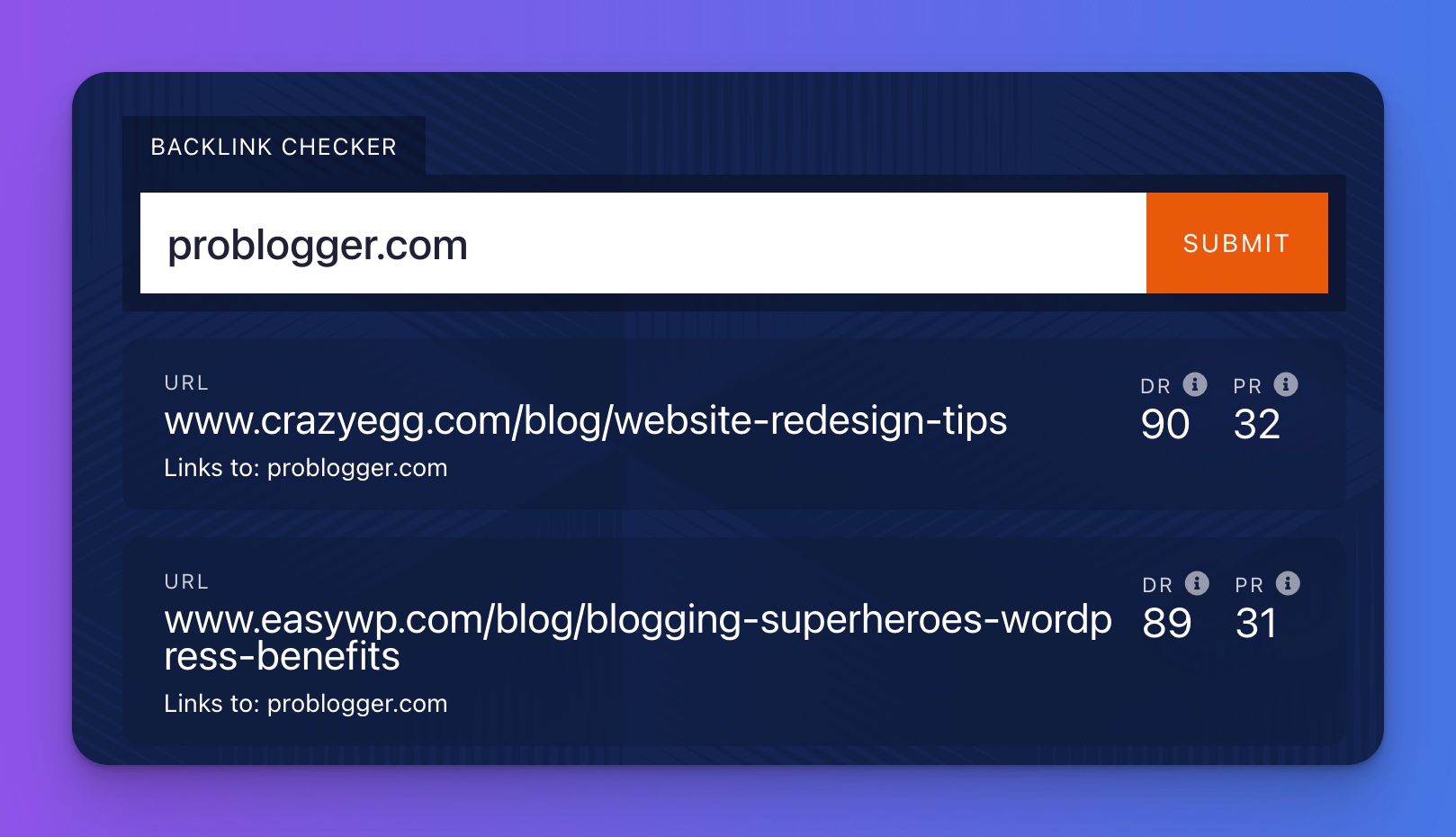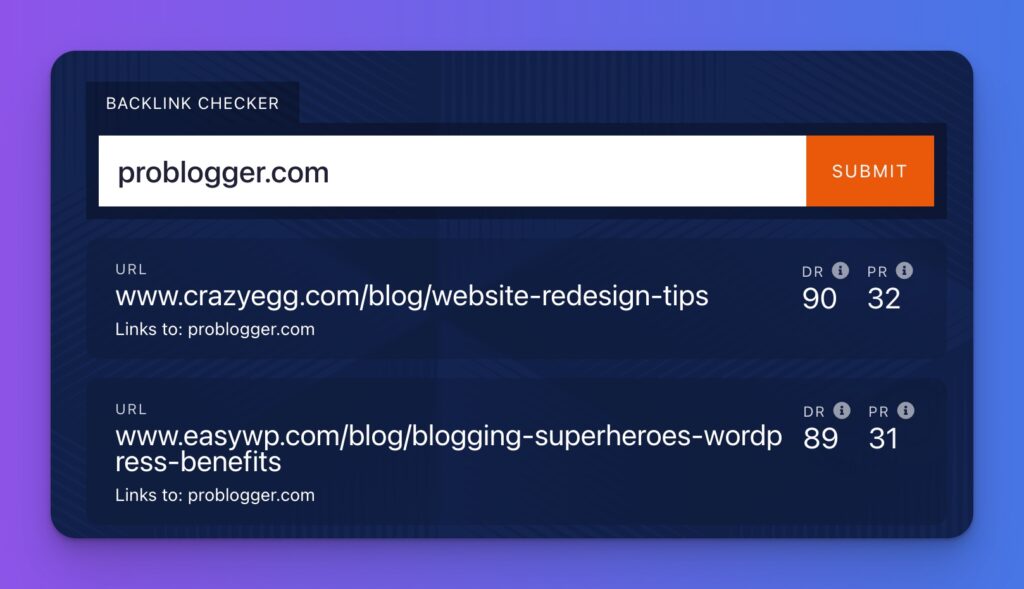 This backlink checker tool is forever free, and you can run it as often as you want, so don't worry if you're not sure what site to check out first. You could make a list of different sites in your niche and give them all a whirl to see who's linking to them. You can also repeat this process regularly to check for new links.
2. Discover the Website's Backlink Profile
Once you've entered a URL to check the backlink profile and hit "Submit," this free tool will give you a table of information, just like the one above here.
You'll see the table has 3 columns:
Backlink URL: The page that's linking to your site (along with the URL of the page it's linking to, directly beneath)
Domain Rating: The domain rating of the linking site on a scale of 0 to 100 (the higher, the better)
Page Rating: The page rating of the linking page on a scale of 0 to 100 (the higher, the better)
In the fully featured version of this tool on RightBlogger, you can sort and reorder the table by Backlink URL (alphabetical, A–Z), Domain Rating (numerical, highest to lowest), or Page Rating (numerical, highest to lowest) by clicking on the headers. Click a second time to order the other way (Z–A, or lowest to highest).
All this information may seem a little overwhelming at first, so let's take a closer look at what all these different elements really mean.
Backlink URL
The backlink URL is the URL (web address) of the page that's linking back to your site. It's shown in bold and you can click the arrow button on the right of this URL to open it up in a new tab.
Beneath this (not in bold), you'll see the page on your site that's being linked to. This could be your homepage or a specific page, e.g. a blog post.
You'll also see a "follow" or "nofollow" badge. "Follow" links are more valuable than "nofollow" links, but for a good backlink profile, you want at least some of both.
Domain Rating
The domain rating is a measure of the authority or reputation of the website linking to you. The higher this number is, the better. Well-known and long-established websites like Forbes and Business Insider will rank higher than smaller, newer sites.
Again, for a good backlink profile, you want a mix of links from sites with different levels of domain rank. It's fine to have links from some sites with a low rank (under 50) but you want most links to come from sites with 70+ domain authority.
Page Rating
Page rating measures the authority of the specific page that's linking to you (not the website as a whole). These numbers tend to be lower than domain rank, so you can expect most of the page ranks to be in the 20–40 range.
First Seen (RightBlogger Feature)
In the fully featured version of this tool on RightBlogger, you'll also see the date when the link first appeared on the web. If you're investigating another site's backlinks, it's useful to check when those links first appeared—a link from several years ago may be difficult to replicate today.
If you're looking at your own site's backlinks, this can also help you spot any new backlinks.
3. Make a List of Backlink Opportunities to Explore Further
Perhaps your competitor has a recent backlink from a big—but not too big—site in your niche. You investigate further by opening up the backlink URL and you find that your competitor wrote a guest post for that site a few months ago. The site is still taking guest posts… making it a great opportunity for you to get a backlink too. Just be sure you're taking time to send great blog outreach emails.
By running through the list of your competitors' backlinks, you can copy and paste any good possible opportunities into a document or spreadsheet for further investigation. If a site is linking to your competitor, there's a good chance they'd be willing to link to you too—it's just a matter of getting your offer right. Peep my in-depth guide to link building for bloggers to learn how to do this the right way.
Bonus: Use My Free SEO Checklist Alongside This Free Backlink Checker
As well as finding great opportunities to gain more backlinks to your site, it's really important to optimize your blog or website's content for SEO.
Here's my step-by-step on-page SEO checklist that you can use each time you create a new post for your site.
Make sure you're using the Yoast plugin for WordPress (or another good SEO plugin)
Write your post based on a relevant keyword for your audience
Optimize your subheadings to encourage Google to index your page faster (and to encourage rich snippets)
Only include one H1 header on the page (your blog post title)
Use headers correctly, with H2s for subheadings, H3s for sub-subheadings, and so on
Check you're using your primary keyword naturally within your text (you don't need to repeat it a set number of times)
Add plenty of internal links, plus at least 3–5 external links
Craft a meta description that includes your keywords
Include alt text for all your images, writing keyword-rich descriptions
Make sure your blog post is long enough—in most cases, that's a minimum of 1,500 words
Optimize your meta title (SEO title) for search engines to help your post rank highly – use my free meta title tool to help
Include your keyword(s) in your post/page's permalink (URL)
The Features of this Free Backlink Checker
This free backlink checker is easy and intuitive to use—all you need to do is enter a URL. But if you wanna dig a little deeper into how it works, here's everything you need to know.
Website URL (Enter Your Own or a Competitor's)
The only input field for the backlink checker is the Website URL box. You can enter the URL with or without the https:// at the start. All these URLs will give the same results:
ryrob.com
www.ryrob.com
https://www.ryrob.com
You can enter the URL of any website you want. It doesn't have to be your own site.
This free backlink checker will then return a list of backlinks available for any website you input. If you want to see even more of your backlinks or your competitors' links, you can use the full version of the backlink checker inside RightBlogger.
Note: The output results of this tool can vary depending upon whether or not you use a trailing slash at the end of your URL. For example ryrob.com may produce different results than ryrob.com/.
List of Backlinks (Backlink Profile or Backlink Report)
The list of backlinks, as covered above, shows the backlink URL, domain rank, page rank, and in RightBlogger the "first seen" date.
Taken together, this information makes up a site's backlink profile. A healthy backlink profile will have:
Backlinks from big sites within the same niche
Backlinks from non-niche sites
Backlinks from smaller sites, e.g. personal blogs
Some nofollow links, as well as follow links
Tip: If you want to check whether a site has a backlink from a specific site, try ordering the list alphabetically by referring link: you should then be able to find the domain.
Backlink Checker FAQs (Frequently Asked Questions)
How do I build backlinks?

Building quality backlinks is a big part of SEO … but it can be tricky to know where to begin. There are lots of different link building techniques. Some key ones you can try are:

Guest posting: you write a (free) blog post for someone else's blog and include at least one link to your site, either in the post itself or (more commonly) in a "bio" about you that goes at the end of the post.
Broken link building: look for broken links on other blogs in your niche and (where applicable) offer a resource of your own that would work instead of the " dead" link.
Becoming a HARO source: help out bloggers and journalists who're looking for people to quote—many will link back to your website or a page of your choice.

It's really important not to build backlinks by paying for links, by spamming forums or comments sections with links to your site, or by participating in link exchanges (where you promise to link to people if they link to you). All these techniques are frowned upon by Google and could get your site seriously penalized in Google's rankings.
How many backlinks should I aim to build?

There's no "right" number of links to have pointing to your site. The more, the better! Some bloggers will set a target of building a specific number of backlinks each week or month. The best part is that you can build lots of links in a short period of time without getting a Google penalty—what matters is that you're getting links from reputable sources (not dodgy, spammy websites).
What are toxic backlinks?

Toxic backlinks are unnatural links that harm your website's search engine rankings. They're normally a result of trying to "game" the system by building backlinks that you're not entitled to.

Toxic or spammy links can come from:

Spammy websites: ones that are scamming people, for instance, or that are packed with ads and nothing else.
Paid link schemes: buying links from a website, or from a company that works with a number of websites to link to you.
Forum or blog comments: while it's normal to have some links from these, lots of links (especially from low-quality forums or blogs) is a red flag to Google.
Hidden backlinks: links that are intended to be visible to Google but not to human readers—e.g. they're written in a tiny font or in white on a white background.
Buying ads that have "follow" rather than "nofollow" links.

If your site has had a Google "manual action" as a penalty for unnatural links (or it's likely it'll have a manual action soon), then Google recommends you get as many links removed from the web as possible. If you can't get links removed, you can disavow toxic backlinks in Google Search Console.
What's the difference between nofollow links and follow links?

By default, all links are follow links. They "count" in Google's eyes to boost the page's ranking – another way of putting this is to say that the link passes on link equity.

Bloggers and website owners can also set links as "nofollow" links. These are used when someone wants to link to a page without "voting" for that page in Google's eyes. That could be because:

It's a paid/sponsored link—Google wants these to be "nofollow" links.
They're linking to a site they don't want to endorse.
The site has a policy of nofollowing all external links.

Google and other search engines treat nofollow as a "hint", so it's possible that some nofollow links will boost a page's ranking. From a link building perspective, you want to get lots of follow links, but it's good to also have some nofollow links in your overall link profile as this is more natural.
Why did you make this a free backlink analysis tool?

When I first started blogging, I didn't have the money to spend on all the tools I wanted. There were so many great premium tools that would have helped me improve my SEO and grow my blog faster … but I simply couldn't afford them. I used free versions where possible instead, and I was so grateful to the bloggers and developers who created those free tools.

Today, I've seen a huge amount of success with RyRob and I wanted to give something back to the blogging community. The backlink analysis tool is free because I care. There are no strings attached: no usage limits, no need to enter your email address, no requests for your credit card information. It's just a completely free tool that you can use over and over again to check out backlinks for your site or anyone else's. I hope it'll help you build lots of high quality links to your site.
What other backlink checker tools are there and how do they compare? (Best backlink checkers)

There are quite a few different backlink checker tools out there, but mine is the only free tool with no account creation requirement. Let's take a look at three of the most popular—Moz, Semrush, and Ahrefs—and see how they stack up against the free backlink checker.

Remember, my free tool doesn't have usage limits (you can check out as many URLs as you want) and you don't need to sign up to use it.

Moz's Link Explorer (Free & Limited with Account Creation)

Moz has Link Explorer: a tool you can use to investigate backlinks for any website. You'll need to create an account by entering your email address. This only gives you access to up to 10 queries (different domains) and 50 rows of backlink data for each domain, per month. This includes the page authority (a Moz SEO metric).

You get an overview of key metrics for the domain, including the domain authority, a figure for linking domains, for total inbound links, and for ranking keywords. You'll also see a list of top links, top pages, and anchor text that's being used. You can download the data as a CSV file.

Semrush's Backlink Analytics (Free & Limited with Account Creation)

Semrush has Backlink Analytics, which lets you easily analyze a domain and compare it with competitors. You'll need to sign up to use it, which gives you 10 free requests.

Like Moz, Semrush gives you some overall data, including an Authority Score, a figure for referring domains, and figures for your traffic. You can see how many links are follow vs nofollow, whether the link type is text vs image, and more. It's really easy to compare one domain with another.

Ahrefs' Backlink Checker (Free & Limited with Account Creation)

Ahrefs' free backlink checker gives you a quick snapshot of a domain, showing a list of backlinks—you need to sign up to see them all. The snapshot includes metrics like the domain rating (out of 100), the total number of backlinks, total linking websites, and the percentage of dofollow links.

You can use the free tool over and over again for different domains, but you'll only see a limited selection of backlinks (web pages) for each one.
Who is this backlink checker designed for?

When we created the free backlink checker, we had in mind lots of different people who'd be using it. This tool doesn't require any special SEO knowledge or technical expertise. It's suitable for SEO professionals to use, of course, but it's also a great fit for bloggers, content marketers, content creators, small business owners, and anyone who wants to get more incoming links and see their site ranking higher in Google.
What other free SEO tools should I be using to enhance my link building strategies & improve my search rankings?

I have a massive stable of other free SEO tools to help you out. I'd recommend taking a look at my keyword research tool, meta title generator, meta description generator, outline generator, paragraph rewriter, and the article writer to help create content faster than ever.

Dig into all of my free blogging tools, which can help you put together content (making it much quicker to write guest posts, for instance, to build links faster). To go even further, check out RightBlogger. It's my AI powerhouse of SEO, blogging, and marketing tools, helping you to get the great results you deserve. It's a premium tool, but I've kept the pricing low to make it accessible for new bloggers.