There are plenty of amazing all-purpose SEO tools out there, like Ahrefs, Moz and SEMRush. But there's a catch: most of these popular SEO tools aren't cheap—and the pricing can make them too much of an investment when you're a new blogger. Enter: The need for great free SEO tools for bloggers.
The good news is that (today) there are finally some great free SEO tools that you can use without paying anything at all. Understandably, these don't have all the advanced features and in-depth insights that premium tools can provide… but they can still help you go from starting a blog to writing stronger blog posts & getting a huge boost in search engine rankings.
You might already be familiar with the basics of search engine optimization (SEO). Don't worry if not, we'll quickly cover that before getting into this detailed list of free SEO tools.
If you just want to jump straight to a free tool that catches your eye, use the table of contents quick links below.
18 Best Free SEO Tools for Bloggers in 2023 (Research, Optimization & More)
Disclosure: Please note that some of the links below are affiliate links and at no additional cost to you, I'll earn a commission. Know that I only recommend products and services I've personally used and stand behind. When you use one of my affiliate links, the company compensates me, which helps me run this blog and keep my in-depth content free of charge for readers (like you).
Use My Free Keyword Research Tool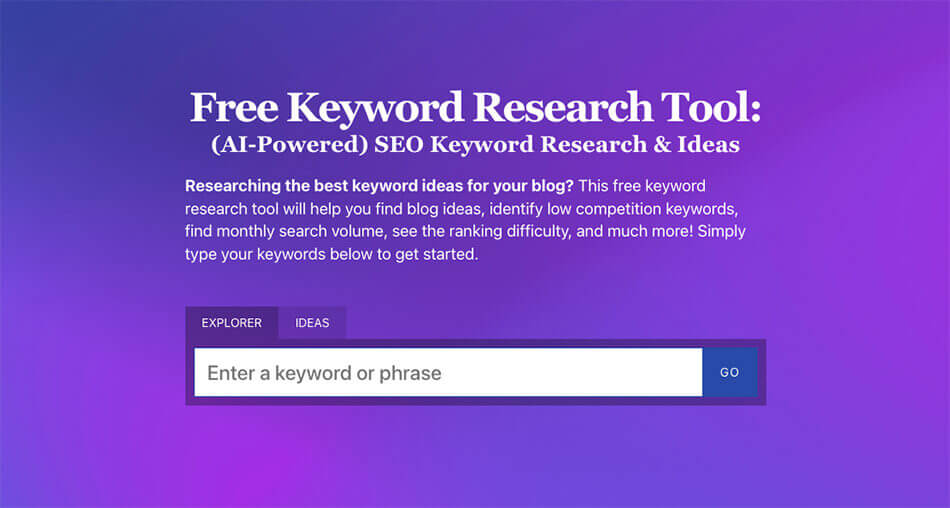 Try my free AI-Powered Keyword Tool to get dozens of research-backed ideas for keywords & topics to write about on your blog today.
---
What is SEO and Why Does it Matter?
SEO stands for search engine optimization. It's the practice of getting your content to rank well in search engines (primarily Google, which is by far the most popular search engine).
Assuming you're hoping to generate organic traffic from search engines (and not paying for ads), there are 5 main ways people will come to your blog:
Directly, through typing in the URL or clicking on a bookmark link in their browser
Through a social media link (e.g. a friend shares your post on Facebook)
From another website or blog (e.g. links in a guest post you've written)
From an email (e.g. another blogger mentions you in their email newsletter)
Through a web search, which is where SEO comes in
You might think that SEO can't matter too much if it's only helping with one source of traffic. But for many bloggers (myself included), search engines bring in more traffic than the other four methods combined, making it central to their digital marketing efforts.
Plus, good SEO can boost everything else—not just your organic search traffic. Let's say someone is searching online for a topic you write about. A post on your blog is at the top of their search engine results page (SERP), they read and enjoy it. They might later share it on social media or email it to a friend. If a blogger carrying out research comes across your well-organized post, they might link to it from their site. And fans who initially found you through a search engine might bookmark your blog and keep coming back.
Google's algorithm prioritizes the content that it thinks will be most useful and relevant to users. Good SEO involves lots of different strategies and best practices to show Google that your content is high quality and authoritative.
4 Basic Principles of SEO that Free SEO Tools Can Help With
So now you know what SEO is and why it matters, it's time to take a quick look at how SEO tools can help. SEO doesn't involve just one thing, it encompasses several major areas including these:
1. Keyword Research
There are several great, free tools that can help you find the best keywords to use in your blog posts (and related keywords you should consider). This helps you to create exactly the sort of content that people are already searching for.
A keyword is a word or (more often) a short phrase that someone types into Google to run a search. For instance, to find this post, you might have typed in a keyword like "free SEO tools" or "best SEO tools for bloggers" and made your way here. My free keyword research tool is what helped me hone in this article to make sure more readers like you discover my content.
2. On-Page Optimization
For your blog post to rank well for your chosen keyword, you need to be sure that Google understands your post is relevant to that search. This means carrying out on-page SEO: using your keyword in your post's title and appropriately in the content.
Google is becoming more advanced all the time in understanding language, so on-page optimization also means using keywords that are semantically related to your topic (sometimes called LSI keywords).
3. Getting Backlinks
Another cornerstone of good SEO is getting backlinks to your blog content. Backlinks are links from other websites pointing to your content (or your homepage). Google and other search engines "crawl" the web by following links, so the more links that point to your site (from more authoritative websites), the easier it is for search engines to find your content and rank it higher.
Google also sees backlinks as a type of vote for your site. If lots of websites link to yours, then Google knows your site is well-regarded. This means that for most sites, link building is a big part of their SEO strategy.
4. Technical SEO
The final aspect of SEO you need to know about is technical SEO. This includes things like making sure your blog's pages load quickly, giving Google a sitemap of your blog (so it can easily find all your posts), and having a blog that is easy for people to use on a mobile device.
A lot of bloggers feel a bit daunted by technical SEO, but the good news is that there are lots of free tools out there to help you with getting these things right.
Free Keyword Research Tools
Let's dive into our first category of free SEO tools—the best free keyword research tools on the market today.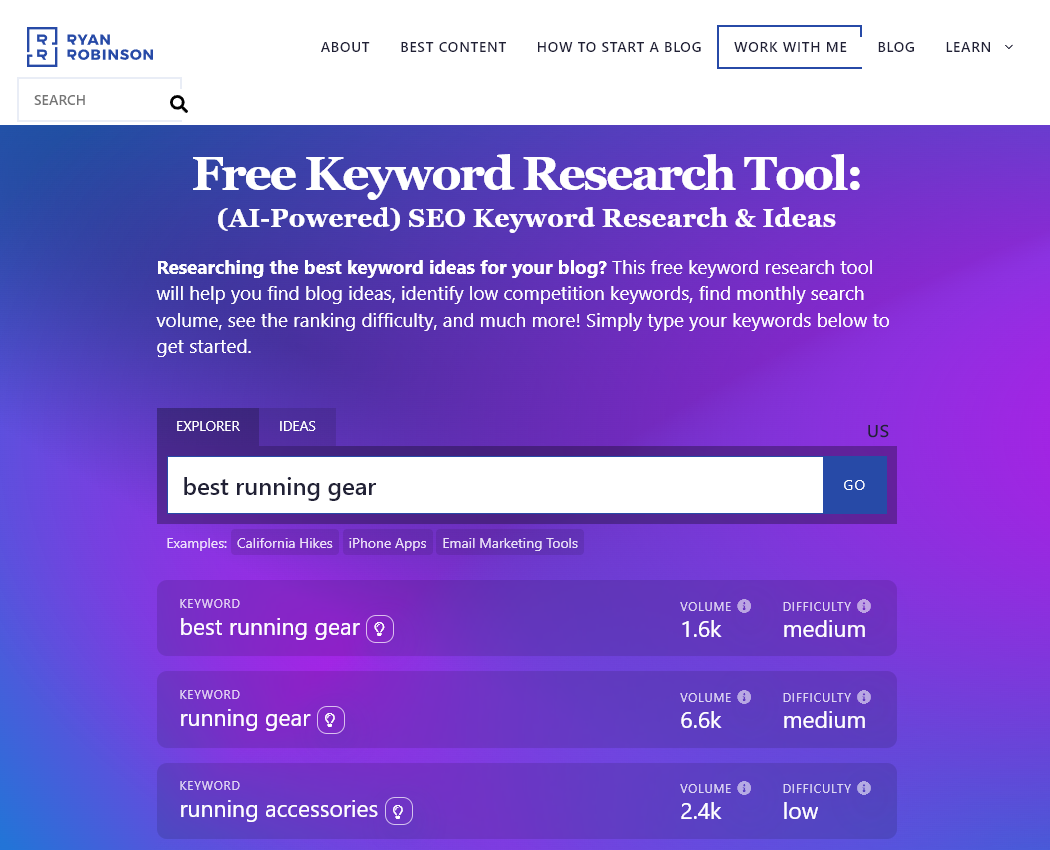 I designed my Free Keyword Research Tool to be really easy to use—even if you're completely new to keyword research. Simply type in any starting keyword (seed keyword) and the tool will suggest lots of other similar keywords, all with a search volume plus a difficulty rating.
You can run as many searches as you want. If you haven't done much or any work on your blog's SEO before, I'd recommend picking keywords with a volume of around 1,000–5,000 monthly searches and a low keyword difficulty rating.
This tool can also help you come up with ideas around a particular keyword. You can click on the little lightbulb next to any keyword to see a whole range of ideas, or you can use the "Ideas" tab instead of the "Explorer" tab. This is a great way to find long-tail keywords.
---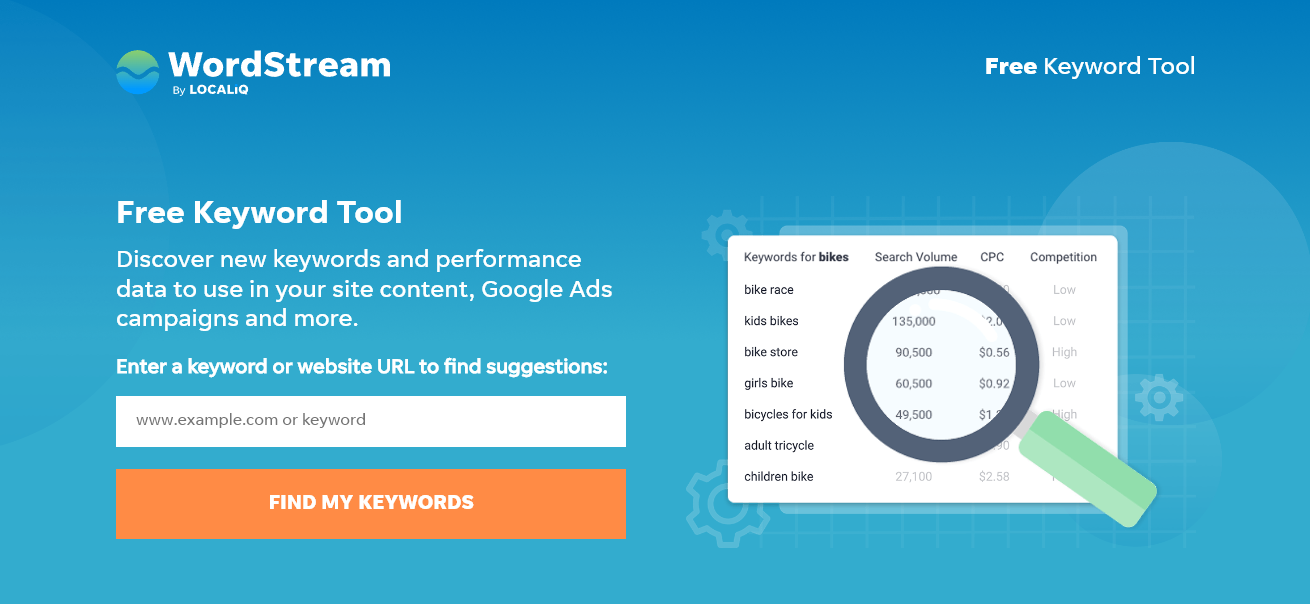 WordStream's free keyword tool is quick and easy to use. You can put in a keyword to get started—or if you have no idea what keywords to try, you can put in your website URL instead. WordStream will automatically come up with keywords for you.
If you want to download your keyword results to use later, you'll need to sign up for a free account with WordStream.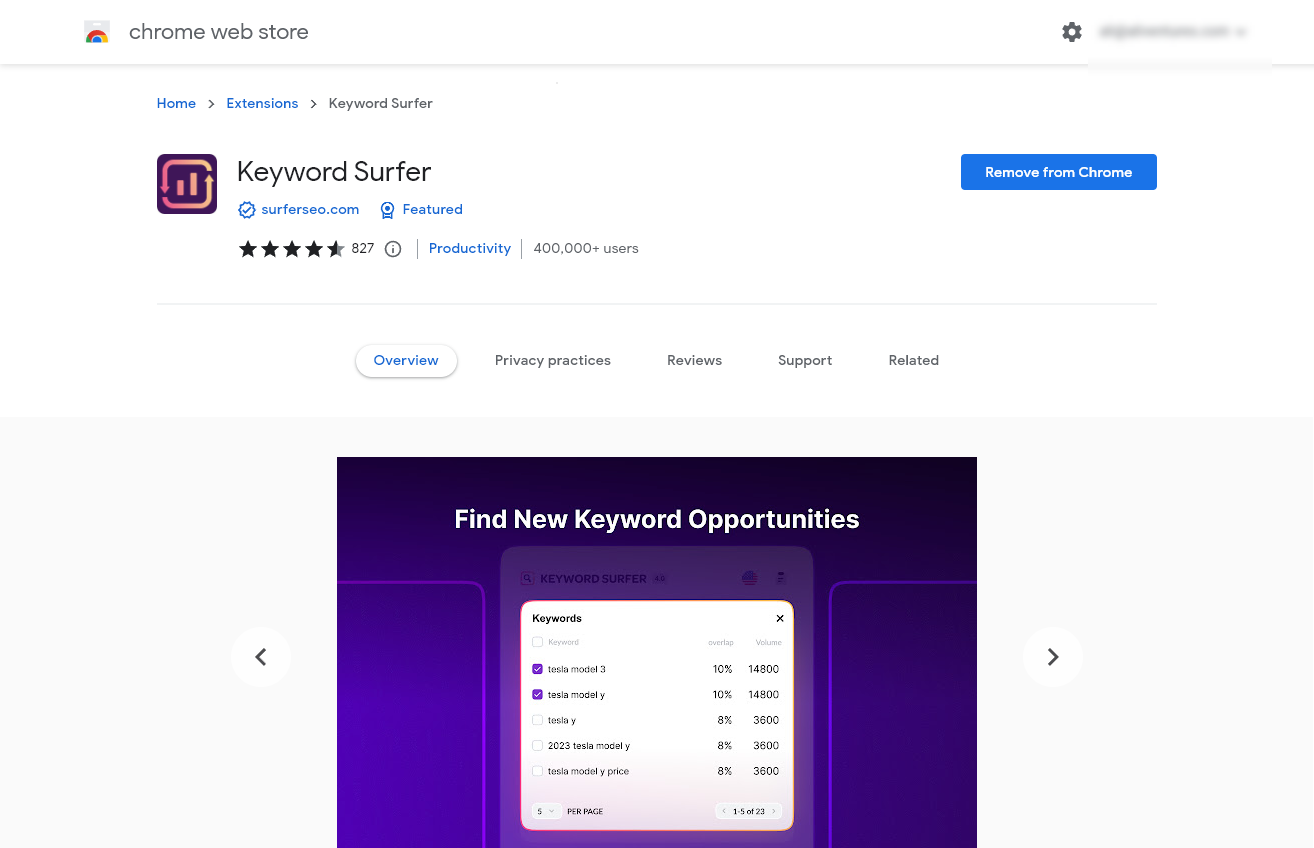 Keyword Surfer is a useful and free SEO Chrome extension that sits in your Chrome browser. You simply add it to your browser, then you'll see keyword information whenever you search on Google. This includes:
The search volume (and CPC ad cost) in the search bar, next to your search term.
Useful information about all the web pages that come up for that search—including the website's estimated monthly traffic, the length of the page in words, and the number of times the exact keyword is used on the page.
Additional keyword suggestions to the right-hand side of Google's search results.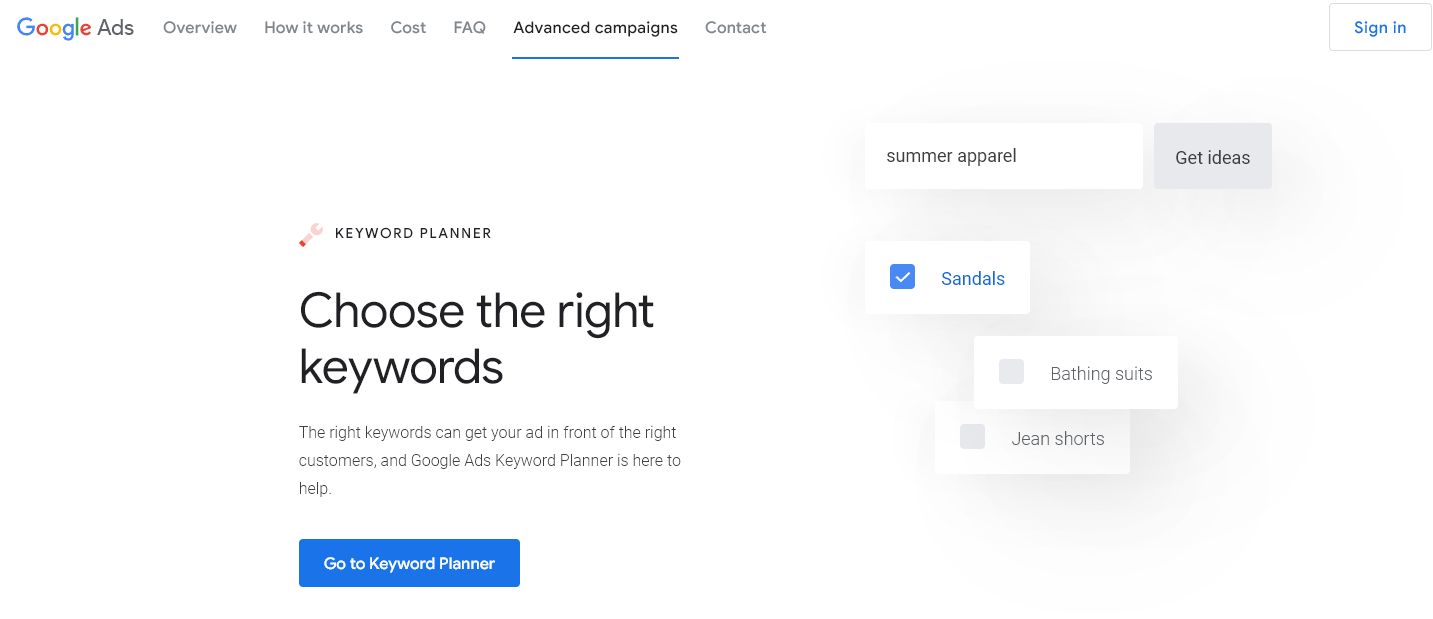 Google Keyword Planner is Google's free tool aimed primarily at advertisers. Even if you don't plan to run any ads through Google, the Keyword Planner is useful for finding keyword ideas and search volumes to help you increase your organic traffic.
You'll need a free Google account (e.g. a Gmail account) so you can sign in on the Google Ads homepage. Then, you'll need to put in your credit card details and set up an ad. Just pause it straight away in the ad settings, then you won't be charged.
After that, you can use the Keyword Planner at any time, under Tools and Settings → Planning in your Google Ads account.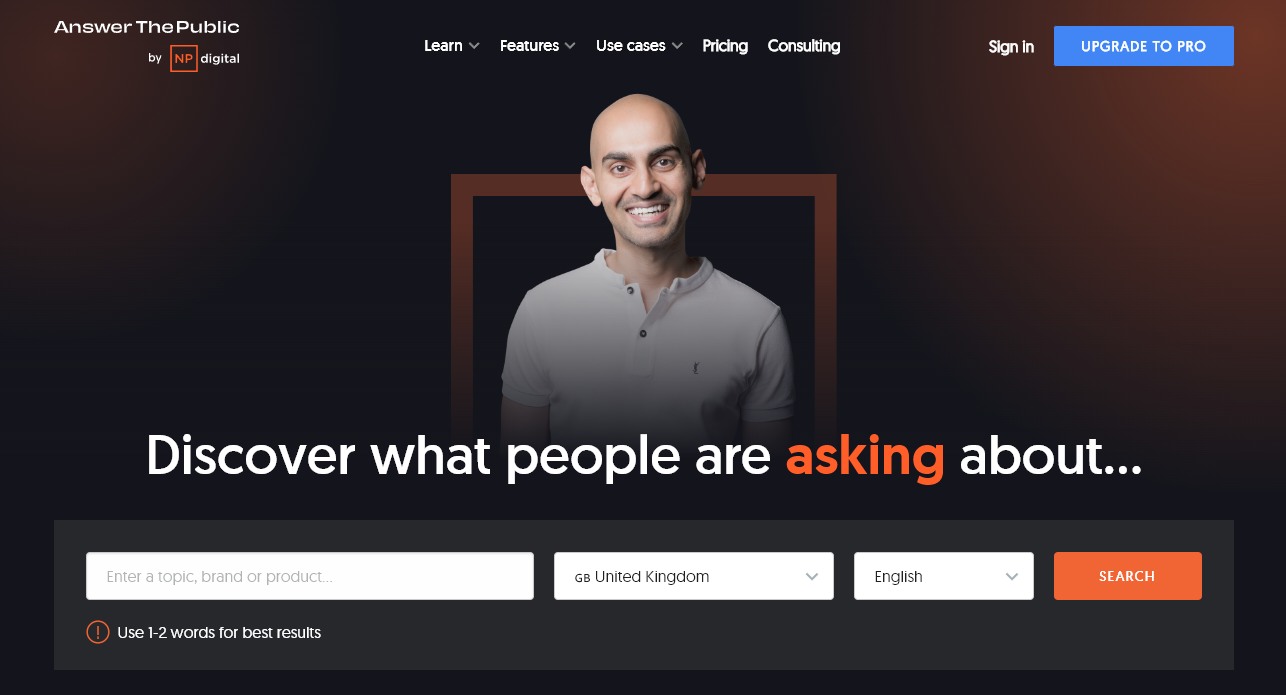 AnswerThePublic's free version is extremely limited today, ever since it was recently acquired by Neil Patel's company. You can only run a single search per day if you're logged out, and 3 searches per day if you're logged into a free account, which honestly sucks for how good this free tool used to be. The recent negative changes to AnswerThePublic were a major motivating factor in my decision to build a free keyword research tool of my own without crazy restrictions for my readers to use.
Still, it's another useful free SEO tool to help come up with some more blog post ideas when you're in a pinch, though it won't show exact keyword volumes or difficulty ratings. Because of these limitations, you'll likely want to use it along with one of the other keyword research tools above.
Free On-Page Optimization (SEO) Tools & WordPress Plugins
Now, we're moving into a category of free SEO tools that are designed to help you optimize the on-page content of your posts & pages, with the goal of helping you rank higher in search results.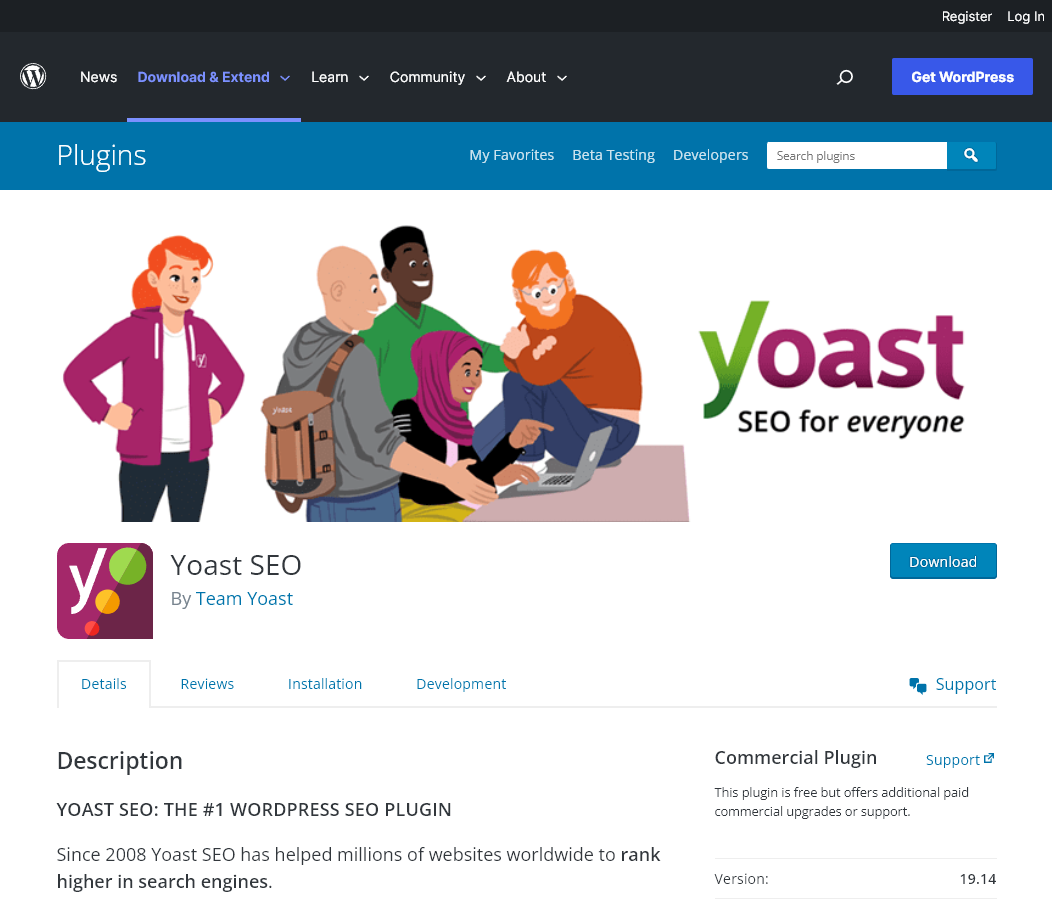 Yoast SEO is a very popular WordPress plugin that helps you to optimize your blog posts according to good SEO practices. It gives you the option to easily add an SEO title and meta description (meta tags) for your posts, and tracks how often you use your chosen keyword in the post. I've got some tips here on coming up with the right title along with a quick tutorial on how to add it in Yoast.
Need Catchy Blog Title Ideas?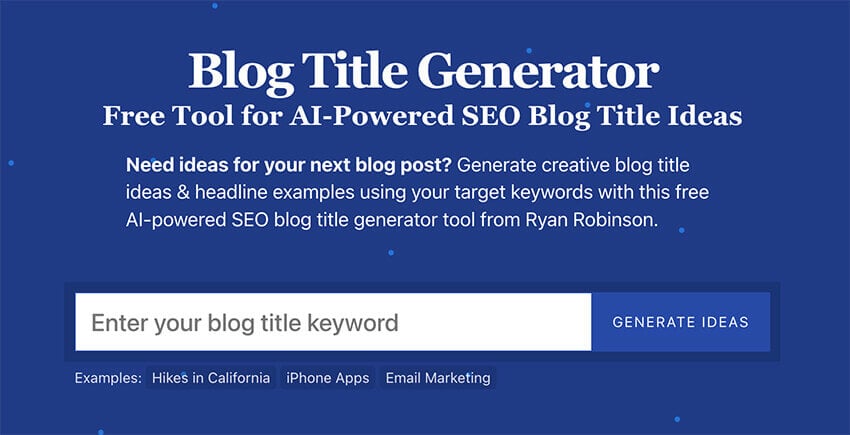 Try my free AI-Powered Blog Title Generator Tool to get dozens of SEO-friendly headline ideas to make your blog posts stand out today.
---
Important: You only need a single SEO plugin on your site. That means picking Yoast SEO, or Rank Math SEO, or All in One SEO. Don't try to run 2 at the same time, as this could cause SEO problems. Opinions vary on which is the very best WordPress SEO plugin, but most experts agree that any of these 3 would be a good option for your site.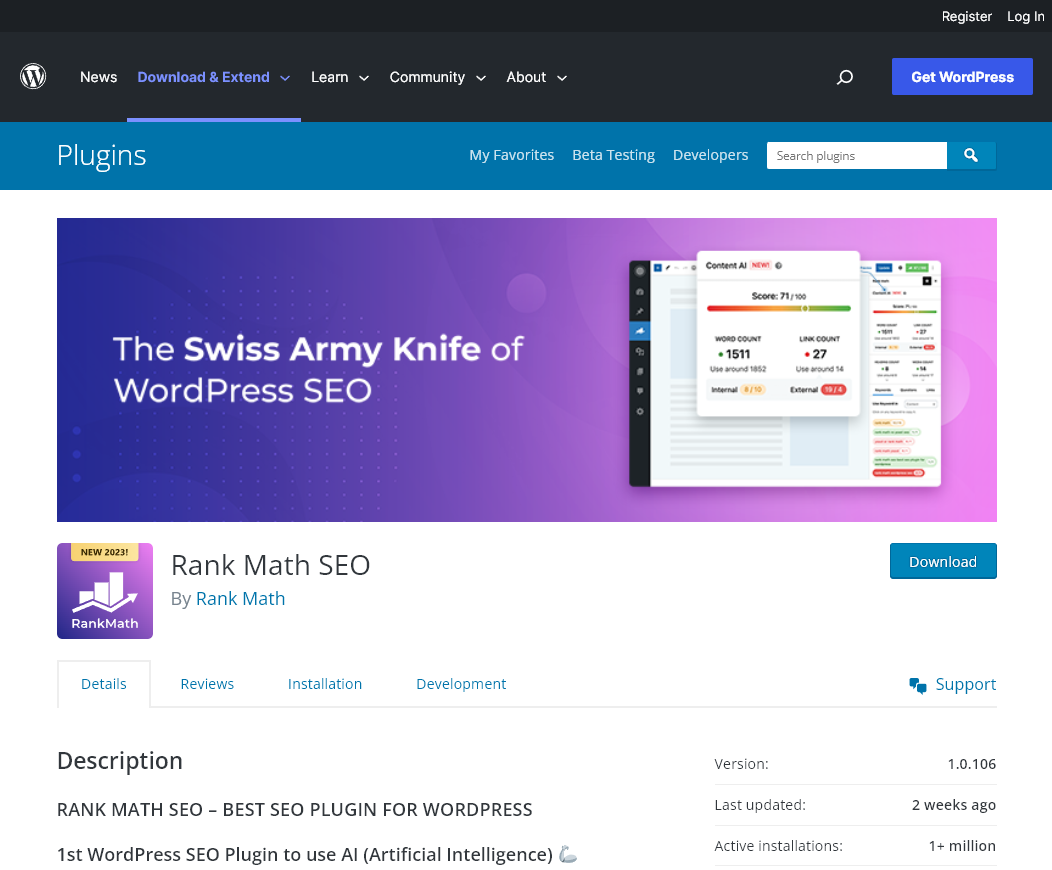 Rank Math SEO is another great WordPress plugin that has similar features to Yoast SEO. It's designed to be easy to use for beginners and if you decide to upgrade to the Pro plan, it's only $59/year (compared with $99/year for Yoast SEO). While Rank Math isn't quite as well established as Yoast SEO in the WordPress community, the free version lets you analyze up to five focus keywords at a time, compared with one focus keyword in the free version of Yoast SEO.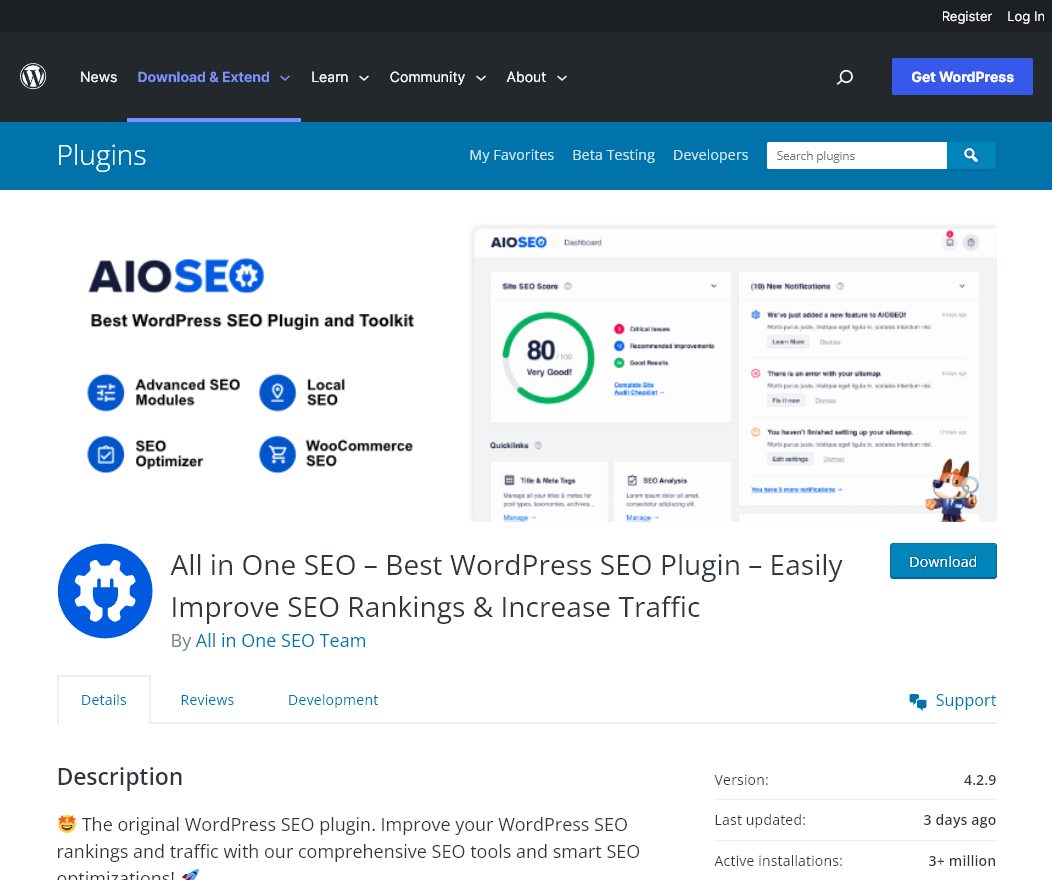 All in One SEO (AIOSEO) is a long-established SEO plugin. Like both Yoast SEO and Rank Math, it has an easy setup wizard and helps you optimize your content by making sure your focus keyword is in your URL, the first paragraph, headers, and so on. It starts at $49.50/year for the Basic plan. All in One SEO integrates easily with Google Search Console, Bing Webmaster Tools, and more. It also has useful options for image SEO, WooCommerce SEO, Schema.org markup.
Free Link Analysis & Link Building Tools
Next up, we have a category of free tools that'll help you conduct a competitive analysis, spot keyword opportunities your competitors are ranking for, check your competitors links (backlink checkers) and help build your own links.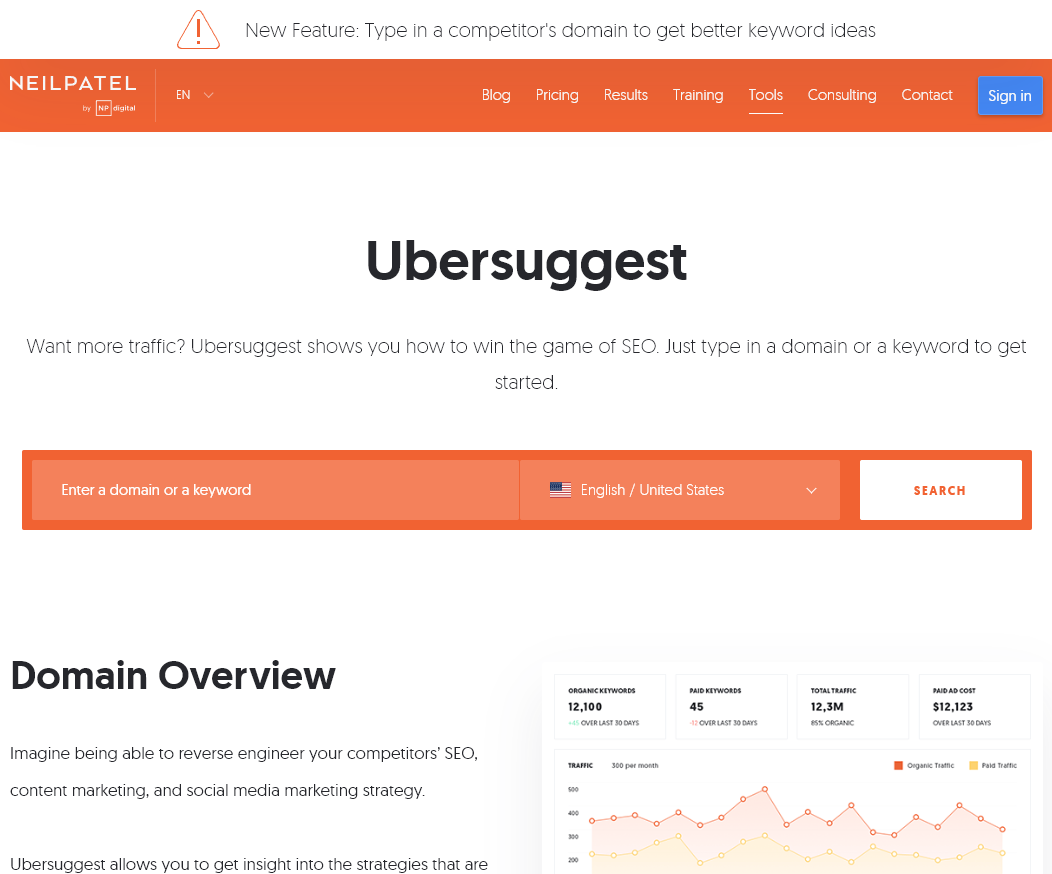 Ubersuggest is often used as a free keyword research tool (though it now has hilarious restrictions on its free accounts). The primary use I recommend it for today, is for when you're looking into building backlinks to your blog. You can enter a competitor's URL from within your blog's niche, into Ubersuggest to do a competitive analysis and see which websites are linking to them (along with each website's domain authority). This could give you some great insights into what websites you might want to reach out to and pitch for a guest post, or suggest some sort of win-win partnership.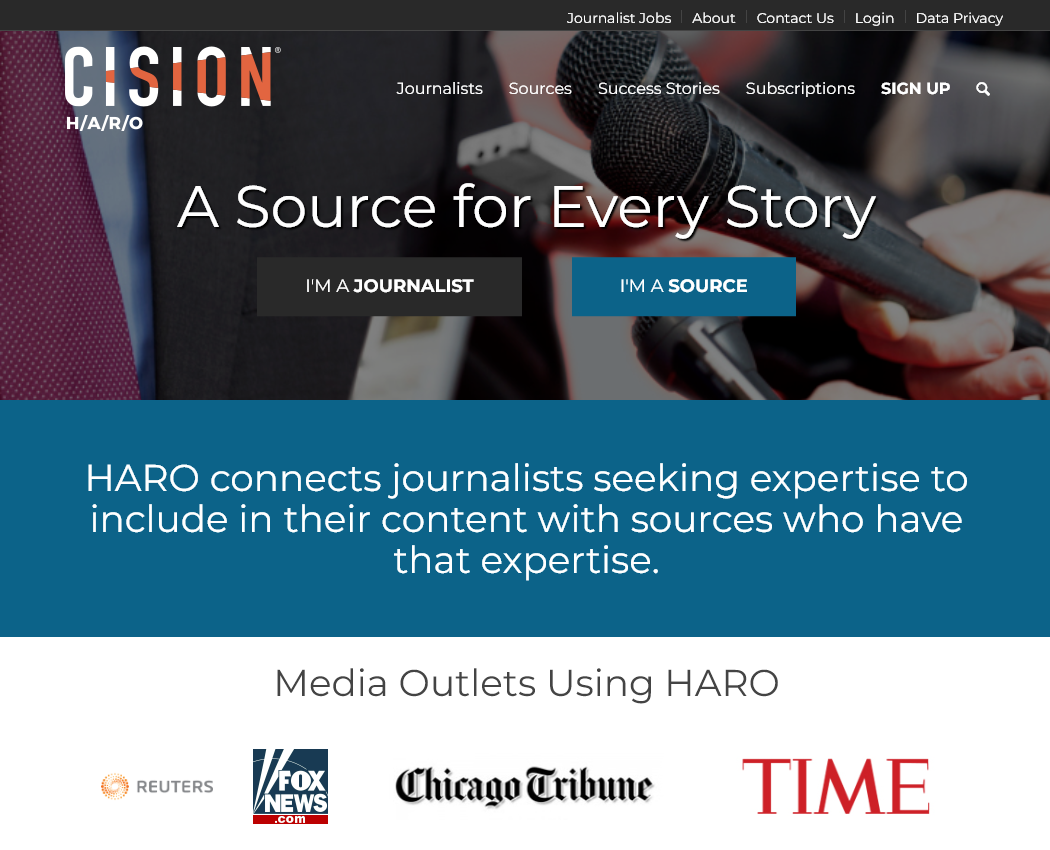 HARO (Help a Reporter Out) is a bit different from the other tools on this list. It's not a piece of software or a plugin: it's a vast email list that matches up reporters and sources. By getting your quote used in an article, you might get links from huge, authoritative websites like major national newspapers.

Google Alerts is a simple tool that monitors any mention of your chosen keywords online. Many bloggers use Google Alerts to look out for mentions of their own name, their company's name, blog's name, and their main product/service names. That way, if you're mentioned somewhere, you can contact the website or blog in question and ask for a link. Check out my tutorial on using Google Alerts to grow your blog.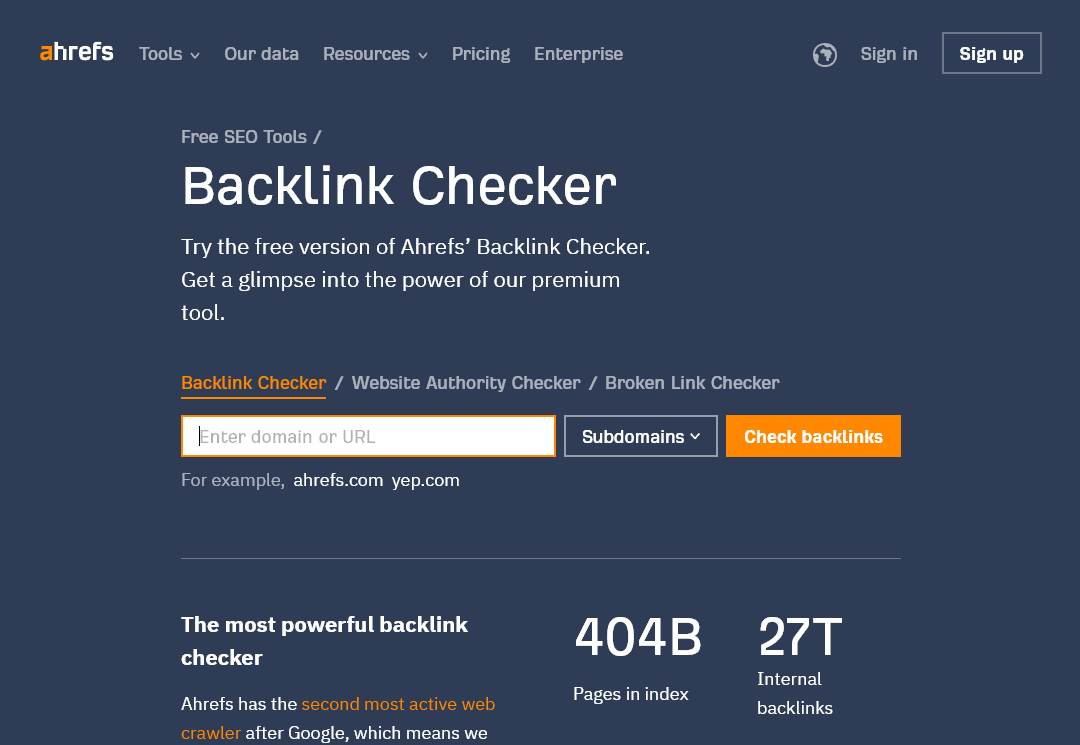 Ahrefs Backlink Checker is a free tool that lets you check the backlinks for any website. As with Ubersuggest, you can easily use it to find your competitors' backlinks. It's also a great tool to use for broken link checking. (One method of gaining backlinks is to find broken links on other people's sites and suggest your content as a replacement link, where appropriate.)
Free Technical SEO Tools
Getting just a little more technical now, these free SEO tools will help you dig deeper and unearth useful insights to help grow your blog, boost your site's performance (pagespeed optimization) and more.
13. Google Search Console, Google Analytics & Google Trends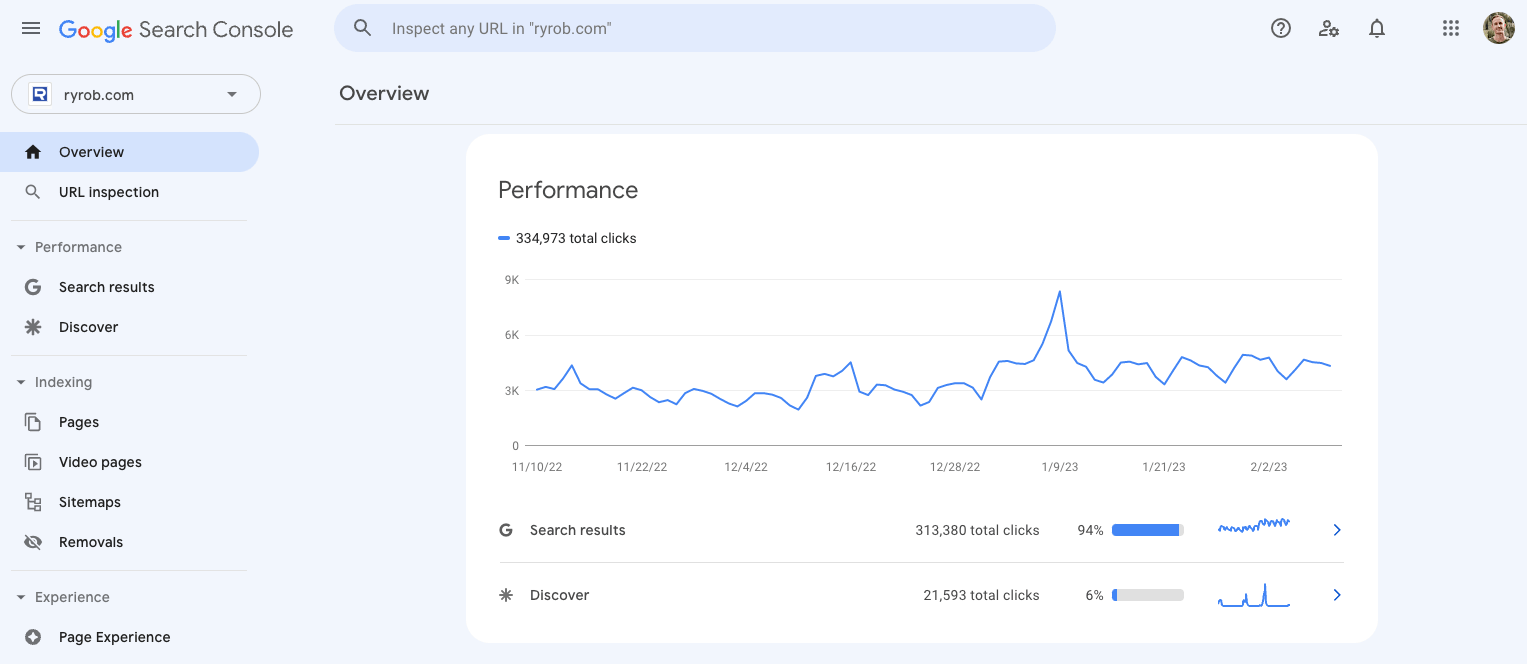 Google has a bunch of useful tools to help you get to grips with the technical side of SEO. The main ones to know about are Google Search Console and Google Analytics.
Google Search Console: Formerly known as Google Webmaster Tools, Google Search Console lets you monitor your site for any SEO problems encountered by Google's search crawler. It shows any issues with things like your site's mobile usability, listing URLs that load slowly or otherwise provide a poor experience, like faulty redirects. You can also view lots of different metrics about your site and its pages. You can submit a sitemap to Google Search Console to help Google find all the pages on your site. You can even use Google Search Console's data to uncover things like your click-through rate.
Google Analytics: You can use Google Analytics to analyze all sorts of data about how people are interacting with your website. In general, you're likely to use it when optimizing content for search engines (e.g. you can search for posts that are already getting lots of traffic and that you could easily boost a little further with some additional on-page optimization). When it comes to technical SEO, you can use Google Analytics to do things like set up alerts for 404 errors.
Google Trends: This more simple SEO tool lets you look at the popularity of keywords over time. It's useful for spotting seasonal trends and keywords that are increasing or waning in popularity, making it a handy keyword research tool.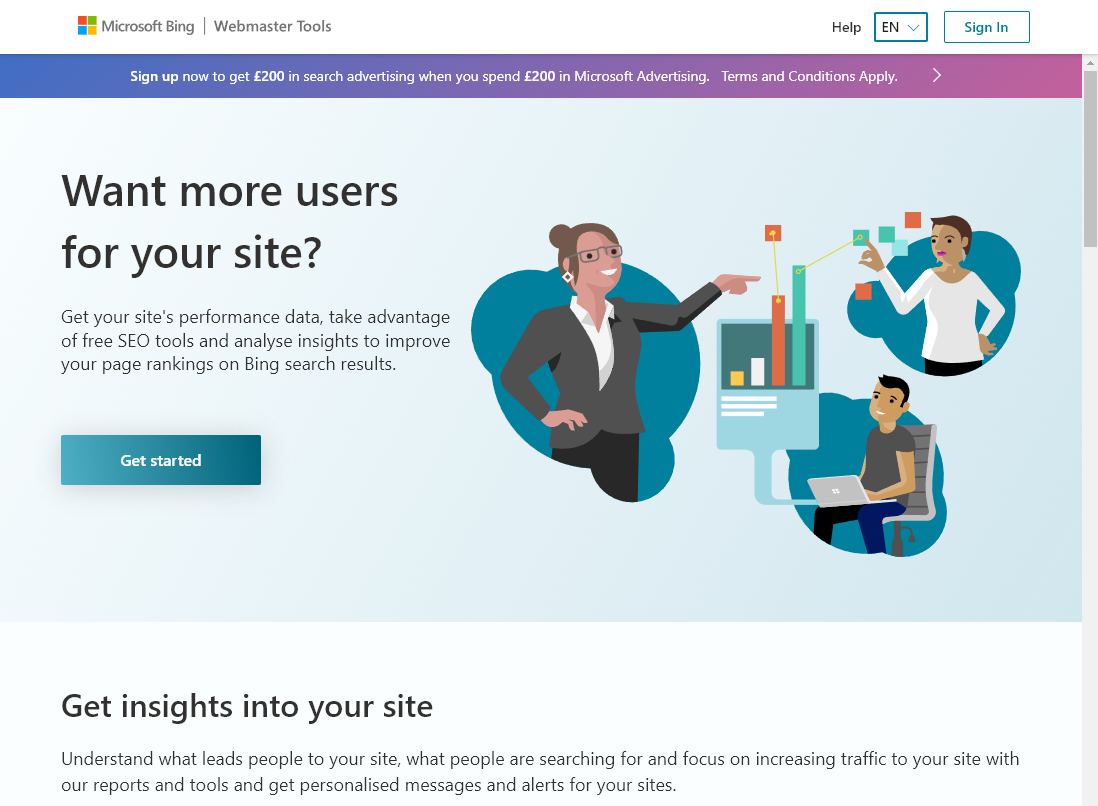 Bing Webmaster Tools is the equivalent of Google Search Console for Bing. As with Google Search Console, you can use it to submit sitemaps, inspect specific URLs on your site, and look at any potential SEO issues that your site has in Bing. When it comes to keyword research, you can take a look at what keywords you're already ranking for, which pages are getting the most visitors, and more.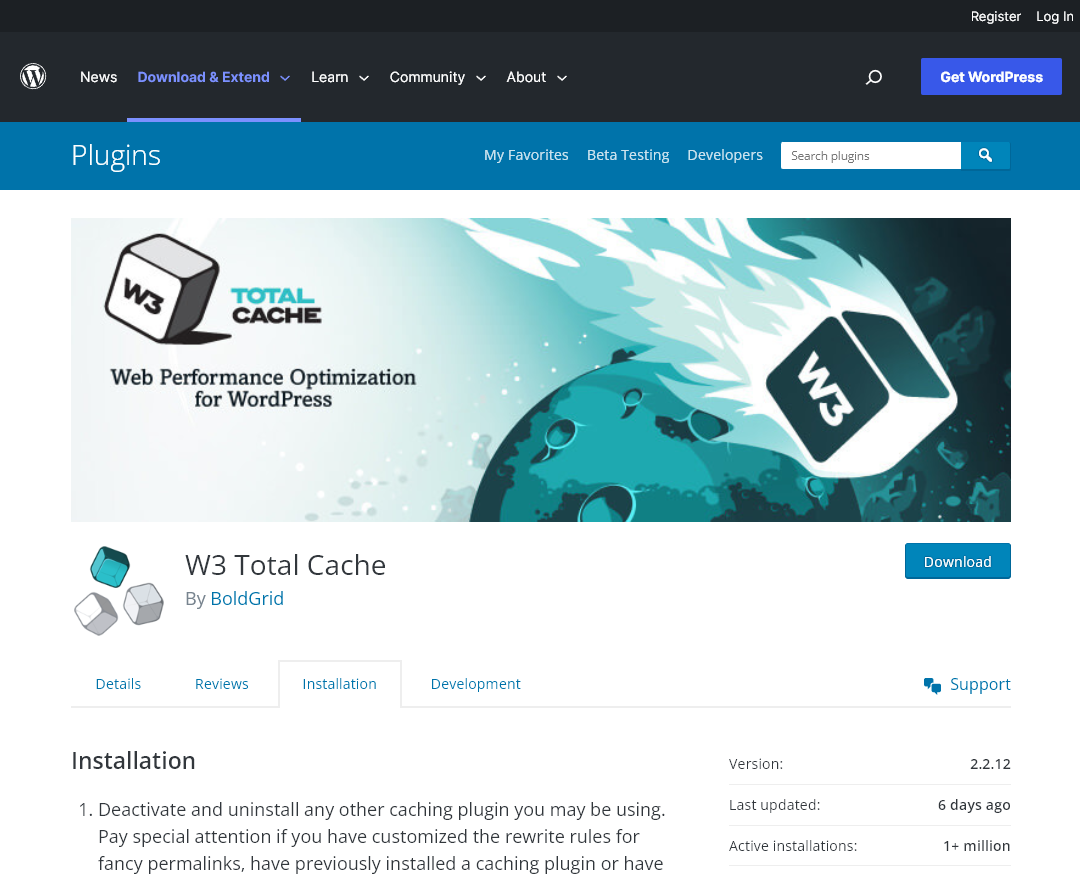 W3 Total Cache is a popular WordPress plugin that speeds up your website, helping to boost your site's search engine ranking. As well as providing a better user experience (meaning visitors stick around longer), faster sites tend to rank better on Google. You may even find that having a faster site improves your conversion rate—meaning more visitors buy something from you. W3 Total Cache has plenty of documentation to help you get the most from it and it's regularly updated by the developers.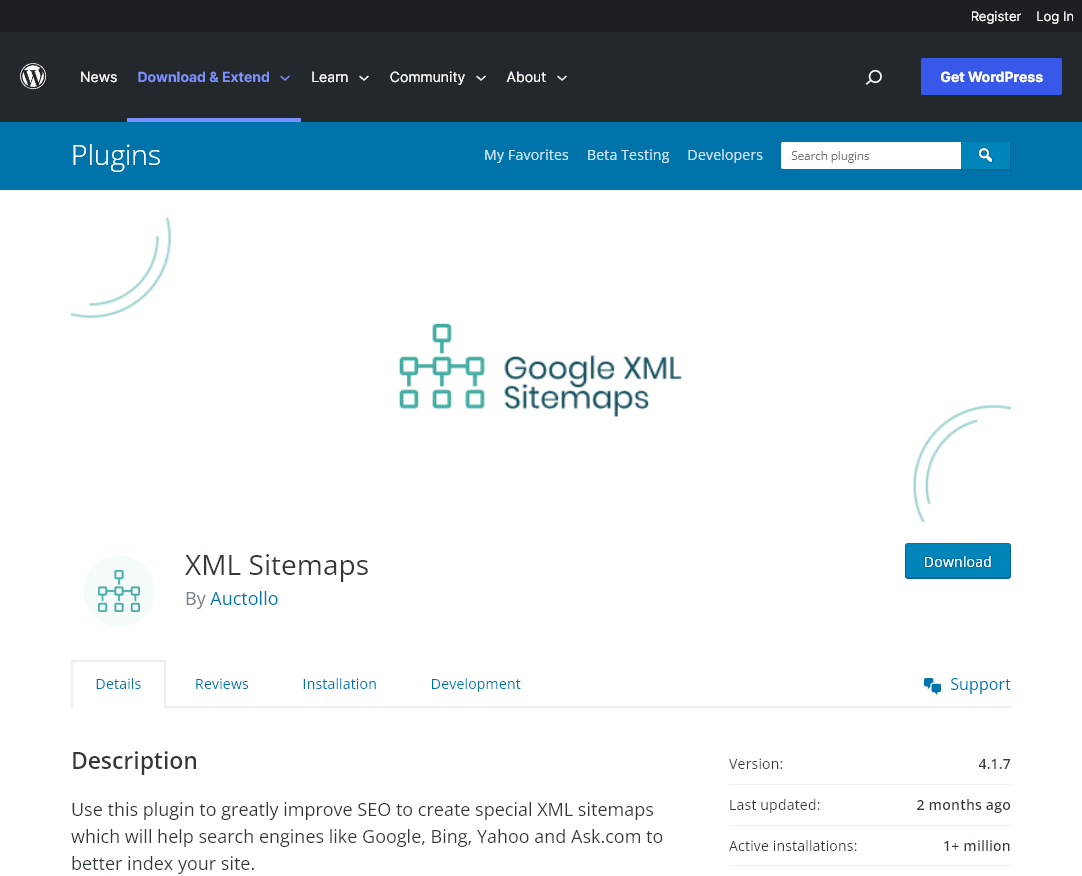 Google XML Sitemaps (sometimes just called XML Sitemaps) is a WordPress plugin that lets you create special XML sitemaps to submit to Google, Bing, and other search engines so they can crawl your website more easily and efficiently.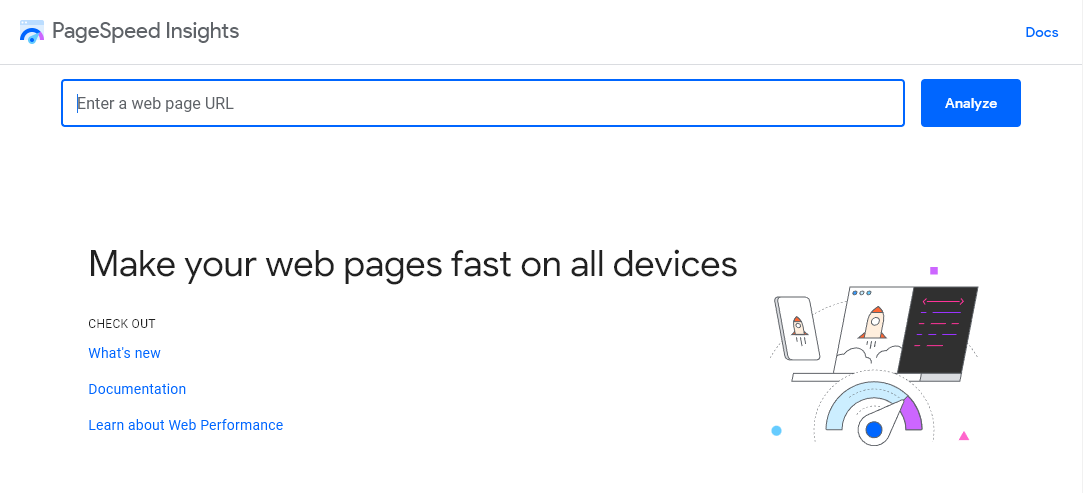 Google PageSpeed Insights is a free tool that you can use to test your website's performance. It'll give you a score out of 100: the higher, the better. Along with your score, you'll see a detailed breakdown of any performance issues, plus an SEO report with tips on how you can speed up your website. You can check out the score for both the mobile and desktop versions of your site. Check out my guide to getting a perfect 100 score in Google PageSpeed Insights.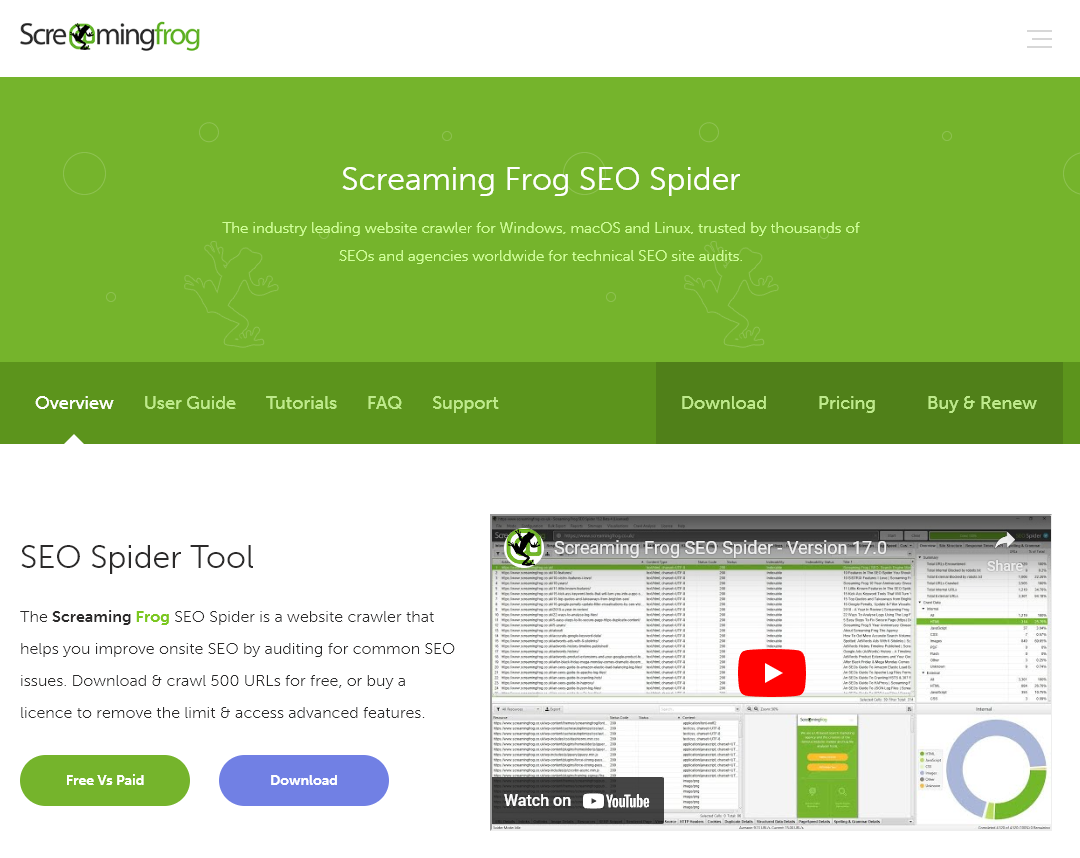 Screaming Frog's SEO Spider Tool is an SEO audit tool that lets you analyze your website for broken links and other SEO issues. It'll audit up to 500 URLs for free: if you want to check more pages than that, you'll need to upgrade to the paid plan. You can also use this tool for other technical SEO tasks, like generating XML sitemaps, analyzing page titles and metadata, auditing your redirects, spotting html optimization opportunities and more.
Bonus Paid SEO Tools to Try as Your Blog Grows: Clearscope, Ahrefs, Moz and SEMRush
While I wanted to keep the focus of this post on free SEO tools that you can easily use from day 1 of your blogging journey, my hope is that your blog and business will grow and grow.
At some point, you'll be ready to move on to using some powerful paid SEO tools with more advanced functionality. I'll run through four of the best paid tools that you'll want to check out once you're ready to move beyond free SEO software.
Clearscope is a super powerful SEO tool that helps you optimize your blog content for higher search engine rankability. My favorite feature is their reports, which give you detailed insights & guidance into how your competitors are ranking well for a given keyword phrase—thus giving you the opportunity to optimize your blog posts to outrank them in time. You can also track your progress over time and make data-driven updates to your content before it drops in search rankings.
Ahrefs offers a range of SEO analysis tools to help you carry out competitor research, find keyword ideas, scan your site for any SEO problems, monitor your ranking progress, and find linking opportunities. Ahrefs brings in data from 10 search engines—including YouTube and Amazon. There's no free trial. Ahrefs will cost you a starting price of $83/month (paid annually) and goes up from there to unlock more features or add more users. They even have an API you can use amongst their many SEO tools, if you get really deep in the game.
Moz's SEO software provides a range of support for all the different areas of SEO, covering site audits, rank tracking, backlink analysis of your competitors' referring domains, keyword ranking, and more. They also offer Moz Local for local SEO (which could be relevant for you if your blog is focused on local news or events). You can take a 30-day free trial; after that, Moz starts at $69/month, paid annually.
If you want to use some of the power of Moz without paying for a subscription, you can also install MozBar, a free Chrome browser extension that gives you a toolbar to check out SEO metrics for other sites in real-time while surfing the web.
Semrush offers similar tools to Moz, with a focus on SEO and content marketing. It has lots of tools to optimize your content for search engines (e.g. keyword analysis tools) and has a range of project management tools, as well as help for creating profitable search engine ads and more. Semrush only offers a 7-day free trial in most cases and costs more than Moz—from $99.95/month, paid annually.
Start Using Free SEO Tools to Grow Your Blog Today
Good SEO will make a huge difference to your website's success, especially if you're aiming to make money blogging. Any of the best free SEO tools we've covered could make a big difference to how well your content ranks in search engines—resulting in a huge increase in search traffic.
Premium SEO tools can be really helpful too, but if you can't afford the monthly or annual fee for those, the free tools we've covered are great alternatives for new bloggers and small businesses.
If you're already using Moz, Semrush, Ahrefs, or another premium SEO tool, you may still find some of these great free tools useful—especially when it comes to technical SEO. The more tools you're familiar with, the more opportunities you'll have to get your content ranking well.
Use My Free Keyword Research Tool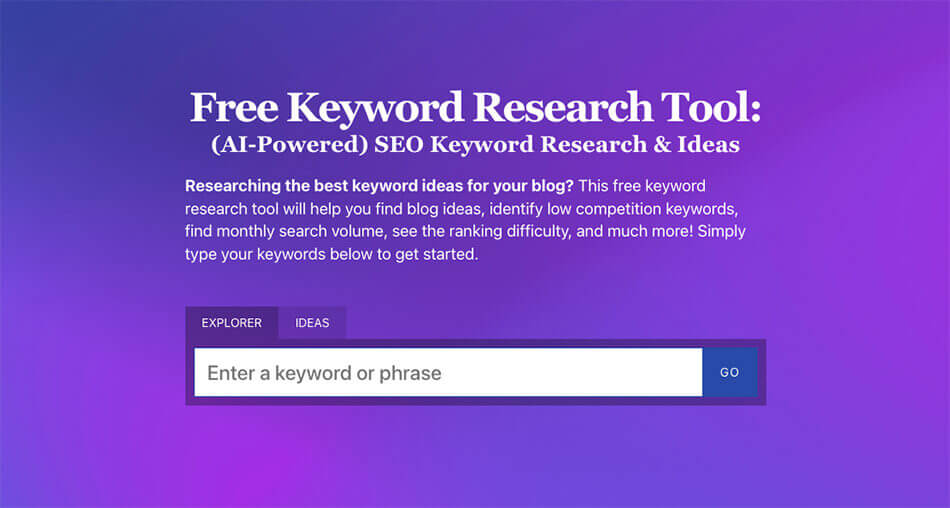 Try my free AI-Powered Keyword Tool to get dozens of research-backed ideas for keywords & topics to write about on your blog today.
---