To run a blog, you need web hosting. To run a successful blog, you need quality web hosting. Enter our topic today: Bluehost vs GoDaddy and a detailed comparison of which is best.
There are hundreds of different web hosts, making it really difficult to know which one to choose. When you're new to blogging, the variety of features they offer can be bewildering.
Should you prioritize a host that offers a free SSL certificate? How much bandwidth do you need? What about storage space? It's hard to know where to begin, but a good starting place is to choose from some of the most popular hosting services out there today.
Two of the most popular (and reputable) are Bluehost and GoDaddy. Each is very beginner-friendly, with competitive (budget-friendly) pricing—and they're both widely respected.
So which one should you go for? I'll share my recommendation first, then break down the differences between the features, performance, user experiences, customer support, and pricing they offer. Ready to finally choose your web host and make your website? Let's go.
Bluehost vs GoDaddy (Comparison & Review): Which Web Host Should You Choose?
Disclosure: Please note that some of the links below are affiliate links and at no additional cost to you, I'll earn a commission. Know that I only recommend products and services I've personally used and stand behind. When you use one of my affiliate links, the company compensates me, which helps me run this blog and keep my in-depth content free of charge for readers (like you).
Our Pick
If you're in a hurry, you don't need to read the rest of this article. Just choose Bluehost.
Bluehost is very reasonable (from $2.95/month when you start out) and has great customer support. Their cheapest plan has slightly better features than GoDaddy's too.
Even better, there are lots of add-ons you can choose for your hosting and you can easily upgrade your hosting plan as your blog grows.
Bluehost is a hugely popular web hosting company, with millions of websites using its service. It's also one of just three officially recommended WordPress hosting companies.
If you're going to start a blog using WordPress, Bluehost is a very safe choice and certainly your best bet. If you're ready to get your WordPress-powered blog off the ground today, then head over to Bluehost and register your domain name today.
Want to Get Started with Bluehost Today?
Head over here to see their features, plans & pricing today—and get started for as little as $2.95/mo.
---
If you want to learn more about Bluehost's options, or want to see how it compares side-by-side with GoDaddy, let's keep reading.
Features (Bluehost vs GoDaddy Plans)
Both Bluehost and GoDaddy offer a range of useful features for bloggers. Even their basic packages give you everything you need to get started.
Here's a straightforward comparison graphic of how Bluehost vs GoDaddy stacks up (side-by-side) on their features: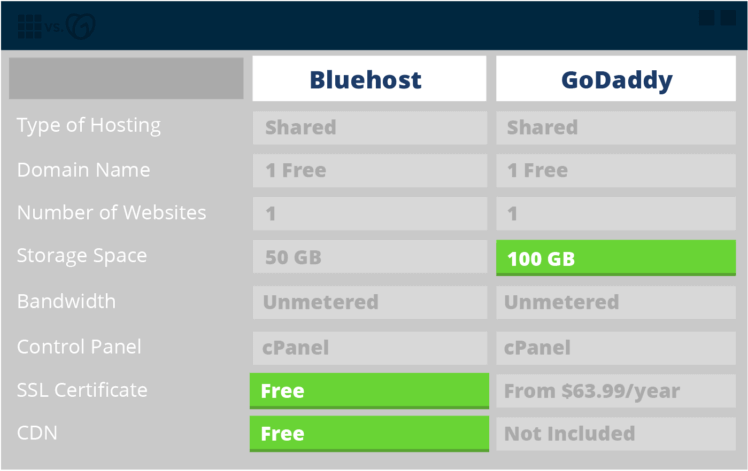 Now, let's dig into exactly how the key features of their cheapest plans compare to one another.
Type of Hosting
Whether you go with Bluehost or GoDaddy, or another cheap provider, you'll be purchasing shared hosting. This means your website is stored on a big server (a computer) alongside lots of other people's websites.
Shared hosting is suitable for most types of new websites. If your site begins to generate a lot of traffic or needs more resources in the future, you can upgrade to dedicated hosting, where you have your own server.
Winner: Tie
Domain Name
Your site's domain name is its address on the web. All websites need a domain name. Both Bluehost and GoDaddy give you one for free. You'd normally need to pay around $15/year for a .com domain.
You can register your GoDaddy or Bluehost domain name at the same time as purchasing your hosting plan. If you're not quite ready to choose your domain name, or you can register it at a later point, after you sign up for hosting.
Winner: Tie
Number of Websites
Both Bluehost and GoDaddy only let you create a single website on their cheapest plans. If you want to have several different websites, you'll need a slightly more expensive plan.
Winner: Tie
Storage Space
Your website files take up space on your website's server, just like your personal files take up space on your home computer.
If your website has hundreds of pages and lots of images, it will need much more storage space than a website with just a few pages and images.
Bluehost offers 50 GB of storage space on their cheapest plan and GoDaddy offers 100 GB.
Winner: GoDaddy
Bandwidth
Bandwidth measures how much data is being transferred from your website's server to people's computers. If lots of people visit your website, it'll use more bandwidth.
Whether you opt for Bluehost vs GoDaddy, you'll have unlimited bandwidth—even on their cheapest plans.
Note that both Bluehost and GoDaddy have fair usage policies. If your site is using far more bandwidth than most other sites on shared hosting, you'll be asked to upgrade your plan.
Winner: Tie
Control Panel
Your web host's control panel is how you make changes to your web hosting settings. For instance, you can use the control panel to set up a new email address at your website domain.
Both Bluehost and GoDaddy use cPanel, which is the most common control panel software out there.
While cPanel can seem a little technical at times, there are lots of videos and tutorials online to help you understand how to use its different features.
Winner: Tie
SSL certificate (HTTPS)
Websites with an SSL certificate offer a secure connection over HTTPS instead of HTTP. Visitors to the site will see the secure padlock symbol in their web browser.
It's really important to use SSL on your site as Google prioritizes secure sites in the search results.
Bluehost offers a free SSL certificate that should be automatically installed and activated when you set up your site. (You can easily toggle it on and off in your Bluehost account.)
In the battle of GoDaddy versus Bluehost, GoDaddy loses. It only offers paid SSL certificates, starting at $63.99 for your first year, then going up to $94.99/year minimum.
You can still install a free SSL certificate for your GoDaddy site, but you need to do this manually. GoDaddy doesn't offer a built-in free option.
Winner: Bluehost
CDN (Content Delivery Network)
A content delivery network (CDN) uses servers all around the world to help your website load as quickly as possible. This is a great way to speed up your site – which also helps with your SEO (search engine optimization).
Bluehost offers a free, built-in CDN. GoDaddy does not.
Winner: Bluehost
Performance
Website performance covers two key factors:
Uptime (whether your website is available or not)
Speed (how fast your website loads)
Obviously, you don't want to choose an unreliable hosting provider that has a lot of downtime—where your site is offline.
All reputable web hosting companies will have a very high annual uptime: at least 99.9%.
Bluehost has an uptime of around 99.98% (meaning your website would be unavailable for about 1 hr and 45 minutes each year) and GoDaddy has an uptime of 99.99% (meaning your website would be unavailable for about 50 minutes each year).
GoDaddy also offers an uptime guarantee, where you can get credit up to 5% of your monthly fee if the uptime drops below 99.9%.
When it comes to speed, Bluehost is a little faster than GoDaddy: its load speed is 0.72s and GoDaddy's is 0.89s.
Essentially, those figures all mean that both Bluehost and GoDaddy are high-performing web hosts. They're reliable and fast—so you won't need to worry about downtime or about your site running slowly due to hosting issues. When it comes to the question of Bluehost vs GoDaddy on performance, they'll both take good care of you.
Winner: Tie
User Experience
Both Bluehost and GoDaddy are straightforward to use, with lots of help for beginners. It's easy to install WordPress on your site using both, though users tend to find the Bluehost interface more intuitive and a bit easier to learn overall.
Bluehost guides you through the process of setting up your site, tailoring the help available to how much experience you say you have.
Both Bluehost and GoDaddy include a built-in drag-and-drop WordPress site builder you can use if you wish. (You can also use WordPress's default editor or other third-party tools.)
They both also use cPanel, which is the industry standard for control panel software.
Of course, as your site grows and brings in more traffic, you'll likely want to add extras.
Bluehost has a great range of add-ons, such as the option to add Google Workspace, premium SSL certificates, SEO tools, ConstantContact plans, CodeGuard, and more.
GoDaddy also has a number of add-ons, but not with quite the same range of useful features as Bluehost.
With both Bluehost and GoDaddy, you can upgrade to a more powerful hosting plan if you need more storage space or want to create multiple websites.
Winner: Bluehost
Customer Support
Bluehost and GoDaddy both offer 24/7 live chat support and phone support, with their phone numbers clearly posted on their websites.
Many hosts only offer phone support on premium plans (or make it tricky to access), so this really helps Bluehost and GoDaddy to stand out.
Most new website owners are going to have a question or issue for customer support at some point. I've found Bluehost's support team to be quicker to respond (and more helpful) than the GoDaddy support team.
Bluehost's team members are really supportive of new website owners. They'll be happy to answer questions about WordPress, as well as issues related to your hosting itself.
Winner: Bluehost
Pricing
Web hosting pricing can be a little confusing, so I'm going to break everything down so you can make the best choice on GoDaddy vs Bluehost.
Web hosts tend to quote prices per month, but you actually need to pay upfront for at least a year with both Bluehost and GoDaddy.
To get the lowest possible price with Bluehost, you need to sign up for 3 years in advance.
With GoDaddy, it's also cheapest (across 3 years) to sign up for 3 years in advance.
The equivalent monthly rate is lower when you choose to pay for 1 year in advance, but the price rises steeply after your first year. By paying for 3 years in advance, you lock in the savings.
Whichever type of hosting you opt for, the lowest price only applies for your first "term" – that's the year, two years, or three years you sign up for.
After that, you'll be paying the standard rate for your web hosting, normally either every year, two years, or three years, depending on what you initially chose as your term length.
The most important thing to understand is that you'll face a larger bill after your initial term.
Hopefully, by that point, you'll be making money from your website, but it's still important to be aware of the increased pricing.
Here's how the price looks for your initial term, depending on the term length you choose:

And here's how the price looks after your initial term:

So what does that mean in practice?
GoDaddy is cheaper versus Bluehost only for your first year, if you pay for one year
Bluehost is a lot cheaper for your first 3 years, if you take the 3 year option. It's still cheaper versus GoDaddy after your first term for each 3 year term after that.
If you're paying annually, once you get past your first year, there's no difference in price between the two.
Winner: Bluehost (so long as you pay up front every 3 years)
If you want to go with the most budget-friendly option out there, then check out these monthly hosting providers that'll allow you to pay month-to-month for your hosting.
---
GoDaddy vs Bluehost: Which Web Host Should You Choose Today?
Both Bluehost and GoDaddy are large, reputable, high-quality web hosts. Both have millions of customers and many years of experience hosting websites.
However, Bluehost has the edge over GoDaddy, with better customer support, more add-on options, and a more user-friendly experience. It's also an official WordPress host, making it a really good option for running a WordPress site.
Ready to get your website underway? Go and sign up for Bluehost or GoDaddy hosting now.
They'll guide you through each step—and you'll have your website up and running in no time.
Want to Build Your Website with WordPress?
Follow along with my guide—3 Easy Steps to Make a Website.
---