When you're creating your first website, it can be really challenging to decide which website host or even which website builder you want to use. You might be wondering which is better between Bluehost vs Wix.
There are dozens of options—and you might hear a lot of different advice from different people.
In this article, we'll take a detailed look at two options you might be considering: Bluehost vs Wix. I'll explain what both offer, dig into all the key features you need to know about, and I'll let you know which one I recommend.
Here's what we're going to cover. You can click on the quick links to jump straight to different parts of this article.
Bluehost vs Wix: Which Web Hosting Choice is Best (Comparison and Review) in 2022
Disclosure: Please note, some of the links below are affiliate links through which, at no additional cost to you, I'll earn a commission. Know that I only recommend products and services I've personally used and stand behind. When you use one of my affiliate links, the company compensates me, which helps me run this blog and keep my in-depth content free of charge for readers (like you).
An Important Distinction
Before we go too far, I need to explain a really important distinction between Bluehost and Wix. This is something that often confuses new website owners, so I'll break it down as clearly as possible.
Bluehost is a web hosting service. That means you can use it to build all sorts of different types of websites.
We're going to be focusing on using Bluehost to create a WordPress website (as that's the most popular option) — but the key thing to know is that Bluehost doesn't dictate how you build your website. They provide the hosting — web space — your website needs in order to exist.
There is a special Bluehost website builder for WordPress, but you don't have to use it unless you want to. The Bluehost site builder is just there for your convenience.
Wix is quite different. It offers a full all-in-one package website builder (the Wix software). Is Wix a web host?
While they do offer website hosting, this feature is integrated with their entire product package. That can seem really attractive when you're just starting out, because more of the work is done for you.
But it also comes with some serious limitations—and it can end up being surprisingly expensive in the long run.
Why I Recommend Bluehost
Chances are, the best choice for you will be Bluehost … not Wix.
With Bluehost, you can set up your site using self-hosted WordPress: the gold standard for website creation software.
WordPress is used by a staggering 42% of the web (and that figure keeps rising, year after year).
It's suitable for small and large websites, and has a massive community of fans and programmers who create "plugins" (extra software features) you can easily add on to your WordPress site.
This makes it easy to earn money from your website as time goes by.
With Wix, you're locked into their website builder — and it's a lot more limited than WordPress. Now, Wix can be a good option.
If you run an offline business (like a restaurant or physical store) or if you simply want an online home to showcase your work (maybe you're a designer) then a Wix site might make sense for you. It can be a bit quicker and easier to get set up than a WordPress site on Bluehost.
Another big issue to consider is the costs of blogging. To get comparable features on Wix as on standard WordPress, you'll need a paid plan from $14/month upwards.
This is a lot pricier than Bluehost, which offers plans that work out to less than $3/month.
So for most people, Bluehost is the best choice. But in case you're the exception to the rule, or in case you just want to know more, I've broken down everything you need to know.
Features
Let's take a look at the key features Wix and Bluehost offer.
Type of Hosting
With both Bluehost and Wix, you get shared web hosting. This means your website is stored alongside other people's sites on a big web server.
The server is connected to the internet 24/7, so your website can be accessed any time from anywhere in the world.
Bluehost lets you upgrade to dedicated hosting if you want to. This is a good option if your website starts to grow very large. Wix website hosting is always shared.
Winner: Bluehost
Domain Name
Your website's address is called its domain name, such as ryrob.com. Bluehost gives you a free domain name along with your web hosting.
If you've already purchased a domain name elsewhere, you can use it with your Bluehost plan at no additional cost.
With Wix, you have to upgrade to a paid plan (from $14/month) just to connect a custom domain. You do get a free domain with this plan, however.
Winner: Bluehost
Number of Websites
Bluehost limits you to a single website on their cheapest plan. You can pay a bit more to have unlimited websites — but you are limited to one free domain name.
Wix lets you create as many websites as you want under one account. However, you'll need to pay for a premium plan for each website that you want premium features for.
Winner: Bluehost
Storage Space
Each page on your website takes up a bit of storage space, just like images and files on your phone or computer.
If your website grows to have hundreds of pages and lots of big images, it'll need more storage space. If you just have a few pages and images, you won't need much.
The cheapest plan on Bluehost offers 50 GB of storage space. This is likely more than your website will need for months or years to come.
Wix gives you only 3 GB on the cheapest plan, which isn't much — you could run up against this limit very quickly.
Free Wix websites have just 500MB of storage space. (This is the equivalent of 0.5 GB.)
Winner: Bluehost
Bandwidth
Bandwidth measures how much data is transferred from your website's server to people's computers or mobile devices.
This means if you have lots of website visitors (or they all look at lots of pages on your site), you'll use a lot of bandwidth.
Bluehost offers unlimited bandwidth, though there is a fair usage plan in place. (You're not likely to have any problems with this unless your website is using a far larger amount of bandwidth than most websites.)
The cheapest paid plan on Wix offers only 2 GB of bandwidth. If your site has a sudden spike in traffic, you could end up exceeding this very quickly. If you have a free Wix plan, bandwidth is limited to 500 MB.
Winner: Bluehost
Control Panel
All web hosts have a control panel: an online dashboard where you can make changes to your web hosting settings.
Bluehost uses cPanel, which is standard in the web hosting industry. You can find lots of tutorials online to help you learn how to use it.
Wix has custom account settings that allow you to make changes, such as upgrading your paid plan. It doesn't offer all the options you get with full web hosting, like with Bluehost.
Winner: Bluehost
SSL Certificate
All modern websites should have an SSL certificate. This lets your website create a secure connection over HTTPS instead of HTTP.
While this was once only seen as important for online stores and banks, it's now the case that users expect almost all websites to use HTTPS — and Google prioritizes secure sites in their search results.
All Wix websites automatically include an active SSL certificate, even on the free plan. Bluehost also gives you a free SSL certificate from their cheapest plan upward: installing this is as simple as the click of a button.
Winner: Tie
CDN (Content Delivery Network)
A content delivery network makes your website faster. It has several different servers located around the world. When someone visits your website, they automatically access it from the server closest to them.
With both Bluehost and Wix, you get a free, built-in CDN.
Winner: Tie
Here's how those compare, using the cheapest Bluehost plan and cheapest Wix plan: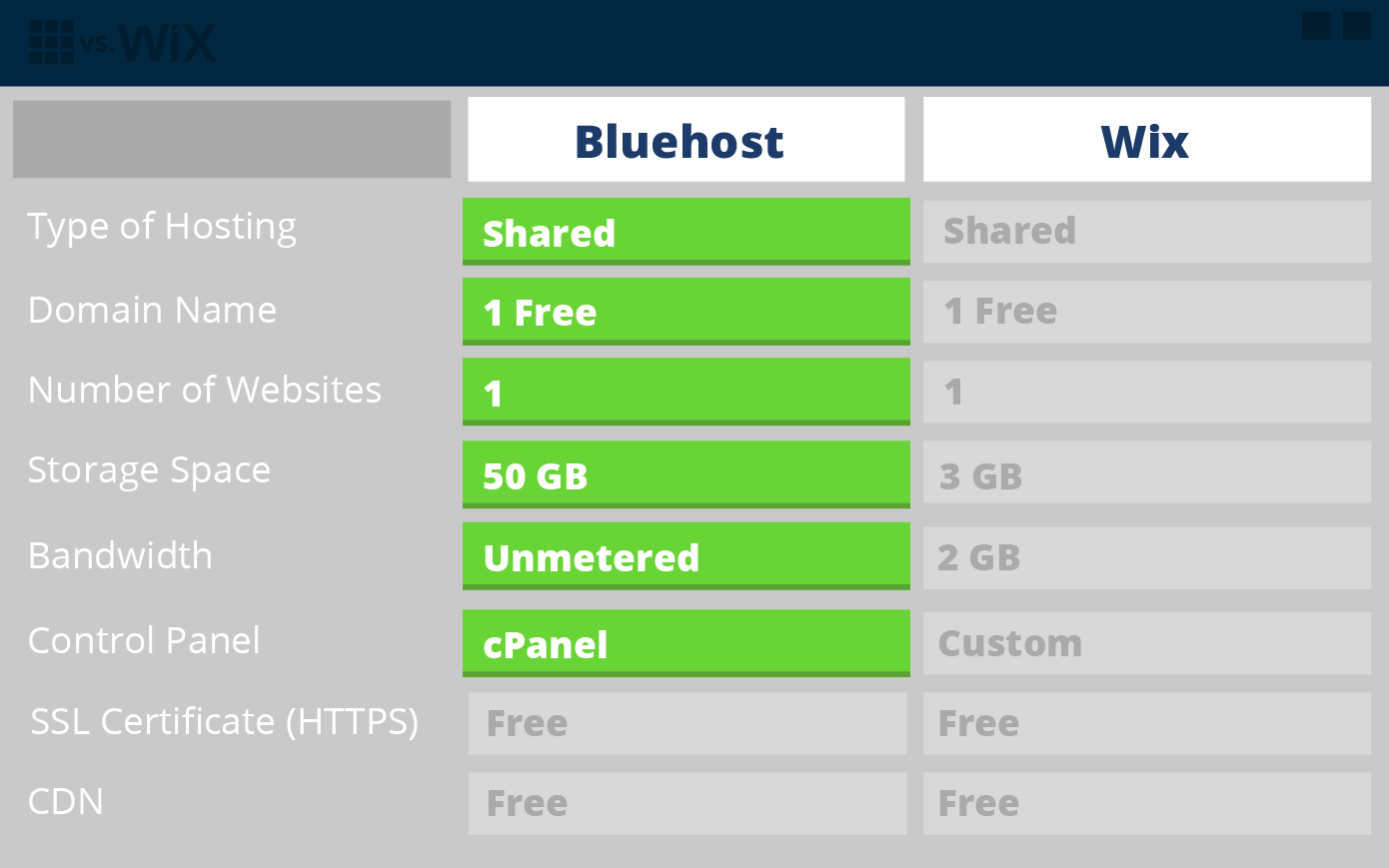 Performance
Your website's performance measures how fast it is (website speed) and whether users can access it at all (website uptime).
You want your web host to have very high uptime — if your website is unavailable, you'll lose potential prospects, customers, and regular visitors.
Bluehost has an uptime of about 99.98% (this means your website would be unavailable for about 1 hr and 45 minutes each year).
Wix's uptime is also very good, with an uptime of 99.99% over the past year (this means your website would be unavailable for about 50 minutes each year).
When it comes to speed, Bluehost's load speed is 0.72 seconds — really fast! Wix's load speed can be as low as 1.03 seconds. Wix will also give you recommendations on speeding up your website.
Winner: Tie
User Experience
It's very easy to sign up for web hosting with Bluehost. You'll need to install WordPress, but this is just a case of clicking on the option to do so: Bluehost does all the hard work for you.
Bluehost has lots of add-ons for you to choose from. They do tend to upsell you on quite a few extras.
It's fine to stick with the minimum necessary, especially if you're on a tight budget. You can always add more options or even upgrade to a more powerful hosting plan at a later stage.
Because Wix offers an all-in-one solution that combines web hosting with a website builder, it's very easy to get started with.
Some people feel it's simpler than WordPress because it doesn't offer so many options, but this can also be very limiting.
You can run an online shop with WordPress for free (using the free WooCommerce plugin). With Wix, you need to pay from $23/month to create an online store.
You can also pay for other extras, such as premium WordPress themes to use on your WordPress site or Wix premium templates to use on your Wix site. These are available from third-party sellers.
Ultimately, both Bluehost and Wix offer a great user experience. Which is "better" just depends on what you want from your website.
With Bluehost, you get far more flexibility (at a much cheaper price). With Wix, you can create your website very quickly and easily, but you don't have the same amount of control.
Winner: Tie
Customer Support
The Bluehost customer support team is outstanding. They're always happy to help you with WordPress related issues, as well as any difficulties you're having with Bluehost itself.
So, if you run into any challenges or need a bit of help setting up your site, you can get in touch with them.
Unusually for a web host, Bluehost offers phone support as well as live chat, so if you'd rather talk than type, you can.
The team is available 24/7, so it's easy to get help even if you're working on your website side business late at night or early in the morning.
Wix's "Customer Care" lets you submit a ticket or request a callback (available 24/7 in English). You can't call them on the phone yourself, though. They offer live chat in some locations, but not all.
Winner: Bluehost
Pricing
It can be really tricky to unpack web hosting costs, so I'm going to take you through everything you need to know here when comparing Wix vs Bluehost.
The first thing to be aware of is web hosts generally quote prices per month … even when you're paying per year (or more) upfront.
Most web hosts don't offer a true month-to-month plan, though Wix does. You'll pay more for this ($18/month vs $14/month paid for a year upfront) and you won't get a free domain name.
Note: Wix also offers a free plan, but this really is quite limited. Here, we're comparing the price of their cheapest plan ("Combo") with the price of Bluehost's cheapest plan.
It's also important to know Bluehost offers a lower price for your first "term" (one year, two years, or three years, depending what you sign up for). After that, you'll be paying their standard prices.
This can be a real bonus when you're just starting out, as you're likely to be on a tight budget. However, it can also be a bit of a shock after your first year (or two or three), if you're not prepared for it.
With Wix, you pay the same annual subscription year after year. It doesn't rise after your first year. However, you only get your domain name free for one year. After that, you'll need to pay for the domain registration.
Here's how the costs compare: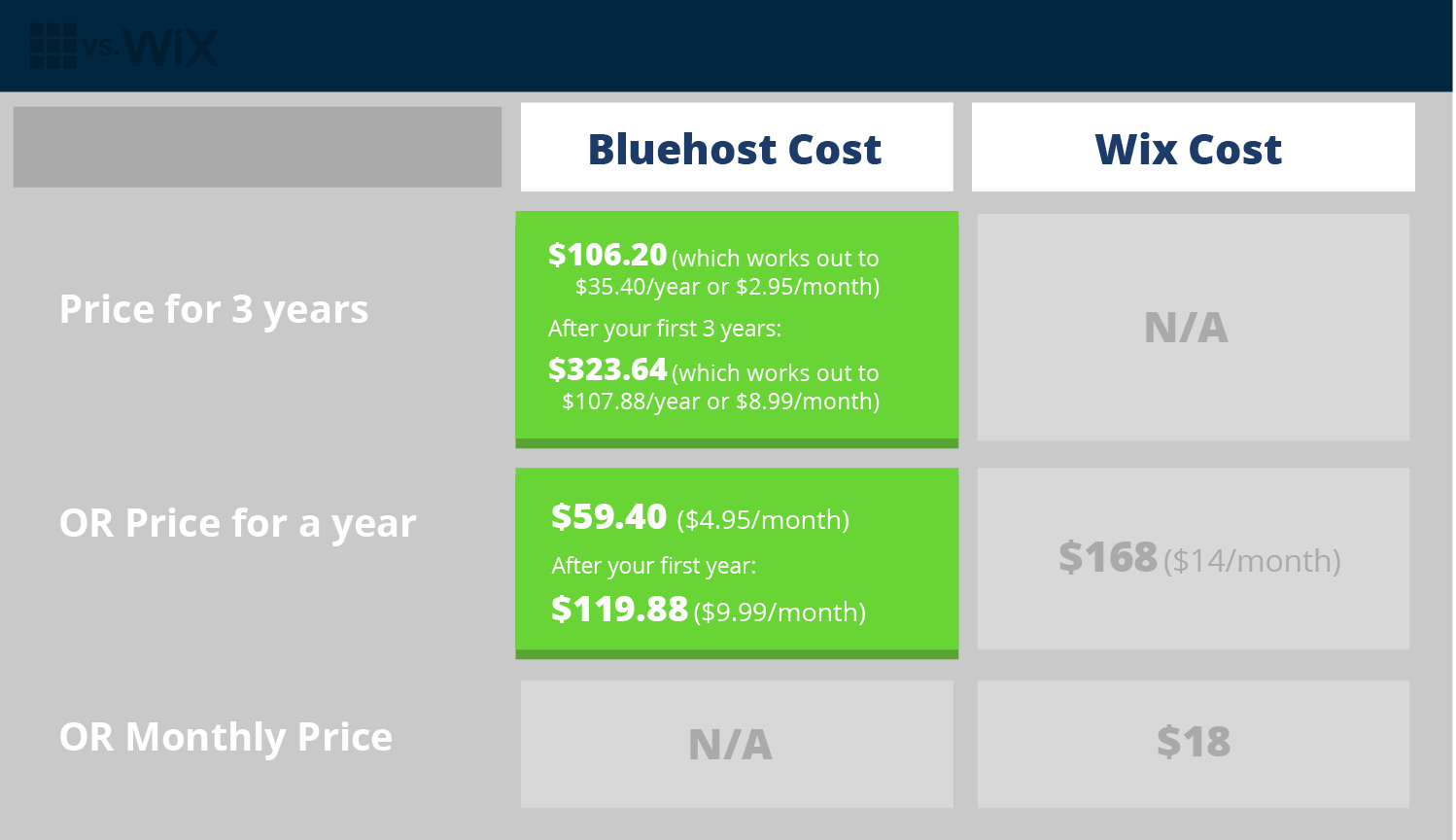 This means that:
Wix is the better option if you want a true month-to-month plan (but if you'd prefer to run WordPress and have a much cheaper monthly plan, opt for Dreamhost instead)
Bluehost works out much cheaper than Wix. The cheapest you can get Wix premium is $14/month, but with WordPress, you can pay just $2.95/month if you pay for 3 years upfront.
It's worth noting here again that Wix does have a basic free plan. If you simply want to try out creating a website without paying anything, that could be a good way to begin.
Bluehost offers a 30-day money-back guarantee, in case you change your mind. With Wix, you only get a 14-day refund period (you can request a refund after this point, though there's no guarantee you'll get it).
Winner: Bluehost
Bluehost vs Wix: Which One is Right For You
For most website owners, Bluehost (with self-hosted WordPress) is going to be the best option. It's cheap, very fast, very reliable, and gives you lots of flexibility as your site grows. Plus, their customer service team is wonderful.
In a few cases, Wix might be the right option for you. If you're not very confident with technology, you may find it reassuring to create a free website with Wix, just to see how the process works.
If you've tried WordPress in the past and didn't care for it, then you might also prefer the Wix website builder.
However, if you want to run an online store or even sell digital downloads from your site, you really should go with Bluehost. It's much easier (and cheaper) for you to monetize your website if you're using Bluehost vs Wix.