I had another productive month in November with new content output—publishing 4 new (extremely) long-form articles on blogging-related topics and updating several top-performers to keep relevant and fresh as we approach the new year. Blog income for the month came in at $24,616.56. Traffic was down a bit from the previous month, bringing in 357,114 readers and 452,496 unique sessions.
On the personal side of things, I've been taking quite a bit of time away from work to be with family for the holidays. Shelly and I went down and visited my family for a Thanksgiving feast in the mountains (with 60 of my closest relatives) and still found a little time to just relax. I've been craving a more meaningful break away from my work, so that'll be top of mind in December—to actually take real time away from the computer for a week or two 🙏
Now, let's dig into the numbers… I saw a little lift in blog income this month, landing squarely above my forecast range. I generated solid affiliate commissions from my guide about how to start blogging and got another consistent month of sales for my comprehensive blogging course, Built to Blog: How to Get Your First 10,000 Readers and Earn Six-Figures Blogging.
Overall, I generated $24,616.56 in blog income during November of 2019.
My website redesign project continues onward and is just about finished. To add to that, my annual ConvertKit bill also hits during November, so my expenses were up pretty significantly—though ultimately I end up saving more than $1,700 each year by opting for their annual billing option, so it's well worth the big hit once a year for an incredible tool that sits at the core of my business. Profit for November came in at $11,436.72.
The Forecast 🌤: For December, I'm anticipating a drop in blog income as my traffic still continues to stabilize from all the volatility this year and revenue lags behind a bit. I'm expecting to land in the range of $17,000 – $21,000. I'm expecting to hover in this general range of blog income as I keep investing heavily in driving up my organic search rankings for a few other key topics (one of which is starting to pay off big time already—but those affiliate commissions won't start hitting my books until February). Next month's expenses will again be above normal levels as I finish my website redesign and keep my writers busy.
Now, on to the details of my November blog income report…
Blog Income in November 2019:

$24,616.56
In these monthly reports, I track my total income every month, including each individual source of that income, and associated expenses with running my business. This is the good and the bad.
Next, I break down the traffic to my blog which heavily impacts my income, including what's performing best and how I'm working to drive in more readers. I also cover how many email subscribers I'm at, the number of new subscribers acquired during the month, and what that growth trajectory looks like.
Finally, I cover updates on any other side projects I'm working on for the month.
Want my income reports delivered straight to your inbox?
Join me today and I'll send you my weekly tips, strategies, and detailed insights on growing a profitable side business.
"*" indicates required fields
Now, let's do this.
Blog Income Breakdown for November 2019
Freelance Clients & Sponsorships
$19,324.41
$11,870.00
$0.00
$0.00
$800.00
$200.00
$14.77
$0.00
$59.75
$126.99
$101.56
$2,548.57
$145.00
$898.26
$283.50
$126.64
$0.00
$0.00
$0.00
$0.00
$554.61
$0.00
$39.90
$1,400.22
$79.96
$55.68
$14.00
$5.00
$0.00

Expenses Breakdown
Total Expenses
$13,179.84
Web Services: Hosting and Storage
Kinsta
OptimizePress (Renewal)
MoneyTalk Hosting
SmartWP Hosting
The Blogger Source Hosting
Dreamhost
Google Drive
Amazon Web Services
Cloudflare
$370.75
$301.50
$0.00
$10.00
$10.00
$10.00
$26.94
$12.31
$0.00
$0.00
$7,941.94
$7,731.00
$99.00
$0.00
$52.99
$10.00
$0.00
$14.99
$33.96
$0.00
Professional Services
Freelance Writers
WordPress Optimizations
Web Redesign Project
Virtual Assistant
Business Insurance
$4,185.49
$3,098.24
$1,000.00
$0.00
$0.00
$87.25
Travel, Office Supplies & Misc
AT&T Service Plan (iPhone)
Internet (Comcast)
Health Insurance
Transaction Fees
Co-Working
Uber and Lyft 🚖
Gas
$715.62
$116.52
$86.46
$371.34
$10.00
$13.00
$38.53
$45.81
Net Profit Breakdown
Now, on to my blog and email-related statistics.
2. Blog Stats for November 2019:

452,496 Sessions and 129,576 Total Email Subscribers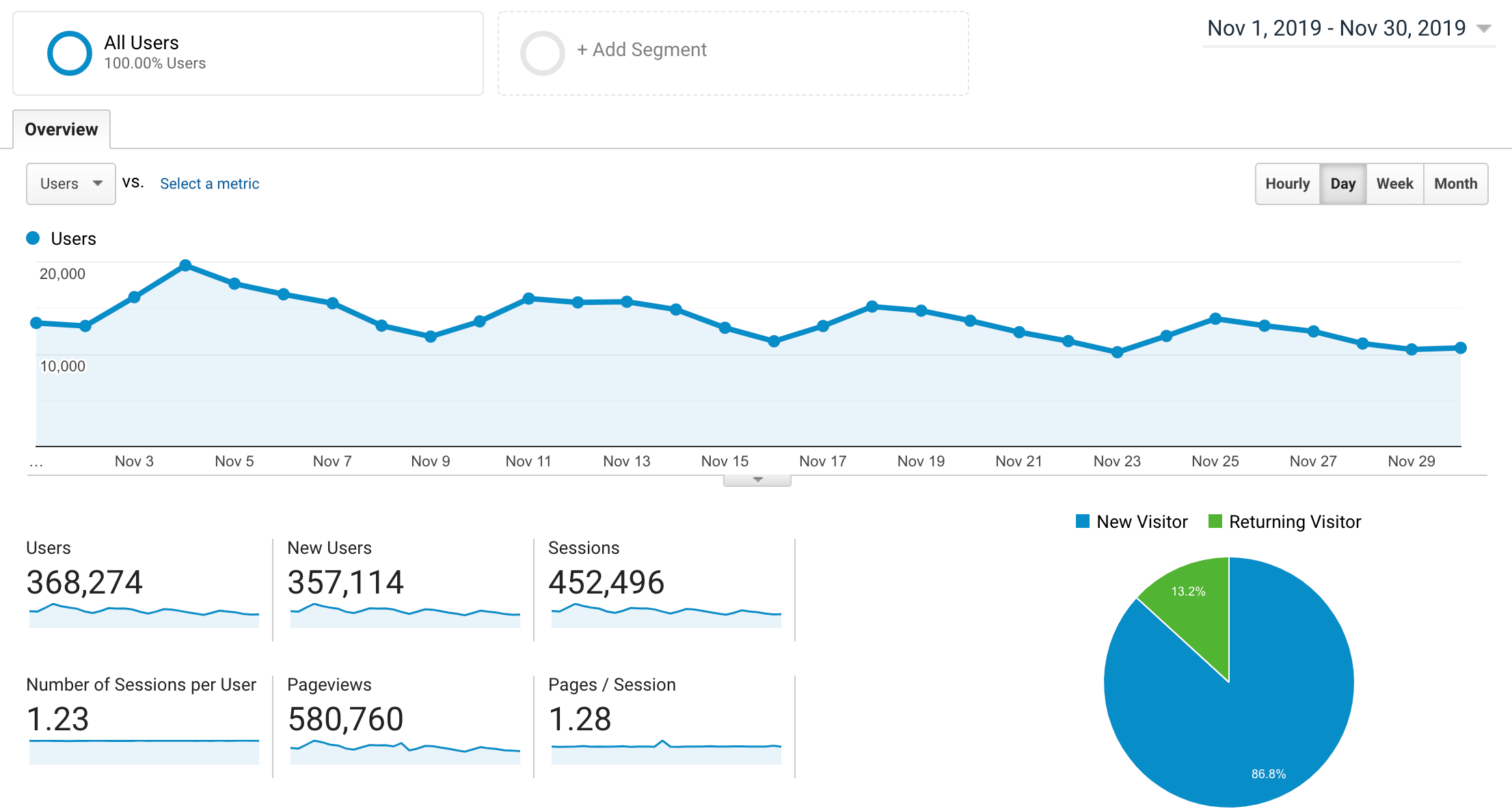 November saw a pretty marked drop in my overall blog traffic with a couple of algorithm updates that appeared to be rolled out early in the month. That sent me back to around September levels of traffic to most of my content, with the exception that a lot of my newest guides are starting to crawl up the first page of search results for their target keyword phrases (signaling huge potential over the coming months). There's been a lot of volatility with most of my competitive search rankings, but I'm confident in the investments I'm making right now. Still working hard on publishing a lot of in-depth blogging guides and generating more of my traffic from a higher number of articles—rather than relying on a small number of content pieces to bring in new readers.
I was down in Sessions from October by 17.12%, as my traffic took a bit of a beating this month. Pageviews dropped to 580,760.
Overall, I'm still up more than 62% in growth year over year compared to November of 2018, so I'm not too worried. That increase is tied to my most trafficked posts still continuing to deliver strong traffic from organic search and the publishing of more new content that's climbing the organic search rankings as well. I'm still in a pretty good position heading into 2020.
Here are my top 15 trafficked posts from November, ranked in descending order of which drove the most readers:
November saw a leveling off of the major growth in traffic I'd seen last month to my 26,000+ word guide, How to Start a Blog and Make Money—which is still holding onto decent rankings in organic search for competitive terms like how to start a blog, how to blog, and other related terms.
Still, as more readers land on this post, more are joining my free course, How to Build a Blog in 7 Days and are offered an opportunity to join my more comprehensive paid Built to Blog course that'll help them level up their blogging journey even more.
Also in November, I published four new long-form articles for my growing audience of bloggers:
As we're approaching the end of the year, I started spending more time updating my most successful guides—in order to keep them fresh, up-to-date and as impactful as possible:
My plan is to (again) keep publishing a high volume of in-depth content for bloggers this month, with the goal of clearly signaling to Google that my site is primarily about blogging and expecting that to keep delivering me more readers looking for tactical blogging advice over the long haul.
Blogging is a long game, don't forget it.
2. Email Subscribers.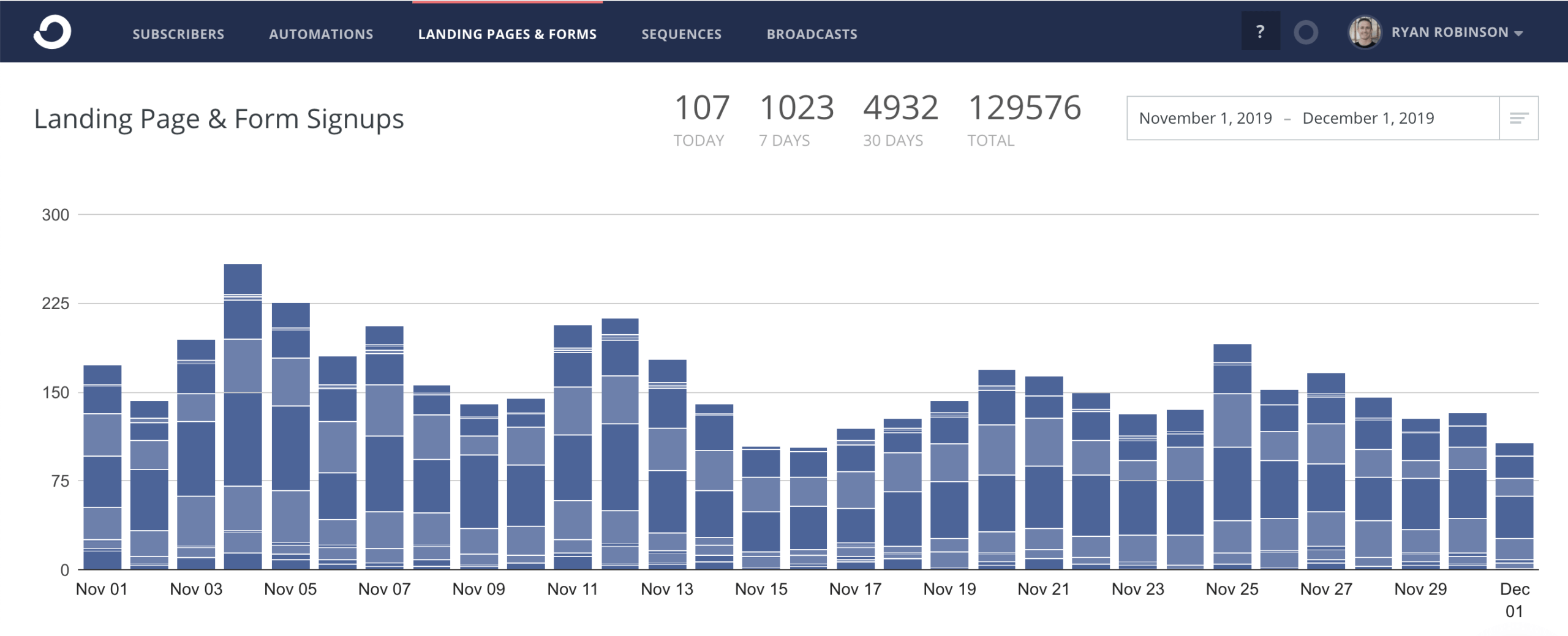 I use ConvertKit to manage my email subscriber community and deliver my emails.
November saw the addition of 4,932 subscribers to my community with my total email list growing to 129,576 subscribers 🎉
This was a pretty decent dip in new subscribers compared to the previous month with some (likely short-term) traffic swings I saw during this month.
Still, many of my new subscribers came from my influx of blogging-related content and free downloads—which is my ultimate goal to keep focused on. Much of my new subscriber growth continues to be fueled by my free course, Build a Blog in 7 Days which is well-optimized for both affiliate revenue—and for offering my more advanced paid course (Built to Blog).
That's it for my November blog income report.
For December, I'm predicting blog income to drop a bit, landing around $17,000 – $21,000 as my traffic rollercoasters around the holidays. I've been seeing lots of mixed signals in my search rankings and traffic over the past couple of months—but my intense focus on releasing a lot of in-depth blogging content will pay off in the long run. Plus, that traffic will be increasingly landing on better-optimized content for my business as time goes on.
Another focus this month is to continue my (admittedly slow) update to all of the content in my comprehensive Built to Blog course with brand new lessons, refreshed videos & written lectures and even more interviews. After the updates are complete, I'll be doing a relaunch of the course and increasing the price as the value is going up dramatically.
If you're looking for some additional reading to help grow your own blog (on the side), I recently updated my 26,000 word free guide to building and scaling a profitable blog right here that I'd love for you to read 😊