March was yet again another great month for me personally, filled with a healthy amount of time away from my computer and a few days each week dedicated to filming video content for the massive overhaul I completed with Built to Blog. I continue to be super grateful that I don't need to work all day/every day, and I've still been creating a lot of space for self-discovery, reading, trail running and rigorous exercise. On the blog, my top-line statistics were all down a bit (aside from revenue). Income came in at $35,218.31 and I brought in 106,006 readers—with 149,830 unique sessions.
Taking a closer look at the numbers for March… blog income was up significantly over the previous month. I'm still seeing consistent commissions from my guide about how to start a blog and ramping up longer-term oriented gains with other monetized articles. During the month of March, I relaunched my comprehensive blogging course, Built to Blog: How to Get Your First 10,000 Readers and Earn Six-Figures Blogging, packed full with all new content, updated lessons and more material than ever before. You can join the waiting list for an invite to the next enrollment period.
Overall, I generated $35,218.31 in blog income during March of 2021—while once again spending very little time in actual work mode, which shows me just how much my blog has been one of the most rewarding investments I've ever made… and something I'm continually very grateful for.
Expenses remained super low for the month while I focused on my Built to Blog course relaunch, with profit for March coming in at $33,586.40.
The Forecast ☀️: For April, I'm expecting blog income to dip a good amount, coming down from this month's surge in course enrollments, landing my revenue somewhere between $16,000 – $20,000. I'm anticipating I'll stay in that general range over the coming months, while staying focused on updating my most important content, implementing SEO improvements and keeping a cadence of new content coming out with the goal of rebounding my traffic over the coming months. Business expenses will remain light for the coming months.
Disclosure: Please note that some of the links below are affiliate links and at no additional cost to you, I'll earn a commission. Know that I only recommend products and services I've personally used and stand behind. When you use one of my affiliate links, the company compensates me, which helps me run this blog and keep all of my in-depth content free of charge for readers (like you).
Now, on to the details of my March blog income report…
Blog Income in March 2021:

$35,218.31
In these monthly reports, I track my total income every month, including each individual source of that income, and associated expenses with running my business. This is the good and the bad.
Next, I break down the traffic to my blog which heavily impacts my income, including what's performing best and how I'm working to drive in more readers. I also cover how many email subscribers I'm at, the number of new subscribers acquired during the month, and what that growth trajectory looks like.
Finally, I cover updates on any other side projects I'm working on for the month.
---
Want my income reports delivered straight to your inbox?
Join me today and I'll send you my weekly tips, strategies, and detailed insights on growing a profitable blog.
"*" indicates required fields
---
Now, let's do this.
Blog Income Breakdown for March 2021
Freelance Clients & Sponsorships
$17,228.68
$9,400.00
$221.50
$0.00
$4,773.95
$400.00
$0.00
$37.26
$0.00
$93.26
$147.22
$240.09
$465.78
$29.00
$379.65
$39.00
$121.80
$0.00
$0.00
$0.00
$241.25
$7.50
$0.00
$7.00
$138.60
$0.00
$0.00
$0.00
$8.70
$42.52
$102.72
$200.00
$0.00
$0.00
$0.00
$0.00
$0.00
$20.00
$63.94
$47.94
$0.00

Expenses Breakdown
Web Services: Hosting & Storage
Kinsta
SmartWP Hosting
RightBlogger Hosting
Dreamhost
Google Drive
Cloudflare
$488.23
$300.00
$25.00
$25.00
$10.95
$19.98
$107.30
$389.88
$0.00
$99.00
$0.00
$52.99
$10.00
$30.00
$14.99
$0.00
$30.00
$0.00
$152.90
Professional Services
Freelance Writers
Technical Consultant
WordPress Development
Rev (YouTube Transcriptions)
Business Insurance
$131.41
$0.00
$0.00
$0.00
$0.00
$131.41
Travel, Office Supplies & Misc
AT&T Service Plan (iPhone)
iPhone 12 Payment Plan
Internet (Comcast)
Amazon (Office Supplies)
Health Insurance
Transaction and Processing Fees
$622.39
$113.35
$43.66
$0.00
$41.88
$423.50
$0.00
Net Profit Breakdown
---
Now, on to my blog and email-related statistics for March 2021.
---
2. Blog Stats for March 2021:

149,830 Sessions and 145,438 Total Email Subscribers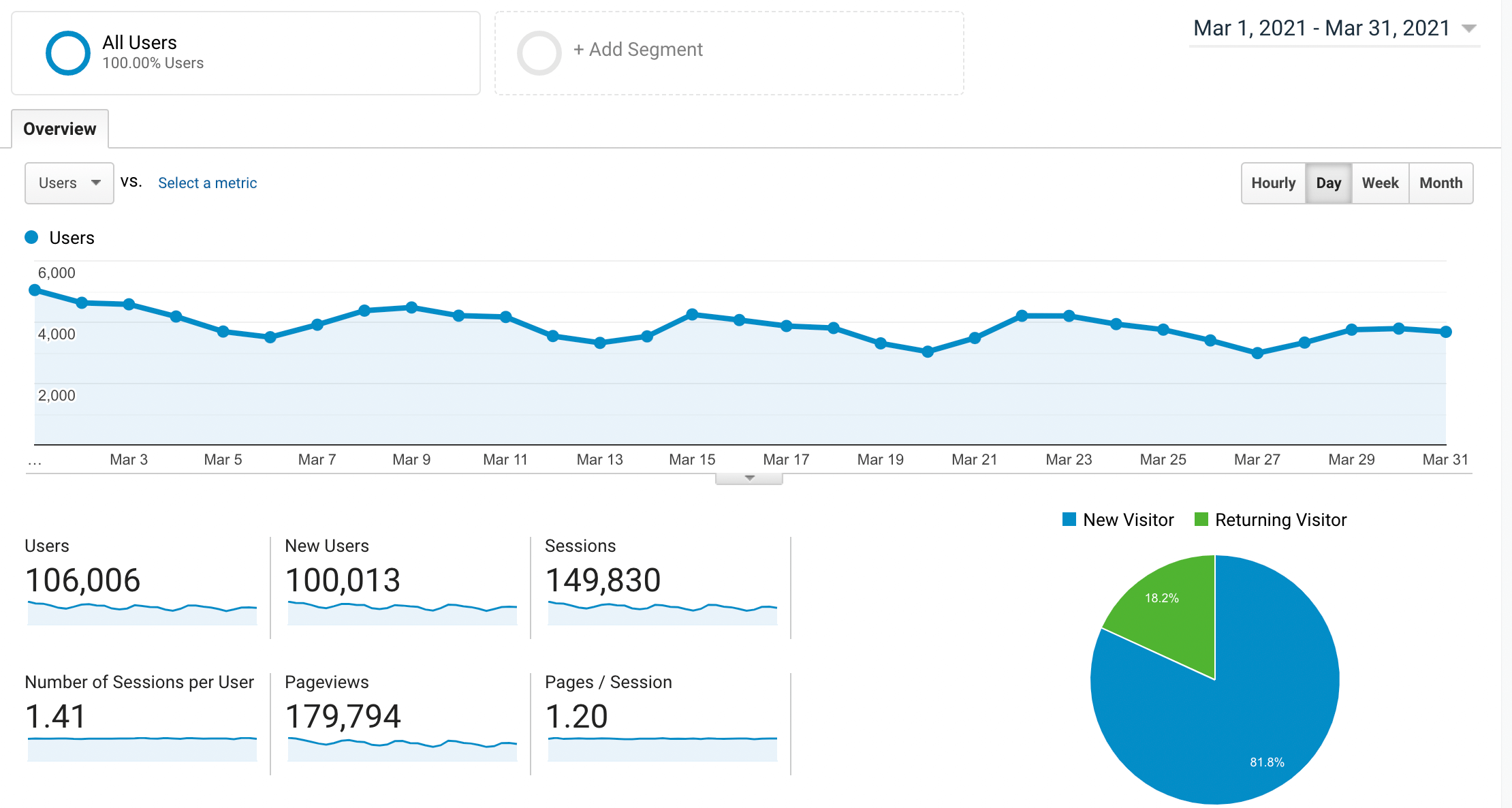 March saw a bit of a drop in overall traffic compared to the previous month, hovering around some of the lower readership numbers I've seen on my site in at least a few years. While I've mentioned a few times recently that this is due largely to increased volatility in some of my key organic search rankings (fueled by several major Google algorithm updates over the past year), I'm now spending most of my work time on experimenting with technical SEO tweaks and exhaustive content updates to halt the decline I've been seeing… which seems (for now) to have slowed in pace.
I've mentioned in the last couple of income reports that I'm carefully monitoring this activity, but it's also important for me to hold the context that short-term volatility has always been the norm within this extremely competitive niche, and I know exactly what works best for maintaining high-ranking content over the long-term… which is comprehensive, useful content 😊
Ultimately, I'm grateful that I can zoom out to see a clear pattern (with 8+ years of traffic history) that peaks and valleys are the norm. With that in mind though, it requires a healthy dose of proactivity and willingness to experiment in order to rebound from the low points. I'm continuing to implement some key SEO improvements that I can identify—of which I rely in part on Google's PageSpeed Insights Tool for actionable insights and specific fixes—while regularly updating my key articles to make sure they stay fresh and helpful for my readers.
As we've talked a lot about in these reports, I'm the first to tell you that blogging is a long game… and short-term punches can't discourage you from investing in creating resources that'll lead to a brighter future. One of my takeaways from this decline I've seen, is that I need to more thoughtfully diversify traffic sources (away from primarily Google search) and revenue sources (away from affiliates as my top channel).
Here are my top 15 most trafficked posts from March, ranked in descending order of which drove the most readers:
Throughout the past month still, readers to my 25,000+ word guide, How to Start a Blog and Make Money have remained surprisingly steady—which still holds rankings in organic search for competitive terms like how to start a blog, how to blog and such. As usual, when more readers land on that guide… more are joining my free course, How to Build a Blog in 7 Days and they're offered an opportunity to join my more comprehensive paid Built to Blog course that'll help level up their blogging skills even more.
In March, I actually didn't publish any new articles (for the first time in years), as 100% of my time went to relaunching my Built to Blog course & filming impactful new content to keep the course fresh & relevant for students.
I'm continuing to find that the majority of my time spent on content goes toward maintaining my existing library of 300+ articles. It's a lot of work updating and expanding these guides on an ongoing basis, so new long-form content will come a lot slower this time of year as I focus mostly on 2021 content updates for the next couple of months.
This is all with the continued mission of signaling to Google (and other search engines) that my blog's niche is clearly focused around the topic of blogging and I'm expecting that intense focus to keep delivering more readers looking for tactical blogging advice over the long-term… this is an investment for the long game!
2. Email Subscribers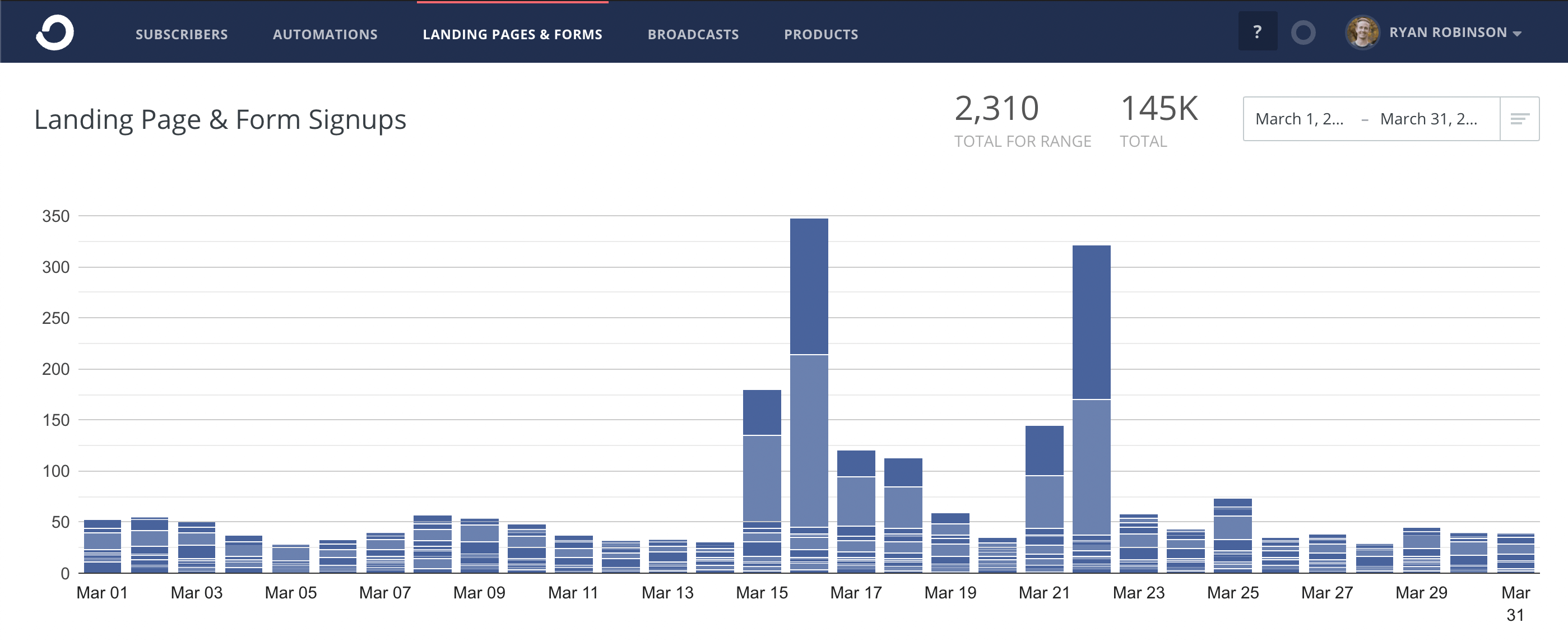 I've used ConvertKit to manage my email subscriber community and deliver my emails for several years now and I absolutely love the product.
March saw the addition of 2,310 subscribers to my community with my total email list growing to 145,438 subscribers.
This was an uptick in email subscriber growth from February, which is a positive signal for now. Email list growth is directly impacted by a few of my key articles getting less traffic than than they'd received in previous months (due to the many Google algorithm updates, which sent fluctuations in organic traffic), so I'm expecting fluctuations to mirror my traffic rises and dips over the coming months.
As with previous months though, most of my new email subscribers came from the influx of blogging-related content and free downloads I have across my site (like my blog business plan, blogging books, outreach email templates and blog post templates)—which is my ultimate goal to remain focused on, as that's the niche I'm all in on serving for the years to come.
A significant chunk of my new subscriber growth continues to be fueled by my free course, Build a Blog in 7 Days which is well-optimized for both affiliate revenue—and for offering my more advanced paid course (Built to Blog) for those looking to get more hands on help in growing their blogs.
That's it for my March 2021 blog income report
As we touched on in the beginning of this report, I'm predicting blog income to hover around the same general range I'm in right now for the next couple of months, landing somewhere between $16,000 – $20,000 in March as I experience fluctuations in traffic and corresponding affiliate payouts that are directly related to the volatility in traffic I've been seeing for the past several months.
If you're looking for some additional reading to help grow your own blog, I'm always updating my ultimate guide to building and scaling a profitable blog right here that I'd love for you to read 😊