Without hosting, it's impossible to launch a blog… so, how much does web hosting cost? On average, web hosting costs anywhere from $2.59/mo all the way up to hundreds per month or more—depending upon the type of hosting plan you need (which we'll explain in this guide).
Whether you want to start a blog or get an existing business online with a professional-looking website, there's one paid aspect of a website that you can't avoid—web hosting costs. How much does web hosting cost?
If you're in the process of building a website, you've probably considered that question already… and have found a million different answers. Well, today I'll help you get the right answer to that question—for your own specific needs. I'll also help explain why there are so many answers out there to a seemingly simple question, but first I want to cover a couple of basics (click to expand each question and see the answer).

What is Web Hosting? Why Do You Need to Pay for it?

Before we look at how much web hosting costs, let's first examine what web hosting is. So what is web hosting?

Without getting into complex blogging terms, web hosting is simply a service that allows you to publish your website onto the Internet. A web host, therefore, is a company that provides you the infrastructure (technology) needed for your website to be viewed on the Internet.

Websites are "stored" on powerful (and very expensive) computers called servers. When a user wants to view your website, they simply type your website address into your browser. Alternatively, your website can also show up for search queries related to what the user is searching for. Clicking on your address, also known as a uniform resource locator (URL) then takes the reader to your website's location on the host server.

Aside from simply hosting your website, the best hosting plans also include other key features to help run your blog more effectively, like:

Security
Speed
Reliability/uptime
Support
Free Web Hosting vs Paid Hosting: Which is Better?

While it's certainly possible to get free web hosting to power your site, is it really a good decision to make as a new blogger (or website owner)?

Free web hosting, while technically "free" can only take you so far. It could be the right choice if you have no budget to spend on blogging costs and are still testing the waters with blogging in general, but you'll be pretty restricted in what you can do with your site. The moment you decide to seriously pursue blogging as a way to build a real business, you'll need to invest in paid web hosting—before you hope to monetize your blog. The advantages of paid web hosting over free web hosting include:

Unlimited ways to monetize your blog without restrictions
Stronger security features
Faster and more powerful servers
Scalability
More storage
Website backups
Better uptime

While paying for web hosting costs may include spending a little more to get your website online, it's definitely an investment worth making.
Now that we've touched on a couple of foundational questions around web hosting, let's get back to our main topic for today—how much does web hosting cost?
How Much Does Web Hosting Cost? 7 Web Hosting Costs Compared (2020)
Disclosure: Please note that some of the links below are affiliate links and at no additional cost to you, I'll earn a commission. Know that I only recommend products and services I've personally used and stand behind. When you use one of my affiliate links, the company compensates me, which helps me run this blog and keep all of my in-depth content free of charge for readers (like you).
To understand the real value of web hosting (and thus appreciate the associated costs you're taking on), it's important to look at the different types of web hosting options available to you. Know that for the vast majority of new bloggers and website owners, the most affordable shared hosting plan (like this one from Dreamhost at $2.59/mo) is almost always going to be the best starting point.
These quick explainers however, will also help you understand why there are so many different prices out there for web hosting—so if you want to learn more about the different types of web hosting on the market today, then click to expand each of the boxes below, or scroll down to keep reading:

Shared Hosting (What is Shared Web Hosting?)

The most popular type of hosting for new bloggers, hobbyists, side hustlers and small businesses, is shared hosting.

Shared hosting is a type of web hosting where many websites are hosted on a single server (thus technically sharing the same server resources). And because they all share the same resources, the cost of shared hosting is lower for everyone, making it one of the most cost-effective ways to get your website up and running.

Pros of Shared Hosting

Apart from being budget-friendly, shared hosting also has other advantages including:

Low maintenance
Easy to self-manage your hosting plan
Scalable as your blog grows

Cons of Shared Hosting

As good as it sounds for your wallet, shared hosting does have its drawbacks too—with the main ones being that sharing a server:

Makes it more vulnerable to malicious attacks
Gives you limited access to resources
Websites can slow down when server resources are strained

If you don't have much experience with blogging or building a website yet, shared hosting is definitely your best option that'll come with out-of-the-box settings already pre-configured so you can get straight into writing blog posts for your new site.
Dedicated Hosting (What is Dedicated Web Hosting?)

As the name suggests, dedicated hosting means your website is the only site hosted on a particular server. This means having full and unlimited access to the resources of the server.

Pros of Dedicated Hosting

Other advantages of dedicated hosting include:

Enhanced performance and security
Flexibility (you can easily customize the server settings to suit your specific needs)
Unique IP address
Capability to handle large volumes of traffic without the risk of going down

One of the biggest advantages of dedicated hosting is that your website won't be impacted by other websites, as is the case with shared hosting

Cons of Dedicated Hosting

Before you make up your mind and settle for dedicated hosting, here are some disadvantages of dedicated hosting you need to know.

Higher set up and maintenance costs as you'll be footing all of the expenses alone
Technical knowledge is needed to install software and perform other daily tasks needed to ensure your website functions smoothly

Dedicated hosting is more suited to established businesses with budgets to handle the cost, as well as those who have very high volumes of traffic to their blogs.
Virtual Private Server: VPS Hosting (What is VPS Web Hosting?)

Virtual private server (VPS) hosting is another popular type of web hosting you can consider for your powering your site. Using virtualization technology, VPS hosting creates an environment that mimics a dedicated server, but within a shared hosting setup.

In essence, VPS hosting is a hybrid between shared and dedicated hosting.

Pros of VPS Hosting

Being a hybrid hosting solution, VPS hosting has several advantages, some of which include:

Faster and more reliable
Better privacy than you get with shared hosting
Dedicated resources
Customizable
Easy to scale as your traffic grows

Cons of VPS Hosting

It's really difficult to fault VPS hosting, as it brings together the best of both worlds. However, nothing is perfect. Here are some imperfections you'll have to live with if you opt for VPS hosting:

More expensive than shared hosting
Requires more technical knowledge to manage
Performance can be affected if your site (or another website on the server) exceeds resource allocations

VPS hosting is more suited for websites that have exceeded the traffic limits of shared hosting plans, yet still don't need all the resources and costs of a dedicated server. It's also great for small businesses and websites that need higher levels of security and better stability right from the start.
Cloud Hosting (What is Cloud Web Hosting?)

Cloud hosting is a relatively new type of web hosting that uses multiple servers to host a website. These servers act as a "cloud" and help balance the load on the servers, thereby helping to maximize the hosting platform's uptime.

Pros of Cloud Hosting

Because cloud hosting gives your website access to several servers, it comes with a number of advantages. Some notable ones include:

Flexible (and affordable) pricing
Higher uptime and reliability
Easy-to-scale resources
Higher speeds and better performance

Cons of Cloud Hosting

Cloud hosting doesn't have many disadvantages to be honest, aside from the fact that it's a bit more expensive than shared hosting.
Now that we have an understanding of the different types of web hosting available on the market (and what's best for your hosting needs), we can move into answering our question of the day—
how much does web hosting cost?
How Much Does Web Hosting Cost? 2020 Pricing Comparison of 7 Web Hosts
Now let's dig in. How much does web hosting really cost in 2020?
We're going to quickly run through the most reputable players in the web hosting industry and see how much they charge for their hosting services. We'll also look at some major pros and cons of each, so that you can be in a better position to make an informed decision about which is best for you. We'll be comparing web hosting costs for different service providers—breaking them down into shared hosting, dedicated hosting, VPS hosing and cloud hosting options where they're available.
1. Dreamhost Web Hosting Costs: $2.59/mo+
On your quest to find out how much web hosting costs, one of the first hosting companies you'll find is Dreamhost. That's because Dreamhost has been around for quite a long time—since 1996 to be exact. Not only that, but as a web hosting company, Dreamhost has proven to be one of the most reliable and affordable hosting solutions around for decades.
As a testament to its reliability, Dreamhost boasts of being home to over 1.5 million websites and blogs. It's also important to note that they're also one of only 3 hosting companies recommended by WordPress themselves. So how much does web hosting cost when you go with Dreamhost?
Dreamhost Shared Web Hosting Cost: $2.59/mo+
Dreamhost's shared hosting plans come in 2 flavors: Shared Starter and Shared Unlimited.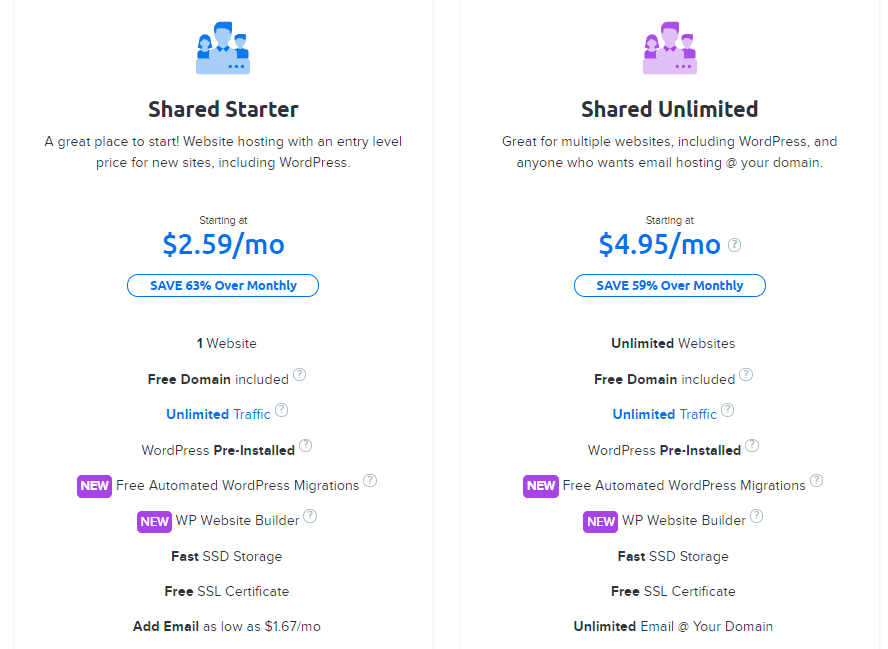 When it comes to shared hosting, you can't go wrong with Dreamhost's shared plans. Starting at only $2.59/month, this is the absolute best value you can get on a budget-friendly hosting plan.
Dreamhost Dedicated Web Hosting Cost: $149.00/mo+
Here's a quick look at Dreamhost's dedicated hosting offering (reserving your own high-performance server):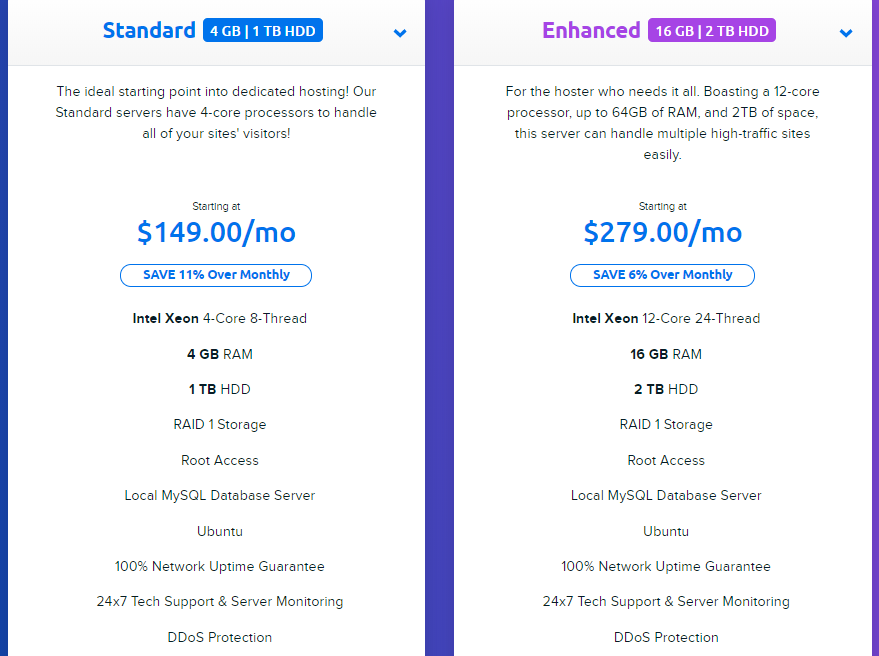 These are just 2 of the more popular dedicated hosting plans from Dreamhost, but they offer plenty more in-between.
Dreamhost VPS Web Hosting Cost: $10.00/mo+
As for VPS hosting, Dreamhost offers several different packages for you to choose from: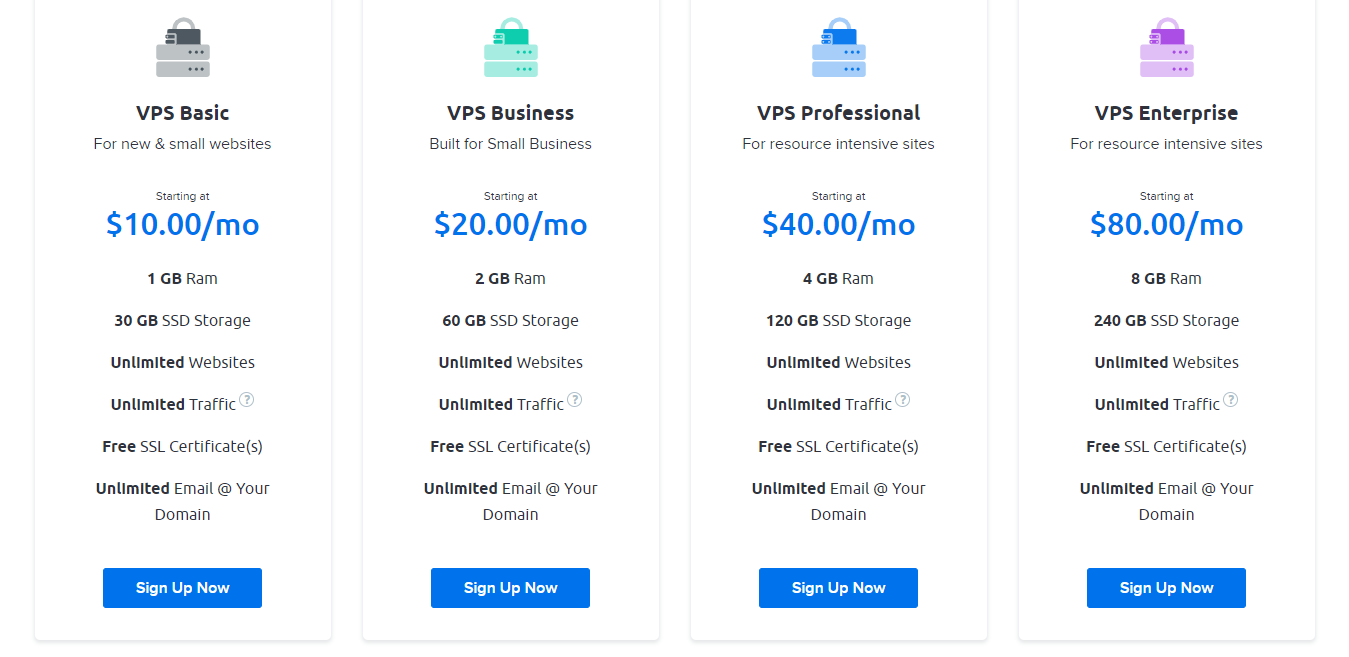 Not only do these VPS hosting plans offer easy scalability as your website grows, but includes features like unlimited traffic and free SSL certificates to make the deal even sweeter.
Another advantage with Dreamhost is that they're one of the few web hosting companies that actually offer a true month-month payment plan (and the lowest prices out there for high-quality service), ranking them in the top spot on my list. You can head over and learn more about Dreamhost's plans right here.
2. Bluehost Web Hosting Costs: $2.95/mo+
Bluehost is another veteran player you'll probably have heard of as you research hosting options. Founded way back in 1996, the company certainly knows what they're doing when it comes to offering the best web hosting services. It even says it on their homepage:
If you're wondering how much web hosting costs when you get it from Bluehost, here's a brief breakdown to give you an idea.
Bluehost Shared Hosting Cost: $2.95/mo+
One of the biggest advantages Bluehost has over other hosting services, particularly when it comes to shared hosting, is the wider selection of plans they offer:
With such an array of options to choose from, it's easy to find a shared hosting plan that not only suits your budget, but satisfies your web hosting needs as well.
Bluehost Dedicated Hosting Cost: $79.99/mo+
When it comes to dedicated hosting costs, Bluehost offers 3 out-of-the-box plans to choose from: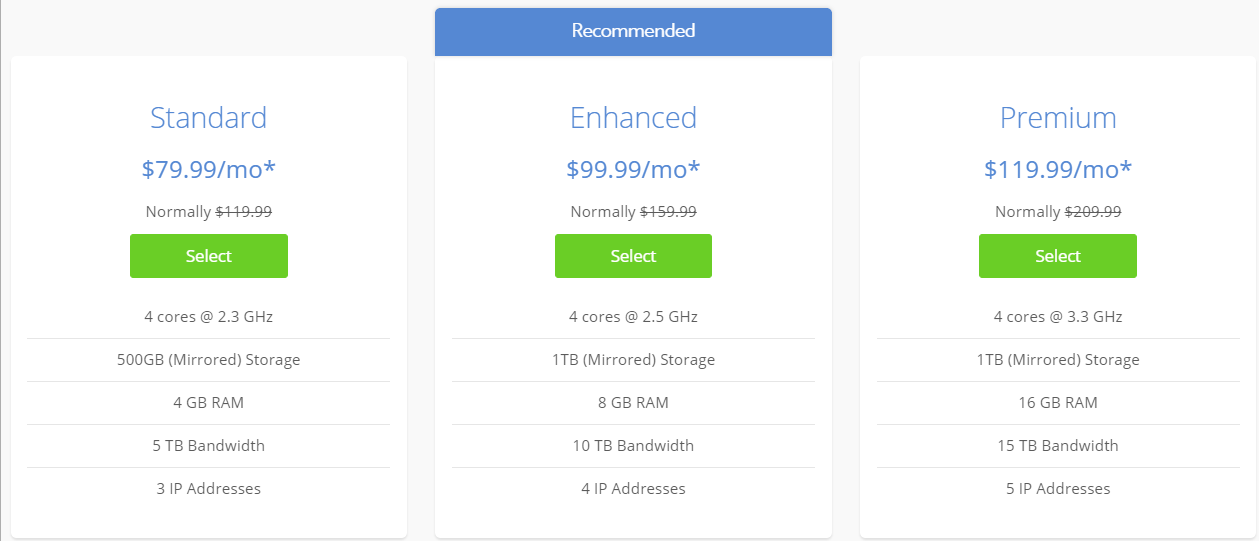 While the number of dedicated hosting plans is relatively sparse, most small business websites can actually easily fit into one of these plans without taxing their server resources. In fact, Bluehost did very well by structuring their plans this way, as it makes it easier for customers to choose the right plan without feeling overwhelmed by the number of options others offer.
Bluehost VPS Hosting Cost: $18.99/mo+
How much does web hosting cost when you get a VPS plan from Bluehost? Here we go: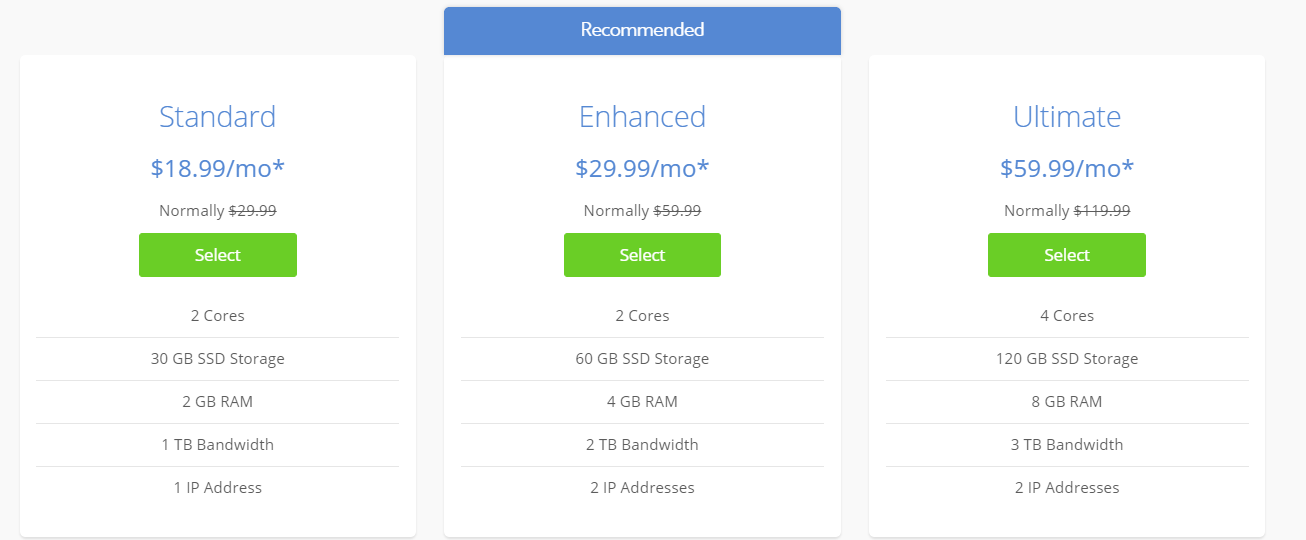 Again, Bluehost takes the headache out of choosing from several different hosting plan options—and simply packages their VPS hosting into three simple offerings. However, these three packages offer much more than you'll normally get from other vendors. Look at the specifications and you'll see that Bluehost's VPS plans aren't in any way limited in performance or functionality either.
Having been around since 2003, Bluehost is one of the most established web hosting companies that's developed exceptional solutions (and customer support) that comes in as one of the most affordable. It's no coincidence they host more than 2 million websites to-date. You can check out all of their hosting options and get started right here.
3. HostGator Web Hosting Costs: $2.75/mo+
Everyone in the industry knows (and loves) the little blue and yellow alligator that's become synonymous with web hosting. HostGator is another web hosting brand that's usually mentioned in the same breath as web hosting itself.
Founded in 2002, this company has hosted over 8 million websites throughout their history, and has been a fan favorite for quite a long time. And that's mostly because of their budget-friendly web hosting plans that start out at just $2.75/mo. Let's check them out, shall we?
Hostgator Shared Hosting Cost: $2.75/mo+
From as low as $2.75/mo (and up depending upon your needs), Hostgator's shared hosting plans are some of the most affordable on the market:
Coming with unmetered bandwidth, a free domain and other complementary goodies Hostgator's shared hosting plans makes for quite the irresistible bargain. Top that off with $100 in Google Adwords credits and Hostgator makes for one of the best web hosting solutions for new bloggerss and small businesses getting online for the first time.
Hostgator Dedicated Hosting Cost: $89.98/mo+
While Hostgator's dedicated hosting plans are affordable when compared to others, they come with the disadvantage of metered storage. And for the first 2 plans, slower HDD storage is used, unless you opt for SSD storage with their Power Server—but that will mean only 512GB of overall storage space, which is fine for small-to-medium sized sites.
If you're running a relatively simple blog or a website, you'll have enough resources to power your website with little to no difficulty.
Hostgator VPS Hosting Cost: $19.95/mo+
Need more hosting power to ensure your website runs smoothly enough to give your customers a great experience? Hostgator's VPS hosting might just be what you're looking for: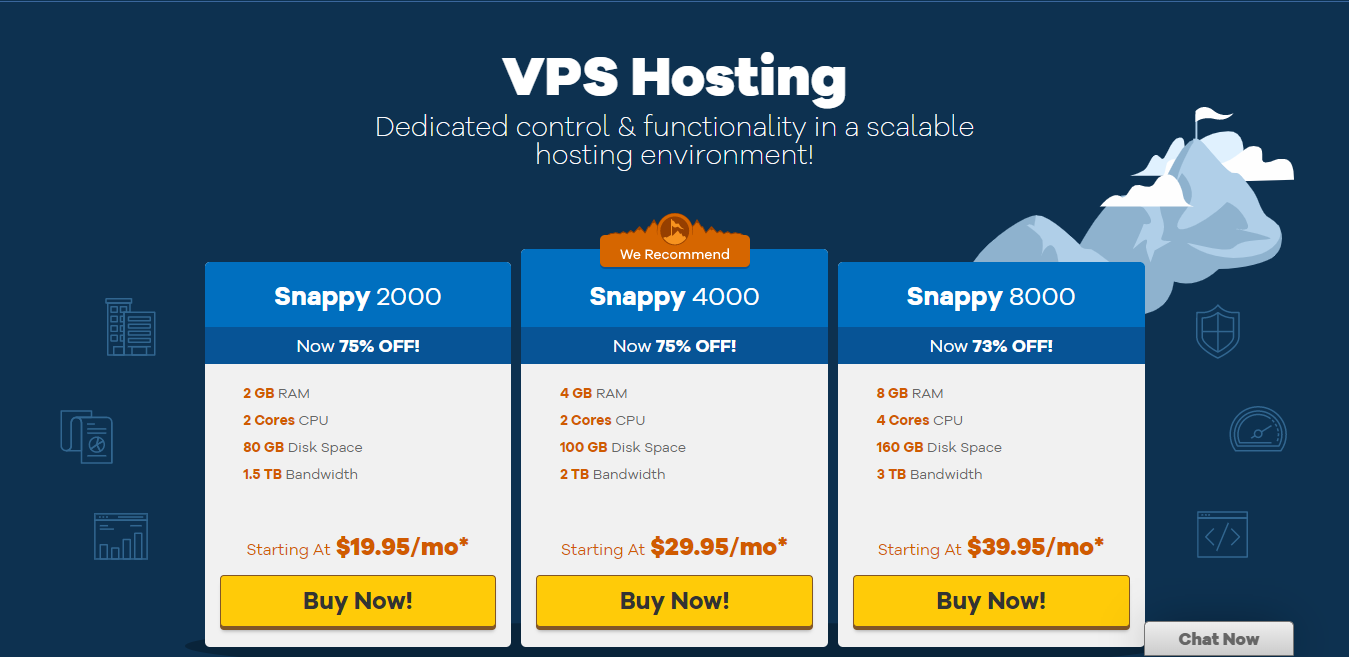 With three very affordable VPS hosting plans, you can easily get the performance, functionality security and privacy of VPS hosting. If, however, you expect your blog to grow quickly, the somewhat limited resources may hinder your growth.
Hostgator Cloud Hosting Cost: $4.95/mo+
Hostgator's cloud hosting plans are pretty attractive. That's especially since you get a more scalable, high performing hosting solution for about the price of a cup of coffee: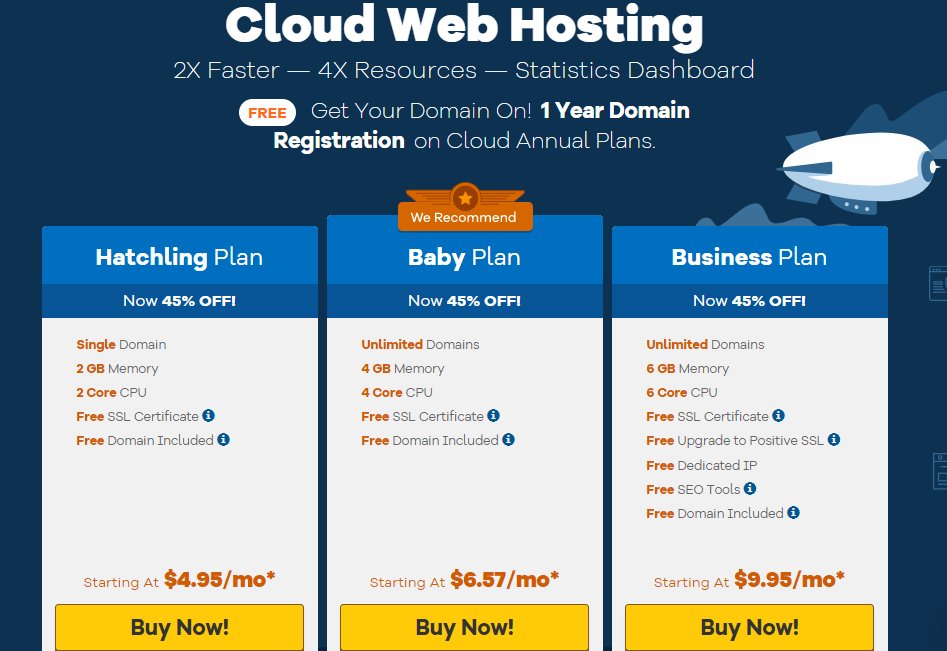 If you're looking for an affordable web hosting solution, Hostgator is definitely one of the top options you should be considering—especially since they have a lot of room to grow with you as your site matures. For small websites on a shoestring budget, you probably won't find hosting much more affordable than this. You can check out all of HostGator's hosting plans and options right here.
4. GreenGeeks Web Hosting Costs: $2.95/mo+
GreenGeeks is a very unique web hosting company, in that they set themselves apart by offering only green (eco-friendly) web hosting. Headquartered in California, the company was founded in 2006 and is fast becoming popular for their sustainable hosting.
But is their web hosting as budget-friendly as it is eco-friendly? The short answer is a resounding yes! Let's quickly take a look at how much web hosting costs from one of the few green web hosting vendors on the market today.
GreenGeeks Shared Hosting Cost: $2.95/mo+
Despite being a relatively small company, GreenGeeks actually offers shared hosting plans that can compete with the big brands on price and features. Not only is their shared hosting affordable, but it's also fast and reliable, as they use powerful and energy-friendly hardware. Plus they include bonuses like unlimited storage, free website migration and a whole lot more—to make this one of the most value-packed hosting solutions on the market.
GreenGeeks Dedicated Hosting Cost: $169.00/mo+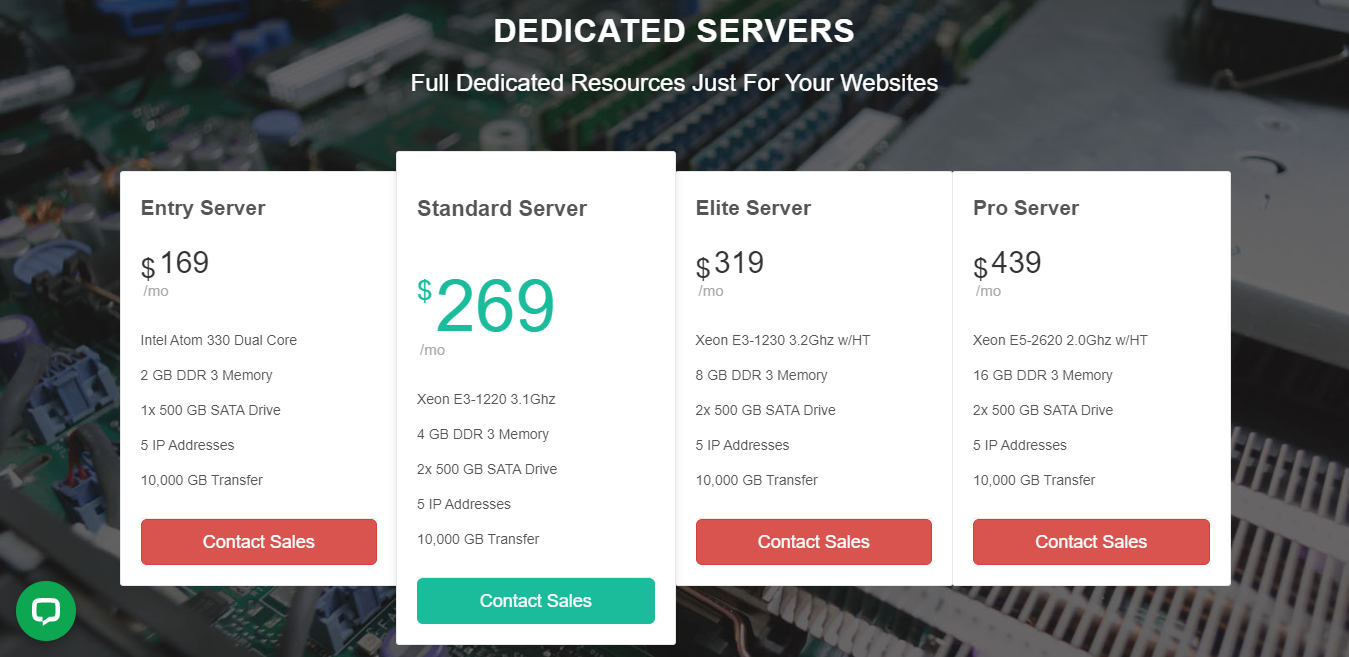 When it comes to dedicated web hosting costs, GreenGeeks offers a selection between four very powerful plans. The only caveat is that they are definitely priced higher compared to their competitors. However, if you've got the budget to match their plans, GreenGeeks dedicated hosting ranks amongst the best in terms of feature offerings—and is a worthwhile investment, especially if you're committed to a low environmental impact lifestyle.
GreenGeeks VPS Hosting Cost: $39.95/mo+
Privacy comes at a bit of a price premium when you go for GreenGeeks VPS web hosting, compared to others. However, the performance and generous resources are well worth it, especially if you're using your website to generate revenue. Plus, with managed VPS hosting, you won't have to worry about maintenance and troubleshooting problems. That peace of mind alone is arguably worth a higher price tag.
GreenGeeks doesn't offer cloud hosting-specific plans at the moment, but the hosting plans they do offer make them one of the best hosting companies on the market today. You can check out all of their plans and options to see if they're the best fit for you, right here.
5. SiteGround Web Hosting Costs: $6.99/mo+
With over 2 million websites hosted on their servers, SiteGround is another top web hosting brand to consider as you search for a reliable hosting company. Often ranked amongst the best WordPress hosting companies, SiteGround is also one of only three web hosting brands recommended by WordPress (including Dreamhost and Bluehost).
Let's quickly answer the question, how much does web hosting cost? when you go with a plan from SiteGround.
SiteGround Shared Hosting Cost: $6.99/mo+
When it comes to web hosting, one of SiteGround's most popular offerings is their shared hosting plans.
Looking at the features, it's easy to see why—you get more bang for your buck than you do from many other vendors in the hosting space. Apart from the value-packed features that come with the StartUp plan, the GrowBig plan also adds:
Dynamic caching
On-demand backup copies
Free professional website transfer
Staging environment
Allows you to add collaborators
And upgrading to the GoGeek plan adds these features:
Staging environment (with Git integration)
White-label clients (if you're a web designer, you can add your clients as collaborators without seeing the SiteGround logo)
Priority support
If shared hosting is what you're on the market for, then SiteGround may just have the best plan costs for you.
SiteGround Cloud Hosting Cost: $80.00/mo+
SiteGround recently discontinued its dedicated hosting plan (which used to cost $229/month) and replaced it with their Cloud hosting offerings. So how much does web hosting cost if you go the SiteGround Cloud hosting route?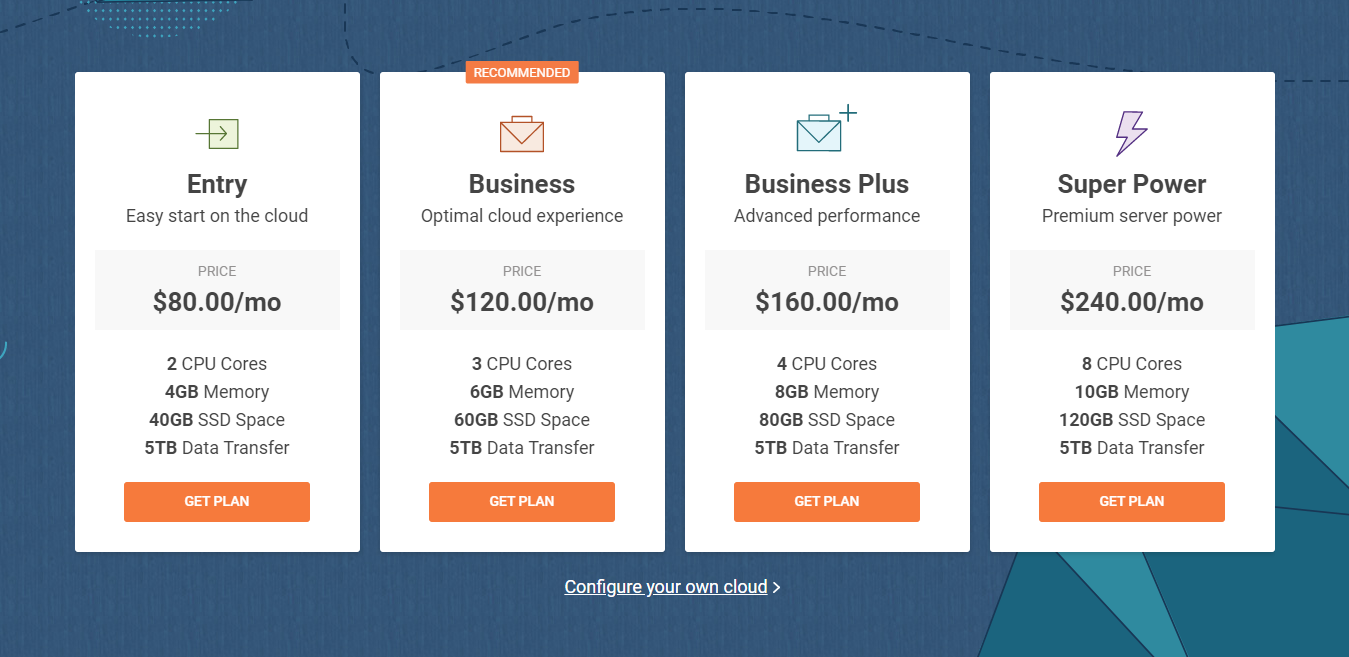 If you need a bespoke solution to your cloud hosting needs, SiteGround also allows you to configure your own custom plan. Now that's a sweet deal.
In an effort to streamline their offerings, SiteGround also recently did away with their VPS hosting plans—in favor of recommending their cloud hosting options instead. Nothing wrong with keeping things simple.
SiteGround has other hosting plans they offer for students and enterprises, still making them one of the more versatile web hosting platforms around. You can check out all of their hosting plans and options right here.
6. Kinsta Web Hosting Costs: $30.00/mo+
If you're looking for an absolutely stellar managed WordPress hosting solution, one of the top brands you have to check out is Kinsta (where I personally host my blog).
I always recommend Kinsta to anyone looking for premium managed WordPress hosting, because their plans are so simple and the support team is so incredibly helpful. I've personally used Kinsta for several years now (ever since I crossed the 100,000 readers/month threshold) and I'm beyond happy I chose them—even from the perspective of how much does hosting cost with them.
Kinsta's web hosting plans are unique in that they don't fall into any of the traditional hosting categories like many other brands do. Instead, every site (including yours if you decide to host multiple sites on Kinsta) on the platform runs in an isolated software container. This container hosts all the software resources required to run your site, and because of the technical nature of the setup, all plans are managed.
So how much does web hosting cost with Kinsta?
Kinsta hosting plans range from as little as $30.00/mo up to $1,500.00/mo and even more if you have a massive website that gets millions of visitors. A 30-day money-back guarantee allows you the peace of mind to take Kinsta for a spin today.
7. WP Engine Web Hosting Costs: $22.00/mo+
WP Engine is famous for being one of the very first companies to offer managed WordPress hosting. The combination of being a veteran in the space and being well-funded with venture capital, gives them an edge in that allows them the wiggle room to offer more services without having to pinch pennies.
Here's a look at what you can expect to spend on WP Engine's managed web hosting plans:
Depending on your specific needs, you can expect to spend anywhere from $22.00/mo to $217/mo for a standard hosting package with WP Engine.
However, if you need a custom hosting package (which is easy to set up), just reach out to the sales team for a quote. Of course, it's highly likely that you'll spend more than you would for a standard plan, so keep that in mind. Fortunately, all hosting plans from WP Engine come with a 60-day risk-free trial, and you can head over right here to learn more.
---
Understanding All of the Costs Involved in Launching a Website
As you plan on launching your website, you'll soon discover that there are several other blogging costs involved in getting a website fully off the ground.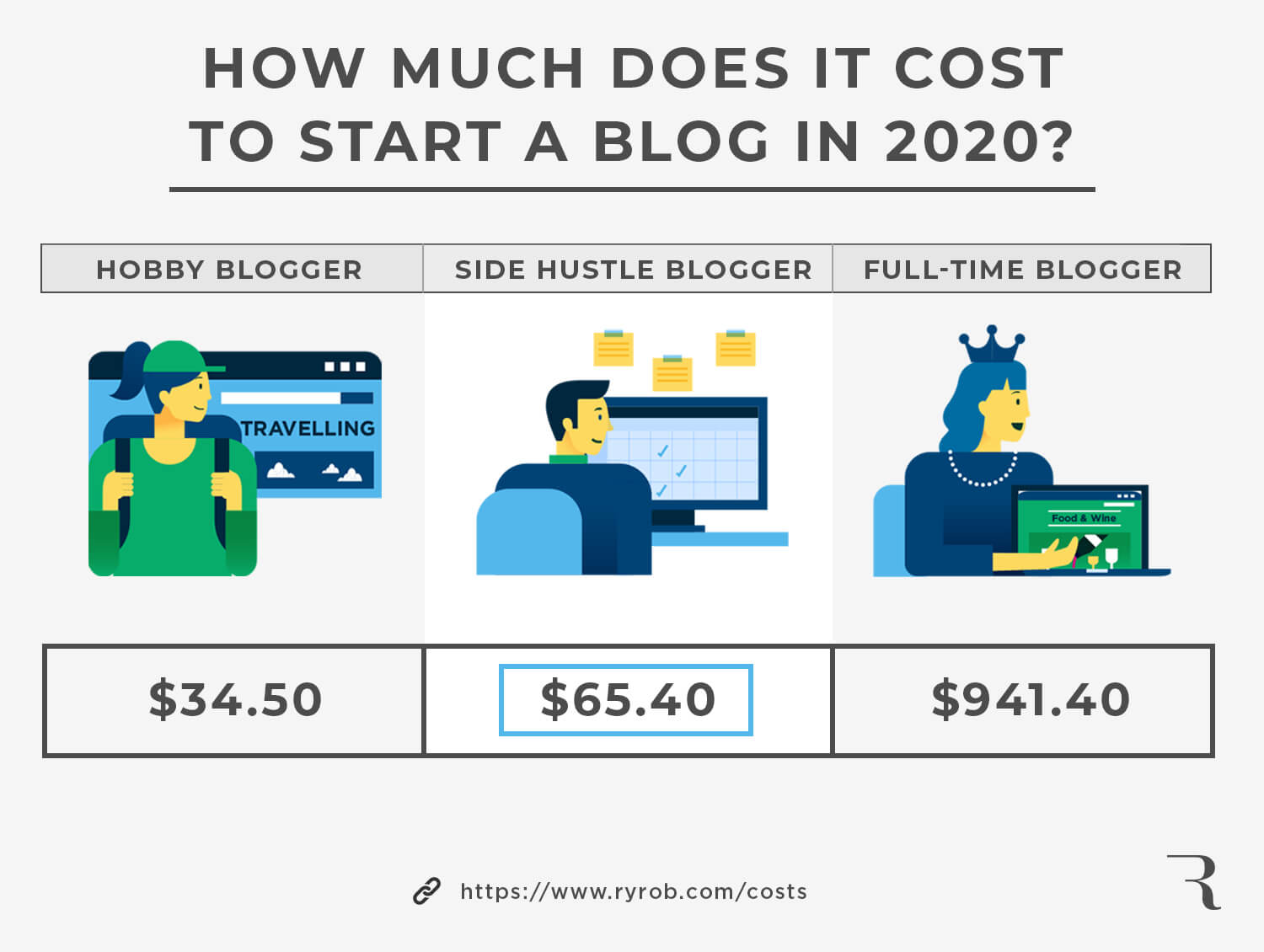 While most items won't cost much in the grand scheme of things (like web hosting), other expenses can require a significant investment. Here's a quick look at some of the other main costs you'll have to budget for as you prepare to launch your website:
Domain Name Registration Cost: Free for 1 Year (with DreamHost or Bluehost) then $10.00 – $20.00/yr
In simple terms, a domain name is your blog's name. It's also the address where Internet users will navigate to in order to access your website. In reality, computers use IP addresses (which are a series of numbers) to identify different websites. However, because it's difficult for humans to remember IP addresses, these get connected to domain names. A great domain name is easy to remember, an extension of your brand, and can also help you promote your blog as a memorable brand, like so: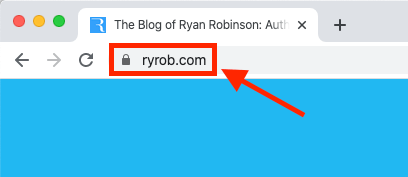 That's why it pays off to choose a web hosting company that gives you a free domain name (for your first year)—because you'll need to choose a domain name right away before you can get your blog online.
Despite many of the top hosting plans throwing in a free domain registration for new customers, you'll have to watch out for the domain renewal fee—as it may end up being more costly than registering one yourself first. A good domain name should cost you no more than $10.00 – $20.00/year.
WordPress Theme (and Design) Costs: $50.00 – $100.00
Believe it or not, there are about 400 million websites on the Internet today. And they're all vying for the attention of the same ~7.7 billion people on the planet. If you want your site to stand out, you need to make it unique. This is where the right WordPress theme and a smart blog layout comes into play.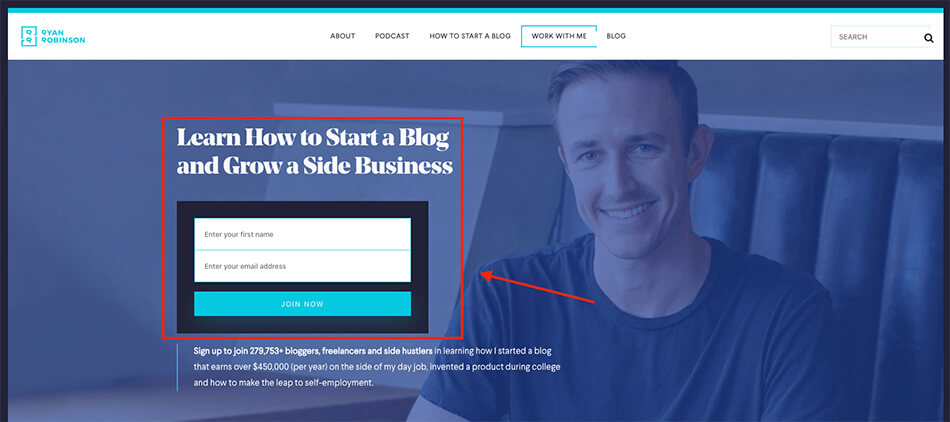 The three WordPress themes I always recommend (that run very quickly and have only a light amount of code loading in their default settings) include:
GeneratePress Pro WordPress Theme: I now use a customized version of this ultra fast, lightweight theme here on my blog today and they offer a free version to start with.
Astra WordPress Theme: This great (also free) theme is just about as minimalist and quick as GeneratePress, and also has a Pro version you can eventually upgrade to once you need additional functionality.
Elementor Page Builder: If you want a WordPress theme with a visual page builder (which I used for many years), the only one worth considering today—from a page load speed perspective—is Elementor and their Hello Theme which pairs very nicely with it.
Beyond the out-of-the-box theme options at your disposal, hiring a web designer to make some visual enhancements can really make your blog look beautiful and unique. In the early days though, I recommend staying on a tight budget and creating your own images using tools like Canva or Pic Monkey.
Blog Customization (and Plugin) Costs: $50.00+
Ah yes, we finally come to one of the largest (potential) costs when it comes to getting your website feeling great—hiring a web developer to make customizations. Know that I don't recommend making too many customizations to your blog though, until you've executed on a blog business plan and begin generating some revenue to justify the expense.
As you're just getting started, I recommend going the DIY route and making your own website by leveraging the immense power of WordPress plugins to extend the functionality of your blog.
Take this route until you start generating enough revenue from your website to pay for the cost of making further customizations. Be sure to use an easy-to-use and intuitive website builder to make things simple.
However, if you're not up to the task of building your own website, you can hire a web designer or developer to do it for you. A freelance web designer will cost you anywhere from $500.00 to well over $5,000.00 depending on many factors such as experience, the number of pages you're building and whether they're working within a template or creating a custom theme for your site.
---
How to Pick the Right Web Hosting Costs (and Solutions) for You
Before you select a hosting plan to go with, how do you know you're picking the right one?
Here are a few tips to help you navigate the often tricky world of web hosting:
Consider Your Hosting Needs
Depending on the purpose and vision of your blog, you'll different needs than someone else. When you're just getting started, a very basic out-of-the-box shared hosting plan like this one that costs $2.59/mo from Dreamhost is almost certainly going to be your best call. However, other factors to consider include:
Bandwidth
Security
Scalability
Speed
If you already have a blog that's getting tens of thousands of monthly readers, then you should consider a more robust hosting plan—like managed WordPress hosting that comes with additional features.
Shop within Your Budget
Another key factor to consider when shopping around for web hosting is your budget. Of course, the price tag on the hosting plan you opt for will determine the features you get, so you should be prepared to make a few concessions on this one.
One tip I can give you when looking for web hosting on a budget, is to spend as much as you can within your budget—especially if the cheaper option restricts the functionality of your website in any way that compromises your overall goals.
Managed Hosting vs Shared Hosting
Aside from the question of, "how much does web hosting cost?" one of the most difficult decisions regarding hosting, is whether to go for managed hosting or shared hosting. So how do you know which one your blog needs? To make it simple, I recommend going for managed hosting if you:
Have the budget for it
Already get a sizable volume of traffic
Don't have the time or technical knowledge to self-manage your hosting installation
If a tight budget is your #1 concern, then one of the shared hosting plans we walked through from Dreamhost or Bluehost (above) will be your best option.
How Much Does Web Hosting Cost? The True Value of Web Hosting in 2020 (and Beyond)
Well, here we are… how much does web hosting cost? On average, web hosting costs anywhere from $2.59/mo all the way up to hundreds per month or more—depending upon the type of hosting plan you need (which we'll explain in this guide).
By now though, you should have a much deeper understanding of what goes into hosting a website—and thus a clear grasp on the price tags that come with most hosting plans on the market.
And while it's certainly possible to launch your website on a free blogging site or with a free hosting plan, it's not sustainable in the long run if you want to build a business around your blog. The headaches involved in migrating your website to a paid service later down the line aren't worth it if you're planning on running your website for the foreseeable future.
Plus, an unexpected event like the recent COVID-19 global pandemic has overnight, made websites an integral business tool—both for large and small companies that can no longer work in-person. Using free or ultra cheap hosting plans can often put you at a higher risk of downtime or losing some of your data when a surge in traffic causes the servers to crash.
So how much does web hosting really cost?
It depends on how much value you place on your website—but the best hosting plans start at $2.59/mo (from Dreamhost) and go up from there.