We're here to answer, what is a URL? So, let's get right to it.
What is a URL?
A website URL (short for Uniform Resource Locator) is the complete address of a web page on the Internet, starting with your domain name and incorporating the full page address. For example, the URL of this web page you're reading on right now, is https://www.ryrob.com/what-is-a-url/ and it directs your web browser to load the content on this page.
From a more technical perspective, a website URL is a reference to a particular web resource (in most cases, a blog post or page on your website) that specifies its exact location on a server network—and provides the mechanism for retrieving it, in order to visually display the content on your web browser.
Over the years, I've been teaching 500,000 monthly readers how to start blogs on the right foot—and one of the questions I almost always field from new bloggers at some point, is how to create URLs that'll be SEO-friendly and give them the best chance of ranking their content high in organic Google search results one day soon.
So with that framing in mind, let's talk more about how to create SEO-friendly website URLs for your posts & pages.
What is a URL? Website URLs Explained and Best Practices in 2020
Disclosure: Please note that some of the links below are affiliate links and at no additional cost to you, I'll earn a commission. When you make a purchase using my one of my affiliate links, the company compensates me, which helps me run this blog and keep my content free of charge to you. Know that I also only recommend products I personally stand behind.
Alright, now let's talk about best practices for creating SEO-friendly URLs today.
---
Best Practices for Creating SEO-Friendly Website URLs in 2020
The full URL of your blog post, is what gets crawled by search engines (like Google) and considered for indexing.
Therefore, it's an important signal for them to figure out what your article is really about. It's one of your biggest opportunities to include your main target keyword phrase and indicate the main nature of what the page is going to be all about.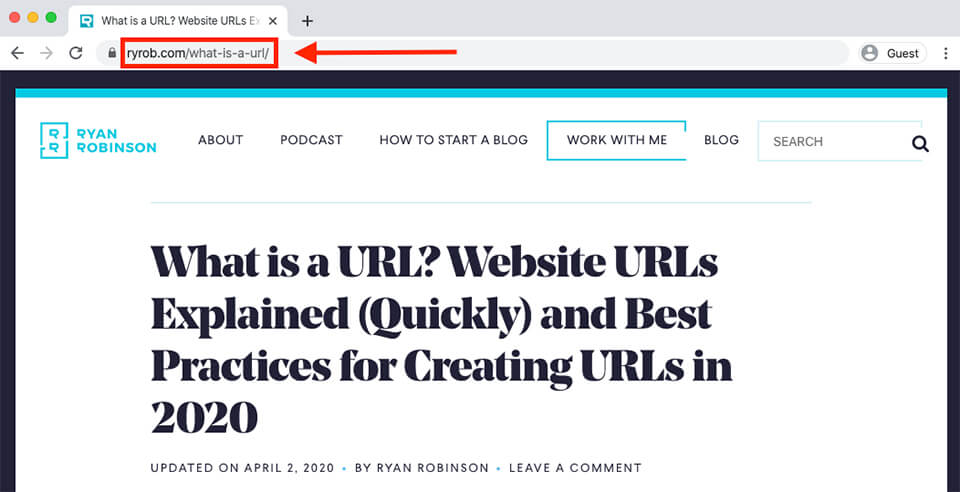 In the screenshot above, you'll see the URL I've chosen for this blog post right here. Let's use this as an example to walk through.
Your Top Level Domain (TLD) vs the URL Path
The first part of the full URL you'll see in the address bar here (or screenshot directly above) is my Top Level Domain—known as a TLD. That's the ryrob.com part here on my site, which is more commonly known as your domain name. It's how every URL on this website begins.
The second part of the full URL you'll see is known as the "path," which directs a reader's web browser to the specific page they're requesting to load. That's the /what-is-a-url/ part, which fulfills the browser request to load this content you're reading right now.
If you're using WordPress to power your blog—like I recommend to all bloggers—then you have a lot of control over what your default URL paths will look like.
Known as "permalinks," within your WordPress settings, you can make adjustments to this setting (I recommend choosing "Post name" as the default structure) in your dashboard by navigating to Settings > Permalinks like so: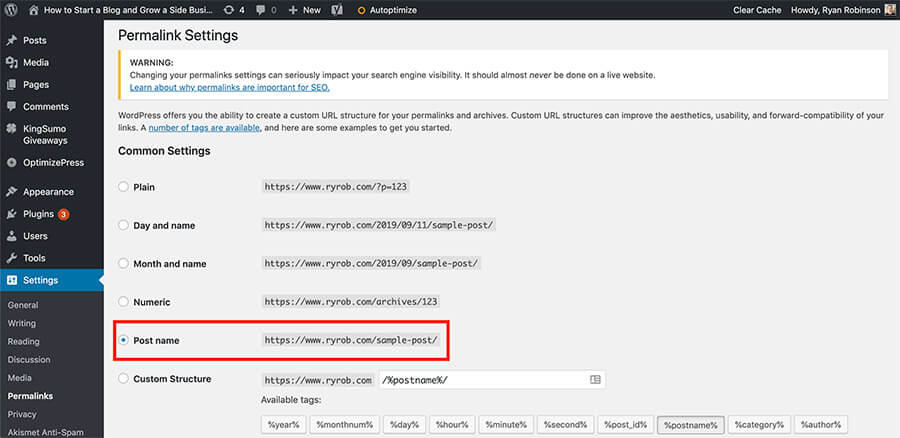 Now, it's important to note that not every default URL suggestion will always be perfect right out of the gate.
In most cases, you'll need to make some adjustments in order to make them SEO-friendly.
What Makes an "SEO-Friendly" URL?
First, you need to start with a clear goal in mind—because not every website URL actually needs a ton of strategy behind it.
So, what's the primary objective of your post (or page)?
Is your goal to rank high in organic search results and drive in traffic?
Is your goal to simply educate existing readers or subscribers with an internal page?
For this article you're on right now, my goal is to (eventually) rank #1 for the search term, "what is a URL" so that I can drive traffic from the largest search engines—back to this article in order to educate and build relationships with new readers. As a secondary goal, I also want to encourage those readers to make their way elsewhere around my blog, where they can find many more tutorials and subscribe to get my content delivered straight to their inboxes.
If your goal is to get new readers to your page, then your URL needs to be SEO-friendly.
To put it simply, an SEO-friendly URL must contain your target keyword phrase (or a simplified variation of it).
Because I want this article to rank for the search term, "what is a URL," I've made that phrase my exact URL for this post—as you can see in the address bar above, right now.
If you're not yet sure exactly which keywords (or set of keyword phrases) you want your article to eventually rank for, then pause right here to do some proper keyword research.
Once you're clear on the keywords you want your post or page to rank for, you can create your SEO-friendly URL. Take these examples from right here on my blog, as a framework for creating your own:
Keep in mind that you want to avoid creating URLs that are either too long (messy and leaves the potential for misinterpretation by search engines)—or too short (runs the risk of not being descriptive enough to search engines and readers alike).
Have a URL-related question?
Ask away in the comments section below and I'll weigh in with my advice 🙂