Meta Title Generator:
Free (AI-Powered) SEO Titles for Search Engines
Want more traffic from search engines like Google? You need the perfect meta title (SEO title) for your post. My free AI-powered meta title generator will come up with smart titles to boost your click-through rates in seconds. Your meta title is the biggest on-page ranking factor, so getting this right can make all the difference to your blog's success.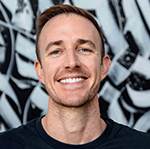 Get More Free Blogging Tools
Delivered Straight to Your Inbox
"*" indicates required fields
Rank Higher in Google With this Free Meta Title Generator (for More SEO Traffic)
If you want to rank well in search engines, you need to give your pages the right meta titles. Your meta title is the page or post title that appears in Google's search engine results page (SERP), along with your SEO meta description:
In many cases, your meta title will match your on-page title—that's the text in the <h1> tag at the top of your page. But it doesn't have to! You can set a different meta title, carefully designed for maximum SEO (search engine optimization). Remember though, you're still writing for humans, which requires high-quality content that connects with real readers.
Your meta title, also called your SEO title, is one of the most important ranking factors for your content. It needs to incorporate your primary keyword (so search engines rank it high for that keyword) and it needs to be appealing and engaging for readers (so people click on it).
Because of that, your meta title can easily make or break your post. You want to do everything you can to get it right—whether you're optimizing a product description title, LinkedIn headline, blog post title or otherwise. And I've made it easy for you with my free meta title generator. This clever AI writer tool lets you come up with meta titles that seamlessly incorporate your keyword and grab readers' attention.
What is a Meta Title Generator Tool?
A meta title generator tool is a piece of software that creates SEO-friendly meta titles for your content. It lets you input a keyword before using the power of AI (artificial intelligence) to give you a selection of catchy titles to choose from, all related to your starting topic or keyword.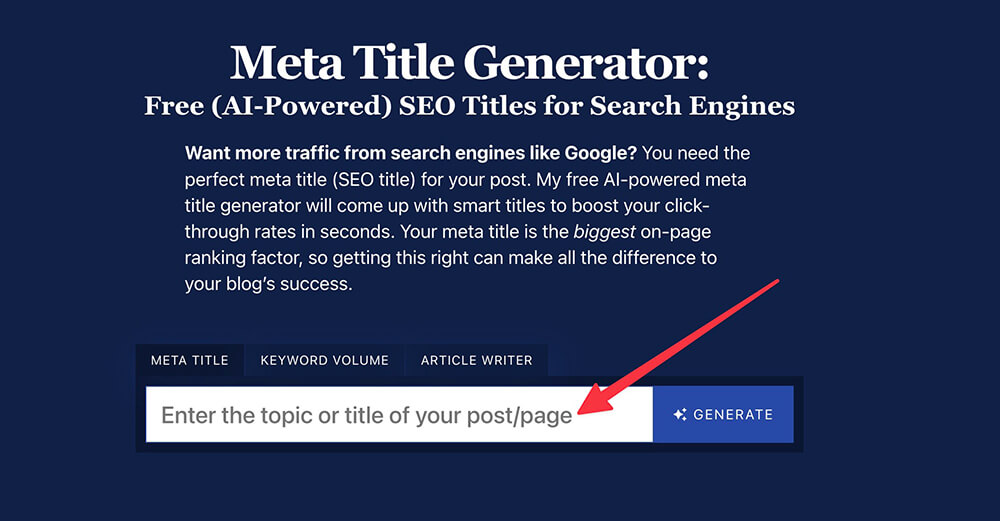 Hiring a copywriter or SEO professional to craft meta titles for you could cost a fortune. My free tool lets you create as many titles as you want, giving you 5 options to choose from each time. You can run the tool again and again.
The best meta title tools will let you choose your tone and style, meaning you can match your titles to your brand and your usual writing voice. Good tools will also make sure your titles are the right length to display in full in Google.
How to Use the Meta Title Generator Tool to Craft Winning SEO-Friendly Titles
Now that you're clear what a meta title is and why it's so important for SEO and for organic traffic, let's dig into how you can use the meta title generator to craft the perfect titles for your blog posts (and for your sales pages).
Type in Your Blog Post's Working Title, Keyword, or Topic
You can give the meta title tool your working title (or quickly come up with a brilliant title using my free blog title generator), if you have one for your blog post or content. The tool will then give you lots of beefed-up options to choose from, ensuring that your titles are engaging and catchy.
If you don't yet have a working title, no problem. Go ahead and enter the keyword that you're optimizing for. That way, you can use the SEO title tool as an idea generator, giving you loads of blog post titles or headlines to pick from.
You can also put in a general topic, though you'll want to follow this up by using my free keyword research tool so you can tweak your headline to optimize it for an achievable keyword.
Choose Your Tone & Writing Style
Your SEO title needs to do a lot in a short amount of space. It needs to clearly tell search engines what your post is about (by including your keyword), it needs to give people a clear reason to click through and read your post, and it should also give some sense of your brand or voice.
The fully featured version of my meta title generator tool inside RightBlogger has a tone/style option so you can choose whatever style is the closest fit for your brand. If you're already using RightBlogger, try out "professional" versus "fun & quirky" to see how distinct the tone of your titles can be.
Generate 5 Meta Titles to Choose From—Or More!
When you run the meta title tool, it'll give you at least 5+ titles to pick from—all relating to your keyword, topic, or working title, and all based on proven templates. You can choose the one you like best or even mix and match elements of 2 or more titles.
What if none of the AI-generated SEO titles seem quite right for your post? You can simply run the tool again. Generate as many options as you want, then pick the one that you like best. The meta title generator doesn't have any usage limits, so you can run it as many times as you like.
When you're choosing a title, you'll want to think about:
Does this title fit closely with the content I've written (or plan to write)? You want your title to clearly reflect your post or page, so that readers know what to expect before they click.
Will this title appeal to my target audience? Perhaps you want a title that sounds positive rather than negative, for instance, because you know your audience responds well to that. Or maybe you're writing for an audience of beginners, so you want a title that promises an easily achievable result.
Keep in mind, your unique use cases for the meta title you're writing may mean taking a very different approach to your content creation process—but I've found these kinds of tools helpful in saving time & generating ideas.
Check Your Meta Title Incorporates Your Target Keyword Phrase
The meta title tool is designed to work with a range of inputs, including working titles and topics as well as keywords. That means that your title options won't all necessarily include your exact keyword.
If you've chosen an SEO title that doesn't have your keyword in it, simply tweak it to incorporate that keyword. For instance, let's say your keyword is best hiking backpacks. The title tool might suggest the option Top-Rated Hiking Backpacks: A Complete Guide. You could easily tweak this to Best Hiking Backpacks: A Complete Guide.
Add Your Meta Title to Your Post or Page in WordPress
Once you've got a meta title that you're happy with, it's time to add it to your post or page as an HTML meta tag. The easiest way to do this on a WordPress website is by using a plugin.
Installing an SEO Plugin on Your Website
You'll need to install an SEO plugin on your site. My favorite is Yoast SEO. To install it, login to your WordPress admin area, then go to Plugins→ Add New. Type "Yoast" into the search box, and then click Install Now on the Yoast SEO plugin. After installing it, click Activate.
Now, all your posts and pages will have an extra section for your meta title and meta description.
Adding the Meta Title to Your Post or Page
Go ahead and edit the post page you're working on (or create a new post or page). Scroll down to below the content box and you'll see the new Yoast options, with fields for your SEO title, slug, and meta description.
Copy and paste your title into the SEO title box, then save your post.
Bonus: Use My Free SEO Checklist Alongside this Meta Title Tool
While using the meta title tool will give you a big SEO boost, there's plenty more you can do. You want to make sure your entire post is carefully optimized to rank as well as possible on search engines. I've got lots of details on how to do that in my guide to blog SEO.
Here's my own SEO checklist that you can use yourself, before publishing new posts or updating old ones.
Install and activate the Yoast WordPress plugin
Always optimize your posts for a keyword phrase that fits with your target audience
Craft good subheadings (using keywords) so Google can index your post faster and use it for rich snippets
Only use an H1 header for your title at the top of the post or page
Get your header hierarchy right: H2 for subheadings and H3 for nested subheadings beneath those
Include your primary keyword phrase several times in your post—don't force it, it should sound natural
Add links to your page/post to other content on your site and include 3–5 links to other people's websites too
Craft an enticing meta description that makes a clear promise to the reader, drawing them in
Check that all of your images have alt text that incorporates your primary and/or secondary keywords
Make sure your post is long enough—ideally, 1,500 words or more (add an "FAQs" or "Bonus Tips" section to boost the wordcount if you need to)
Use the meta title generator to create an SEO title that will rank well in Google
Include your primary keyword in your permalink (also called the post/page URL or slug)
Now that we've covered the basics of what makes a proper meta title to optimize your content for more Google search engine traffic, let's dive a little deeper into the features of my free SEO title generator tool.
The Features of this Free Meta Title Tool
We've already taken a look at how to craft great meta titles with the help of this tool, but perhaps you're curious and want to know a bit more about its features and how they all work. Let's dig in and take a closer look.
Topic/Keyword (You Can Use Your Full Working Title)
To get an SEO title, the tool needs to know what you're writing about! The topic/keyword field lets you enter anything from a single-word keyword to a full working title—and the tool will do its best to come up with SEO titles to suit you.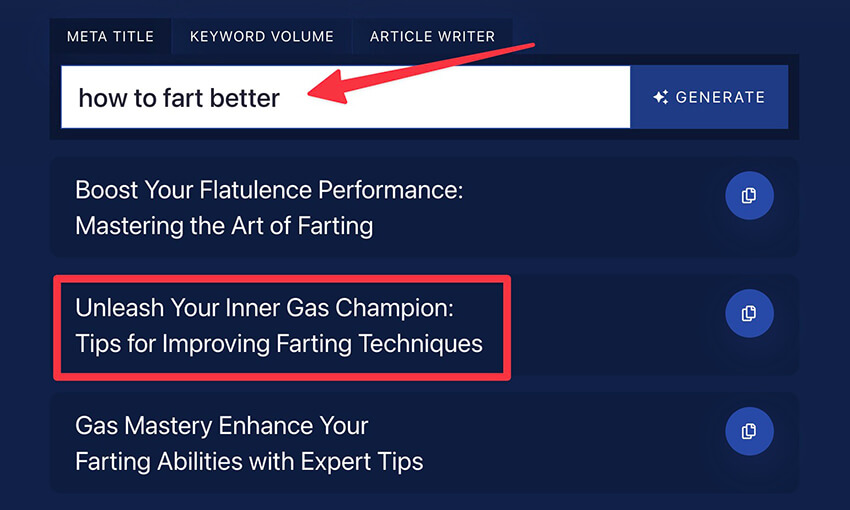 Before generating a meta title, I'd recommend that:
If you've done your keyword research but don't yet have a clear blog post idea to write about, you enter your chosen keyword. That way, the tool can come up with SEO titles that also work as full blog ideas.
If you've got a topic idea (based on a keyword) but you haven't yet crafted a title, enter your topic. For instance, your keyword might be best running shoes and your topic might be top 10 best running shoes.
If you've got a working title, use the whole thing. This helps the meta title tool get a good understanding of the type of SEO title to create.
Don't worry if you're not quite sure what to type into the text field, though. You can always run the tool again, with a slightly different keyword, topic, or title, if the initial set of meta titles isn't quite what you were looking for.
Tone & Writing Style (Get SEO Titles That Match Your Brand)
Like all my fully-featured AI tools inside RightBlogger, the meta title generator (and meta description generator) lets you pick your tone & writing style—so you can match your meta titles to your brand and voice. This free version of the tool, however, is limited to the default settings on your SEO title outputs, which are still great tbh.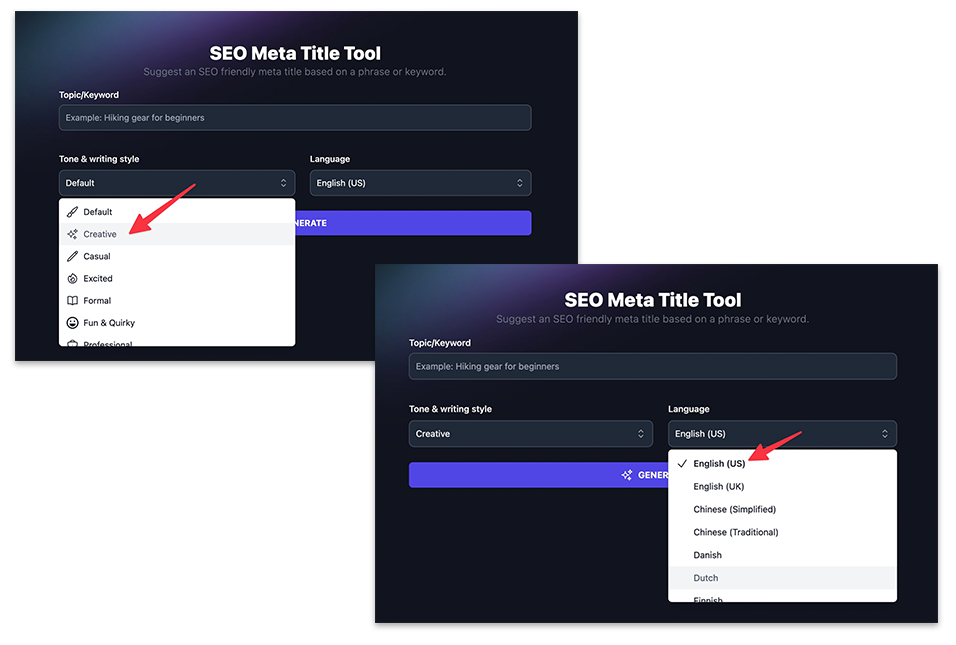 There are lots of different styles to choose from. You might want to stick with "Default" to start with, which will produce titles in a conversational, fairly informal voice. Then, you could try changing to a style like "Professional" or "Formal" for a more corporate tone—or go with "Excited" or "Fun & Quirky" for a young, informal style.
The style you pick will influence word choices and punctuation (you'll often see exclamation points showing up in titles using "excited", for instance). If you're writing a sales page or landing page, the "sales-oriented" option will be a good fit for your meta title.
Language (Choose Your Preferred Language)
This free meta title generator defaults to output only in English (US)… but if you're a RightBlogger user, you don't have to mess with translating your meta titles. You can choose from 20+ other languages, if you prefer.
Whether you're creating bilingual or multilingual content, or your whole site is in a language other than English, picking your language here can save you a ton of time in manually translating SEO titles.
✨ Want more AI-powered tools?
Use over 50+ AI-Powered blogging tools including a full blog post writer on RightBlogger.
Meta Title Generator Tool FAQs (Frequently Asked Questions)
How does this meta title generator create good SEO titles?

When we created the meta title generator, we carefully designed it to craft titles that are search engine friendly. Your title will incorporate keywords, it'll be the right length for search engines, and it'll be written in a clear and engaging way—so that people searching online will want to click through and read your post.
How can I check my title's effectiveness before using it?

When you've got a whole bunch of titles to choose from, it can be tricky to figure out which might be the best option. I've got another tool to help you out here—the Headline Analyzer tool.

This piece of software takes the guesswork out of choosing an SEO title: just run your chosen title or headline through it and you'll get a score out of 100, with specific tips for improving. The higher your score, the better your post is likely to do.
Do you have a free meta description generator tool too?

Yes! Your meta description isn't quite as crucial as your meta title—but it's still a really important SEO ranking factor. You want to make sure you get your keywords in there and you want your description to be compelling, too, prompting searchers to click and read your post.

My meta description generator tool is designed to produce engaging, SEO-optimized meta descriptions for your posts.
Why should I use AI meta tag generators for my web page?

Whatever type of web page you've got—whether it's a blog post, product page, or landing page—you want as many people as possible to find it through search engines. That means getting your meta tags right. Meta tags are your meta title and meta description. They're displayed by search engines so that readers can quickly decide whether or not to click on your page.

Writing meta tags can be time-consuming—especially if you've got a lot of existing content to optimize. AI tools can help you come up with engaging meta titles and good meta descriptions in a fraction of the time.
What other AI tools should I use to improve my SEO?

Along with this free meta title tool, I have a whole range of other free AI-powered tools to help you improve your SEO. If you're just starting out with creating your website, my domain name generator will help you come up with the perfect name.

Whatever type of content you're creating, I recommend starting with my keyword research tool, to help you find the right keywords to optimize for. If you're working on blog posts, you'll want to try out my blog post ideas tool and my blog title generator. To craft your post or page content, you can use my AI article writer and my AI paragraph rewriter. All of those are completely free, no gimmicks or surprise pricing anywhere around these parts.

For more AI options, check out my lists of the best AI tools, the top AI tools for bloggers, and the best AI writing tools to take your business even further.

All my free software is based on full, unlimited versions of the tools in RightBlogger (which has more than 40 different AI tools, covering blogging, social media, SEO, and more).
Why did you make this free meta title generator… completely free?

The meta title generator is free for unlimited use—and you might be wondering why. There's no catch! You'll never have to enter your email address, let alone your credit card details. You can use the meta title generator as many times as you want. No limit. No charge.

Back when I began blogging and building my online business, I couldn't afford the fancy, expensive tools that would've helped me to grow my traffic and income even faster. I had to hunt out free tools (and I was really grateful to the people who created them). Sometimes, I split the cost of paid tools with blogging friends.

Several years on, I'm making great money from my blog. I can afford all the tools I want … but I haven't forgotten what it was like to be just starting out. I wanted to give something back. That's why I created the meta title generator (and my other free AI tools). This tool is free because I care.

With these tools to help, along with your commitment to your blog and business, I'm confident that you'll see great success too. Once you're making money from your blog, I'd love you to try RightBlogger. It's a whole suite of AI tools that I've developed to be as useful as possible for bloggers.
Can I use the meta title generator to update the SEO title of an existing post?

Yes, absolutely. You can go back months or years in your blog post archives, updating all your posts or other website content to have an engaging, keyword-rich SEO meta title (and meta description). You don't have to change the on-page title, unless you want to: you can simply set the meta title using Yoast SEO or a similar plugin.
Who is this meta title generator tool designed for?

When we created the meta title generator tool, we thought about a whole range of users. We particularly wanted it to be useful for bloggers, but we also had in mind content marketers, content creators, eCommerce website owners, SEO professionals working on clients' blogs, small business owners, and anyone creating online content. Whatever your role, I hope the meta title tool will help you bring in lots of search traffic and grow your blog.
Tool built by my insanely talented friend, @sup. Powered by RightBlogger.