One of the most common questions I get from readers here is, "how much does it cost to start a side hustle?"
And while the answer for starting up many types of side business ideas is often almost nothing (like using your skills to sell a service, starting a blog, writing a book, teaching an online course), that's not always the case.
Sometimes it legitimately does cost something to get your side hustle off the ground. But, when launching into something new, it's easy to spend money on things that don't have much of an impact. So, how much should it cost to start a side hustle?
With one of my side hustles, I got my first paying client without spending a dime. Yet on another, I spent nearly $3,000 before making my first sale. And in my 30 day challenge to validate an idea, it took me $388 to start.
Which brings me to the purpose of today's post…
A few weeks ago, I was chatting with my friend, Abdo Riani, a startup founder and serial side hustler behind projects like Entreperks, a collection of free & heavily discounted products and services for entrepreneurs, freelancers and digital nomads.
Abdo is a huge proponent of bootstrapping the startups he's founded (and his side projects), so one of the topics we spent a while discussing was how much it should cost to start a side hustle. We went back & forth sharing our own experiences, and quickly realized that the answer can vary a lot depending upon the type of business you're starting.
Since some side hustles can indeed take a sizable upfront investment to launch, I asked Abdo to share a guest post for us, talking through some of the best ways you can quickly fund your idea.
Here's Abdo, an MBA and current Ph.D. candidate in Finance, hailing from Texas: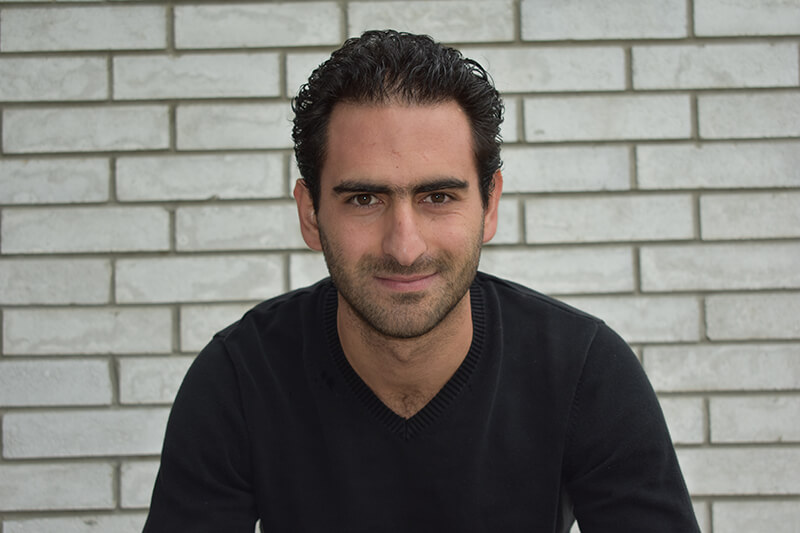 Now, I'm going to turn the rest of this post over to Abdo to talk about how much it should cost to start a side hustle and his 15 clever ways to fund getting your idea off the ground.
…
Here's Abdo:
If entrepreneurship is about creating value, then bootstrapping is entrepreneurship in its purest form.
Bootstrapping is when you fund your business, whether it's full-time or a side hustle, without referring to outside capital from banks, investors or even loans from family and friends.
Few years ago, when I was starting my first business venture, money was an issue. As a Junior in college, the only income I had was from an athletic scholarship that paid for my tuition and living expenses. My idea back then was a platform that rewards users for taking eco-friendly actions. I've always had a passion for the environment and I wanted to introduce a way to increase recycling, reducing and reusing rates.
The reality is, no matter how hard working, passionate and committed you can be, when you need an X amount to start, you need to find a way to get the target amount. There are no loopholes, short cuts or magic recipes that will fund product development, marketing, legal expenses and others without exchanging value, money.
It was a side hustle that funded me and here is how it all happened.
Few months had passed since I started getting my hands dirty. I had met and built relationships with local and national recycling facilities, environmental organizations, politicians and potential users until one day, after talking about my experience building my venture in a collegiate entrepreneurship organization, I got approached by many aspiring entrepreneurs for help.
Although I never planned to monetize my relatively short experience back then, things started to change when requests went beyond the 15-30 min quick discussion I had with aspiring entrepreneurs every other day or so.
I made $1,000 from my first paying client. I helped her define her value proposition, target users, path to market strategy including pre-selling her product, setting up a landing page and connected her with the right person to help her build the product.
Twelve months later, I sold close to $100,000 worth of consulting services from a side hustle I never even planned for.
How much do you think it cost me to start this side hustle?
I say approximately $25,000… in time invested.
I did not invest a single dollar to start consulting. Everything I created over the past 6 years was built by reinvesting gains generated from a side hustle which I started with $0.
Here are the results from 372 votes on Ryan's Twitter poll.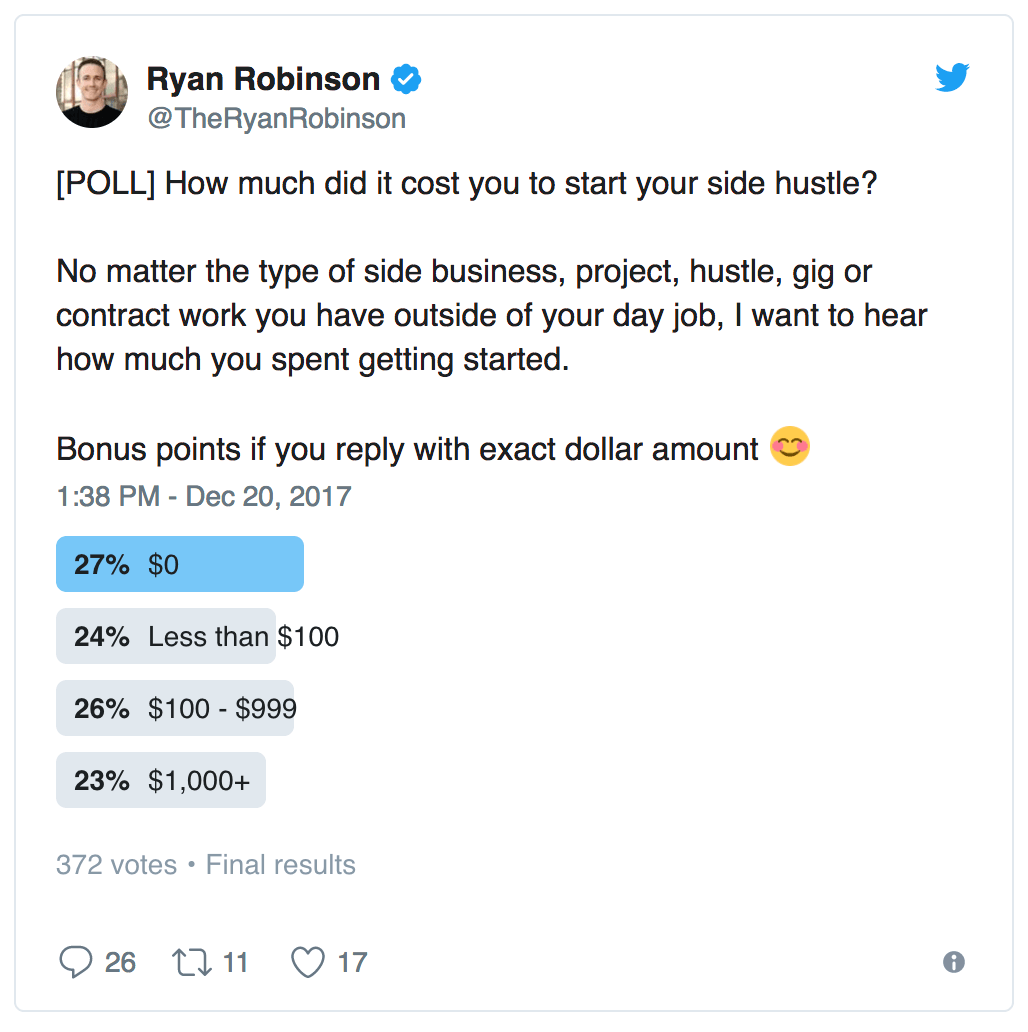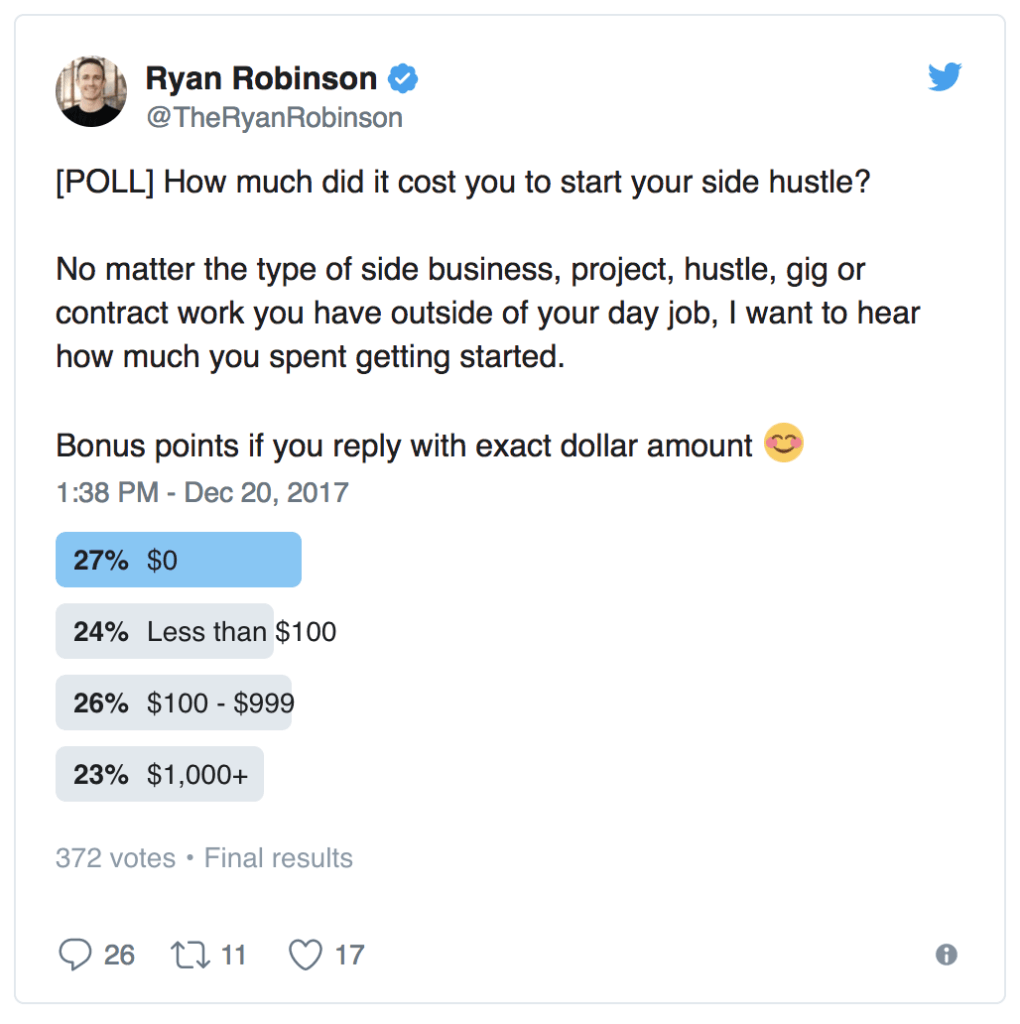 So, I asked the same question to 4 entrepreneurs who turned their side hustles into a 6-figure business.
Jay from Budgets Are Sexy shares,
"I spent a whopping $10 for a domain name! I started it on Blogger back in the day which was completely free, and then even when I moved to self-hosted Wordpress it still came down to less than $100 for the entire year."
His advice for how much to spend starting a blog-based side hustle? "You literally only need an internet connection to start blogging and you're in business 1-2-3… And even without that there's still the library where you can get free or incredibly inexpensive internet. No excuses!"
Holly from The Work at Home Woman adds,
"It cost me $750 for a custom WordPress theme and logo. About $4.99 a month for website hosting, $12.00 for my domain, and $7.99 a month for email marketing."
Pauline from Reach Financial Independence explains,
"It cost me under $100 to start Reach Financial Independence. I bought hosting for around $4 per month, and a $10 domain. It did require a ton of hours publishing content though. The site started making a little money after 3 months, and I bought a premium theme for $100. I did a logo on Fiverr, and that was pretty much it for the first year."
"The second year, as I was making over $2,000 a month, I hired an assistant and did a better site redesign with a web designer."
The common theme?
Over 80% of the investment needed to start a side hustle is time.
It's the period you need to acquire (or sharpen) a skill, find and serve clients who will pay for your work.
Pick anyone of these 131 side business ideas and think about the resources needed to start the hustle. You'll find that besides a few that require some sort of business tools and equipment, everything else needs time and commitment only.
Before we start discussing 15 different ways to fund the remaining 20% and before we look at the different ways you could minimize expenses, time invested and how to boost performance (revenue) regardless of how limited resources can be, the question that you may have in mind right now is, how much time is enough?
Simply put, every experience level has its own pool of clients.
What this means is that no matter how little experience you have, even if it's a course you've taken with two practice examples, chances are someone will benefit from your involvement. Do you think the first consulting client I sold wanted a person with 20 years experience, fancy office and a secretary?
What she was looking for was someone who's been in her shoes and can sit and help her one step at a time just like a good friend would. My experience was a total of 8 months and that turned out to be enough and worth people's money.
The idea is that starting with the smallest foundation, which as I said could be a course, book and 2 practice projects, you are ready to get to work. What will happen over time is that the more experience you gain, your pool of clients, their expectations and your assignments will develop as well. The good news is that you will be getting compensated AS you grow as a side hustler and not only WHEN you grow.
Aside from your investment of time, which depends entirely on you, here are…
15 Ways to Fund Your Side Hustle.
1. Collaborating with Experienced People.

My rates as a consultant after the first project jumped from $1,000 to a minimum of $7,000. You know how? Simply by teaming up with people who were 3 to 5 years ahead of me.
I had a simple hypothesis. I said, if I can convince others with an established team and a big portfolio to team up with me where I share relevant projects with them and in exchange use their skills and portfolio to acquire bigger clients, I should be able to gain time and increase revenue without needing years of experience.
And that's exactly what happened. Although it wasn't until 6 months ago that I read Kevin O'Leary's quote (or any of Ryan's other picks for top motivational quotes), I did exactly what O'Leary said. I paired up with people whose strengths and experience compensated for my weaknesses and as a result built a stronger value proposition that enabled me to attract bigger clients.
I didn't need to invest a single dollar to make this partnership happen.
All I did was these four simple things:
1. Find 3-5 teams and solo freelancers through sites like Elance, ODesk, Angel List and Twitter.
2. Invest time to get to know and build a relationship with them if there's a fit.
3. Pitch them the partnership:
"Hey [name],
So, over the past few months I've come across many entrepreneurs [target client] who I believe would really benefit from your skills and I don't yet have the capacity to take those clients. I was wondering, do you want to partner up on such big projects?
I'll make sure I check your availability at least 2 weeks earlier and we can work together to deliver higher value. Besides, in some cases, I'll just forward the project to you if I'm not available or if the scope doesn't fall under my area of expertise.
What do you think?"
4. In the next email, ask if I could use their portfolio to showcase the work and capability of the team.
With this approach, here are the two scenarios that are going to happen:
One—There's a potential client who has some challenging requirements with a big check but you know that if you put in the work, you can do the job, however, they're asking for your past work. Well, now you have something to show because in the worst-case scenario, you can assign the work to your partners.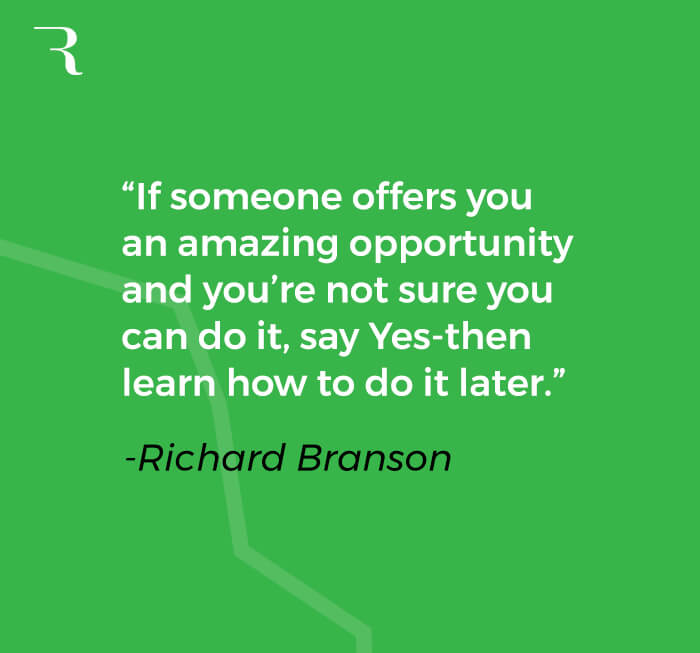 Or two—There's a potential client with a big project that you can't possibly handle so you take it, charge a premium for it and work with the partners to get it done.
The consequence of surrounding yourself with the right people is limitless. You could literally take the same approach for any other field. All you need is some foundation and investment in time to find and reach the clients which in my case by the way was a combination of local events and freelancing sites.
Collaborating with more experienced members is a smart way to fund your side hustle because with just a small change in business strategy, you could at least 5X your income that you can later reinvest in building a team, expanding your sphere of knowledge about the field through courses and programs, buy better tools, etc.
Using the same strategy, the second most important funding source that helped turn my side hustle into a full-time job within a year is…
2. Collaborating with People Who Have Complementary Skills.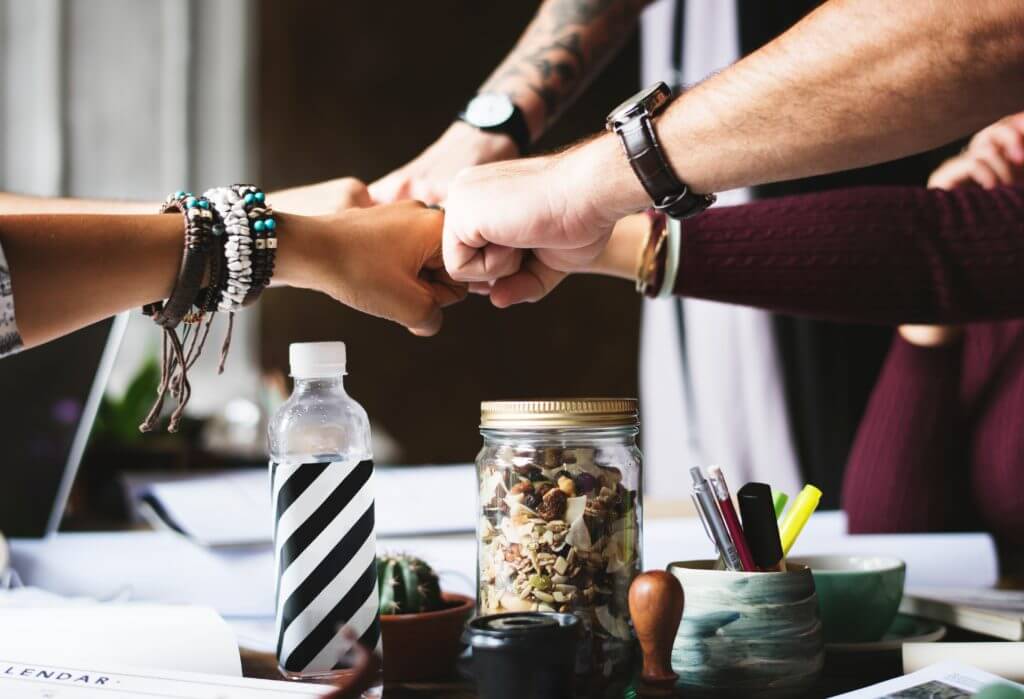 Nobody knows it all and if there's one thing that can help you tap into a bigger market, it'd be by collaborating with those with different backgrounds.
When I started consulting and since my target were tech startup founders, my services as a business developer and marketer were one part of the big equation. Entrepreneurs also needed help with design and programming.
Thanks to Richard Branson's quote, although I remember it was a stressful period, I took the first project that required skills beyond what I could offer and then figured a way to attract team members to work with me.
If you're selling social media management services, why not also have a package with SEO and content marketing?
If you're selling photography services, why not also sell videography and explainer video services?
All it takes is building relationships with people who have complementary skills with whom you can combine efforts to sell bigger.
In fact, ever since I started collaborating with people that complemented my skills and are more experienced than me, the 15 small projects a year turned into 3 big ones that took less time than half of the 15 small ones. Margins decreased but the return per project was a lot higher.
Remember earlier when I said it was stressful? What happened was that I wasn't prepared to take the job but something rare happened. I was actually being sold to take the project. It was someone I had met in a social event. We stayed in touch and then one day all of the sudden he called. Long story short, he really wanted me to take care of everything.
I had two weeks to find the right team for the job. Eventually, I did but the lesson learned here is to always be meeting and building relationships with potential team members and partners so when there's an opportunity like this, all you have to do is reach out.
Your friends and partners' skills can fund and grow your side hustle.
3. Pre-selling Your Product or Service.
Pre-selling mobile app design and development services was exactly what I did in the example above. I didn't have the background or the team to do the job, but I had a clear idea how and where to find people who can do it. As soon as I pre-sold the service, I built the team.
McKinsey consultants Homayoun Hatami, Candace Lun Plotkin and Saurabh Mishra found an above average performance for companies with strong pre-sales capabilities: 40-50% in new business and 80-90% in renewal business.
There's a way to pre-sell anything.
Since today, we're focused on funding side hustles, before you get started, pre-sell your product or service before investing financial resources to create it.
To use an example, if you want to create a course, sell it first. You can do that through webinars, content marketing, Facebook groups, etc. If you get some sales and you don't have time to prepare everything, set it up in a way that's like a weekly live workshop or webinar. With the funds you get from pre-selling, you can invest in creating a quality online business course. That was the approach I took to launch the first version of the Bootstrap a Startup program.
One of the tools you can use is TryCelery. They took the crowdfunding model outside of crowdfunding sites. You can use their templates to pre-sell your products and services even if you don't have a website.
If you want to sell web or graphic design, web/mobile development, social media management, content writing services or others, certainly don't bid on a project or contact a potential client without being prepared to offer the service, however what you can do is, especially if it is your first time seeking a job:
1. Call a friend who's a designer, developer, social media manager, or otherwise. Ask if they're available to take any jobs and more importantly, if you get them a project, ask if they would be willing to perform the tasks with you and teach you exactly what you should do.
2. Pre-selling in this case entails securing the job before investing the time to master the skill. When you get a project, assign it to your friend or colleague, learn from them and deliver. This way, you've hit two birds with one stone: got paid to learn.
It's important though that you start with small projects and it's as important to make sure the person who will be doing the job is available and prepared to work on it.
Although unplanned, this was the approach that took me from small to big projects.
There's a difference between pre-selling and requiring an advance payment. When you pre-sell, you don't necessarily have to do the job right away. You can pre-sell to validate your idea, reward your close followers with bonuses and discounts, raise funds to build the product (crowdfunding), etc. An advance payment, most of the time, initiates the work right after it's made.
4. Requiring an Advance Payment.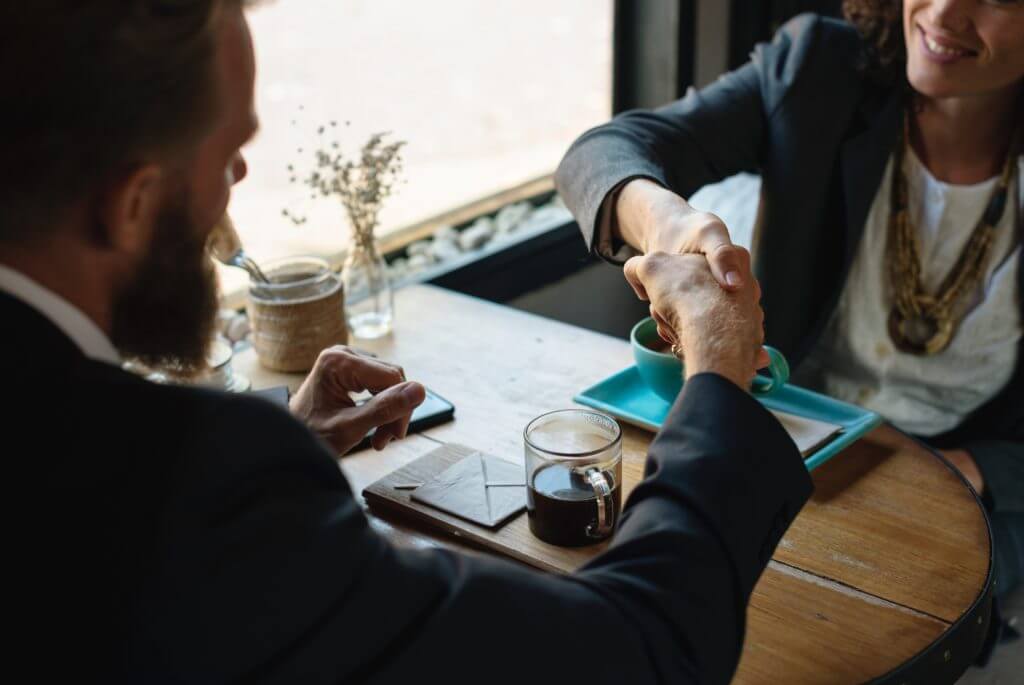 Pre-selling can give you time and money to buy the needed equipment and tools.
An advance payment can help with that too especially at the beginning, however, when you're ready to grow by hiring team members to take bigger projects, advance payments play a bigger role to solve the required initial investment problem.
Especially in mobile app or web development, from the time the freelance contract is signed until the day design starts, there is usually a one to two-week period depending on project size to refine the scope and make sure everything is clear and approved. This gives you enough time to receive the advance payment and pay the team to get started. This approach, especially if you work with a remote team, removes a lot of the friction out of hiring quality members by small companies with small budgets.
Now, this is the tech industry and more specifically web/mobile design and development. It's for you to learn about yours so you can write the best formula.
If you're a solo side hustler, an advance payment can help with as little as paying your overdue bills and other living expenses.
Sometimes, especially if you don't have a strong portfolio or freelance proposal that really sells yourself well, clients will insist on paying at the end of every milestone or make one bulk payment at the end without an advance payment. In this case, if you trust the other party and want to take the project, you also need a small formula by using,
5. Credit Cards (Net 30).
Your first side project is likely to require less than 30 days of work to create. In case you need funding to make a small investment to buy or rent a piece of equipment, software or some material to do the job, credit cards are the way to go.
In this case, you're making your own advance payment knowing that you'll be able to repay the amount as soon as you get paid. Most of the time, even if I have the investment needed for the project, I still use my credit card to improve my credit score and accumulate points that I often redeem for a trip, sometimes twice a year.
To start her virtual assistant company, Nicole Galbreath needed a few hundred dollars for licenses and some supplies. A small loan for this amount didn't make sense so she used her credit card. She says, "as a business major, I learned never to use credit to finance your business, but in certain circumstance, that is not necessarily true. Like for me."
In the case you need more time to pay off the amount, perhaps because of a disagreement with the client or the project got extended, what you can do here is use another credit card to pay the outstanding amount in the first card. In other words, you will simply transfer the credit from one card to the other. This will give you a little more time.
But let's say, you made a big purchase in a computer or an expensive software, or perhaps you're collaborating with others and they want to get paid first but you don't want to assume the risk especially if it's one of your first gigs and you don't have a plan B in case the client doesn't pay.
6. Broker a Customized (Creative) Supplier Contract.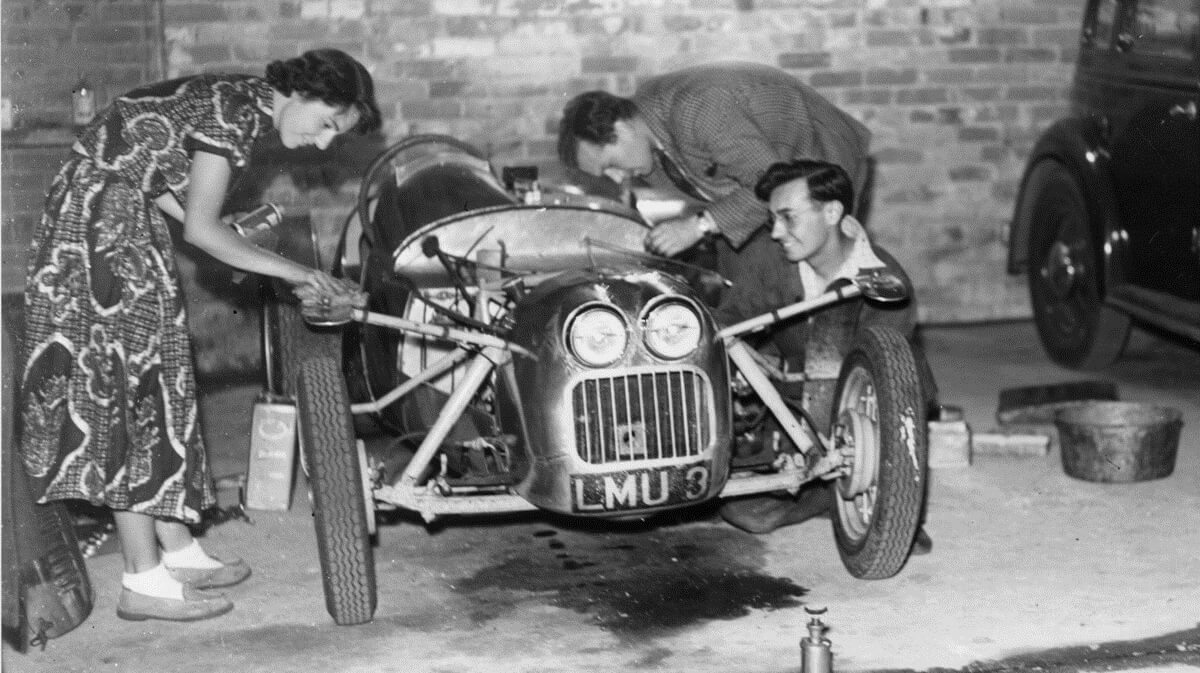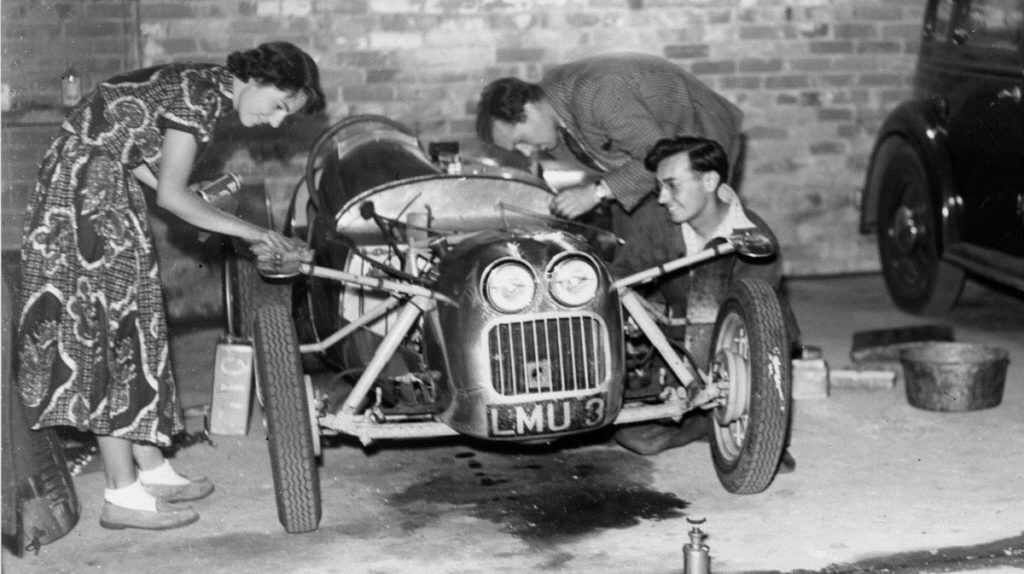 In 1952, Colin Chapman started his car manufacturing company, Lotus Cars, with less than $50 in his pocket.
One of the things that enabled Chapman's design innovation besides his talent was his bold initiatives to build his company despite his limited resources. For instance, he negotiated a deal with suppliers and manufacturers to delay payment and give suppliers the right to reclaim supplied material when needed.
Richard Branson negotiated a contingency for buying Boeing's planes when he started Virgin Atlantic that gave him the rights to return the planes for a full refund within one year if his company doesn't meet its projections.
At 12, Steve Jobs called the co-founder of Hewlett Packard, Bill Hewlett to ask for spare parts to build a frequency counter. Bill offered him an internship that summer. Jobs says, "Most people never pick up the phone and call, most people never ask. And that's what separates, sometimes, the people that do things from the people that just dream about them."
So, what does this all mean?
First, if you have obligations to commit resources but you don't have the funds or uncertain that the project will yield the expected return, always be negotiating.
One of my ventures is EntrePerks where members access over $22,000 in combined savings from some of the best products in the market. Just like any other startup, uncertainty is at its highest at the beginning. I approached one of my freelancer friends with the idea and offered to pay him double if he worked for free until we meet a target revenue amount. This approach significantly minimized risk and proved that the freelancer truly believed in the product. Eventually, it worked out well.
Before and after working with the first batch of entrepreneurs through the Bootstrap a Startup Program which provides members with a step by step blueprint to execute on their ideas under limited to no budget, I did two things to start the program and minimize expenses: I paid for Wisita's annual plan which automatically saved me over $250 dollars, however when the program ended, I reached out to the company and kindly asked for a refund on the prepaid amount. They refunded the payment.
Always be negotiating and never hesitate to ask. For instance, Chapman didn't just customize his suppliers and manufacturers' contracts, one of the strategies that helped significantly fund his side hustle (turned company) was to
7. Trade Products and Services.
When Chapman needed help with advertisement, he bartered Lotus products.
I saved tens of thousands of dollars by creating win-win partnerships with people who have what I don't and who need what I have. I took sales calls, created marketing campaigns, managed product development, referred clients, wrote e-books and did whatever I needed to do to get the same support from others.
Just a few months ago, as I was planning the first phase of Upify.co, a platform that helps entrepreneurs document their startup journey, I called a few freelancer friends and proposed that if they helped me get the beta version out, I would refer two clients with large projects within 3 months. After discussing the terms of our agreement, we both got to work and delivered as promised.
There is one important thing to consider when you plan such partnerships: what's the opportunity cost? In other words, what will you be missing out from using your time to complete others' work? Sometimes, it's more expensive to exchange services than just pay for them. But when it makes sense, especially when you are starting, this is an excellent way to fund your side hustle.
8. Leverage Your Network.
Your social network is another form of capital that we refer to as, social capital.
Maybe you need a 3D printer, expensive photography equipment, a manufacturing facility, an expensive software, etc. Chances are your network can help in one way or another to provide access, guidance, partnership opportunities and customers.
Chapman's contacts in the aircraft manufacturer De Havilland provided him with access to skilled volunteers and the company's multi-million dollar facilities. If you know someone who can help, don't hesitate to ask and if you don't know someone who can, build relationships.
1. In an Excel sheet, start by building a list of target influencers.
2. Next, over a period of at least one week, start with a Twitter follow, two tweet mentions, two comments on their blogs, two shares of their blog posts, and finally a personal email to introduce yourself followed by the ask whenever you feel it's the right time.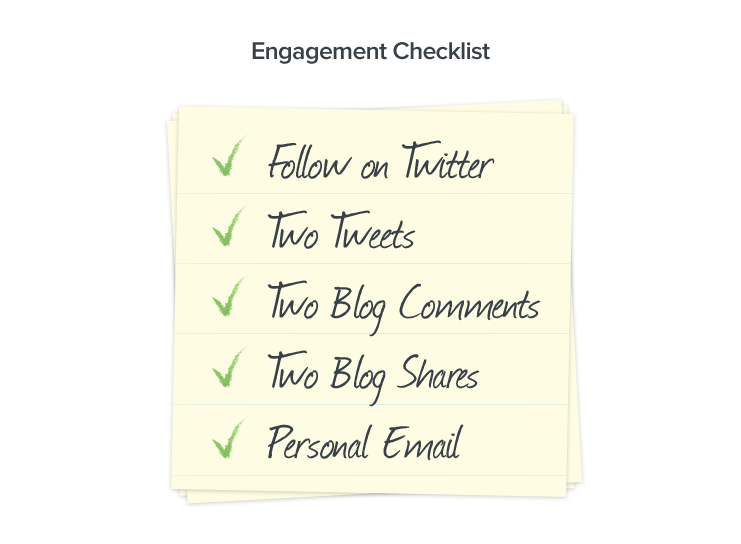 In this post, Alex Turnbull, founder of Groove, writes how he got over 1,000 subscribers from a single post in 24 hours thanks to influencers. You'll find the steps he took to get in touch with people like Gary Vaynerchuck, David Skok and many more high profile entrepreneurs.
To get help, find a co-founder, find investors, sell your products, get featured, guest post, become a contributor in big media outlets, get speaking gigs, find mentors and more. That is how to do it.
This process got me interviewed for an Inc. post, collaborated on a TNW post, grew EntrePerks from nothing to over $22,000 in combined savings, built relationships with high profile entrepreneurs like Hiten Shah and Sujan Patel and more.
But here's the other side of the story.
To grow EntrePerks, I created a list of close to 200 potential partners and started pitching one at a time. Out of the 200, I only got a confirmation to collaborate from 3. The intriguing part is that the main reason these three were willing to listen was because I had built a relationship with them a few months earlier.
It was when I saw the data (3 out of 200) that I learned the true meaning and value of relationship building.
9. Ask For Discounts (Everywhere).
Whatever you need to buy, always ask for a discount first—the worst you'll hear in reply is no.
This year alone, I've saved over $1,000 just by sending a quick email seeking as little as 5% off or an extended trial. Companies, especially relatively smaller ones, will listen because they understand the struggles that entrepreneurs face at the beginning.
I also found that your chances of scoring discounted and free products increase if you contact the right people. Customer support representatives may not have the authority to make the exceptions but if you reach the sales manager or marketing lead, you will get an answer.
For expensive products, I start by emailing the support team and if I don't get an answer or hear a NO, I find and email the sales or marketing person. Most companies have a Teams or About Us page and in it, you should find the person you need. If they don't show the address, I use Voila Norbert to find it.
Over a year later and many thousands of dollars saved from the "Ask For Discounts" approach, I built EntrePerks that includes thousands of dollars in combined savings from over 90 of the best products in the market.
Another quick note about relationship building. Voila Norbert was recently acquired by Sujan Patel so what I am going to do now is email Sujan and tell him that I discussed his company in this post. This approach is another effective way to initiate a conversation or strengthen a relationship with an influencer.
Here's how I first contacted Sujan: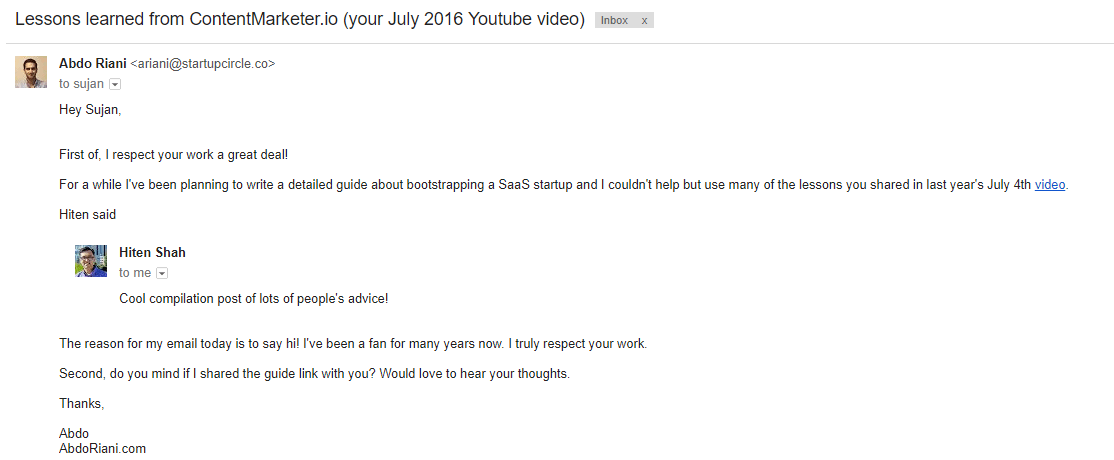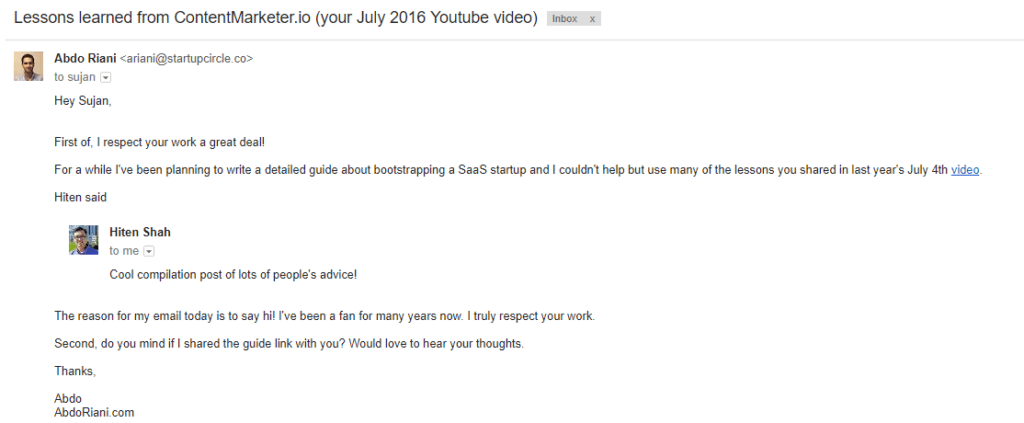 10. Keep Your Full-Time Job (or Another Steady Stream of Income).
Ryan is a big advocate of keeping a stream of income as you start a business, and it's been a consistent recurring theme in the business advice he's solicited from hundreds of top entrepreneurs here on the blog and on his podcast.
To be honest, I think this is the most important of all funding strategies.
You need a plan. Start by setting your "when should I quit my job?" number. This could be a cumulative or monthly amount. For instance, you could say, I will quit when I make $20,000 from my side hustle or at least $3,000/per month for 6 consecutive months. This way, you'll know your number and chances are you'll work harder to reach your goals.
When Bryan Johnson founder of Braintree Payments, which was sold to Paypal for $800 million, decided to start his company, he needed at least $2,100 in monthly income to support himself and his family.
He asked 10 potential buyers if they'd be interested in switching to him if he started a company that solved their current problems with payment processing. Out of 10 people, 6 agreed which was equivalent to $6,200 in monthly recurring revenue. He quit his job soon after. Even Chapman kept a full-time job until his company became well established.
Designer, developer and entrepreneur Sacha Grief depicts the transition from full time employment to full time business ownership in a framework he calls The Product Spectrum.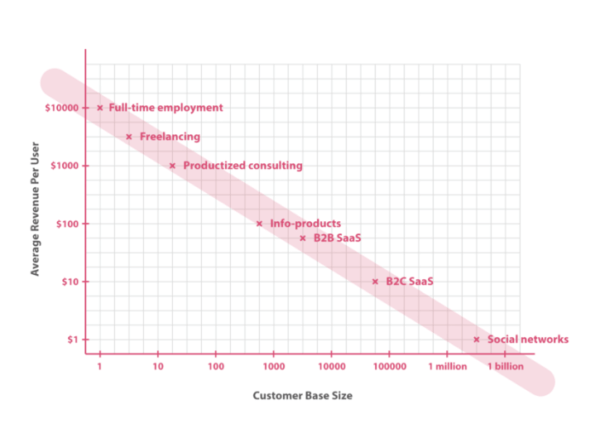 The idea is that it's much easier to move from full time to freelancing or from freelancing to agency than leapfrog a few steps.
For instance, Mailchimp used to be a design agency. In response to their clients' demand for email marketing, they created a tool which remained a side hustle for over 6 years until they decided to commit to it full-time.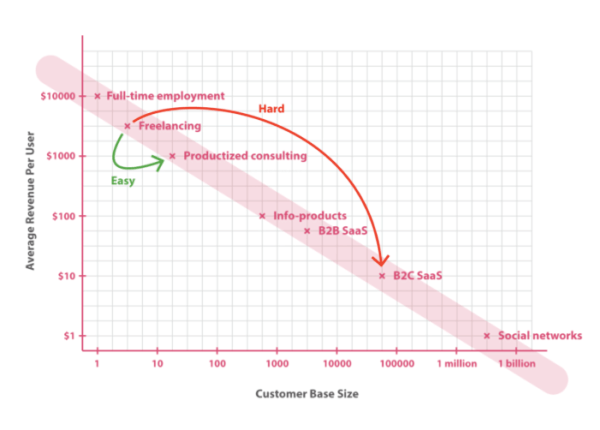 In conclusion, keeping a stream of income and making the transition one little step at a time minimizes risk because you'd be taking measurable steps to build a brand, understand customer needs, save and build the right product.
Just to be clear, you don't need to ever quit your job if your side hustle is a passion that you like to do in your free time and the weekends while enjoying the money that comes with it. That's exactly how I started but things changed over time. You never know!
11. Selling Unproductive (or Useless) Assets.
Unless you're overspending your budget on things you don't need, you don't have to sell any of your personal items if you use a few of the funding channels above.
Personally, I've never owned a car. I work from home and eat last night's dinner for lunch.
Here's the catch, I can afford to buy a car, rent an office space and eat a different meal every day but do I need them? I don't.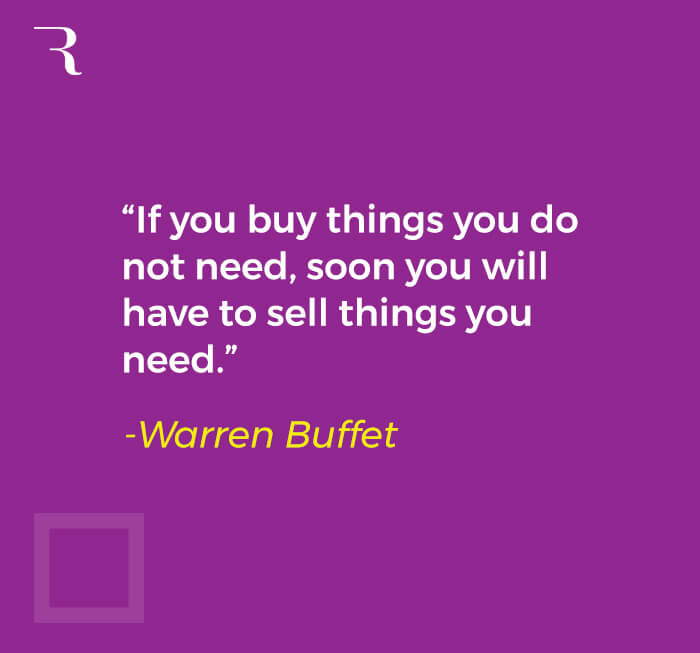 It's easier to start thrifty than become thrifty but if you need to cut on some expenses and let go of personal items that you don't need for a chance to get better ones in the future, you just do it.
It's never been cheaper to start a side hustle so if you're thinking, how's 1, 2 or 3 thousand dollars going to help me? Keep in mind that it will make a huge difference.
Here's a guide on Lifehacker about how to sell useless items.
12. Selling Invoices and Receivables (Factoring).
Assume you opened the cart for this amazing new upcoming product and got 100 orders and the delivery is due in 30 days but you don't have the cash to manufacture and distribute it this fast because you'll only receive the money when you deliver.
What you can do is something we call factoring. This is when you sell the invoices to a commercial finance company at a discount, get most of the money upfront and use it to fund production.
You can use this approach every time you're cash constrained but definitely the best solution if all the funding you had went to creating and marketing the prototype. If the numbers make sense, you can also use the Credit Card (Net 30) approach we discussed above.
13. Trade Credit.
Just like your customers can fund you by prepaying for the product or service, suppliers, manufacturers and distributors can do the same. Trading credit is the best way to maximize your resources over the short term. This is when a key stakeholder like your supplier extends a 30, 60 or even 90 days credit without charging interest. In the meanwhile, you have the time to deliver the product, get paid and then pay back.
Generally speaking, when you think of bootstrapping (self-funding) your side hustle, even at its most basic form, always consider the parties that will benefit from a transaction. For instance, assume that you are bidding to buy an e-commerce site but you don't have the total investment needed. Who do you think will benefit from this transaction?
Chances are, some suppliers and distributors may be interested in becoming your main partners and will be willing to help you make the purchase under some conditions like signing an exclusivity agreement for a pre-determined period. To use an example, if the site sells $5,000 worth of products every month, those suppliers or manufacturers may be interested in advancing the needed money contingent on working with you for 2 years.
14. Align Your Skills with Your Side Hustle.
Remember earlier when I noted that over 80% of the investment needed to start a side hustle is time?
Well you can make that a 90 or even a 100 if you already have the tools of the trade. What this means is, for example, if design 101 is as far as you can do today then only focus on projects that require exactly what you know even if they pay just a little bit of money to start.
With the money you make from these small projects, you can invest to educate yourself so you can take bigger ones one step at a time. With this, all you'll need is your own human capital, your skills. And if you already own the tools you need to do the job like a computer and say Adobe Photoshop in this case, then you're all set.
To use some data, the venture capital firm First Round Capital found that for enterprise companies, teams with a technical background (programmers) outperform their non-technical peers by 230%. Enterprise applications tend to be tech heavy and for this reason an alignment between founders' skill set and product core is important.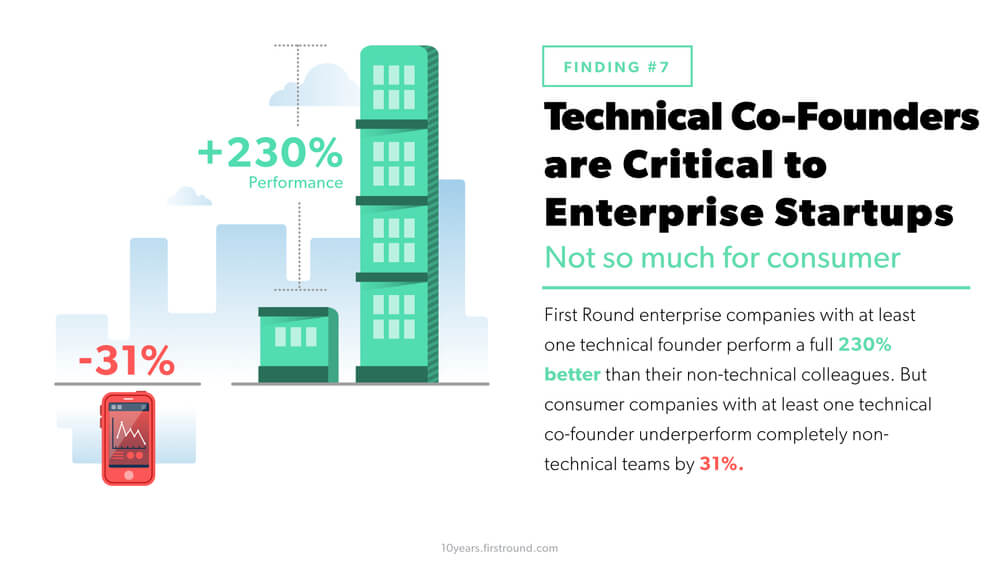 15. Get Your Hands Dirty.
If you need to work overtime, cut grass, wash cars, paint houses, drive people, rent your home, assemble furniture, deliver food and anything that will get you the target amount you need to buy that computer, the materials to build a product, a piece of software or anything else, then 'do what you have to do until you can do what you want to do.' Just make sure that you price your services fairly and profitably. Whether you need to estimate a paint job or calculate the market rate for your rental property, do your homework to make sure you don't get ripped off.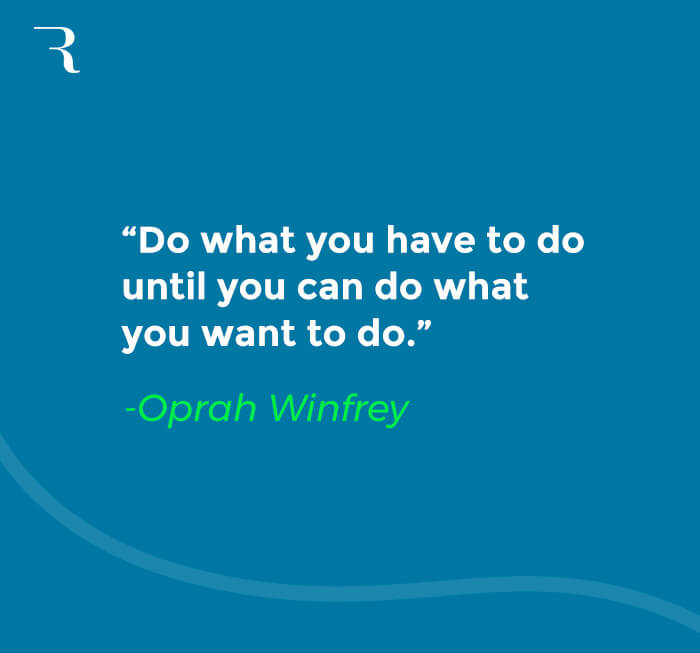 Did you know Jeff Bezos was flipping burgers in his 20s?
Lastly, there's a very important piece of advice I want to share with you.
FOCUS.
I know you have many ideas and can't wait to turn them into successful side hustles and established businesses. The truth is, building many side hustles at a time is a resource killer. Over time, you will find that you are doing OK at all but not exceptionally well on any. And even if you're doing much better in one of the side hustles, most likely you can do a lot better if you focused on what worked.
I still make the same mistake but at a much smaller degree. That mistake is starting and trying to grow many things at a time. This approach will kill your energy and focus. If you want to start and succeed at many ventures, do it one at a time.
To help you get serious about building your side hustle without wasting precious time and money, I put together a free downloadable guide for you.
In it, you'll find:
Checklist & Summary: 17 equity/debt free funding sources for bootstrapped (self-funded) founders.
10 examples of how you can create a service out of a product like Mailchimp and Basecamp did when they
started and before building their tools.
3 ways to fund your business through freelancing.
Agreement template for exchanging products and services.
How to invest resources wisely as a bootstrapped founder: Dos & Don'ts (Checklist).
List of mentors that will make a significant impact on your side hustle.
And for downloading, you'll also automatically join a giveaway for lifetime access to EntrePerks' $22,000+ combined savings. There's a new winner every month.
Finally, I'd like to invite you to my growing Slack group of 2,650+ entrepreneurs to ask questions and find answers, seek and provide feedback, and network with like minded entrepreneurs. Eager to see you there! Join here.
…
Wait! We're not done. I want to hear from you…
If you have a side hustle that you're currently working on, or experience running one in the past…
I need your help.
How much did you spend getting started?
I've been hearing from hundreds of you on Twitter and the answers vary widely.
While over half of you report spending less than $100 starting up your side hustle (so far), nearly 20% responded with over $1,000 that went into getting started.
Here, let's take a look at a few responses…
Neekko spent less than $100 starting a side hustle selling hand-crocheted work on the Etsy shop, Pocket Sushi (now with 2,600+ sales).
A United States Air Force officer who runs the blog, Military Dollar on the side, spent about $572 getting up and running.
Samantha's spent $3,600 so far on getting Lavish Gold, her eCommerce (Shopify-powered) clothing store off the ground.
So when I say the answers varied widely, I really mean it.
Now, we want to hear from you too…
How much did you spend getting started on your side hustle?
Share with us in the comments below.