Over the past decade, I've held multiple different remote jobs working for forward-thinking, fast-growing companies that realized they didn't need employees shuffling into a physical office every single day.
But, I don't need to tell you that… if you're here, then you're already convinced that finding the best remote jobs is your best next move. And in today's guide, we'll be breaking down all of the best remote job sites I've personally used to land six-figure gigs both working from home full-time and as a freelancer over the years.
One of the most common questions I get from readers considering whether or not they should try getting a remote job (if it'll be right for them), is if they can actually still work for a great company and still earn a comparable income. Today, the answer is a resounding YES. I'm a living testament to that, as the Head of Content at Close, a fully remote company.
Just a few of the most recognizable brands currently hiring remote positions (today) include companies like Apple, Walt Disney Company, American Express, Cigna, Farmers Insurance, Merck, Adobe, Dell, Pfizer, Intuit, Cisco, MetLife, Wells Fargo, and Verizon… to name just a few of the literally thousands offering remote jobs.
Now, let's talk about where you can go to find the best remote jobs, quickly apply, and get yourself on the path to finding your remote dream job.
Check out my picks for the best remote job websites, broken down by category:
65 Best Remote Jobs Websites to Find Great Remote Jobs in 2023
Disclosure: Please note that some of the links below are affiliate links and at no additional cost to you, I may earn a commission. Know that I only recommend products, tools, services and resources I've personally used and believe are genuinely helpful, not because of the small commissions I make if you decide to purchase them. Most of all, I would never advocate for buying something that you can't afford or that you're not yet ready to implement.
Alright, now let's get into my ultimate list of the best remote job websites!
---
The Best General Remote Jobs Websites
Each of these remote job websites we're breaking down here today offer a broad sampling of remote roles from all over the world. Whether you're a writer, photographer, designer, engineer, creative, virtual assistant, or practically any kind of service provider, there are a lot of great remote jobs for you here—posted by companies that are well-versed in hiring remote workers.
Now let's dive into it!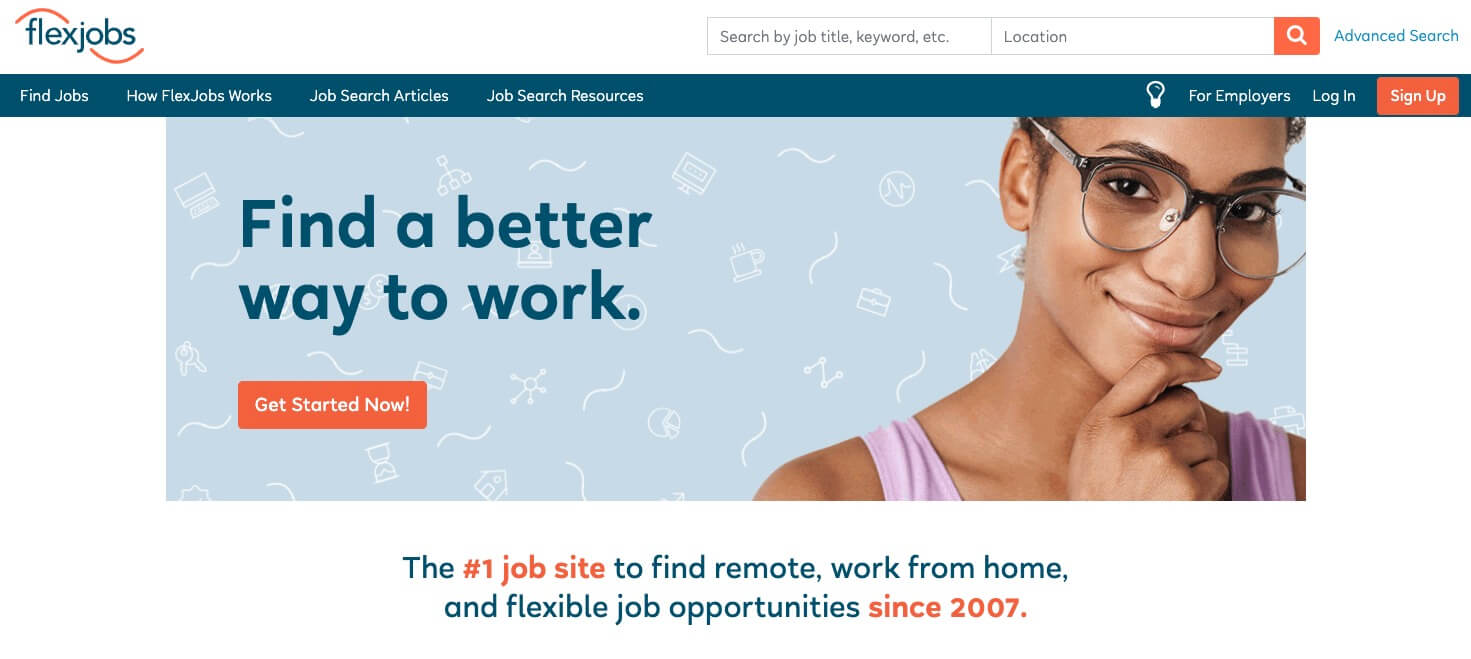 This is a very well-curated site for not only remote jobs, but hits the mark for freelance, part-time, and otherwise flexible gigs. It's easy to navigate, you won't see any distracting ads, and you won't have to worry about any scam postings because they monitor each job for legitimacy.
As you've probably guessed, this site is not free for remote jobs seekers, but offers very reasonable rates for the high quality and incredible access they offer. Also, hot tip: if you linger indecisively long enough on their payment screen, you might be offered a discount. Check them out and learn more right here.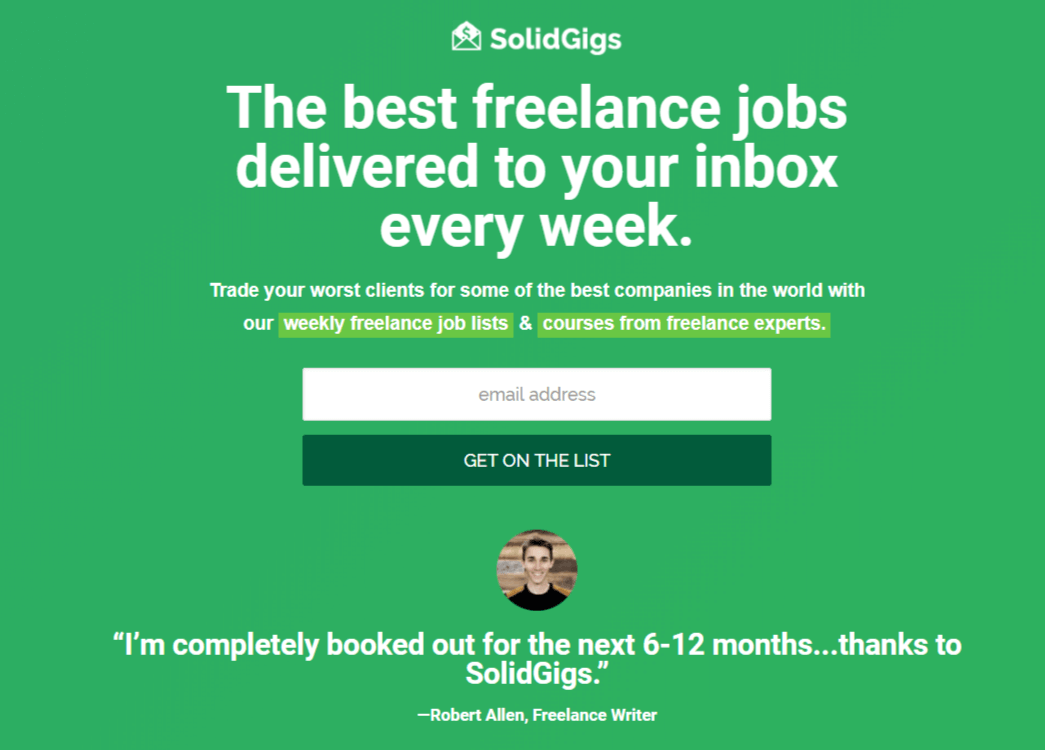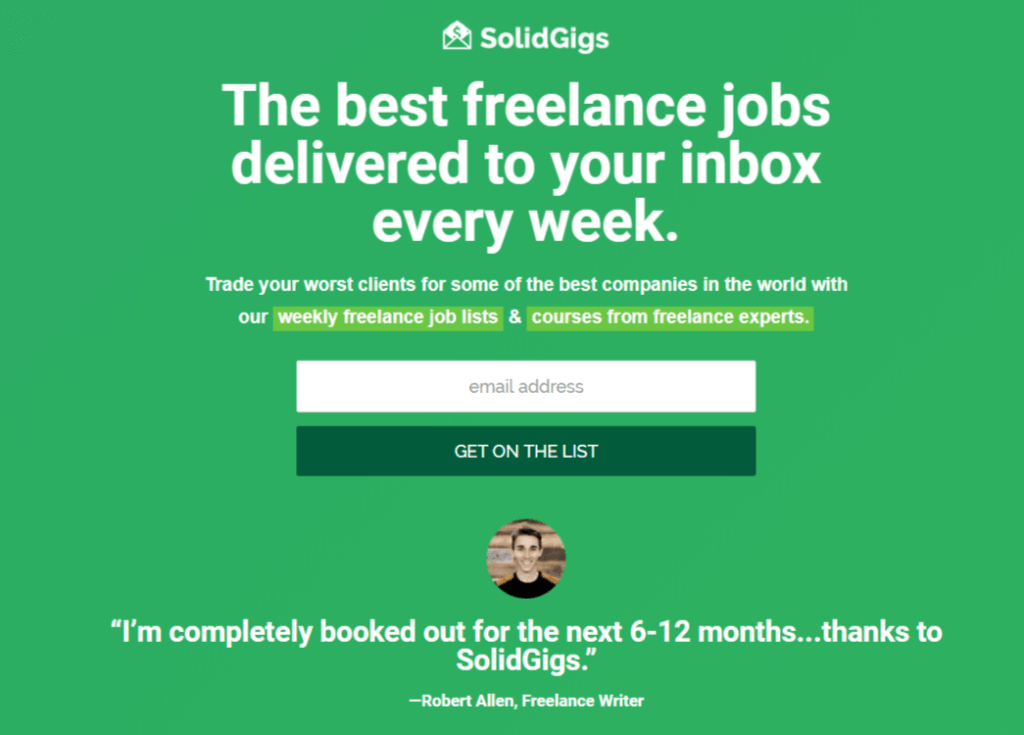 The emphasis of this site is definitely for those looking to land contract-based and more gig-style remote jobs, but for those of you who identify with that, SolidGigs is one I can personally vouch very strongly for.
The SolidGigs staff (including my good friend Preston Lee) understand that as a freelancer, time is money, so they've made it their mission to help streamline your job hunting. The SG team comb through dozens of freelance job boards and send you the best 1% straight to your inbox every week. In addition, a monthly membership fee grants you access to a huge resource library with courses, interviews, templates, scripts, and other tools, all with the focus of helping you land more freelance jobs, negotiate your rates, pitch high profile clients, and grow your freelance business.
Check out SolidGigs to give it a try today. I couldn't recommend it more highly… and plus, if you use this link and enter the code "RYROB" at checkout, you'll get your first month for just $2.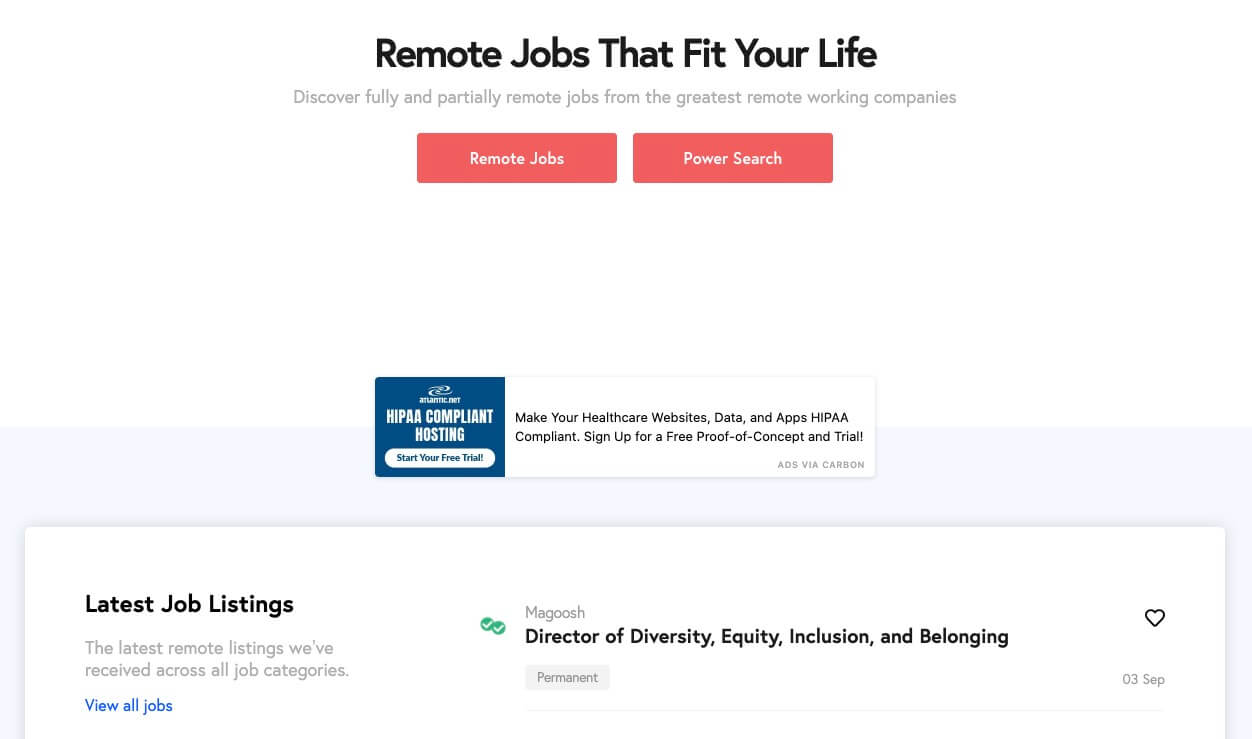 With literally hundreds of new remote jobs listed within the past month alone, JustRemote has built a powerful remote job search platform to help you find fully (or partially) remote positions across a wide range of functionalities including—design, development, writing, customer service, business, editing, marketing, HR, project management, recruiting, sales, SEO, social media and more. Side note: If you're into SEO yourself, check out my free keyword research tool.
Their platform is built specifically for people to discover the best remote job opportunities from around the world, without a focus on a particular location or region. They also recently launched a new paid job search product called Power Search, which allows you to subscribe to their new remote job listings (for your preferences) and easily find many more of the best remote jobs across the Internet—that don't typically get advertised, yet are still actively being recruited for.
Their paid service currently costs $12/mo, but it's well worth the low investment in order to tap into high quality remote job listings if you're a serious seeker.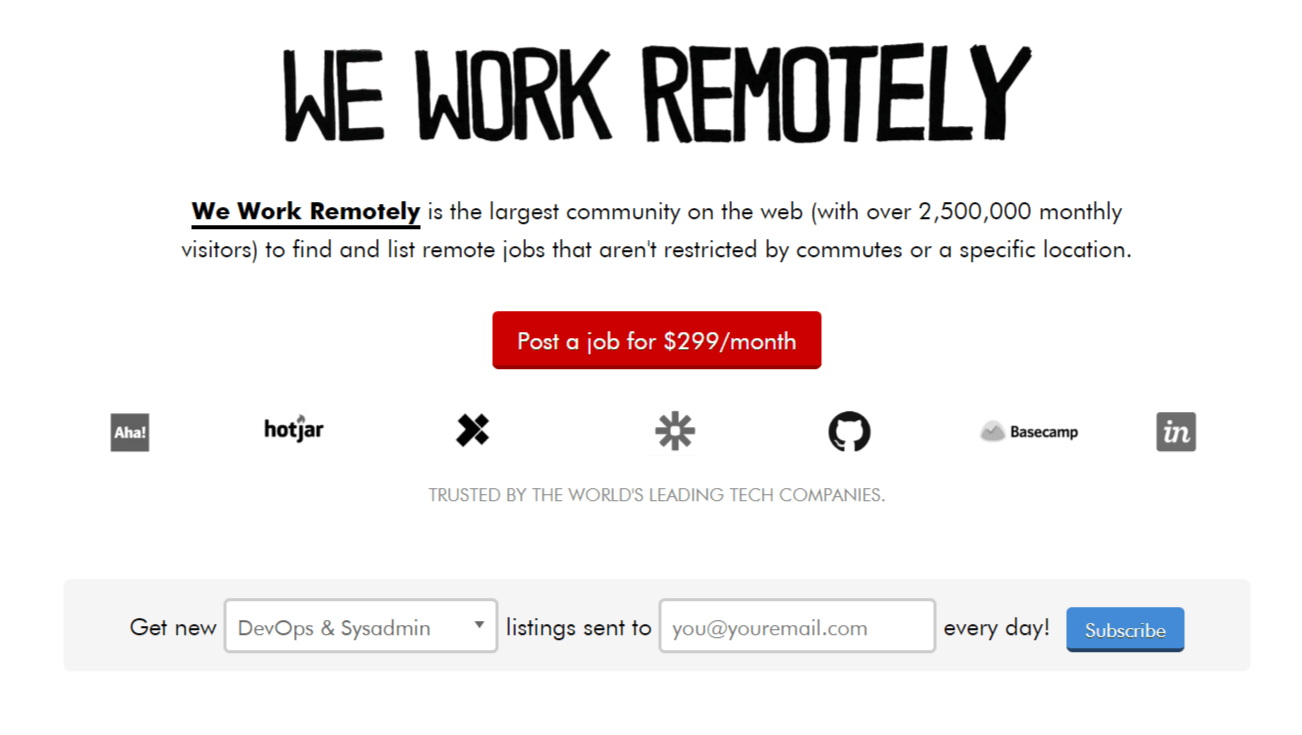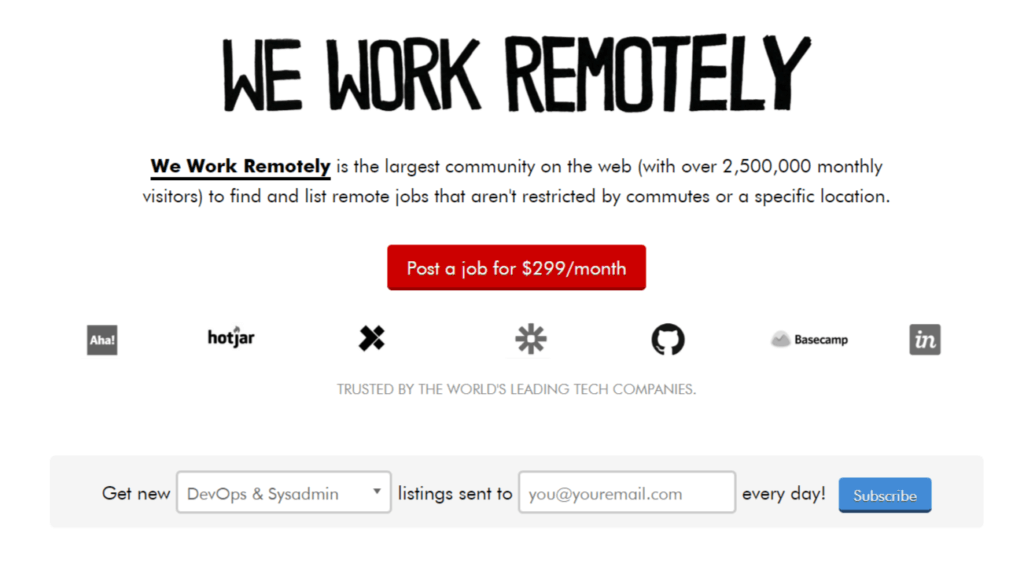 WWR's remote jobs board is broken down by category (Customer Support, Product Jobs, Programming, Copywriting, Business Management, etc), is super intuitive, and easy to navigate. It's good knowing that WWR was one of the first remote job boards on the scene, and today still stands as one of the most visited sites for remote work. From the employer side, if you're working on a small business idea yourself and want to find some remote help, I highly recommend posting to their remote job board.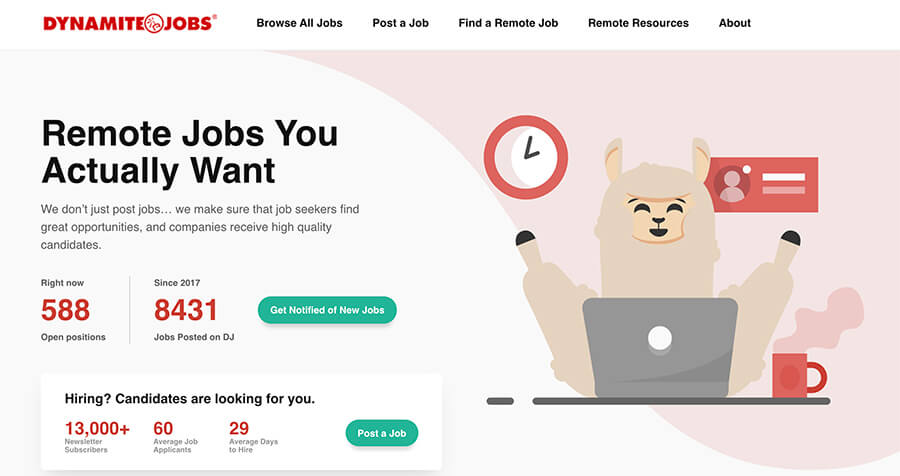 Known as one of the most human job boards amongst remote job candidates and companies alike, the team at Dynamite Jobs checks each remote job listing to make sure it's 100% remote, open and paid. The site was launched in 2017 by the team behind the Tropical MBA podcast and the Dynamite Circle—with the goal of helping bootstrapping founders grow their remote teams. They now have thousands of happy testimonials from those who've either hired or been hired through Dynamite Jobs.
Over 100+ quality remote jobs are added each week to the platform—and searching for the one you want is customizable with the site's variety of filters and functionality. Remote job candidates can sign up for their free Job Placement Program to receive alerts about the newest jobs in their industry and be connected directly with hiring companies. Even remote companies gain a lot from this platform; they can post their first job on the site for free and the Dynamite Jobs team follows up with every single listing to make sure the hiring process is going well.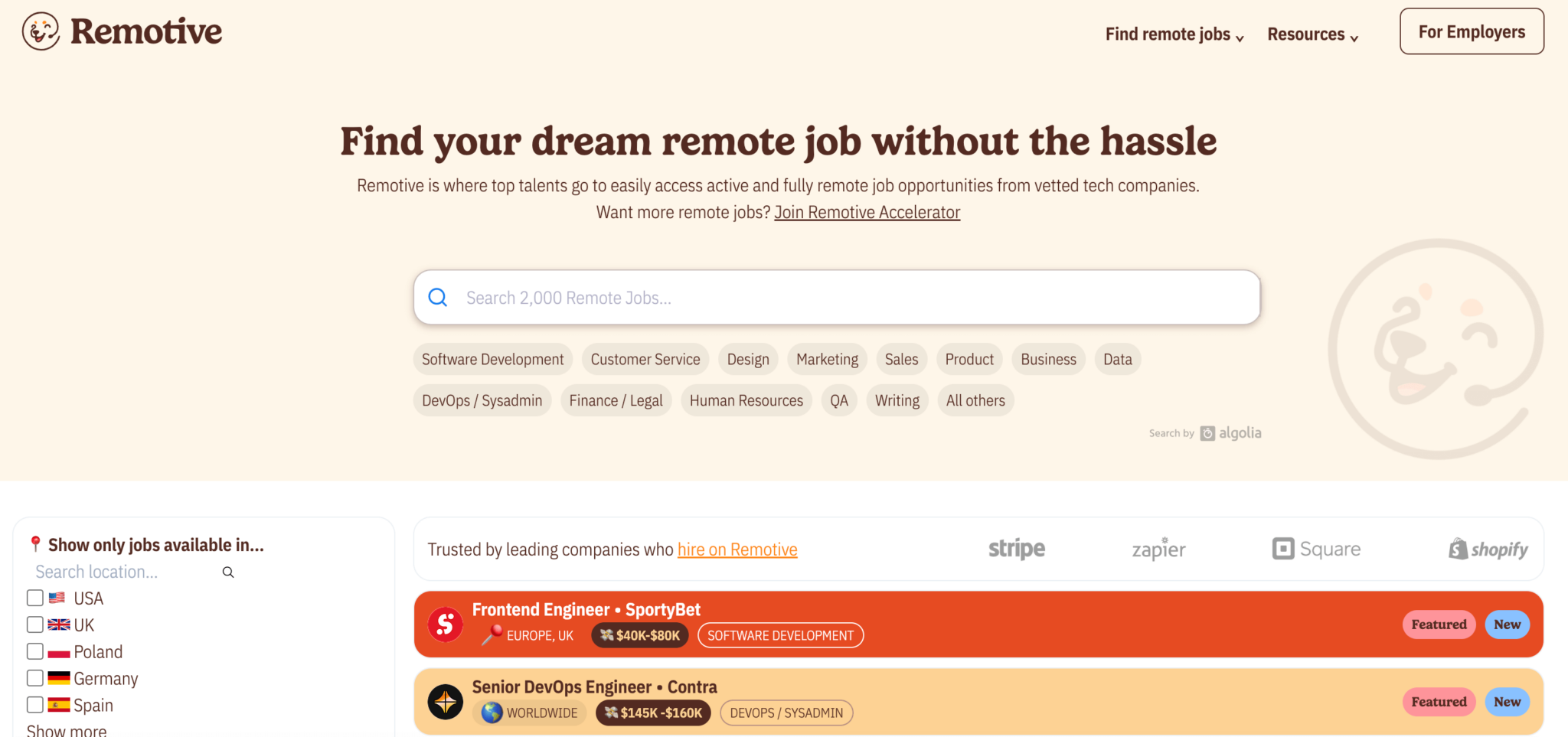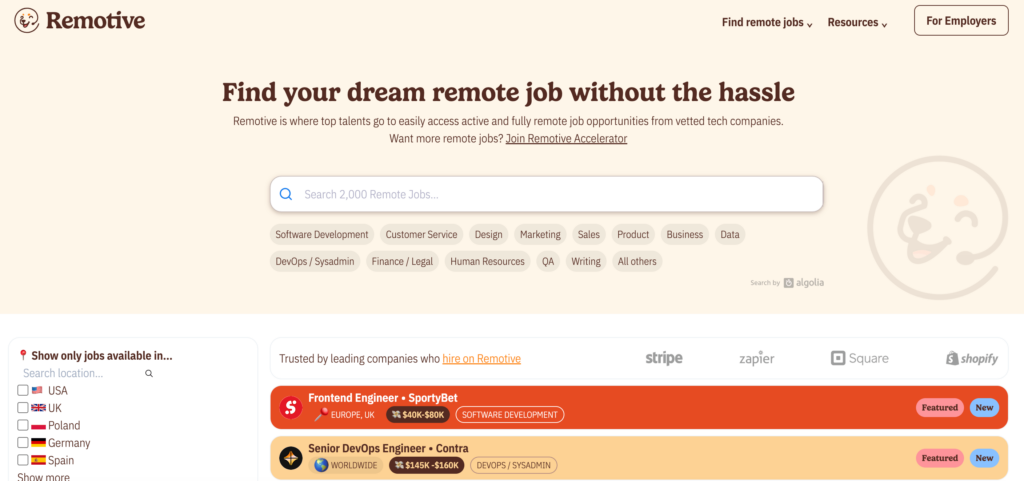 Remotive's remote jobs board is fairly standard, in that you can search through all categories, including marketing. It's easy to see when a job has posted, where it is located, and what speciality it falls under. What makes this site stand out is that it's a community as well (not unlike SolidGigs). Rodolphe, the creator of Remotive, is a cool dude with tons of applicable experience, and is funneling key information and great advice to his community through email newsletters, interviews, and webinars on a bi-monthly basis with the goal of helping everyone land better remote jobs. Not to mention, it's free to join!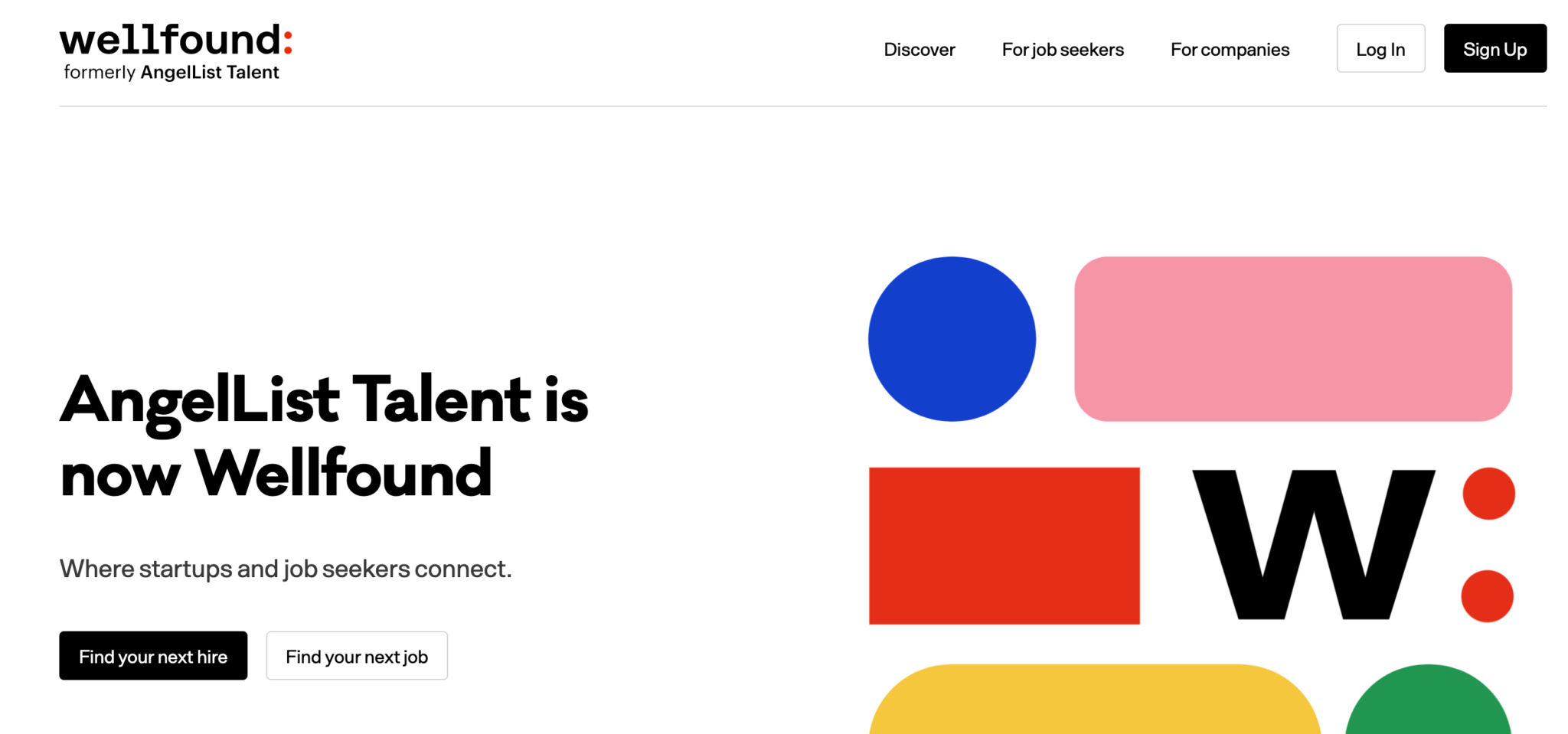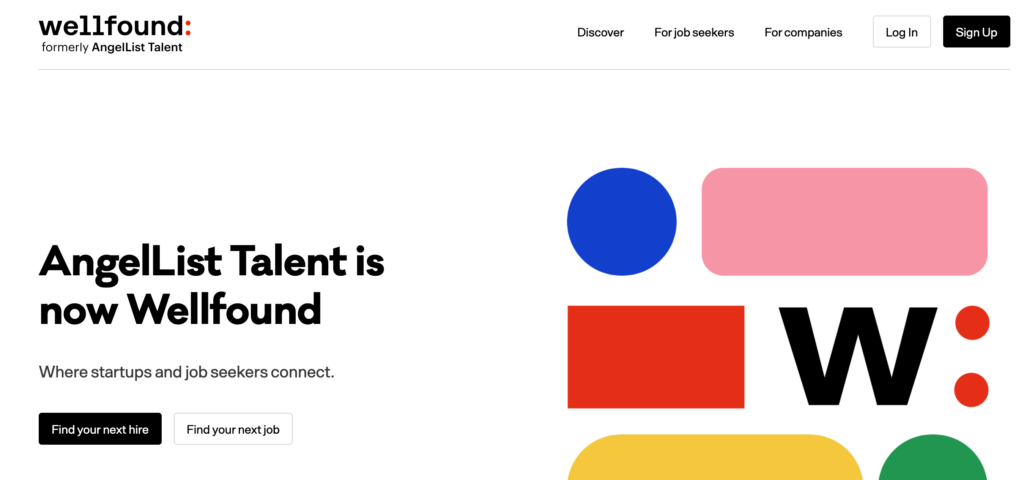 If your dream is to get in on the ground floor with an exciting, up-and-coming company, wellfound (formerly AngelList Talent) is one of the best remote jobs websites for you to consider. Startup companies of all sorts have been looking for remote talent on what used to be AngelList for more than a decade, including some established companies and many brand new startups. Great features of this remote jobs website include discretion (only the companies you apply to will know that you're looking for a job) and salary transparency (each remote job posting includes annual salary in the header).


Hubstaff has built a solid reputation for itself pairing quality companies offering remote jobs with great talent. Like LinkedIn, you'll create a (free) profile, and then have access to the plethora of new remote jobs posted daily. Some gigs (like "Instagram Specialist") begin as low as a few dollars per hour but span up to the six-figure range, so this remote jobs site is also a great resource for those in need of a side business.


Skip the Drive makes your remote jobs search faster through its filtering system. Their remote jobs are broken down by category, and from there you can sort by date, relevance, full or part-time, and by location. Skip The Drive also pools remote jobs from many of the bigger job-listing sites (like CareerBuilder and ZipRecruiter), so searching here can save you a ton of time and provide more options than many others.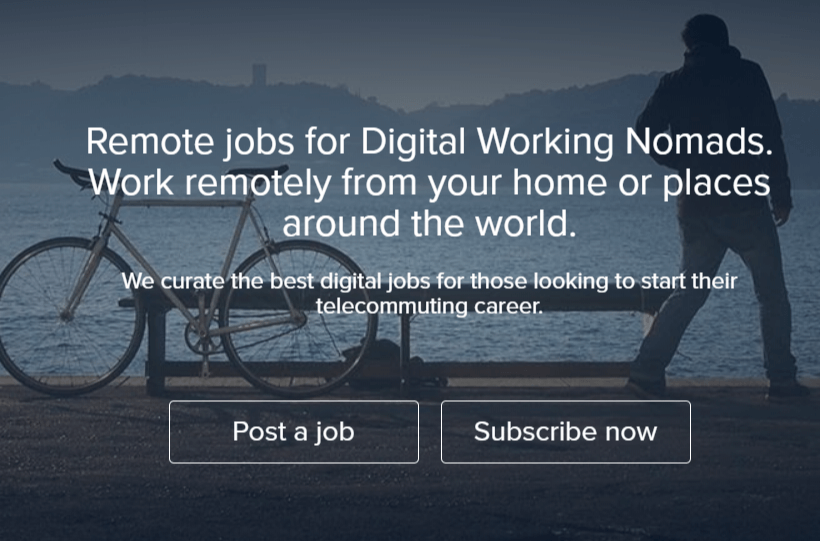 By signing up with WN (also free), you'll get a curated list of remote jobs sent straight to your inbox, either daily or weekly. If you're not a fan of emails, the site is also color-coded by category and easy to navigate. While their remote jobs categories range from Design to HR to Legal, the highest number of postings are for Development, making this site a great resource for software engineers.


This remote jobs board is conveniently broken down by category, and clearly shows the timestamp of each posting. This remote jobs website has been building its clout as a reliable source for both employers and job seekers, and some of the bigger companies in the tech sector have taken notice. There are also some great resources for remote job seekers, including a great Q&A board frequented by a supportive community with regular content around how to land your dream job.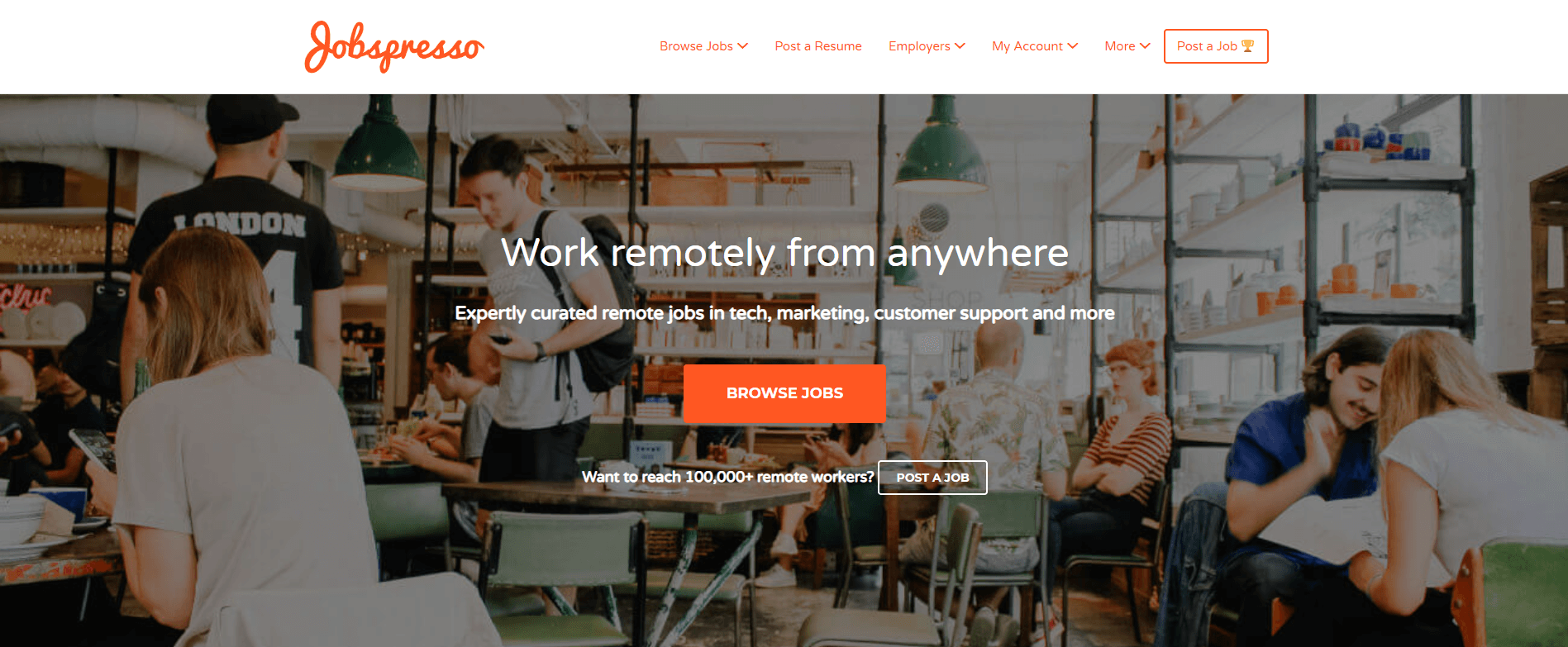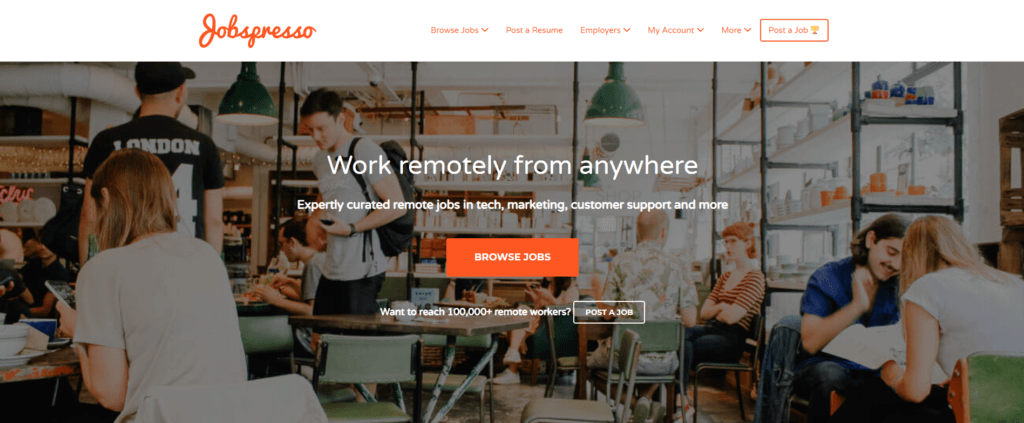 With each remote job on Jobspresso being hand-picked and reviewed by a scrutinizing staff, it's a wonder that this remote jobs website is still free, though a quick search through their job boards reveals how they can do it: companies who post their jobs on Jobspresso can pay to have their listings "featured," and boosted to the top of the remote jobs boards. While this may throw off the "most recent" accuracy of search results, it seems a small inconvenience when you see the high-quality jobs available.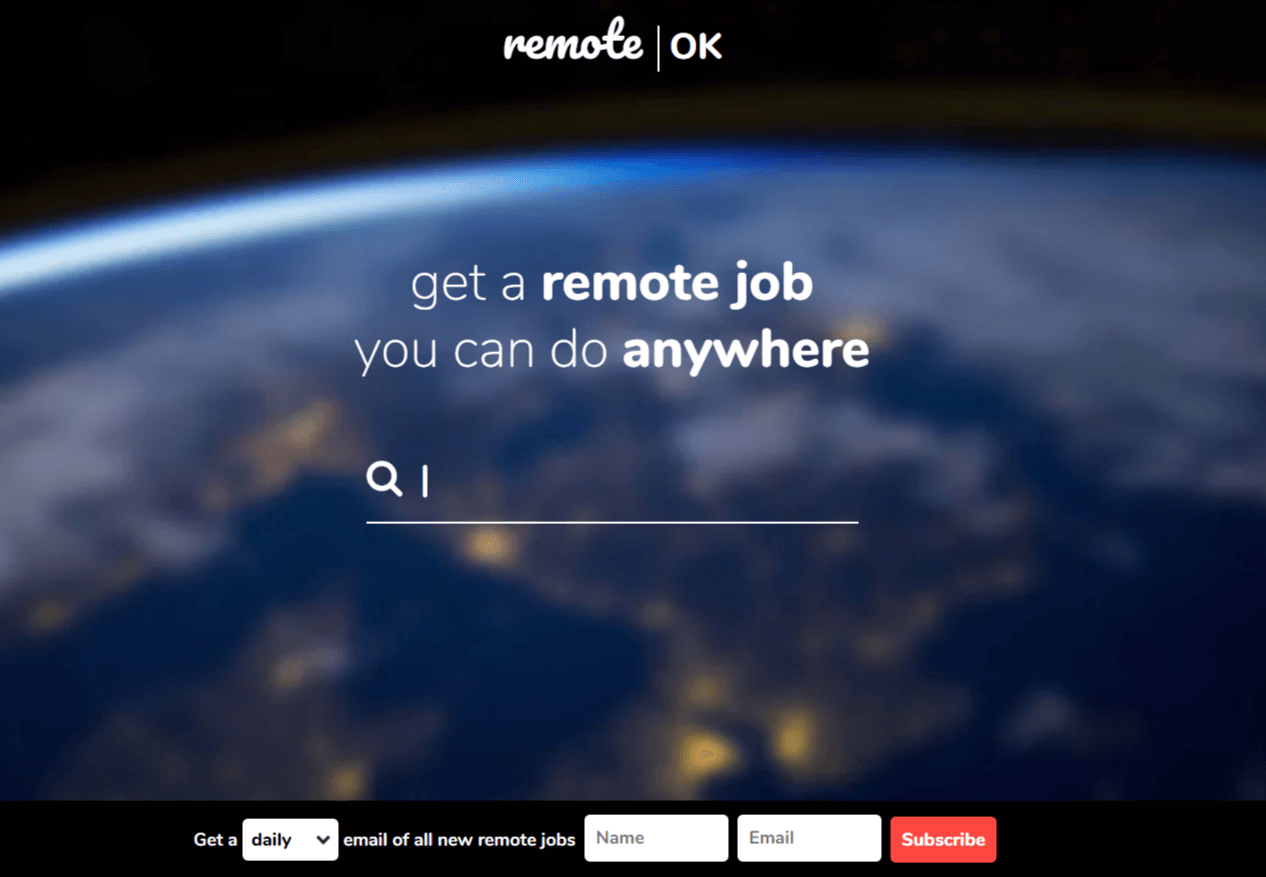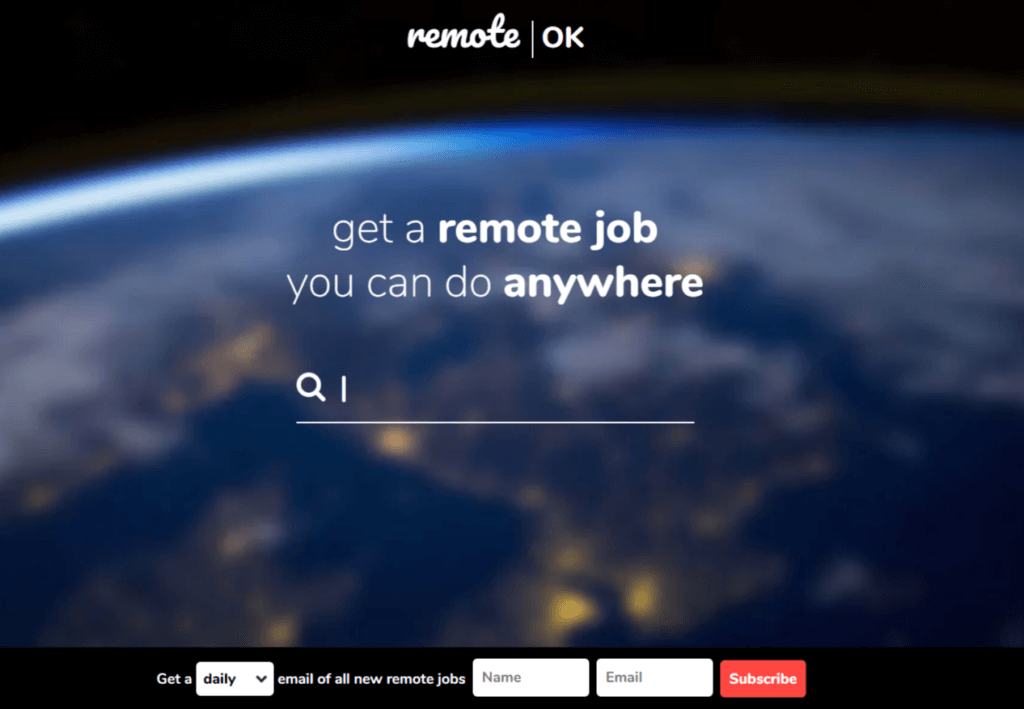 Remote.ok has some exciting features, including live rankings of the top companies offering remote jobs and actively hiring candidates over the last 12 months, statistics about what kinds of remote jobs are trending most today, and of course tons of well-paid remote jobs listings for designers, developers, writers, marketers, salespeople and more.


VV offers some attractive membership packages, which grant access to some incredibly helpful tools. Take for instance the Job Application History feature, which helps you stay on top of which remote jobs you've applied for, when you should follow up, and such. VV offers a money-back guarantee, confidently implying that their subscription service is worth it. But if free is more your speed, Virtual Vocations' vast remote job board is still accessible without having to subscribe.


The Muse's interface is pretty spiffy. By setting the "Location" filter to "Flexible / Remote", you'll find remote jobs doing everything from online ESL teaching gigs, to project management positions and sales roles where you'll get to put your CRM chops to the test. What makes The Muse particularly unique in the remote jobs world, is that they feature access to one-on-one professional coaching, online courses to help you prepare for challenges like negotiating a offers for your remote jobs, and in-depth profiles on the companies that are advertising remote jobs through their website.

Toptal's primary focus is on placing talented freelancers with remote jobs working for clients like Shopify, Thumbtack, Priceline, USC and more. Their application-based network is designed to accept only the top 3% of freelance software developers, designers, finance pros, product managers and project managers in the world. If you apply and are approved to work with Toptal clients, you can expect to gain access to high-paying remote jobs with recognizable brands.


Outsourcely is an amazing resource for anyone looking for full-time remote jobs. By creating a profile on this remote jobs platform, you'll be putting yourself in the direct line of sight of companies looking to foster long-term relationships, not just gig-based projects.


Workew is a fairly standard remote jobs board that is easily filtered and navigated to track down exactly what you're looking for. You're able to bookmark specific remote jobs that sound appealing as you browse, and can even sign up for Twitter notifications so you'll be alerted as soon as a new remote jobs hit the market. Best of all, this site is totally free!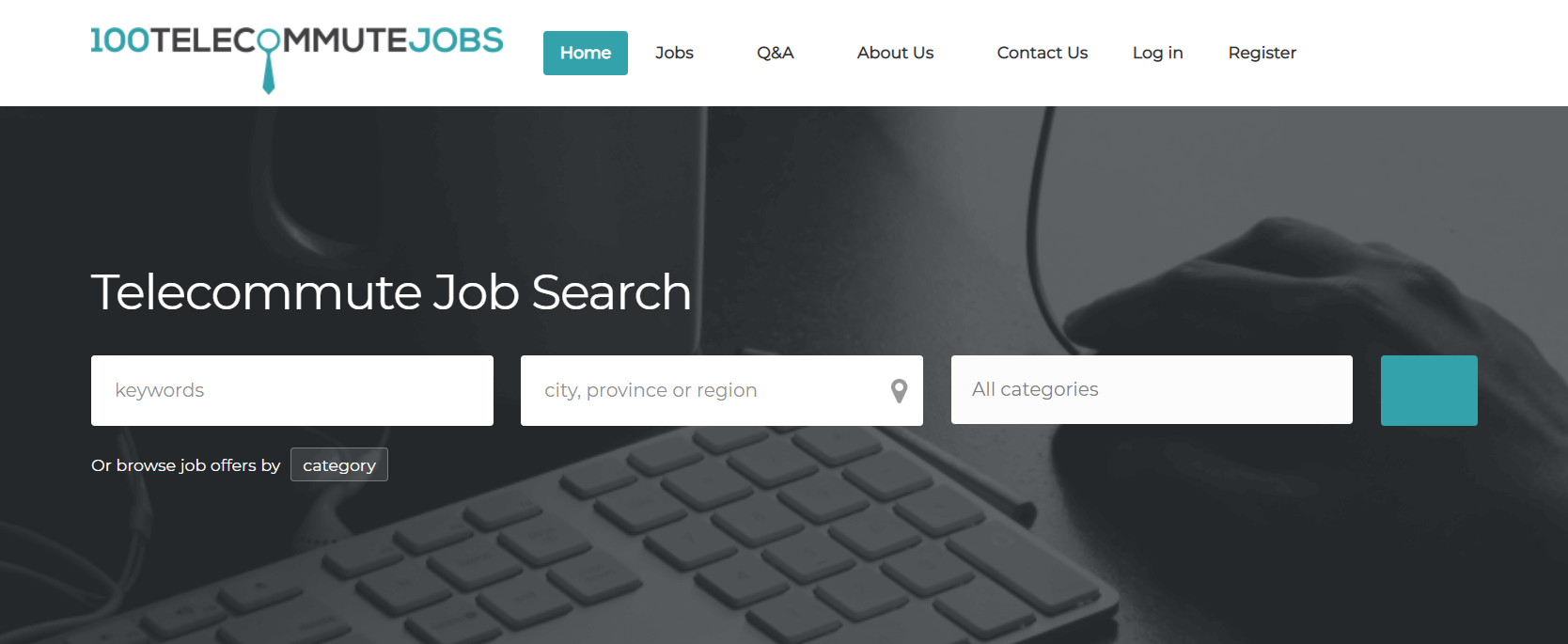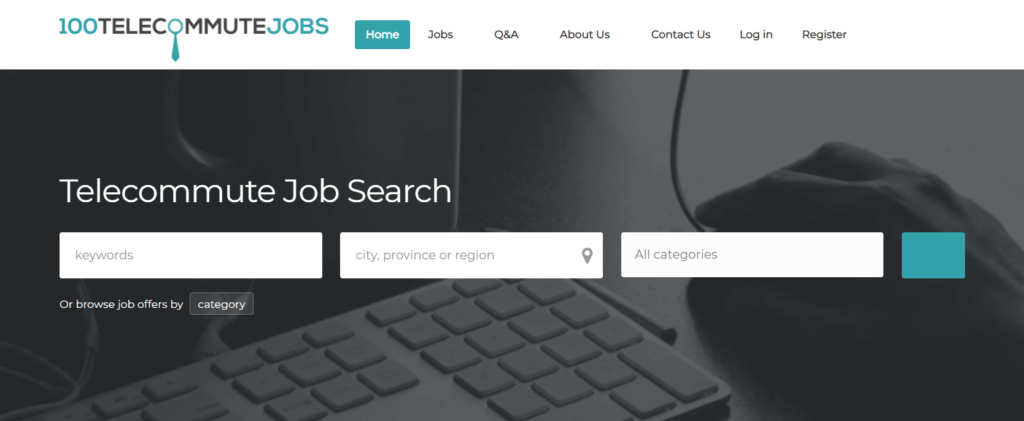 With a delightfully simple design, 100 Telecommute Jobs is like the underdog of the remote jobs board world today. The creator's mission is to make the perks of landing remote work available to everyone (like actually making real money online from your own home), including those who can't afford the membership fees of other remote jobs sites. Check out the "Job Categories" grid for a monochromatic map of job options.


By now we've seen a few aggregated job boards that are fairly comprehensive. What makes Remotees great is if you know that there is a specific company you'd like to view remote jobs for. Head on over to the companies page and you'll actually be able to see which companies are posting the most remote jobs, which can be a helpful tool as you research your options.


Sick of typing "remote" into search bars, or getting to the end of a tantalizing job description, only to find that it's not actually a remote job? Fear not, because Remote4Me is on the case! Though especially designed for members of the tech community (with ample remote jobs for developers and engineers), there's also a robust listing module for non-tech work (like sales, HR, and SEO). This site is an aggregated collection of remote jobs from about 40 other job boards, which could end up saving you tons of time in your search. Did I mention that it's free? 💪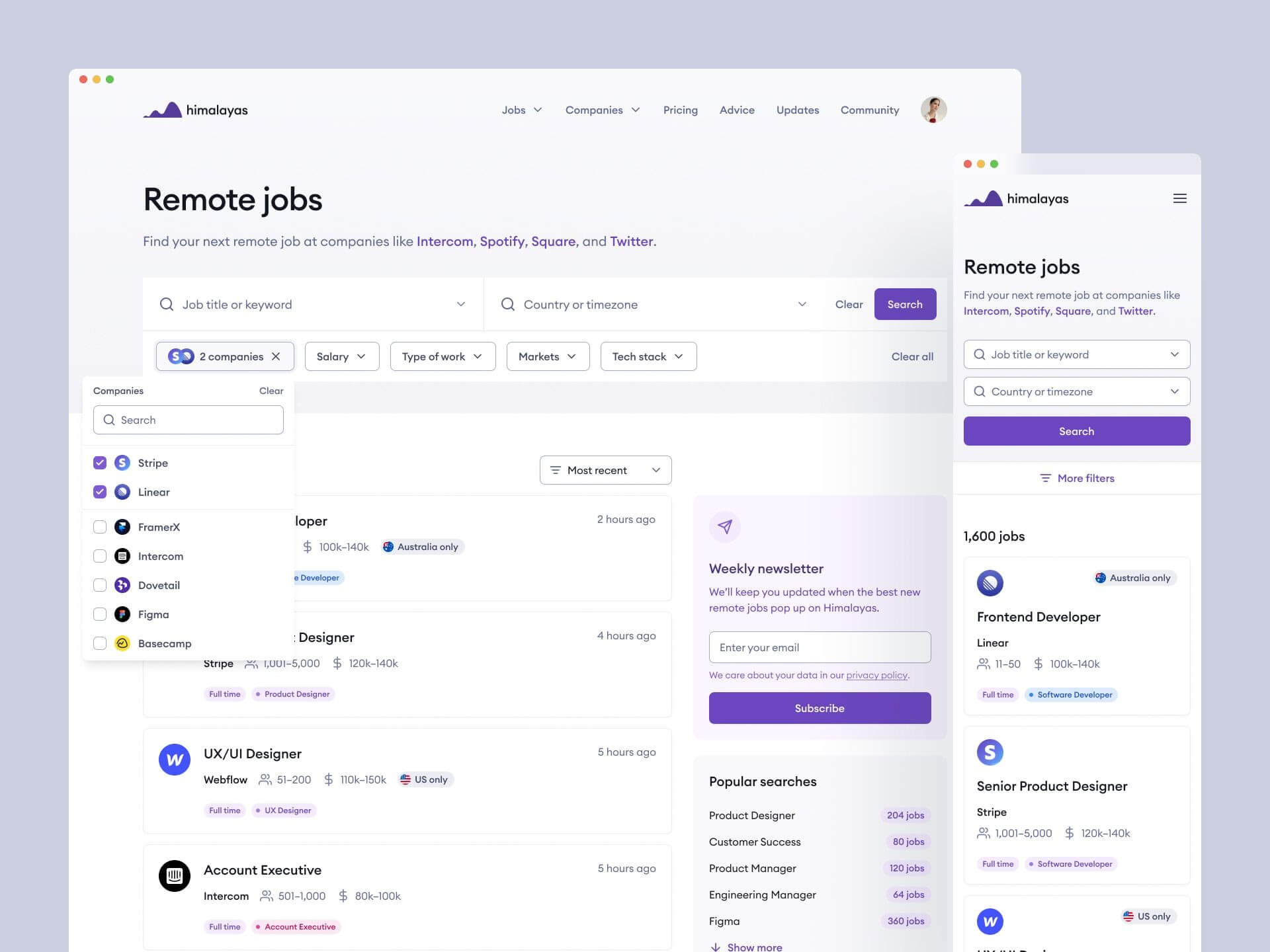 Himalayas has a fast, efficient, and beautifully designed remote job search experience. Its powerful visa and time zone filters also make it simple to find the most carefully curated remote jobs—no matter where you live. What I like most about this site, is that they're in-depth remote company profiles serve to help you understand each company's culture, mission, tech stack and employee benefits (to make sure they're a good fit for your needs too).
23. Remote Jobs Club (Their Site)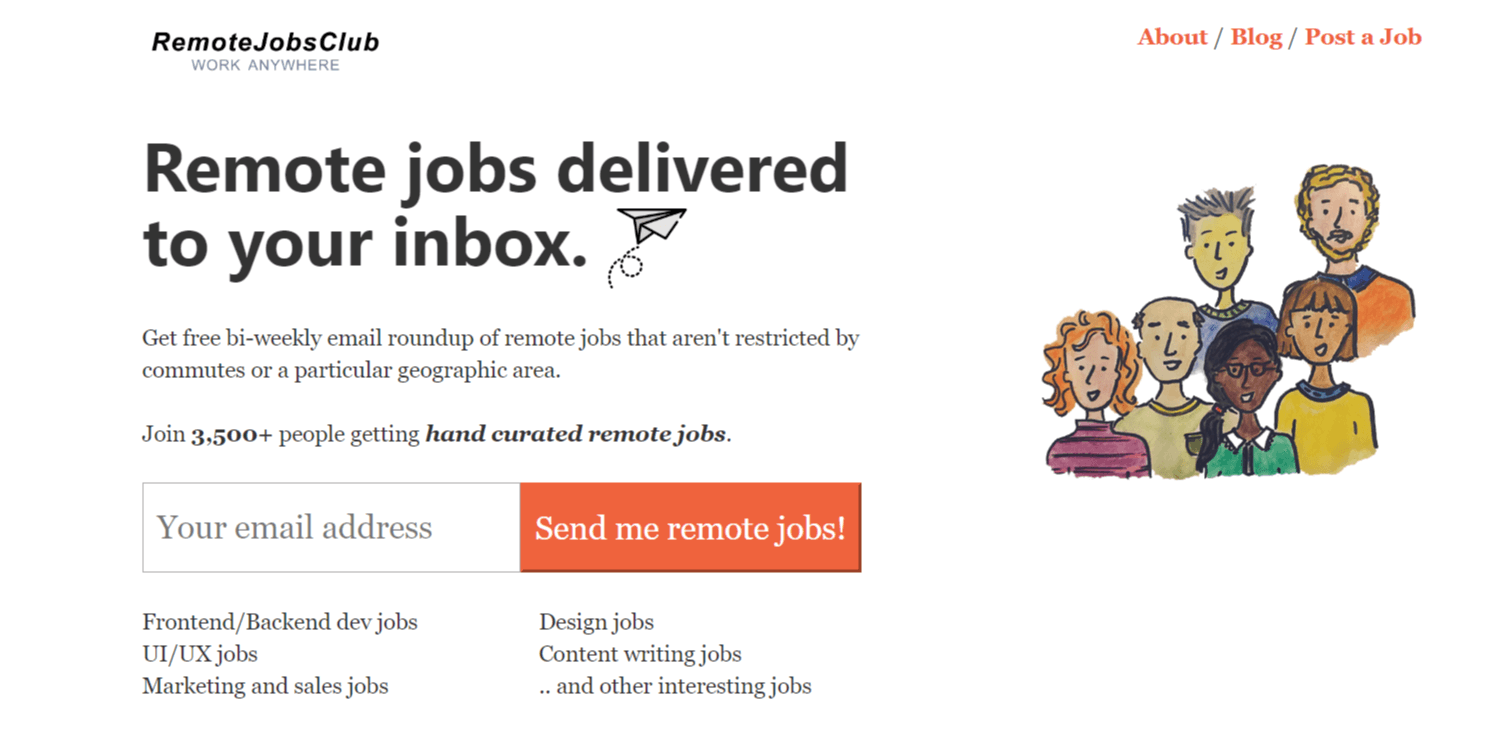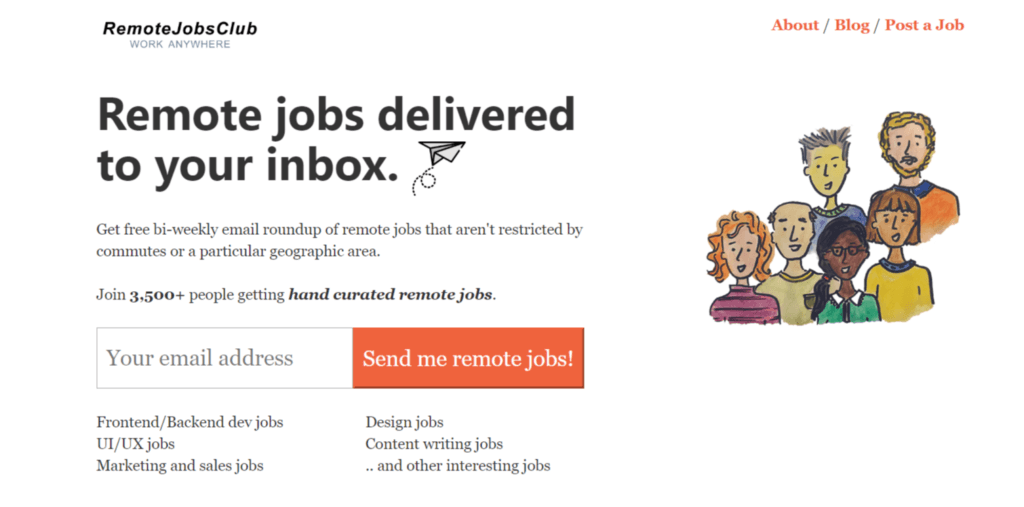 If you're still coming around to the idea that remote jobs are the right choice for you, then a friendly, gentle nudge by way of a bi-weekly email roundup might be just the ticket. Remote Jobs Club is free, and is run by a benevolent guy named Sanj, who just wants to help people find their dream remote jobs!

Designed by and for women, Rise is the premier remote job site for women who want to start freelancing, pick up some contract-based projects—or land otherwise flexible remote jobs. This particular platform that serves women, has never been more relevant (and important). With women making up nearly 60% of employees who've been laid off due to COVID-19, they're growing very quickly and attracting lots of great companies that want to hire top talent. Unlike other job sites, Rise is truly a vertical-centric ecosystem that brings together flexible jobs, on-demand benefits and services (like health insurance, financial services, tax and accounting support) and an engaged community. The platform is striving to build a future where women are empowered to go further and faster, on their own terms.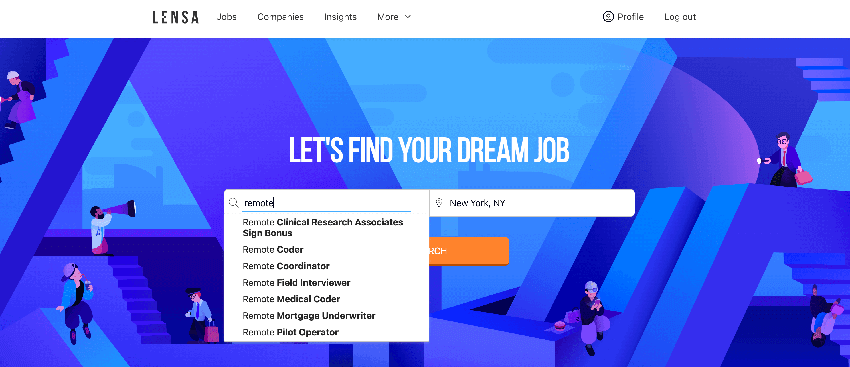 Similar to many remote job search engines out there, Lensa provides a thorough overview of companies and their profiles. What makes Lensa different is its filtering process. You can simply insert "remote" in the job title field and get a list of options, narrow down your search to company values such as work-life balance, professional growth, recognition, and support.
Writing and Editing Remote Jobs Websites
Up next, we've got my picks for the best remote jobs sites that have a particular focus on writing, editing, content creation and the like. To dive even deeper into writing-focused opportunities, check out my list of the best blogging jobs and websites to find paid writing work today. And I'd be honored if you'd try my blog title generator tool, along with some of these best AI content writing tools. Here we go!


Contena makes the top of our list of the best writing and editing-focused remote jobs because they empower writers, editors and content marketers to find jobs that allow them to write from anywhere—a dream come true for those with a knack for copywriting. What I like most about Contena, is that they feature both freelance jobs and full-time remote jobs. Examples of real remote roles recently listed on their homepage (right now) include a $6,000/mo marketing writing gig for a mobile app development company, a college sports writing position, photography-related content writing jobs, and literally thousands more spanning every imaginable industry—where you can land good jobs working with reputable, pre-vetted companies.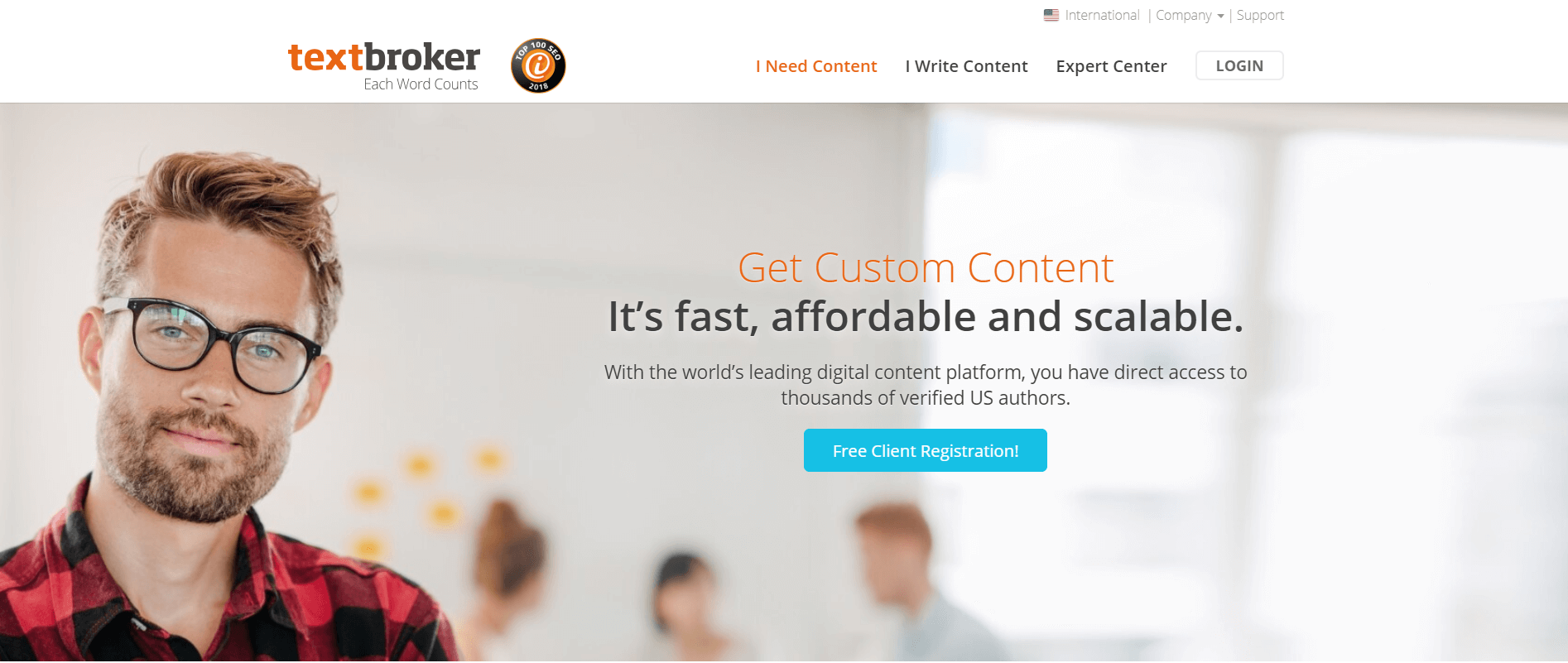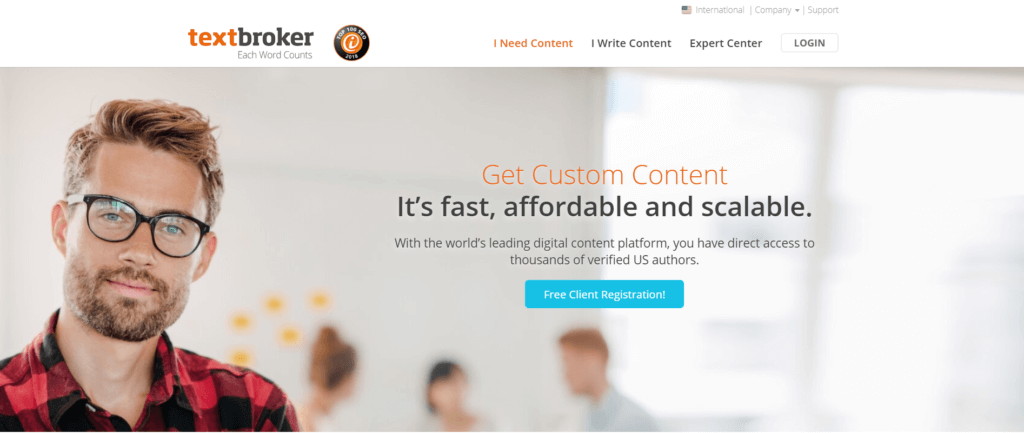 Textbroker is an amazing site for writers looking to land remote jobs that'll let them write on their own time. After submitting a short "signup article," you'll be rated on a scale of 2-4 stars (have no fear, you can improve your rating over time if you're not satisfied). From there, you'll be eligible to take on jobs that are paid per word. Payments are made weekly through the site via PayPal. The more you write, the more you earn and the closer you'll move toward planting the seeds for a freelance business for yourself along the way!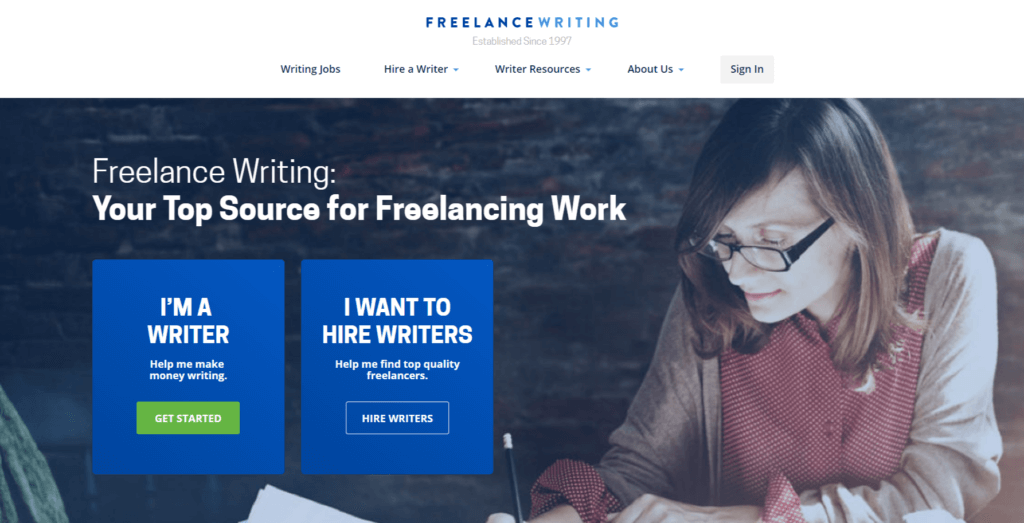 Freelance Writing has been around since 1997, and it shows. Whether you've started your own blog and your specialty is now brainstorming blog post ideas, writing content, driving traffic to a blog, press releases, or product descriptions, you will find tons of relevant remote jobs here. In addition, FW offers writing contests and resources to help improve your freelance writing, helping you strive to create better content, and scale your efforts to make money blogging.
Related Reading I recommend: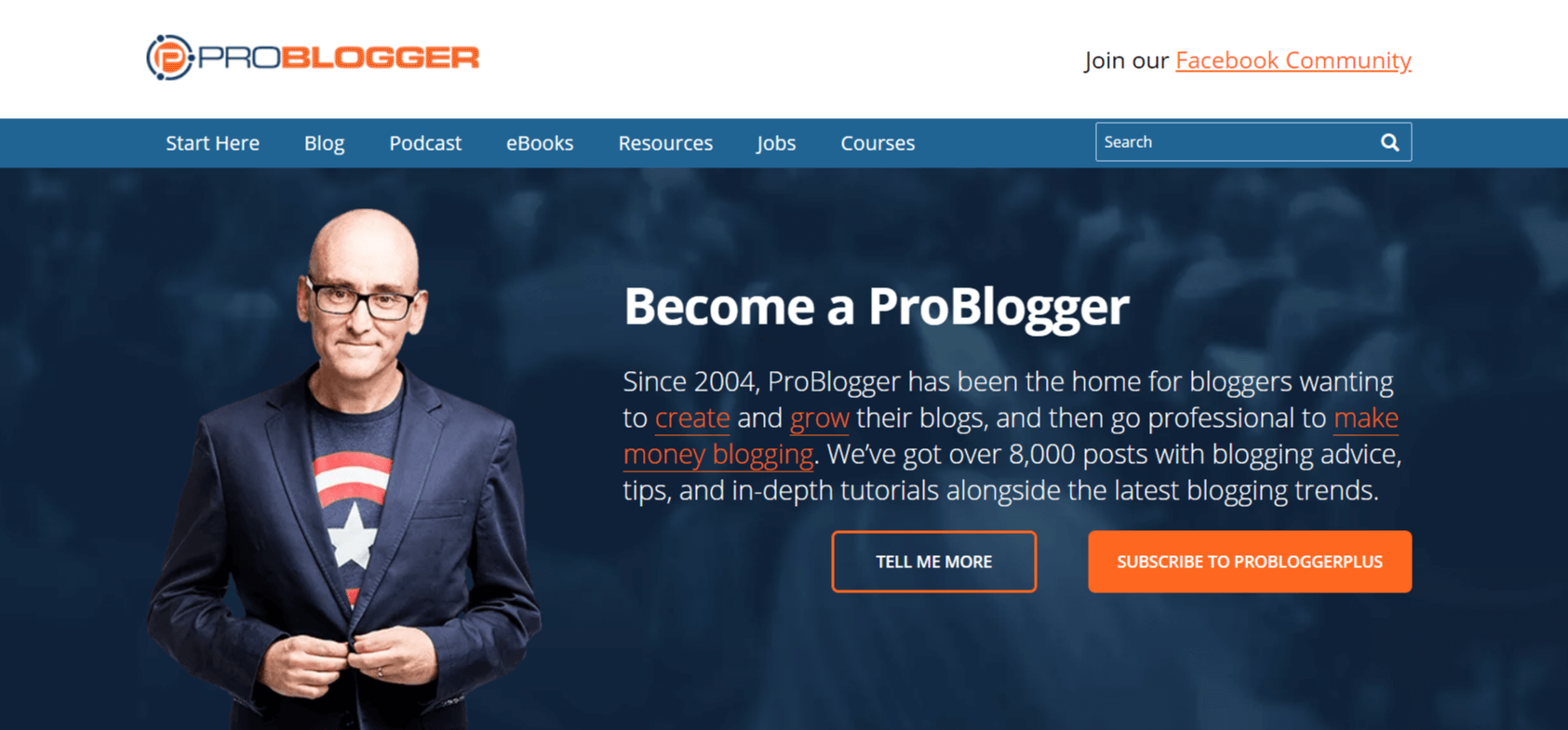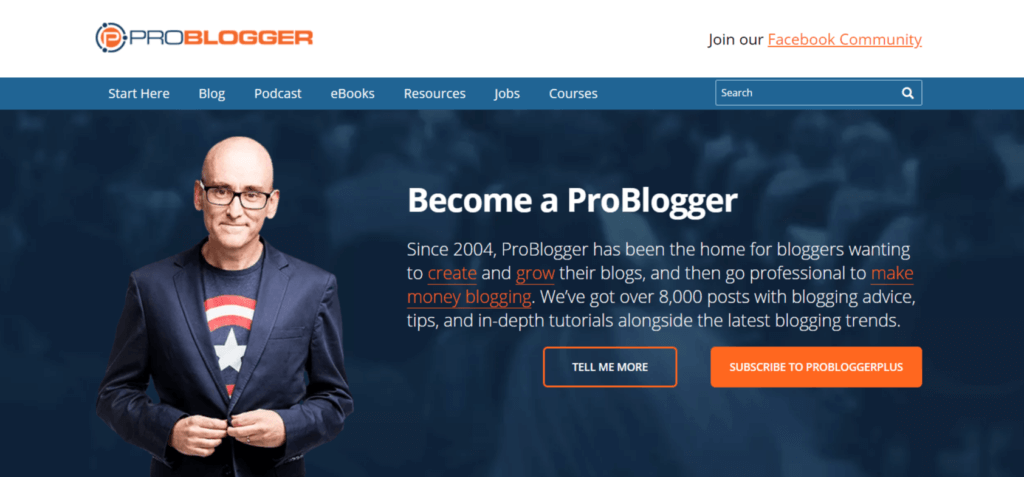 Writing-focused remote jobs available on ProBlogger will range from full-time copywriting positions, to freelance and contract gigs. The majority of the clients looking for writers through this site are in need of more intermediate/experienced writers, so you should have sample work readily at hand when you apply for one of these remote writing jobs.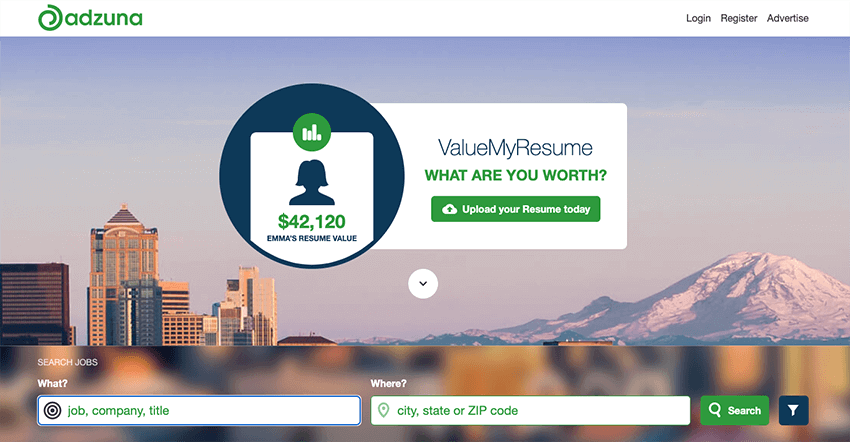 Adzuna is an innovative job search engine, designed to make the process of finding a remote job simpler and more transparent than it's been historically. With access to over 6 million live jobs and unique tools such as salary stats and noise-cutting filters, Adzuna helps remote job seekers zero in on the right role faster—and with greater accuracy. It also works to protect user privacy by not giving third parties access to your data (and ensuring you don't have to worry about your information being sold). Whether you're a recent graduate or an experienced professional, this remote job site makes it easy to search for the perfect remote work situation for yourself.
Engineering and Developer Remote Jobs Websites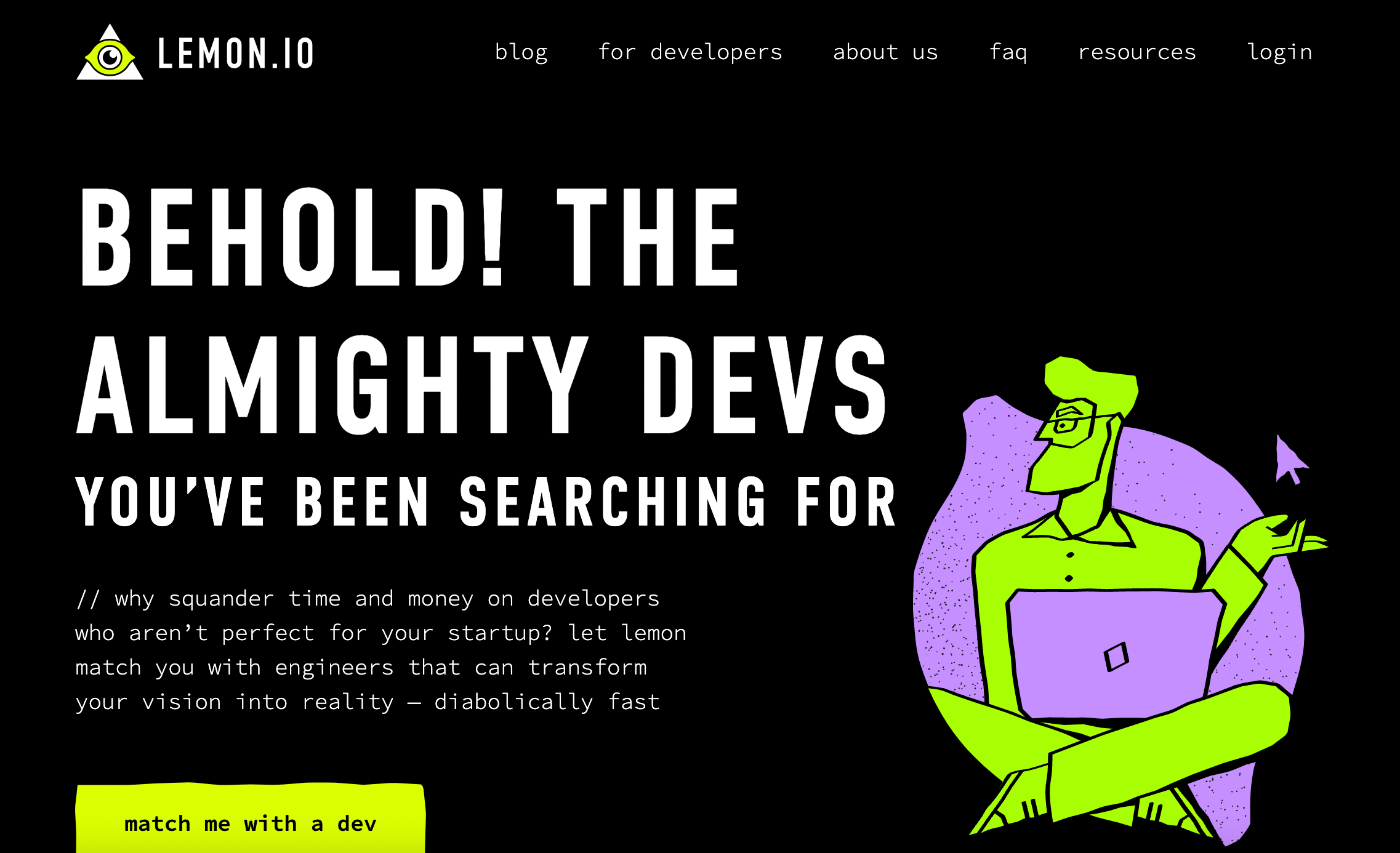 Founded in 2014 as a small Ukrainian startup called CodingNinjas, Lemon.io has become a vibrant vetting marketplace where Western startup owners can hire remote developers from Europe and Latin America—fast and pain-free. There are several key features about Lemon.io that set them apart from others in the remote jobs for developers space. First of all, it's a pre-vetting platform. Prior to registration, all the developers should pass a four-step verification process (resume check, soft skills evaluation, English language proficiency test, and coding session). Secondly, the sales, recruiting, and matching departments offer a complete service package to both clients and developers. Clients get the first candidates in 2-3 working days, with transparent payouts and refund options, while developers can expect a resume preparation and job interview assistance. In addition to this, Lemon.io has been building its own network of professionals through organizing online and offline events for the IT crowd worldwide.


Authentic Jobs has some of the biggest companies in the game on their client list, from The New York Times to Apple and Tesla—it's an incredible resource for all web professionals. As you might expect from a remote jobs board with a focus on developers and creatives, this site is extremely intuitive and easy to use. When searching for remote gigs, all you have to do is hit the toggle switch from "All Jobs" to "Remote." As my mom would say: Easy as pie.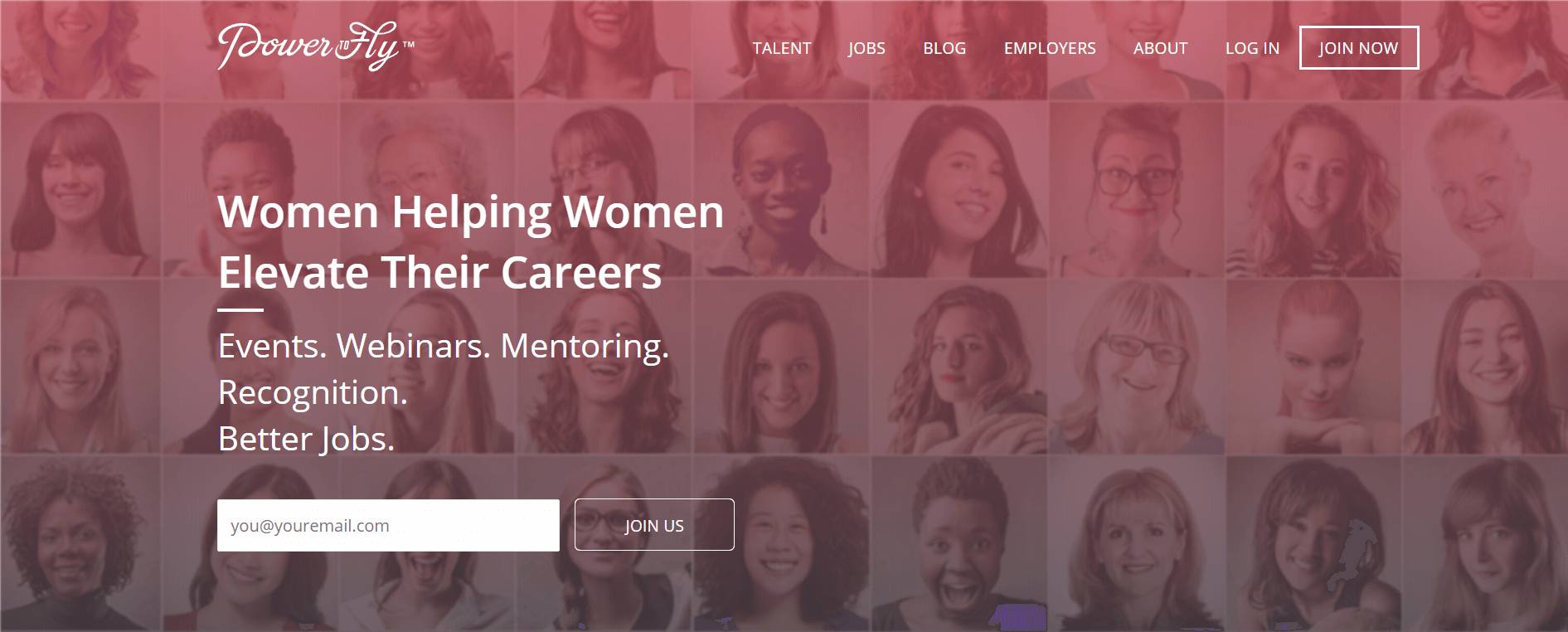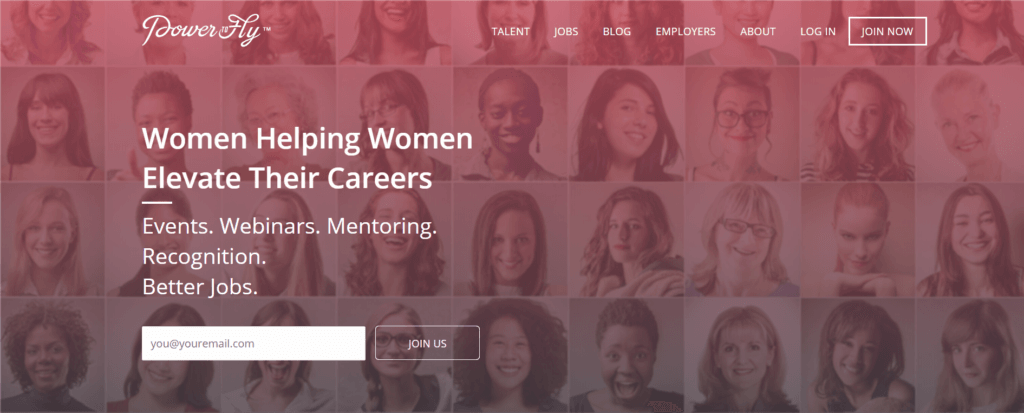 PowertoFly's mission is to match talented women with amazing companies that value diversity and inclusion—for great remote jobs. After joining the platform, job seekers will go through a vetting process, and then have access to be matched for a 2-4 week "paid trial" test period to make sure the fit is right for both you and the employer. PTF is one of the most innovate and exciting online spaces for women seeking to expand their network, find opportunities for solid remote gigs, and lean into a digital nomad lifestyle in the tech and digital sectors.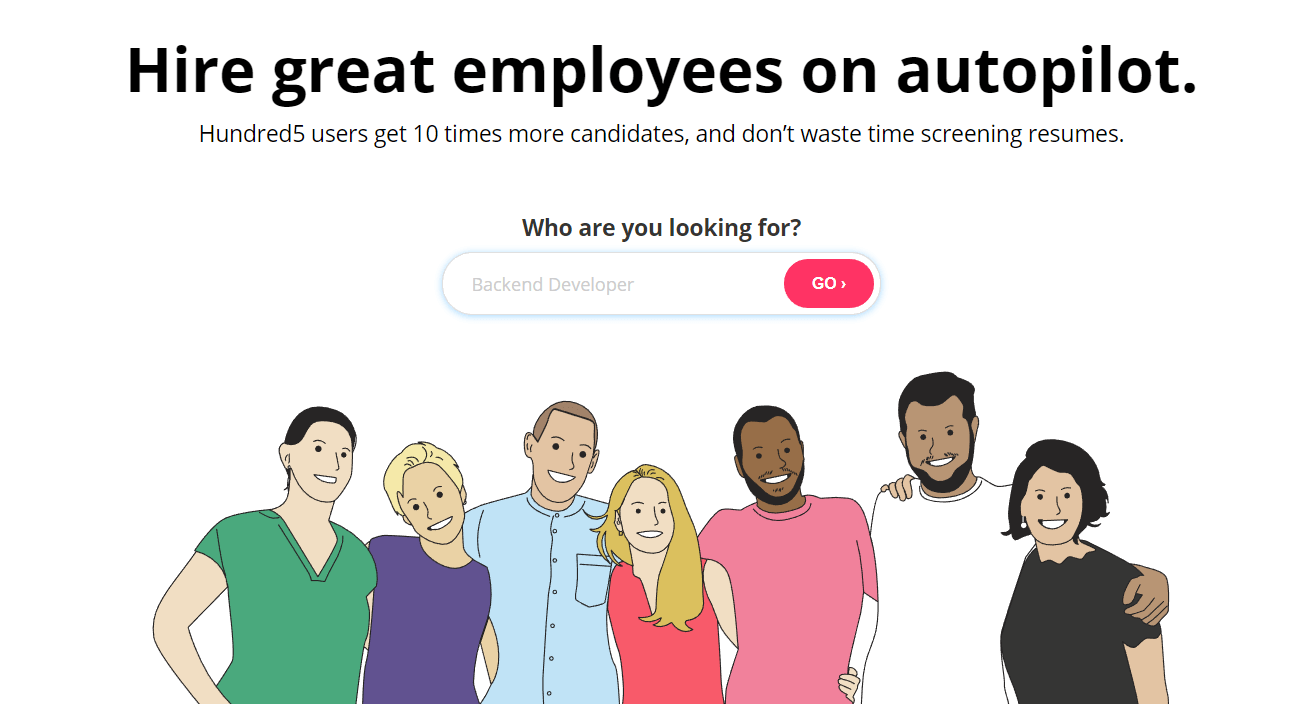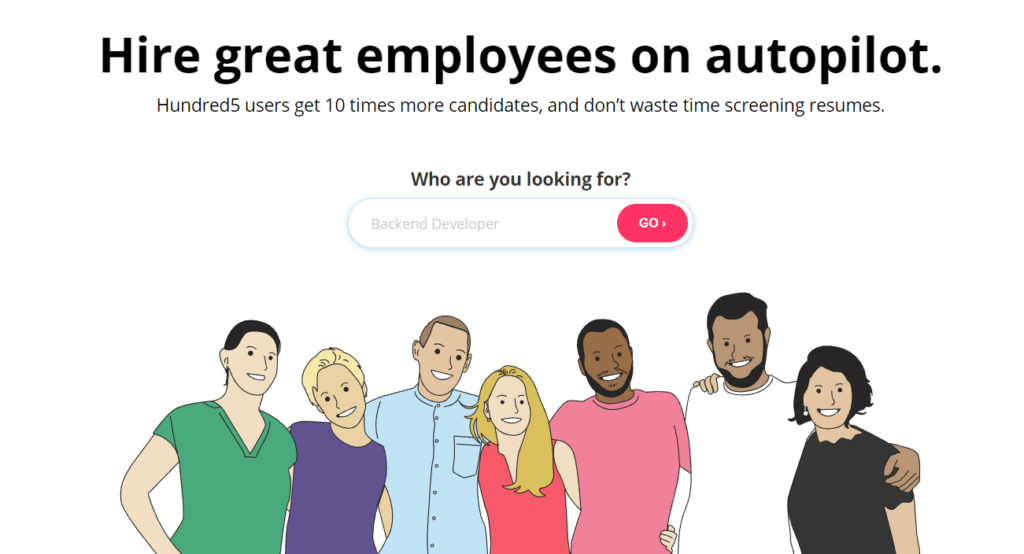 The premise at Hundred5 is that top talent aren't scouring the remote jobs sites all day, but that they're scrolling through social media. At the Hundred5HQ job board located on Facebook, you'll find new remote gigs posted straight to this group's timeline (which will pop up in your news feed). If you're interested in a position, you'll be able to complete a short quiz to apply, rather than submit a resume.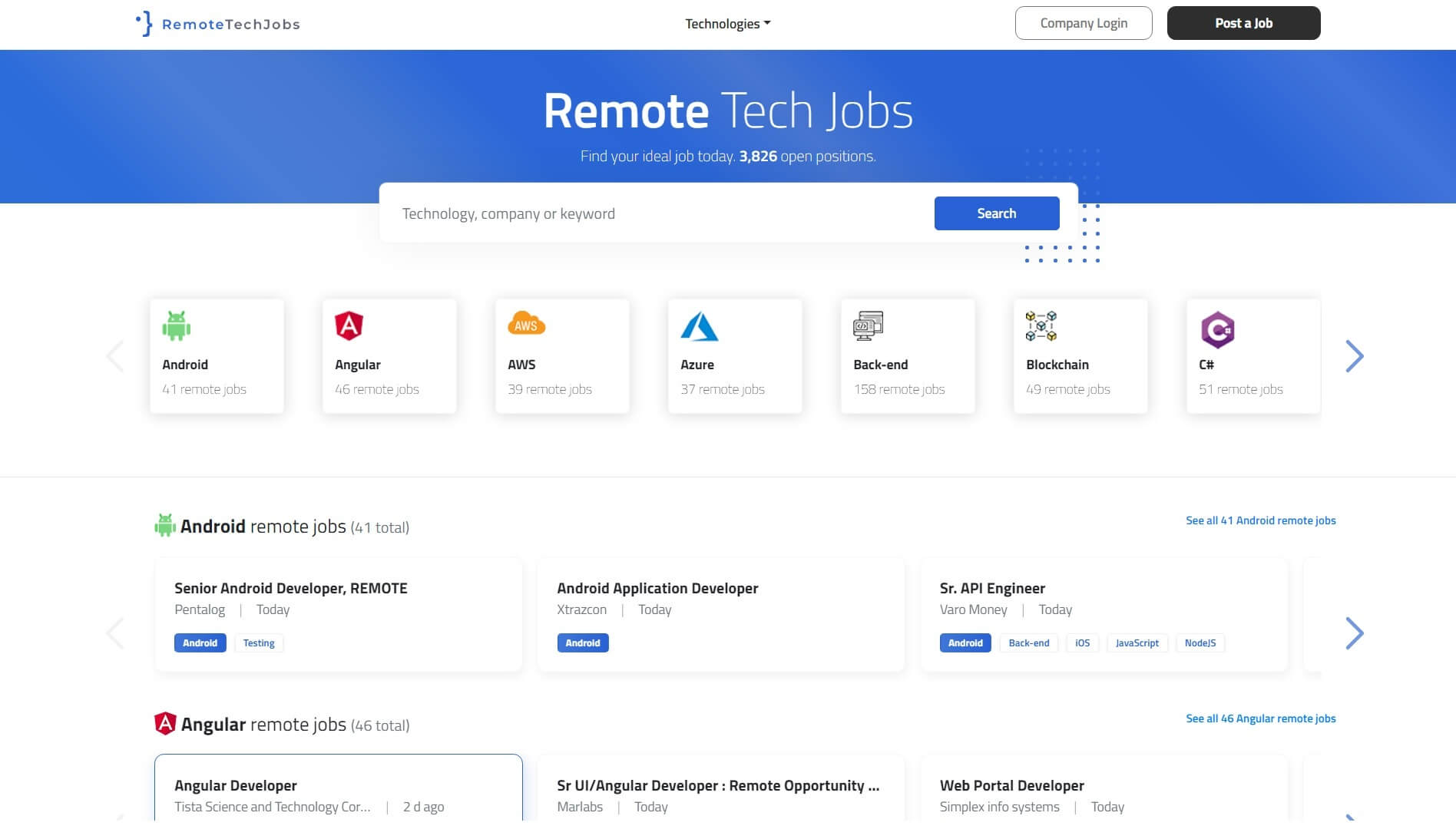 This is one of the most up-to-date remote job sites when it comes to the number of tech jobs constantly available. At the time of writing, you can find close to 4,800+ jobs on Remote Tech Jobs for 37 different technologies. Just pick the technologies you're qualified for and you won't need to sift through irrelevant job offers. You can easily subscribe to any technology and get new remote jobs delivered straight to your inbox—plus, all jobs on the platform are 30 days old at the most.


If you're a Ruby developer, you need not look any further than this remote jobs board! RubyNow collects remote listings from hundreds of site and hosts them all on this simple and straightforward platform where you can browse through options to find what suits you best.


LJ is dedicated to placing top tech talent at remote jobs working for some of the leading European companies in the game. Their site boasts a highly personal experience, helping each and every job seeker land remote roles that they love. Though most of the remote placements available are Euro-based (Porto, anyone?) mostly for time-zone alignment purposes, there is a section of the site dedicated solely to fully remote placements.


Simply type "remote" into the location search bar over at GitHub and boom: from front-end to full-stack to Ruby, developers can find plenty of remote jobs with exciting companies. If you use Twitter, be sure to follow GH, where they post new remote jobs daily!


Becoming a "Professional Freelancer" on gun.io puts you in the running for some of the most competitive and sought-after software development remote jobs available today, plus they have a great reputation for taking care of their community (ex: gun.io pledges to back up their freelancers 100% during conflict). Be sure that your online profiles (LinkedIn, GitHub, etc) and work portfolios are up to date before applying through their website, because you'll be linking them all to complete your online application for these remote gigs!


Dice is a fairly standard remote jobs board, but with a specific focus on the technology industry. One great perk about this site: if you're the type of developer who prefers to telecommute, but likes to know that the company is located nearby, Dice offers a filtering system which allows you to narrow your search for remote roles at companies within 5, 10, 20, or 30 miles from your location.
Best Design and Creative Remote Jobs Websites


Dribbble is most commonly known as a community for graphic designers, web designers, illustrators, and creative to showcase and share their work. The user-friendly platform allows clients to easily search through portfolios to find their next hire for both full-time remote gigs and freelance projects. A lesser known component of Dribbble, exists at the top bar of the homepage: select the "Remote" option from the "Jobs" dropdown menu, and you'll find tons of full-time and freelance remote jobs that can be done from home!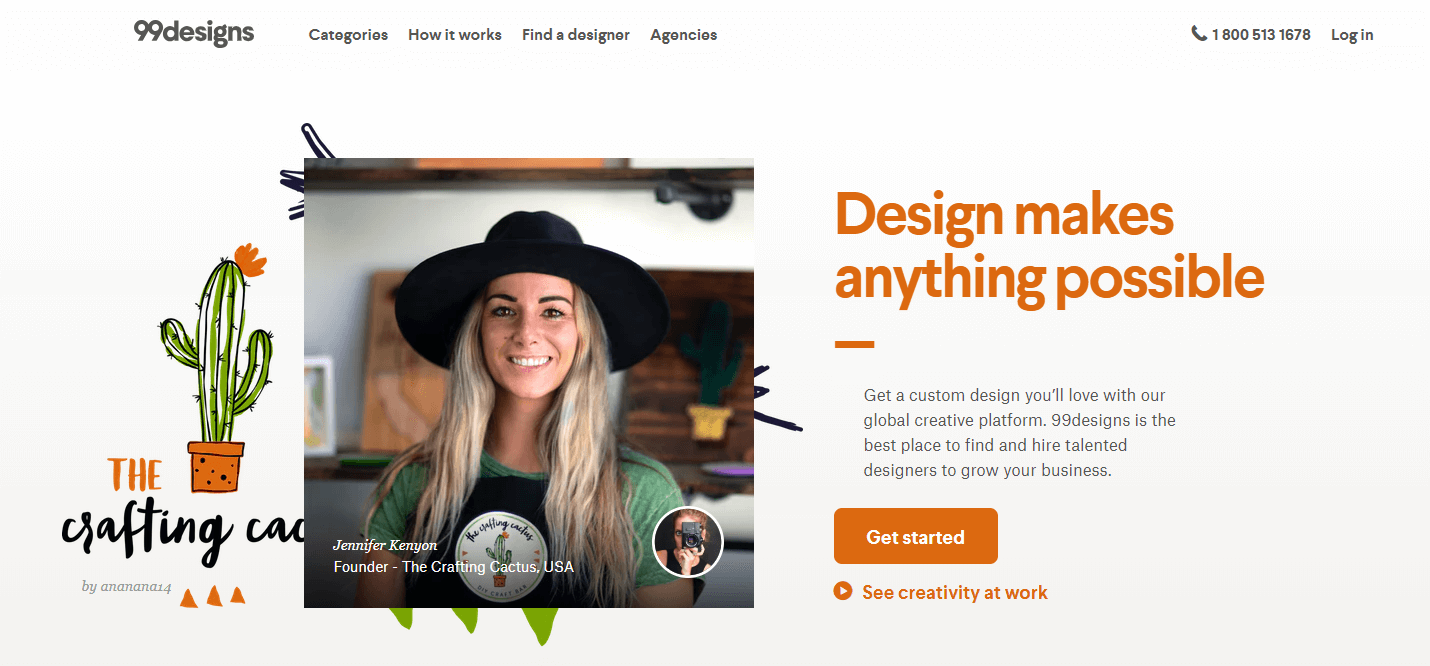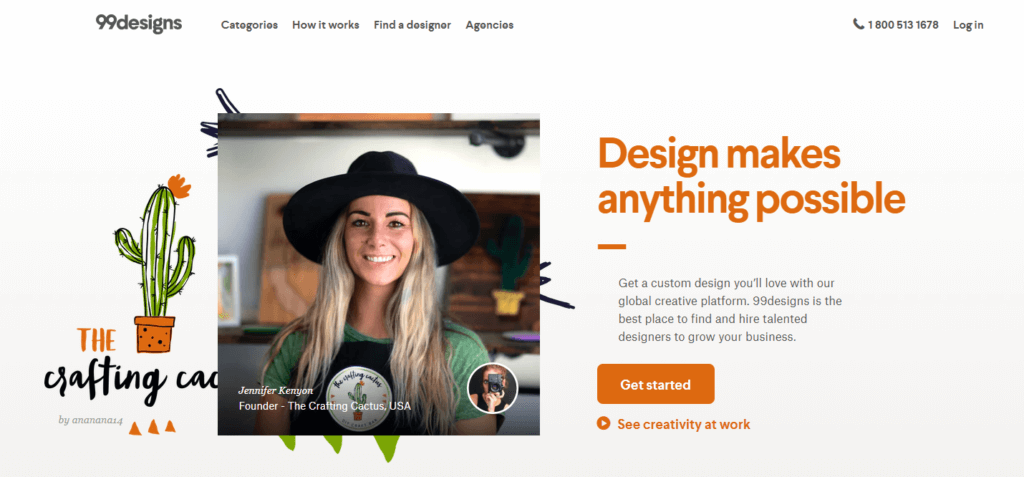 Like the Upworks and Fiverrs of the world, 99designs is an online community in which designers can showcase their work, connect with potential clients, and compete for primarily freelance style gigs (but the occasional remote jobs come from these projects). Design categories range from web page design, to business cards, to total branding overhaul, making this site a great hub for a wide array of designers! Clients can choose from a number of fixed-price packages, taking a great deal of guesswork out of the billing process. Speaking of billing— the convenience that 99designs facilitates doesn't come without a cost. Keep an eye out for the variety of payout options, and what fees may apply! Another note: 99designs has become increasingly popular in recent years, meaning more clients than ever are using its service. The high traffic of clients has also come to mean high traffic of designers, so be ready to bring your A-game!


NODESK is a fantastic resource for anyone looking to learn more about getting into the digital nomad/remote work game. Not just a remote jobs board, this site features a vast collection of articles and tips written for, by, and about taking on this exciting new lifestyle (hint: you may even find some great deals on travel gear)! The remote jobs board section of the site is no-frills and straightforward, and broken down by categories, including Finance, Marketing, and Operations. Check out the many inspiring links and get excited about the endless possibilities of life with remote work!
Marketing Remote Jobs Websites

MB boasts some of media's top players as clients (NBC, PBS, and HBO to name a few), and have a crisp, easily-navigable remote jobs board to boot. Here you'll find remote opportunities in all media categories from marketing to publishing and television. Just type "remote" into the keyword search bar and watch the remote gigs pour in!


Indeed is one of the most robust remote jobs platforms out there right now, packing a healthy dose of marketing-focused gigs up for grabs. This site pulls data from seemingly everywhere on the internet, and culls it all into one searchable database jam-packed with killer remote roles. You'll find that a huge variety of industries flock to Indeed to post their jobs, so their long list of remote possibilities will always be diverse!


Surely when most folks hear "job board", they'll think of Monster. As one of the first and foremost aggregators of jobs on the internet, Monster is still growing and going strong—which includes a burgeoning list of remote jobs now on the platform. You'll find thousands of remote roles promoted here, in a huge variety of fields. Just be prepared to do some heavy sifting as the sheer number of remote jobs listed on this site can quickly become overwhelming.


Like Indeed, SimplyHired, and ZipRecruiter, this giant marketplace collects remote jobs from all over the internet and brings them together into one convenient, searchable database. Simply type "remote" into the search bar and watch the remote gigs filter in. You'll have more to comb through here than on a more curated website, but you'll have instant access to thousands of remote opportunities you can apply to immediately!


A company's growth involves a whole boatload of moving parts, including not just a marketing or blogging strategy, but sales teams, design collateral, management, social media experts, and more. GrowthHub understands, and their remote jobs board reflects that reality! Easily navigable, you'll find the "Remote" filter at the very top of the locations filters and their available remote roles will appear.
Up & Coming Niche Remote Jobs Websites


Working remotely gives some of us the option to connect and help communities that might otherwise be out of reach. That's where Idealist steps in. Whether your focus is Education, Health & Medicine, or Community Development, you can scan this remote jobs board and find hundreds of remote opportunities through which you can help better the world.


Don't let the look of this site fool you: TranslatorsCafe is an active, current, and thriving job board for linguistic and translation-focused remote jobs. Registration is free, and you'll have immediate access to dozens of translation, interpretation, subtitling, transcription, and voice-over jobs. Seriously, the list goes on and on. If you're a polyglot in search of language-based remote gigs, this is the site for you.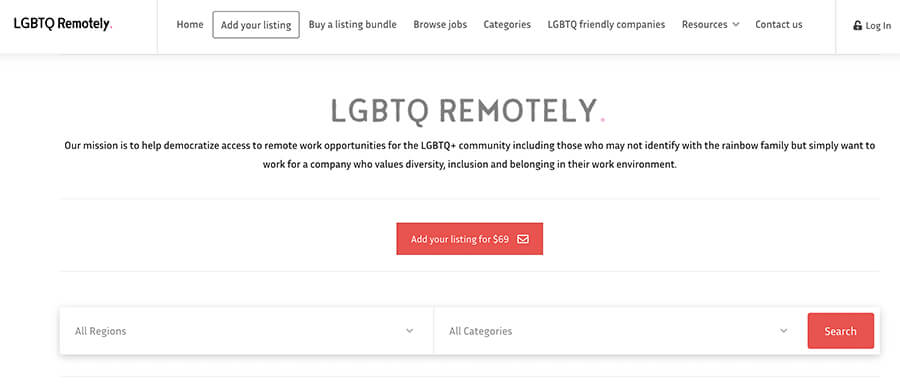 LGBTQ Remotely is a progressive remote job site and they're passionate about making remote work more accessible to everyone. Their mission is to help democratize access to remote job opportunities for the LGBTQ community—including those who may not identify as part of the community today—but simply want to work in a more inclusive environment. You can find remote jobs from companies like Zapier, Expensify, Thoughtbot and many others on their remote job board.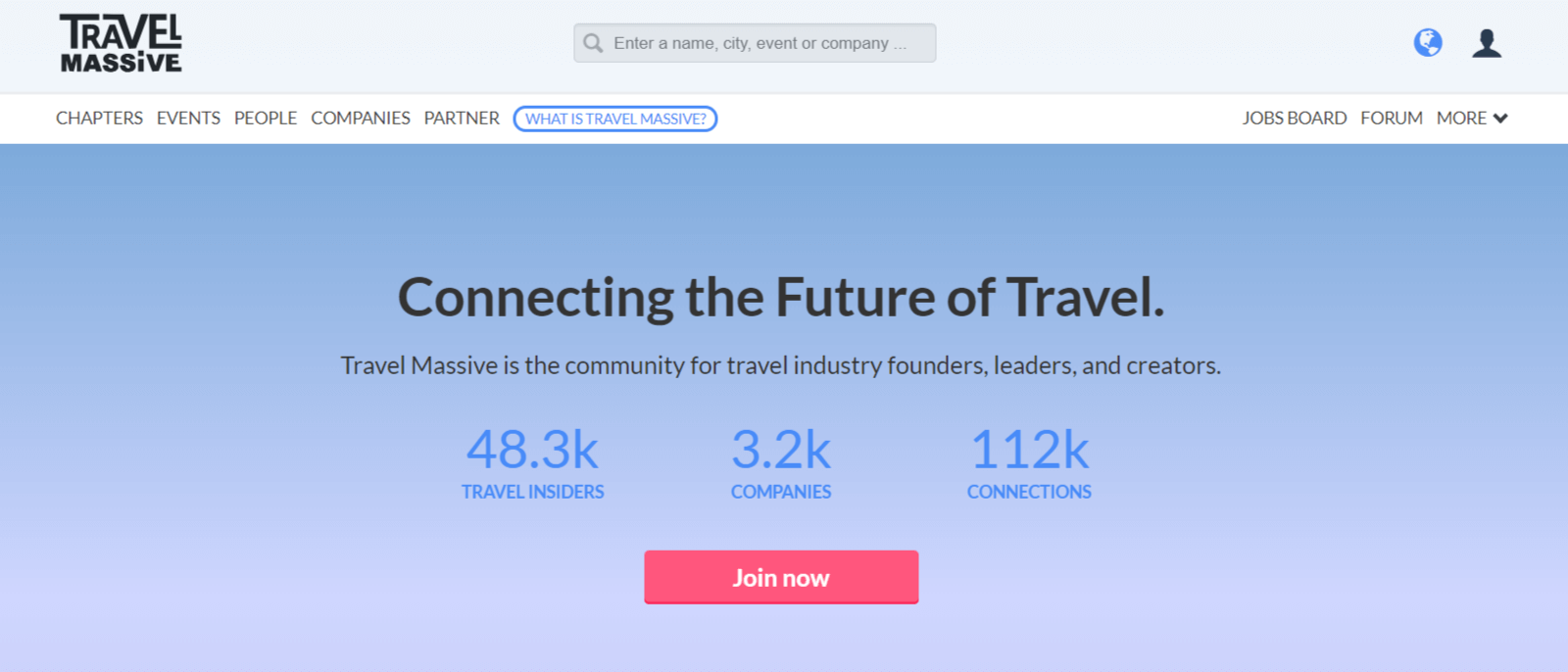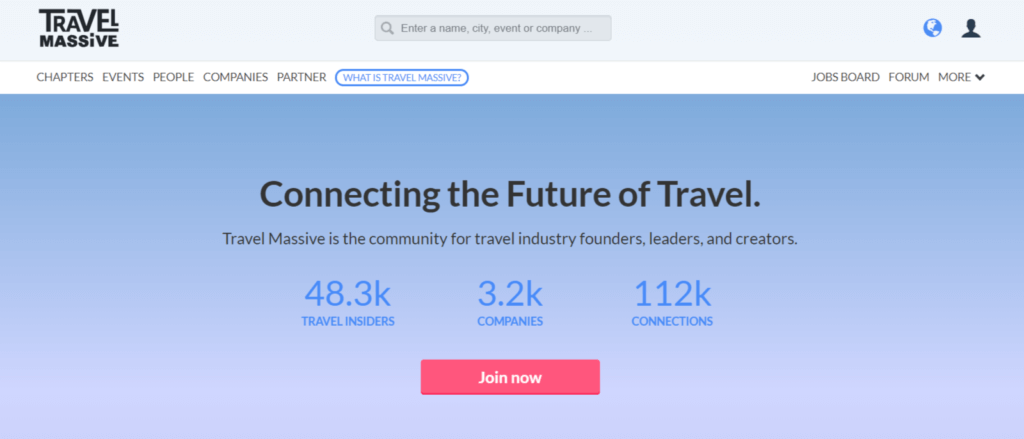 TravelMassive is a leading site and resource for the travel industry at large. If you have a passion for travel, want to explore the world and pay your way as you go, consider checking out TM for remote jobs that match your style. Though many of the remote opportunities on this site are regionally location specific, searching for "remote" yields all kinds of results, from market management, to development and sales.


Remoters is a great resource for those interested in working with primarily European-based companies. The remote jobs board is broken down into categories, like Software Development, Marketing, and Business Exec & Management. In addition, Remoters offers an informative series of interviews and an event calendar, helping you connect with other like-minded digital nomads to share remote jobs and advice with each other.


Are you passionate about e-sports and gaming? Hitmarker is the remote jobs board for you. Positions are broken down by Level (Junior, Intermediate, and Senior), and by Contract (Full Time, Part Time, Freelance, and Volunteer). The majority of listings on this site are for entry-level and volunteer opportunities, making this site a great gateway to getting your foot in the door with remote gigs in an industry you love!


Don't think for a second that remote jobs are limited to just the tech industry! Axiom Law contests that the future of law exists remotely, and has created an exciting platform to match talented lawyers with the innovative companies who seek to build modern legal teams through remote employees. To become a member of the Axiom network, you'll undergo a thorough vetting process through a series of interviews, but before long you can expect to have your first engagement.


If you're a senior level executive that is considering branching out into consulting, check out Business Talent Group. As a consultant, you'll experience much greater freedom in your work life with their remote jobs, being able to choose whom you work with, when, and from where. BTG attracts some of the world's leading organizations, pairs them with independent consultants, project managers, and executives, and helps to facilitate successful new client relationships. BTG even offers insurance discounts to its team of talent, helping to make your transition from corporate to independent as smooth as can be.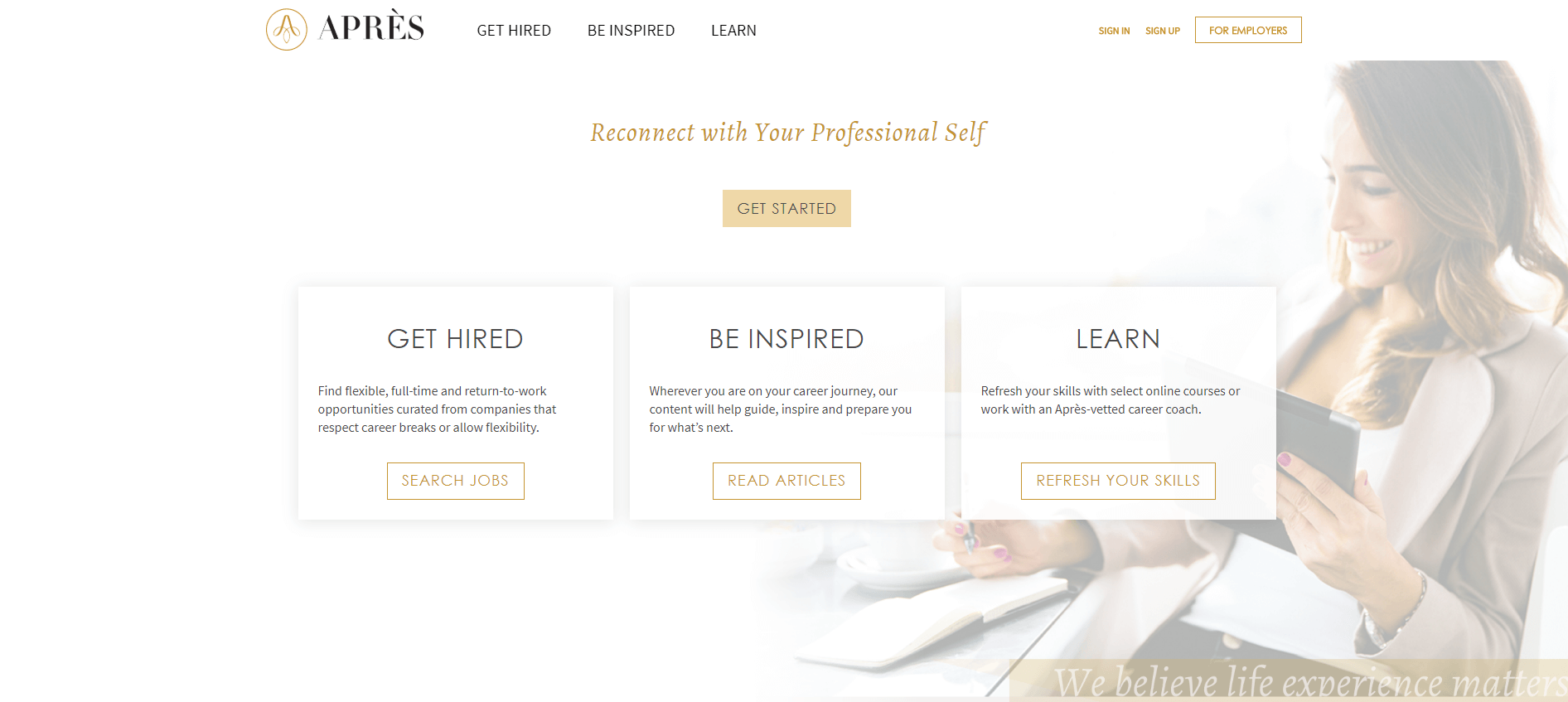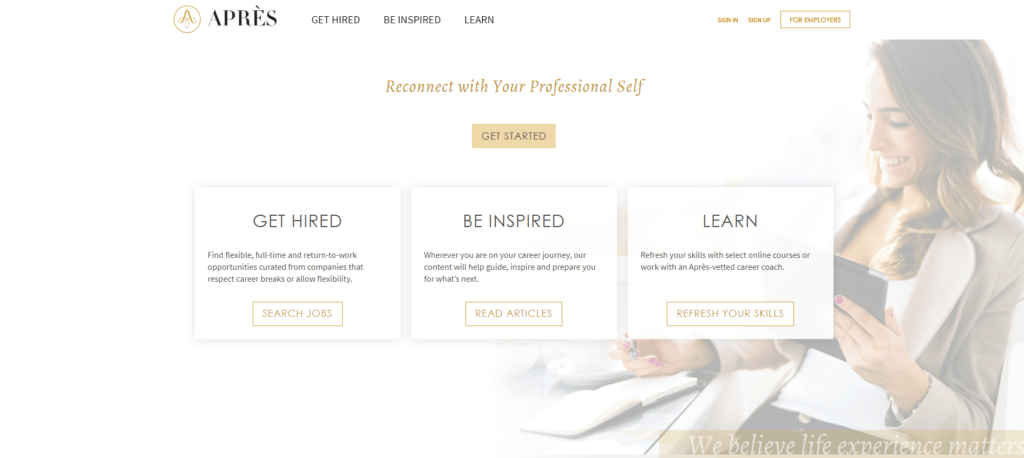 The folks at Aprés believe that becoming a parent can make you an even more valuable part of the workforce, so they've designed an entire platform to help women reestablish their career and professional life after maternity leave—through remote roles. By only choosing companies that share the same values, women who sign up with Aprés are setting themselves up for success. The site does require payment to access, but with a supportive staff, online courses, and career coaching available, Aprés may just be worth it if you're serious about finding the right remote jobs to continue your career.


The HIT's (Human Intelligence Tasks) offered up by Amazon's Mechanical Turk may not be high-paying, but they sure are a great way to rack up a few extra bucks, and begin honing your time management skills with gig-style remote jobs. Tasks are mostly data-based, and pay as little as $0.01. Your earnings will be transferred to an Amazon Payments account, from which you can then transfer to a bank account.

This new up and coming remote job site is focused specifically on helping you find remote sales jobs for top startups & tech companies from around the world. Current job postings (at the time of this writing) include roles ranging from VP of Sales all the way to account managers, SDRs, and everything in-between at companies like Webflow, Twilio, Brex, Carta, Stack Overflow, Ramp and hundreds more.
Freelance-First (Contract Work) Remote Jobs Websites


For a freelancer in today's marketplace, Upwork is certainly one of the most well-known. When the two leading platforms of freelance work of yesteryear, oDesk and Elance, merged, they created a behemoth of 12 million freelancers and 5 million clients listing upwards of 3 million remote jobs each year. Almost every freelance niche imaginable exists on this site, but be warned: Upwork takes a 20% cut until you build up a regular relationship with a client. So while you won't earn as much from the remote gigs you may find in a carefully curated marketplace, you will have ample opportunity to develop your chops, if you happen to be a beginner.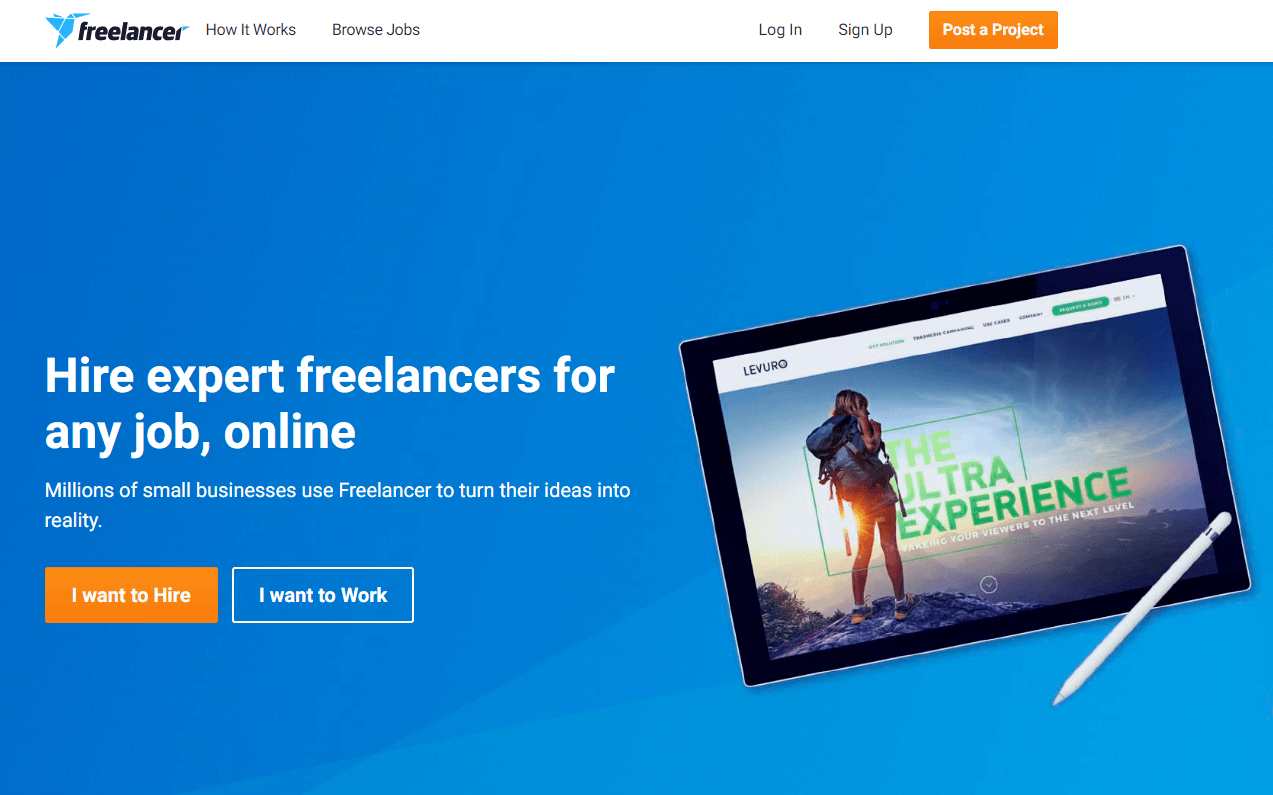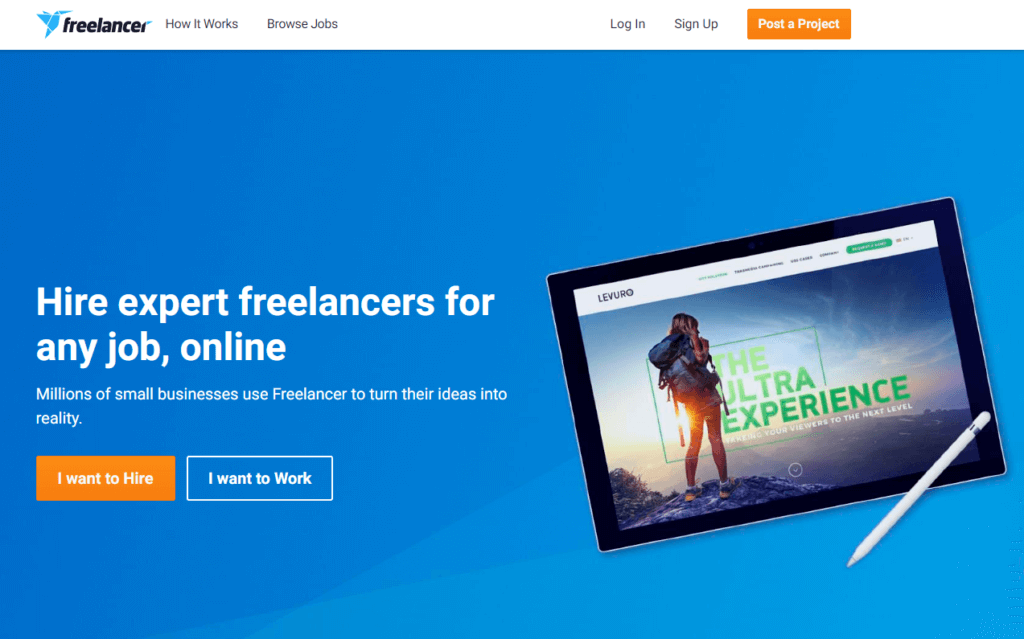 Freelancer hosts a huge variety of remote jobs, some formatted as hourly and some as contests. The downside at this site is that they only give eight free applications before you have to pay the membership see. You'll also notice on this site that the project fee is a little different; you'll be paying either $3-5 or 3-5%, whichever is greater.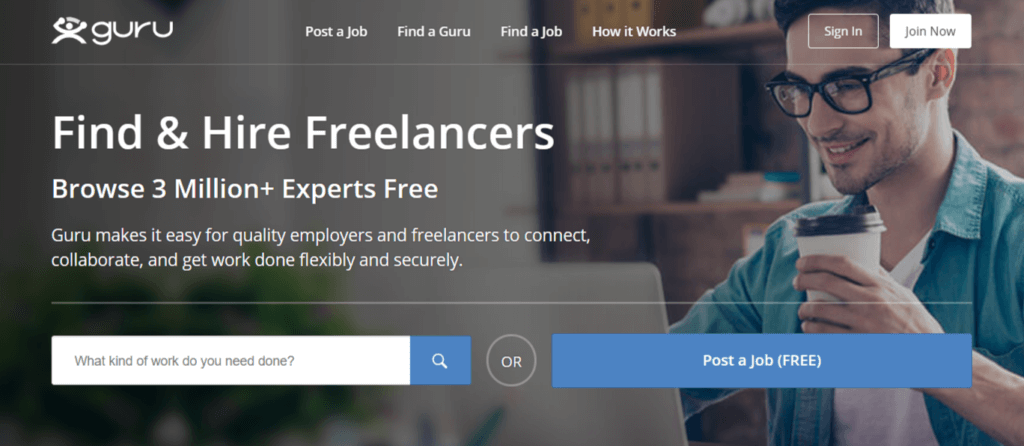 Guru's site is sleek and intuitive, making it ultra-easy to set up a profile that shows off your freelance experience, and puts you in the running to connect with potential clients for remote jobs they have available. To be a member at Guru does require a fee, but they compensate with a healthy amount of free applications, rationed by the year.

With more than 20+ years in the freelance remote job space, ServiceScape is an international marketplace for freelancer workers in the fields of graphic design, writing, editing and translating. To date, they've had over 324,000+ completed projects with more than 94,000 clients that've used the platform to fill their open remote jobs. This particular remote job site excels in working with startups and SMBs that are already online outsourcing-friendly. If you have relevant skills and experience, ServiceScape is a great place to spend some time and apply to the remote gigs that look interesting to you.


Fiverr gets its name from its origins—when every job started at $5. It may sound low, but you can now set up a tiered system for projects far above the $5 mark, which can add up super fast! Fiverr provides a great place to develop your portfolio if you're just getting into the freelance game, especially since all of these gigs are remote jobs you can tackle from anywhere in the world.


While you may not get the security of a site that holds the client accountable, Craigslist is chock-full of remote jobs, including full and part-time remote roles, and even more gig-based remote work. Here's a hack if you want to look through remote gigs here: go to the corresponding Craigslist for major cities and search for remote work that was posted from there. You're welcome.
---
Which of the Best Remote Job Sites Did I Miss?
Did I miss any of your favorite remote jobs websites?
Share with me in the comments below!
And if you're looking for some additional reading to take your remote job search to the next level, check out this guide: How to Get a Remote Job (This Weekend).
Getting a remote job is what enabled me to free up more time to grow this blog—and eventually launch more side projects like Hike with Ryan (to diversify my side income) where I write about topics like the best hiking boots this year and chronicling top hikes around the world.