Free Headline Analyzer
SEO Headline Tool (for Higher Rankings)
The right headline can make an incredible difference to how well your content ranks. But crafting better headlines can take a ton of time—especially if you're not even sure what to optimize for. My free SEO headline analyzer tool makes it easy by focusing on power words, word balance, and readability to give you a headline score that shows you exactly what you need to optimize your headline.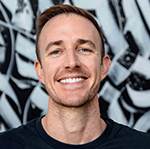 Get More Free Blogging Tools
Delivered Straight to Your Inbox
"*" indicates required fields
Use the Free Headline Analyzer Tool to Create Compelling Headlines (That Help You Rank Well in Google)
Blog post headlines can be so tough to get right. You might have an engaging and descriptive title on your post itself—but when it comes to the SEO headline that appears in search engines, you need to pack a lot into a short space.
Your headline needs to make a clear, compelling promise to the reader. It should make it instantly obvious why they'd want to read your post or check out your landing page. At the same time, your headline has to incorporate your primary keyword—and ideally any secondary keywords too.
Of all the on-page blog search engine ranking factors, your headline is the most important. It's also critically important for your readers. In most cases, the first (and often only) thing they see will be your headline—and they'll need to make a decision whether or not to click through and read your post.
Understandably, bloggers can feel under a lot of pressure when coming up with headlines. There's so much to keep in mind.
Before we dig into how to use the headline analyzer tool, let's clear up a few common misunderstandings about blog headlines.
Your SEO headline isn't (always) the same as the heading on your page. While some bloggers use the exact same search engine optimized headline on their page or post itself, others use a variation. On your page, you can make your post or page title as long (or short) as you like. But with your headline, which appears in Google and other search engines, you need to think carefully about length as well as other factors.
Blog posts and landing pages both need good headlines. Some bloggers are brilliant at coming up with search engine friendly titles for blog posts … but they really struggle when it comes to writing more salesy headlines for landing pages. Headlines matter in both cases—and a good headline analyzer will help you out here.
Note: In this context, "headline" and "title" mean the same thing. You might hear "SEO headline" or "SEO title" being used, or sometimes "title tag". It's all the same. Your headline is the line of blue clickable text that appears in Google search results:

Now, let's talk about my free headline analyzer tool.
What is a Headline Analyzer Tool?
A headline analyzer tool doesn't write blog headlines for you. Instead, you enter the headline you've already got—and the tool analyzes it before making recommendations for how you can improve it. Most headline analyzer tools give you a score out of 100 for your headline.
The best headline analyzer tools have additional features, like letting you find out why you got a particular score.
How to Come Up with Perfect Titles Using the Headline Analyzer Tool
Ready to give the free headline analyzer tool a try? You can use it as many times as you want, so feel free to experiment.
Type in Your Working Title or Headline
First, type in (or copy and paste) your blog post or page's working title. You might have come up with this yourself or you might have used a tool like the blog title generator. Then, all you need to do is hit Submit.
Check the Headline Score
The headline analyzer will instantly give you a score for your headline, out of 100. This score is the analzyer's estimate of how well optimized your headline is. The score takes into account things like how long (or short) your headline is, whether you've included any power words, how common or uncommon the words in your headline are, and more.
Tweak Your Headline to Get a Higher Score
Maybe you hit the jackpot on your first try and you've got a compelling headline that scores 70+. But if your headline isn't quite there yet (or if you've got a good score but you want to go even further), it's time to make some tweaks.
The headline analyzer will make specific recommendations about what to change—so have a go at putting those into action: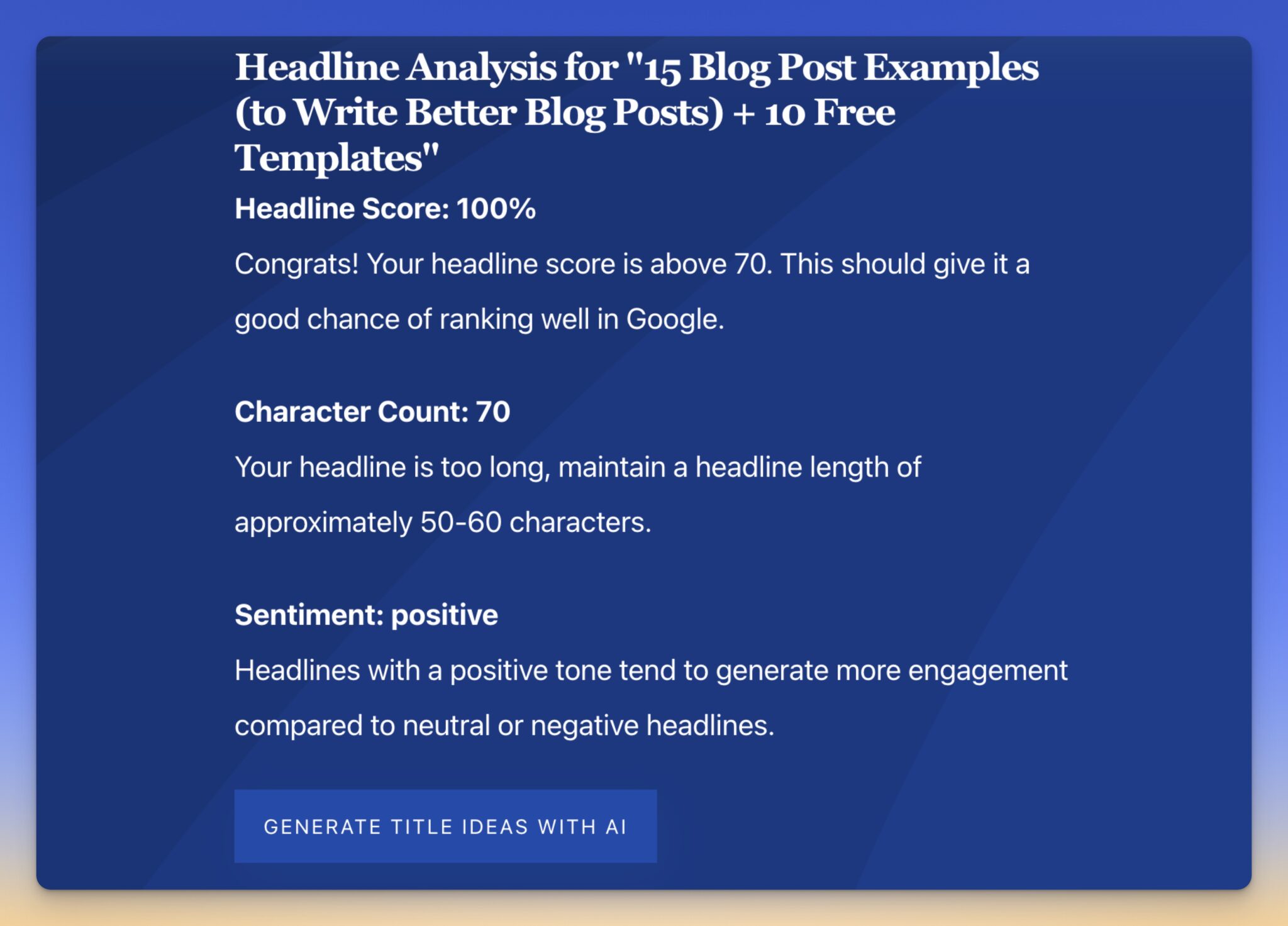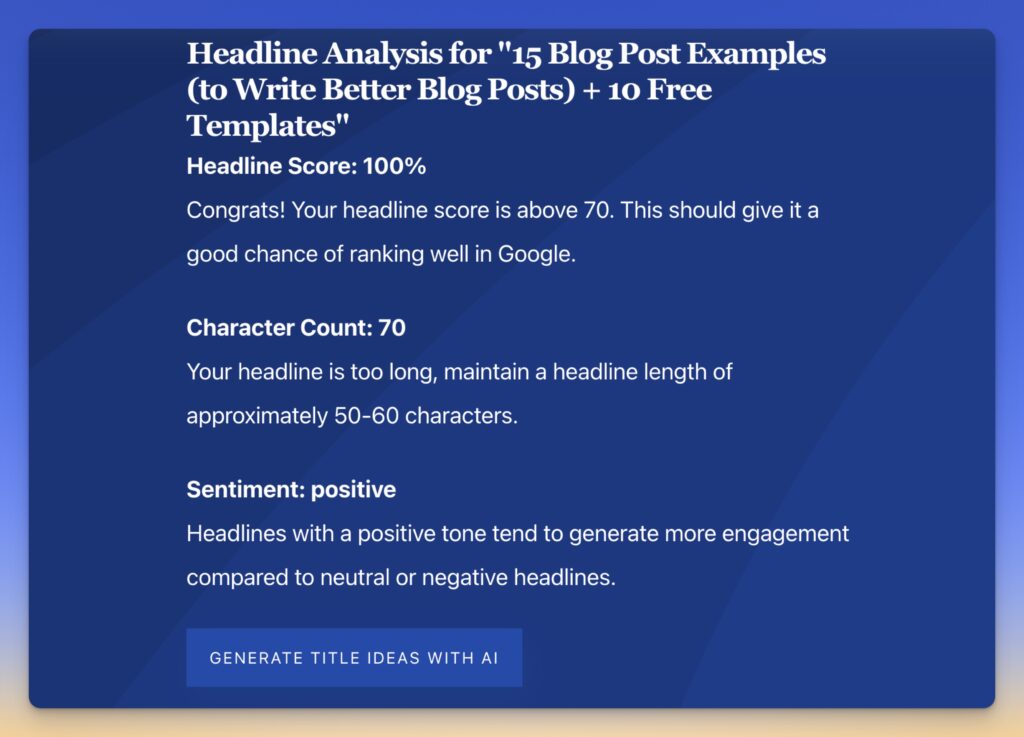 You can run the headline tool again and again, so keep going until you get a version of your title that you love.
Use Your High Scoring Headline for Your Blog Post or Landing Page
Now, it's time to add your high scoring headline into your blog post (or landing page). This is where bloggers sometimes get confused.
You don't have to use your headline as the title of your post at the top of the page, like this:


Instead, if you have a WordPress site, you can use an SEO plugin (such as Yoast SEO) to add your SEO headline separately. Usually, that will be in a box beneath your post itself: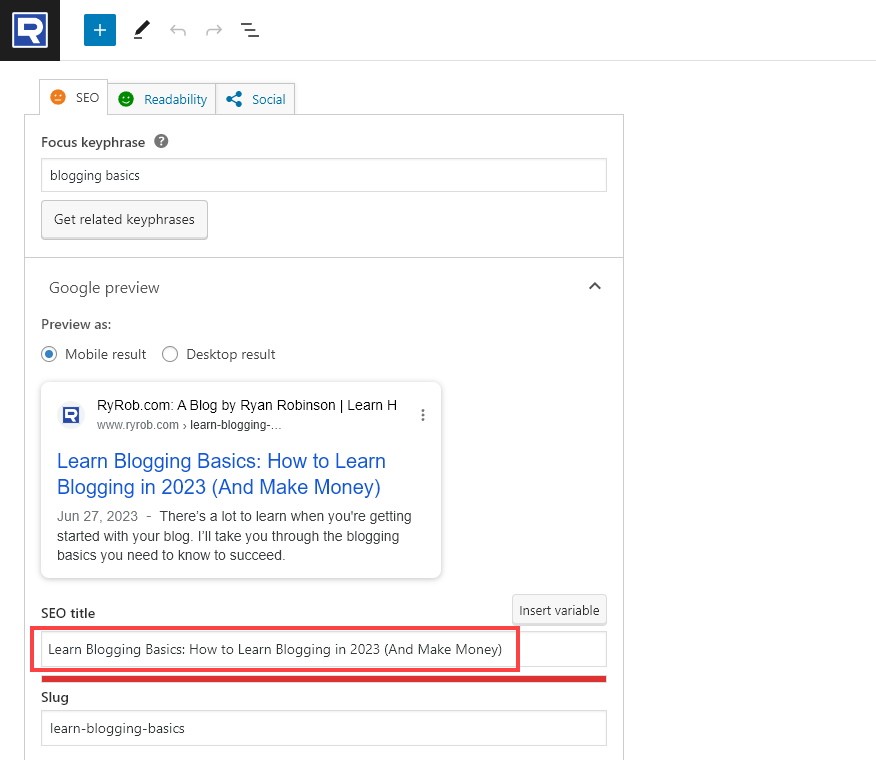 If you want the heading at the top of your post/page to match your SEO title, then that's fine. But using the Yoast plugin or a similar WordPress plugin lets you set a slightly different SEO title—which can be really handy in many cases.
Bonus: Use My Headline Checklist to Help You Craft Great Headlines Even Faster
Want to write much better headlines before you even run the analyzer? Use this quick checklist to help. I've got a version for blog posts and a version for landing pages.
Blog Post Headline Checklist
Make sure your keyword is in your headline—this is absolutely essential if you want your post to rank well
Include a number in your headline whenever appropriate (e.g. "5 ways to…" "10 tips…")
Use power words like free, essential, ultimate, best, quickly, easily, honest
Check your headline is instantly clear and easy to understand—don't try to be too clever
Keep the headline length around 50–60 characters, so it displays in full in search engines
Don't make a promise in the headline that you can't deliver on in the post (or you'll risk seriously annoying your readers)
Landing Page Headline Checklist
Use your keyword in your headline—essential if you want your product page to rank well
Create a sense of urgency or exclusivity (e.g. "Exclusive Access" or "Limited Time Offer")
Address a pain point or need that your product solves and/or create an emotional connection with the reader
Make your headline clear and straightforward so readers can easily understand what you're offering
Keep it around 50–60 characters, so that the headline displays in full in search engines
Adjust the tone and vocabulary of your headline to suit your target audience
The Features of This Free Headline Analyzer Tool
You might be wondering how the headline analyzer works. How can it figure out what makes for a "good" headline? Here's everything you need to know.
Headline Entry
Obviously, you need to give the analyzer your headline—or it'll have nothing to analyze! That's what the headline entry field is for.
Tip: It doesn't matter whether your headline is in title case (with most words capitalized) or in sentence case (with only the first word capitalized). Similarly, it doesn't matter if you spell out numbers in words or use numerals.
Headline Score
The headline analyzer will give your headline a score. This score is made up of a number of elements and the analyzer will offer specific recommendations for improving it.


I recommend aiming for a score of 70 or above for your headlines. That should give them a good chance of ranking well in Google.
Character Count
The best headlines are between 50–60 characters. If you go over that length, your headline will be cut off in Google's results (not necessarily a disaster, but it can potentially confuse readers). If your headline is shorter than 50 characters, it's hard to make it compelling.


The headline analyzer tool gives you a character count, so you can see at a glance exactly how long your headline is.
Sentiment Analysis
Last but not least, this headline analysis tool also detects the sentiment of your title. It'll tell you whether your sentiment is positive, neutral, or negative. Headlines with a positive sentiment tend to attract more readers, so you'll want to optimize your headline for nailing that.


Now, let's get into a few frequently asked questions I get from readers about blog headlines.
Headline Analyzer Tool FAQs (Frequently Asked Questions)
What headline score should I aim for with the headline analyzer?

The analyzer gives a score out of 100. I'd recommend aiming for 70 or above. But even if you can't get your headline that high, any improvement is good! If your first attempt was a 50, then tweaking it to achieve 60 or 65 is great progress.
Where do I put my headline in WordPress?

You can use your headline as the title of your blog post or page (at the top of the block editor). However, what really matters is using your headline as the SEO title for your post or page. This will default to the title of your post—but you can set it manually, and potentially make it different from your post title, by using an SEO plugin such as Yoast SEO.
Is there a tool to come up with headlines in the first place?

Yes! While the headline analyzer won't actually write headlines for you, I have other AI tools to give you a hand with that. If you're not yet sure what you want to write about, try the blog idea generator to come up with potential topics for a post.

Then, use the blog title generator for plenty of title ideas and options. You can then run these through the headline analyzer to see which ranks best (and you can make any changes you want).
What other AI tools should I use to improve my SEO?
Why did you make this a free tool?

Back when I started blogging, I didn't have much money to spend on my site. I couldn't afford the fancy tools that big-name bloggers used—instead, I made do with free versions. And believe me, I was so grateful to the people who created those free tools!

Soon, my blog started to grow and make money. And today, I can easily afford the tools I need. But I've never forgotten what it felt like when I was just getting started. I've created the tools I wish I'd had back then—and I've made them completely free for you.

The headline analyzer tool, and all my other AI tools, are free forever. You don't need to put in your credit card details or your email address. There aren't any usage limits. There's no strings attached! This tool is free because I care. I want your blog to succeed. I want you to reach all your goals.

As your blog grows, with the help of the headline generator and my other tools, I'd love it if you'd try out RightBlogger. It's packed with loads of tools to help you grow your blog faster than ever—you can find tools to help with blogging, SEO, social media, sales, and more. RightBlogger isn't free, but I've kept the pricing at a level that's affordable for smaller blogs and businesses.
How is this free tool different from other headline analyzers? (Comparisons)

There are quite a few other headline analyzers out there that work in a similar way to my tool. All of these will take your headline and give you a score plus recommendations—-but let's take a look at some key differences.

Comparison with Coschedule headline analyzer

The Coschedule headline analyzer requires you to sign up (with your full name, email address, and a password of your choice) for Headline Studio to get your headline report.

Once you sign up, you'll see ads (like a "welcome deal" for the pro version of Headline Studio).

Your headline will get a score out of 100, with a detailed rating that includes things like word balance of common words vs uncommon words, reading grade, sentiment, clarity, and specific suggestions for what to improve. You can run the headline analyzer as much as you want.

It's a handy tool … but you need to sign up and log in to use it. By contrast, our headline analyzer gives you a score and breakdown, plus specific tips, without you ever needing to put in your email address.

Comparison with MonsterInsights headline analyzer

The MonsterInsights headline analyzer is free and doesn't require any sign up. It'll show you your overall score out of 100, again with a detailed headline analysis. It can also detect your headline type (e.g. "list"). There are also word banks of power words, emotion words, and uncommon words you can use.

The main difference between it and my headline analyzer is that the MonsterInsights analyzer doesn't [Ali add this here].

Comparison with Sharethrough headline analyzer

The Sharethrough headline analyzer is again free to use and gives a "quality score" out of 100, along with an engagement score and an impression score. It's got a bold and engaging interface, and you can quickly see your strengths, plus suggestions for changes.

Some of Sharethrough's suggestions won't work for all blogs (like "talk about the body" and "try adding a celebrity"). This headline analyzer is geared toward advertising copy rather than blog posts.

Comparison with the Advanced Marketing Institute headline analyzer

The Advanced Marketing Institute headline analyzer focuses on "emotional marketing value" (EMV). Headlines with a high emotional marketing value are thought to have a better click-through rate.

This tool gives a score out of 100% and recommends aiming for 30%–40% EMV words in your headline.

It could be a handy tool for sales pages or landing pages where you're aiming to get more email subscribers … though it's best used in conjunction with tools that offer an SEO score as well.
Can I use this headline analyzer to improve my existing content?

Absolutely. You can use my headline analyzer to write new SEO headlines for your existing blog posts. Changing the title can help your post rank higher and it can also improve your click-through rate.

You can also use the headline analyzer to revamp your landing pages, creating more engaging and compelling headlines that are likely to rank better in search engines.
Who is this headline analyzer tool designed for?

The headline analyzer tool is designed for bloggers and content creators. It's also very handy for marketers or anyone creating sales copy, as you can use it to craft landing page headlines. When we created the tool, I had in mind the needs of SEO professionals (crafting optimized content for clients), copywriters, small businesses, and anyone writing headlines for high-quality content that they want to rank well. It's suitable for complete beginners as well as experienced bloggers and marketers.