Blog Introduction Generator
Free (AI-Powered) SEO-Friendly Blog Post Introductions
Want an engaging blog introduction that hooks readers and helps your SEO? This free blog introduction generator lets you effortlessly create the perfect blog intro for your post, drawing the reader in and naturally incorporating your keywords. Improve your SEO, lower your bounce rate, and grow your blog faster with this AI blog intro generator.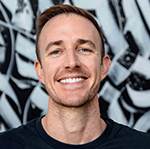 Get More Free Blogging Tools
Delivered Straight to Your Inbox
"*" indicates required fields
Keep Readers and Rank Better in Search Engines With This Instant AI Blog Introduction Generator Tool
Introductions can be tough to get right. Look at me here, fumbling all over my words… aaaaaaahhh got ya! I've been doin this thing for a while now. I'm very comfortable as a writer, and I can promise you that above all else, practice with writing compelling introductions is what leads to improvement.
What's crucial during a blog introduction, is that you want to hook readers' attention (with something clever and your main takeaway), then set up the rest of your blog post—but that can be tough to do well. That's why I built this free blog introduction generator tool. To teach you the ropes.
Some bloggers end up spinning their wheels, going on and on in the introduction without really saying much. Others leap into their post almost instantly, jarring or confusing the reader. And far too many bloggers don't even think about SEO (search engine optimization) principles when hurrying to write their introduction.
Your blog post introduction isn't supposed to be a long rambling passage of text before you get into the post itself. It's also not something to skip past as quickly as possible.
Instead, your introduction has several vital roles to play. It should:
Intrigue, excite, or engage the reader in some way. Perhaps you accomplish this by promising an answer to a pressing question, by introducing a controversy, or by giving a startling statistic. This is often called the "hook" in your introduction.
Set the reader's expectations for your blog post's content. What are they going to learn or achieve as a result of reading it? This is tricky to get right. Promise too little, and they might not bother reading—even if your post is super useful! Promise too much, and they may end up disappointed after reading your post, as you won't have delivered on that promise.
Match with the tone of your blog post. If you've written a thoughtful, detailed blog post then your introduction needs to fit with that calm and considered tone. If your post is a fierce and funny rant about something wrong with your niche, then you want to get that same energy into your introduction.
Incorporate your primary keyword (plus any secondary keywords). This is so easy to forget—but your introduction is a critical part of your post when it comes to search engine optimization. Plus, using your keywords here helps clue readers in that they're definitely in the right place to get the answers they're searching for.
That's a lot to handle, I know! It's no wonder that so many bloggers find introductions tricky to get right. The good news is, help is here, my friend.
What is a Blog Introduction Generator Tool?
A blog introduction generator tool is an AI-powered piece of software that can instantly come up with an engaging introduction that incorporates your keywords. It'll use key principles of writing good introductions so you can be confident that the text it produces will work for your post.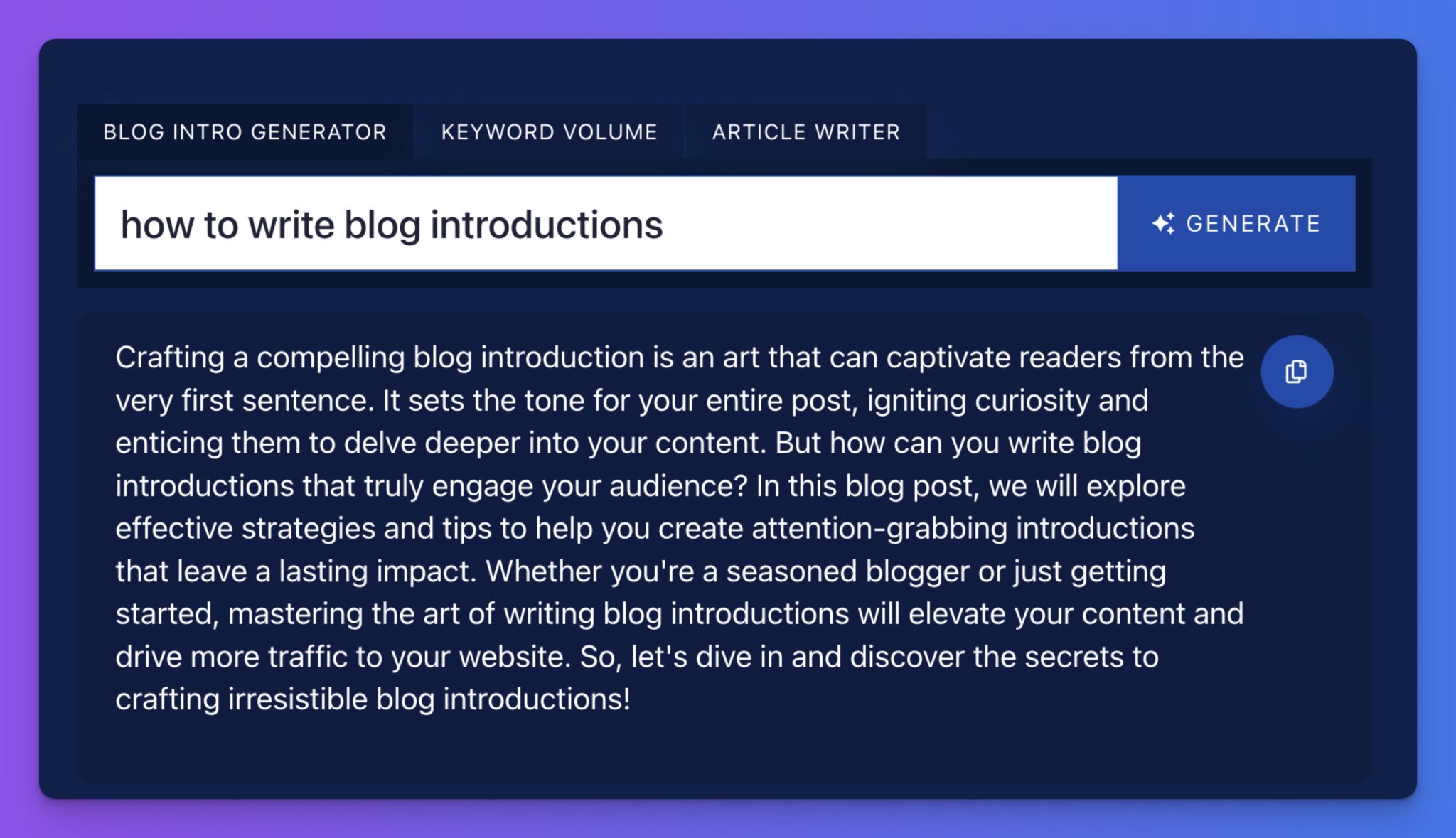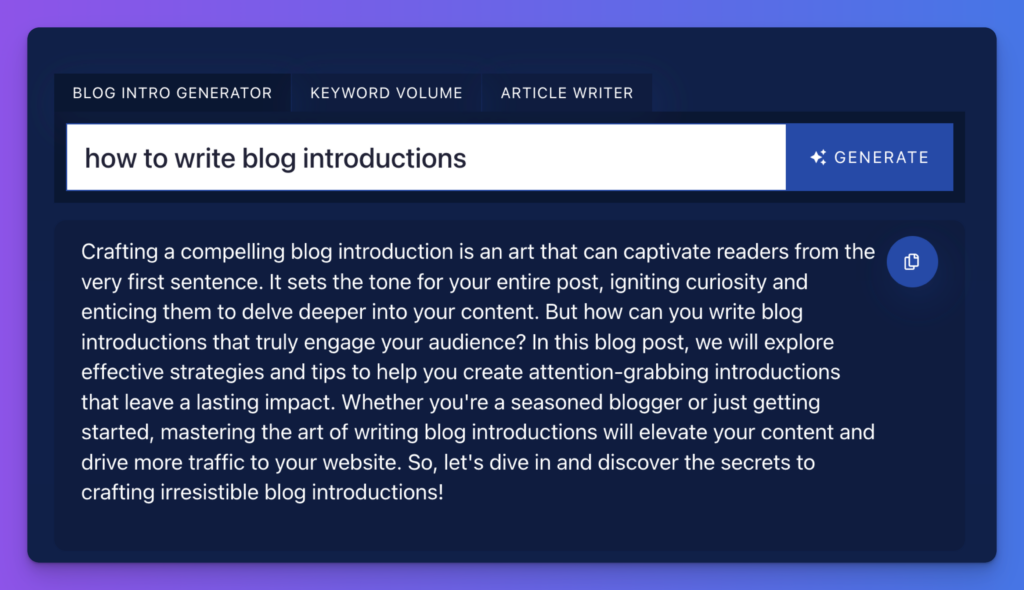 The best blog introduction generators don't just add in your keywords and introduce your content, they also match your writing voice, style & tone. Ideally, your blog intro generator tool should let you select from a range of tones—which is a feature of the full blog introduction writer inside RightBlogger.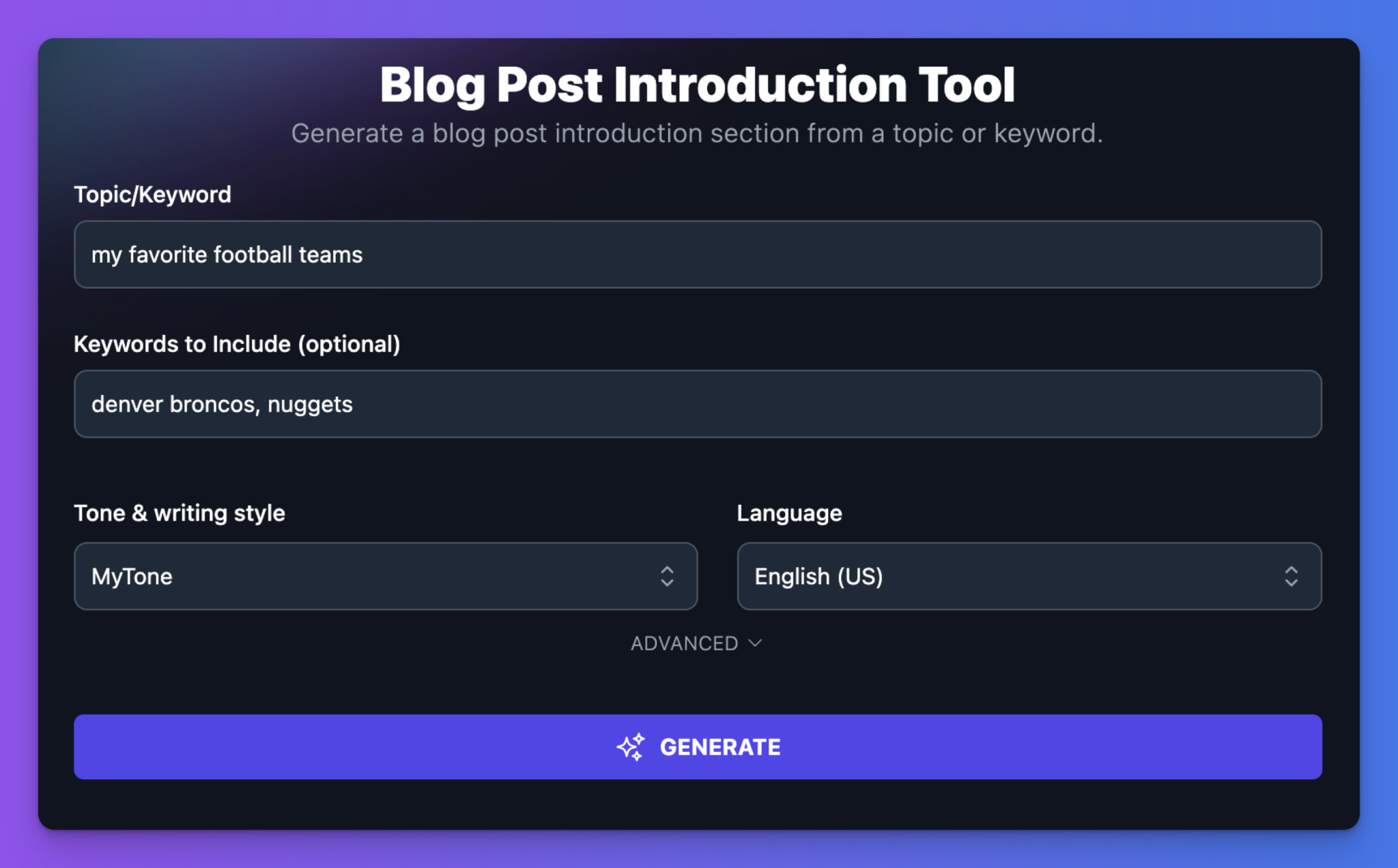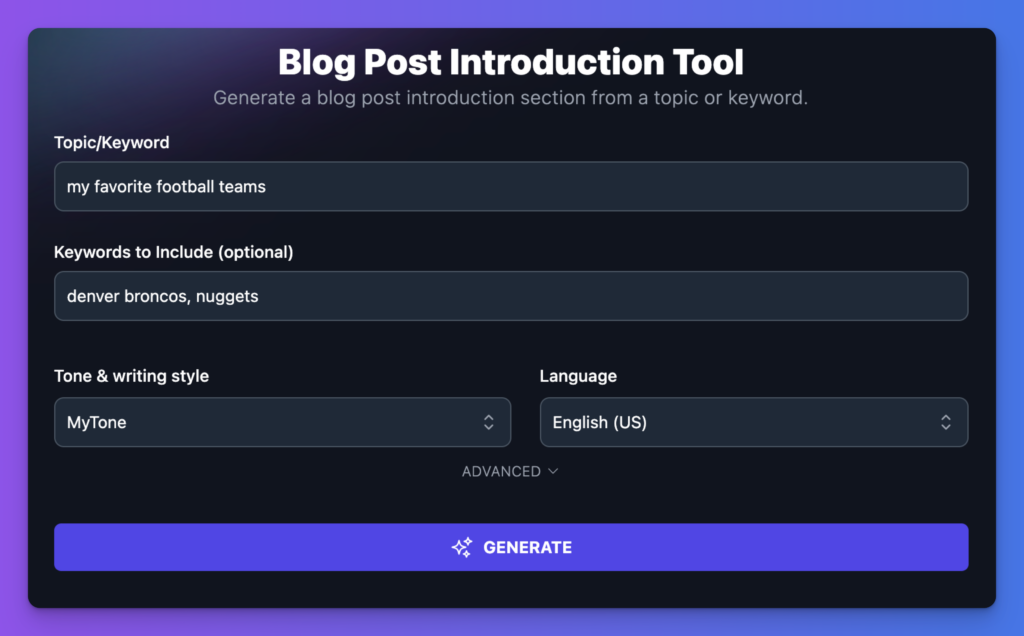 The version of this introduction generator inside RightBlogger also creates several options at once, giving you many options to choose from—and all of your creations are saved inside your account forever, too.
How to Create Incredible Introductions with This Blog Post Introduction Generator
My blog introduction generator is designed to make it effortless to create introductions to any blog post you can imagine. Here's how to use it.
Type in Your Blog Post Title
First, you'll need to enter the title of your blog post. If possible, use the full title here: you'll get an introduction that's perfectly tailored to it. Don't worry if you haven't yet decided on the title, though—you can just put in a general topic or working title.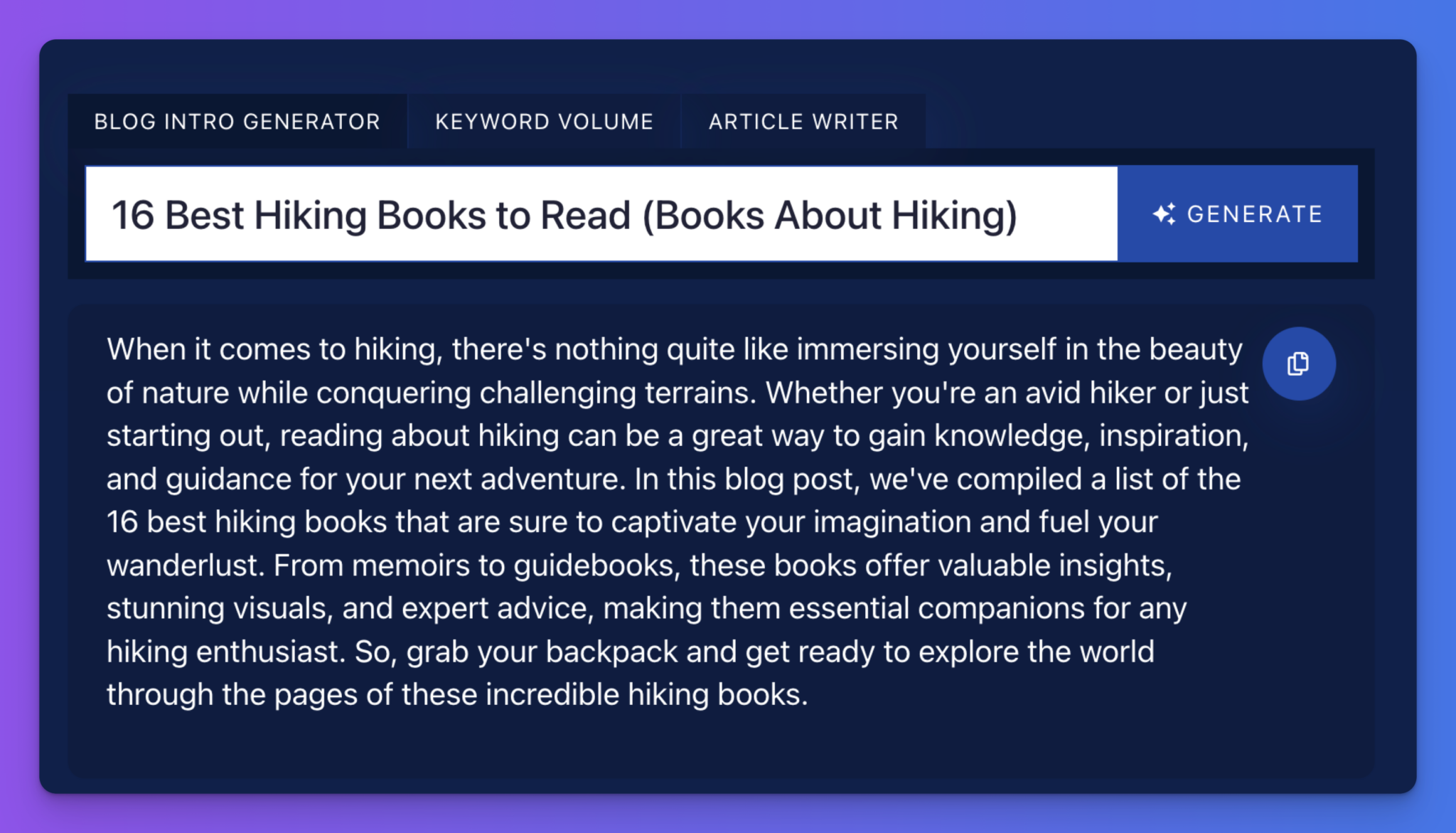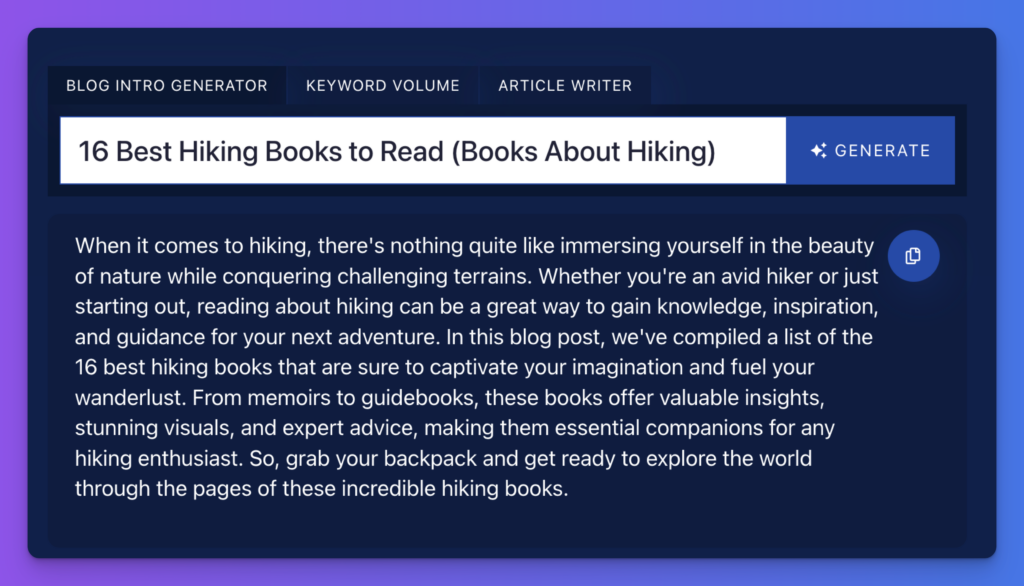 If you need some help coming up with title ideas, check out my blog title generator. Or if you haven't yet got an idea or topic for your post, use the blog idea generator for loads of great options tailored perfectly to your niche. They're both completely free.
Add Your Keywords (RightBlogger Feature)
Next inside the RightBlogger version of this tool, you can add your primary keyword. (If you have multiple keywords, you can add them all here—just use commas to separate them.)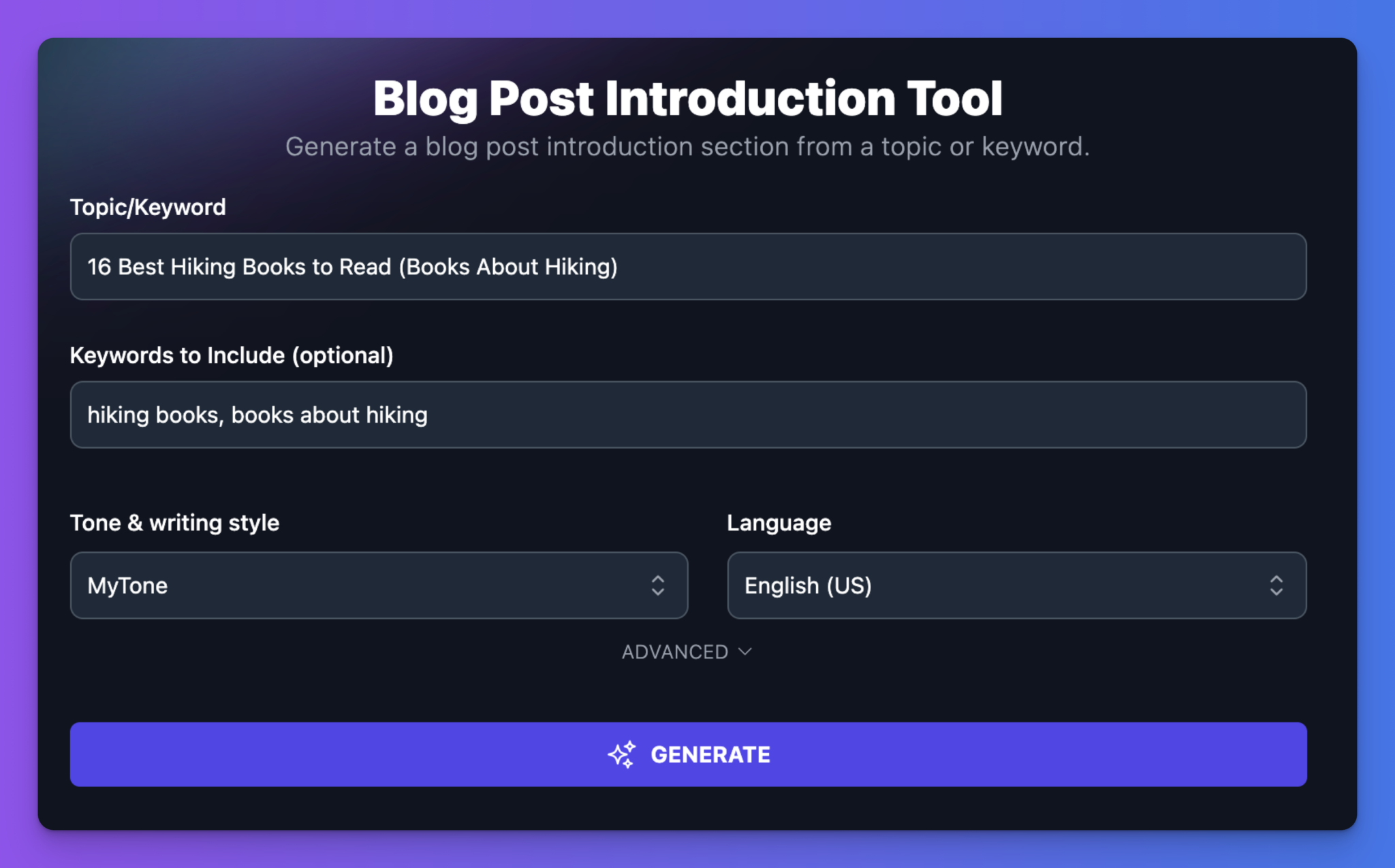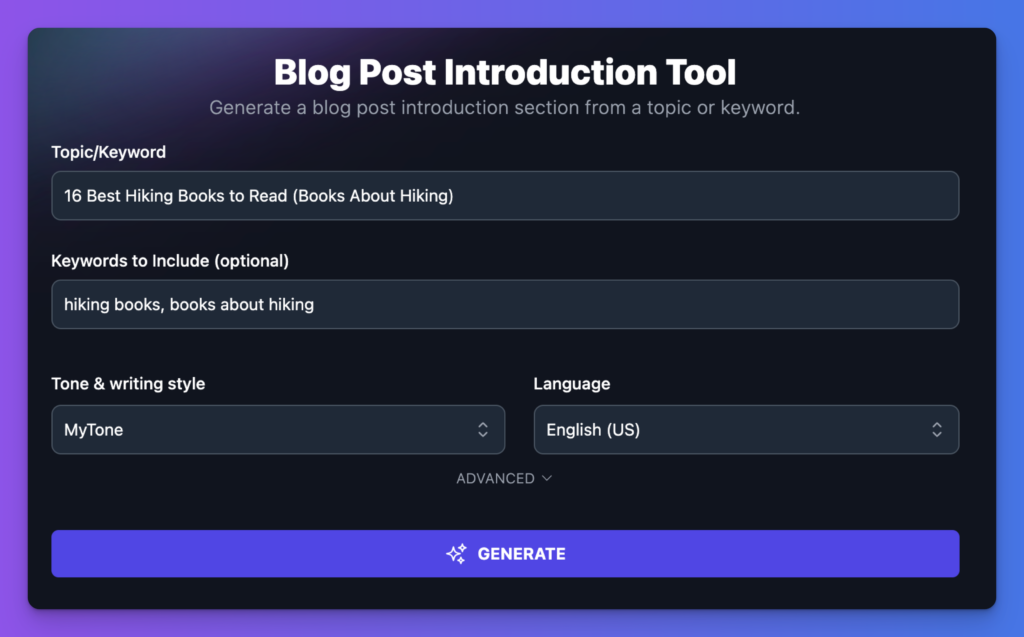 The fully-featured version of this tool inside RightBlogger will incorporate your keyword into the introduction. If you use several keywords, it may not be able to work them all in, so try to stick with just the most important ones.
What Are Keywords and Why Do They Matter?
New bloggers often get a bit confused by what "keywords" are. A keyword is anything that someone types into Google—you might find it easier to think of it as a search query. By using the same language in your blog post, you make it much easier for your post to rank for that search query.
Usually, you'll optimize for keywords that are short phrases (not single words). To find good keywords to use for your posts, check out my free keyword research tool. There's lots of guidance on that page to help you choose keywords at the "sweet spot" of volume and competitiveness.
Choose Your Preferred Tone: Great for Consistent Branding (RightBlogger Feature)
The full version of this blog intro tool inside RightBlogger lets you choose the writing tone you prefer—which is really important for your post. You don't want your introduction to seem oddly disconnected from the style of the rest of your content. Instead, you want it to be a seamless fit.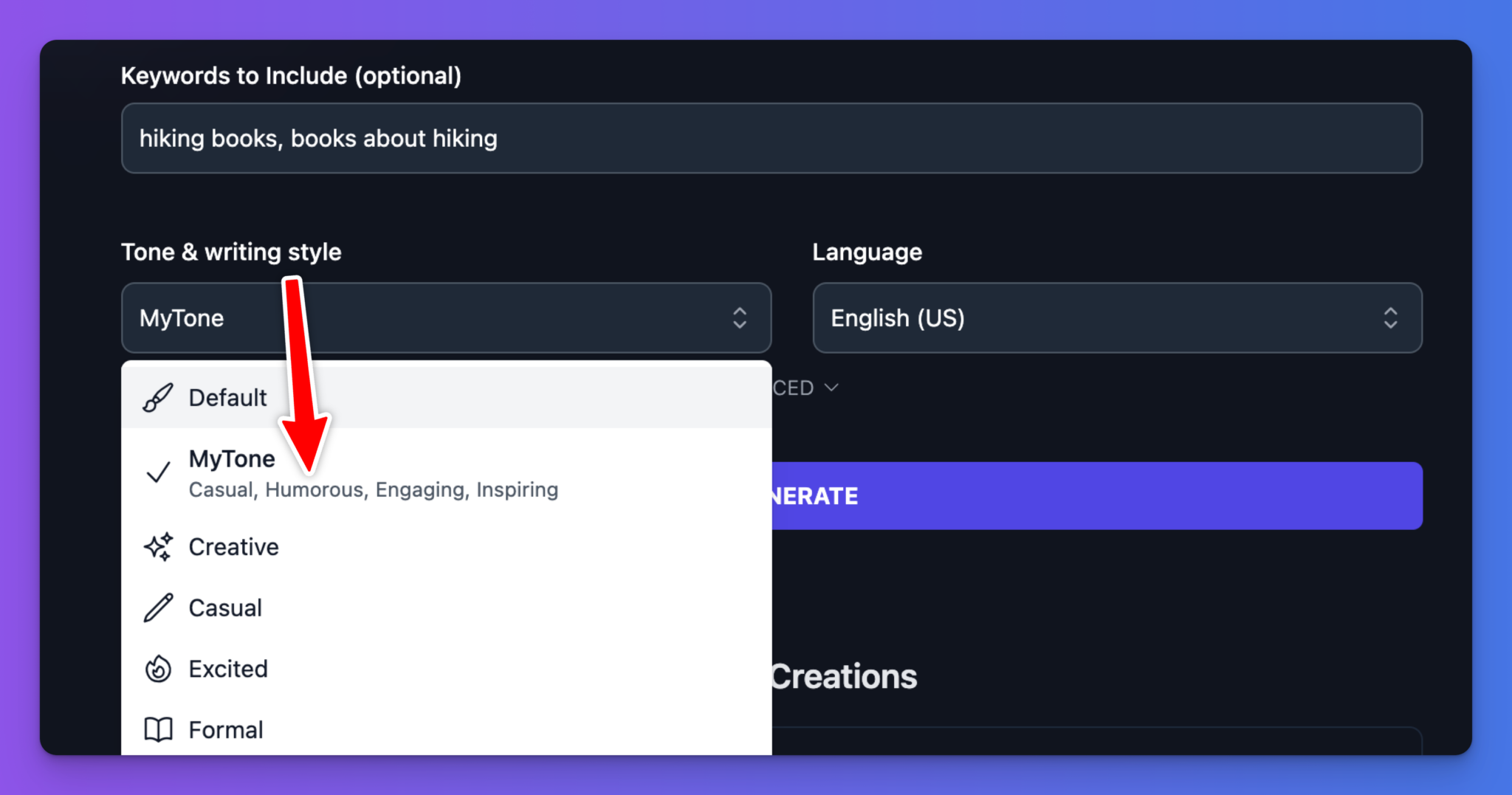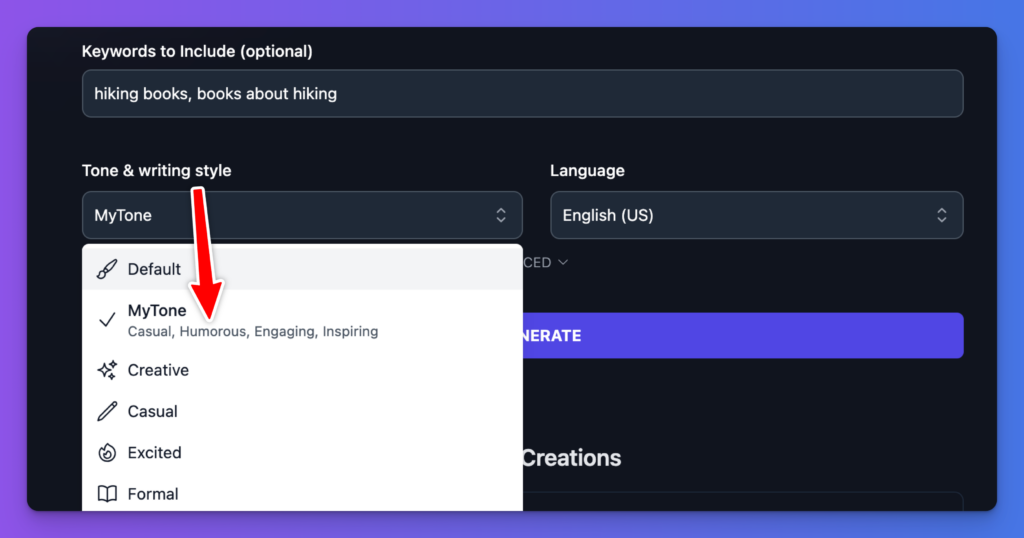 How the Different Tones Work
Some of the tones produce solid, conventional blog content: "default" is a good one for this. If you want something more strongly voiced, try the "excited" or "fun & quirky" options. The different tones affect the word choices and also affect things like punctuation—e.g. you'll often have an exclamation point in your intro if you use the "excited" tone.
Which Tone is Right for Your Blog Post?
The best fit for your post will be the tone that sounds most like your natural writing voice. You can choose from a wide range of tones in the tool, so try out a few different ones to see which you prefer. You can run the intro generator over and over again, as much as you like.
Generate 3 (or More) Blog Post Introductions and Choose the One You Like Best
Each time you run this free blog intro tool, it'll come up with 3 different introductions for your post. You can then simply pick the one you like best. If you want, you could even copy them into a document then cut and paste between them to use elements of all 3.
What if none of your generated intros feel like a good fit? Just run the tool again for 3 more! You can keep doing this as much as you like, all for free. You'll never run up against any usage limits.
Tweak the AI Writer's Introduction to Suit Your Voice and Audience
Chances are, your introduction won't be a 100% match for your voice and audience. You'll want to make some little tweaks to it, perhaps changing a phrase to suit your own writing style, or adding an extra line of explanation for your audience of beginners.
You may also want to add in things like bold text (it's especially useful to bold your keyword phrase) and links to other posts on your blog.
Add the Introduction to Your Blog Post
Once you're happy with your introduction, you just need to add it into your blog post. Copy and paste it into the start of your post, checking that everything looks correct when you preview your post. (If your introduction seems oddly formatted, try copying it into your blog post as plain text, then add in bold, links, etc.)
Don't forget to save your post once your introduction is in place.
Bonus: Use My Blog Post Introduction Checklist to Make Sure Your Introduction Does Everything It Needs To
After you've crafted your introduction and written your post, you want to make sure your introduction is setting up your post perfectly. Here's my checklist to make sure your post draws readers in just right.
Does your first line have a "hook"—like a question or a surprising fact—to draw the reader in?
Make sure you've included your primary keyword plus any important secondary keywords
Check your intro makes it clear what readers can expect to learn/accomplish by reading your post
Put a phrase or sentence (preferably one containing your keyword) into bold text
Add a link to one post on your blog if possible
Keep your introduction short and focused—around 100–150 words is usually about right
Include an affiliate disclaimer after your intro if you're using affiliate links in your post
Read your introduction aloud and check for any clumsy phrasing
Make sure your introduction fits seamlessly with your post in terms of tone
Proofread your introduction—having typos here will give new readers the impression that you're a bit slapdash
Now, let's dig into the features and how to get the most out of this free AI-powered introduction generator.
The Features of this Free Blog Post Intro Generator (AI Writer)
After trying out the blog introduction paragraph generator, you might be amazed at how well it can craft engaging intros for any title you give it. So how exactly does it work? Let's dig into its main features.
Topic/Keyword (Try Entering the Full Title)
The most important feature of the intro tool is the topic/keyword box. It can't come up with an introduction without a topic for the post!
Ideally, you want to enter your full title here. The tool uses natural language processing to understand what you type in, so it can "read" your title and use it to come up with a more specific and focused introduction.
For instance, here's a generated introduction for the topic "run 5k". It's not bad, but it's quite generic:
Are you planning to run a 5k soon? If so, you're in the right place! This blog post will provide you with valuable tips and tricks to ensure that you not only complete the race but also enjoy the experience.
Contrast that with a generated introduction for the title "How to Run Your First 5K: 10 Steps to Success". As you can see, it's much more specific to the post.
Running a 5K is a great way to improve your fitness and challenge yourself. But where do you start? This guide will take you through the 10 essential steps you need to know to prepare for your first race. From setting your goals to choosing the right gear, we've got you covered.
Keywords to Include (Separate Multiple Keywords With Commas)
Optionally, the fully featured blog post intro generator in RightBlogger lets you tell it which keywords to include. I strongly recommend using this option. It's really important for your SEO to have your primary keyword in your introduction—and while the tool will try to guess this from your title, it's a good idea to state exactly what keyword you want to include.
You can include as many keywords as you like, though keep in mind that the tool may not be able to incorporate them all into every introduction. Generally, I'd suggest you just use your primary keyword and perhaps one important secondary keyword here.
Tone & Writing Style (Match Your Blogging Voice)
We designed the fully-featured blog intro tool inside RightBlogger to be able to use a whole range of styles, though this free tool is limited to just the default setting.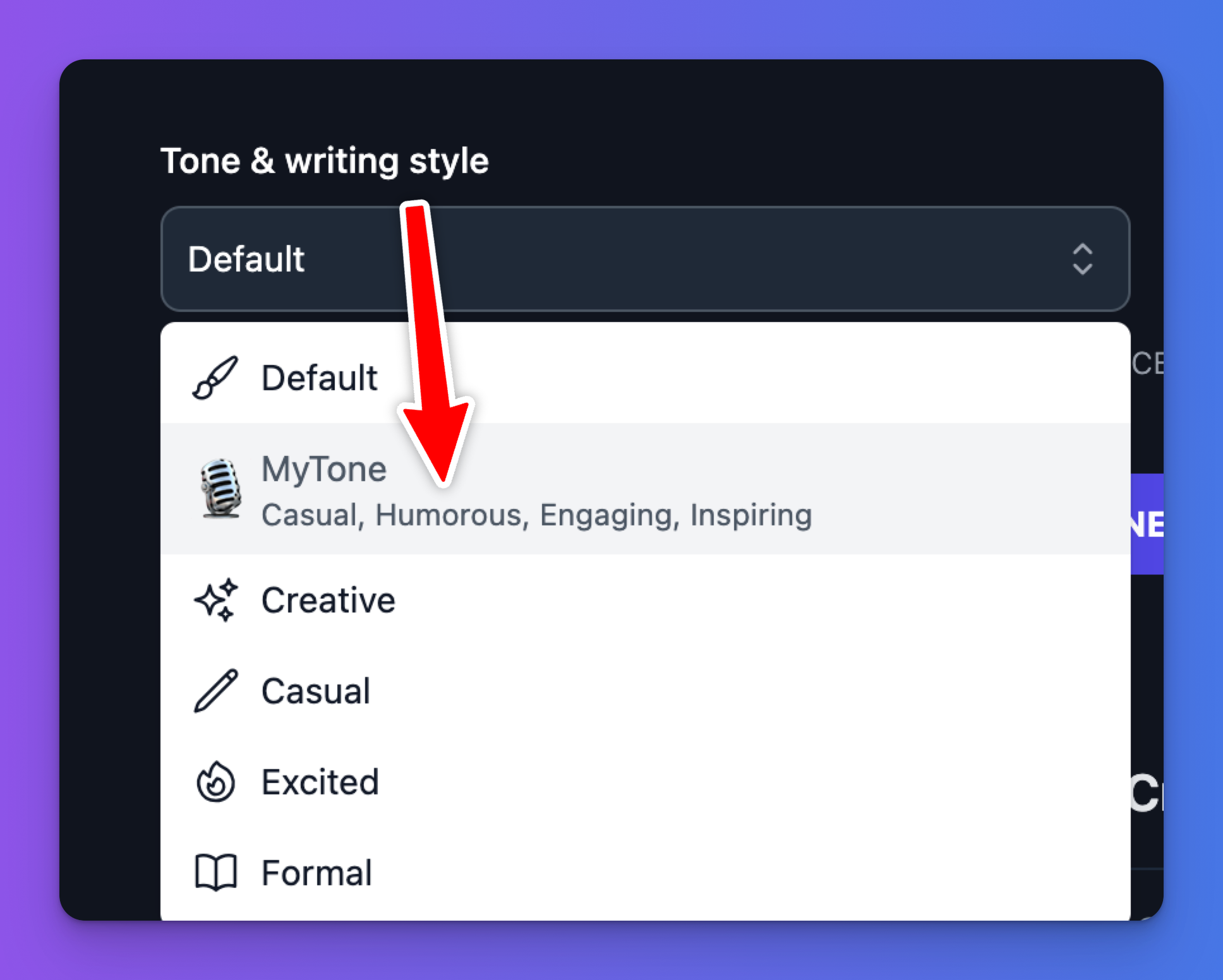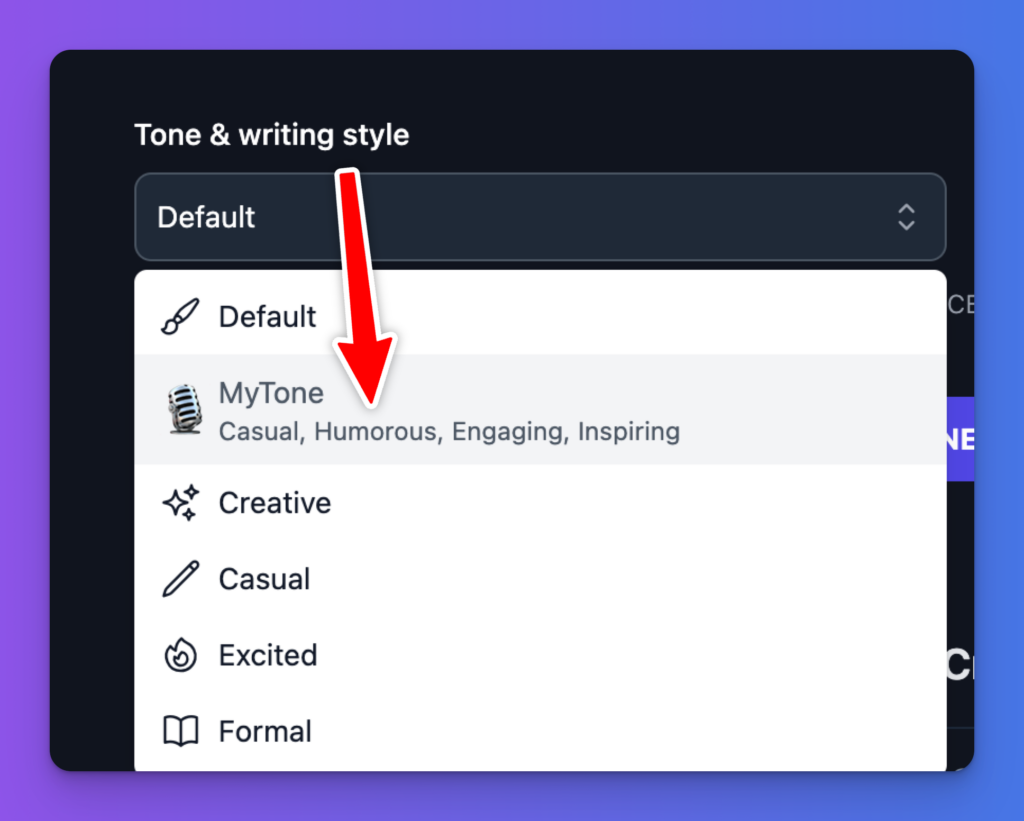 These match with the styles that my other free blogging tools use, such as my free article writer and blog conclusion generator, so if you're using those to craft other parts of your post, you can simply pick the same style each time.
Language: Choose Your Preferred Language (RightBlogger Feature)
One nifty feature of the full blog intro generator inside RightBlogger, is that you can select from 20+ languages it can use as an output. This one is limited to just English, Spanish and French, however. There's no need to manually translate your introduction—let the tool take care of it for you!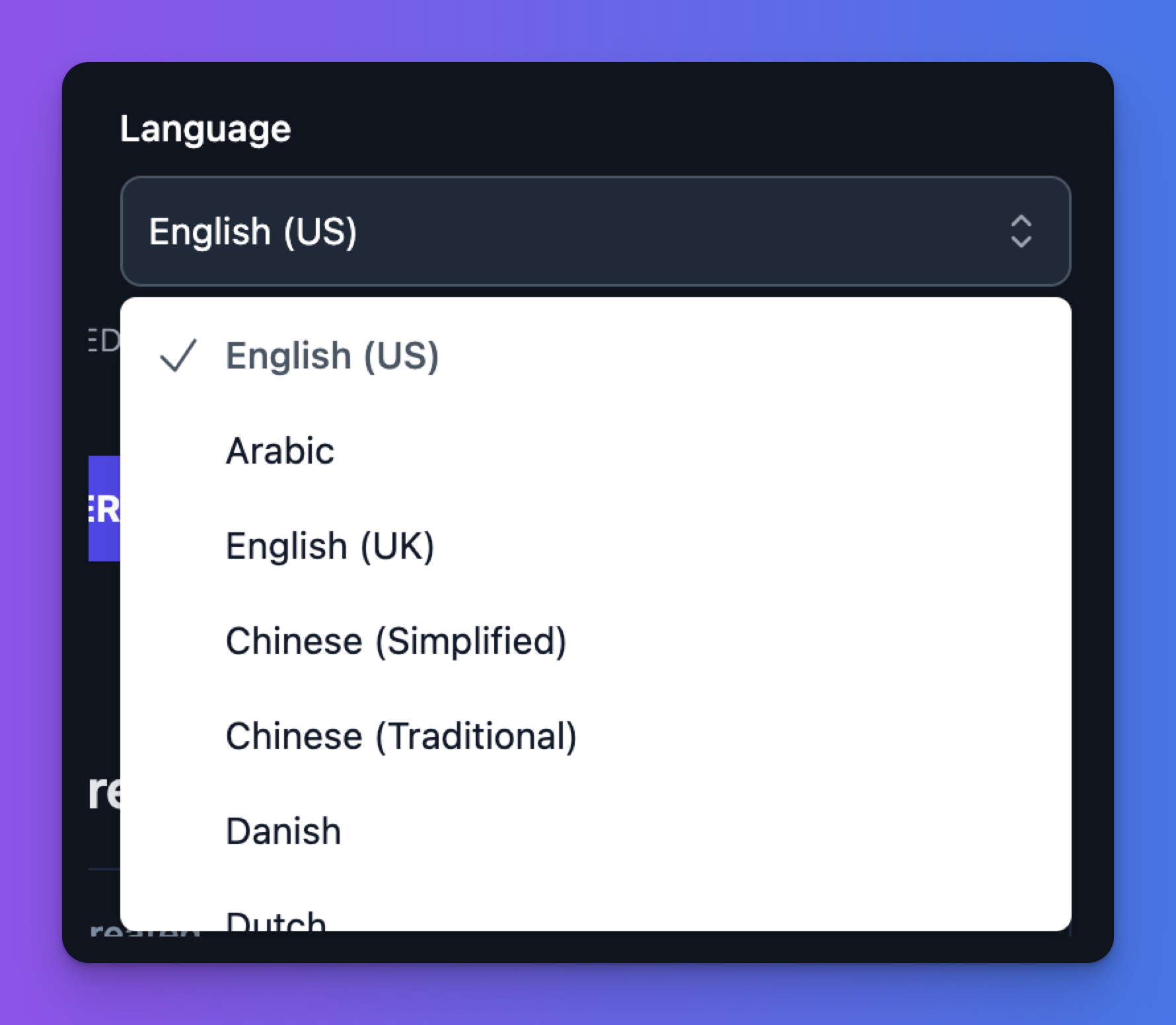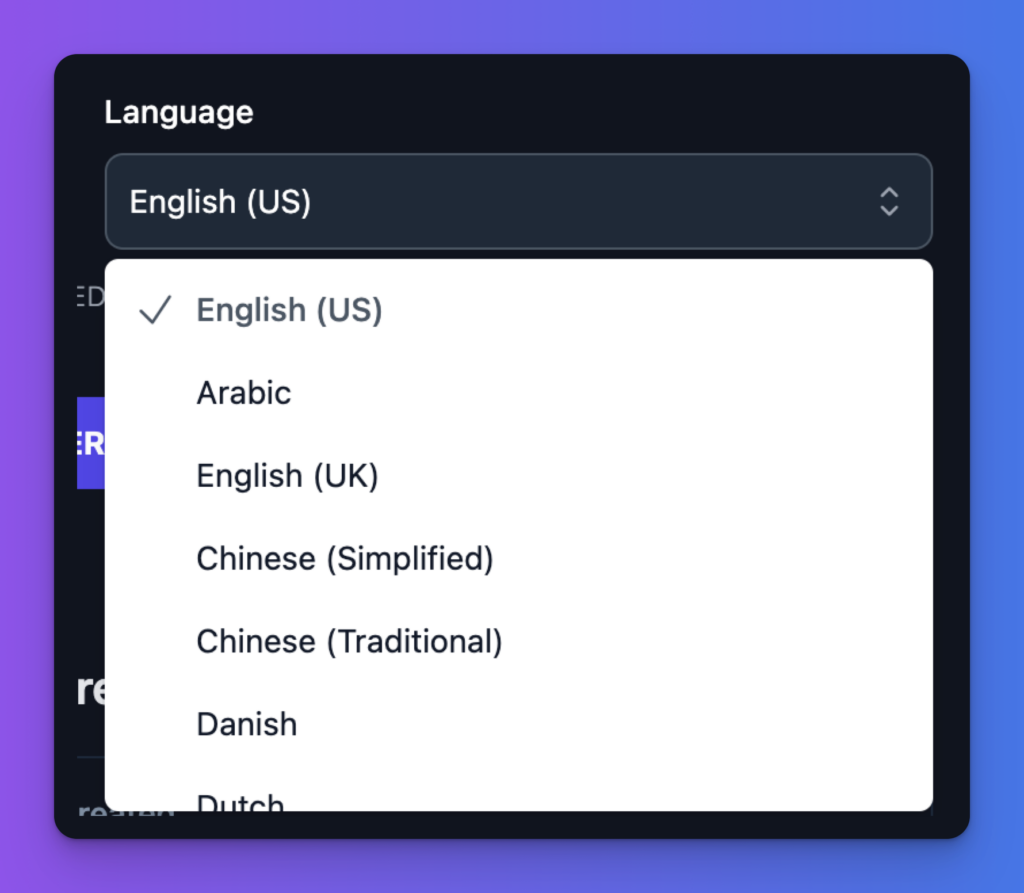 By default, the intro tool uses English (US), as that's the most popular language for blogs. But you can select from 20+ different languages using the dropdown. You can even choose English (UK) if your blog uses UK spellings.
Blog Introduction Generator Tool FAQs (Frequently Asked Questions)
Is it plagiarism to use an AI blog introduction generator tool?

Some bloggers worry about plagiarism when using AI writing tools … but the AI blog intro generator tool is 100% plagiarism free. It doesn't copy text from anywhere on the web. Instead, it comes up with a completely unique introduction for your blog post.

If you have any concerns, you can simply run your introduction through a plagiarism checker to make sure.
What is a hook sentence for a blog post?

You might have heard the term "hook sentence" or "hook" used in the context of blogging, copywriting, or even essay writing. Your hook is normally the first sentence of your blog post. It should be attention-grabbing, perhaps by posing a question, giving an interesting fact, making a bold claim, or by quoting someone else.
What other AI tools should I use to improve my SEO?

The blog intro tool will help with your search engine optimization (SEO) by making sure you get your keyword into your introduction. To get even more of an SEO boost, you'll want to use some of my other AI tools as well. They're all completely free.

For more help with your content creation, I recommend taking a look at my AI keyword research tool, the AI blog idea generator, the AI article writer, the AI paragraph rewriter, my blog title generator, domain name generator, the blog conclusion tool, and the meta description generator. All my tools are based on their full, unlimited versions in RightBlogger, which has more than 40 AI-powered blogging, SEO, and social media tools.

If you want to take a look at AI tools more generally, I've got a round-up of the best AI tools as well as a detailed guide to the top AI blogging tools & my favorite AI writing tools for you.
Why did you make this a free tool?

These days, I'm in the lucky position to afford high-powered (and often quite pricey!) blogging tools. But that wasn't always the case. When I was getting started in blogging, I couldn't afford many tools at all. I was so grateful for the free tools that I eventually found, as they helped me to grow my blog initially and start making money online.

Today, I've seen so much success with my blog and business … and I wanted to give something back. So, I created the tools that I wish I'd had in those early days. I decided to make them completely free, forever. This tool is free because I care.

I really want you to succeed, and maybe in a few years' time, you'll be standing where I am now: in a position to give back to the blogging community.

I've deliberately avoided putting any limits on the blog introduction generator. You can use it as many times as you like, for as many posts as you want, completely free. And you can use all my other tools as much as you like as well. You won't ever need to sign up, or add your credit card details, or even enter your email address.

Once you grow your blog, with the help of my tools, I'd love it if you'd try out RightBlogger, my suite of AI tools. It includes the full version of the blog intro generator, along with loads of other tools (blogging, SEO, social media, sales, and more). RightBlogger isn't free, but I've designed the pricing to be affordable for smaller blogs and online businesses.
Can I use the blog intro generator if I haven't written the post yet?

Absolutely! Common blogging advice often suggests that you should write the main body of your blog post then tackle the introduction … but that's because so many bloggers struggle with writer's block when tackling the introduction. So long as you've got a title, or at least a clear topic, the blog intro generator can come up with a great introduction to your post.

You might want to draft your post before you finalize your intro, though. If you end up changing your blog outline quite a bit as you write the post, perhaps coming up with a new title, then just run the generator again. It'll only take a minute or two to switch out one introduction for another. Once you've settled on your intro, you can edit and polish it.
Can I use the blog intro generator for updating existing posts?

Yes! The blog intro generator is perfect for sprucing up your existing posts. Maybe you've got a bunch of posts in your archive that have great content—but where the introduction isn't doing the post any favors.

A quick refresh could help boost your search engine traffic (by incorporating keywords in the intro) and it could also encourage readers to stick with your post for longer.
Who is this blog introduction generator tool designed for?

If you write any kind of online content, then this intro tool is for you! As you might imagine, it's perfect for bloggers—but it's also a useful tool to try if you're writing other types of articles, like LinkedIn posts or even Facebook posts. As I designed it, I had in mind the needs of content marketers, content creators, SEO professionals (e.g. working on content for clients), small business owners and employees, and anyone looking to create high-quality blog and blog-style content.

While the blog intro generator isn't specifically designed for students, there's nothing stopping you from using it as an essay introduction generator. If you want to use it in that way, I'd recommend (a) you enter your full essay question as the topic/keyword and (b) you use the "Formal" tone & writing style. Then, pick a generated introduction to use as a first draft to get you going. As with any AI content generator, you'll want to edit your introduction paragraph to incorporate your own ideas and research too. Don't use AI content verbatim in your essay, as that's forbidden by many academic institutions.
What are some SEO-friendly blog post introduction examples?

If you're struggling to see how an SEO-friendly blog post introduction might work, it's a great idea to look at examples that you could potentially use as templates. Here are two short introduction paragraphs, taken from my own blog.

"This is my easy, step-by-step guide to learn how to start a blog and make money from it. For 10+ years, I've been blogging & making money online—this is the best way to start blogging (and soon make money from your blog) in 6 steps that'll have you create a blog in 10 to 15 minutes."

— from How to Start a Blog (and Make Money). Notice how my intro paragraph includes my main keyword phrase "how to start a blog" in bold text. I've also incorporated other keywords like "start blogging" and "create a blog" along with a promise to the reader about what they'll be able to accomplish.

"AI blogging is here to stay. In this guide, I'm breaking down how to use AI tools to grow your blog 3x faster—including real life blog examples, use cases for AI in your blogging process, and more."

— from AI Blogging Guide: Tools, Process & Examples. In this intro paragraph, I again have my main keyword in bold ("AI blogging") and I also use important related keywords like "AI tools", "use cases for AI", and "blogging process". There's a clear explanation of what the reader can expect from the post, too.
Tool built by my insanely talented friend, @sup and powered by RightBlogger.